incl. how to win a S$10k trip of your dreams 😉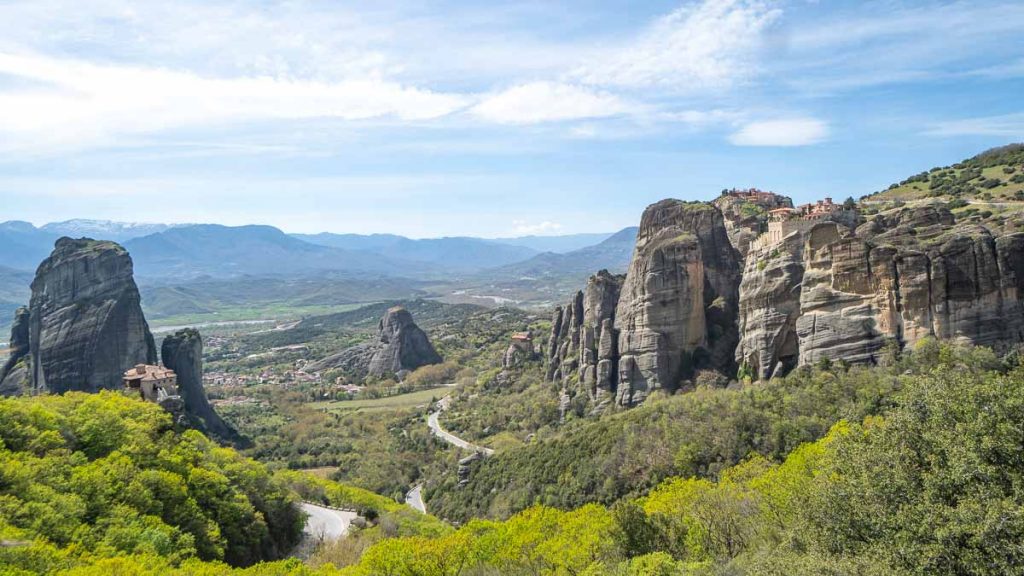 After spending a week in Greece, we were captivated by its breathtaking landscapes, azure waters, and indulgent experiences like wine-tasting and yacht tours.
But hey, let's be real. Planning this trip wasn't a walk in the park. We had our fair share of questions: How on earth do we get to those dreamy islands? Should we master the art of Greek car rentals? And once we arrive, what in Zeus's name should we do there? Where's the perfect spot to rest our weary heads?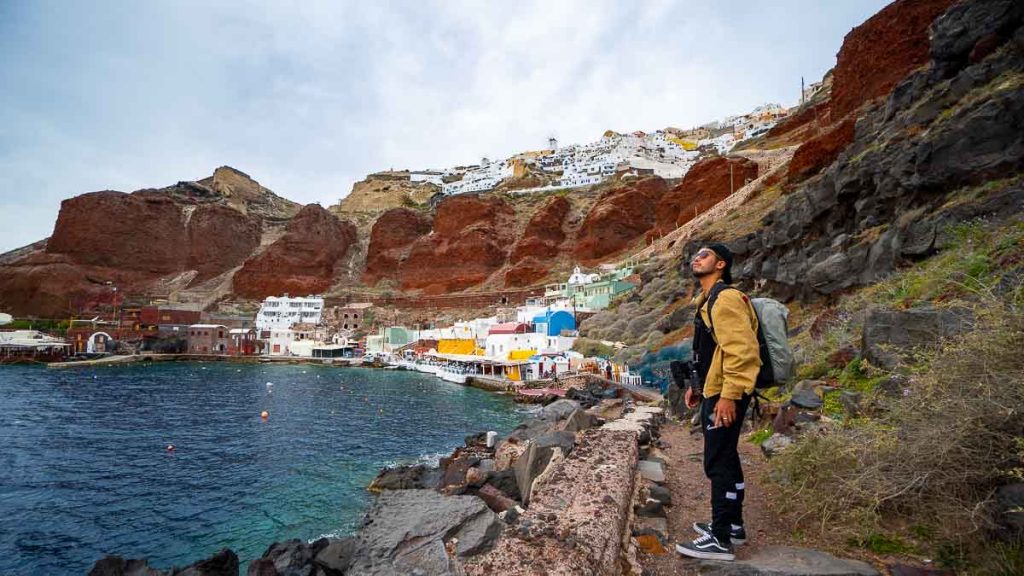 If you're embarking on a Greek adventure with similar queries in mind, we've crafted the ultimate guide to help you plan the perfect itinerary, packed with insightful travel tips and exciting things to do.
Good news is, you can even use the same formula for a trip anywhere in the world. And if you're a Citi Cardmember, don't forget to make the most of Citi's exclusive travel deals on flights, hotels and experiences (read till the end to find out how to win S$10,000 in travel vouchers for your very own dream vacation too) ✨.
Click to jump to the relevant section:
Which part of Greece to explore | Getting around Greece | Accommodation in Greece | Popular experiences in Greece | Tips for getting the most of your trip
Which part of Greece to explore?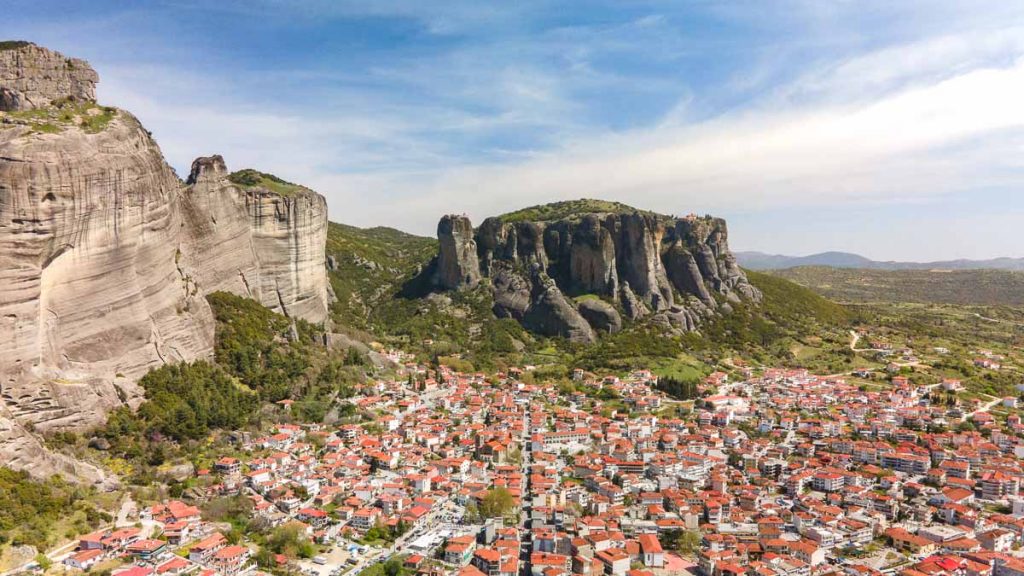 Did you know? Greece consists of roughly 6,000 islands and while only 227 are inhabited, that's still a lot of islands to explore!
If it's your first trip to Greece, here are some epic destinations to start with:
– Rich history and spectacular ruins: Athens, Aegina, Rhodes, Delos, Ikaria
– Scenic views: Santorini, Milos, Naxos, Paros, Skopelos
– Epic experiences: Crete, Meteora, Corfu, Zakynthos, Hydra
– Partying and nightlife: Mykonos, Kos, Ios, Skiathos, Kefalonia
But if you only have a week there, here's our suggested itinerary (Athens-Santorini-Crete) to cover the historical, scenic and thrilling sides of Greece: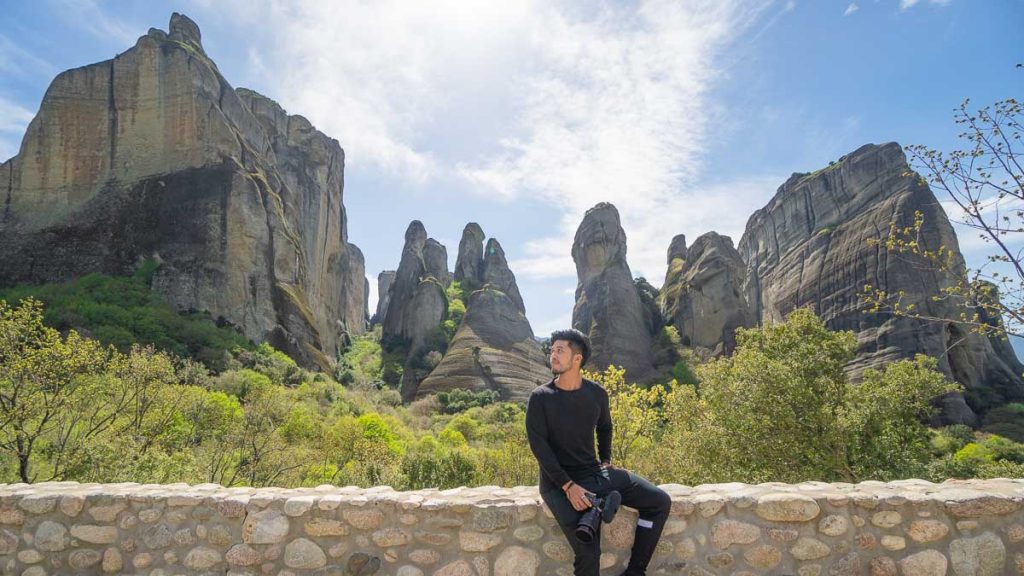 Day 1-2: Check off your list of ancient Greek cities in Athens and visit the Acropolis, Temple of Zeus and Ancient Agora. Don't miss the hourly changing of guards ceremony at Syntagma Square and do some shopping at Monastiraki Flea Market.
Day 3: Take a day trip to Meteora — visit the various monasteries suspended in mid-air or go on a hiking and scrambling tour of Great Saint.
Day 4-5: Explore Santorini's famous attractions such as the Three Bells of Fira and Pyrgos Kallistis, and try local wine at Santo Wines. The next day, hop on a luxury yacht and snorkel in the sea. End the day with a beautiful sunset at Skaros Rock.
Day 6-7: Last stop on your Greece itinerary is Crete! Kick-off day one with a scuba diving course at Agia Pelagia and a horseriding tour in the Finikia and Giouchtas mountains. On day two, head on a bus tour to discover local gems like Agios Nikolaos, Plaka, Spinalonga, and Elounda.
*Pro-tip: Before your trip, remember to get pre-essentials like insurance and SIM cards! We got ours from Klook — get S$10 off Klook bookings with your Citi Card (min. S$60 spend)
Best ways to get around Greece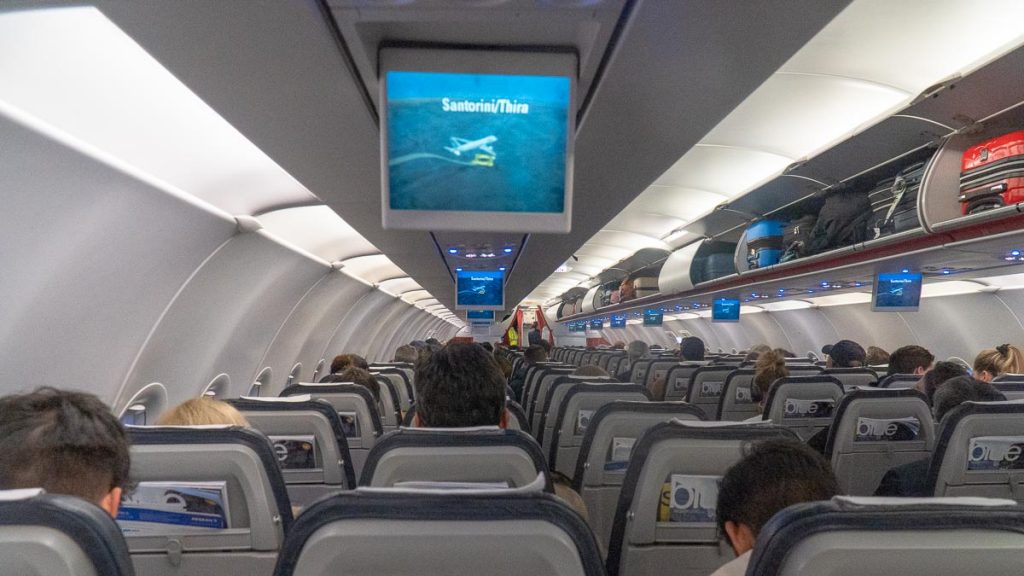 Now that you've decided where to go, how do you get around? There are many options from plane to ferry but it depends on your budget and time in Greece, so here's a useful summary 👇
Plane: This is the fastest and most convenient way to travel from Athens to various Greek islands such as Santorini, Mykonos, Crete, Naxos and Rhodes. We took a domestic flight from Athens to Santorini and arrived in 45 minutes, instead of travelling via ferry which would've taken at least 5 hours.
When securing your domestic flights, use your Citi Card on Traveloka to enjoy up to S$100 off your booking!
*Note: Greece only has one airport, Athens International Airport, which serves both international and domestic flights. Also, not all Greek islands are accessible via plane.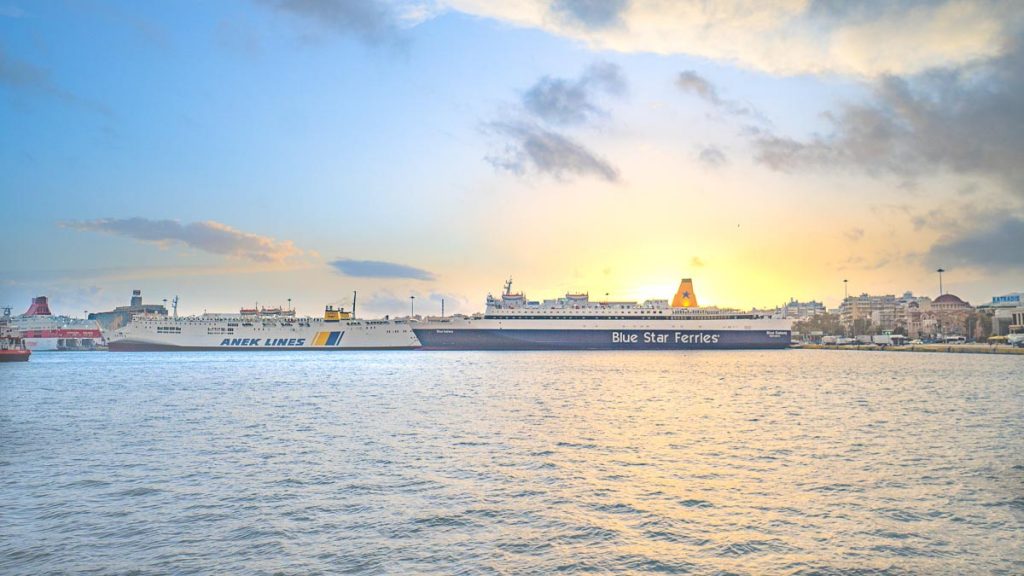 Ferry: This is usually the cheaper option but it will take a longer time to get to your destination. For example, a ferry from Athens to Crete could take around 9 hours and cost around ~S$50. Compared to via plane which would take less than an hour but with airfares of around ~S$100.
*Pro-tip: Use Ferryhopper to check the ferry schedule, as well as pre-book ferry tickets online.
Public transport: Buses and trains are convenient for travelling within large city areas like Athens. In fact, most train stations are near local attractions like the Acropolis! However, on islands like Santorini or Crete, public transport is less frequent and most people travel by car or scooter.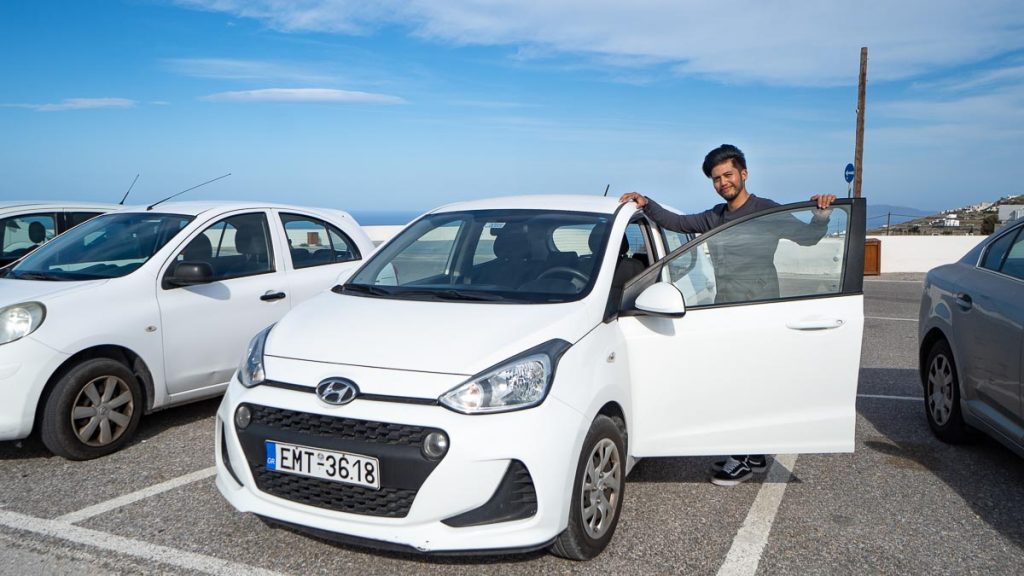 Car: Renting a car is the most popular and fuss-free way to get around the Greek islands where public transport is not as accessible. Pre-book your rental car via Klook with Citi Cards and get S$10 off with a minimum spend of S$60!
We rented ours in Santorini for €65/day (~S$95) including insurance coverage, and managed to cover various iconic attractions like the Three Bells of Fira and Pyrgos Kallistis in a day. Parking is also super easy with free parking lots nearby the attractions.
Scooter/ATV: Scooters and ATVs are cheaper to rent than a car — they can cost around €45/day (~S$65) including insurance coverage. While it may be easier to find parking space, there's not much protection from unpredictable weather like strong winds or rain. So you might want to take these factors into consideration too!
*Note: You'll need to get an International Driving Permit (S$20) to rent a car, scooter or ATV in Greece.
Accommodation in Greece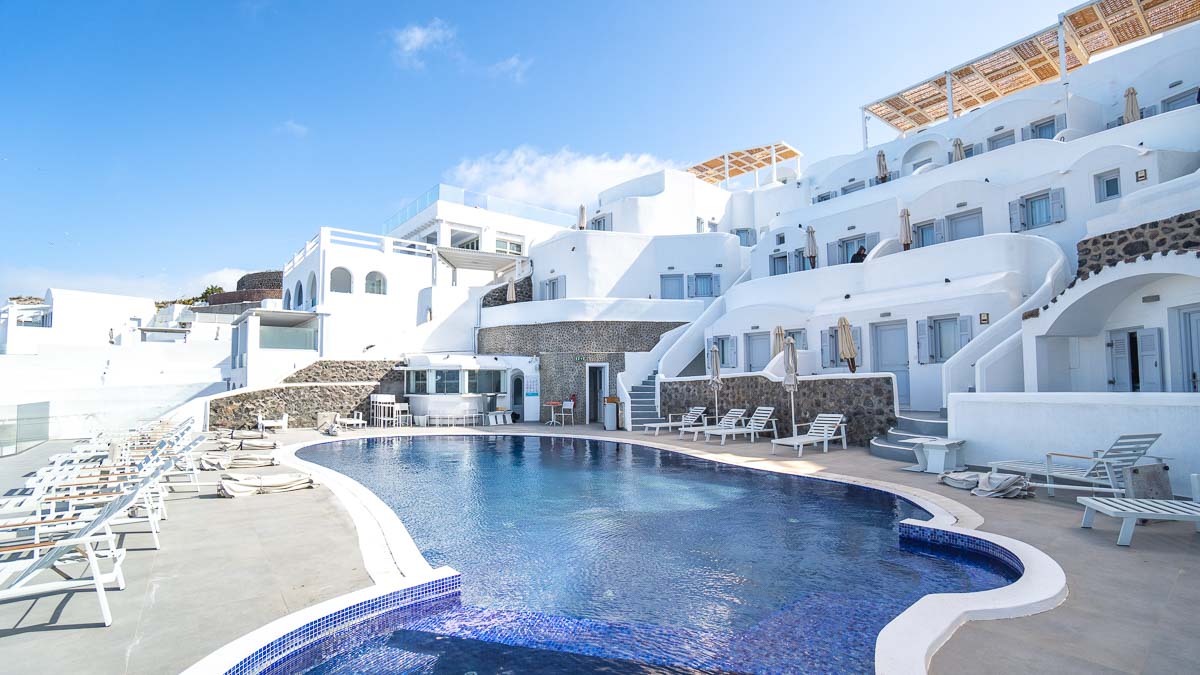 On our previous trip to Greece in 2017, we opted for cheaper accommodation so we could spend more on experiences like a scrambling tour. This time round, we checked out a five-star accommodation with a pool overlooking a scenic view.
Ultimately, where you stay depends on your priorities — convenient location, budget-friendly or epic views? Here are some suggestions to get you started:
*Pro-tip: Get up to S$100 off hotels, flights, and experiences on Traveloka with your Citi Card!
Splurge-worthy: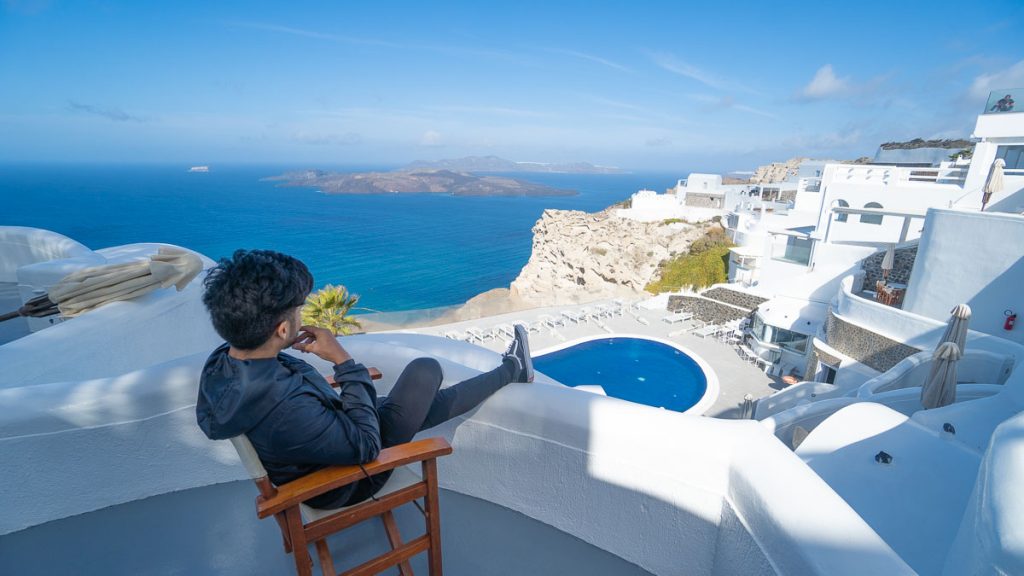 Volcano View Hotel (from ~S$250/night) — During our time in Santorini, we stayed at the Volcano View Hotel, which sits atop the Caldera cliffs overlooking the volcano! We even had a private balcony where we could catch an epic view of the Aegean Sea and caldera. Plus, the service here is superb, with a 24/7 reception and a huge breakfast buffet served each morning.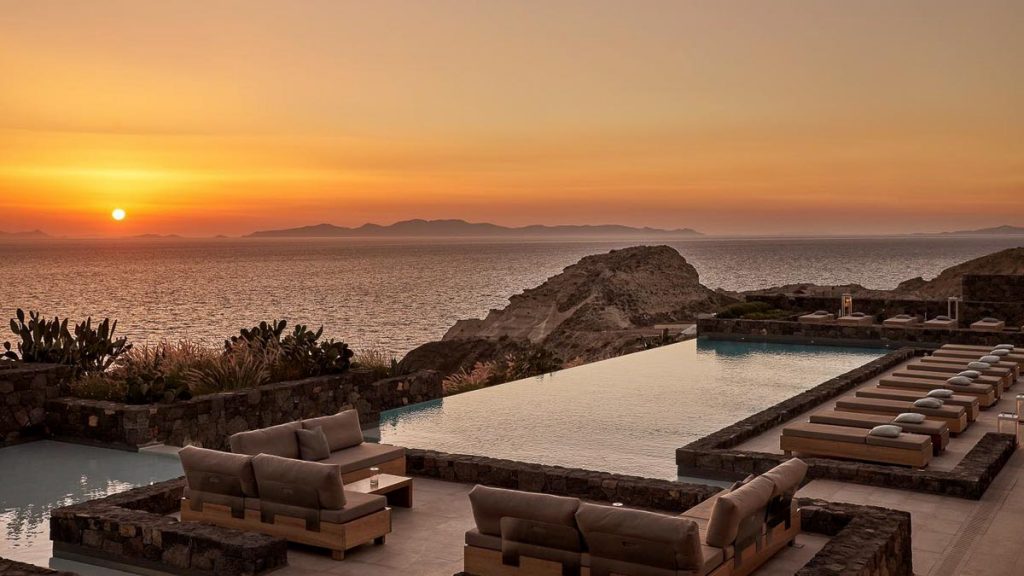 Photo credit: Canaves Oia Santorini via Facebook
Canaves Oia Suites (from ~S$580/night) — Also perched on the edge of a cliff, this accommodation is famous for catching the famous Santorini sunset — best viewed from the infinity pool. You can check out the spa and wellness centre here or rent the hotel's private motor yacht and sail across the islands!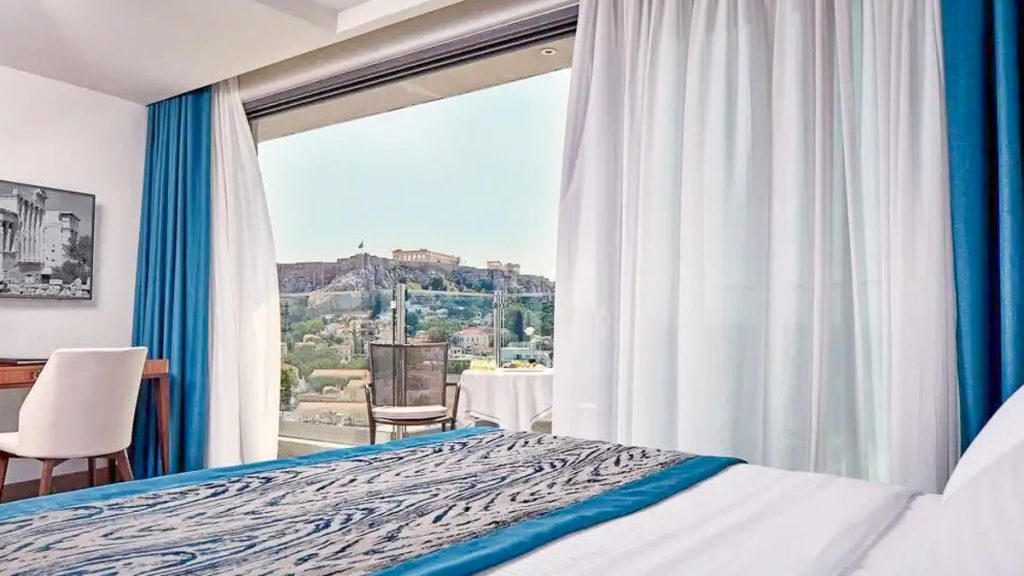 Photo credit: Traveloka
Electra Metropolis (from ~S$700/night) — Waking up to a view of the Acropolis? Sign me up! This five-star hotel is literally located in the heart of Athens, just a 10-minute walk from attractions like Syntagma Square and Plaka area.
Budget-friendly: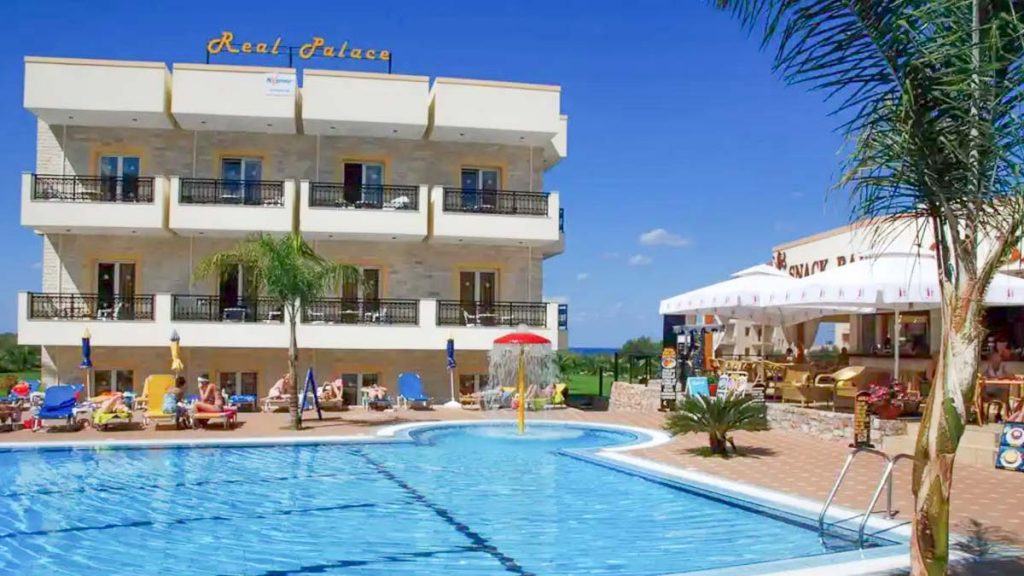 Photo credit: Traveloka
Real Palace (from ~S$30/night) — It may not be a real palace, but it's great value for its price — fully equipped with an outdoor swimming pool, sun beds and a snack bar. Psst, your rooms also come with a kitchen for some homemade meals!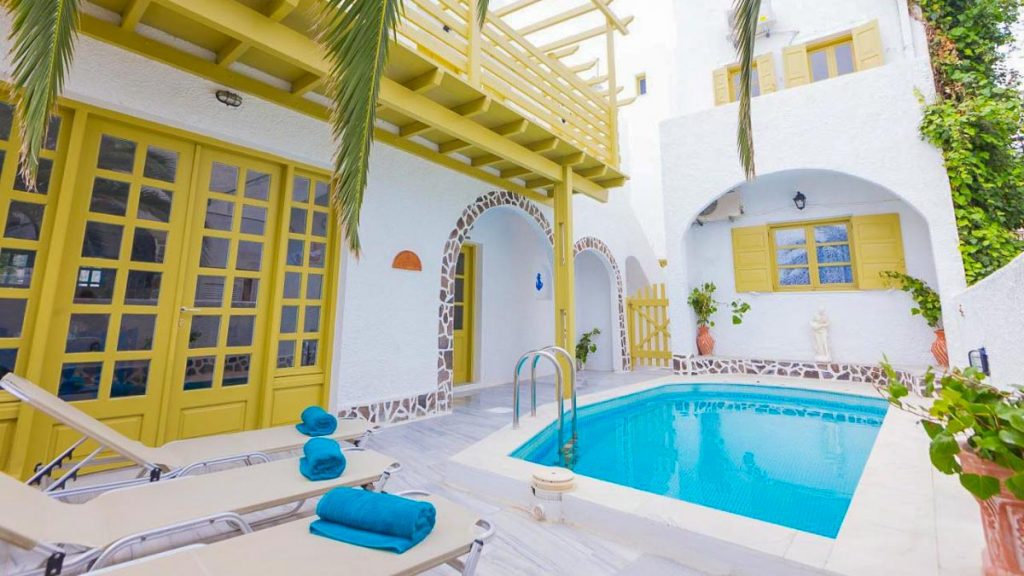 Photo credit: Traveloka
Sunny Days (from ~S$60/night) — Contrary to popular belief, not all accommodation in Santorini is expensive. Sunny Days is friendly on the wallet and even offers an outdoor swimming pool, shared lounge and terrace — decked in cute pastel yellow colour!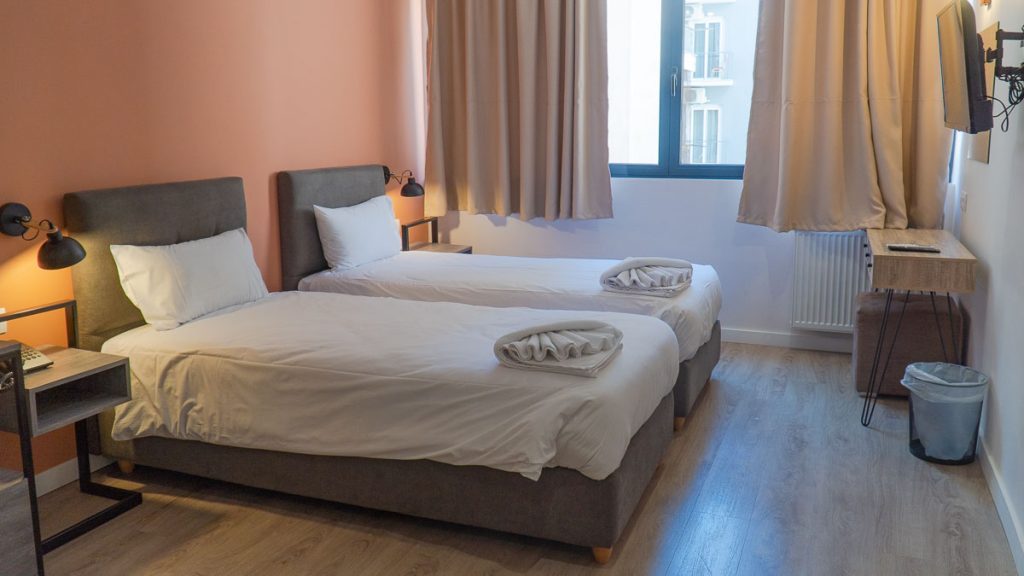 Dunlin Hotel (from ~S$90/night) — A value-for-money option in Athens is Dunlin Hotel — the room is really spacious and there's even a 24/7 hour front desk should you need anything. Most importantly, it's a short walkable distance to Omonia Metro Station and we could easily travel via train to attractions like the Acropolis in just 5 minutes!
Popular experiences to pre-book in advance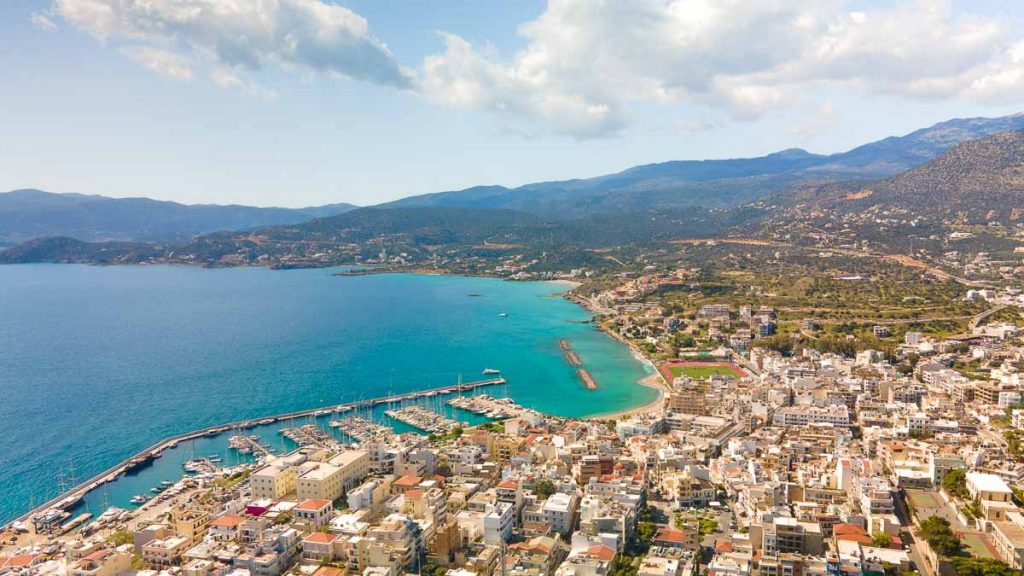 Greece is known for its epic experiences like hot air balloon rides and island-hopping tours but slots can get snapped up quickly during the peak season. So we recommend booking at least a week in advance for peace of mind.
With that said, here are some ideas for your future Greece itinerary!
Santorini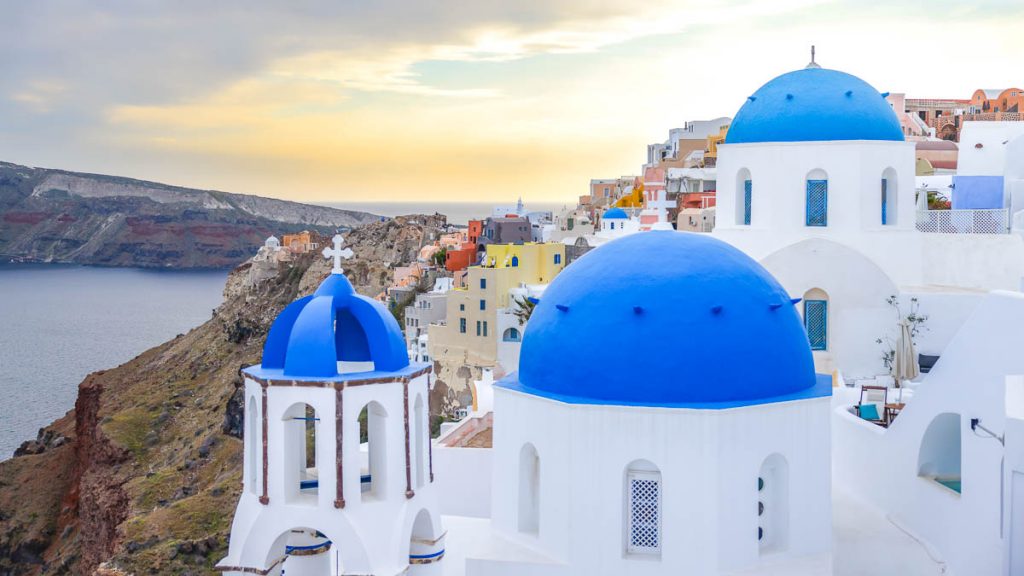 Known for its scenic blue-domed churches and gorgeous sunsets, Santorini is Greece's most iconic and romantic island! What's unique about the island is that its two main towns, Fira and Oia, are perched on caldera cliffs overlooking the sea.
Explore Santorini's famous attractions — If you only have a day in Santorini, a tour is the most convenient way to catch all of its main attractions like Pyrgos Kallistis, Megalochori Village, and Perissa Beach. Alternatively, rent a car to explore these areas on your own too — book via Klook with your Citi Card to enjoy S$10 off (min. spend S$60).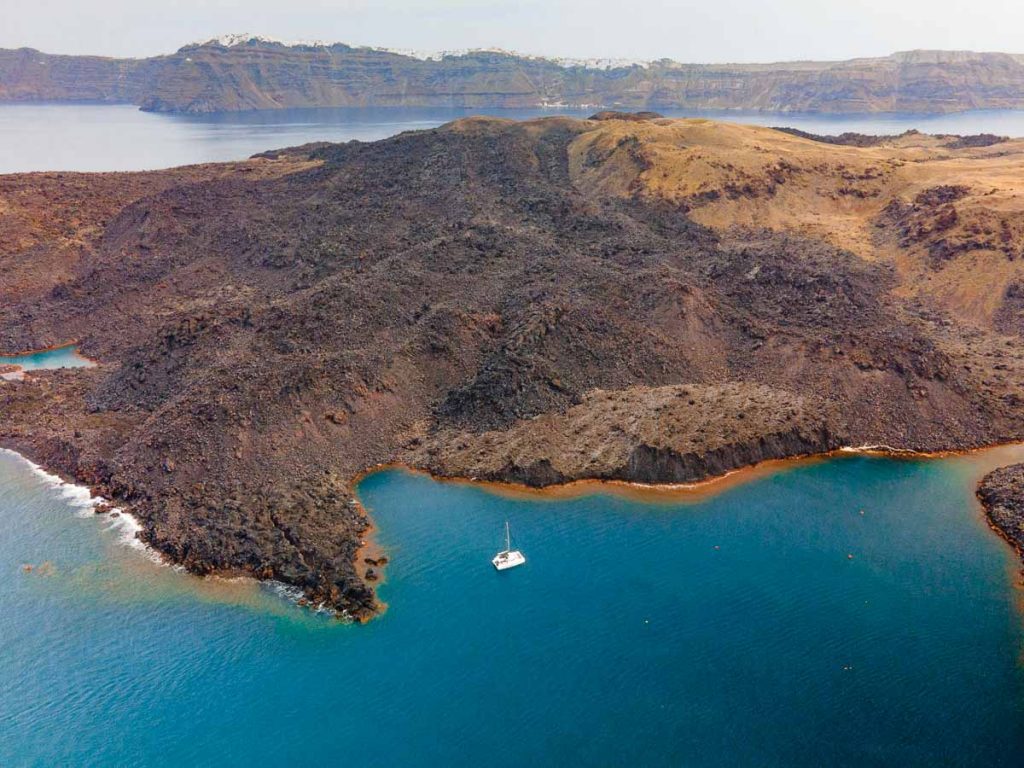 Sail on a luxury yacht — A luxurious cruise is an all-in-one-package where you can soak in Santorini's beautiful landscapes like Red Beach and Black Mountain, snorkel in the sea, and indulge in free-flow alcohol. On our yacht tour, we also learnt fun facts from our guide, like how Red Beach has iron in its sand which oxidises with water to give its red colour!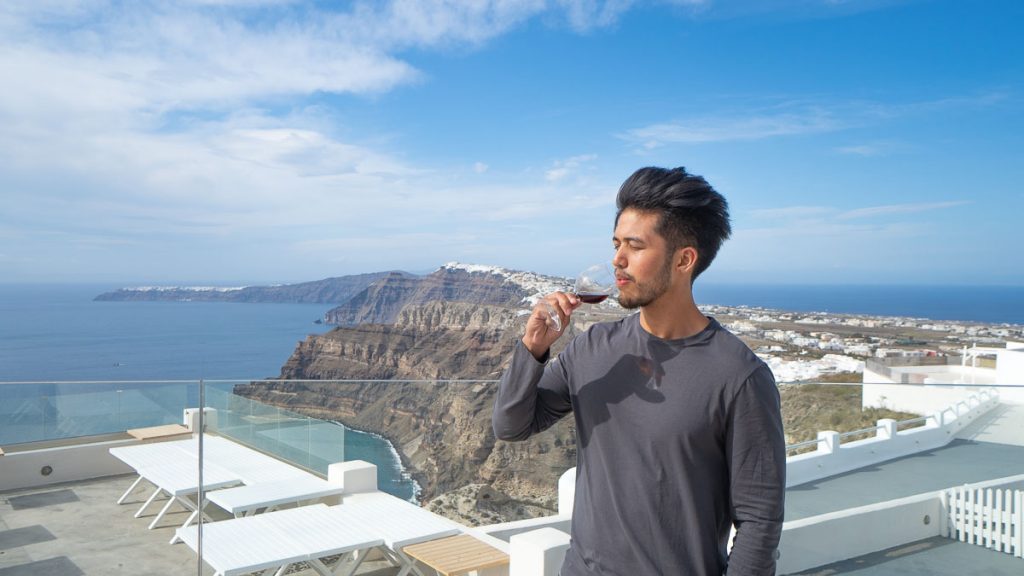 Indulge in wine tasting — Sample some of Santorini's famous wines with a great backdrop of the caldera at Santo Wines. Our favourite was the Vinsanto, a sweet dessert wine made from various types of white grapes like Assyrtiko and Aidani 🍷.
*Pro-tip: Pay with your Citi PremierMiles Card to earn up to 4 miles with every S$1 overseas spend — plus, your Citi Miles don't expire!
Crete
Crete is the largest island in Greece, and also the fifth largest in the Mediterranean Sea! Sure, it's not as well-known as Santorini, but it has an adventurous side to it — with activities like scuba diving and even hot air ballooning.
Scuba dive in clear waters — There are different courses suited for varying skillsets. As first-timers, we took a beginner course at Agia Pelagia in Crete. Props to my instructor Philip, who was super patient in helping me relax in the water. I eventually managed to dive and saw some barracudas and jellyfish!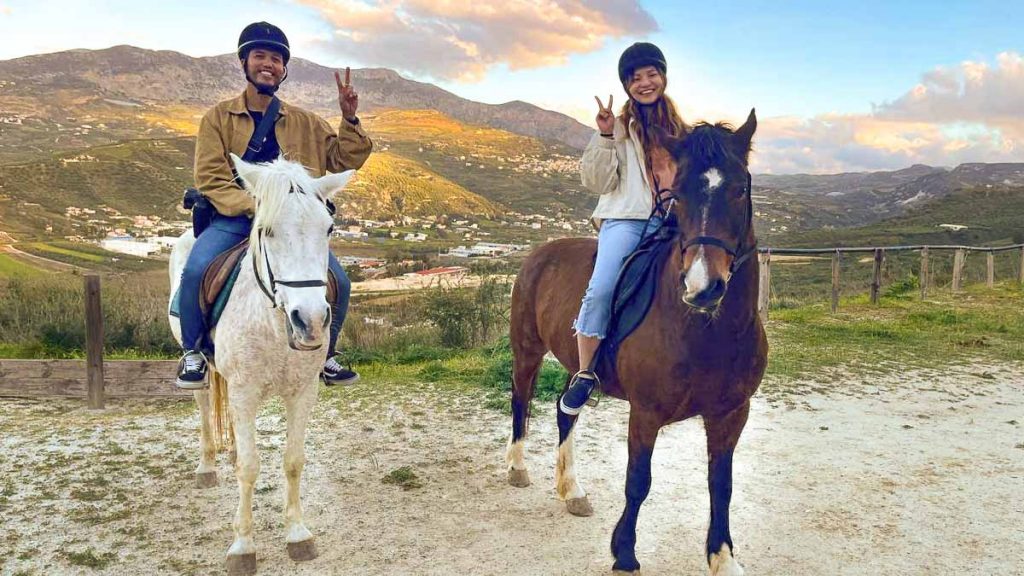 Ride a horse up a mountain — Why climb up a mountain when you can explore it on horseback? We took a 2-hour horseriding tour to appreciate the views along the Finikia and Giouchtas mountains at a leisurely pace. Plus, I didn't have to worry as I was in very good hooves — my horse Patty was well-trained and made me feel safe during the ride.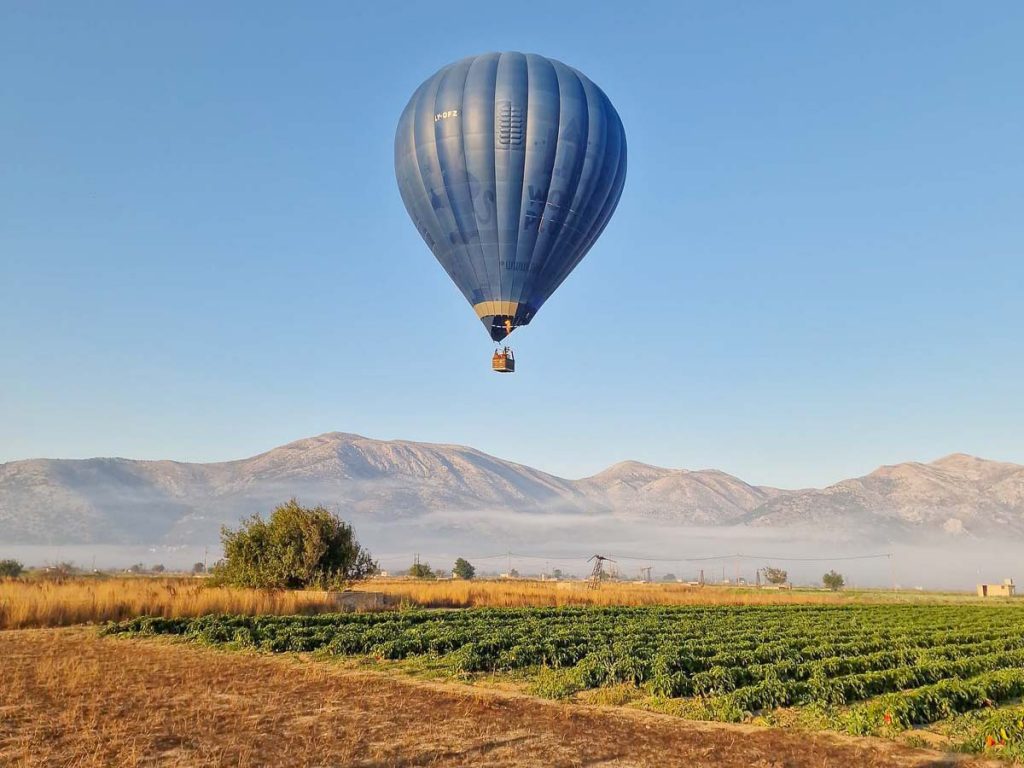 Photo credit: Hot Air Balloon Greece via Facebook
Hop on a hot air balloon ride — Take a scenic flight over Crete's picturesque Lassithi Plateau, with an amazing backdrop of the Dikti Mountains. After the 40-minute adventure, get treated to a traditional Cretan breakfast and a glass of sparkling wine 🥂!
Athens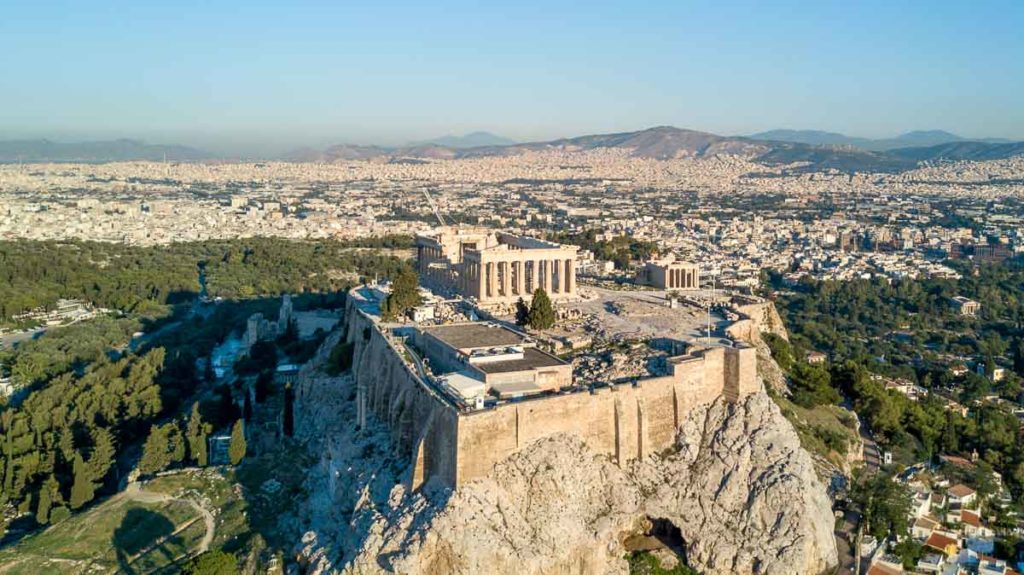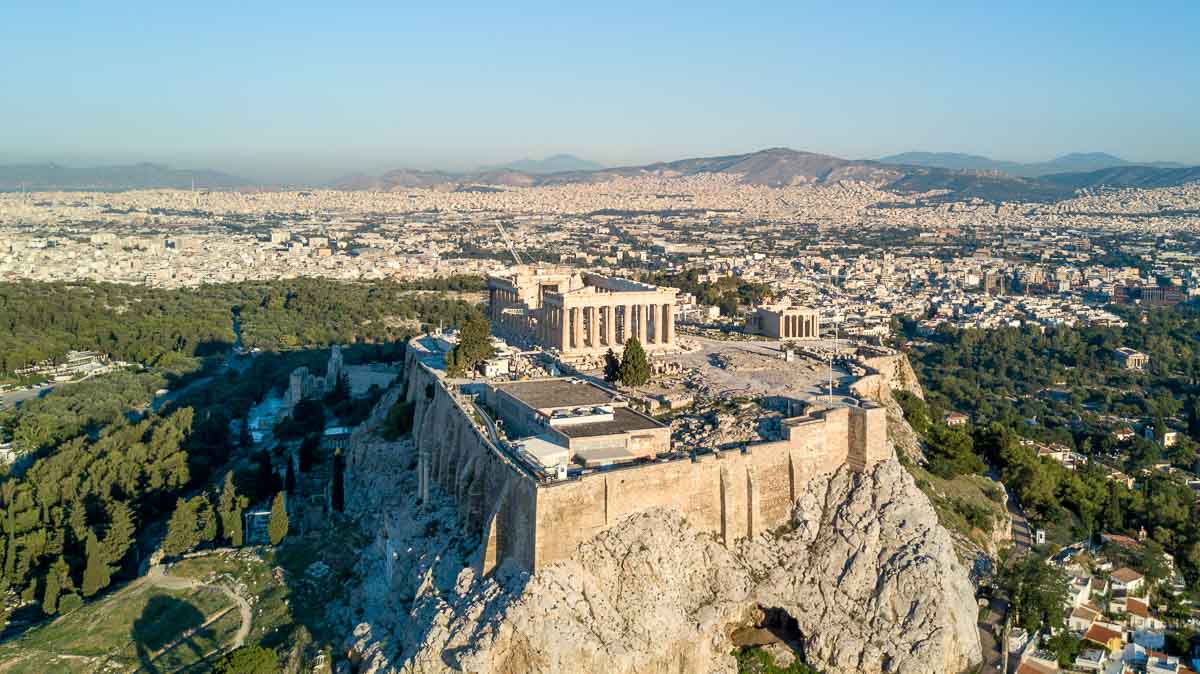 Delve deep into the heart of Ancient Greece and explore the home of the gods through historical ruins, museums and temples.
Visit ancient ruins — If you didn't visit the Acropolis, did you really go to Greece? The Acropolis is located above the city of Athens and consists of multiple historic sites like the Parthenon and the Odeon of Herodes Atticus. Our favourite was the former, which used to be a temple dedicated to the goddess of Athena. Apart from the Acropolis, other interesting attractions include the Ancient Agora and the Temple of Olympian Zeus.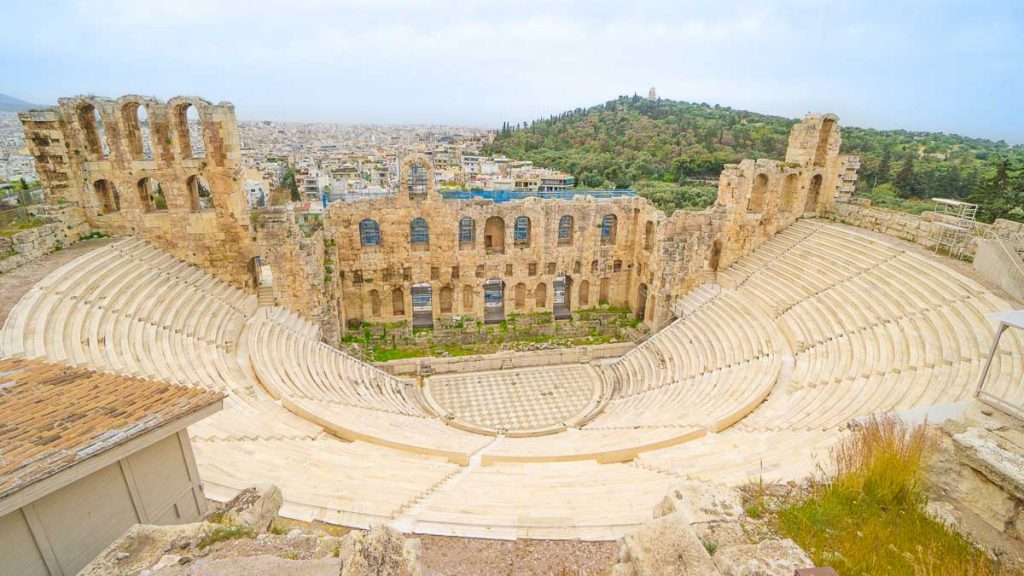 *Pro-tip: Visit each attraction via a Hop-On Hop-Off bus service, inclusive of an audio guide to learn more about each location. Plus, book with your Citi Card on Traveloka and get up to S$100 off experiences!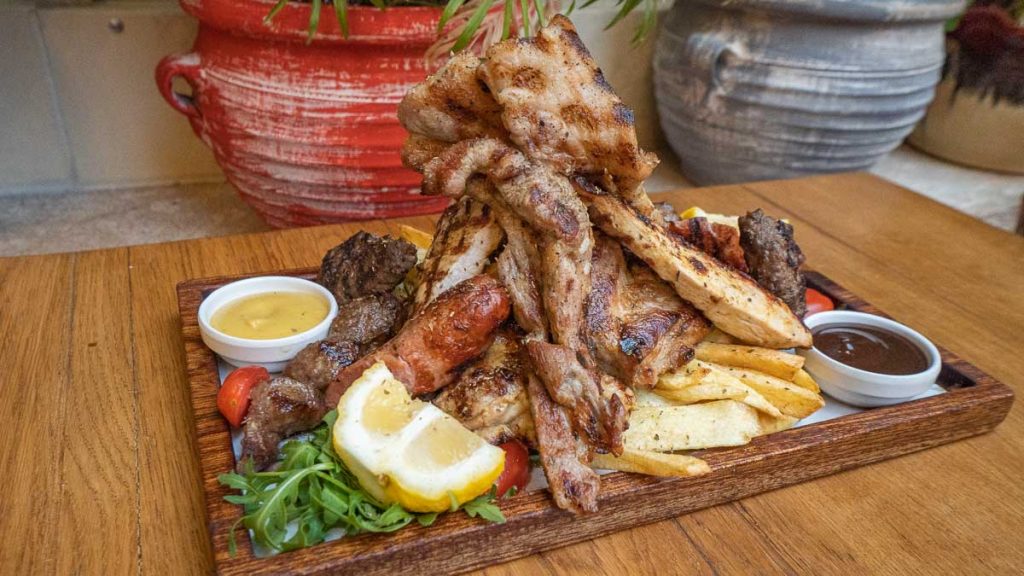 Feast on authentic local food — Greek cuisine is a mixture of Mediterranean, Italian, French, and even Turkish cuisines. Some local recommendations include O Thanasis, where we tried its tender signature beef souvlaki, and MIRONI Greek Restaurant, which generously filled our tummies with its mixed grill set of beef, chicken and kebabs.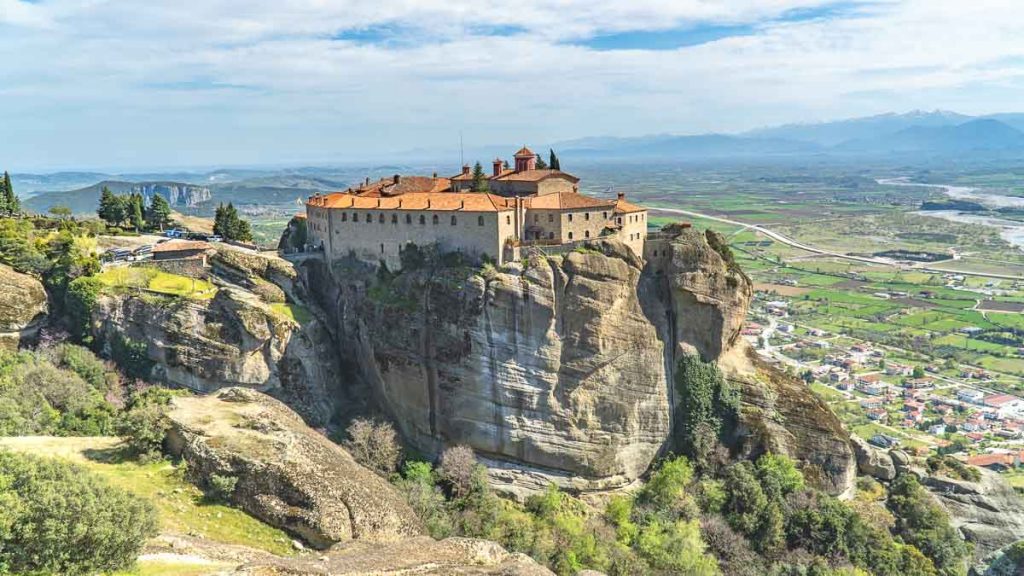 Day trip to Meteora — Meteora is one of Greece's most famous UNESCO World Heritage Sites, with monasteries built on impressive rock formations. On our day tour from Athens, we learnt that its name translates to "the one suspended in mid-air"! There are 24 monasteries in total, but only six are active today — the most accessible one being the Holy Monastery of St. Stephan where you don't need to climb any steps.
*Note: Entry to the monasteries are €3/pax, only cash payment is accepted.
*Pro-tip: Get S$10 off your Klook activity bookings with a minimum spend of S$60 with Citi Credit Cards!
For other epic things to add to your Greece itinerary, check out our ultimate Greece bucket list!
Tips for getting the most out of an epic trip in Greece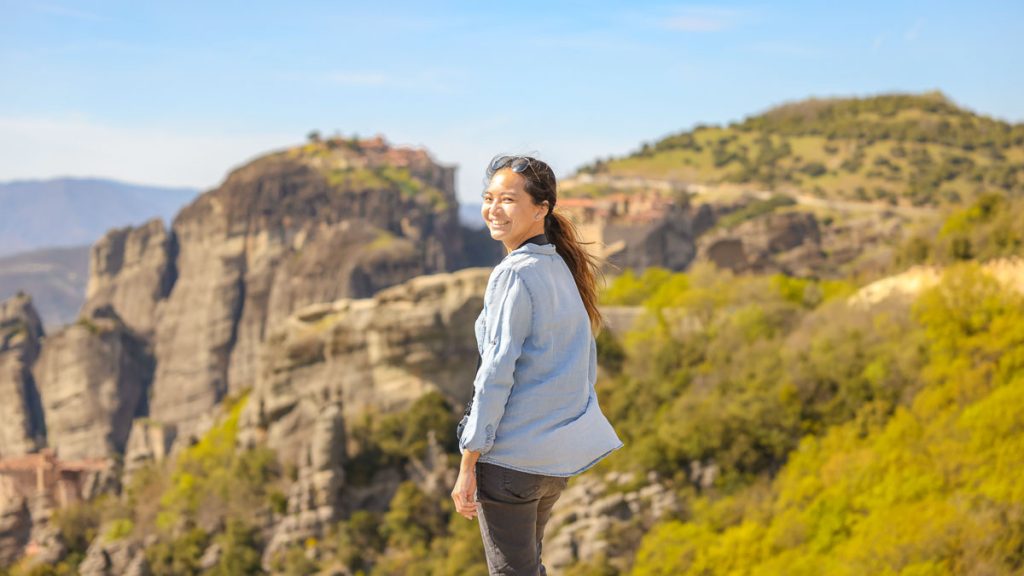 Being in Greece was truly an unforgettable experience for me — I loved its beautiful landscapes and even got to try things I've never done before such as scuba diving and horse riding on a mountain!
So if Greece is high up on your bucket list (like mine), here are some extra tips to help you plan your future itinerary:
1) Bring sufficient cash
While most shops accept Visa or Master credit cards, some local attractions and tour operators such as the Holy Monasteries in Meteora and Finikia Horseriding tour in Crete only accept cash. So do remember to change enough money just in case.
2) Visit during off-peak season
Avoid summer (June to August) as it's hot and usually crowded with tourists. Visit during spring (April to May) or autumn (September to October) instead, when the crowds have cleared and the weather is cooler.
3) Ask locals for recommendations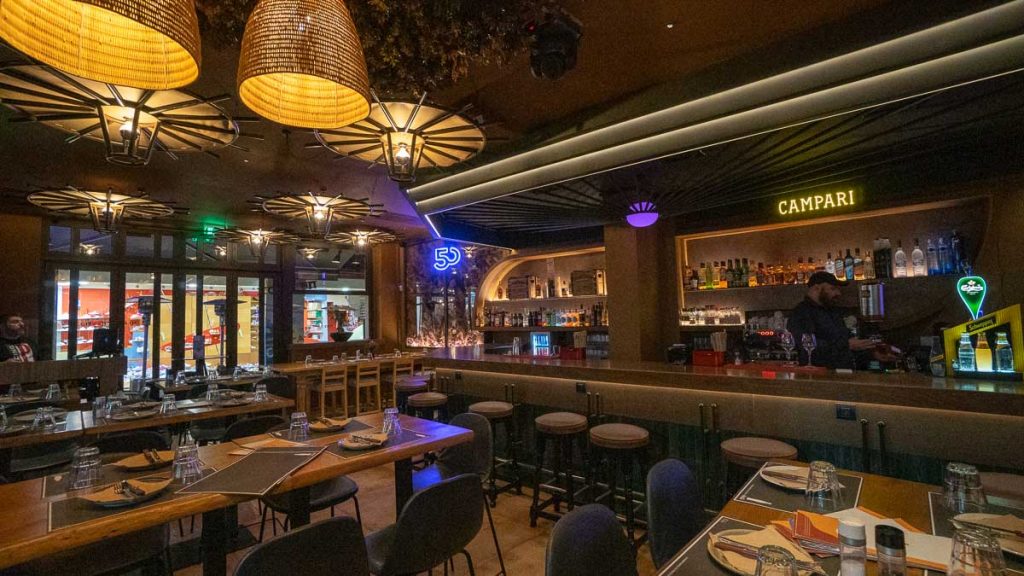 There's really nothing like Greek hospitality — we've been treated to free desserts at several restaurants recommended by locals. So don't be afraid to ask around for the best things to eat or do!
My favourite place was The Fifty restaurant in Crete, whose owner was actually a friend of our horseriding tour guide. And it pays to have connections because, after our meal, we had a free side of pastry filled with custard cream and some local alcohol to try 😋.
4) Rack up miles
On holiday, you'll definitely be shopping for souvenirs or indulging in a fancy meal or two. So use this chance to earn up to 4 miles with every S$1 overseas spend from now till 30 June 2023 — only for those with a Citi PremierMiles Card.
The best part is your Citi Miles never expire so you can rack them up for your next vacay too!
*Pro-tip: For those who don't own a Citi PremierMiles Card yet, apply now and get up to 30,000 bonus Citi Miles*
*T&Cs apply. Welcome offer is valid till 30 June 2023.
5) Look out for deals and giveaways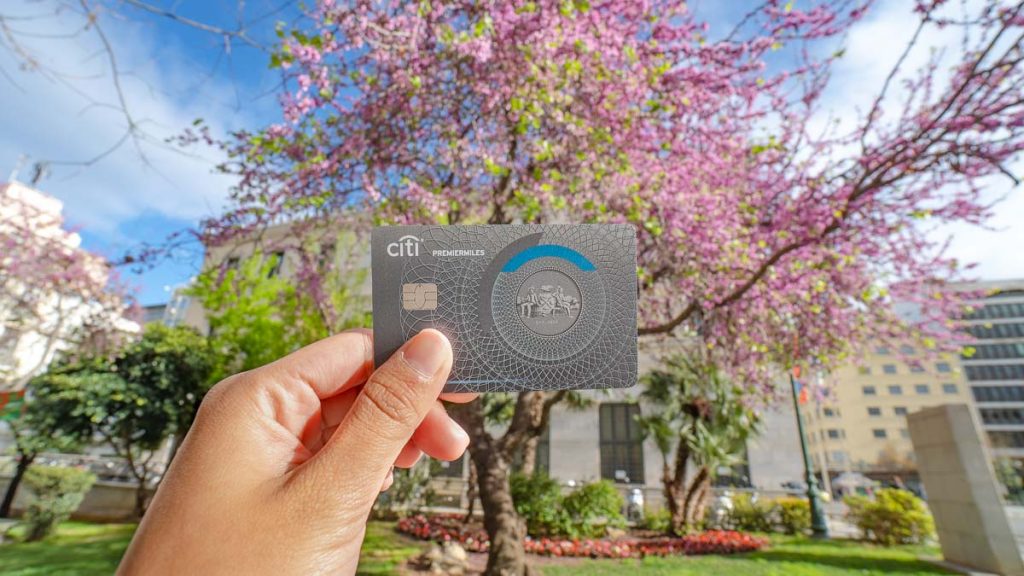 As they say, good things must share, so here are some travel deals exclusively for Citi Cardmembers!
– Traveloka: Up to S$100 off flights, hotels, and experiences
– Klook: S$10 off bookings with min. S$60 spend on your Citi Credit Card
– Singapore Airlines: Receive an American Tourister Flashflux 68cm/25inch Spinner Exp Luggage when you charge a minimum qualifying spend of S$2,000 on singaporeair.com or the SingaporeAir mobile app with your Citi Cards
But here's the most exciting one — the Citi Great Giveaways!
Five lucky Citi Cardmembers will be able to win S$10,000 in travel vouchers, to anywhere in the world. Just follow these simple steps:

Step 1: Login to the Citi Mobile® App and click on the "Get More" tab to enrol.
Step 2: Charge a minimum of S$2,000 in qualifying spend on your Citi Credit Card from 15 February to 31 May 2023.

Terms and conditions apply. Find out more here.
What destination is on your travel bucket list? Tell us where and what you'd do in the comments!
---
This post was brought to you by Citi Cards.
Like what you see? Follow us on Facebook, Instagram, Tiktok, and YouTube for more travel updates!