When I told my friends and family that I was in China (specifically Hangzhou and Nanjing), they immediately asked if I had brought Imodium. Apparently, some of them have the impression that food in China is prepared with a lack of consideration for hygiene or safety. I am glad to report that this is not true and in fact, I had some of the best food (in terms of taste, quality and value-for-money) ever during my travels!
With China being the second-largest country in the world, naturally, there would be so many different and diverse cuisines available. In my one week in Hangzhou and Nanjing, I got to taste a few dishes that are representative of Eastern China that I would totally recommend you to try.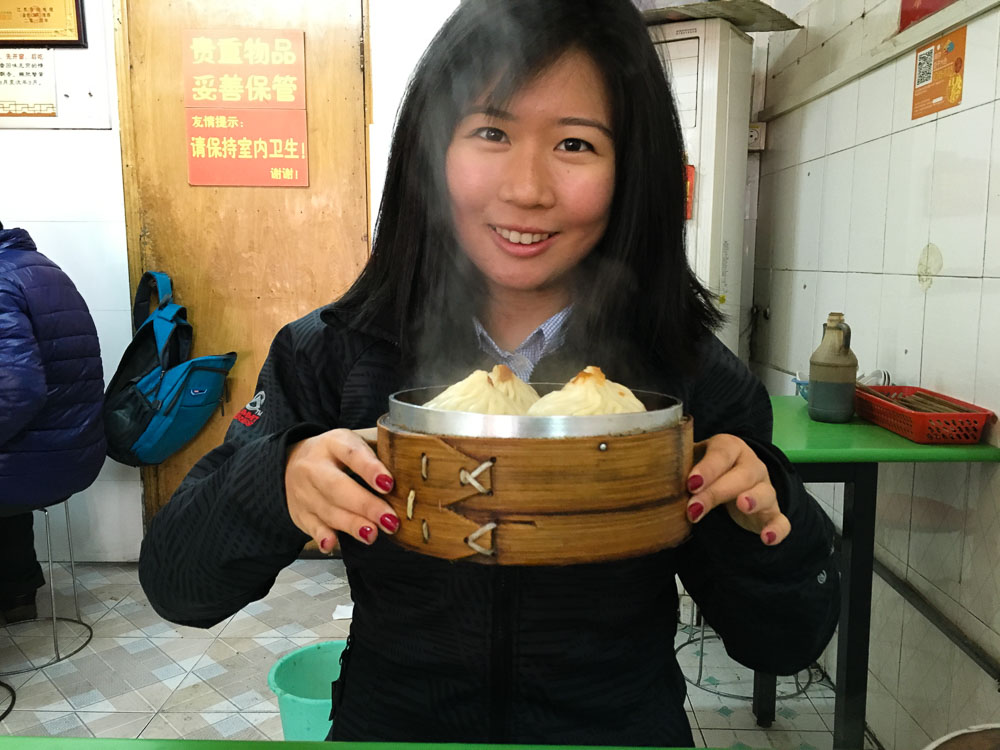 Looking very pleased with our find.
Dongpo Pork (東坡肉, dōng pō ròu)
A very popular pork dish in Eastern China and specifically Hangzhou, Dongpo pork is stewed in an emulsion of vinegar and sugar together with scallions and ginger. The half fat and half lean pork belly is cut into cubes in a grid-like manner. It is usually served in a ceramic claypot and may include other elements such as salted fish and bamboo shoots.
What makes this dish so incredible is the soft tofu-like texture of the pork that simply melts in your mouth with the sweet and savory sauce. The pork is named after Su Dongpo who was a governor of Hangzhou.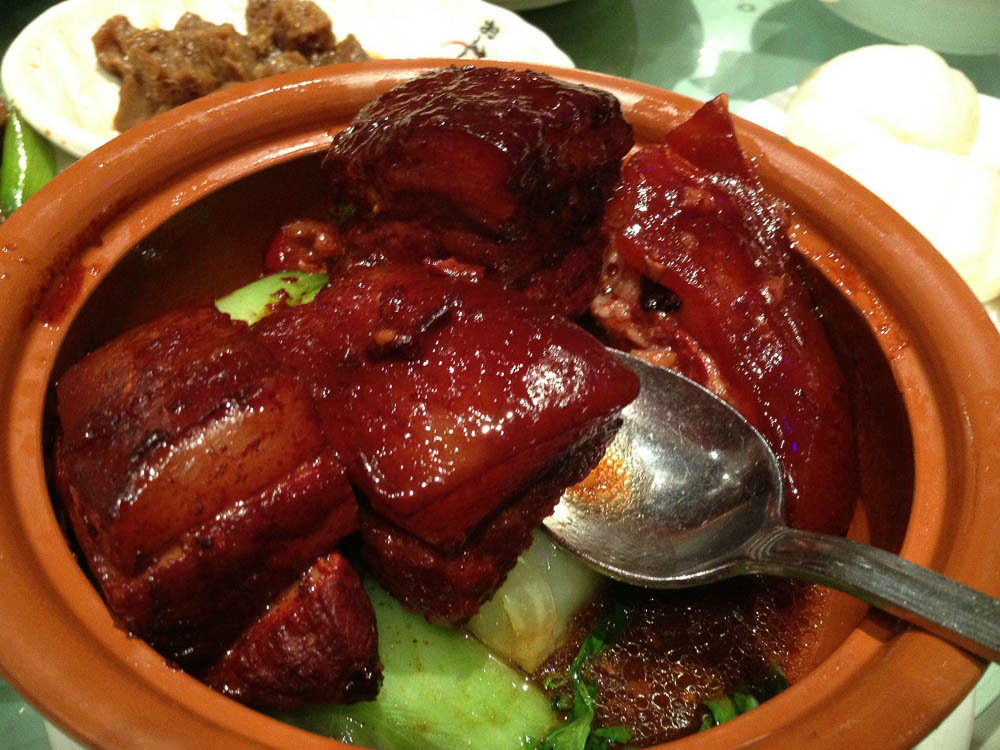 Steamed Dumplings and Soup Buns (汤包, Tāng bāo)
Most Singaporeans would already be familiar with hot piping steamed dumplings (or 小笼包, Xiǎo lóng bāo). In China, they take steamed dumplings to the next level.
There are so many different types that we could have tried them all and not get sick of it.
Sweet and Sour West Lake Carp (西湖醋鱼, Xīhú cù yú)
The sweet and sour West Lake carp is probably the most well known Hangzhou dish alongside Dongpo pork. The carp are caught from the West Lake itself and the connected canals.
For preparation, the carp is actually starved in clear water for one or two days so it will expel all excrements and be clear of any mud or dirt. The carp is then halved and poached to perfection. What makes this dish is definitely the texture and bite on the fish and the tangy vinegar, sweet and sour sauce.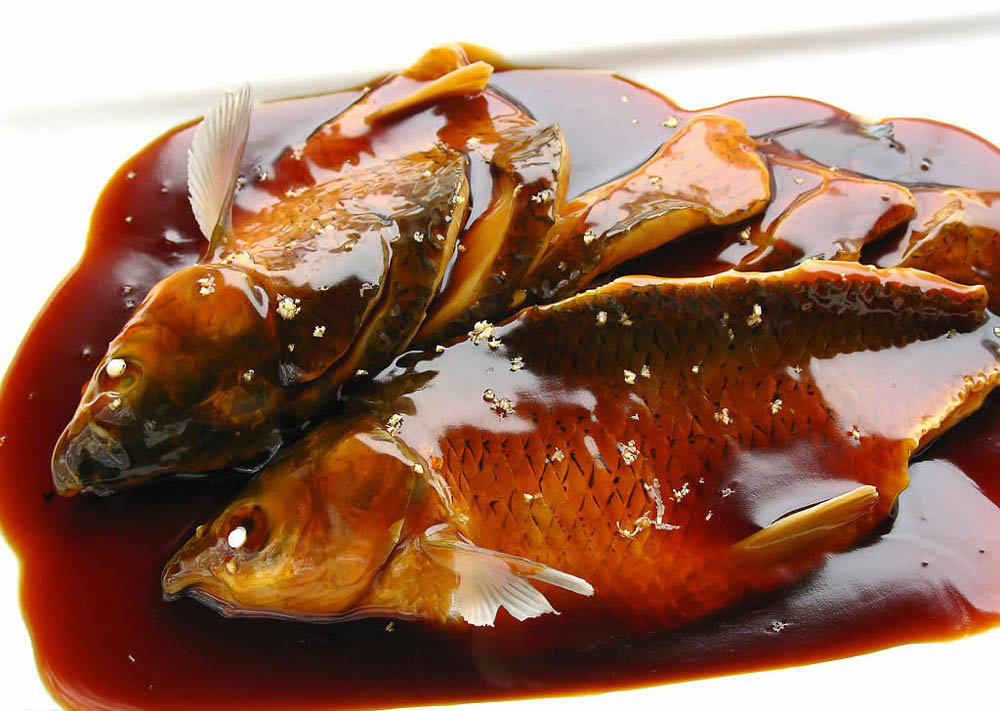 Hangzhou Soy-Sauce Duck (杭州酱鸭, Hángzhōu jiàng yā)
It may look similar to the infamous Peking duck from Beijing, but for Hangzhou's version, it is pickled, topped with soy sauce and finally served cold. The duck skin still has that crispy crunch while the thick slabs of meat are tender and moist. Due to the pickling process, the duck has a pleasant mix of both sweet and salty.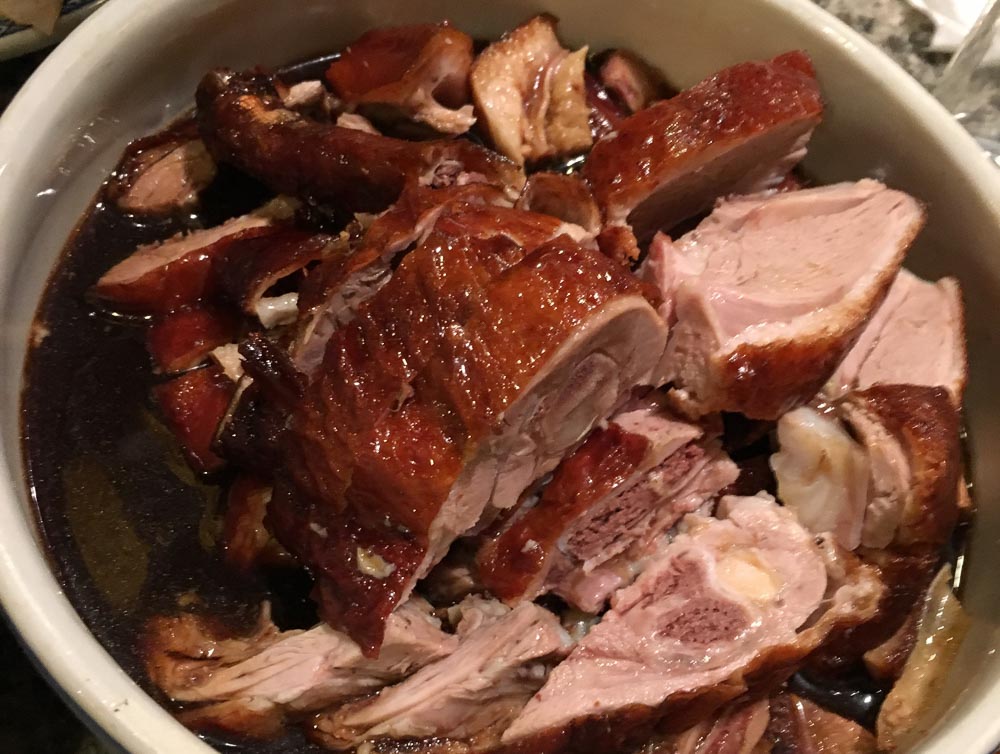 Nanjing Salted Duck (盐水鸭, Yánshuǐ yā)
This duck dish looks like it pales in comparison to its Hangzhou counterpart (literally) as the duck skin and meat have a pale yellowish hue. This is due to the duck being marinated in a special brine and then hung for up to three days depending on the weather or kitchen conditions. The cold appetiser dish is usually served on the bone so that the meat would absorb maximum flavour. Ultimately, the duck meat becomes juicy, tender and delicious.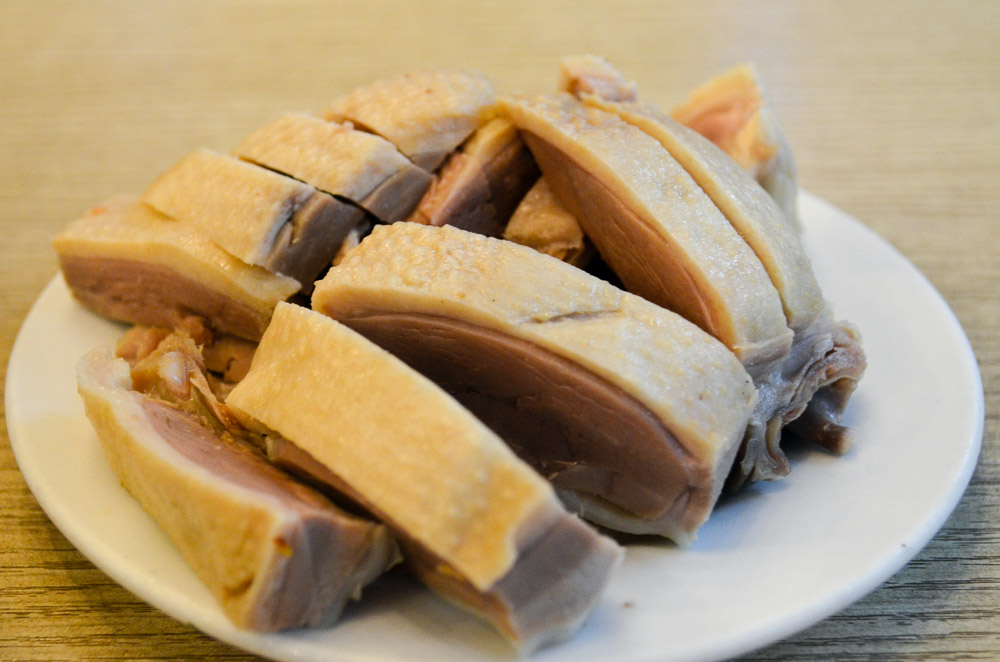 Dragon Well Tea Shrimp (龙井虾仁, Lóngjǐng xiārén)
Longjing Tea Shrimp (Longjing translates to Dragon Well) is a hugely popular dish in Hangzhou. The fresh shrimp are marinated in Shaoxing rice wine and coated with egg white, which are then stir-fried together with boiled Dragon Well tealeaves.
The dish is famous for its elegant look due to the translucency of the crunchy fried shrimp and its aromatic and fragrant flavour from the Longjing tealeaves.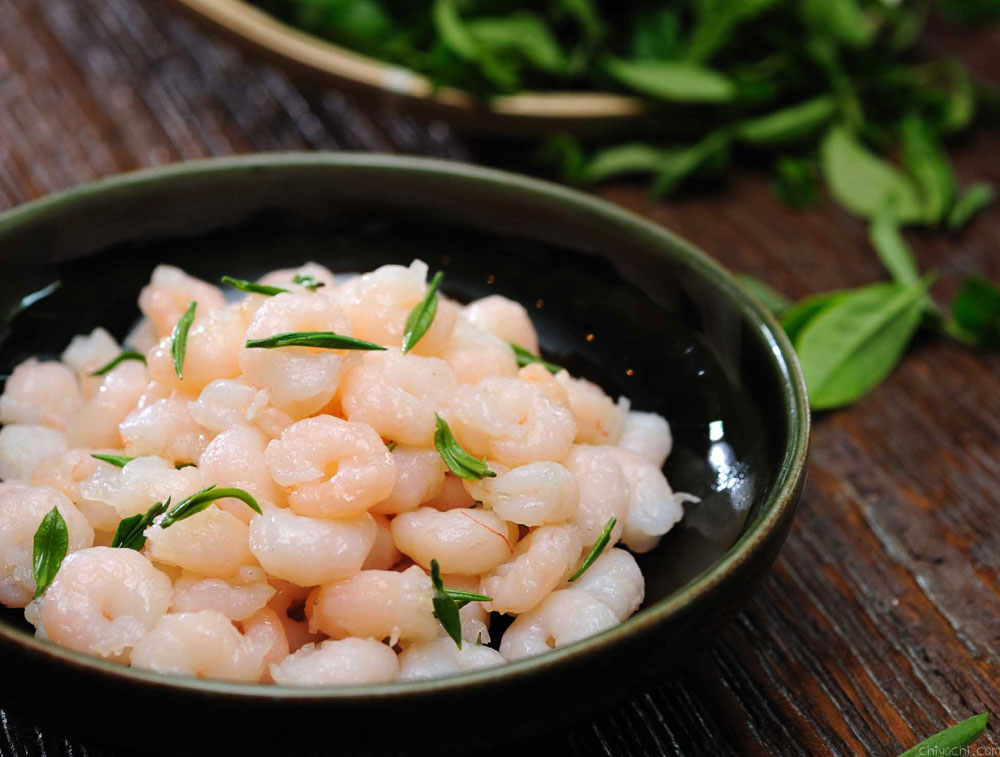 Duck Blood Vermicelli Soup (鸭血粉丝汤, Yā xiě fěnsī tang)
If you understand Chinese or have a keen eye, you would notice countless of shops with the characters "鸭血粉丝" on their signboards.
The characters translate to a local favourite – duck blood noodle soup. It is not as perturbing as it sounds. The cubes of duck blood have a silky bean curd-like consistency and taste similar to Chinese black mushrooms instead of the heavy iron one would expect from blood. The broth is boiled with duck bones, innards and many Chinese herbal ingredients.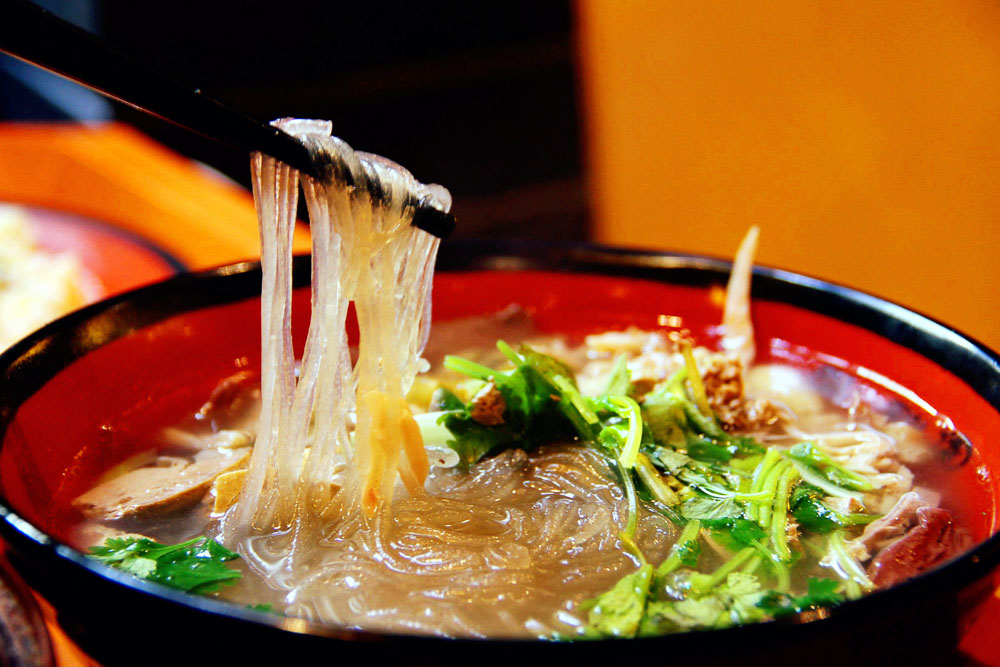 Honey Lotus Root Stuffed with Glutinous Rice (糯米藕, nuò mǐ ǒu)
The glistening glaze of honey over the lotus root was calling out to me as I saw this dish being served to several customers. I ordered it thinking it was a good side or vegetable dish. However, this dish is actually a dessert. The thick crispy lotus root slices are stuffed with sticky glutinous rice, sweet fragrant osmanthus and sugar. The combination of all these elements makes this dish uniquely wonderful. It is quite heavy for dessert due to the amount of honey and sugar used so sharing would be best!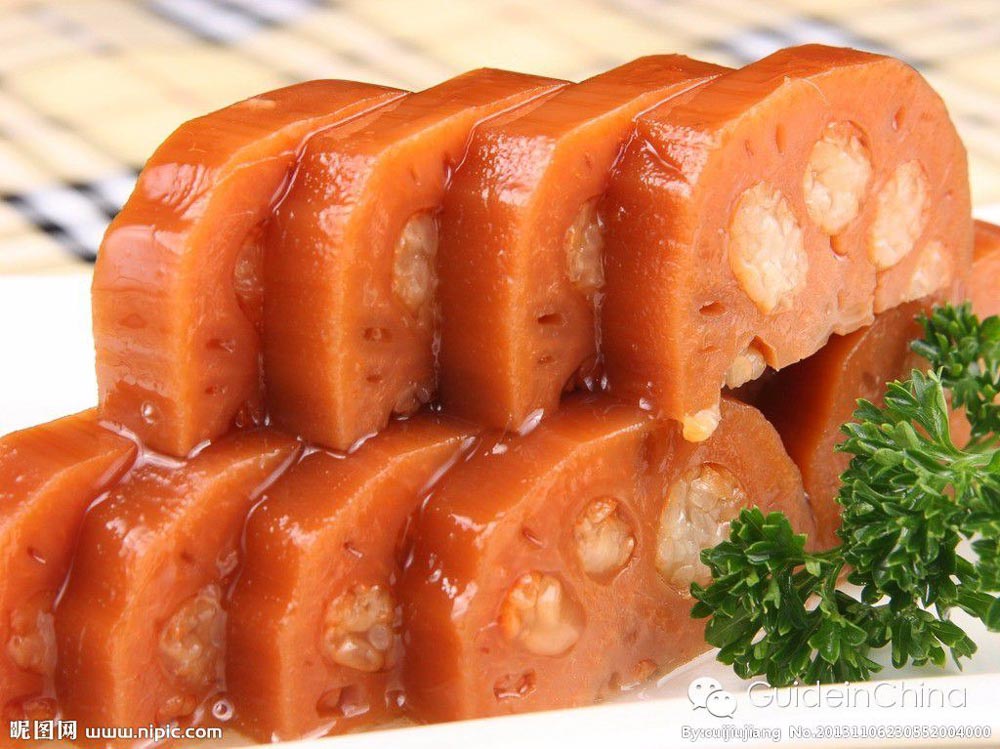 How I would describe Eastern Chinese food is pretty strange. The food is homely and something you wish your grandmother would prepare. However, it's also unique because you've never tasted anything quite like some of these dishes. As I was only travelling with another fellow Travel Intern, there was only so much stomach capacity during meals and unable to try everything we wanted.
Any other notable dishes that we have to try? Drop your suggestions in the comments below!
See also:
– How to travel Hangzhou & Nanjing like a local
– 10 essential apps for travelling in China
Like what you're seeing? Share, like, subscribe and follow more of our adventures on Facebook or Instagram!