The overnight train from Hangzhou pulls up at Nanjing Train Station shortly after daybreak, and we tumble out into a chilly morning. On the way to our hotel we peer out at streets already bustling – women hawking 豆浆油条 and sesame pastries from pushcarts, breakfast stalls serving up steaming bowls of noodles as the city's workers start their day.
We are on the second leg of our China trip, with 48 hours in this legendary city. Nanjing was once a prosperous administrative centre during the Qin dynasty, and China's capital at the start of the 20th century. But I know it for The Rape of Nanking, the massacre at the hands of Japanese soldiers during World War 2, the title of journalist Iris Chang's book that has lain in my house for as long as I can remember.
Nanjing Massacre Memorial Hall
During the first six weeks that Japanese soldiers occupied China's then-capital Nanjing, they committed extensive acts of violence, including rape, looting and mass executions. The eventual death toll stood at 300,000.
Today the victims are memorialised at the Nanjing Massacre Memorial Hall, which is located in Western Nanjing. We take the subway to Yunjinglu station, and the memorial hall is just next to the exit. There are old ladies selling handheld China flags and white chrysanthemum flowers, and Chinese visitors buying them to lay at the memorial in tribute.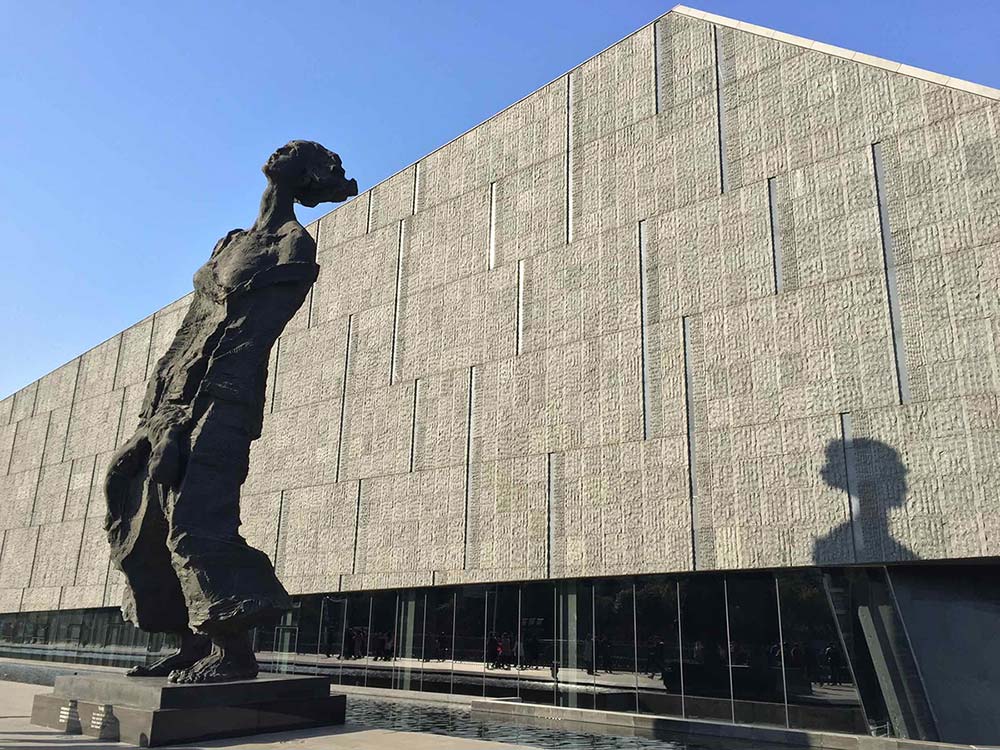 Inside the lowly-fenced compound, a statue towers over us. It is a grieving mother and her dead child, her expression forever twisted in anguish, and an inscription that reads:
家破人亡:

被杀害的儿子永远不再生

被活埋的丈夫永远不再生

悲伤留给了被恶魔强暴的妻

苍天啊。。。
Loosely translated, it bemoans the children slaughtered, husbands buried alive, and women raped at the hands of the "Japanese devils" – a phrase that would be often repeated throughout the extensive exhibits.
Some, like photographs of a man's head chopped off and displayed at a checkpoint, are grisly, others, like an installation depicting how approximately one person was killed every 12 seconds, are sobering.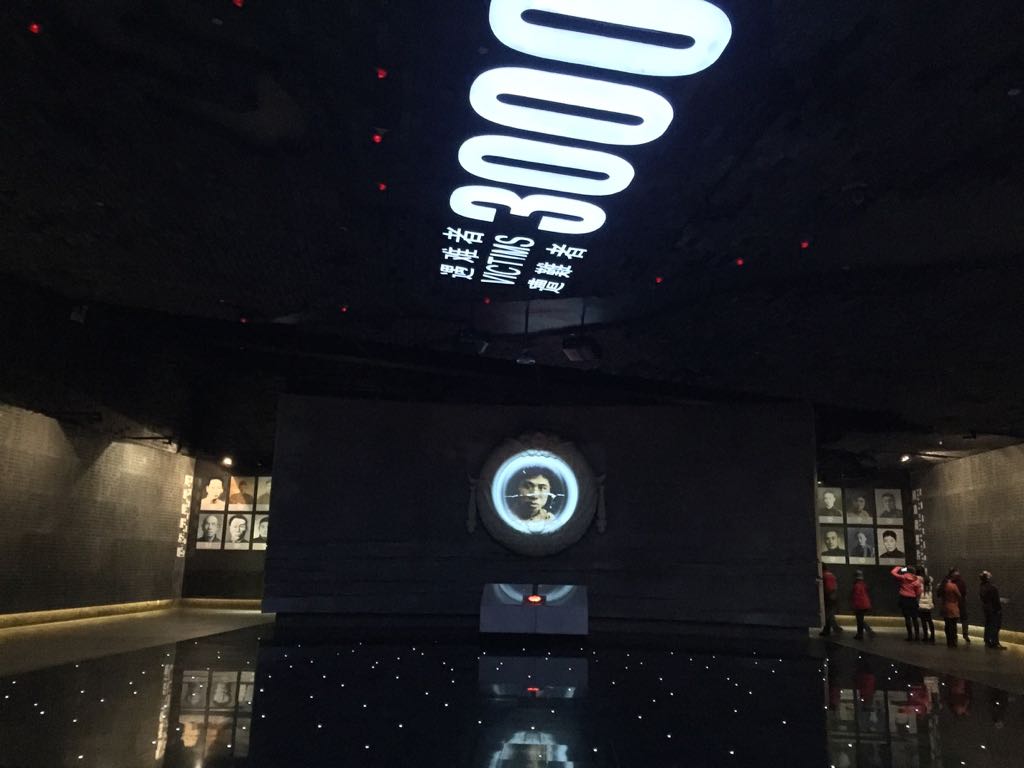 The memorial, which was built close to a site where thousands of bodies were buried, showcases some of the bones in a large, sunken pit. Photography of these bones and the rest of the indoor exhibits are prohibited, but many Chinese raise their iPhones for quick, furtive snaps. Just as I am composing my shot and about to follow suit, an old lady gently takes my arm. "Don't photograph this," she tells me, "Just look, and appreciate it."
I lower my camera, chastened. These are their countrymen; this is their war dead.
Location: Nanjing Memorial Massacre Hall, No.418 Shuiximen Road, Jianye District. Yunjinlu metro station, exit 2
Librairie Avant Garde
CNN travel called it the most beautiful bookshop in China, and Lonely Planet said 'the ambience and decor alone certainly deserve a visit'. So as dusk falls we make the 15-minute trek from Shanghai Lu metro station to this bookstore, located underground in a former government car park and before that, disused bomb shelter. A sign at the entrance says 'Photos welcome.' I brace myself for hipster paradise.
Few of the books are in English, but there is much to keep us entertained. The checkout counter looks like a fish tanks filled with old books, their worn spines and yellowed pages suggesting they have been loved before.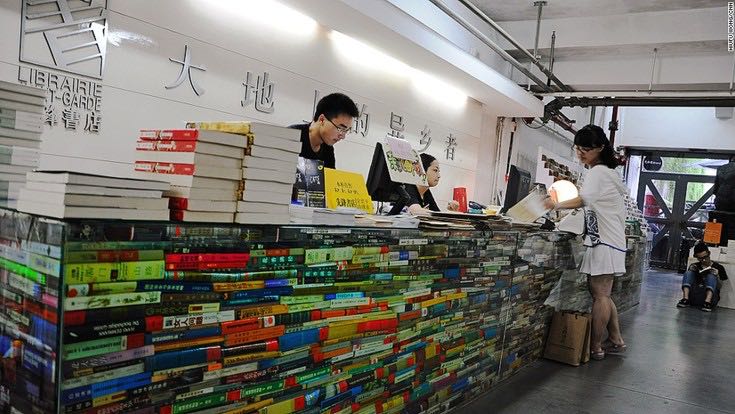 A gift shop, running parallel to the books on display, hawks postcards and souvenirs including wooden clocks, hand-stitched dolls and leather bags. There is a small stage set up for talks and readings, and a large table occupied by students.
"We chose this car park because it borders Nanjing University — it has become the second library for university students," owner Qian Xiaohua told CNN. "There is an old saying in Chinese — turn something rotten into a miracle," added the 52-year-old.
The bookstore spans 4000 square metres, some of it still marked by the yellow stripes and grooved slopes of car park floors. We follow the stripes, wandering into the bookstore's cafe, where there is a selection of books, including English fiction, for browsing. There is a sizeable crowd on a Thursday afternoon, but the cafe is quiet, like the rest of the bookstore.
Quiet, but not silent. There are sounds of pages turning, the shuffle of footsteps, the ringing of the cash register, the clicking of fingers of laptop keys. I hear the faint scratching of pen on paper as I note these things in my journal. But there is no chatter. The only conversations are the ones on paper, in the imaginary world that books create.
Location: Librairie Avant-Garde, 173 Guangzhou lu (next to Wutaishan Stadium), Shanghai Lu metro station
(See also: How to travel Hangzhou and Nanjing like a local)
Sun Yat Sen's Mausoleum
The next day is sunlit, and we decide that is reason enough to scale the 392 steps to Sun Yat Sen's Mausoleum. His is not the only tomb in the area – Zhu Yuanzhang, the founding emperor of the Ming dynasty, was also buried in the Zhongshan Mountain National Park, a forested playground of cultural, historical and scenic spots that span 31 square kilometres (Tampines, by comparison, reaches just over 20).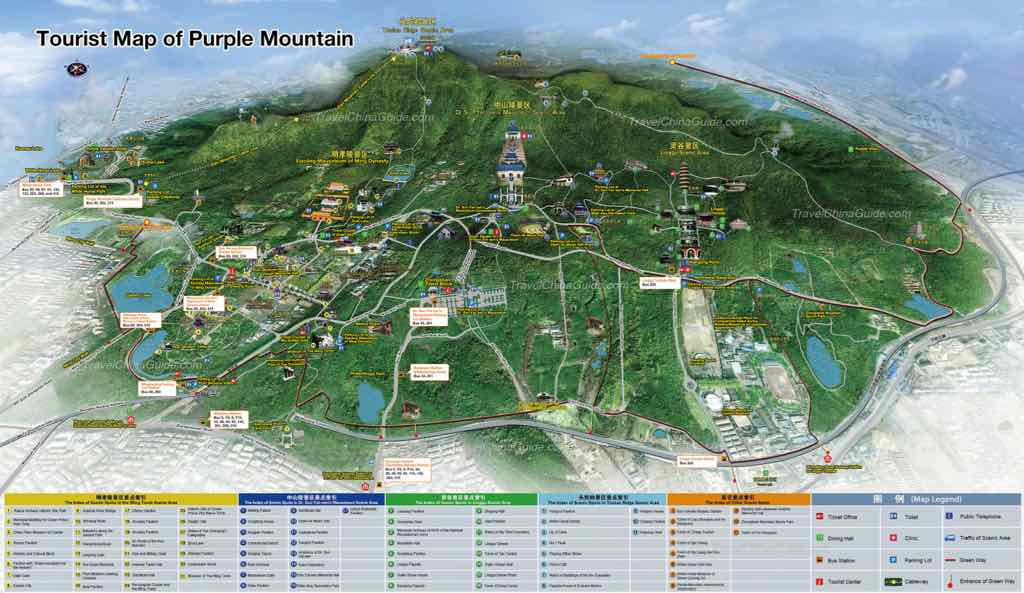 Outside Xiamafang metro station, open-sided golf carts and taxi drivers wait to ferry passengers into the park. We haggle with one taxi driver, who agrees to take Kenneth and I, plus a mother and son pair, for 5 yuan (1SGD) each. We wind along empty roads flanked by tall, barren trees and though the route is scenic, secretly I am glad we decided not to walk. My quads will have enough activity later.
On the way up to the mausoleum we are joined by tour groups made up mostly of middle-aged Chinese, and together we huff and puff our way up the steps. Later, when I am back from China, a Google search will reveal the massive crowds that come to pay their respects during public holidays.
But now the climb is pleasant, and at the top, a large marble statue of Dr Sun sits beneath a blue-roofed white hall, the colours symbolising the white sun on the blue background of the Kuomintang flag.
Dr Sun, who is revered in both Taiwan and Mainland China as the "Father of Mainland China", was a political leader and revolutionary. He played a key role in abolishing the Qing dynasty, which was the last imperial dynasty in China, and founded the Three Principles of the People – nationalism, democracy and socialism.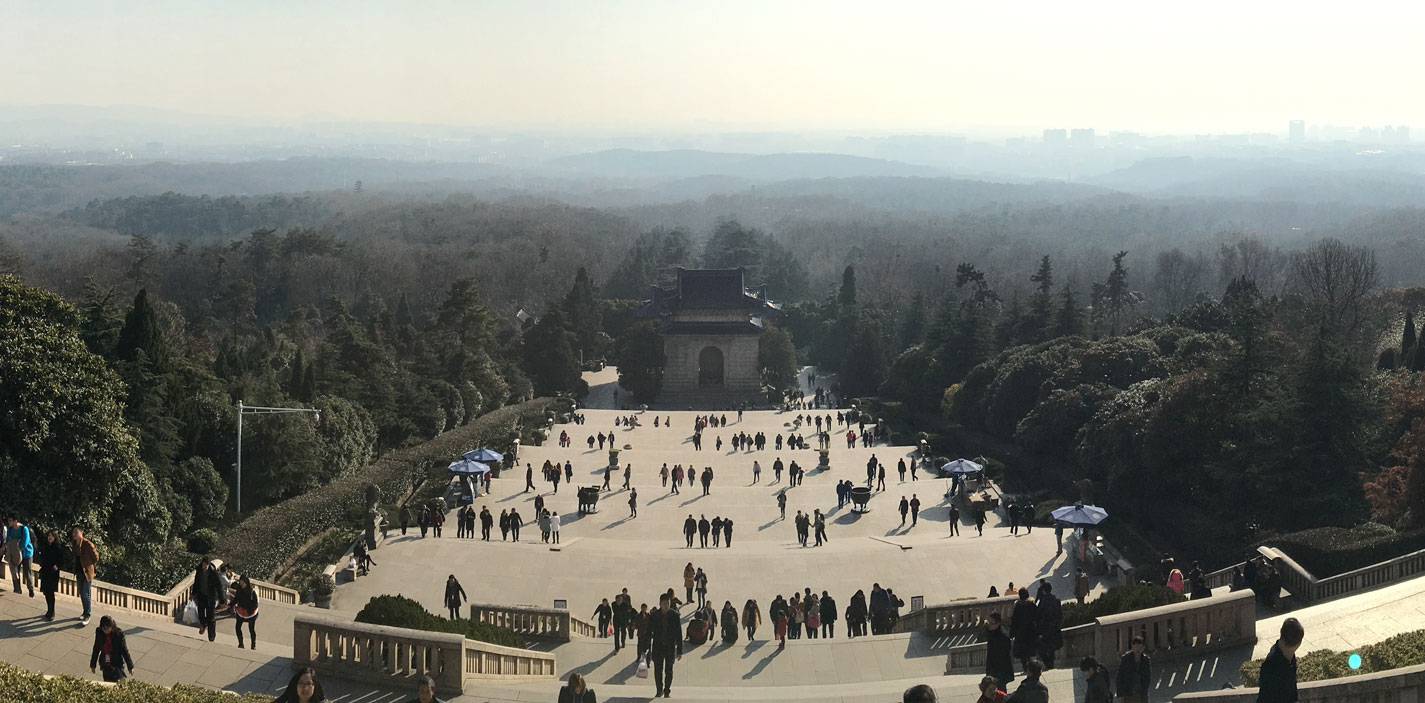 Besides the mausoleum, other worthwhile sights in the Zhongshan Mountain National Park include Linggu temple and the Toutuo Ridge scenic area. The latter features a cableway, similar to a ski lift, where visitors can view sights like the White Cloud Pavilion and the Black Dragon Pool from the air.
Location: Sun Yat Sen's mausoleum, Zhongshan Ling, Xiamafang metro station
Confucius Temple Square
"It does not matter how slowly I go as long as I do not stop." – Confucius
The pedestrian streets outside Confucius Temple (Fuzimiao) are lined with tourist kitsch – souvenir shops stocked floor-to-ceiling with shiny keychains and embroidered coin purses, small stalls selling handphone cases and accessories, and the aroma of smelly tofu punching through the evening.
In front of Confucius Temple runs a length of the Qinhuai river, which branches out from the lower reaches of the famous Yangtze river. Rickshaw riders park in a row, awaiting passengers whom they will regale with stories of the sights and architecture.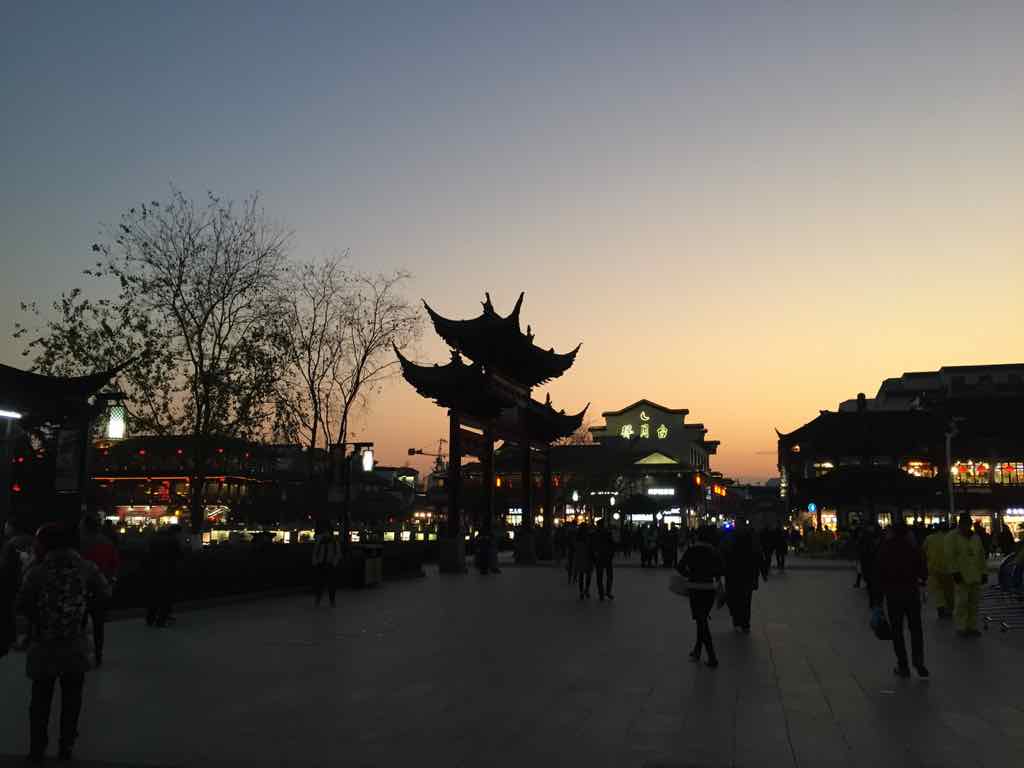 There are other, larger versions of the Confucius Temple in other parts of China such as Beijing and Shanghai, but we come here for the multiple alleys lined with food stalls, the well-dressed women in dusty pink trench coats and a place to go, the Starbucks outlet with signature green font, and the sunset over the city that rounds up a wonderful trip.
Location: Confucius temple square, Fuzimiao metro station
(See also: 48hrs in Hangzhou – Things to do)
---
We boarded our return flight at Nanjing airport, having traveled from Hangzhou to Nanjing on Scoot's multi-city itinerary. It was almost Christmas, and we were looking forward to coming home. As we stepped on the 787 Dreamliner, a stewardess greeted us – in Mandarin, yes, but with a Singaporean accent that I recognised immediately. I caught her eye and smiled. "Thanks," I said, knowing she will pick up on my accent too, because we always recognise our countrymen in a foreign land. It was a five-hour flight, but a little bit of Singapore had already arrived to welcome us home.
Scoot flies 6 times a week from Singapore to Nanjing from as low as SGD98. Do check out the latest fares on their Travel Deals page!
Like what you're seeing? Share, like, subscribe and follow more of our adventures on Facebook or Instagram!
This post was brought to you by Scoot.