If you could only pick one cruise-to-nowhere getaway, it'd be…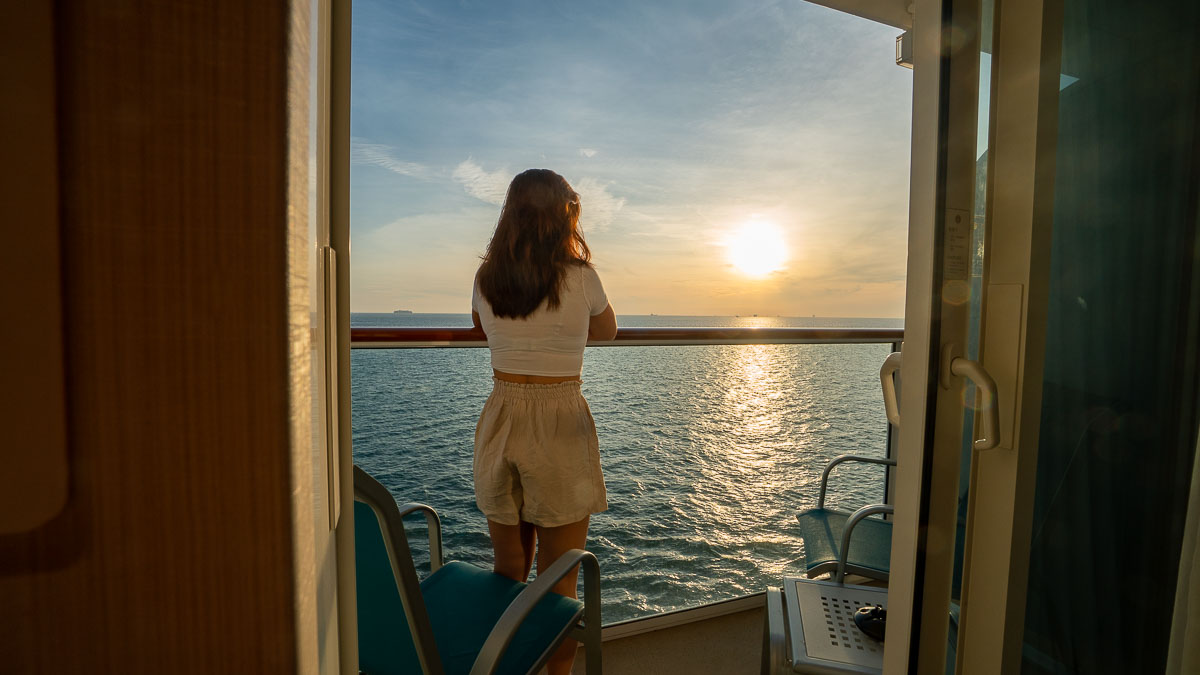 In Dec 2020 when Cruises to Nowhere had just begun, we got to experience Royal Caribbean's Quantum of the Seas.
On that post, someone asked:

So this one's for David, as well as those who can't decide which cruise to go for — Royal Caribbean's Quantum of the Seas? Or Dream Cruises' World Dream?
In this Cruise to Nowhere review, we're breaking down each cruise line's accommodation, food and activities (including shows) to give you a fair comparison of both cruises.
Covid-19 tests and Pre-boarding Process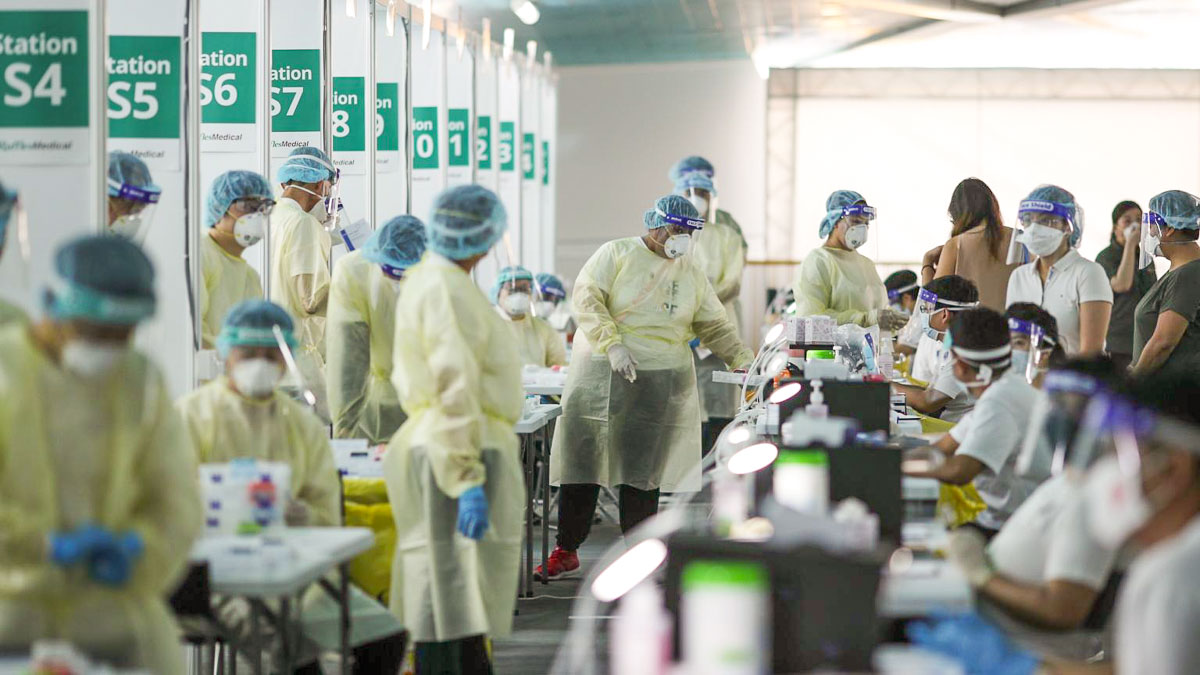 Photo credit: The Straits Times
Swab tests are now compulsory on both cruises with slight logistical differences. The good thing is COVID-19 tests are included in your cruise package for both cruise lines.
Royal Caribbean
On Royal Caribbean cruises, you're required to take a Polymerase Chain Reaction (PCR) test at Raffles Convention Centre 72 hours before boarding.
We took ours two days before the cruise and received our results the next day. The process was really quick and straightforward so we were in and out within 15 minutes.
At the end of the cruise, you'll be given one final swab — there's no need to wait for results this time and the swab doesn't go in as deep as the pre-boarding test.
Dream Cruises
For Dream Cruises, an Antigen Rapid Test (ART) will be administered on the day of boarding. A pre-assigned time slot will be printed on your ticket so you just need to show up. Test results will be ready after 20 minutes to an hour.
Our experience through the testing area was quick and smooth too. The whole process was very organised and the only significant waiting time we had between stations was waiting for our results.
Although not as accurate as the PCR test, the ART is a lot less invasive! Instead of the swab going all the way in, it only scrapes the walls of your nose.
Same as Royal Caribbean, you'll be swabbed one final time upon disembarkation but there's no need to wait for results before leaving the cruise centre.
Cruise Accommodation
The two cruises offer similar accommodation types from staterooms to grand suites.
Staterooms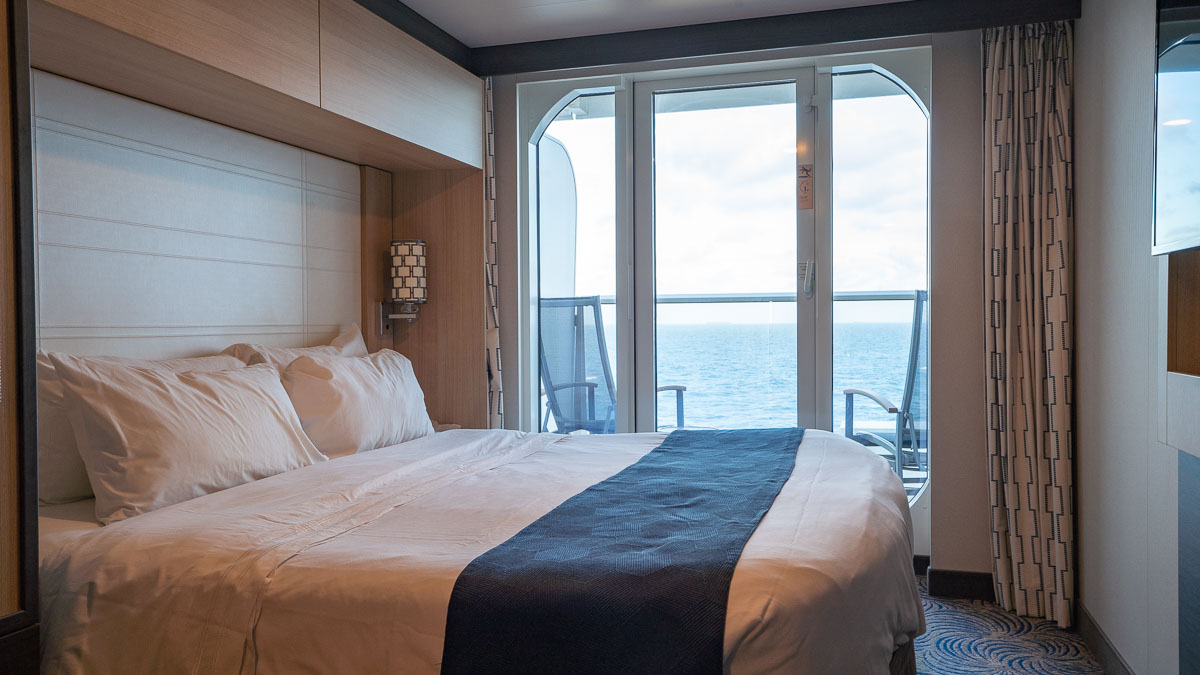 Royal Caribbean Balcony Stateroom
The balcony staterooms are pretty similar and are perfect for two.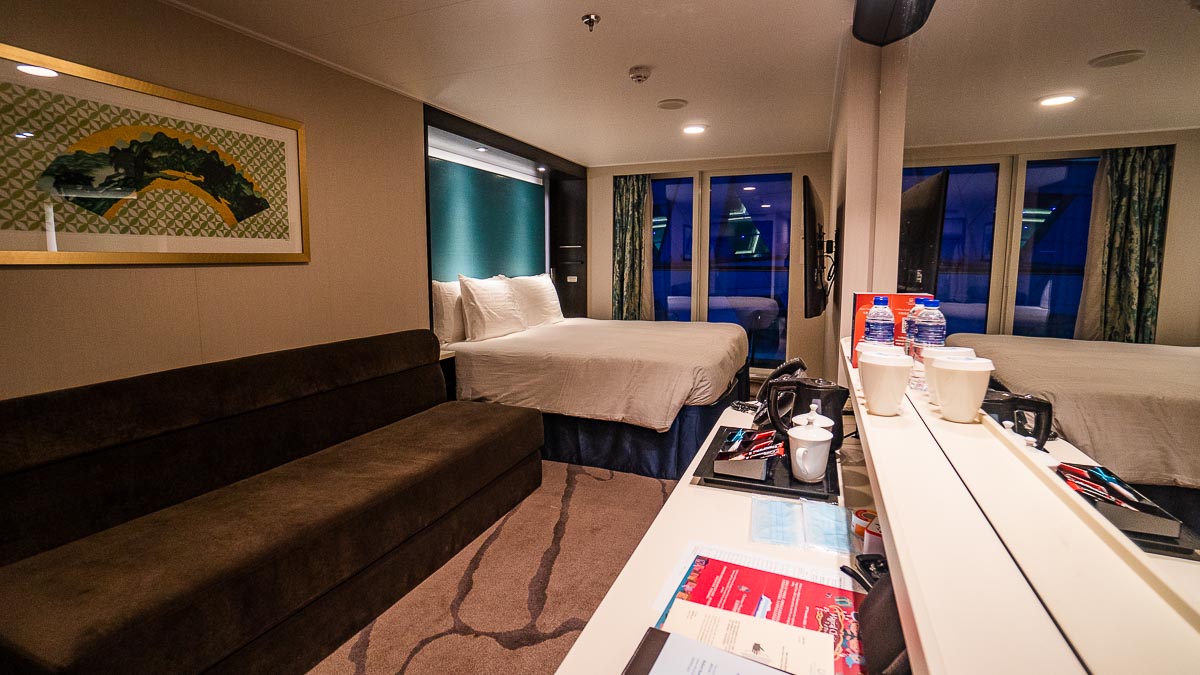 Dream Cruises Balcony Stateroom
The only difference between these two rooms is the bathroom. Dream Cruises' comes with a double sink and a wider shower area — great for families with kids.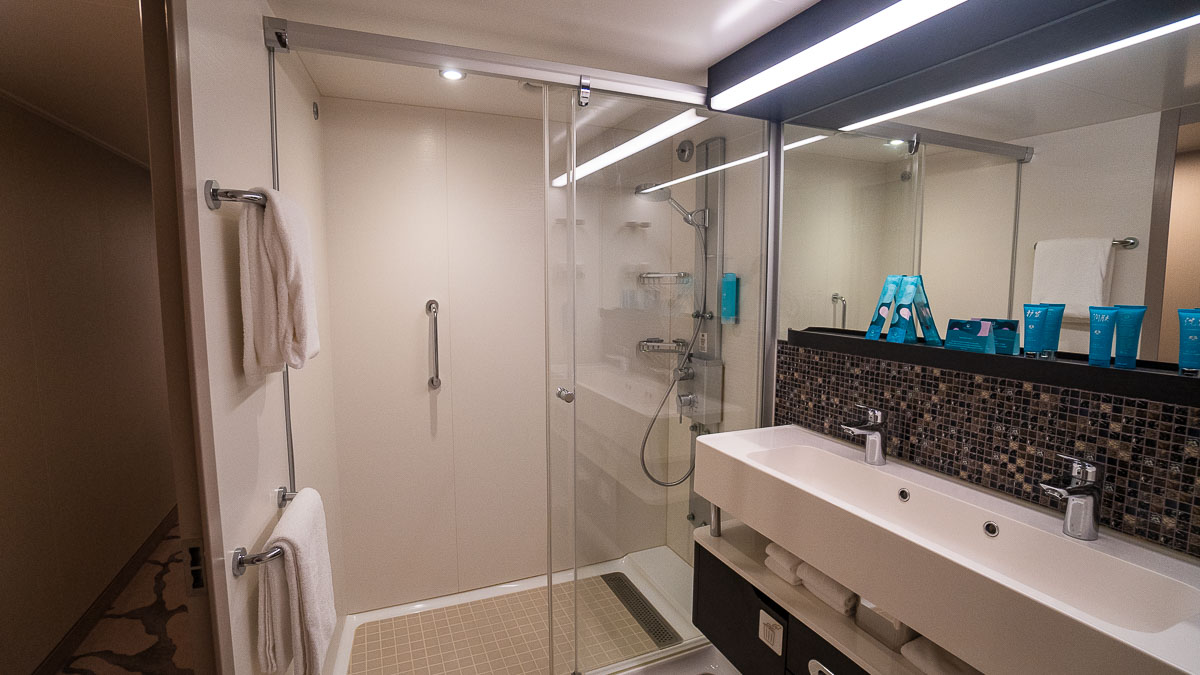 Dream Cruises Balcony Stateroom Bathroom
Dream Cruises' Balcony Staterooms: From ~S$419/pax for three nights
Royal Caribbean's Balcony Staterooms: From S$469/pax for three nights
Suites
For an elevated experience, book a suite for extra perks and access to experiences.
We personally got to experience Dream Cruises' Palace Suite. Although it's the cheapest class in the Palace Suite, the perks you get outside the room do give you a nice feeling of being taken care of.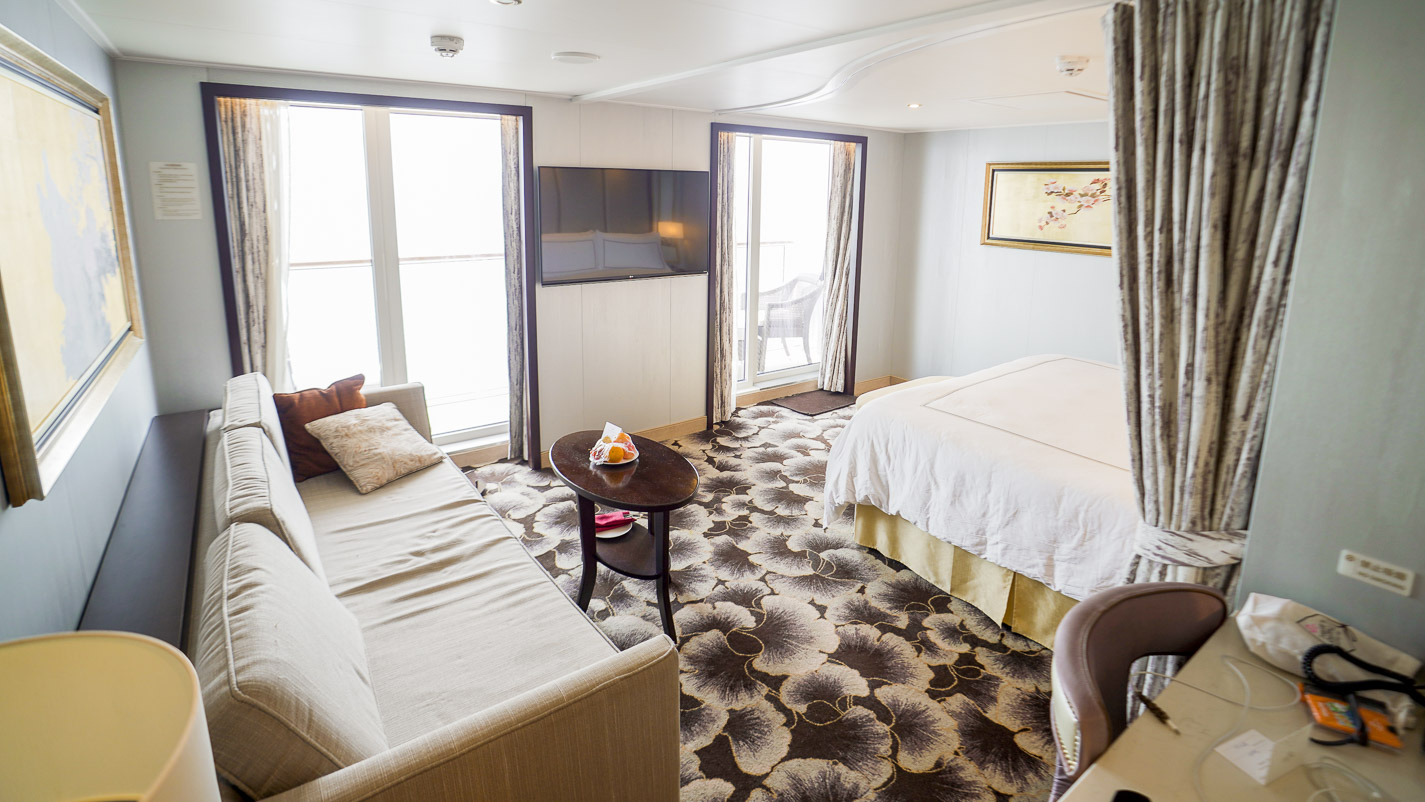 Dream Cruises Palace Suite
Perks include butler service, a basic drink package (coffee, tea and juices) and complimentary dining at all speciality restaurants. Palace residents also get full access to all the private facilities — from a separate pool area to 24-hour dining at the Palace Restaurant!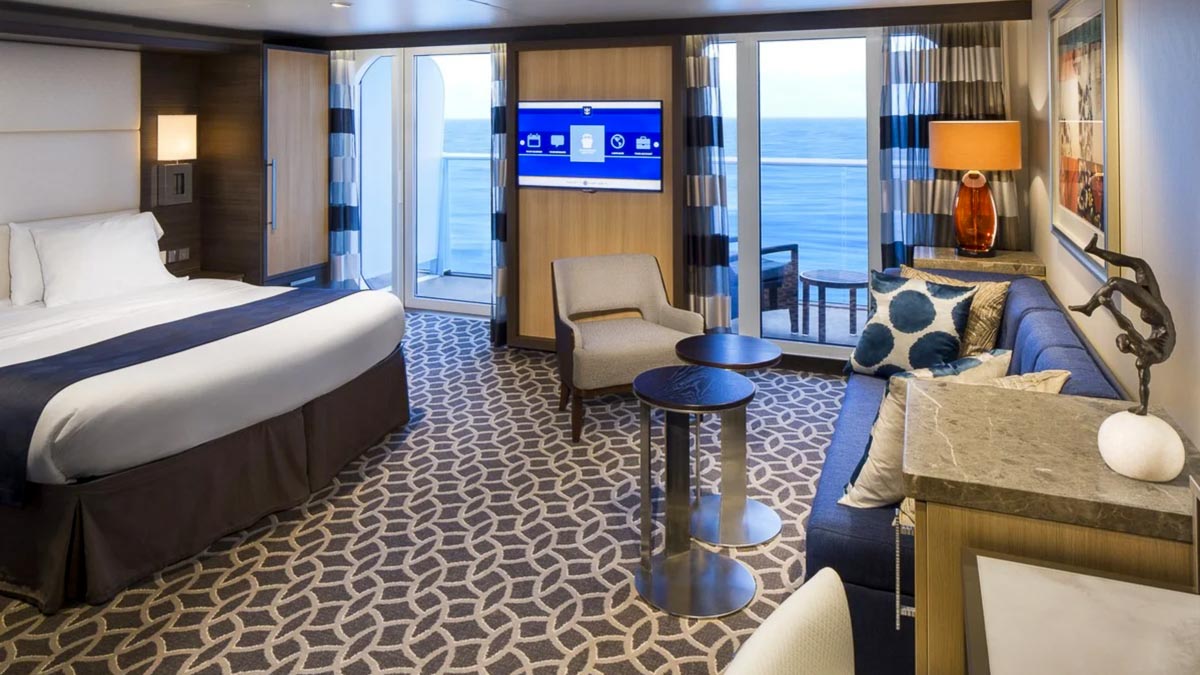 Photo credit: Royal Caribbean
A comparable room on Royal Caribbean is the Junior Suite. The interior is pretty similar — with space for the room, balcony and bathroom. However, in terms of the suite experience, the Junior Suite is more similar to a bigger balcony stateroom than a suite.
Apart from extra room, WiFi, the Deluxe drink package and access to specialty dining are excluded.
If you're going for a low range suite experience, then Dream Cruises gives you more bang for your buck!
Dream Cruises' Palace Suite: From S$630/pax for two nights
Royal Caribbean's Junior Suite (Large Balcony): From S$769/pax for three nights
If "go big or go home" is what you live by, here's the ultimate experience on each ship:
Royal Caribbean's Grand Loft Suite is the second highest class and comes with a mezzanine! The suite also fits a king-sized bed, two bathrooms, a spacious living area and an equally spacious balcony.
Grand Loft Suite Stateroom
Apart from complimentary access to all speciality dining experiences, staying at the Grand Loft Suite also includes the Deluxe drinks package which means free-flow drinks all day — alcoholic beverages included! But the best part is that you're assigned a Royal Genie (personal butler) who will help you with bookings and customise the experience so you have a memorable one on the ship ✨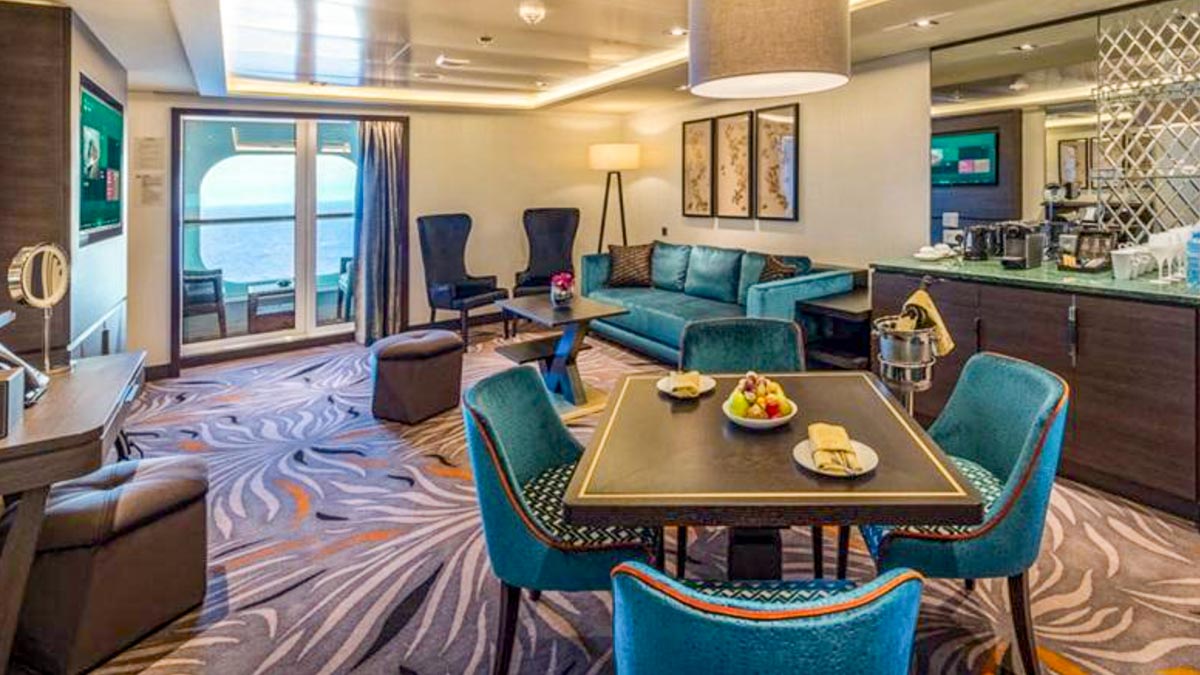 Palace Penthouse living area. Photo credit: Dream Cruises
Dream Cruises' equivalent is the Palace Penthouse. Unlike the Palace Suite, it features a separate living-cum-dining area, with a private step-out balcony. The space can hold up to six guests.
Dream Cruises' Palace Penthouse: From ~S$786.30/pax for three nights
Royal Caribbean's Grand Loft Suite: From S$744/pax for three nights
For the ultimate experience, here's what you can expect from the most luxurious rooms of each ship: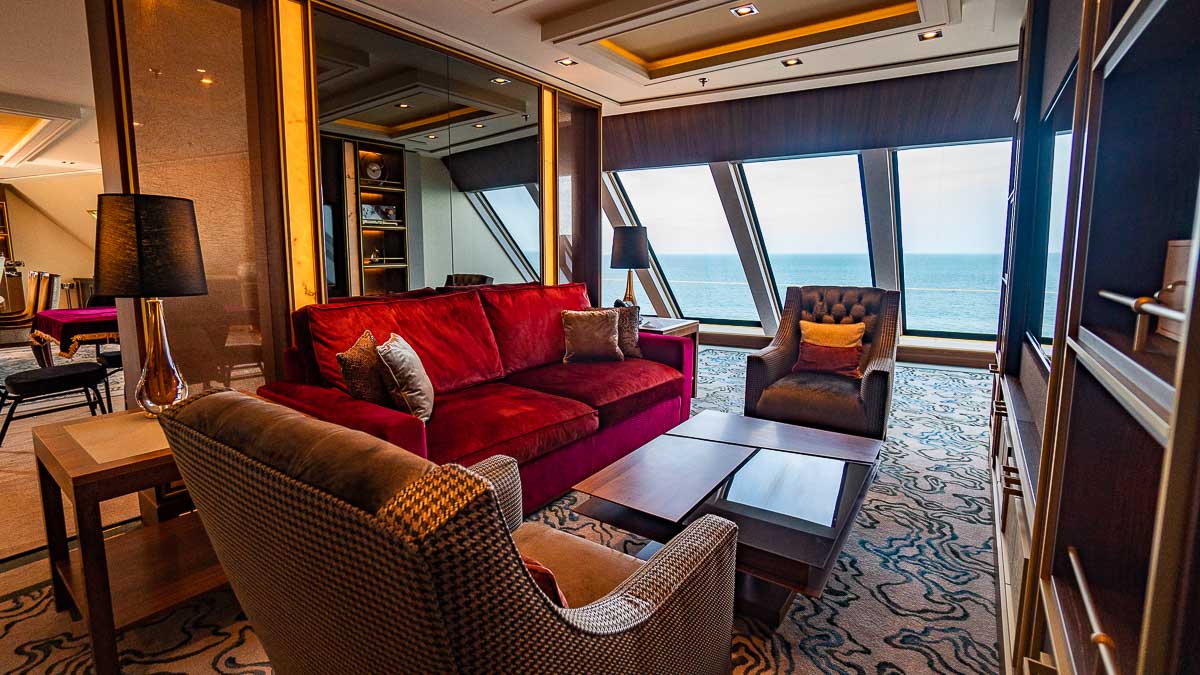 Dream Cruises' Palace Villa is the epitome of luxurious living with two bedrooms, a dining room, a living room, a jacuzzi and three bathrooms. This suite is so big, it can accommodate up to eight people!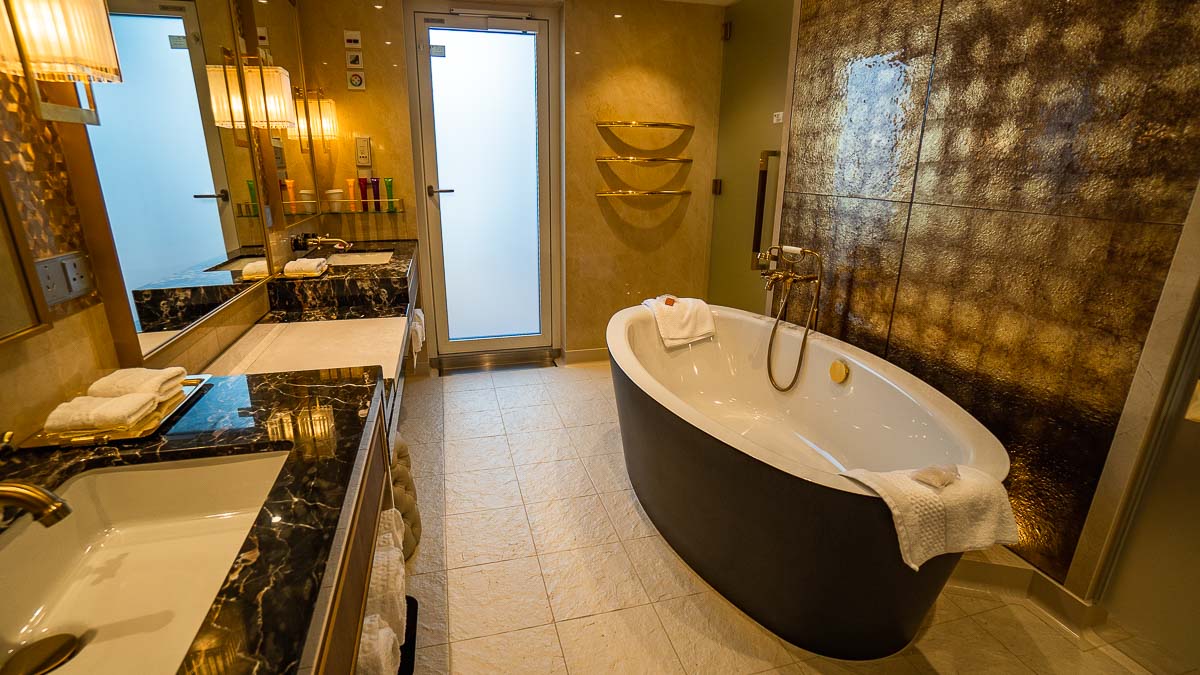 On top of the Palace privileges, you'll be even more spoilt with round-the-clock butler service, and priority access to shows.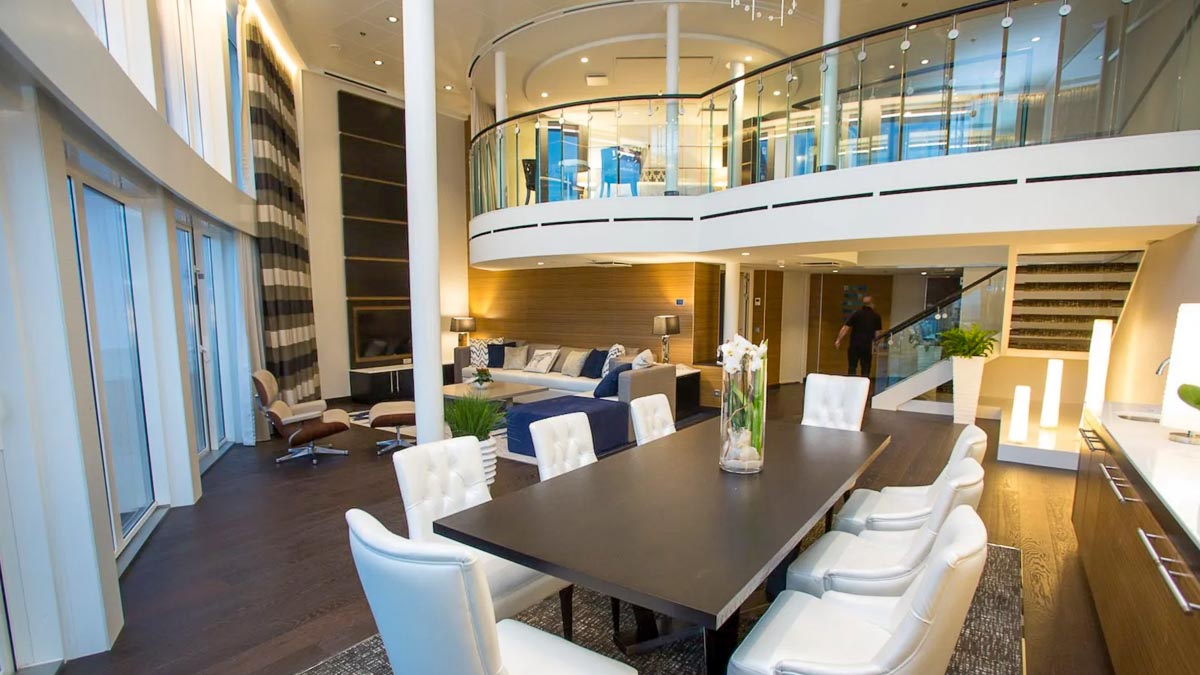 Photo credit: Royal Caribbean
Royal Caribbean's most luxurious suite is their Royal Loft Suite. It doesn't have multiple bedrooms like Dream Cruises' Palace Villa, but it boasts a spacious two-floor contemporary design perfect for parties of six. These suites are either located at the front or the back of the ship for utmost privacy.
Upon checking in, you'll be welcomed with Moët and Chandon in the room. Epic room aside, you also have complimentary dining at specialty restaurants, all-day free-flow drinks and a Royal Genie at your every beck and call!
Dream Cruises' Palace Villa: From ~S$1,259/pax for three nights
Royal Caribbean's Royal Loft Suite: From ~S$3673.53/pax for three nights
Food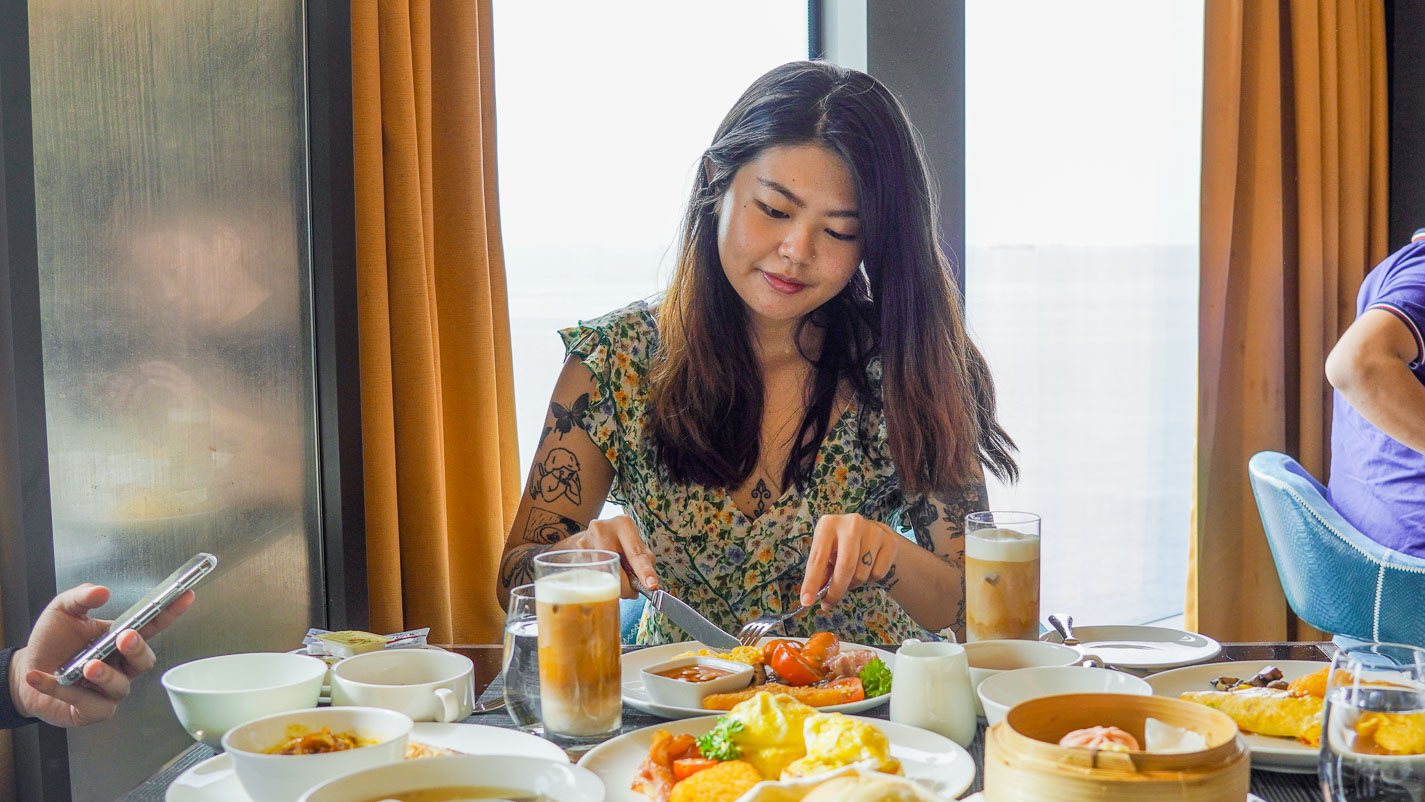 Breakfast at Dream Cruises' Palace Restaurant
For foodies, a cruise is the best place to be! From glorious buffet spreads to high-end speciality dining experiences, both cruises boast an array of dining experiences. Here's how they compare.
Complimentary Dining Experiences
Royal Caribbean's Windjammer and Dream Cruises' Lido are where you get an all-you-can-eat buffet for breakfast, lunch and dinner. These buffet options are open to all guests (regardless of room class).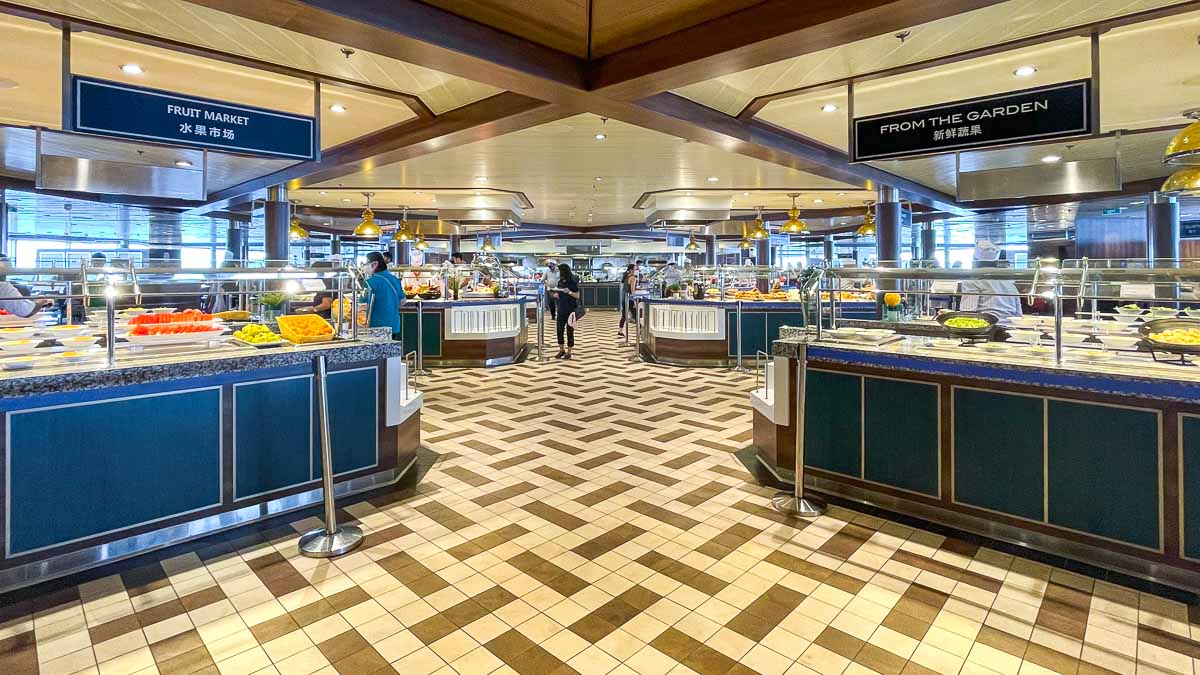 Windjammer
In terms of size and variety, Windjammer takes the cake — serving a wide range from burgers to tacos and even vegetarian and gluten-free options! Lido seems quite limited in comparison, but they serve more fried foods and Asian cuisines.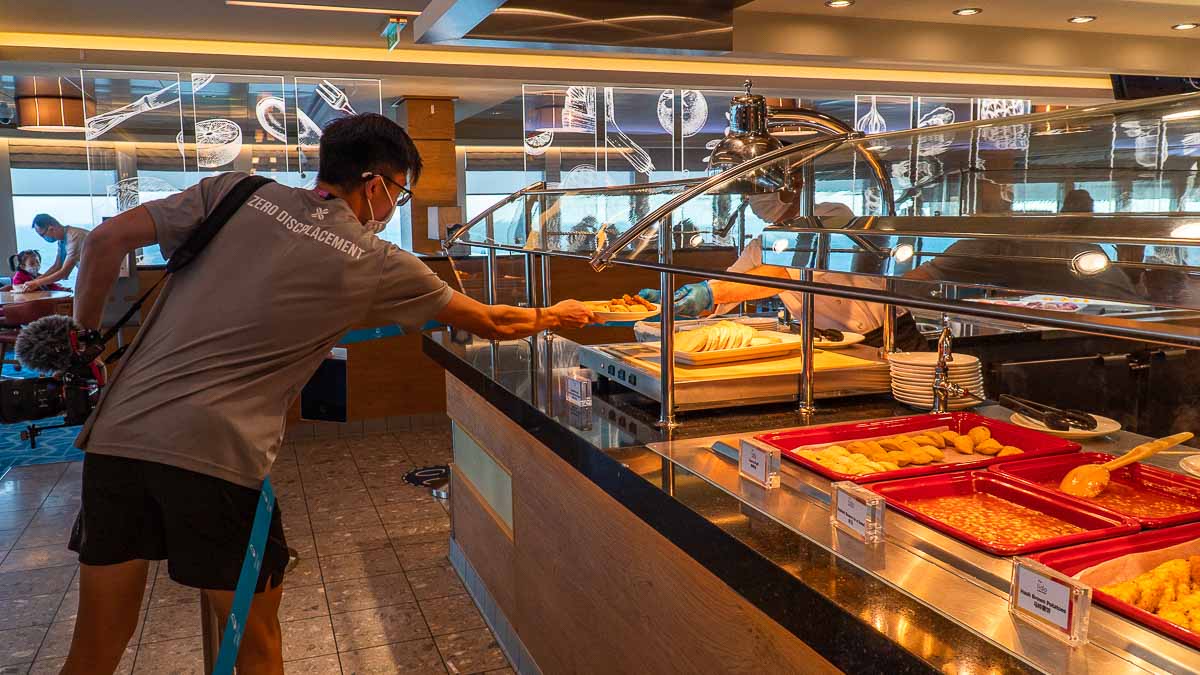 Lido
There may be fewer options on Dream Cruises' Lido but a plus point is that the menu switches up during Themed Night Dinners. On their recent Thai-themed cruise, the buffet spread included popular Thai dishes like Pad Thai, Wok-Fried Crab in Thai Curry and Steamed Barramundi Fish with Lime Juice!
For complimentary dining options, Royal Caribbean has a much better selection. Apart from the buffet, they have four main dining rooms: Sorrento's pizza, Dog House's crafted hot dogs, as well as sandwiches and soups at Two70. Dream Cruises only has Lido and two other main dining rooms for complementary options.
Specialty Dining Experiences
Specialty dining requires a top-up if you're not a suite guest.
For Dream Cruises, speciality dining works on an ala carte basis where you'll need credits to spend on dining. Purchase these credits onboard, with up to 20% off dining credits when bought on embarkation day!
On Royal Caribbean, you just pay a one-time fee and eat as much as you want — basically paying for a reservation.
Although both cruises have a steakhouse, Dream Cruises serves more Asian cuisine with Korean BBQ, hotpot and Teppanyaki.
Umi Uma Teppanyaki
Something special on Royal Caribbean is their novel dining experiences like Jamie's Italian ala carte buffet and Wonderland's molecular gastronomy.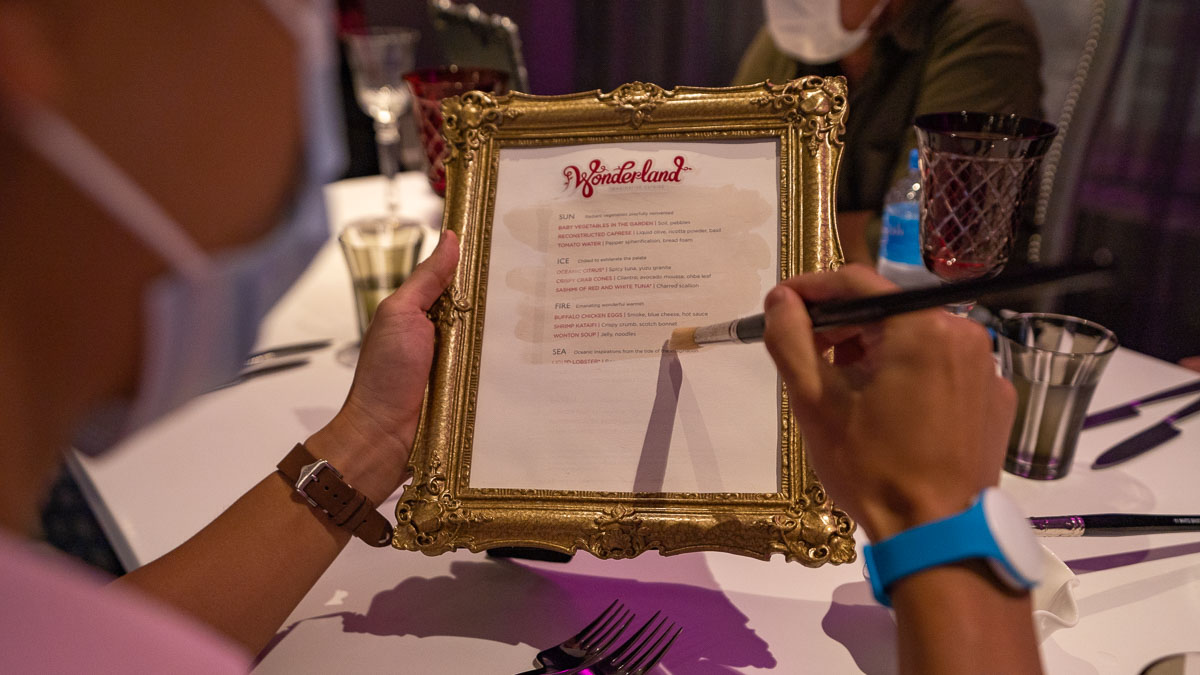 Painting our menu at Wonderland
If food experience is a priority when you travel, we'd say go for Royal Caribbean's cruise.
Activities On Board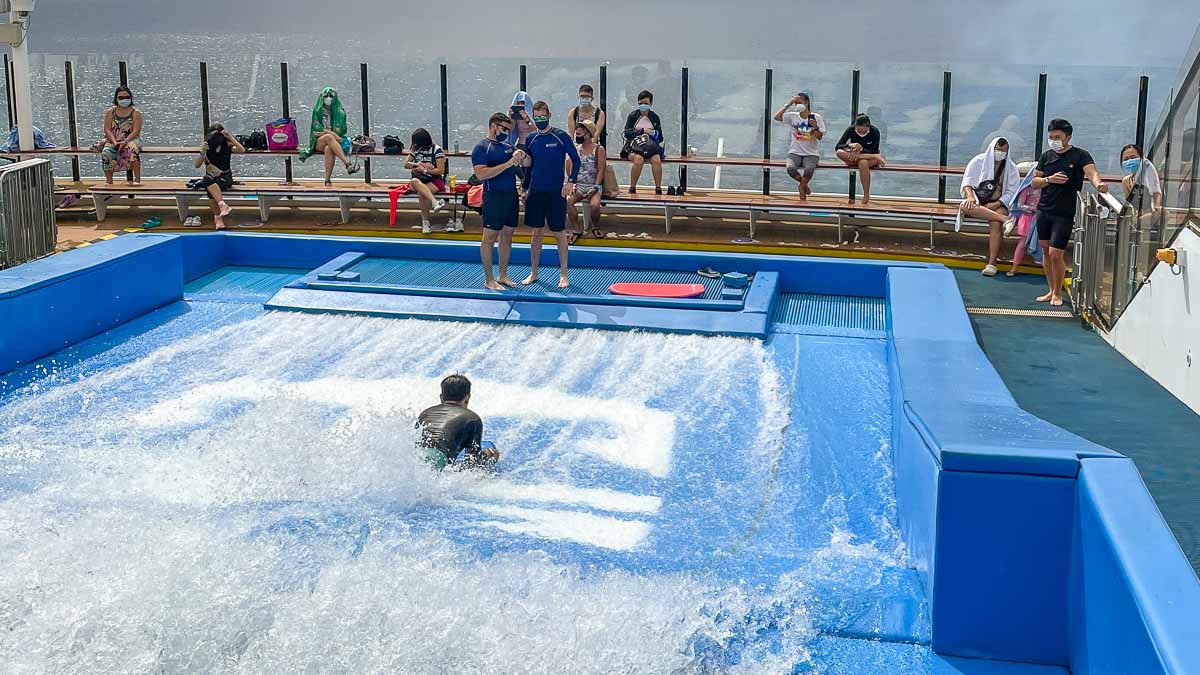 Royal Caribbean's surf simulator, FlowRider
Free activities on Royal Caribbean: FlowRider, bumper cars, rock climbing, archery, Seaplex activities, Dodgem Cars, outdoor film nights, dance classes, jewellery making, scrapbooking, folding artistry, Yoga classes, Pilates classes, Spin classes.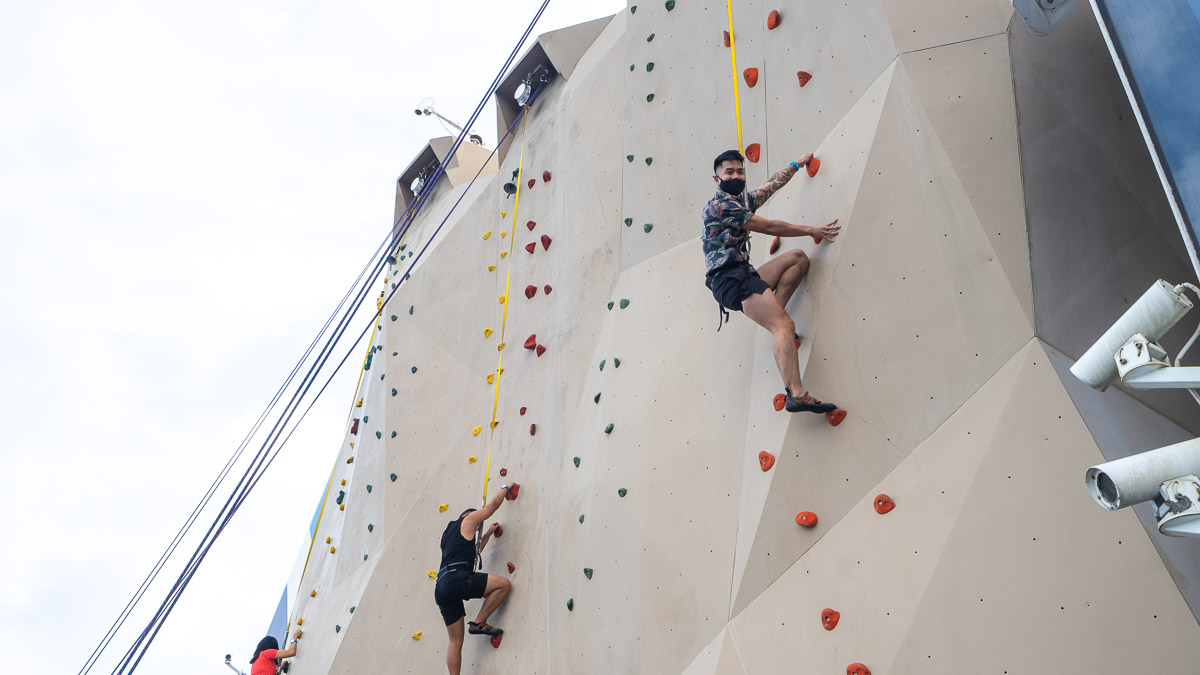 Royal Caribbean's rock wall
*Pro-tip: Aim for the first slot of the day or during meal times to beat the crowd as these activities can get packed quickly.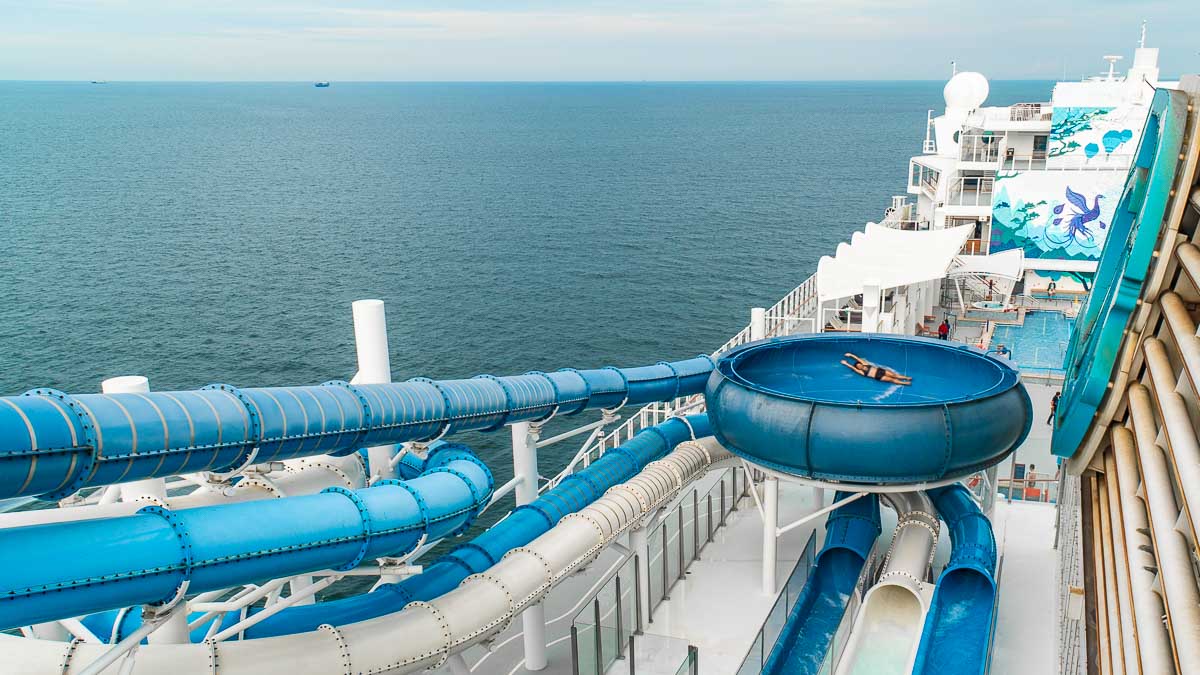 Dream Cruises' water slides
Free activities on Dream Cruises: Water slide Park, obstacle rope course, rock climbing, mini-golf, life-sized chess, ping pong, SportsPlex, Muay Thai classes, HIIT classes, belly dancing, ballroom dancing, bingo, Cinema at Sea.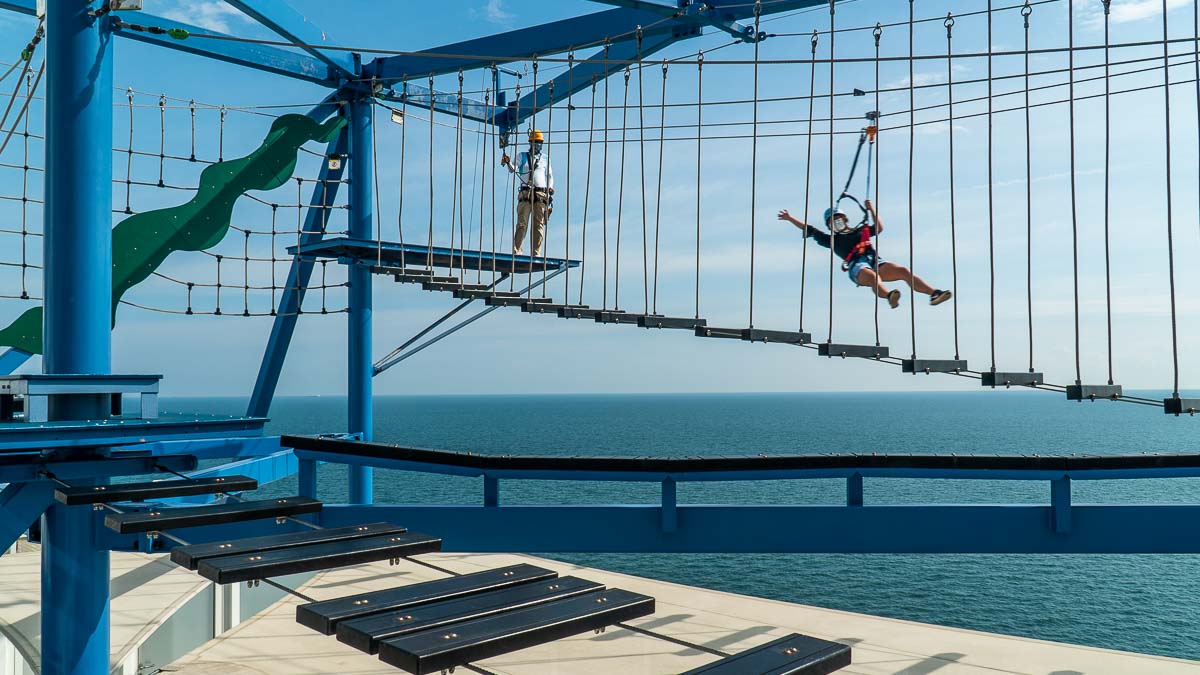 Dream Cruises' high-elements rope course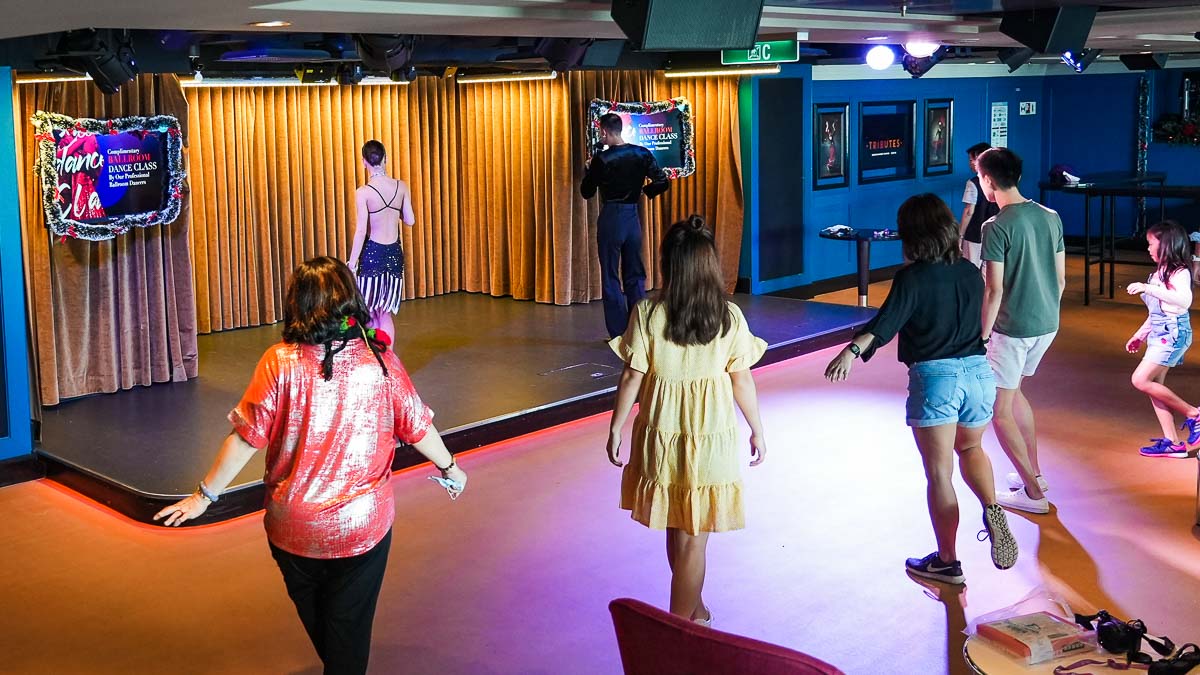 Paid activities on Dream Cruises: Esc EXPERIENCE LAB — a Virtual Reality studio with eight thrilling game stations. Imagine chasing zombies or shooting down enemy drones (top-up of $4–20/game).
Paid activities on Royal Caribbean: iFly's indoor skydiving (S$54.40), North Star ride ($27.20) and an arcade.
For activities, Dream Cruises has a lot more variety so it seems like there's always something to do. You could learn a new sport before breakfast and pick up new dance moves after lunch!
Places to Chill On Board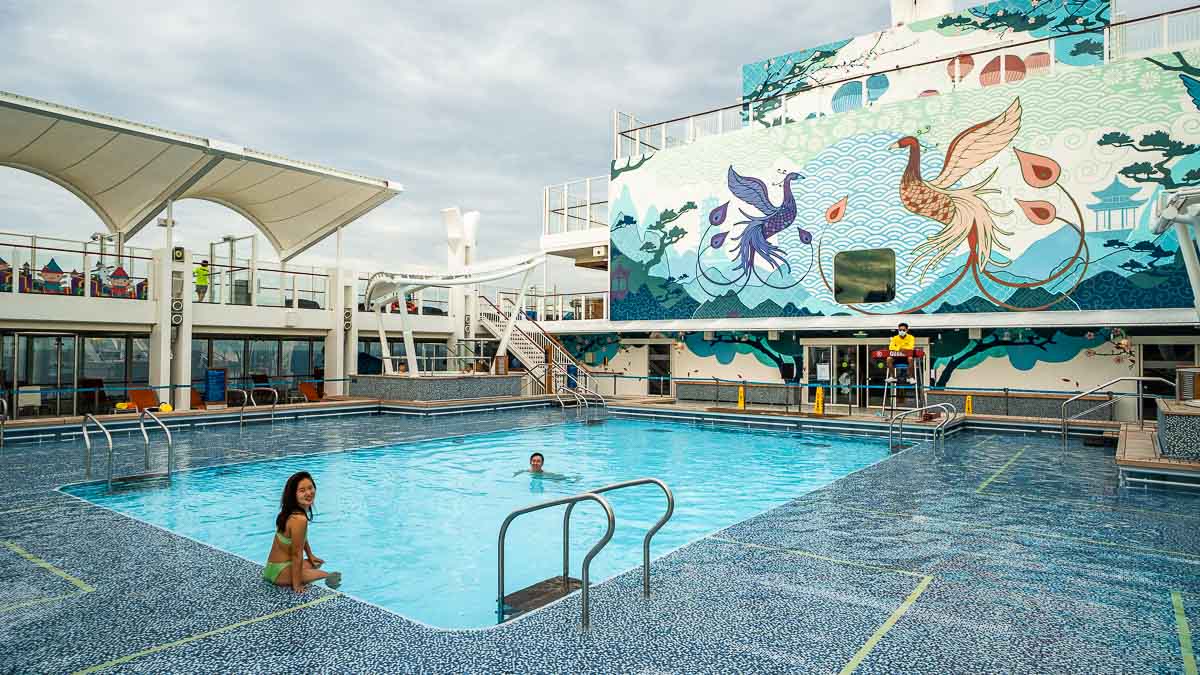 Dream Cruises Public Pool
There are pools and jacuzzis on both cruises which you'll have to get a timeslot for. However, the booking systems on Royal Caribbean and Dream Cruises are completely different.
On Dream Cruises, you'll need to make a physical reservation at the pool itself to get a slot sometime in the day. Whereas Royal Caribbean works on a first-come-first-serve basis with lifeguards limiting and controlling the numbers.
*Pro-tip: Head to the pool first thing in the morning for both cruises to beat the queue.
One perk about cruising with Royal Caribbean is having a kid-free escape like The Solarium, an adult-only pool.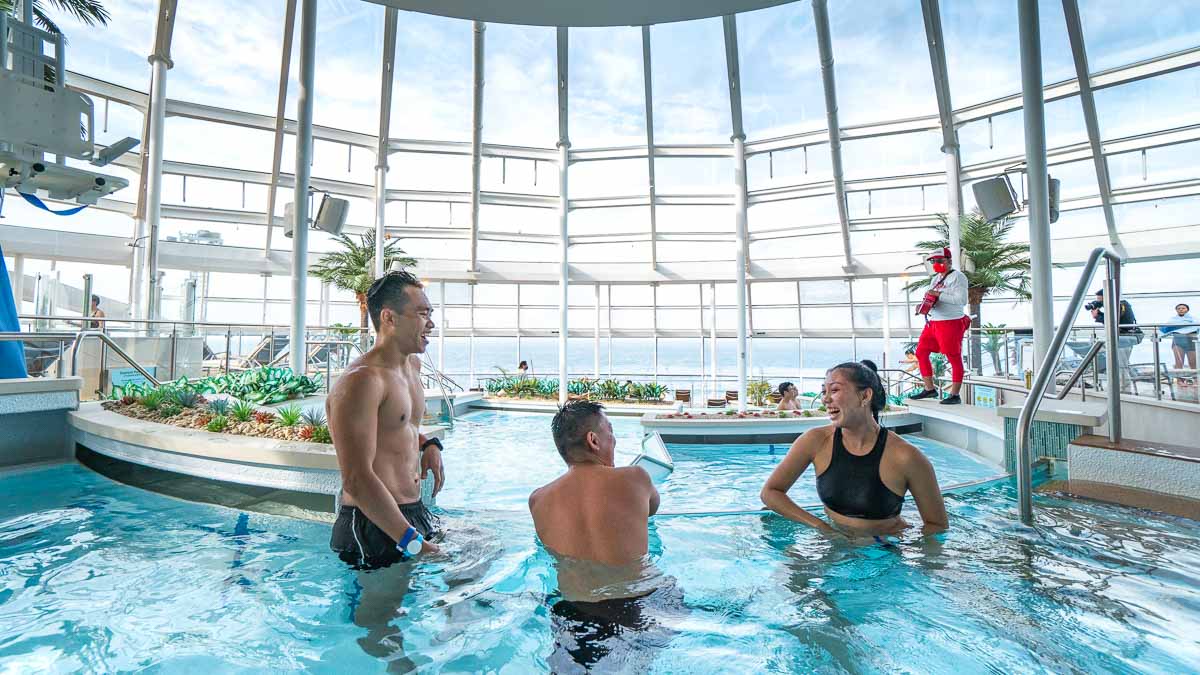 Royal Caribbean's Solarium
Dream Cruises doesn't have this for the general public, but if you're a Palace guest, you'll have exclusive access to their private pool area at the top of the deck — reservations are required.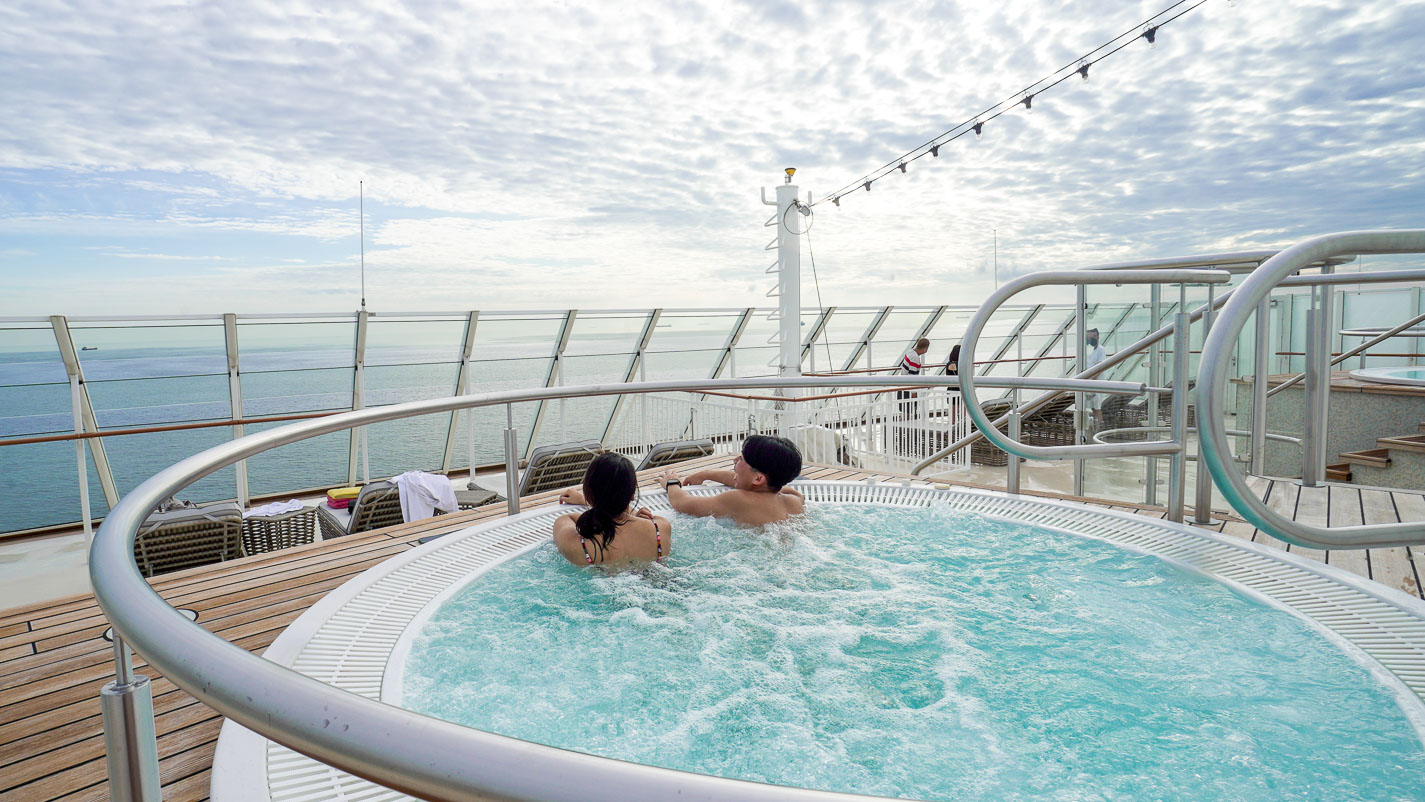 Dream Cruises' Palace Private Jacuzzi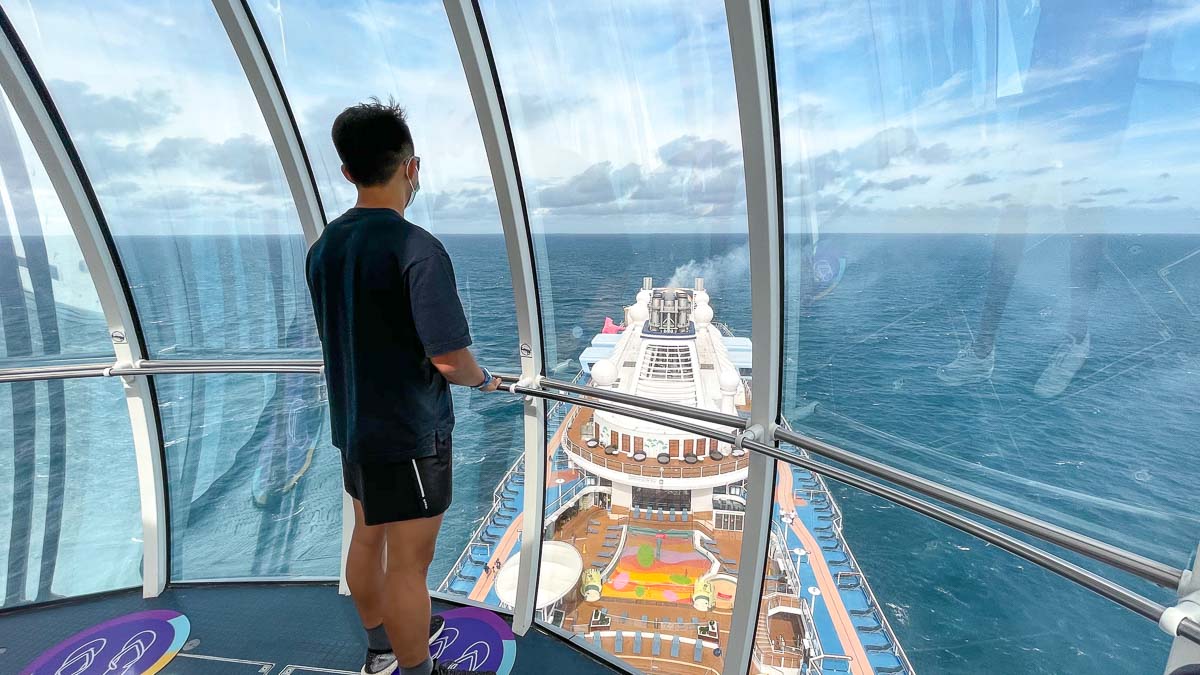 On Royal Caribbean's North Star
For a nice break from the busyness, take a seven-minute ride on Royal Caribbean's North Star (top-up is ~S$15.90 or free for suite guests). This observation deck takes you 300 feet above sea level, offering mad views of the endless horizon and a birds-eye view of the cruise below.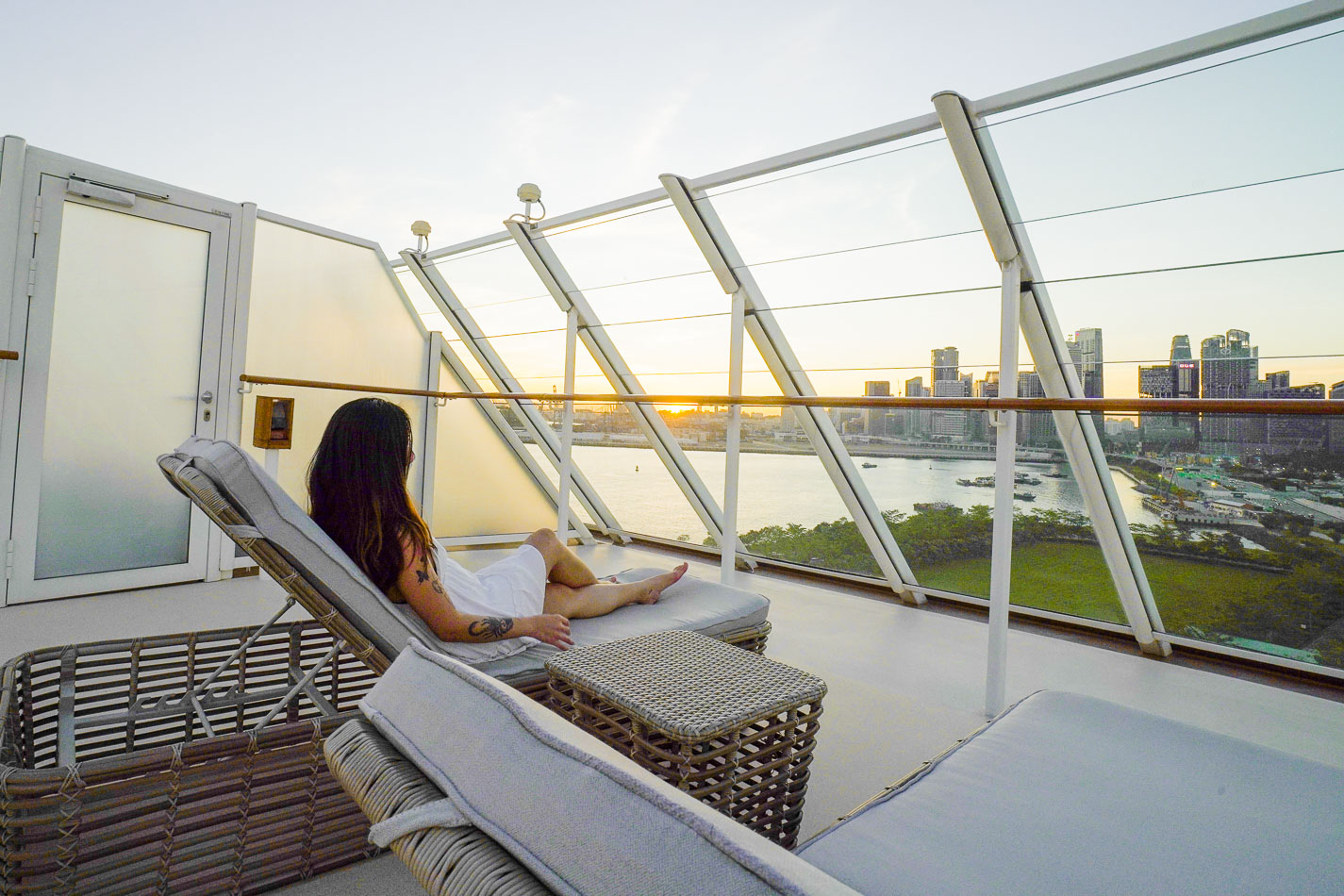 Alternatively, both cruises have deck chairs all around that face the ocean. It's still a great view nonetheless, especially during sunset.
Shows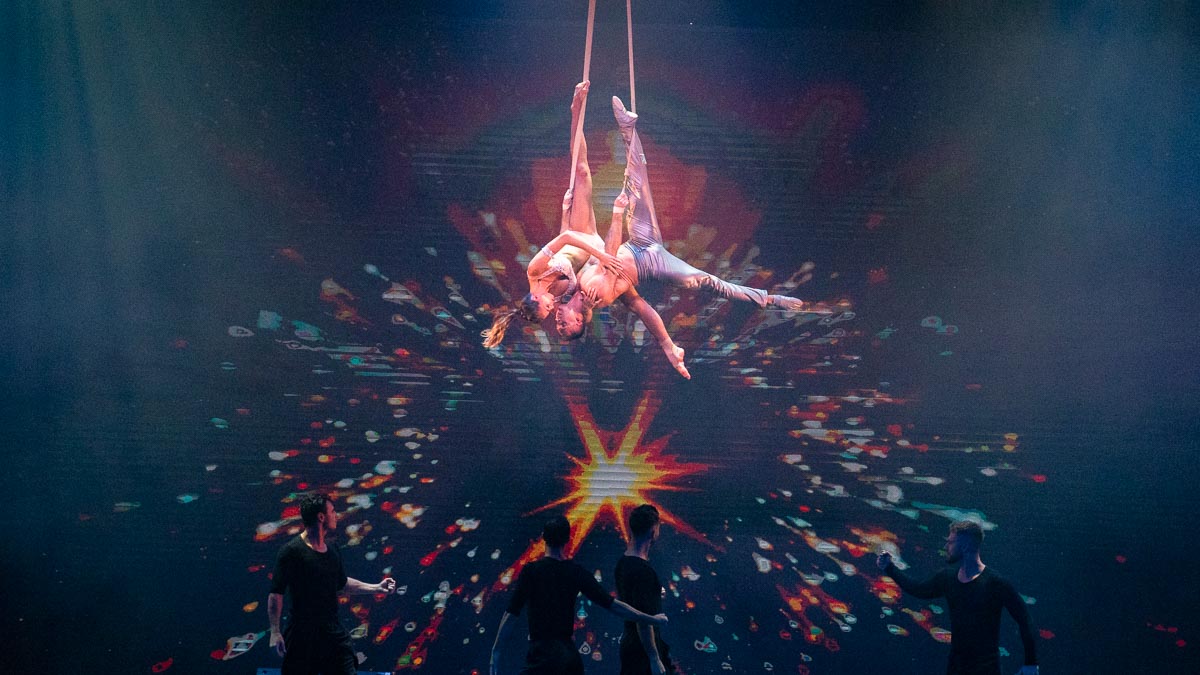 Dream Cruises' Faith Show
For me, a huge part of the cruise experience is late-night entertainment. If you're looking to have your mind blown with multitalented performances, Dream Cruises' acts are definitely where it's at. With stunning acrobatic acts and quirky dance numbers, I was thoroughly entertained throughout.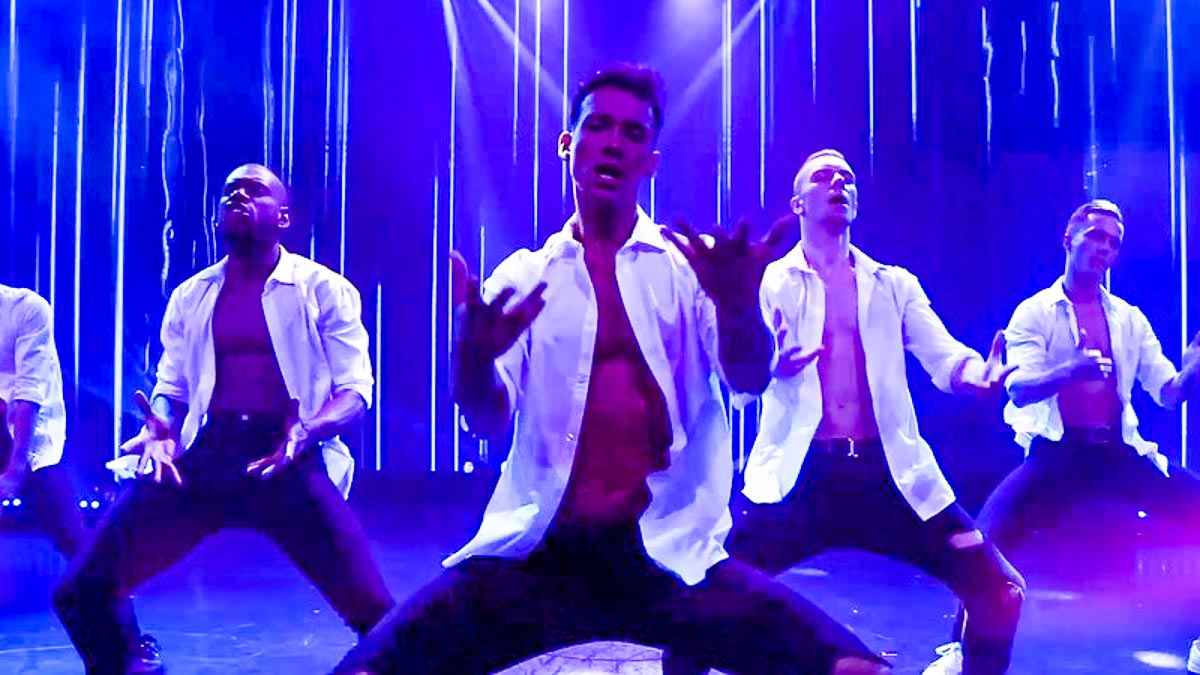 Photo credit: Dream Cruises
Dream Cruises also hosts a special show — Dream Boys (only for those 18 and above)! It's basically their version of Magic Mike, featuring beautiful men and raunchy dance moves, with sprinkles of comedy throughout. The show costs S$50, which is a steal compared to Magic Mike Shows in London (~S$146.38).
Fun fact: These performers have multiple roles on the ship — Muay Thai instructor in the day, Dream Boy by night!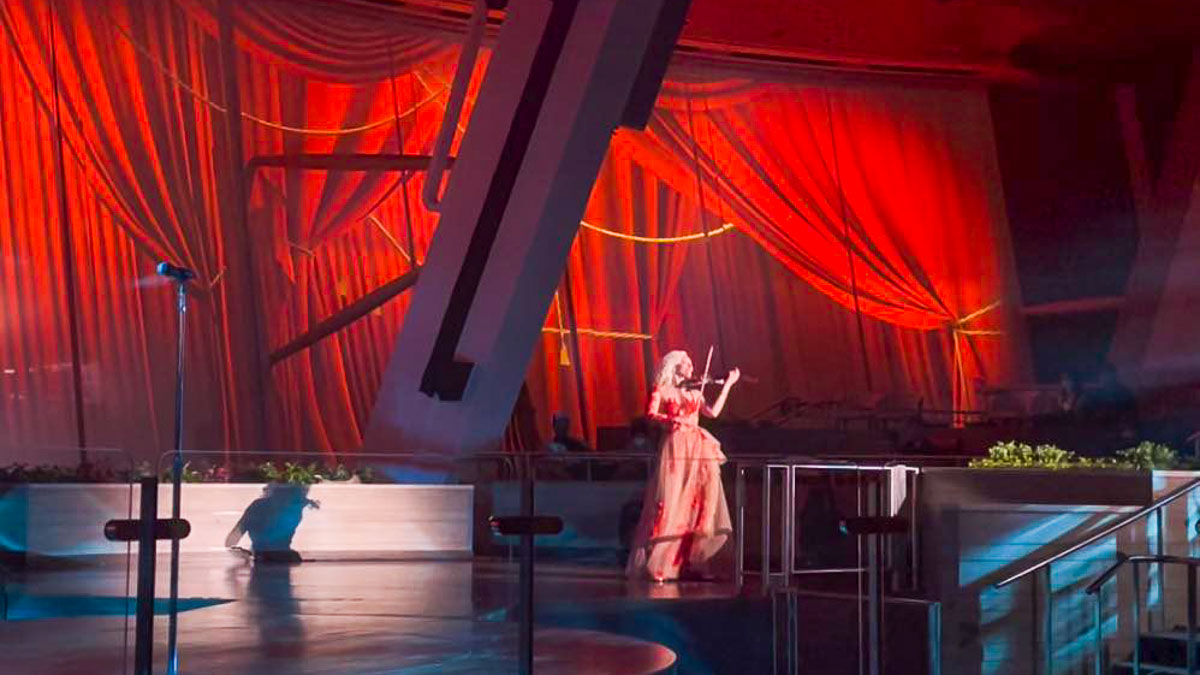 Royal Caribbean's Two70 Violin act
Royal Caribbean's Two70 showcases are a great way to just unwind. Enjoy world-class music performances and mind-boggling magic shows before calling it a night.
Drink Packages for Three-Night Cruise

ROYAL CARIBBEAN


DREAM CRUISES

Soda-Only Package

S$33
–
Coffee Package
(10 servings)

S$42
–
Refreshment Package
(all non-alcoholic beverages)

S$82
S$90
Beer Package
(with soft drinks)

–
S$118
Classic Package
(all beverages except hard liquor)

–
S$138
Deluxe/Premium Package (full)

S$163
S$235
For some of us, drinks are a crucial part of the Cruise To Nowhere experience — yes, we get it. If that's the case for you, Royal Caribbean is definitely where you can drink your money's worth. The Deluxe package at S$163 for a three-night cruise includes all beverages including cocktails, beer, wines and non-alcoholic beverages (basically anything under $12).
Dream Cruises' full drink package on the other hand only has free flow coffee, tea, juices, and soft drinks. Alcoholic beverages are only free-flow between 5–7PM.
Royal Caribbean Vs Dream Cruises — Which Cruise to Nowhere Would You Pick?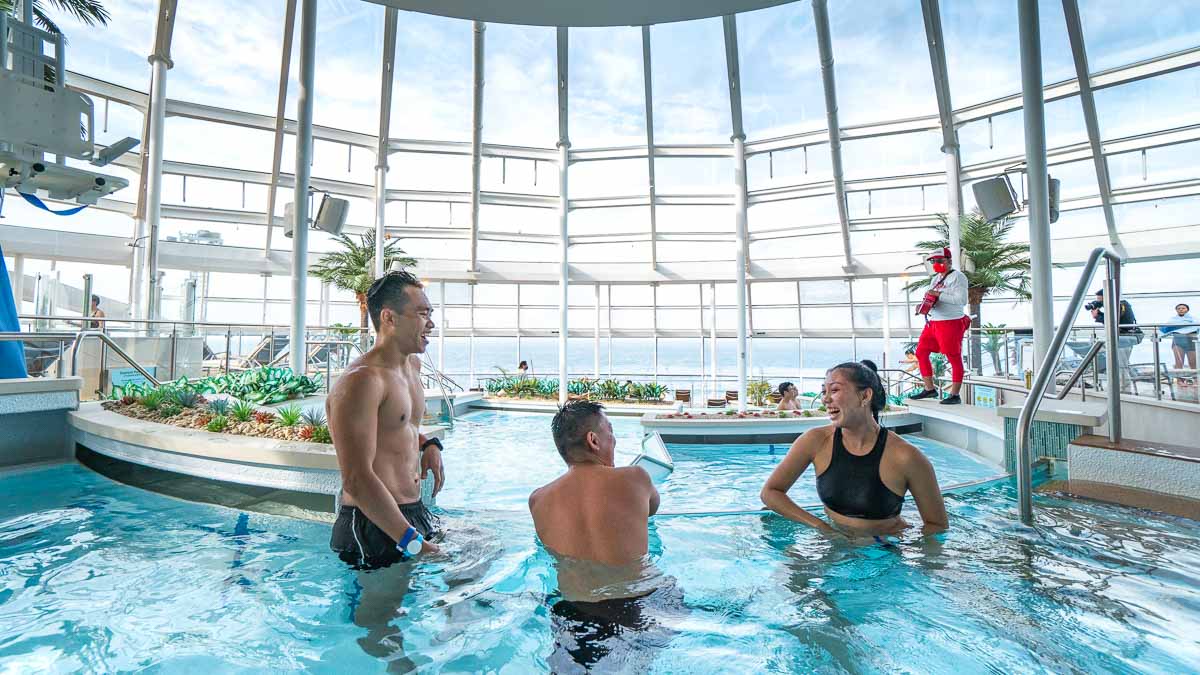 Royal Caribbean's Solarium, an adult-only pool
Here's our take:
Rooms — The rooms on Dream Cruises' World Dream are generally more affordable than Royal Caribbean for a similar room size. However, if you're going for the ultimate luxury experience, Royal Caribbean takes the win.
Entertainment — This is a tough fight. Both ships have more than enough options to keep you entertained on a three-night cruise. If you're going for more extremes, you'll appreciate Royal Caribbean's Quantum of the Seas for its Flowrider and iFly.
Dream Cruises' World Dream has its epic water slides and more options when it comes to shows and classes. Of course, the star of the show here is the Dream Boys — if that's your thing.
Dining — If you're a real foodie, we'd go with Royal Caribbean's Quantum of the Seas for this one.
Cruises are basically our only chance to get away from Singapore for now. And the good thing is cruises do make you feel like you're overseas! So whichever Cruise to Nowhere you end up with — whether it's Dream Cruises or Royal Caribbean — you're bound to have a good immersive break, until travel resumes once again!
We hope this Cruise Comparison was helpful — if you've experienced both Cruises to Nowhere, let us know which you prefer in the comment section below!
---