Looking to explore the scenic, quainter side of China? This Suzhou and Hangzhou itinerary discovers the cities seemingly trapped in time.
Beijing and Shanghai are like the cool kids at the high school cafeteria, showing off their fancy gadgets (read: modern skyline) and stature (read: Great Wall). But Suzhou and Hangzhou in the introverts' corner deserve some attention too!
Although Suzhou and Hangzhou aren't typically first-choice destinations in China, they have their own special charms that make them worth visiting from the famous West Lake to its beautifully preserved ancient towns. Plus, Suzhou is only a one-hour train ride from Shanghai (more details later)! You could easily fit it into your Shanghai itinerary.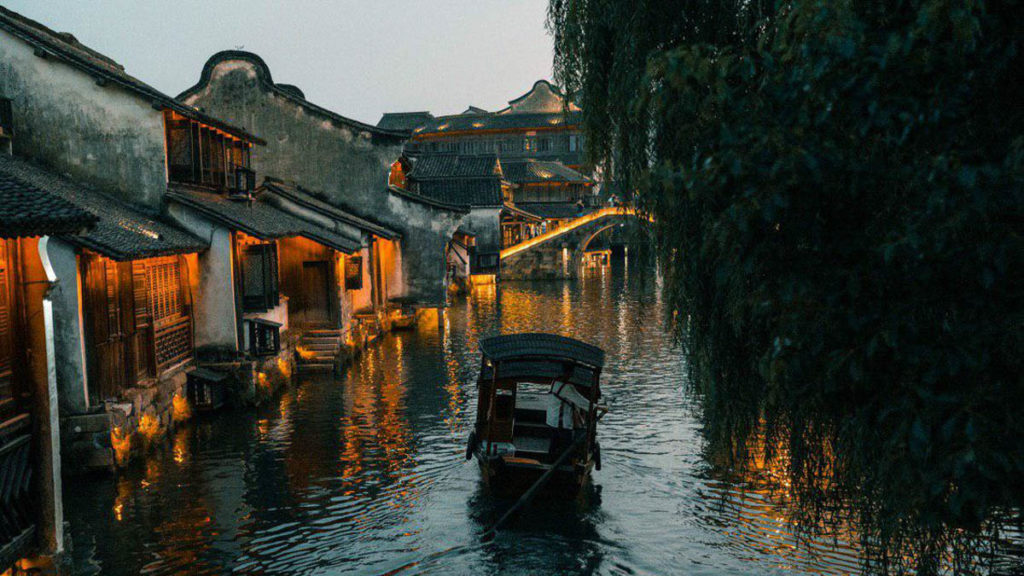 There's a Chinese proverb, "上有天堂 下有苏杭", which means "Above there's heaven, below there's Su Hang (Suzhou and Hangzhou)". After our experience, we could totally see why these cities are known as heaven on earth.
Read on for our Suzhou and Hangzhou itinerary where we explore the best of these cities!
Pre-trip Essentials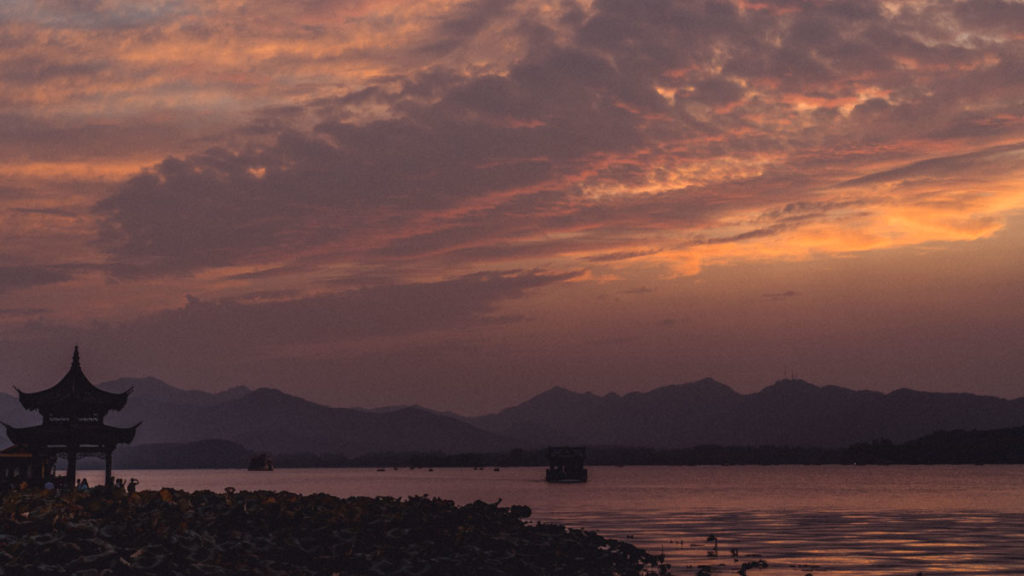 Connectivity: We pre-booked our 4G SIM Cards online (~S$15) with 2GB, 3GB and 6GB options for 30 days, which we picked up at the Shanghai airport. To access sites like Google and Instagram, you'll have to download a VPN app like VPN Proxy Master.
Essential apps: Getting around is easiest with Didi, China's version of Uber. There's even an auto-translation feature to communicate with drivers, and you can pay with either card or cash. (Click here for other essential apps to download!)
Flights: We travelled to Suzhou after visiting Shanghai. You can check flight prices to Shanghai with this nifty widget:
If you can't see the widget above, click here to check flights from Singapore to Shanghai instead!
Read also: 25 Things To Do In Shanghai — From the Must-dos To the Hidden Gems
Day 1 (Suzhou): Bike Tour, Tiger Hill And Humble Administrators Garden
Getting from Shanghai to Suzhou: Take a one-hour train ride from Shanghai South Railway Station (book tickets here).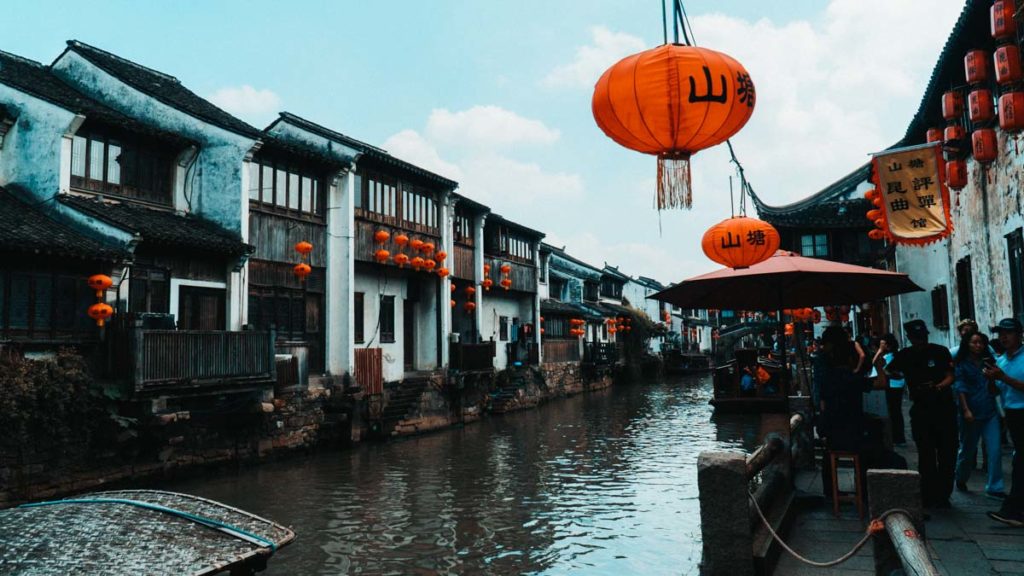 Half-Day Bike Tour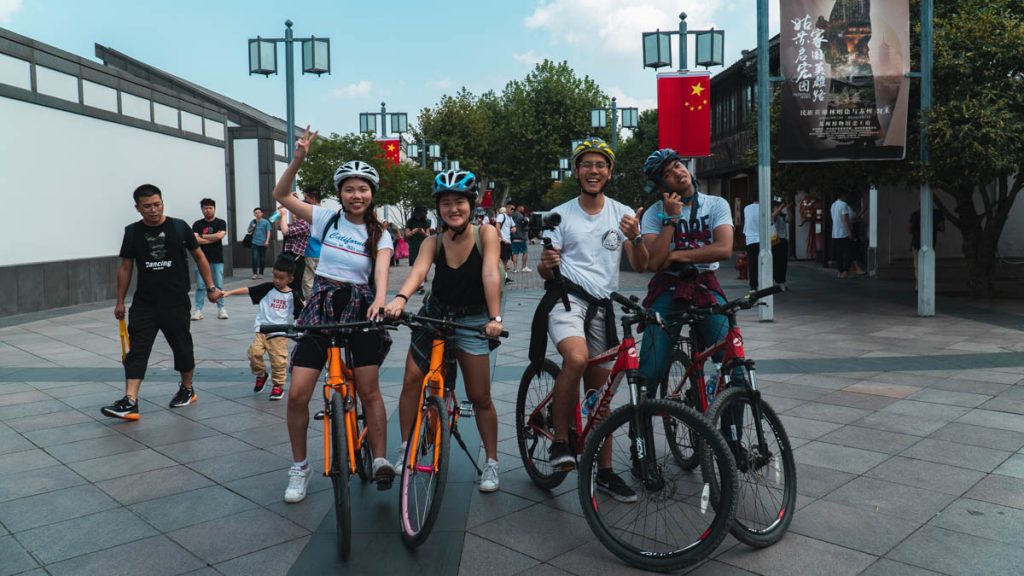 Coming from someone who hardly cycles back home, this half day tour was real fun — it's almost like a "welcome to Suzhou" package that takes you to the best sights of the city. Here are the highlights from the three-hour tour:
(1) Suzhou Museum: Designed by the same architect who designed the Louvre in Paris, Suzhou Museum is home to an impressive collection of Chinese relics. Drop by for a history lesson or two.
(2) Pingjiang Historic Block: Pingjiang Historic Block is an 800-year-old street with classic cobblestone pavements and a river flowing through. You're practically transported back to ancient Suzhou!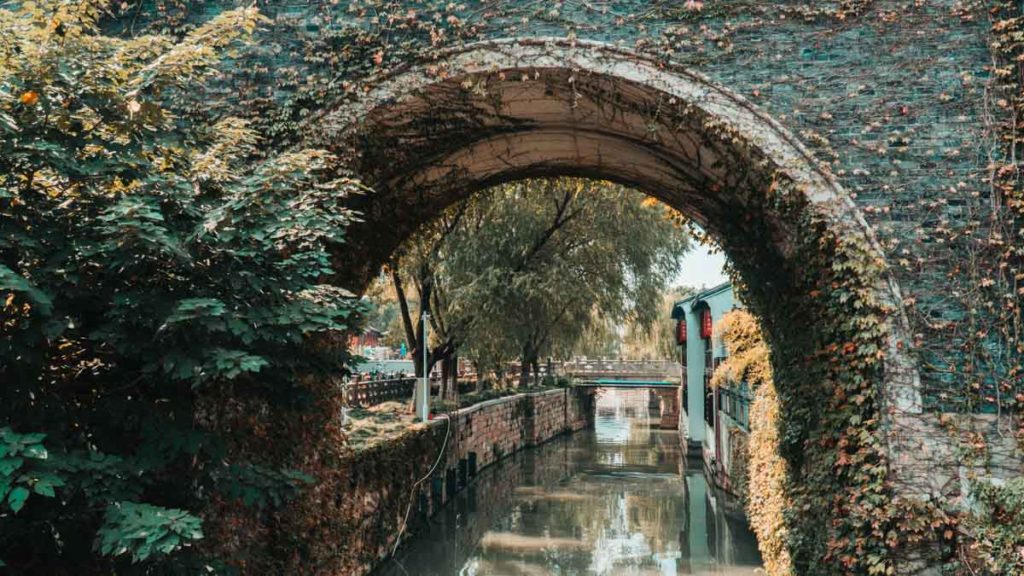 (3) Ancient City Wall: Built to fortify and protect Suzhou 2,500 years ago, the ancient city walls now represent an important part of the city's heritage. Eight gates surround Suzhou's historic district, and still retains the grandeur of the original architecture.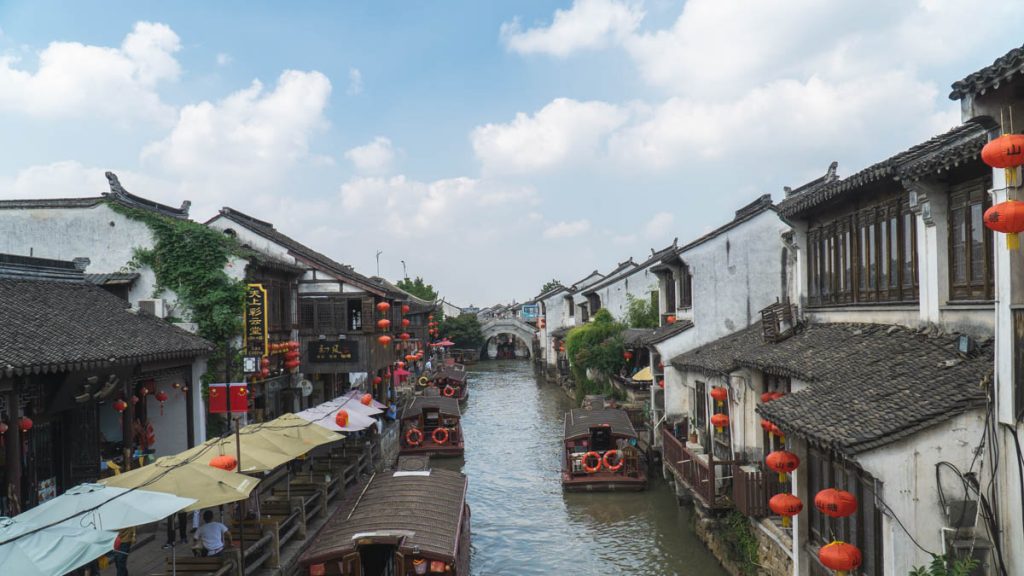 Shantang Street
(4) Shantang Street: Previously a commodities hub, Shantang Street is now a popular pedestrian street home to several shops and restaurants. Also known as Seven-li Shantang, this street stretches for 11km from Changmen Gate to Tiger Hill.
Cycling and electric biking is pretty big in Suzhou. If you want to see the city like a local, this is the way to go. Our guide was very experienced and expertly navigated the alleyways so rest assured you're in safe hands!
Suzhou Highlights Half Day Biking Tour
Cost: ~S$73.80 (incl. bikes and English-speaking guide)
Tour hours: 9:30AM – 1PM
Address: Intersection of Shiquan Street and Fenghuang Street, Suzhou (苏州十全街凤凰街路口)
Tiger Hill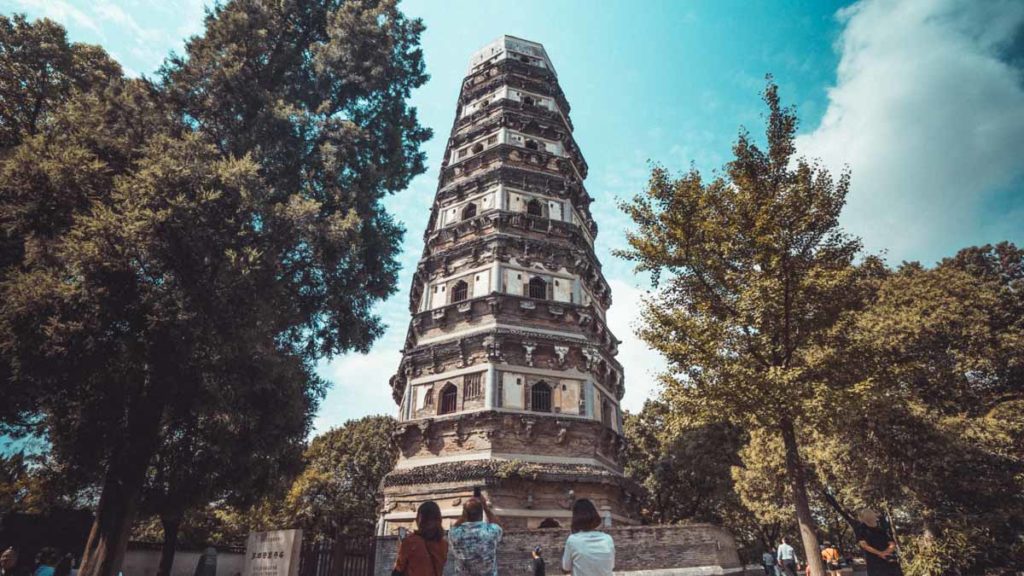 One of Suzhou's most famous attractions is Tiger Hill. It's said that three days after the King of Wu State, He Lu was buried here, a white tiger was spotted guarding the tomb, hence giving the place its name.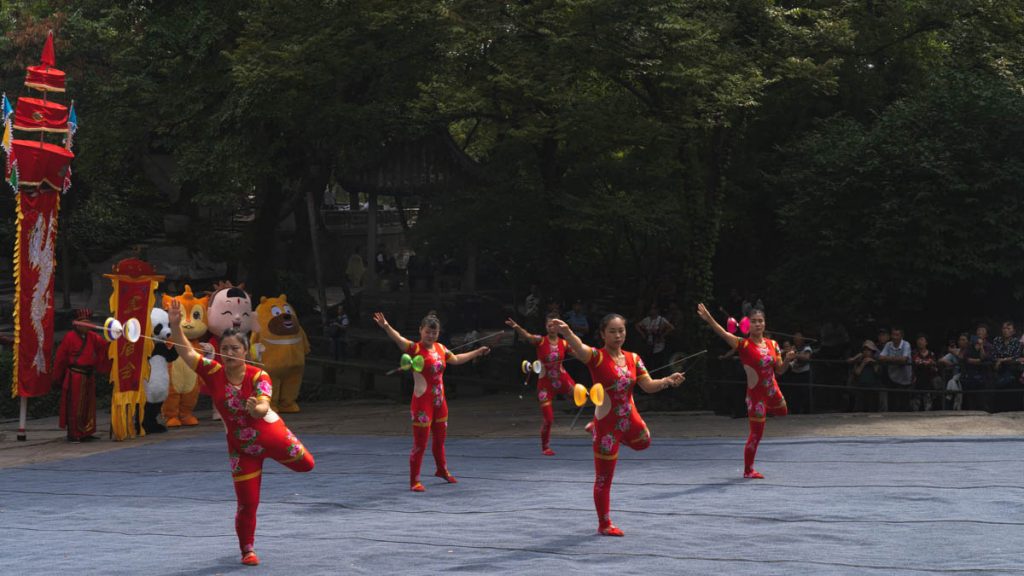 The Tiger Hill pagoda leans at a 4° angle, giving it its reputation as China's answer to the Leaning Tower of Pisa. No need to fly all the way to Italy to take a silly photo of you holding up the tower!
If you're lucky, you might catch a free street performance while you're there.
Entrance fee: 80RMB (~S$15.50)
Opening hours: 7:30AM – 5:30PM
Address: Jinchang District, Suzhou City, Jiangsu Province 215008, China (江苏省苏州市金昌区215008)
Humble Administrator's Garden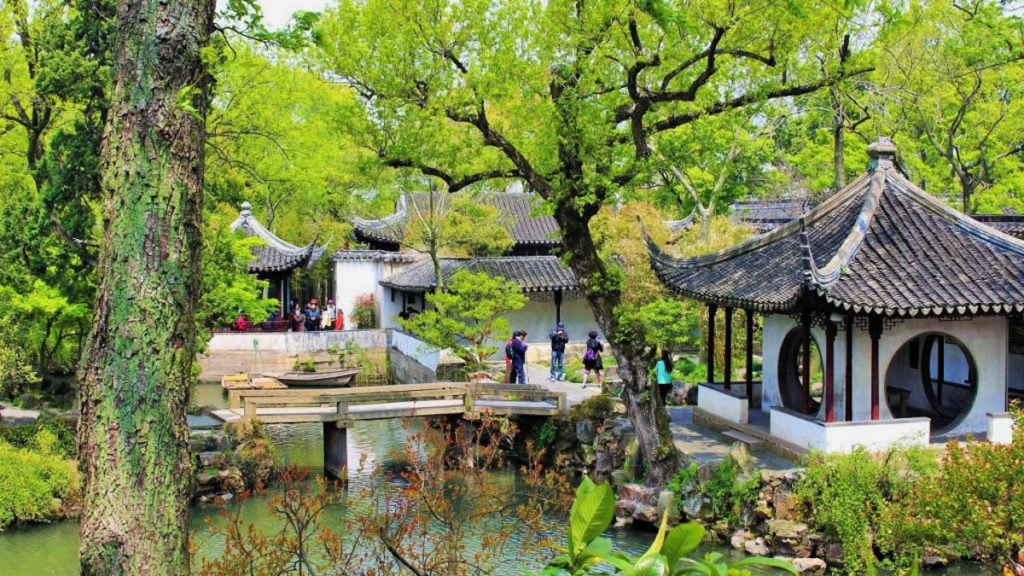 Photo credit: China Unlimited
Listed as a World Cultural Heritage site in 1997, the Humble Administrator's Garden is Suzhou's largest garden. Built in 1509, it's among the best classical gardens and is home to mesmerising lakes, rock formations, nature and pavilions. Definitely a must-see while in town!
Entrance fee: 70RMB (16 Apr – 30 Oct), 50RMB (31 Oct – 15 Apr)
Opening hours: 7:30AM – 5:30PM
Address: No.178 Dongbei Street Pingjiang District, Suzhou City, Jiangsu Province (江苏省苏州市平江区东北街178号)
Enjoy Local Cuisine at Yang Yang Dumpling Restaurant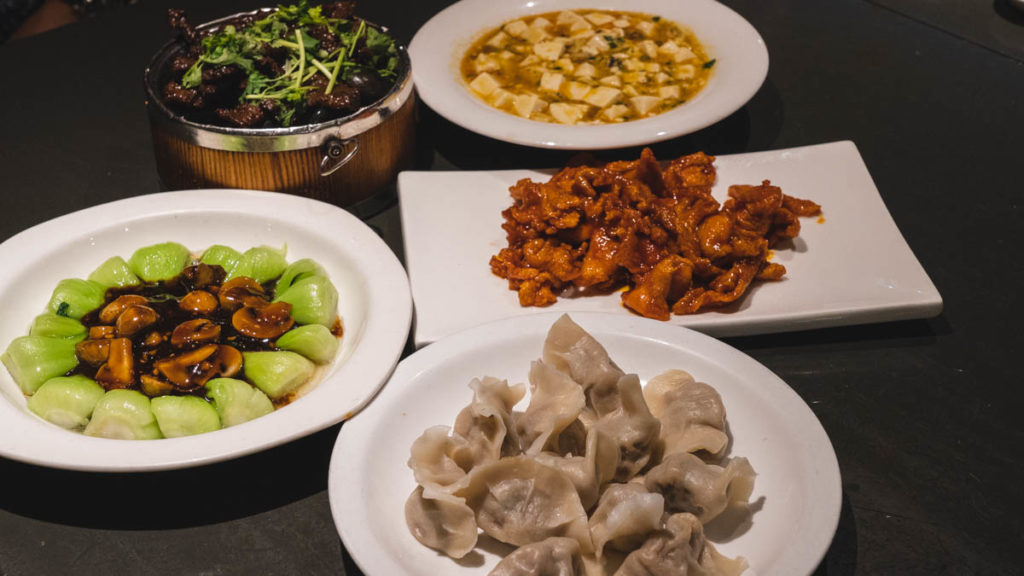 It'll be a sin to leave without trying some local food. Yang Yang Dumpling Restaurant is a popular option specialising in dumplings, but also serves other delicious Chinese dishes. We tried the stone roasted beef, sweet and sour chicken and beef dumplings, and left with very happy bellies.
Prices here are more than reasonable for the quality so we left with happy wallets as well. Score!
Cost: 50RMB/pax (~S$10)
Opening hours: 10AM – 2:30PM, 5PM – 9PM
Address: CangLang District ShiQuan Street 420, Suzhou, China (苏州市沧浪区十权街420号)
Shop Till You Drop at Guanqian Street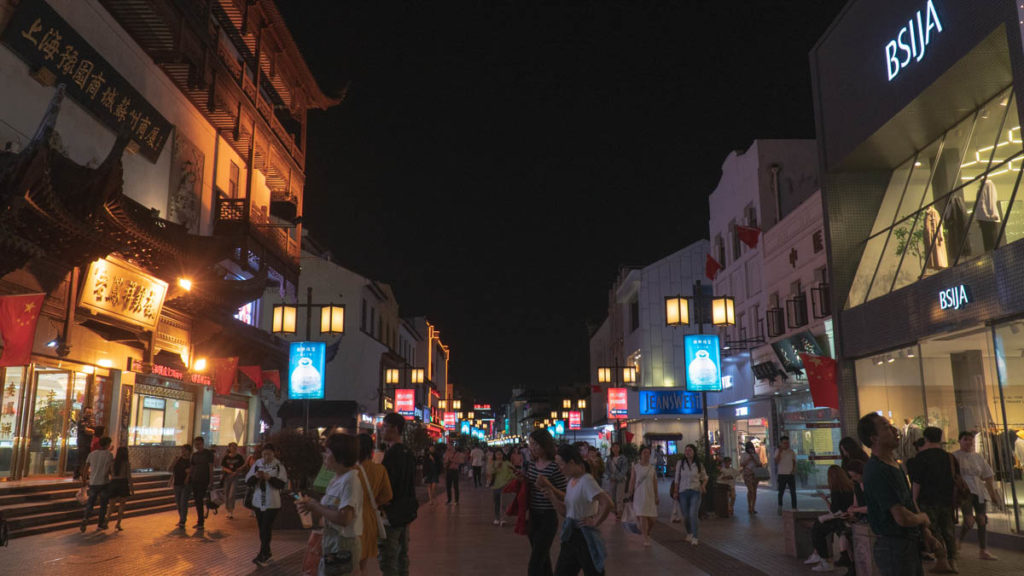 Suzhou isn't just gardens and ancient towns, there's so much shopping and eating to do here as well! Located at the heart of old Suzhou, Guanqian Street is a pedestrian street with hundreds of shops and street food stalls. It's only a 20-minute walk from Yang Yang Dumpling Restaurant so head here for post-dinner shopping and supper.
Opening hours: Most shops close by 10PM
Address: Guanqian Street, Gusu, Suzhou, Jiangsu, China (中国江苏省苏州市姑苏市观前街)
Day 2 (Suzhou): Jinxi Ancient Town and Jinji Lake
Jinxi Ancient Town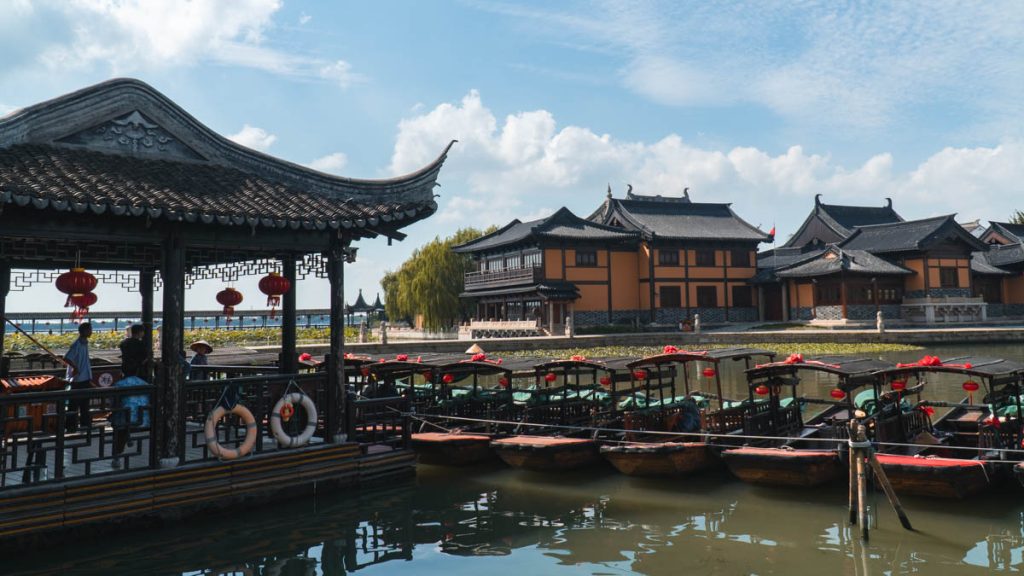 Known as the "Town of Bridges", Jinxi Ancient Town has an impressive 36 bridges connecting 16 lakes and 238 rivers. If you're looking to visit an ancient town unpolluted by commercialism, this is it. The town is pretty quiet, and I imagine hasn't changed too much from back in the day.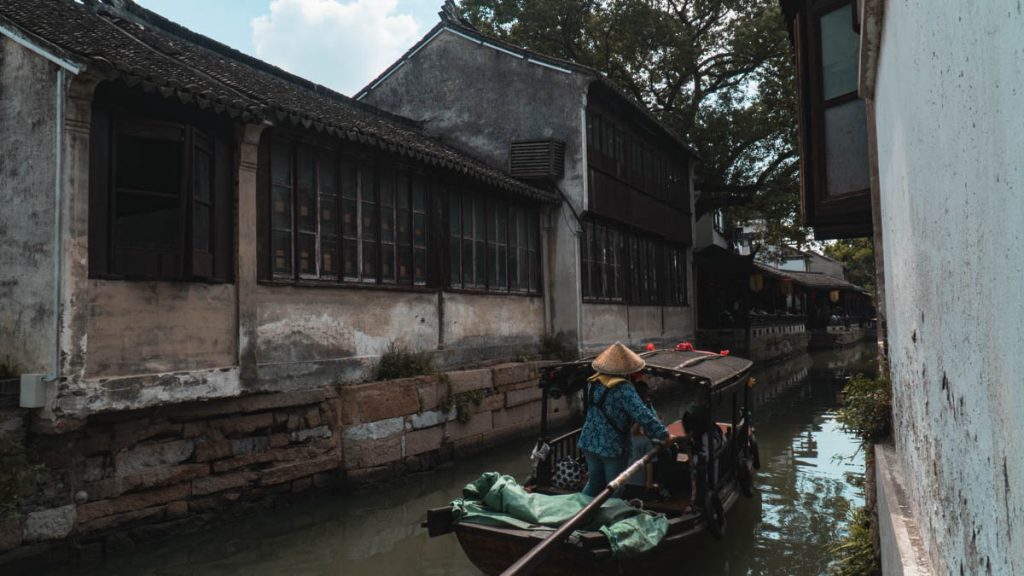 We took a boat tour that brought us through the town (it has that many lakes and rivers after all), and realised you generally won't need to spend too much time here to cover everything. We recommend heading back to the city for lunch as there aren't too many options there.
Cost: ~S$8.75 per person
Opening hours: 8AM – 4PM
Address: Jinxi Ancient Town, Wenchang Rd, Kunshan Shi, Suzhou Shi, Jiangsu Sheng, China (中国江苏省苏州市昆山市文昌路锦西古镇)
Jinji Lake Scenic Area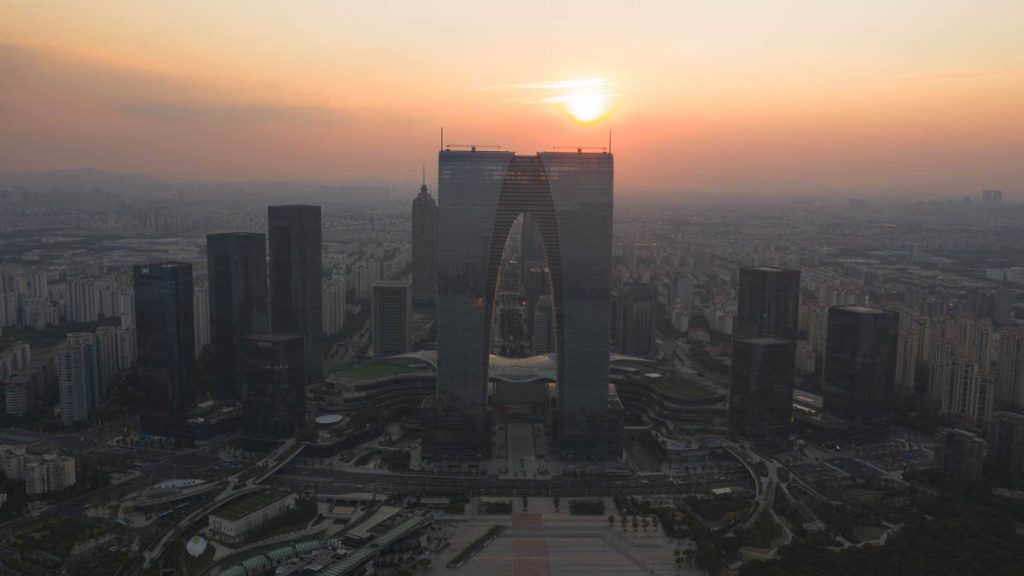 The area around Jinji Lake lets you in on the modern side of Suzhou. It's the largest city park in China, and a great place to catch the sunset against the backdrop of Suzhou Center Mall.
If you're a thrill-seeker, visit the Suzhou Ferris Wheel Amusement Park (60RMB) which sits on the opposite, east bank of the lake. There's a 120m-tall ferris wheel which offers magnificent views of the city!
Address: Jinjihu Road, Wuzhong District, Suzhou 215000, China (苏州吴中区金鸡湖路215000)
Day 3 (Hangzhou): Exploring Xixi Wetlands And West Lake Scenic Area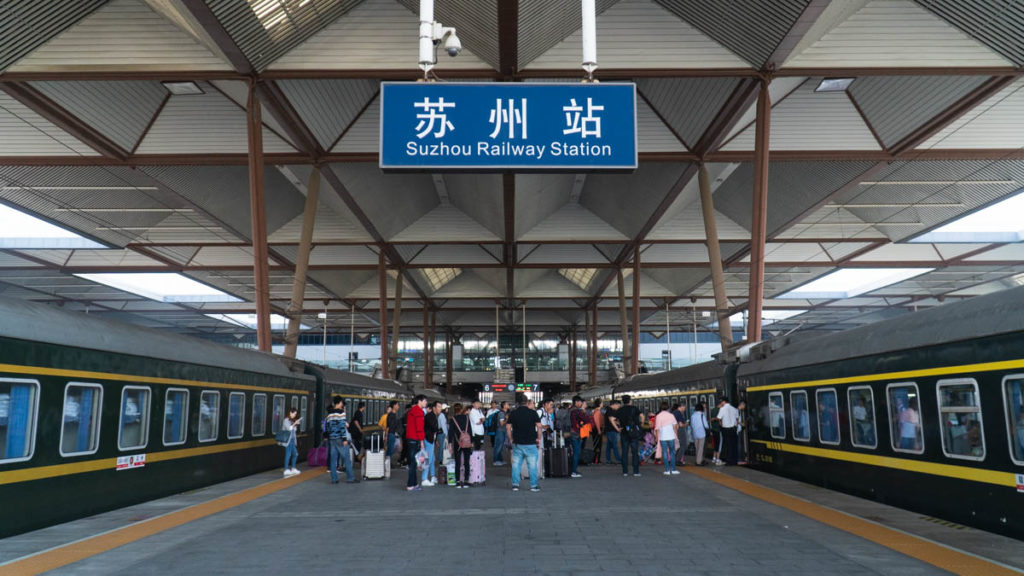 Getting from Suzhou to Hangzhou: Take the train from Suzhou Railway Station to Hangzhou (from S$8.05) which takes between one and a half to five hours, depending on the type of train you select.
Xixi Wetlands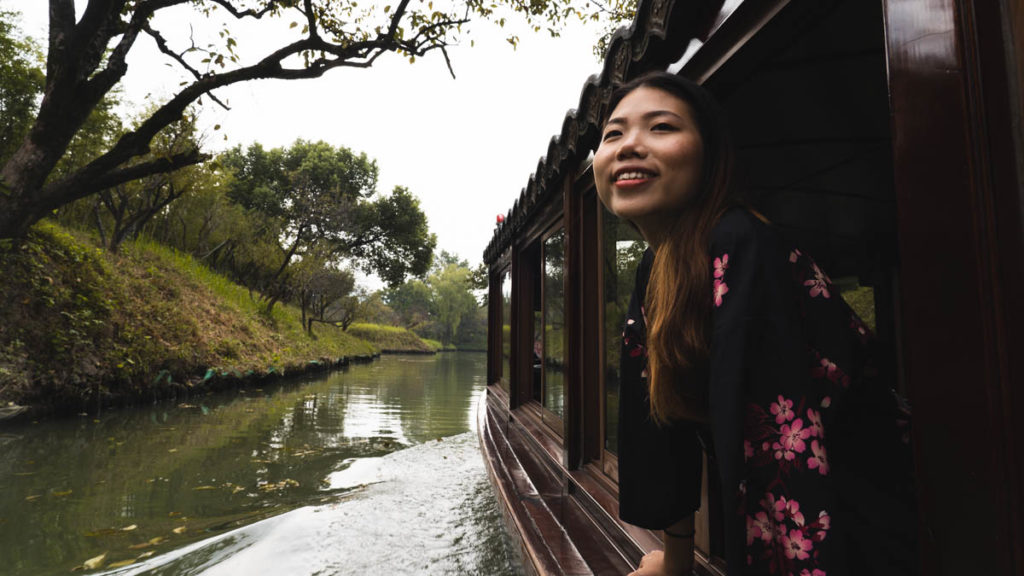 Switch out city views for some lush forests and beautiful waterscapes. Located 5km from West Lake is Xixi Wetlands, a scenic urban wetland. It's over 1,800 years old and is the first national wetland park in China!
Enjoy the scenery by taking a boat ride (60RMB) through the wetlands. During the annual Dragon Boat Festival in late June, the area becomes the grounds for major dragon boating competitions and dragon dancing performances.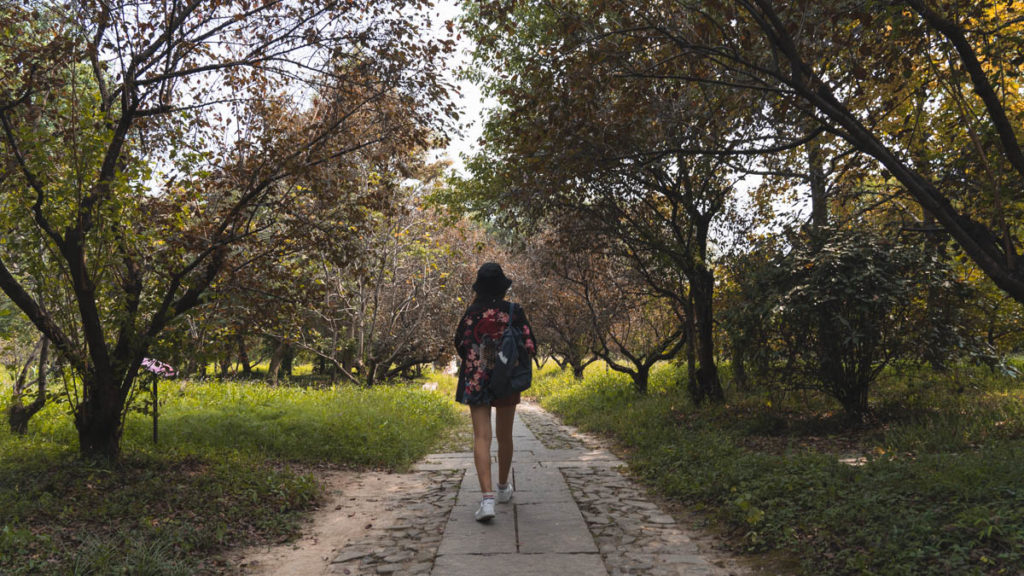 Entrance Fee: 80RMB (40RMB for students)
Opening Hours: 8:30AM – 5:30PM
Address: 518 Tianmushan Road, West Lake District, Hangzhou, Zhejiang (浙江省杭州西湖区天目山路518号)
West Lake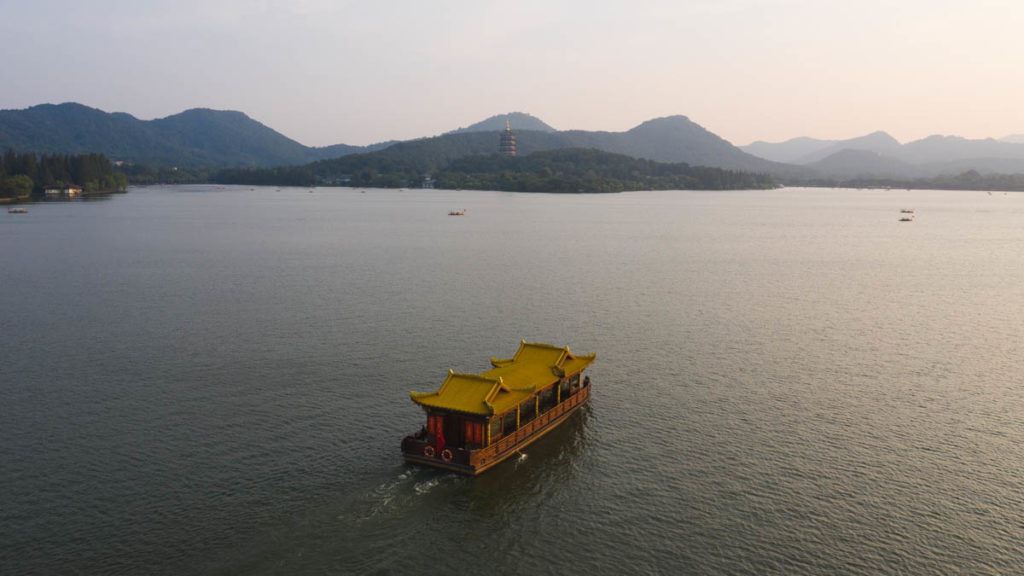 Just like how Shanghai has The Bund, Hangzhou has West Lake. West Lake is Hangzhou's most popular sight and is widely regarded as one of the most beautiful places in China. Locals flock here to dance (yes), exercise and spend time with friends and family.
The lake stretches for 3.2km and is home to several attractions like the Leifeng Pagoda and Three Pools Mirroring the Moon (see below). Opt to take a boat ride to enjoy West Lake from the water (55RMB)!
Address: West Lake, Hangzhou, 310000 China (西湖杭州310000)
Three Pools Mirroring The Moon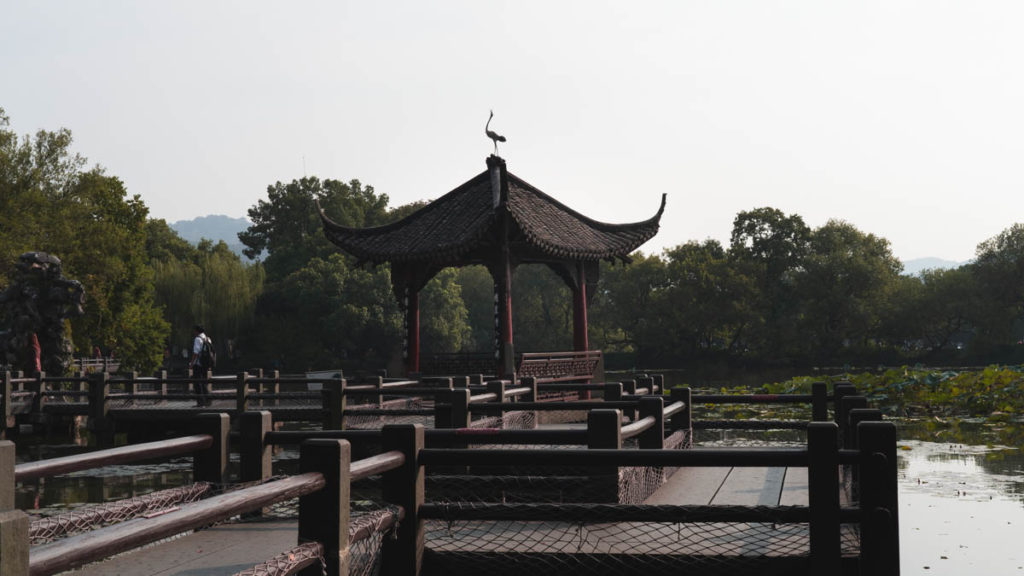 The Three Pools Mirroring the Moon is actually printed on the one yuan bill! It's on the south side of West Lake and you can only access it via boat for 55RMB. Look out for the three stone towers perched on three deep pools, seen as a symbol of Hangzhou.
Entrance fee: 55RMB (incl. boat and entrance ticket)
Opening hours: 8AM – 5PM
Address: Santanyinyue Islet, Xihu District, Hangzhou 310007, China (杭州市西湖区三潭音月岛,杭州310007)
Leifeng Pagoda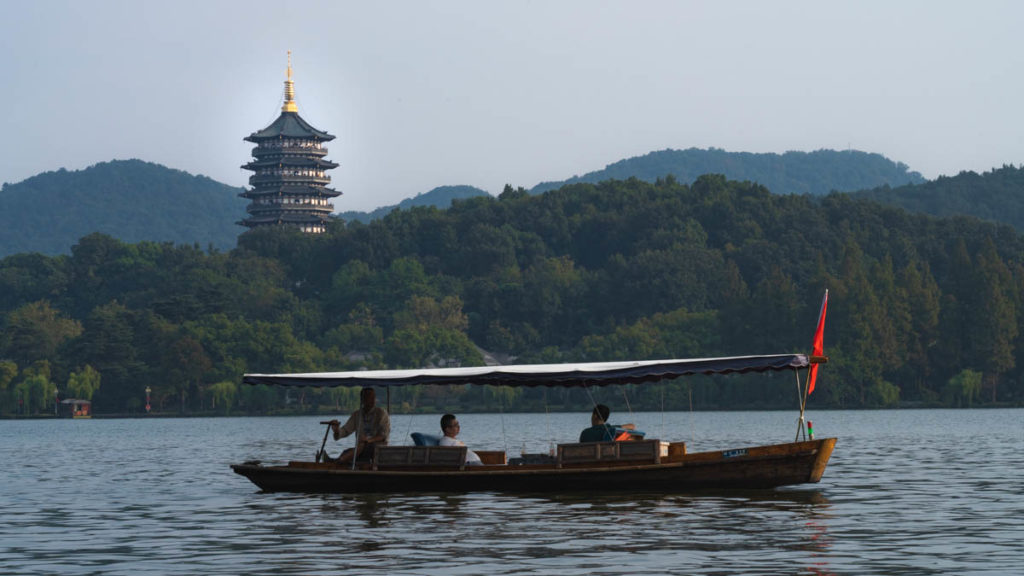 Situated on Sunset Hill overlooking West Lake is Leifeng Pagoda, a five storey-tall pagoda constructed in AD 975. Although the original structure collapsed in 1924, the building was rebuilt in 2002 and is now one of Hangzhou's most popular attractions.
Leifeng Pagoda is famous for its legendary love story where a young scholar falls in love with a beautiful woman. Turns out she's actually a white snake in human form! A monk finds out and intervenes by casting the white snake into a well at Leifeng Pagoda.
Today, the pagoda provides an excellent vantage point for a panoramic view of West Lake. Don't worry, you won't find white-snake-humans there anymore.
Entrance fee: 40RMB (20RMB for students)
Opening hours: 8AM – 8PM (May – Sep), 8AM – 5:30PM (Sep – May)
Address: 15 Nanshan Rd, Xihu, Hangzhou, Zhejiang, China, 310007 (中国浙江省杭州市西湖区南山路15号310007)
Marvel at the Sunset from West Lake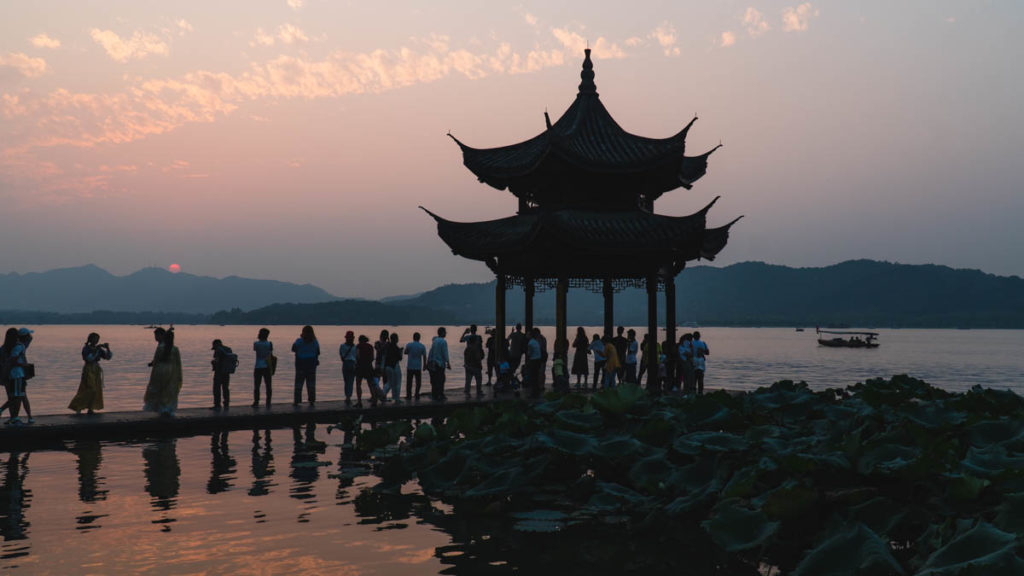 I've always loved sunsets. Especially ones with vibrant pinks and oranges. The sunset here did not disappoint and wrapped up our West Lake journey beautifully.
Hubin Pedestrian Street, Hangzhou's Main Shopping District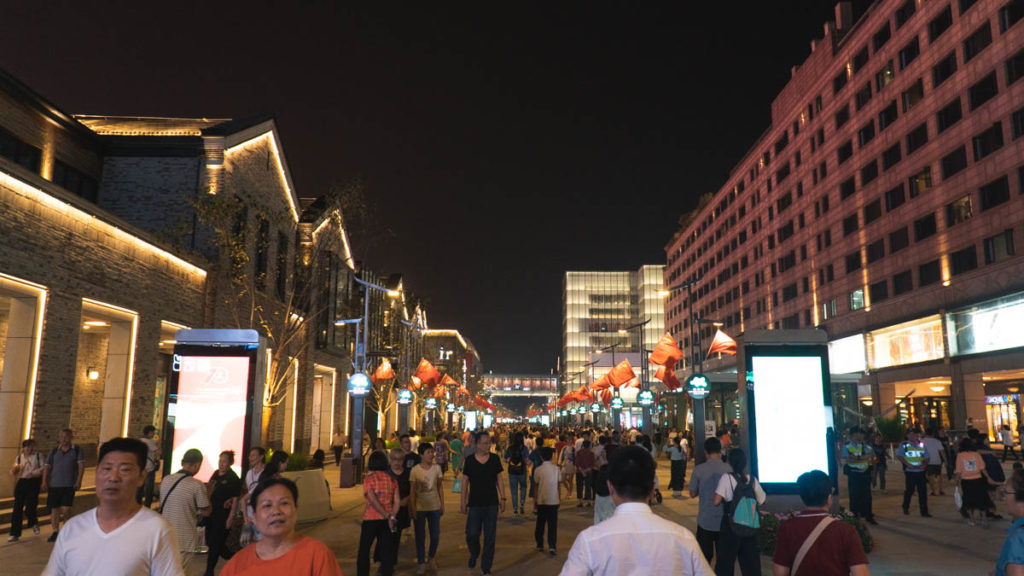 Situated parallel to West Lake is Hangzhou's vibrant shopping district, Hubin Pedestrian Street. This area is so modern and packed with mega-malls and big brands, I forgot I was in Hangzhou. The major roads for shopping are Dongpo Road, Yan'an Road and Xueshi Road.
Opening Hours: Most shops close by 10PM
Address: Hu Bin Lu, Hu Bin Shang Quan, Shangcheng Qu, Hangzhou Shi, Zhejiang Sheng, China (胡斌路,胡斌商圈,上城区,浙江省杭州市)
Enjoy Local Delicacies Along Wushan Road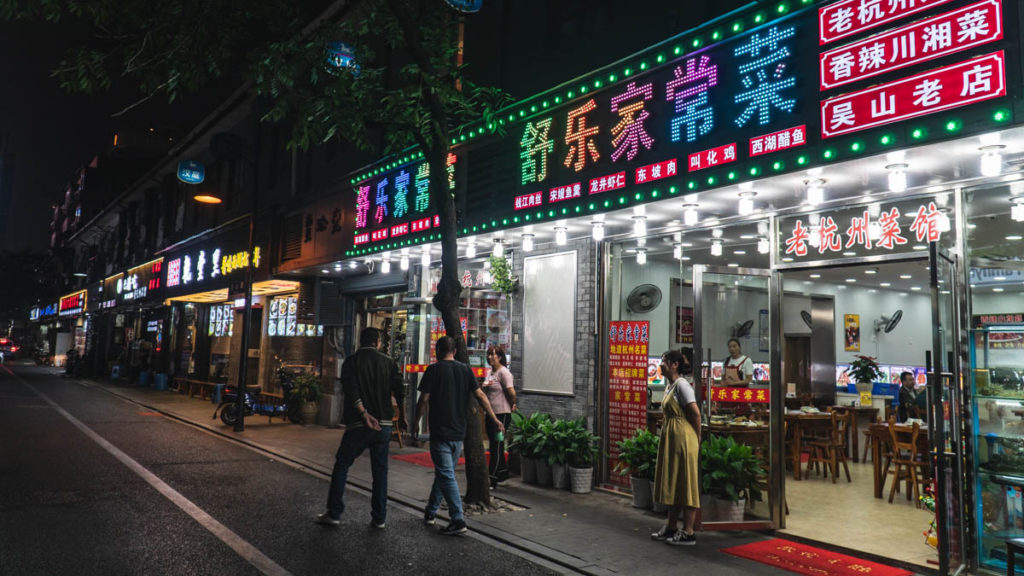 Just off the main shopping area, you'll find plenty of smaller streets like Wushan Road. There are several local restaurants selling Hangzhou's must-try delicacies.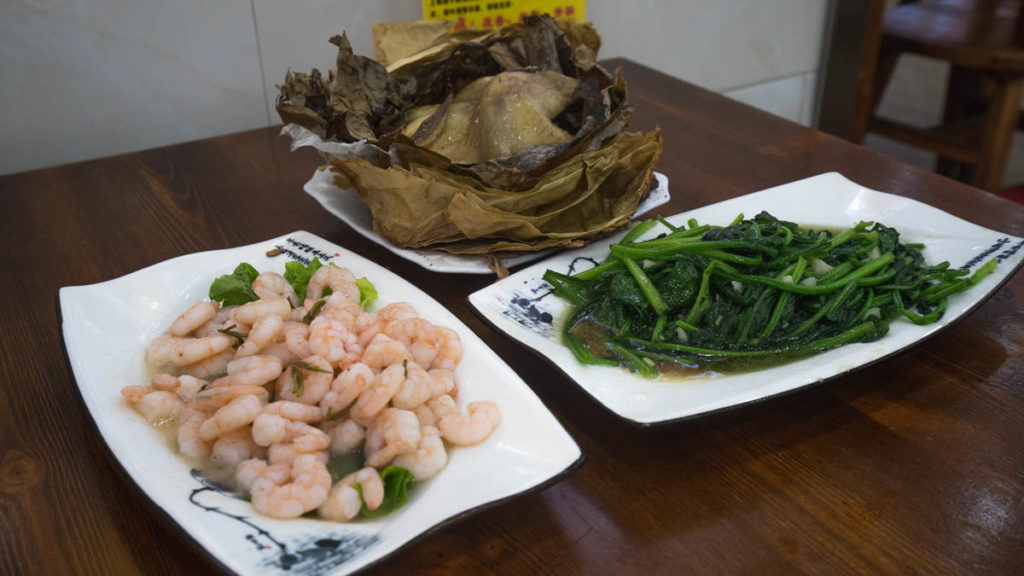 We had dinner at unit 112 on Wushan Road and ordered local delicacies like beggar's chicken, long qing tea shrimp and garlic spinach for a total of 150RMB (~S$15/pax).
Address: Wu Shan Lu, Shangcheng Qu, Hangzhou Shi, Zhejiang Sheng, China (中国浙江省杭州市上城区曲山路吴山路)
Check Out Fake Goods at Wushan Night Market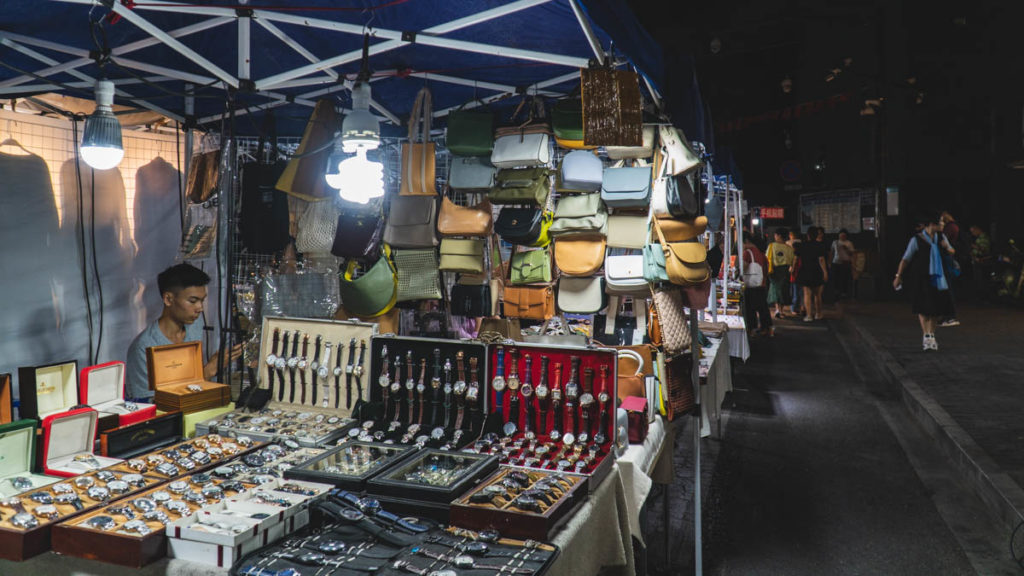 Don't scroll past just yet at the sight of "fake goods" — if you're up for more shopping after dinner, just a 15-minute walk away is Wushan Night Market. A different kind of shopping from the upscale Hubin Pedestrian Street, you'll find all sorts of knock-off goods and other cheap buys here. From shoes to bags! Reminds me of Singapore's pasar malam night markets.
Opening hours: 7PM – 10PM
Address: Renhe Rd, Hu Bin Shang Quan, Shangcheng Qu, Hangzhou, China (杭州市上城区湖滨上泉人和路)
Day 4 (Hangzhou): Mount Mogan & Hefang Street
Hiking at Mount Mogan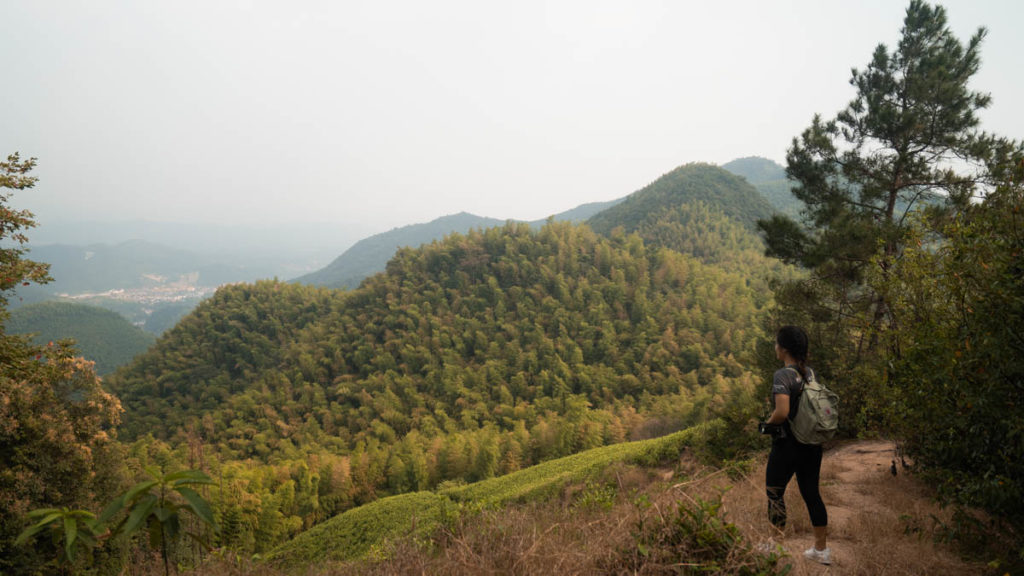 Mount Mogan, or Moganshan, has three peaks, the highest of which is called Ta Shan at 724m tall. Known as the "Hamptons of China", Moganshan was popular amongst missionaries, business people and politicians as a resort getaway with Chiang Kai-shek and Mao Zedong as some of its famous former residents.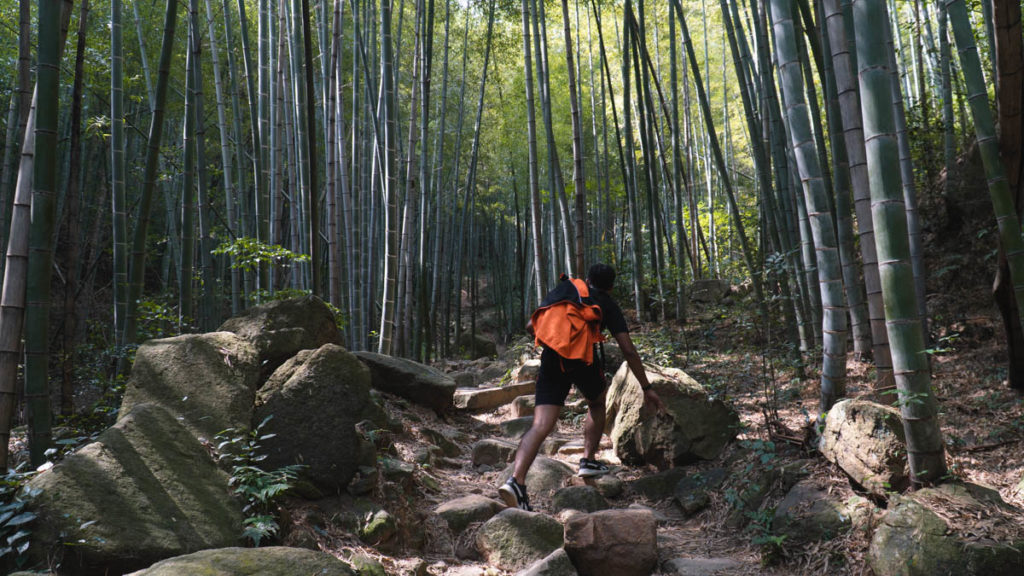 We took a five-hour round trip hike as part of a day tour, and it was a welcome change of scenery from the main city (and a good work out!). Don't worry about melting under the heat — the lush bamboos provide ample shade and give off an air of tranquillity. Kinda feels like where Kungfu Panda would come to find inner peace.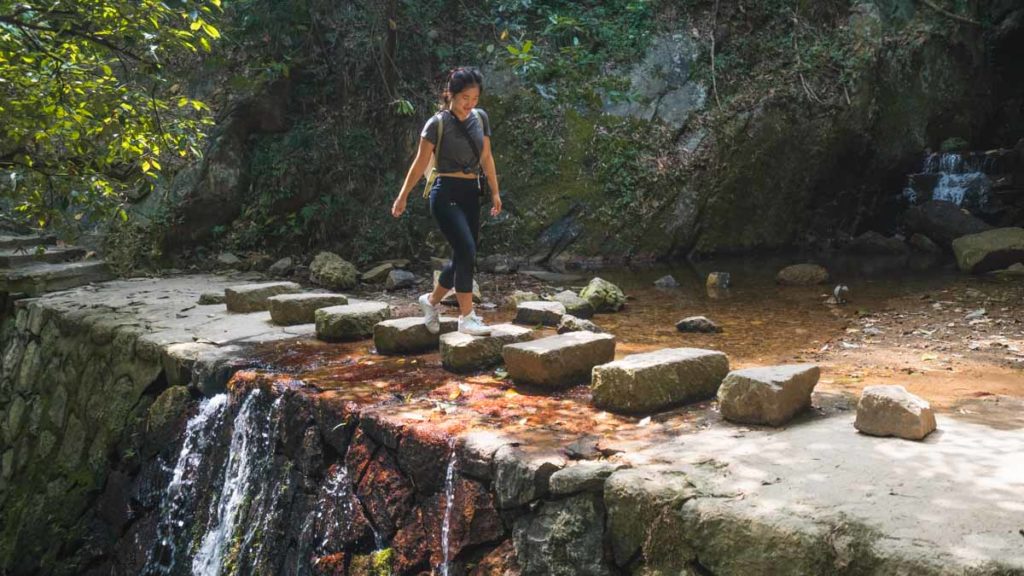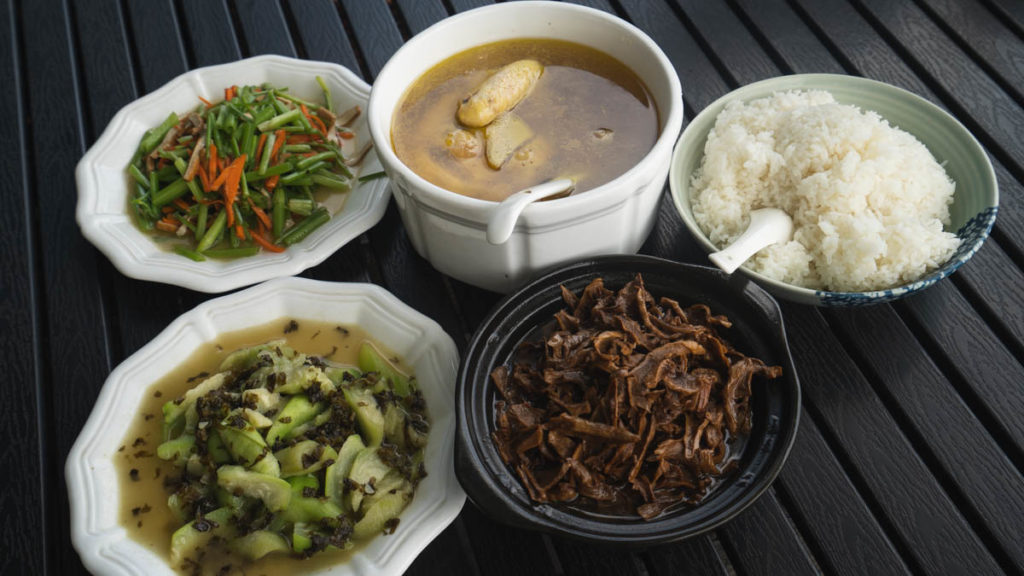 We got to enjoy a homey local lunch as part of the private tour — chicken soup, bamboo with pork, tofu with carrots and bitter gourd.
Mount Mogan Hiking Day Tour
Cost: From ~S$100 (incl. round trip transport, guide, entrance fees and lunch)
Tour hours: 8:30AM – 6:30PM
Address: Moganshan Town, Deqing County 313200, China (中国德清县莫干山镇313200)
Dinner and Shopping at Hefang Street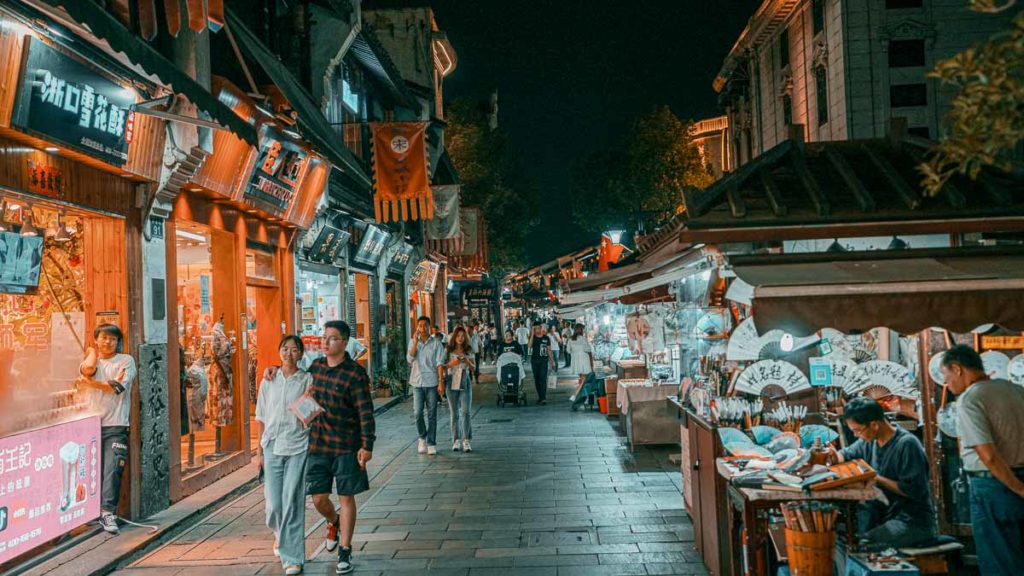 Hefang Street is Hangzhou's most famous ancient street. It's extremely lively and has a blend of street food, souvenir and handicraft stores lining the street. One thing we noticed — many food vendors there give out food samples, not something you see at many other streets in China!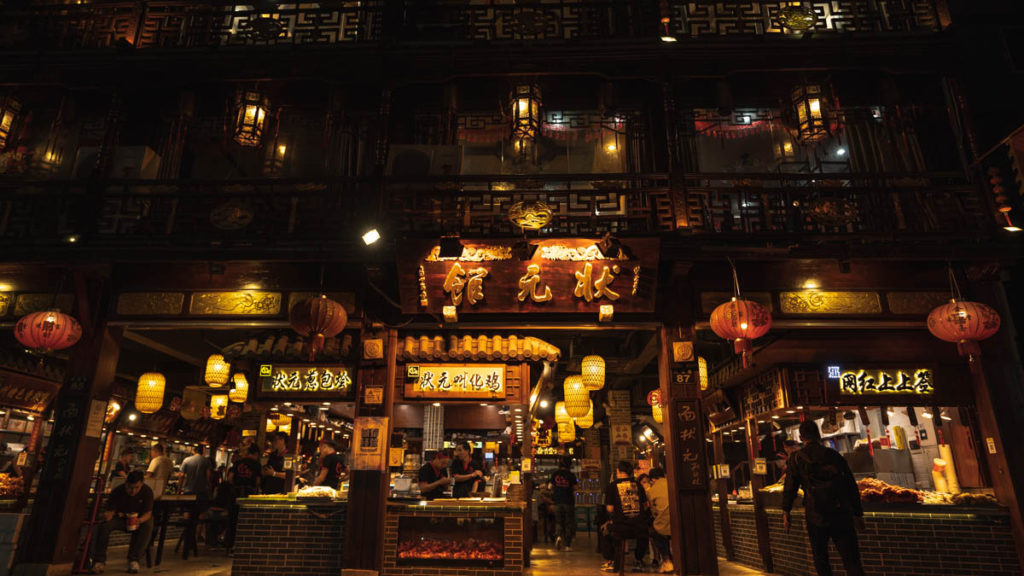 If you prefer dining in restaurants instead of street food, check out nearby Gaoyin Street one street down from Hefang Street. The entire street is lined with local restaurants.
Opening Hours: Most stores close around 10PM
Address: Hefang Street, Hangzhou City, Zhejiang Province, China, 310002 (中国浙江省杭州市河坊街310002)
Day 5 (Hangzhou): Wuzhen Old Street or Anchang Ancient Town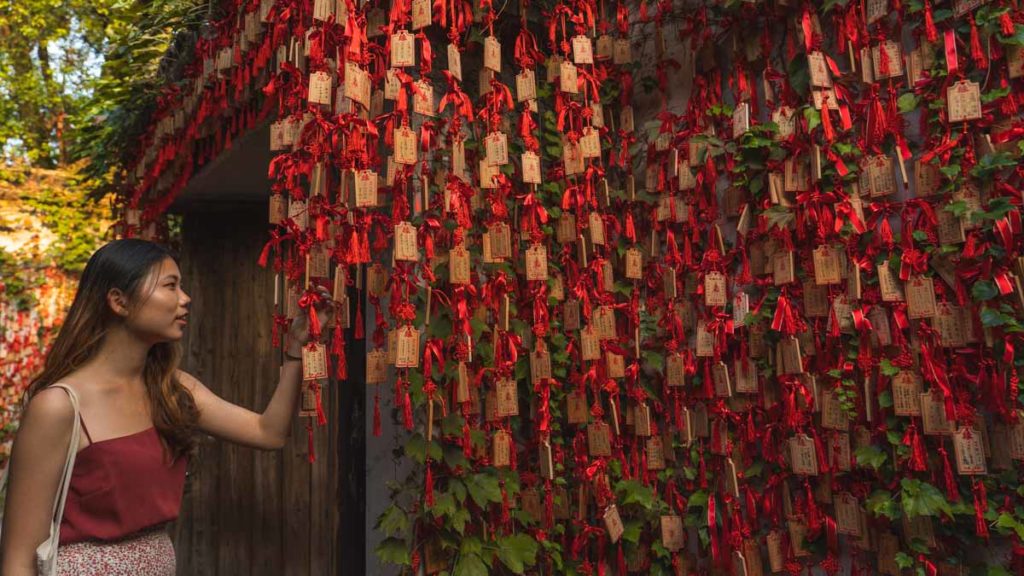 A visit to Hangzhou wouldn't be complete without seeing at least one of its many ancient towns.
We visited Wuzhen Old Street and Anchang Ancient Town and love both, but for this Suzhou and Hangzhou itinerary, you can choose one depending on what you'd like — Wuzhen is more commercialised and trendy, while Anchang has a more rustic charm (or extend this itinerary by doing both!).
Option 1: Wuzhen Old Street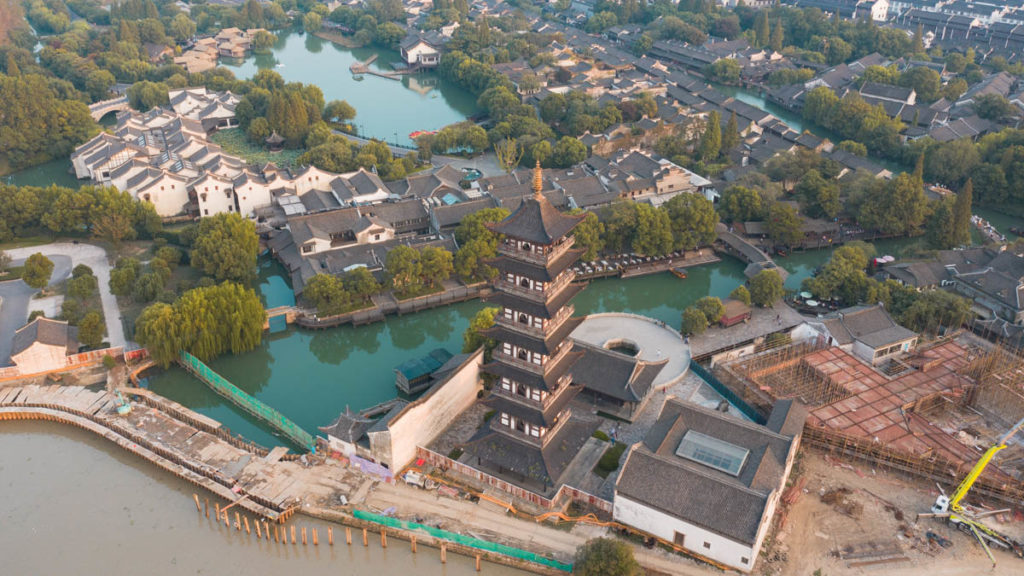 Wuzhen is a picturesque water town established over 1,300 years ago. The streets are livened up by souvenir shops, restaurants and exhibitions, but the best thing about it is its many, many, picturesque backdrops spread all over town. From dreamy lavender fields to traditional crafts on display, this place is any Instagrammer's dream.
We couldn't resist snapping a few IG shots ourselves!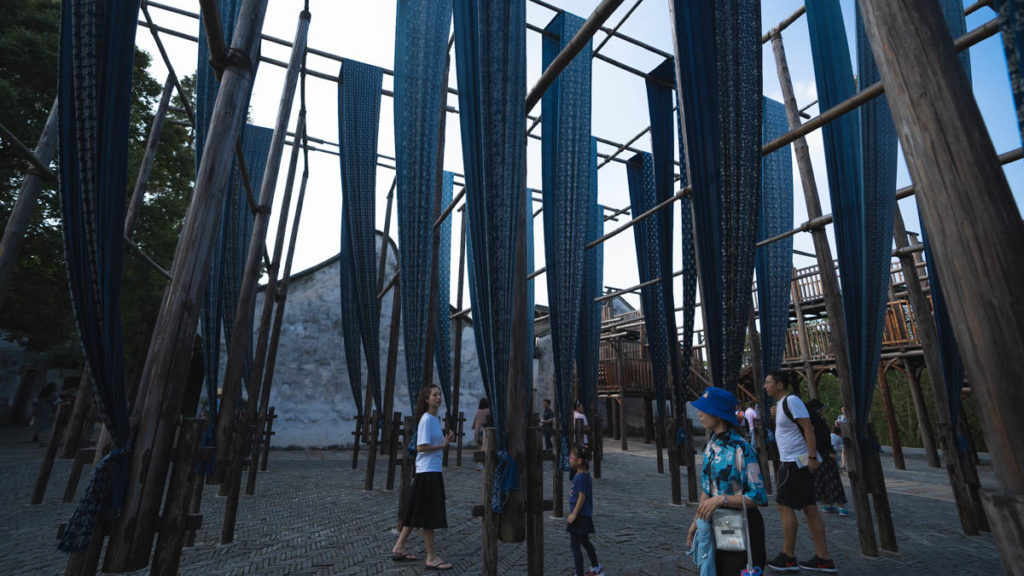 Visit a local dye house and check out its beautiful products!
Despite its age, the town somehow exudes a youthful vibrance. We were surprised to learn that this ancient town even had a nightlife scene. Besides the usual snack and trinket stalls, there are also cafes and bars located in the West Scenic Zone.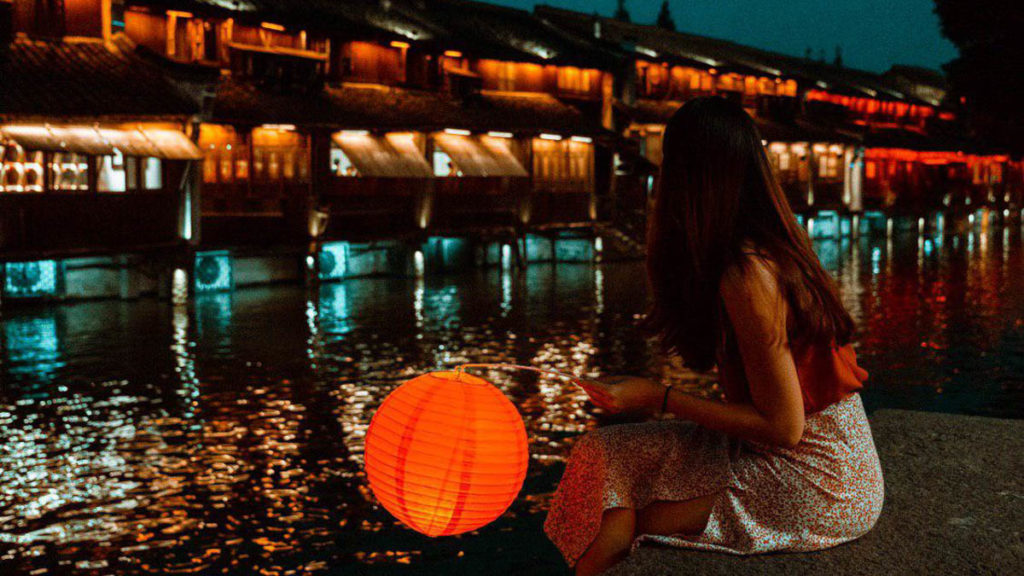 Wuzhen Old Street Full-Day Tour
Cost: ~S$90.29 (incl. Chinese-speaking guide, transport and entrance fees)
Opening Hours: 7:20AM – 6PM (May 1 – Oct 8), 7:20AM – 5:30PM (Oct 9 – Apr 30)
Address: Wuzhen Town, Tongxiang 314500, China (桐乡市乌镇镇314500)
Option 2: Anchang Ancient Town and Yangshan Stone Quarry
If I were to describe Anchang Ancient Town, I would say it's quiet yet happening. The town only opened to the public in 2018 and is not yet known to many tourists. Take a stroll along the ancient streets and soak in its charm and history!
It's a perfect place to people-watch. Here you'll see locals going about their day — making furniture, selling handmade candy and washing items by the river.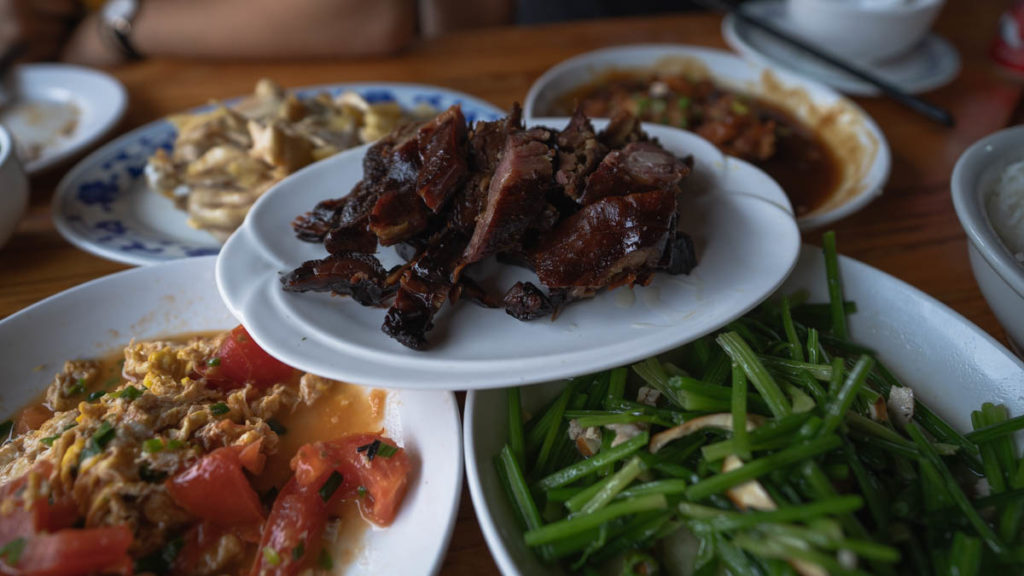 On the day tour we booked, we had a local lunch consisting of steamed chicken, sweet and sour pork, eggs, vegetables and the town's speciality, salted duck. Our guide recommended rice wine ice cream (yum!) which we loved and then had us try some local rice wine. Not a fan of the latter, but it's worth a try.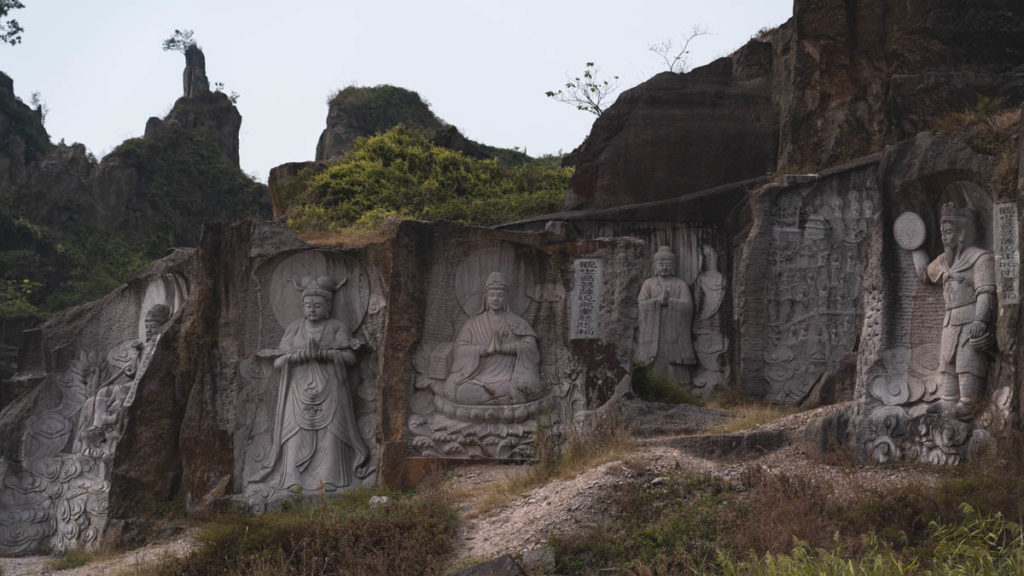 Our day tour then brought us to the Yangshan Stone Quarry, that was once the main quarry supplying stone to Shaoxing. Now, it's a park filled with rock formations and 88 impressively intricate Buddha statues. It's located in the city but feels like you're on the set of a badass action movie.
Anchang Ancient Town And Yangshan Stone Quarry Day Tour
Cost: From ~S$76.25 (incl. transport, lunch and a guide)
Tour hours: 8:30AM – 6:30PM
Address: AnchangTown, Shaoxing County 312000, China (绍兴县安昌镇312000)
Suzhou and Hangzhou Itinerary Overview
Day 1
(Suzhou)
Day 2
(Suzhou)
Day 3
(Hangzhou)
Day 4
(Hangzhou)
Day 5
(Hangzhou)
Half-Day Bike Tour
Jinxi Ancient
Town
Xixi Wetlands
Mount Mogan
Wuzhen Old Street or Anchang Ancient Town
Tiger Hill
Jinji Lake Scenic Area
West Lake
Hefang Street
Humble Administrator's Garden
Hubin Pedestrian Street
Dinner at Yang Yang Dumpling Restaurant
Wushan Road Dining & Night Market
Guanqian Street
Accommodation in Suzhou and Hangzhou
Suzhou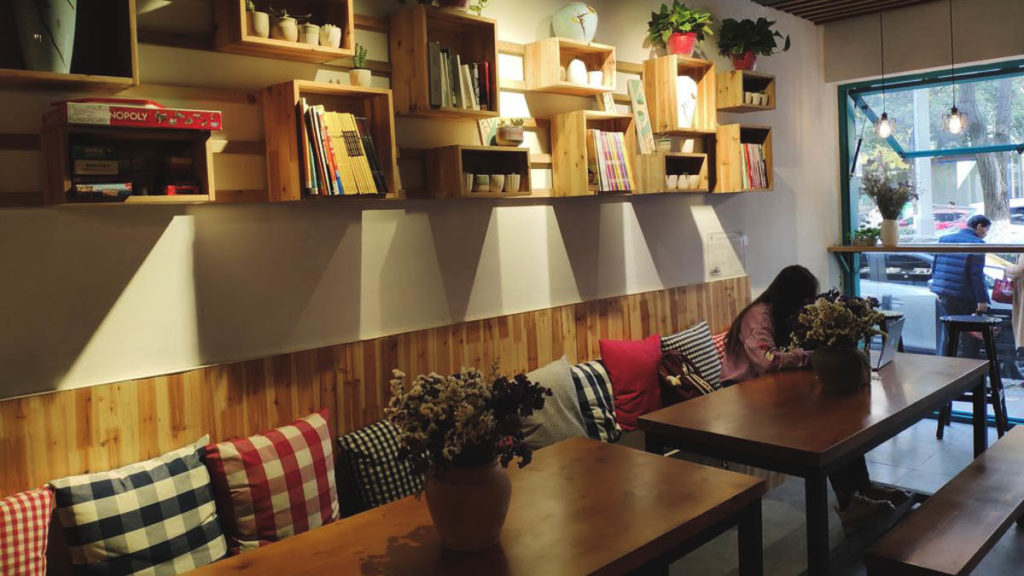 Photo credit: Booking.com
Suzhou Blue Gate Youth Hostel offers budget-friendly accommodation for travellers. It's within walking distance of Guanqian Shopping Street and has several eateries, convenience stores and shops along the same street.
Cost: From ~S$7/bed
Address: NO.259 Fenghuang Street, Gu Su District, Suzhou, 215000, China (姑苏区凤凰街259号, 姑苏区, (苏州, 215000))
Hangzhou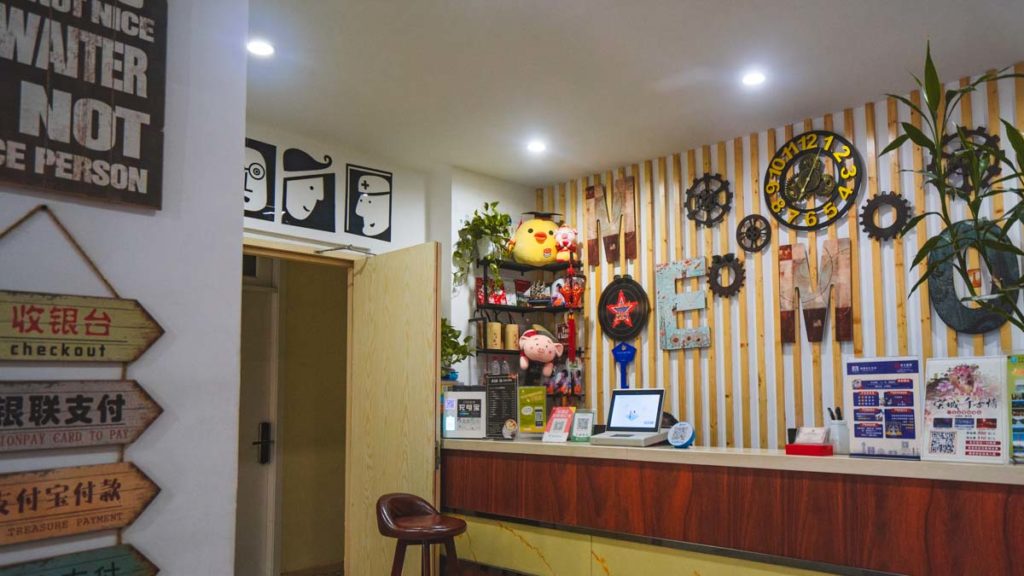 Memory Travel Hotel is an excellent home base for exploring Hangzhou. Not counting day trips out of the city, we walked practically everywhere. Just 10 minutes away lies West Lake, Yan'an Shopping District and an endless amount of dining options.
Cost: From ~S$10/bed
Address: No.306, Zhongshanzhong Road, ShangCheng District, Hangzhou (上城区中山中路306号,近解放路)
A Less Explored Side of China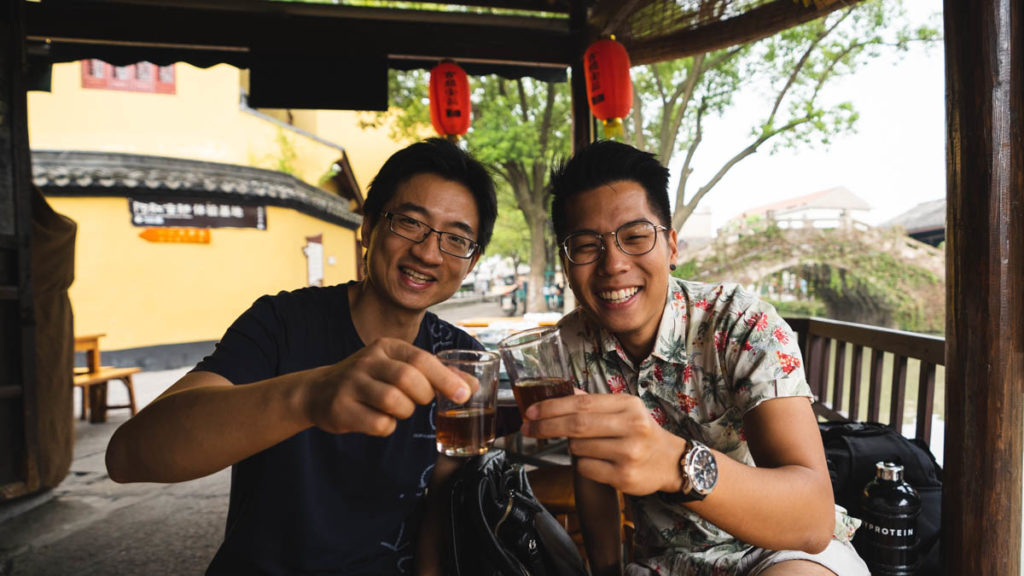 Suzhou and Hangzhou really surprised me. Prior to the trip, I had my doubts. But after the rush of Shanghai and Beijing, these cities provided a welcome change of pace. Suzhou and Hangzhou seem to exude calm and peace even with so much going on!
For this trip, we booked a few day tours that made our lives a lot easier. Especially for places further out of the city, having someone pick you up at and settle everything saves you a ton of time and effort.
Here are some of the tours we experienced on this trip:
– Suzhou Highlights Half Day Biking Tour
– Wuzhen Old Street Full-Day Tour
– Mount Mogan Hiking Day Tour
– Anchang Ancient Town And Yangshan Stone Quarry Day Tour
Getting around the two cities via Metro is also not complicated. It's the cheapest mode of transportation if you're on a budget, and it's not tough to navigate as there aren't many lines on the Suzhou Metro and Hangzhou Metro!
Check Flights to Shanghai
Ready for your Suzhou and Hangzhou trip? Check the best flight prices with this widget:
Can't see the widget above? Click here to check flights from Singapore to Shanghai instead!
Anything we missed out in our Suzhou and Hangzhou itinerary? Let us know in the comments!
---
This post was brought to you by Klook.
For more travel inspiration, follow us on Instagram, YouTube, and Facebook!