Gather your tastebuds and work up your appetite! This Shanghai food guide will have you hankering for a taste of everything by the time you're through.
We're all familiar of Shanghai's famous icons like The Bund, or even Shanghai Disneyland. But do we really know what's there to eat? Shanghai's food scene is just like her culture — an excitingly diverse myriad of tasty street food and iconic local cuisines mixed with a dose of internationalism.
There's always something new popping up whilst old-time traditional shops remain in the background. Essentially, there's a bit of something for everyone here!
Read also: 25 Exciting Things to Do in Shanghai — First Timer's Guide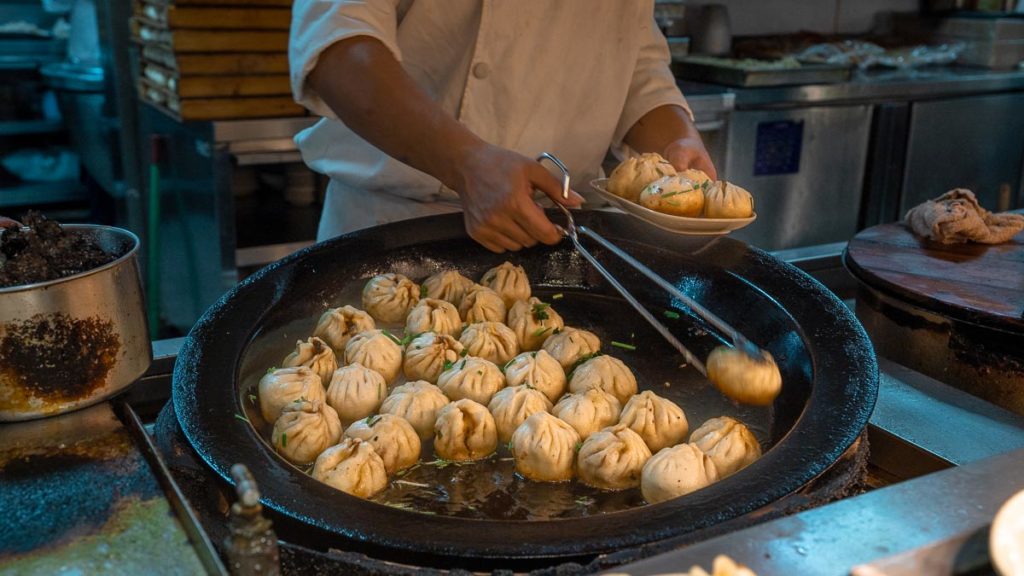 I'm not gonna lie though — before this China trip, we all had our doubts about China's cuisine.
But after spending five days in Shanghai, I'm now convinced this city is a food haven just waiting to be explored! We hope this Shanghai food guide makes you feel the same with these 15 must-try dishes.
Read also: 2-Week China Itinerary — Rail Adventure Across Beijing, Shanghai, Hangzhou and Suzhou
1) Red Braised Pork Belly (红烧肉)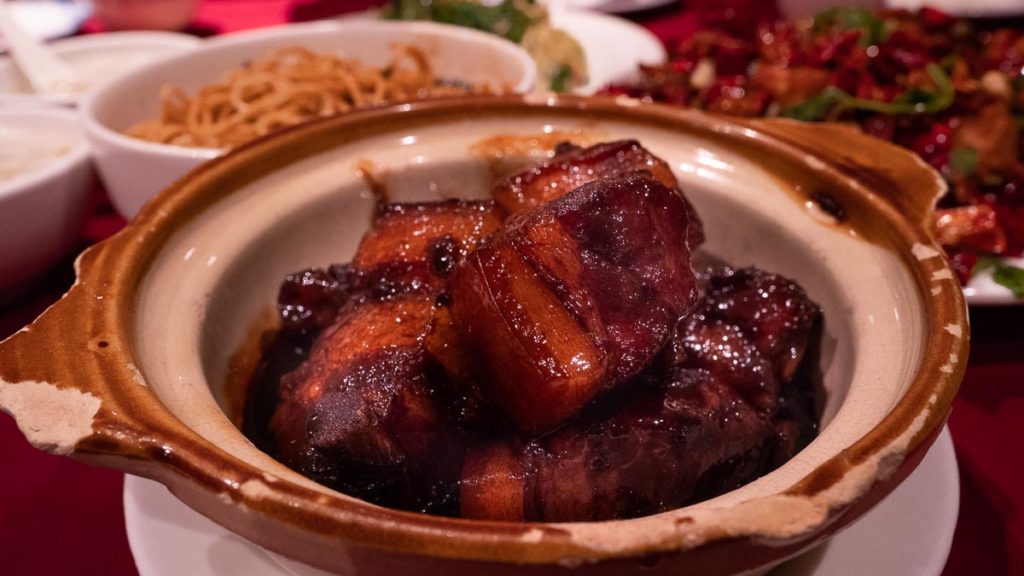 It makes sense that we start our list with every Shanghainese's favourite red braised pork belly. The soft, tender chunks of pork belly are caramelised in the braising process, and sit in a decadent and mildly sweet sauce that's absolutely amazing.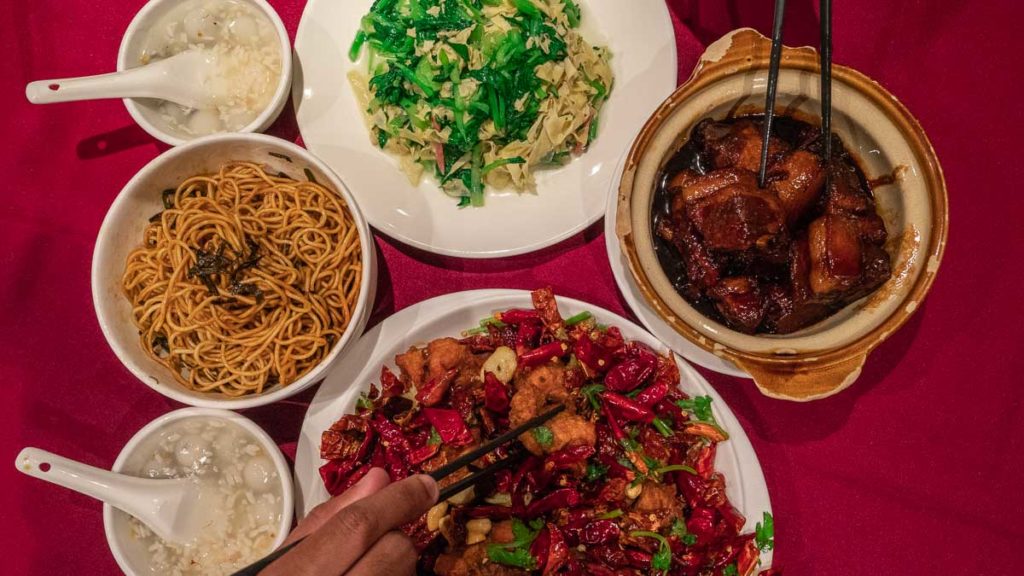 Scallion Noodles (22RMB), La Zi Ji (Spicy Chicken, 68RMB), Red Braised Pork Belly (98RMB), Stir-fried Vegetables (38RMB), Tangyuan (16RMB)
The best place to try this dish is at the Old Jesse Restaurant (老吉士酒家), a Michelin Guide-lister where it's famous for authentic Shanghainese dishes. Many also argue that Shanghai Lao Lao (上海姥姥) is just as good, if not better for their red braised pork, so that's another alternative to choose from.
Cost: 98RMB (~S$18.99)
Opening Hours: 11AM – 2:30AM
Address: 41 Tianping Lu, near Huaihai Lu (天平路41号近淮海中路)
*Pro-tip: There's usually a queue, so call ahead for a reservation or avoid coming at peak dining hours.
2) Scallion Noodles (葱油拌面)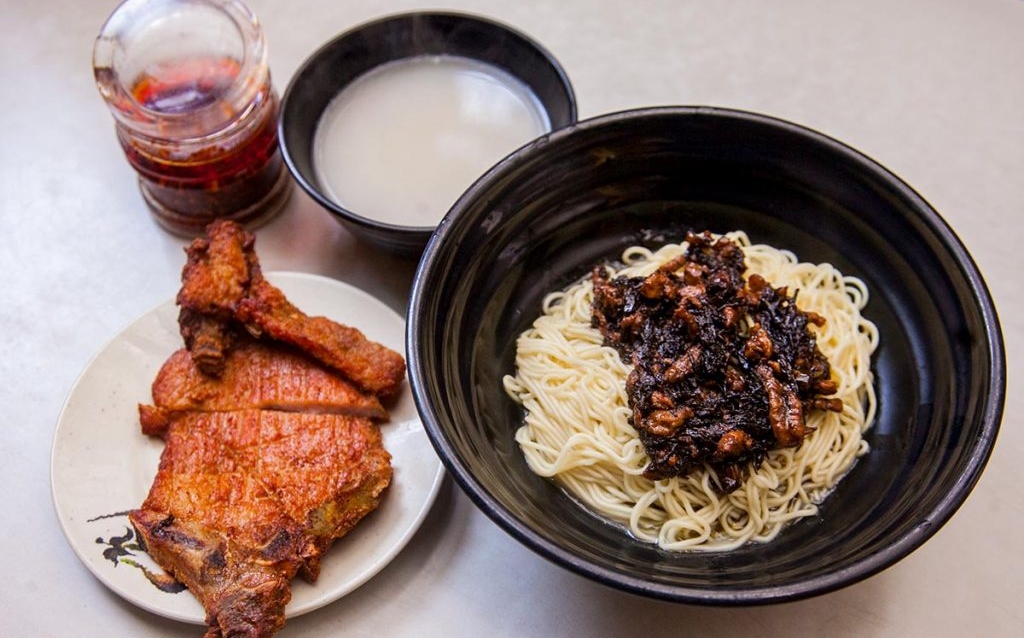 Photo credit: Foursquare
Scallion oil noodles is probably my favourite noodle dish from Shanghai. It's deceptively simple but tastes so damn good that you can pair it with anything!
The scallions are fried in oil till they're golden brown before being tossed with egg noodles and a soy sauce mixture. The result is an incredibly fragrant and flavourful dish that pairs best with a side of pork chop 🤤.
You can find it at any street stall and restaurant but the one from DingTeLe 顶特勒粥面馆 (yet another Michelin Guide-approved restaurant) is highly raved about with extra slivers of pork — and even open 24 hours for whenever the craving hits you!
Cost: 15RMB (~S$3)
Opening Hours: 24 hours
Address: No. 22, 494 Huaihai Lu, near Yandang Lu; 淮海中路494弄22号, 近雁荡路
3) Hai Di Lao (海底捞火锅)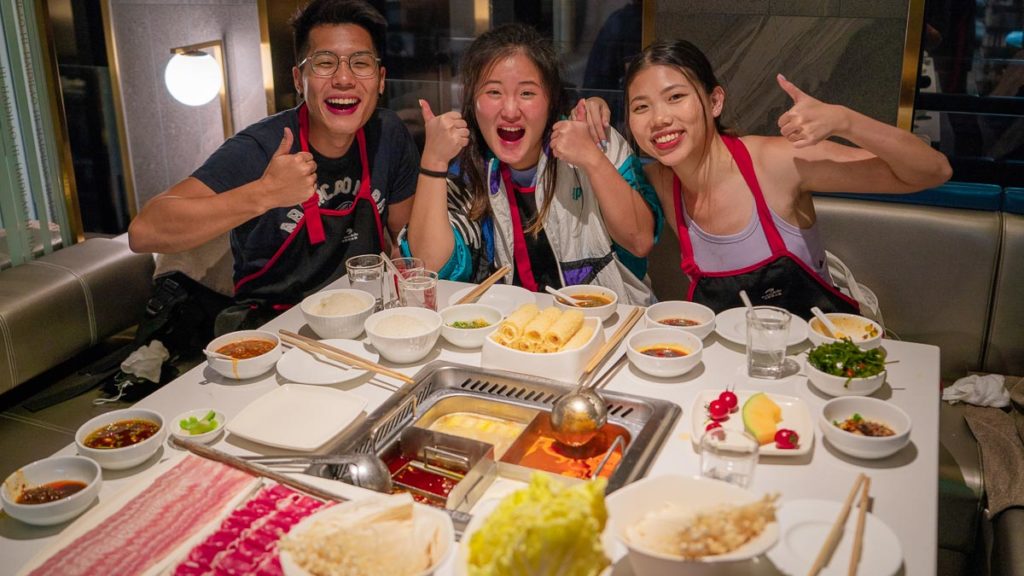 Yes, Hai Di Lao — as Singaporeans, we should be familiar with it by now. So why have it in Shanghai again, you ask?
Simple: For the same (maybe even better), impeccable service and quality ingredients, you pay a much cheaper price than you would have back home! The amount of meat, mushrooms, shrimp balls, beancurd skin and veggies we ordered for four cost us about 200RMB – 300RMB (~S$38.77 – S$58.15). The same amount in Singapore would have set us back at least S$100!
Opening Hours: 24 hours
Address: 6F,588 Zhangyang Road, Shanghai, China (but they have many outlets)
Read also: 18 Things to Eat in Central China Under S$20 — Wuhan, Zhangjiajie & Changsha
4) Xiao Long Bao (小笼包)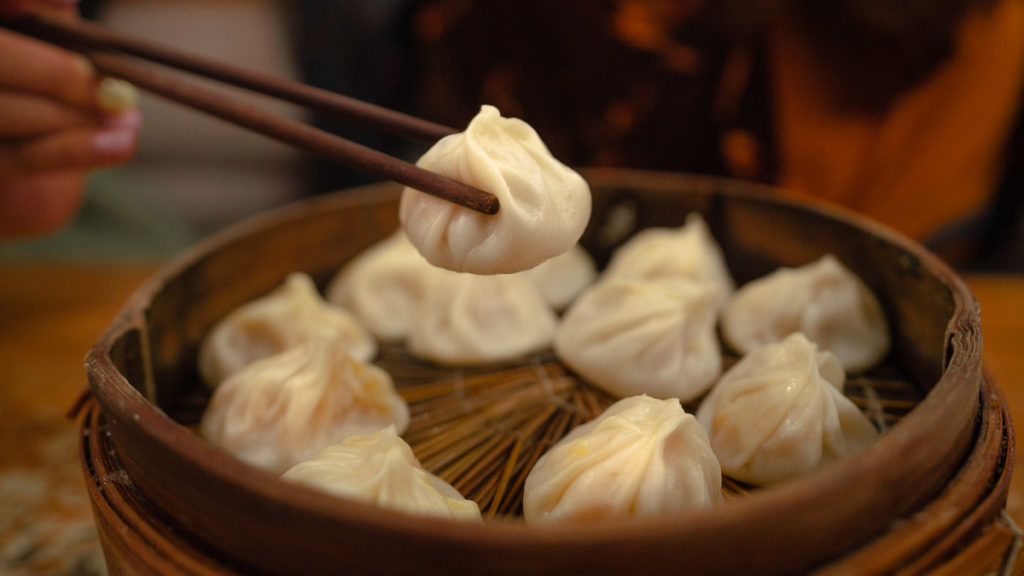 Did you really go to Shanghai if you didn't stuff your face with the addictive xiao long bao? These juicy, soup-filled dumplings are irresistible, and there's only one popular spot to get them in Shanghai — Jia Jia Tang Bao at Huanghe Road Food Street!
Their delicately folded xiao long bao come stuffed with any filling of your choice. Get the Pork Egg Yolk (蛋黄鲜肉汤包, 23RMB) and Crab Meat Dumpling (蟹粉鲜肉汤包, 30RMB) — you won't regret it.
Cost: From 18RMB (~S$3.49)
Opening Hours: 7:30AM – 8PM
Address: 90 Huanghe Lu, near Beijing Lu (黄河路90号, 近北京路)
5) Sheng Jian Bao (生煎包)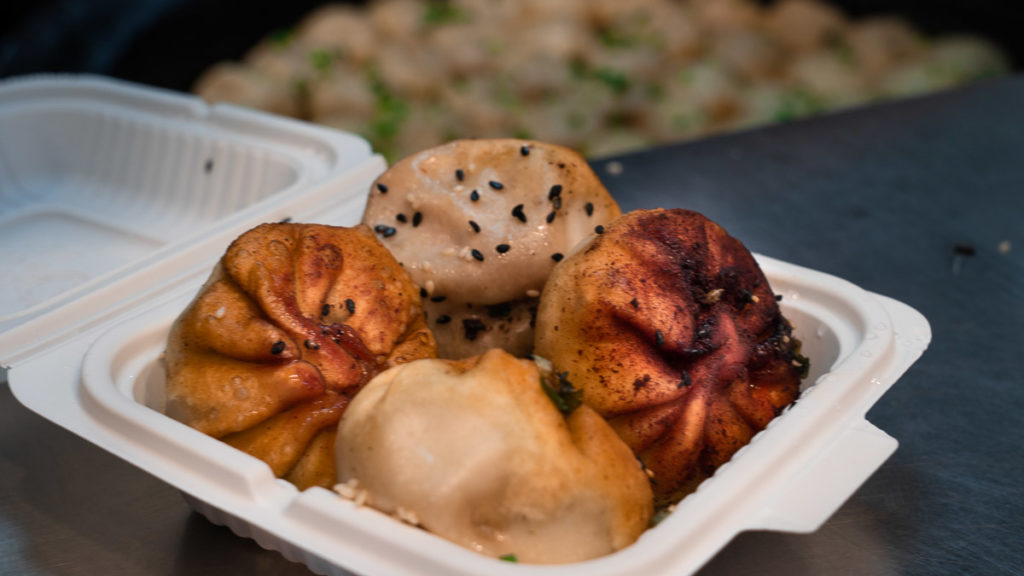 Many people know xiao long bao, but few know of its equally delicious, pan-fried cousin, sheng jian bao. I hadn't even heard of it before this trip!
Sheng jian bao is pan-fried at the bottom but steamed at the top, giving you the best of both worlds. You get that crispy bread and soft dumpling skin, complete with the burst of soup as you bite into them just like xiao long bao.

Yang's Dumplings (小杨生煎) makes some of the best sheng jian bao in Shanghai. They're densely packed with generous portions of marinated meat or crayfish, and are super cheap and tasty! I highly suggest the crayfish filling (16RMB) or the mixed buns version (20RMB) to sample everything. Either way, it's definitely bang for your buck.
Cost: From 10RMB (~S$1.94)
Opening Hours: 6:30AM – 9PM
Address: 97 Huanghe Road, Shanghai China (黄河路90号, 近北京路, they also have other branches)
*Pro-tip: Visit Yang's Dumplings with Jia Jia Tang Bao (#4) because they're right opposite each other on Huanghe Road Food Street!
6) Jian Bing (煎饼)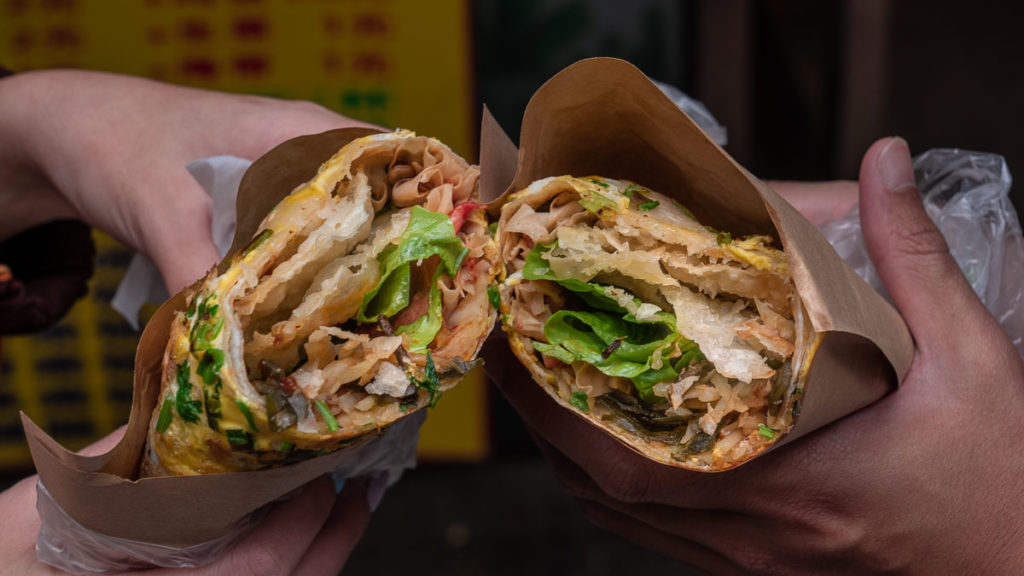 I've heard and seen so many videos and pictures of jian bing that I was pretty darn excited to try them — and they really taste as good as they look. Think egg prata meets a bunch of Chinese ingredients. A thin pancake is spread with hoisin sauce and chilli, then stacked with crispy beancurd skin, lettuce, sausages and Chinese vegetables.
The result is a savoury burrito of contrasting soft and crispy textures that make for a wonderful breakfast! You can find jian bing almost anywhere but there was a small stall down Huanghe Food Street where we got ours from. The auntie making it was really friendly and gave generous portions too so that's a bonus 😂.
Note: There wasn't a name or address for this stall but you'll be able to find it at the same food street as Yang's Dumplings and Jia Jia Tang Bao.
Cost: 7RMB (~S$1.36)
7) Ma Jiang Mian (麻酱面)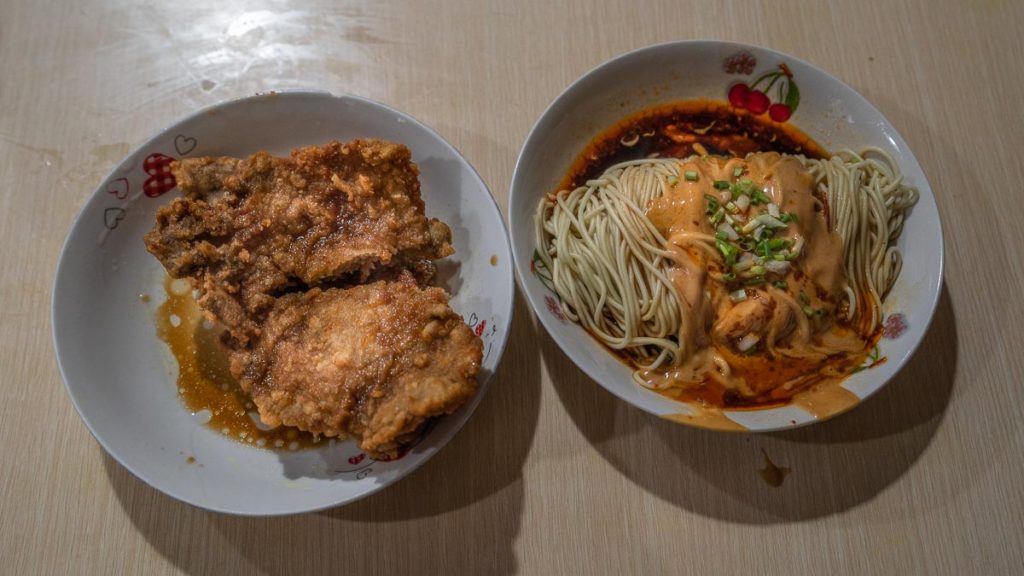 The concept of ma jiang mian (sesame paste noodles) intrigued me when I first read about it — peanut butter-like sauce and chilli oil on a bed of noodles sounds a little strange, but don't knock it till you've tried it. There's a reason why they've been on the Michelin guide and my guess is it's something to do with the golden combination of sweet creamy sesame sauce, salty scallions and spicy chilli oil that's addictive as hell.
For good measure, add in a little vinegar to break the thick sauce and throw in a side of fried pork chop (5RMB) while you're at it!
Cost: 10RMB – 15RMB (~S$1.94 – S$2.91)
Opening Hours: 6:15AM – 9PM
Address: Wei Xiang Zhai, 14 Yandang Lu, Shanghai, China.
8) Shao Mai (烧卖)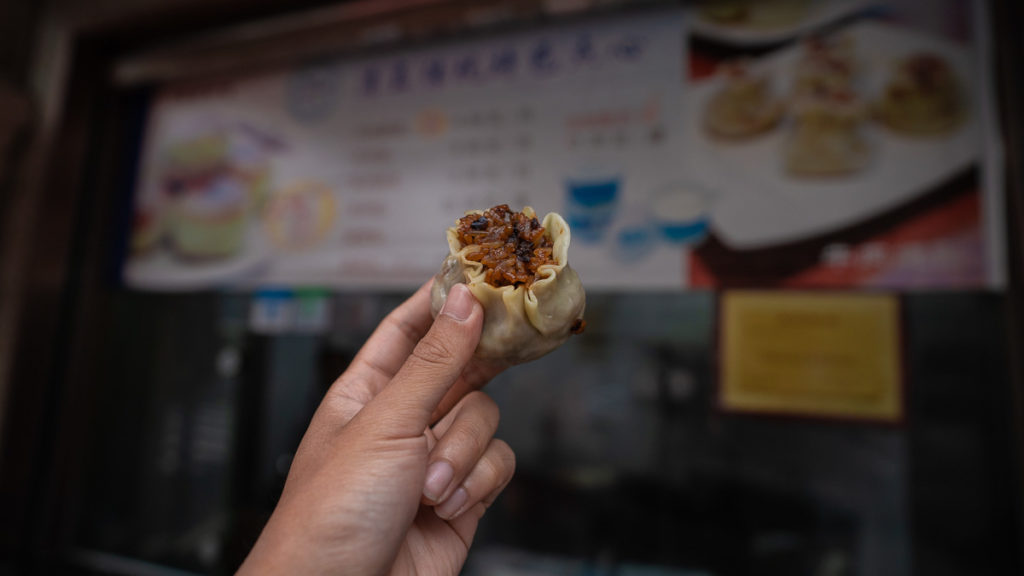 Shanghai's version of the siew mai is done a little different from the yellow-skinned, meat-filled versions we're used to back home or in Hong Kong. Instead, it's stuffed with glutinous rice, shiitake mushrooms, bamboo shoots, and a bit of pork. Different, but just as delicious for a quick snack or breakfast!
Get yours at Yunnan South Food Street or Xiasha (下沙), where they specialise in shao mai.
Cost: 3.5RMB (~S$0.68)
Opening Hours: 8AM – 8PM, closed on Sun
Address: 1266 Beijing Dong Lu (下沙烧卖:北京西路 1266号)
9) Mala Chuan (Mala-dipped Skewers)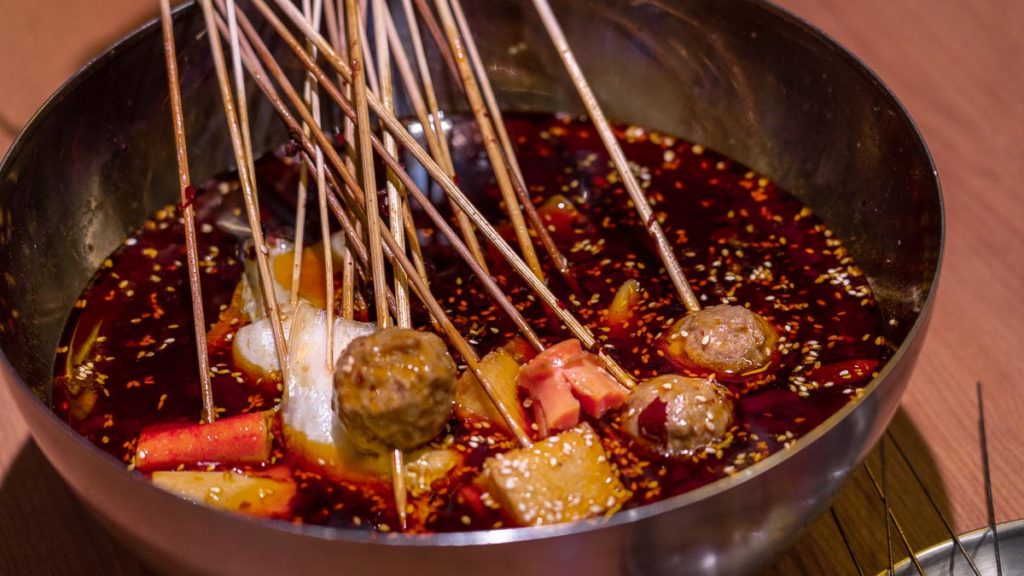 During our trip, we noticed the Shanghainese were always having these deadly, spicy skewers for supper late at night. We couldn't resist giving it a try as well! We had ours at a popular stall, Kui Xing Lou 奎星楼 near our hostel.
Choose from a buffet of skewers (each stick only has one ingredient, so knock yourself out) and pass them to the service staff, who'll serve them to you soaked in a piping hot, mouth-watering mala broth. Think lok lok, but mala style!
If you can't take spice, they also have the option of grilling the skewers where its equally tasty.
Cost: 68RMB – 100RMB (~S$13.19 – S$19.40)
Opening Hours: 11:30AM – 2PM, 5PM – 3AM
Address: 太仓路58号对面九号商场105室
10) Duck blood vermicelli (鸭血粉丝汤) and Salted Duck (盐水鸭)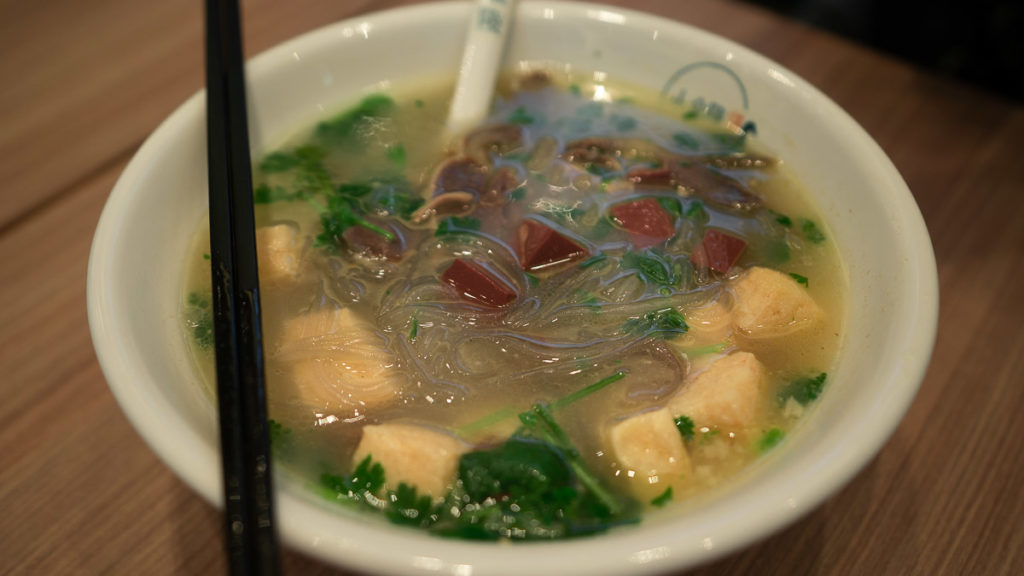 Duck blood vermicelli isn't exactly a Shanghai dish per se (more of a general China dish), but it's something the curious soul should try at least once. It's surprisingly light and tasty (that is if you don't think too much about the coagulated duck blood cubes), and is sprinkled with juicy taupok.
Definitely a good breakfast or accompanying side dish to salted duck! We got ours from Xiao Jin Ling 小金陵, a popular duck shop near our hostel.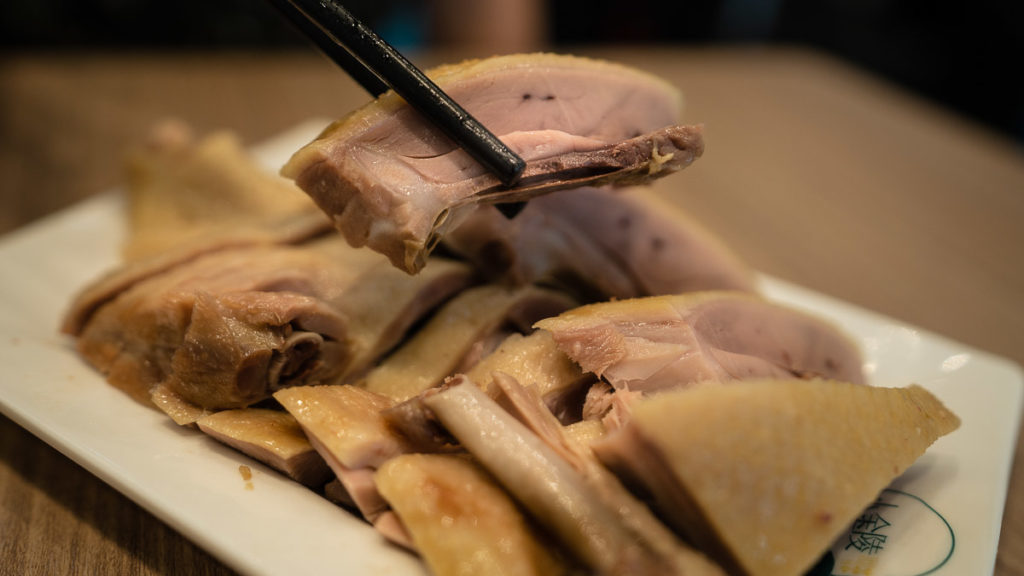 Aside from duck blood vermicelli (18RMB), another thing you can get at Xiao Jin Ling 小金陵 is a plate of salted duck (23RMB). The shop first caught our attention with its long queues from morning to night for its salted duck. While it may look just like a plain chicken here, the saltiness and tenderness of the duck really hits home. I could easily polish off a platter of this on my own!
Cost: 18RMB – 23 RMB (~S$3.49 – S$4.46)
Opening Hours: 8PM – 9PM
Address: 55 Yunnan Nan Lu, Ninghai Dong Lu; 云南南路55号, 近宁海东路
11) Crab Roe Noodles (蟹肉面)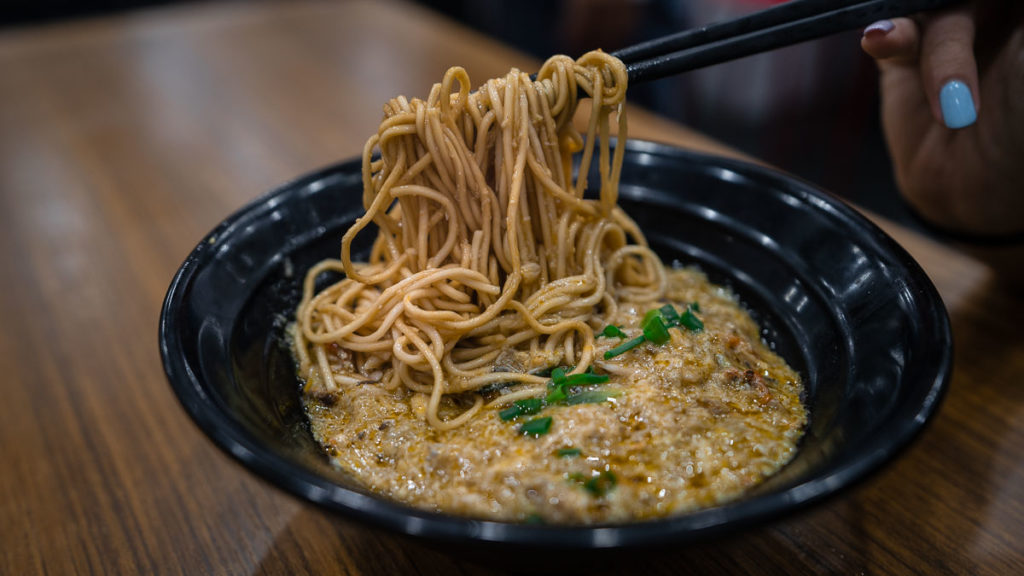 Shanghainese love their crabs — especially when it's hairy crab season, and they can find a variety of ways to turn them into a dish. If you're looking to taste actual crab without the hassle of de-shelling or spending too much, then your best alternative is to get it through crab roe noodles.
Ah Niang Mian is an extremely popular shop (yet another Michelin Guide-lister) selling Shanghai noodles, and their crab roe noodles (39RMB) with succulent crab meat in creamy roe gravy is worth hunting the stall down for.
Cost: 39RMB (~S$7.57)
Opening Hours: 7AM – 9:30AM, 11AM – 1:30PM, 5PM – 7:30PM
Address: 36 Sinan Lu, near Nanchang Lu (思南路36号, 近南昌路)
12) Braised Eel (红烧鳗鱼)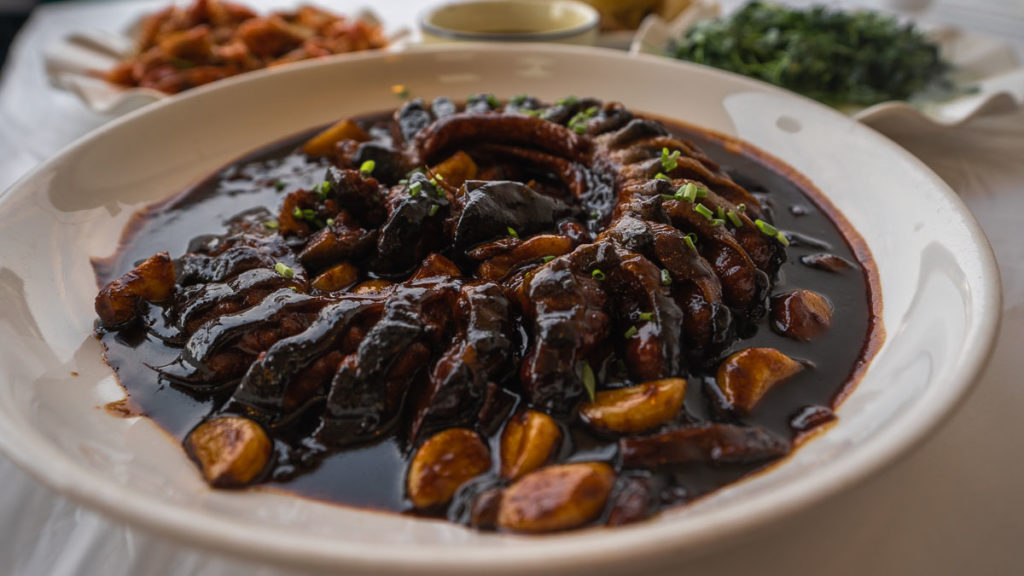 If you like red braised pork belly, then just imagine what red braised eel would do to you! At Sunji Restaurant (孫记饭店) in Zhujiajiao, freshwater eel is served tender and braised in garlic. It's warm, soft, and sweet, and settles perfectly over a hot bowl of rice albeit with a bit of bone to watch out for.
Throw in side dishes like fried river shrimp and soy sauce chicken, and you'll get that authentic Shanghai cuisine experience.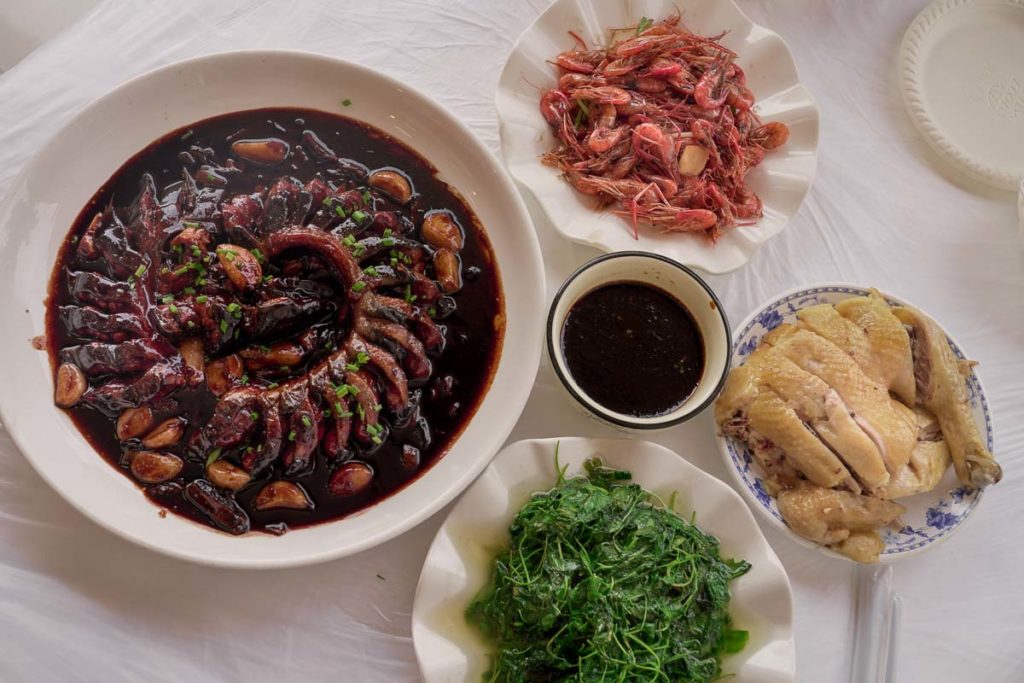 Cost: 88RMB (~S$17.08)
Opening Hours: 10AM – 8:30PM
Address: 198 Zhenbeida Jie (镇北大街 198号)
13) Zong Zi (粽子)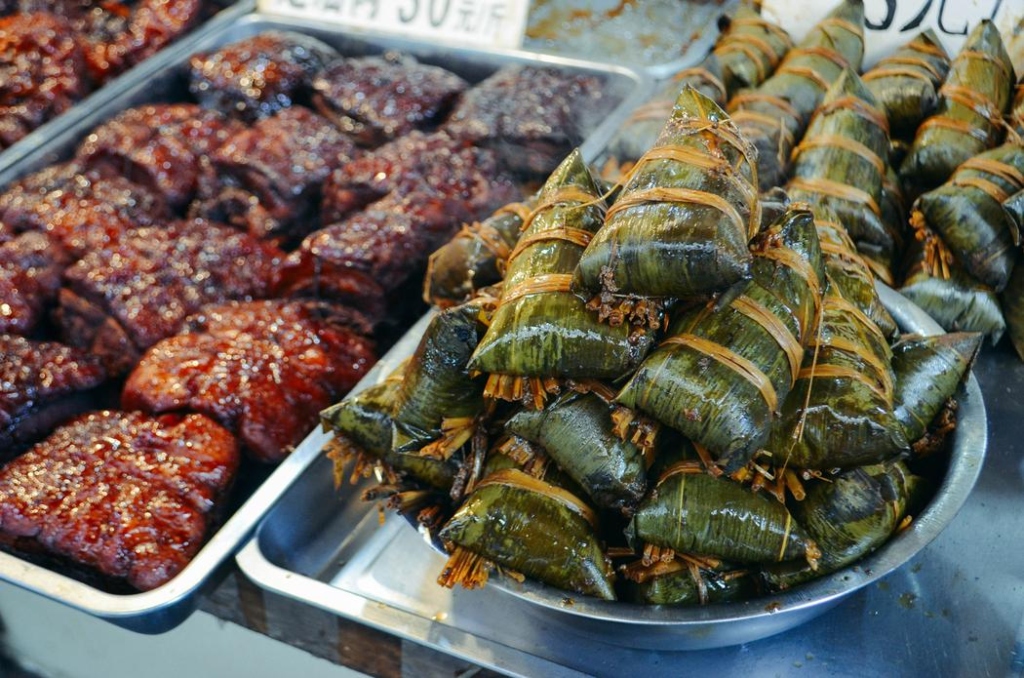 Zhujiajiao has a ton of zongzi (rice dumplings) vendors who make their zongzi by hand, and it's fascinating to watch them at work. They stuff the reed leaves with fatty pork, duck egg and glutinous rice, and wrap them all together with their teeth before steaming it. Be sure to grab one when you're there — it makes for a really enjoyable snack as you explore the ancient town!
Cost: 7RMB (~S$1.36)
Opening Hours: 8:30AM – 4:30PM
Address: Meizhou Rd., Zhujiajiao Town, Qingpu District, Shanghai, China
14) Shanghai-style Tacos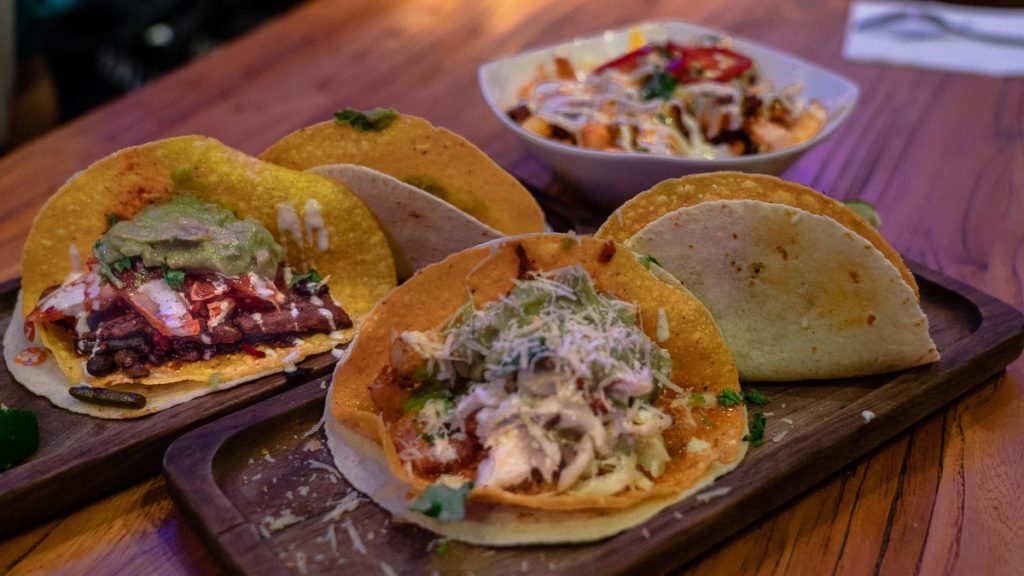 Shanghai's not just about traditional and local cuisine, it's also got a ton of international food. Tacolicious is where you'll find one of the city's best tacos — both in classic Mexican and fusion-Shanghai styles. Their typical beef/shrimp/fish tacos alone are mind-blowing, which all come served in double taco shells (hard and soft) for extra texture.
If you're looking for an extra kick, go for the Mapo Tofu Taco (60RMB) or Szechuan Twice-Cooked Pork Taco (65RMB)!
Cost: 60RMB – 100RMB (~S$11.64 – S$19.40)
Opening Hours: 12PM – 11PM, closed on Mon
Address: 1 Yueyang Lu, near Dongping Lu (岳阳路1号, 近东平路)
15) American Diner Food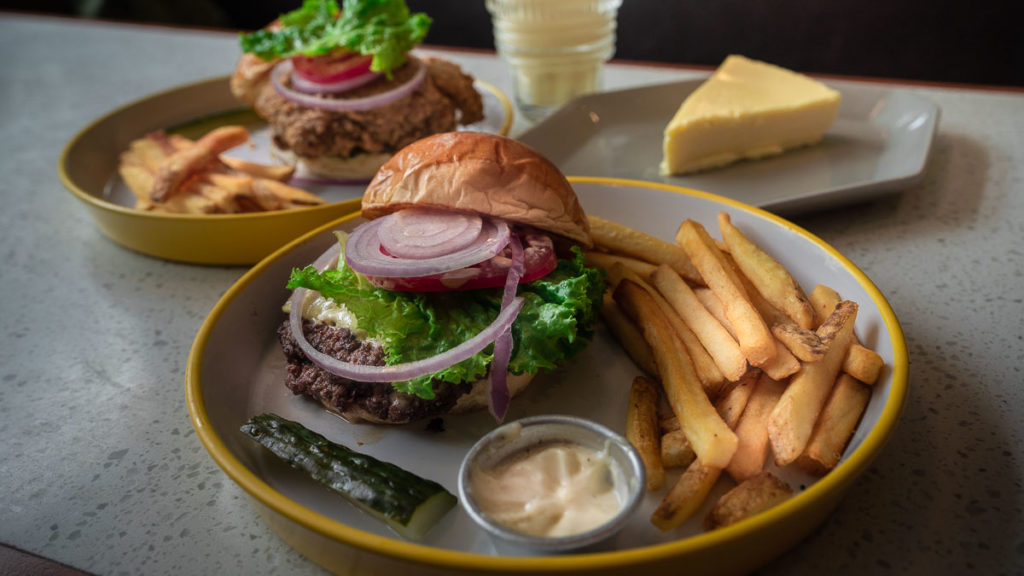 Diner is a popular American-style restaurant in Shanghai that serves everything in the realm of impeccable "diner" comfort food like smashed burgers, pancakes and salads with really cool twists like candied chillies, brandy gravy and hazelnut butter.
The food here is pricier than average Chinese food, but it's well worth it for getting to taste renowned chef Austin Hu's Shanghai-meets-American-Diner creations!
Cost: 80RMB – 150RMB (~S$15.52 – S$29.11)
Opening Hours: 8AM – 10PM
Address: No.154 Wu Yuan Lu (五原路145号)
Experiencing Shanghai Through Your Palette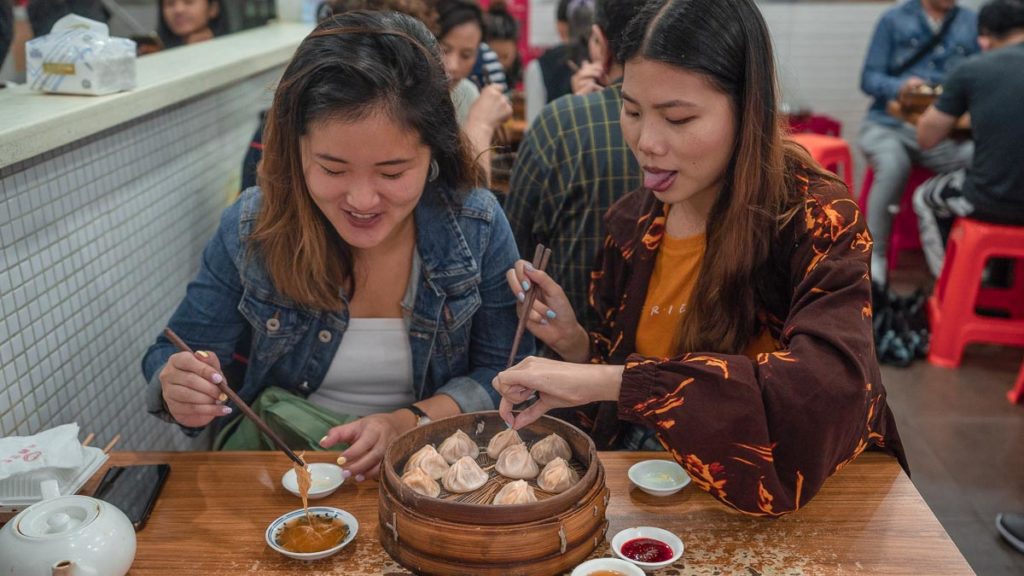 They say the way to a man's heart is through the stomach — and Shanghai's food sure has won me over. I came into the city expecting something like a mishmash of tzechar dishes (foolish, I know) but left with a totally new perspective of Chinese cuisine.
Shanghai's food lend an insight into her history, culture, and influences, and offered so much more than I expected in taste and variety. The next time you're in Shanghai, do check these places out!
Did we miss your favourite out in this Shanghai food guide? Let us know in the comments below!
---
Like what you see? Follow us on Facebook, Instagram, and YouTube for more travel updates!