Swimming with whale sharks in other countries like Australia can set you back ~S$332. In Cebu, Philippines? ~S$50.
A week in Cebu saw us diving with whale sharks, cliff-jumping off heights we've never imagined and befriending sea turtles.
Set amidst pristine white beaches, waters that turn all shades of cerulean and wondrous landscapes, Cebu is the perfect tropical destination for adventurers seeking that trip of a lifetime.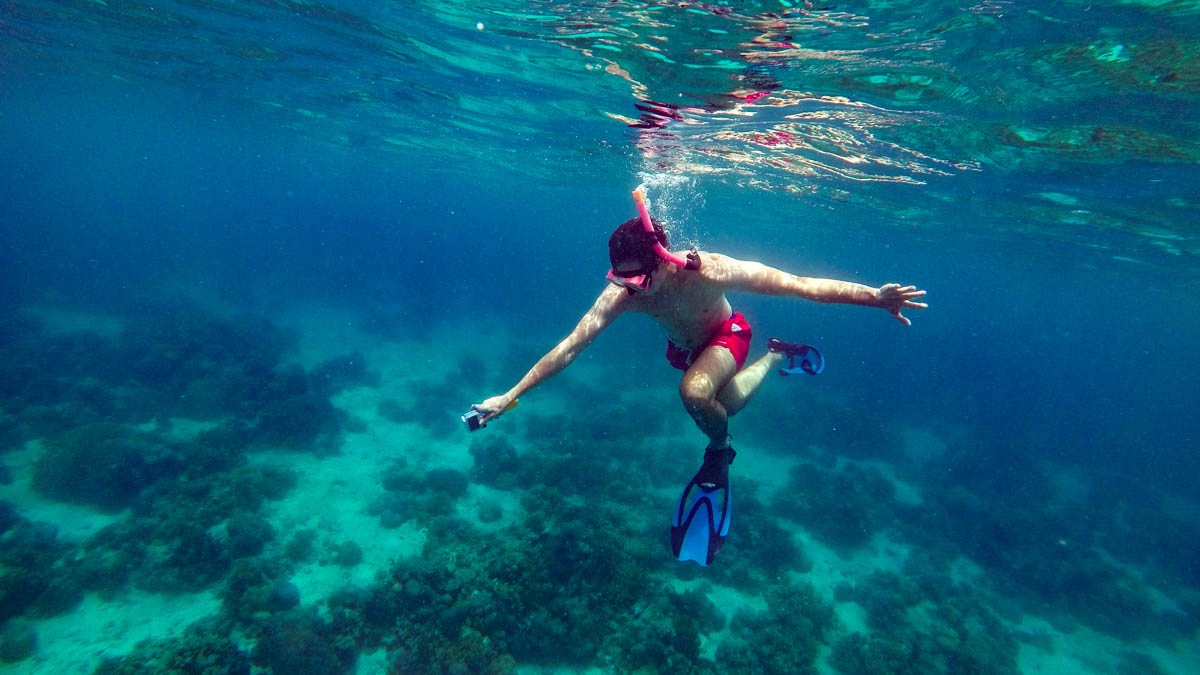 Read also: 7-Day Cebu Itinerary — The Perfect Mix of Adventures in Moalboal, Oslob and Bohol
If you've never been to Cebu, here are 10 experiences that explain why travellers can't resist the charm of this island paradise!
1) Swimming with millions of sardines at Pescador Island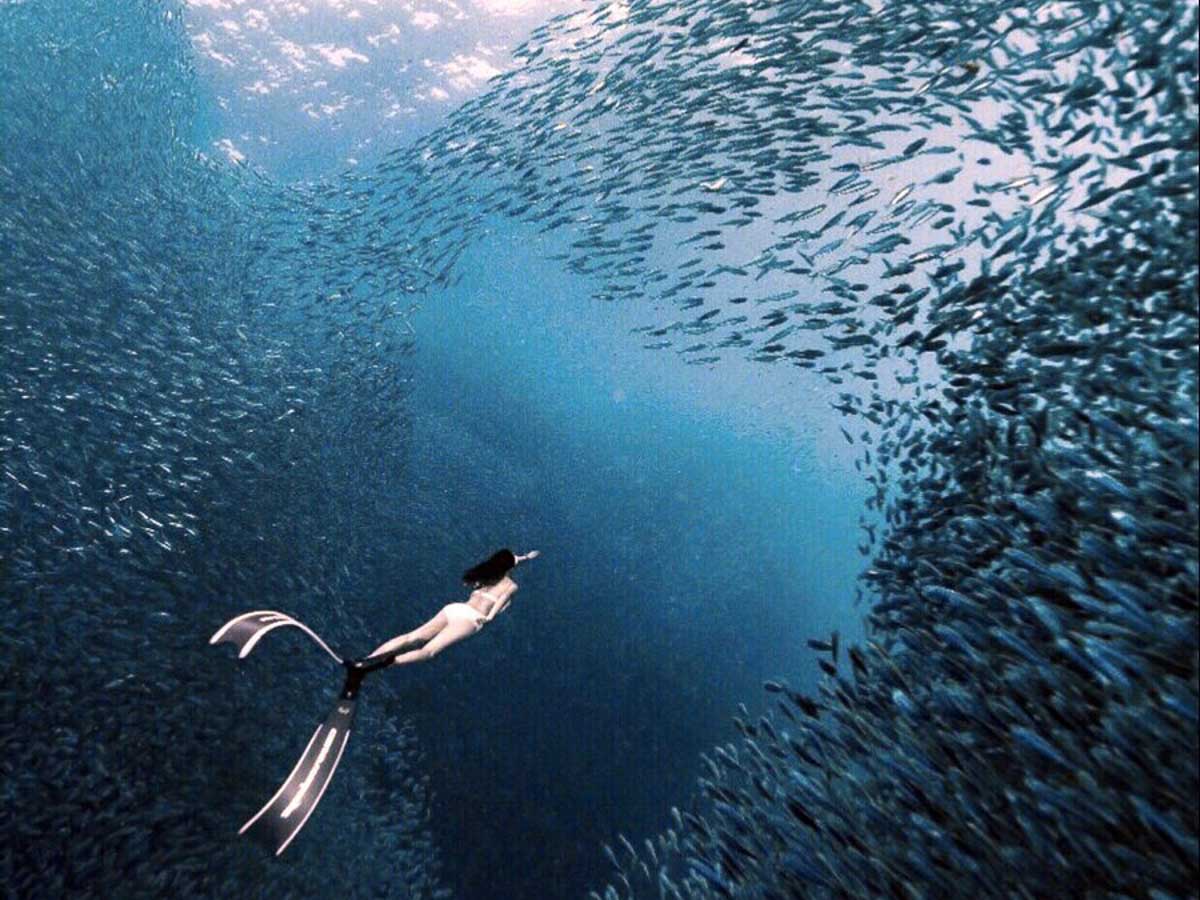 Photo credit: @im_____angel via Instagram
The famed Sardine Run sees millions of sardines swim in huge schools just 20m from the shores of Moalboal, West coast of Cebu. This natural phenomenon can also be found in South Africa but is special in Cebu for occurring all year round.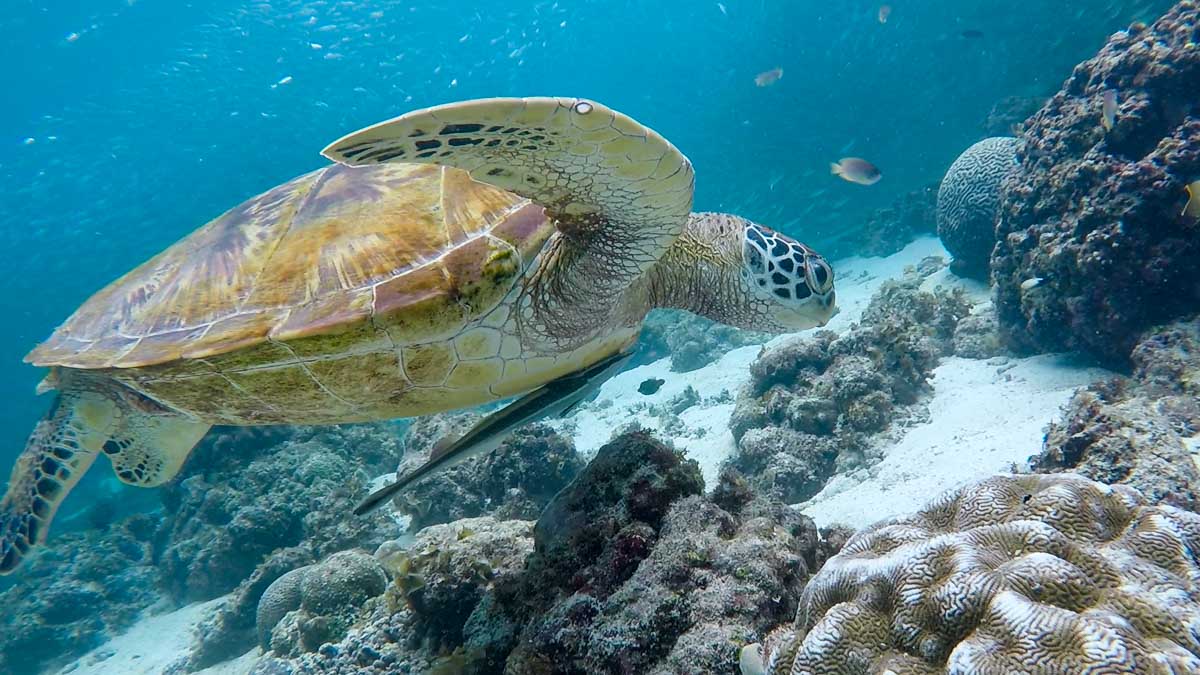 From Cebu City, Moalboal is a three-hour drive away. Experience this on a day trip together with Pescador Island nearby. With vastly different ecosystems of marine life, you'll find different charms across the various snorkelling points around the island!
Although you can experience this just snorkelling on the surface, being able to freedive is a great bonus. Our cheery guides were extremely accommodating and helped us out with our lacklustre snorkelling skills — by helping us freedive to capture epic shots on our GoPros! 😂
Pescador Island Hopping Tour
Cost: ~S$184.40 (boat that fits up to 4)
Tour Timing: 5AM – 5PM
Pick Up: Available for accommodation in Cebu City, Mandaue, Lapu-Lapu, or Mactan Island
2) Canyoneer through Badian's rugged cliffs and streams
Canyoneering is another must-do in Cebu and is probably the second most popular activity (find out the first in a bit). Start your day on a high (literally) with a kilometre-long superman zip-line over Badian's lush forests.
Waiting on the other side is four hours of navigating through Badian's scenic cliffs all the way to Kawasan Falls in an adventure that feels right out of Jumanji!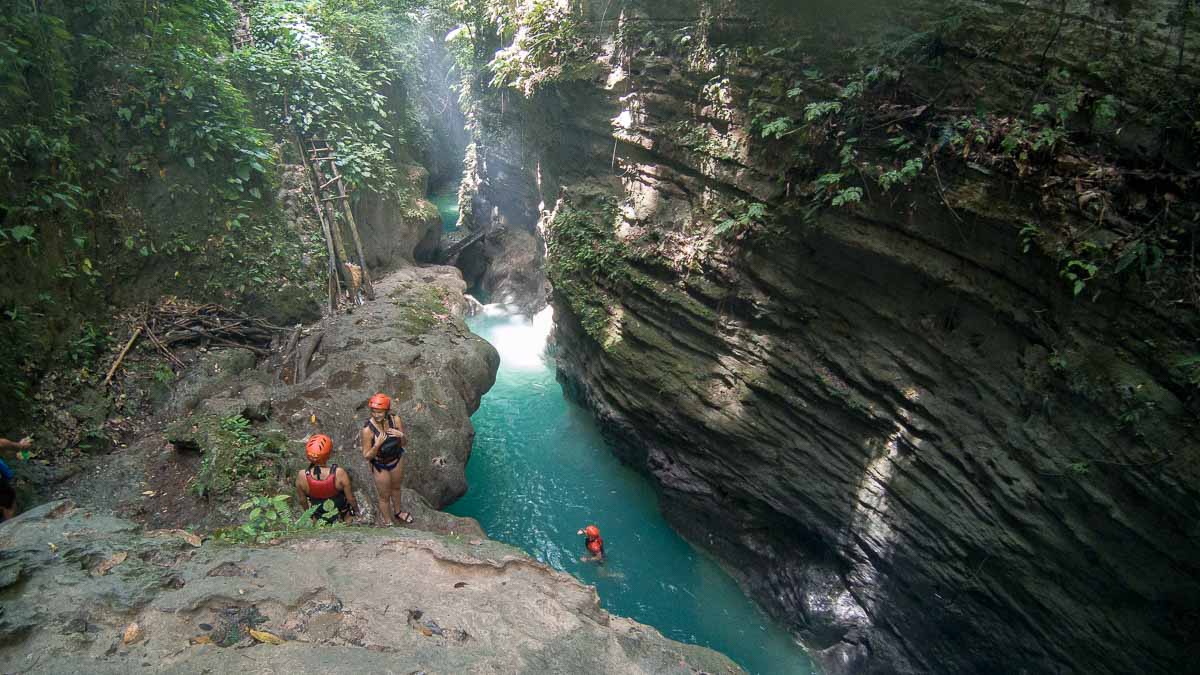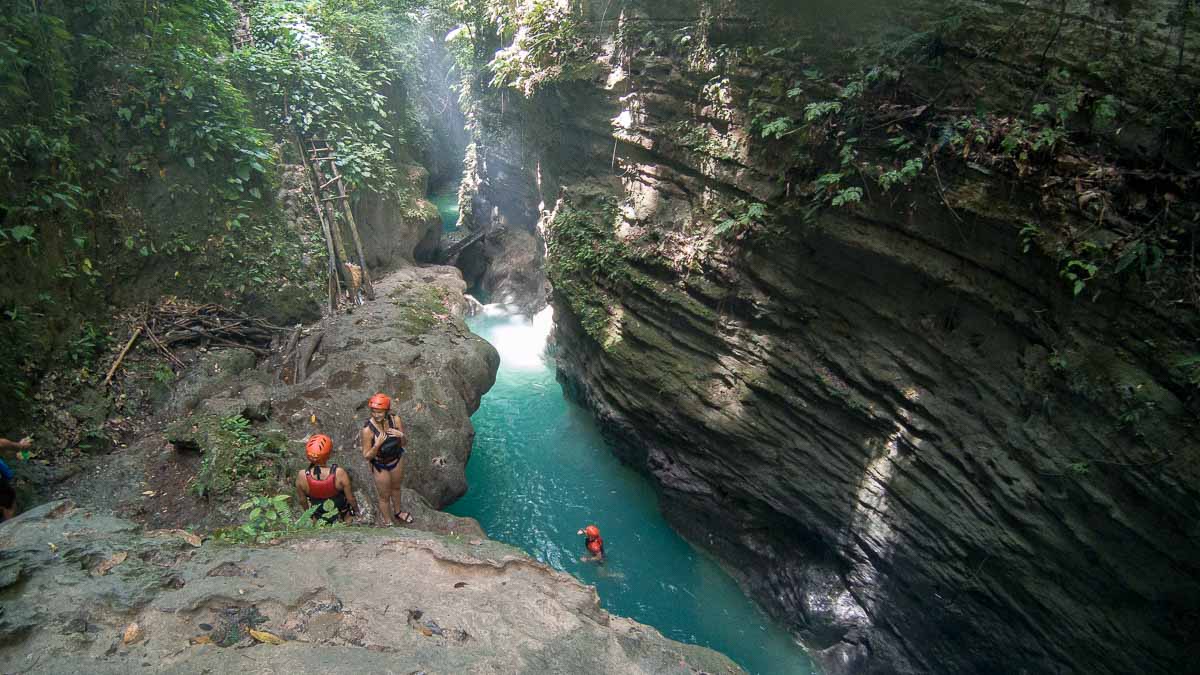 The way to Kawasan Falls involves multiple cliff jumps, swimming through streams, and climbing rocky terrain that culminates in a huge 15m jump. Tiring? Yes. But every angle and section of the journey is breathtaking and adrenaline-inducing.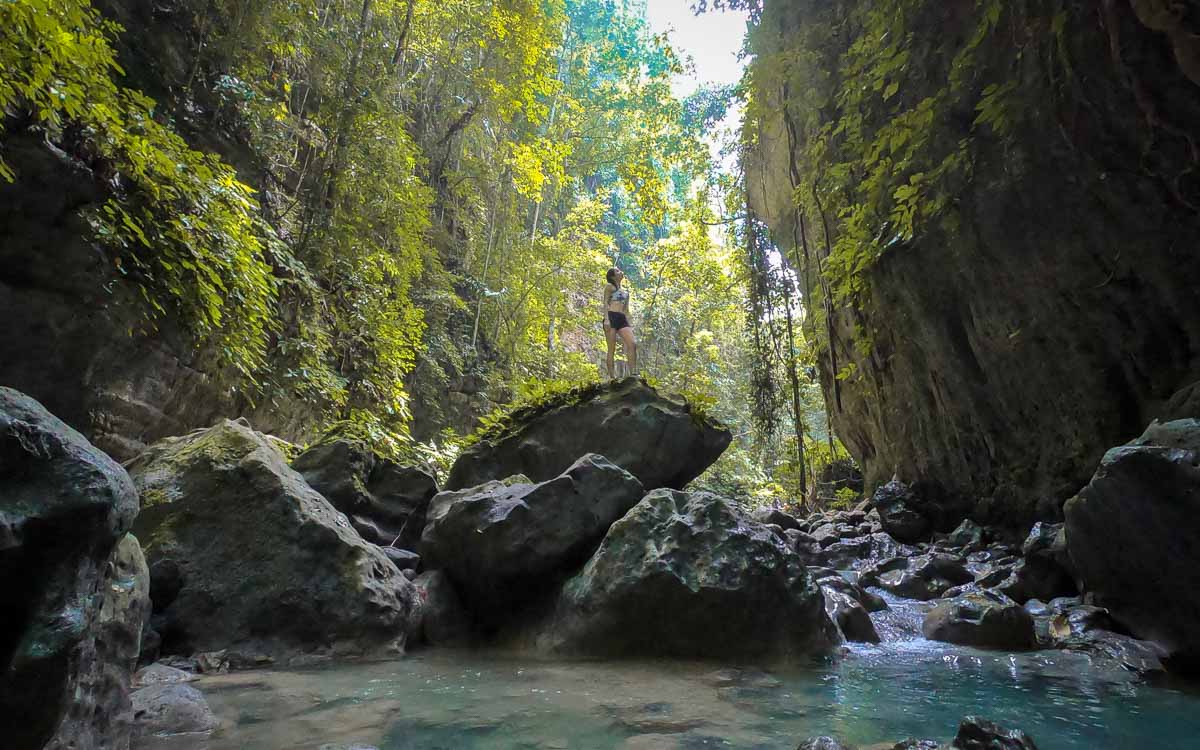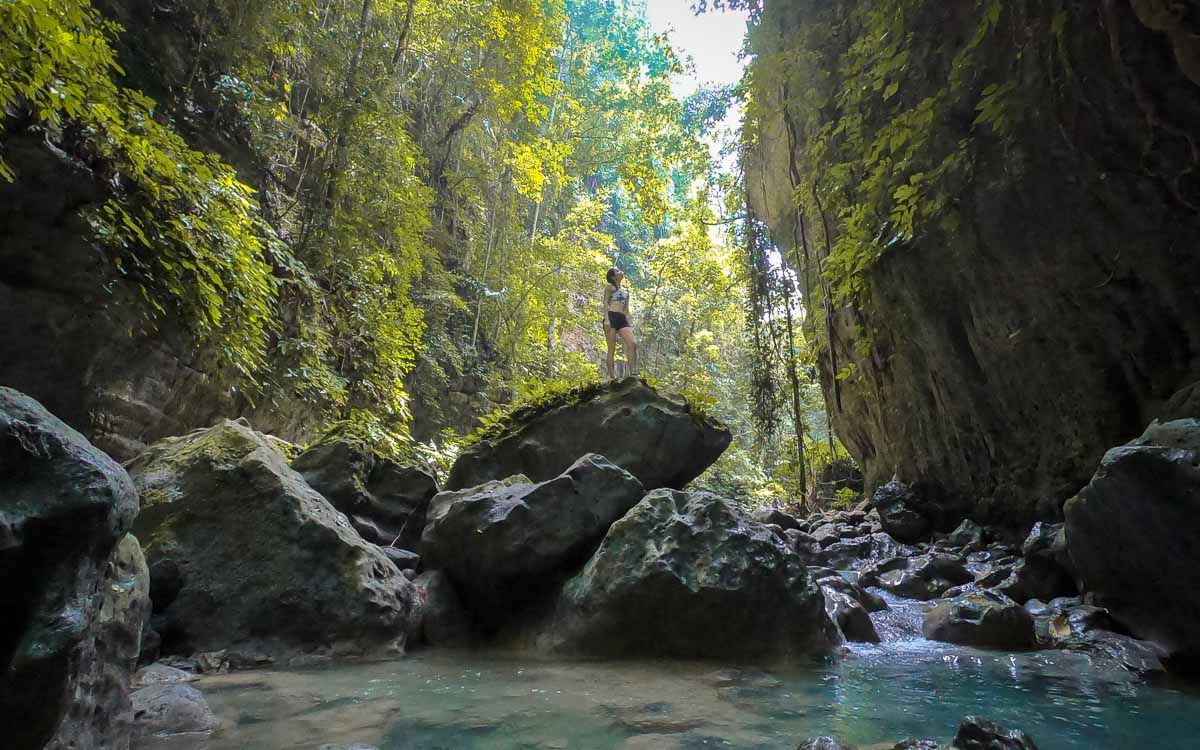 Cliff jumping might sound intense, but the activity is actually suitable for most as you'll be in the safe hands of experienced local guides. The tour is at your own pace and most of the cliff jumps are optional as well. Although there were a number of other tour groups, we never once felt rushed or cramped in the valley.
Badian Canyoneering and Kawasan Falls Tour
Cost: From ~S$75.35 incl. hotel pickup and lunch
Tour Timing: 5AM – 4PM
Pick Up: Available for accommodation in Cebu City and Mactan Island
Read also: 31D Southeast Asia Itinerary: Backpacking 5 Countries Under S$2.3k — Myanmar, Thailand, Cambodia, Vietnam & Laos
3) Get up close and personal with a whale shark in Oslob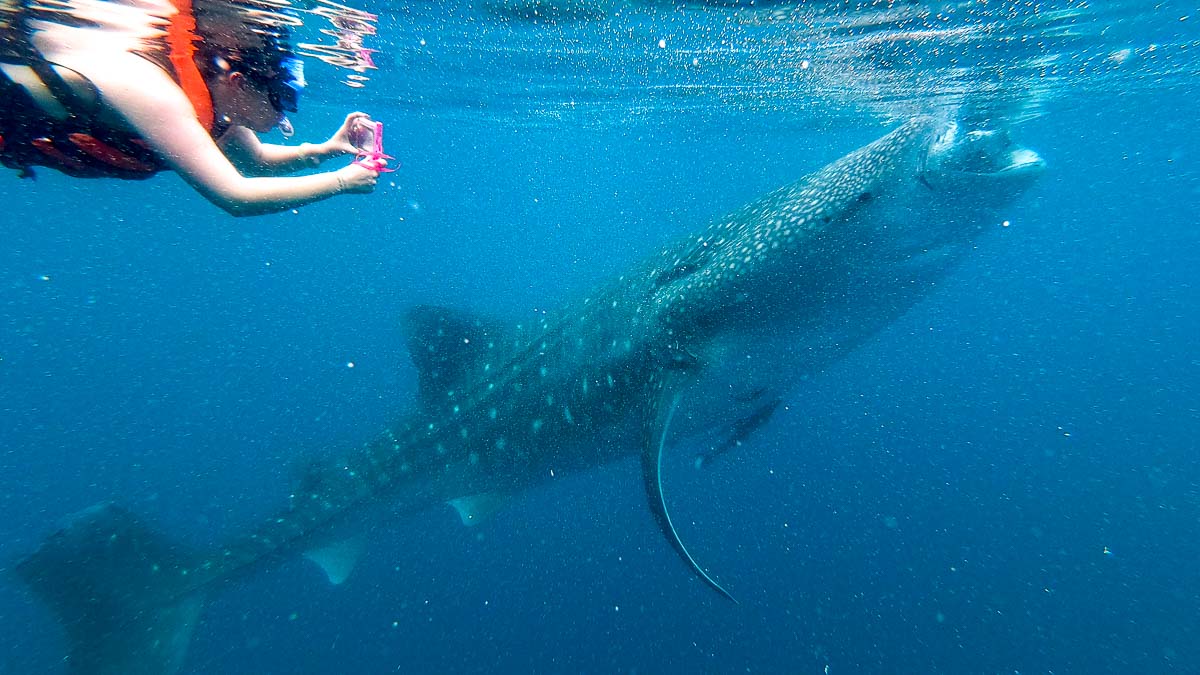 Snorkelling with sharks may sound like a crazy idea to most, but in Cebu it's totally feasible and even affordable. The tour package includes a hotel pickup from Cebu City and costs S$201.76 for a group of four — that's less than S$55 per pax!
The guides there run a well-managed system that prioritises the safety of the whale sharks — visitors are well briefed through their rules before entering the water.
Swimming inches away from these gentle giants can be a surprisingly frightening yet humbling experience. It's hard to grasp the sheer size of whale shark until you're right next to it in the water. And beside them, you realise just how vulnerable you are. Luckily, whale sharks are docile fish and sometimes even allow swimmers to hitch a ride. Don't actually try that though, as touching them is a big no-no!
Whale Shark Watching Tour
Cost: From ~S$55/pax (excl. fuel fees)
Tour Timing: 5AM – 3PM
Pick Up: Available for accommodation in Cebu City and Mactan Island
4) Explore the 5 levels of Inambakan Falls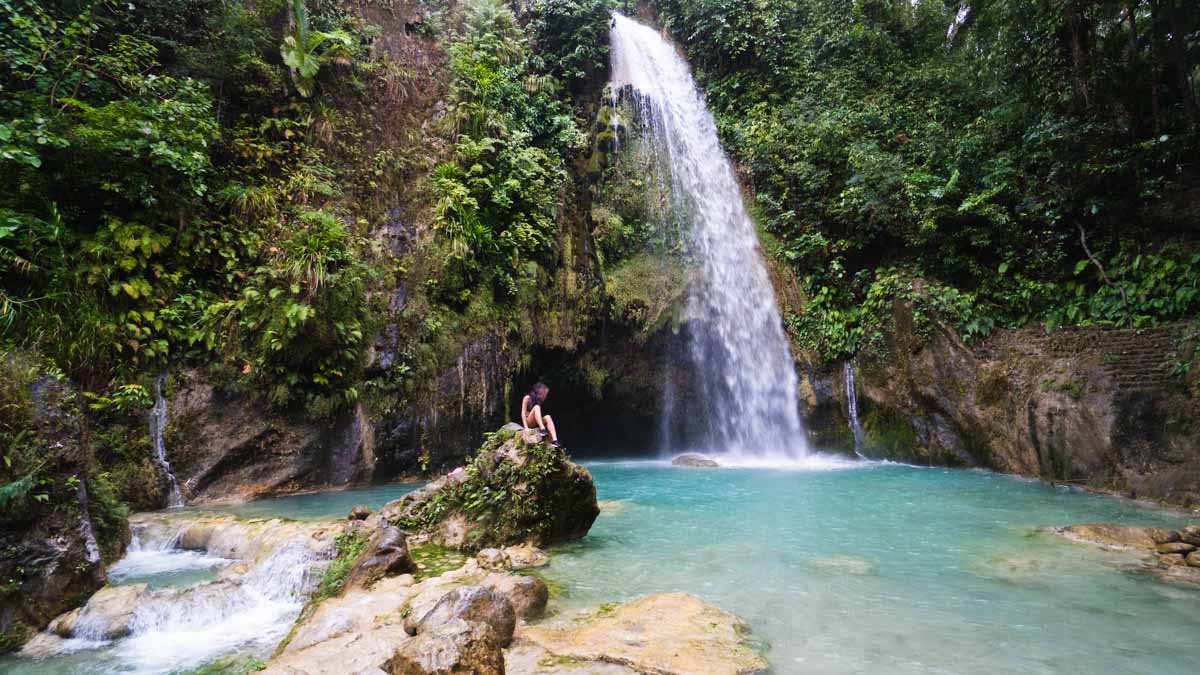 Inambakan Falls features a towering 30m waterfall and a myriad of cliffs and deep pools below, making it perfect for cliff divers.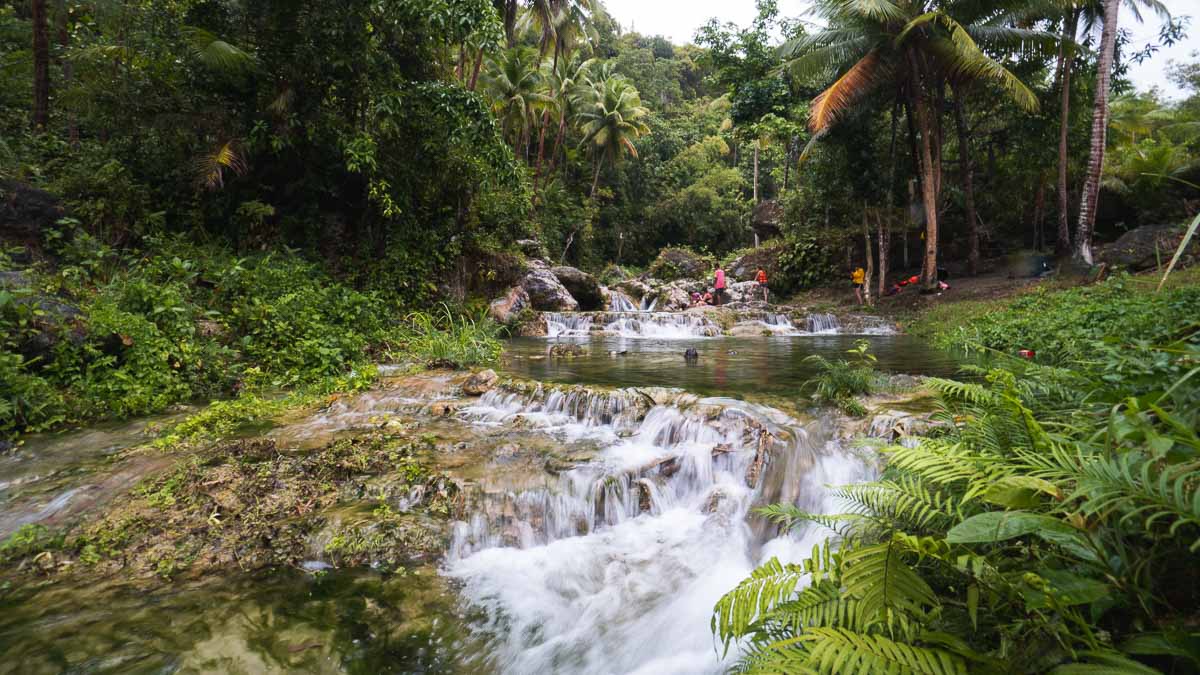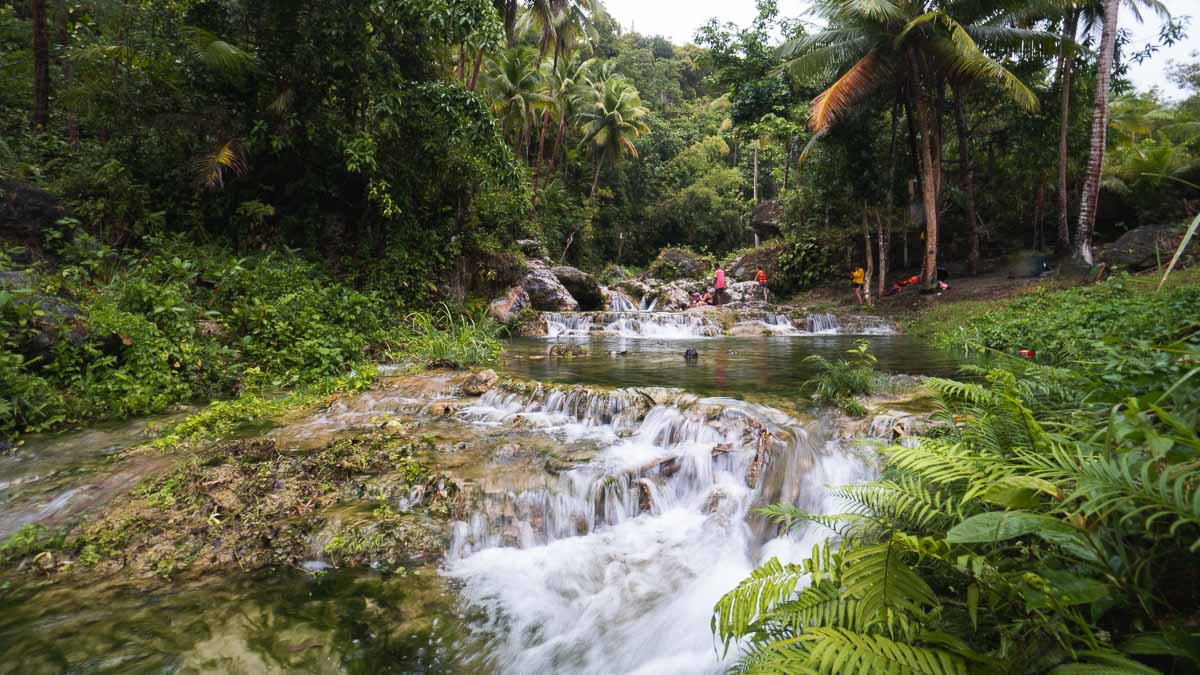 There are five levels, each with an entirely different charm. Guides aren't necessary as the paths are quite straightforward but if you do get one, you'll be getting a personal photographer as well, since they know the best spots for the perfect photo.
You can easily spend hours chilling and swimming here, so pack lunch before heading down (there aren't any restaurants in the area). Compared to Kawasan Falls, Inambakan is much more secluded and still relatively untouched by the swathes of tourists.
Entrance Fee: ₱50 incl. life vest (excl. guide)
How to get there: ~2hr drive from Moalboal
*Pro-tip: Check out Kabutongan Falls just 20 mins away for another great waterfall in Moalboal.
Read also: 5-Day Puerto Princesa Itinerary for the Adventurous
5) Learn the basics of scuba diving in Mactan Island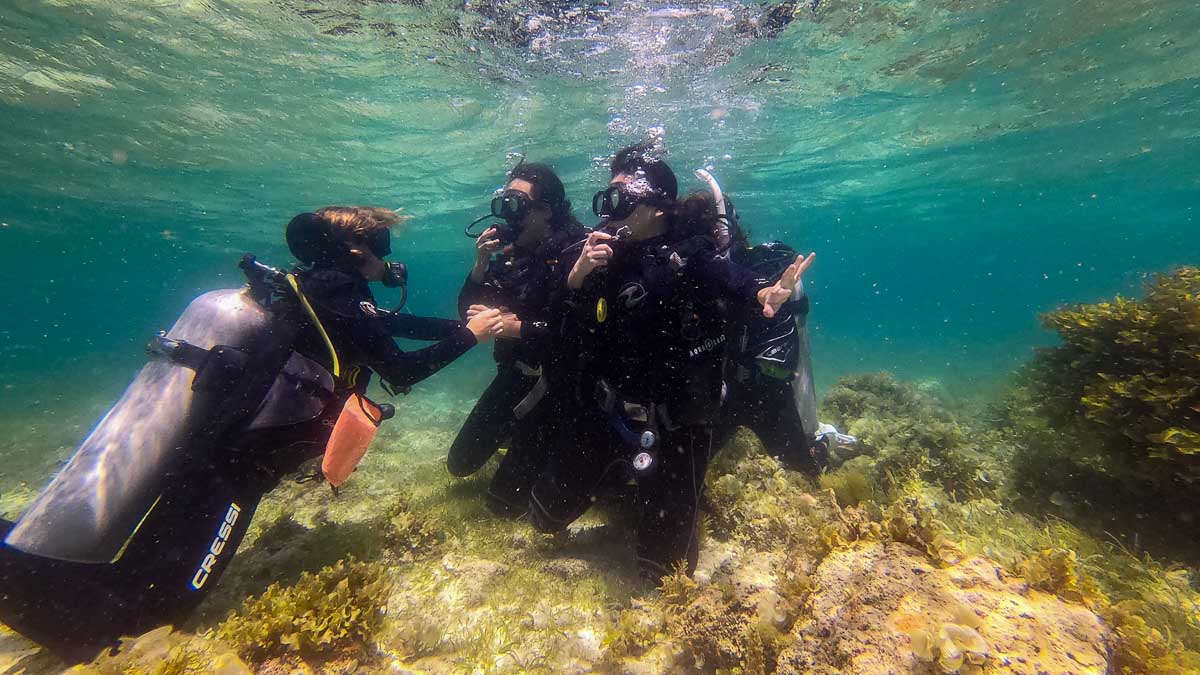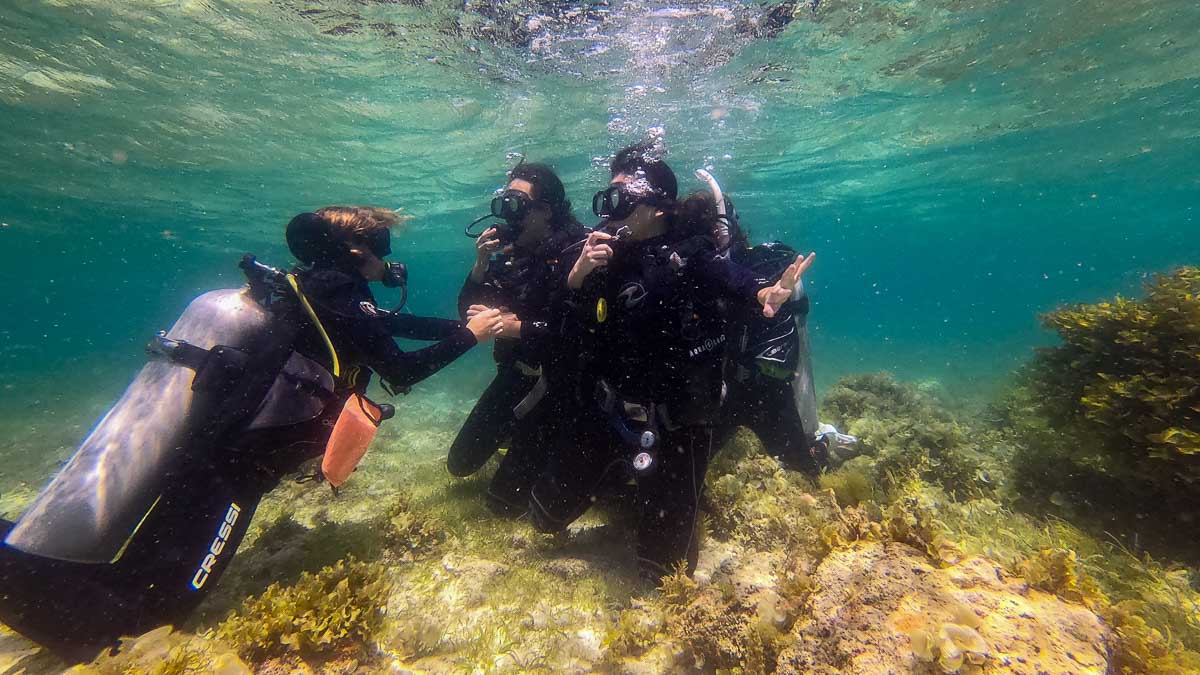 Snorkelling is great but some of Cebu's best sights can only be found in the depths of the sea. If you don't have a PADI/SSI certification, this introductory course to scuba diving is the perfect way to start.
The open water dive is held at Mactan Island and reaches depths of 10m. Although there's a steep learning curve to learning buoyancy control and mask clearing, overcoming them is well worth witnessing Mactan's bountiful marine life and colourful corals.
Intro to Scuba Diving Activity
Cost: ~S$89.55/pax
Activity Timing: 8:45AM – 11:30AM
Meeting Point: Fun and Sun Dive Shop, Lapu-Lapu City, Philippines 6015
6) Marvel at the Chocolate Hills of Bohol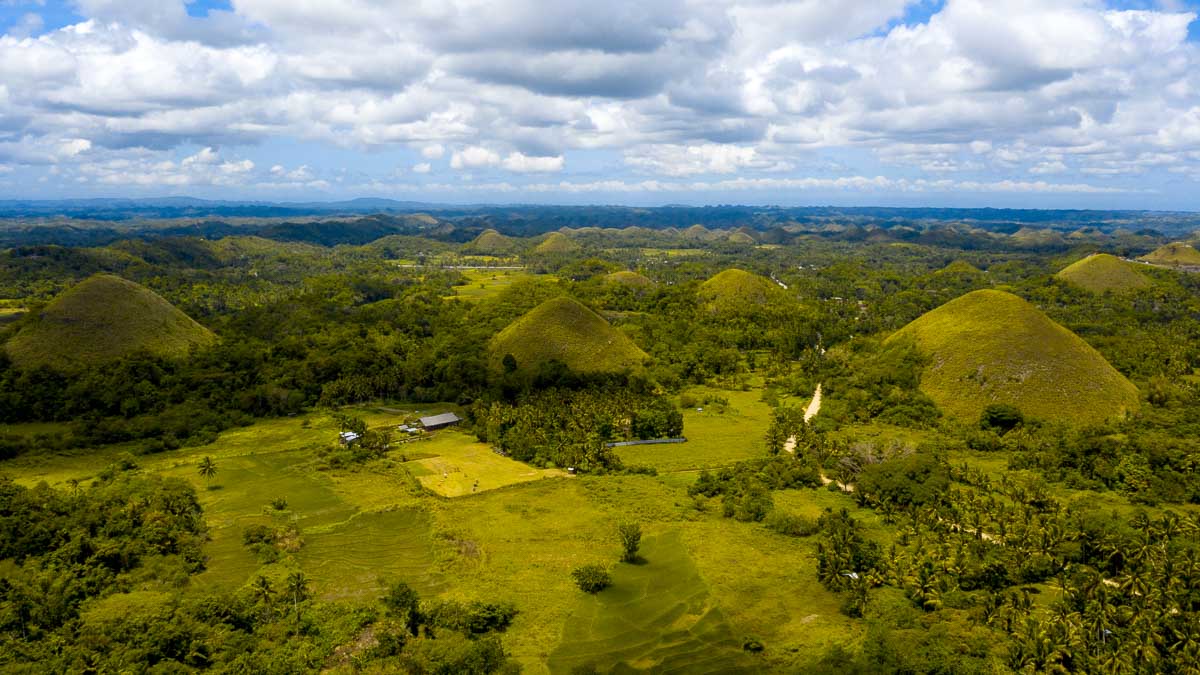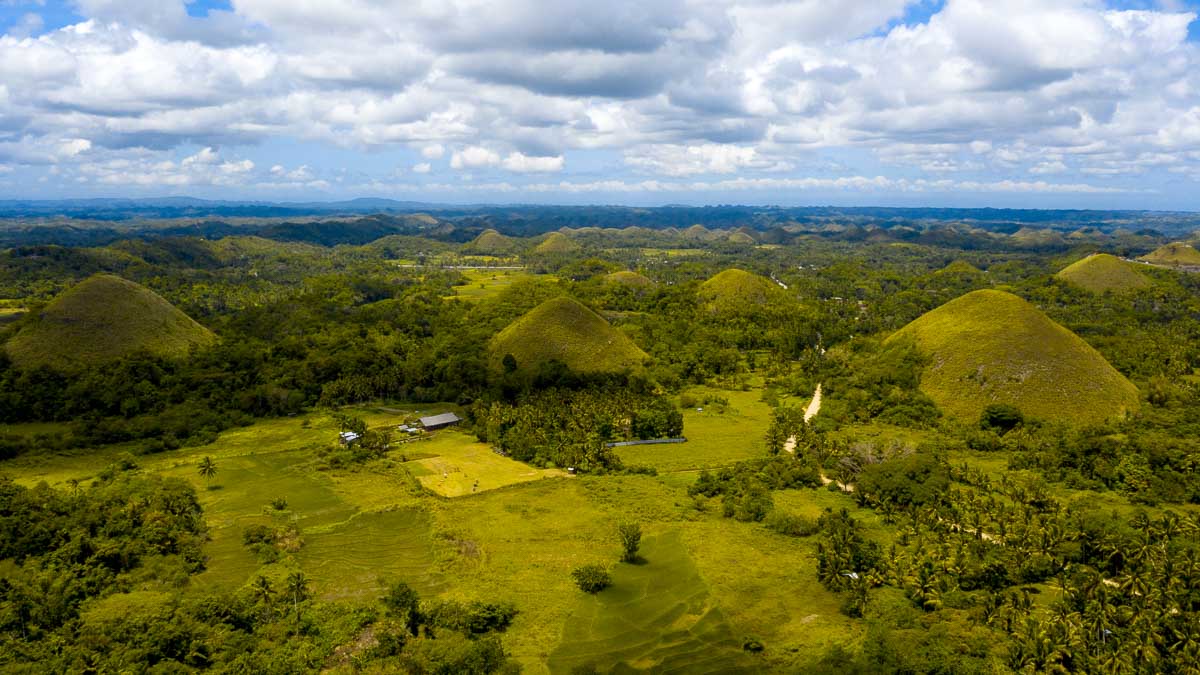 The Chocolate Hills of Bohol are intriguing geological formations that turn brown during the dry season (hence its name). These naturally formed hills have an almost symmetrical shape and uniform layout that make them seem man-made!
For a panoramic view of the entire landscape, head to the official viewing point at Carmen to witness the rolling hills from the top.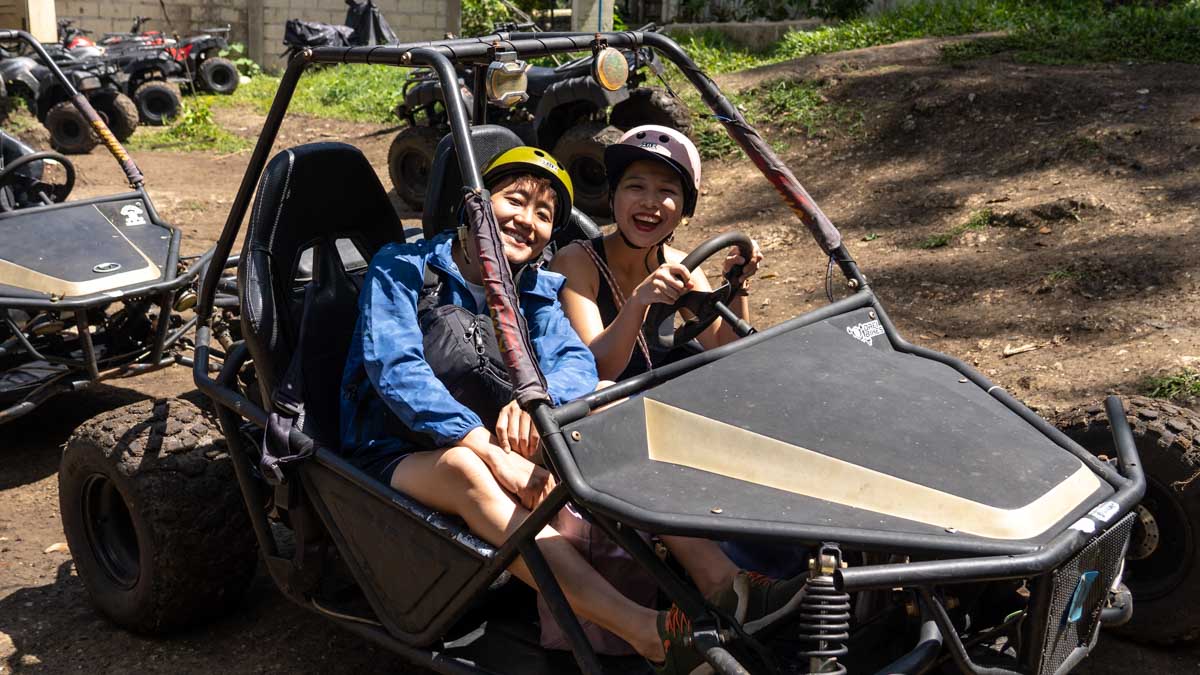 Alternatively, rent an ATV (₱1,000) or buggy (₱1,800 for two people) to ride around the hills for a much more intimate experience. Rough it out on the dirt terrain and even drive to the foot of one of the hills before hiking up its peak!
Entrance Fee: ₱50 for Carmen viewing point
Opening Hours: 8AM – 11:30PM
7) Enjoy Moalboal's turquoise water beaches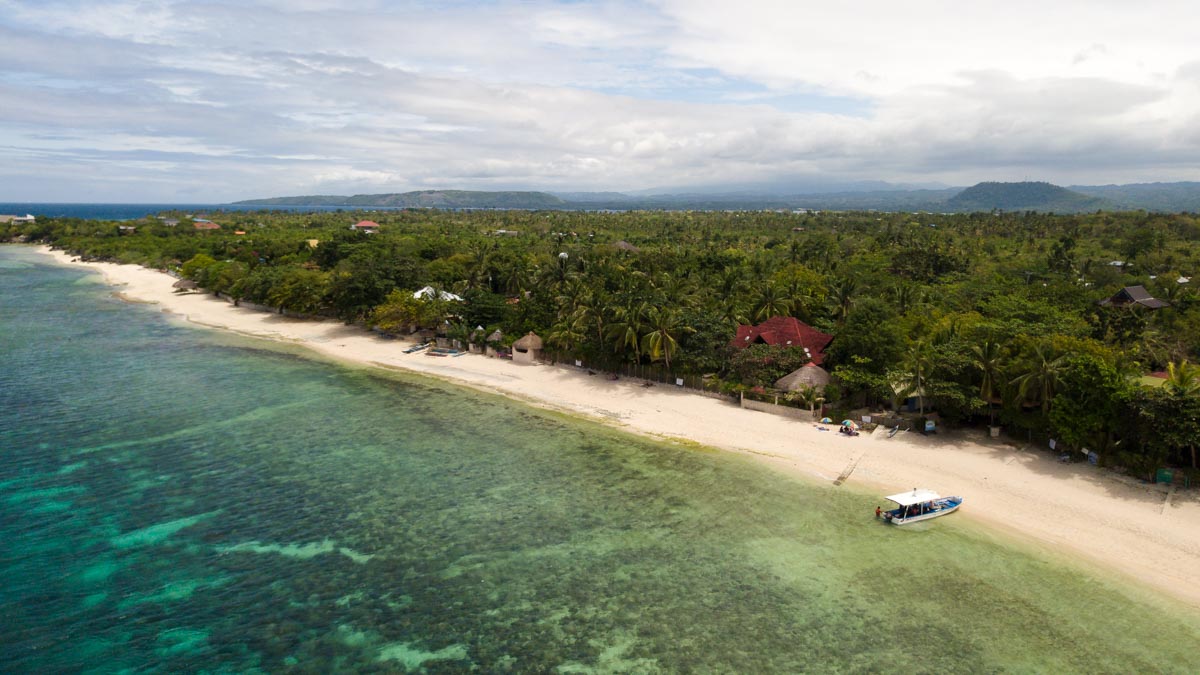 We're often disappointed by embellished beaches and over-edited posts on Instagram but this time it's okay to get your hopes up — trust me, I've suffered my fair share of heartbreaks. The search for fabulous photoshopped-like beaches ends here because Moalboal has multiple contenders that ace this criterion.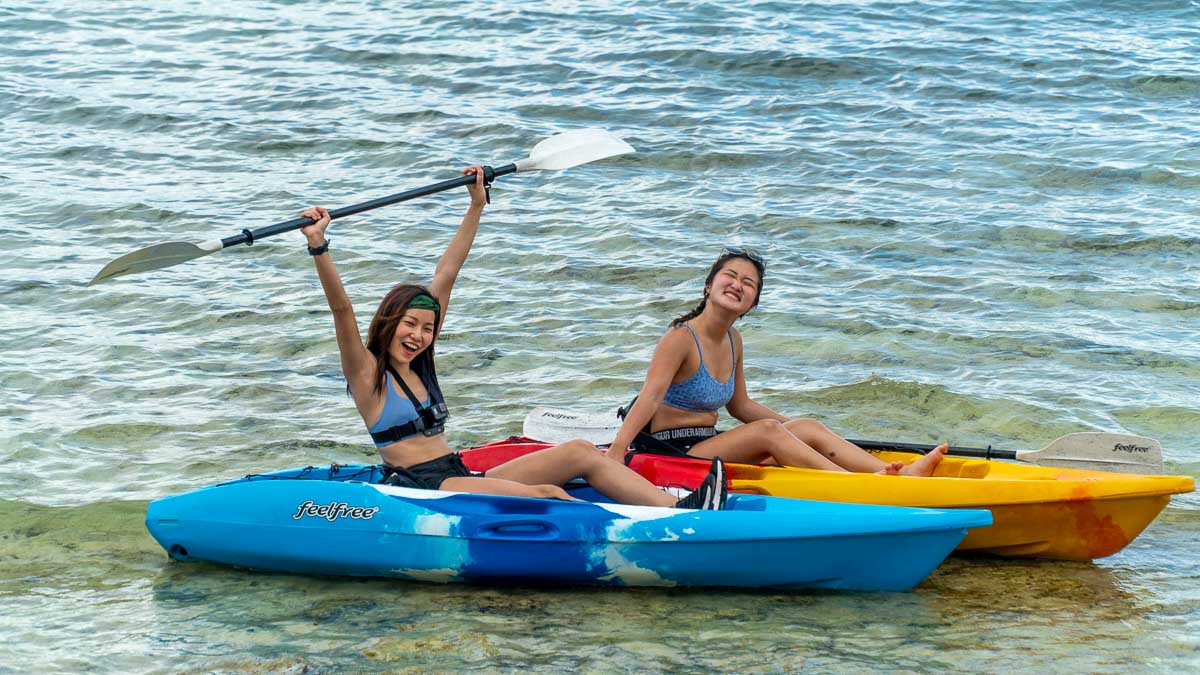 Moalboal's three beaches, Panagsama, Lambug, and White Beach, all offer glistening waters accompanied by unspoiled beaches, perfect for every beach fanatic. We had fun kayaking (₱200/hour) on the glassy waters of Panagsama Beach but other activities such as scuba diving and snorkelling are also available along its sandy shores.
A 15-minute drive from Panagsama Beach is White Beach (₱15 entrance fee) where its chill vibe makes for a good tanning afternoon. Albeit further away, Lambug Beach is a great alternative to the previous two if they get too crowded or you're passing by from Inambakan Falls!
8) Admire Cebu City from Tops Lookout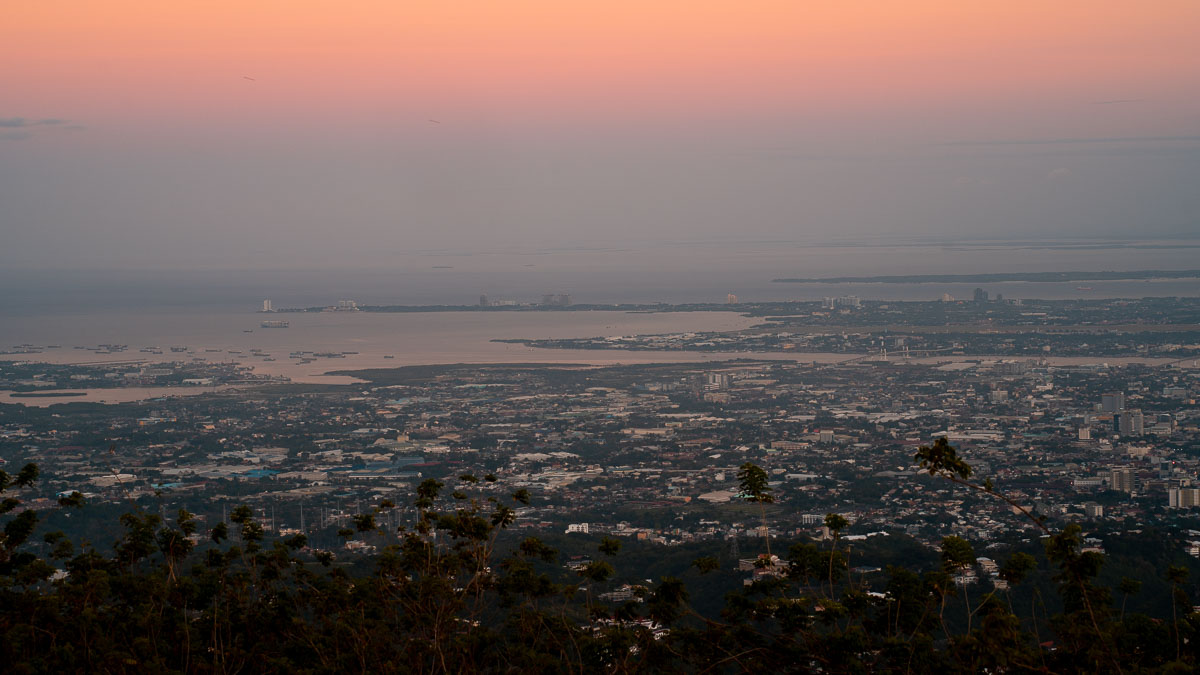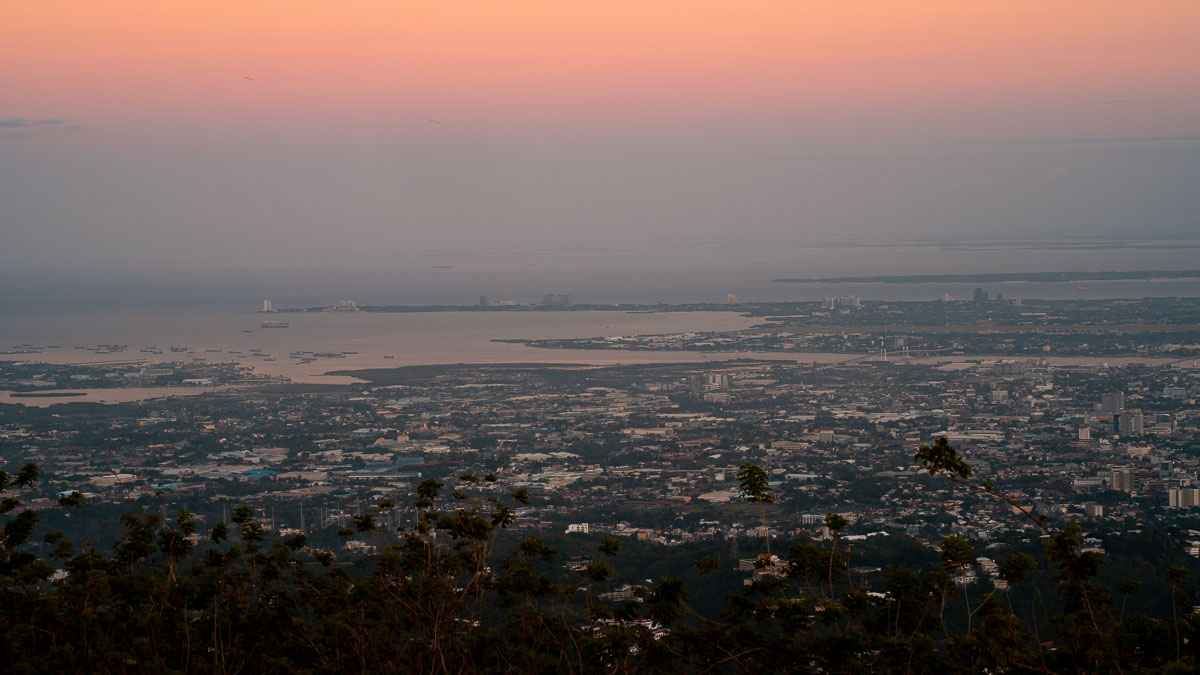 Tops Lookout is a circular viewing platform overlooking Cebu City. It's quite hard to get to (Grab doesn't operate here) but the hassle of finding a habal-habal (motorcycle) is well worth it once you reach the top. The platform provides an unobstructed view of the vast city below, turning all shades of yellow, orange, and red during sunset.
If you're looking for a romantic evening, sunset gazing coupled with dinner at one of the restaurants there would definitely score some points with bae.
Entrance Fee: ₱50
Opening Hours: 10AM – 2AM
How to get there: 30-min ride by habal-habal from JY Square Mall (~₱50/pax)
9) Test your tastebuds with balut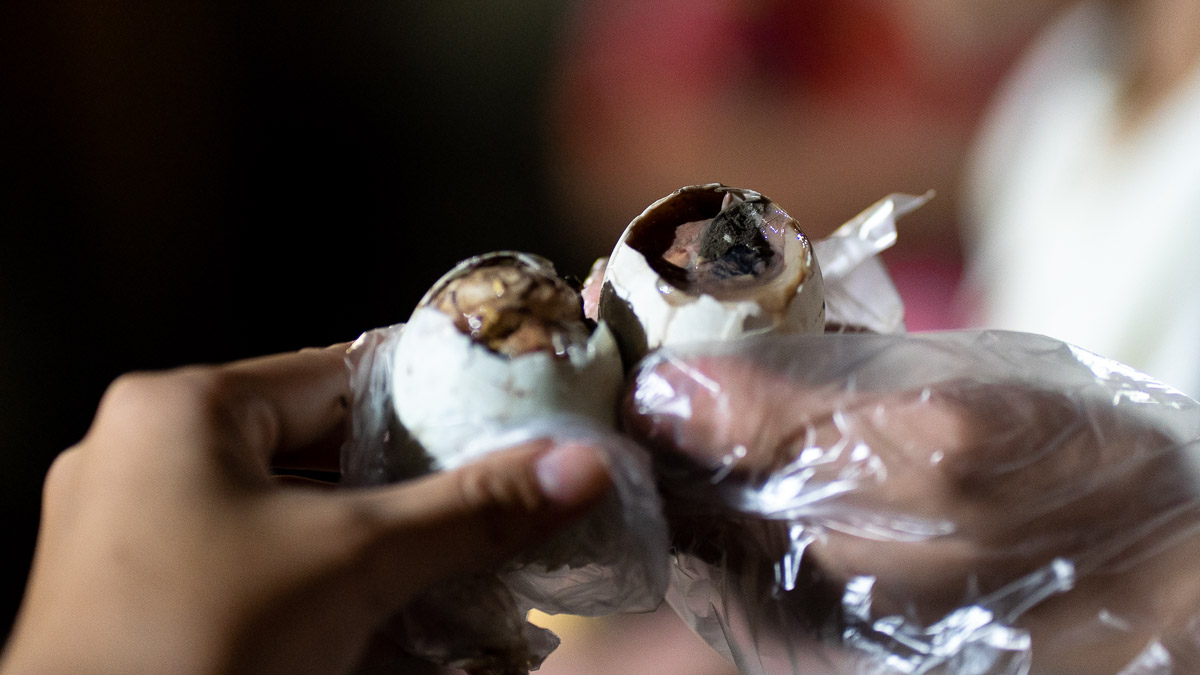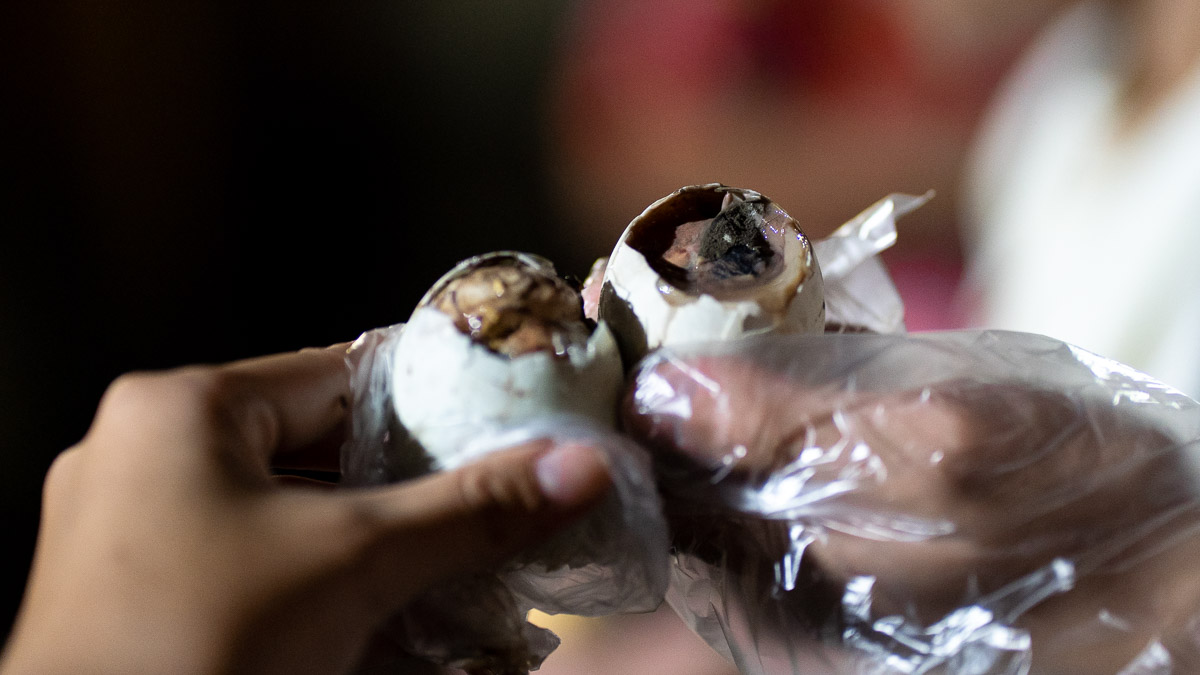 Balut: A developing duck egg embryo boiled and eaten straight from the shell
Sure, balut may be a once-in-a-lifetime experience, if by once-in-a-lifetime you mean never again. The local delicacy is notorious amongst tourists as one of the most bizarre things you can eat in the Philippines.
But if you can ignore what it looks like, it's surprisingly tasty. I tried it myself and I highly recommend you try it as well — if not for the taste then for the "experience".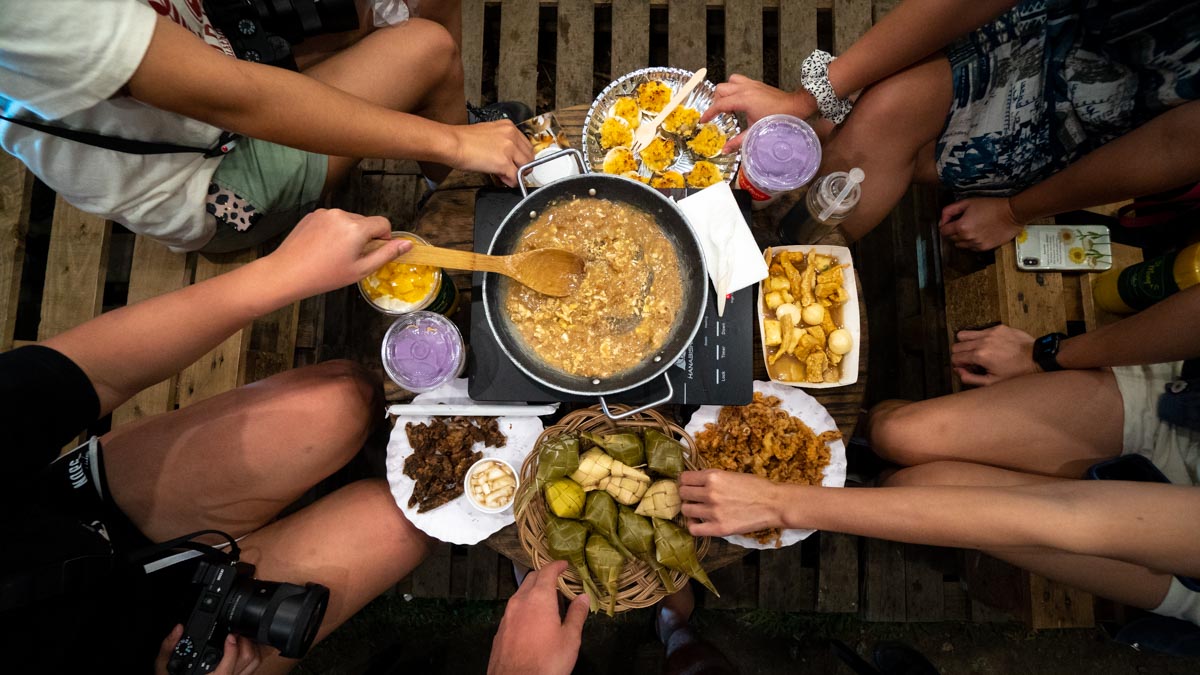 Enjoying a feast at Street Food by Sugbo Mercado
Balut and most of Cebu's local delights can be found at Colon Street Night Market. However, if you want to avoid the stuffy lanes of Colon Street then Street Food by Sugbo Mercado is an excellent alternative as well.
10) Dig into the famous lechon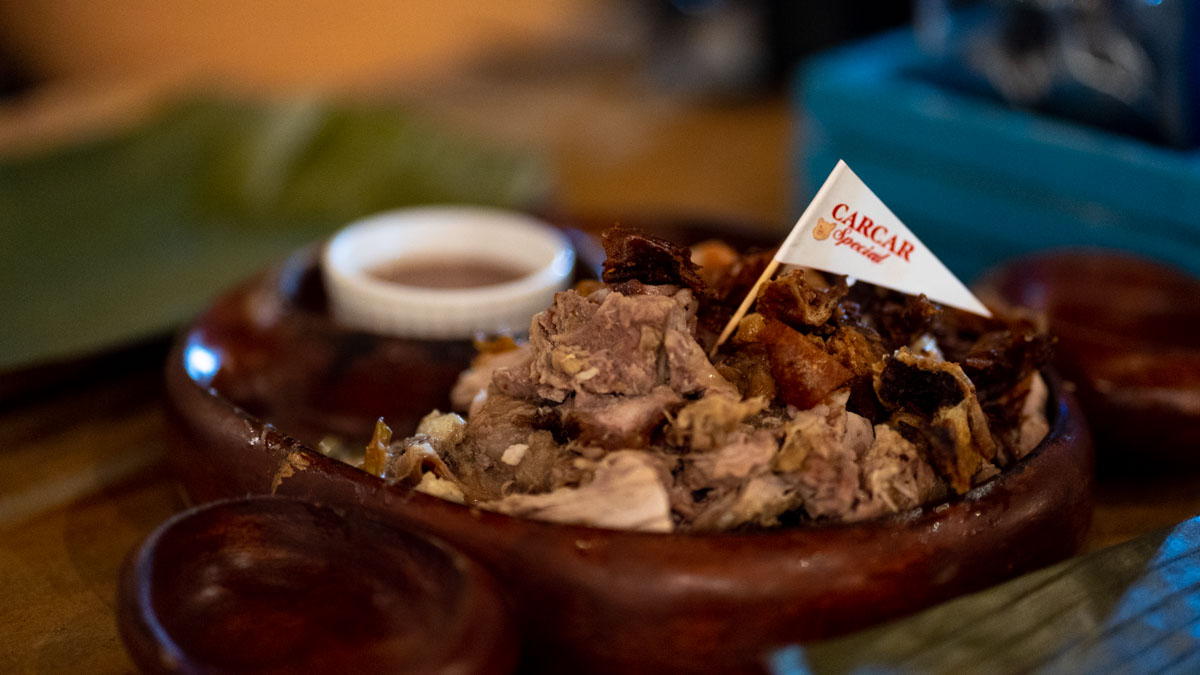 A plate of lechon (roasted pig) — the unofficial National Dish of Philippines
Lechon needs little introduction. This dish is an all-time favourite amongst both locals and foreigners and is an unmissable delight in Cebu. We had ours at the popular House of Lechon where we added on other local delicacies like sisig (hotplate dish made from pig head and chicken liver) and lechon paksiw (roast pork stew) for a decadent feast at very reasonable prices.
Cost: ~₱330/pax (6 dishes)
Opening Hours: 10AM – 10PM
How to get there: 9-min walk from Ayala Centre Cebu
Cebu — The Perfect Place for Adventurers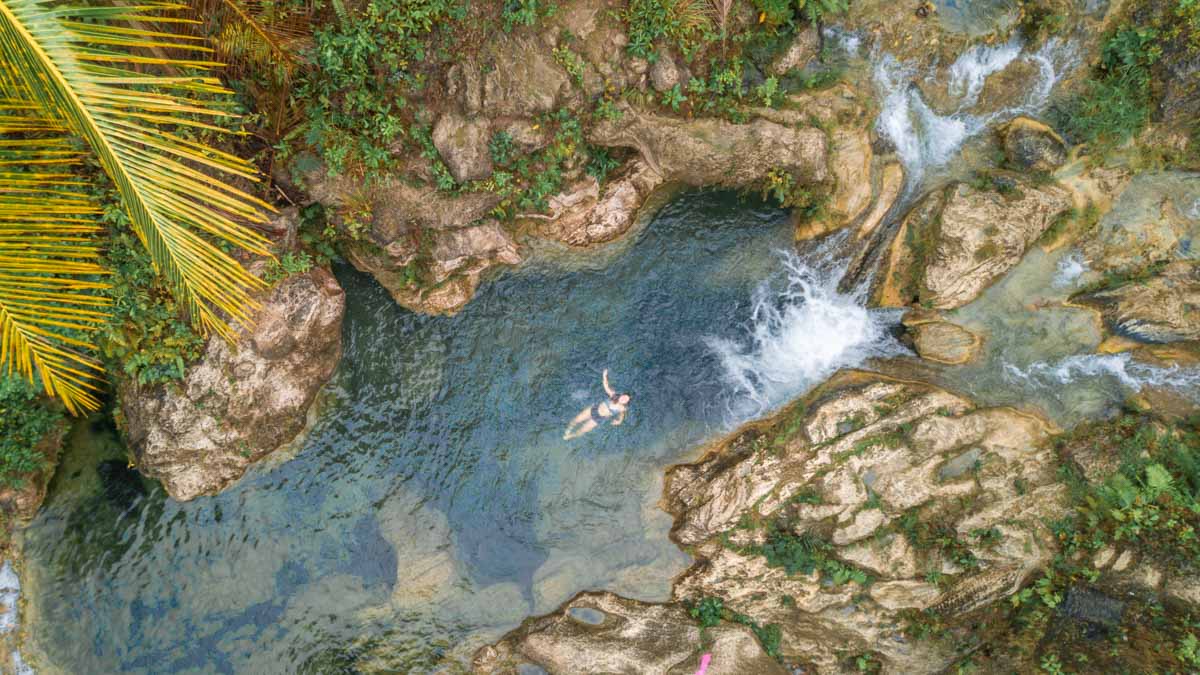 Inambakan Falls Level 3
Once-in-a-lifetime experiences don't come easily. But when they do, we seize them by remaining open-minded and challenging our fears, forging unforgettable memories. At the end of the day, it's completely up to us how amazing the trip can be!
P/S. But please don't risk your life and tell your mom that The Travel Intern told you to do it. 🥴
For more epic experiences in Cebu and other parts of the Philippines, check them out on the Klook app. Apart from tours, you can even book transport and local SIM cards, saving you the hassle of haggling to find the best deals on the ground.
If you're someone like me, a trip to Cebu is one you just can't miss. The past seven days have been a real bucket list smasher. Swimming with sea turtles, jumping off 15m cliffs, and sick-ass waterfalls? Count me in.
Read also: 9 Most Adventurous Things to Do in Palawan, Philippines
Which activity do you want to try out the most? Tell us in the comments below!
---
This post was brought to you by Klook.
Like what you see? Follow us on Facebook, Instagram, YouTube, and Telegram for more travel updates!