Explore underground rivers in the Subterranean River National Park, zip-line over forests and visit beautiful beaches in this Puerto Princesa itinerary in the Philippines!
Nothing has proved me wrong quite like Puerto Princesa. As the capital of Palawan, it's more popular as just a stopover point for backpackers heading to other spots around Palawan like El Nido and Coron. But it has so much more to offer!
Apart from being home to some of Asia's most pristine beaches, there are tons of exciting outdoor activities to take part in, from hiking to water activities.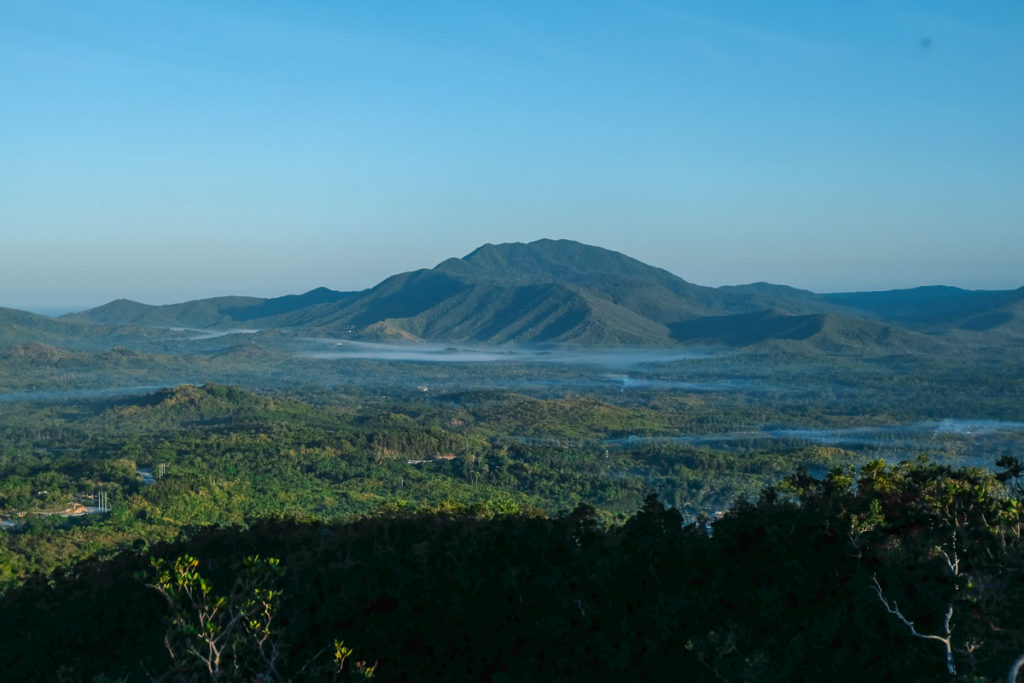 With this Puerto Princesa itinerary, you'll get to explore all the great spots from the sky to the sea that'll leave you amazed from start to finish!
Read also: 9 Most Adventurous Things to Do in Palawan
Pre-trip Essentials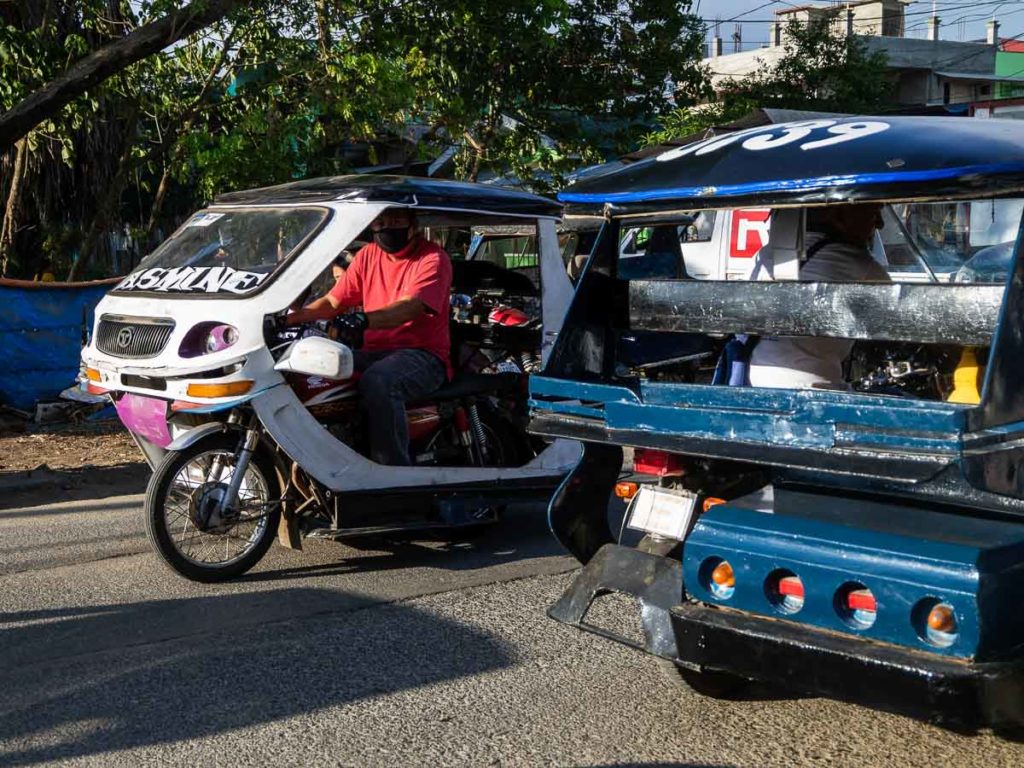 Connectivity: Pre-book your 4GB SIM card (~S$9.51) with unlimited calls and texts and pick it up once you arrive at the airport.
Getting around Puerto Princesa: Tricycles (or trikes) are abundant in the city, and they're easy to flag down wherever you are. For far off places, consider hiring a private charter, which can be arranged with your hostel's front desk. Google Maps is also very reliable here!
Accommodation in Puerto Princesa: We stayed at Guni Guni Hostel, which is 10 minutes away from the airport. This beachy hostel is popular amongst backpackers. It's clean, comfortable and easily accessible!
Day 1: Island hopping at Honda Bay
Explore some of Asia's most pristine beaches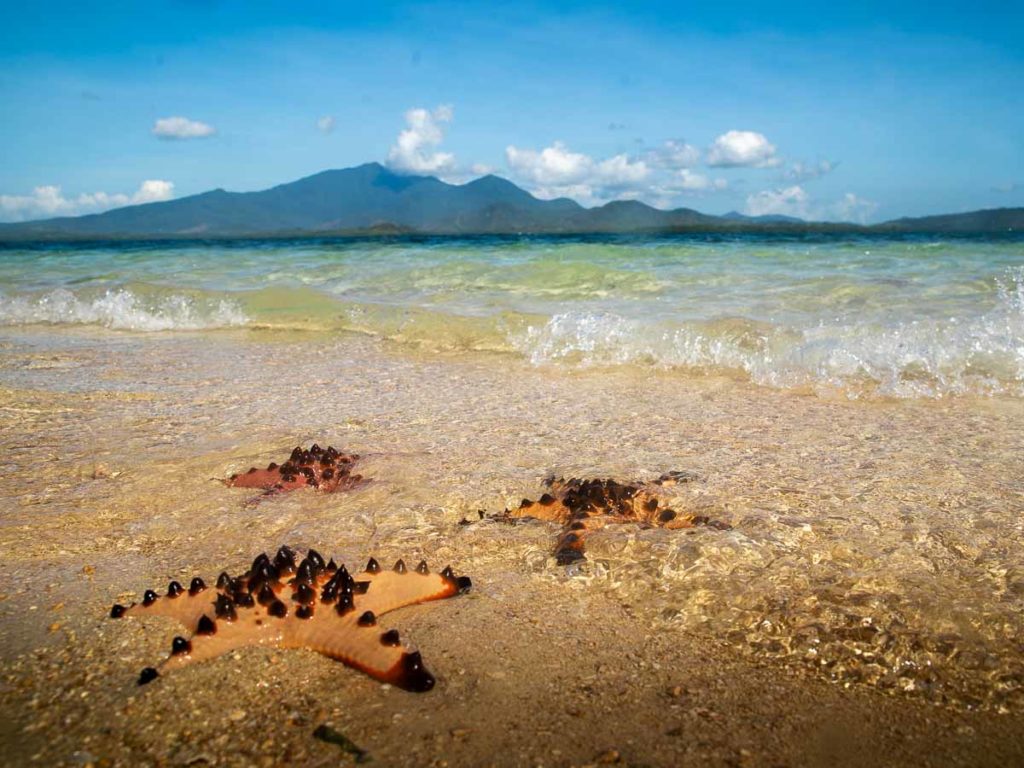 Honda Bay is studded with beautiful islands surrounded by crystal blue waters and fine, golden sand. We went on a guided island tour covering the stunning Luli Island, Cowrie Island, and Starfish Island.
Starfish Island is named for good reason — walk along the shores and you'll find groups of sea stars relaxing in the shallow waters. You can wade around them but don't take them out of the water! Our friends get dehydrated easily and need the seawater to get nutrients.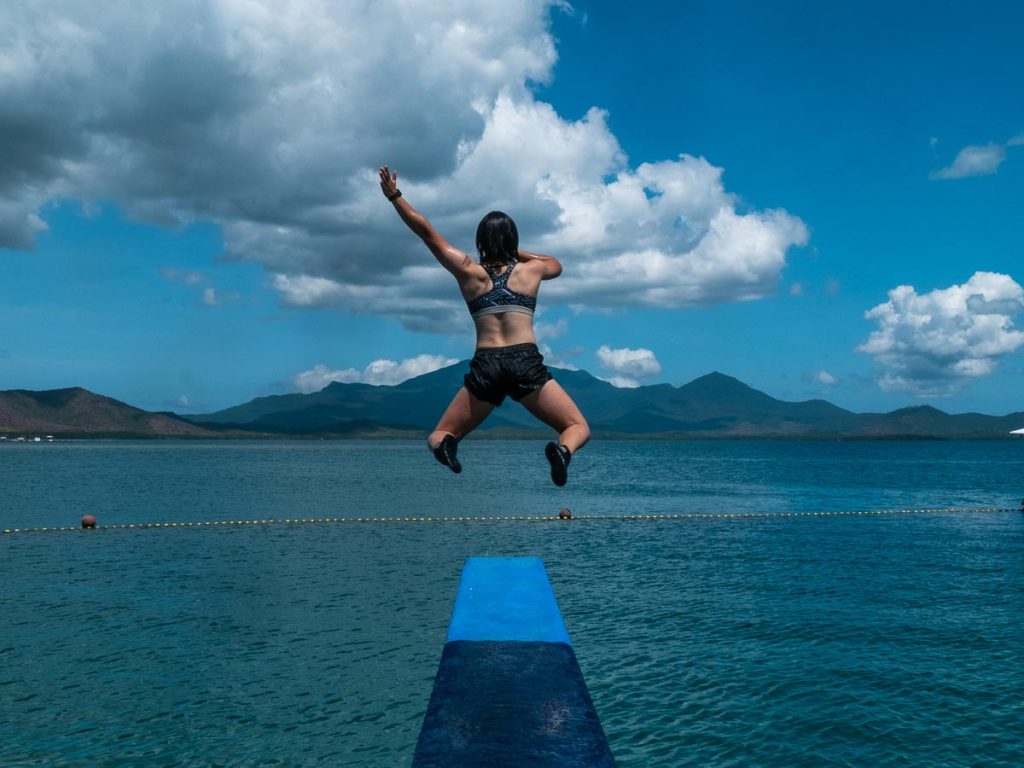 Diving board at Luli Island.
Luli Island is an expert at the disappearing act. The petite island is out of sight by evening as it gradually submerges due to high tide. However, if beach hoppers come later in the day, they can park themselves at the elevated bar to escape rising waters.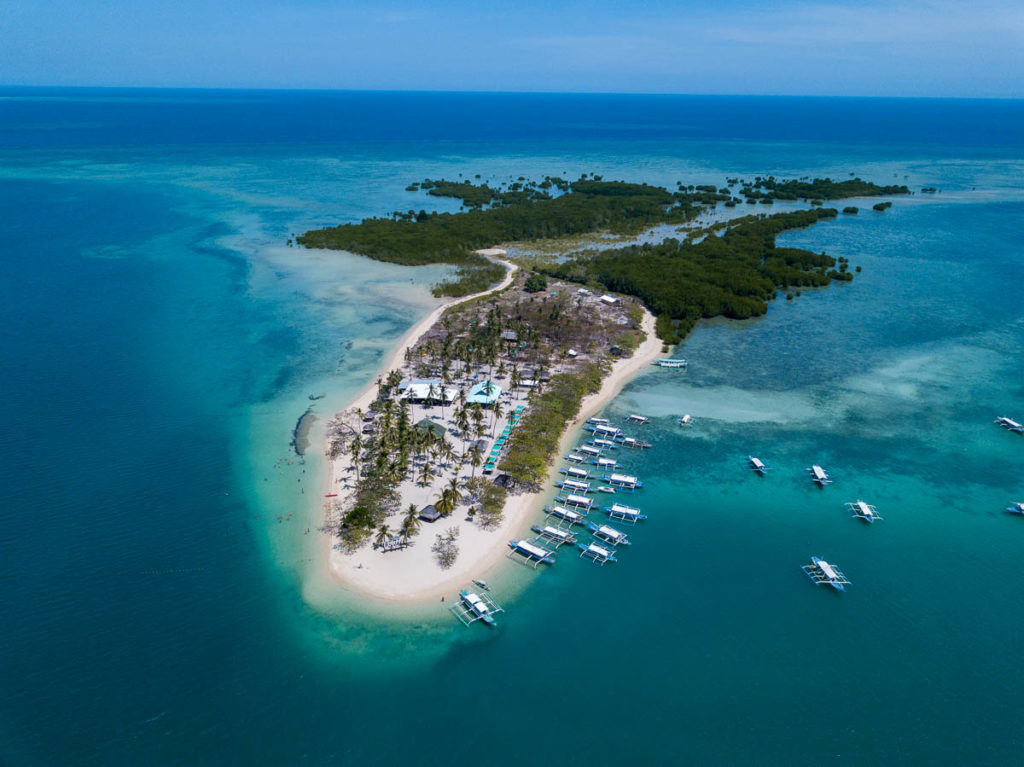 The most bustling island of them all would definitely be Cowrie Island. If you're looking for a place to lounge about, Cowrie Island is perfect for that. Rent yourself a hut or tent for just ₱250 (~S$6.80), or enjoy an hour-long massage for ₱100 (~S$2.70).
The lunch provided from the tour was also located here, where we had a generous buffet spread. What a treat!
Honda Bay Island Hopping Tour
Cost: ~S$44.85/pax
Tour Timing: 7AM – 3:30PM
Pick Up: Available for accommodation in downtown Puerto Princesa
Indulge in the freshest catch at Badjao Seafood Restaurant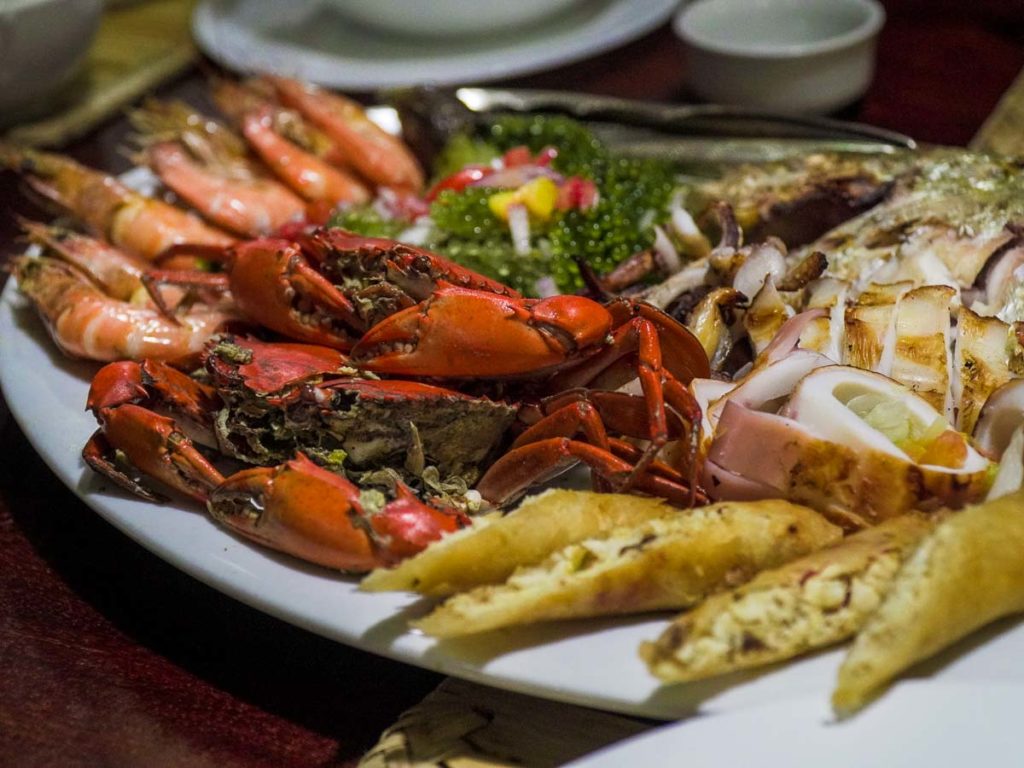 Sink your teeth into the freshest seafood in Puerto Princesa when you dine at Badjao. We ordered the seafood platter for ₱895 (~S$24.67) which came with buttered crabs, smoked squid, grilled prawns and fish. The Crocodile sisig (minced meat) and sinigang (sour soup) were just as delectable.
Cost: From ₱250 for mains
Opening Hours: 10AM – 10PM
How to get there: Take a 10-min trike ride from the hostel.
Day 2: Subterranean River National Park
Explore the famous Underground River and ATV through the Sabang Jungle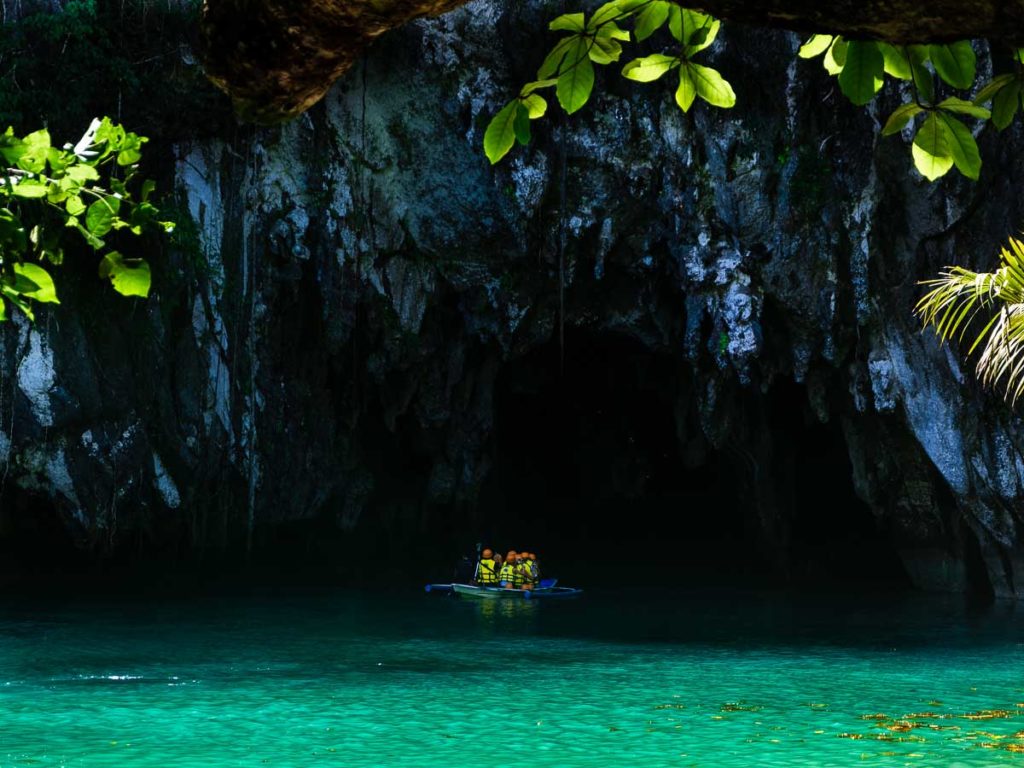 Puerto Princesa is known for the famous Underground River, which is also a UNESCO World Heritage Site. During our tour, we saw amazing limestone formations that resemble Catholic figures and events in the bible like Jesus, Mary and the Last Supper.
The cave is home to loads of bats and it's a sight to behold. But don't open your mouth when looking up, unless you want bat droppings for lunch!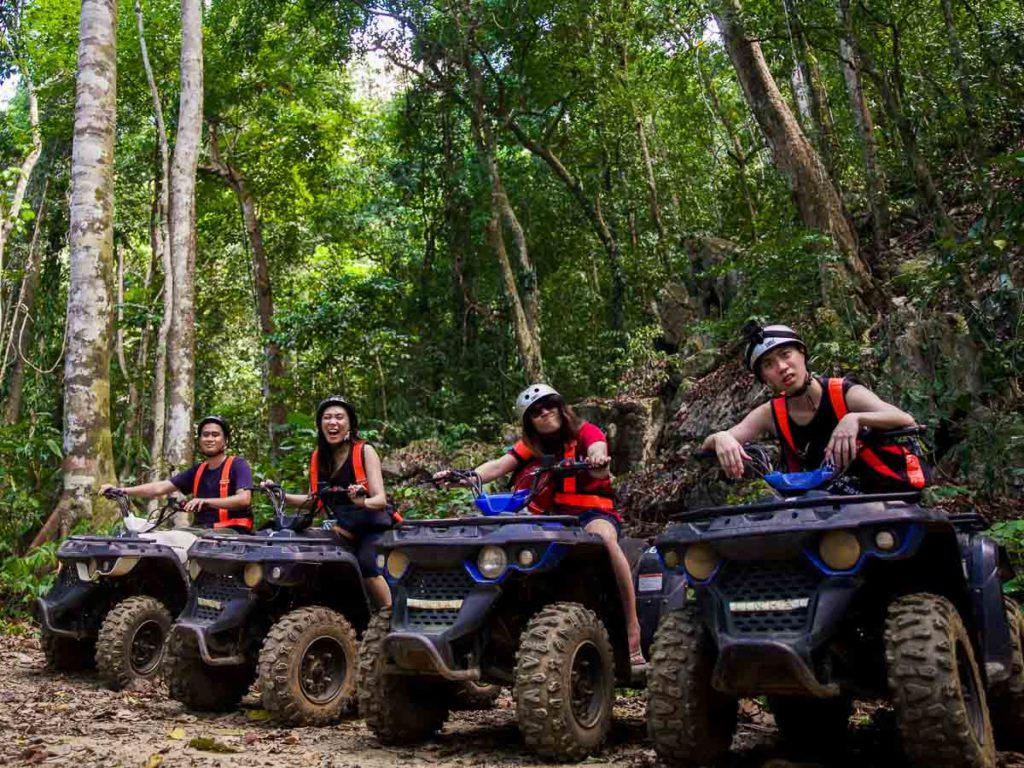 After learning about the majestic caves, the tour brought us to another island where we rode an ATV through the jungle. It's not every day you get to drive in thick forestry and it was quite an exciting experience for me!
The track we were on wasn't too challenging but there were points where the terrain got extra rocky. Our guide also helped us take cool group shots along the way.
Puerto Princesa Underground River with ATV Jungle Track
Tour Cost: ~S$93.97/pax
Tour Timings: 6:30AM – 5:30PM
Pick Up: Available for accommodation in Puerto Princesa City Centre and Sabang
Dine under the fairy lights at Stellar Grounds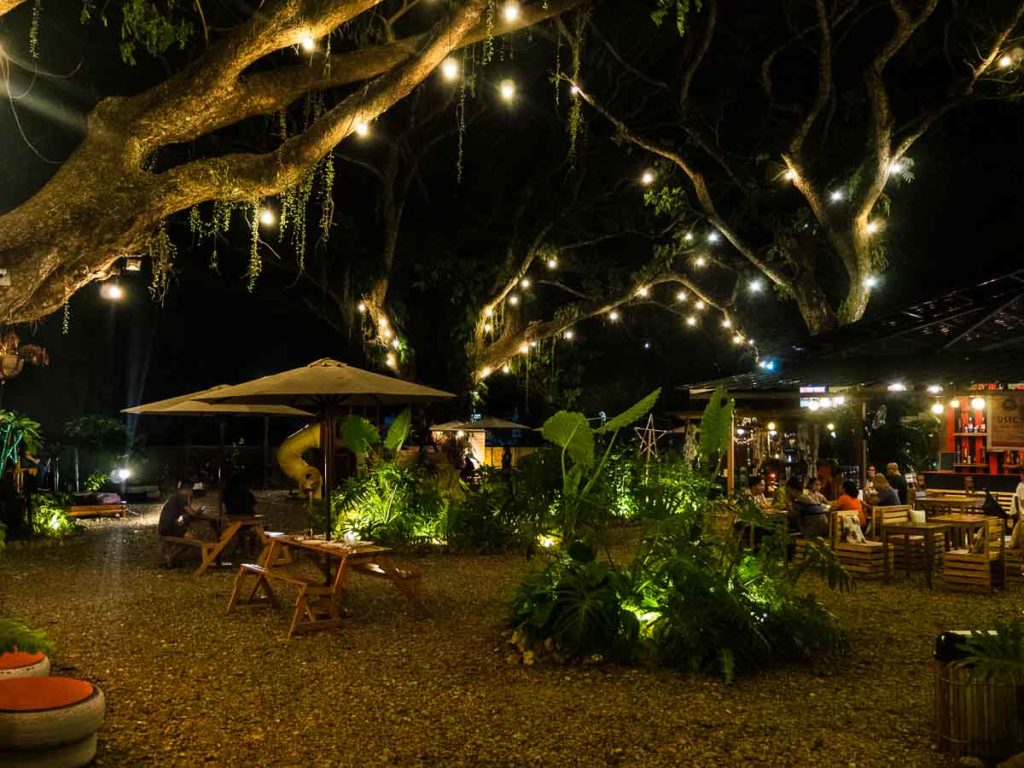 If you enjoy the hipster night markets in Bangkok, you'll appreciate Stellar Grounds, a unique gem in Puerto Princesa.
This space offers more than a dining experience with live music performances, an outdoor playground and stores that showcase local arts and crafts. It's not the size of a Bangkok night market, but it's definitely got the vibes!
Cost: From ₱200 for mains
Opening Hours: 11AM – 11PM
How to get there: Take a 10-min trike ride from the hostel.
Unwind with local beer at Palaweno Brewery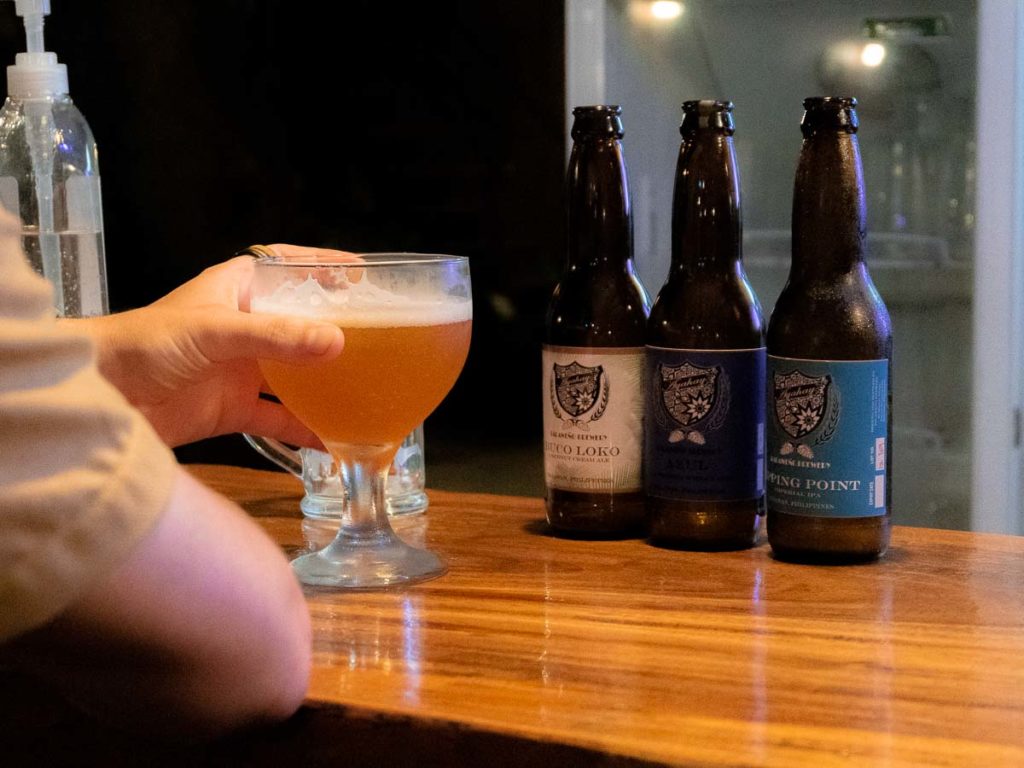 Palaweno Brewery is the humble everyday bar you would love to have back home. Priding themselves on their local creations, the rustic vibes of the outdoor bar immediately put you in the mood to crack open a cold one with the boyz.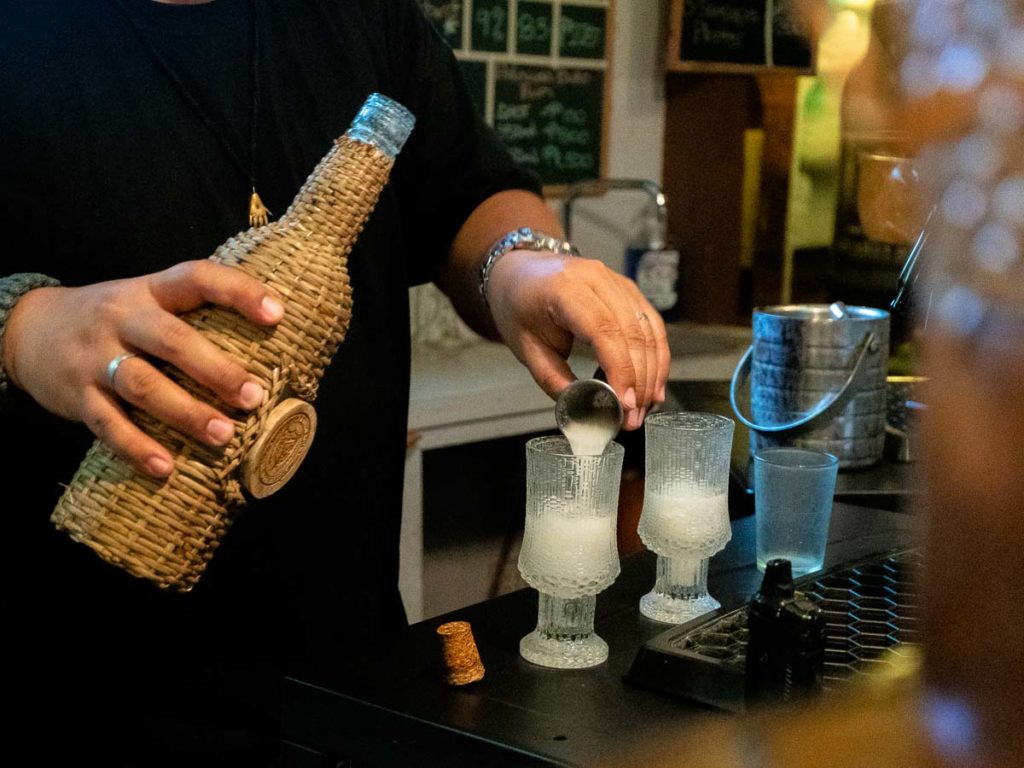 One of their interesting brews is coconut beer. The unique flavour is just as refreshing as it sounds; with the perfect balance of coconut and ale!
They also make their own Buko rum. Filled with fresh coconut bits, this homemade rum is a delicious must-try. Order a shot for ₱150 (~S$4.10) or get yourself a big bottle for ₱1500 (~S$41.30).
Cost: From ₱170/pint
Opening Hours: 1PM – 9PM
How to get there: Take a 10-min trike ride from the hostel.
Day 3: Get your adrenaline pumping at Ugong Rock
Weave through limestone caves and zip-line over lush greenery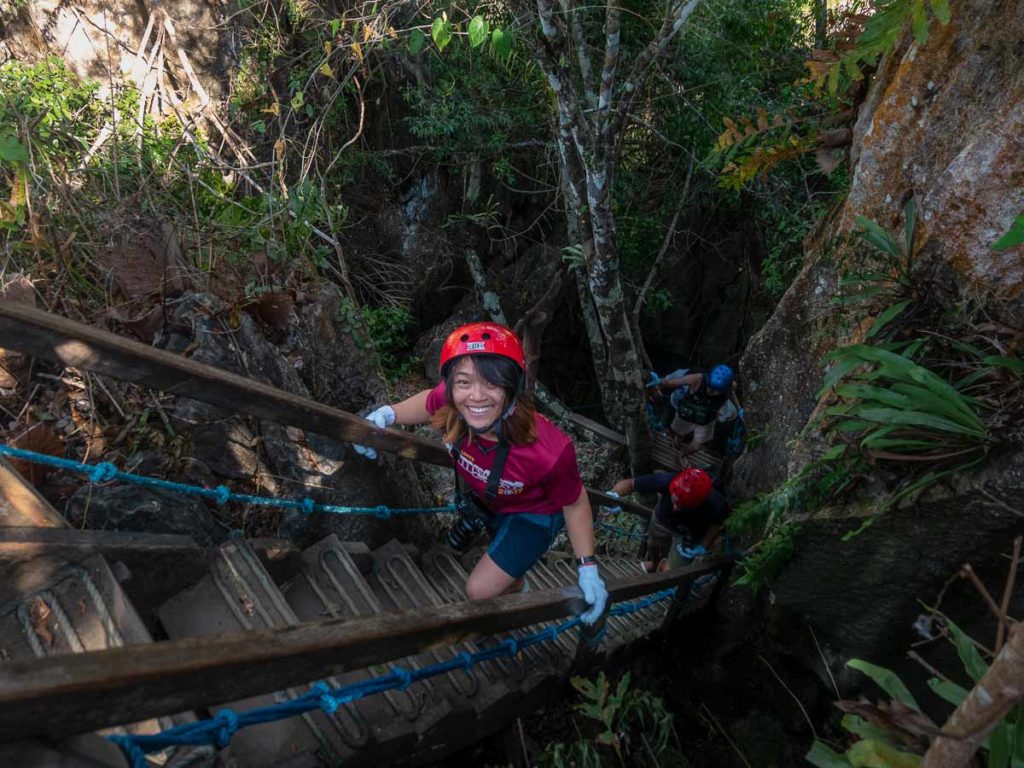 Ugong Rock is a rock that got its name from the sound it produces when it's hit 😂. You'll come across these rocks as you make your way to the top of the zip-line. The route to the top left me in some tight spots as we spelunked our way up!
Along the way, our guide also shared about the history of the rock formations, which made our journey even more entertaining.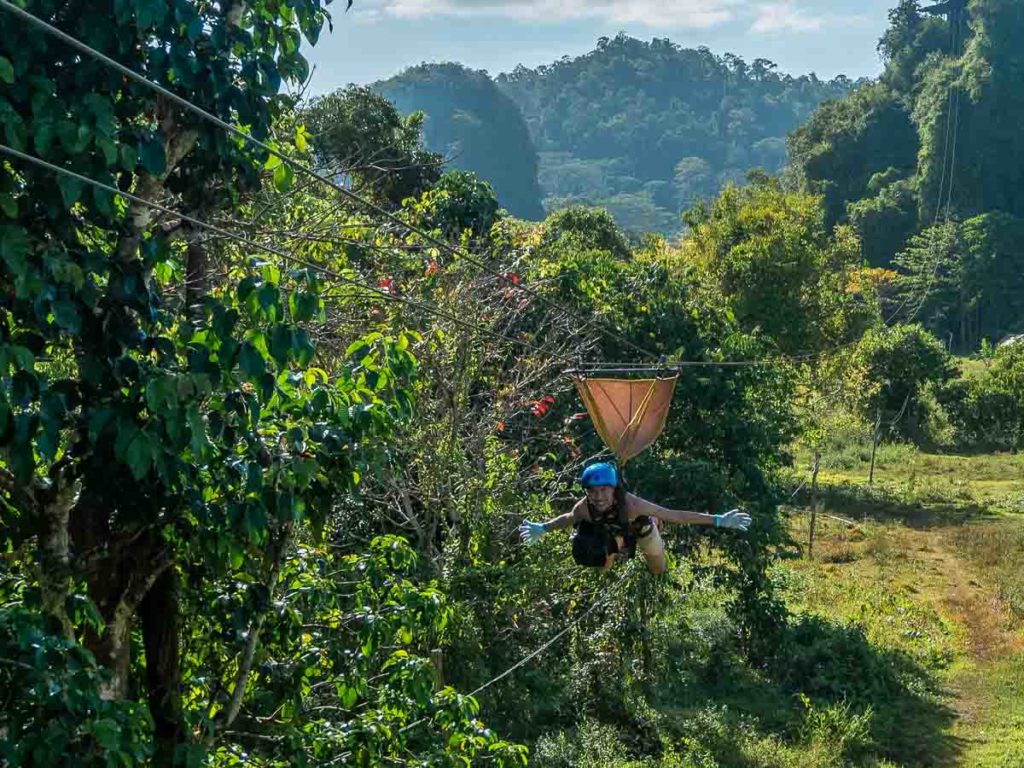 Once you've reached the top, the only way down is by flying! The only options you have are to either drop 71m sitting down or to fall and fly like the Man of Steel. I obviously chose the more badass option: Superman. The first drop was the scariest but gliding over lush greenery was a sweet recovery.
Puerto Princesa Ugong Rock Spelunking and Zipline
Cost: ~S$88.39/pax
Tour Timings: 7:45AM – 1PM
Pick Up: Available for accommodation in Puerto Princesa City Centre and Sabang
Race your friends at a GoKart circuit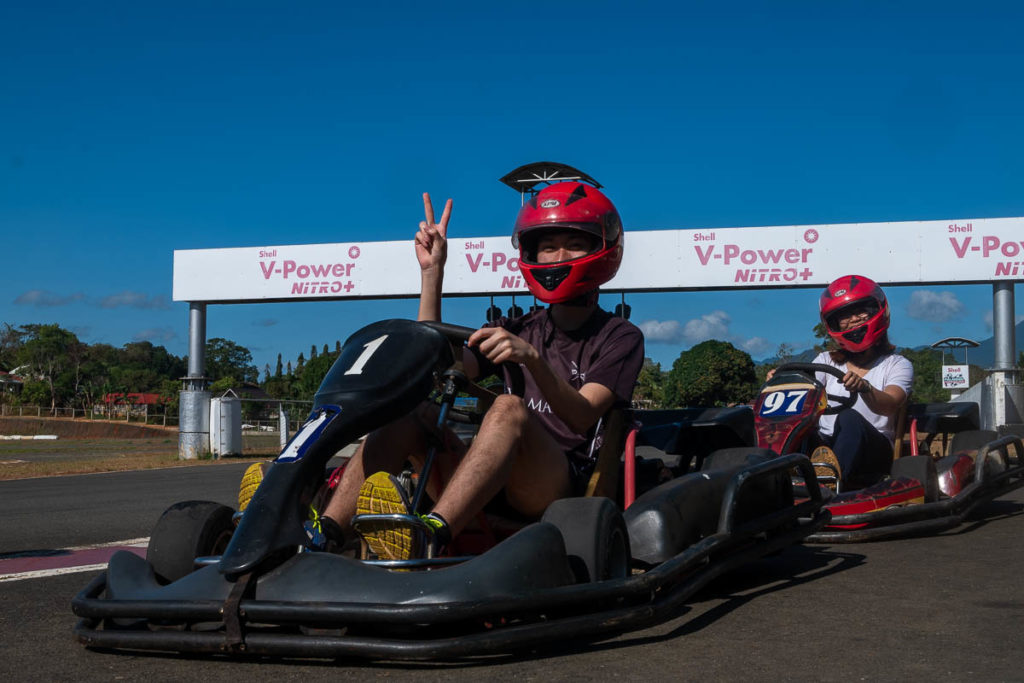 You've challenged yourself with a zip-line, now it's time to challenge your friends and rev it up like Formula One racers at Palawan International Circuit! The track runs 1.3km long with twists and turns at every corner just like the arcade games.
Cost: ₱250 for 5 laps, ₱500 for 10 laps
Opening Hours: 9AM – 6PM, closed on Mon
How to get there: Take a 20-min trike ride from the hostel.
Expand your food horizons with unusual local delicacies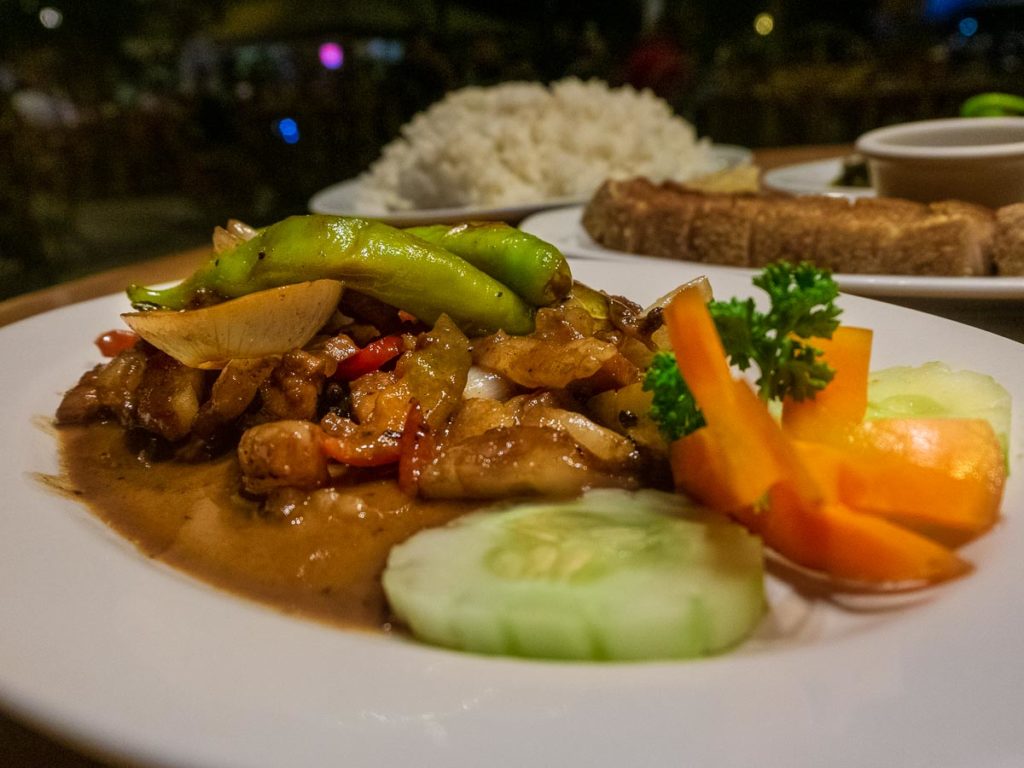 An epic day like this doesn't end without an equally epic meal. What better way to do so than to try bizarre foods? Crocodile meat might not be our first choice for a typical meal but it's very common in the Philippines. You might not even realise it's crocodile meat!
We tried the local delicacy and were impressed by the taste and texture; it was like a cross between chicken and pork. Kinabuch Bar & Grill serves up a decent Croc Adobado for ₱300 (~S$8.15), where it's cooked in a mouthwatering coconut gravy. Hands down a new fave!
Cost: From ₱200 for mains
Opening Hours: 5PM – 1AM
How to get there: Take a 10-min trike ride from the hostel.
Day 4: Soak up the sun at Mount Magarwak and Baywalk
Catch the sunrise atop Honda Bay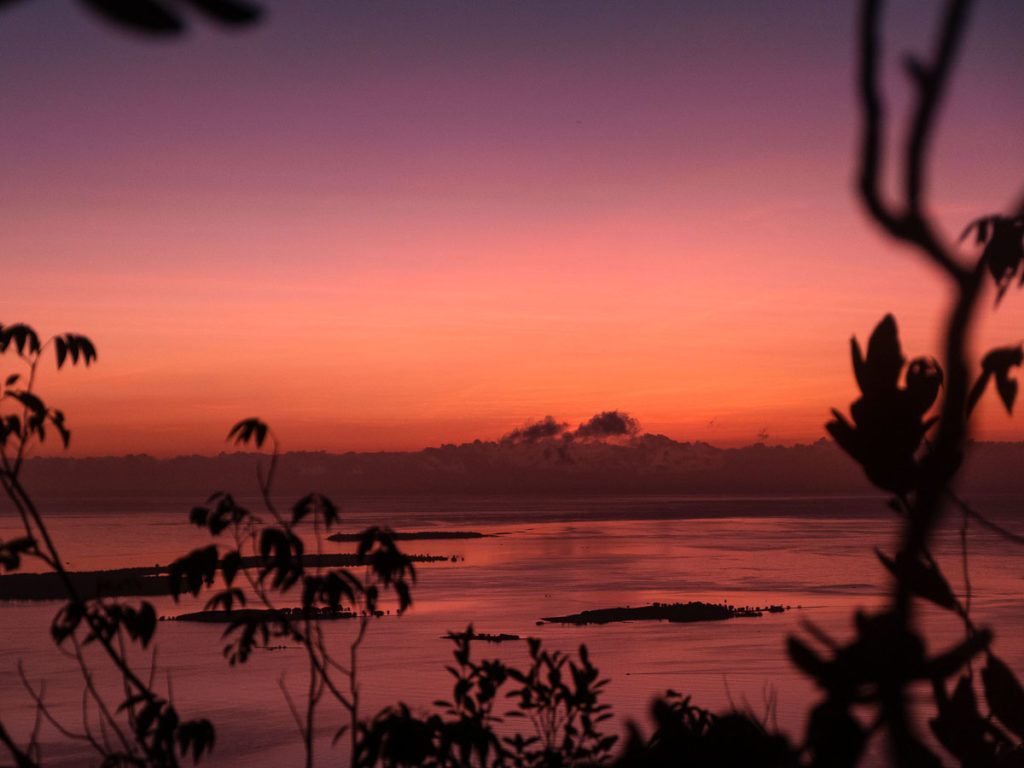 Breaking dawn at Mount Magarwak.
Mount Magarwak is a manageable hike, which makes it the perfect way to start the day and end the trip. The ascent will take approximately 30 minutes to an hour, depending on your fitness level and speed. In order to catch the sunrise at the peak, it's best to start hiking at 4:30AM.
When we reached the top, it was still pitch dark, which was a big bonus as we had time to stargaze before welcoming a new day. We watched the sun rise over Honda Bay, and it was breathtaking to see the islands slowly come out of the dark.
For this hike, I recommend wearing running shoes and bringing along a headlamp as the terrain is rocky and there are no lights along the way! Going up is manageable, but be careful when coming down. Certain parts can be very steep, so my advice is to stay low to keep your balance.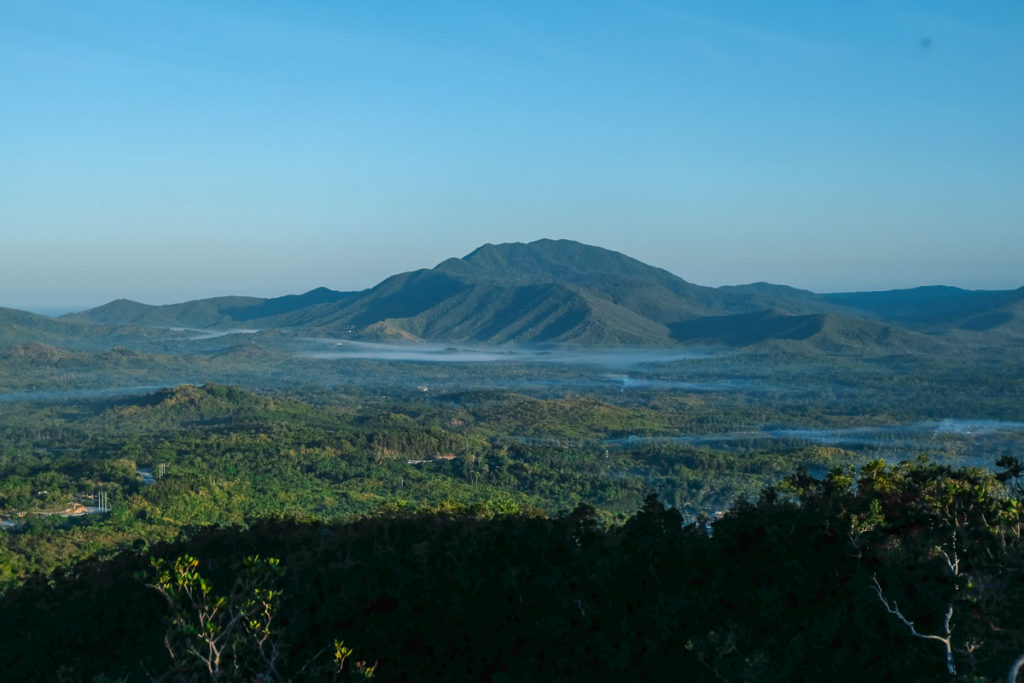 South View of Mount Magarwak.
You can hike up Mount Magarwak on your own, but you'll need to arrange for your own transport. Alternatively, engage a local guide to bring you up. For greater convenience, this trekking tour provides a car charter with a guide, along with snacks and coffee as you enjoy the sunrise.
Puerto Princesa Mt. Magarwak Sunrise Trekking Tour
Cost: From ~S$67.50/pax
Tour Timing: 5AM – 9PM
Pick Up: Available for accommodation in Puerto Princesa City Centre and Sabang
Explore Baywalk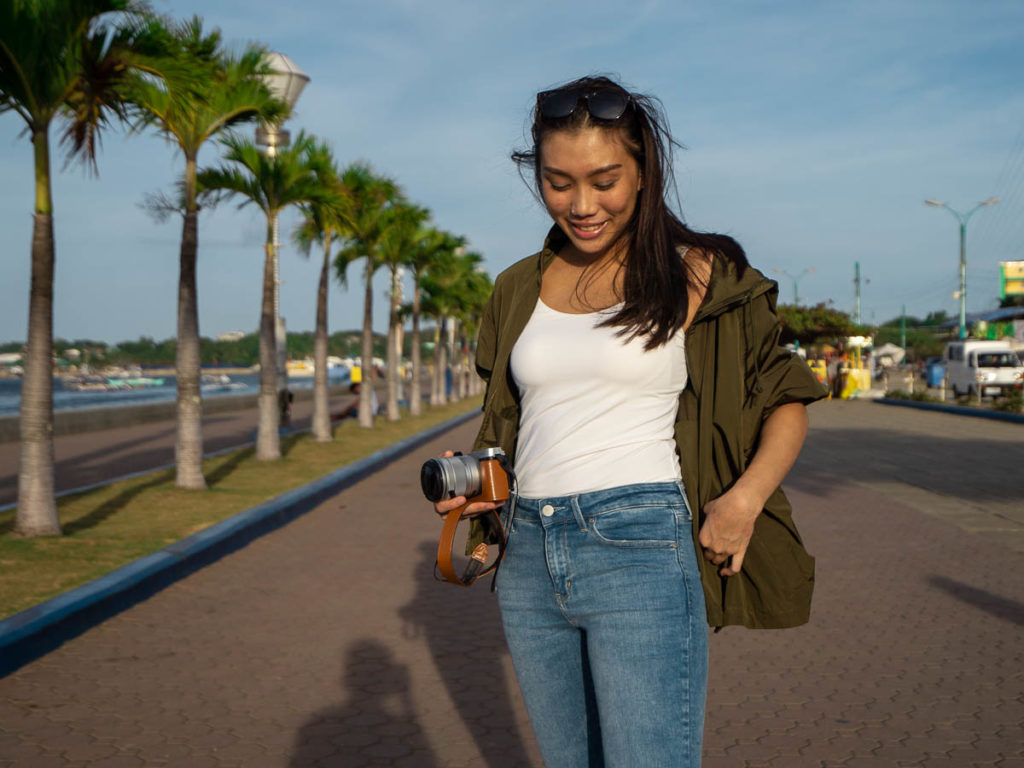 After spending the last few days filled with adrenaline, the perfect place to catch your breath again is at Baywalk, a beautiful promenade by the sea. The best time to visit would be around 5PM, an hour before sunset.
The spacious walkway is lined with palm trees too, giving it that Los Angeles vibe — a perfect photo-op for your Instagram!
How to get there: Take a 10-min trike ride from the hostel.
End your last night with a bang — Boodle Fight to the finish!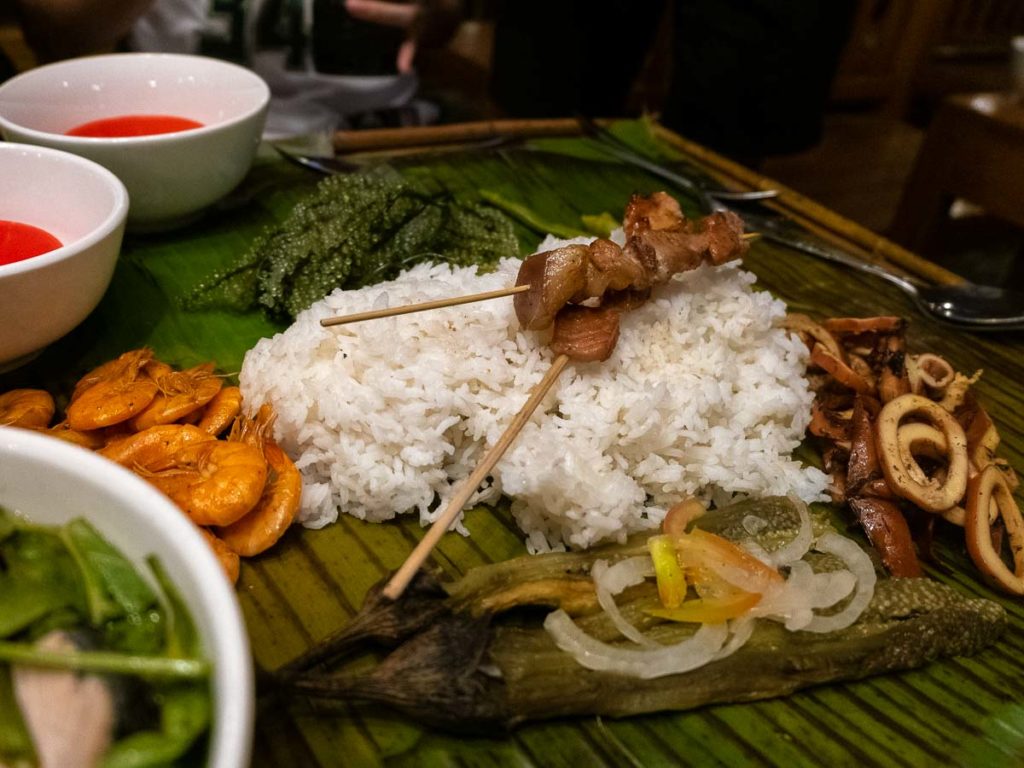 As the sun sets along Baywalk, it's right about time to feast! We popped into Kusina Sa Baybay, where they serve up one of the must-have meals in the Philippines: boodle fight.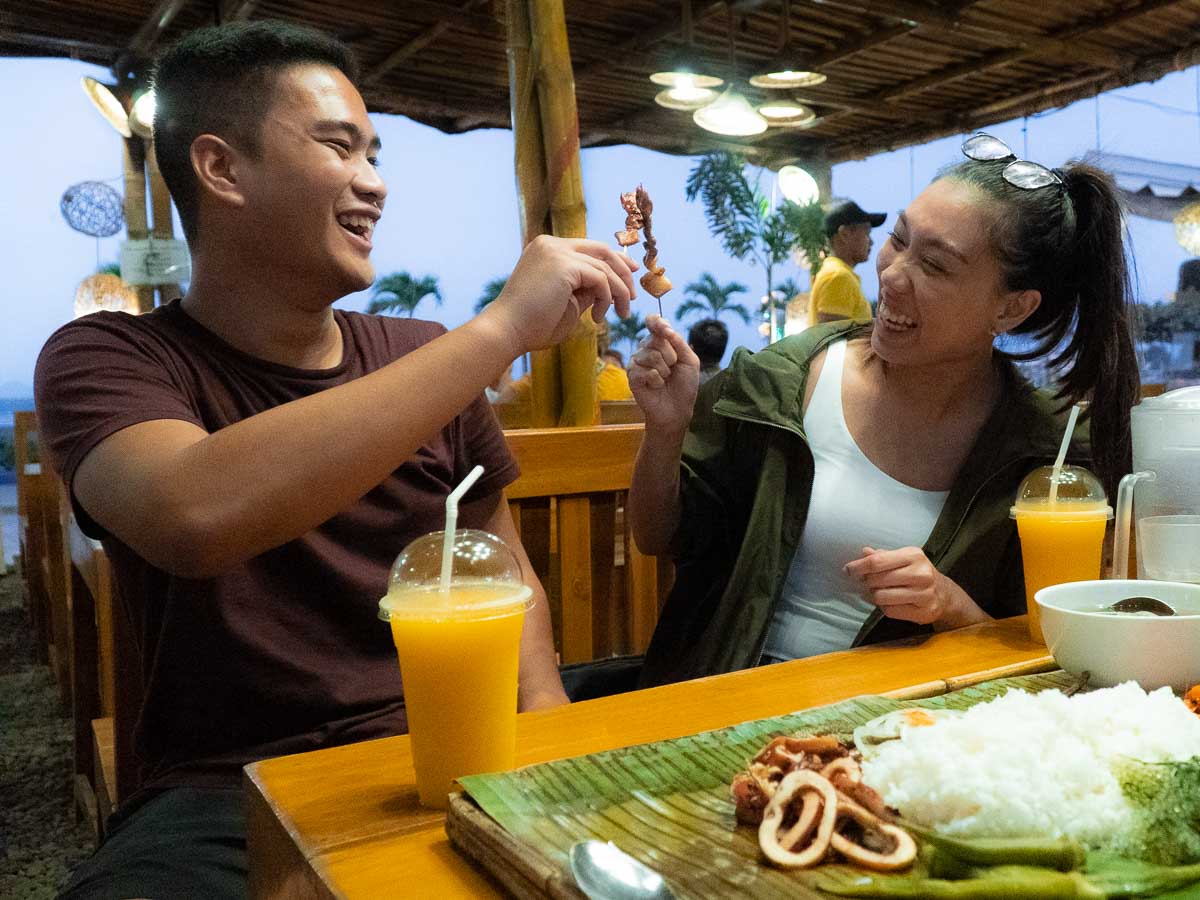 Said to be the meal of soldiers who had to fight to secure their share, the modern-day boodle fight is now served in various sizes to suit different group sizes. We ordered a set for three that comes with grilled squid, prawns, sea grapes, grilled pork, and unlimited rice.
Cost: From ₱370
Opening Hours: 10AM – 10PM
Address: Puerto Princesa Baywalk Road, Marufinas, Puerto Princesa, Palawan Island 5300, Philippines
Day 5: Bounce around Kamia Bay Resort's inflatable playground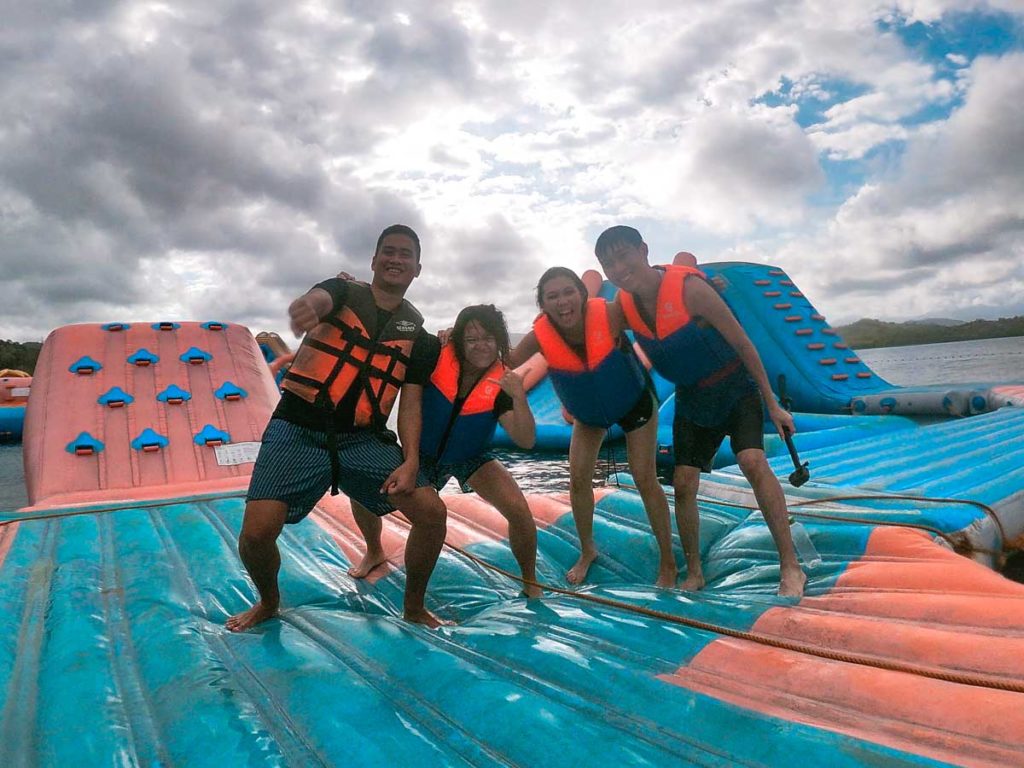 If you've ever wanted to be a contestant on WipeOut, here's your chance to finally take up the challenge at Kamia Bay Resort's Aqua Play! Palawan's largest inflatable playground has courses ranging from giant beach balls to jump on to a human launcher and slides of various heights — the tallest at 12m high.
The day pass comes with unlimited access to the playground, an all-you-can-eat buffet lunch and an eco-tour. It would be ideal to go before 2PM to avoid being rushed as the park closes by 4PM. A good tip would be to reach out to them in advance and make a booking!
Cost: ~₱588/pax
Opening Hours: 9AM – 4PM
How to get there: Hire a private charter at your hostel's front desk, or take an hour-long trike ride.
Enjoy a hearty meal at Guni Guni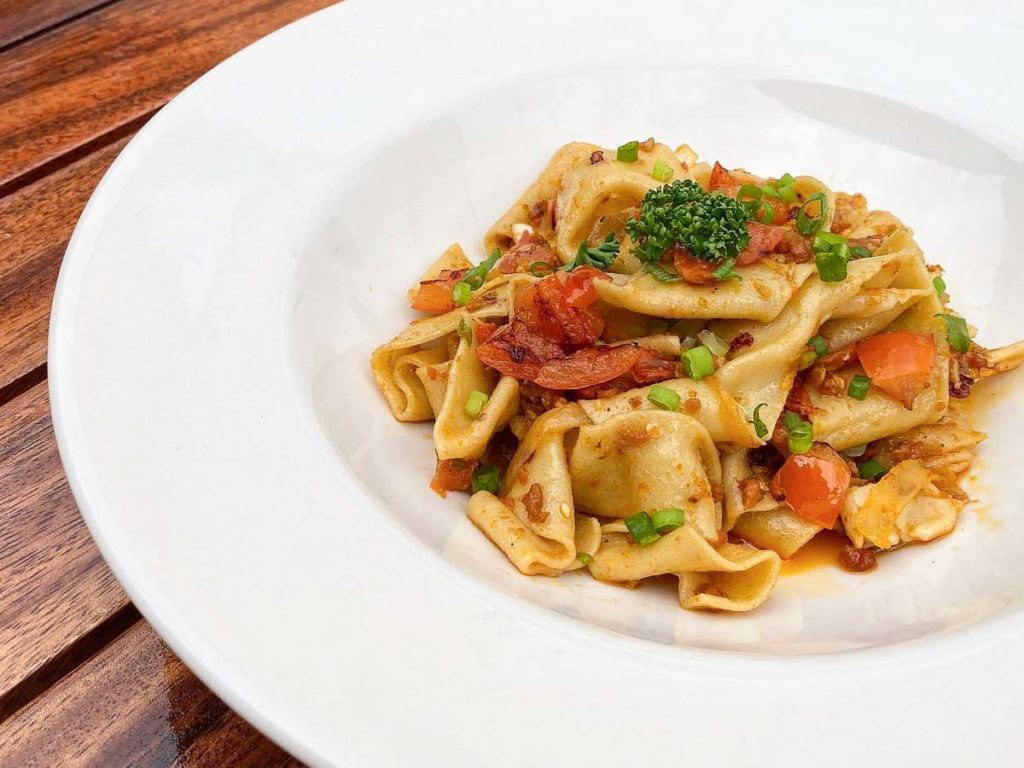 Photo credit: @gunigunihostel via Instagram
Guni Guni Hostel, which was our accommodation for the trip, has its own restaurant serving up western cuisine that's delicious and affordable. Whether you're looking for a snack or full-sized meal, you'll not be disappointed by anything on the menu!
I would recommend their fried chicken with a side of mac and cheese for snacks, and any of their pastas if you're looking for a meal. Order yourself one of their delicious fruit smoothies too, as it's made from the freshest seasonal fruits.
Cost: From ~₱180
Opening Hours: 8AM – 1AM
Address: 263 Manalo Extension, 5300 Puerto Princesa City, Philippines
A getaway like no other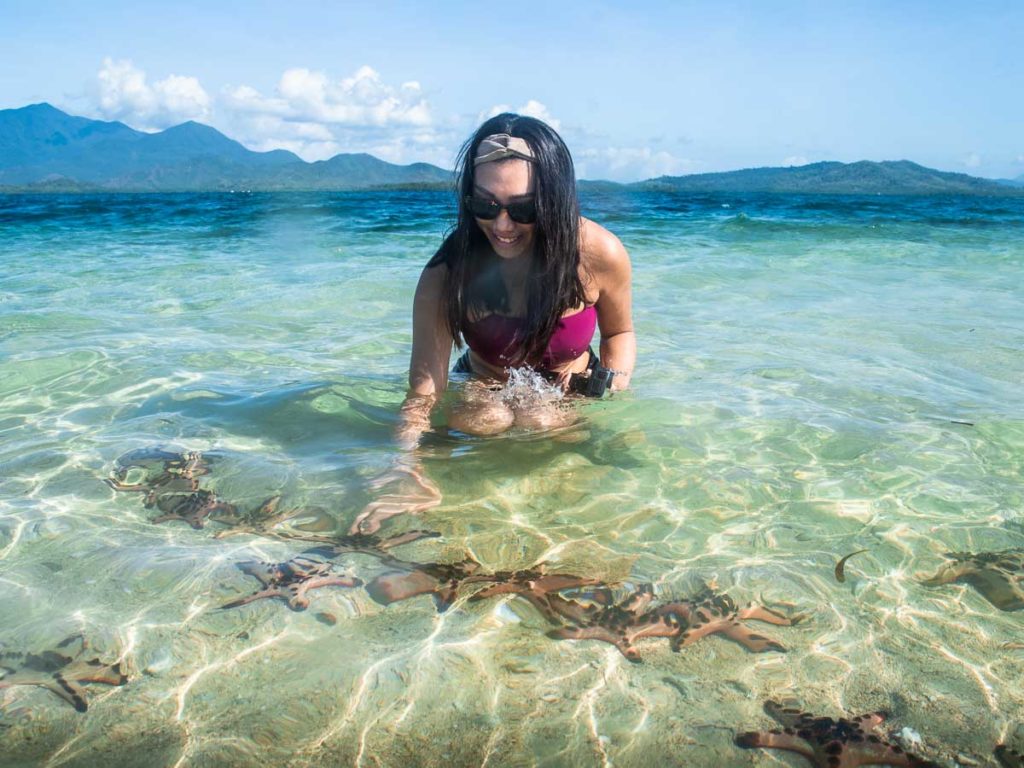 At my hostel, the backpackers I met were only visiting Puerto Princesa for a night or two days maximum, which I found such a shame. We spent four days in Puerto Princesa and there wasn't a moment where we had to think about what to do next!
Our day tours for Honda Bay Island Hopping and the Underground River were pre-booked via Klook which helped make the trip worry-free. We didn't have to worry about the nitty gritty like haggling for the best deal on the ground, or figuring out transport either. All we had to do was show up and participate!
I can safely say this has been one of my better trips. I believe that if you give Puerto Princesa the time and chance, you'll have an amazing experience just as I did.
Read also: 9 Most Adventurous Things to Do in Palawan
If you're looking to visit other parts of the Philippines, check out our 7-Day Cebu itinerary!
Are there other fun activities that our Puerto Princesa itinerary missed out on? Let us know in the comments!
---
This post was brought to you by Klook.
Like what you see? Follow us on Facebook, Instagram, YouTube, and Telegram for more travel updates!