With a plethora of things to do in Palawan, it's no wonder it was named the world's best island in 2019!
When it comes to beach island getaways, I imagine lazy days sipping cocktails and suntanning. Oh boy, was I proven wrong by Palawan! While Palawan's pristine beaches are impressive, it has a ton of other exhilarating activities, rendering you little time to just chill at the beach. Hey adventurous peeps, are you listening yet?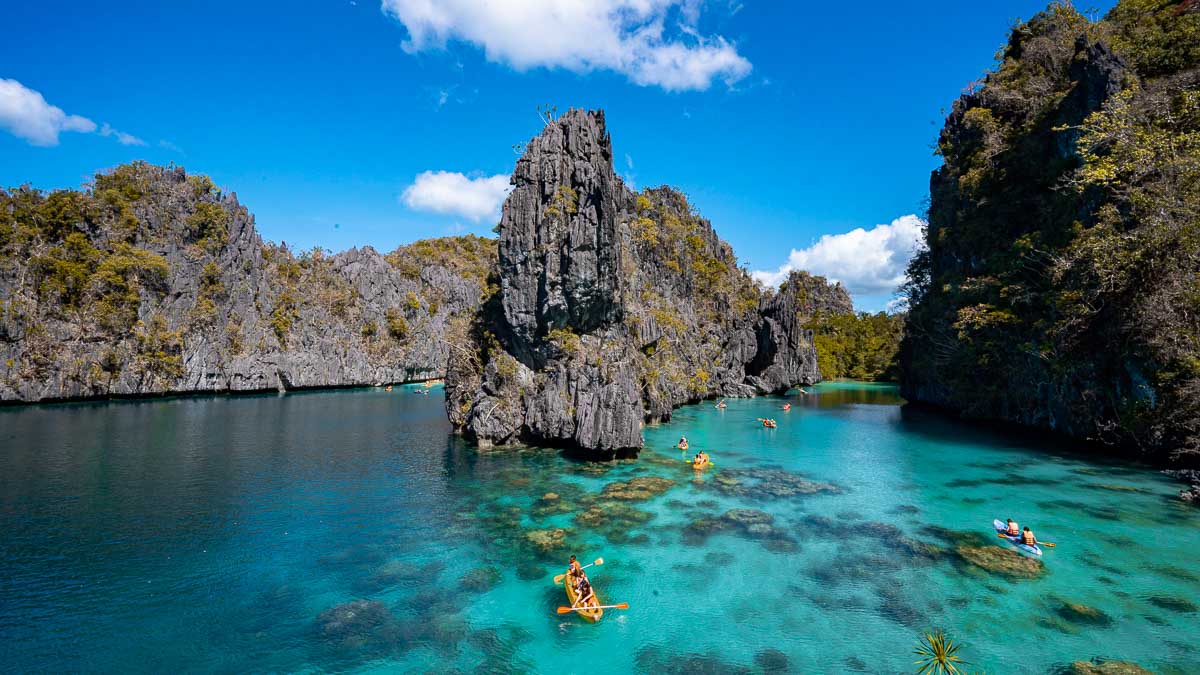 Two of the most popular destinations in Palawan are Puerto Princesa and El Nido. Puerto Princesa is the capital city of Palawan, and is well-known for its underground river and biodiversity.
El Nido, on the other hand, is a five-hour drive from the Puerto Princesa airport, and has some of the most beautiful beaches in the world. The vast array of activities (whether you prefer land or sea) make a compelling case for why you should make time for both!
Read also: 5-Day Puerto Princesa Itinerary for the Adventurous
From swimming in the deep to scaling greater heights, the versatility of Palawan makes it an attractive destination for thrill seekers. To make things easier, we've narrowed it down to the top nine activities you shouldn't miss!
1)
Speed through the skies

with the Superman Ziplining Experience
Puerto Princesa Ziplining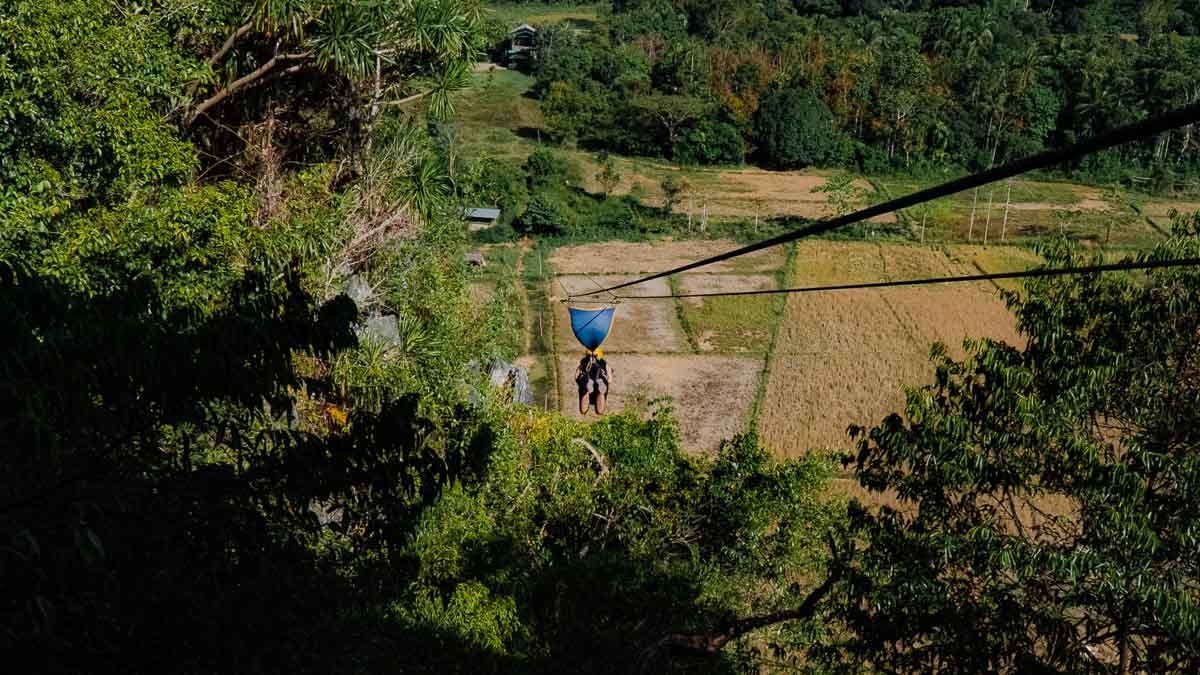 If hurtling speedily from a 71m height isn't thrilling enough for you, try doing it Superman style! Going headfirst was a novel experience and made us feel like we were diving during the initial drop.
In fact, due to its speed, they do not allow the Superman position when it's too windy, as you might descend too quickly — safety always comes first! This activity comes as a packaged tour together with rock spelunking (mentioned in point three), which saved us a lot of time and money.
Ugong Rock Spelunking and Zipline
Cost: ~S$88.39/pax incl. round trip transport, farm tour and lunch
Tour Timings: 7:45AM ­– 1PM
Pick Up: Available for accommodation within Sabang and Puerto Princesa city centre
El Nido Ziplining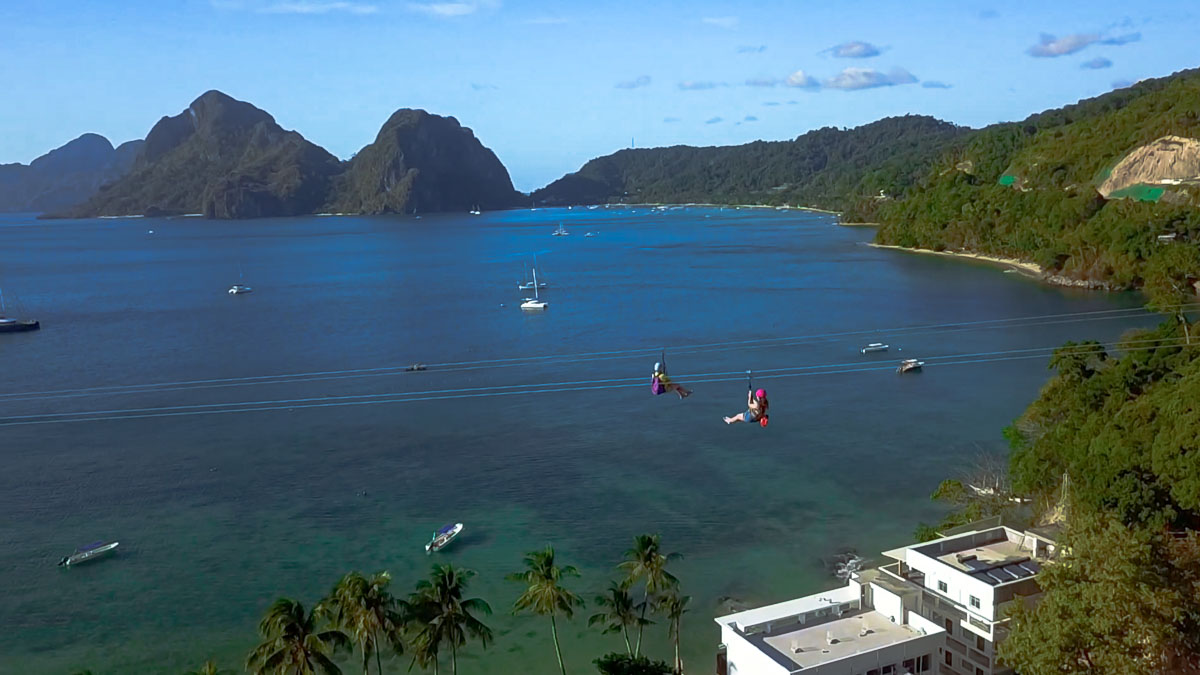 Superman zip-lining is also available in El Nido, and spans from one island to another. Getting there is a steep uphill climb with little signage, but your tricycle driver will usually guide you there. If you're doing a two-way zip-line, you can arrange for your driver to fetch you to your next destination.
You can get drone footage of your descent for ₱500 to capture indelible memories of your experience! After the zip-line, take a 10-minute walk to catch the sunset at Las Cabanas Beach.
Cost: ₱700 for one-way Superman position, ₱1,100 for two-way Superman position
Opening Hours: 9AM – 5:30PM
Address: Palawan Zipline Adventure Inc., Las Cabanas Beach, El Nido. Just tell your tricycle driver "Las Cabanas Zipline" and they'll know!
*Pro-tip: Go just before they close at 5:30PM, and you might be lucky enough to zip-line into the sunset!
If you like action, the Puerto Princesa zip-line is a short but steep drop, while the El Nido zip-line offers a more scenic route with expansive views of the sea glistening beneath you.
2) Discover the underwater world with scuba diving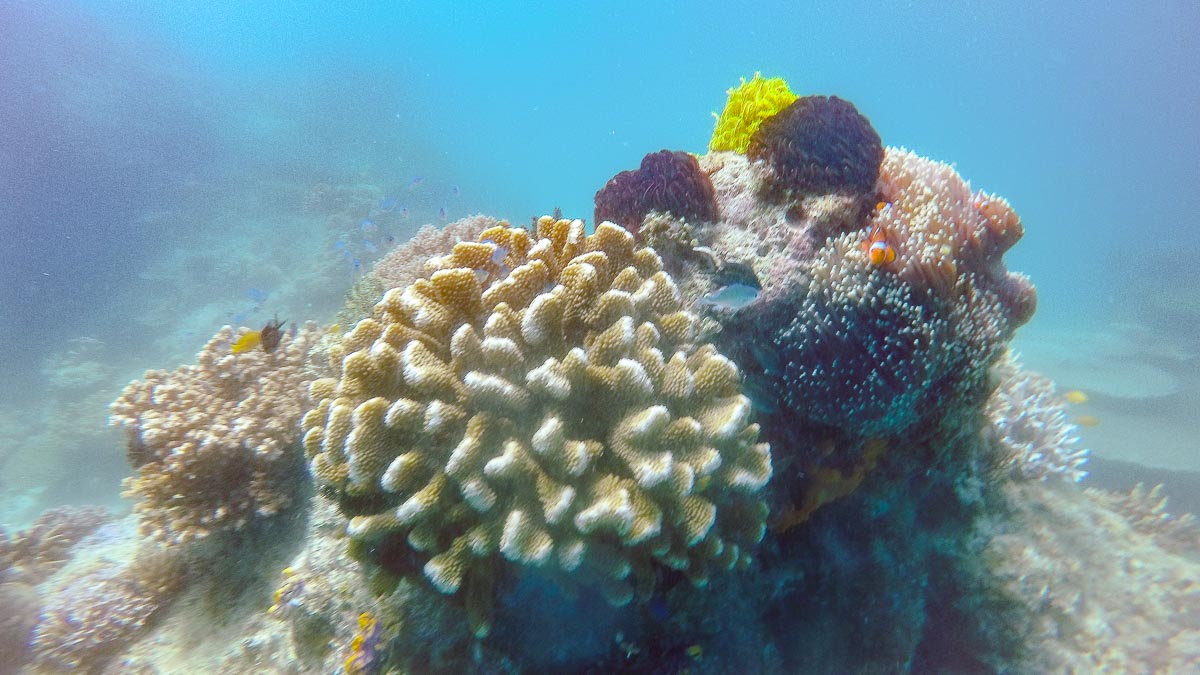 Palawan is known for its wide biodiversity and beautiful underwater life, making diving one of the top things to do in Palawan.
As someone who can barely even tread water, the idea of diving into watery depths was pretty frightening. However, the myriad of colours and ocean life I saw silenced any qualms I may have had about future diving trips!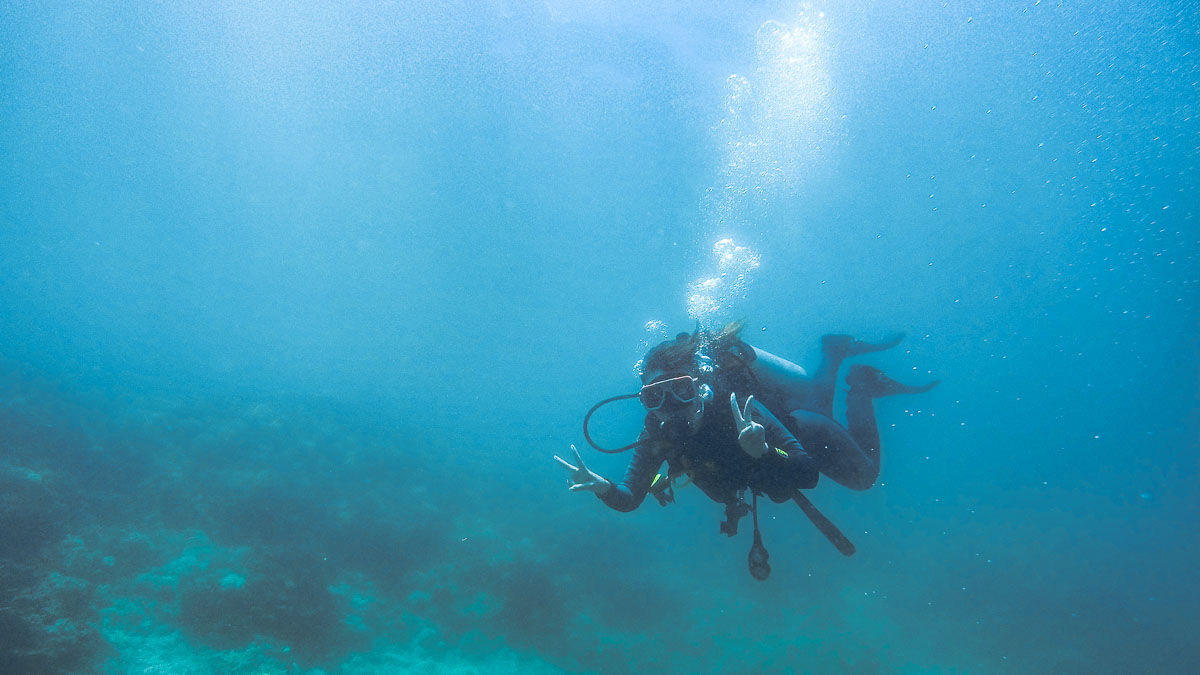 The activity is ideal for beginners, as it is carried out in small, private groups, with an experienced instructor to guide and watch out for you at all times.
The tour includes a total of three dives — the first, a 6m introductory dive to get familiar with the drills and safety precautions, and to test your confidence in the water. The next two were 10m deep and brings you closer to the coral reefs and aquatic wildlife!
The dive sites we went to were Paradise Beach, South Miniloc, and Twin Rocks (dependent on weather conditions). According to our dive master, South Miniloc is his favourite place to dive in El Nido, so keep your eyes peeled if you dive there!
Introduction to Scuba Diving
Cost: From ~S$129
Tour Timings: 7:30AM – 4:30PM
Pick Up: Available for accommodation within El Nido
*Pro-tip: The best time to dive in El Nido is from Apr to May, when visibility is up to 30m!
3)
Rock spelunk through the dark caves of Palawan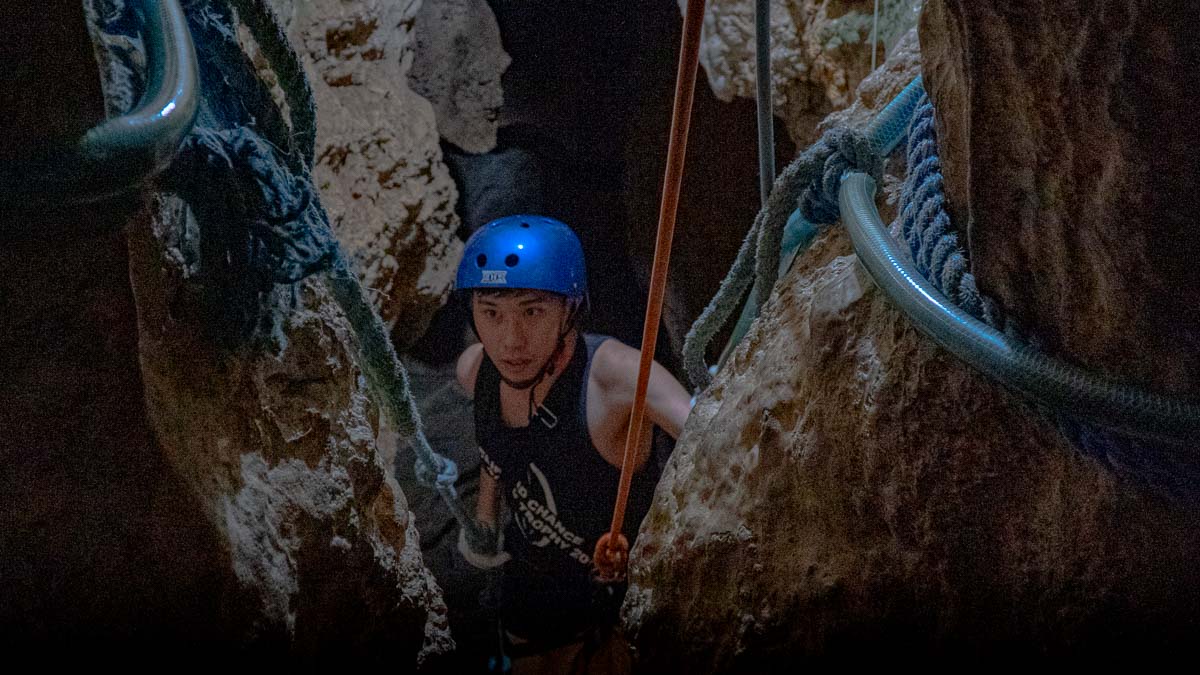 For geology buffs who love adventure, this Puerto Princesa activity will be a treat! Besides climbing steep inclines (don't worry, you'll be belayed), you also get to learn about the cave's history and how it was formed.
The activity lasts around half an hour, and will end off with a 71m zip-line when you reach the top (mentioned in point one). Rock climbing through the natural formations was an eye-opening experience, and we wished that it was longer!
Ugong Rock Spelunking and Zipline
Cost: ~S$88.39 incl. round trip transport, farm tour and lunch
Tour Timings: 7:45AM ­– 1PM
Pick Up: Available for accommodation within Sabang and Puerto Princesa city centre
4) Kayak into Big Lagoon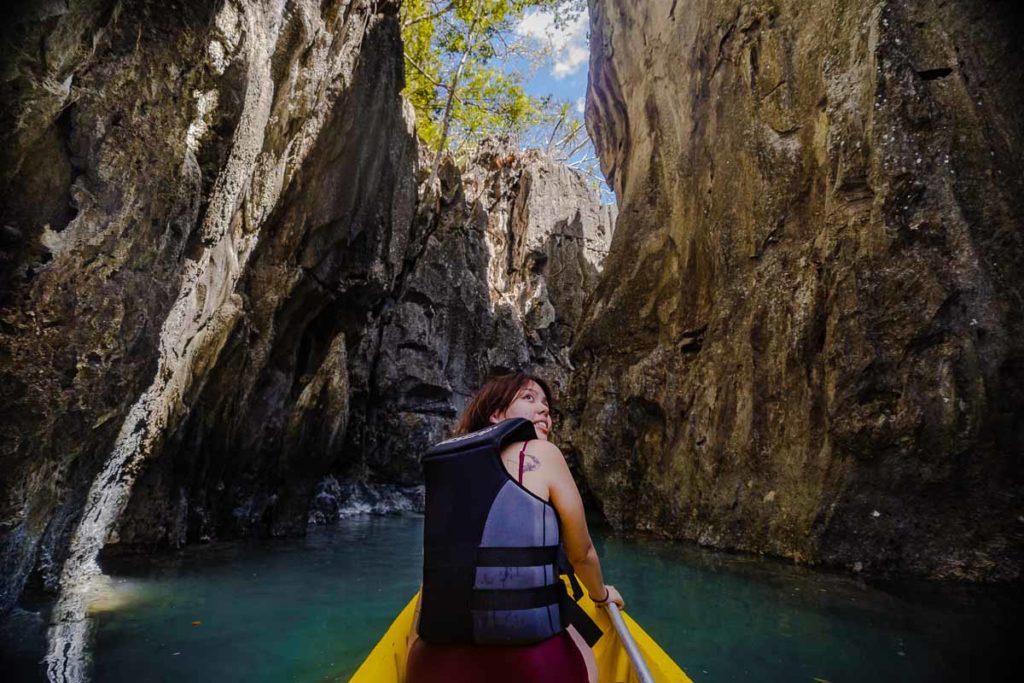 El Nido is famous for its island hopping tours that are standardised as Tour A, B, C, D. The more popular ones are the first three — Tour A is known for its lagoons and beaches, Tour B for caves and coves, and Tour C for shrines and hidden beaches.
If you want to soak in the gorgeous views of Big Lagoon (part of Tour A), rent a kayak on the spot (₱250) and paddle your way to the centre of the lagoon. If you aren't confident in kayaking, let your guide know and he may come onboard to help you paddle!
*Pro-tip: Be sure to slather on lots of sunblock as you will be in direct sunlight for at least 40 minutes.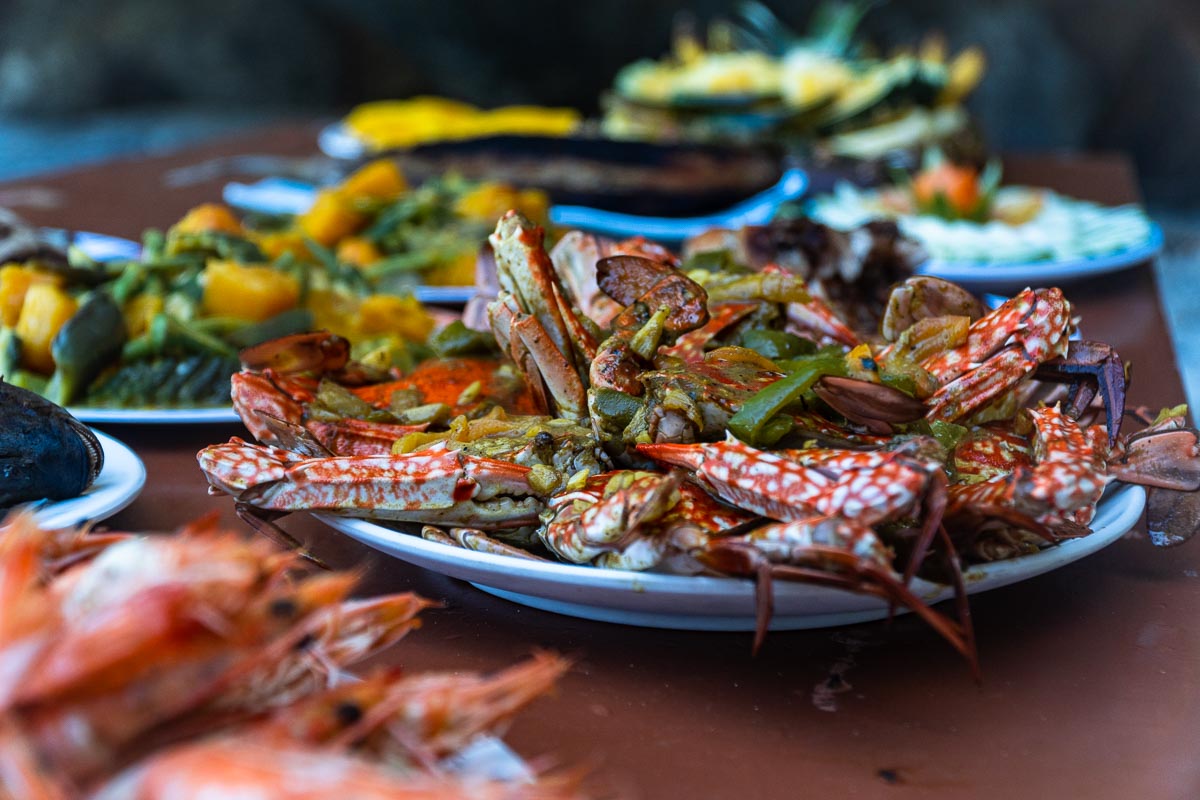 One thing that pleasantly surprised us was the quality of lunches during the tours! Not only were the servings generous, the variety of food served also made us ooh and ah — think grilled crab, mussels, and gigantic chargrilled fish. It was one of my best meals in El Nido!
Tour A Island Hopping
Cost: From ~S$24.25 (excl. kayak rental of ₱250)
Tour Timings: 8AM – 5PM
Pick Up: Hotel pick up from downtown El Nido
*Pro-tip: Before visiting El Nido's island attractions, all tourists must pay a one-time fee of ₱200 (valid for 10 days) to support eco-tourism. Keep your receipt to avoid paying twice!
5) Get muddy with an ATV experience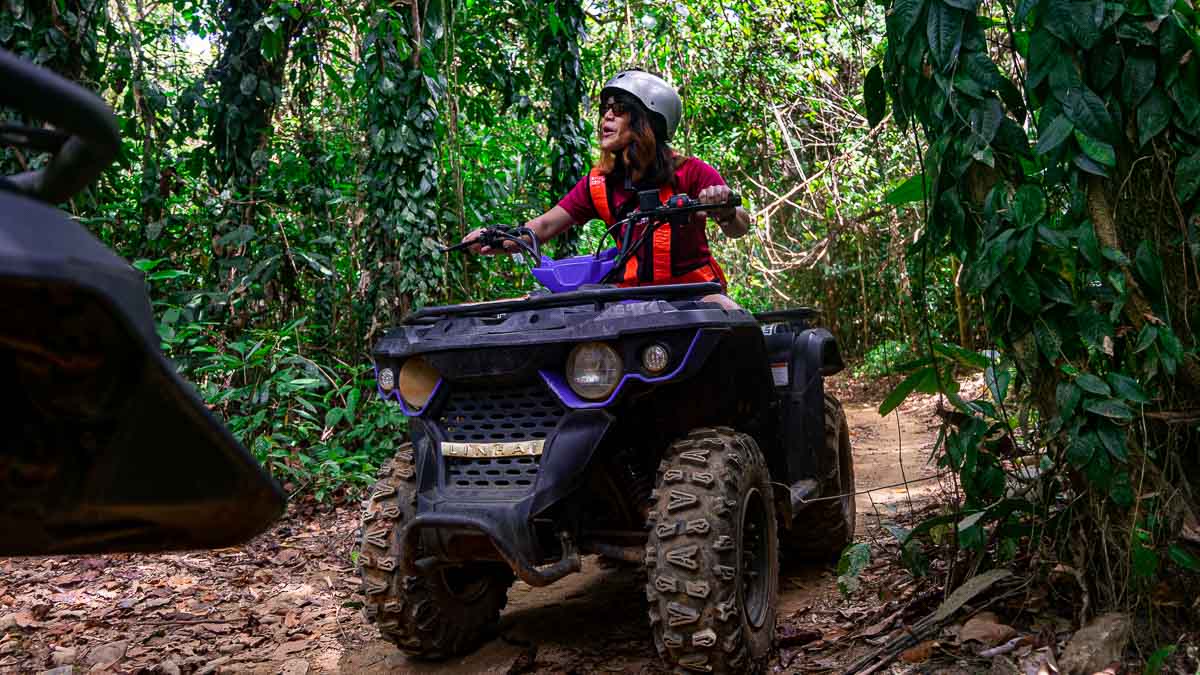 If you don't mind getting down and dirty, rumbling through the Sabang jungle on an ATV probably fits your idea of a good time. Besides a guide to help you navigate, the full-day tour package also includes a boat ride through Puerto Princesa's Underground River — a UNESCO World Heritage site. Soak in the beauty of the stalagmites and winding river, before revving up your engines and setting off!
Underground River and ATV Experience
Cost: ~S$93.49 incl. round trip transport and lunch
Tour Timing: 6:30AM – 5:30PM
Pick Up: Available for accommodation within Sabang and Puerto Princesa city centre
6) Island hop at Hidden Beach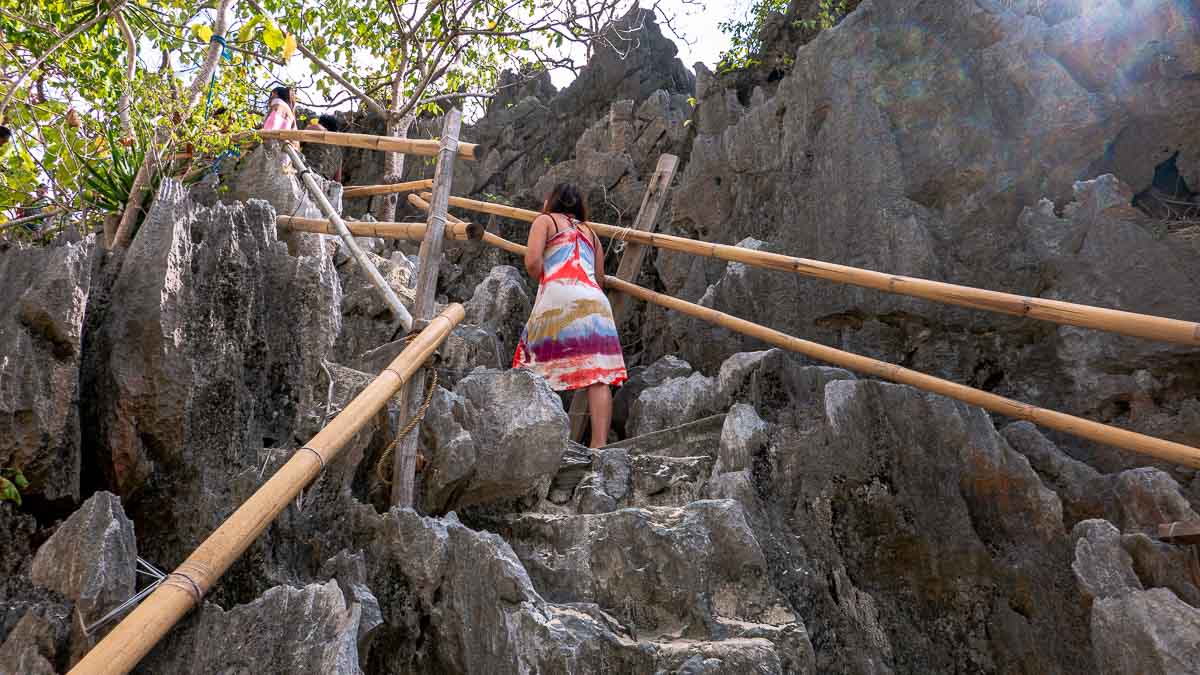 Another must-do in El Nido is with Tour C — Island Hopping, which includes visiting Hidden Beach and climbing the steep steps of Matinloc Shrine. Once up the steps, you'll be rewarded with a panoramic view of the cliffs and crashing waves — perfect for that Instagram-worthy shot!

Fun fact: Locals chose to construct the shrine here because from afar, the island looks like a heart.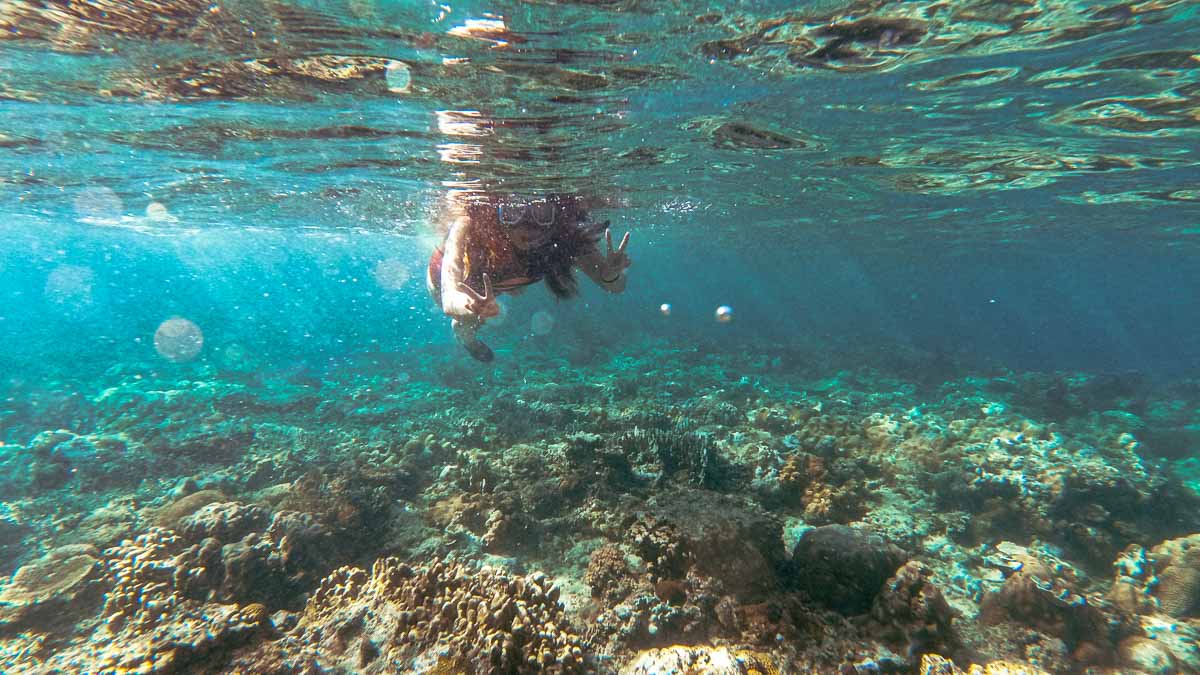 Hidden Beach was my favourite out of all the snorkelling spots on our island hopping tours. Besides having the widest variety of marine life, the corals and fish were practically under our feet!
Tour C Island Hopping
Cost: ~S$33.79 incl. hotel pick up and lunch (Additional ₱100 for entrance into Matinloc Shrine)
Tour Timings: 8AM – 3PM
Pick Up: Hotel pick up in downtown El Nido only
*Pro-tip: Be extra careful from Feb to Apr as it's jellyfish season!
7) Hike up Mt. Magarwak and catch the sunrise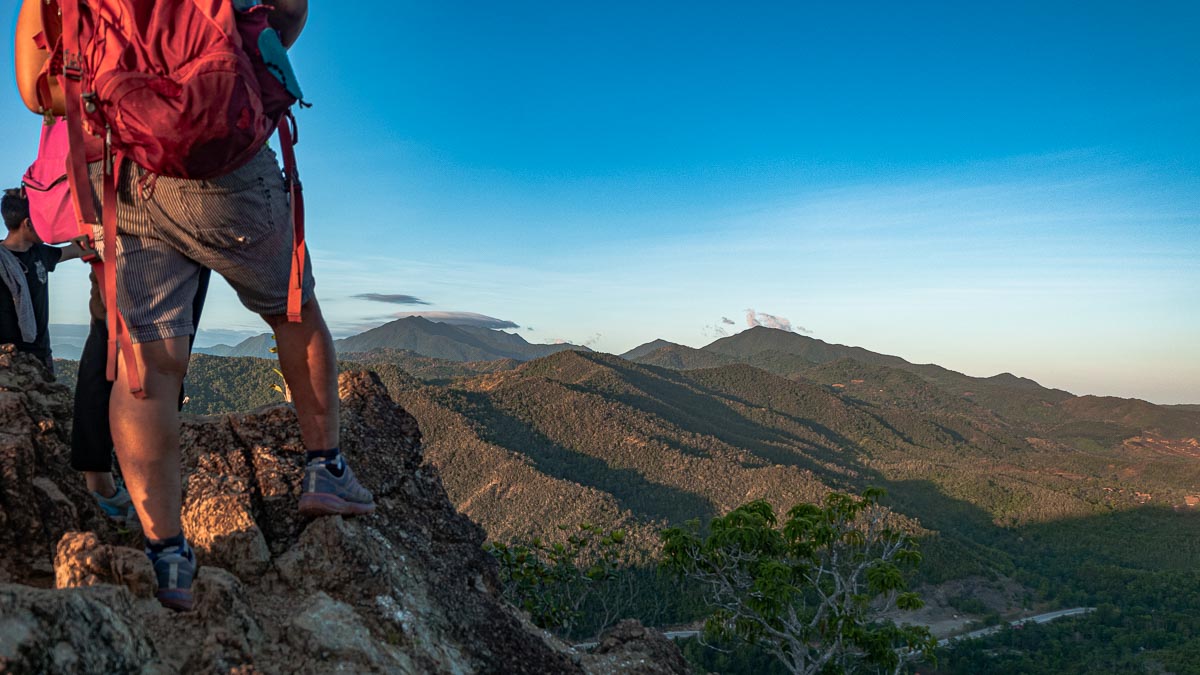 I normally hate waking up early, but the view when you reach the top of Mount Magarwak makes leaving at 3AM worth it. Besides epic views of the sunrise and mountain range, bird-watching enthusiasts can try spotting the many species of birds living there.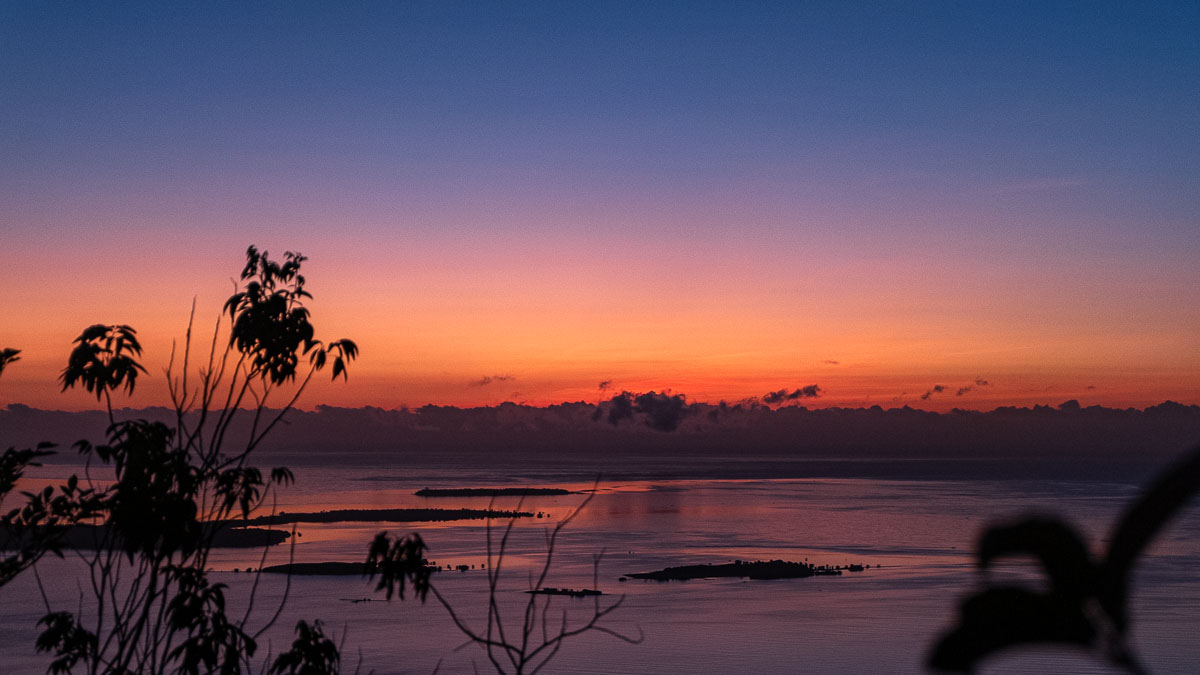 This mountain range in Puerto Princesa is a relatively quick hour-long hike. If you're planning to catch the sunrise, get a guide to help you navigate the paths in the dark.
Cost: ~₱1,500 to hire a guide (optional add-on of ₱1,500 for round-trip transport)
How to get there: Take a bus to San Jose Terminal, and take a 15-min tricycle ride from the terminal to Magarwak Mountain Ranges.
*Pro-tip: Wear shoes with proper grip, as the rocky descent can be rather steep.
8) Rock climb at Cadlao Lagoon
Cadlao Lagoon was not originally part of Tour C, but we were lucky enough to visit due to time and weather conditions. If you want to guarantee a stop here, you can book Tour D. While the main attraction here is kayaking and snorkelling, it actually has a secret bonus activity — rock climbing!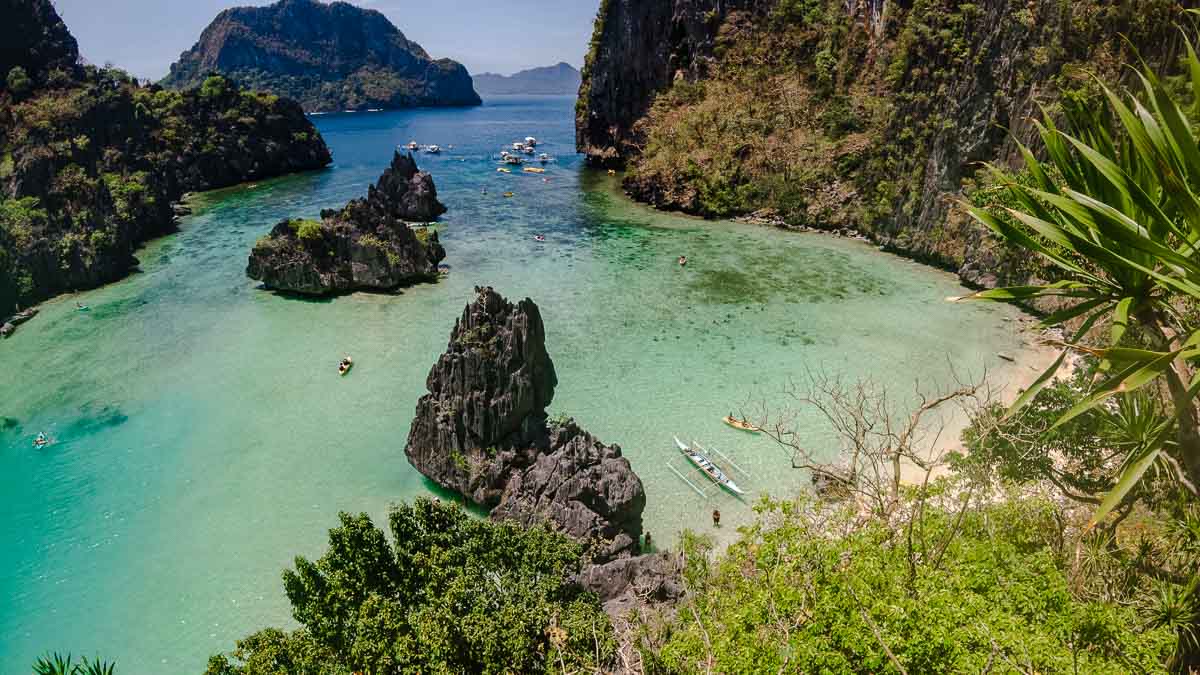 Get a bird's eye view of the lagoon and surrounding islands after making your way to the top. As the cliffs are very sharp and steep, it's recommended to climb this with the help of your guide. Perching on the ledge to get this view may seem scary, but trust me, it's worth it!
Tour C Island Hopping
Cost: S$33.79 incl. hotel pick up and lunch
Tour Timings: 8AM – 3PM
Pick Up: Hotel pick up in downtown El Nido only
9) Try Crocodile Adobado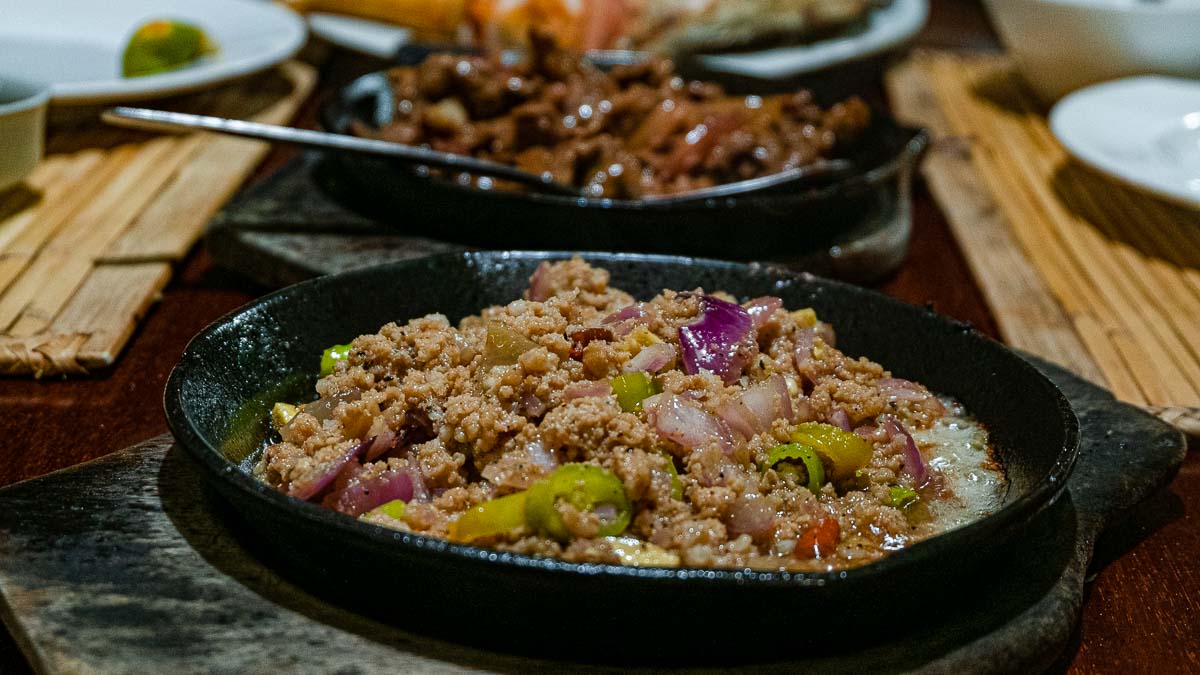 You have tested your heart, now it's time to test your stomach! Crocodile is a delicacy in the Philippines, and here they cook it in the distinctive adobo style (a savoury, tangy meat stew). I've heard that it tastes like chicken, but try it for yourselves and let us know in the comments if it's true!
Cost: ₱300
Opening Hours: 5PM – 1AM
Address: Kinabuch's Grill and Bar, 369 Rizal Avenue, Puerto Princesa, Palawan Island 5300, Philippines
Why Palawan is the best island in the world
From soaring through the skies on zip-lines to diving with fish, every day in Palawan was a new adventure! Finding out what to do and which tours to book was made even easier with Klook. Since Palawan is a popular destination, using Klook saved us the hassle of going to multiple tour agencies to compare prices.
It was also reassuring to have our different activities booked online beforehand, so we could keep track in case of any cancellations or refunds.
To make our journey easier, we pre-booked airport transfers from Puerto Princesa to El Nido, so we had a driver waiting for us when we got off the flight. We also managed to skip the queue to buy SIM cards because we had already pre-purchased our Globe 4G SIM cards. Do note that the data connectivity in El Nido is not as stable as in Puerto Princesa!
Looking to explore more places in the Philippines? Check out these 10 once-in-a-lifetime experiences you have try in Cebu! For itineraries, read our Cebu itinerary and Puerto Princesa itinerary 😀.
If you know of any other exciting things to do in Palawan, let us know in the comments below!
---
This post was brought to you by Klook.