Can't wait to experience Mongolia? Join TTI Experiences on our North Mongolia Reindeer Expedition for S$4,290. You'll also get a free gift (worth S$90)! More details here.
After staying with the friendly Tsaatan Reindeer Herders during our previous TTI Experiences trip last year, we were intrigued by stories of another elusive, centuries-old nomad group. Our guides told us about the badass Eagle Hunters of Western Mongolia, and we knew we had to find a way to visit them.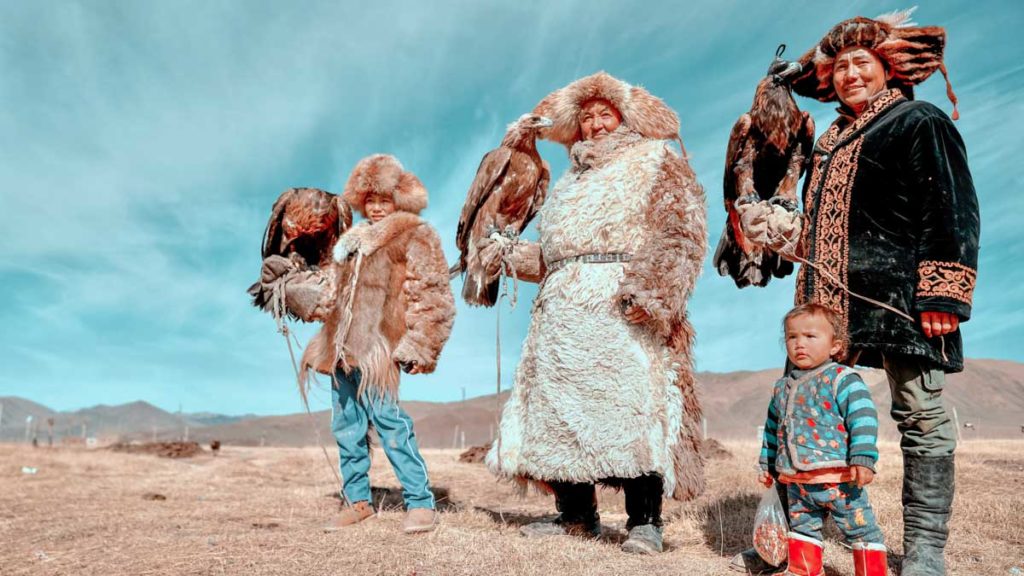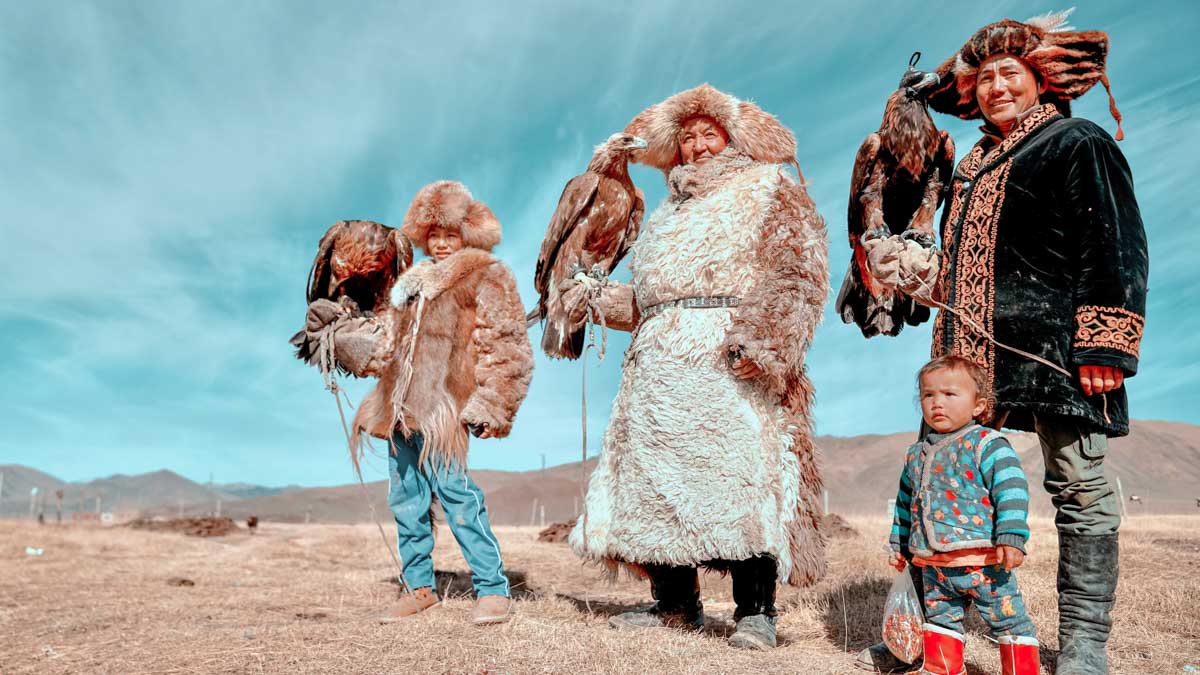 Venturing across Northern Mongolia, we braved the sub-zero temperatures and experienced the nomad life with the Tsaatan reindeer herders.
West Mongolia is even lesser-explored and offers an entirely different experience. The culture in the West is so vastly different, even Mongolians feel like they're travelling to another country when they visit.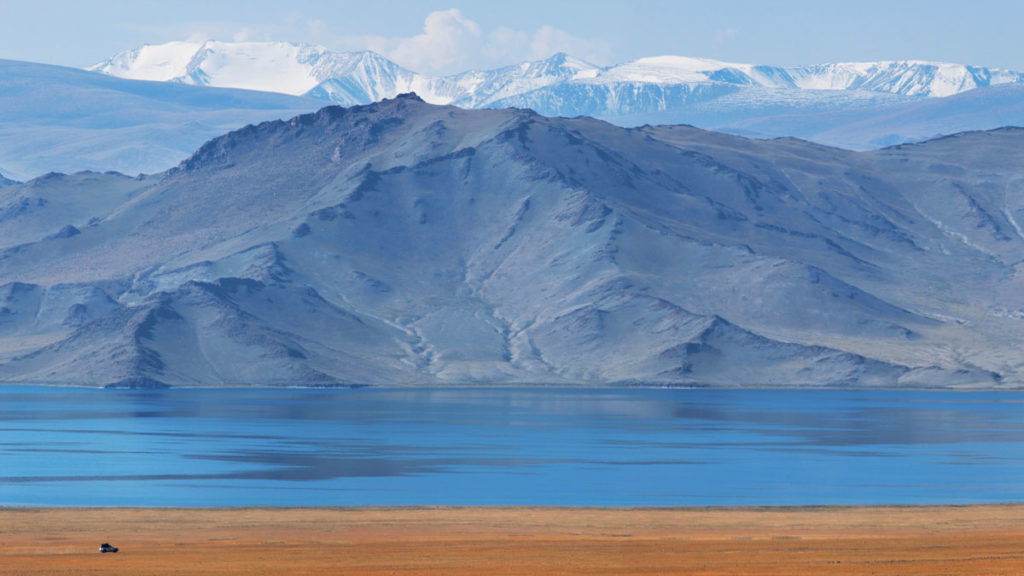 West Mongolia is home to mainly Kazakhs, the second largest ethnic group in the country. Their culture is a fascinating Kazakh-Mongol mix, unlike anything you'll find in other regions of Mongolia. On this trip, we'll get to try Mongol-Kazakh dishes including beshbarmak (a popular Kazakh dish made from horse, mutton and beef), shashlik (mutton kebabs), manti (traditional dumplings) and baursaki (fried bread). Not your usual lunch food!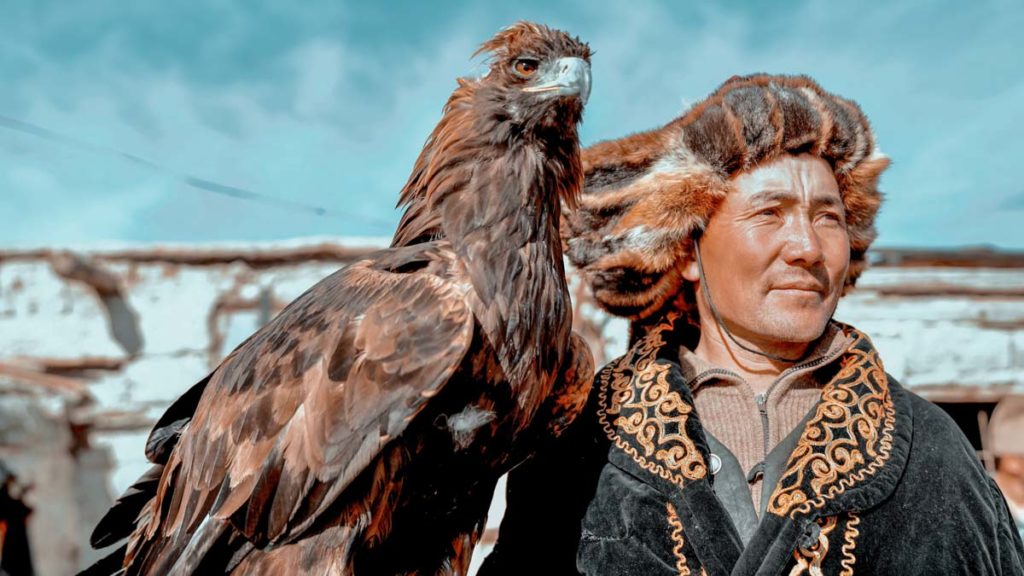 Here you'll also find the world's remaining eagle hunters, an honoured tradition that's been passed down for 6,000 years. Eagle hunting is an integral part of the Kazakh's cultural identity and also a pretty damn cool way-of-life.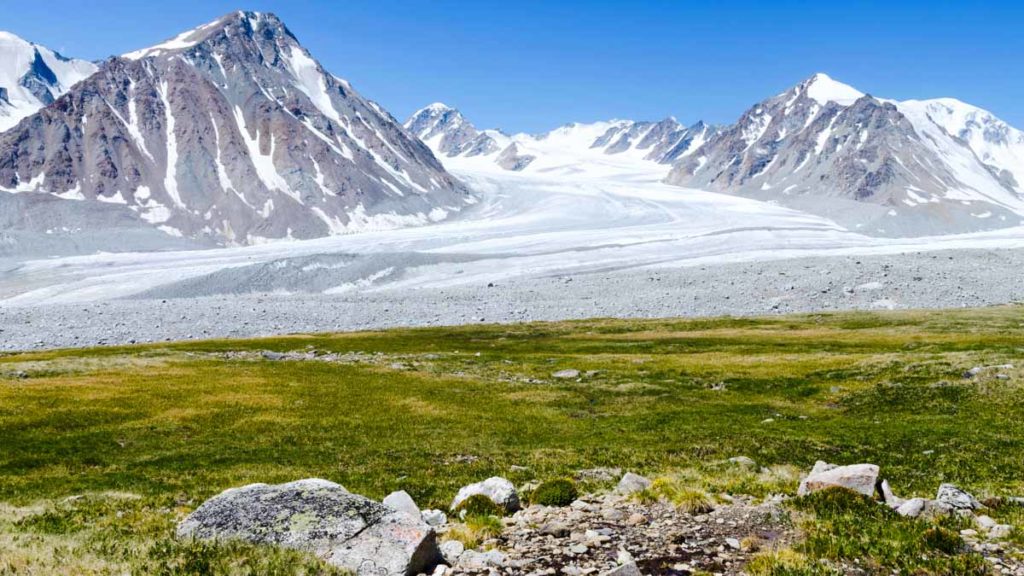 Besides getting to stay with these badass nomads, we'll also get to take in Mongolia's stunning landscapes. As one of the world's least densely populated countries (just 1.92 people per square km!), Mongolia is amongst the last few places in the world with undisturbed natural beauty.
Check out this 11D West Mongolia Itinerary below for the eagle-hunting adventure of a lifetime!
P.S. After our first adventure in North Mongolia, we 're leading more expeditions to Northern Mongolia! Join us on our 11-day adventure — read more or sign up now!
Day 1 – 2: Explore Mongolia's capital Ulaanbaatar, and Bayan-Olgii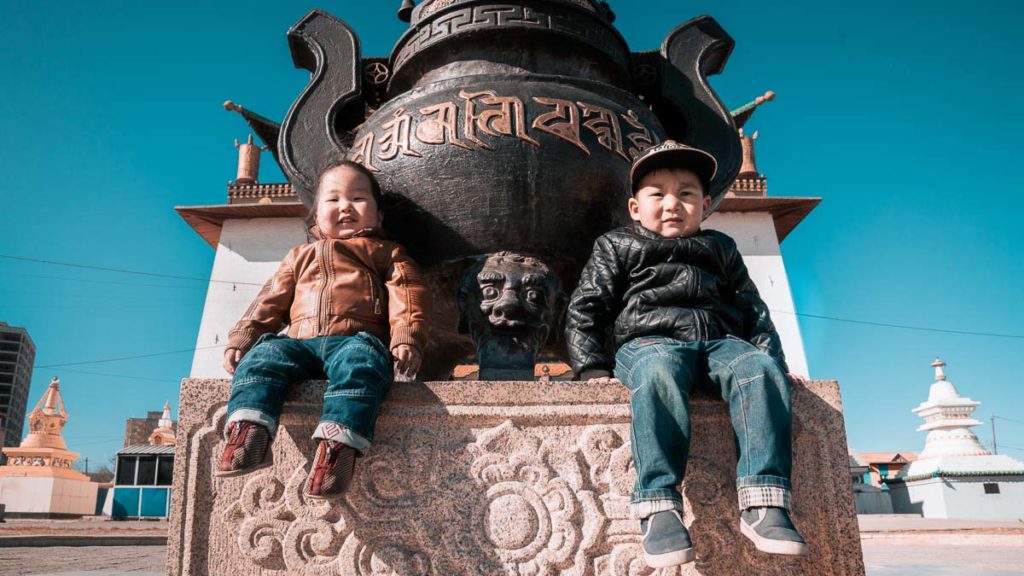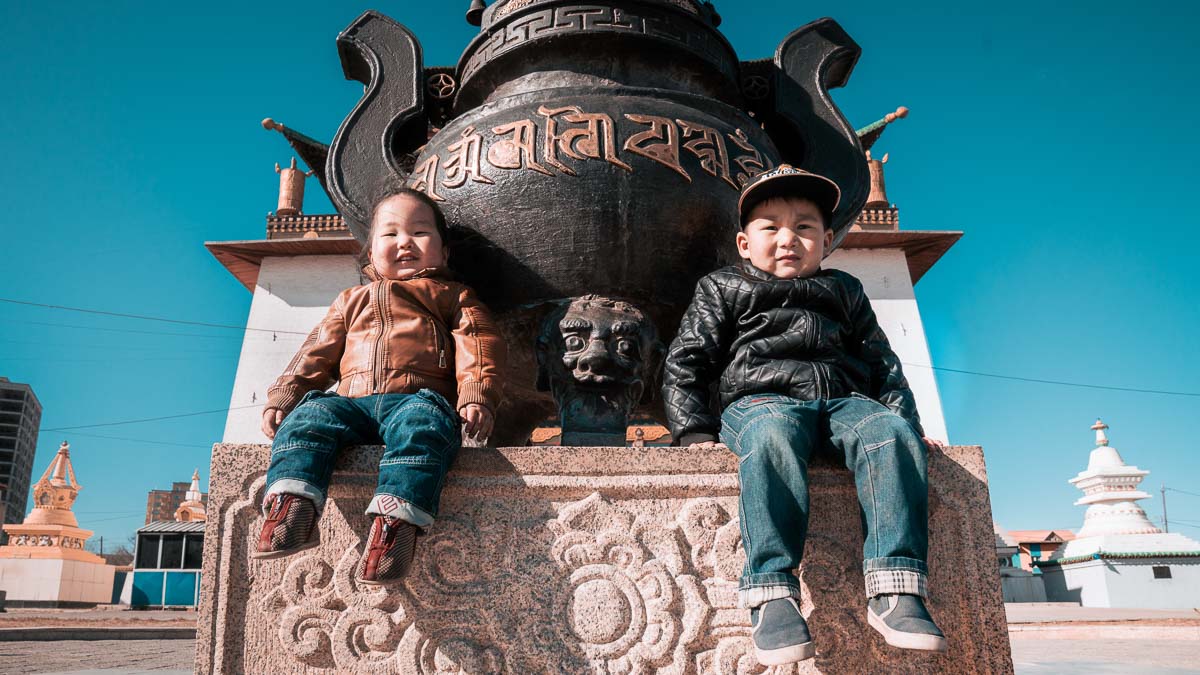 Begin your Mongolian adventure in Ulaanbaatar, the coldest capital in the world with average temperatures of -1.3°C.
The chilly weather is perfect for strolling around and admiring the city's curious mix of modernity and Mongolian traditions. High-rise buildings sit alongside gers (traditional Mongolian tents) while modern vehicles grace the same roads as horses and cattle.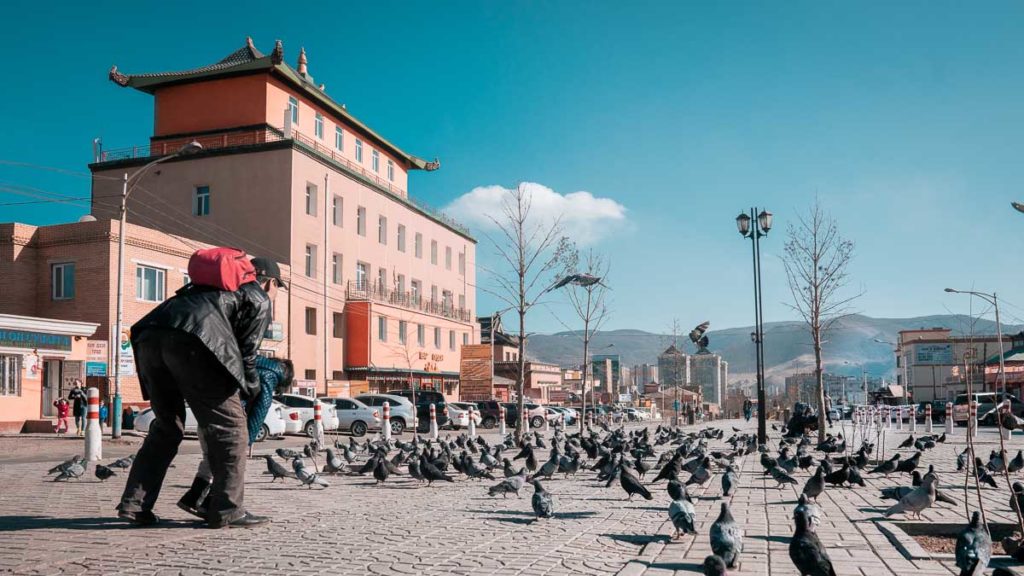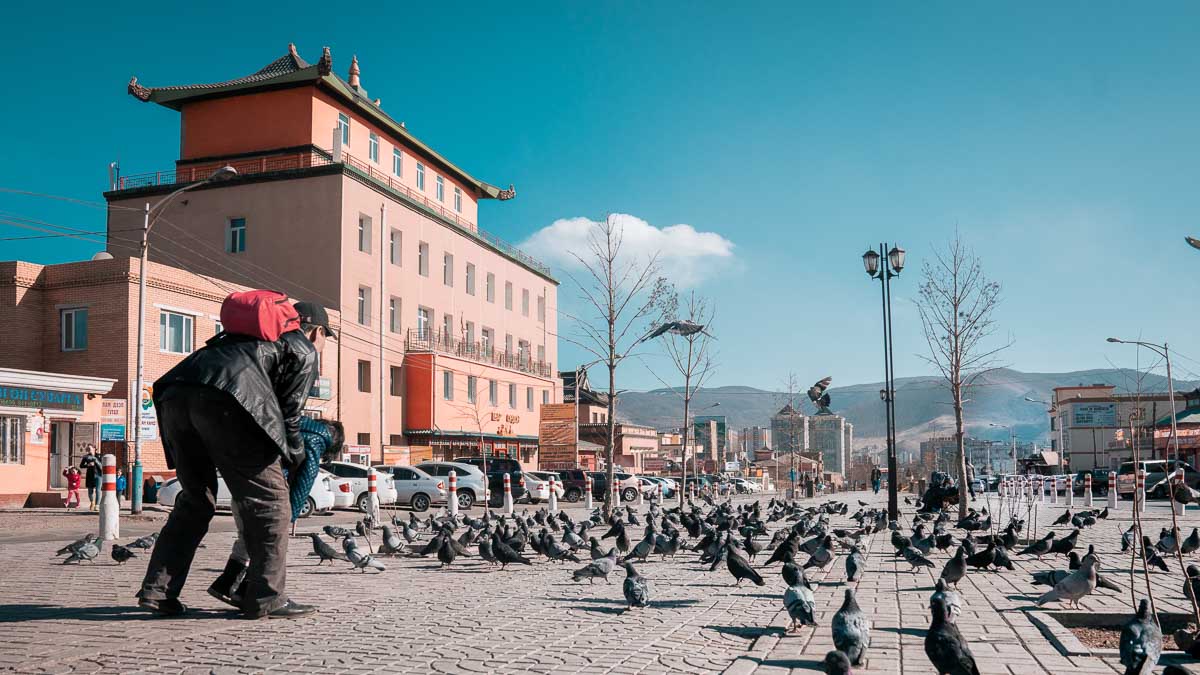 Here you'll get to enjoy vibrant local performances like traditional dancing and throat-singing. For our first meal here, we'll feast on authentic Mongolian dishes such as a BBQ meat platter, dumplings, milk vodka, and salty milk tea!
The next day we'll rise early to catch a domestic flight to Bayan-Olgii, the only Muslim and Kazakh-majority aimag (tribe) in all of Mongolia.
In preparation for getting up close with nomad culture, we'll visit the Olgii Aimag Museum, which houses an impressive collection of stuffed wildlife and traditional costumes. After that, we'll head to some of the local bazaars to browse homemade trinkets and souvenirs.
Day 3: Journey to the Sacred Shiveet Khairhan Mountain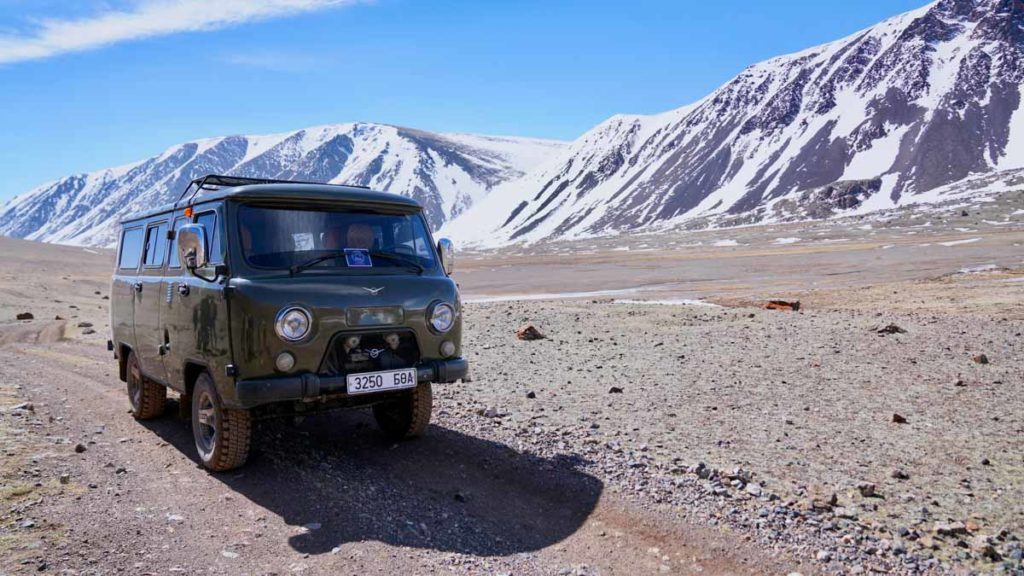 The adventure begins! Today we'll hop on our trusty mode of transport — a sturdy Russian 4×4 van ideal for the rough Mongolian terrain.
Without paved roads or signage, the terrain is difficult — if not impossible — for the typical tourist to navigate. But we don't have to worry when we've got skilled local drivers who know the area like the back of their hand.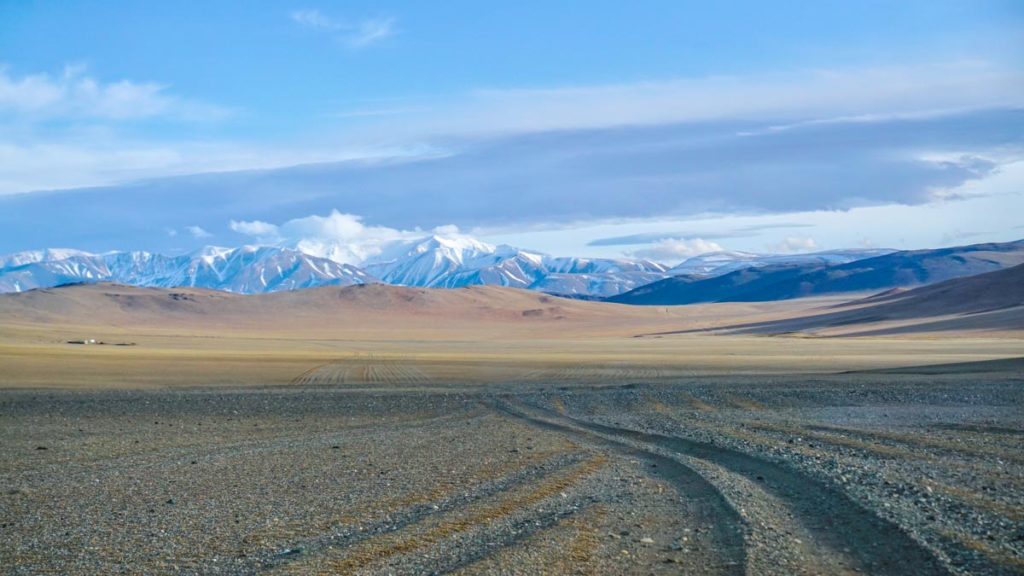 We'll enjoy a scenic drive to the permanently snowcapped Tsambagarav Mountains standing at 4208 metres tall. Located between Hovd and Olgii provinces, it's the third-highest mountain of Mongolia! Fingers crossed that we'll get to spot some of the diverse wildlife this region is known for — snow leopards, Siberian ibex and argali sheep.
Our accommodation for these few nights will be traditional Mongolian gers — round tents insulated by animal skin. They're ridiculously cosy and quite spacious as well — definitely a more interesting experience than typical hotels! We'll also get to stargaze under an endless sky of stars, before calling it a night.
Day 4 – 6: Get inspired by Mongolia's untouched natural wonders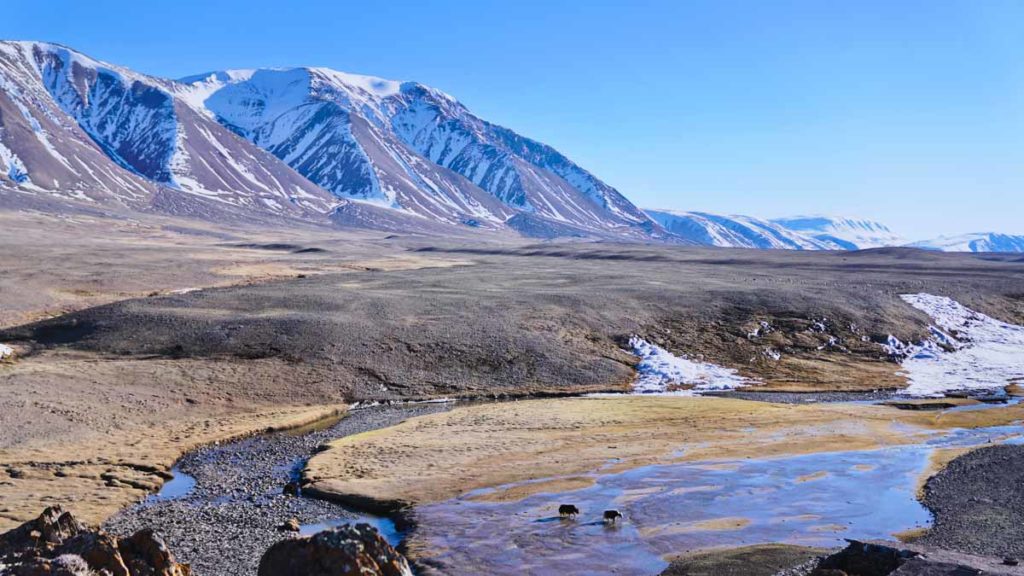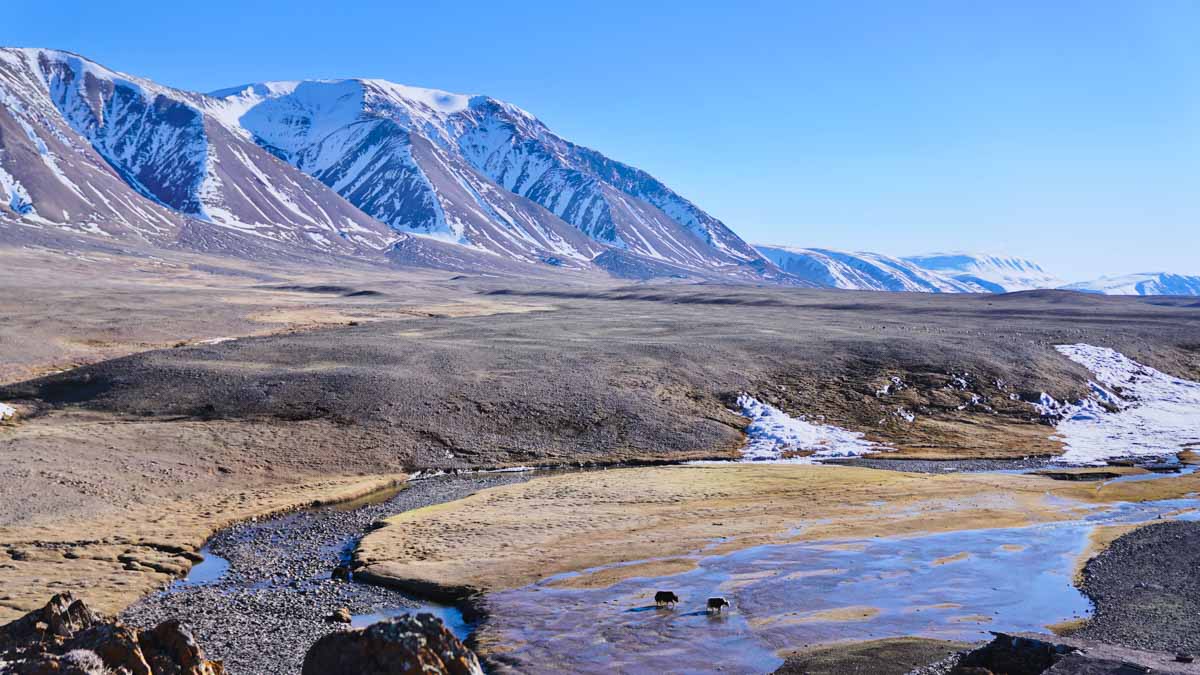 We'll be driving to Altai Tavan Bogd National Park, a remote nature reserve located at the highest and westernmost part of Mongolia. This national park is home to the Five Holy Peaks of the Altai Mountains, vast lakes and magnificent glaciers. It's also one of the most untouched areas in the world!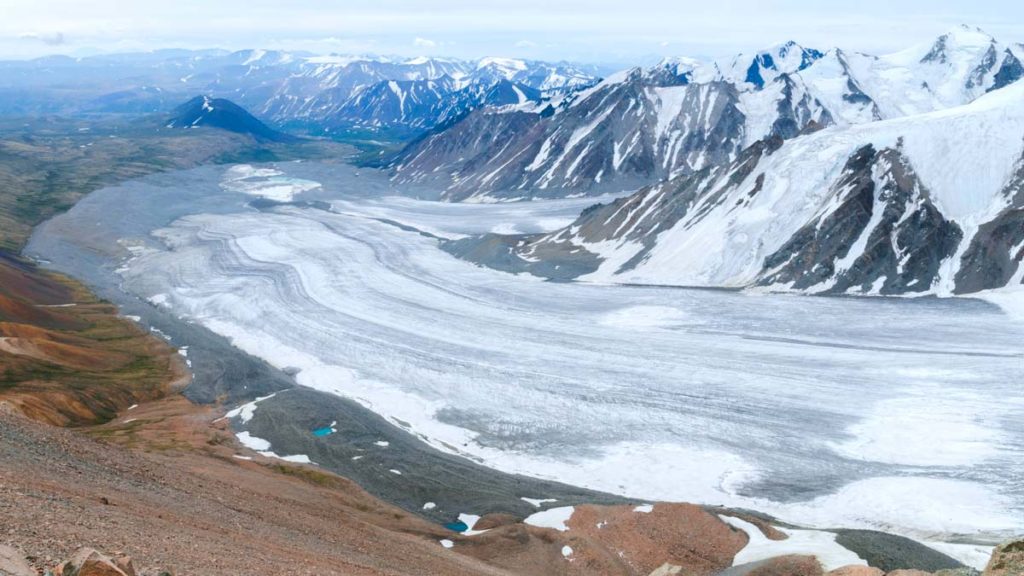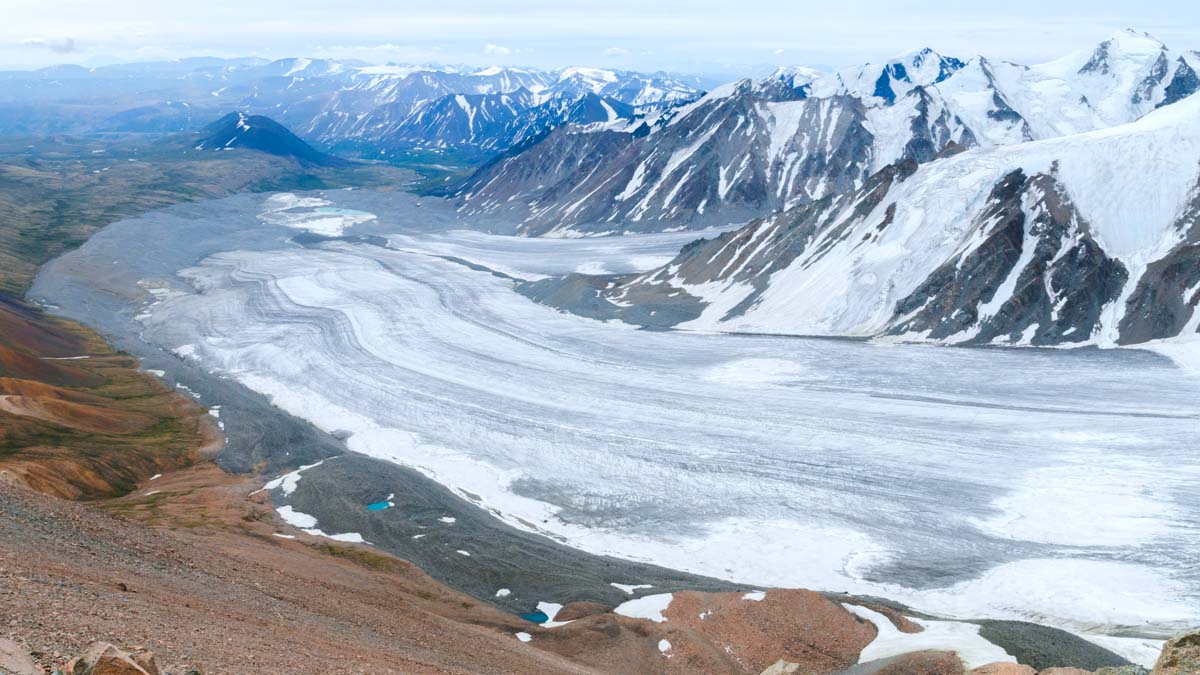 Next, we'll journey to Potanin Glacier, Mongolia's longest glacier at over 20km, and do some light trekking on the beautiful landscapes. On our trek, we'll get to see Khuiten Mountain (Cold Mountain), the highest peak in all of Mongolia at a whopping 4,374m.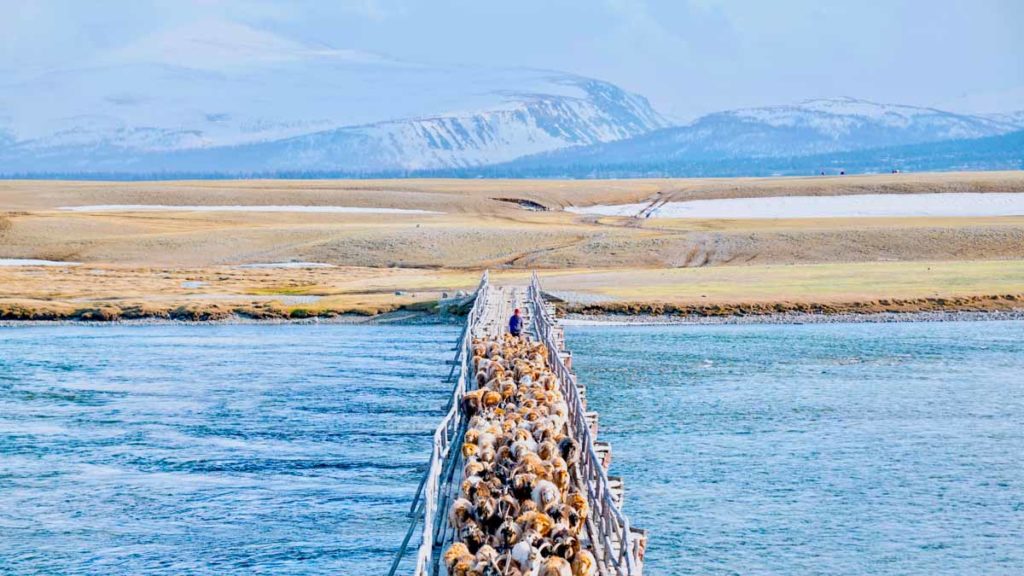 More epic sightseeing awaits at the Hurgan and Hoton lakes, perfect for landscape photography. It's especially beautiful in May (late spring) when daylight hours are longer and temperatures aren't so harsh.
Fun fact: These lakes are the second-largest in Mongolia with a maximum depth of around 58m!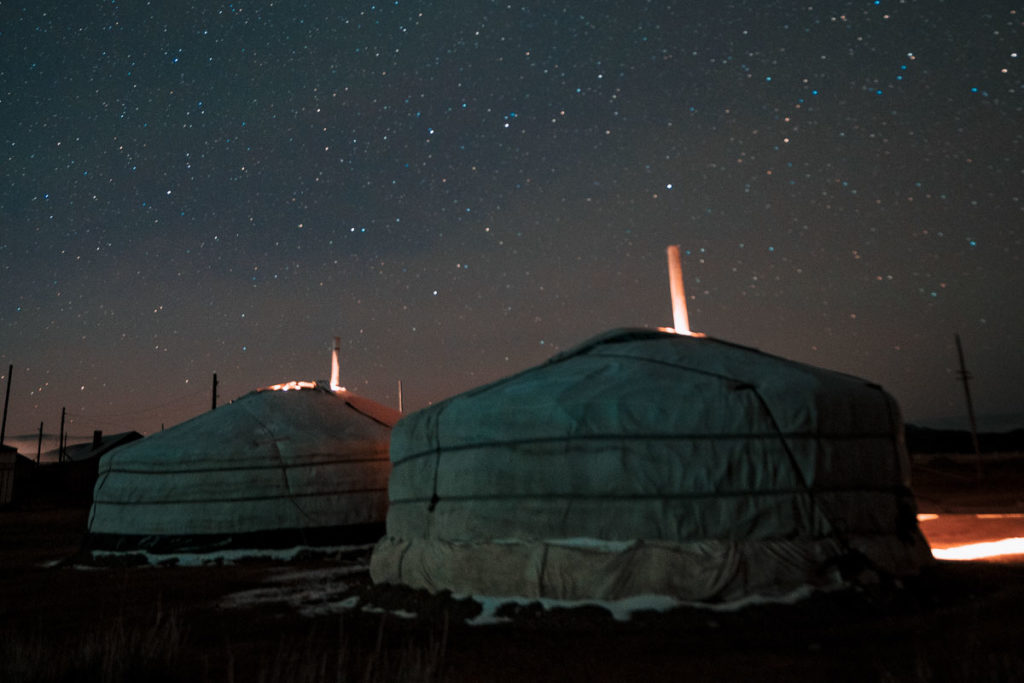 Our accommodation for these few nights will be traditional Mongolian gers — round tents insulated by animal skin. They're ridiculously cosy and quite spacious as well — definitely a more interesting experience than typical hotels! We'll also get to stargaze under an endless sky of stars, before calling it a night.
Day 7: Experience life with the world's last few Eagle Hunters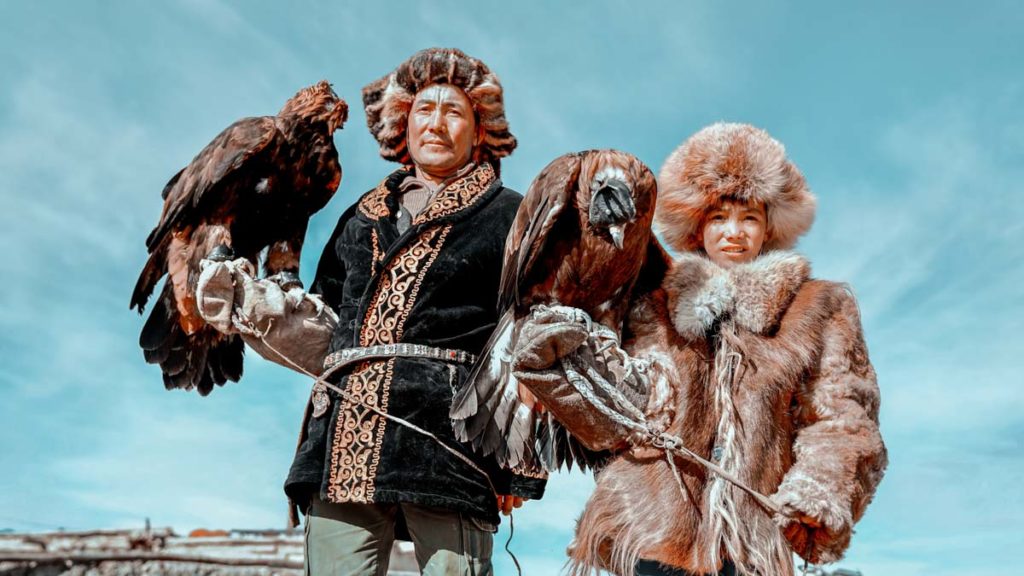 Now onto an experience that few tourists get to do. Start the day early with a drive to Sagsai Village, home to a large number of Eagle Hunters and Giant Golden Eagles. There are only a few hundred eagle hunters left in the world and the majority of them reside here in West Mongolia.
Like the North's Reindeer Herders, the Eagle Hunters' way of life is disappearing due to modernisation and overgrazing. By visiting their nomad camps, we can experience their centuries-old traditions and in a small way, help sustain their unique way of life.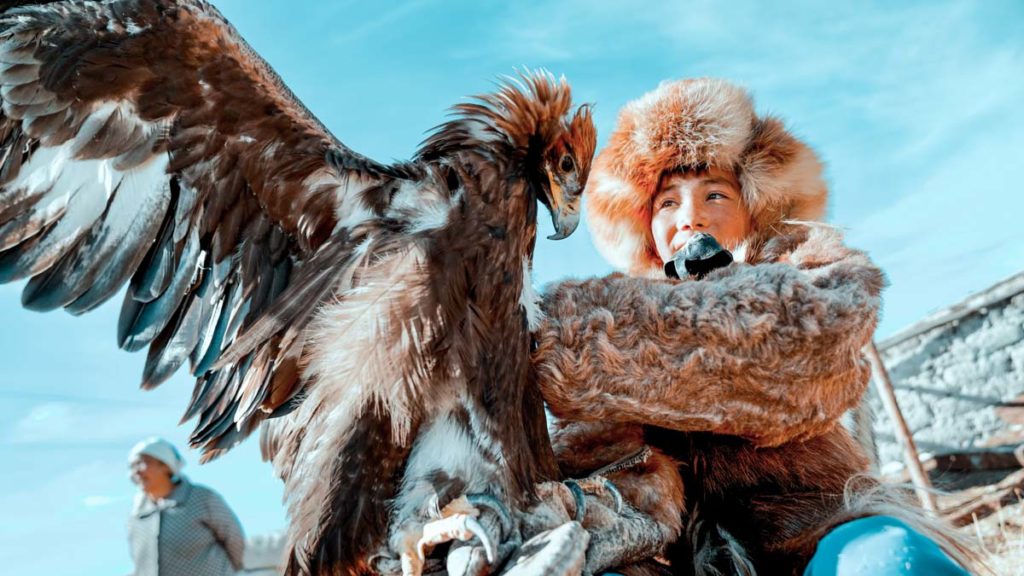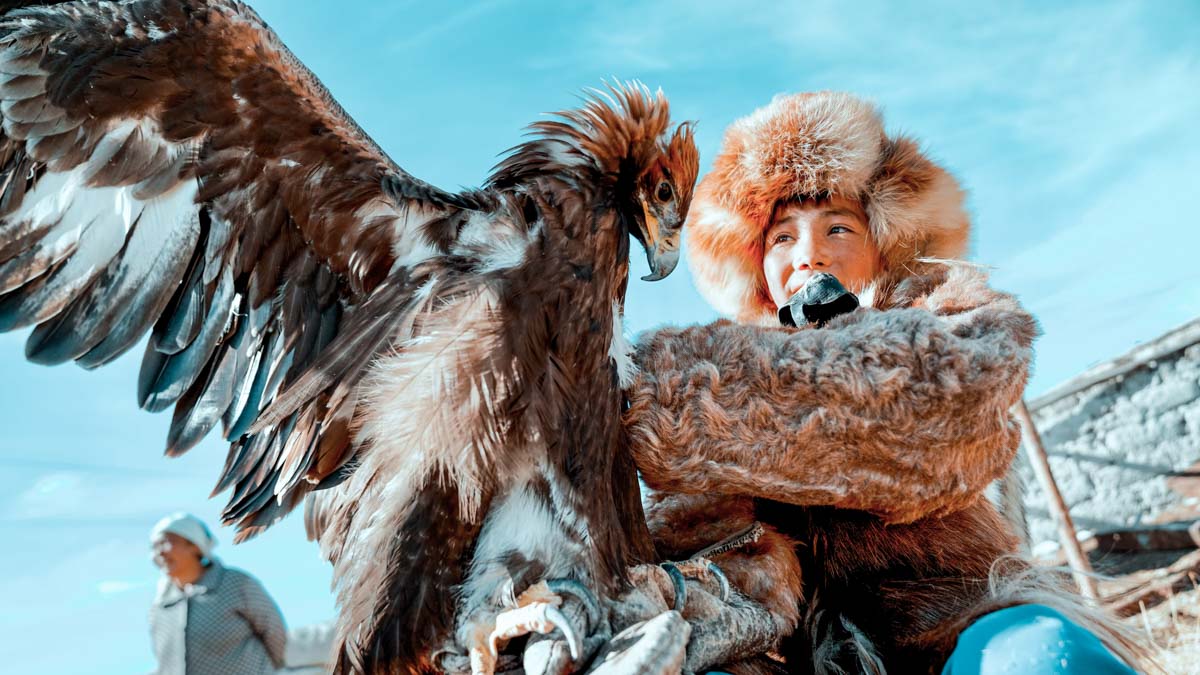 We'll experience living with the eagle hunters and their families, and enjoy the warm Kazakh hospitality of homecooked meals and shared stories. And of course, get to watch the skilful eagle hunters work with their dangerous pets, and may even try holding the birds ourselves. Talk about a photo opportunity of a lifetime!
Fun fact: Only female eagles are used for hunting as they're larger and more aggressive than the males (what's new, right?). These magnificent birds spend ~10 years hunting with their masters before being released to live in the wild.
Day 8 – 9: Explore Tolbo Lake before returning to Bayan-Olgii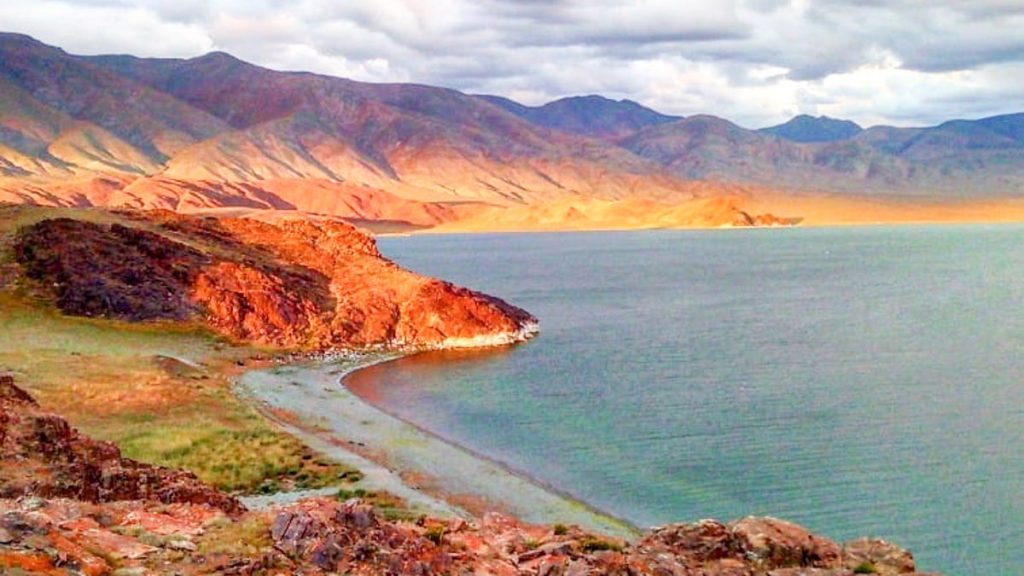 Photo credit: @tiarata.altai via Instagram
Enjoy your last few days of nomadic freedom before heading back to the city! First, we'll head to Tolbo Lake — one of the biggest lakes in all of Western Mongolia. This is a key historical site where you can visit relics and remnants of the Russian Civil War in 1921.
After spending a night in a ger here, it's time to head back to Bayan-Olgii. Pick up some unique handcrafted souvenirs from the city's local bazaars before flying back to Ulaanbaatar the next morning.
Day 10 – 11: Celebrate your amazing West Mongolian adventure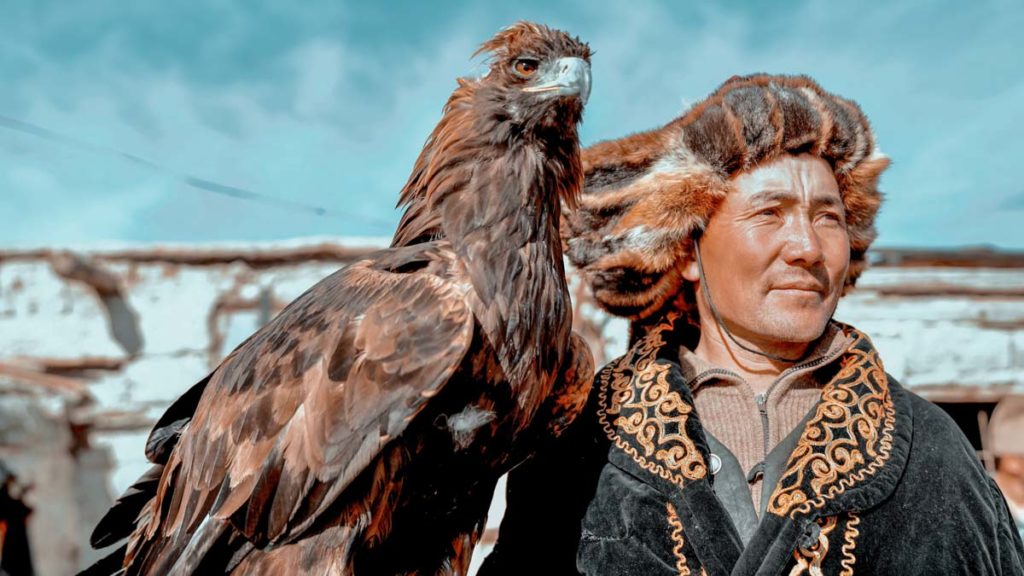 After a week of living with some of Mongolia's toughest nomads and exploring gorgeous natural attractions, it's time to head back to city life.
We'll stop by a cashmere factory outlet for some last-minute shopping and then have a celebratory meal at one of Ulaanbaatar's best restaurants before checking into a hotel for a well-deserved hot shower and rest. The next morning, it's back on a plane for an early flight back to reality.
Travel With Us To Western Mongolia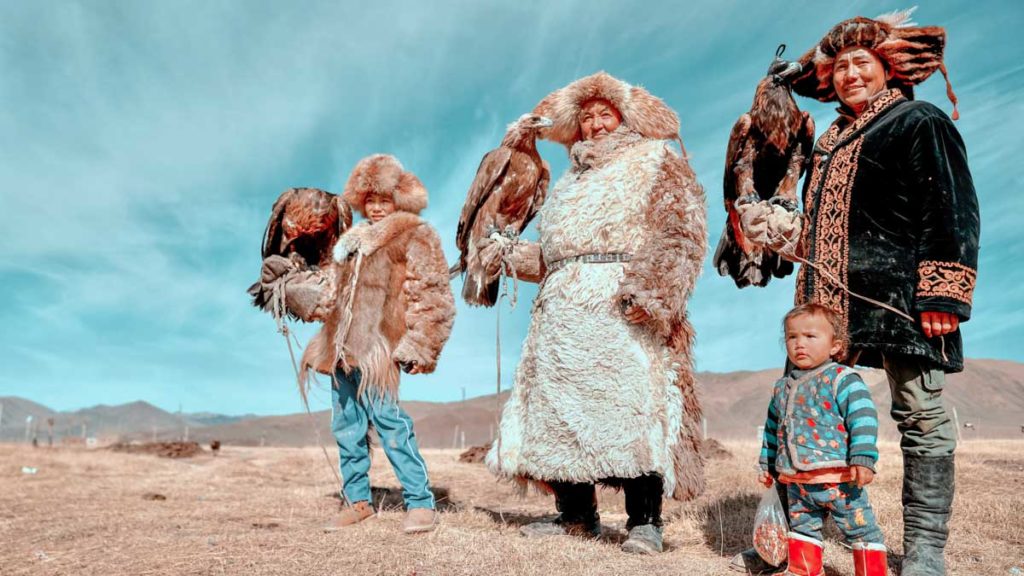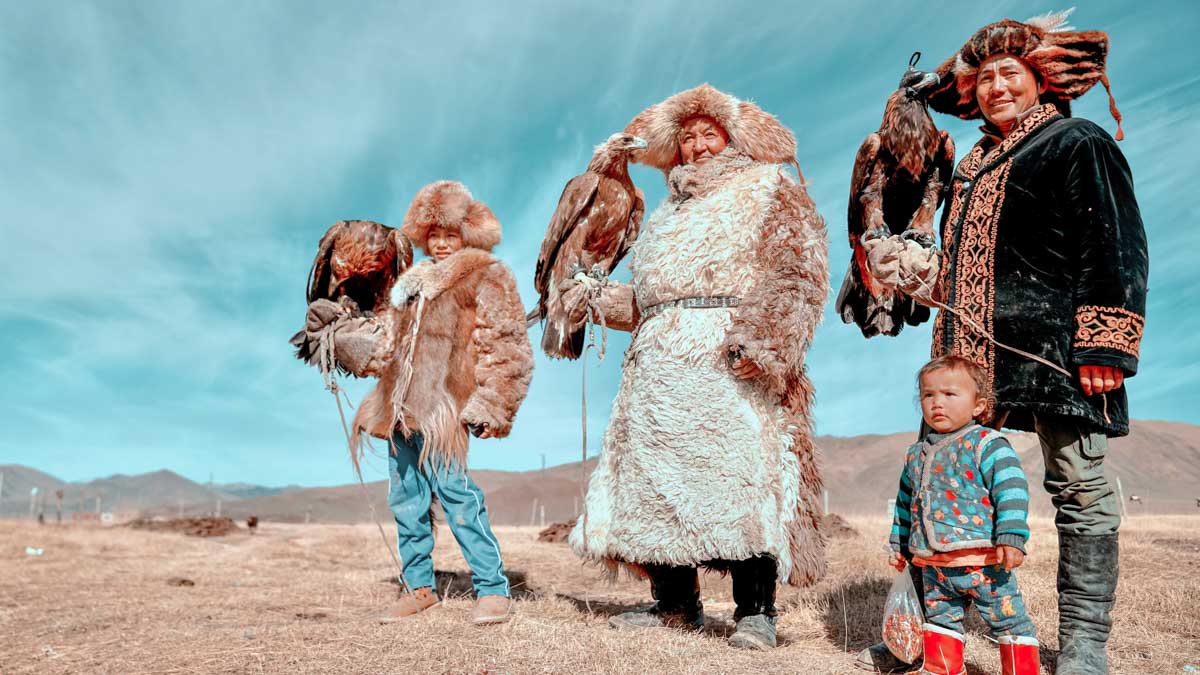 Still relatively untouched by tourism, Mongolia's not the easiest place to visit on your own. Experiencing life with the eagle hunters is only possible if you've got local contacts — otherwise, you'd have no idea how to find them, and you can't just invite yourself to stay (even if you're thick-skinned).
While the North is known for its vast landscapes and extreme weather, Western Mongolia is hard to visit for different reasons. The region is so unexplored that it's foreign even to most Mongolians.
On our TTI Experiences expedition to Western Mongolia, we're bringing a group of adventure-seeking travellers to experience the rugged eagle-hunting life together!
Trip Dates: To be announced
Cost: S$4,690 per pax (excl. international flights)
Slots will be capped at 22 pax.
Activities Included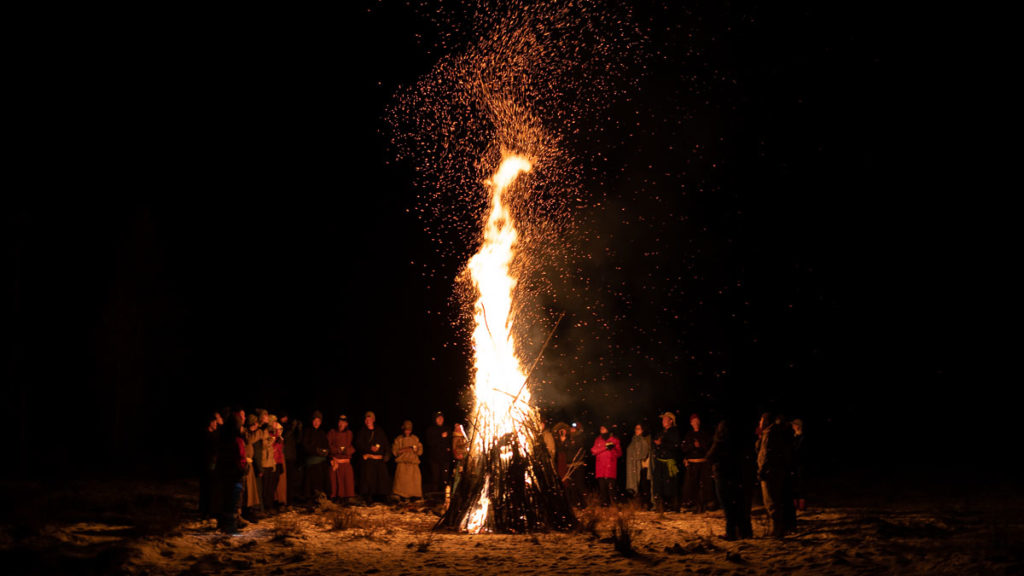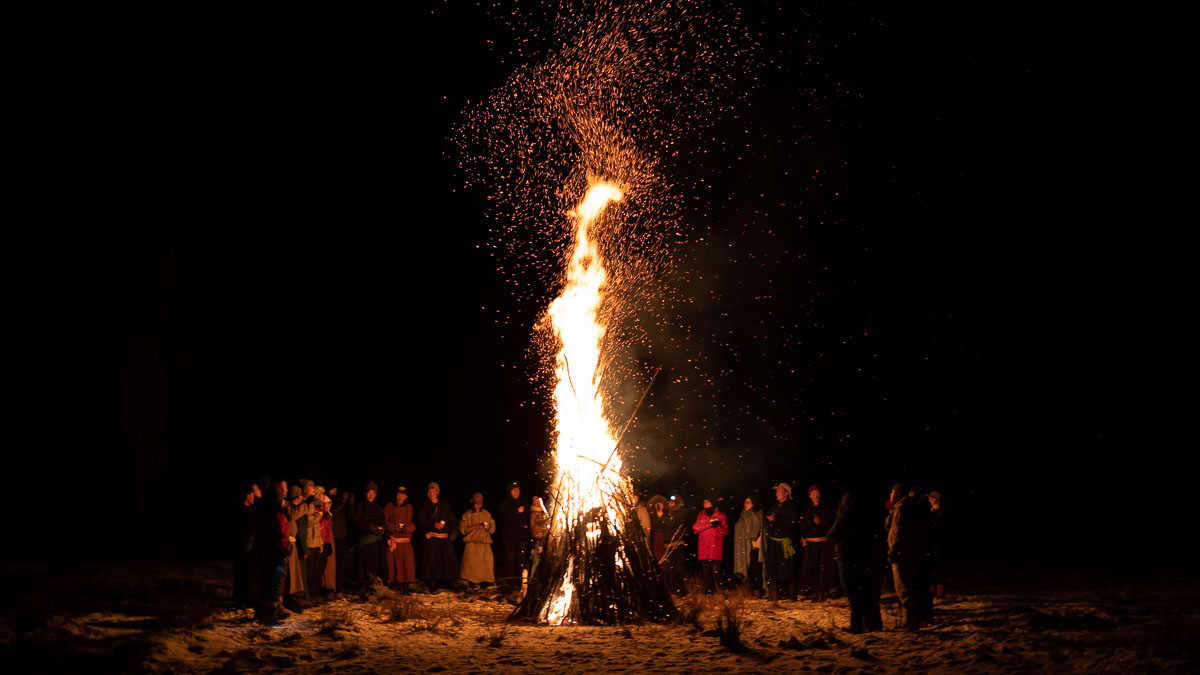 We've got special access to all the amazing experiences in our 11D West Mongolia Itinerary:
– Jeep ride through the countryside
– Try authentic Kazakh-Mongolian food, unique to West Mongolia
– Hold and train eagles (if you're brave)
– Nomadic home-stays in traditional gers with the eagle hunters
– Stargaze under the endless Mongolian sky
– See stunning natural wonders, including the Altai Mountains, Potanin Glacier (Mongolia's longest glacier), and Khuiten Mountain (Mongolia's highest mountain)
– Explore iconic sights in and around Ulaanbaatar
To make sure you always remember this trip of a lifetime, our Travel Intern Content Experts will come along as your personal photographers so you'll have breathtaking moments to keep even after the trip. We'll also put together a special trip video filled with the highlights and fun moments.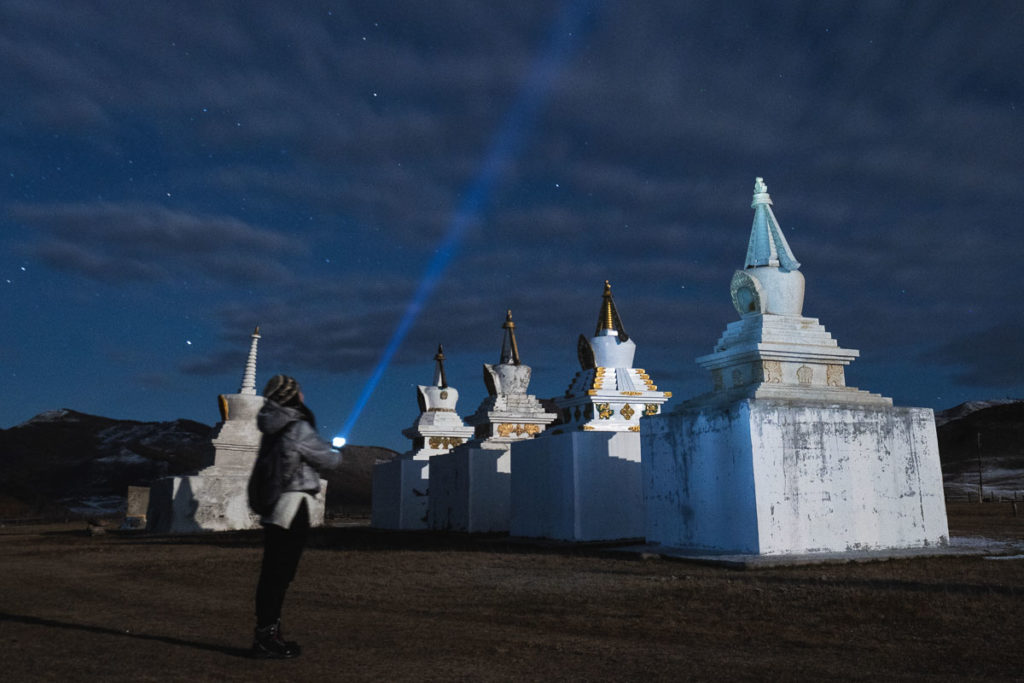 If you want to level up your own photography skills, we'll also be holding a pre-trip photography workshop exclusively for trip participants, guidance will also be available during the trip itself!
Trip Dates
Trip dates to be announced (11 days, 10 nights)
What's Covered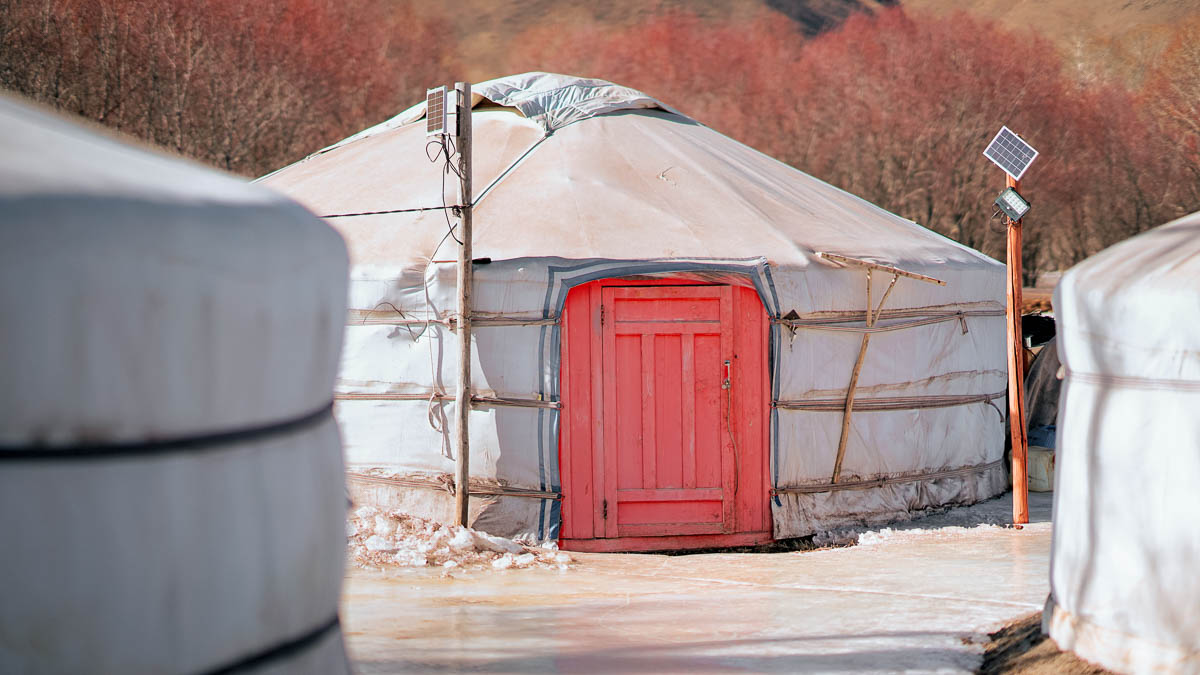 We've partnered with a local tour agency to bring this trip to life for S$4,390 per pax. Everything you need in Mongolia is included — all you have to add are your flights and personal travel insurance!
– Accommodation for 10 nights: mix of three-star hotels, guesthouses, and traditional gers
– All modes of transport, including airport transfers and private all-terrain vehicle, a local driver and petrol
– Meals throughout the trip: all breakfasts, lunches (excluding first day's lunch in Ulaanbaatar), and dinners
– Edited photos and a special trip video by The Travel Intern
– Travel photography guidance and exclusive pre-trip workshop
– English-speaking, experienced local guide with deep insight into Mongolian culture
– Access to the Eagle Hunters camp for a nomadic home-stay
– All activities, including holding eagles and camping
– Miscellaneous taxes and fees
– 1.5L bottle of water per day
– Cosy sleeping bag and blanket (suitable for all seasons)
Read more: West Mongolia Trip FAQs (level of fitness, trip eligibility, safety, etc.)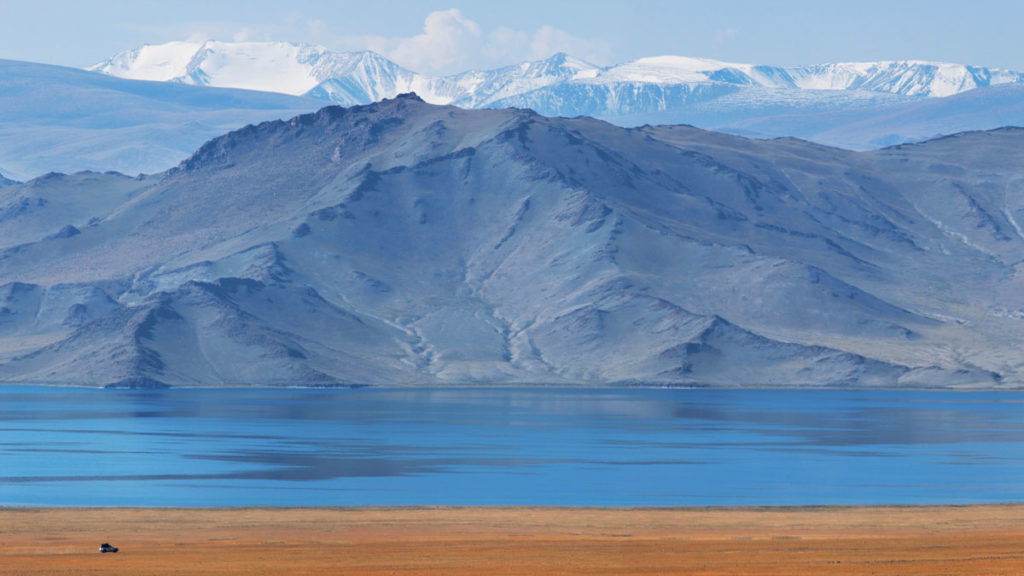 We're capping this trip at 22 participants, so if you're ready to have an adventure you won't forget, sign up and join us now!
P.S.: Our North Mongolia Reindeer Expedition is now at a S$4,590
Read our 11D North Mongolia Reindeer Herders itinerary or check out our trip details here!
Which country would you like to visit with TTI Experiences? Let us know in the comments!
---
Like what you see? Follow us on Facebook, Instagram, and YouTube for more travel updates!