EAGLE HUNTERS
OF WESTERN MONGOLIA
THE TRAVEL INTERN
TRAVEL WITH US
Adventure with the Eagle Hunters of Western Mongolia
Join us as we journey to a side of Mongolia that few visitors (or even locals) get to see. 
Unlike North Mongolia, West Mongolia is home to rich culture that's unique to this region. With a Kazakh and Muslim majority, the practices in the West are a fascinating Kazakh-Mongol mix. The food is different from what you'd find in Ulaanbaatar and even up North. Many Mongolians feel like tourists themselves when they visit West Mongolia.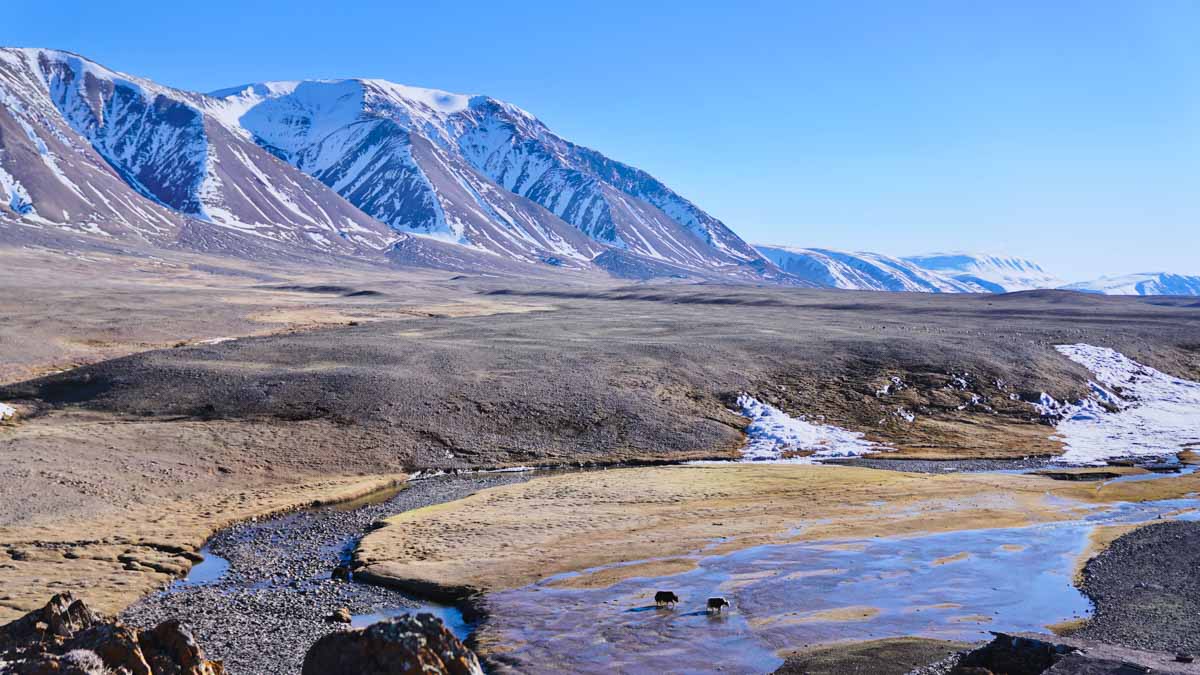 Besides stunning, untouched natural wonders, West Mongolia is also home to the majestic Eagle Hunters. This centuries-old practice is dying out throughout the world, and West Mongolia is one of the few places where they continue to practise this way-of-life.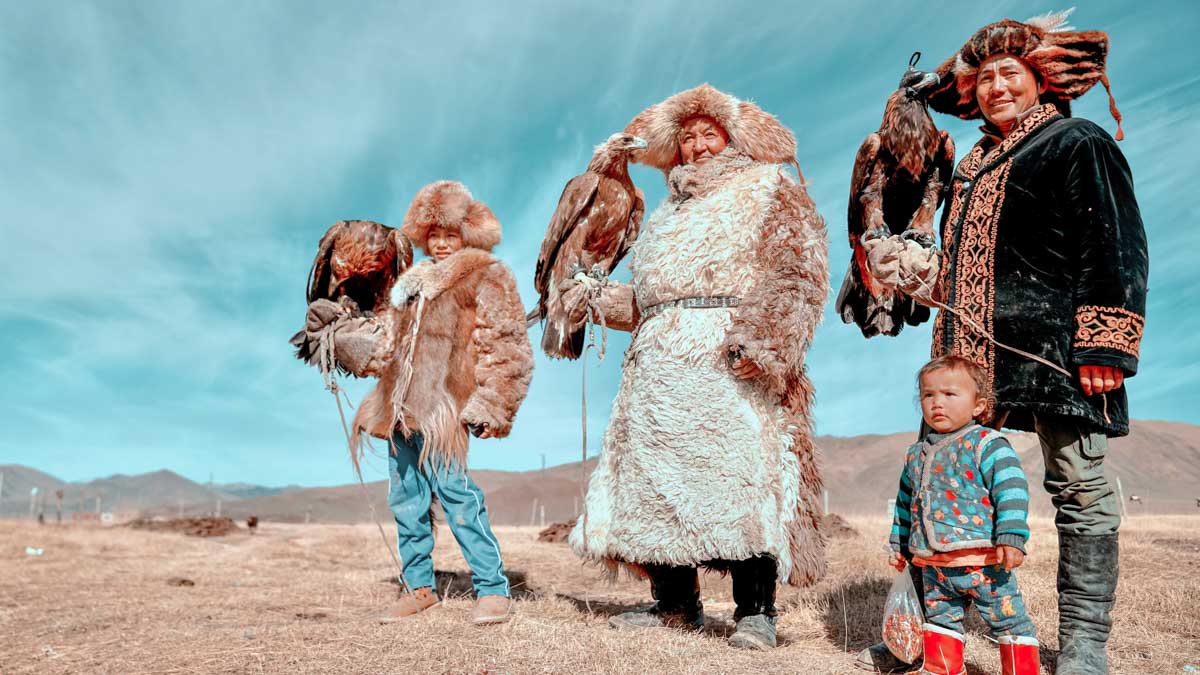 We've partnered with a local travel agency for access to authentic local experiences, including nomadic home-stays with the Eagle Hunters, and getting to watch their skills at work. We'll also explore untouched landscapes and try to spot snow leopards, Siberian ibex, and Argali sheep as we travel through the region.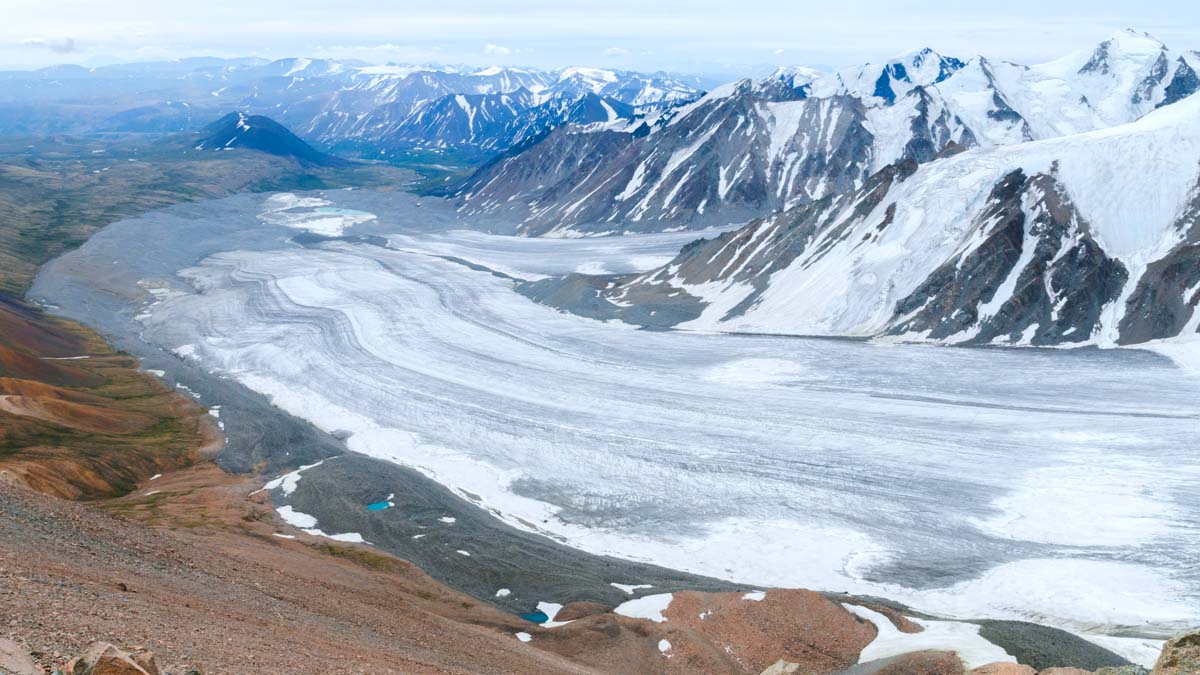 The Travel Intern Content Experts will also act as your personal photographers — giving advice on framing your shots and producing edited photos and a special trip video to remember every breathtaking moment. We'll also hold an optional photography and editing workshop exclusively for participants so you have the basics down before the trip.
If you're aching for adventure, join us to West Mongolia on this extraordinary trip-of-a-lifetime. 
Winter Trip Itinerary (11 days, 10 nights)
Winter Expedition: If you love cold climates, Western Mongolia in winter is a magical experience. Immerse yourself in the vast landscapes of snow-capped mountains as we traverse through the Mongolian steppes. Expect temperatures ranging from 15 to -30 degrees celcius!
What's Included:
S$4,690
What's Included:
We tried to make things simple and easy, with no hidden fees or charges so you don't have to worry about anything.
– Round-trip domestic flights from Ulaanbaatar to Bayan-Olgii (check-in up to 10kg and carry-on up to 5kg. Additional check-in baggage can be purchased for ~S$4 per kg at the airport counter)
– Accommodation for 11 nights (three-star hotels, guesthouses, and traditional gers)
– All modes of transport (airport transfers, private all-terrain vehicle with driver, petrol, wild Mongolian horse)
– All meals (breakfasts, all lunches excluding first day's lunch, dinners)
– Edited trip photos and a special video to commemorate the trip
– Travel photography guidance and exclusive pre-trip workshop
– English-speaking, experienced local guide
– Access to the Eagle Hunters camp for a nomadic home-stay
– All activities including horse-riding, camping, and star-gazing
– Misc. taxes and fees
– 1.5L bottle of water per day
– Sleeping bag and blanket
EXCLUDED COSTS:
– Flights
– Personal travel insurance
– Emergency rescue flights (if necessary)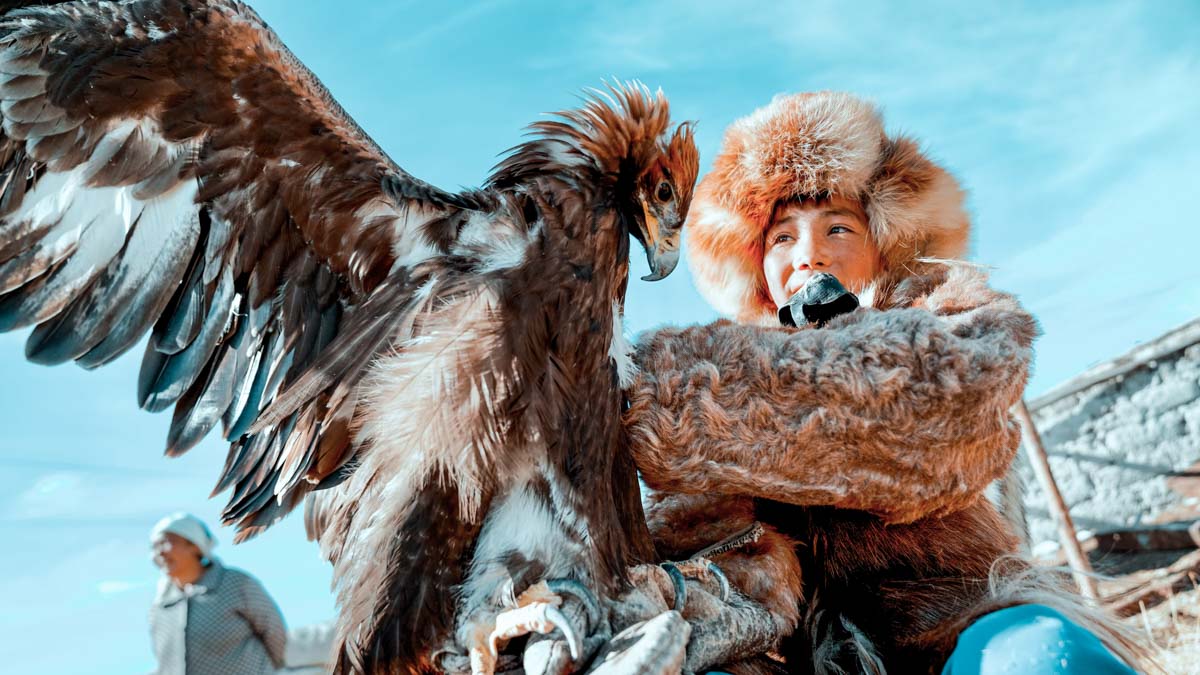 Qn: How is this trip different than going on my own?
Mongolian tourism is very new — it's only been 20 years since first welcoming commercial tourists! While this makes Mongolia a unique destination, it's also not easy to visit on your own.
Most commercial tours only offer trips to the Gobi Desert, but few venture deep into the Mongolian Steppe, where the true nomads live. Without close local contacts, it's impossible to meet (much less stay with) the Eagle Hunters, since nomads constantly move through the massive plains.
With the local expertise of our travel partner, we'll get an intimate taste of West Mongolia's unique Mongolian-Kazakh culture, especially the authentic, rugged experiences that most tourists don't have access to.
What's more, our Travel Intern Content Experts will be on the ground as your personal photographers. We'll be producing a trip video and edited photos for you to remember all the epic moments. Aspiring photographers can also attend our pre-trip photography workshop specially for trip participants, and we'll guide you in taking and editing photos during the trip itself!
Qn: Are flights included in my trip?
International flight to and from Mongolia are not included in the cost of this trip! We believe in giving travellers the ability to determine how long they'd like to travel for and where they'd want to travel from! So flights can be booked independently!
But if you want us to book flights for you, we do book flights for participants!
Qn: Who is this trip suitable for?
If you're adventurous, open-minded, and excited to immerse in a new culture, this is the trip for you!
You should also be ready to embrace the great outdoors. Though we will have comfy hotels and Western-style toilets in Ulaanbaatar, restroom and shower facilities in the Mongolia countryside will be a little more basic.
Qn: Is this trip open to all nationalities?
All nationalities are welcome to join.
For Singapore passport holders, tourist visas aren't required for up to 30 days in Mongolia. For all other passports, check here. If you need a visa, we'll help you out with the info required for the application.
Qn: Who will be on the trip?
We're looking for 15 fun-loving travelers who'd love to explore Mongolia together! Whether you're a solo traveler or want to tag along with some friends, you're in for a great time. Rounding off the team are our Travel Intern Content Experts, local expedition guide/personal chef, and driver.
Qn: How safe is Mongolia?
Mongolia is one of the most peaceful countries in the world, and is generally considered safe for tourists. However, petty theft is still an issue, and solo travelers often end up stranded in the countryside if their horse gets stolen.
We will take the following precautions for a smooth and safe trip:
Travelling in a big group of at least 15 people, to prevent targeting by thief syndicates

A local guide will accompany us at all times, with firsthand knowledge of the areas

Travelling in a private all-terrain vehicle with a local, experienced driver

Staying in home-stays in the countryside with trusted nomad families
Participants will be briefed further on safety precautions closer to the trip date.
Qn: Do I need a certain level of fitness?
Not really, this is a moderately easy trip that's suitable for all ages! However, you should be prepared to rough it out, as we'll spend two nights camping in the wilderness. 
In the countryside, we'll be riding in a hardy 4×4 all-terrain vehicle, which is spacious and well-ventilated, with padded seats for extra comfort. Based on our travels in North Mongolia, the ride can get very bumpy. We'll also be riding horses for one hour at the Terelj National Park.
Qn: What should I pack?
Upon confirmation, we'll be providing a detailed packing list specifically for this trip.
Qn: Do I need to bring any cash along?
Our trip price covers everything you need, though we recommend bringing US$100 – US$300 for souvenirs, tips for locals (purely voluntary basis), and in case of emergency.
In Ulaanbaatar, USD can be converted for local currency, the Tulgrik (MNT). Credit cards (mostly VISA and Mastercard) are also accepted in many shops, sometimes even in the countryside.
Qn: What will accommodation be like during the trip?
We'll get to try different types of accommodation in Mongolia, each promising a unique experience. In Ulaanbaatar, we'll be staying in three-star hotels, while in the countryside, we'll be in a mix of guesthouses and Mongolian traditional gers.
As for sleeping arrangements, it'll be twin-sharing rooms in the capital Ulaanbaatar (first and last day). If you're travelling alone, you'll be paired with another traveller of the same gender.
In the countryside, it'll be 4-6 people per Mongolian ger. These will be gender-divided unless you have special preferences (e.g. signing up with friends).
If you've got any accommodation requests, let us know and we'll see what we can do. 🙂
Qn: What will we be eating?
All meals (except first day's lunch) are included on the trip. Our local expedition guide is also an experienced chef who will prepare anything from Mongolian, Italian, and even Korean cuisine. We'll also get to try authentic Mongolian food in Ulaanbaatar city and unique Kazakh-influenced dishes during our nomadic home-stays.
Qn: How much do I need to pay to reserve my spot?
You'll be paying a $500 deposit to confirm your slot on the trip! We will be collecting the full payment two months before the start of the expedition.
Qn: What is the refund policy?
If you need to cancel the trip:
As we will be confirming more travel arrangements, the refunded amount will decrease based on how close we are to the trip dates.
Refunded amount before trip start date (based on full tour price)
More than 4 weeks before: 50% refund
Between 2 to 4 week before: 40% refund
Between 1 to 2 weeks before: 20% refund
Less than 1 week before trip: No refund
If we need to cancel the trip:
TTI Experiences will make our best effort to run a trip according to prior arrangements. However, we reserve the right to cancel or change a trip due to insufficient bookings and/or reasons beyond our control that might make travel undesirable or unsafe.
In the event that a trip is cancelled, participants can use their full payment toward a similar TTI Experiences trip, valid until 31 Dec 2021.
Have any other questions?
Drop us your questions by email at [email protected], or by Whatsapp at +65 83183676 🙂