Whether you're in for the thrill or out to chill, this Ultimate Dubai Guide lists all you need for a mind-blowing experience like no other.
I'm ashamed to say I used to think Dubai was nothing but expensive buildings, sand and kebabs. But no, it's so much more than that. Dubai is an exciting, cosmopolitan city built on a desert that exceeds all expectations.
From soaring skyscrapers to historical architecture, I was amazed at how Dubai embraces modern, technological innovations while fiercely protecting its culture. Dubai strives to be the best of the best, and is truly unlike any other.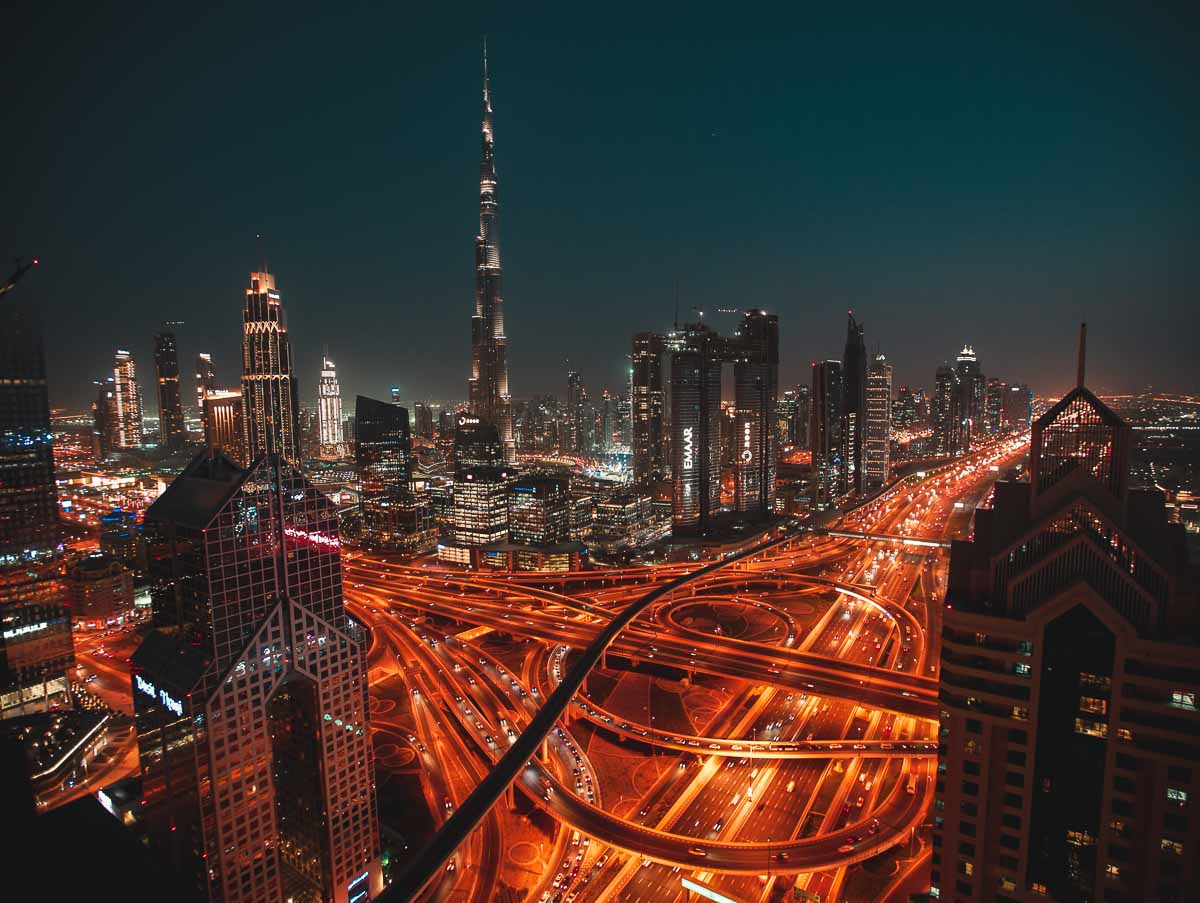 There's A LOT to do in Dubai on top of the usual sightseeing, but if you're strapped for time, check out our action-packed 48-hour layover itinerary instead. If you're staying for longer, this Ultimate Dubai Guide features 36 items the city has to keep you busy, and some of them are just plain OTT (skiing in a mall, really?).
Pre-Trip Essentials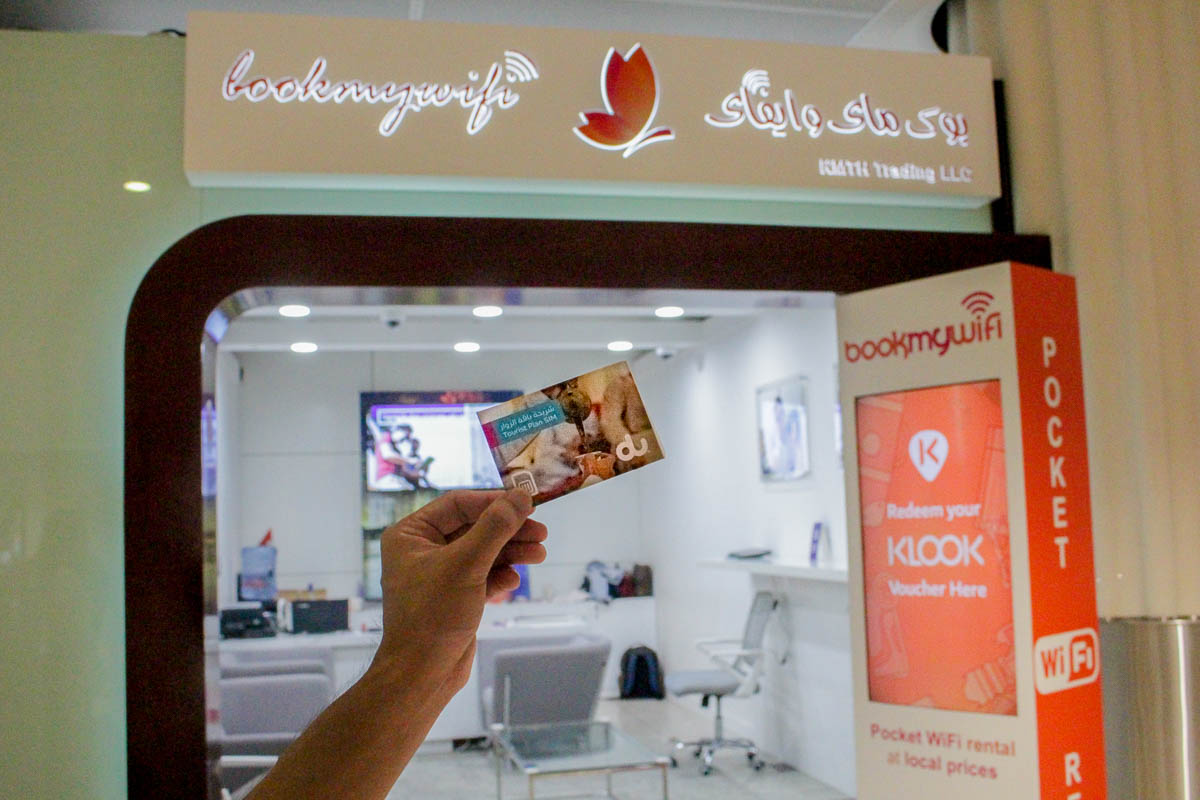 4G SIM Card: Stay connected by pre-booking a local SIM card and collect it upon arrival at Dubai International Airport. There are four packages to choose from to suit your travel needs, from 500MB – 3GB. Global calls are also included so you can keep in touch with family and friends wherever.
Getting around Dubai: The most convenient way to get around Dubai is by driving. Car rentals directly from the airport are available starting from AED50 (~S$19) per day. Taxis are also relatively affordable, and are plentiful around the city. Alternatively, if you have a planned-out itinerary, you can book a private car charter for an efficient, fuss-free journey.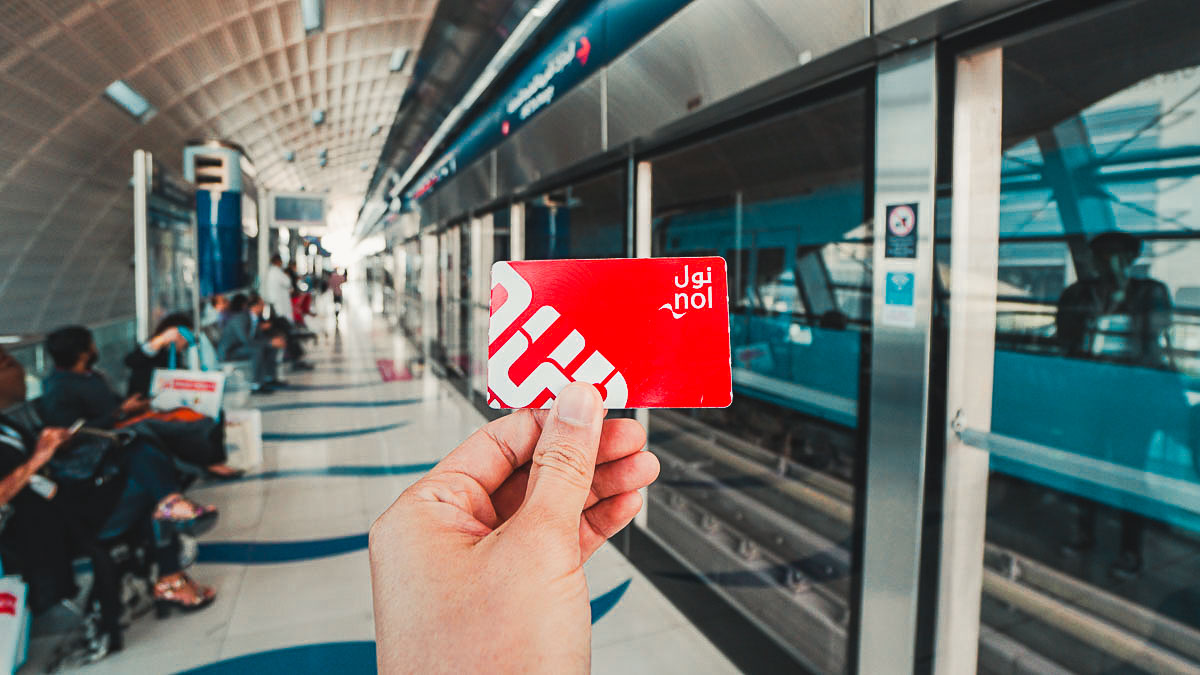 Dubai has an extensive public transport system comprising the metro, buses, and trams. You'll need to purchase a Nol card to use these services. A day pass (pictured) with unlimited rides costs AED22 (~S$8), while a silver Nol card is more suitable for longer-term use and can also be used for parking.
Best time to visit: Dubai's peak season is from November to March with temperatures ranging from 24 – 35°C, and about 15°C at night. Temperatures easily hit a scorching 40°C and above in the summer (April to October), though accommodation and flights are much cheaper then. Your best bet is during the "shoulder season" (August and September) when temperatures start to cool and discounted fares are still available.
Cultural Must-Knows
Attraction timings: Weekends in the UAE are on Fridays and Saturdays, so some tourist attractions and businesses may be closed or have different operating hours. Similarly, hours may change during the holy month of Ramadan. It's best to check online or call ahead to avoid any hassle.
Dress code: Dubai is a conservative country, so dress modestly in public places (with the exception of touristy areas like hotels and beaches) as a show of respect. We recommend bringing a light jacket or sarong that can cover your shoulders and knees when needed.
Public behaviour: Public displays of affection between adults are not tolerated. Holding hands is fine, but kissing and anything more than that is frowned upon. Save it for the bedroom!
It's also illegal to consume alcohol in public places. You can only drink in licensed restaurants, hotels and bars. Alternatively, you can purchase duty-free alcohol at the airport and chug it down in your hotel room.
What to See in Dubai
1) Burj Khalifa: World's Tallest Building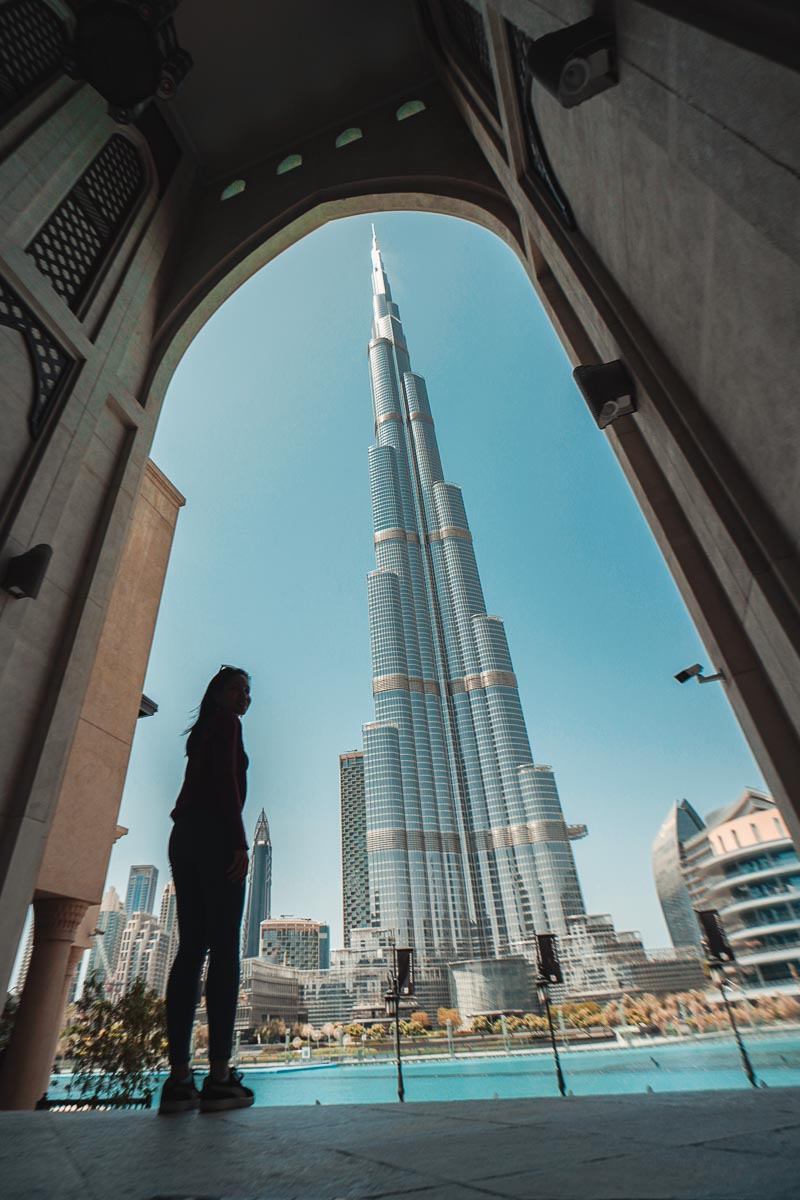 An architectural marvel, the Burj Khalifa towers at 828m (about the height of 400 adult camels stacked atop one another). It's easy to spot this shiny, steel giant from all over the city, including your airplane window if you're lucky. The building has over 160 floors, comprising hotels and offices, and is surrounded by the Dubai Mall and Dancing Fountain.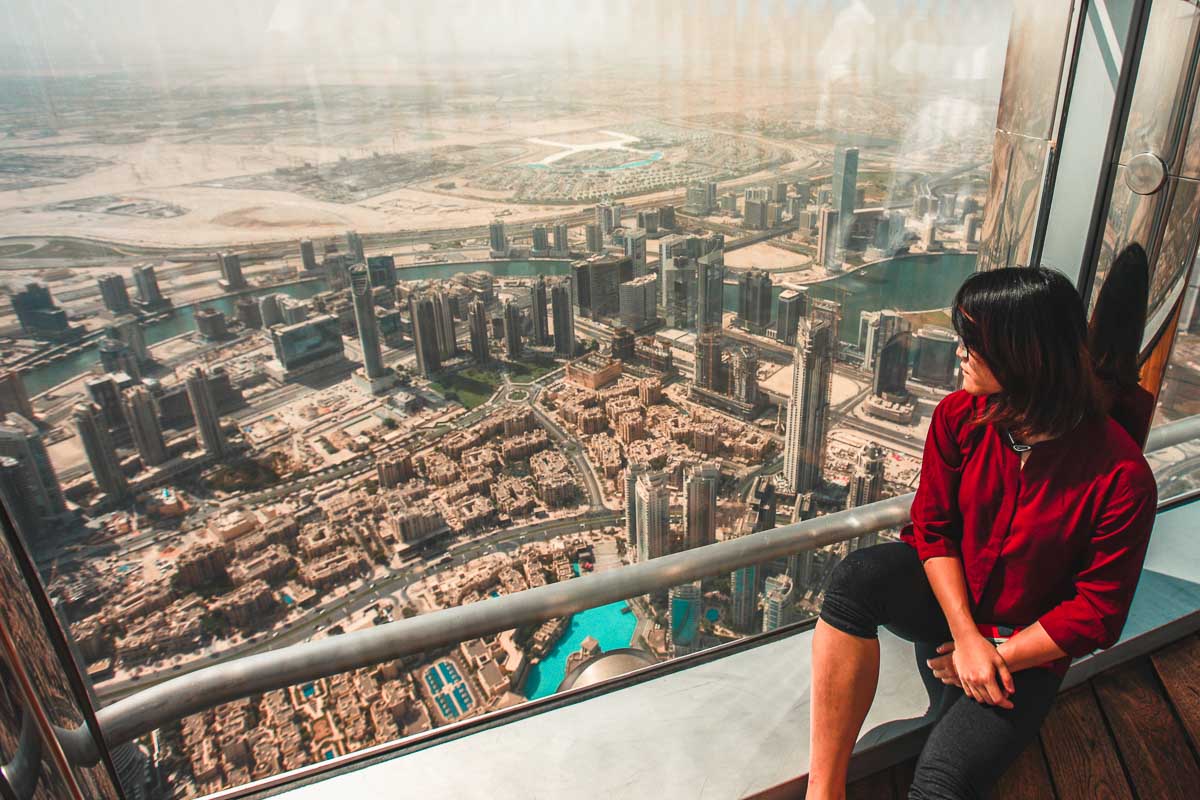 If you're looking to get high, check out the Burj Khalifa's observation decks called At The Top. You can visit levels 124 and 125, or include level 148 for a higher, unobstructed view. We recommend visiting during non prime-time hours, when tickets are cheaper. A staff mentioned that 4PM – 7PM is the peak period, and queuing time can go beyond three hours!
Burj Khalifa Observation Deck
Cost: from AED140 (~S$52)
Opening Hours: 8:30AM – 12AM (last entry at 11:15PM)
How to get there: Take the Dubai Metro Red Line to Burj Khalifa/Dubai Mall Station. Then, walk through the Link Bridge for ~15 mins to the mall and follow the signage to the Burj
2) Dubai Frame: World's Largest Picture Frame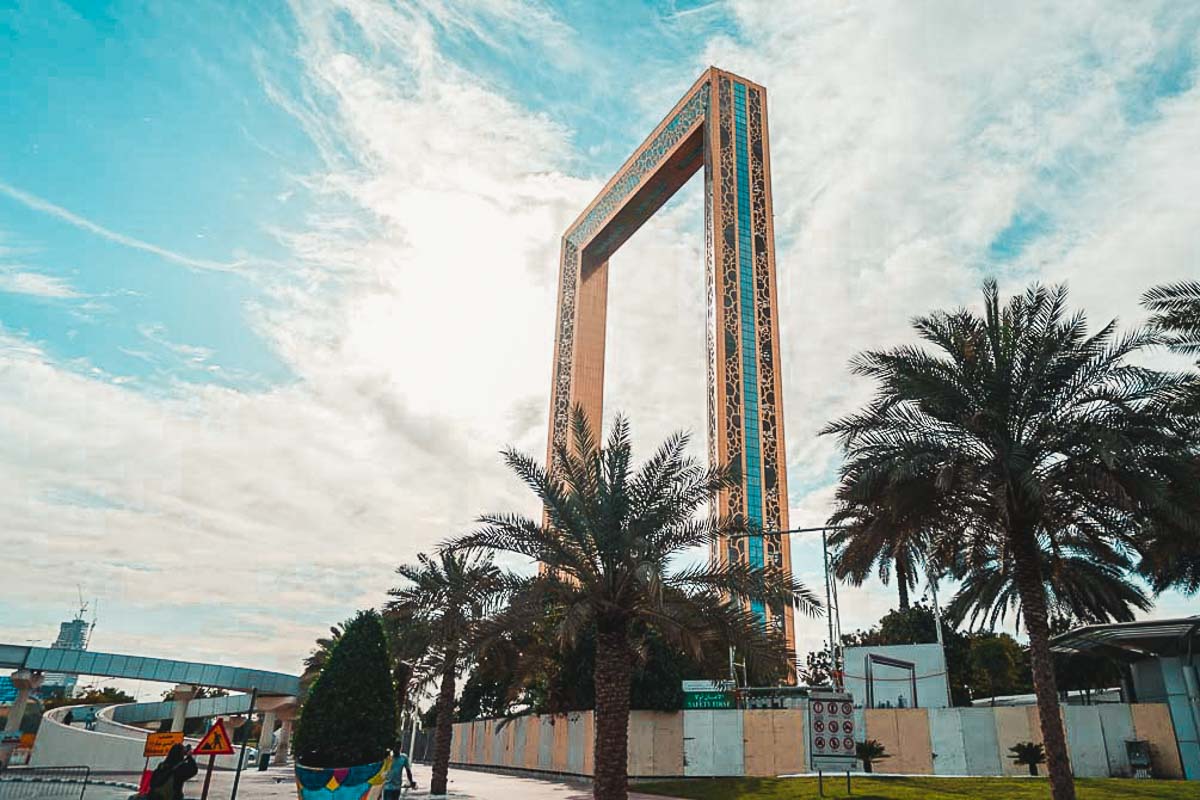 It looks like the iconic National Geographic rectangle, but it's not. The Dubai Frame is a relatively new landmark that acts as a golden gateway between Old and Modern Dubai. At 48 floors high, the Sky Bridge provides beautiful views of Dubai's skyline. It also has smart glass panels that reveal the ground below as you walk across, which is pretty nerve-wrecking even for the daredevils.
Entrance Fee: AED50 (~S$18.60)
Opening Hours: 9AM – 9PM
How to get there: Take the Red Line to Al Jafiliya Station, then walk towards Zabeel Park Gate 4
3) Palm Jumeirah: World's Largest Man-made Island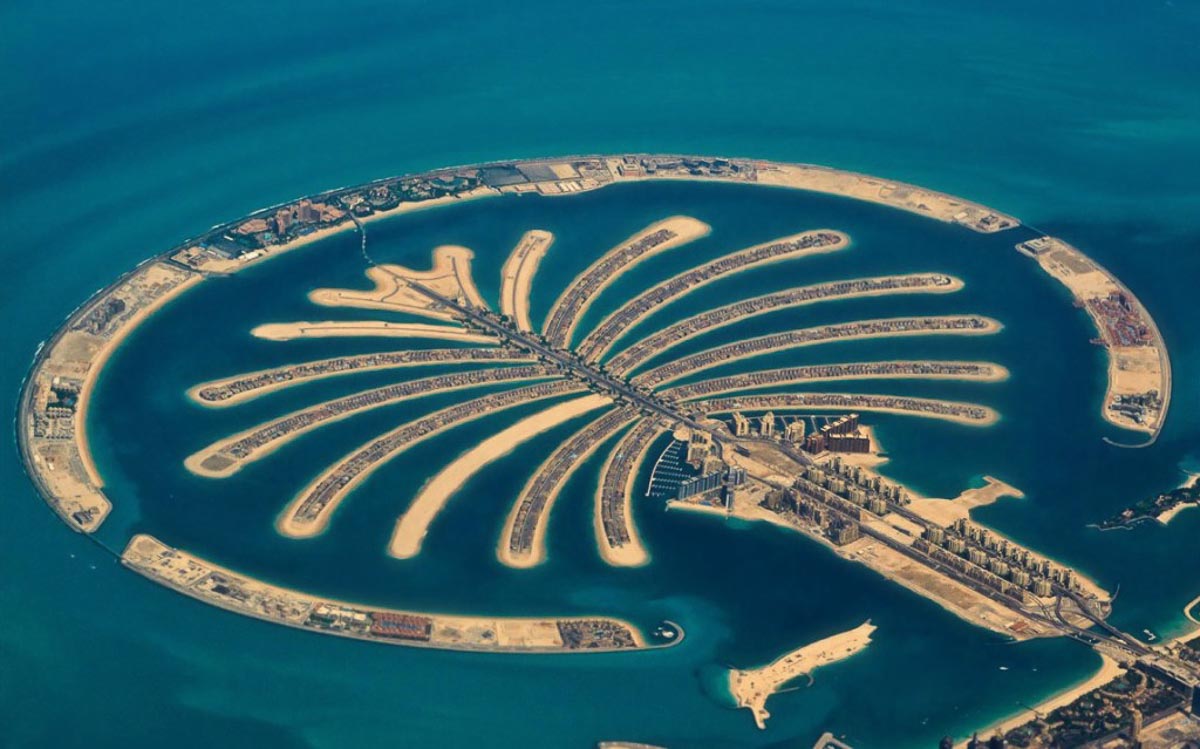 Self-dubbed the "eighth wonder of the world", the Palm Jumeirah spans 5km into the Persian Gulf shaped like a date palm. The island is home to residential houses, luxurious resorts like Atlantis the Palm, and attractions like Aquaventure (better known as the waterpark with a slide that goes through a shark-filled lagoon). Truly a marvel to visit.
How to get there: Take the Red Line to Damac Properties Station and cross the overpass to the Dubai Marina Tram Station. There, take the T1 tram for four stops to the Palm Jumeirah 1 Tram Station
4) Jumeirah Mosque: Dubai's Most Photographed Mosque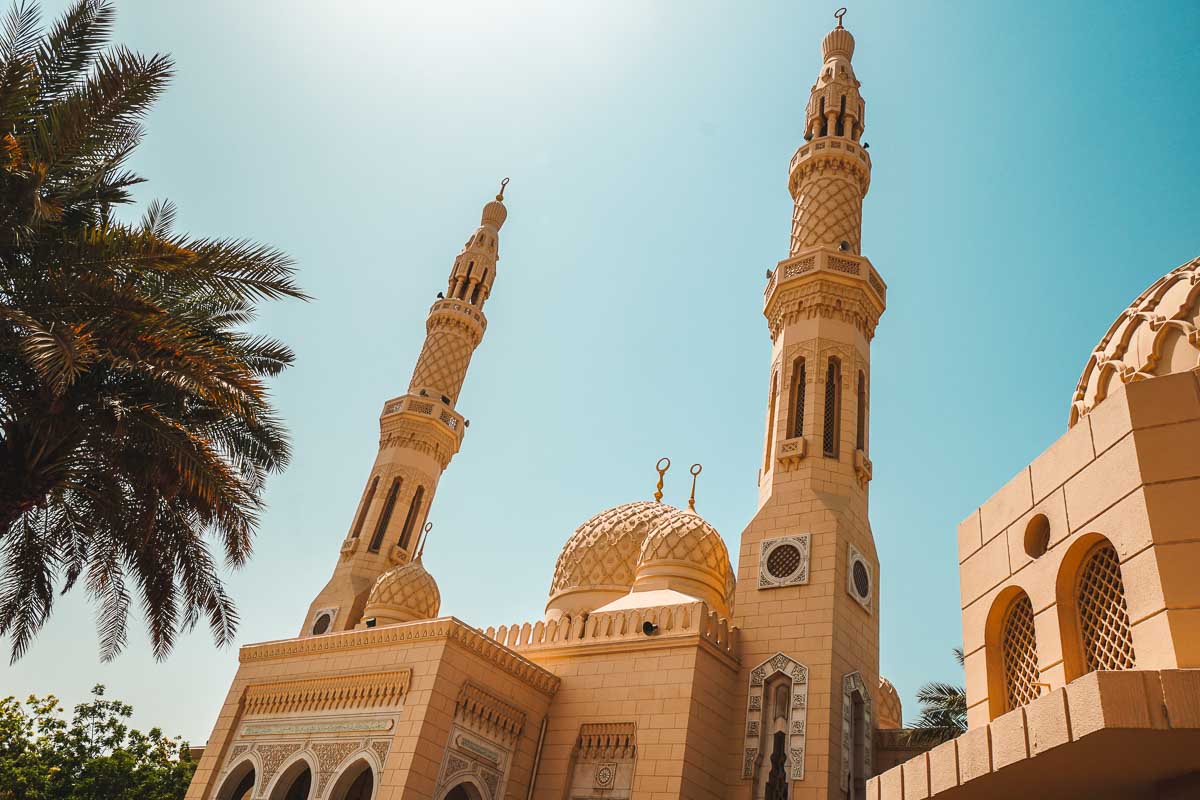 The Jumeirah Mosque is one of the city's most iconic landmarks. It's the only mosque in Dubai that allows non-Muslims into its premises, and also encourages photography to "make them famous".
Tours are run by the Sheikh Mohammed Centre for Cultural Understanding, and provide an introduction to the Five Pillars of Islam, as well as a Q&A session to understand more about the religion.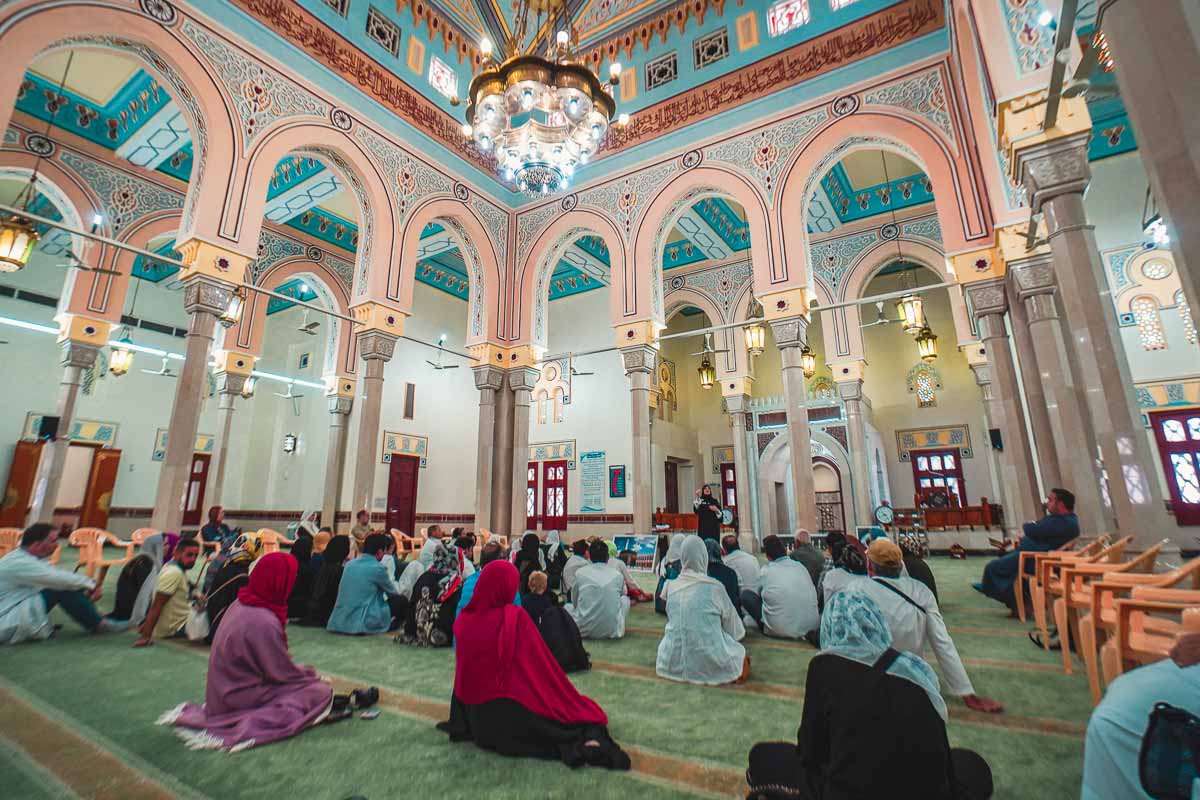 Men and women are required to dress modestly before entering the mosque, but there are traditional attires and headscarves available for borrowing.
Cost: AED25 (~S$9.30) for tour
Morning tour: 10AM (Sat – Thu). Registration at 9:30AM.
Afternoon tour: 2PM (Tue & Thu). Registration at 1:30PM.
How to get there: Take the Red Line to Abu Dhabi Commercial Bank (ADCB) Station, then take bus C10 for six stops to Dhiyafa 1 and walk 650m
5) Dubai Fountain: World's Tallest Performing Fountain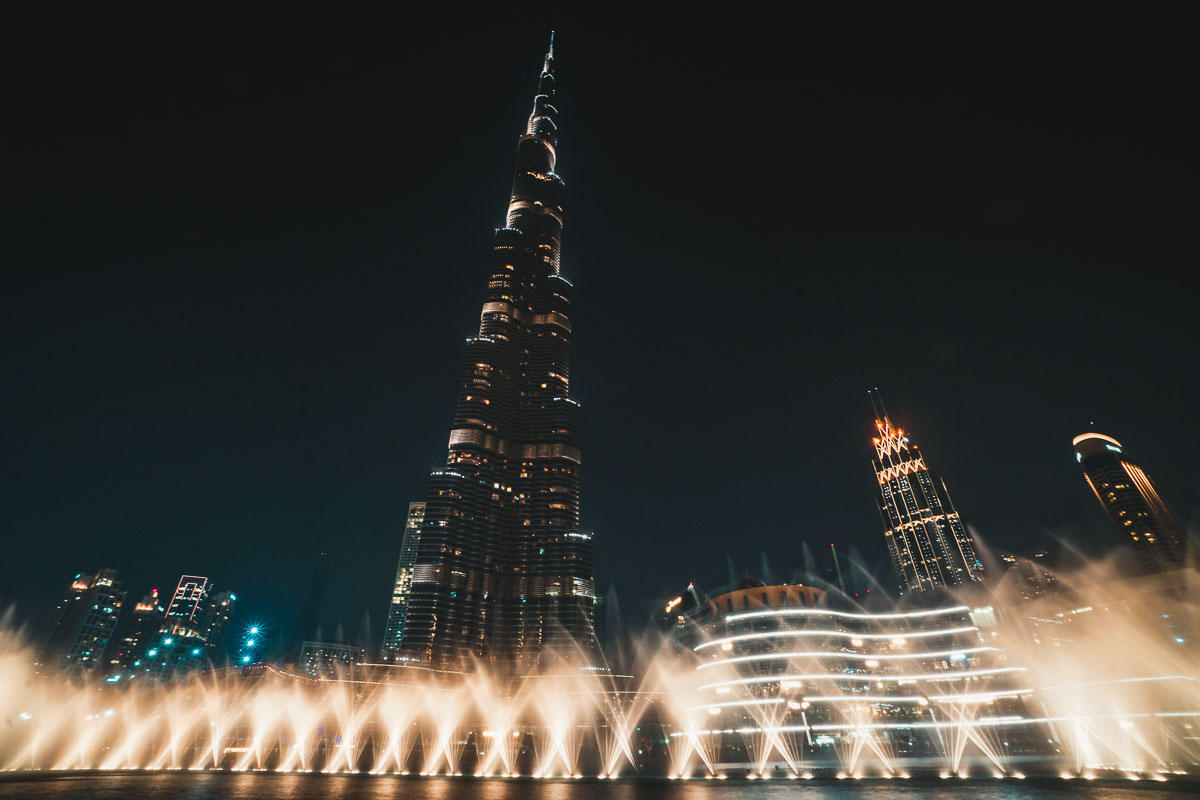 A visit to Dubai isn't complete without watching a spectacular Dubai Fountain show located outside the Dubai Mall. The fountain "performs" a short dance in sync to different kinds of music by shooting water sprays as high as 48 floors in the air (expect to get a little wet if you're watching nearby on the boardwalk)! There are afternoon and evening shows, but we recommend watching at night for the extra pizzazz from the fountain lights.
Afternoon shows: 1PM – 1:30PM (Sat – Thu), 1:30PM – 2PM (Fri)
Evening shows: Every 30 minutes, from 6PM – 12AM
6) Dubai Mall: One of the World's Largest Malls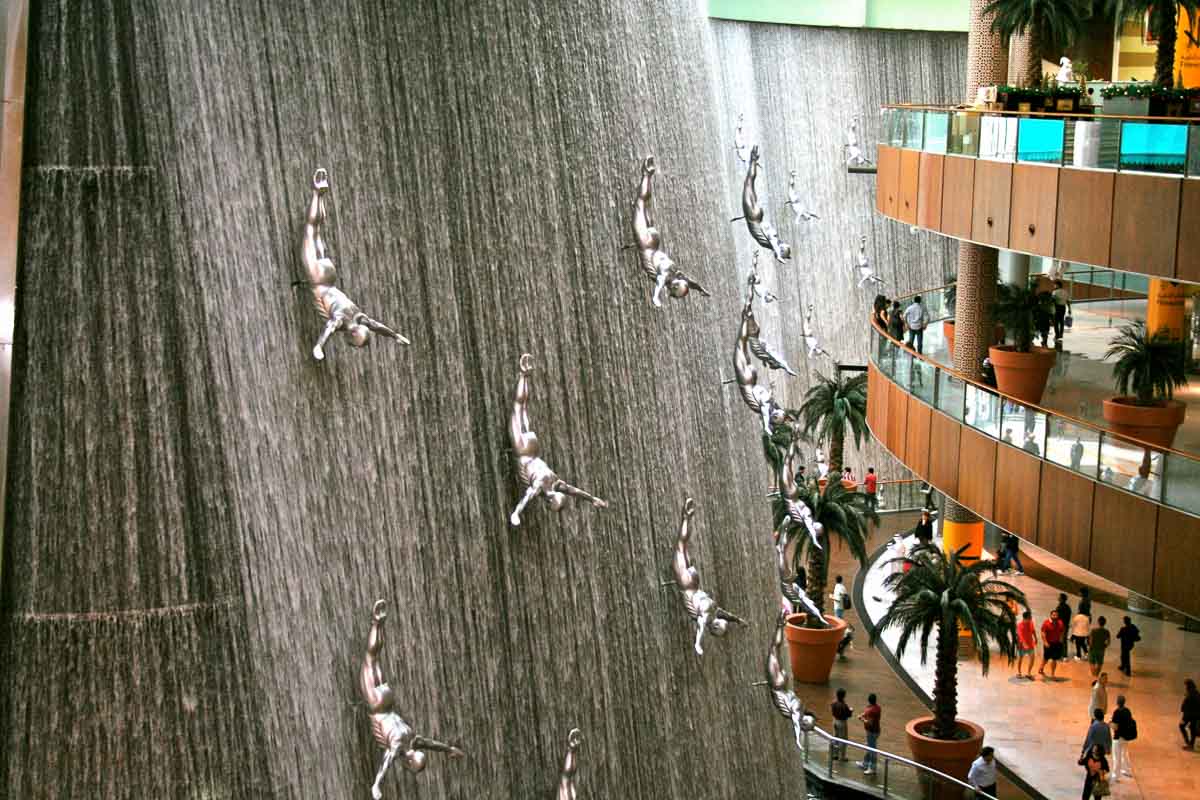 It's easy to be daunted by the sheer size of the Dubai Mall. It's even easier to get lost, with over 1,200 stores and 200 eateries catering to every budget and taste. Entertainment options include a VR Park, haunted house, and even a 155-million-year-old dinosaur skeleton!
Opening Hours: 10AM – 12AM
How to get there: Besides the Metro, public buses 27 and 29 go to Dubai Mall. Bus 27 picks passengers from Deira Gold Souk station, while Bus 29 starts from Al Ghubaiba bus station. Buses leave every 15 minutes
7) Dubai Aquarium: One of the World's Largest Aquariums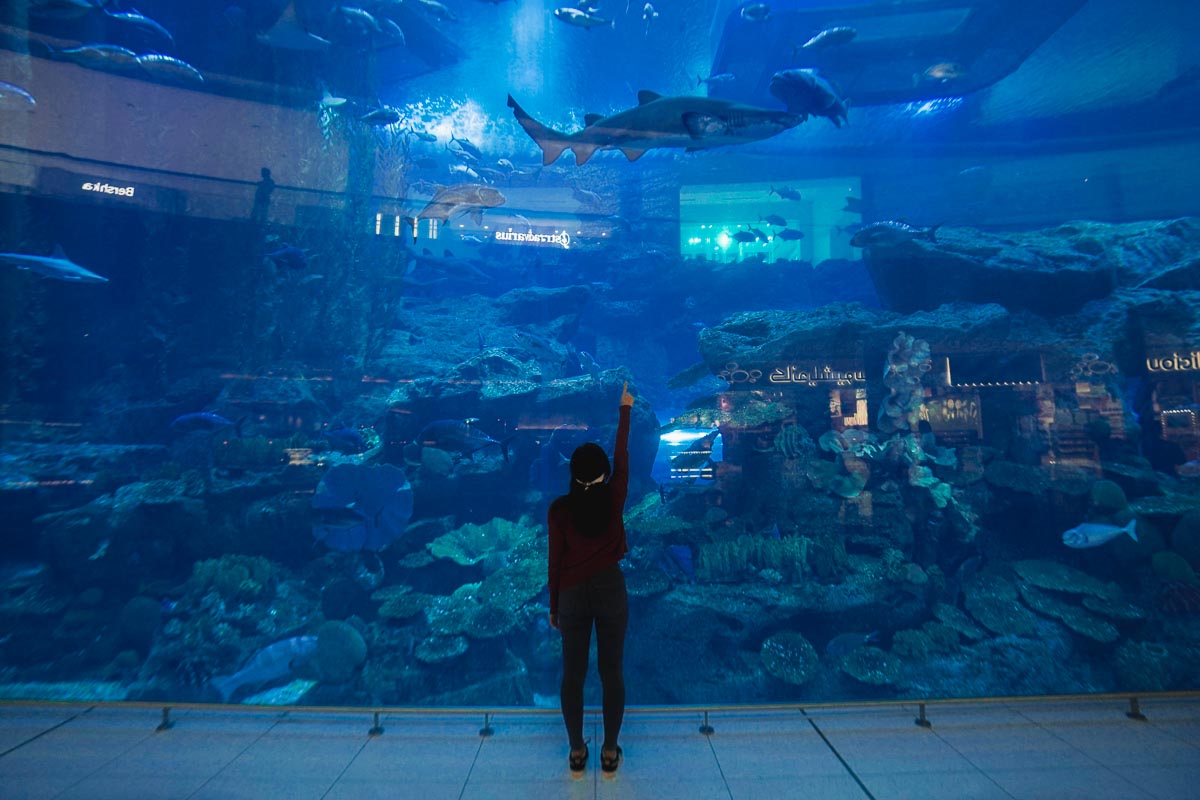 The Dubai Mall has pretty much everything, including a 10 million-litre tank that holds over 33,000 aquatic animals (including sharks and rays). You don't need to travel to a far-flung place to be close to the ocean; just head to the ground floor where the Dubai Aquarium & Underwater Zoo is located. It's free to view the tank from the outside, so relax and pass the time watching fish/people.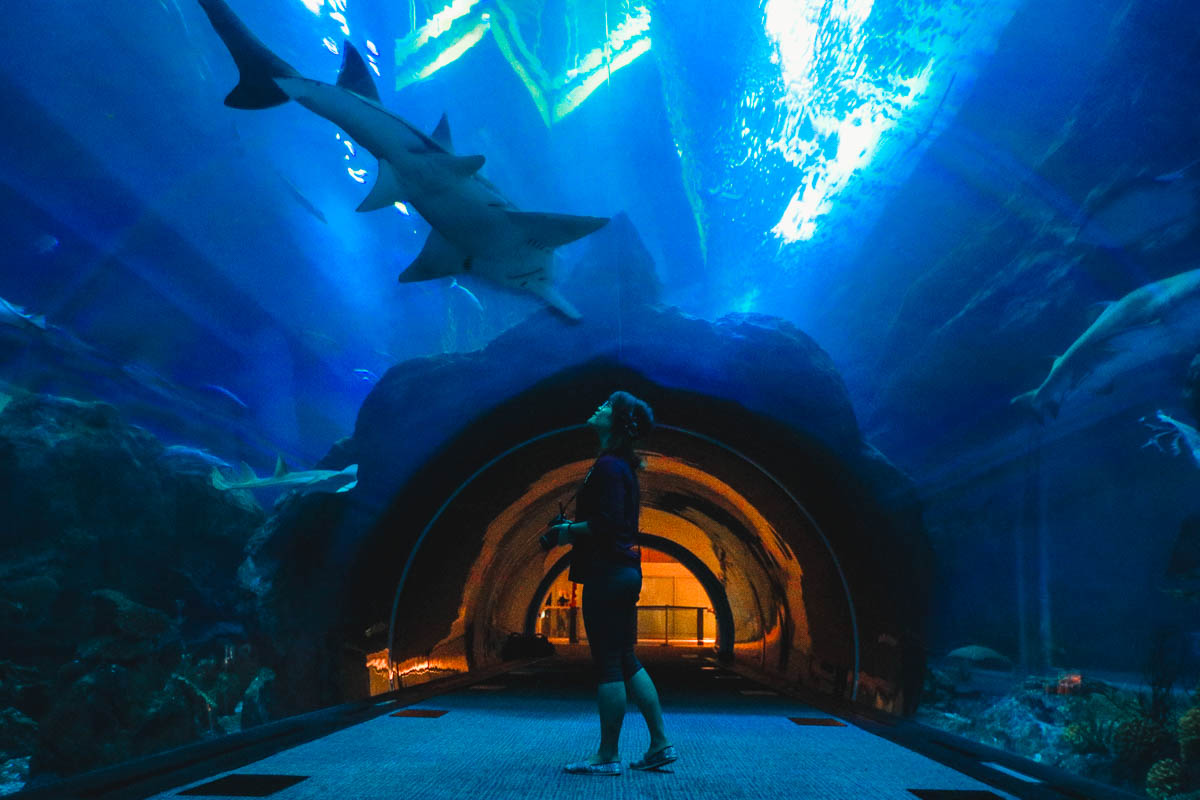 For a more immersive experience, we recommend going for the Explorer Experience. You get to walk through an aquarium tunnel, tour the impressive Underwater Zoo, and go on a glass-bottom boat tour. For the adventurous, there's even an option to scuba-dive with the sharks (AED790, ~S$297).
Dubai Aquarium Explorer Experience
Cost: ~S$57.60
Opening hours: 10AM – 2AM

8) Dubai Marina: World's "Most Luxurious Man-made Marina"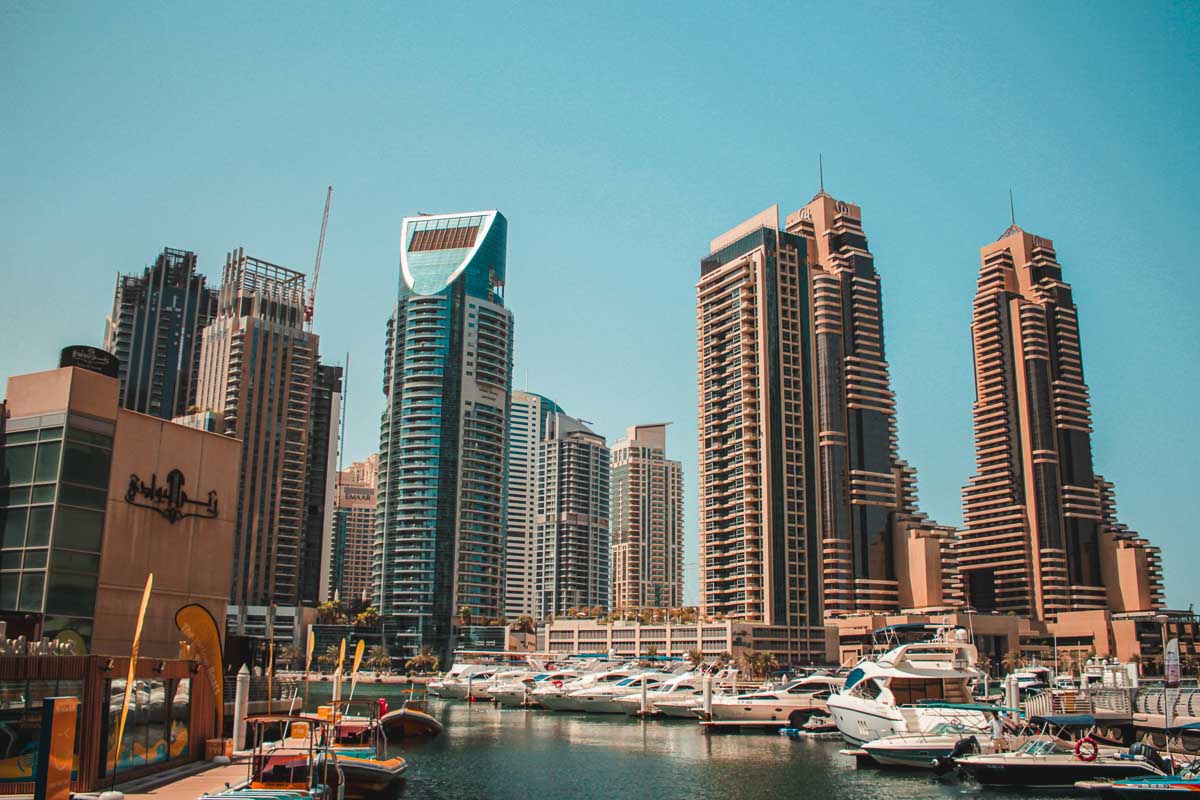 The Dubai Marina is a scenic district surrounded by a beautiful waterway, nightspots, restaurants, hotels, and the iconic Jumeirah Beach Residences (JBR). Popular with tourists and residents alike, the Dubai Marina is a great for an evening stroll or exciting night out with friends. In the night, you can even go on a dinner cruise (~$54) through the canal.
How to get there: Take the Red Line to Damac Station and cross the overpass to the Dubai Marina Tram Station
9) Burj Al Arab: World's "Only 7-Star Hotel"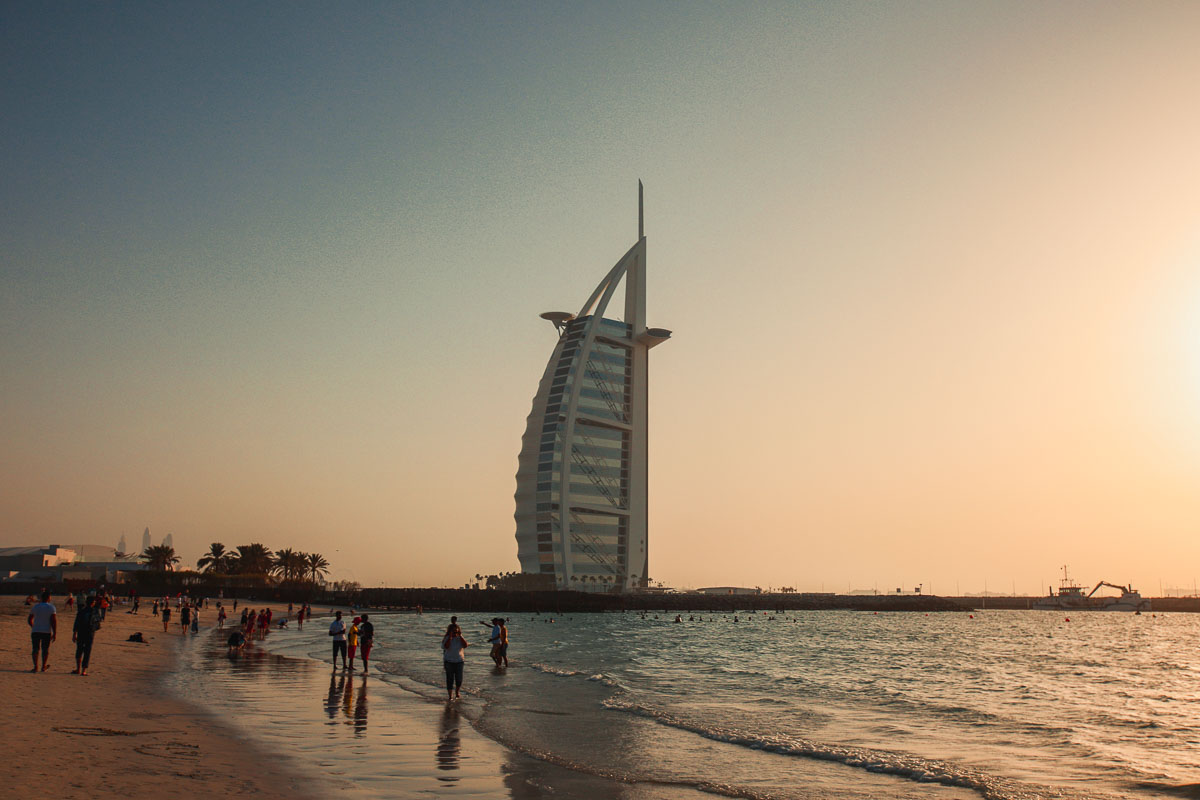 The Burj Al Arab, which translates to "Building of the Arabs", is the iconic sail-shaped hotel of Dubai. Officially, it's a five-star deluxe hotel, but people thought it was better because it's just so incredibly luxurious.
A one-night stay costs ~S$2,000, and for that price, you bet there's a private butler. There's also more than two tons of gold furniture inside — taps, shower heads… even the dustbin is made of gold. You're not allowed to enter the hotel without a prior reservation, but you can always enjoy the view from the nearby Jumeirah Beach.
How to get there: Take the Red Line to Mall of Emirates Station. Then, take bus 81 for eight stops to Wild Wadi 2 bus stop
10) Al Fahidi Historical Neighbourhood: A Taste of Traditional Dubai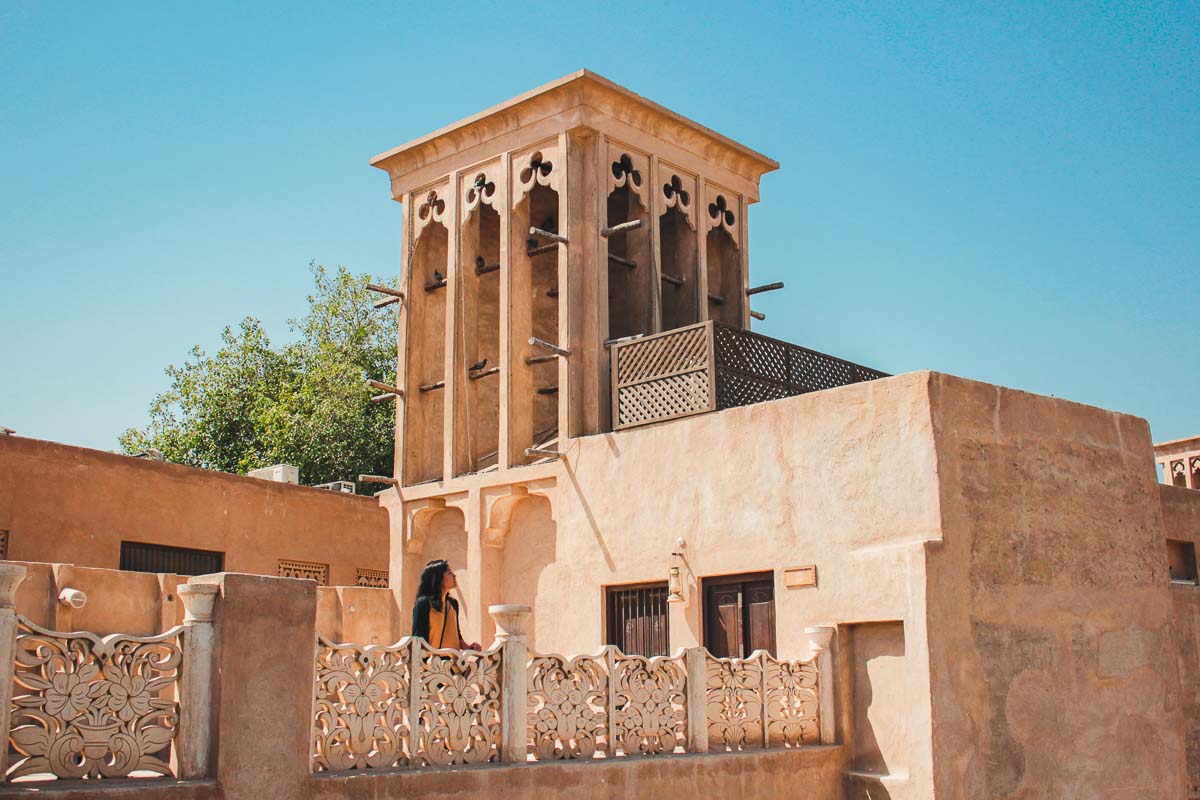 The Al Fahidi Historical Neighbourhood is a heritage site with mid-19th century buildings, houses and wind towers preserved in their original state. Through the winding alleys, there are many museums, cafes and art galleries you can visit to learn more about Emirati culture and Dubai's rich history.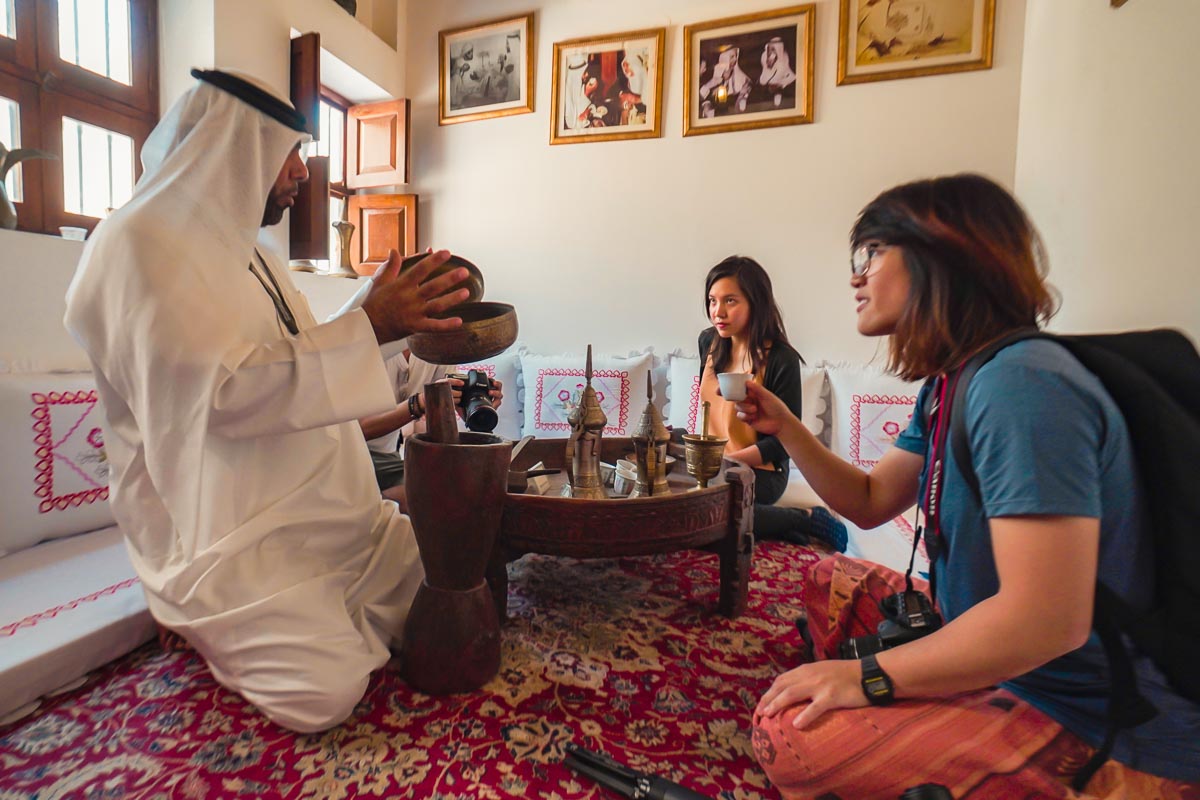 If you have any questions, you can approach men wearing white kanduras and black lanyards. They're friendly tour guides from the Dubai Culture & Arts Authority who might even guide you around! We met ours in one of the alleyways, and he brought us to the coffee museum and taught us the traditional way of drinking coffee in a Majlis (sitting room).
Opening Hours: 9AM – 6PM (some museums may be closed on Fridays)
How to get there: Take the Green Line to Al Fahidi Station, then walk 700m
Things to Do in Dubai
11) Skydive over the Palm Jumeirah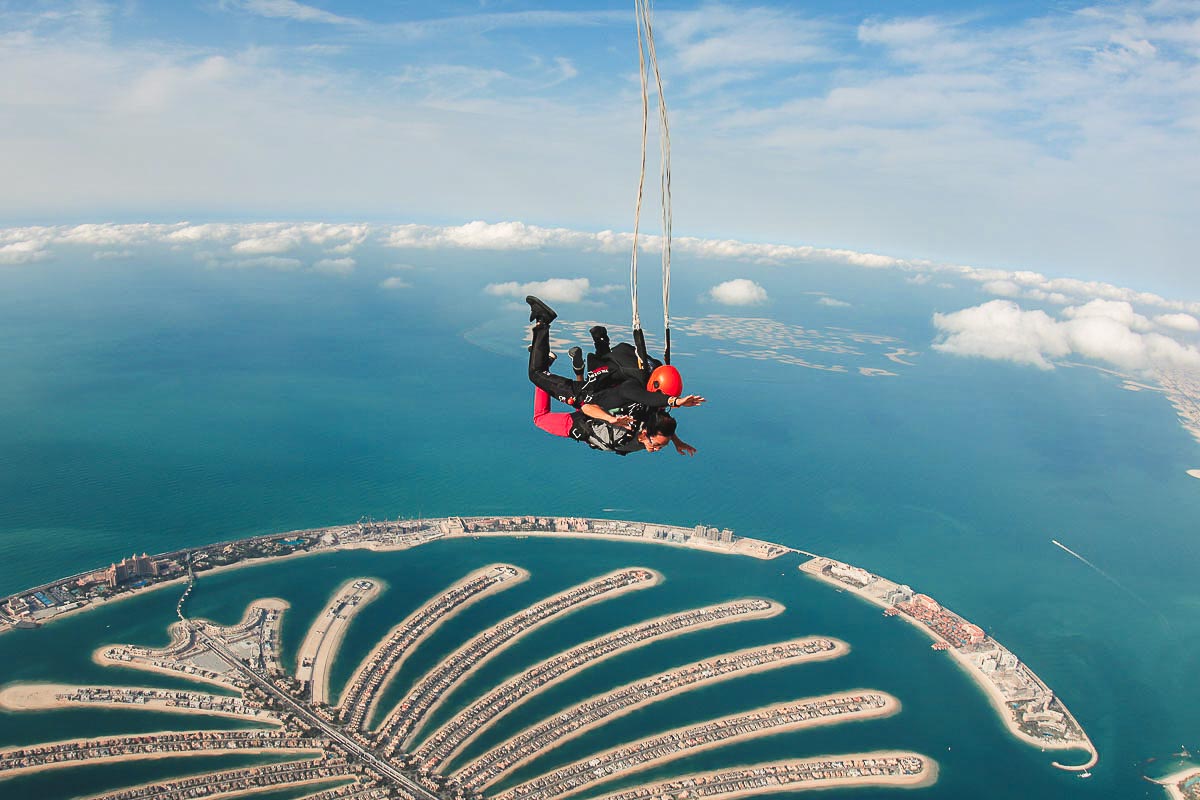 As if Dubai isn't OTT enough, Skydive Dubai gives you the opportunity to get a bird's eye view of the Palm Jumeirah islands (cause, y'know, seeing it on foot is too mainstream). It's a lot pricier compared to other countries, but it's a unique way to see Dubai's beautiful skylines.
A separate skydiver also jumps with you to film you whizzing through the air, so you can focus on enjoying the moment without worrying about Instagram.
Cost: AED2,199 (~S$820) for Palm Dropzone
Opening Hours: 10AM till Sunset (timings may differ)
How to get there: Take the Red Line to Damac Properties, then take the T1 tram to Marina Towers and walk 1.7km
12) Go on a Desert Safari Adventure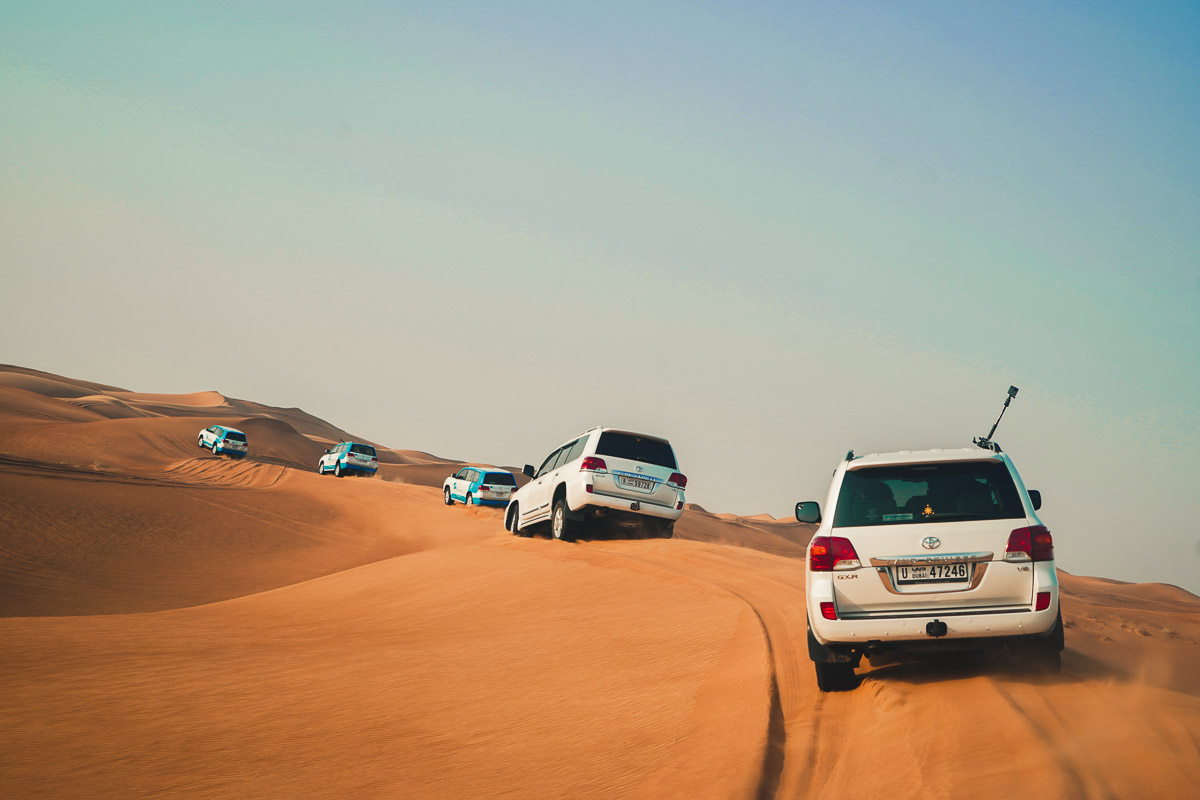 You wouldn't want to miss out on the rare chance to visit a desert, and Dubai is the perfect place for an exhilarating safari adventure to desert dune-bash in a 4×4 vehicle.
Get your motion sickness pills ready, seriously, because this wild rollercoaster ride keeps you drifting and dropping down steep sand dunes!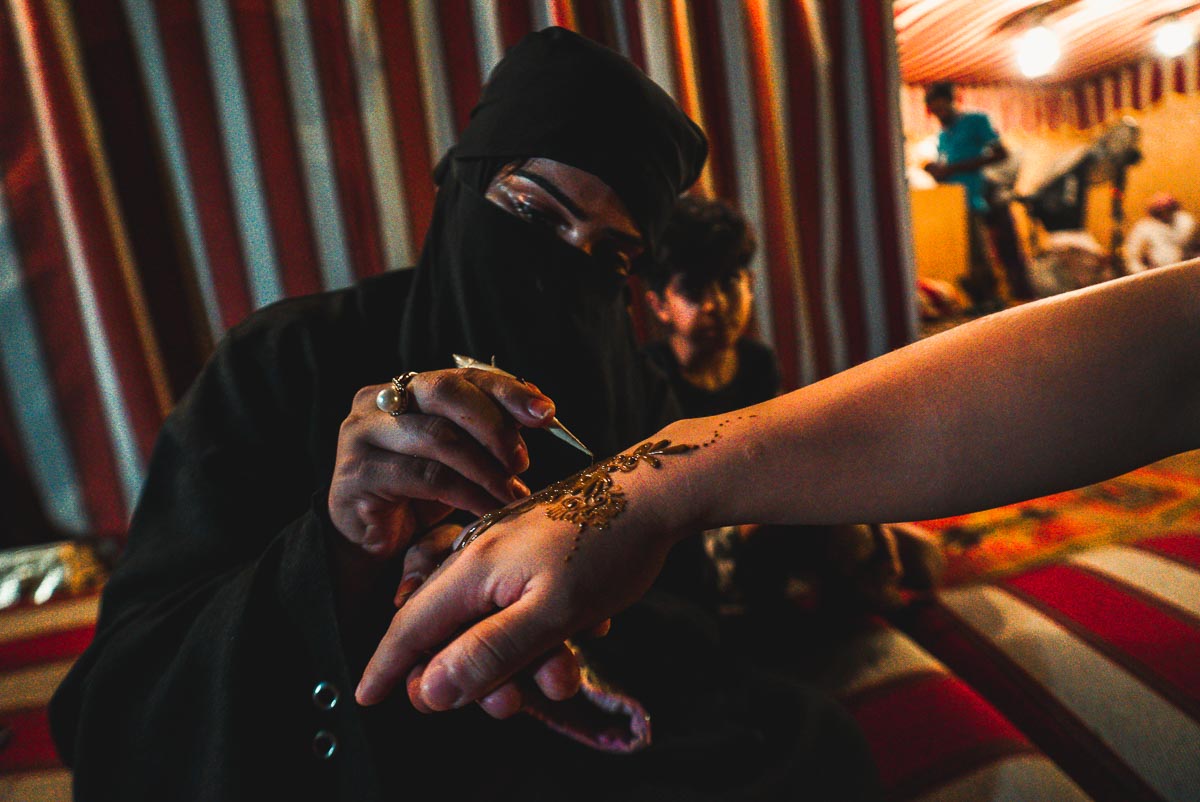 Afterwards, you'll arrive at a traditional Bedouin camp for a traditional Middle Eastern dinner with entertaining performances, like a Tanoura show and belly dance. Other fun activities at the campsite include camel rides, shisha, and henna painting.
Cost: ~S$43.90 (incl. hotel transfer)
Hotel Pick-up: 2:30PM – 3:15PM (the driver will confirm the time with you)
13) Drive a Desert Dune Buggy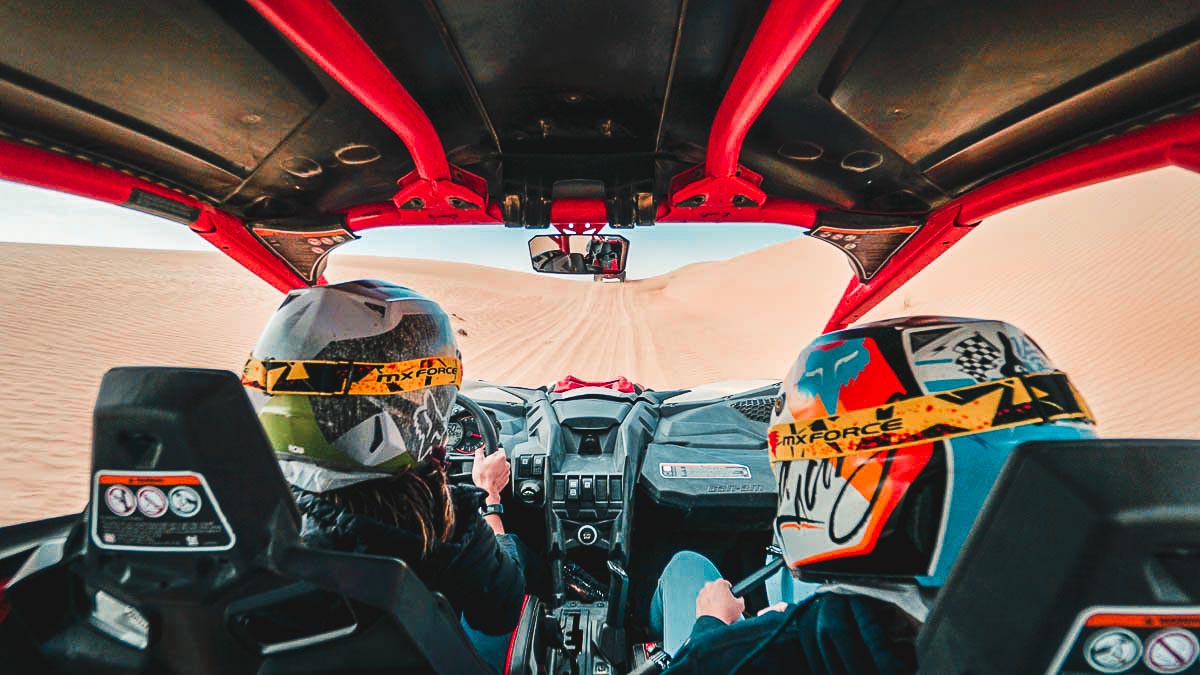 Driving on a road is easy. But it's a whole new world when you drive in the desert. If you have a driving licence, sign up for this two-hour experience with Arabian Adventures! The adrenaline rush from cruising through sand dunes with rollercoaster-esque ups and downs is seriously amazing.
Our driver at the desert safari adventure (point 12) also offered to provide this activity on the spot for a top-up fee of AED300 (~S$112, for 2 pax), but we highly recommend doing it separately because you'll have a longer time to drive.
Cost: AED730 (~S$272, incl. hotel transfer)
Sessions: Four times daily from Oct – Apr, twice daily from Jun – Aug.
14) Go on a Hot Air Balloon Ride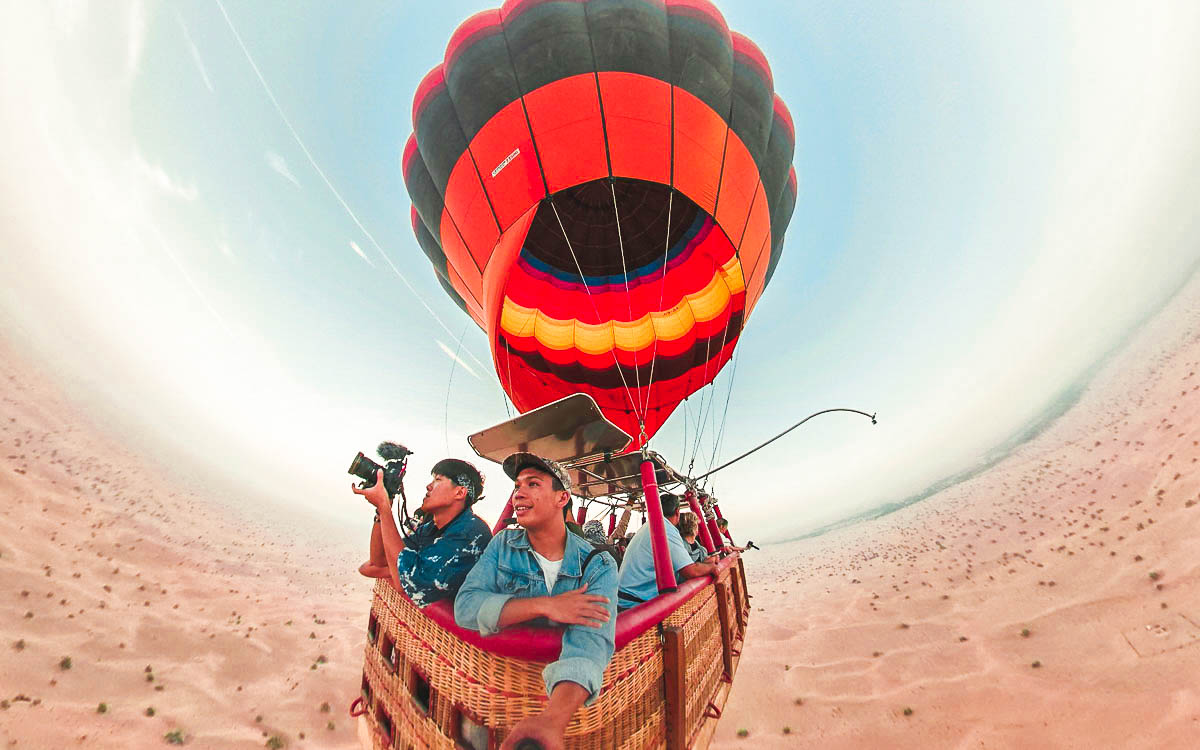 Spend your mornings a little differently and watch the sunrise on a hot air balloon flight. It's a mesmerising experience watching light fall on the landscape below, and catching glimpses of wild gazelles hopping though the sands.
After the flight, you'll get to ride in a vintage Land Rover to a Bedouin camp for a lavish breakfast. Once done, you'll be transferred back to your hotel, and likely reach back before most tourists wake up.
Cost: ~S$419.45 (incl. hotel transfer)
Hotel Pick-up: 4AM – 5AM (the driver will confirm the time with you)
15) Explore Dubai's Old Souks (Markets)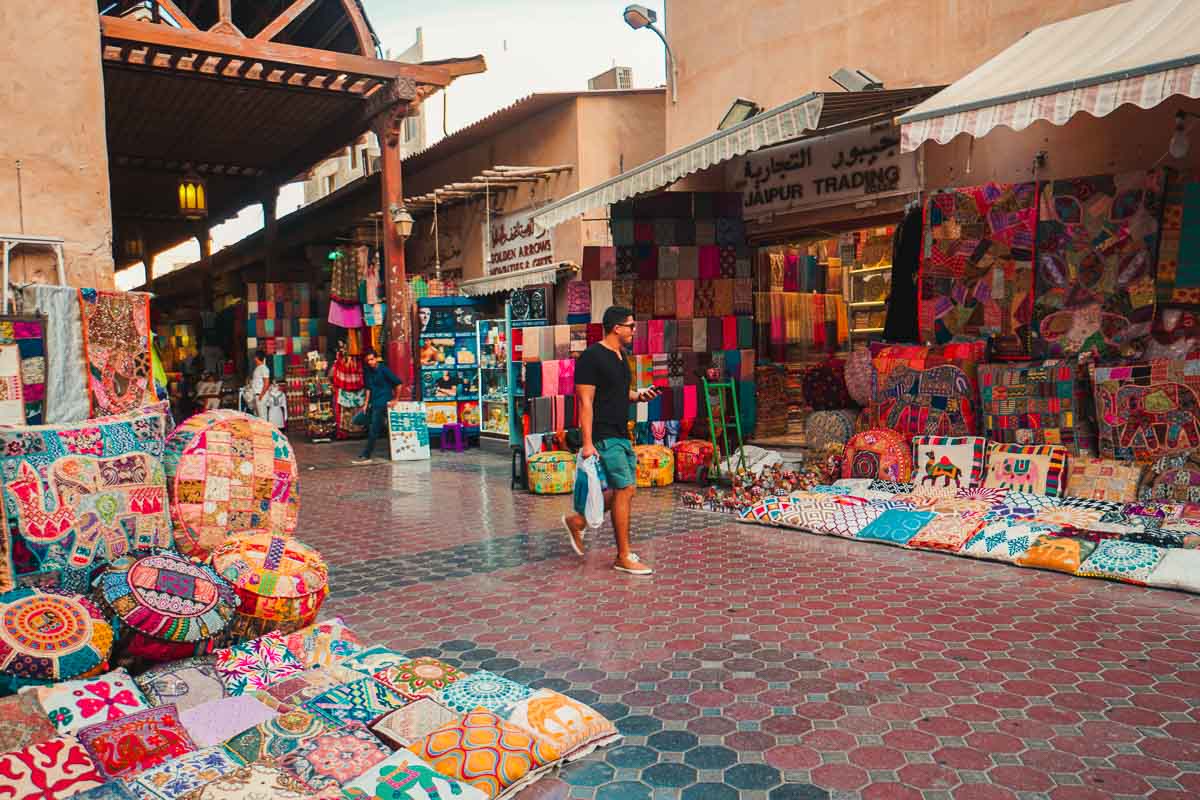 Even if shopping isn't your cup of tea, just walking through the traditional Souks in Old Dubai is quite an experience. At the Textile Souk, you'll find many shops selling colourful items like cushions, scarves, snacks, and traditional lamps.
Be prepared — almost all the vendors will invite you into their shop, and may use aggressive tactics or emotional appeal to get you to buy something. Our advice: be firm, and haggle for a price you're comfortable with paying.
The Gold and Spice souks sit across the nearby Dubai Creek. The most efficient and cheapest way to get across is to take an abra (traditional boat) from Bur Dubai station to Deira Old Souk station. A one-way journey costs AED1.
Opening Hours: 9AM – 10PM (opens 4PM on Fridays)
How to get there: From Al Fahidi Historical Neighbourhood, walk ~400m to the Grand Bur Dubai Masjid. The entrance to the Textile Souk is around the corner of the mosque
16) Hit the Slopes at Ski Dubai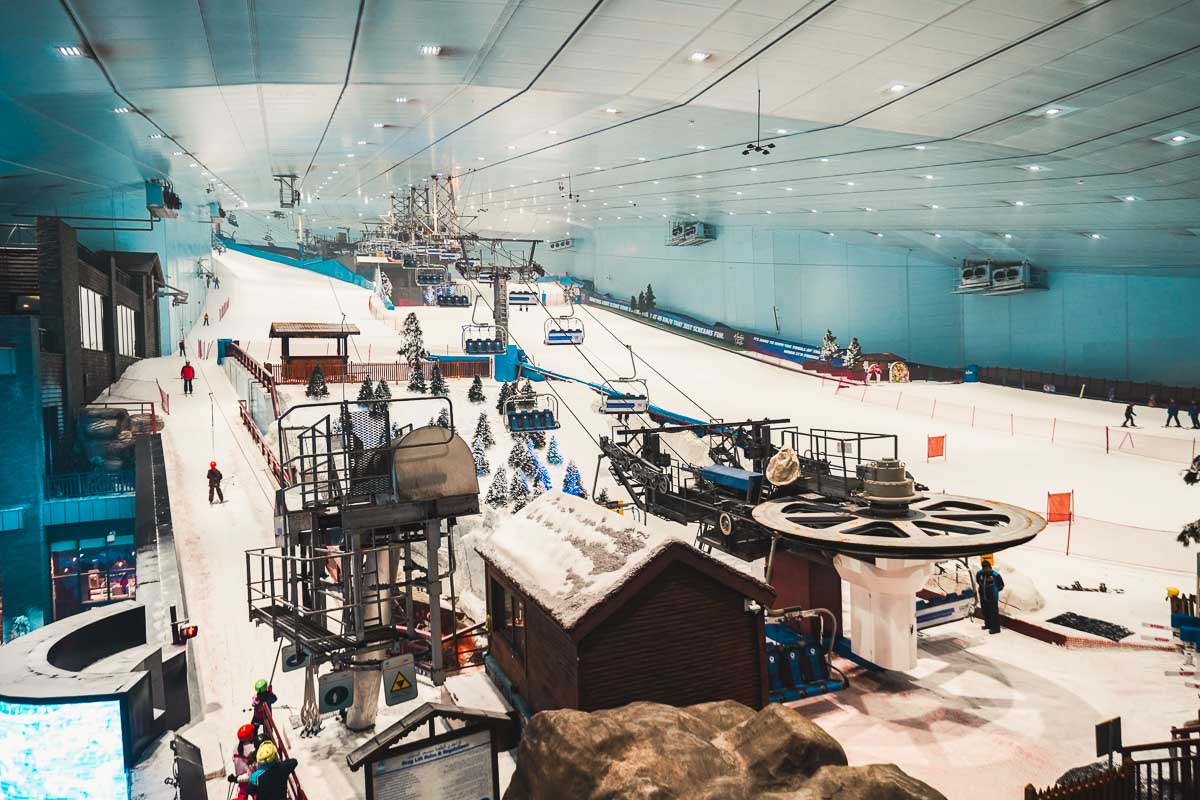 Ski Dubai is one of the world's biggest indoor ski resorts located inside the Mall of Emirates. Besides a huge ski area the size of three football fields, there's a snow park with fun activities like slides, bobsleds, and even penguin encounters. The extremely chilly atmosphere (-2°C) will make you forget you're in a desert. Do bring along extra warm clothing if you're susceptible to the cold.
Booking online saves you up to S$30 as the ticket includes full-day access to the snow park, a chairlift ride, winter clothing and fleece gloves!
Cost: ~S$71.05
Opening Hours: 10AM – 12PM (Sun – Wed), 10AM – 12 AM (Thu), 9AM – 12AM (Fri), 9AM – 11PM (Sat)
How to get there: Take the Red Line to Mall of Emirates Station, then head to the Ground floor
17) Go on a VR Adventure in Hub Zero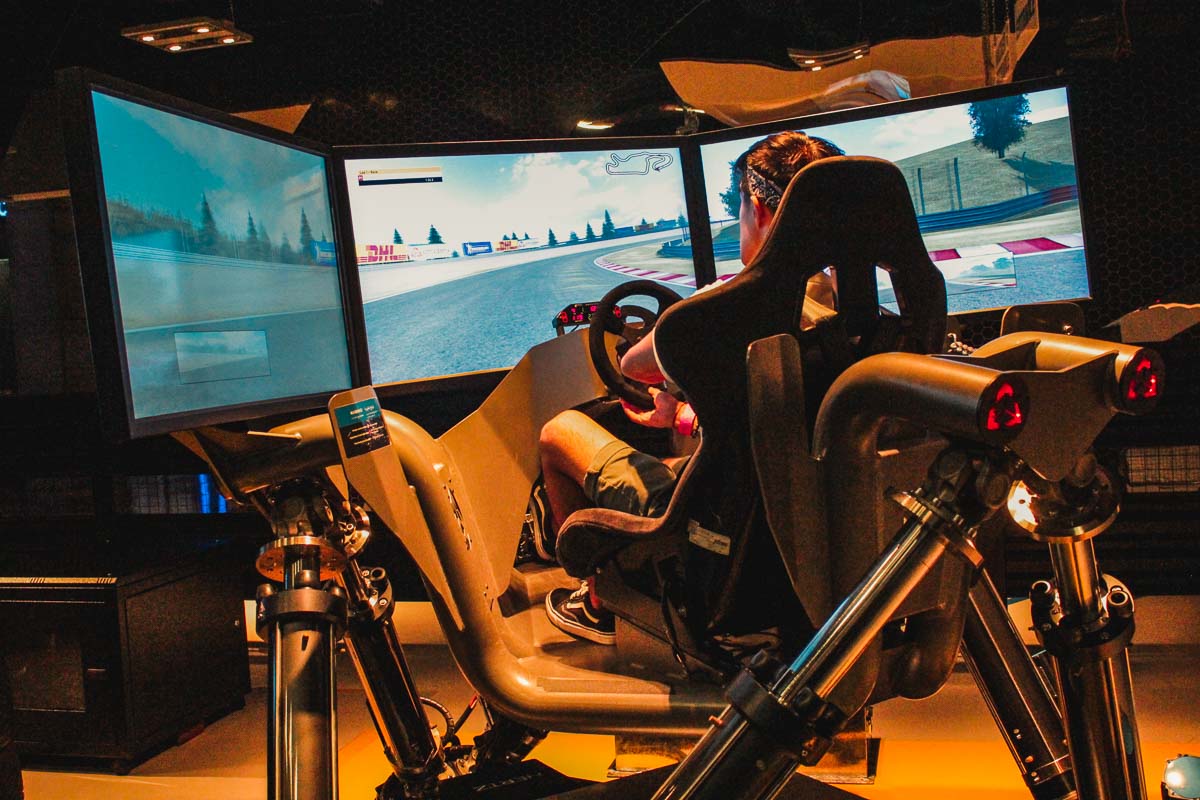 Located near the city centre, City Walk is a stylish al fresco shopping, dining, and entertainment district. One of its attractions is Hub Zero — a massive interactive playground that'll appeal to the young at heart. From a VR driving experience to a 4D cinema and augmented climbing wall, there are plenty of fun activities for both adults and kids.
Some paid attractions aren't included in the regular tickets, but are worth topping up if you're a serious gamer. The Void, for example, is a "hyper-reality" experience where you're a Ghostbuster capturing ghosts.
Entrance Fee: ~S$50
Opening Hours: 2PM – 10PM. Closes 12AM on Thu & Fri.
How to get there: Take the Red Line to Business Bay Station, then take bus 7 for one stop to Dubai Petroleum Corporation 2
*Pro-tip: Come early on a weekday afternoon when it's the least crowded! You'll almost have the whole place to yourself, and won't need to queue very long to try the games.
18) Cool Off at Laguna Waterpark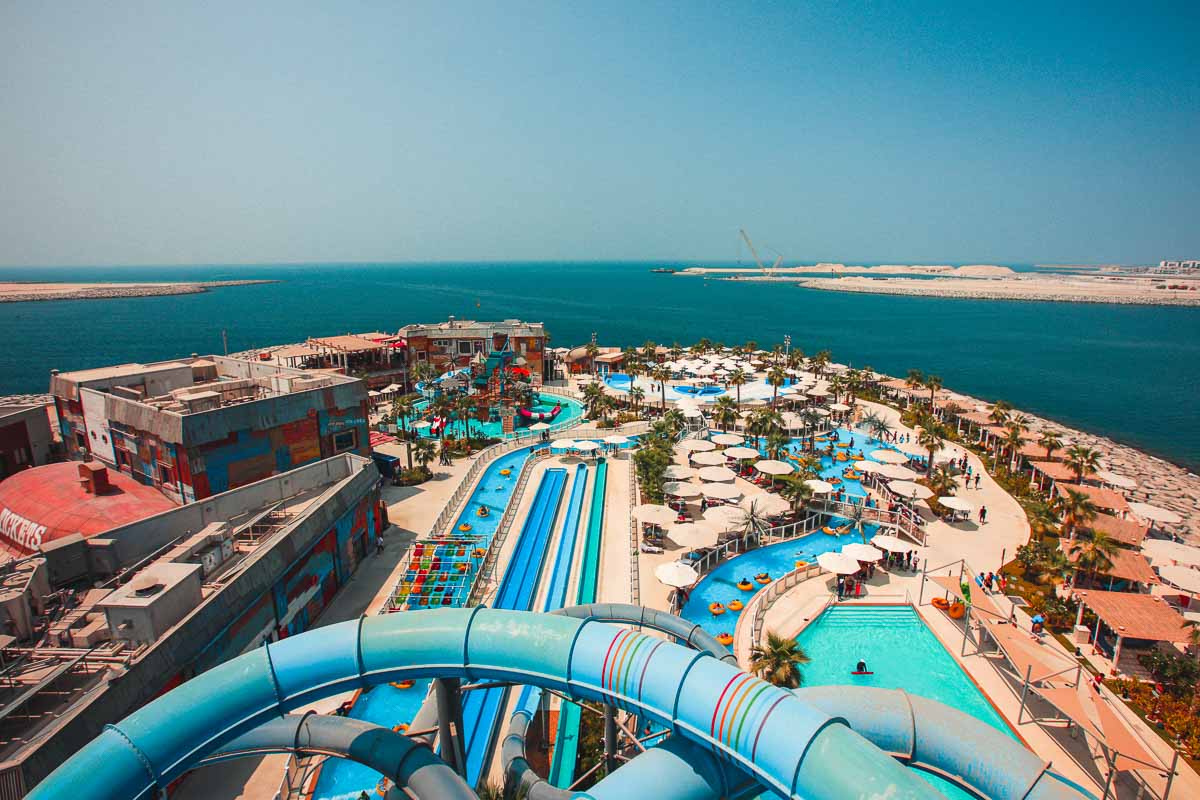 You don't always have to run indoors to beat the heat. Laguna Waterpark is a great place to get your heart pumping, and/or laze around at. For the thrill-seekers, go on the Free Fall, which is the fastest slide in the park. The Loop is also exciting AF — a trap door sends you on a whirling journey.
For the ones who want to chill, the lazy river should fit your bill. There's also a man-made beach right outside the waterpark, where you can bum around and get that golden tan.
Entrance Fee: ~S$48.40
Opening Hours: 10AM – 7PM. Closes 8PM from Thu – Sat.
How to get there: Take the Red Line to Business Bay Station, then take bus 9 for 10 stops to Dubai Zoo 2 and walk ~19 mins towards the La Mer area
19) Live Out Your Superhero Fantasies at IMG Worlds of Adventure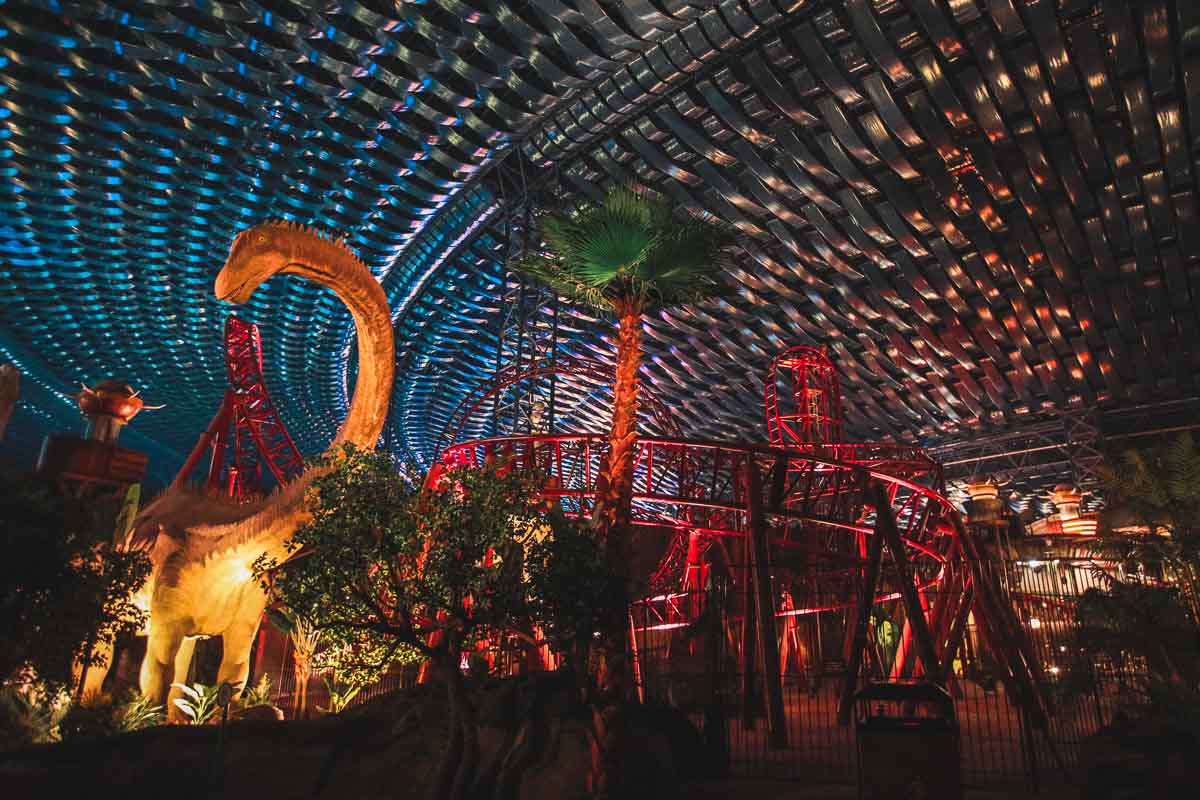 Whether you're a Marvel or Cartoon Network geek, IMG Worlds of Adventure is a must-do. The world's largest indoor theme park is packed full of scream-inducing rides, entertaining shows, and delicious eats to keep you occupied for a whole day.
We loved the ambience — the set design, music and lighting made us feel as if we were part of the environment. One of the must-rides is the Velociraptor: a high-speed, looping rollercoaster that'll make your throat hoarse from screaming.
Entrance Fee: S$68 online
Opening Hours: 11AM – 8PM. Closes 10PM from Thu – Sat.
How to get there: Take a taxi from Dubai Mall (~AED50–70)
20) Dance like a Star at Bollywood Park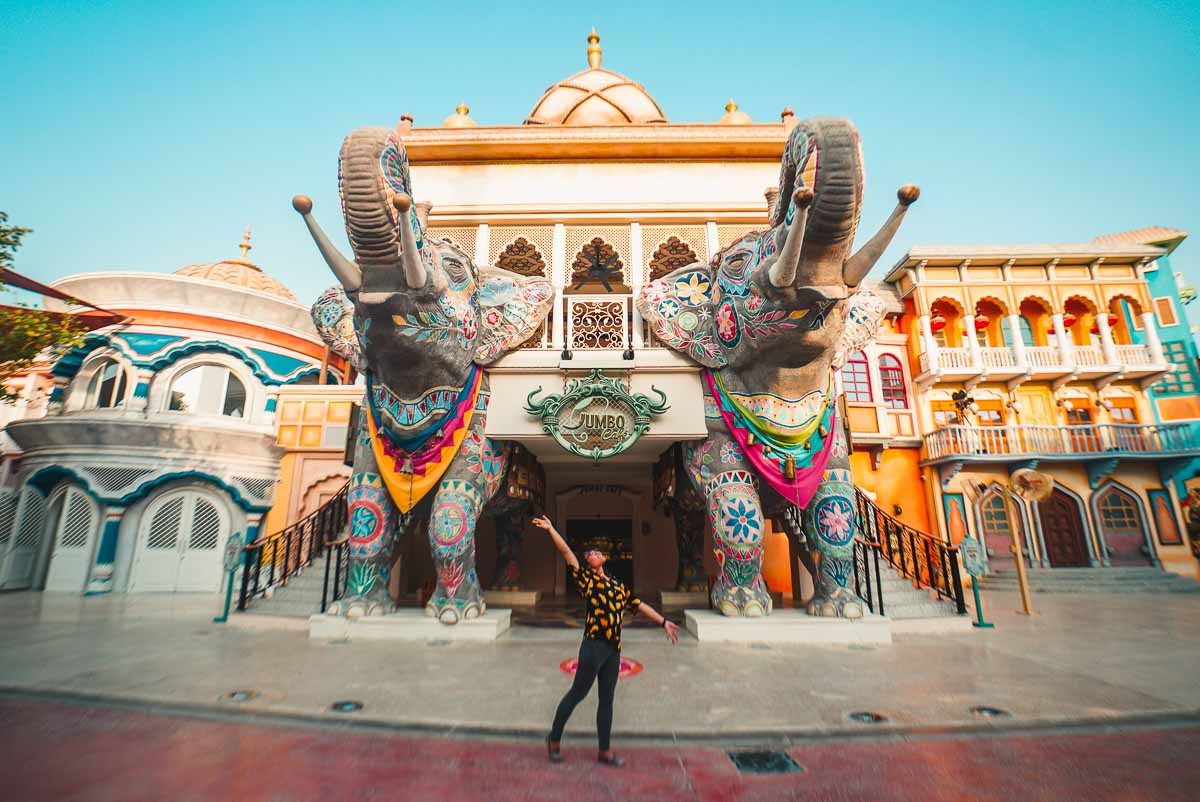 You don't have to be a die-hard Bollywood fan to enjoy yourself at Bollywood Park. The atmosphere of the theme park is lighthearted and fun, with upbeat music, colourful displays and vibrant live performances. Some of them are interactive, so you'll have a chance to dance too!
But that's not all — the park also has visually-captivating, action-packed VR rides based on famous Bollywood movies like Don and Lagaan.
We recommend booking your entry ticket online, which comes in a 1-day-2-parks bundle — you get access to the Bollywood Park, AND another theme park of your choice!
Entrance Fee: AED175 (~S$65), or ~S$95 online (1-day-2-parks ticket)
Opening Hours: 1PM – 9PM. Closes 10PM from Thu – Fri.
How to get there: Take the Red Line to Ibn Battuta Station, then take bus DPR1. Alternatively, take a taxi (~AED40) or the free shuttle bus service to Dubai Parks and Resorts
Theme park fanatics, check out all the other parks Dubai has!
21) Hop on a Yellow Boat Tour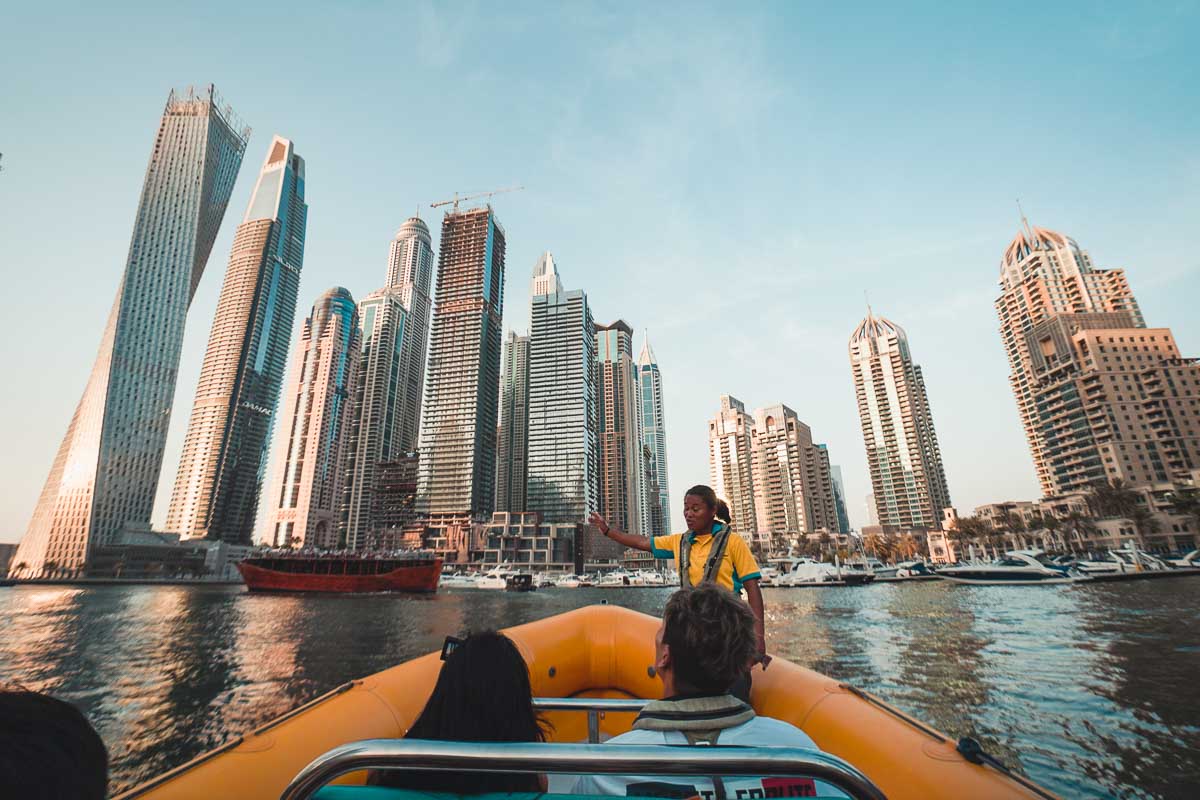 If you're short on time, the best way to see the Dubai Marina is through a Yellow Boat tour. The most popular tour is 99 minutes long, where you'll get to see and take photos of the Atlantis and the Burj Al Arab from the sea.
On top of the picturesque views, we were also impressed by the exceptional service of the skippers who were enthusiastic, informative and genuinely caring. Don't be shy to ask them for water, or help take photos.
Cost: ~S$70.70
Opening Hours: 9AM – 8PM
How to get there: Take the Red Line to Damac Properties Station, then walk 5 mins towards the Marina
22) Embrace Nature at Green Planet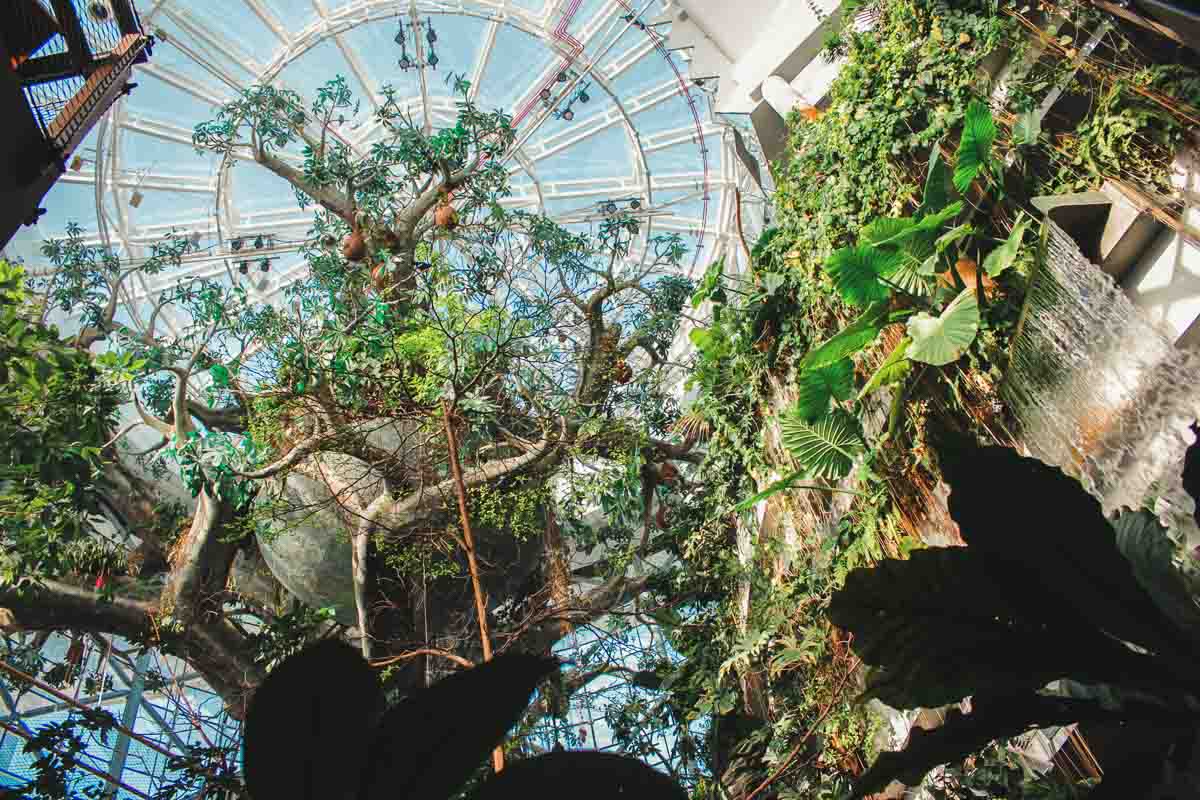 Stepping into Green Planet will really take your breath away. Along with the world's largest man-made tree, you'll find a lush tropical rainforest with a fully functional ecosystem in place. There are over 3,000 species of plants and free-roaming animals like birds, lizards, fish, and insects to check out.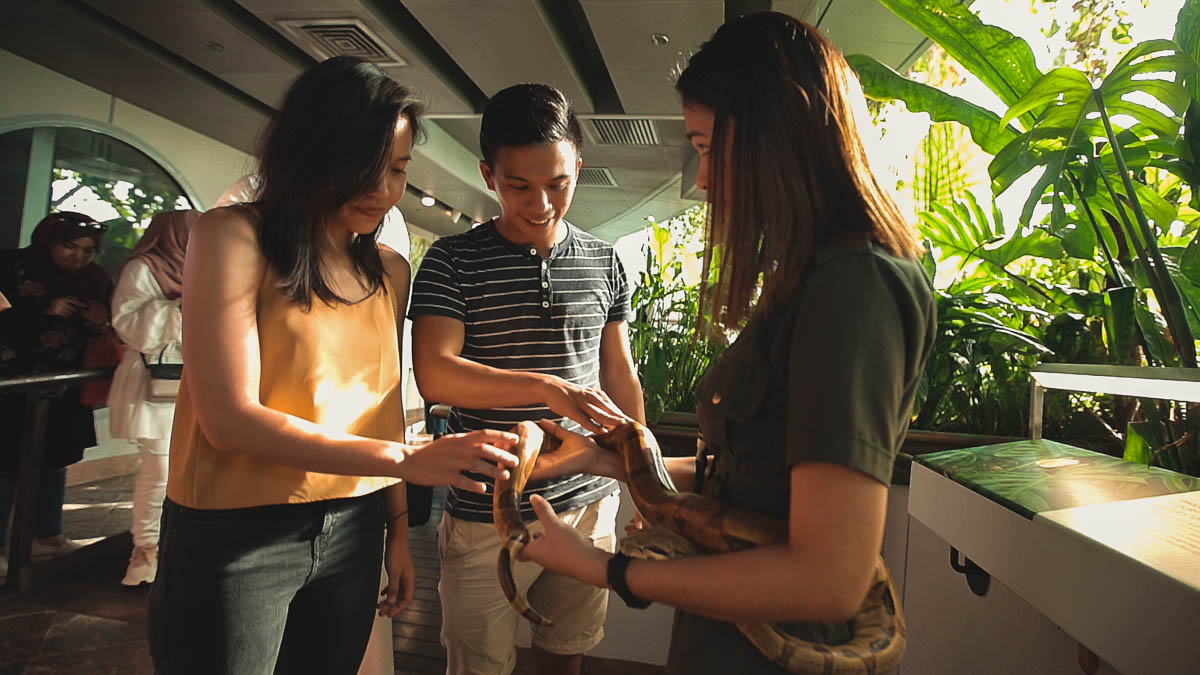 You'll also get a chance to touch snakes, millipedes, and a Madagascan hissing cockroach — if you dare! Friendly staff are on hand to guide you through it, and will also give interesting facts about these creatures. You can also pay to interact with sloths and/or sugar gliders, but prior booking is required.
Entrance Fee: AED99 (~S$37), ~S$30 online
Opening Hours: 10AM – 7PM. Closes 8PM from Thu – Sat.
How to get there: From Hub Zero, walk 700m towards the parking lot
23) Explore the Artsy Alserkal Avenue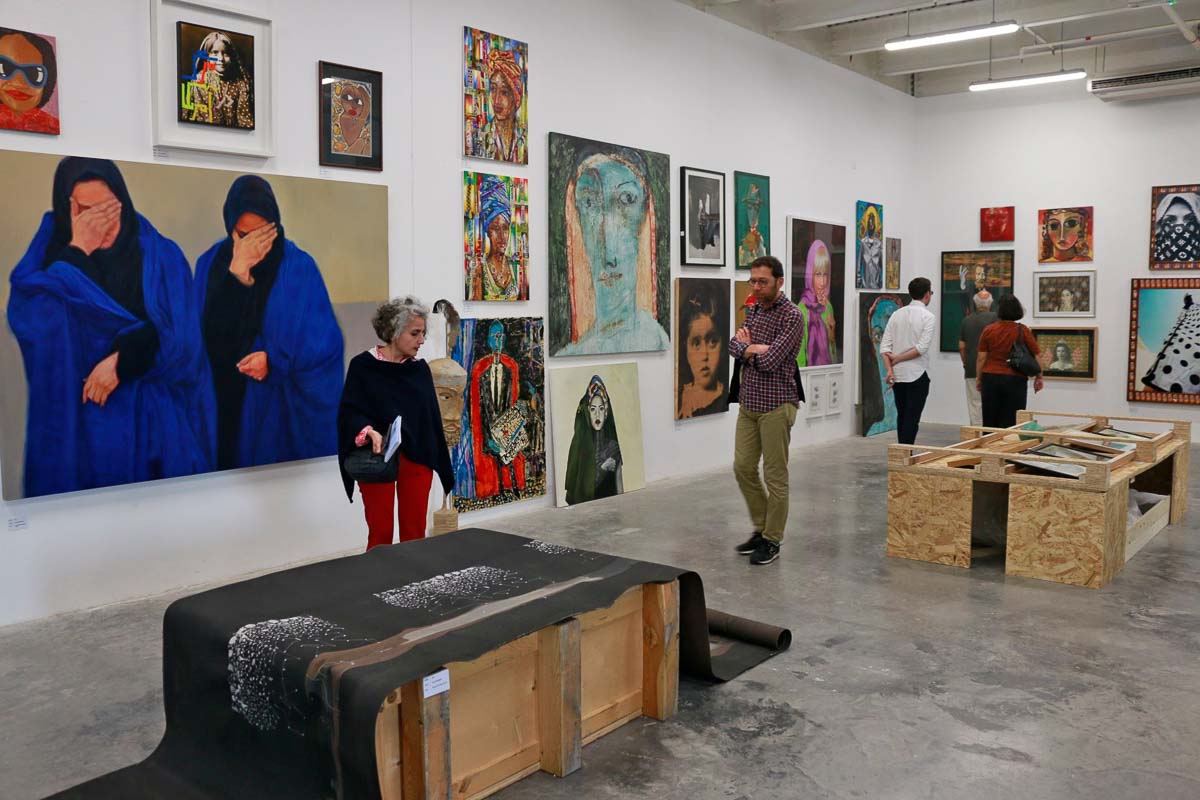 Relatively unknown to many tourists, Alserkal Avenue in Dubai is a trendy, contemporary arts hub located within an industrial complex. Besides the numerous art galleries and exhibitions to check out, there are also a few hipster cafes serving hearty meals and beverages.
For the sweet toothed, there's even a chocolate factory where you can learn about the full chocolate-making process and sign up for tasting workshops.
Entrance Fee: Free
Opening Hours: 10AM – 7PM. Closed on Fridays
How to get there: Take the Red Line to Noor Bank Station, then take a taxi (~AED15–20)
24) Dine on a Cruise around Dubai Marina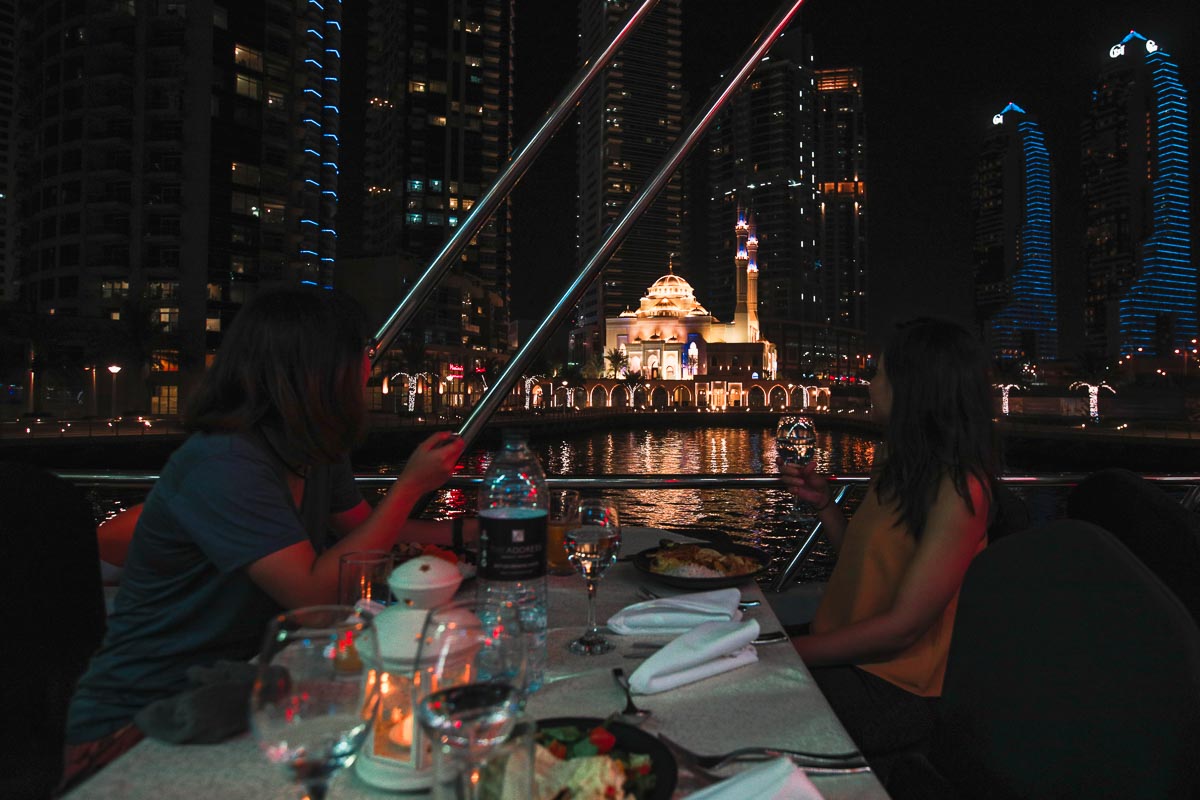 If strolling through the Dubai Marina sounds boring, up to ante and experience a five-star dinner cruise. There's nothing like relaxing on a leisurely cruise through the canal on a luxurious houseboat, complete with an international buffet dinner. You can opt for a Sunset Cruise, or a Marina Dinner Cruise later in the night. Be sure to bring your camera along — the skyline views along the Marina are spectacular and insta-worthy.
Cost: ~S$65.15/~S$80 online (Sunset/Marina Dinner Cruise)
Cruise timings: 5PM (Sunset Cruise); 8:30PM (Marina Dinner Cruise)
25) Take a Day Trip to Abu Dhabi
Located just a couple hours from Dubai is Abu Dhabi, the UAE Capital. Although it may not be as grandiose as Dubai, there are plenty of beautiful attractions that are worth visiting. One of them is the Sheikh Zayed Grand Mosque, one of the world's largest mosques that welcomes non-Muslims. It's an impressive religious site that can hold up to 40,000 people. Other places of interest include the Emirates Palace Hotel, Heritage Village, the Louvre, and Ferrari World.
The fastest and fuss-free way to get there is via a rental car or a private charter. You can also easily reach Abu Dhabi via inter-city buses from Dubai, however the journey may be 3-4 hours long depending on traffic conditions. Alternatively, opt for a full-day tour in Abu Dhabi, where they'll bring you to the must-visit sites.
26) For the Speed Fiend: Ferrari World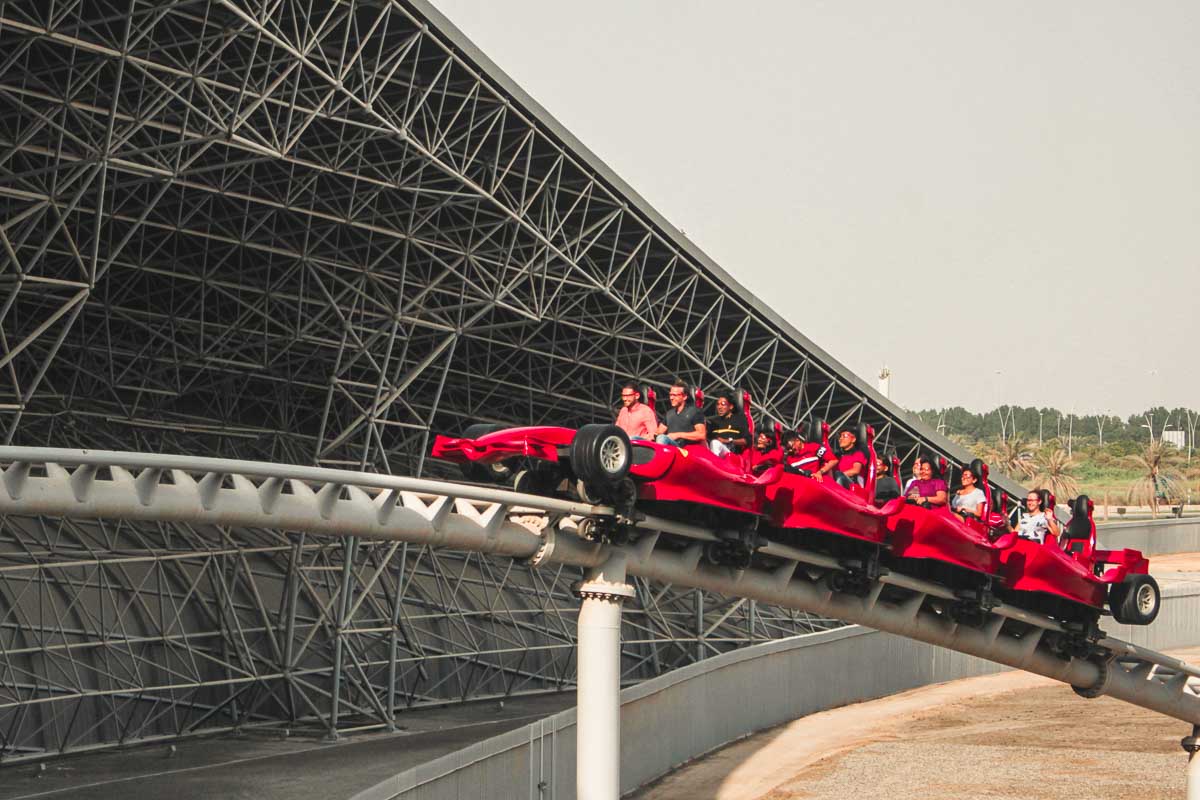 Always rushing from place to place? Wish the world would go a little faster? Satisfy your need for speed at Abu Dhabi's Ferrari World, just a few hours' drive away from Dubai.
Here you'll get to try the world's fastest rollercoaster, Formula Rossa, which goes from 0 to 240 km/h in a mere 4.9 seconds. In case you haven't got the drift, it's got a g-force that's almost the same as a rocket blasting into space, and you'll even need to wear safety goggles throughout. My heart was beating fast for a good half hour after the ride!
You'll get another record-breaking rush on Flying Aces, which begins with the world's steepest cable lift, a bloodcurdling 51-degree incline that'll leave you questioning your life decisions. This is followed by a crazy zoom through the world's highest rollercoaster loop. Only for the super brave!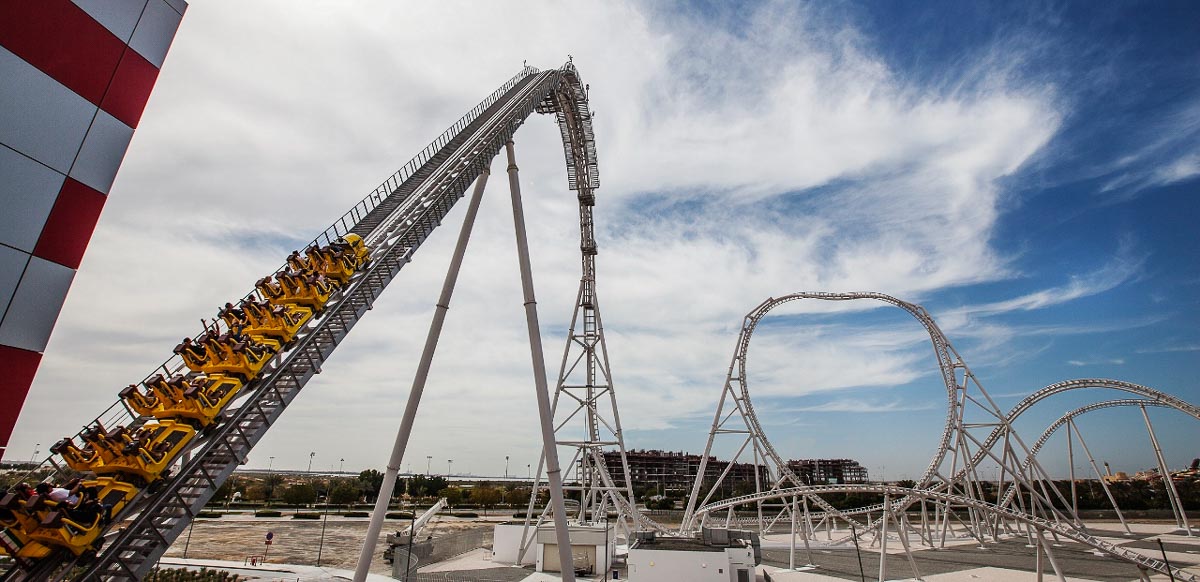 There are also a ton of family-friendly simulator rides, go-karting and even Ferrari driving experiences for the Formula One fans. Even for someone pretty clueless about cars (i.e. myself), I was thoroughly entertained and found myself wishing I had more time to explore the park.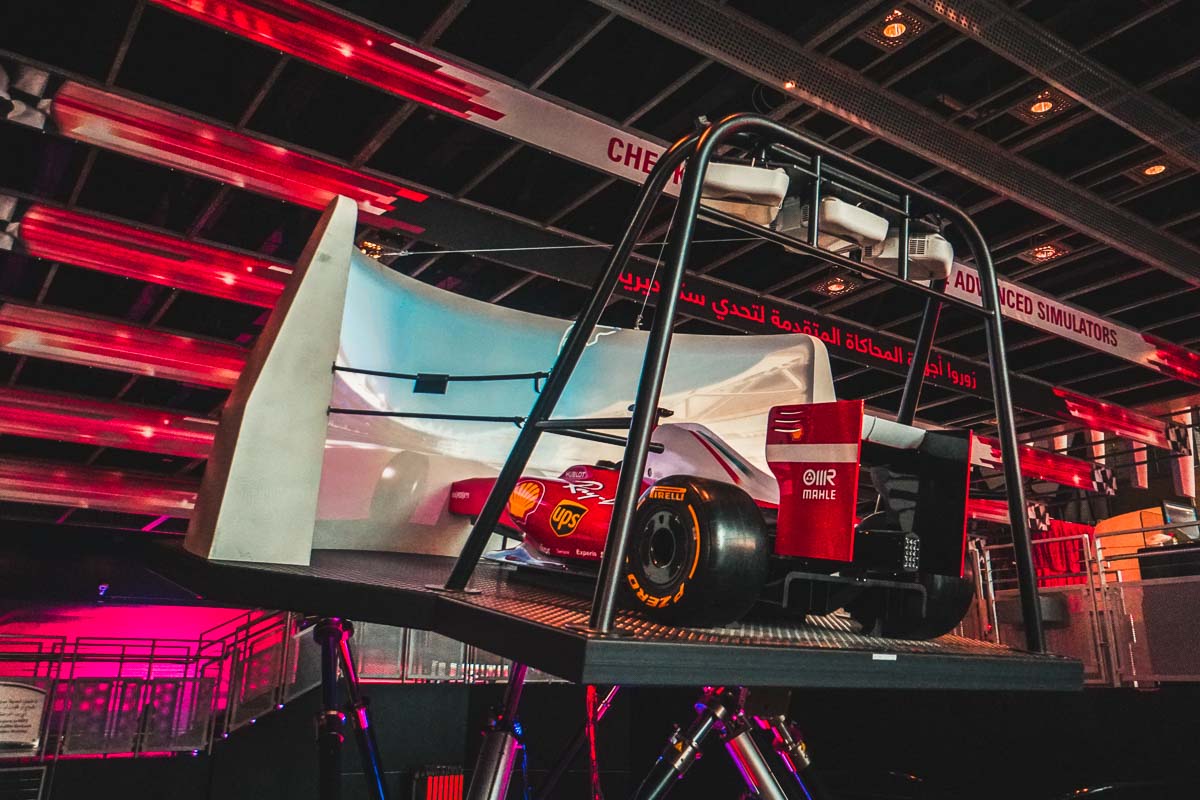 Read also: Ferrari World Guide — 11 Tips to Conquer the Theme Park with the World's Fastest Rollercoaster & More
Atmosphere: Exciting and immersive Ferrari fun
Thrill level: High
Entrance Fee: From ~S$95.35
Opening Hours: 11AM – 8PM (check online before visiting)
How to get there: Via bus or taxi. Recommended routes here
*Pro-tip: We highly recommend sitting front row on the Formula Rossa, for a smoother ride and unrestricted view of the exciting countdown to blastoff. Simply let the ride staff know as you enter the queue to board!
What to Eat in Dubai
With over 200 nationalities in Dubai, you'll be spoilt for choice when it comes to food. That said, we highly recommend trying local food at least once. Traditional Arabic and Emirati cuisine is a medley of flavours and textures. Aromatic spices and herbs like cinnamon, saffron and coriander are infused in grilled meats and seafood, and are served with rice/bread and fresh vegetables.
Most food products in Dubai are imported, so food can be relatively pricey. Eating in touristy areas like hotels and malls cost more, but cheaper eats are available at residential neighbourhoods in Old Dubai. The good news is that portions are usually big, so two people can comfortably share one dish.
Price Range Guide (per pax):
$ — under AED40 (~S$14.80)
$$ — AED41 – AED100 (~S$15 – S$37.20)
$$$ — above AED101 (~S$37.50)
27) Al Ustad Special Kebab
One of Dubai's oldest establishments, family-owned Al Ustad is hailed for its authentic and fresh Iranian kebabs. Popular favourites include the Cholo Kabab and Special Kabab (both AED32, ~S$12), where you can choose BBQ'd mutton or chicken meat marinated in a tangy yoghurt sauce.
Many people also love the look and feel of the the restaurant's decor, filled with quirky, old-school memorabilia and photos.
Price Range: $
Opening Hours: 12PM – 4PM, 6:30PM – 1AM
Address: Al Musallah Road, Mankhool, Bur Dubai
How to get there: Take the Green Line to Al Fahidi Station, then walk 1 min
28) Al Mallah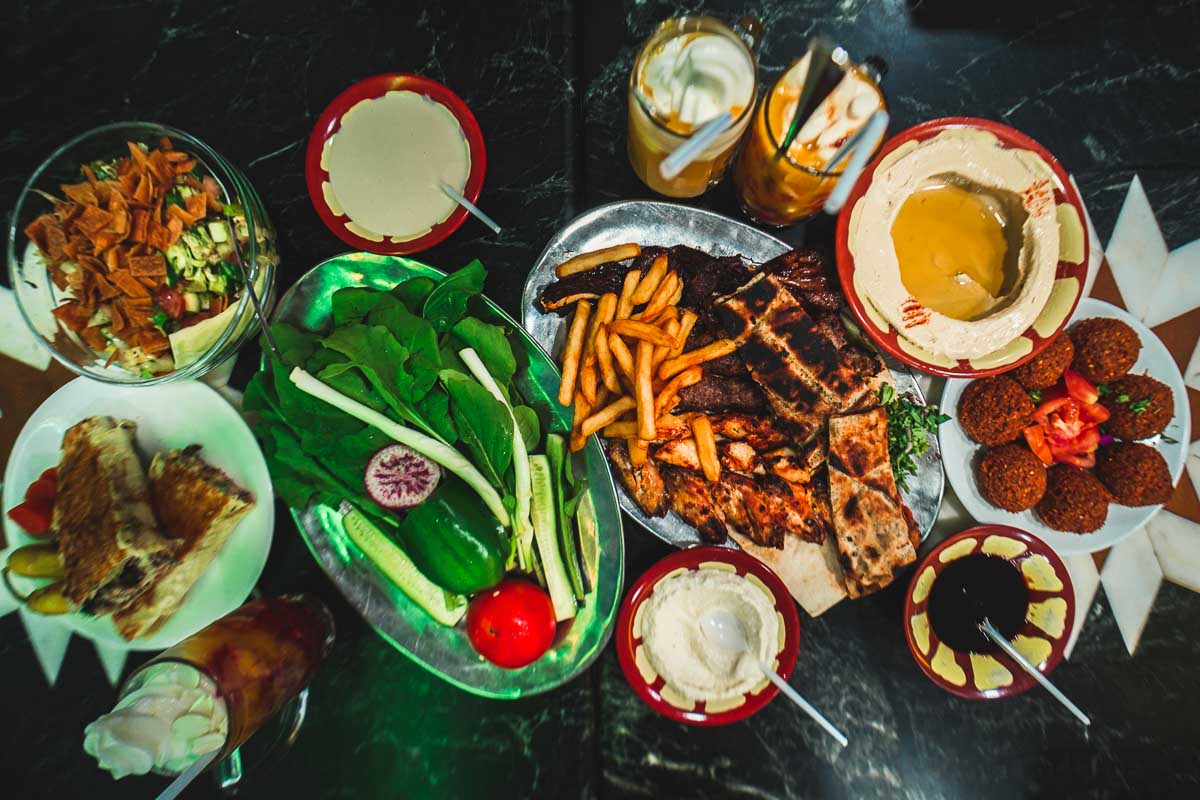 Recommended by our taxi driver from Jordan, Al Mallah is popular for its tender mixed grills and shawarma. The waiter's recommendations were fantastic: Al Mallah Mixed Grill (chicken, lamb and beef; AED85, ~S$31.60), chicken & meat shawarma (AED48, ~S$17.90) and fattoush (AED17, ~S$6.30).
Drinks-wise, we loved the Al Mallah Special (AED14, ~S$5.20) — a refreshing smoothie chock-full of sliced fresh fruits and nuts.
Caution: Don't over-order! Complimentary fresh bread and vegetables are included in the meal, so one main is really enough.
Price Range: $$
Opening Hours: 6:30AM – 2:30AM. Closes 3:30AM from Fri – Sat.
Address: 2nd of December Street, Al Dhiyafa Rd., Al Satwa (and 3 other branches)
How to get there: Take the Red Line to ADCB Station, then take bus C10 for four stops to Dhiyafa Road 2, and walk 2 mins
29) Arabian Tea House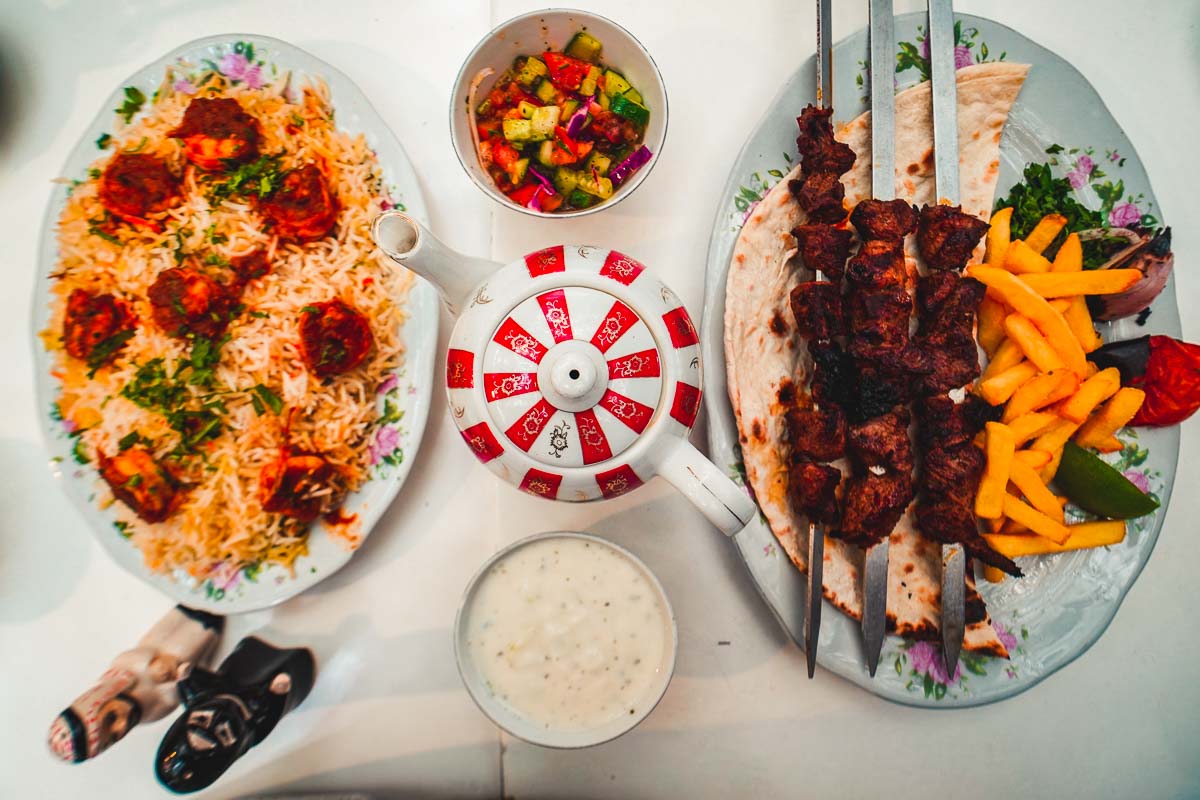 Tucked away in Al Fahidi Historical Neighbourhood, the Arabian Tea House is a lovely place to visit for traditional Emirati cuisine. It's well-known for its quaint decor and ambience that transports you back to Old Dubai.
Many people rave about their breakfast trays and hummus. For us, we had the restaurant's recommendations for lunch: Shrimp Biryani (AED60, ~S$22.40) and Emirati BBQ'd lamb chunks (AED56, ~S$21). The meats were tender, and very filling.
Price Range: $$
Opening Hours: 7AM – 10PM
Address: Al Fahidi Street, Bur Dubai, Opposite Musalla Post Office (and 1 other branch)
How to get there: Take the Green Line to Al Fahidi Station, then walk 9 mins
30) Ravi's Restaurant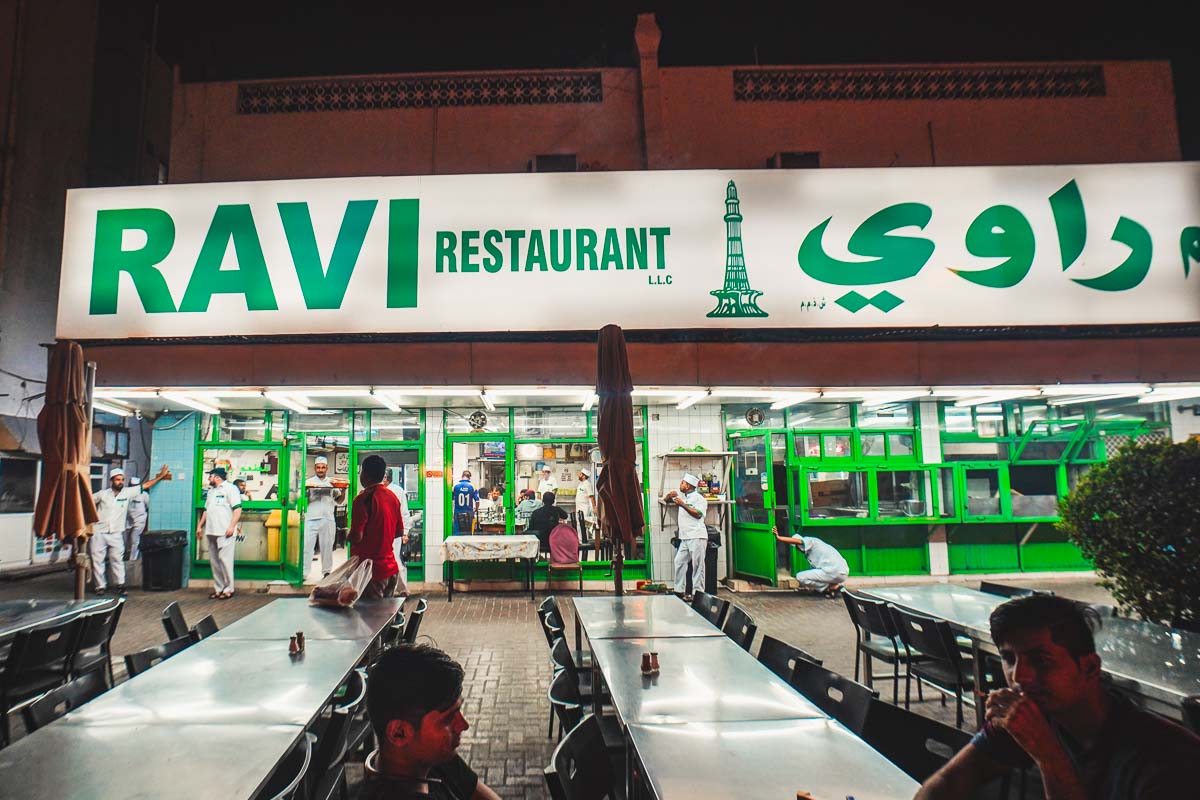 Ravi's is the go-to place for cheap and affordable Pakistani and Indian food. The no-frills eatery is a household name in Dubai, and its food is well-loved by locals and tourists alike (including the late Anthony Bourdain). The best part is they open early and close late, so it's an ideal spot for breakfast or supper.
Some of the must-tries are mutton peshawari (AED22, ~S$8.20), butter chicken (AED24, ~S$8.90) and chicken tikka (AED8, ~S$3).
Price Range: $
Opening Hours: 5AM – 3AM
Address: Shop 245, Opp. Union Co-operative Society, Al Dhiyafa Rd., Al Satwa (and 2 other branches)
How to get there: Take the Red Line to ADCB Station, then take bus C10 for three stops to Hana Centre 1, and walk 6 mins
31) Reem Al Bawadi Restaurant & Cafe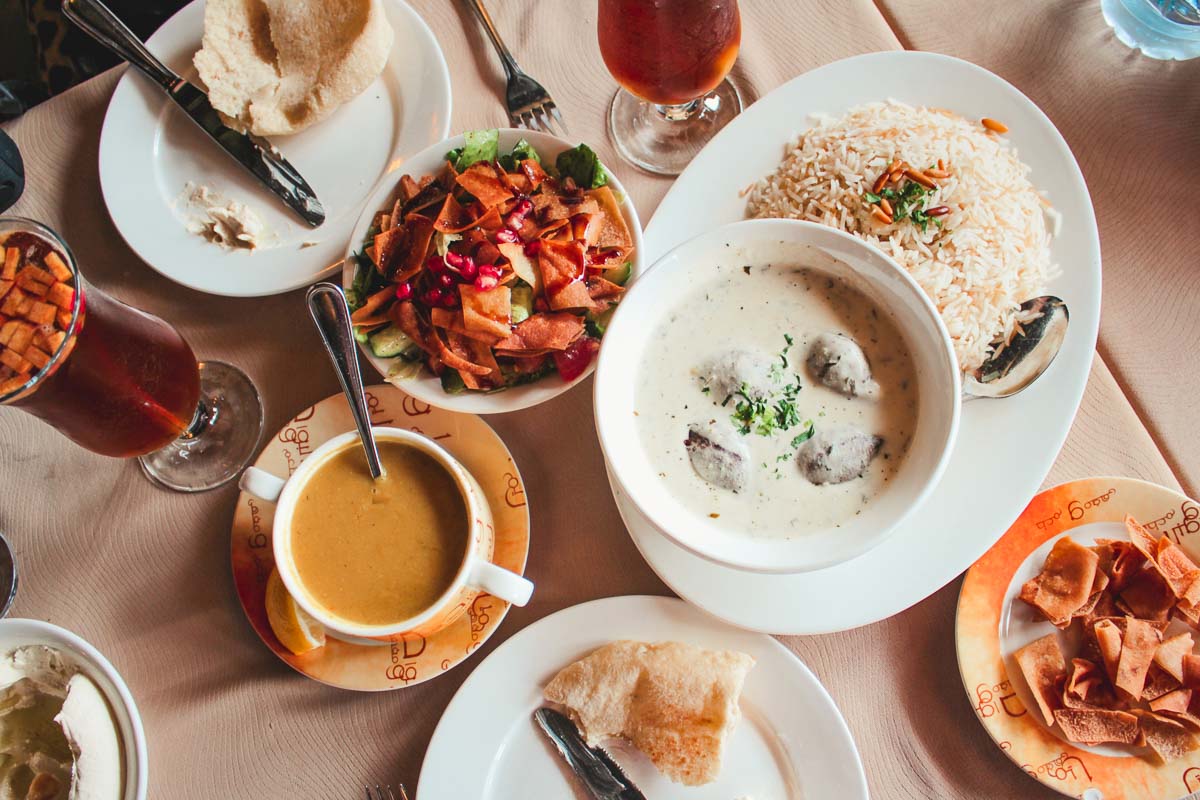 Overlooking the Dubai Marina is Reem Al Bawadi, a mid-range dining restaurant that serves Middle Eastern and Western cuisine. Their mixed grill platters are large and good for sharing, but we went for the chef's daily specials (AED47, ~S$17.60). The main dish comes with a soup, fresh salad, and complimentary bread and hummus. It's great value for money, available all day, and big enough to share.
Price Range: $$
Opening Hours: 11AM – 2AM
Address: Marina Walk, Dubai Marina, nearby Spinney's (and 5 other branches)
How to get there: Take the Red Line to Damac Properties Station, then take the T1 tram to Marina Towers and walk 3 mins
32) Zaatar w Zeit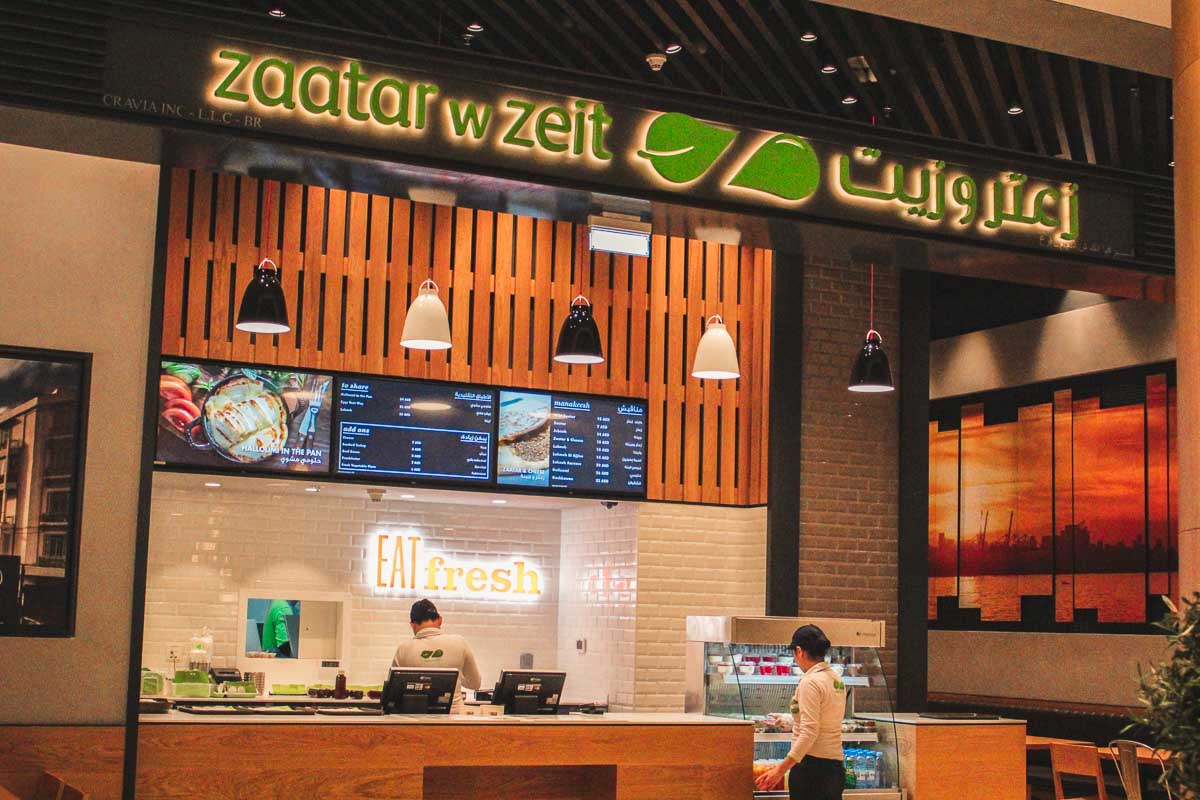 Zaatar w Zeit is a Lebanese fast-food chain selling quick, healthy bites. Vegan and vegetarian options are also available here. The Famous Chicken Wrap (AED32, ~S$11.90) we tried had generous amounts of juicy chicken chunks, crisp vegetables and Aioli sauce, but lighter options like the savoury Halloumi Sticks (AED22, ~S$8.20) are also available.
Price Range: $
Opening Hours: 24/7 (hours differ for other branches)
Address: Al Meraikhi Tower Ground Level, Sheikh Zayed Rd., next to Shangri-La Hotel (and 13 other branches)
How to get there: Take the Red Line to Financial Centre Station, then walk 7 mins
33) Al Majlis Coffee Shop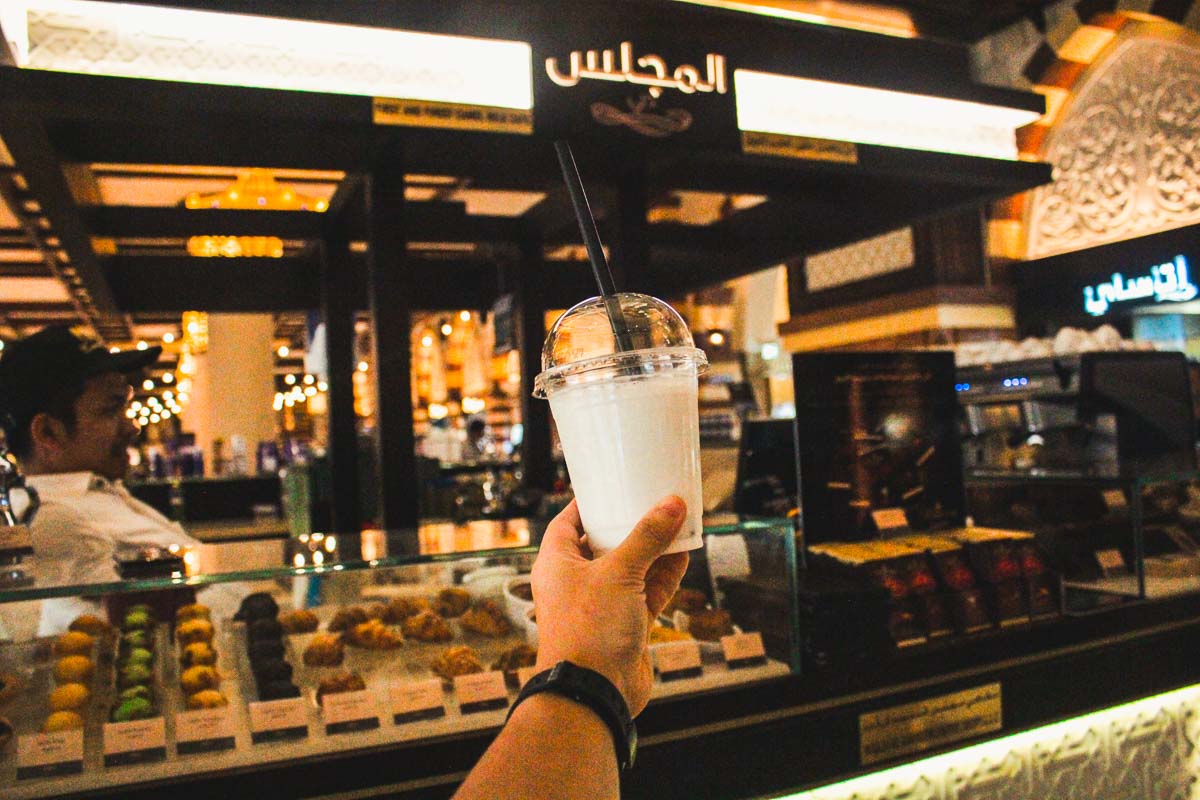 When in Dubai, drink camel milk (yes, you read that correctly). It's a tad tangier than what we're used to, but it's nutritionally rich in iron and vitamin C. If you want to try it in its purest form, head to Al Majlis in Dubai Mall. The small, homely cafe serves camel milk (AED18.90, ~S$7) and many other traditional desserts and beverages made with it.
Price Range: $ – $$
Opening Hours: 10AM – 11PM
How to get there: From the Grand Atrium in Dubai Mall, turn left and walk past Cartier and Bvlgari towards the Souk Atrium
34) Al Nassma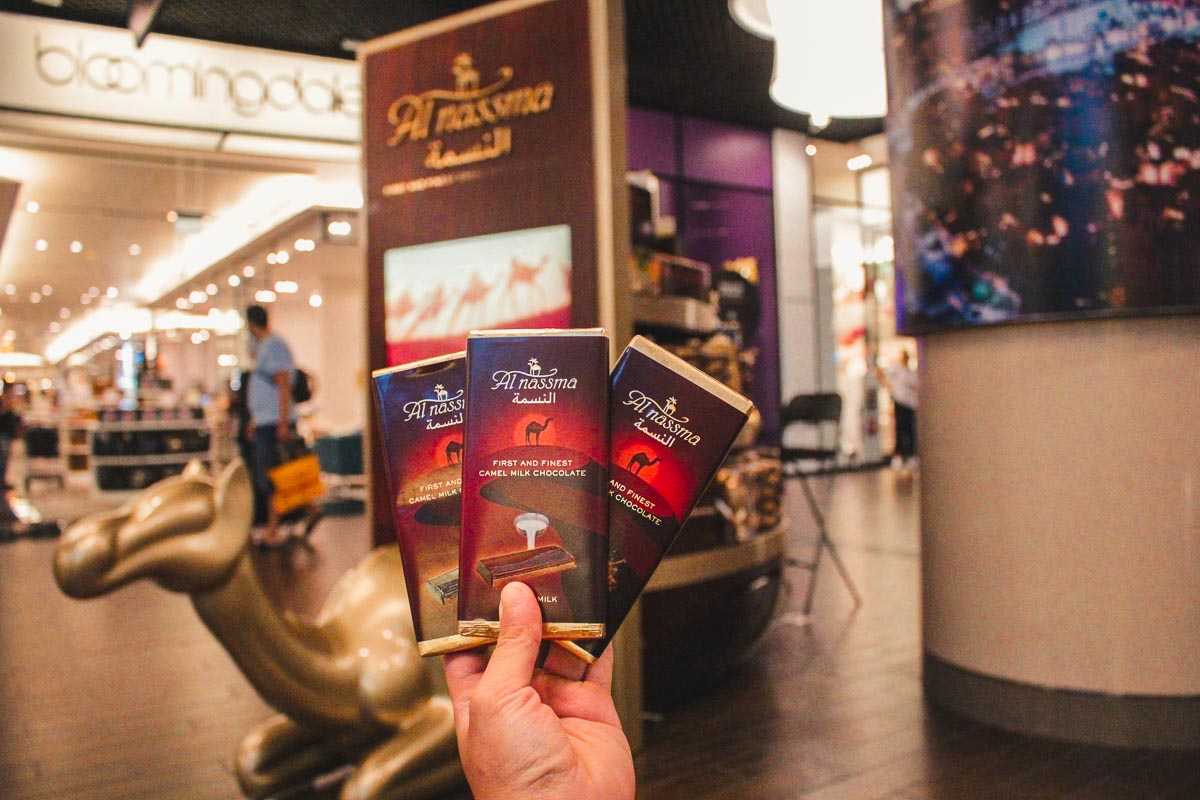 Al Nassma is a local company that produces camel milk chocolates, a tasty delicacy that also make for cute souvenirs. You'll find chocolate bars (~AED31, ~S$11.50) in several places around Dubai, including a kiosk at Dubai Mall, Duty Free at the Airport, tourist gift shops, and grocery stores. The bestselling flavours are the original whole milk, white chocolate with pistachio, and macadamia.
Al Nassma Kiosk in Dubai Mall
Price Range: $
Opening Hours: 10AM – 11PM
How to get there: Dubai Mall, Lower Ground floor (opposite Bloomingdale's and Karam Beirut)
35) Five Guys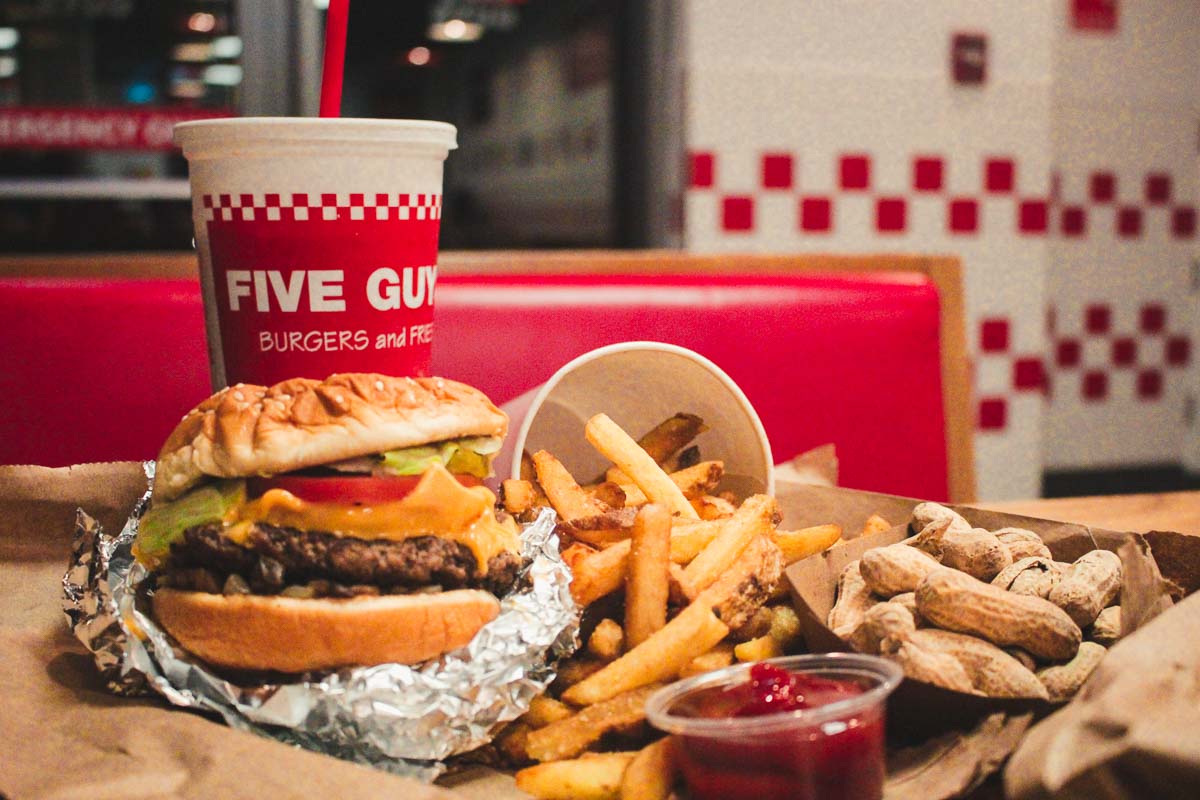 US restaurants are everywhere in Dubai, but we were smitten by Five Guys for their sinful American grub and friendly service. You can customise almost everything — from unlimited toppings for your cheeseburger (AED44, ~S$16.40), to mixing-and-matching flavours for your milkshake (AED25, ~S$9.30). Sure the cost is a little steep, but for the portions and freshly-prepared food? 10/10 worth the price and calories.
Price Range: $$
Opening Hours: 11AM – 12AM
Address: Marsa Al Seef, P1-08-2, Bur Dubai (and 8 other branches)
How to get there: Take the Green Line to Oud Metha Station, then take bus C07 from Abu Hail Metro Bus Station for six stops to Al Seef Marine Station, and walk 2 mins
36) Sahn Eddar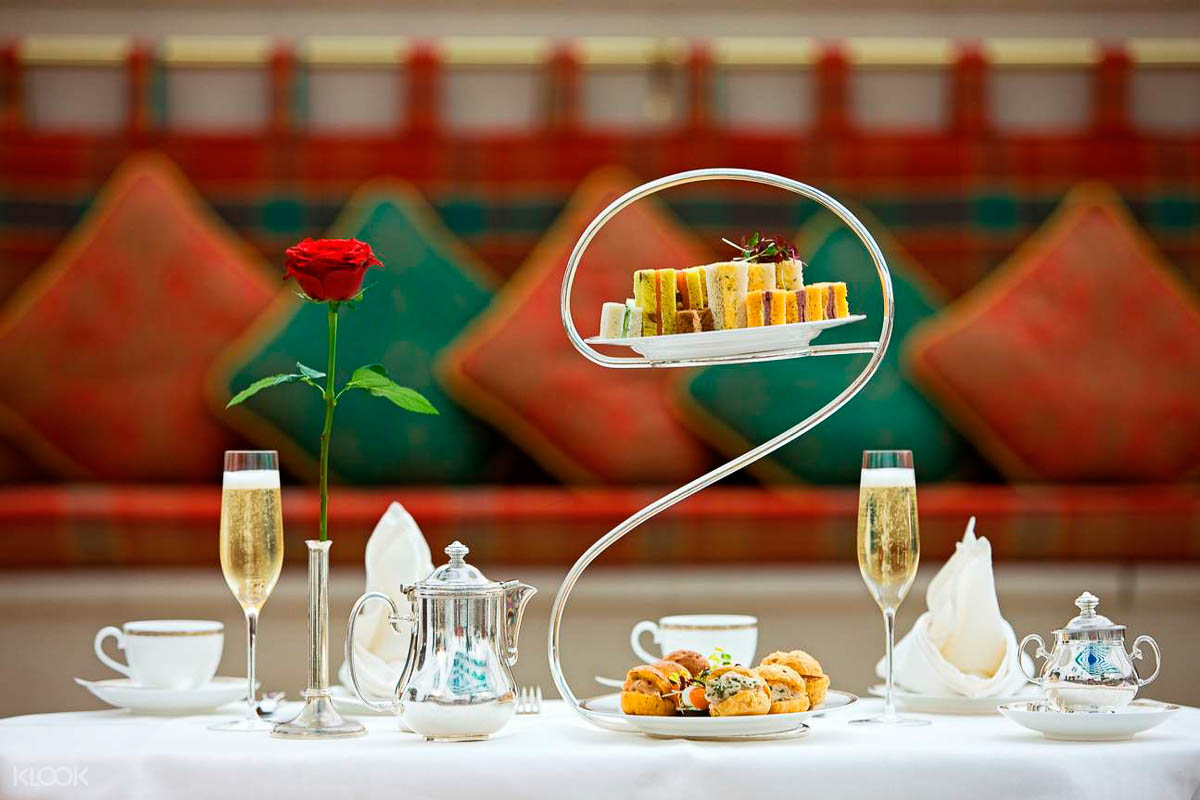 We have to say, this one is for the ballers. Treat yo'self and have a luxurious Afternoon Tea at Sahn Eddar in the Burj Al Arab (~S$207). It's a filling, seven-course meal, so coming hungry is a must.
You'll be served an assortment of finger sandwiches, delicate tarts and pastries, and wide selection of tea — all while enjoying the views of the hotel's impressive atrium.
Price Range: $$$
Afternoon Tea Timings: 3PM – 5PM
How to get there: Take the Red Line to Mall of Emirates Station. Then, take bus 81 for seven stops to Burj Al Arab Hotel 2
Booking your experiences in Dubai
Dubai has a reputation for being a rich man's playground. Some attractions offer discounts when buying online but are usually reserved for UAE residents only. Good new for the budget-conscious traveller, there are still plenty of things to do that are either free or reasonably-priced!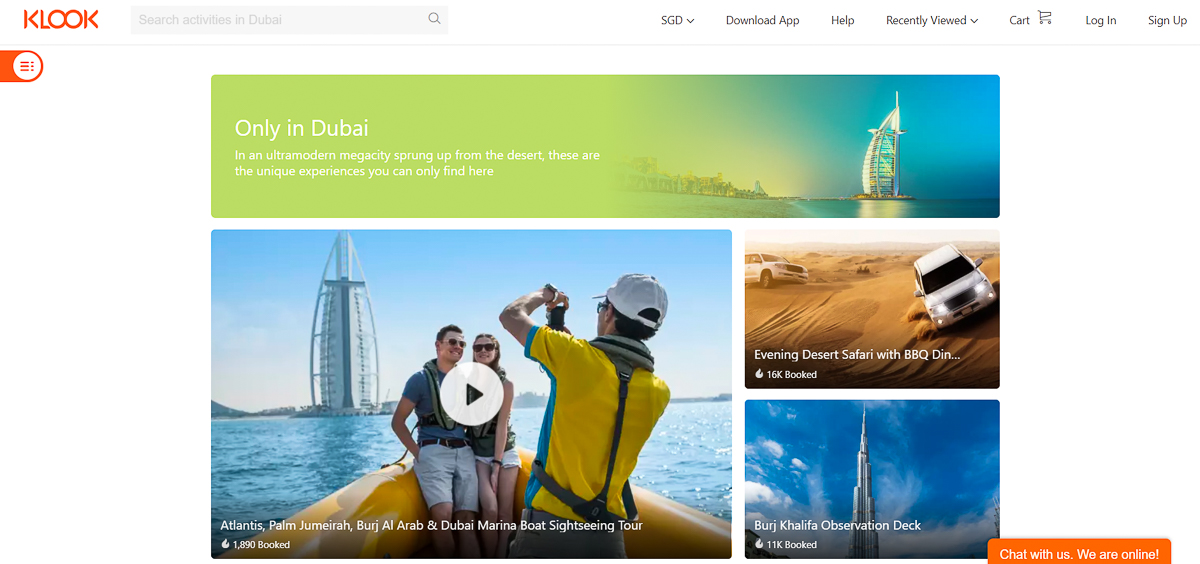 For one, many of these the activities were booked via Klook. From activities to travellers' essentials like SIM cards, you can find them at discounted prices with savings of up to ~S$30 for some! This meant we could spend more on delicious food and souvenirs (camel milk chocolates and authentic pashmina scarves? Yes please!).
The best part perhaps was how some activities offered instant confirmation. We arrived, showed our e-vouchers and headed inside to explore! No time was wasted to queue for ticket!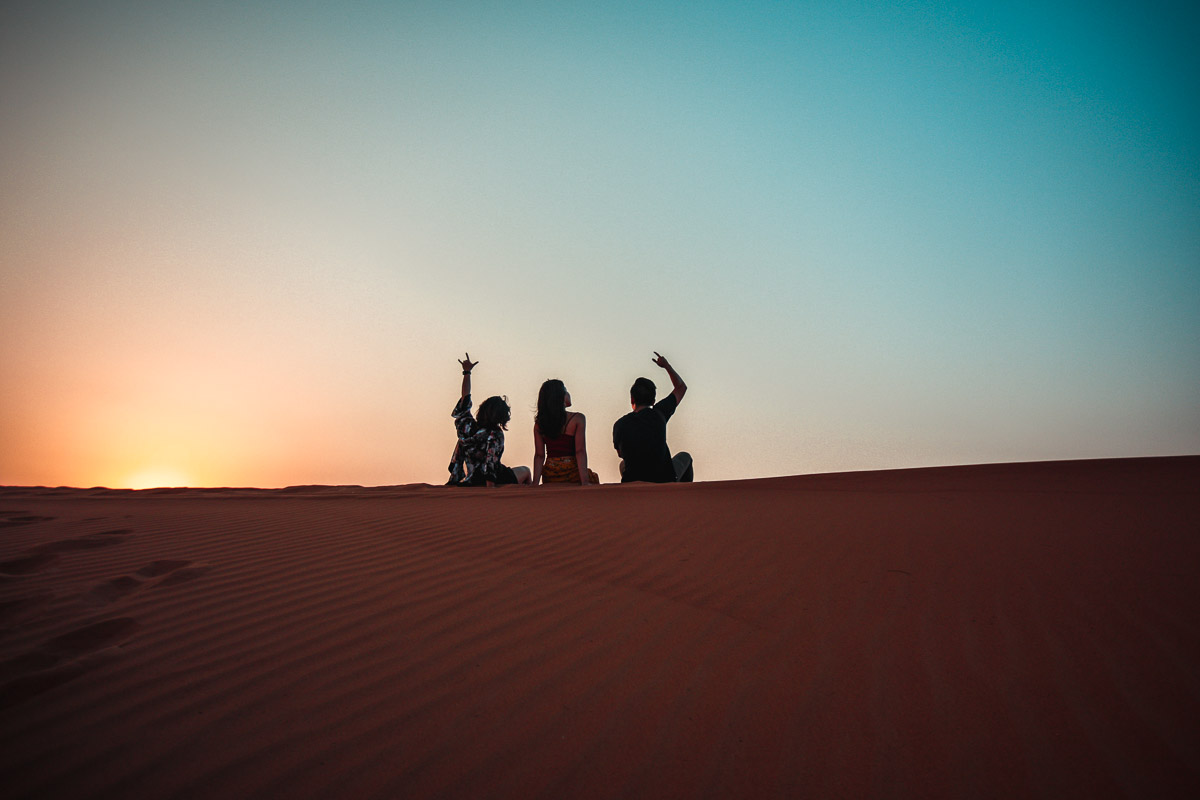 We hope our guide has given you a comprehensive snapshot of Dubai. There's loads to see, do and eat for every type of traveller and budget, and the list is almost never-ending. Dubai is continuously finding ways to top even its own creations, and if you want to understand how amazing it is, you just have to experience it for yourself!
---
This post was brought to you by Klook.
For more travel inspiration, follow us on Facebook, Instagram, and YouTube.