Fast and furious — our Ferrari World Guide has all you need to know about this exciting theme park with the world's fastest rollercoaster!
I love rollercoasters. There's nothing more heart-racing than strapping in and going on a wild journey of loops, drops, twists and turns. Besides that, there's something innately satisfying about conquering every rollercoaster that comes — it's like conquering your fears and earning a badge of honour.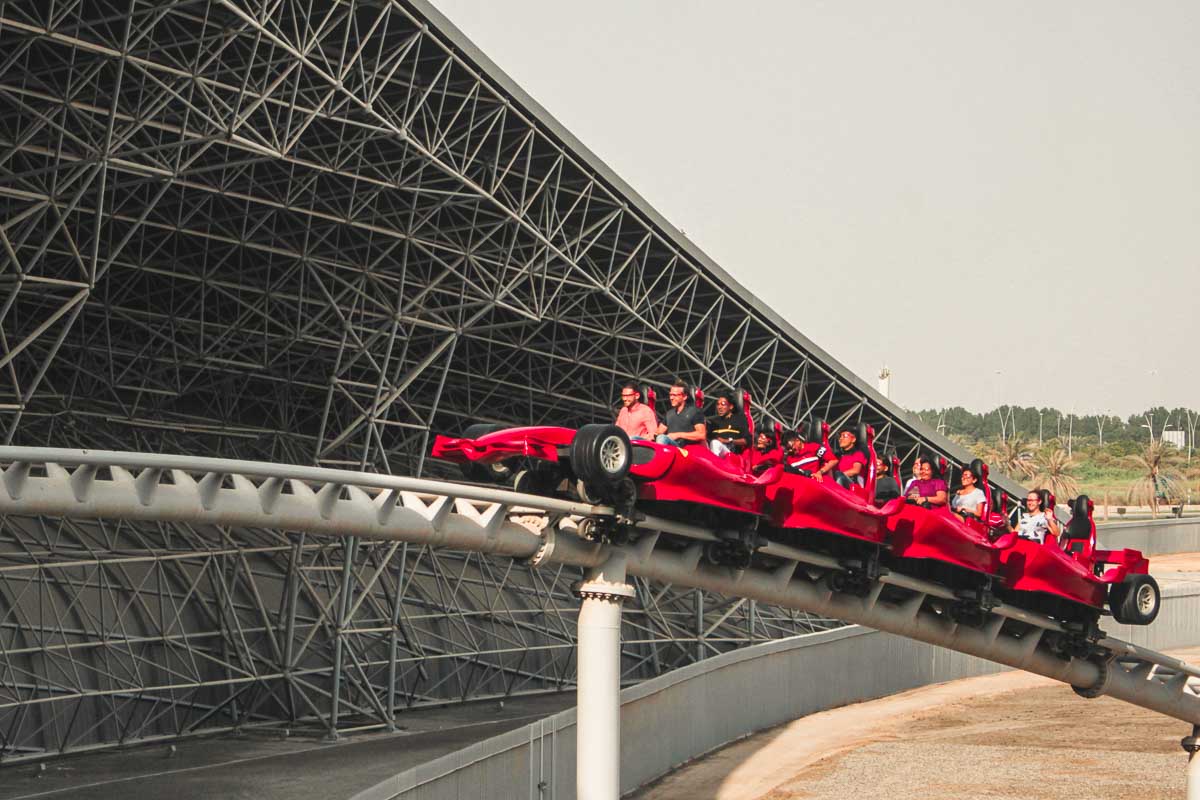 And one of the biggest badges of honour you can earn is by conquering Formula Rossa, the world's fastest rollercoaster. Going from 0 to 240km/h in 4.9 seconds — faster than a cheetah — is insanely thrilling.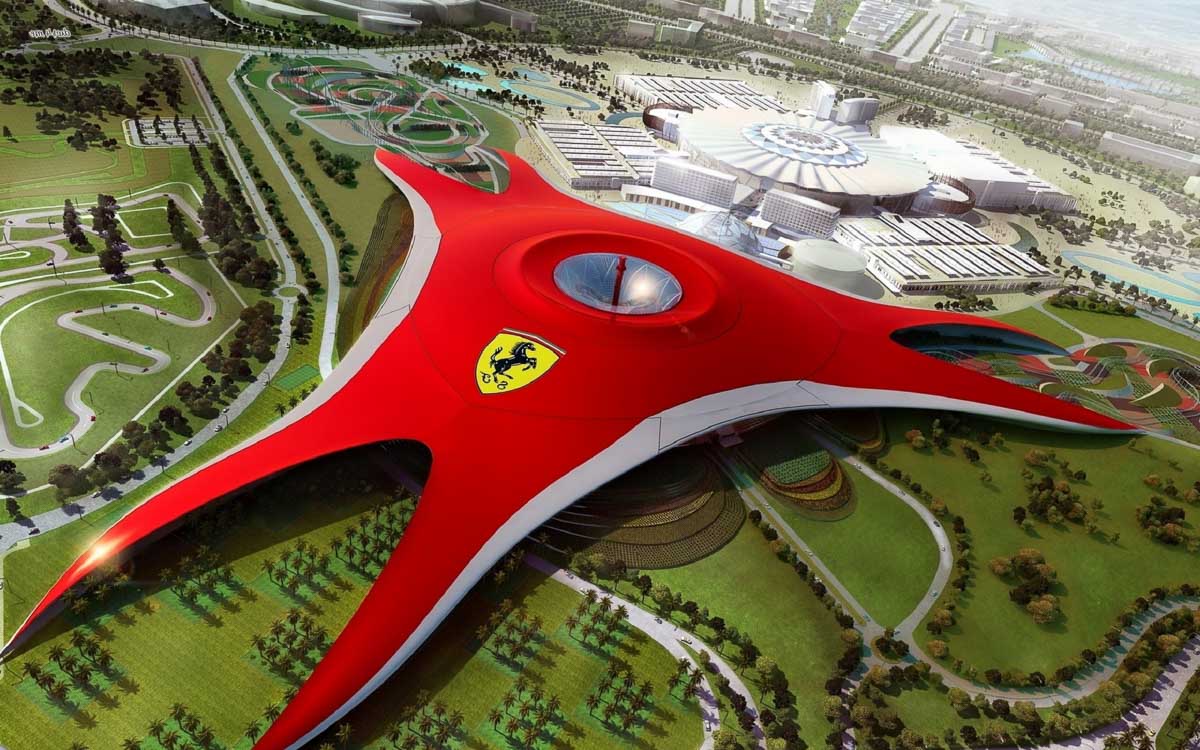 How Ferrari World looks from the outside. Futuristic or what? Photo credit: Top10 Dubai Tours
It's located within Ferrari World in Abu Dhabi, the world's first Ferrari-branded theme park. It's also one of the world's largest indoor theme parks. People don't just go for the Formula Rossa, either — the Flying Aces rollercoaster also boasts the world's steepest ascent (51° angle!), and tallest loop at a whopping 52m.
But you don't need to be a huge fan of cars to enjoy this theme park. Ferrari World has over 20 rides and attractions of varying intensities, so everyone can get their bit of fun. Read on to find out how to best experience this bad boy!
Pre-trip Planning
1) Buy Tickets In Advance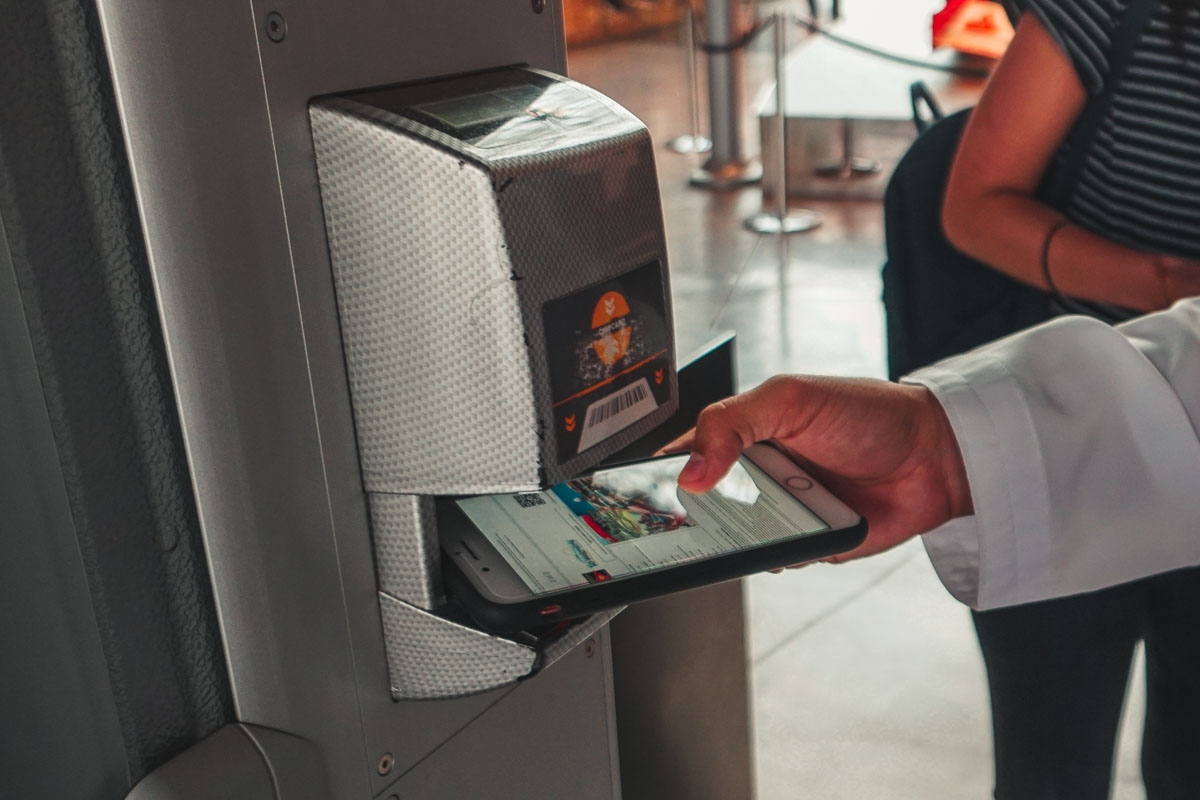 The most convenient way to get your tickets at the best price is through Klook at ~S$96, an authorised reseller for Ferrari World. Tickets at the doors cost AED310 (~S$116.70), and pre-ordering from their official website costs AED295 (~S$110.30). Why pay extra?
When we booked our tickets through Klook, an e-ticket was issued to our inboxes immediately after, and all we had to do was show up, scan our QR code (pictured above) and enter the park without hassle. This means more time for rides!
2) Plan Your Journey to Ferrari World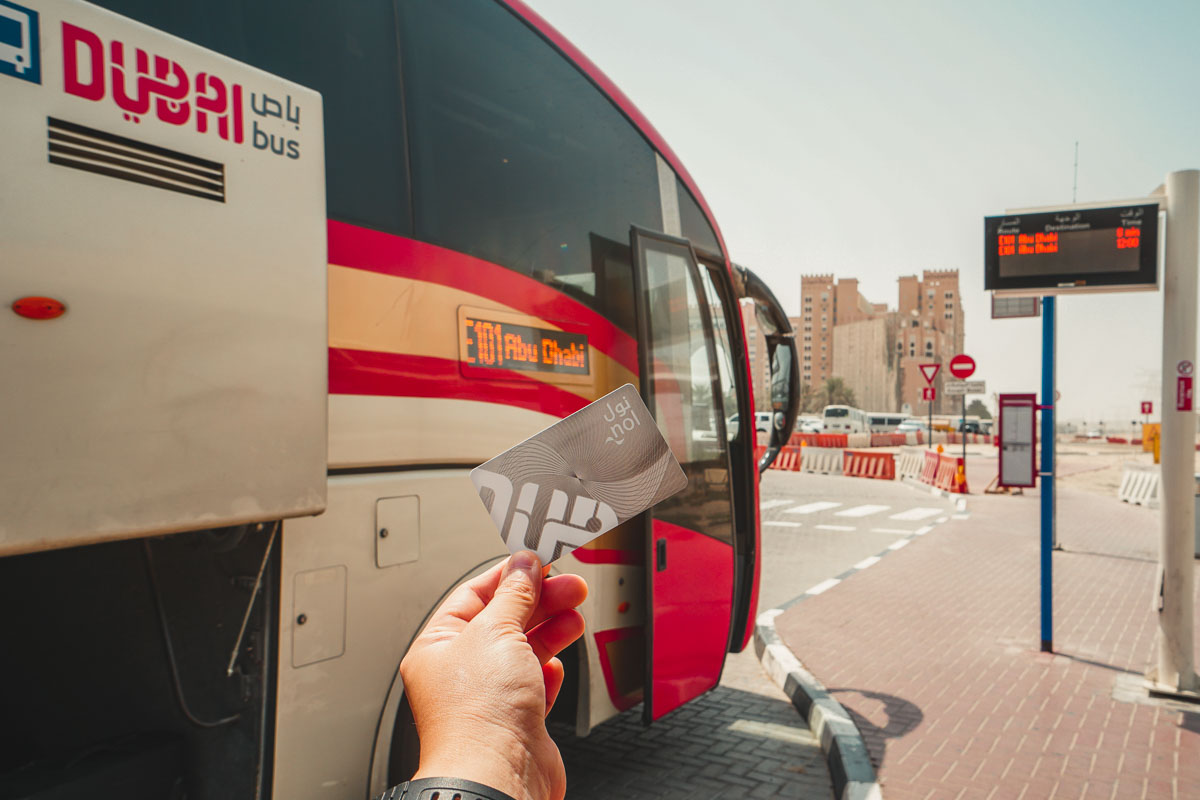 There are no direct trains or buses to Ferrari World, but if you're not driving or taking a taxi, there are still several ways to get there.
(1) From Dubai — Ibn Battuta (90–120 mins): The fastest and cheapest way from the city centre. From outside the Ibn Battuta Mall carpark, take bus E101 towards Abu Dhabi Central bus station. You'll need a Nol card for the bus, which you can get from the ticket office beside the bus berth. Buses depart every 20 mins from 9AM – 9PM daily, and a one-way journey costs AED25 (~S$9.40). We bought a Nol card with a return journey for AED60 total (~S$22.60, incl. card deposit of AED6). Let the driver know you need to alight at Shahama Village, the second stop. From there, take a taxi to Ferrari World (~AED38, ~S$14.30).
(2) From Dubai – Al Ghubaiba (3–4 hours): It's a long journey, so we recommend leaving by 8AM. Use this alternative if you're in Old Dubai (e.g. Satwa, Karama). From Al Ghubaiba bus station, with your Nol card take bus E100 and alight at Abu Dhabi Central bus station (last stop). After, purchase a temporary Hafilat card (AED5, or AED8 for round-trip) from the ticket office to use Abu Dhabi's buses. Upon purchasing your ticket, exit and cross the overhead bridge to the bus stop at Sultan Bin Zayed St. Take buses 170, 180 or 190 which leave every 30 mins, and after 45–60 mins alight at Yas Mall which Ferrari World is in.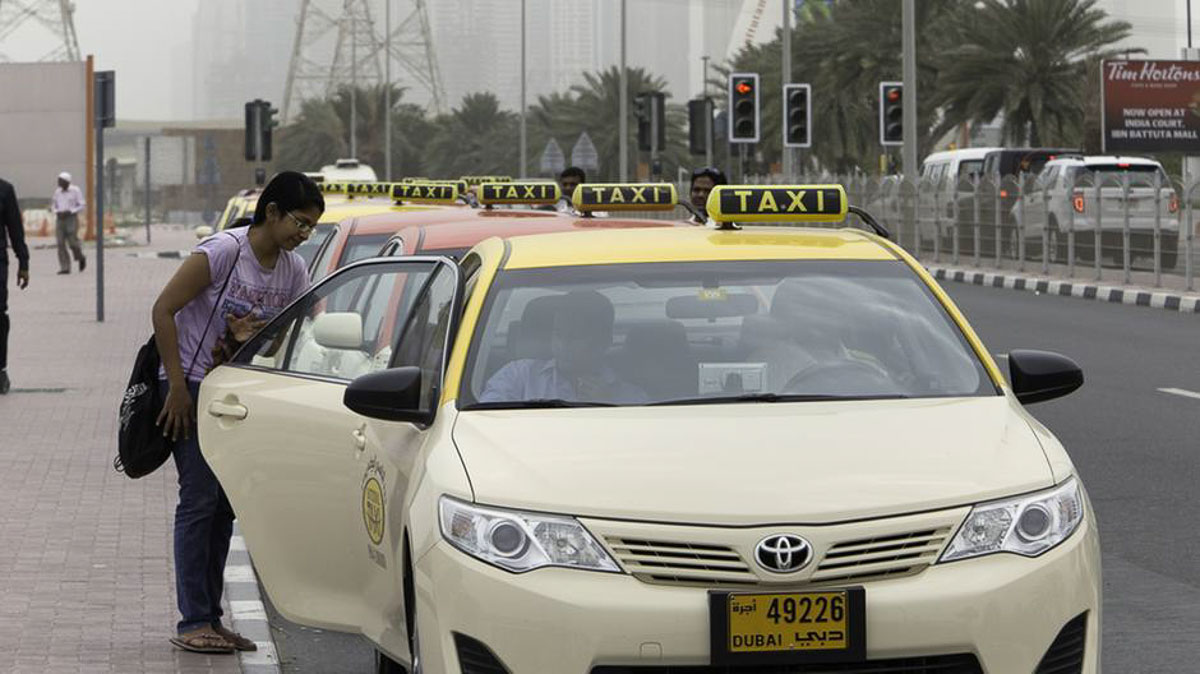 Photo credit: The National
(3) Taxi (60–90 mins): The most convenient, but most expensive. Depending on where you board from Dubai, fares range from AED190 – 250 (~S$72 – ~S$94).
(4) From Abu Dhabi International Airport: Take bus A19 or 170 from the bus stops outside Terminal 1 and Terminal 3 Arrival Halls to Yas Mall. You will need to purchase a Hafilat card to take the bus (AED10 for round trip). Bus A19 departs hourly between 8AM and 11PM, and the journey takes about 15–20 mins. 170 departs every two hours, and the journey is 30 minutes. Alternatively, you can take a taxi for ~AED25 (~S$9.40).
3) Best Time to Visit – April to September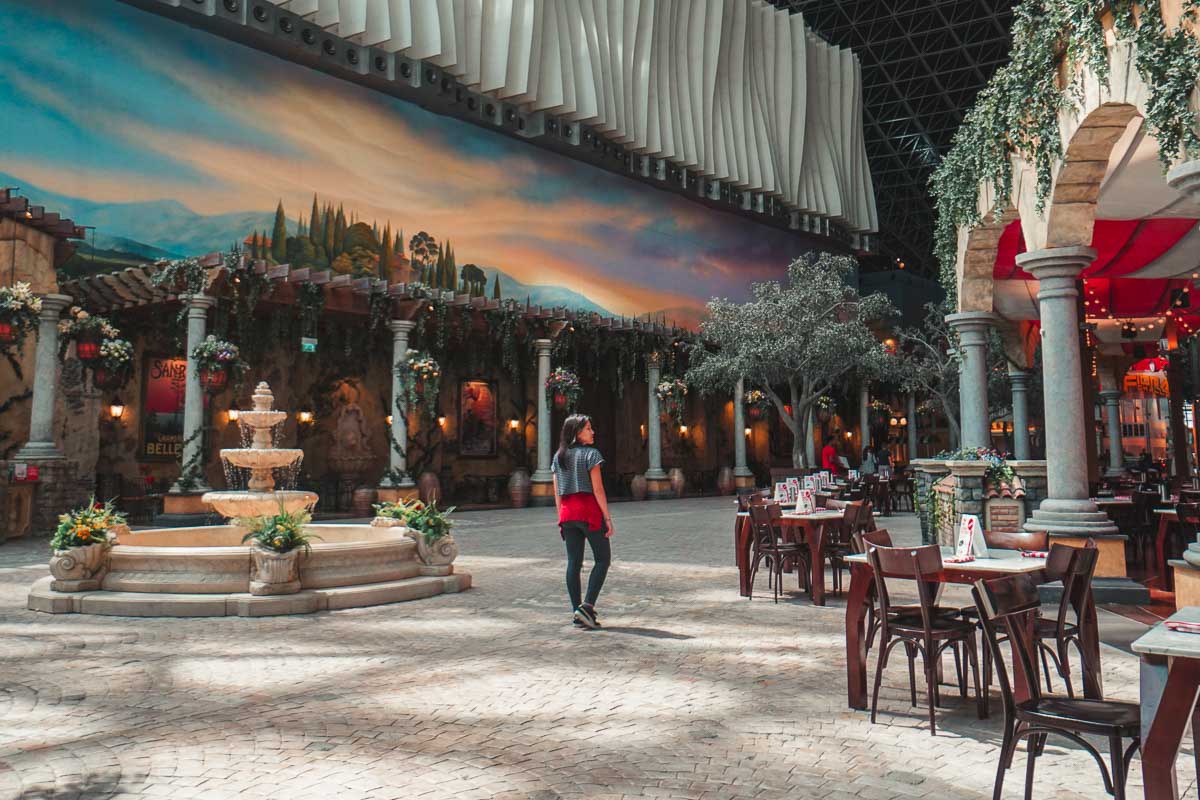 The best time to visit is during the summer or "shoulder" periods (April to September). The park staff say weekdays and weekends aren't as busy during this time. We visited on a weekday in September and only had to wait 5 – 15 minutes per ride! Most of the park is indoors too, so you won't have to worry about the summer heat.
Apart from avoiding weekends and public holidays, you should also avoid Ferrari World's busiest period from mid-October to January during winter, which is when school holidays and seasonal events like Deepavali, Christmas and New Year occur. We heard it gets so crowded, the waiting time for rides go up to two hours! If you don't have a choice, consider purchasing the Express Pass to skip the queues.
4) Other Essential Tips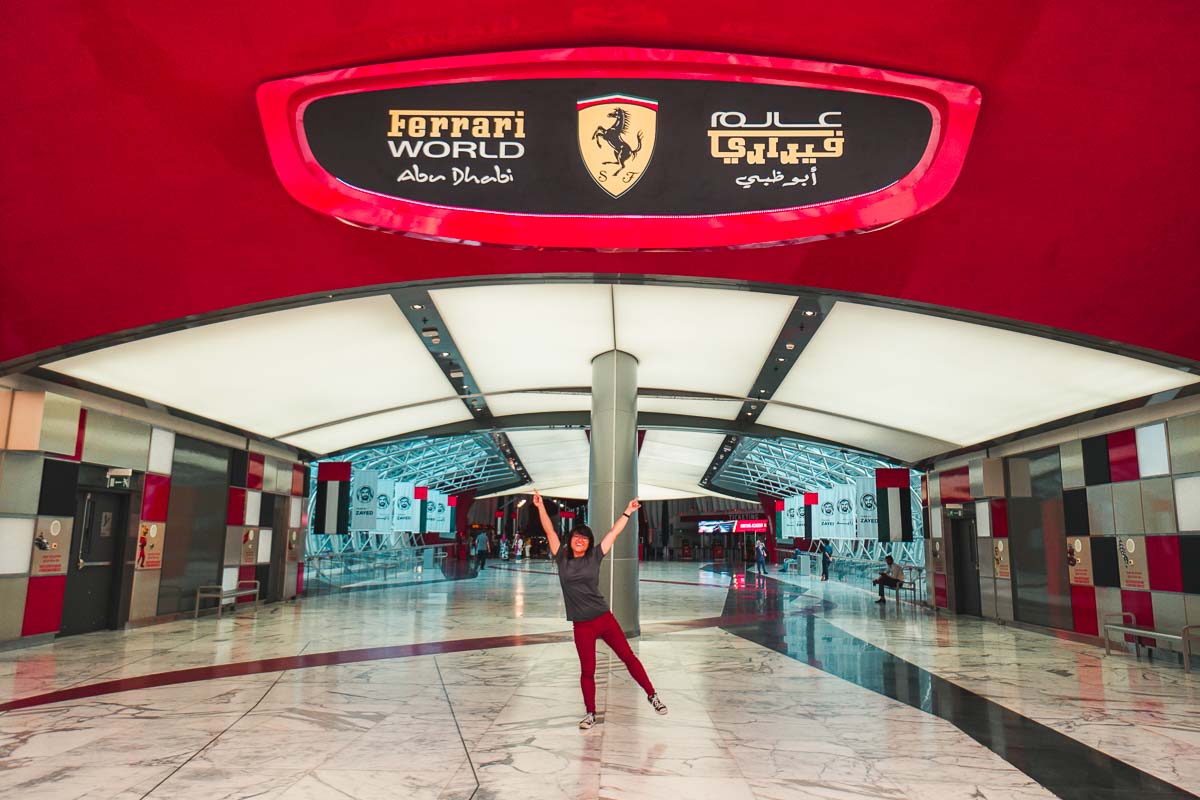 Weekends: Weekends in the UAE fall on Fridays and Saturdays, so Ferrari World tends to be busier on these days. Park hours may change during off-peak periods and the holy month of Ramadan as well, so check online or call ahead to avoid disappointment.
Dress Code: Abu Dhabi is a conservative country, so dress modestly and keep your shoulders, knees and midriff covered. We recommend bringing a light jacket or shawl to cover these areas. Wear comfy walking shoes for ease of movement too. Loose footwear like slippers are not allowed on some of the fast rides, and the officials will ask you to take them off before riding.
Park Rules: Outside food and drinks are not allowed inside Ferrari World, but water bottles are acceptable. There are water refill points within the park, and outside the nearest restroom of Yas Mall.
Lockers: Medium-sized lockers are available for rent at the entrance for AED35 (~S$13.20). But it's not necessary if you're carrying light. You can temporarily store your belongings at the lockers and bag-holding areas available at some of the rides for free!
At Ferrari World
Ferrari World is one of the world's largest indoor theme parks built with the world's largest space frame structure. The frame provides shelter from the harsh sunlight, and makes an interesting backdrop for the theme park. Besides the sleek prototype Ferrari cars, it's one of the first things that catches your attention when you enter the park.
5) Recommended Route for Thrill-Seekers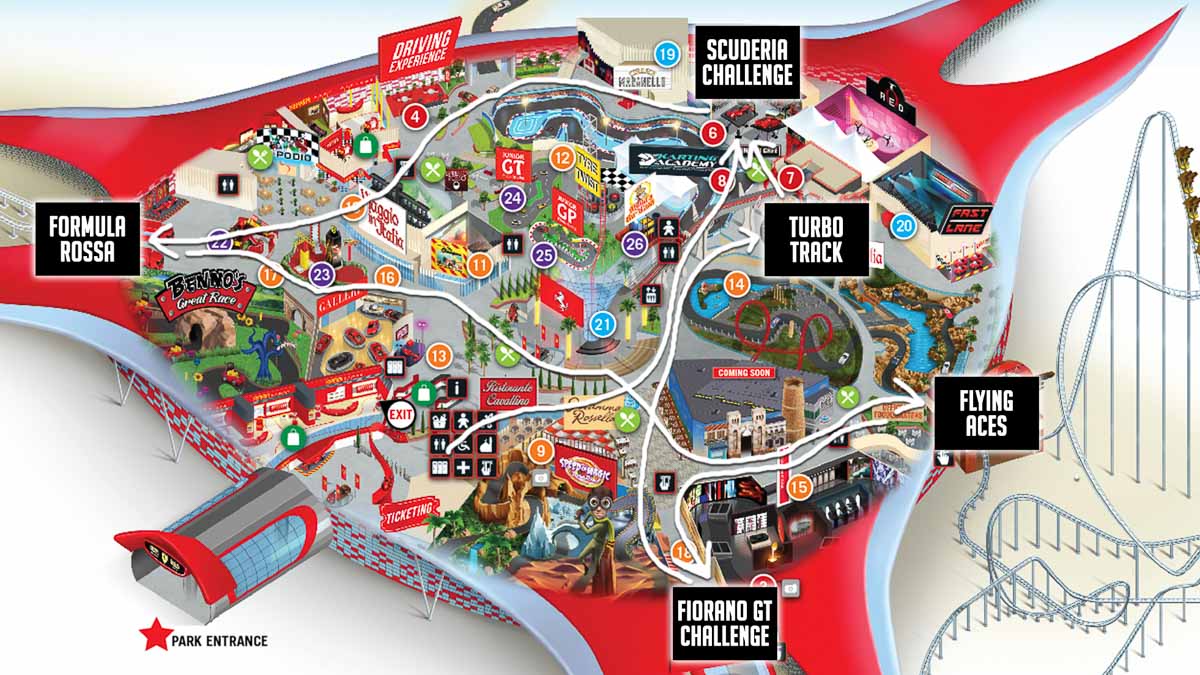 Adrenaline junkies, here are the rides to prioritise. Of course, feel free to mix and match as you please! Be open to changes in case some of the rides are closed for maintenance.
Route: Get timed ticket for Scuderia Challenge* — Formula Rossa — Flying Aces — Fiorano GT Challenge Racing Rollercoaster — Turbo Track — Scuderia Challenge
*Pro-tip: The Scuderia Challenge is a timed attraction, which is why you have to secure your slot first — it fills up fast! So that's when you embark on the other rides, or roam around the park while waiting. Remember to arrive five minutes before your time slot.
Formula Rossa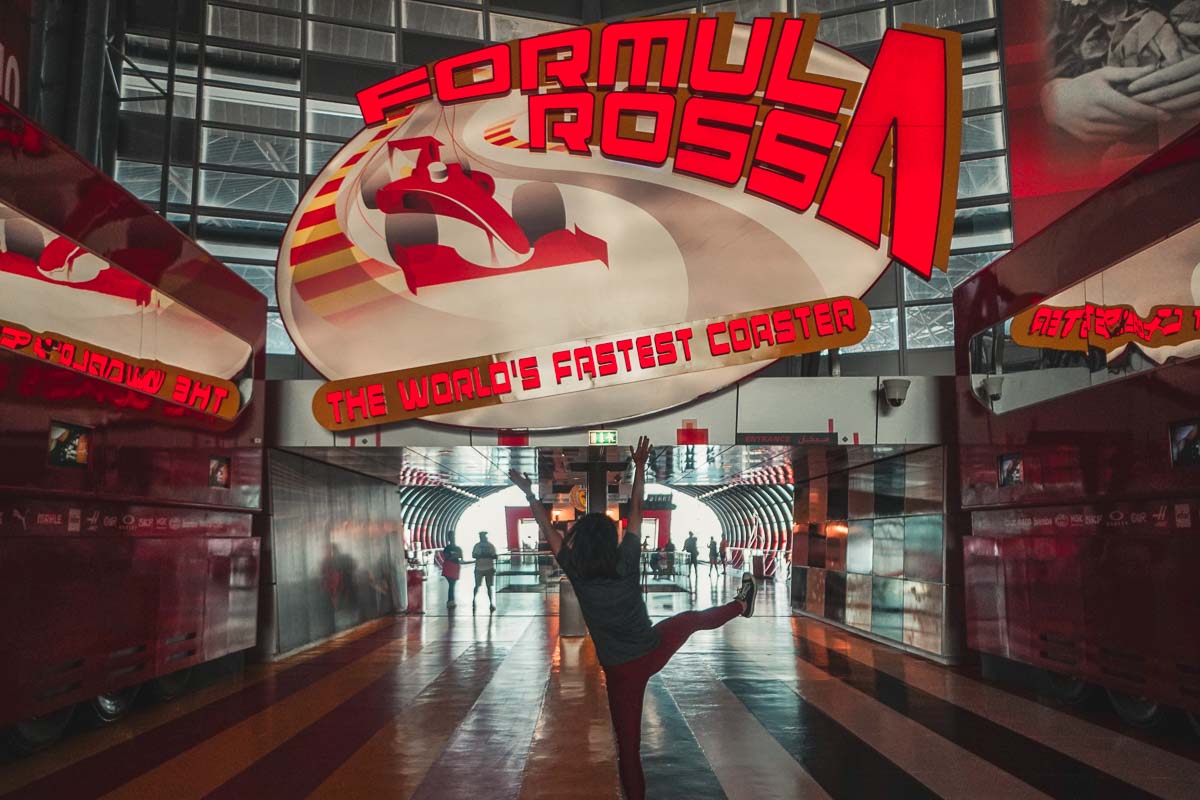 Start off with a bang. On this ride, you're essentially experiencing about half the G-force that astronauts experience during liftoff. It's an extremely fast-paced ride, and is not for the faint-hearted (seriously, there are warning signs along the queue telling you to back out if you are).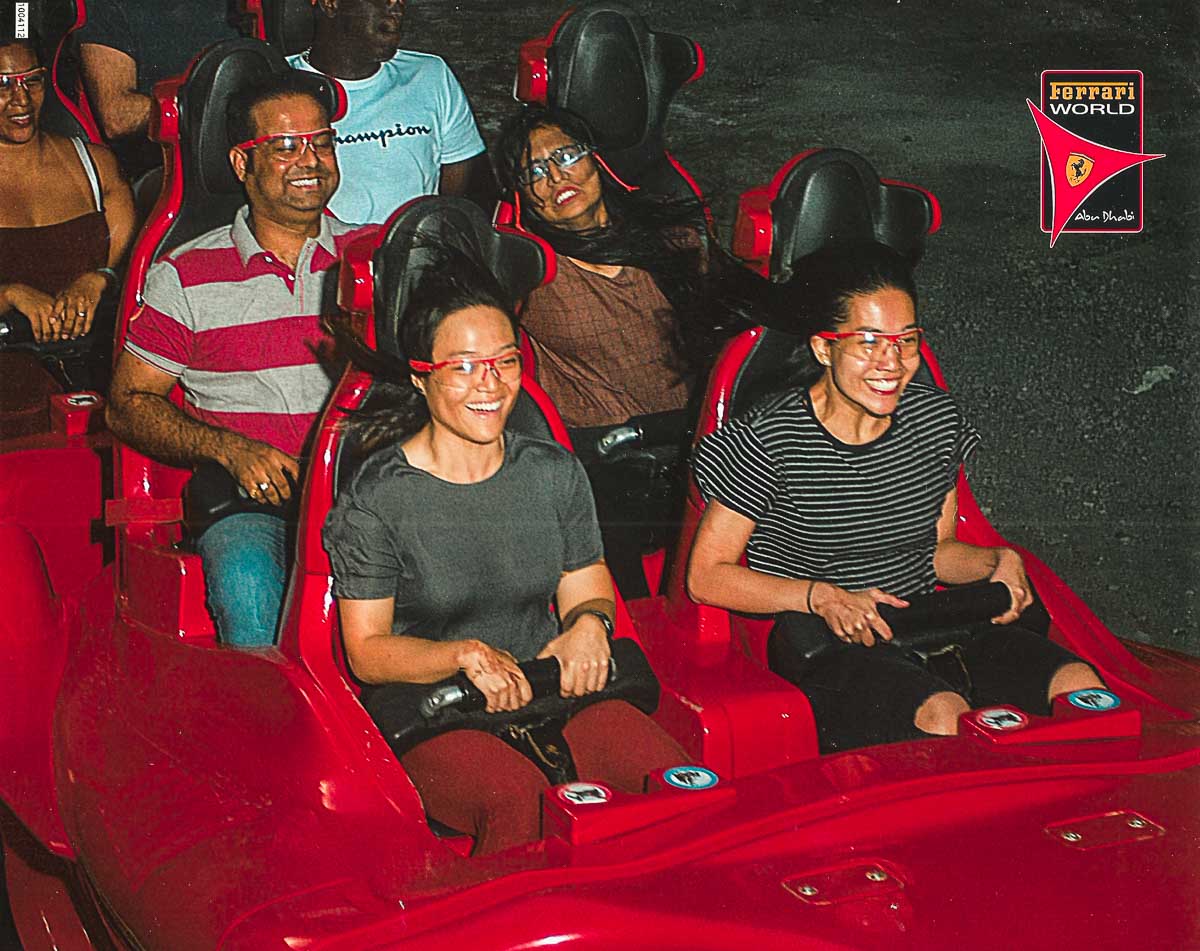 Truth be told, we didn't find it that bad, and I was with Nicole, who's terrified of rollercoasters! Once you get past the front part, it mellows out to a more typical, fun rollercoaster ride. No loops or inverted twists that make you go upside-down, so it's not as scary as other rollercoasters.
Of course, you can purchase your photo taken during the ride. One picture costs AED90 (~S$34), while two costs AED150 (~S$56.60). It's a little steep, but for the memories and the bragging rights I'd say it's worth it!
*Pro-tip: Aim to sit in the front! The ride will be smoother, and there's the added thrill of watching the red lights "count down" to green.
Flying Aces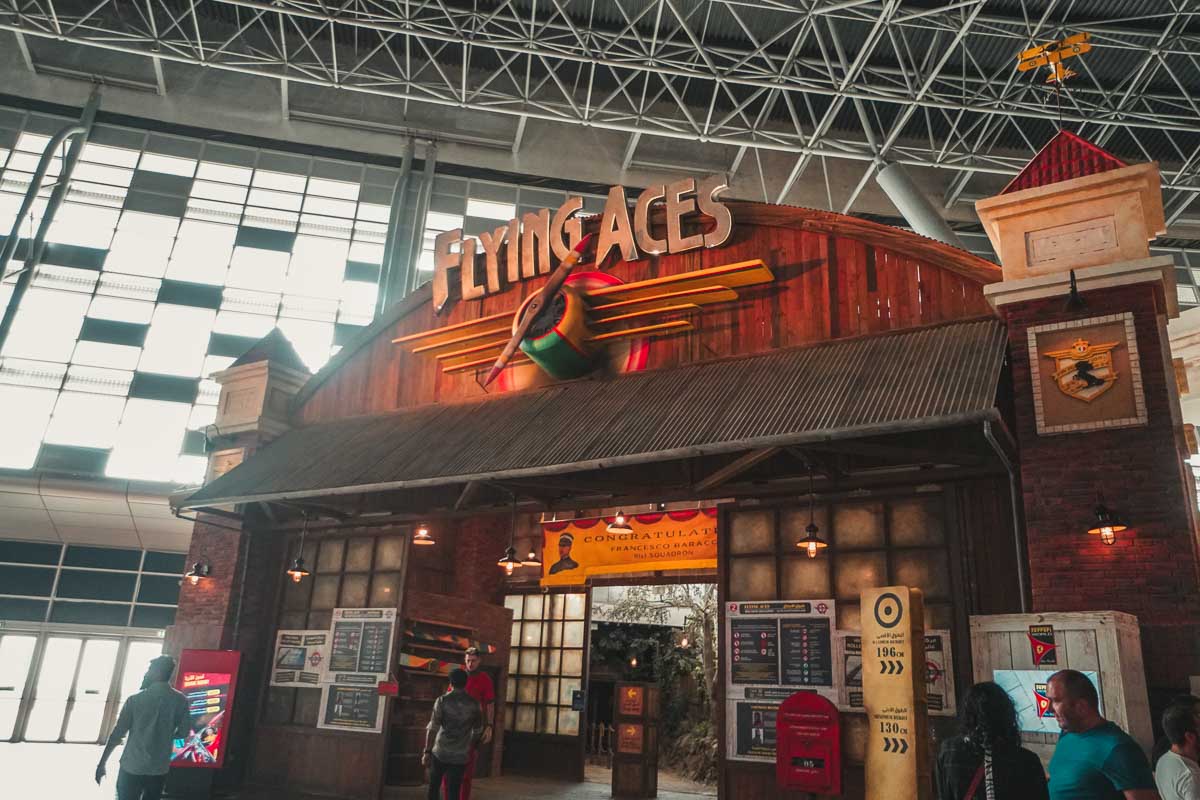 We felt this was scarier than the Formula Rossa. This wickedly fast rollercoaster first shoots you up the world's steepest cable lift at 51°. As if that weren't enough, it soon flies through the world's tallest loop at a gut-wrenching 52m — something that'll make even the hardest of adrenaline-junkies nervous.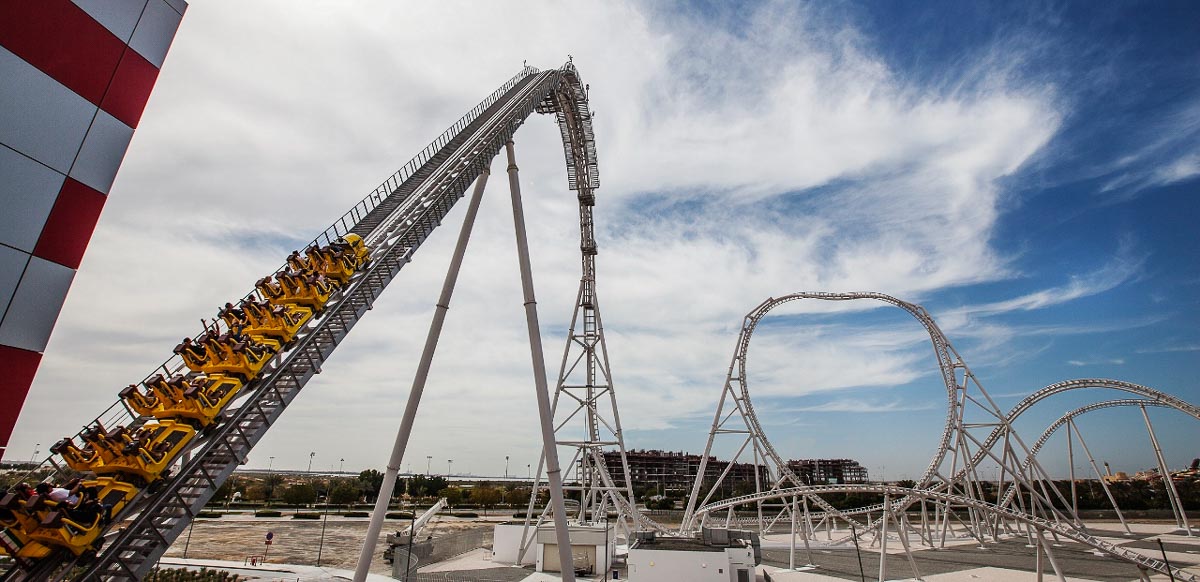 Photo credit: Blooloop
This heart-pounding journey might leave you feeling lightheaded afterwards (I was). If you're all about scaling greater heights, you'll enjoy this more than Formula Rossa.
Fiorano GT Challenge Racing Rollercoaster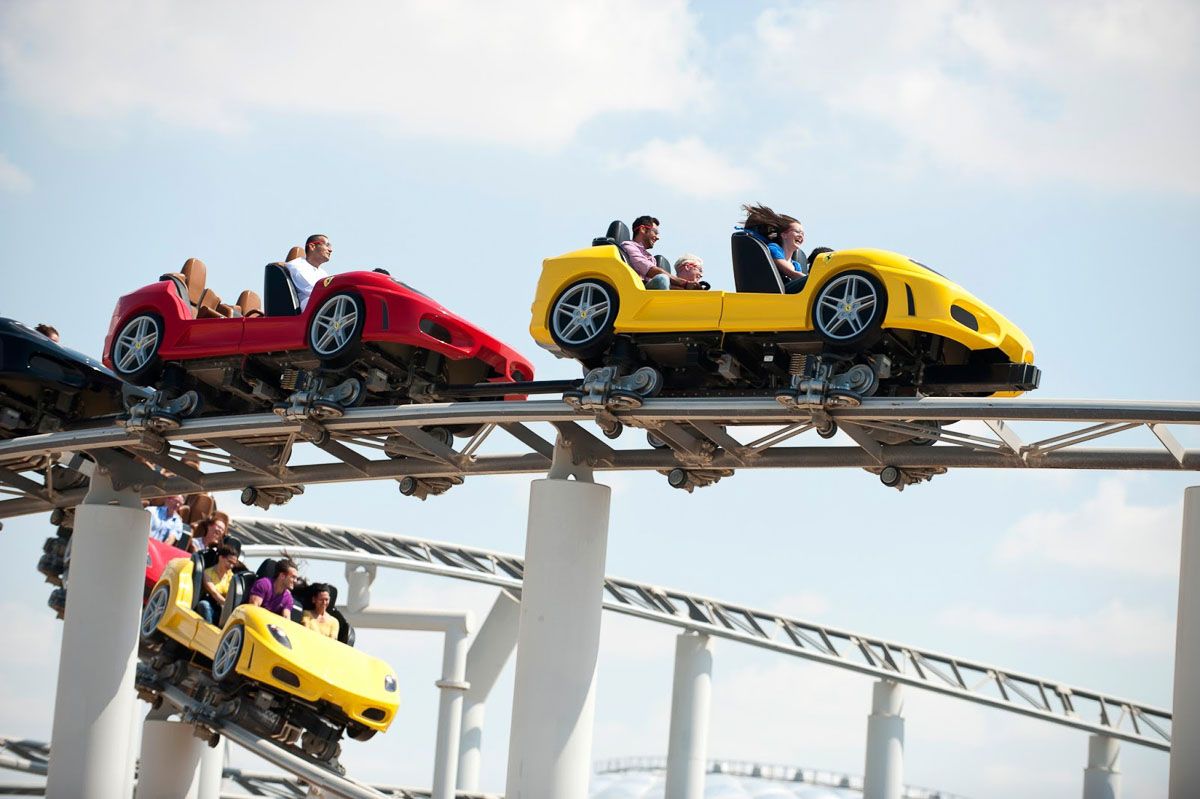 Photo credit: Hitsha Mehra
This dual racing rollercoaster is more family-friendly without crazy speeds or scary heights, but it has its share of fast-paced turns at 95km/h that make it equally exciting as the rest. What's unique here is that you'll be sitting in cars modelled like the Ferrari F430 Spider, so it's as though you're truly in a race.
Turbo Track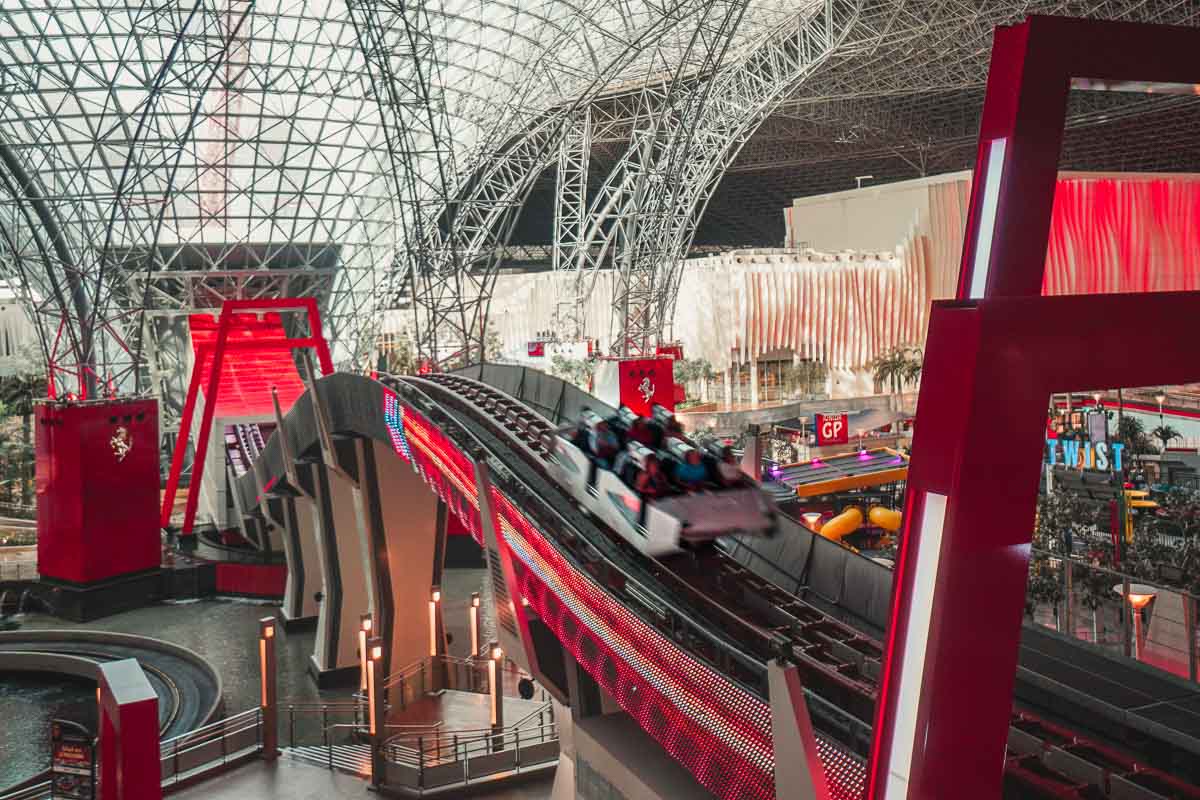 Feel like a Ferrari test driver on the Turbo Track. This short but intense ride launches you across the Ferrari World complex, and then outside of it at a speed of 102km/h.
This may sound strange, but the best seats of the ride are actually the rear-facing ones at the back! It's more thrilling cos you wouldn't know when the ride is going to happen, and the speed will catch you by surprise. Plus, you'll get a clear view of Ferrari World's red roof after being catapulted outside, before dropping back into the park.
Scuderia Challenge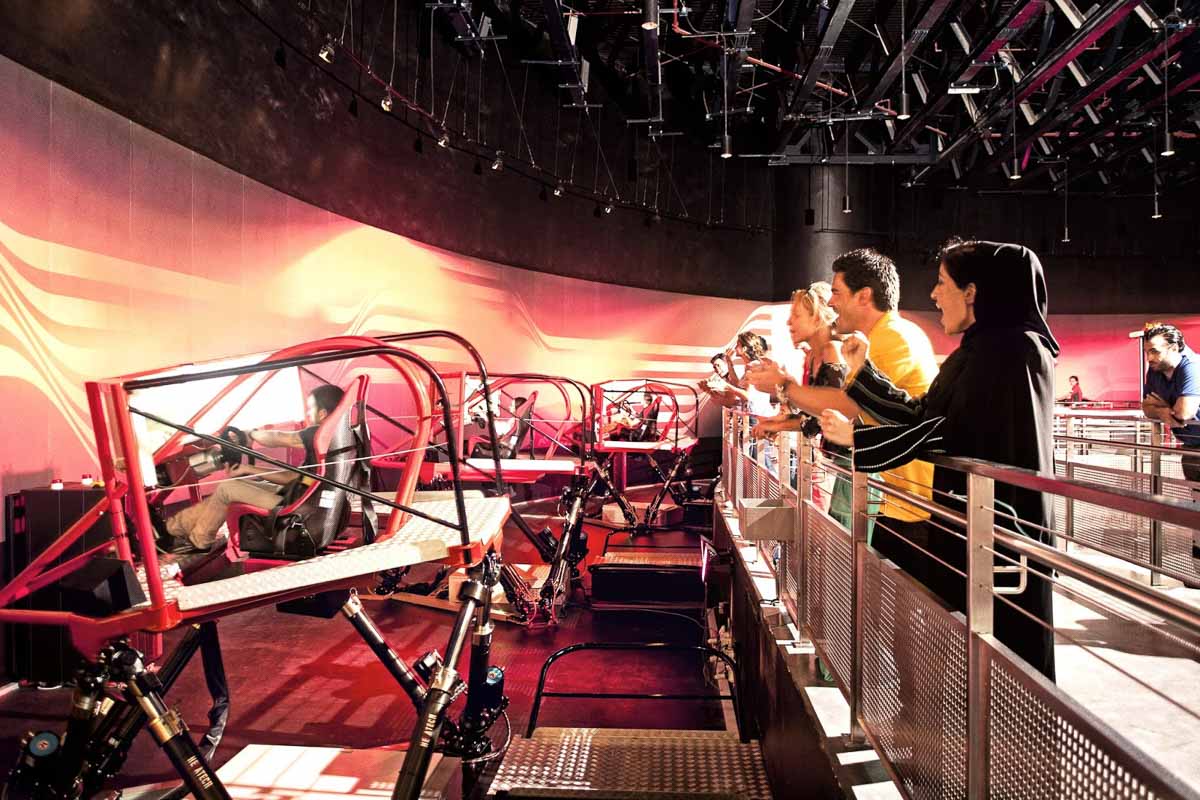 Photo credit: Hitsha Mehra
If you feel arcade racing games no longer have a kick, test your skills at the Scuderia Challenge. It's an immersive four-minute racing simulation where you compete against others on a track. The ride has three large screens surrounding your vision, as well as a real-time hydraulic simulation that moves as you drive.
Warning: those prone to motion sickness should take extra care as the ride gets really intense.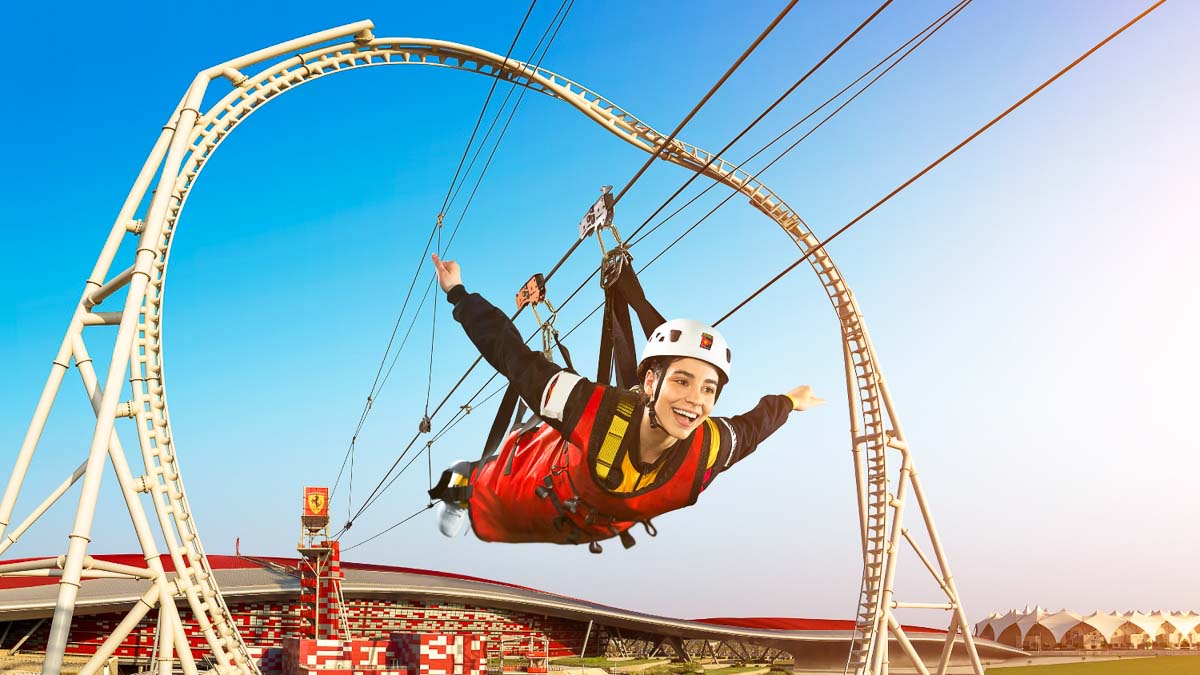 Photo credit: Ferrari World
Oct 2020 Update: To celebrate its 10th anniversary, Ferrari World is rolling out even more adrenaline-pumping things to do! Get a rush on the Ferrari World Abu Dhabi Zip Line, where you'll fly through the middle of the Flying Aces rollercoaster loop.
There's also a new Roof walk experience. Walk across the theme parks' iconic red roof, and enjoy the awesome views!
6) Recommended Route for the Chill-Seekers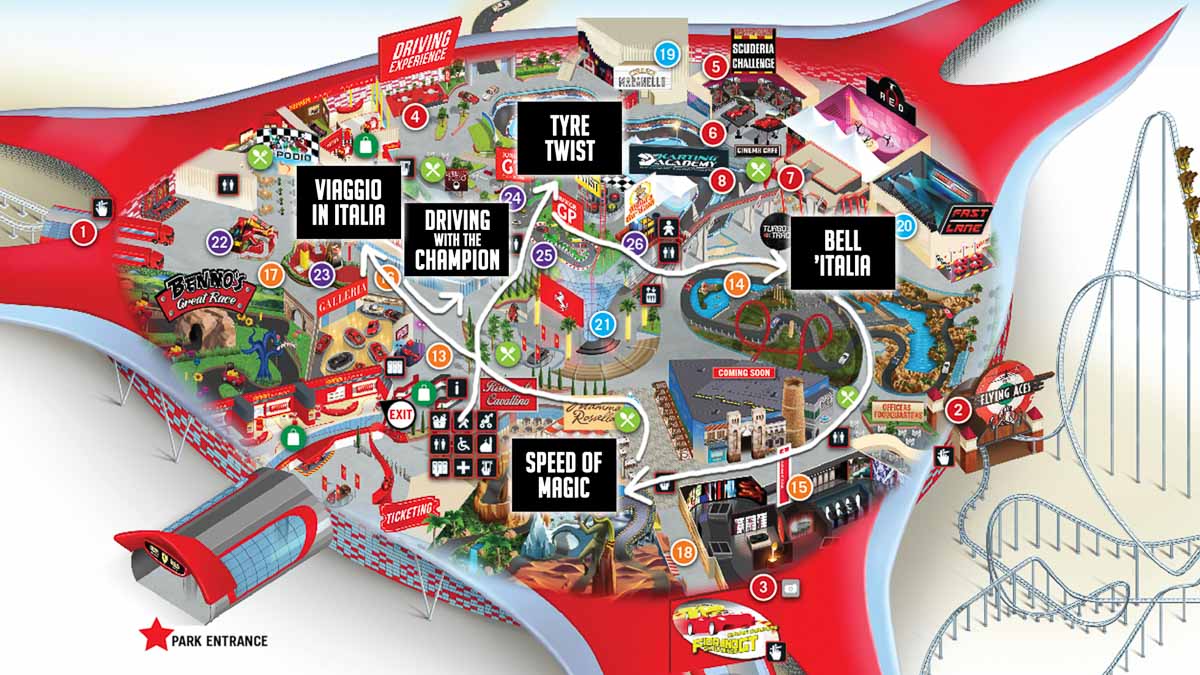 Ferrari World isn't just for the speed demons. There're many family-friendly rides and entertaining attractions for the older folks and people travelling with young kids. Here's our recommended route:
Route: Tyre Twist — Bell 'Italia — Speed of Magic — Viaggio in Italia — Driving with the Champion
Tyre Twist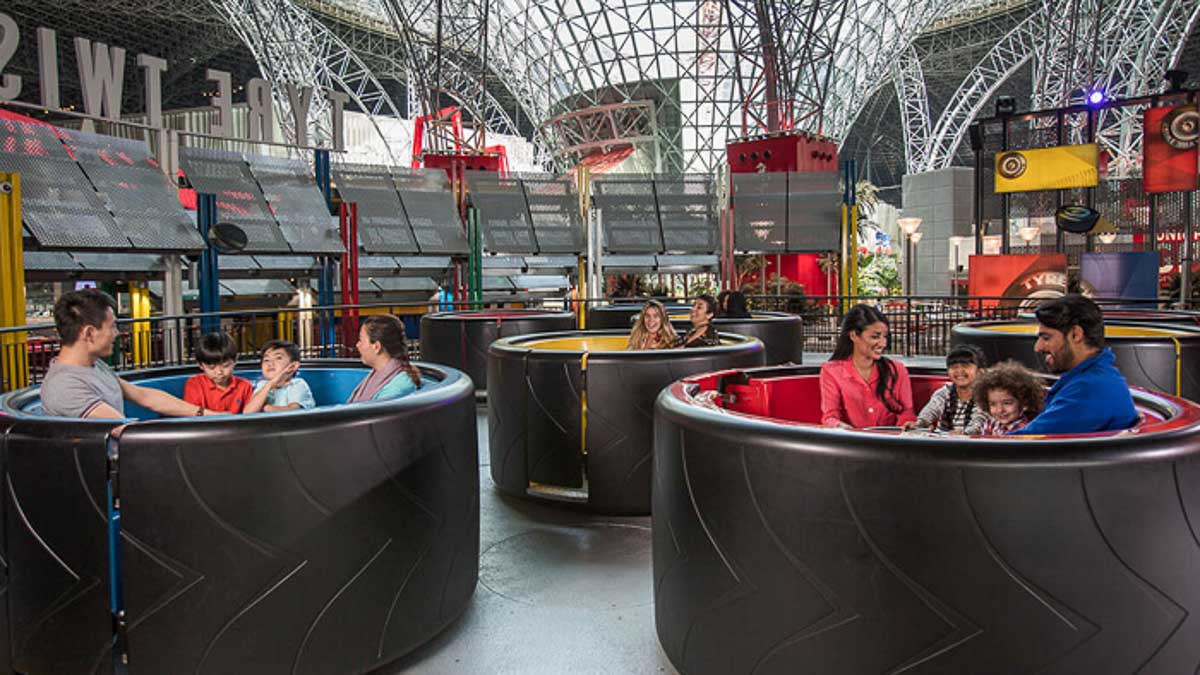 Photo credit: Travel Triangle
Much like the traditional teacup ride in many amusement parks, except you're sitting in giant, colourful tyres. You're in for a dizzy, fun ride to as you whirl around in a tyre within the spinning platform.
Bell 'Italia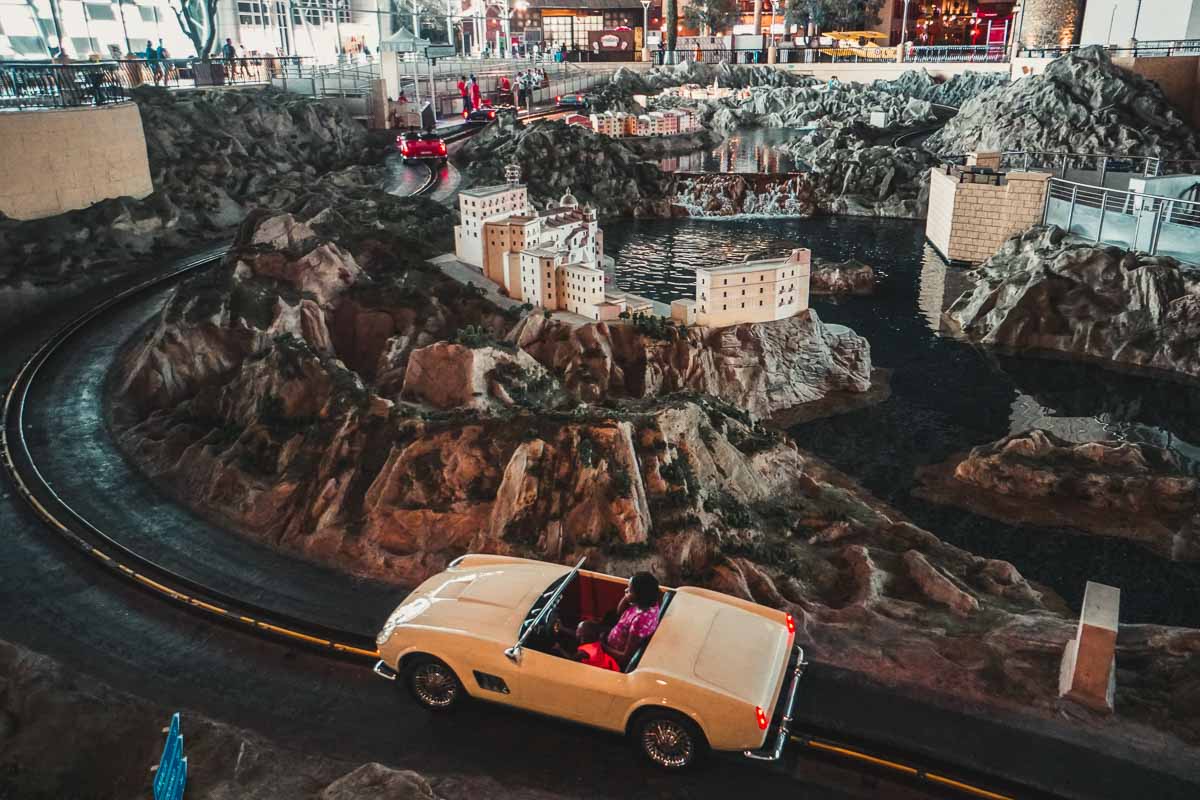 A slow and relaxing ride where you're sitting in vintage cars cruising around mini replicas of 15 Italian cities. It's a fun way to wind down and just enjoy the scenery around Ferrari World with your loved ones.
Speed of Magic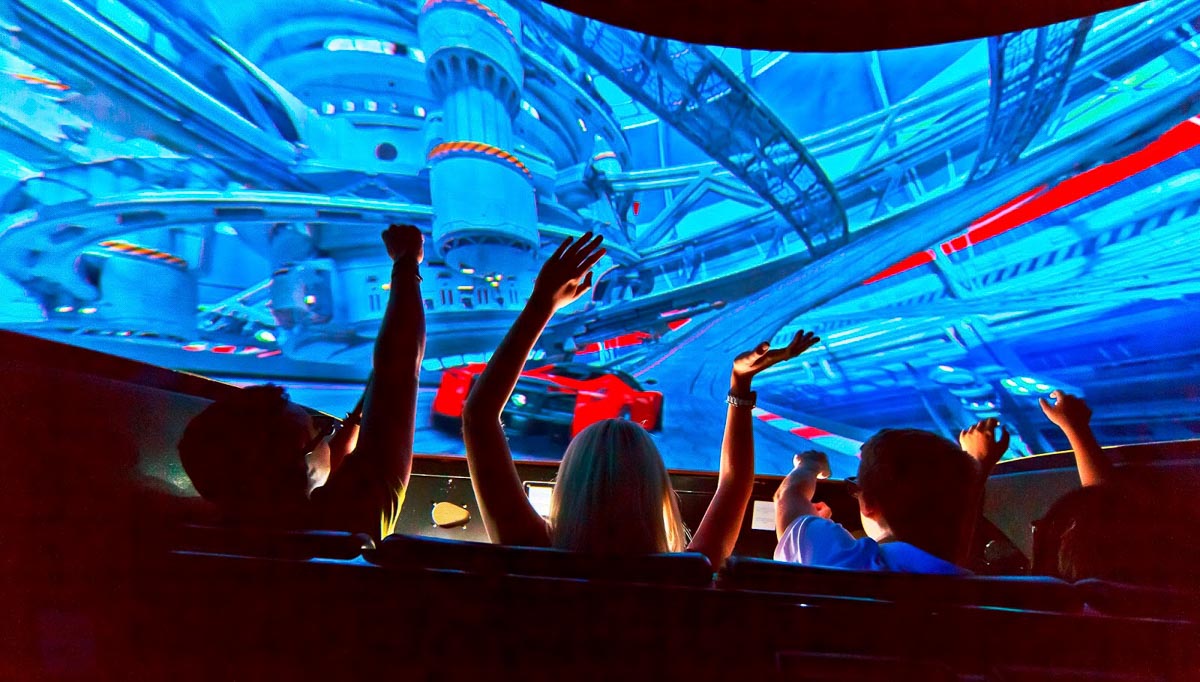 Photo credit: Hitsha Mehra
An exciting 4D motion-based simulator ride that brings you on a fantasy journey chasing after Nello, a mischievous driver. It's an visually-captivating ride that brings you through different landscapes like oceans, snowy mountains and cities. It's a mild ride, save for some swirls as the ride turns to different areas.
Viaggio in Italia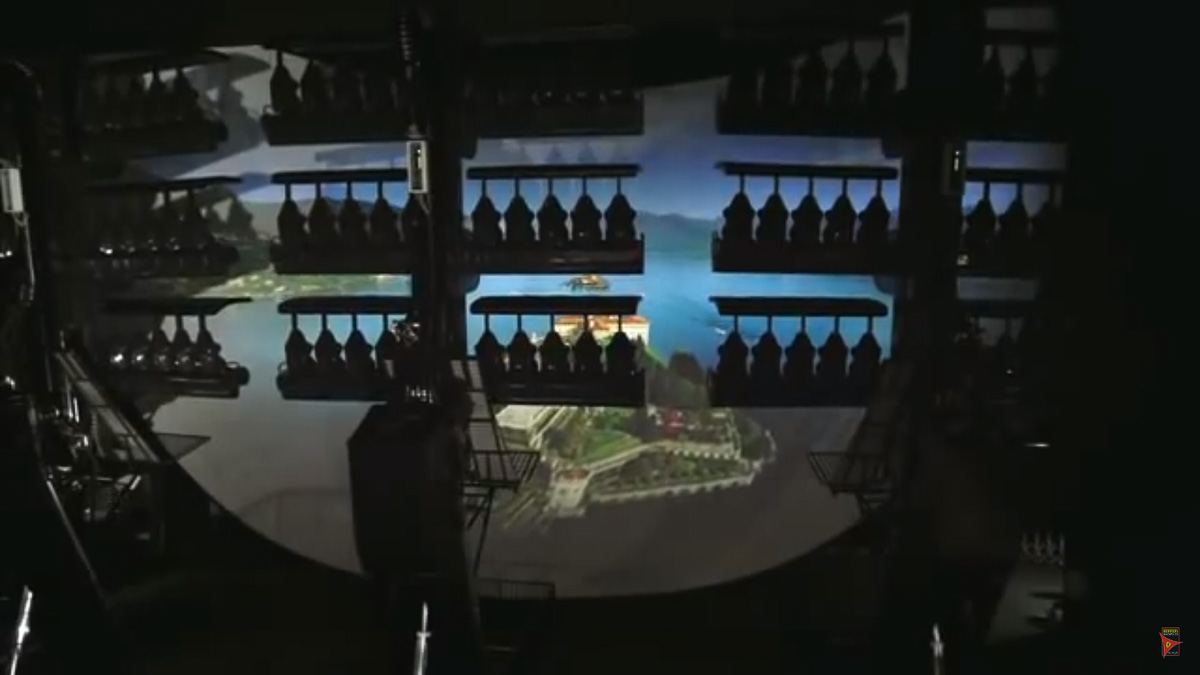 Video Screenshot: Ferrari World Youtube
A multi-sensory 4D ride, Viaggio in Italia (meaning Travel to Italy) brings you on a "flight" over a beautiful Italian landscape. What's cool and unconventional about the ride is that you'll be raised in the air for an aerial journey over breathtaking mountains, villages and vineyards. The ride is complete with accompanying sounds and aromas.
Driving with the Champion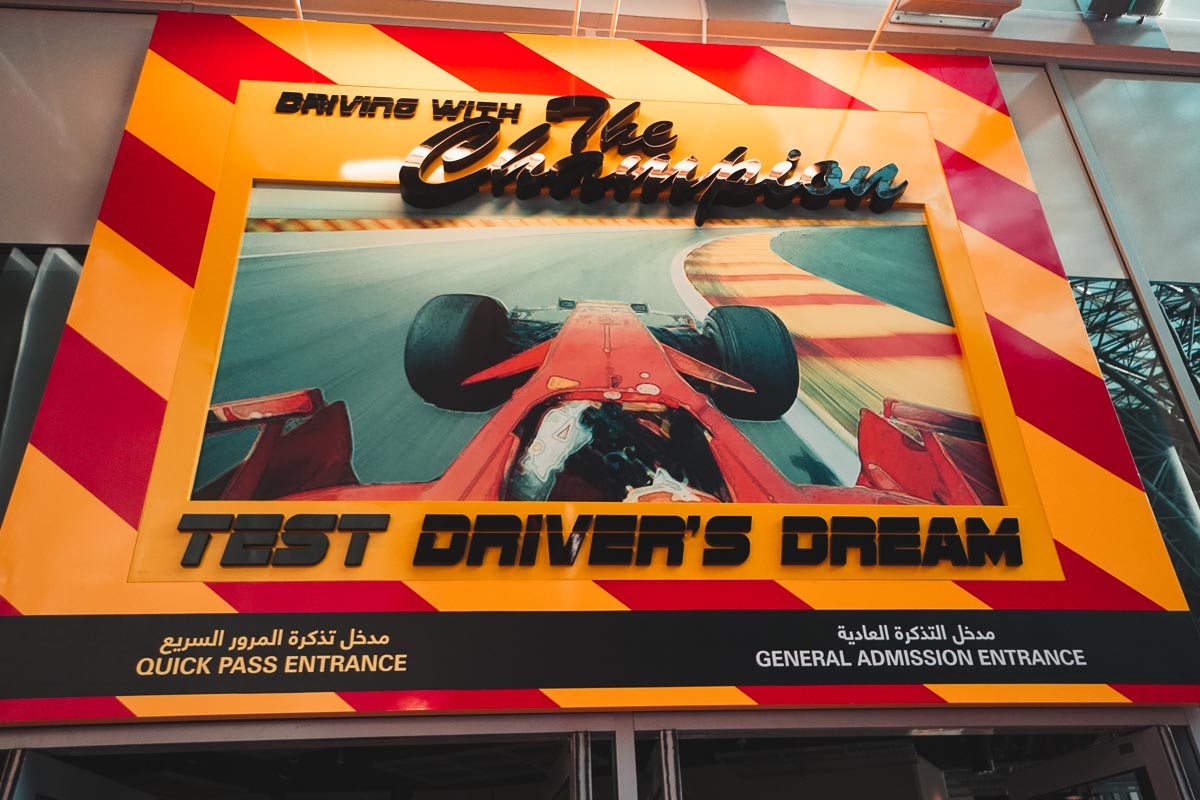 Ride shotgun with two-time Formula One World Champion Fernando Alonso in this VR motion-based simulator ride, through mountain roads and on a Fiorano track in different cars. Immersive effects like revving sounds and wind in your hair included!
7) Plan Around Fun Shows and Programmes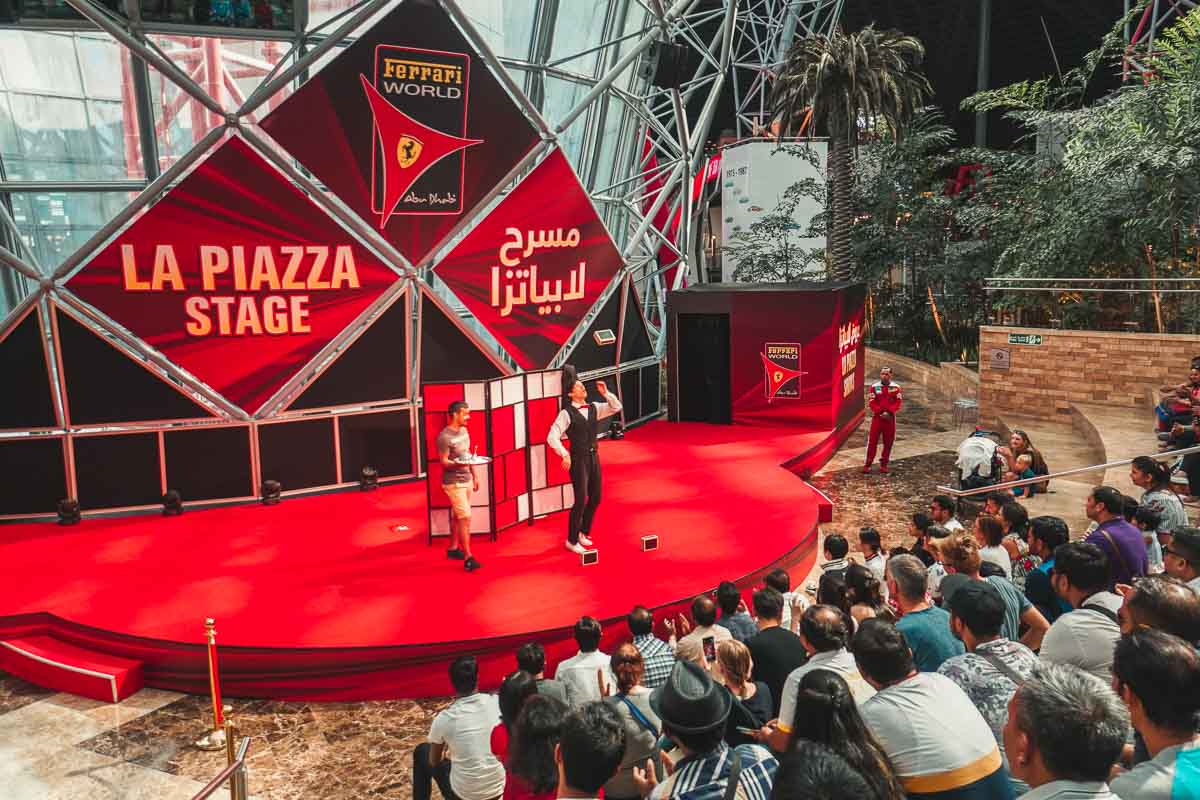 When you enter Ferrari World, look out for a board in the main square that displays all the show timings for the day, and plan your route accordingly.
Most live performances and special live events take place at the La Piazza Stage, and they usually go on at 1PM, 3PM and 5PM with differing performances from time to time. We caught a playful and lighthearted show where the entertainer made audiences perform a short symphony with bells!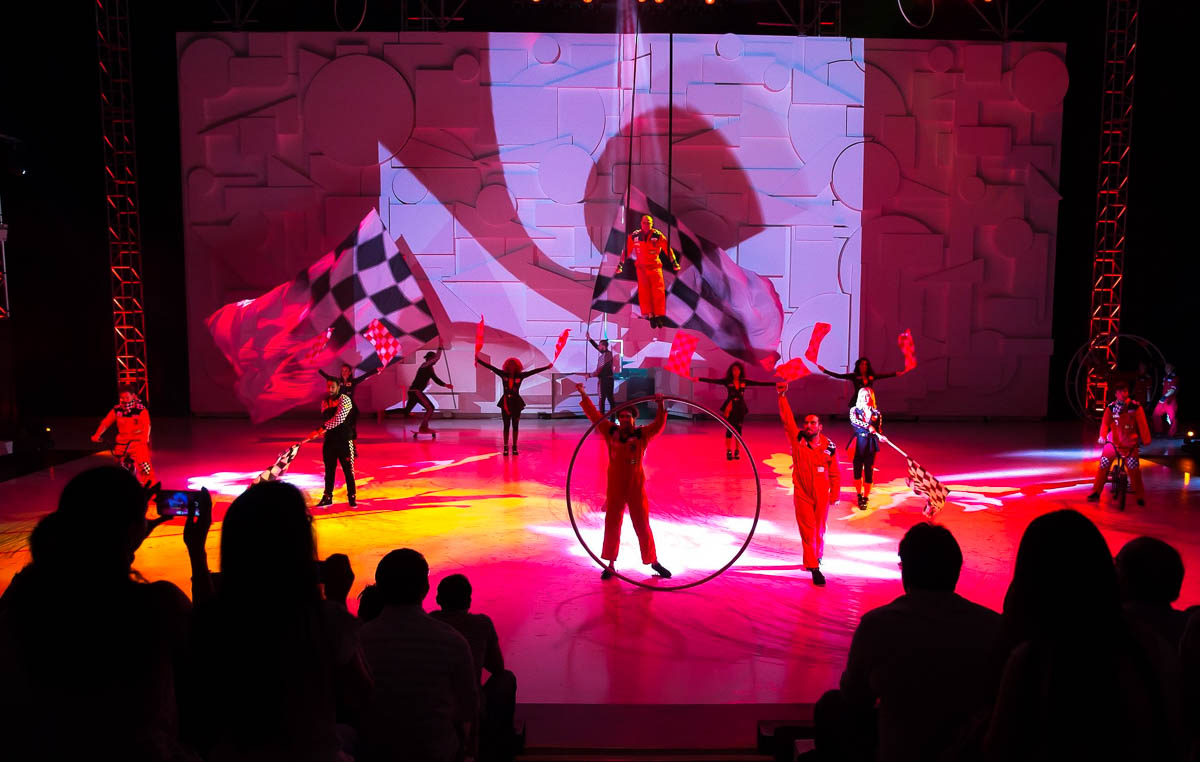 Photo Credit: Ferrari World Twitter
We also loved RED, a spectacular theatrical show featuring amazing acrobatic stunts, dancing, BMX biking and circus performances. It doesn't go on every day, but definitely check it out if they're playing on the day you visit. Just make sure you get in 10 minutes early for the best seats in the house.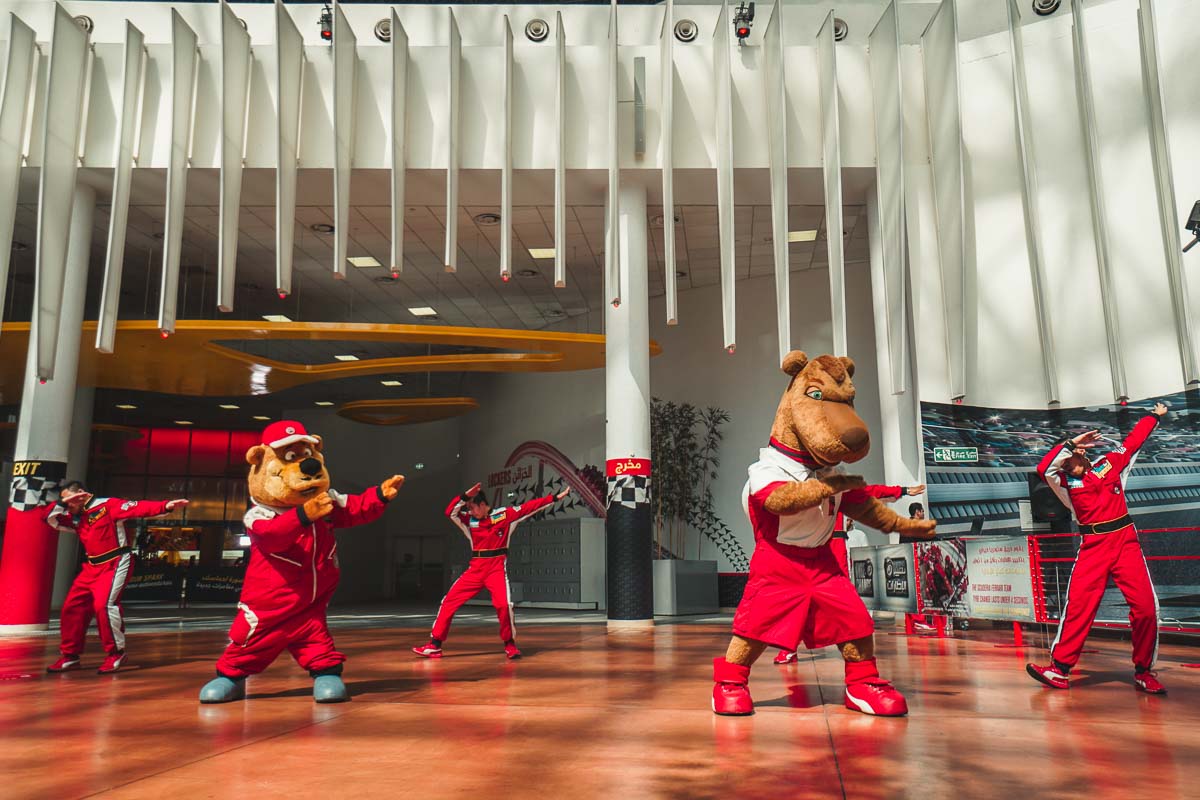 Berto the Mechanic and Khalil the Camel dancing with Ferrari World performers
The Ferrari World theme park mascots perform at 2:30PM and 4:30PM daily, where they perform a short dance near the park's entrance. You can also take photos with them right after!
8) Unique Rides and Experiences Not Included in Your Ticket
If you're a huge fan of Ferrari, or want a speedier and more immersive experience, it's worth topping up extra for some of the rides and experiences available.
Driving Experience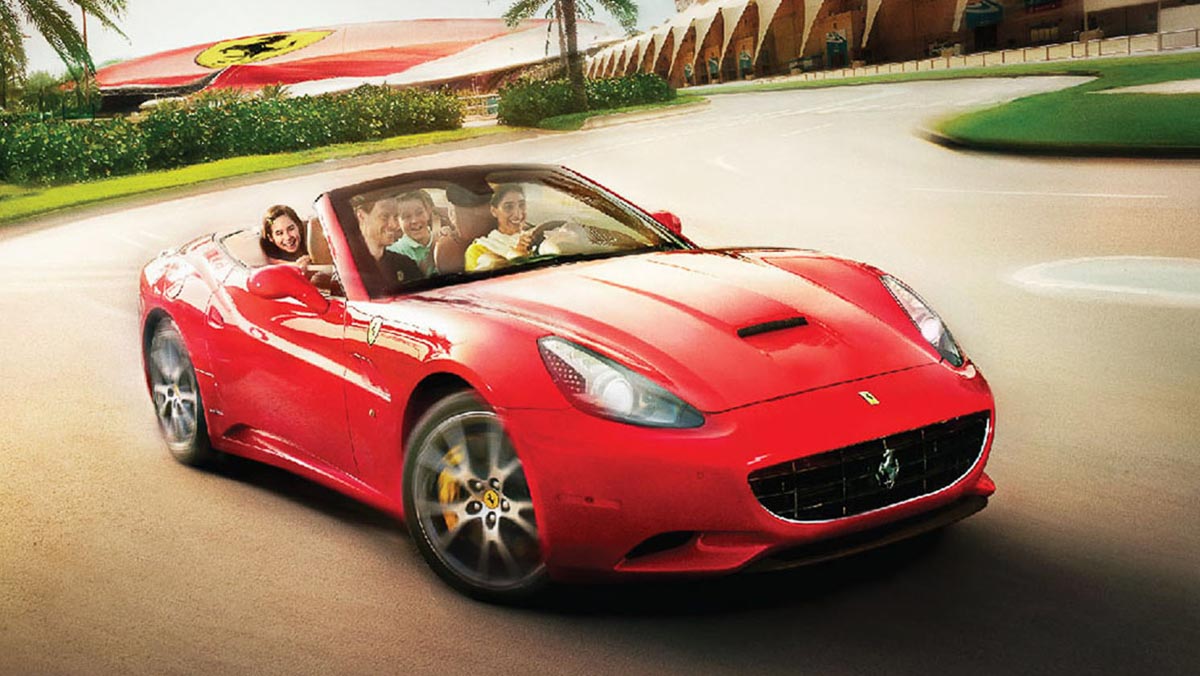 Photo credit: Ferrari World
What's Ferrari World if you can't drive a real Ferrari? Get behind the wheel of the iconic car when you sign up for the Driving Experience. To be eligible, you need to be over 21 with a driving licence. You'll cruise around Yas Island with an experienced instructor for 20 – 25 minutes, and even get a 360° video and photo taken!
If you don't wish to drive but wanna be driven around instead, you can also get the Passenger Experience where an instructor drives instead.
The experiences run on a timed ticket system, so sign up upon entering the park or book online in advance.
Top-up Fees: AED895 (~S$337.60), AED595 (~S$224.50) for Passenger Experience. AED120 per extra passenger.
Scuderia Advanced Challenge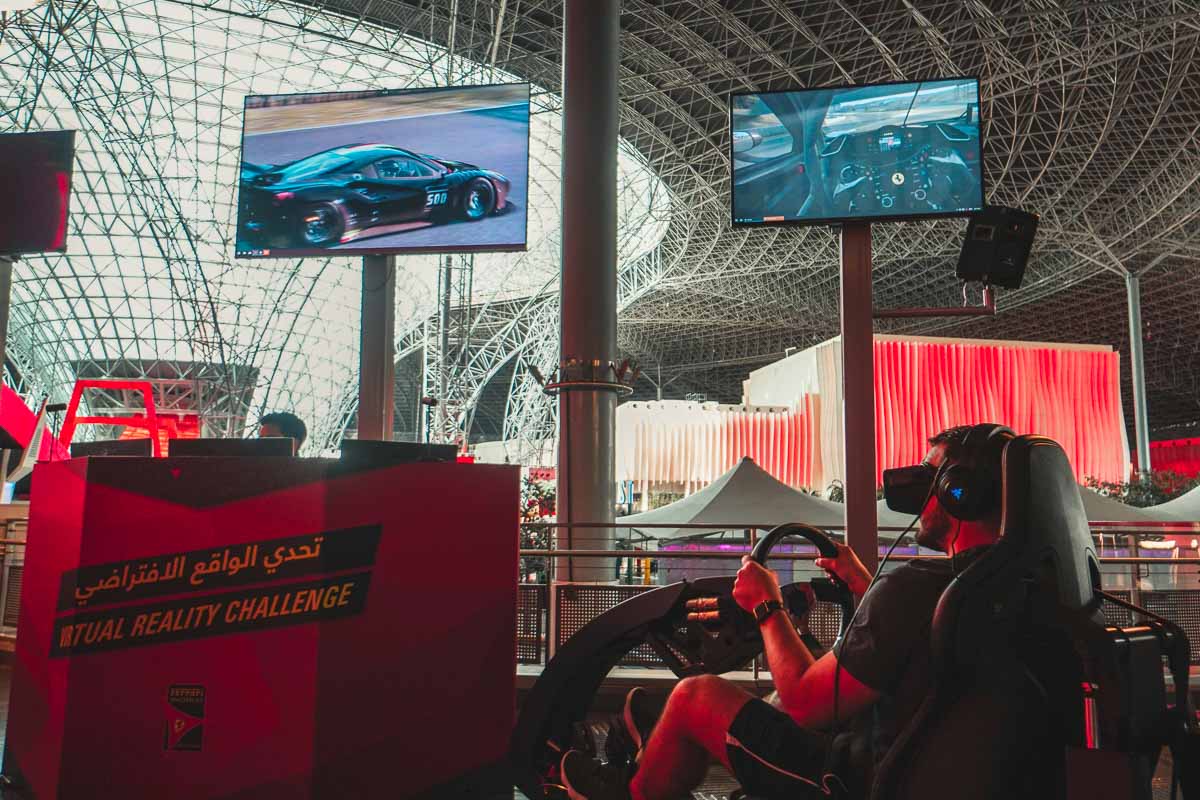 Enhance your experience with two other Scuderia Challenge simulators. The VR Challenge is similar to the normal Scuderia Challenge, but this time you're wearing a VR headset as you race through the tracks. What's missing is the hydraulics system, but it's a good alternative for those who want to skip the queues or are prone to motion sickness.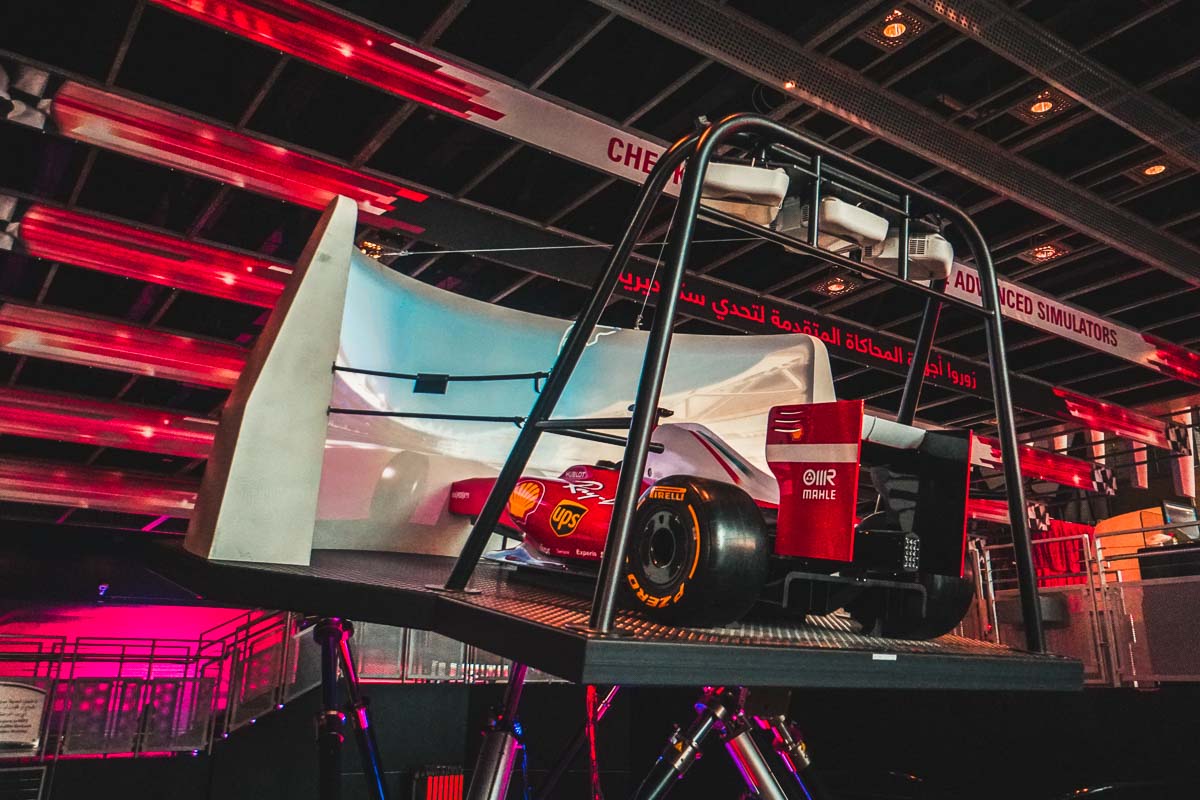 If you want to level up further, go for the Advanced Simulators. You can choose between a Ferrari California or Formula One car to race on a track. This attraction includes huge hydraulic systems and an unobstructed widescreen, so you almost feel like you're in a real race.
Top-up Fees: AED20 (~S$7.60). AED70 (~S$26.40) for Advanced Simulators.
Karting Academy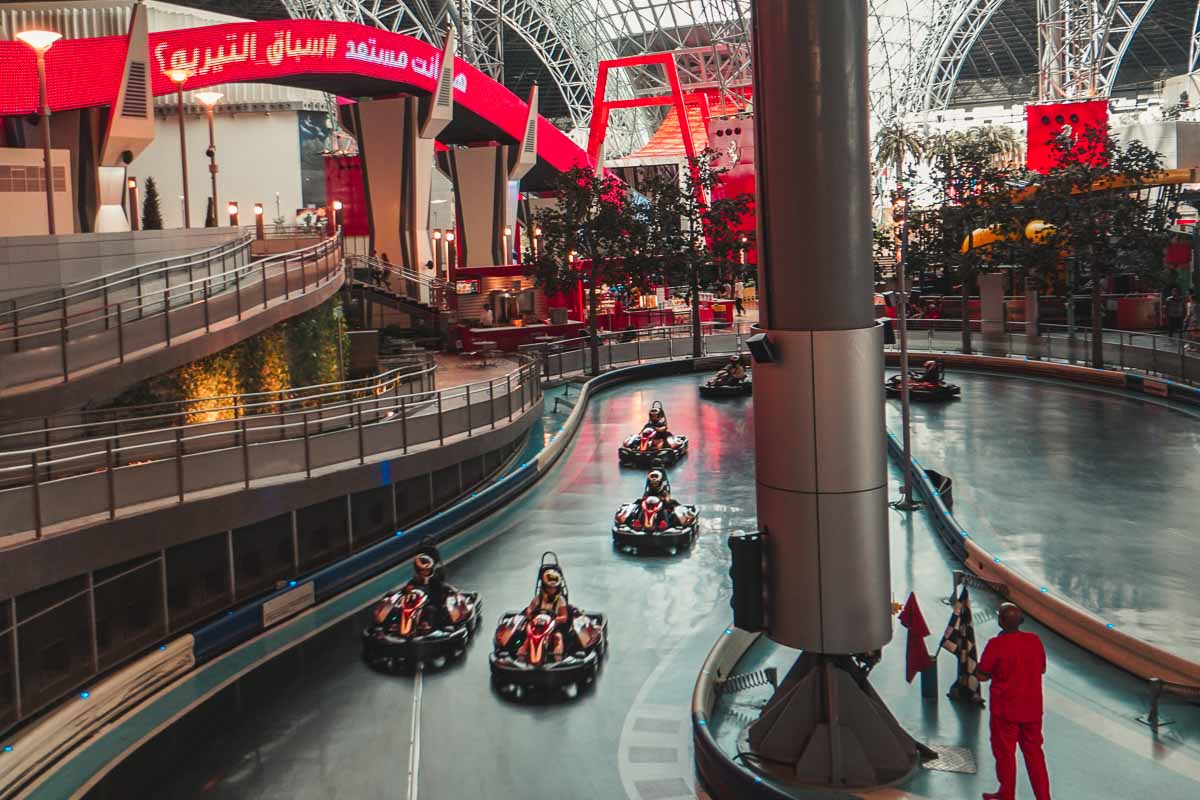 This electronic, 290m go-kart track within the park compounds is great for anyone who wants to try driving in a less intimidating setting. It's not as big as other outdoor tracks, but the slippery floor makes it easier to drift (read: more fun, less risk).
The top-up fee includes safety gear like helmets, but you must wear your own covered or sports shoes.
Top-up Fee: AED40 (~S$15.50)
9) Refuel with Mamma Rossella Pizzas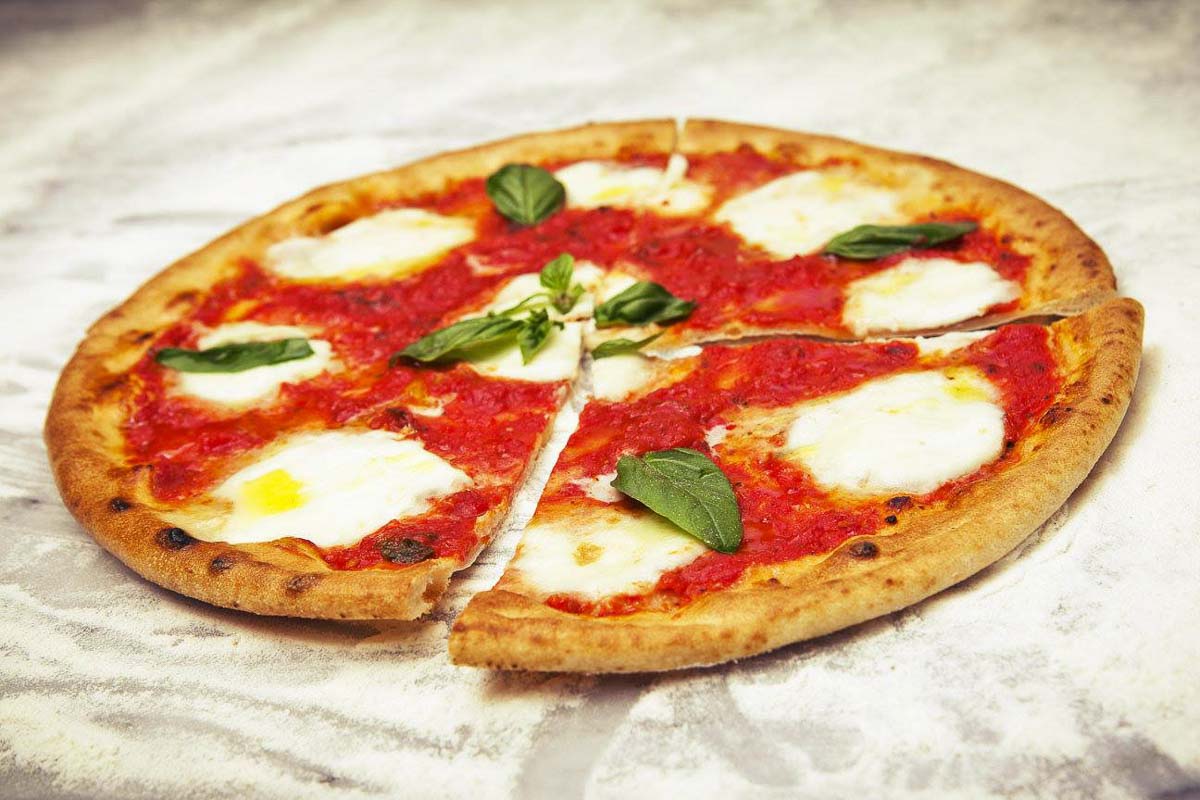 Photo credit: Ferrari World Facebook
There are five eateries in Ferrari World, but if you could only eat at one while you're there, Mamma Rossella is your best bet with its classic Italian fare. A hot favourite with visitors, their must-tries include the oven-baked Margherita pizza (AED58, ~S$22) made simply with delicious tomato sauce and mozzarella, lasagna (AED65, ~S$24.50) and penne with smoked salmon (AED65).
If you're not that hungry though, Espresso Rosso offers coffees, cakes and pastries. If you're just not into Italian, there's also Ristorante Cavallino (European), Il Podio (International) and The Officers Foodquarters (American burgers and wings). A full meal would set you back AED55 – AED80 (~S$20.75 – ~S$30.10).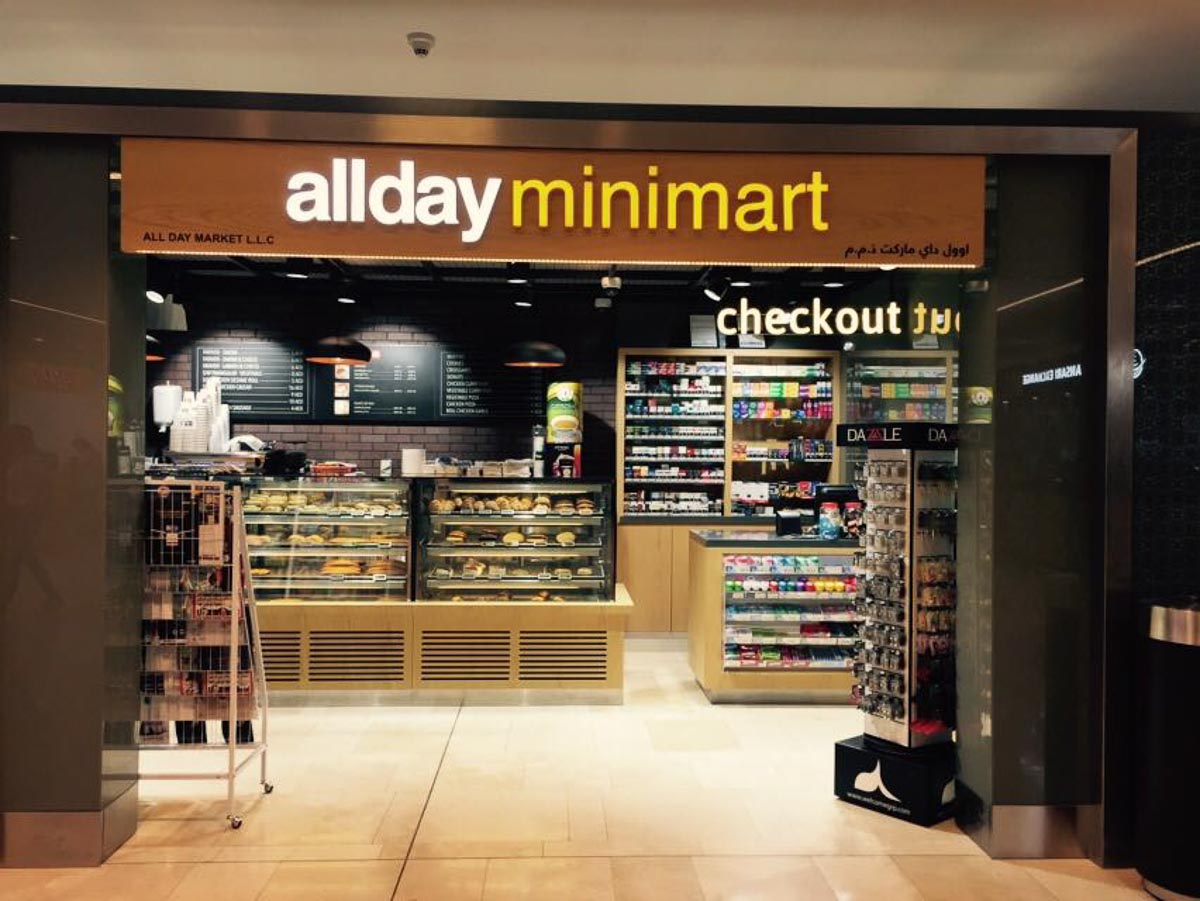 Photo credit: Allday minimart
Okay, we're not going to deny that the food there is expensive. So here's the sneaky budget option: Yas Mall, y'all! Just remember to get your re-entry stamp to Ferrari World. There are over 70 dining options in the mall, and you could get a filling Zaatar and cheese flatbread from allday minimart for just AED7 (~S$2.60).
10) Shop for Authentic Ferrari Merchandise at the Ferrari World Stores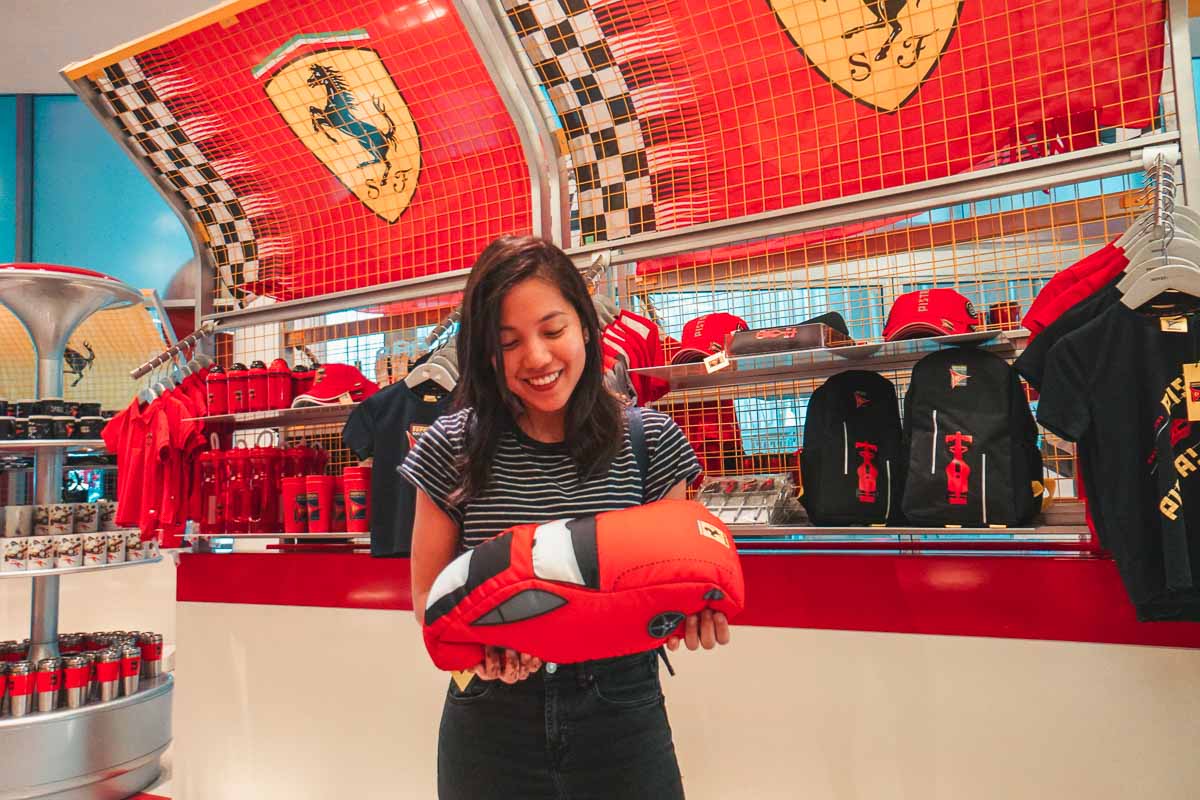 There are two retail shops at Ferrari World. The first one called The Ferrari Store is right by the park's entrance and doesn't require a ticket to enter. It sells an extensive range of Ferrari-branded products from cologne, bags and leather jackets to fountain pens and even kid's toys, so even if you don't get the chance to ride inside, I guess you can, er, buy something and pretend you did?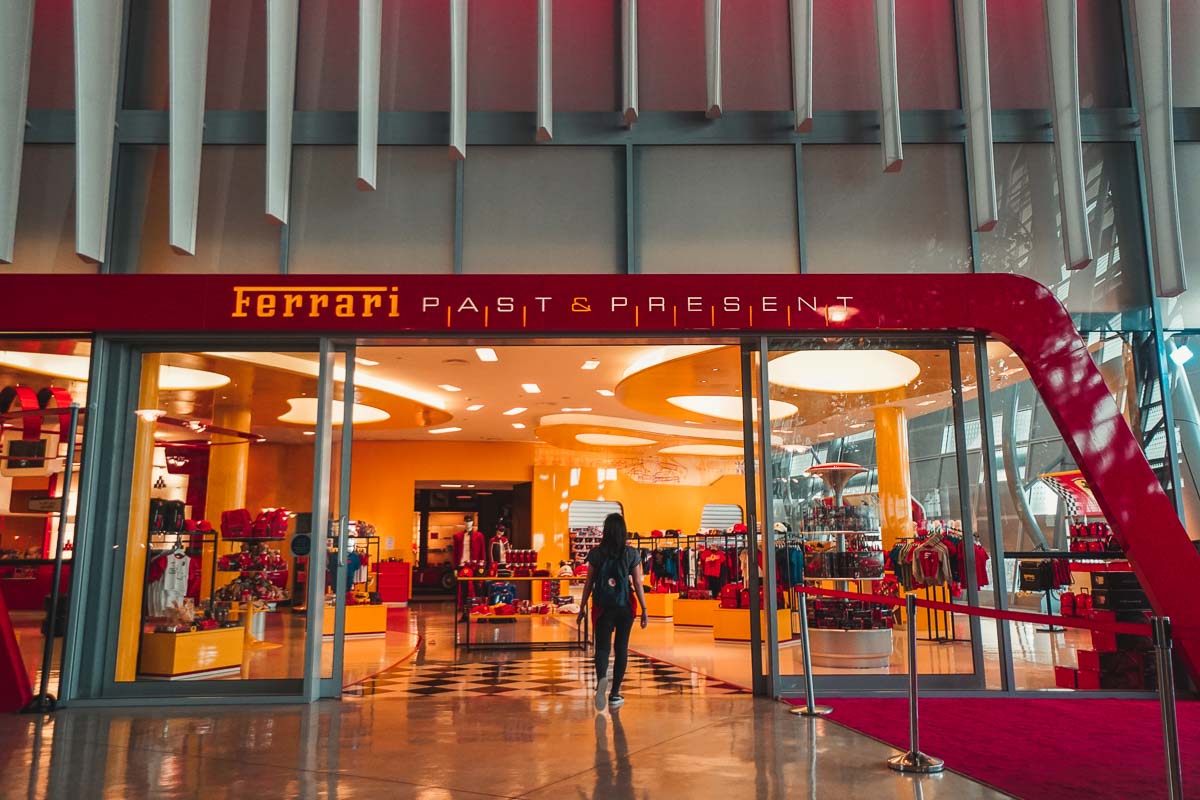 The Ferrari Past & Present Store is a little more exclusive. This one is inside the park, and is the world's largest Ferrari retail space. Here you can get an impressive range of vintage collectibles like miniature car models, and memorabilia like caps and mugs. Enough to make any Ferrari enthusiast squeal.
11) Don't Miss Seasonal Events at Ferrari World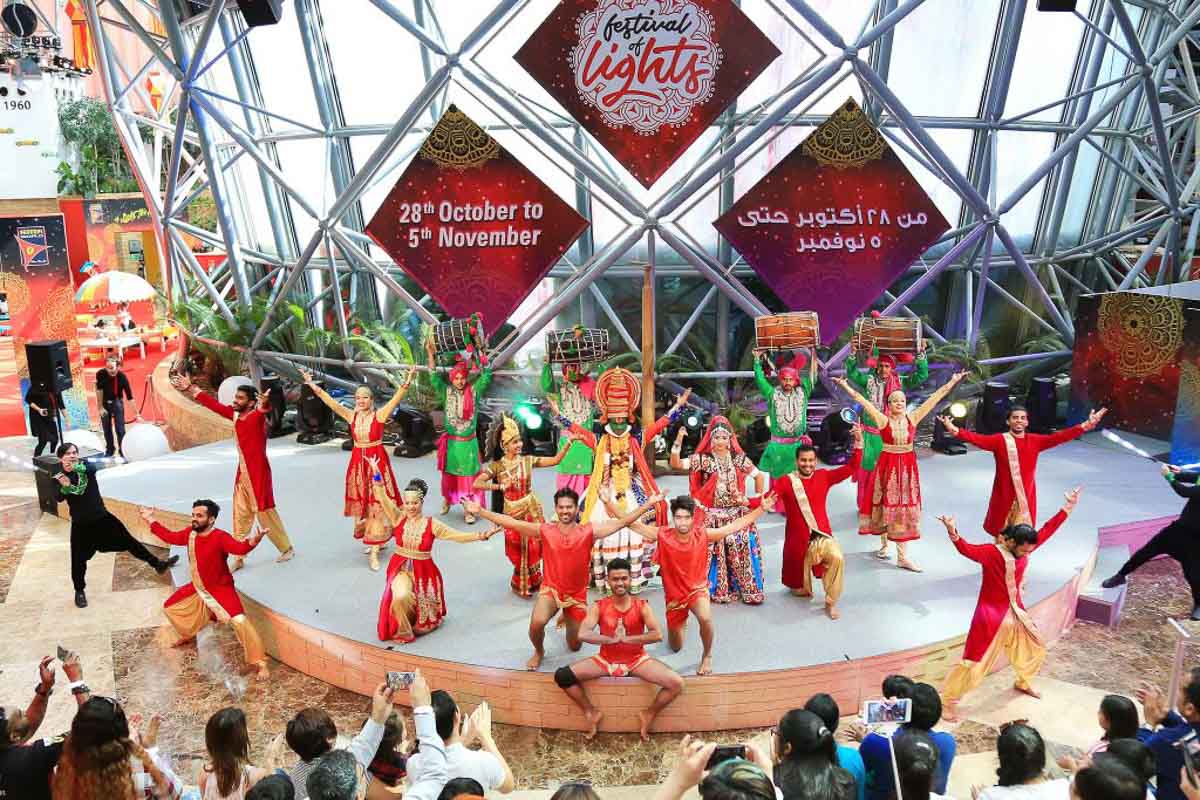 Ferrari World's Festival of Lights 2017. Photo credit: What's On
Sure, year-end periods beckon seasonal holiday crowds, but the silver lining's the seasonal events with more lively performances and limited-time attractions!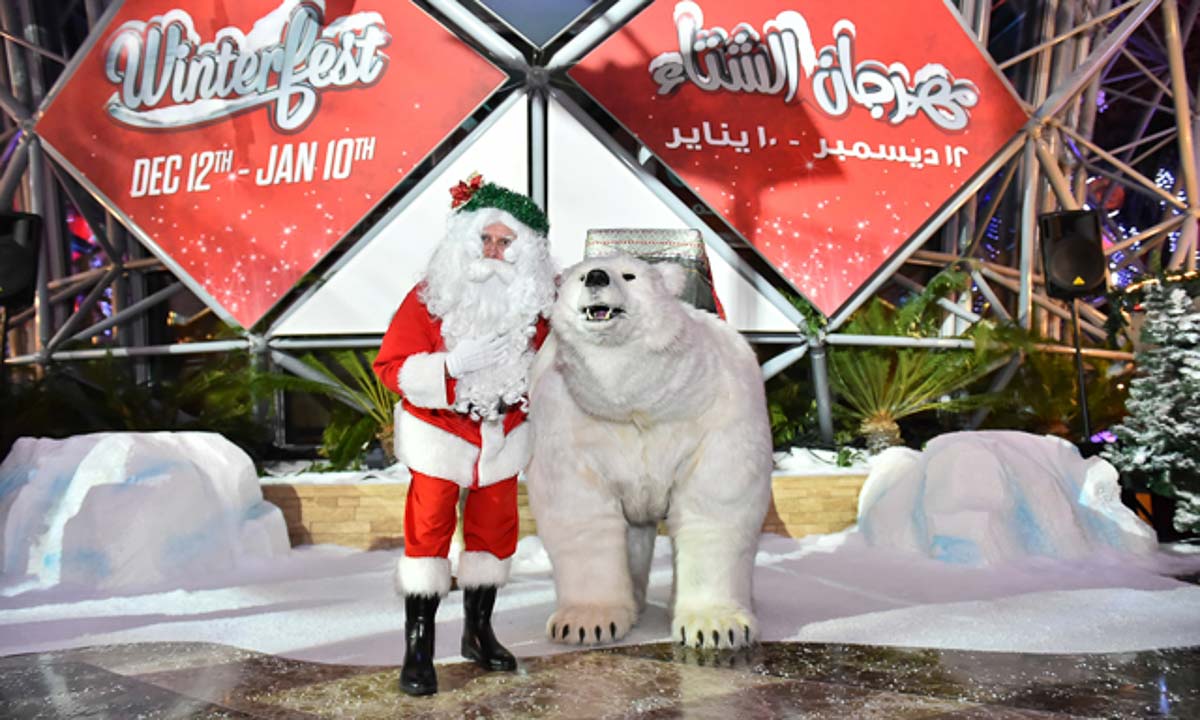 Ferrari World's Winterfest 2014. Photo credit: Time Out Abu Dhabi
Look out for events like the Festival of Lights for Deepavali and Winterfest for Christmas. In the latter, Ferrari World will be decked out in Christmas decorations with new attractions like a snow play and ice-skating area.
Enjoy Discounted Tickets for Ferrari World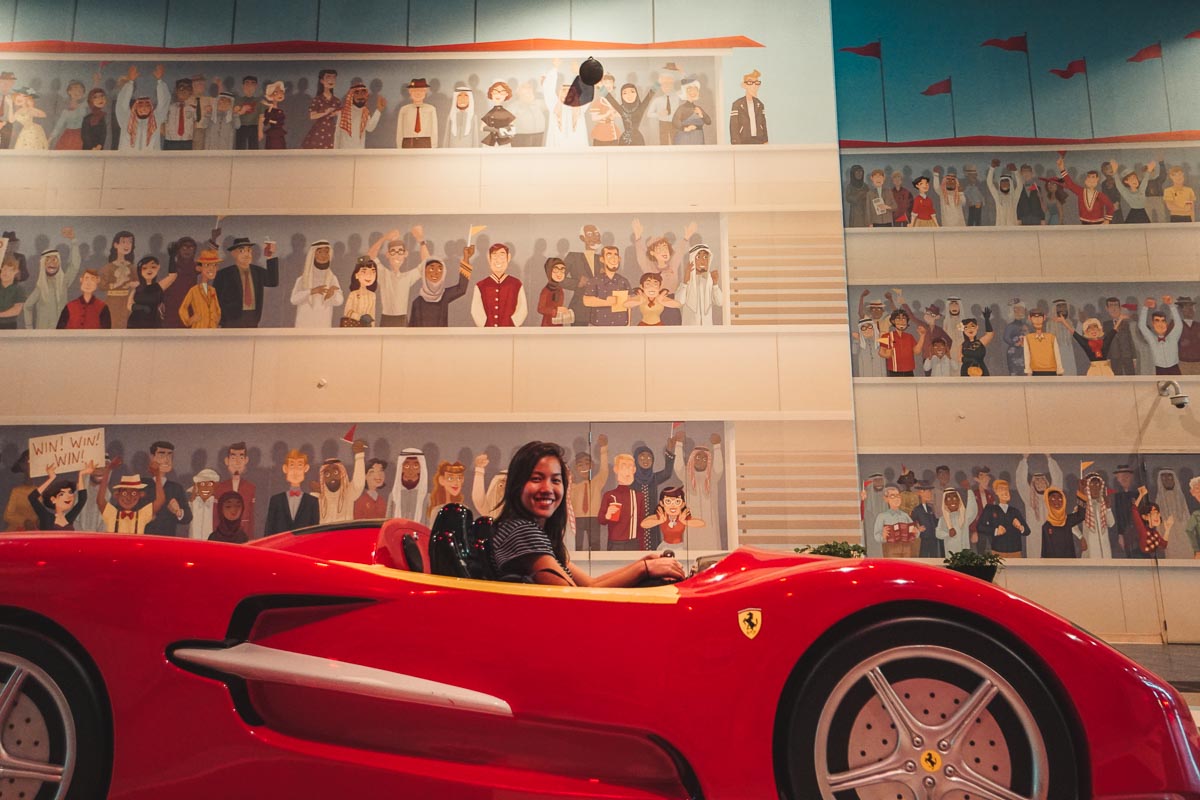 Feeling like a real racer
You don't need to be a daredevil to have a good time at Ferrari World, especially when you can choose rides that are full of chill, thrill, and everything in between. What made everything even better was how we got to enjoy a discount when we purchased tickets via Klook.
Compared to all other ways to get your tickets, we found that Klook offers the lowest prices at ~S$96.
Purchasing online from Ferrari World's official website provides up to a 15% discount at AED295 (~S$110.30), but only if you book at least 15 days in advance. With Klook, you get instant confirmation with an e-ticket, so you can even buy last-minute tickets on the day of your visit — that easily saves you S$20 compared to buying them at the door for AED310 (~S$116.70).
Keen to conquer more theme parks? Check out our Dubai Theme Park Guide!
What's your favourite ride form this Ferrari World Guide? Let us know in the comments below!
---
This post was brought to you by Klook.
For more travel inspiration, follow us on Facebook, Instagram, and YouTube.