A fictional story about two solo Singaporean travellers who meet unexpectedly over a Summer trip in Portugal. For the itinerary, check out our 10-day Portugal Itinerary for less than S$2k.
"Wow, it's like I'm stuck in an indie summer film." I kept thinking while we were in Portugal. The glazed-coloured traditional tiles and the cobbled streets had me feeling like I was on the set of an indie summer film.
Then, it hit me.
I'm an actress. I write for The Travel Intern. Why don't I put them together and write out the most typical indie summer chick film plot? After all, the perfect place for inspiration was all around me, wasn't it?
I then gathered my fellow travel mates, forcing them to star in what I believe is the most stereotypical indie summer chick "film" while we travelled through the different cities of Portugal for the rest of our trip.
Cast List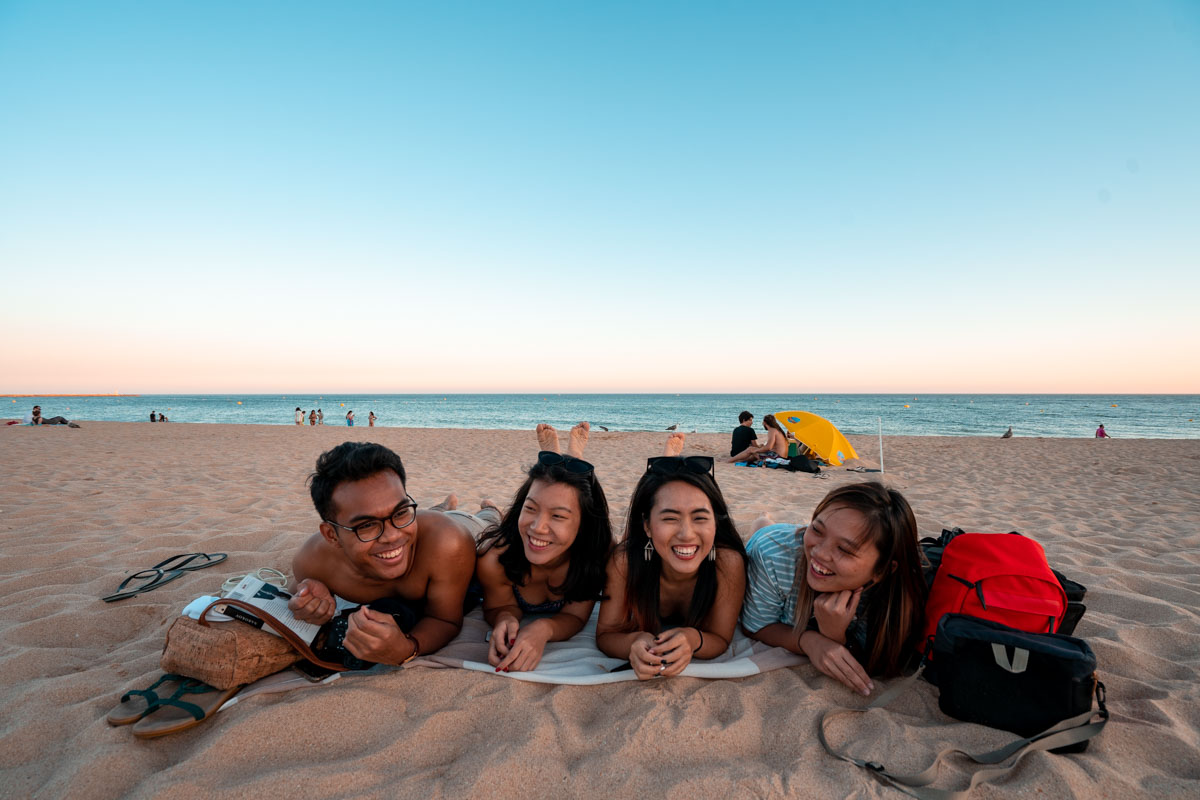 (From left to right)
Akif as Keith, Jelaine as Jane, Jia Xuan as Victoria and Sherry as Cherry
---
Opening Scene: New to the Country
Praia da Rocha, Portimao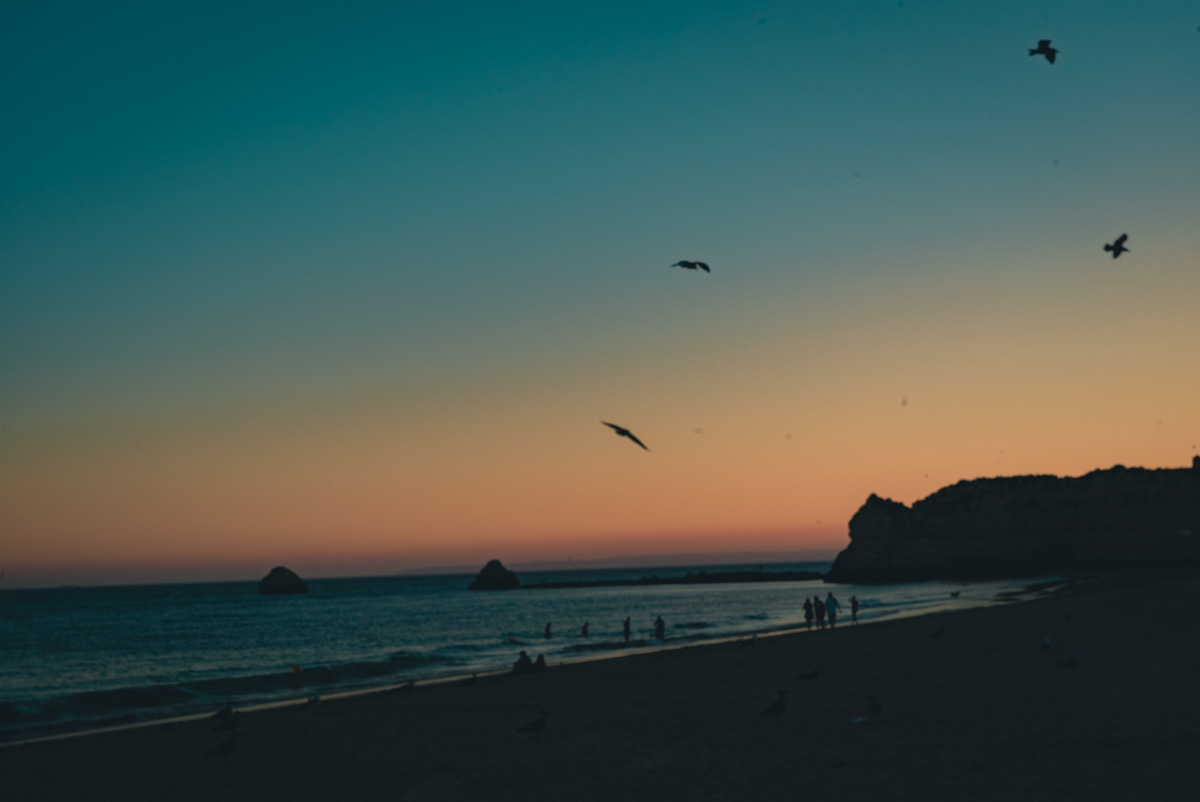 Having the little grains of sand trickle between my toes whilst feeling the sun warm my skin up at the beach was definitely a great way to end my first day. I'm amazed at how long the days in Europe are. The sun is still up at 7pm and the fact that it won't set till 2 hours later is exactly what I'm here for — a change of environment.
I'd gotten sick of feeling left out whilst my friends were busy living their own solo European adventures. I just wasn't satisfied, sitting around in my room, watching videos from my screen.
Now, I get to tuck into a book alone at the beach in Praia da Rocha. Feeling the cool breeze of the wind from the crashing seas brush against my cheek has me sighing in bliss.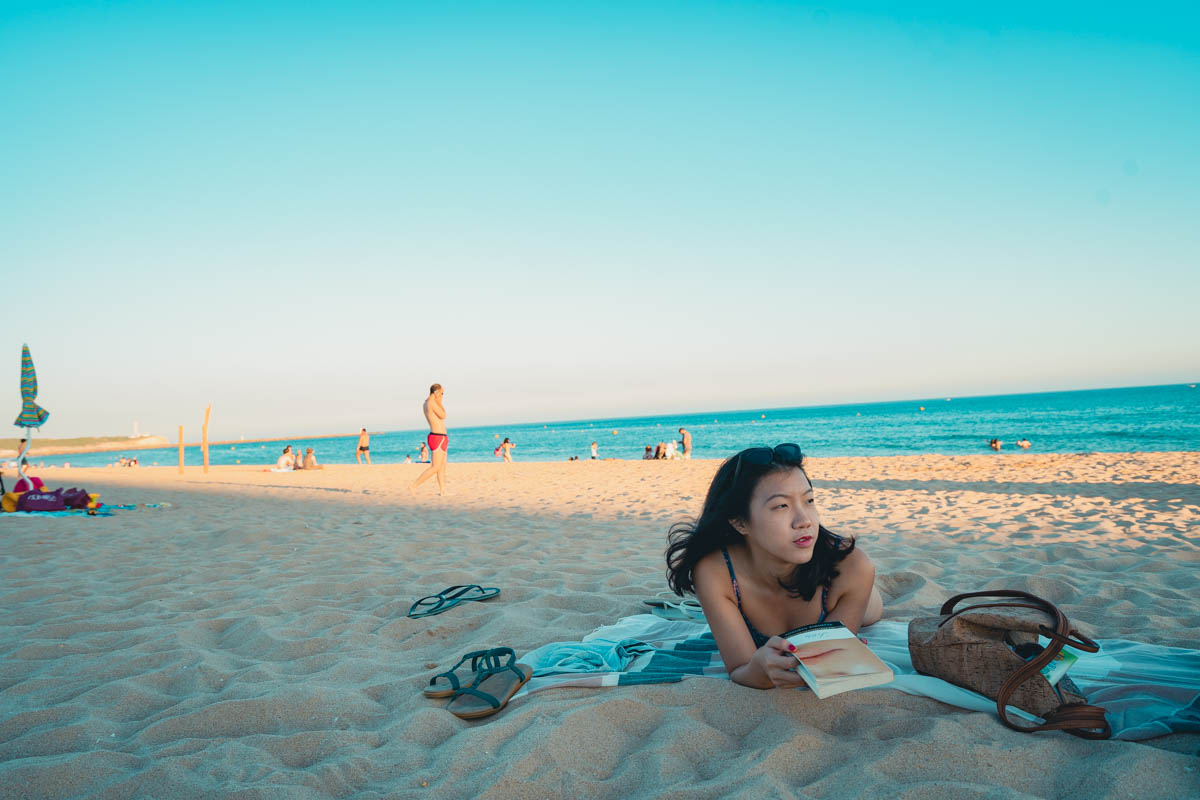 "Excuse me, you're not from here, are you?"
A familiar accent interrupts my evening read. I look up to meet eyes with a friendly face.
"I heard you on the phone just now and couldn't help but recognise that accent. I'm from Singapore too." He smiles and introduces himself with a firm handshake. His dark tan, a stark contrast against his white shirt.
After a quick conversation, we end up making plans to meet up the next day.
Pastéis de Belém, Lisbon
"You've met someone already?", Victoria gasps. "Damn Jane, you move fast."
Victoria was doing her 6-month exchange programme in Portugal and we'd decided to meet for brunch.
"It's not like I'd planned it! Besides, we're just hanging out later." I brush her off as we dig into some authentic Pastel de nata we'd picked up on the way.
By picking up, I mean waiting in line outside the shop for almost half an hour for a taste of this dessert. Pastéis de Belém was apparently one of the most iconic Portuguese tart shop in Lisbon.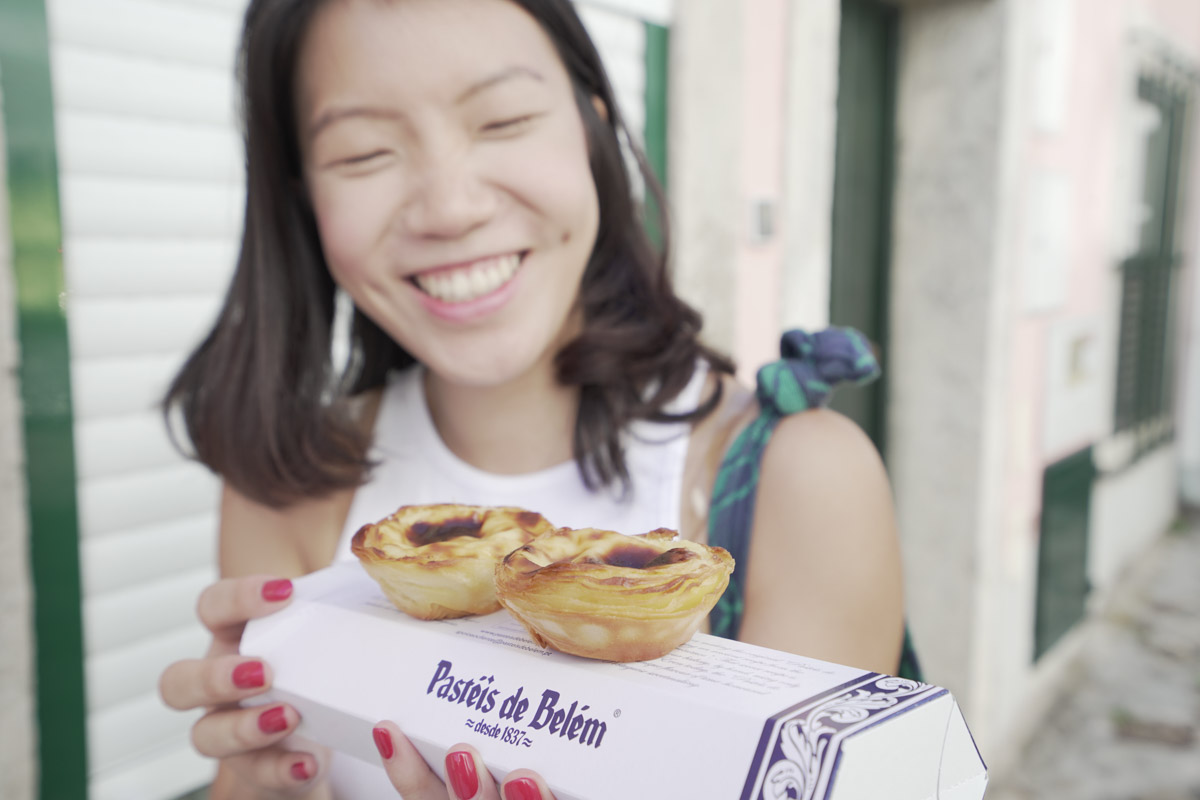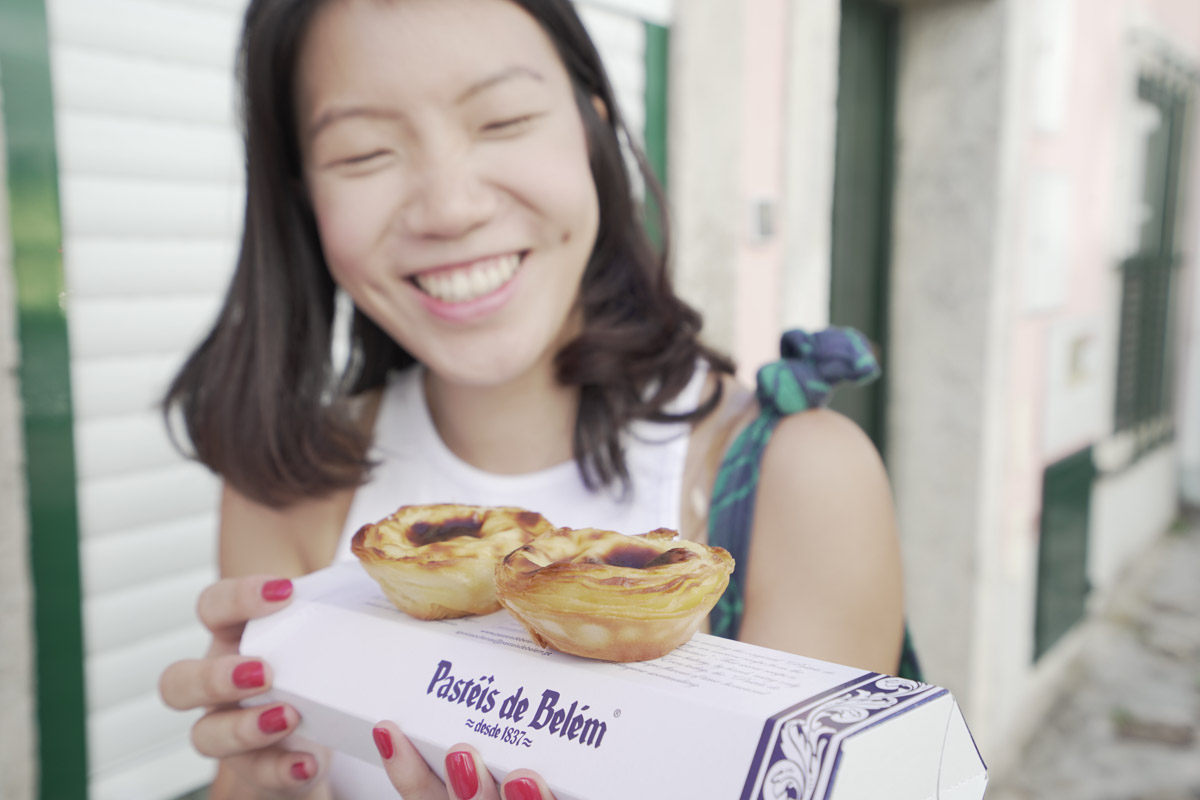 The creaminess of the rich egg custard was smooth yet the pastry was exceptionally flaky and crispy. The combination of the different textures and flavour was a party in my mouth. Every bite was packed with the sweetness and spice from the icing sugar and cinnamon that topped every tart.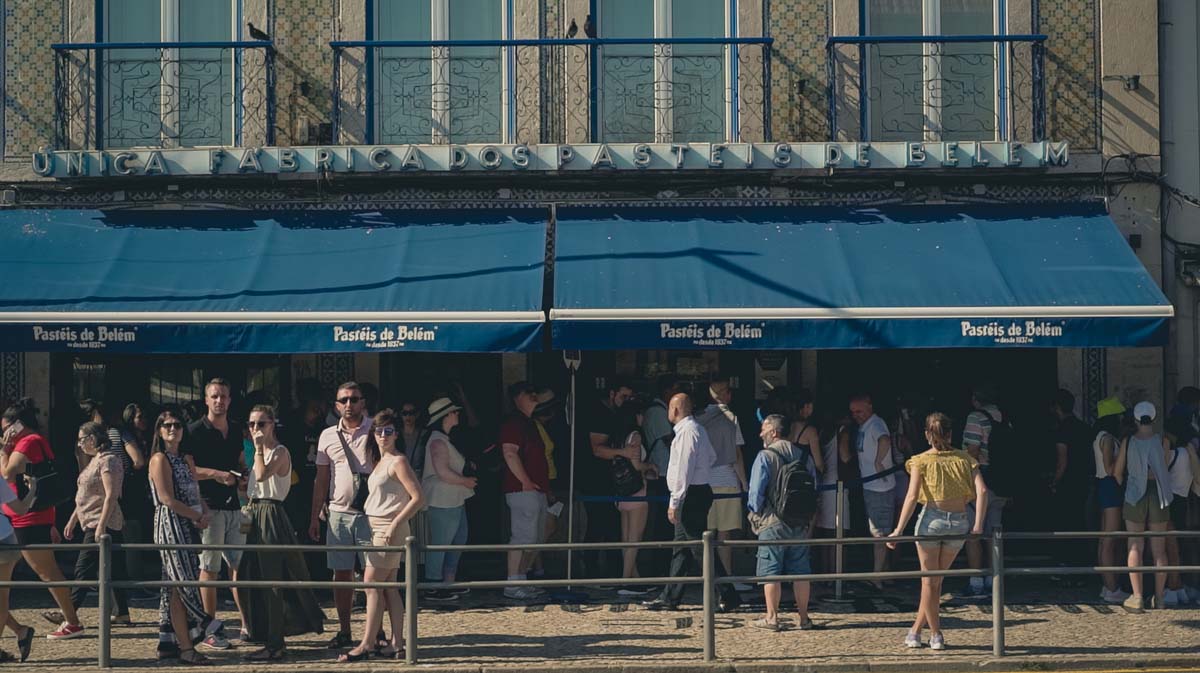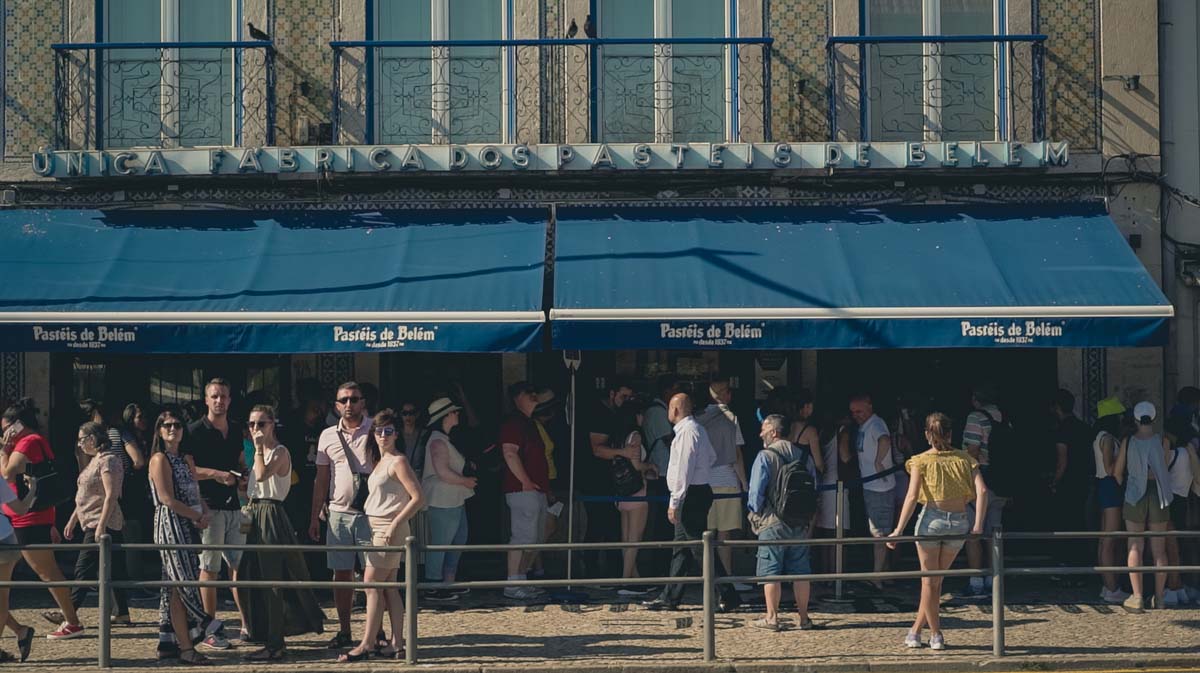 Wow, queuing 25 minutes for these treats was worth it. I was starting to contemplate if I should head back for seconds.
"You've got to let me know his name at least?" She nudges my shoulder. I sigh and relent.
"Keith, his name is Keith."
Scene 2: Boat & Kayak Tour to the Benagil Caves, Lagoa
"Keeeeeeeeith?"
Our guide was doing a roll-call for all participants. Keith had suggested a boat and kayak tour to the Benagil Caves as something he and I could explore together. I'd immediately jumped on board, no pun intended.
The boat tour brought us to the region to explore the little caves around the Bengali cave area. From there, we got into our kayaks to access the beauty of the hidden caves.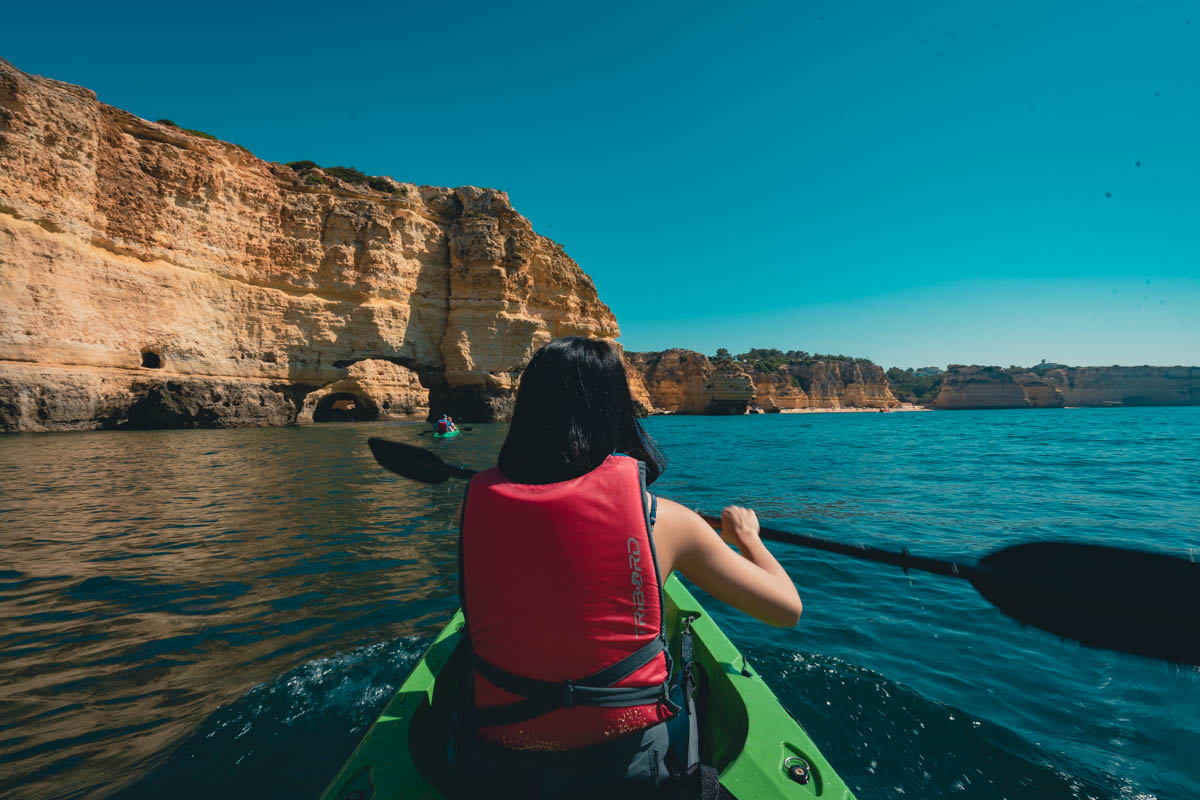 Past the little two-seater boat we were on, the refreshing sea water was now lapping up against our skins, cooling the heat from the afternoon sun beating down our backs. My arms were starting to ache from the rowing.
Keith breaks my train of thought, remarking about something that's in front of us. I pull my attention to where he's pointed at.
We arrive past the magnificent golden-coloured cliffs into a cave, and disembark on what seemed like our own private beach.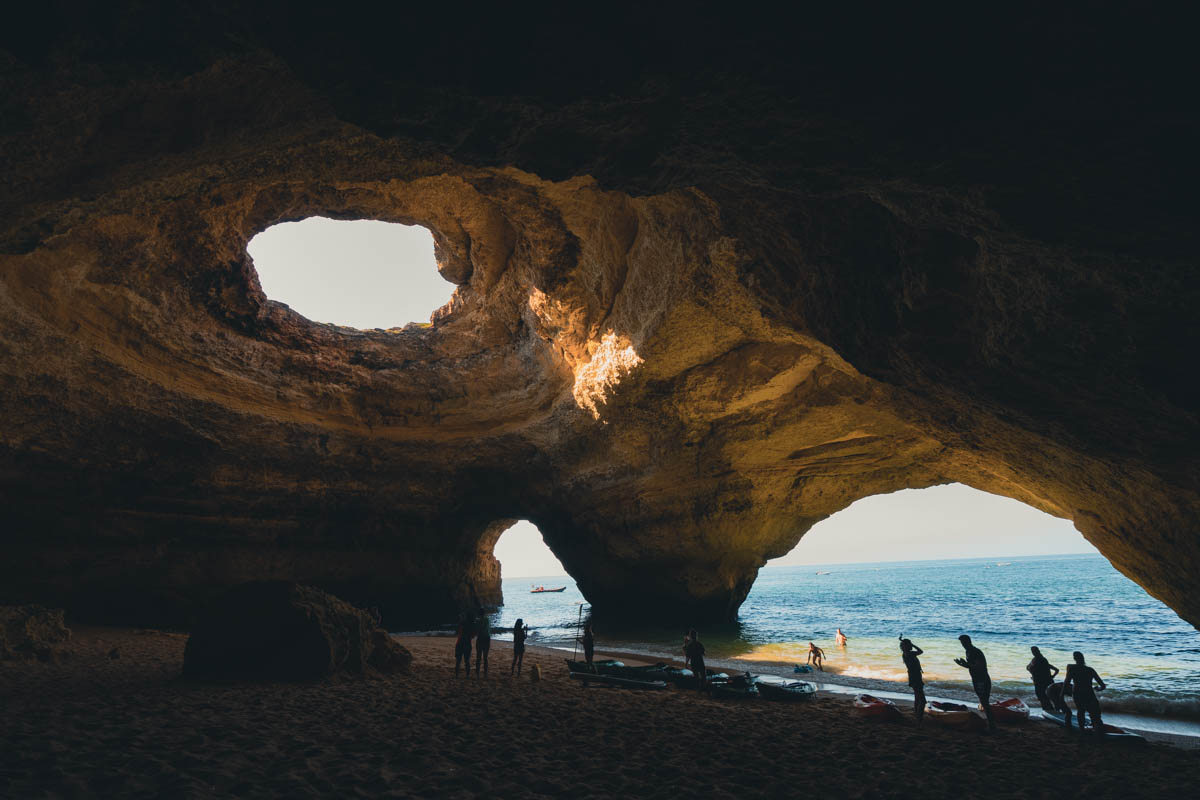 I feel a buzz from my phone in my back pocket. It's a text from Victoria — "Shall we hang tmr? Let's explore Sintra since I have the next two days off. Cherry said she's down for it too!"
I leave her on read as the guide tells us to check out a particular cave, Algar de Benagil. We look up to see the clear blue sky through an opening above us.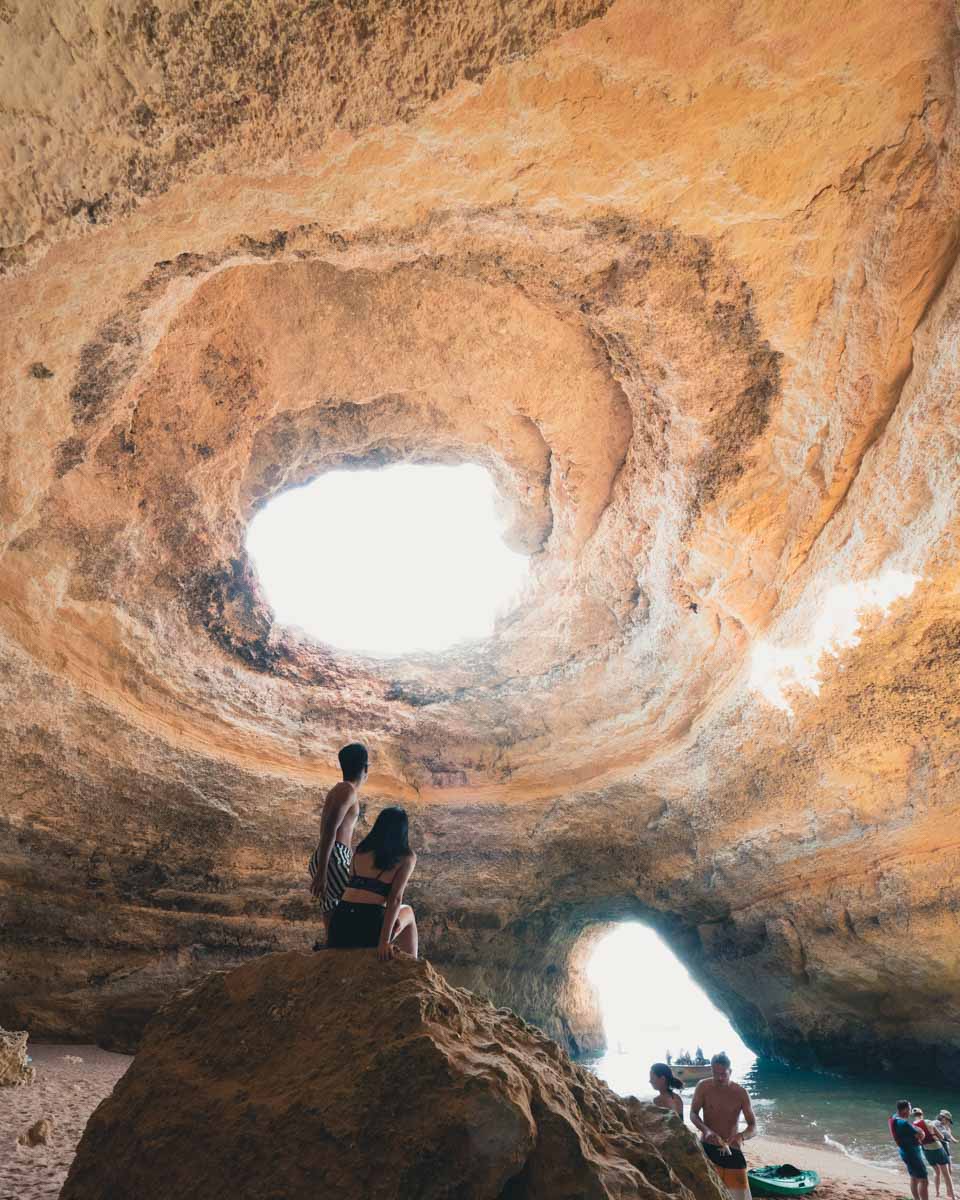 "It's called The Eye." She informs us.
I'm in awe.
Pena Palace and Quinta da Regaleira, Sintra
Keith has his arms around my shoulders as I shiver against the sharp winds tunnelling through the hallways of Pena Palace.
"Are you sure you forgot your jacket or is this just an excuse for me to hold you?", he flirts cheekily. This guy.. I don't even know how he managed to convince me to meet up with him three days in a row.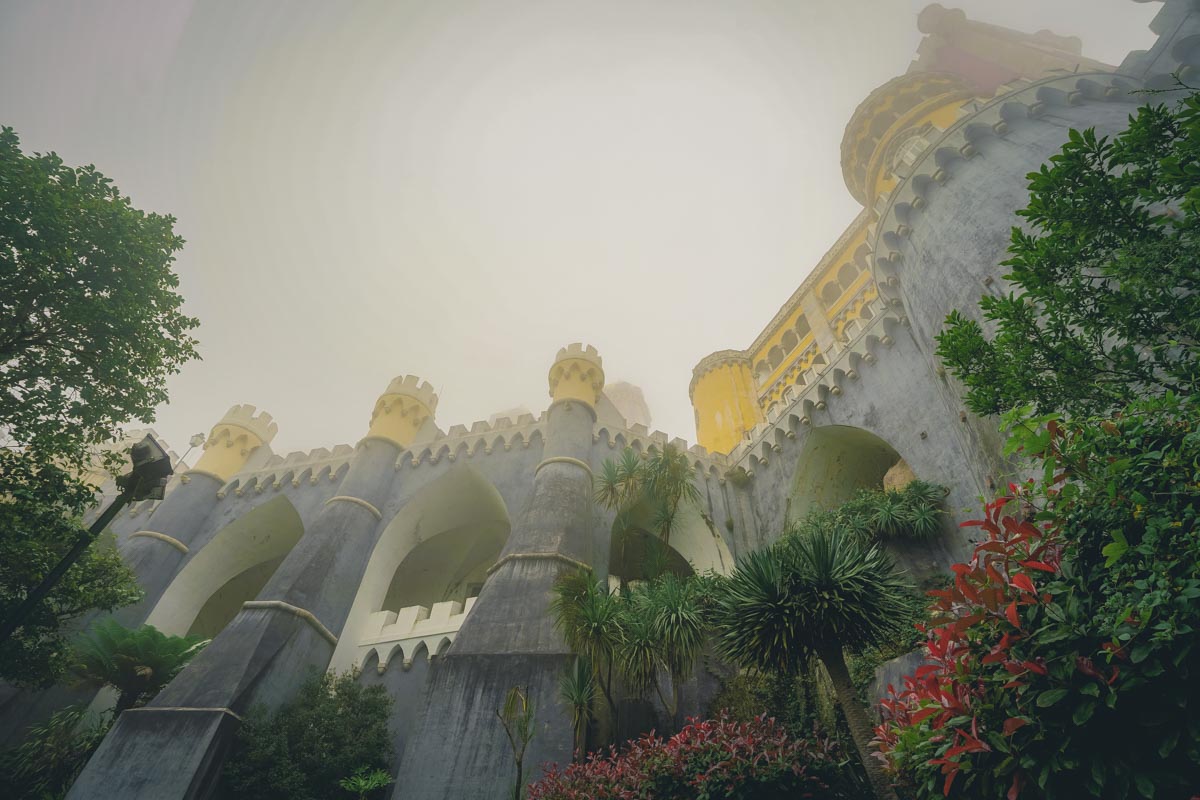 We hiked up the hill that stood atop the Sintra Mountains to explore this particular palace.
Despite being a misty morning, the pink, purple and yellow walls of the palace still stood out.
We take a stroll around the terrace of the romantic castle to be greeted with views of the Moorish Castle. This detailed combination of the Neo-Gothic, Neo-Islamic and Neo-Renaissance building styles is probably the closet thing I'd ever get to pretending like I'm in a Disney Princess movie.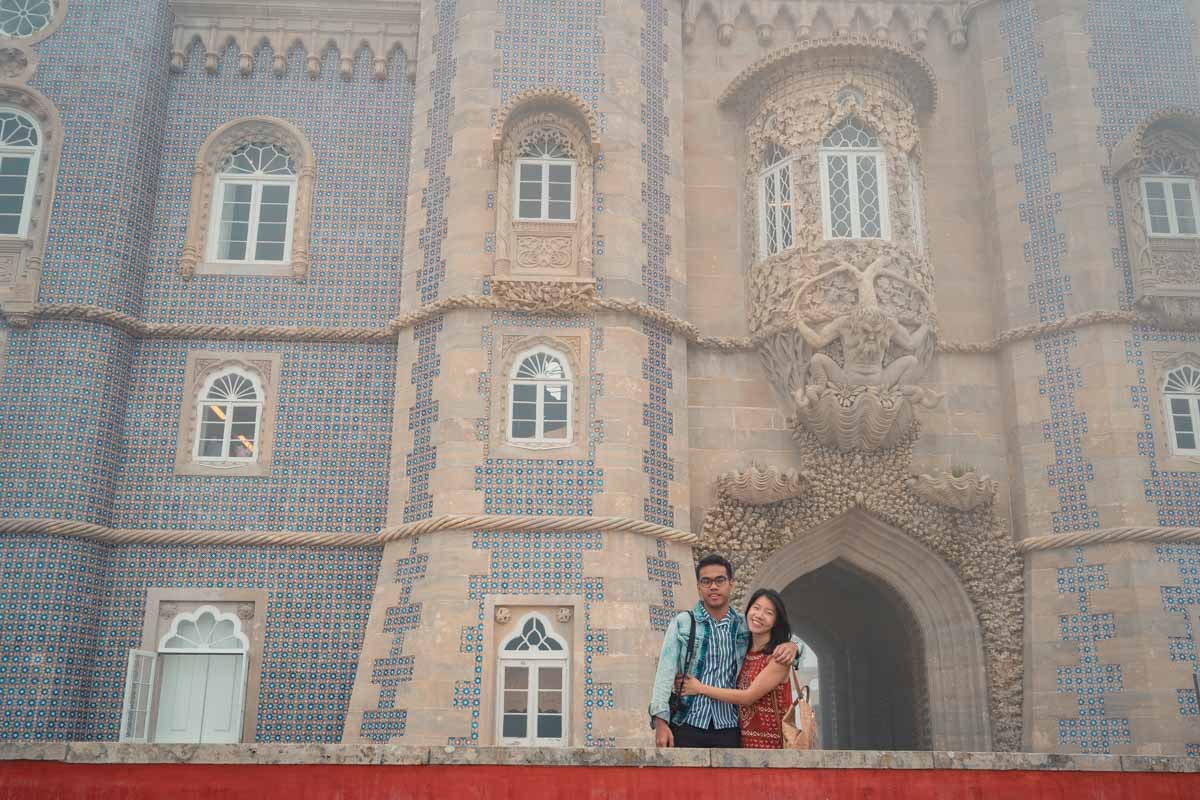 We take the tour around the palace and reach one of the higher points of the castle.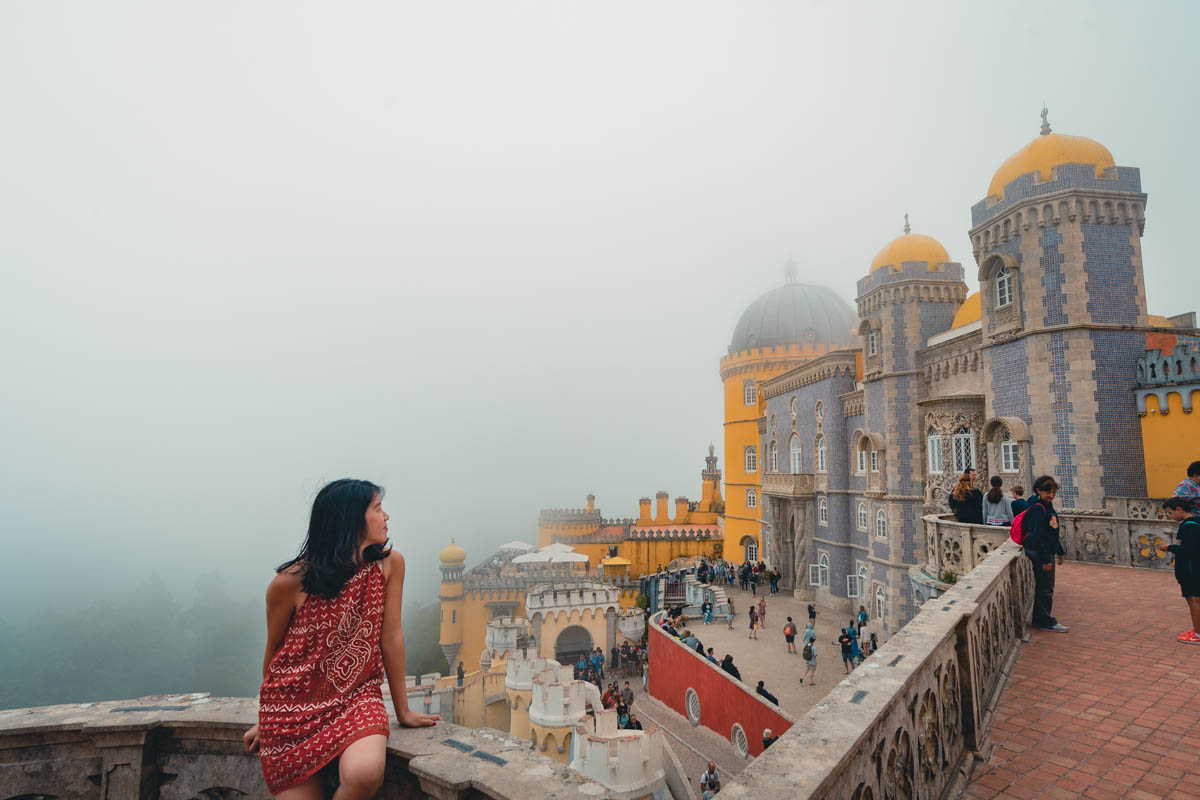 "Sit there, I think the picture will turn out pretty! " Keith urges. I hesitantly sit on the edge of the balcony and attempt my best at striking a pose. Turns out, he's a pretty good photographer. I upload a picture of us on Snapchat.
—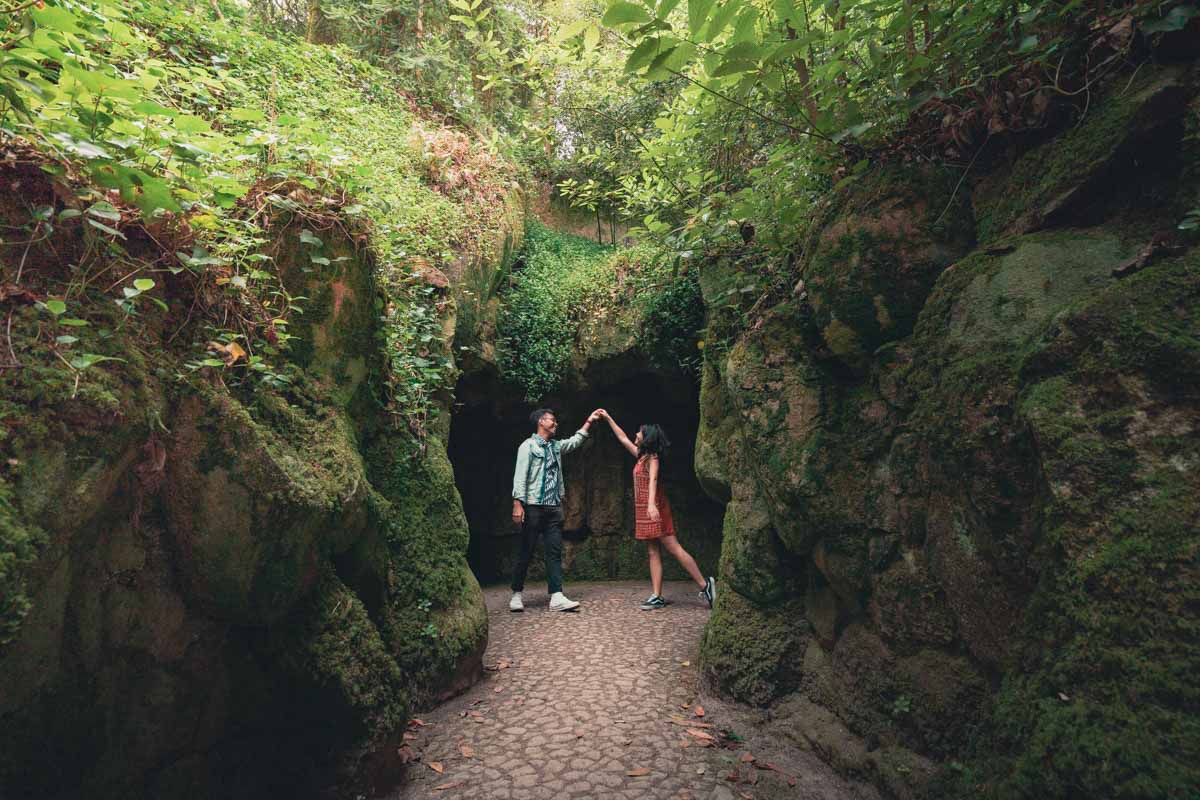 We make a pit stop to explore Quinta da Regaleira before calling it a day. The atmosphere no longer grey with the mysterious fog unveiled, and the entire area was full of winding paths of lush greenery and colourful flowers.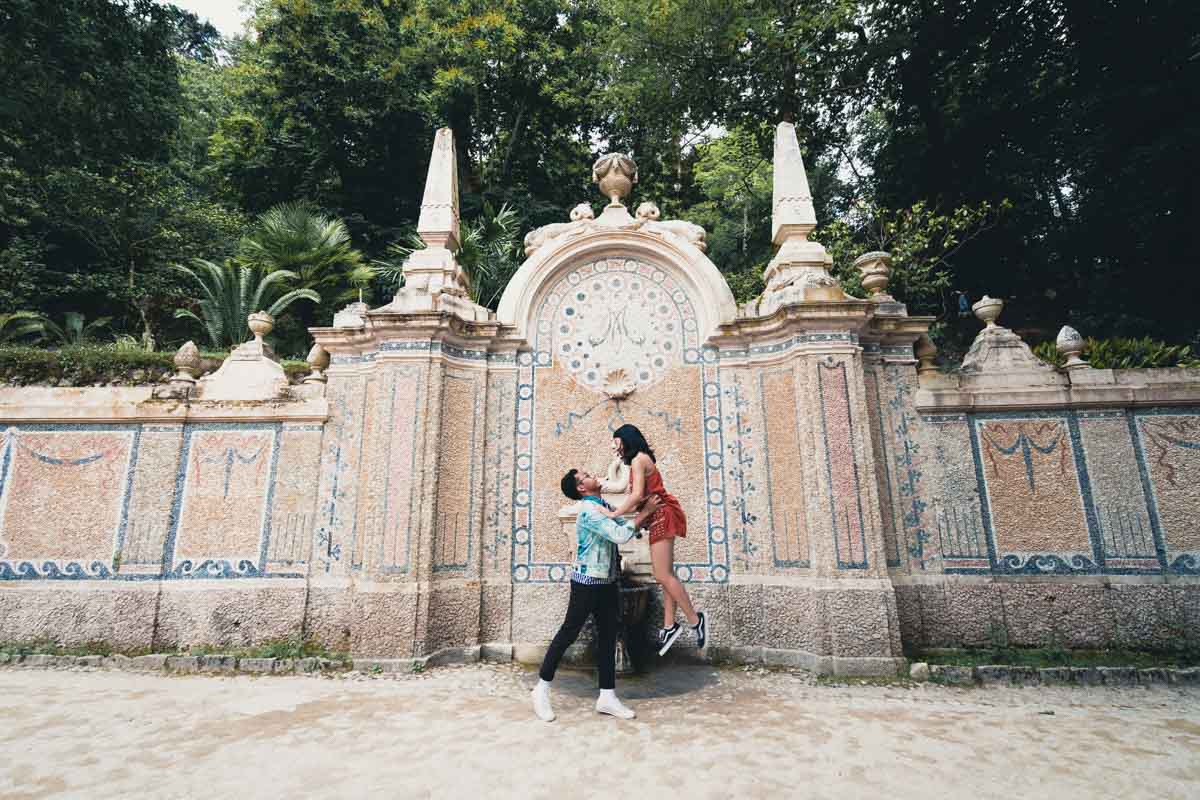 Wandering through the park with our hands interlaced with each other made me really glad that I'd taken the leap of faith and bought a ticket to Portugal.
Boca de Inferno, Cascais
I lose count of how many friendly smiles I receive whilst cycling en route to Boca do Inferno. My hair's a mess, whipping around in all directions. I can feel the wind blowing against my face. The bicycle squeaks, as I place my right foot on the ground. The sound alerts Victoria and Cherry that I've paused to tie my hair.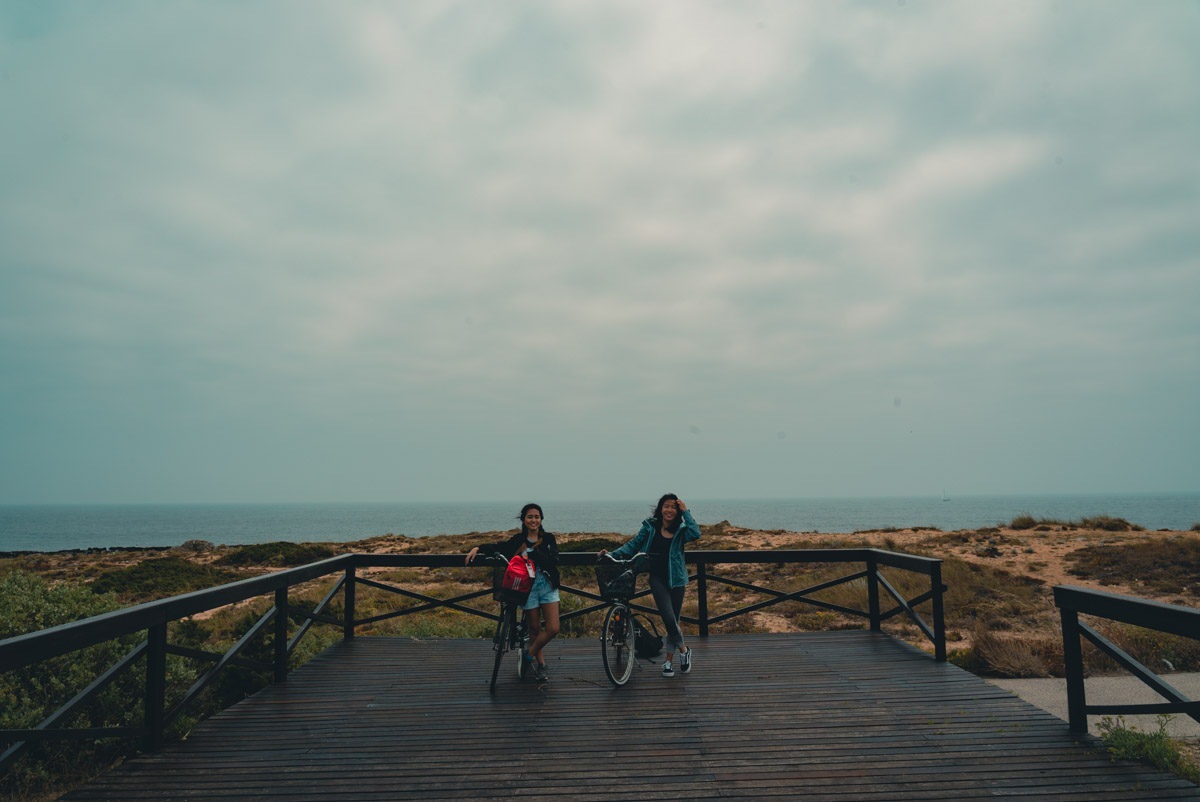 "I didn't even know you were in the country, you must be smitten by him!" Cherry cheekily pokes fun at me as she holds her camera up to capture shots of Victoria and I. We'd decided to take a short break to take some pictures and to rest.
"Yeah, so smitten she even went to Sintra without us. We saw you guys there on Snapchat."
I sigh as I hear Victoria ramble on about how I should spend more time with her instead of being with my "summer fling" 24/7.
"He's probably not even that into you." Victoria scoffs as she rolls her eyes. It's clear that she's sore I went to Sintra without her.
That did it.
"I came here to enjoy myself, not babysit. I'm sorry you haven't found someone during this period and you're lonely!" I hear my voice getting shrill with annoyance. This wasn't the first time she'd made me feel bad for not hanging out with her.
I hear her hurling hurtful remarks whilst Cherry coaxes her to calm down as I cycle away.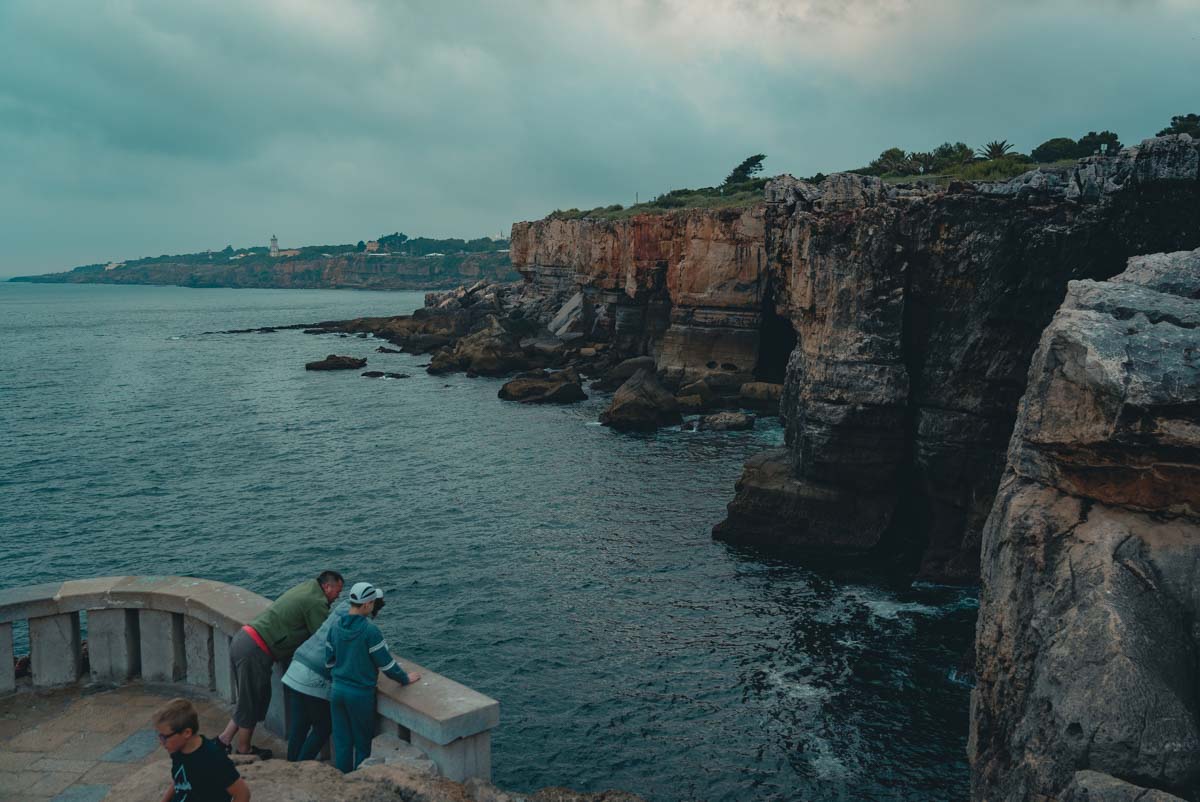 I try to focus on the view that's in front of me. I'm unsure if my adrenaline is pumping due to the mini fight that we've just had or from how intense the ocean is smashing against the cliffs. It's insane because the waves are only at full force in Winter and it's merely Summer now. With all that's just happened, I guess I understand why they call it Hell's Mouth.
Scene 3:
Dom Luís I Bridge, Porto
"I was harsh with my words, I should have gone to Sintra with the two girls instead."
Feeling guilty and unsure of what to do next, I had decided to confide in Keith on what had happened the day before.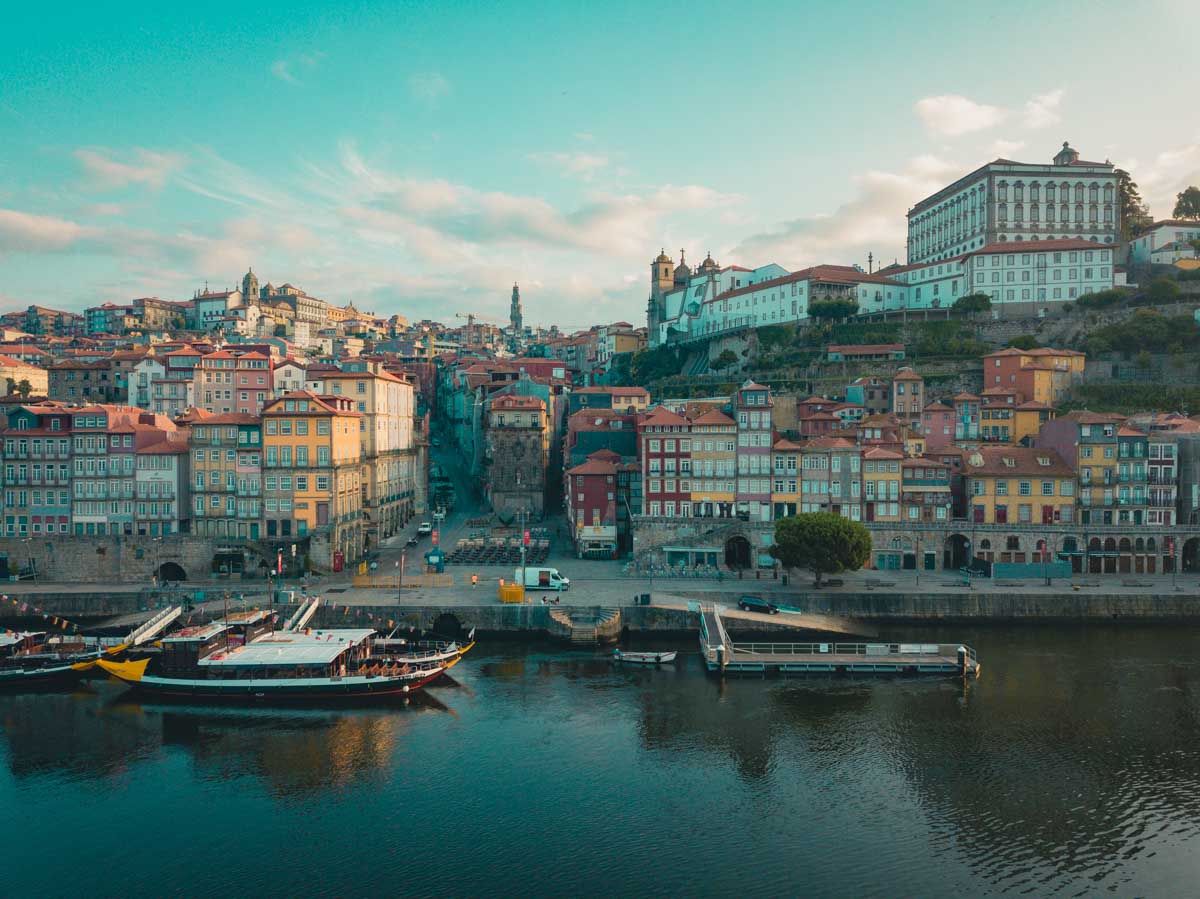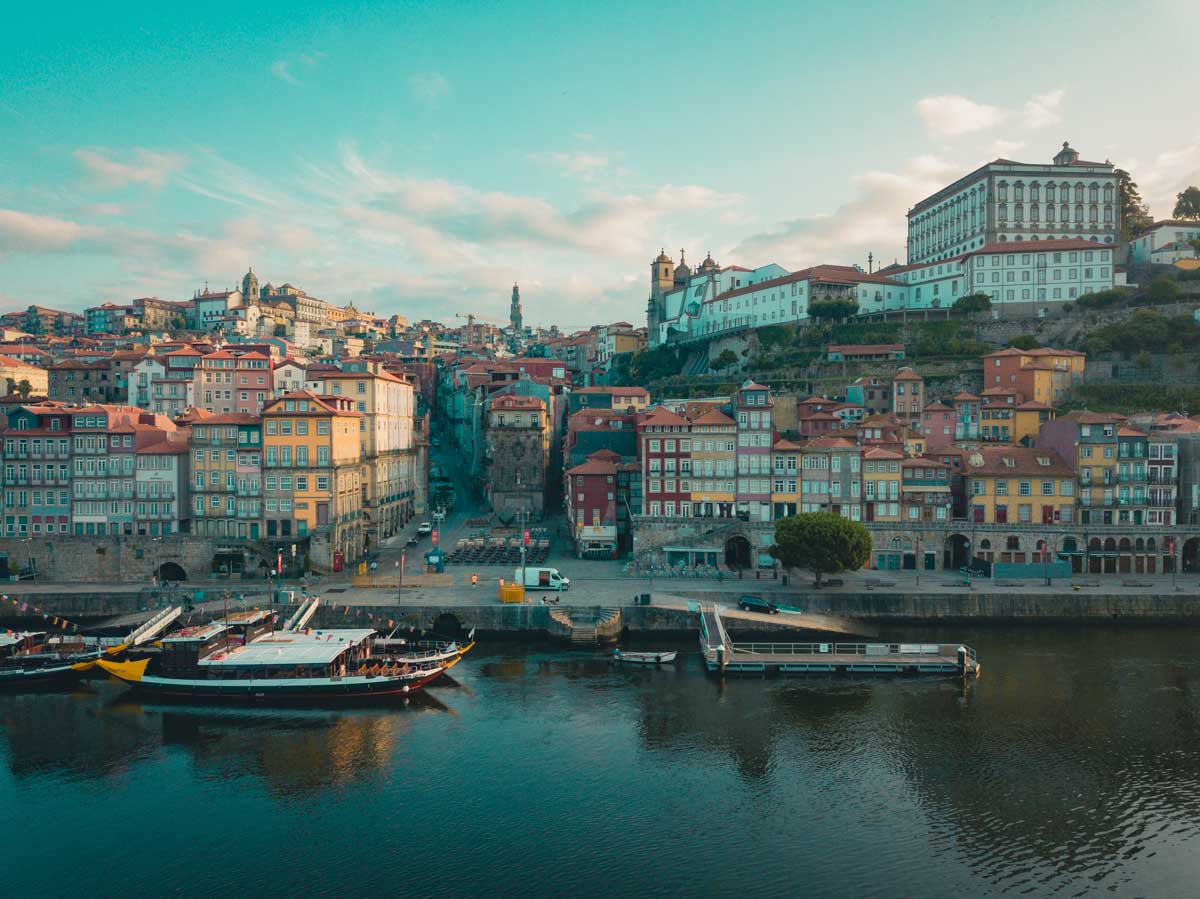 Dawn had just broke and we were strolling along the Dom Luís I Bridge. The early morning had the air fresh and cool. It was so quiet and peaceful, I felt like I had to whisper to not disrupt the slowly awakening city.
The morning sun was peaking over the horizon, shadows etching patterns on the cobbled street from the double-deck metal arch bridge.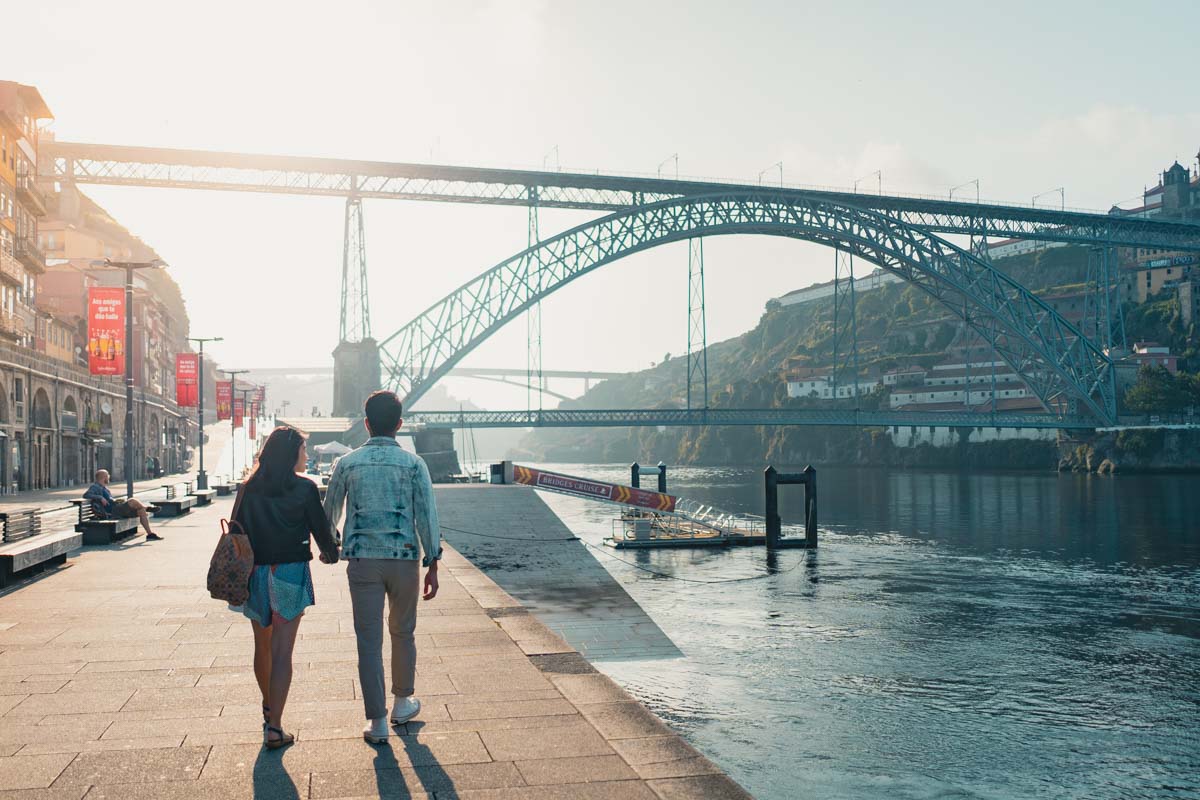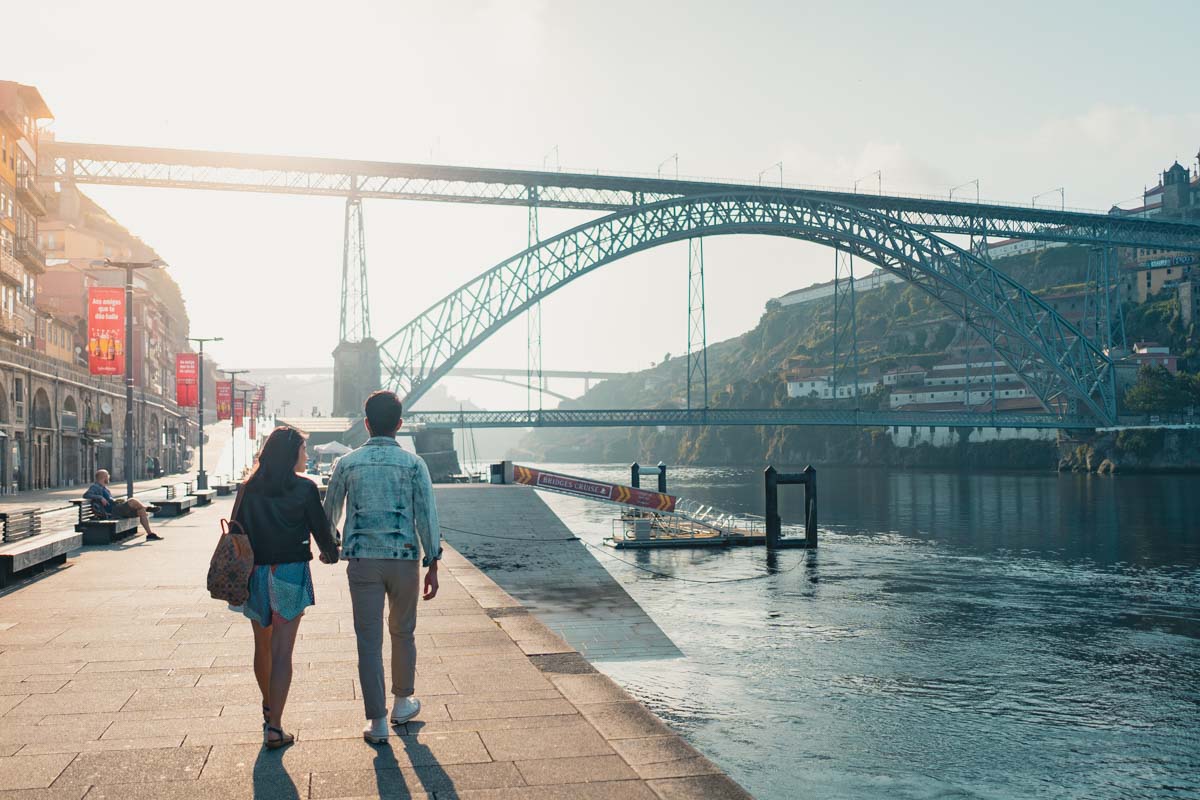 "I'd hate to come between you girls, how about I fix this?" Keith replied, taking my hand and stroking it to assure me that he would have everything under control.
Tile Making Workshop, Porto
Keith had signed us up for a tile-making workshop to learn more about the traditional tiles we'd see everywhere in Portugal. Us meaning the two other girls, him and me. I don't even know how but he had managed to convince them to say yes. He reasoned that it was a way for them to "know him better" and to "give him a chance before any judgements".
"Also an opportunity for you to patch things up with the ladies." He hints as Cherry and Victoria joins our table in the workshop.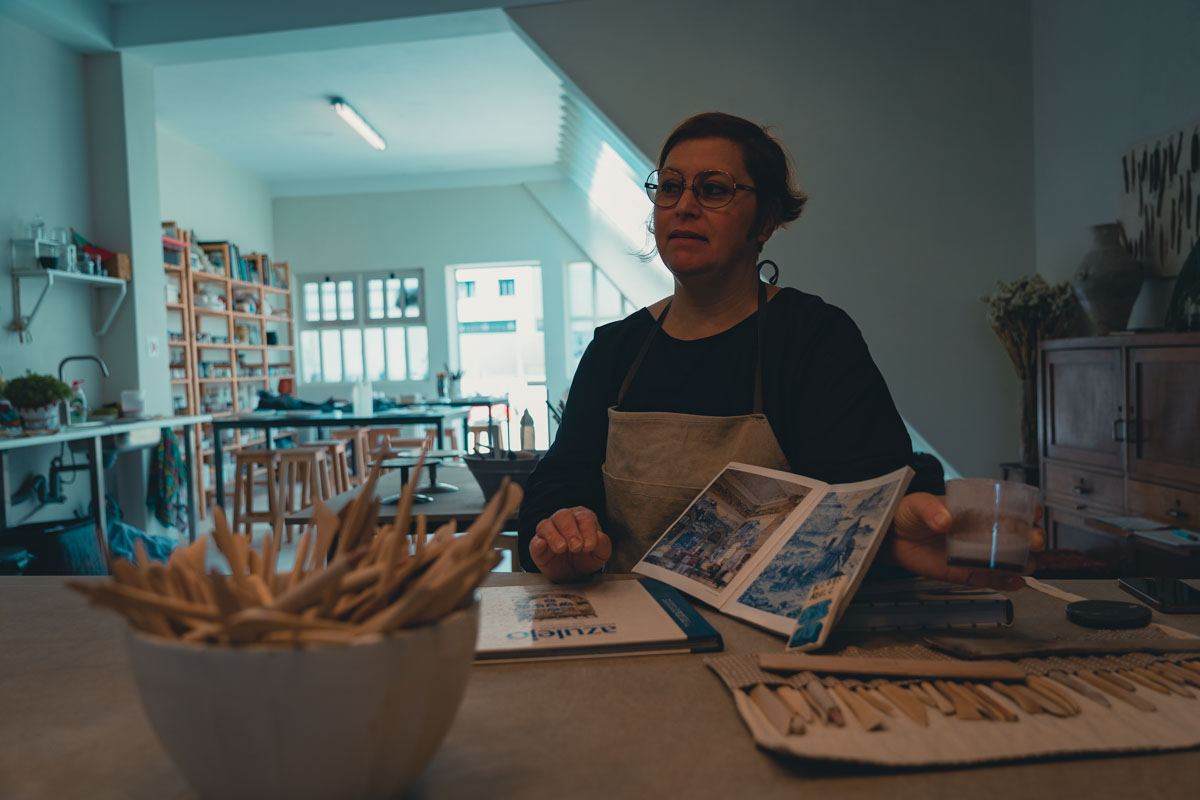 Before I get to say anything else, a lady probably in her early 40s enters the room and introduces herself as Teresa. She's soft-spoken but the fire in her eyes when she talks about her craft speaks otherwise. She demonstrates what to expect in the next hour — her fingers moulding the earth, gently working her magic with the tools.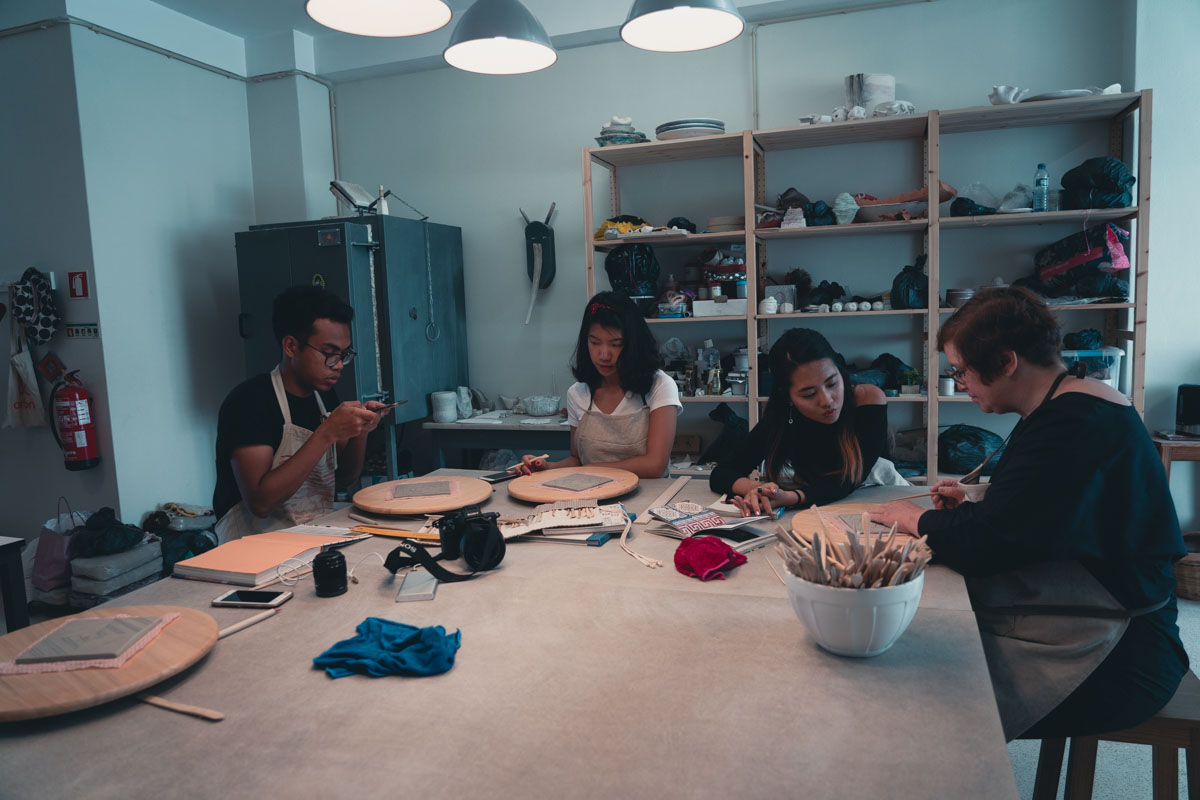 We all follow suit. I craft the wet clay with determination, hoping to receive the same results of her tile with mine. Sheepish looks amongst us ladies and Keith are exchanged, sneaking peaks here and there. Eventually, we all have a good time trying to keep up with Teresa.
I take a look at my masterpiece at the end of the hour. Convincing myself that it's merely my first attempt at tile making, I hand it over to Teresa. She lets us know that she'd send us our tiles via post once she's done with it's ceramic process — a cute memo I'd receive 2 weeks down the road.
Jardins do Palácio de Cristal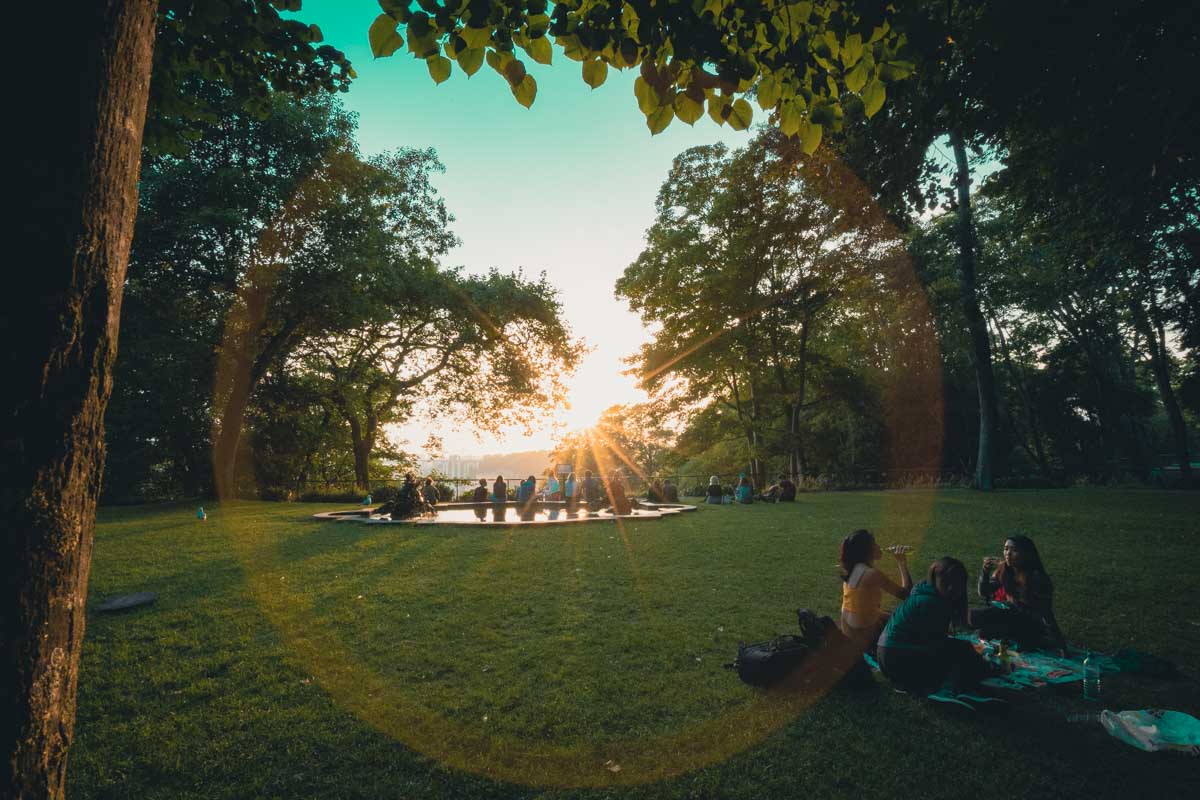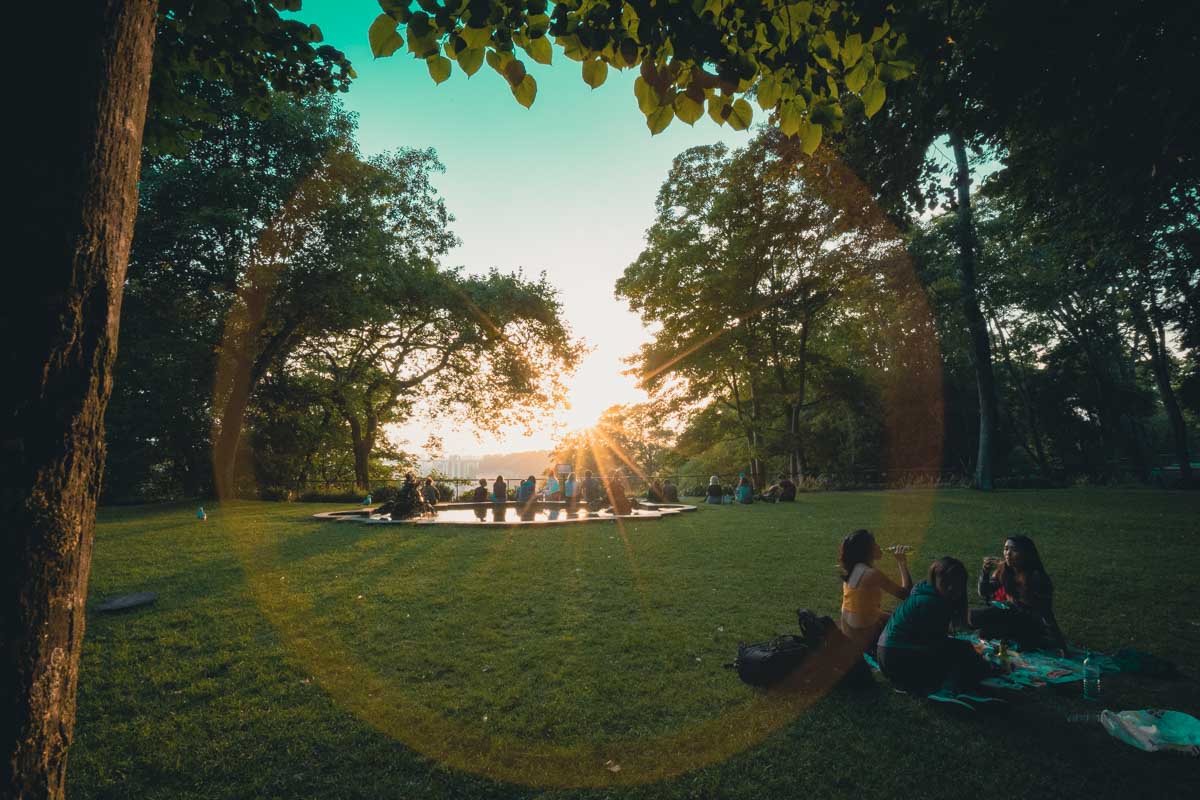 "Fiiiiineeeeee, apology accepted." Victoria finally gives in. I breathe a sigh of relief.
The golden hour had just started and I'd set up a picnic at the Gardens of the Crystal Palace — food was the best way to show my sincerity.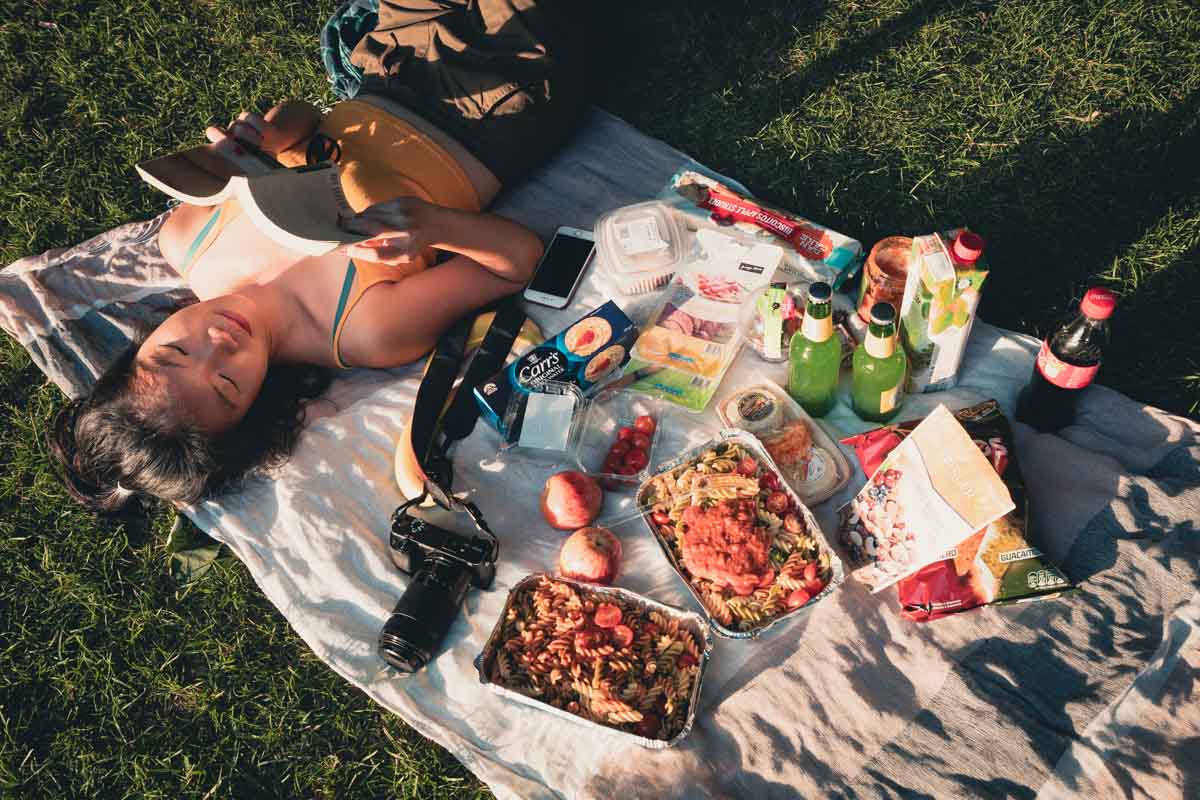 I'd found a spot near a lookout point to capture the sunset that evening. You could tell that the gorgeous park was well-mainened with its flourishing flowers. Proud peacocks were striding about, unintimidated but tame enough to not disrupt our evening.
"I promise to consider your feelings more when making plans," I assure the both of them. We clink our glasses and enjoy the rest of the evening, watching the sun set.
Ending Scene: Train Station
São Bento Railway Station, Porto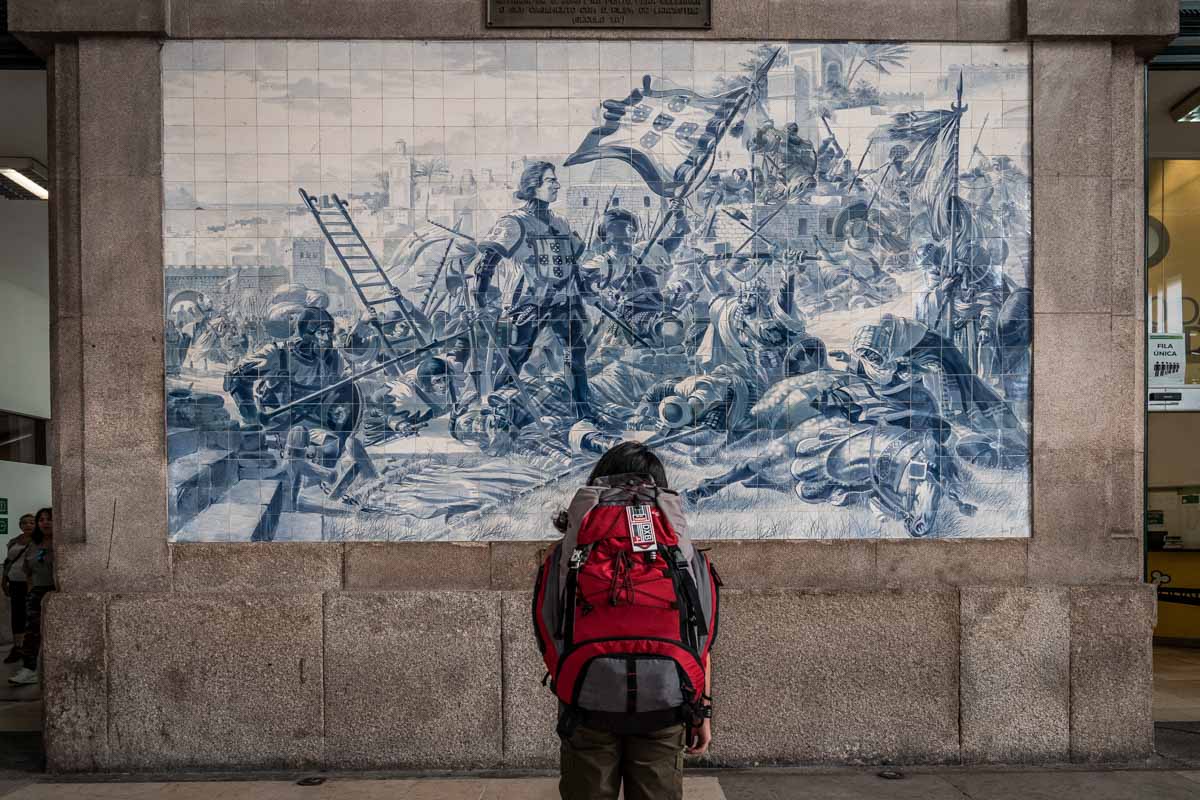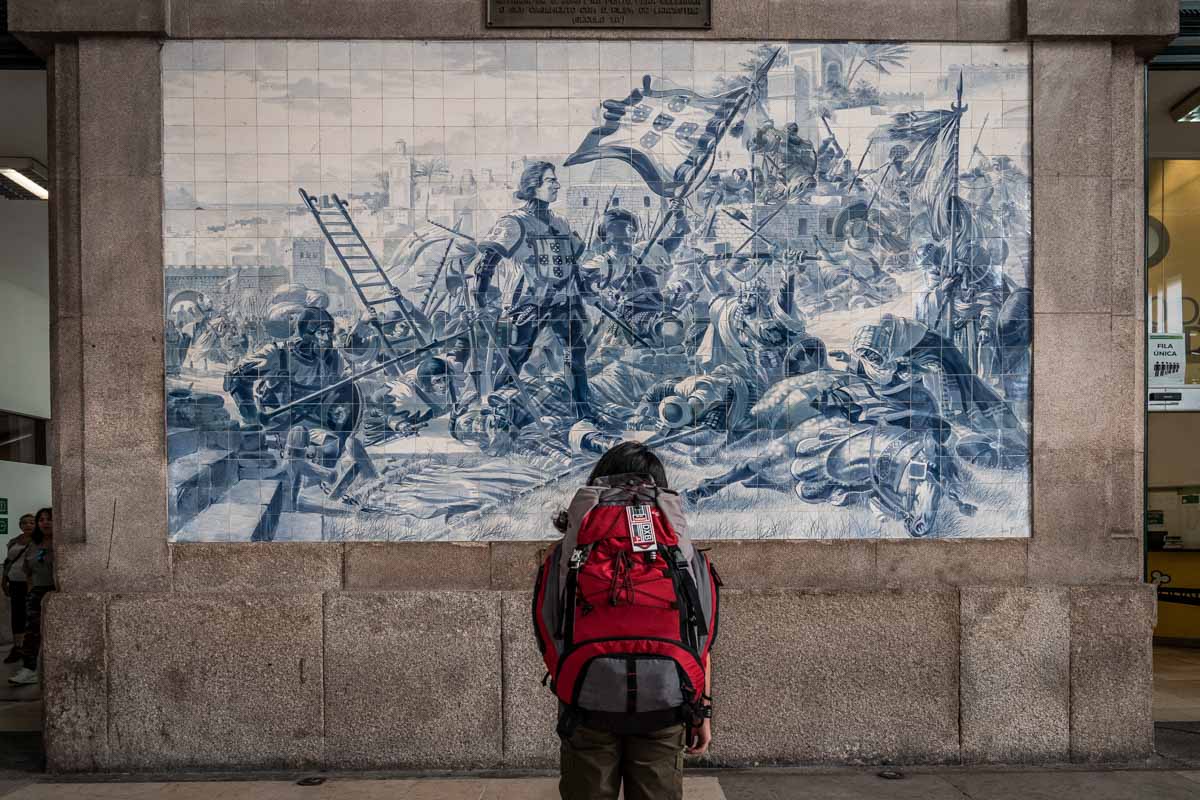 Eventually, I'd decided to explore Portugal on my own for a bit. It wasn't that I'd fallen out with the girls again or that nothing had worked out between Keith and I.
In fact, it was the opposite. Everything was going great. However, my main intention for coming to Portugal was to explore a country on my own and I was getting too comfortable with my friends.
The São Bento Railway Station was jam-packed with tourists and locals alike, rushing to alight and board their respective trains. I fumble with my ticket and double check the timings. I had arrived early with an hour to spare.
"Let you know once I've reached my hostel." I text my friends before deciding to explore more of the train station. The beautiful mix of the blue designs on the white tiles really was something to look at.
I take one last look around before boarding my train, ready to explore on my own.
**
There we have it, the storyboard of probably what is the most generic indie summer film. Let me know what you think! A great shoutout to the rest of my Portugal team who were so willing to play along.
If you're planning a trip to Portugal, you might want to check out our 10-day Portugal Itinerary for under S$2k!
---
For more travel inspiration, follow our adventures on Facebook, Instagram and YouTube!