If Mother Nature had a favourite child, it's probably Madeira.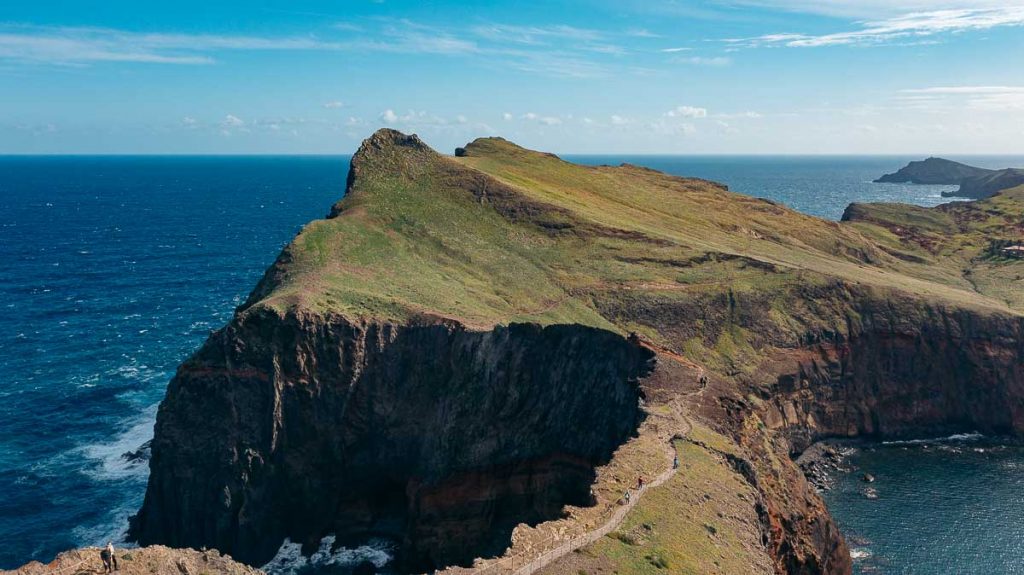 You might recall a goofy-looking bust of Ronaldo that went viral years ago. It was unveiled at Madeira's airport (or Cristiano Ronaldo International Airport), where the famous footballer was born.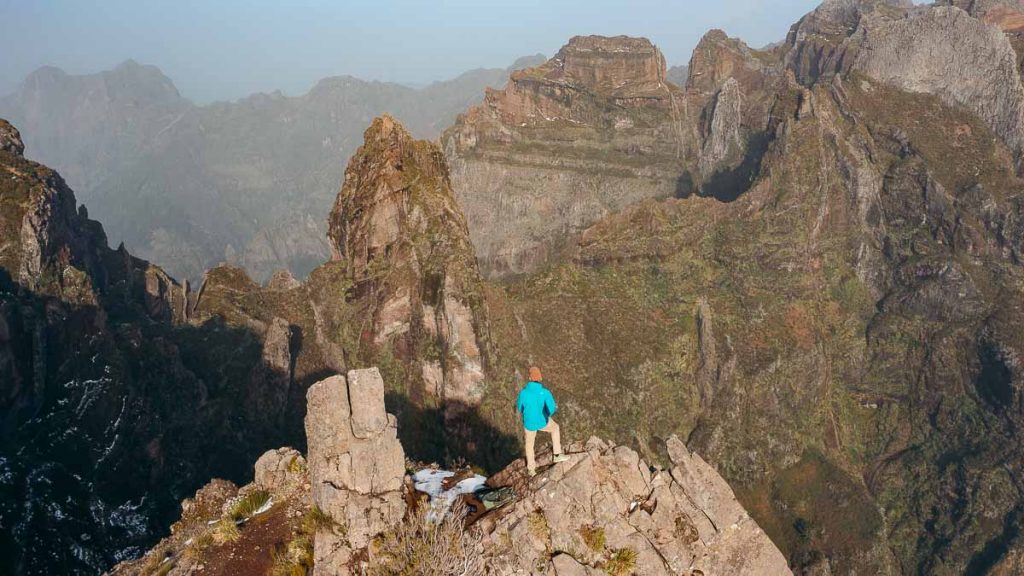 For those who've never heard of Madeira, here's a brief introduction. Madeira is an archipelago made of four islands. It's an autonomous region of Portugal — but it's geographically closer to Africa than Europe!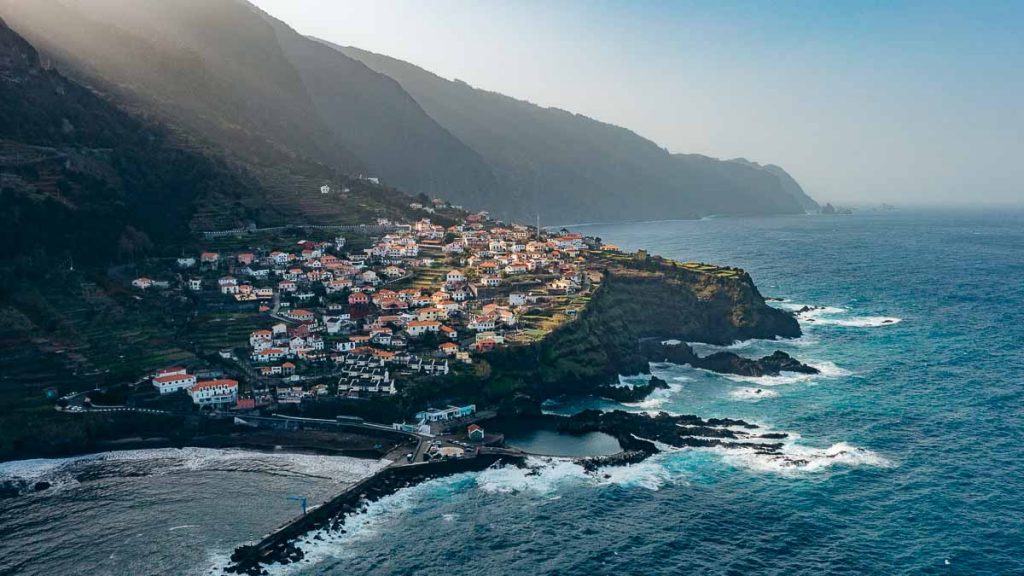 We were coming to the end of our month-long stay in Lisbon as part of Airbnb's LiveAnywhere Programme, and decided to fly to Madeira. When else would we have the opportunity to stay on a beautiful Portuguese island for two weeks?
I'm so glad we did because Madeira is easily one of the most beautiful places I've ever seen.
Click to jump to each section of our Madeira travel guide: Madeira Photo Spots | Madeira Hiking Trails | Other Things to Do in Madeira | Madeira Travel Tips
Incredible Photo Spots in Madeira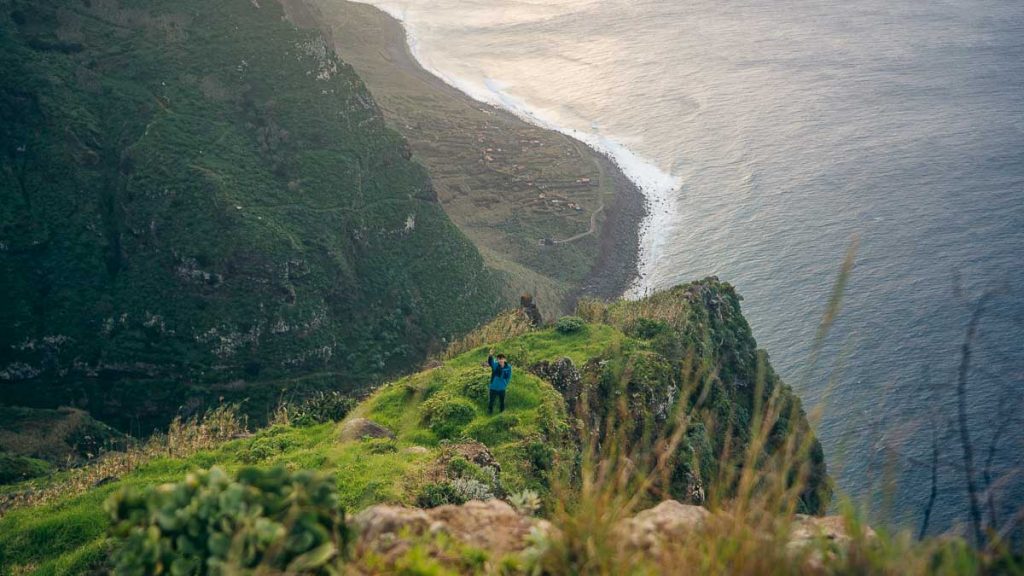 Madeira is truly a photographer's dream. The island is so picturesque, it's almost unfair. What amazed me is how different the landscapes are just an hour's drive apart! We'd get lush forests on one end, and desert-like landscapes on another.
1) Cascata dos Anjos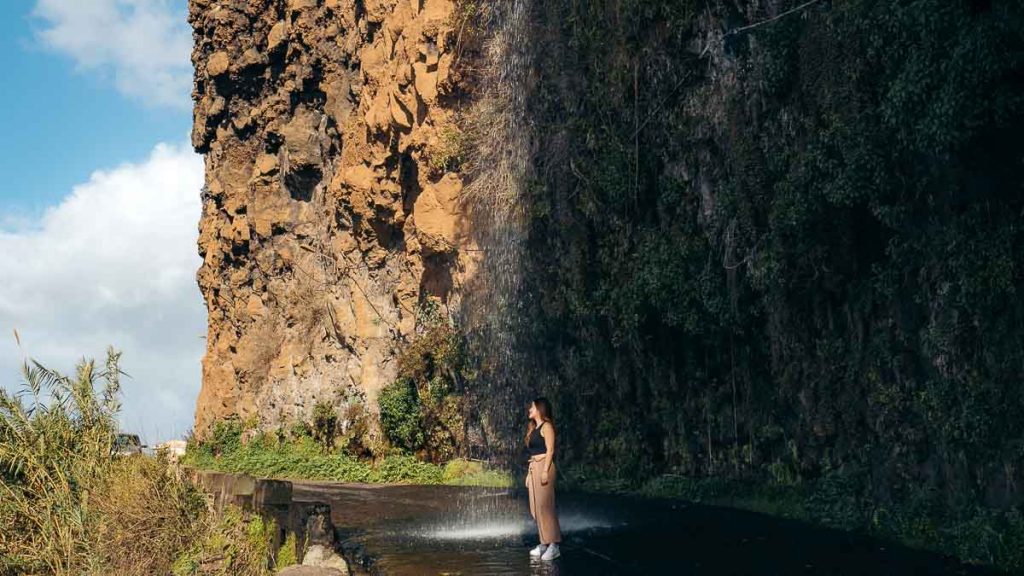 A 30-minute drive from the capital city of Funchal is Cascata dos Anjos. It's this gorgeous waterfall that cascades over the old highway ER 101.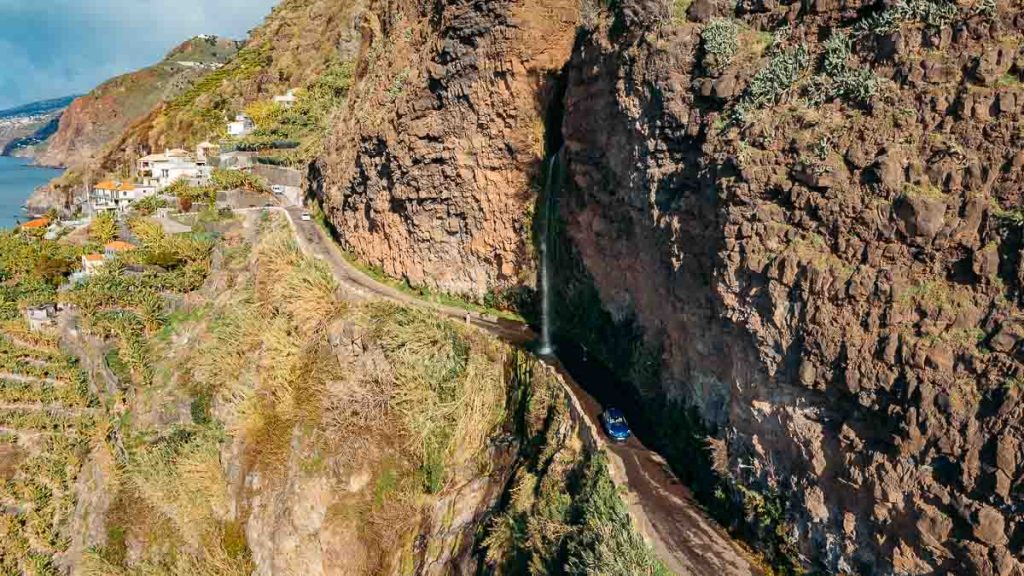 The best time to visit is right after a rainy period, as the waterfall will be more powerful. To top it off, we saw a rainbow while we were there!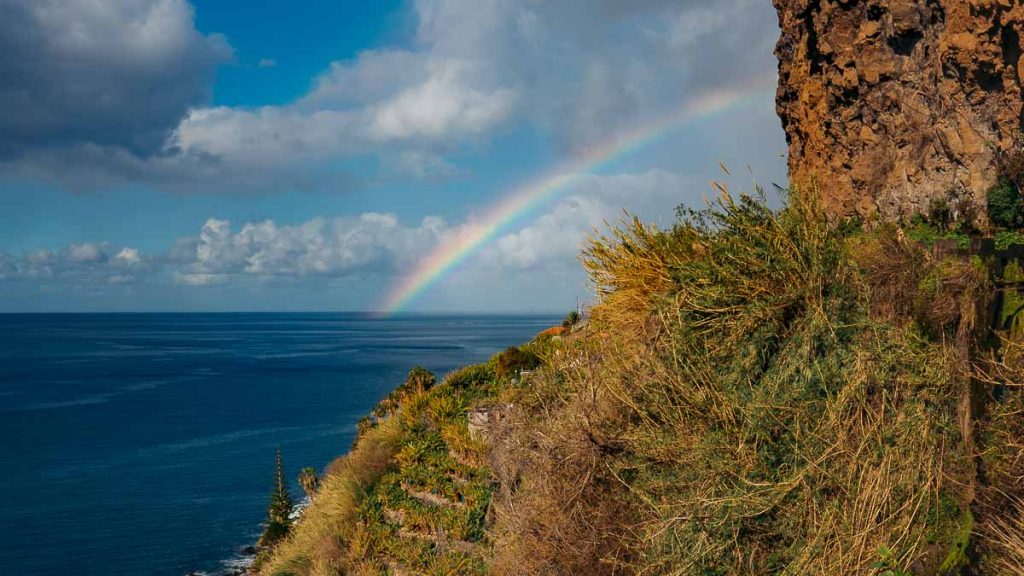 Address: Caminho das Fontes 15, 9360-355 Ponta do Sol, Portugal
2) Madeira Bridge
Hardly any information can be found online on this bridge. I couldn't find an official name, but some call it the Jungle Bridge. It's not even listed on Google Maps!
But it looked like a fairytale bridge guarded by trolls — we couldn't resist checking it out.
Address: P3VV+FF Funchal, Portugal
3) Miradouro do Ponta da Ladeira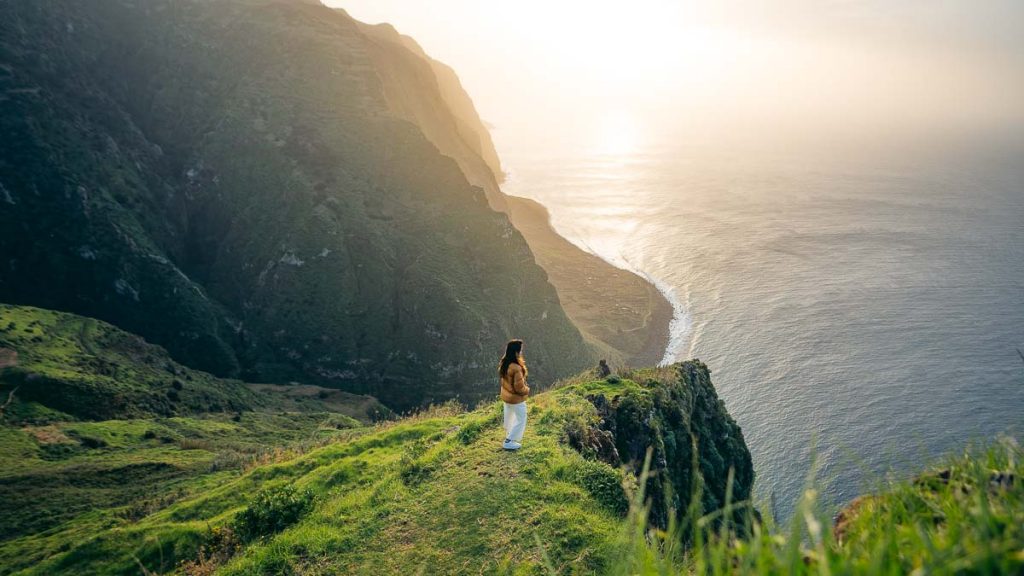 Miradouro do Ponta da Ladeira is a cliffside viewpoint that overlooks Achadas Da Cruz and a small village called Fajã da Quebrada Nova.
After arriving at the parking lot pinned on Google maps, we had to scramble down an unmarked dirt path to get there. It's a bit steep, so take caution when you visit. We caught an epic sunset here, the kind that makes you feel alive.
Address: VQ5W+RJ Porto Moniz, Portugal
4) Achadas da Cruz and Fajã da Quebrada Nova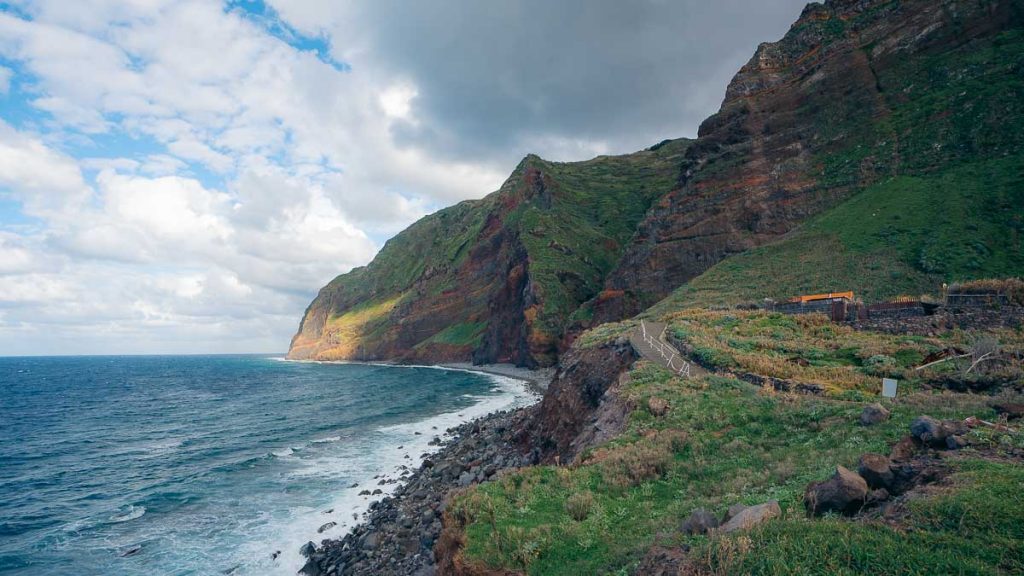 Achadas da Cruz is a small district in Porto Moniz — and it was one of my favourite spots on this Madeira travel guide.
We arrived at a cliffside viewpoint overlooking Fajã da Quebrada Nova; a small uninhabited village which sits along the coast. It's surrounded by dramatic cliffs covered in greenery, and when the light hits the mountains, it's pretty special.
The main roads aren't at sea level — they're actually at the top of the cliffs!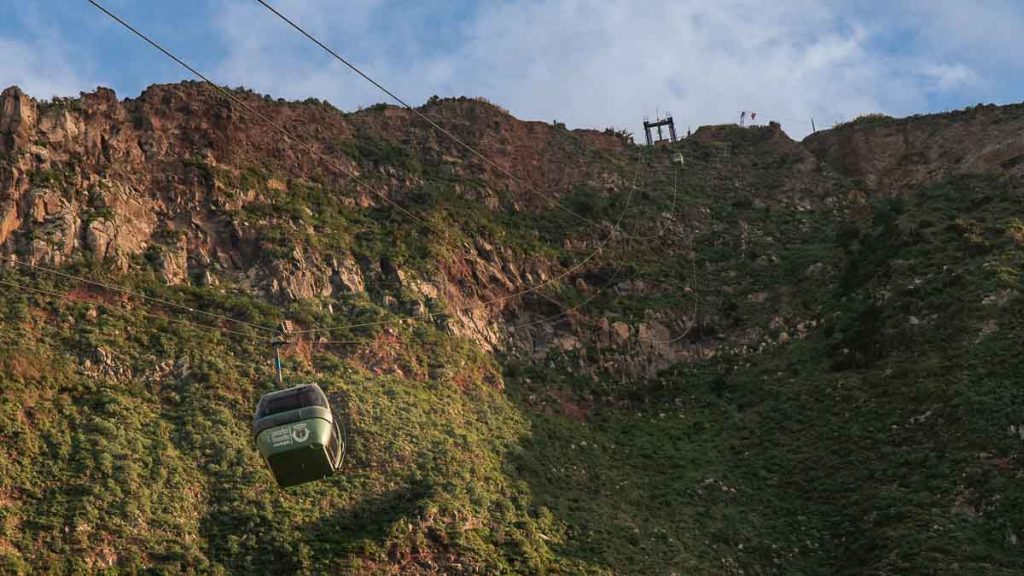 Which means that you've got to take the Achadas da Cruz cable car to get to the village! The alternative is a very, very steep climb down — I highly doubt anyone sane would attempt this.
The cable car costs just five euros for a round trip (#worth). It's a steep descent, combined with panoramic views — like an amusement ride, but better.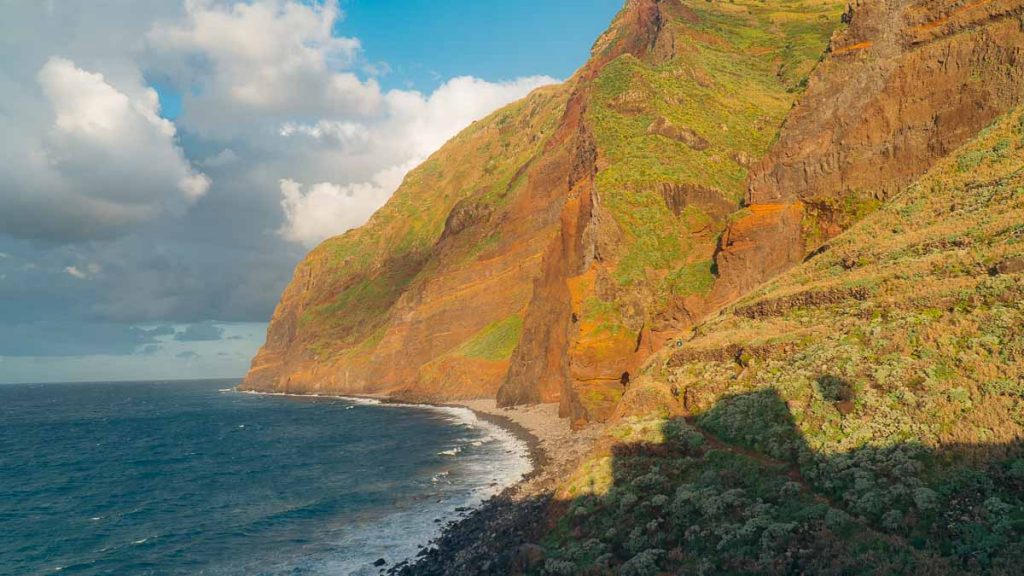 After checking out the village, we explored the other side of the coast. There's a narrow path through the vegetation (in the picture above!) that leads to an isolated rocky beach.
We stayed here till golden hour and the colours were magical!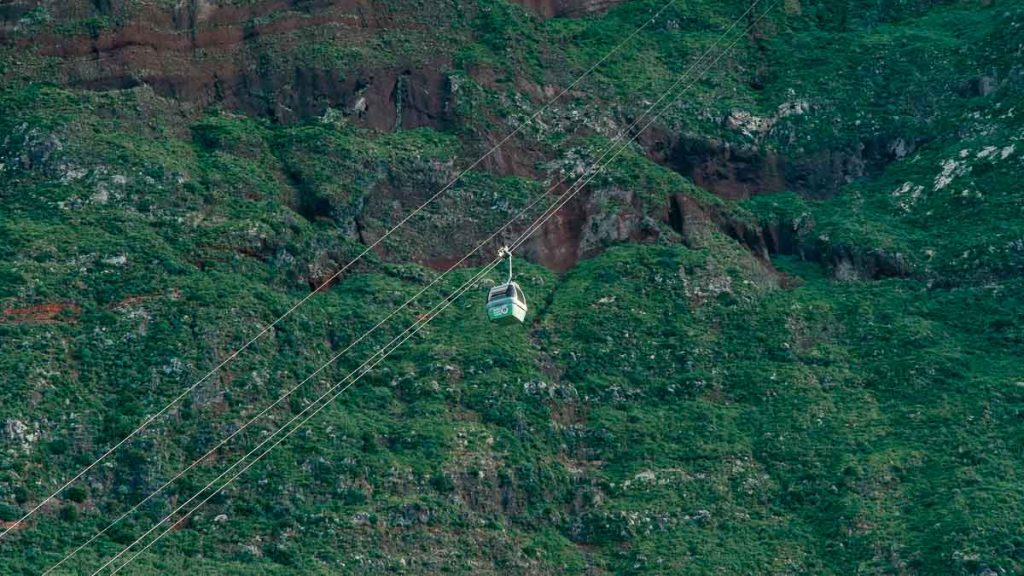 Fun fact: There's only one cable car operator (and his cat) — located at the top station. When you're ready to return, close the doors yourself and he'll start the ride!
The last cable car departs at around 6PM, so be sure to catch it or you'll be sleeping on the beach (not as fun as it sounds).
5) Ilheus da Ribeira da Janela Rocks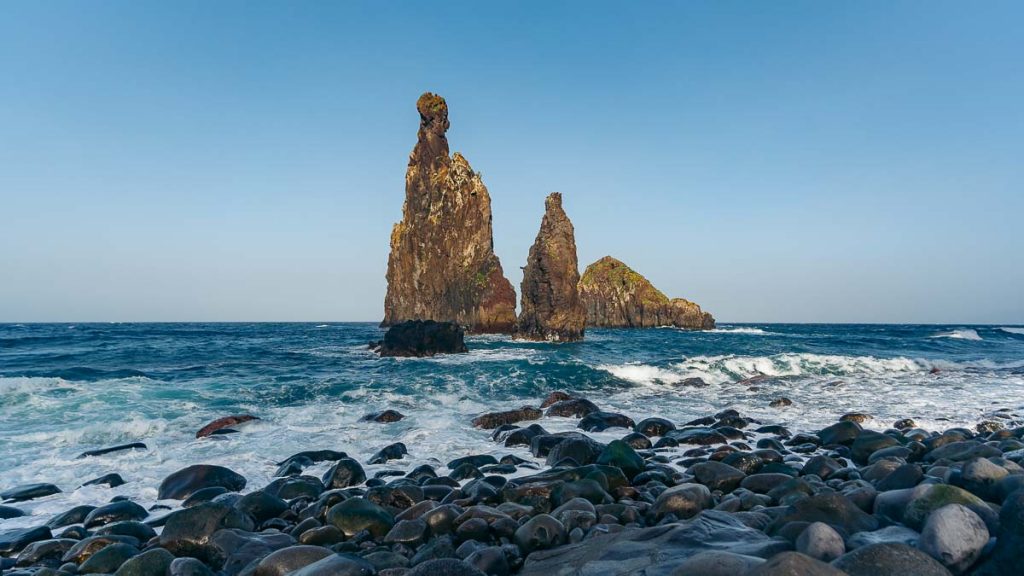 Ilheus da Ribeira da Janela Rocks are these beautiful rock formations that sit close to the pebble beach coastline. This area is supposedly popular for surfing, though we didn't see any surfers while we were there.
Address: VR4W+5R Ribeira da Janela, Portugal
6) Miradouro da Garganta Funda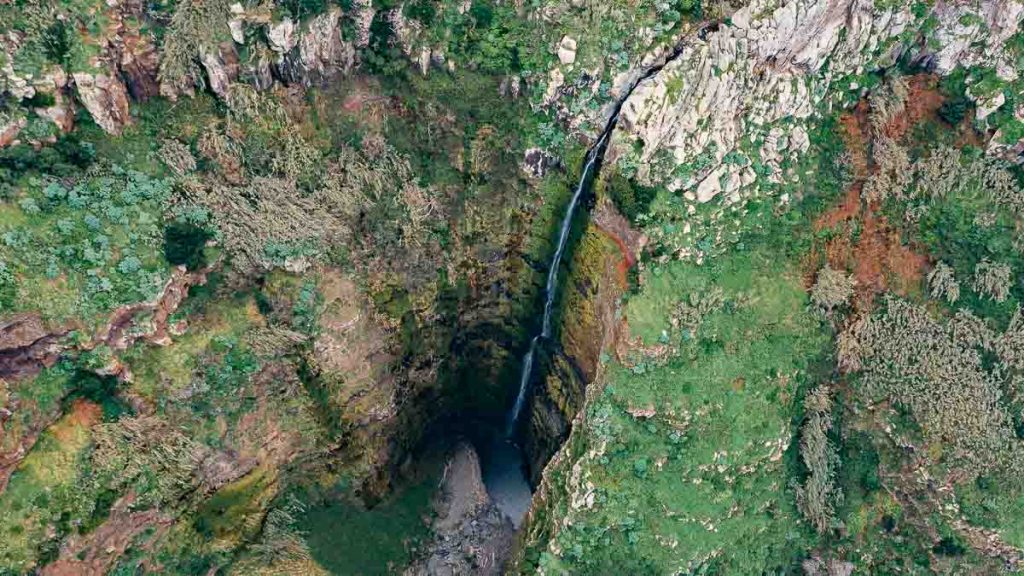 Madeira has been blessed with several incredible waterfalls, but the 140m-high Miradouro da Garganta Funda (or Deep Throat Waterfall) might be the most impressive.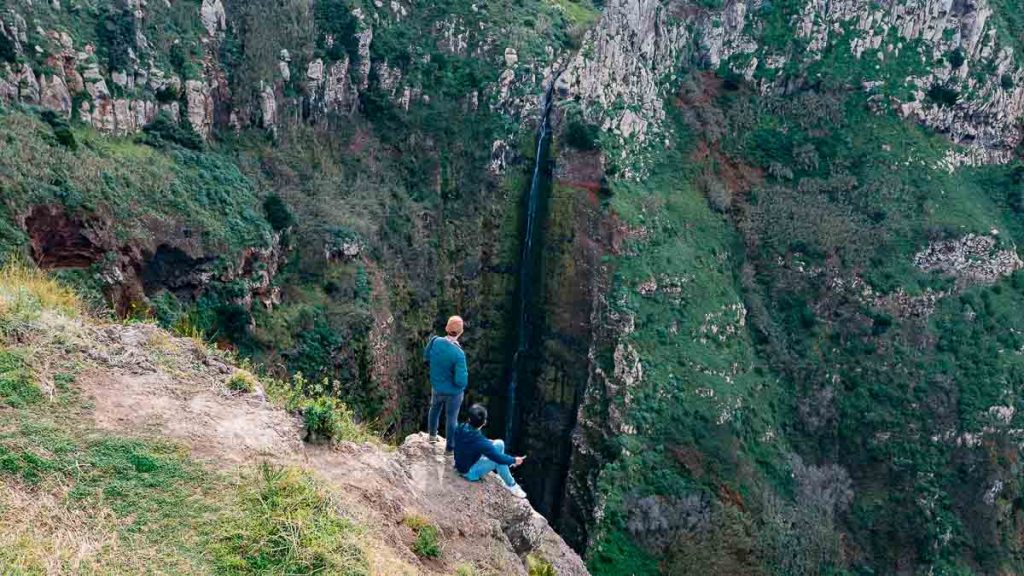 We didn't even have to venture far to find it — it's just a short 600m walk from the carpark!
Address: 9385, Ribeira da Vaca, Portugal
7) Seixal Natural Pools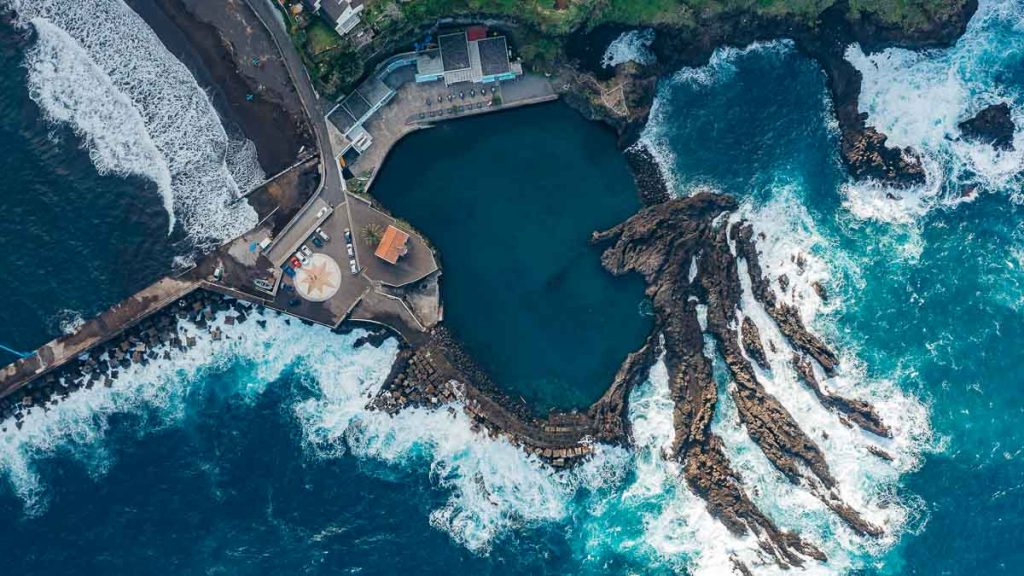 Madeira has several natural pools and this one is located along the north coast, close to Porto Moniz.
Again, I found many photos online but not much information on it. It's located right beside Seixal Beach, where there were a few people surfing while we were there!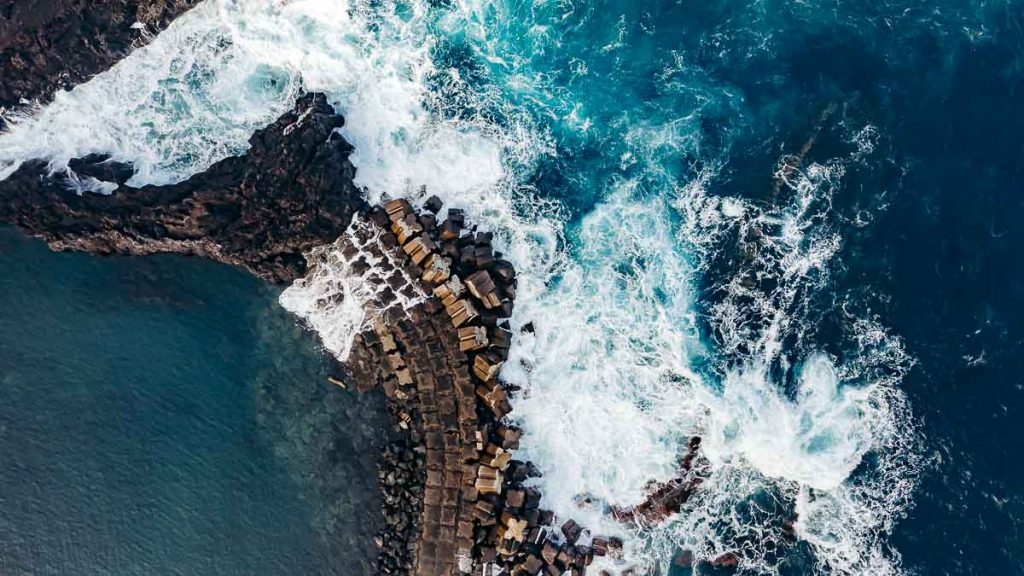 Address: Caminho da Delfina Fernandes Correia 9270, 9270-130 Seixal, Portugal
8) Miradouro do Véu da Noiva (Seixal Waterfall)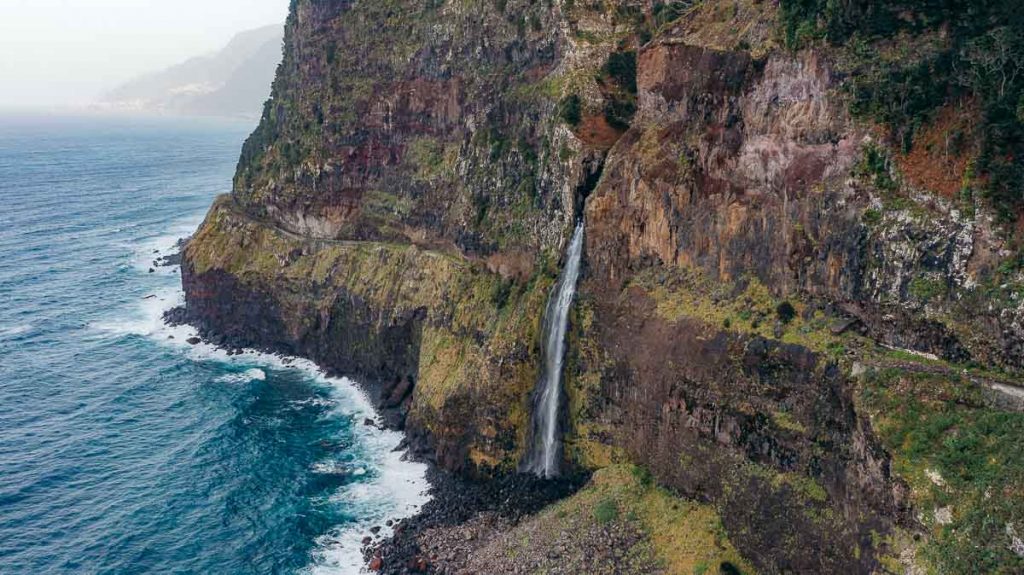 Just across Seixal Beach is another famous waterfall — Miradouro do Véu da Noiva. Véu da Noiva means bridal veil, because the falls resembles one plunging into Atlantic ocean!
Address: Antigo Traçado da ER101, Portugal
Epic Hiking Trails in Madeira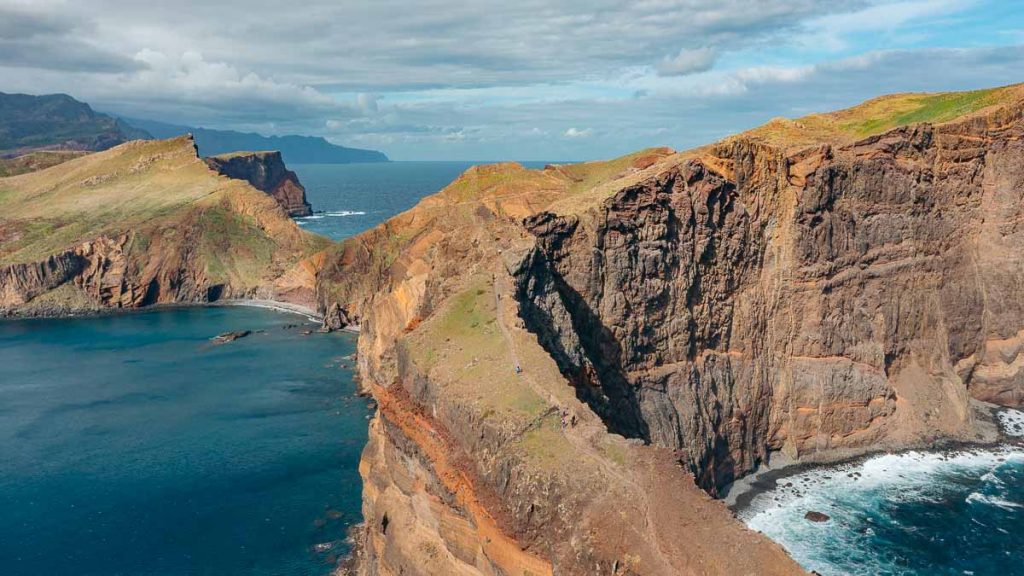 I've been lucky enough to have gone on some incredible hikes around the world. But the Madeira's hikes are in a league of their own.
There are two main types of hiking trails in Madeira. Vereda hikes are mountain or coastal cliff walks, while Levada hikes follow irrigation channels and waterfalls. This Madeira travel guide includes the three hikes you shouldn't miss if you're visiting for the first time:
9) PR1: Vereda do Areeiro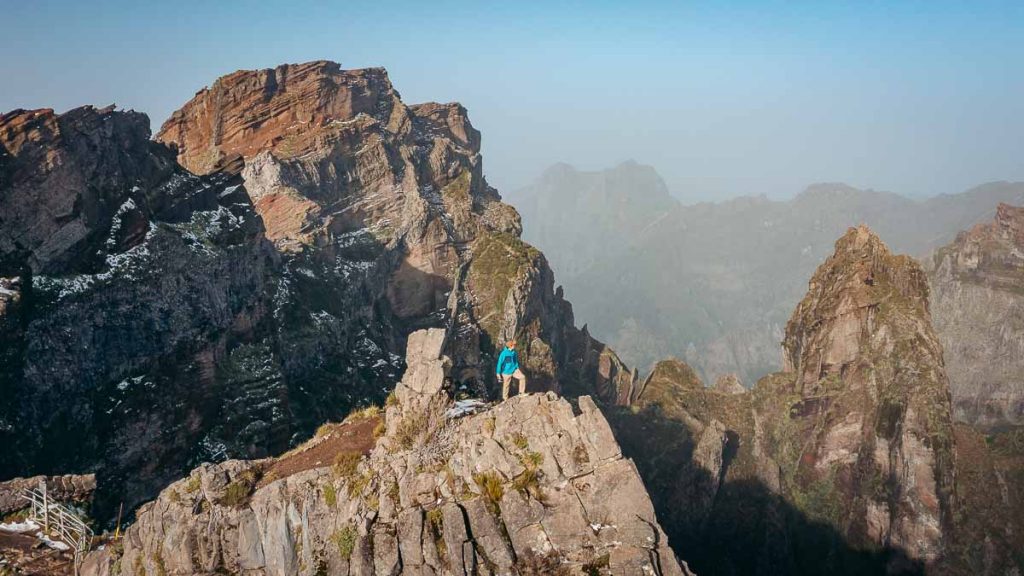 Distance: 13km return
Duration: ~7hrs
Starting point: P3PC+7G Curral das Freiras, Portugal
You might have seen videos of Vereda do Areeiro on Instagram; it's Madeira's most famous hike! So of course we had to include it in our Madeira travel guide.
This trail connects Madeira's three highest peaks — Pico do Areeiro (1818m), Pico das Torres (1851m) and Pico Ruivo (1862m).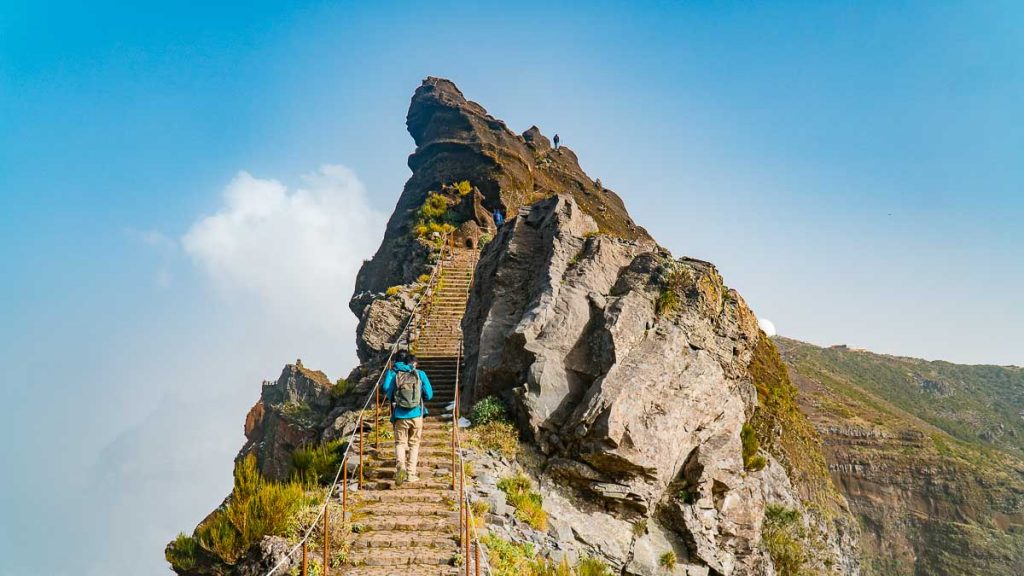 The hike starts at Pico do Areeiro, with a narrow section of stairs above the clouds that seemingly lead to heaven. This is the most photographed spot of the hike, barely 30 minutes from the starting point!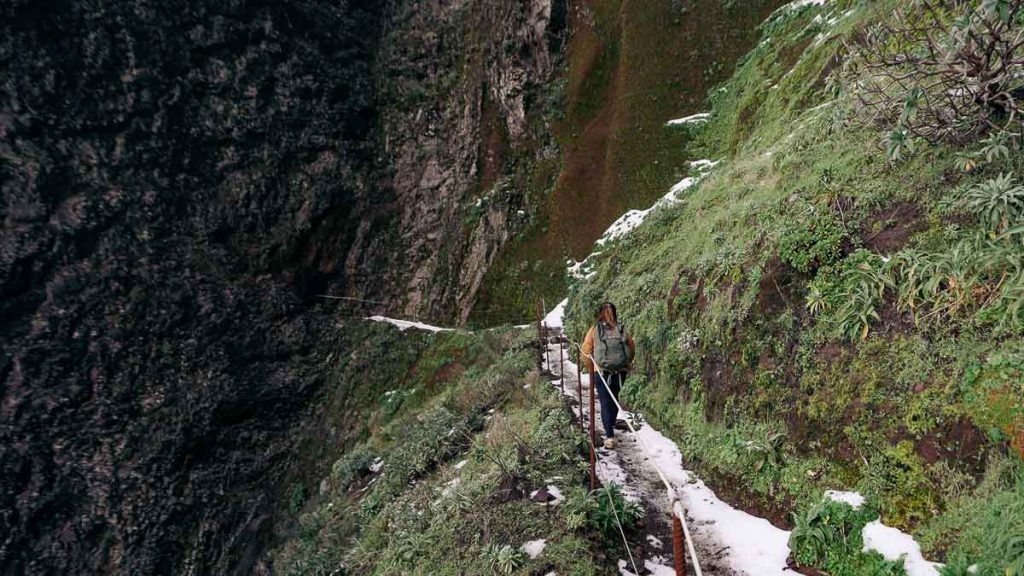 We passed through tunnels dug out of the mountain, used to shelter cattle and shepherds in the past. There aren't any lights, so it's pitch-black — we used our phone torchlights to see.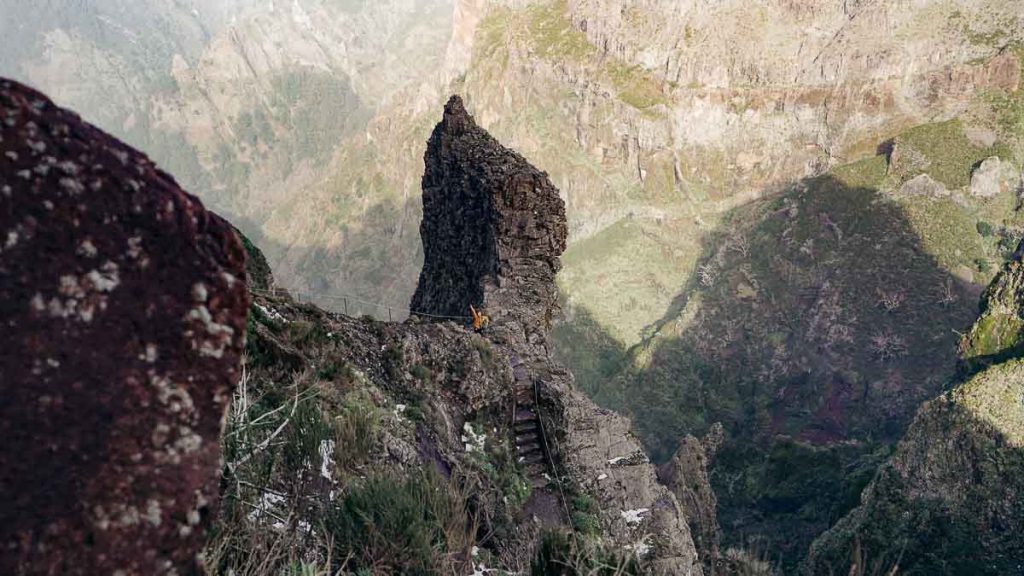 This hike is moderately challenging — there are quite a few lengthy sections of stairs, especially toward the end!
The views throughout this hike are extremely rewarding, so take your time and soak it all in. Definitely one of my all-time favourite hikes!
10) PR6: Levada das 24 Fontes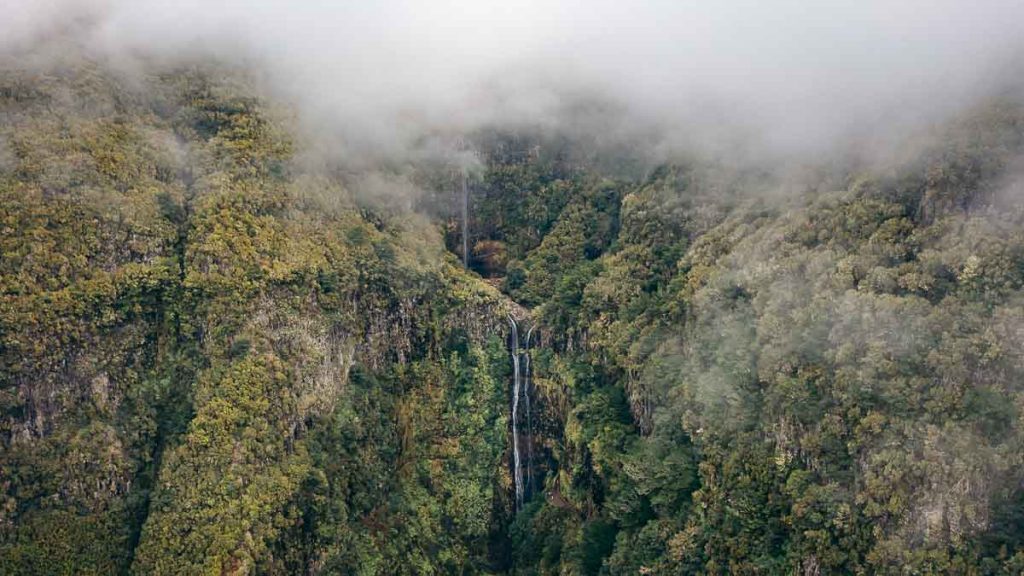 Distance: 8.6km round trip
Duration: ~6hrs
Starting point: ER110 15, Portugal
Levada das 25 Fontes is Madeira's most popular levada hike, which goes through lush valleys and follows the island's irrigation channel.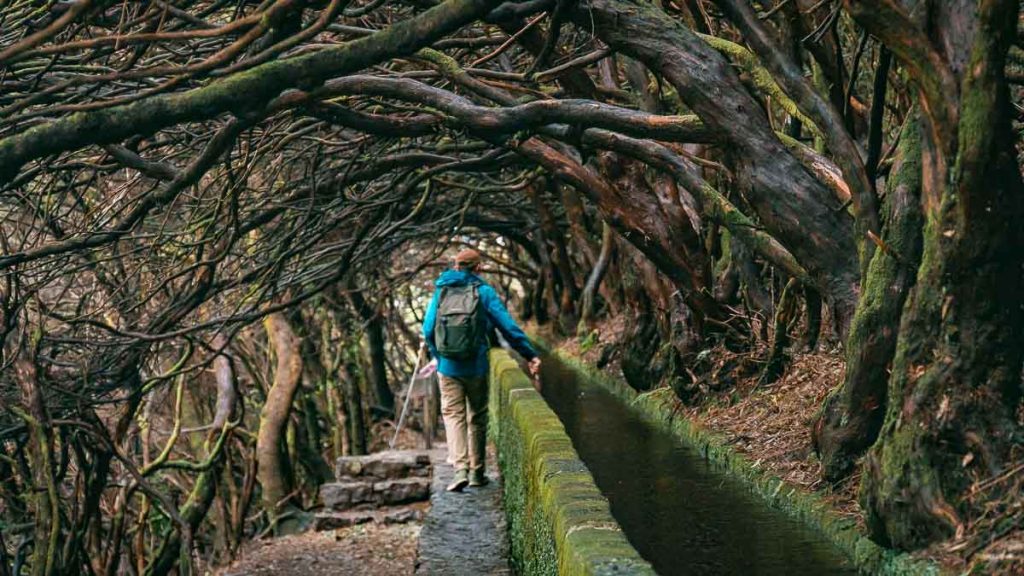 The hike itself is moderate difficulty, with a combination of narrow paths and stairs. A unique feature of the trail is that many sections are framed by curved tree branches that look straight out of a Stephen King horror film. In the daytime though, it's a pretty sight.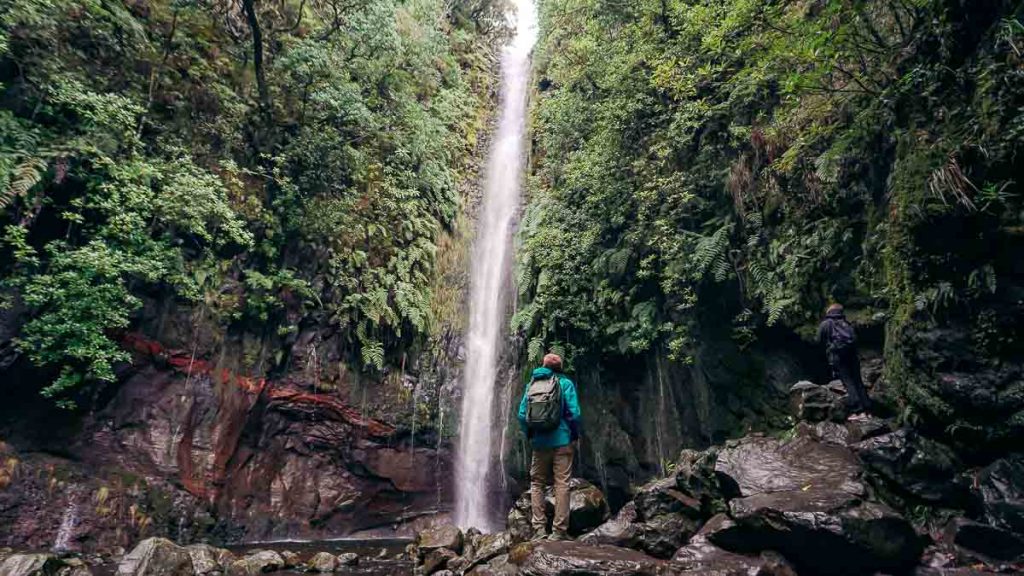 The end of the trail is the 25 Fontes waterfall! At this point, you'll have to turn around and head back the same way.
11) PR8: Vereda da Ponta de São Lourenço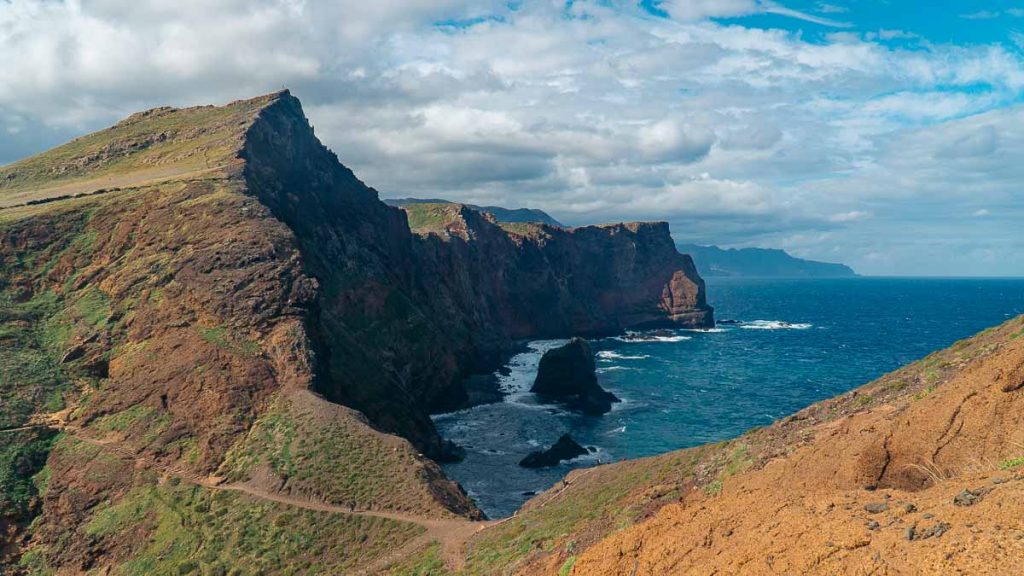 Distance: 6km return
Duration: ~5hrs
Starting point: ER109, Estr. de São Lourenço, 9200-044 Caniçal, Portugal
Vereda da Ponta de São Lourenço looks like something out of Jurassic World. It's easily one of the most beautiful hikes I've ever been on! We did this hike as part of our Comfort Zones series, along with strangers we met in Madeira (watch it!).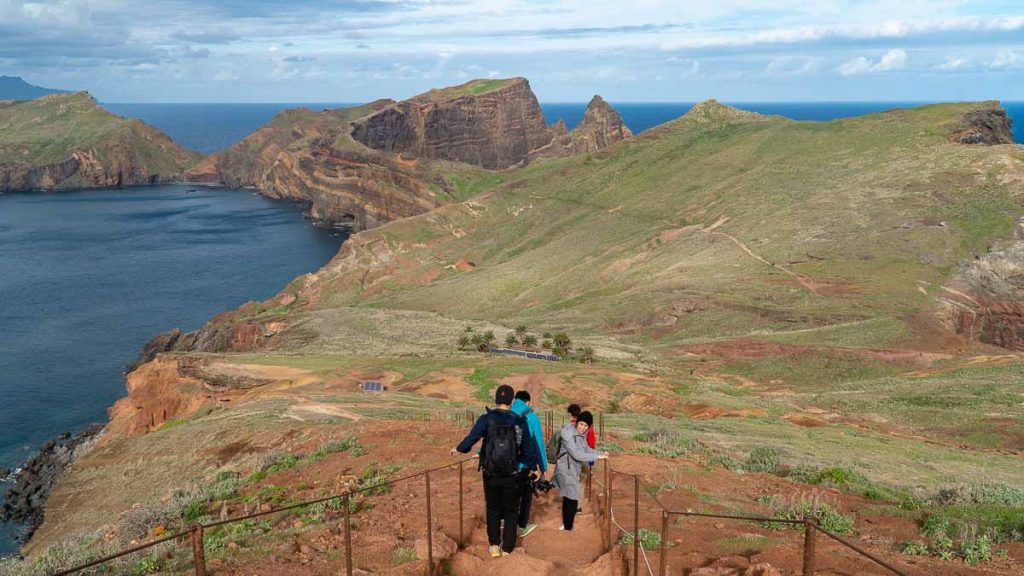 This trail snakes along Madeira's rugged coastline and ends at the eastern tip of Madeira. The views throughout were incredible — stunning cliff edges and vivid blue waters stretching as far as the eye could see.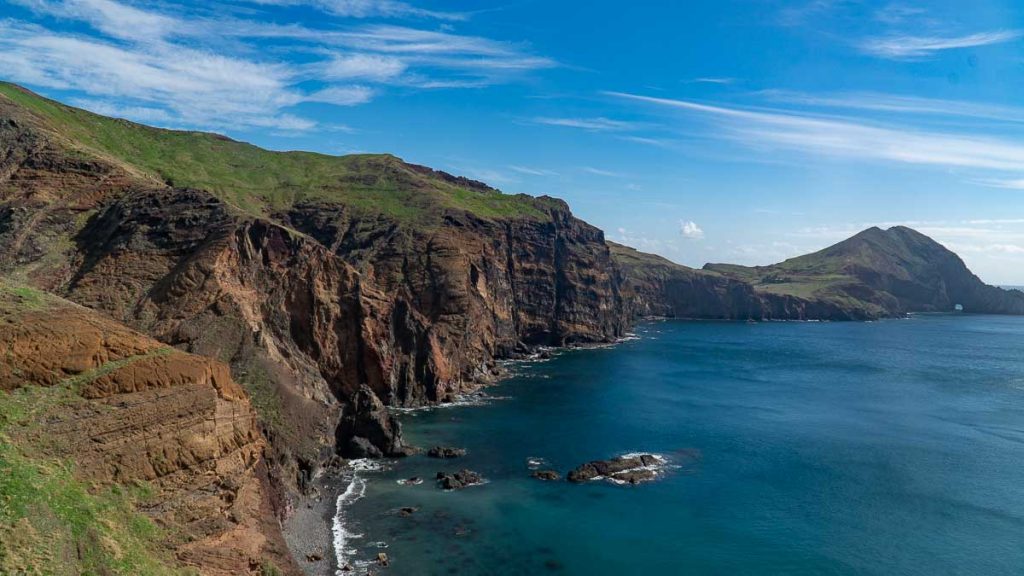 We went early in the morning, so there weren't many people on the trail yet — and it felt like we had the place to ourselves.
Other Things to Do in Madeira
12) Canyoning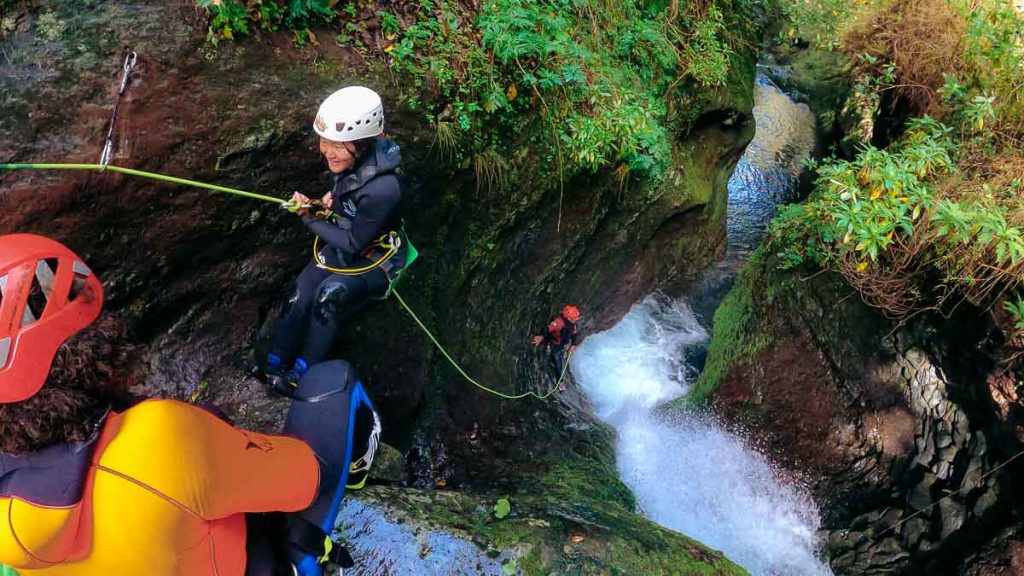 I'm relatively new to canyoning, having only done cliff jumps back in Cebu years ago. This canyoning tour with Epic Madeira was a lot more memorable for two reasons. First, this tour involved rappelling down waterfalls and second, we didn't see another soul during the entire three hours.
Turns out, Madeira is a fantastic place for canyoning. There are tons of gorgeous canyons, waterfalls and lagoons — and you can go canyoning all year round!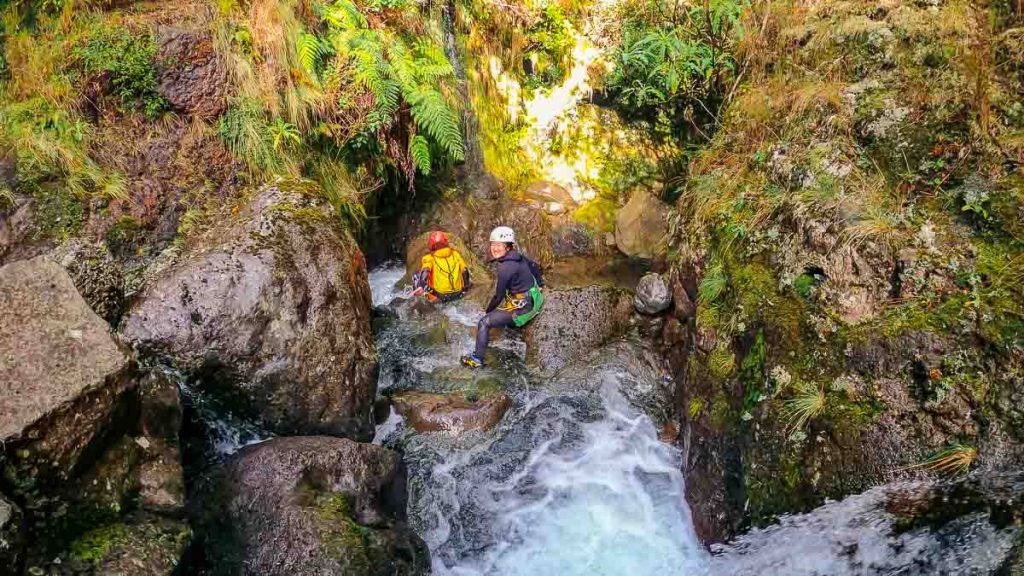 Our guides Ronaldo and Vitor made the whole experience. They're professional, fun and fearless. We had lunch with them after and learnt they spend their free time doing insane cliff dives and rappelling down waterfalls up to 120m tall. 🤯
There are three levels of canyoning tours — beginner, intermediate and advanced. We did the intermediate level which included a fun mix of rappelling, cliff jumps and scrambling over rocks. They also offer coasteering and climbing tours!
Cost: From €60 (~S$87) — incl. all canyoning equipment and attire, just wear a swimsuit and bring a towel
Tour timings: Varies
Other adventurous activities in Madeira include water activities like diving, surfing, whale watching and land activities like paragliding and trail running.
13) Explore Funchal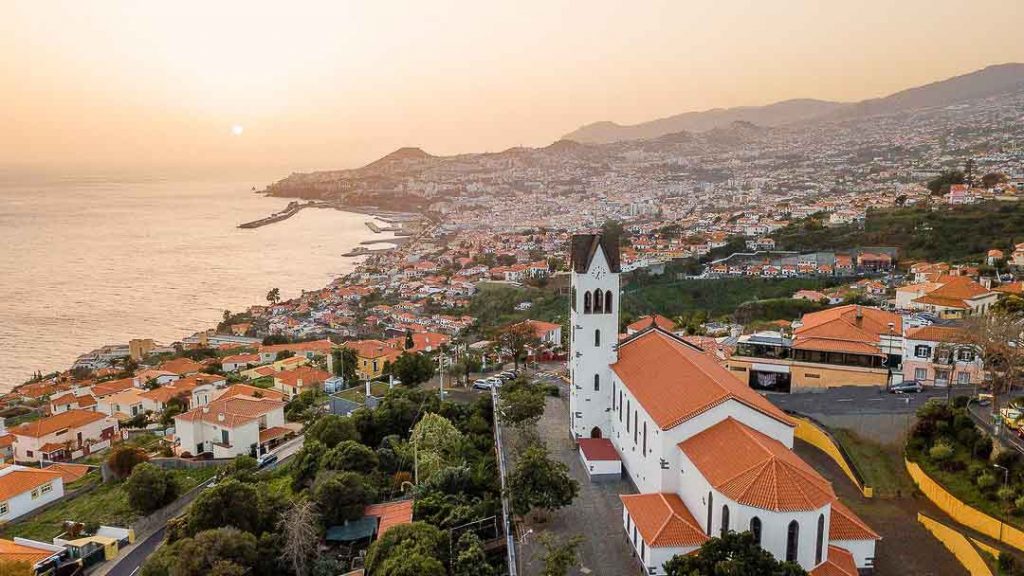 Photo credit: @visitmadeira via Instagram
There are plenty of things to do in Funchal, Madeira's historic capital!
Like the CR7 Museum which celebrates Madeira's most famous son. They've got all sorts of memorabilia on display including some of Ronaldo's Golden Boots and Ballon d'Or trophies.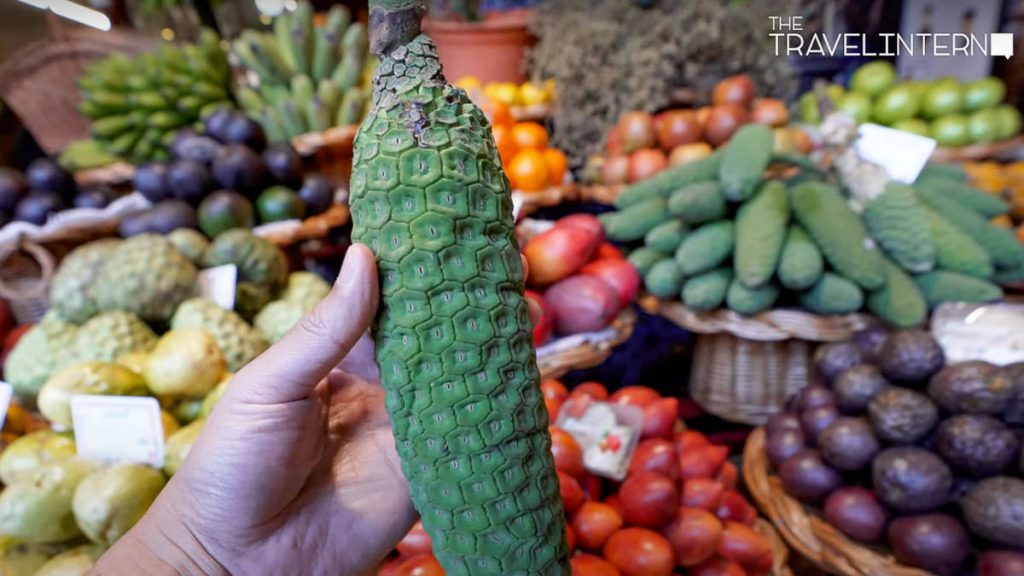 The Mercado dos Lavradores (Farmer's Market) is another popular place to visit in Madeira. They've got some really, err, interesting fruits. Like the pineapple banana. Yes, there's such a thing.
Also check out the street art along Rua da Santa Maria, walking distance from the market.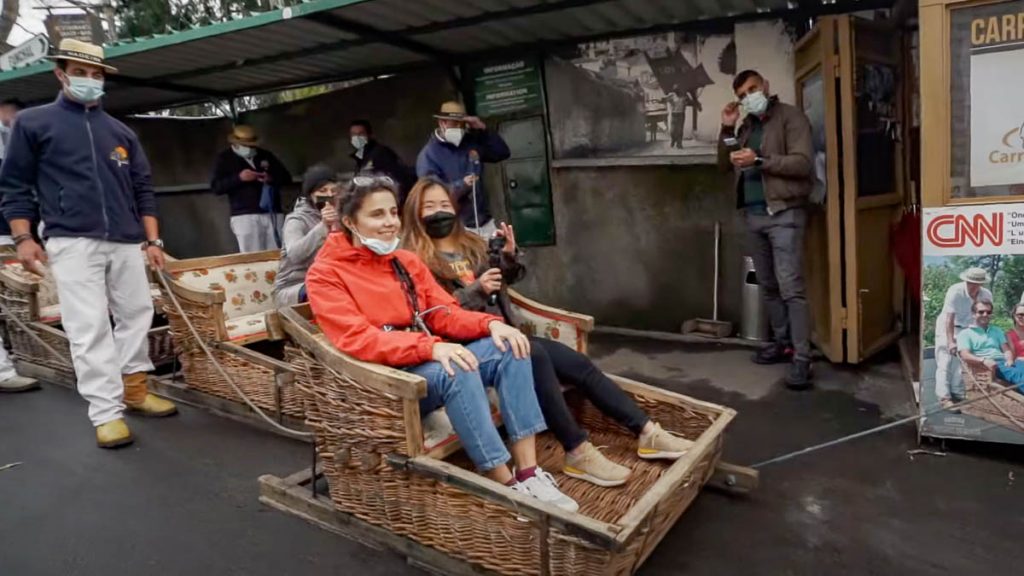 Venice has gondolas, Madeira has toboggans. Dating back to the 19th century, this tradition involved locals zipping down slopes in traditional basket sledges from the village of Monte to Funchal.
The sledge is driven by two drivers called carreiros — who use their thick rubber shoes as brakes. These days, visitors can book a ride (from €15/pax) and experience a 2km-long route!
Madeira Travel Tips for First-time Visitors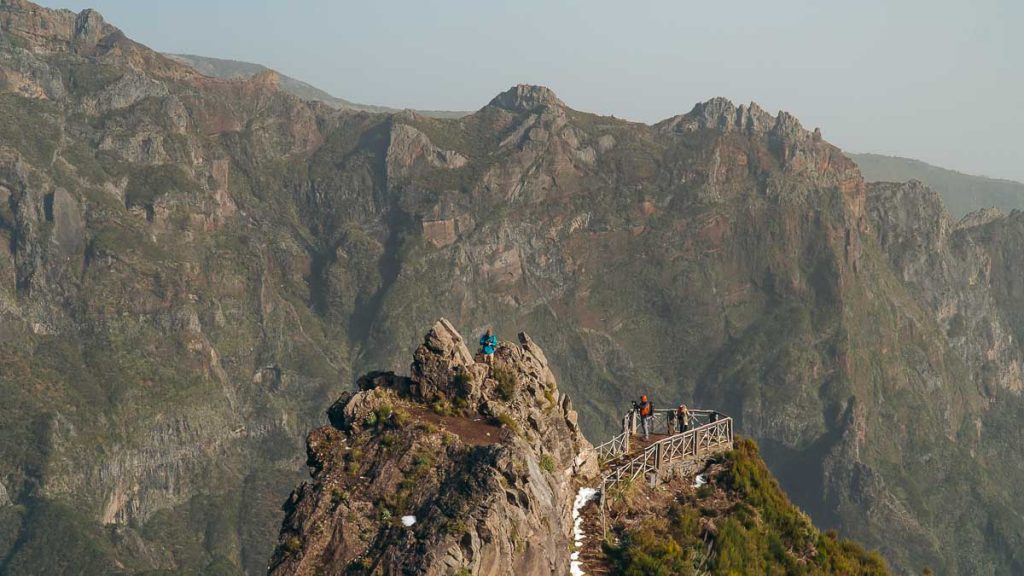 Flying into Madeira: Madeira's only airport is in Funchal, its capital. There aren't any direct flights to Madeira from Singapore, but you can fly in from major cities in Europe like Lisbon, London, Paris, Frankfurt and Amsterdam!
Where to stay in Madeira: We'd recommend staying in Funchal — it's the largest city with the most accommodation and restaurant options. Most car rental places are found here as well!
Getting around Madeira: Most of the photo spots and hikes are at least a 45-minute drive from Funchal, so the best way to get around Madeira is by renting a car. We rented ours from 7M Rent a Car as it was close to our Airbnb.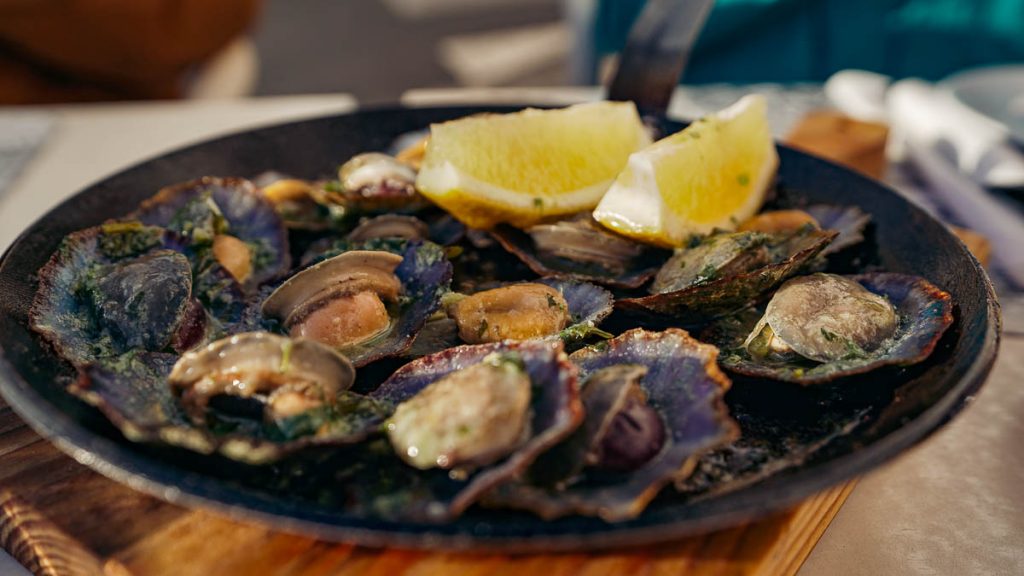 What to eat in Madeira: Madeira's location in the middle of the Atlantic ocean, combined with her subtropical climate and fertile soil means the food here is good.
Here are some local Madeira dishes worth trying:
1) Lapas — limpets; a type of shellfish, seasoned with garlic and butter
2) Bolo do caco — round flatbread traditionally cooked on a hot basalt stone slab, served with garlic butter
3) Espetada — grilled beef cooked on skewers, seasoned with garlic, salt and bay leaf
4) Espada — black scabbard fish with banana and passion fruit
5) Poncha — a traditional alcoholic drink made with sugar cane rum, honey and lemon juice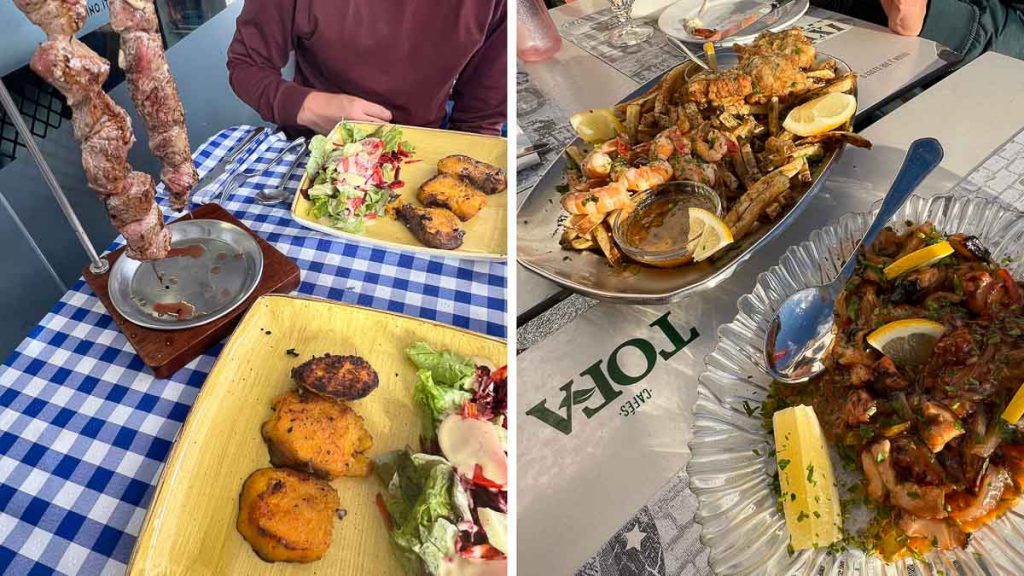 Le Bistrot Jacarandá (left) in Funchal was an unexpected find — they've got a reasonably priced set lunch (around S$25) that includes a starter, main (you can choose espetada or espada), dessert and poncha. The food was so good we ended up returning!
We found O Ideal (right) online — they're known for fresh lapas and other seafood. It's located on the west coast of Madeira, so we visited on a day trip. The seafood was sinfully buttery, and their bolo do caco was also really addictive. 🤤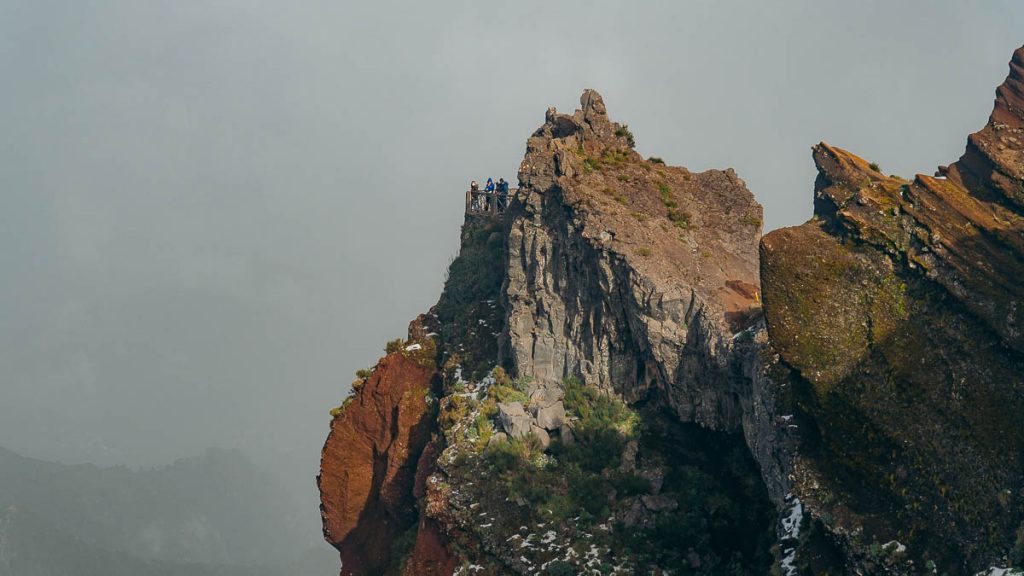 Madeira's weather: Madeira generally has a mild, pleasant climate. The hottest month is August with average temperatures at 22.5°C, while the coldest is January at 16°C. We were there in February at the tail-end of winter and had beautiful weather — sunny but cool.
That being said, the weather differs in different parts of the island due to varying elevation and wind exposure. During our PR1 Vereda do Areeiro hike, we saw clear skies, fog and snow — all within a few hours.
What to pack: Keeping in mind the weather, here are some useful items to pack for your trip to Madeira!
– International driving permit
– Windbreaker
– Hiking pants
– Hiking shoes
– Swimsuit
As someone who loves mountains, beaches and staying active, Madeira was a dream to visit. I only hope I get to return!
Have any tips about travelling to Madeira to add to our Madeira travel guide? Share with us in the comments!
---