In the summer of 2015, I went on a month-long vacation to Europe with my girlfriend Uli. Traversing five different countries, we visited numerous countryside towns and bustling cities. We had a plethora of good and ugly experiences, such as sleeping on the cold, hard floor of a bus terminal after a series of unfortunate events and couch surfing for the first time. Read on to hear more!
An impromptu party by my Airbnb host
I'll forgive and forget
Before I'm paralysed
Do I have to keep up the pace
To keep you satisfied?
I woke up to the sounds of Crystallised by The XX.
Not a bad song to wake up to, unless it's 3 am and you need a good night's rest after walking across London the day before. I heard slurred voices, laughs and good music. It was a freaking party in my Airbnb apartment at 3 am. Being a light sleeper and someone who cherishes my daily 7 hours of sleep, I contemplated the thought of confronting my Airbnb host.
"I paid money for accommodation, I should be taken care of by the host and the host should be more considerate to his guests than to throw an impromptu party at 3 am!" I thought.
By then, Uli was awake too. Well, the music wasn't limited to the calming and chill sounds of The XX, there was some electronic music too. Looking back, the playlist was pretty sick, I've got to admit. I told Uli of my thoughts to talk to the host but after some discussion and some sort of music intermission (we thought the party was over), I put off that thought and tried to sleep with pillows on both ears.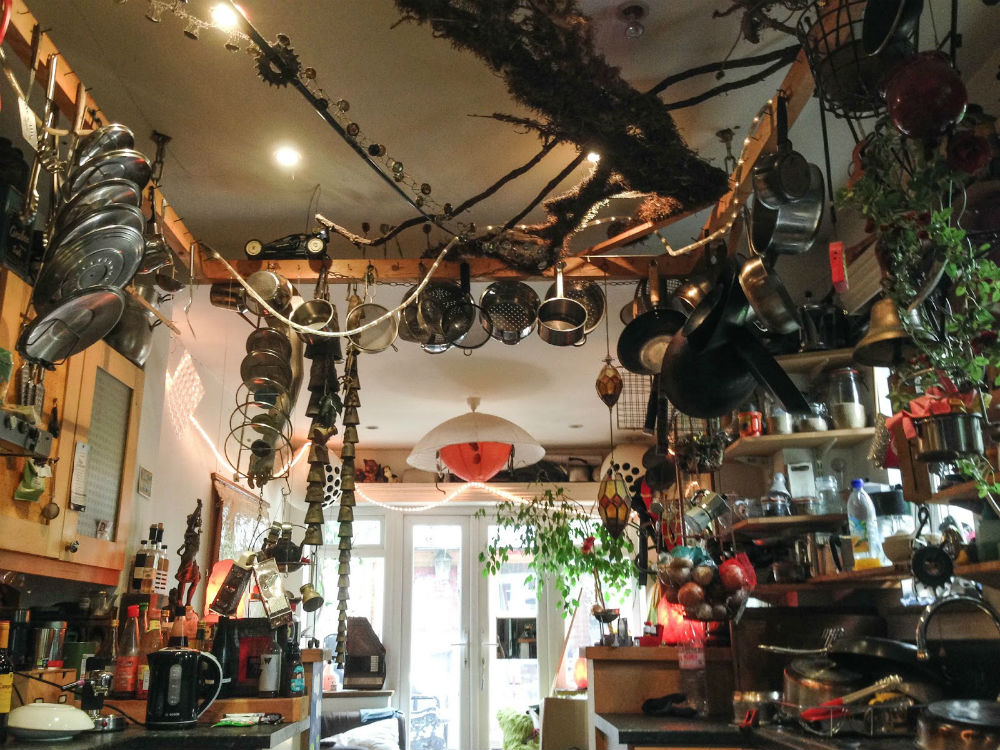 The quirky kitchen area that greets all guests.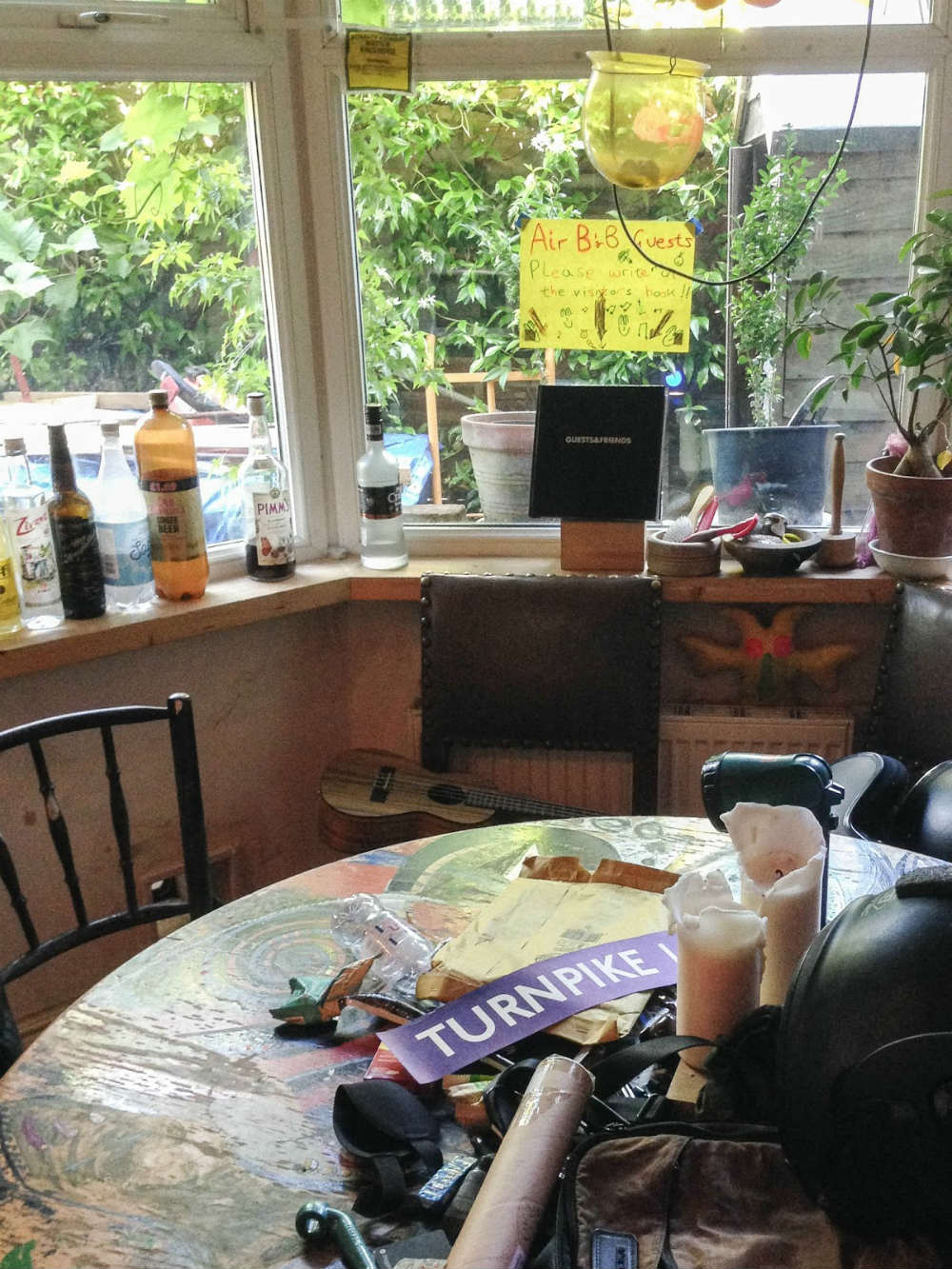 The messy nature of the interior added a charming personality to this apartment.
Not surprisingly, I woke up on the wrong side of the bed the next morning. Grumpy, I complained about the events of last night. However, as Uli and I reflected about it, I gradually appreciated that experience. It felt special, an impromptu party with friends and good music and I got to be part of it, (somewhat).
How often do you get such an experience on your travels? Definitely not in a hotel. I felt rather spoiled and foolish to think that I considered talking to the host. His Airbnb was the best I've ever experienced, considering I met more than seven people from different countries and two cats in the house once.
Who was I, a mere guest in his house to question his choice to hold a party? I realised that this was part of the Airbnb experience. Spontaneous and authentic experiences with locals, sometimes outside your comfort zone. Such experiences are those that evoke true feelings and create special memories. They are what travel is truly about.
Sleeping in a bus terminal after my bus to Paris got cancelled
The worst kind of news for all travellers
To my horror, this message greeted me when I connected to wifi once I got back into my Airbnb in London. Uli and I had just returned to the apartment in the afternoon to shower and pack our luggage for our night bus to Paris. I did not have 3G outside so I actually received this email two hours late, once I got wifi, not that it mattered.
This was probably the most shocking thing that I've experienced in my years of travel. I wasn't travelling with my family or the school, this time, it was just Uli and me. I remembered trying to call the bus company countless times to no avail. Despite knowing that our bus was cancelled, Uli and I still dragged our luggage to the bus terminal, hoping that we can catch another bus to Paris.
Lo and behold, the bus terminal was packed with travellers who were stranded, just like me. It was chaotic and some people did not even receive any notification about the cancellation. I remembered trying to buy another bus ticket but I was turned away rudely.
I tried the automated ticketing machine and the Customer Service counter and failed too. Uli and I even considered taking the Eurostar train or a budget flight but either the prices were insane or there were no more seats left. We considered going back to our Airbnb in London to ask our host to extend our stay but we felt really bad to do that. After all, we had already stayed for 8 days and there were other guests after us.
There were so many stranded passengers, some with children. After some time, a representative from the bus company arrived. Everyone mobbed him for information but all he could say was that he was sorry and there was nothing that could be done as the strike by the ferry workers were out of the bus company's hands. You could imagine the scenes of anger and desperation.
In our desperation, we pleaded with bus drivers who were going to Paris, Lille or even Belgium, anywhere closer to our destination. Vacant seats on these buses were few and all the drivers spoke French. Without knowing how to speak French, I stood no chance compared to the other passengers who spoke French. A kind journalist in the same situation translated what the drivers said to English for me.
Some passengers managed to board other buses and I remembered feeling a sense of injustice as I had purchased a ticket too.  There were two men from Hong Kong. The son was furious, saying that his father would miss his flight to Hong Kong if they did not get to Paris. I was panicking, anxious, worried and upset. I pleaded with three or four buses till it was passed 12 am.
There would be no more buses to France until the next morning. Resigned to our fate, Uli and I shuffled back into the bus terminal. We decided to sleep in the bus terminal and try pleading with the buses the next morning. The floor was cold and hard. Uli had instant noodles and a kind shopkeeper allowed us to use his hot water. In the cold, we shared instant noodles from Singapore. We were alarmed when the announcement said that the terminal was closed for the night and security guards came to ask people to leave. Thankfully, they weren't that serious.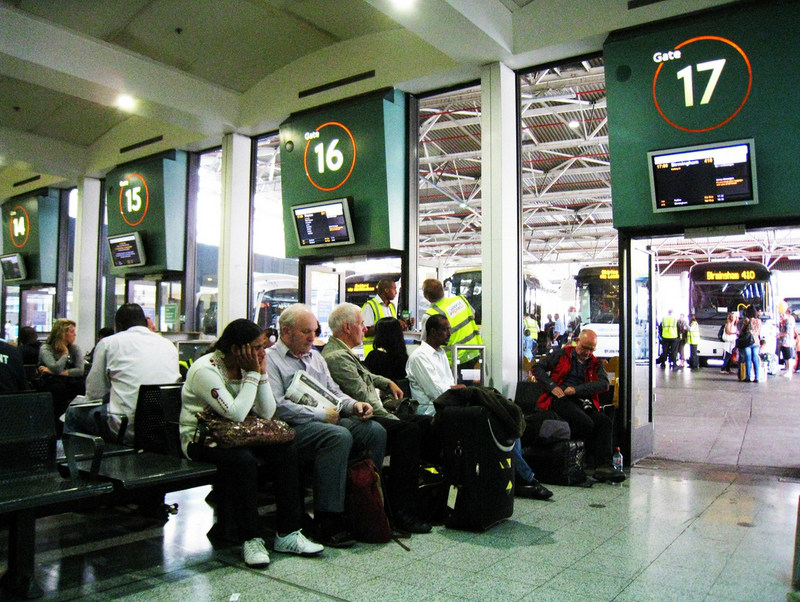 Yep, I slept on that floor.
The next morning, I tried one bus and failed. Miraculously, the second bus allowed us to board but emphasised that we had to get down at Lille as there would be passengers boarding there and there wouldn't be seats for us from there on. Desperate for any bus, we boarded the bus with our luggage without bothering to get water and food. We sat on the bus for 7 hours to Lille without water and food. To our grateful surprise, there were vacant seats at Lille and we were allowed to continue to Paris. Thankfully, we could grab some food and water at a stopover.
The journey took way longer than expected due to traffic congestion in Paris. When we finally reached Paris, we still had to navigate the notorious Paris metro system and walk a distance to get to our Airbnb. It is a quaint and dainty apartment with vintage, pastel-coloured furniture.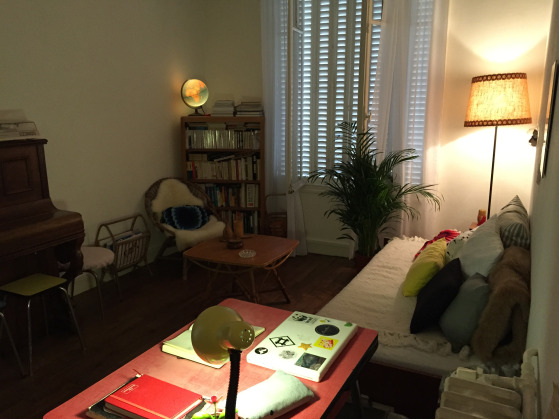 The charming interior of this Parisian apartment literally took my breath away!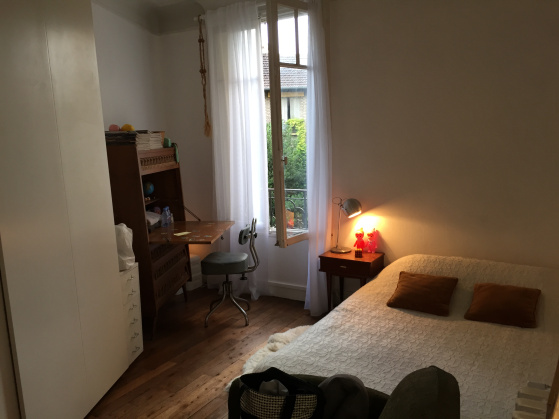 I had a strong urge to play Comptine d'un autre ete on the piano, well my host's name is Amelie!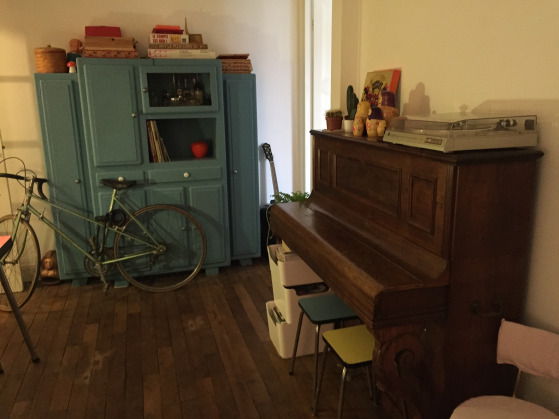 The cosy bedroom with windows that looked out into a Parisian neighbourhood.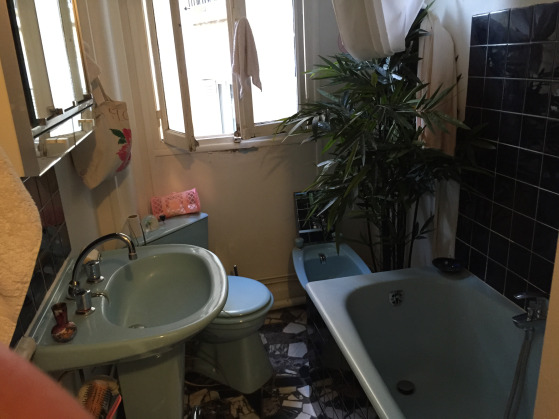 The small but gorgeously furnished bathroom.
My Paris stay went from 3D2N to 2D1N and it was an experience that I hope I never have to go through again. Nevertheless, I reflected on it many times during my long train rides across Europe and I realised that such experiences were simply part and parcel of travel. Shit happens. My comfortable life in Singapore and comfortable travels in hotels and tours with my family have made me take many things for granted. I took the Singaporean mentality that once I buy a ticket, the event is certain to happen and there would be no uncertainty.
When you travel for such a long time, shit is bound to happen and you must be flexible and adaptable to changes. My friend said it best when she told me her attitude when her phone and camera were stolen when she was in Europe.
"If, after an unfortunate event, you are going to be grumpy and pull a long face, then what's the point of travelling? Everything will be spoiled. Be open-minded when such things happen. Just accept it and move on to enjoy travelling."
Couchsurfing with my Kazakhstan host in Belfort, France
Uli and I are fans of Die Antwoord, a South African rap-rave group so when we found out that they would be performing in France when we would be travelling Europe, we pounced on the tickets. They were the leading act for the Eurockeenes Music Festival in Belfort, France.
The accommodation was a pain in the ass though! With the festival, all accommodation, hotels, hostels and Airbnbs were snapped up. And no, Uli and I were not prepared to slug it out in the tents at the festival grounds. Somehow, Uli managed to find a couch surfer willing to host us.
We were entirely new to CouchSurfing but we are young millennials who embrace peer-to-peer sharing services like Airbnb, Uber and CouchSurfing with open arms! I've to admit, I had my reservations before using CouchSurfing, what if the host is a creep? What if there's a language barrier?
Turned out, our host from Kazakhstan was incredibly nice to us. Dinara spoke great English and fluent French, exactly what Uli and I needed. She picked us up from the station, showed us to her apartment (she was actually a tenant haha), and gave us a free tour of Belfort town! We clicked immediately from the get-go. She was excited to see so many young people in Belfort for the music festival as she said Belfort is usually full of old people. Best of all, she was going to the festival too to catch Sting, what a coincidence!
At the end of our first day, we bought groceries from the Carrefour supermarket and whipped out a meal together, featuring Indomie Asian noodles.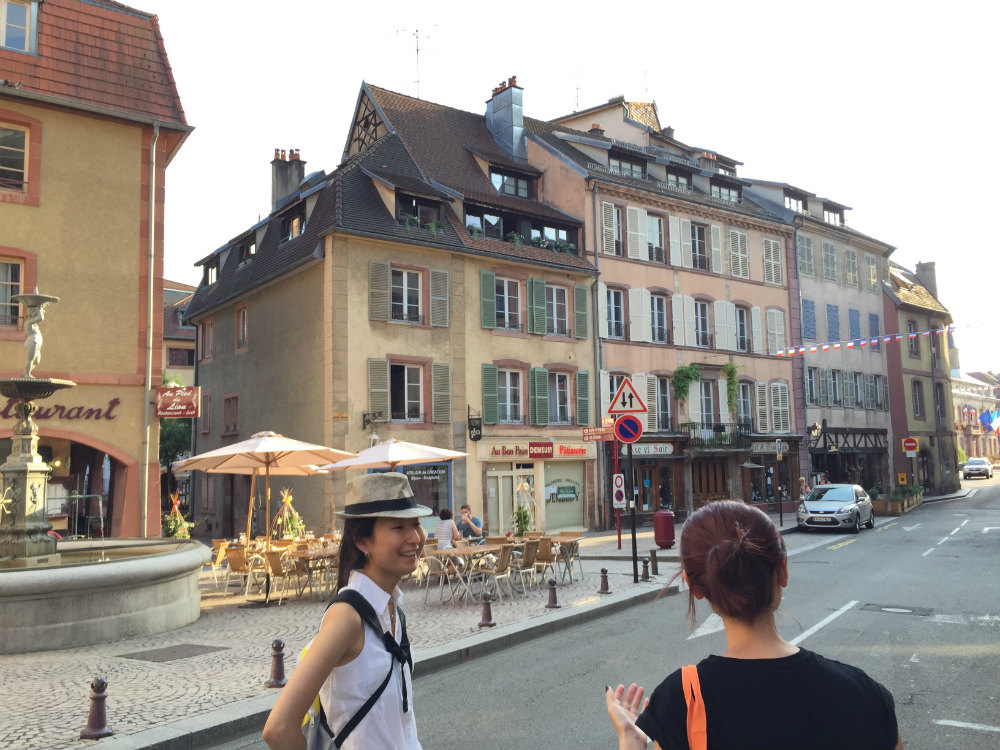 Our host Dinara chuckling at how fascinated Uli was with the quaint little town of Belfort, France.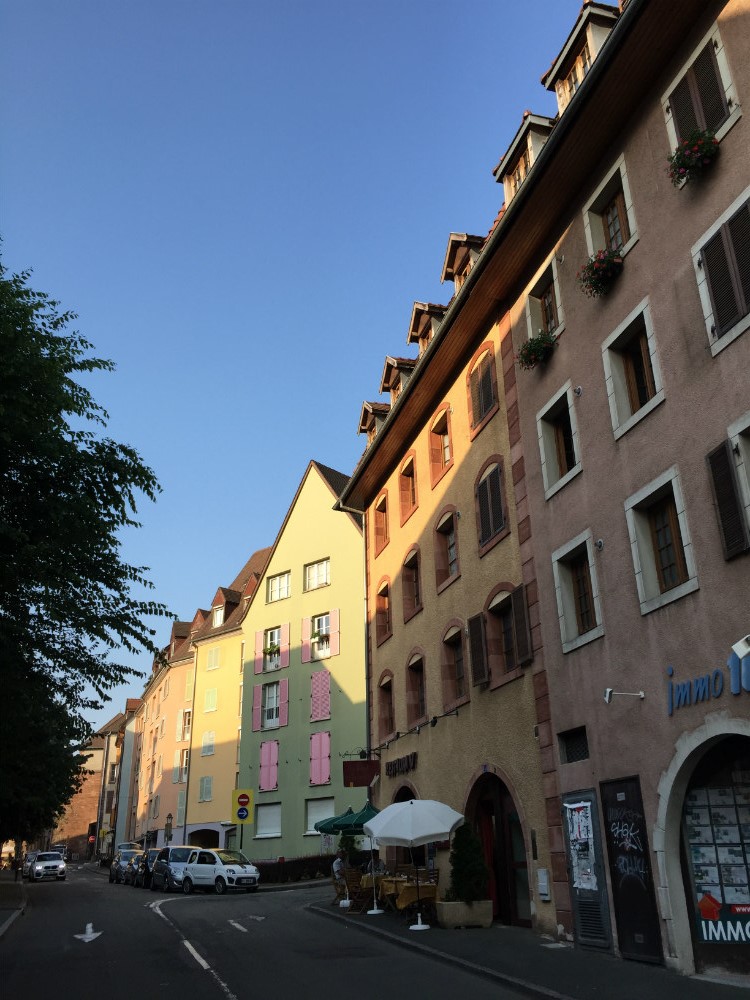 It's hard to resist the charm of the charming, pastel-coloured facades of the French apartments.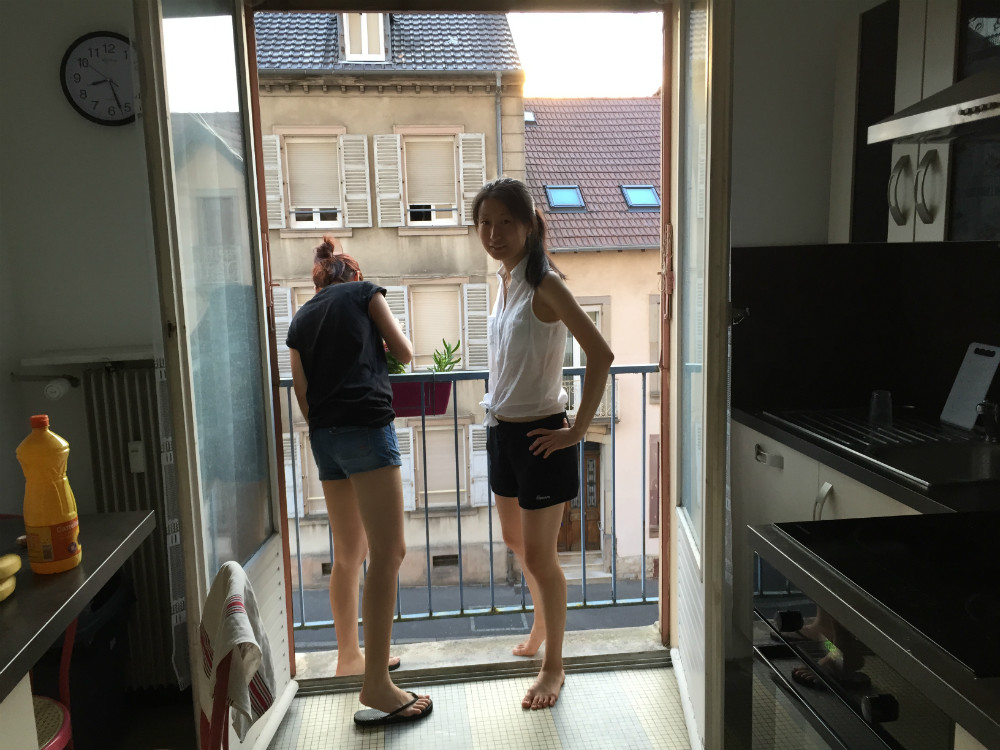 Dinara and Uli having a chat with our neighbour across the street.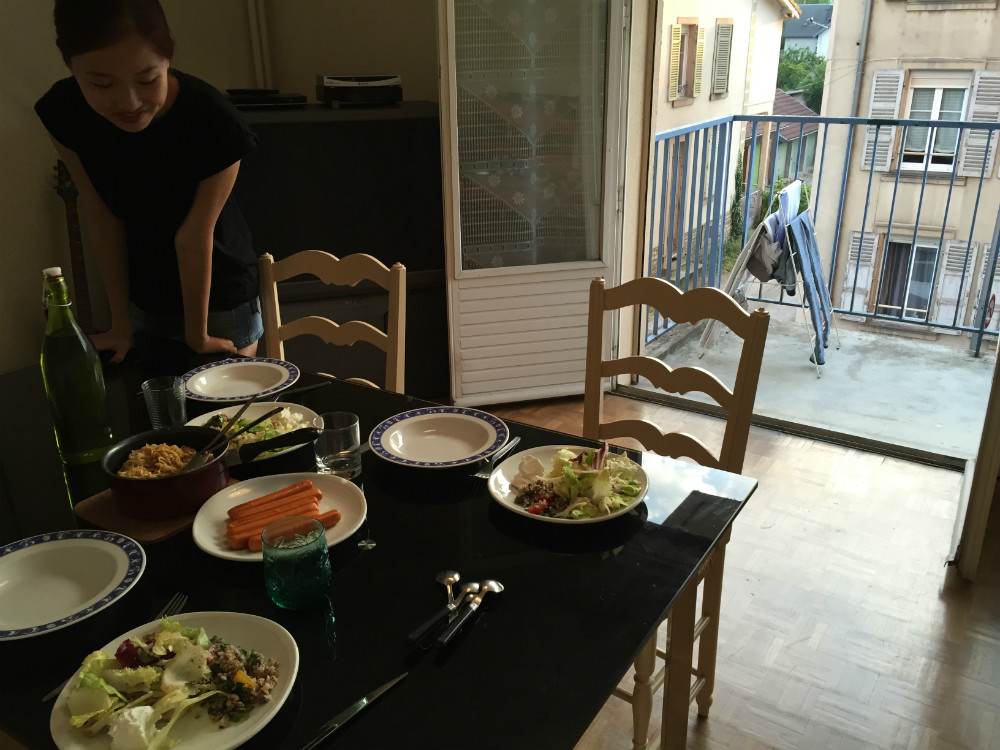 Salad, sausages and Indomie noodles!
It wasn't so much the free accommodation but more of the warm hospitality that Dinara showered on us. When you are in a foreign land, the best thing you can have is a local "friend" who can show you around.
We got to live in a French apartment with a balcony, wave hello and talk to neighbours in the apartment across the street, explore the town of Belfort with Dinara, discover weekend vintage markets, whip out a home-cooked meal together and enjoy a music festival with a new friend. Some experiences and memories you just can't describe with words but you just look back on them fondly with good memories. The photos above epitomises the whole experience for me. To me, this is what travelling is about, meeting new people and sharing spontaneous experiences while discovering new places together.
A timeless train ride from Genoa to La Spezia, Italy
Not sure where's that? La Spezia is the closest town to Cinque Terre, you've probably seen it on Instagram before.
Cinque Terre means "5 towns" in Italian and this is Riomaggiore.
It was just another one of our long train rides from state to state or country to country. However, out of all the train rides, this particular train ride stood out for me somehow. We had just alighted from our carpool ride with 2 french girls who went to the Belfort Music festival too and happened to be going to Genoa, Italy too. Coincidentally, they were heading to Cinque Terre too but on a different day from us.
I remembered vividly how Uli and I lugged our luggage along to the train. The small train stations in Italy are sparse and decrepit and the trains look dusty and old. We shared a cabin with 2 Italian boys who were clearly "bros". They were singing along to Italian songs playing from their phones.
Uli dozed off soon after. I read The Girl on The Train by Paula Hawkins and watched snippets of Blue is the Warmest Colour. Eventually, I simply stared out the windows as the old TrenItalia train whizzed past little Italian towns. Think colourful little houses on the Italian Coast staring out at the Ligurian Sea.
As I gazed at the gorgeous scenery and heard the boys' voices in the background, I soaked up the waves of happiness that crashed over me. I felt at peace with everything, I was fully present in those moments and experienced what I needed to experience instead of constantly thinking about my itineraries. I experienced one of those fleeting special travel moments. The simplest moments when you are travelling can turn out to be the best memories of your travels.
Discovering the German lifestyle in Englischer Garden, Munich
Throughout my travels in Europe, I discovered that the European lifestyle is vastly different from the Singaporean lifestyle and attitude that I am used too. Simply by having conversations with the Europeans or observing them while people-watching, you can tell that they are more relaxed and take a slower approach to life.
They take time to chill and relax in the gardens, have long conversations and quality time with family and friends and are generally more open-minded and friendly, especially the Germans. Oh, I love them. I felt like their lifestyle said, "Don't rush life, savour it slowly."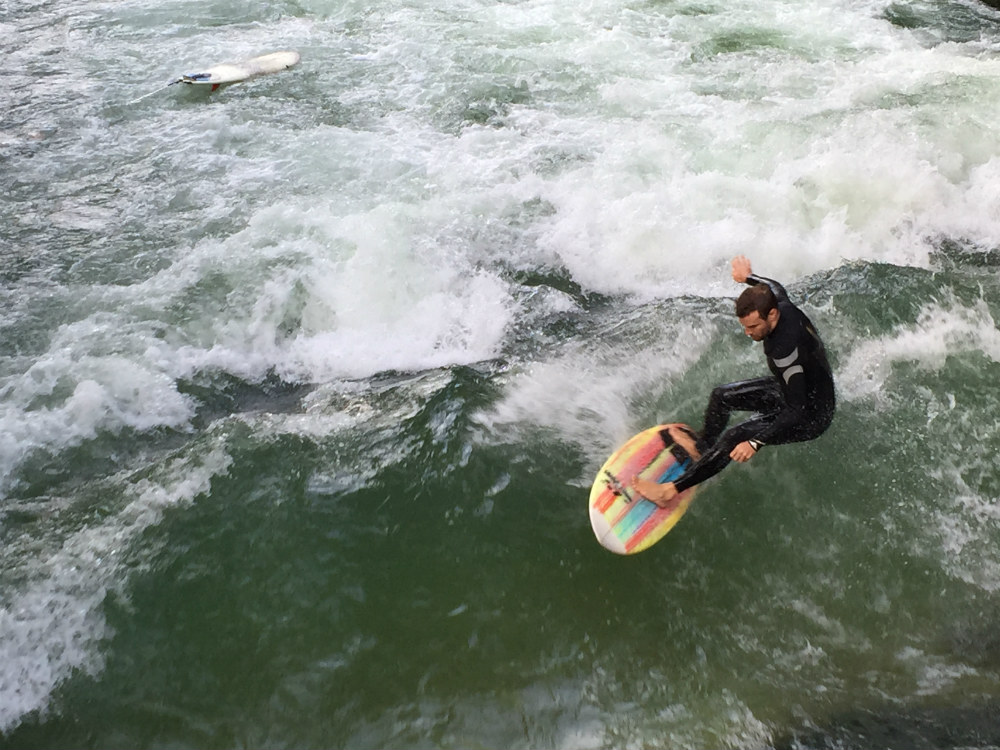 You can surf in a river in a public garden?! Only in Germany …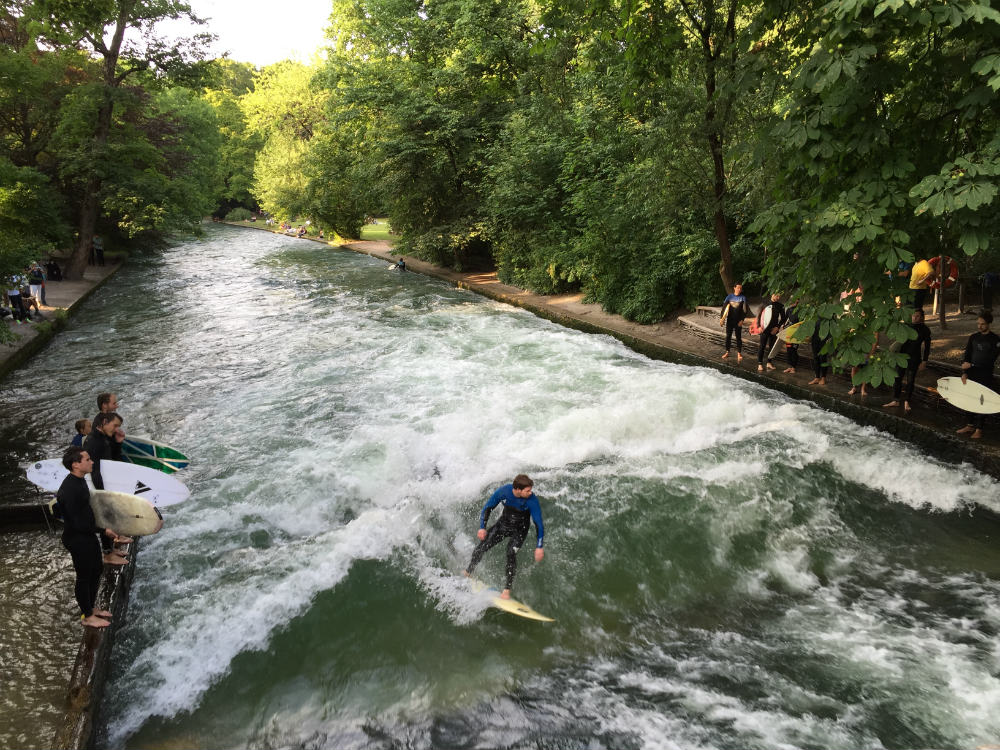 It was summer but I'm sure the waters were frigid, judging by the wetsuits the surfers wore.
As Uli and I explored the vast Englischer Garden on foot, we saw many unique things that created this impression that I have of the Germans. We saw many people in the gardens strolling with their pets, playing with their children in the playground, playing football with their friends, people cycling, playing tightrope across a river stream, surfing in a rapid river stream, people sunbathing in swimwear in a public garden, people swimming in a river stream and simply frolicking in the waters. Just think for a moment, how many of those activities would be banned in Singapore because they are considered to be too "dangerous" in a public park?

The beautiful and gorgeous Englischer Garden that I absolutely adore.
I felt so carefree and relaxed in the gardens.  Part of travelling is experiencing the cultures of other countries and the German culture left a deep impression on me. I told myself I want to live like that. To work hard for what I am passionate about but take time to appreciate the simple pleasures of life with my friends and family, be close to nature and not take things too seriously. Because, isn't that what life is about?
These are just a few of the many special moments that I experienced when I travelled in Europe during the summer of 2015. I hope to experience many more as I travel the world in the future. My dream is to visit Scandinavia and also to do a road trip in Iceland.
What are some of the special travel moments that hold fond memories for you?
Like what you're seeing? Share, like, subscribe and follow more of our adventures on Facebook or Instagram!