Why spend 2 hours travelling from the east to west of Singapore when you can catch a flight for a short yet sweet mini vacay?

PSA: Get 20% off airfares from now till 21 May 2023! Read on for more.
If you've been keeping up with social media, you might have seen a TikTok of a dude who flew all the way to Bangkok to join his friends for a meal. A real solid friend, we'd say.
While it takes a certain kind of gungho to drop everything and travel overseas for a couple of hours, we know there are plenty of people who can make better use of a weekend to explore a foreign destination.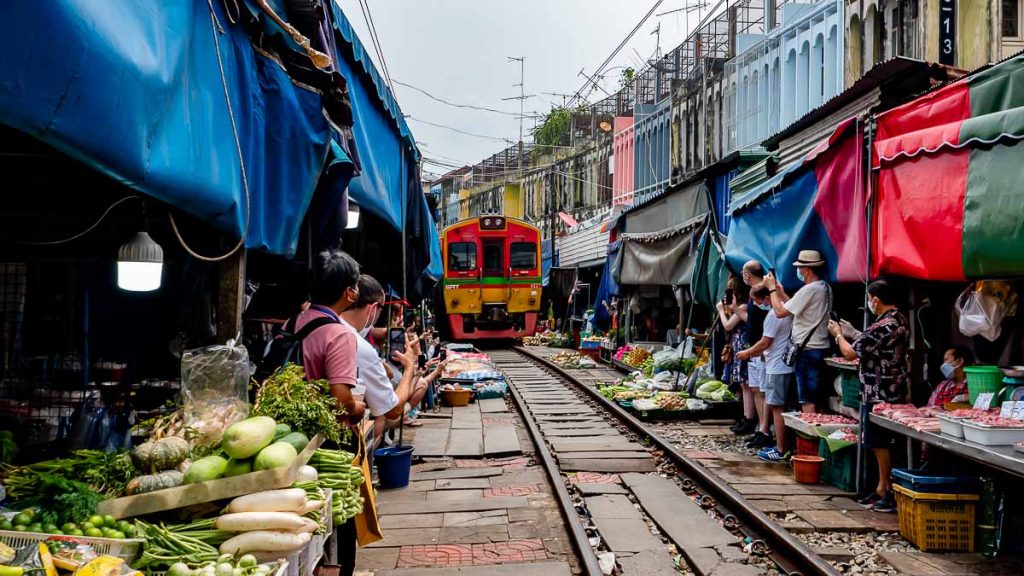 If one of your resolutions is to inject spontaneity into your life this year, here are five quick long-weekend escapes to consider. Need more convincing? They're less than a 3-hr flight from Singapore. Real solid ideas, we'd say.
1) Immersive Nature and Islands of Langkawi, Malaysia (1.5hr flight)
All-in one-way fare: From S$68 (SIN – LGK)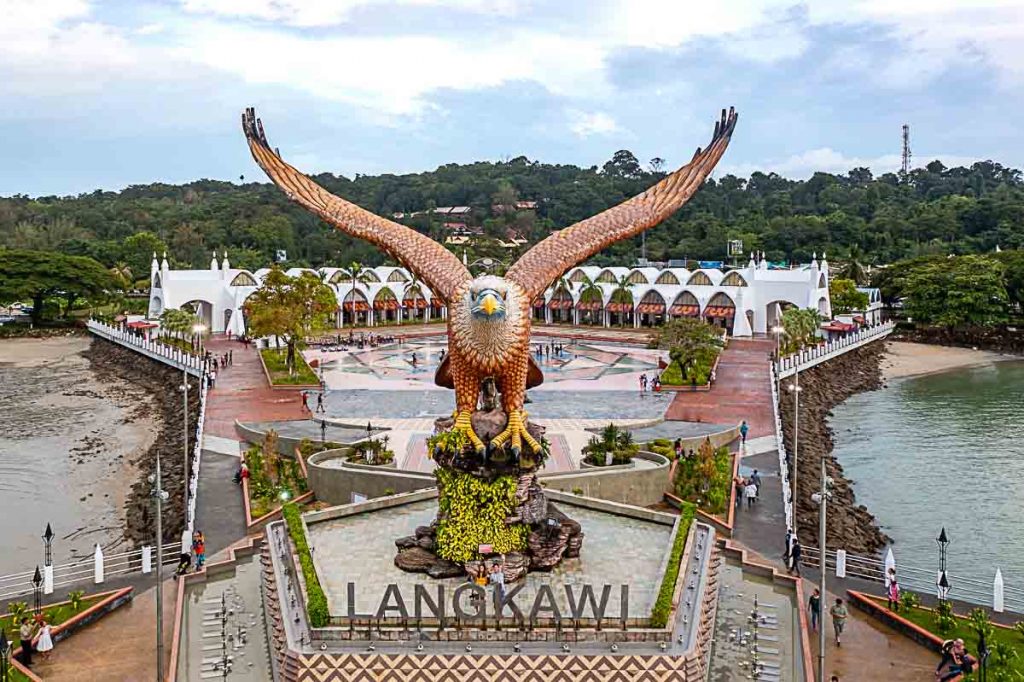 City-dwellers seeking solace within nature need not look very far. Off the coast of northwestern Malaysia lies an archipelago of islands known as Langkawi. This often-overlooked district is pretty much an untouched gem with pristine beaches, lush forestry, and unique geographical formations.
Adventures for the nature lovers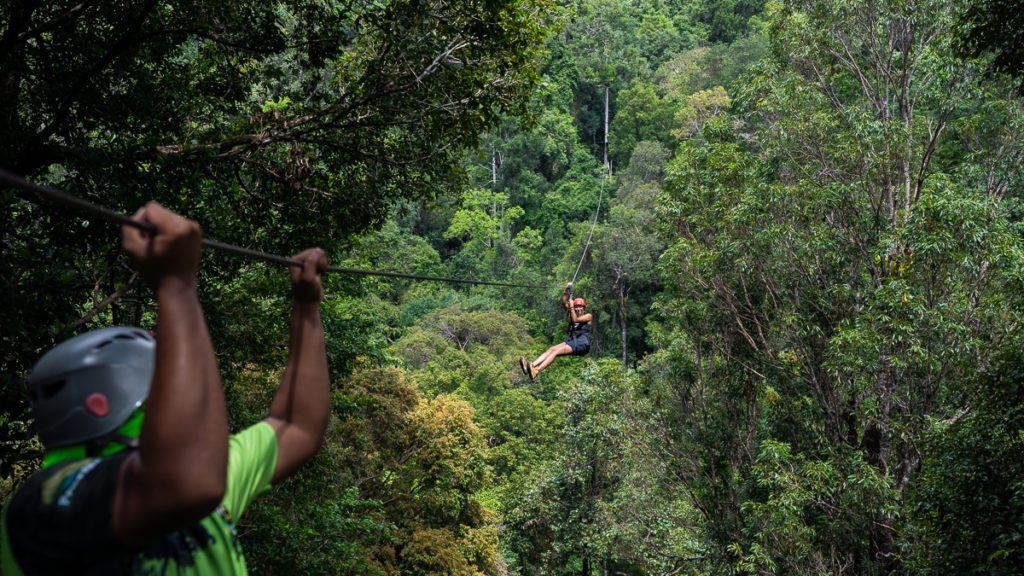 Start the day with a spritz of nature for the ultimate healing experience. Zip right into the embrace of a rainforest on a 12-zip-line adventure course over the famed Seven Wells Waterfall, or go island-hopping on a jet-ski to see some of Langkawi's most beautiful beaches.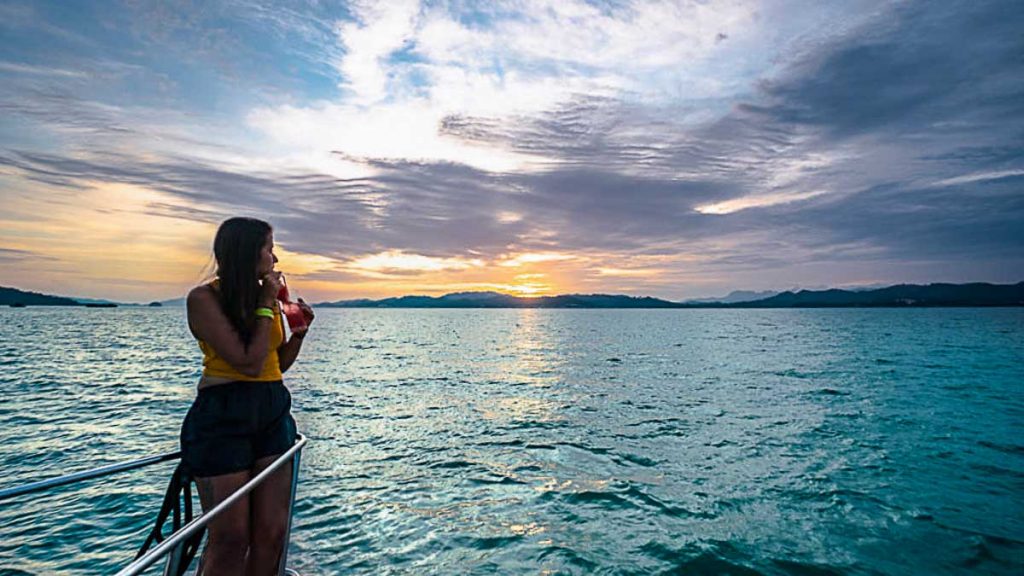 Then, end the day with a sunset cruise that serves up a full buffet spread with local delights and alcohol.
Chill amongst the clouds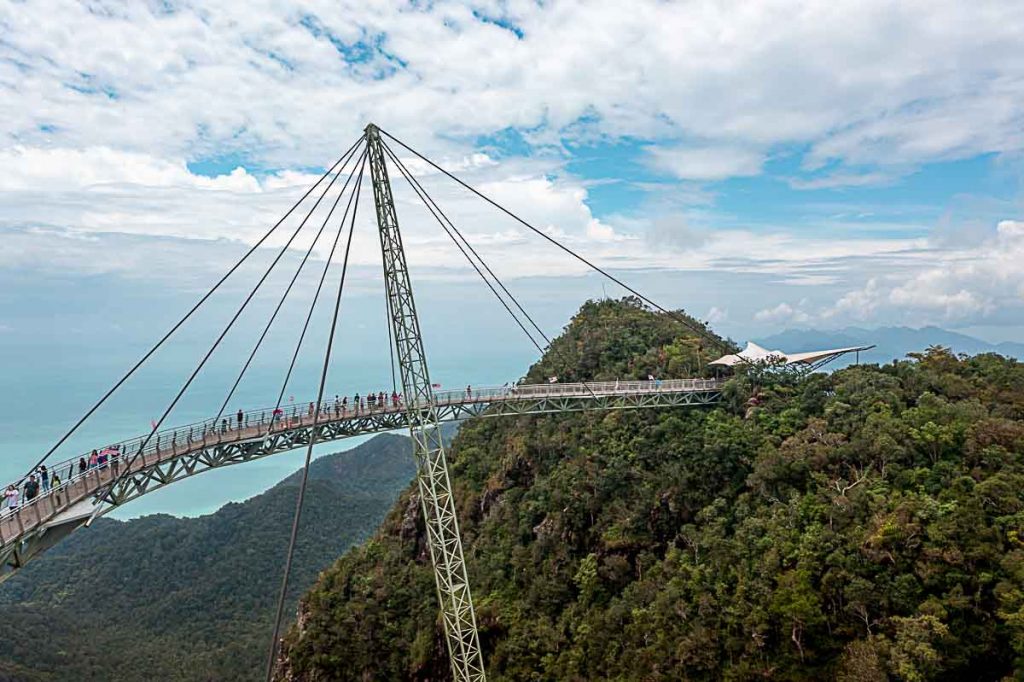 Another must-visit is Panorama Langkawi on Mount Mat Cincang. The geo-theme park is where you can find sky-high activities such as the Sky Cab (a cable car ride), SkyBridge, SkyGlide, and SkyDome. It's also here where you can take in some of the most scenic sights of Langkawi.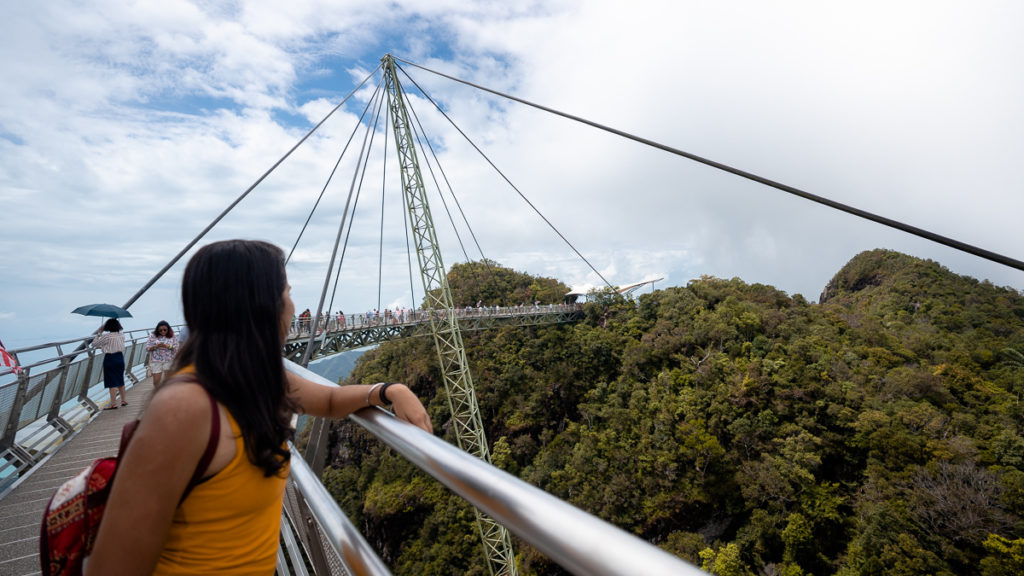 Fun fact: Langkawi enjoys a duty-free status, so alcohol is significantly cheaper on the island.
Read also: Langkawi Guide: Exciting Things to Do in Langkawi Besides the Beach
2) Something for Everyone in Bangkok, Thailand (2.5hr flight)
All-in one-way fare: From S$90 (SIN – DMK)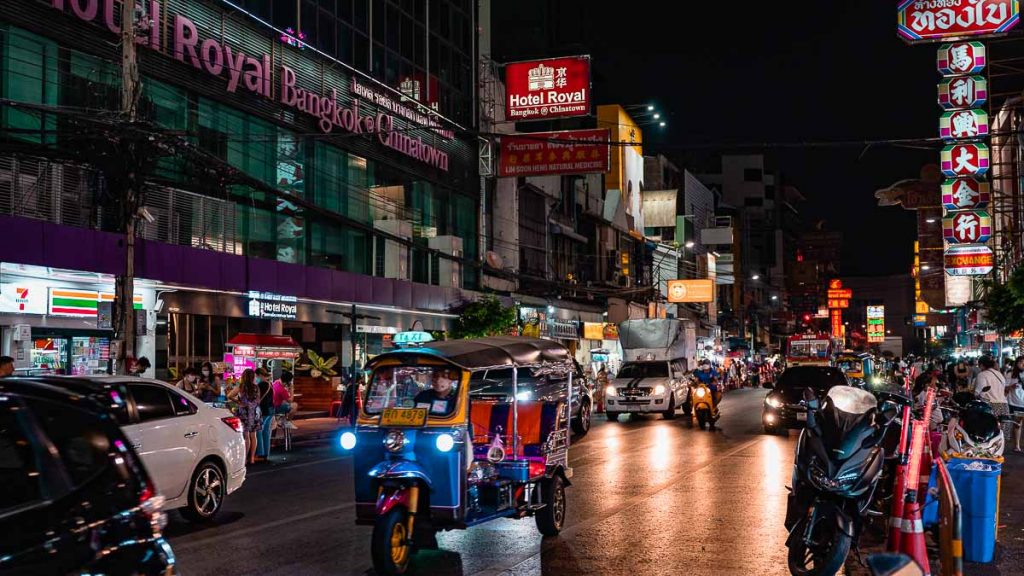 An unassuming contender on this list, Bangkok is no stranger to Singaporeans looking for short trips. Well, there's a lot to look forward to in Bangkok and its surrounding towns, especially after two long pandemic years.
Within Bangkok city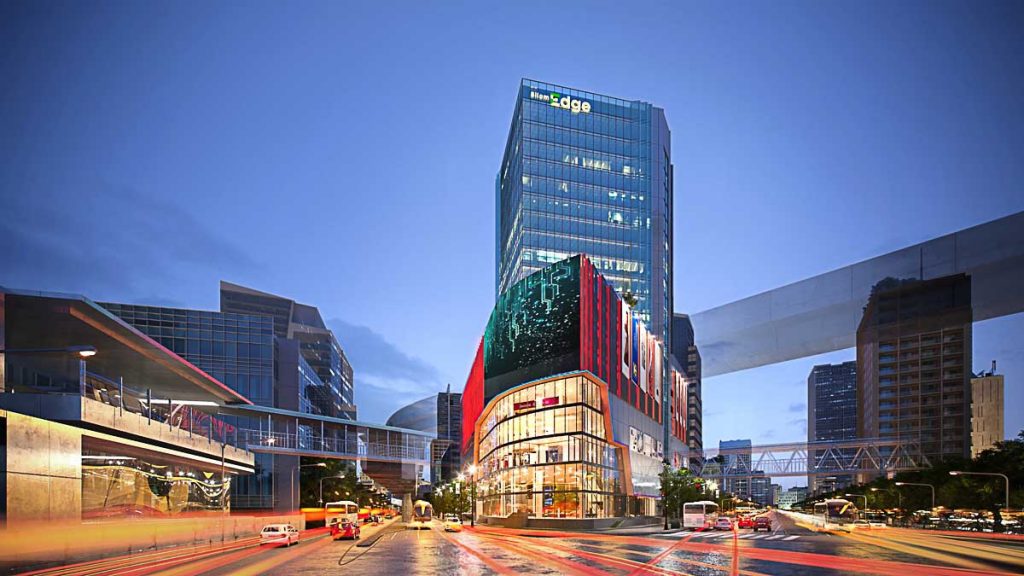 Photo credit: Silom Edge Facebook
PSA to all shopaholics! We know you love Chatuchak weekend market and Platinum Mall, but there are three newly opened malls to buy happiness in Bangkok — Silom Edge, the ICS, and Terminal 21 Rama 3.
These three malls are conveniently connected to either existing malls or a BTS station, and offer a wide range of retail, food and lifestyle services for shoppers.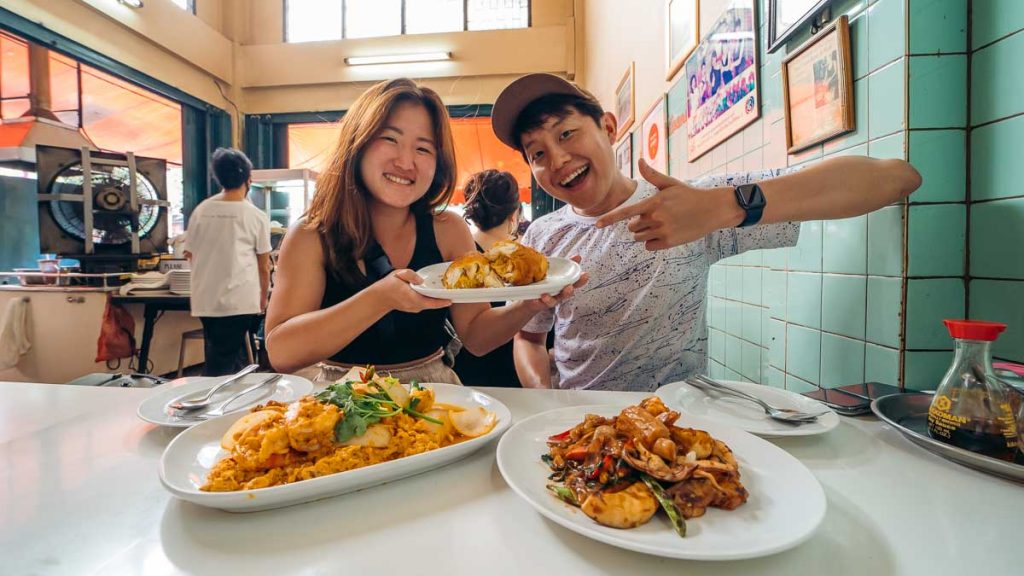 Besides being a shopping paradise, Bangkok is also a gastronomic wonderland — you just gotta know where to find the gems.
For starters (no pun intended), check out Bangkok's many local street food stalls loved by locals and visitors alike. A good place to start would be Yaowarat Road, Bangkok's Chinatown. Some well-loved street food in Yaowarat are Nai Ek Roll Noodles, Guay Jub Ouan Pochana, Sweettime dessert stall, and Yaowarat Toast.
Nai Ek Roll Noodles.
We've covered 9 of our favourite eateries in Bangkok that prove you really don't have to spend big money to satisfy your tummy.
And if bistros and cafes are more your thing, the ever-changing cafe scene in Bangkok never disappoints with its wide selection of thematic and IG-worthy cafes.
Short day-trips out of Bangkok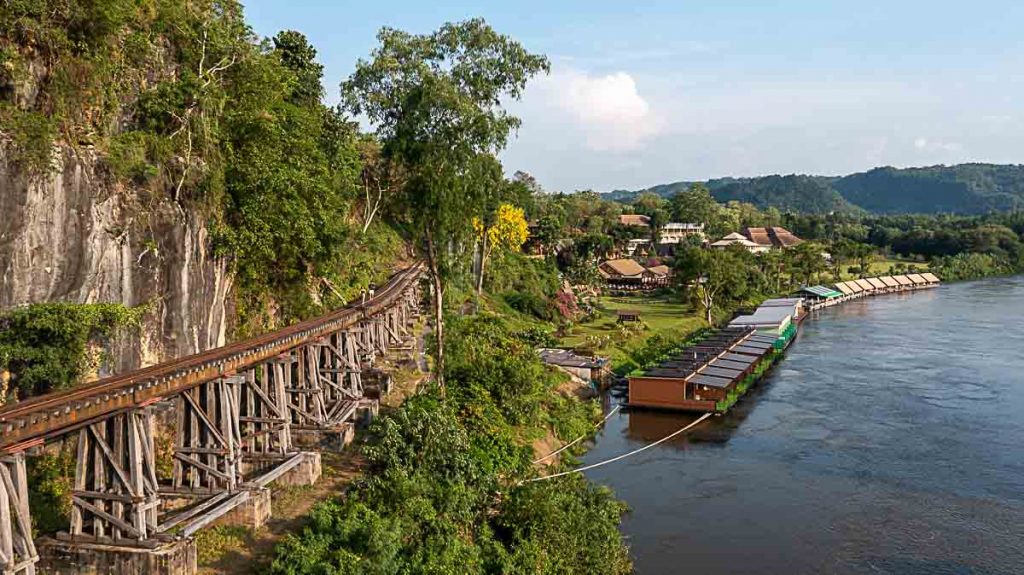 Death Railway, Kanchanaburi.
Want a change of landscape? Take a short day trip out of Bangkok city and explore rich historical and cultural towns like Ayutthaya and Kanchanaburi, or outdoorsy retreats like Khao Yai and Hua Hin.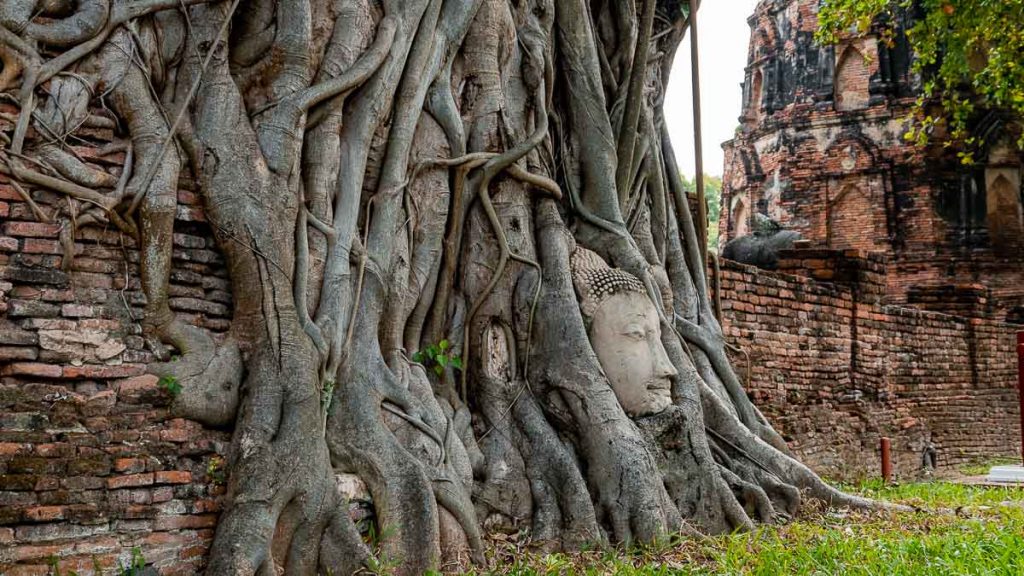 Visit ancient ruins from yesteryear in Ayutthaya on a guided temple tour with round-trip hotel transfer from Bangkok.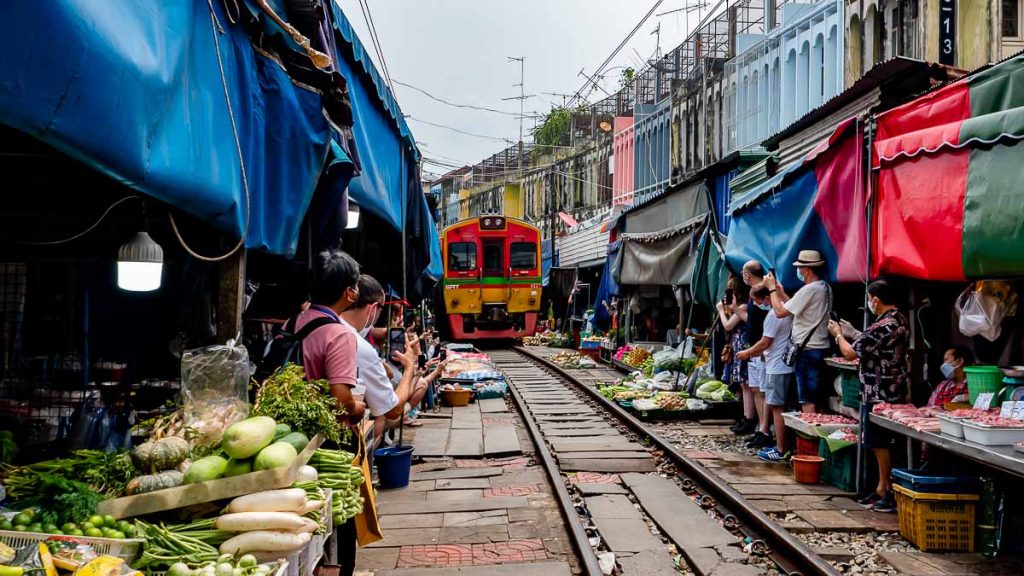 Just an hour's drive out of Bangkok is the famous Mae Klong Railway Market. The most ideal time to visit would be around 10AM in the morning when most stalls are still open.
Read more: Thailand Road Trip Guide: 5 Epic Ideas Under 3hrs from Bangkok
3) Sights & Scenes of Surabaya, Indonesia (2.5hr flight)
All-in one-way fare: From S$89 (SIN – SUB)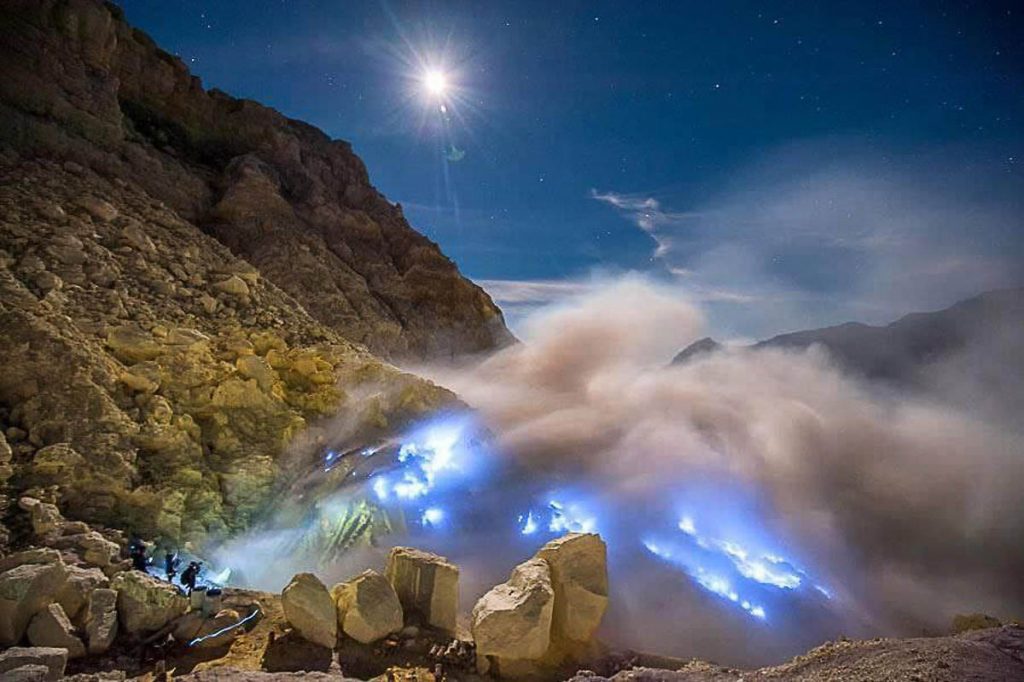 Photo credit: @ccarmelitaaa via Instagram
Not many people see Surabaya as a long-weekend destination but it's actually closer to Singapore than Bali is! And for reasons you'd go to Bali for, Surabaya may just have the same, minus that tourist price tag.
Afternoon tea at the grand Hotel Majapahit Surabaya – MGallery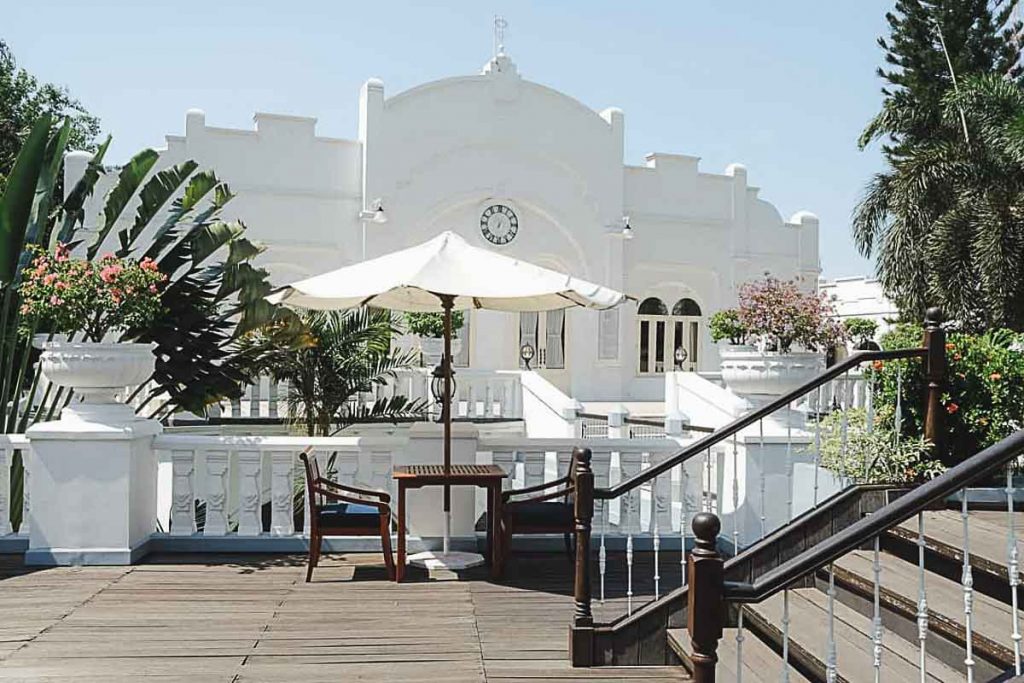 Photo credit: @hotelmajapahitsby via Instagram
Hotel Majapahit Surabaya – MGallery, a luxury boutique hotel with a rich history dating back to 1911, is located in the city centre within walking distance to many of Surabaya's attractions.
However, you don't have to be a hotel guest to experience what Hotel Majapahit is most known for — an afternoon high tea fit for the Queen, which locals and tourists rave about!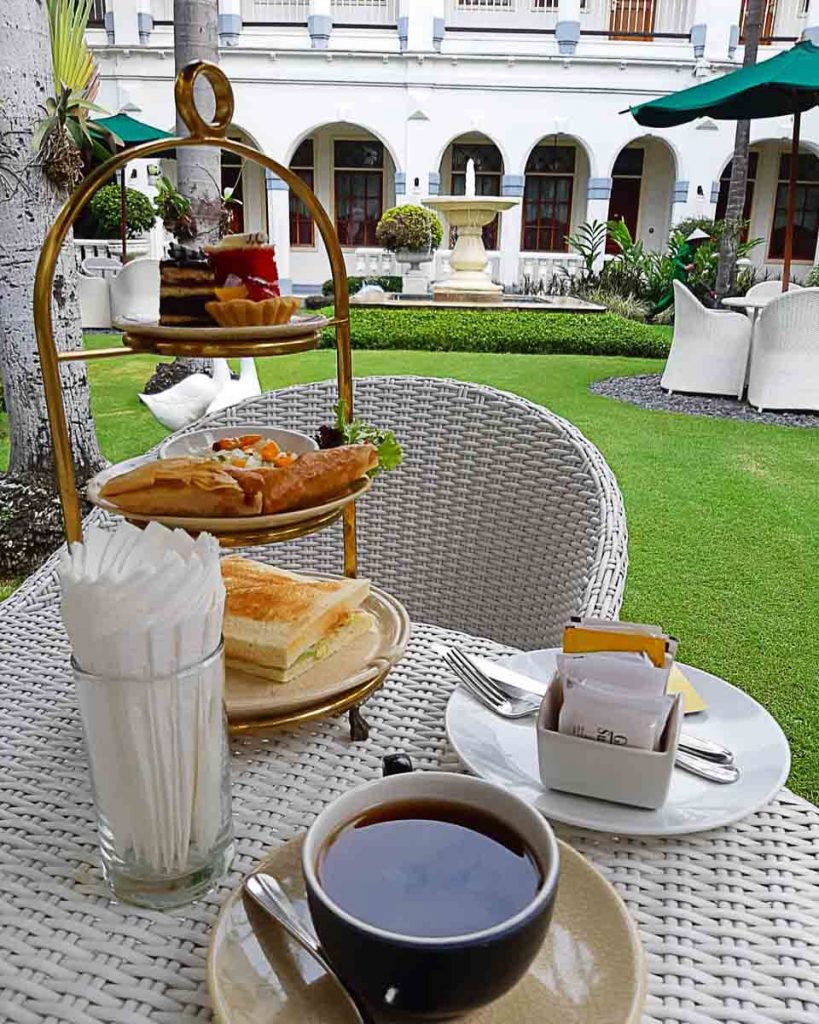 Photo credit: @hotelmajapahitsby via Instagram
And this lavish spread need not cost you an arm and a leg. Each set costs Rp95,000 to Rp200,000 per person, that's less than S$20! The set includes finger sandwiches, a variety of pastries, as well as fine teas. Mhmm, living like an atas taitai without having to splurge like one.
Trek up the most beautiful volcano in Surabaya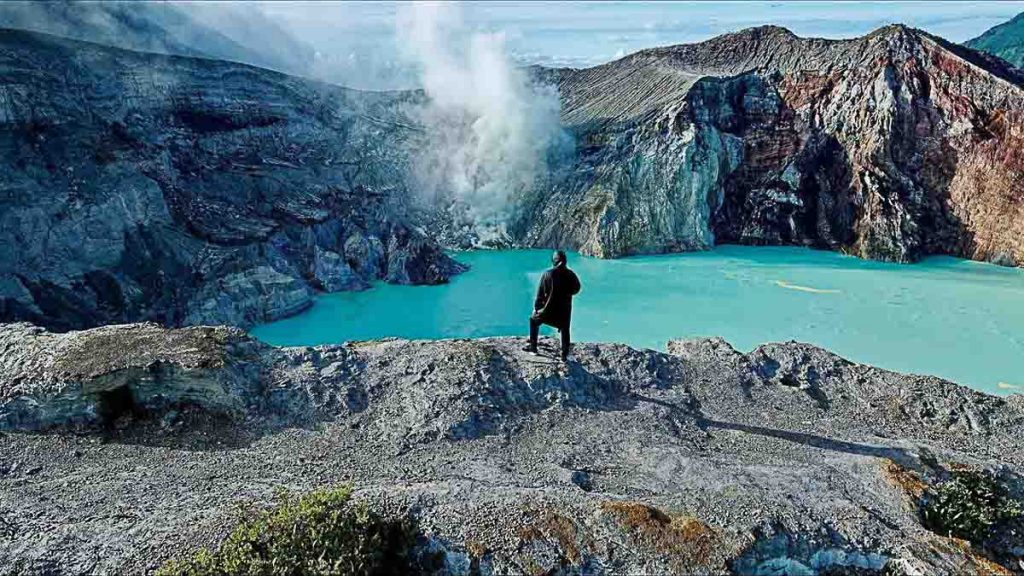 Photo credit: @radchenko_aleksey via Instagram
And if you're looking for a dose of nature on your healing holiday, don't miss the Ijen Crater. The dormant volcano's crater sports a magnificent turquoise-blue lake, and when night falls, Ijen bursts to life with electric blue flames from its crater.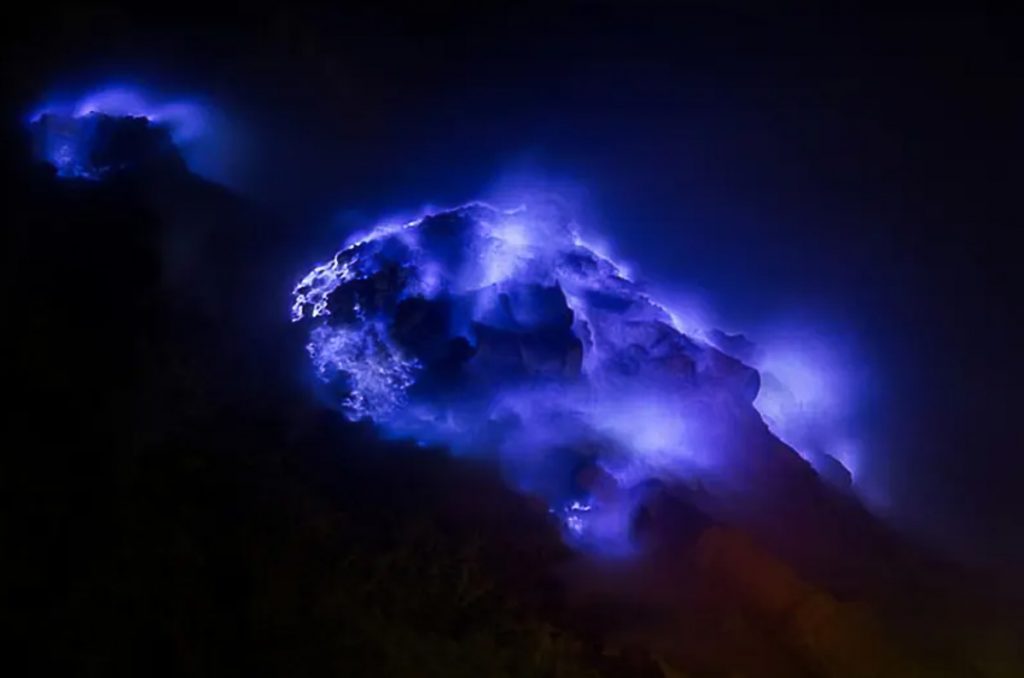 Photo credit: Klook
The hike up to the Ijen Crater viewpoint takes about 2 hours, and we recommend some stamina training before embarking on the hike. If you're not the fittest but would still like to witness Ijen's mesmerising crater and blue flames, there are trolley services to and fro at a fee.
We recommend signing up for private Ijen trekking tours (from ~S$85/pax) which include round-trip transfers from your accommodation and an experienced local guide.
4) Culinary Expeditions in Kuching, Sarawak, Malaysia (1.5hr flight)
All-in one-way fare: From S$75 (SIN – KCH)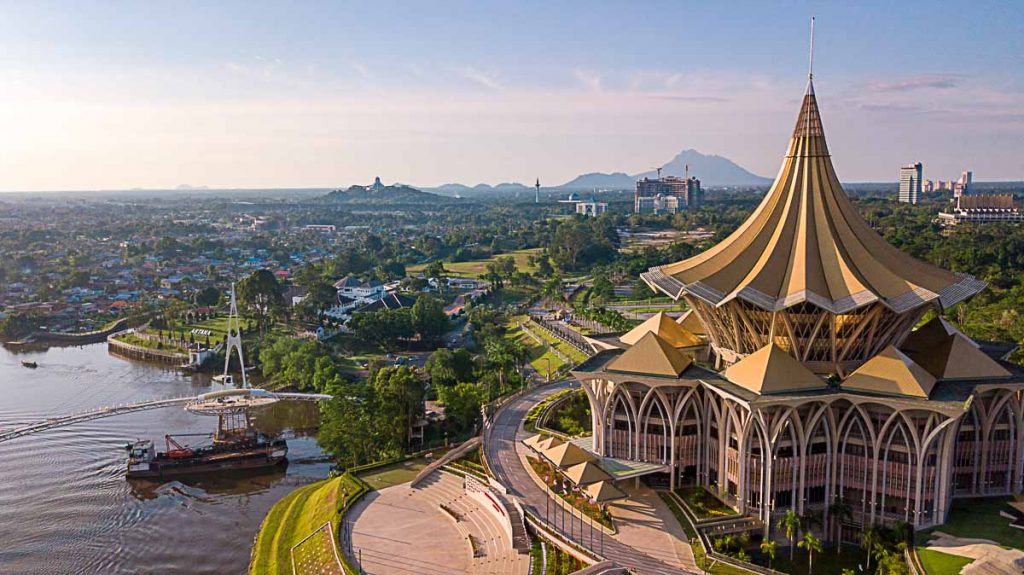 Most people visit Peninsular Malaysia (the side with Singaporeans' favourite city, Johor) but East Malaysia (you know, Borneo?) is just as vibrant and scenic. And in this lesser-known side of Malaysia lies the quiet city of Kuching, a true hidden gem with great food and an abundance of nature and scenery.
I could go on but you don't need many days to experience the best of Kuching. Three full days are enough.
Self-guided food trail in Kuching city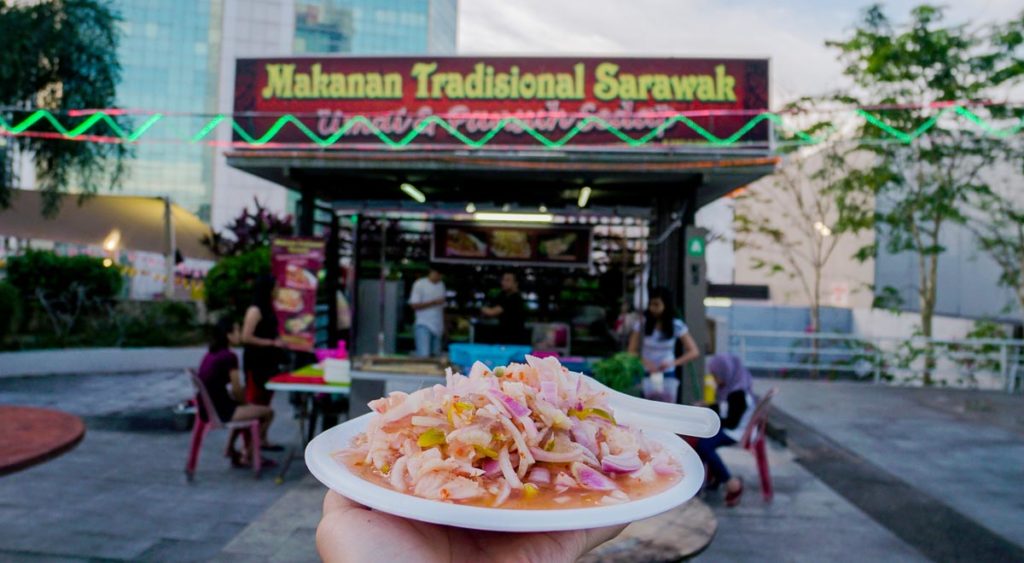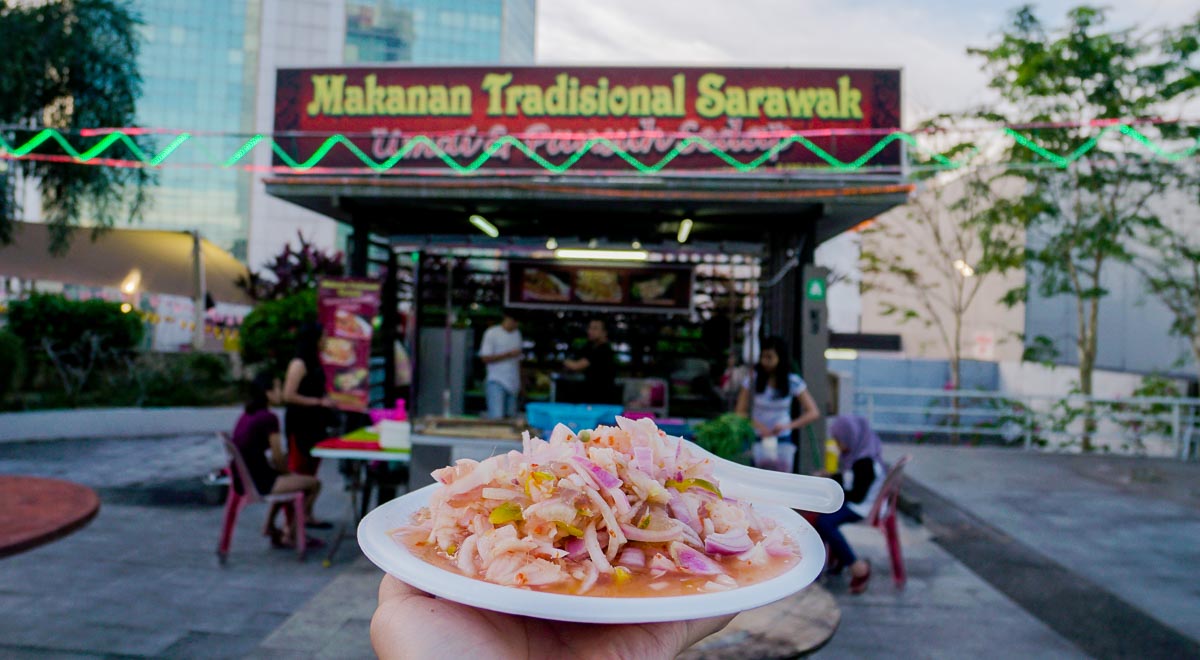 Sarawak umai, a local delicacy prepared with sliced raw fish and a mixture of onions, chillies, vinegar, salt and lime juice.
The locals call Kuching their food capital and we can see why. Known for its diverse culinary scene, one can dedicate an entire short weekend trip to explore Kuching's wide food options.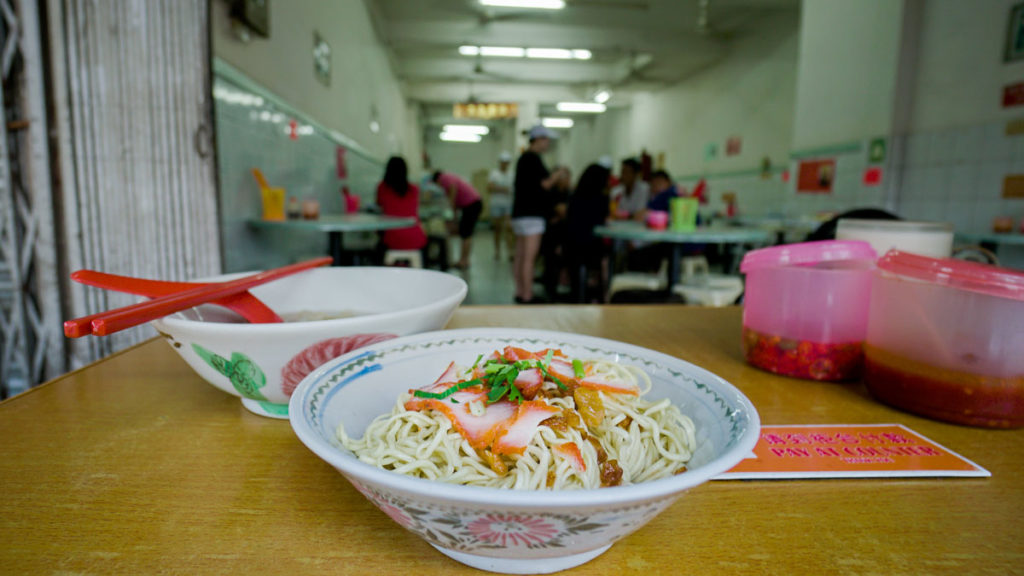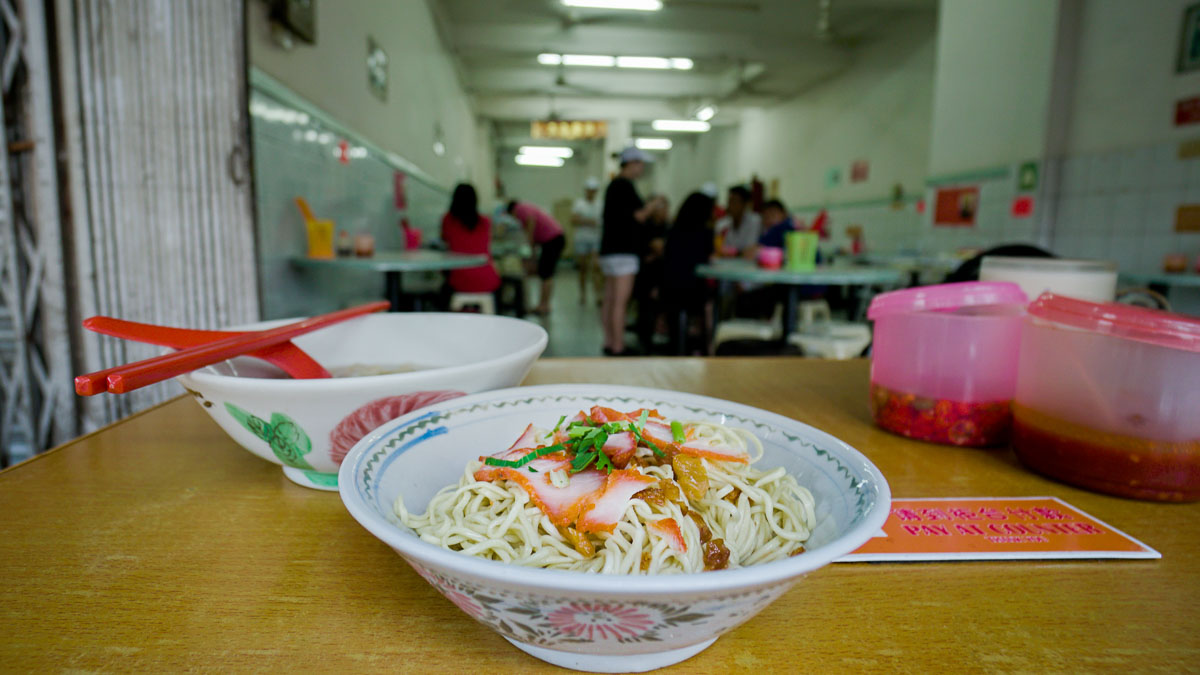 At the top of the food list is Sarawak kolo mee, a humble-looking noodle dish that locals eat any meal of the day. There are many kolo mee stores in Kuching, but we have a favourite. Find out which in our Kuching food guide!
Don't leave Kuching without trying some Sarawak umai (a tangy and refreshing appetiser made with raw fish), thunder tea rice, and midin (an edible fern that's only found in Sarawak).
Soak in the untouched nature of Sarawak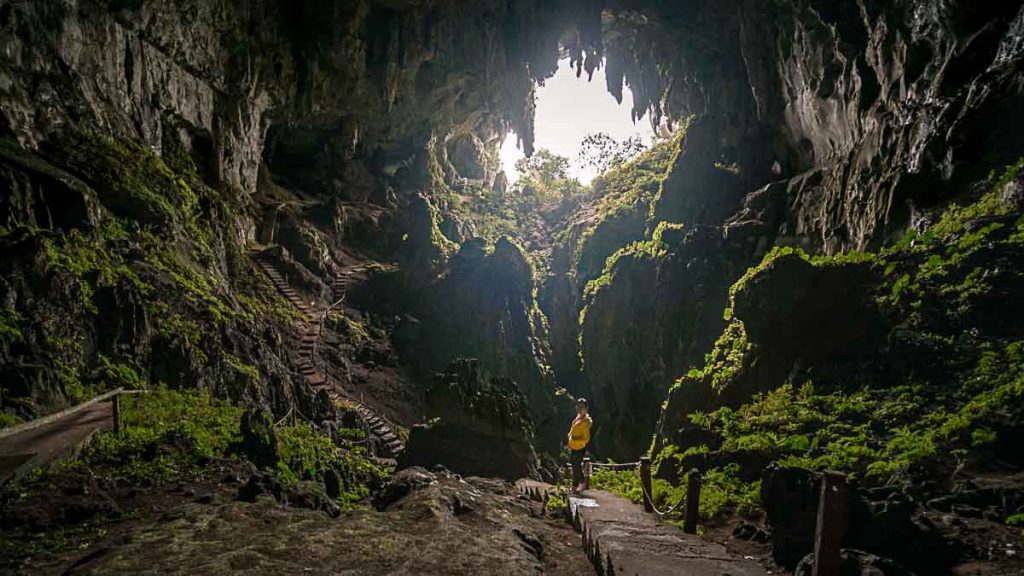 Within the Fairy Cave in Bau town, Sarawak.
After a full day on the food trail, explore Kuching's natural scapes to burn off the calories. An hour from Kuching's city centre lies the town of Bau, where the beautiful Fairy Cave lies. The limestone cave got its name from the stalagmite structure at the entrance that resembles the Chinese Goddess Guan Yin.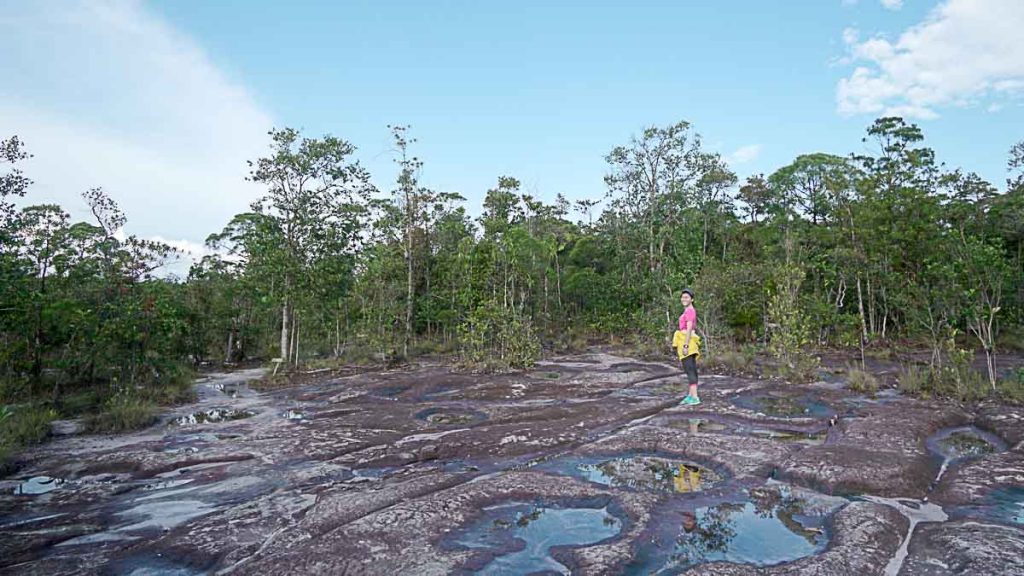 If you prefer hiking, there's also the Bako National Park, a nice teaser of Borneo's great rainforests. Bako National Park has a total of 18 trails ranging from easy walking to only-attempt-if-you're-serious-about-it.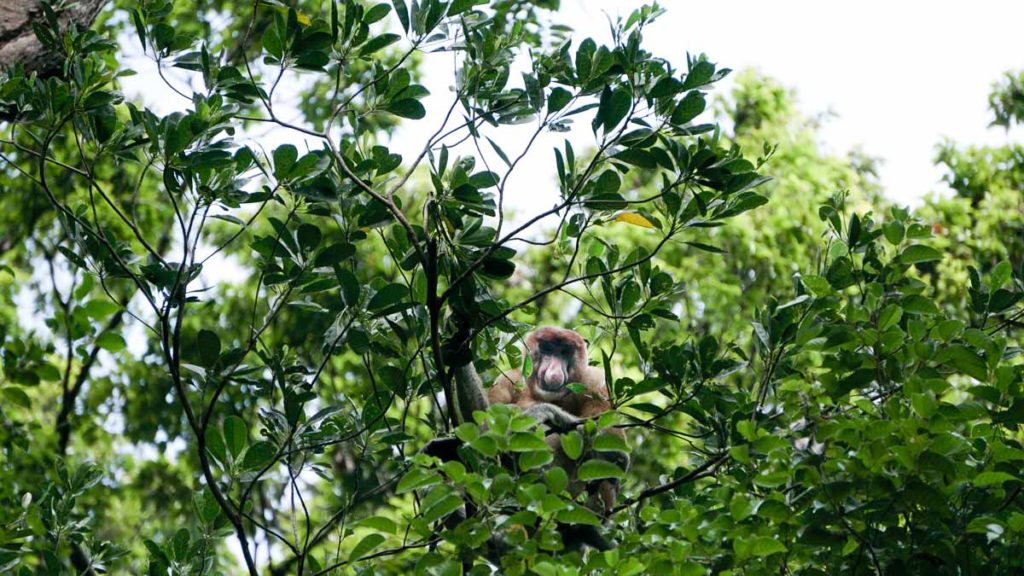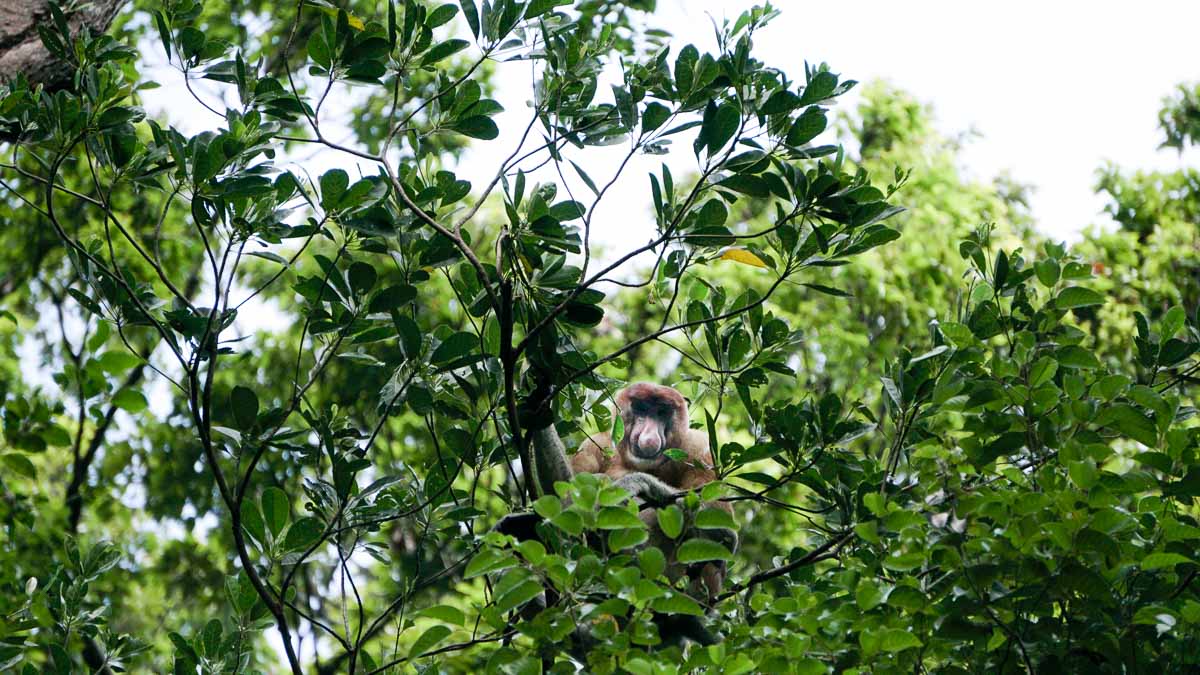 If you're lucky during your hike, you may get to see some flying lemurs, snakes, and bearded boars (keep a friendly distance though!) and even catch a glimpse of the elusive Proboscis monkey!
Read also: 3D3N Kuching Itinerary – An Adventure-Filled City
Bonus: 5) Quiet retreat few know about – 4hr flight to Kota Bharu incl. layover
All-in one-way fare: From S$128 (SIN – KBR via KUL)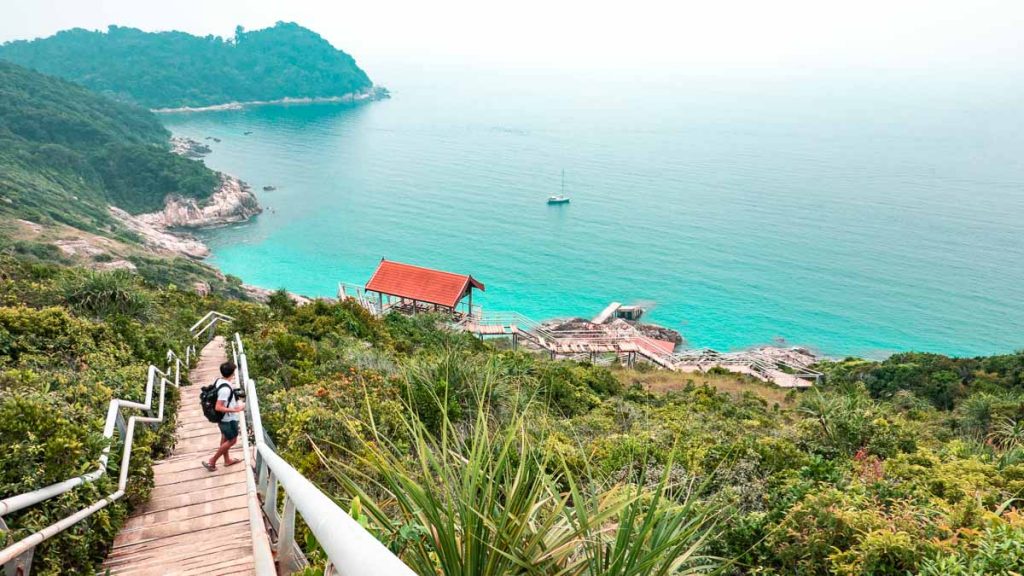 Windmill Point of Perhentian Kechil.
And the final destination on our list isn't exactly a direct flight away, but it still deserves a mention because it's probably the closest island paradise to Singapore.
Kota Bharu, a charming city in Kelantan state, is the gateway to the beautiful Perhentian Islands in Terengganu.
Swim with marine creatures on the Perhentian Islands
Pristine beaches and crystal clear waters make Perhentian Islands the perfect islander getaway. Snorkel or scuba dive in Pulau Perhentian Kecil and frolic around the cutest marine creatures in the sea.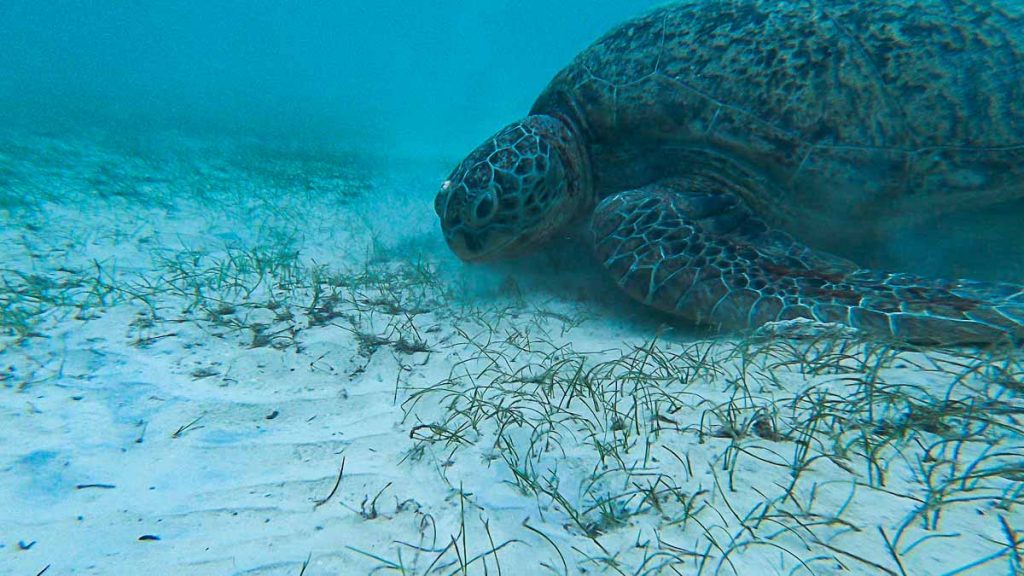 The relatively calm waters mean high visibility between 10 and 20 metres deep. You can even spot sea turtles if you're lucky! The Perhentian Islands aren't just for skilled divers — you can enjoy the clear waters as long as you are confident enough to be in the water.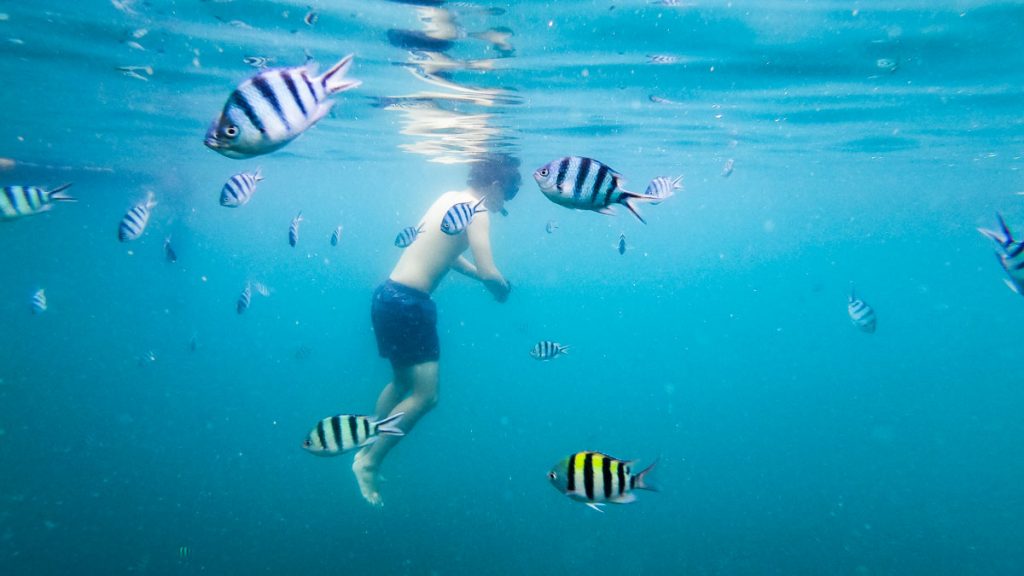 There are several dive shops that loan dive and snorkel gear to visitors. Overnight stayers at the Perhentian Islands can also look out for snorkelling tours organised by the resorts at a fee.
An idyllic retreat in Kota Bharu city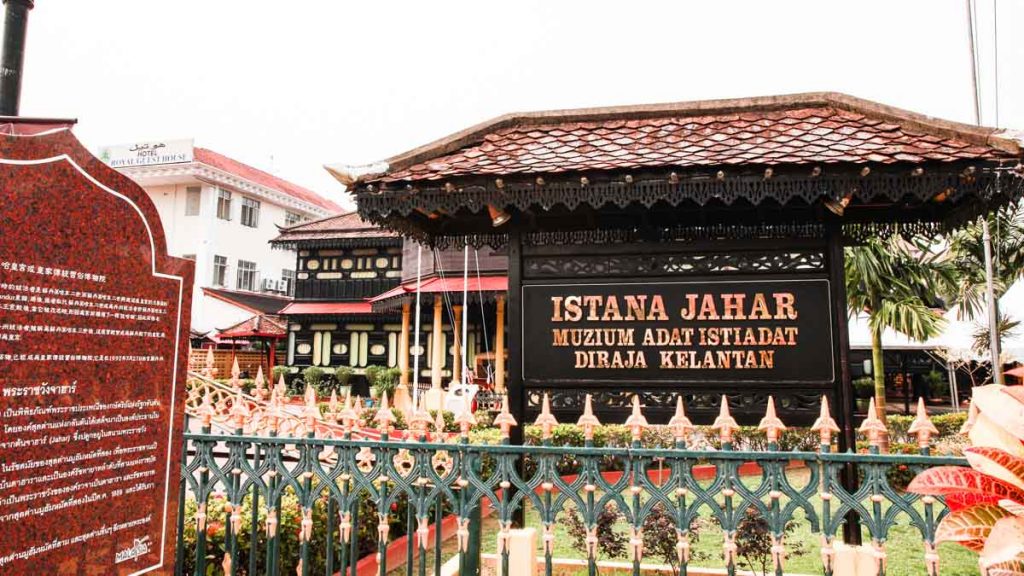 Muzium Jahar, or Istana Jahar, a palace-turned-museum.
Apart from the Perhentian Islands, the city of Kota Bharu itself is worth a day's exploration.
Visit landmarks that tell stories of the historically and culturally-enchanting state of Kelantan, starting from the Gelanggang Seni cultural centre that has cultural arts performances and Muzium Jahar, a 19th century Royal palace-turned-museum that showcases Royal ceremonies practised in Kelantan back in the days.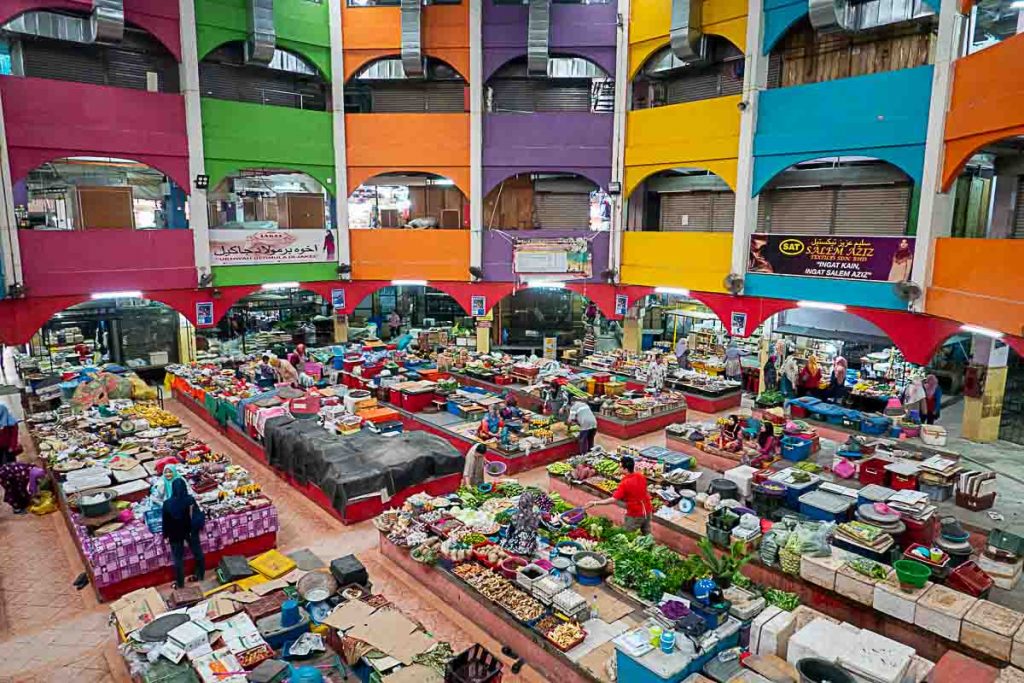 Also, don't miss the Siti Khadijah Market that's known as the most colourful market of Kota Bharu. The four-storeyed marketplace is where locals shop for groceries and necessities, from fresh and dry produce to garments and hardware.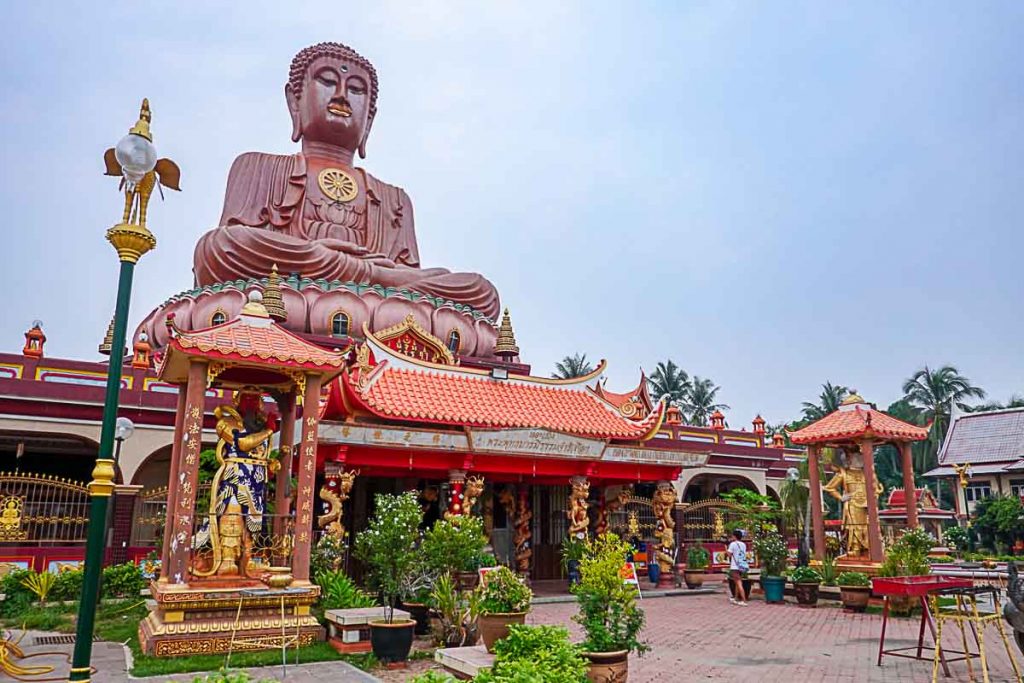 Kota Bharu is also home to several Thai Buddhism temples due to its geographical proximity to Thailand. Of which, Wat Machimmaram and Wat Prothivihan are the two most prominent temples for housing the tallest sitting Buddha and largest reclining Buddha statues in Malaysia respectively!
Read also: Kota Bharu Guide: Gateway to the Beautiful Perhentian Islands and a Lesser-known Malaysia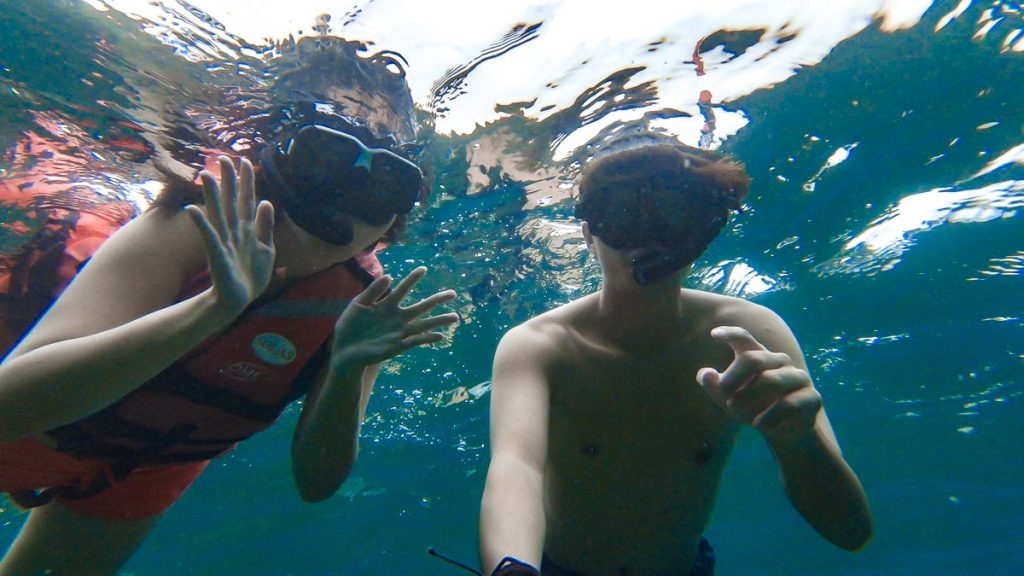 Singapore is surrounded by many neighbouring countries with so much to offer. Take advantage of the strong SGD, short direct flights, and several long weekends coming our way to explore the wonders beyond our borders. Who knows, the one with the next viral TikTok for leaving Singapore on a whim might be yours. 😉
Flight Promos for your next SG weekend getaway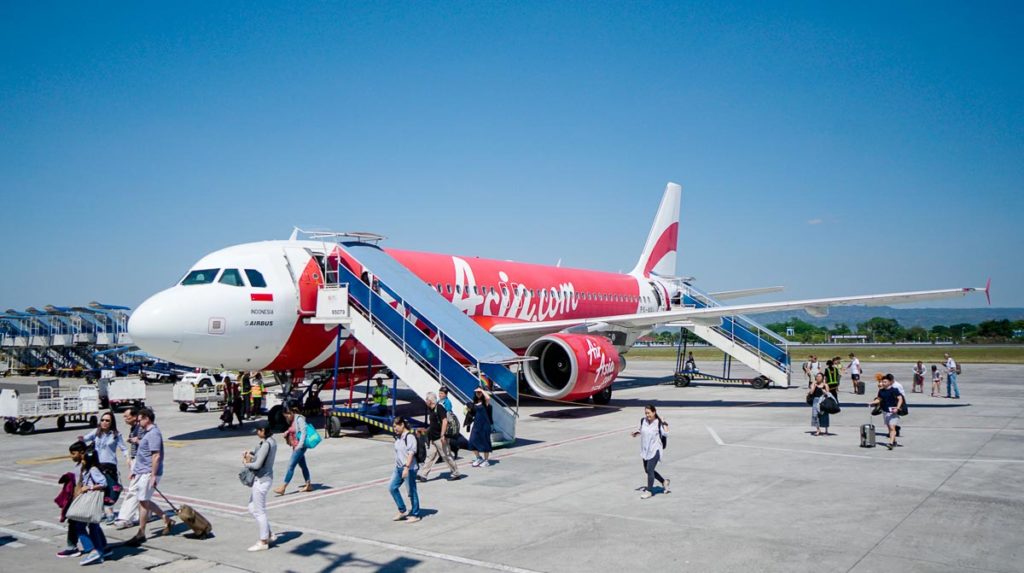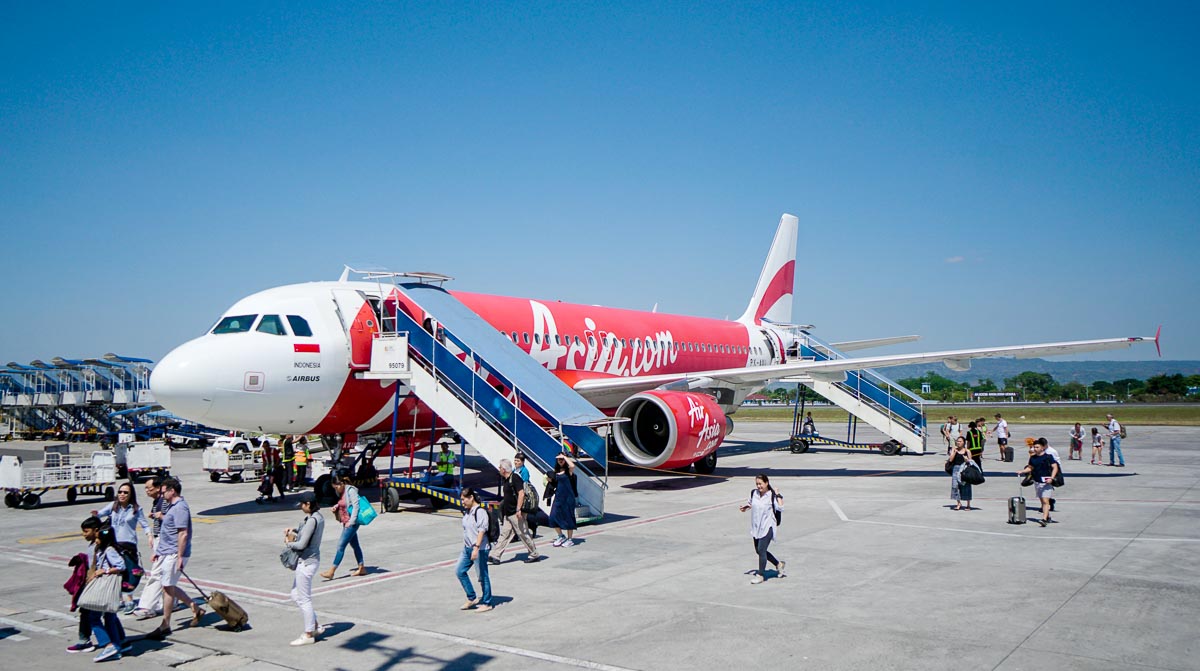 There's no need to limit yourself to the usual weekend activities when so many amazing destinations are just a short flight away from Singapore. Whether you're looking for adventure, relaxation, or new culinary experiences, there's something for everyone.
From 15 to 21 May 2023, AirAsia is having an exciting promotion for 20% off on all seats and all flights for travel between 1 June to 14 December. This is just in time for the few upcoming long weekends such as Vesak Day and Hari Raya Haji, as well as the June school holidays!
With its hub located in Kuala Lumpur, AirAsia provides short direct flights around the region and makes lesser-known Southeast Asian cities and towns more accessible to travellers from Singapore. Make good use of this sweet flight promo to visit your favourite short-trip destinations or explore a totally new nearby hidden gem.
What are some other hidden gem cities in Southeast Asia that we should check out? Tell us in the comments!
---
This post was brought to you by AirAsia.
Like what you see? Follow us on Facebook, Instagram, YouTube, and Telegram for more travel inspiration!