This Revolut Review has been updated here.
I'm a pretty old school traveller, the kind that usually brings loads of cash on a trip. I still remember carrying S$3,000 worth of cash for my three-month solo backpacking trip around South America because I wanted to avoid getting crappy debit/credit card exchange rates!

Yet it's a pain exchanging money before a trip. Other than physically heading to a store somewhere, there's the struggle of figuring out which money changer has the best rates.
Read also: Which Multi-Currency Travel Card is best for me?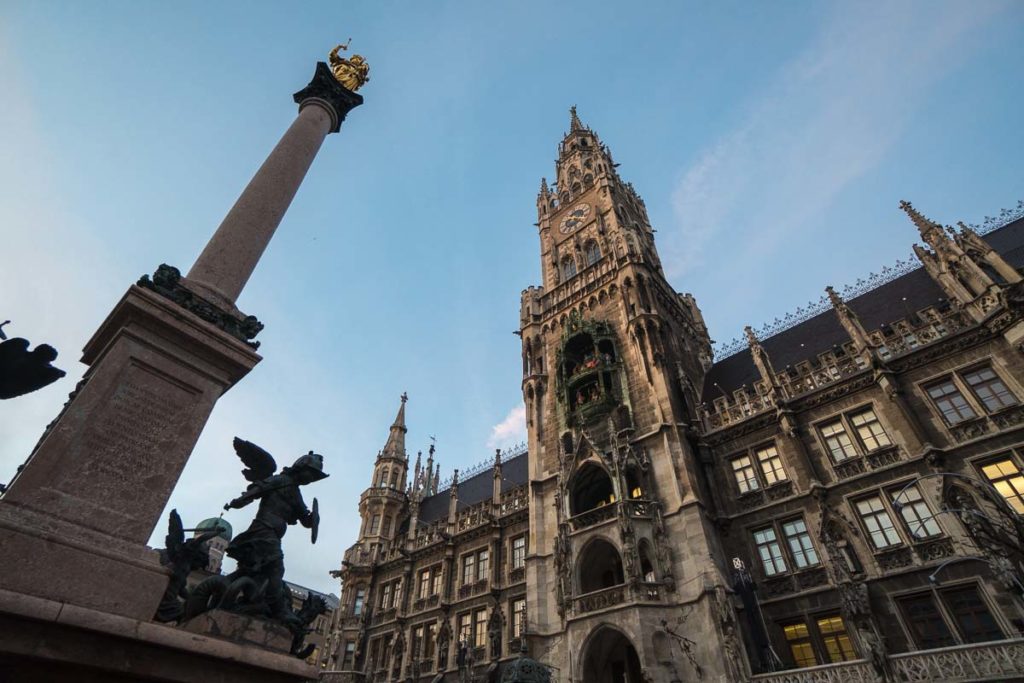 When Revolut reached out to us to review their product, I thought it was a good idea to travel around Germany without any cash (ok I had maybe €2.8 of coins).
We're not finance people, but we tried our best to experience it as a normal traveller and see what worked and what didn't. Hopefully you'll find this Revolut review useful!
Disclosure: While the writer was provided with spending allowance to test the card, it's in The Travel Intern's interest to protect the editorial integrity of our website. We have taken every reasonable effort to ensure a realistic and honest review for our readers.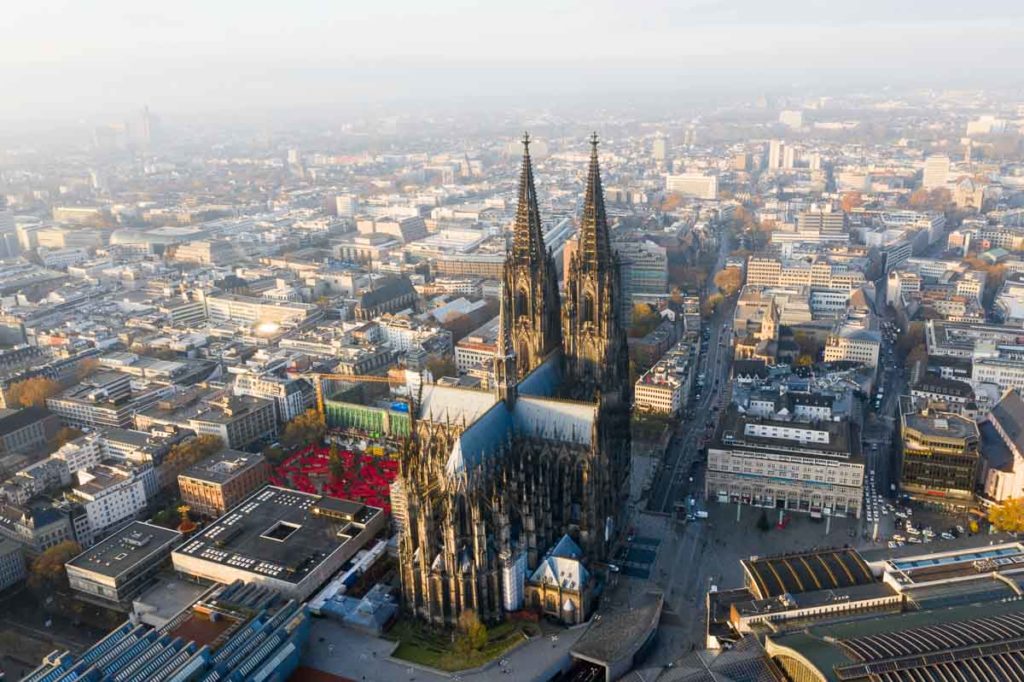 But first, what's a Multi-Currency Travel Card?
The basic premise is that credit cards charge too much for currency exchange, and multi-currency travel cards try to level the playing field with better exchange rates (very close to the physical money changer). You can also typically hold multiple currencies in your account, allowing you to plan ahead and exchange money when the rates are more favourable.
Revolut Review: How it works
Compared to many other multi-currency debit cards, Revolut has plenty of interesting features. Here's an overview of the important stuff.
Main Revolut Features & Pricing Plans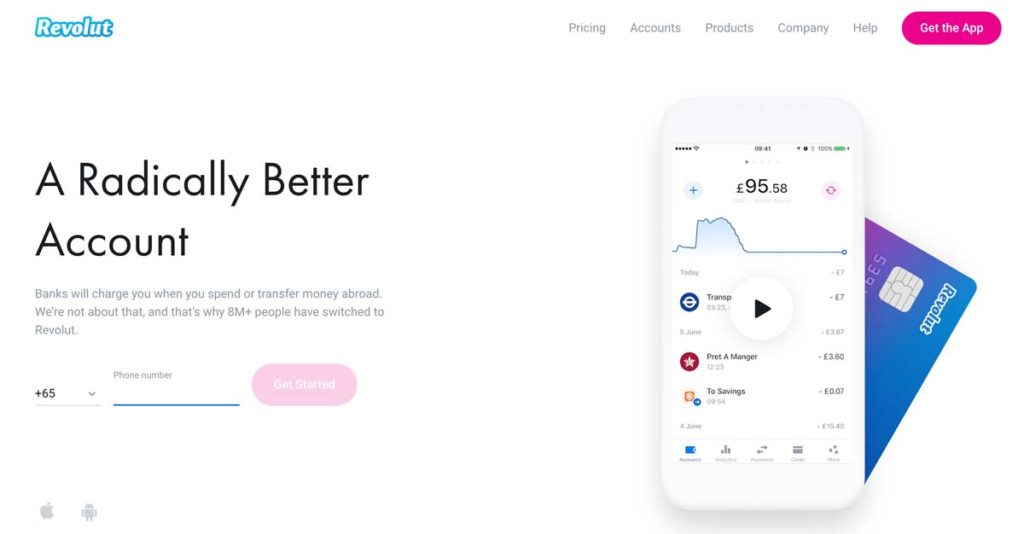 Revolut Multi-currency Debit Card & Wallet
Your Revolut card works like a debit card, and you can use it in any place that accepts Visa. Simply top-up using your debit/credit card, and you're free to exchange and store up to 28 currencies in your multi-currency wallet.

When you make a purchase, the card will automatically deduct from the relevant currency. If there are insufficient funds in that currency, it will automatically convert any leftovers from your other currencies, starting from your base currency (SGD in our case). This ensures that payment is always seamless as long as you have money in your account.
Revolut Budgeting Tools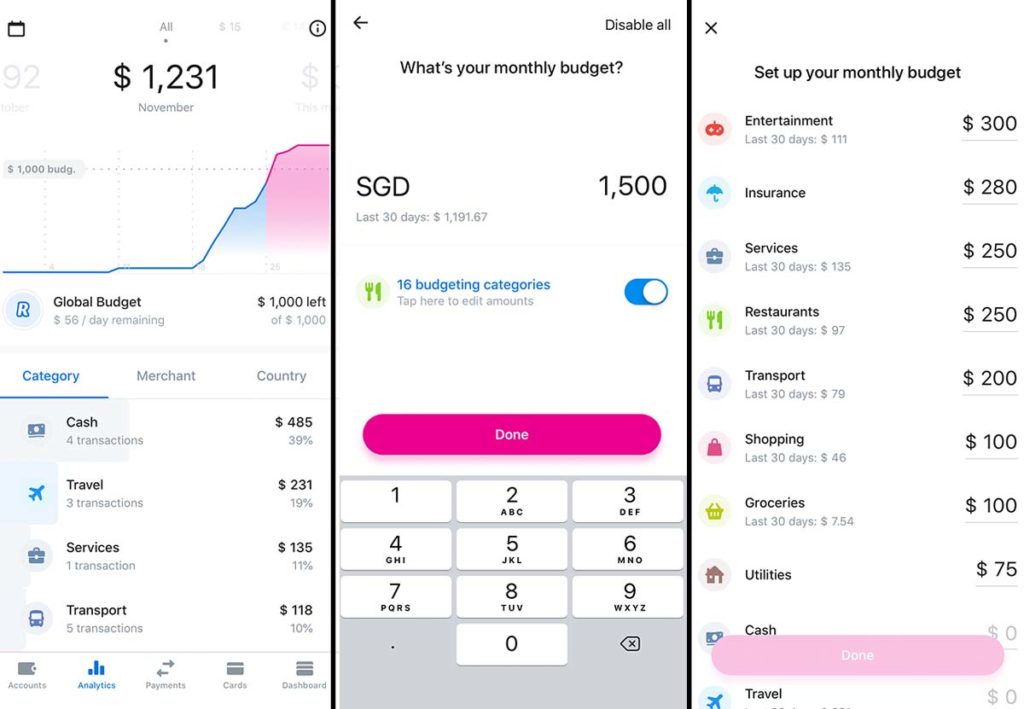 Other than acting as a multi-currency wallet and overseas debit card, there are also budgeting and analytics tools on the App to make spending more organised. Revolut automatically categorises all your purchases instantly, making it easier to track and manage your expenses. You can even set monthly budgets by categories and easily tell when you overspend.
To make it more effortless in saving towards your goals, there is also a feature called Vault that can add your spare change into a savings vault. It does this by automatically rounding up your purchases to the nearest dollar and saving it in your account.
Revolut is free to use, but if you want even more features, there are three Revolut Visa cards with monthly subscription plans.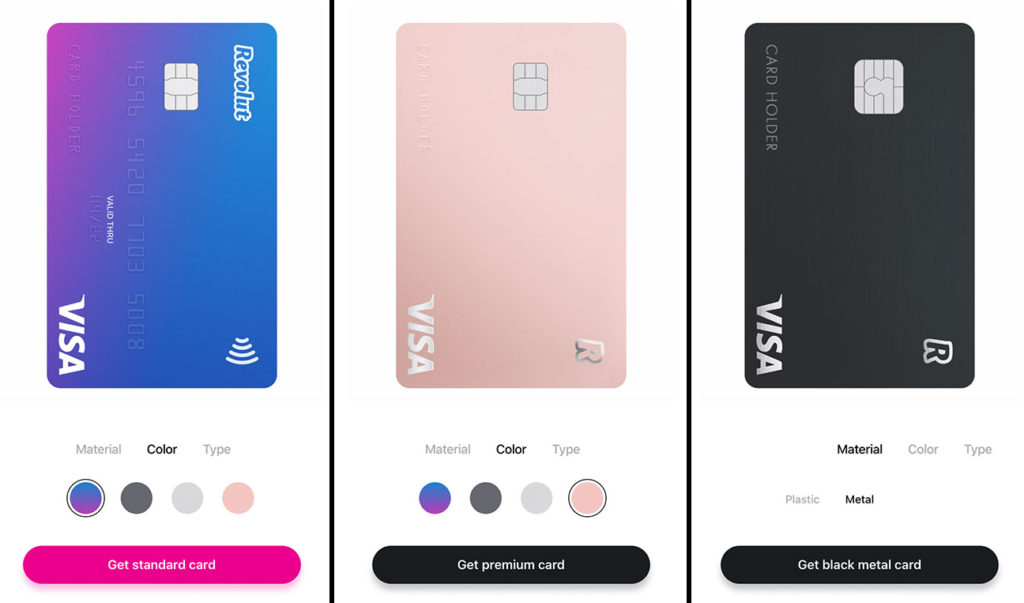 Standard
Premium
Metal
Cost
Free
S$9.99/mth
S$19.99/mth
Supported
Currencies
150+
150+
150+
Money
Remittance
Yes
Yes
Yes
No. of Currencies
you can store
28+
28+
28+
Overseas ATM
Withdrawals
No fees up to
S$350
per mth
No fees up to
S$700
per mth
No fees up to
S$1050
per mth
Insurance
None
Medical,
Baggage Delay, Loss/Dmg Items
Medical,
Baggage Delay, Loss/Dmg Items
Lounge
None
LoungeKey
Pass
LoungeKey
Pass
Disposable
Virtual Cards
1 free
Unlimited
Unlimited
Cashback
None
None
1% on overseas
spending
Support
None
Priority
Priority + Dedicated
Concierge
Card
Normal Card
Premium Card
Excl. Metal Card
The paid Revolut Pricing Plans gives you a higher limit for ATM withdrawals, a lower currency exchange fee, priority customer support, nicer physical cards, and LoungeKey Pass access. The Metal Card also offers 1% cashback on overseas spending.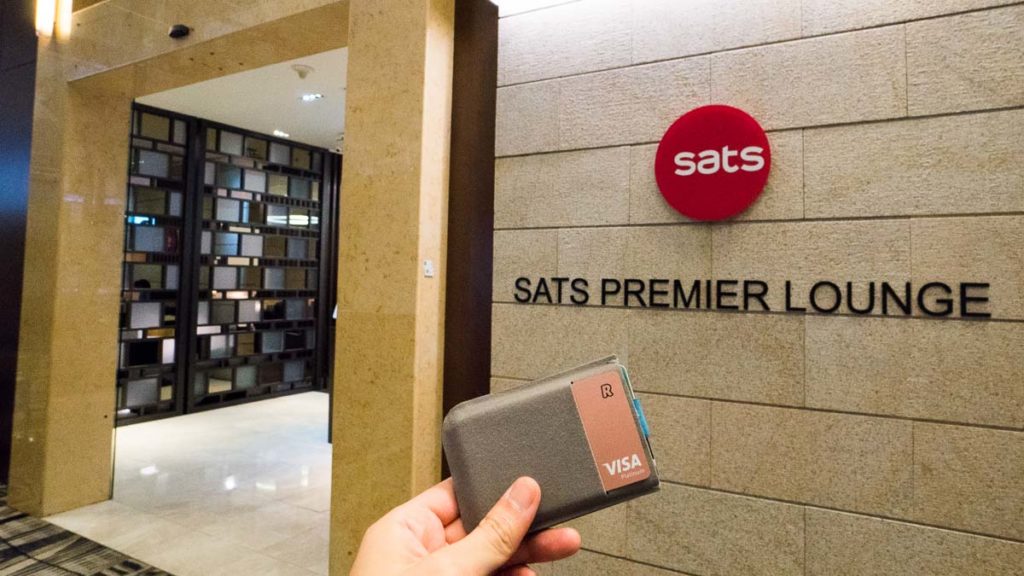 Interestingly, the paid Revolut cards also provide travel insurance coverage from Tokio Marine. They mainly cover:
– Emergency Medical Treatment & Related Expenses with a maximum aggregate limit of S$10m per Policy
– Emergency Dental Treatment up to S$2,000
– Delayed baggage cover up to S$200
Currency Exchange Rates & ATM Withdrawal
Currency Exchange Fees: 0-2.5% depending on membership and market hours
Overseas ATM Withdrawal: Free up to S$350 (Standard), S$700 (Premium), S$1050 (Metal) every month, 2% Fair Usage Fee after
Currency Exchange Rates
Revolut uses the real-time interbank mid-market rates to calculate currency exchange rates, which is really close to the rate you see on Google. The rate refreshes every few seconds, keeping it as close to the real-time rates.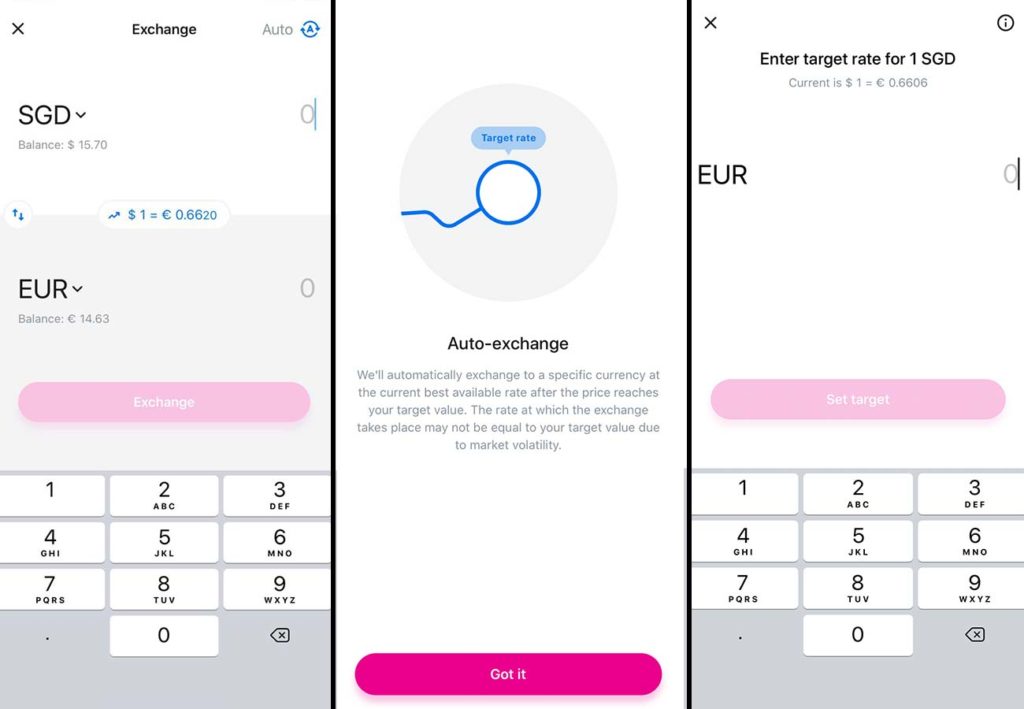 The good thing about using a multi-currency wallet is that you can lock in favourable exchange rates ahead of time before you need it. Revolut allows you to pre-set auto-exchange targets, so you don't have to monitor them constantly. Simply set your target and let the App do the rest. Alternatively, you can set up Price Alerts if you want to do it manually.
Currency Exchange Fees
A currency exchange fee is charged based on a few factors — your membership level (standard, premium or metal card), amount you exchange each month, and London's market hours. With Revolut, you are split into either a "Regular" or "High Frequency Standard" customer.
*High Frequency Standard rates are charged to standard users (free membership) who have exchanged more than S$9,000 or equivalent in any rolling month.
Revolut also locks in the closing rate for the weekend (UTC) and charges more currency exchange fees to protect against market fluctuations when it's closed. Here's the breakdown:
Exchange Fees during market hours (UTC, Mon-Fri)
Regular
High Frequency Standard
THB and UAH
1%
1.5%
USD, GBP, EUR, AUD, CAD,
NZD, CHF, JPY, SEK, HKD,
NOK, SGD, DKK, PLN, ISK,
RSD and CZK
No Fee
0.5%
Others
No Fee
0.5%
Exchange Fees after market hours (UTC, Sat-Sun, trading holidays)
Regular
High Frequency Standard
THB and UAH
2%
2.5%
USD, GBP, EUR, AUD, CAD,
NZD, CHF, JPY, SEK, HKD,
NOK, SGD, DKK, PLN, ISK,
RSD and CZK
0.5%
1.0%
Others
1.0%
1.5%
Overseas ATM Withdrawals
ATM withdrawal is free up to certain amounts depending on your membership level.
Standard: S$350/month
Premium: S$700/month
Metal Card: S$1050
A 2% usage fee is charged for amounts exceeding your limit but that shouldn't be an issue when travelling in places where card payment is widely accepted.
Revolut Security Features Review
Easy control over security features
What I especially loved about Revolut is the control you have over all the security features.

If you happen to lose your card, you can deactivate your card temporarily Through the Revolut App. This temporary feature is great because I'm sure many of us have been in situations where we think we've lost our credit card, only to find them a few days later after going through the trouble of calling the bank and having it deactivated permanently.

You can also easily toggle security features like location-based security, use of contactless payments, ATM withdrawals, online payments, or magnetic stripe usage. This means even if you lose it without realising, the card cannot be misused since the features only work when you activate them.
Disposable Virtual Cards
For Premium & Metal Card users, you create Disposable Virtual Cards — perfect for times when you need to make an online payment through a dodgy looking website.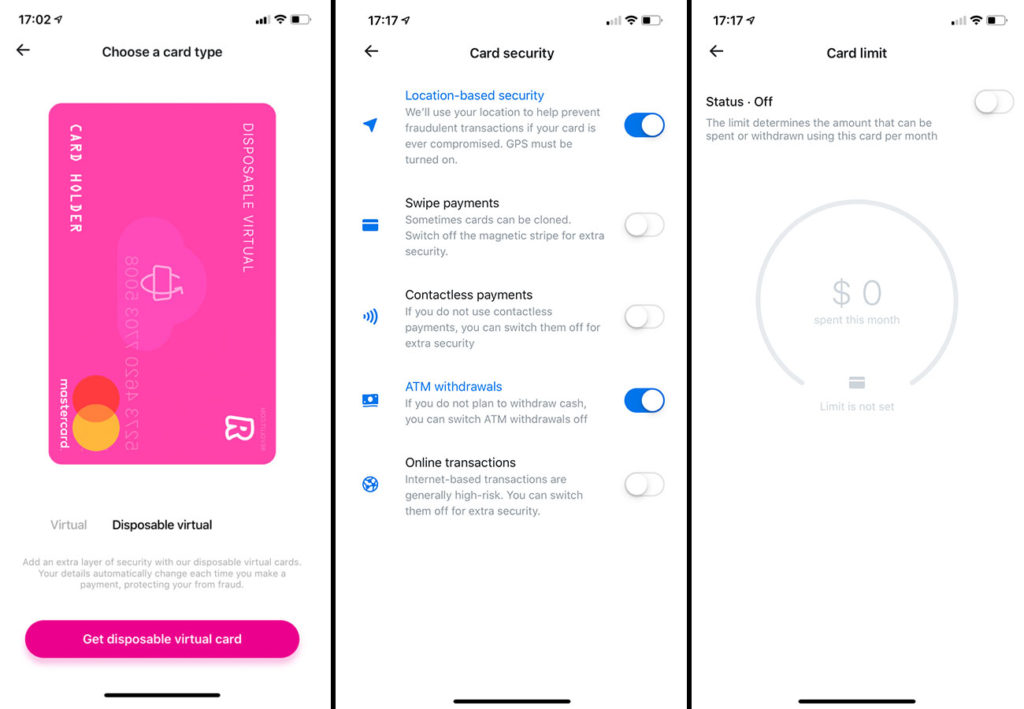 According to Revolut, the Disposable Virtual Card will automatically be destroyed and a new one is generated each time an online payment is made. This reduces the risk of online credit card fraud since it can only be used once.
Card Limits
You can also set your own spending limits in the App easily without going through the hassle of calling your bank and waiting forever for a customer service staff to answer your call.
User Experience
In general the App's User Interface is clear and easy to use. Everything you need to do can be accessed within a few clicks from the Home Screen. Tutorials can also be easily accessed via the (i) icon at the top right of the App.
Revolut Review — Putting the Revolut Card to the Test
Having not exchanged any cash before the trip, reliability was a very important factor for me. Here are some common situations with the corresponding internet exchange rate to see how well Revolut fared. I used the Premium Card, which gave me some extra perks like being able to withdraw more money from the ATM at lower currency exchange fee.
(1) Using the Revolut Card for food, activities, and transport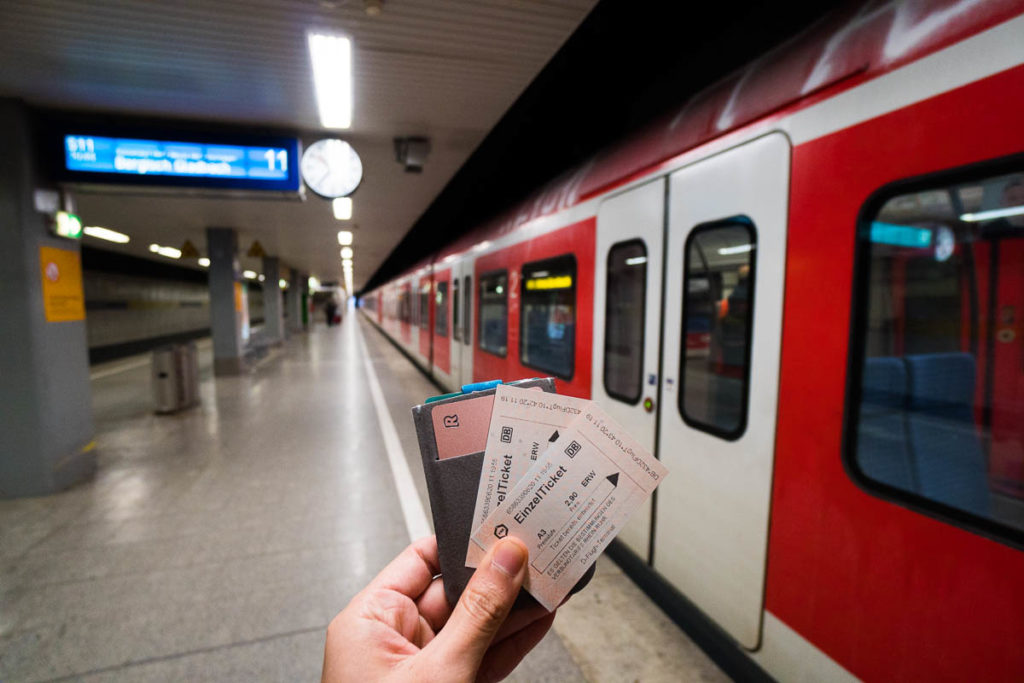 I used Revolut everywhere. At restaurants, paying for museum tickets, and even on the subway. While I generally always made sure I had Euros in my account, there were occasions where I put the exchange rates to the test by letting the account automatically convert from my remaining SGD.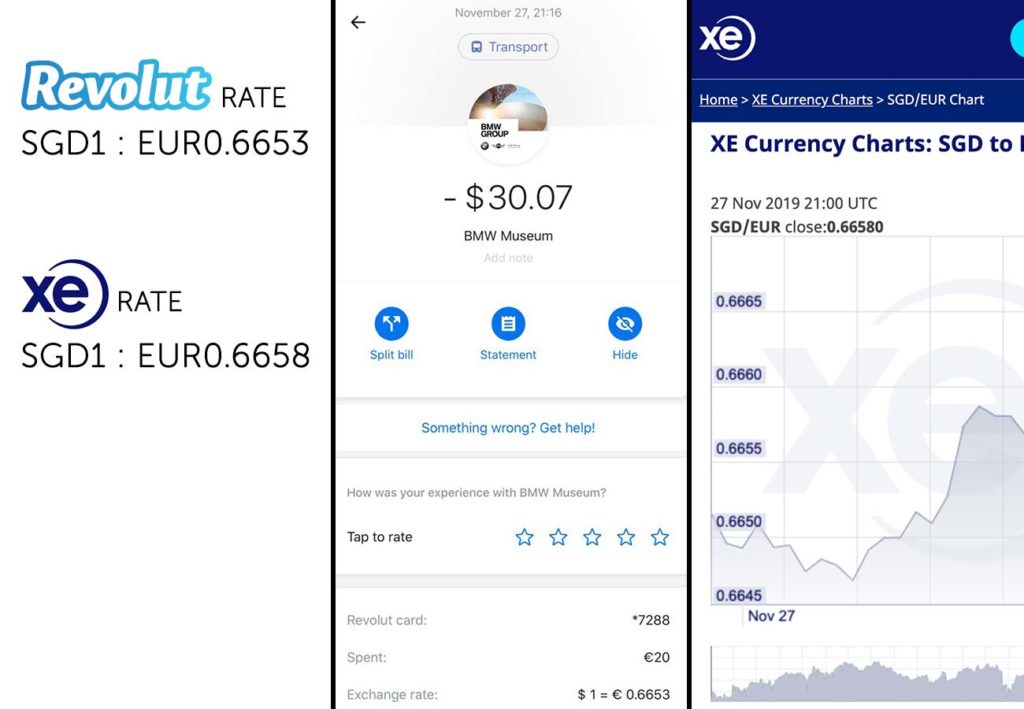 ATTRACTIONS: BMW Museum Entrance x2 (27 Nov 2019)
Revolut Exchange Rate
SGD1 : EUR0.6653
Internet Exchange Rate (xe.com)
SGD1 : EUR0.6658
Difference = – EUR0.0005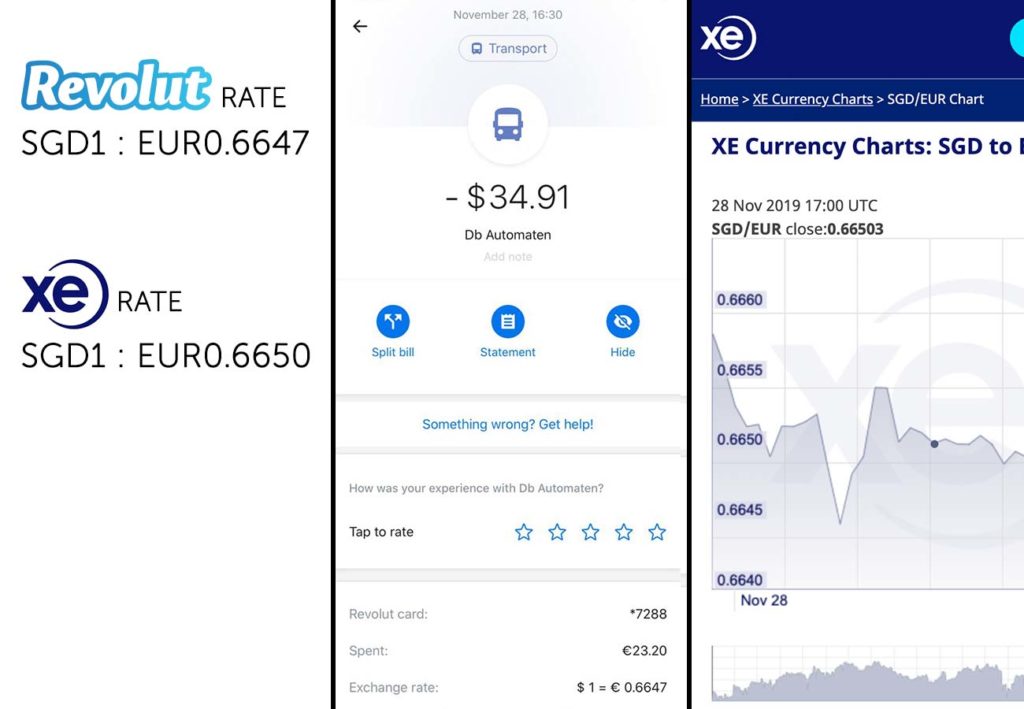 ATTRACTIONS: Airport Transport x2 (28 Nov 2019)
Revolut Exchange Rate
SGD1 : EUR0.6647
Internet Exchange Rate (xe.com)
SGD1 : EUR0.6650
Difference = – EUR0.0003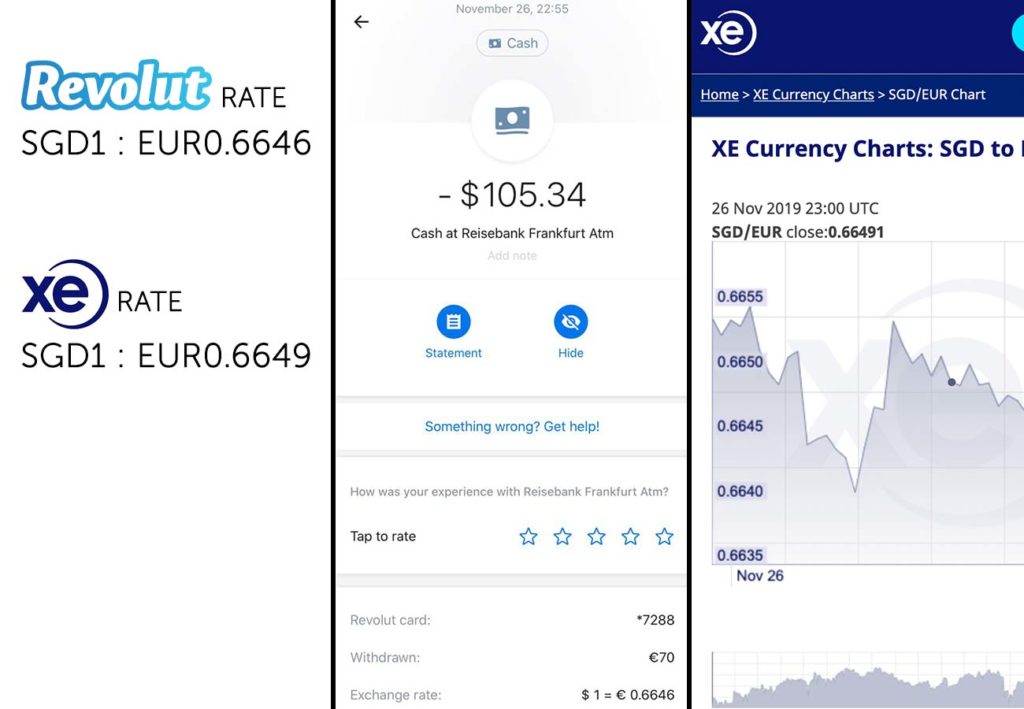 ATTRACTIONS: Overseas ATM Withdrawal (26 Nov 2019)
Revolut Exchange Rate
SGD1 : EUR0.6646
Internet Exchange Rate (xe.com)
SGD1 : EUR0.6649
Difference = – EUR0.0003
The rates were pretty good and there was hardly any difference between Revolut's Rate and the Internet's Rate.
(2) Withdrawing Money from the ATM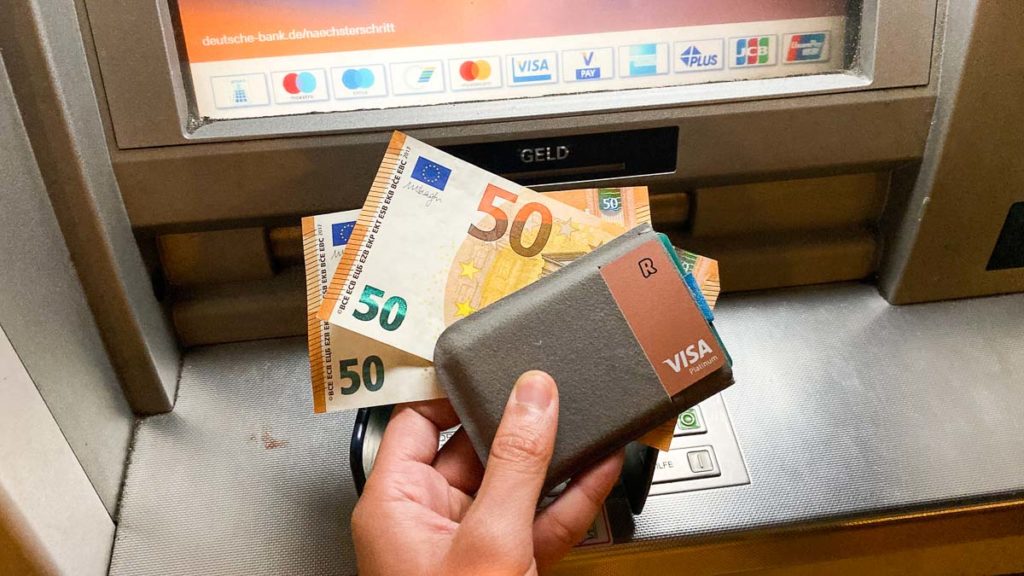 Unfortunately there were still places that required cash. For those situations, I was able to draw cash at ATMs that accepted VISA.
Since I had already pre-exchanged Euros and have not exceeded my limit of S$700 for the Premium Card, there were no additional charges or surprises on the exchange rate.

Pro-tip: Avoid tourist ATMs that charge a processing fee. I only encountered one during our trip to Germany, so I'm pretty sure you can just look for another ATM that does not charge extra.
(3) Testing the security features
Just to make sure everything worked as described, I decided to test a couple of the security features.

For the main test, I basically deactivated the card and tried using it at a restaurant. The card didn't work and I had to quickly activate it so I didn't hold up the queue!

I also tried withdrawing money after toggling ATM Withdrawal off. As expected, the card wouldn't work!
Revolut Review — Pros, Cons, and Final Thoughts
All in all, the Revolut card worked as described. Despite not changing any cash beforehand, travelling around Germany with the Revolut card turned out pretty seamless. It might not be a replacement for credit cards but for its preferential currency exchange rates, it's a pretty convenient option for overseas spending.
Pros
– Works as described with good currency exchange rates
– Robust security controls
– Intuitive UI
Cons
– Weekday/weekend Exchange Rates can be more obvious
– Requires an Internet Connection for card management or top-ups
– No credit card benefits
Quick Tips for Maximising your Revolut Card
(1) Use Auto-Exchange or Price Alerts to lock in exchange rates
Plan ahead and utilise the in-app Auto Exchange or Price Alert features. If you know that you're heading to Europe, set a target for auto-exchange rate so to lock in favourable rates!

(2) Exchange currency on weekdays
There's an additional 0.5-1% surcharge on weekends. Unless you absolutely need to, I'll try to do the bulk of my currency exchange on weekdays.

(3) Monitor currency exchange rates. It refreshes really often
If you hover around the currency exchange screen on the Revolut App, you will notice that the currency exchange rates fluctuate every few seconds. Monitoring it for a bit can score you a slightly more favourable exchange rate. Those extra dollars saved can go towards your travel fund!

(4) Always make sure you have spare SGD in your account
Despite using a local sim card with data, there were instances where there wasn't any internet connection. To avoid being in a situation where you don't have enough money in your account, plan ahead and top up more.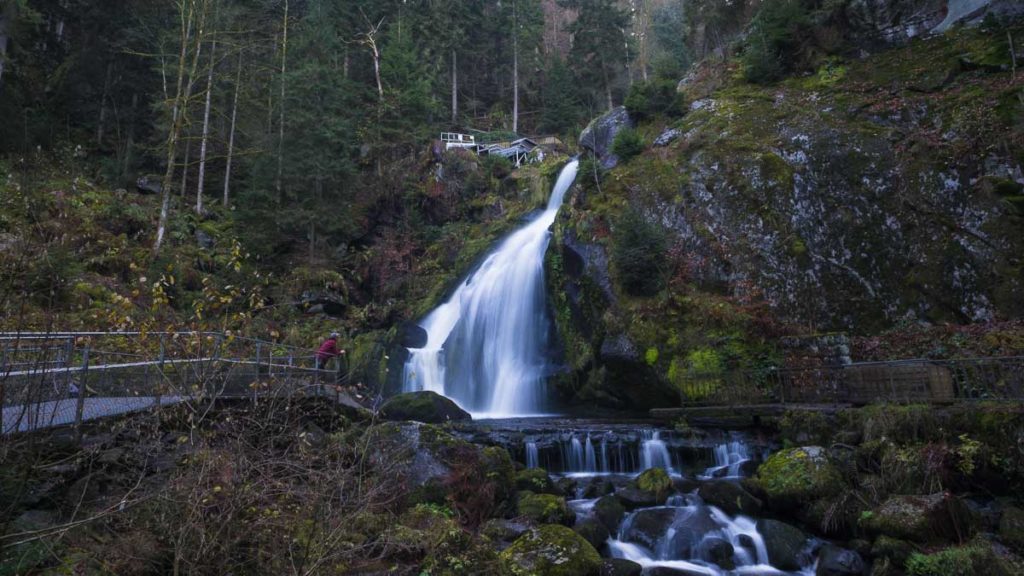 During my trip, I only exchanged enough Euros for our needs, while maintaining some spare SGD in my account. I wanted to avoid situations where I ran out of Euros and didn't have internet connection to top up my card on the Revolut App, especially in smaller towns and rural areas!
As Germany and the rest of the world become more cashless, I can see how multi-currency debit cards like Revolut becoming an essential for overseas spending. It was honestly a joy bringing only a small card holder around instead of a bulky wallet!
If you're planning on getting the Revolut Card, sign-up here for an additional S$5 bonus credit when you sign up. We get a small commission too so it's win-win! Do note that you'll need to complete the identity check, top-up the minimum sum, and order the FREE physical card for the S$5 bonus credit!
Hope you found this Revolut Review useful. Do let us know if you have any questions or suggestions to improve this review.
Disclosure: While the writer was provided with spending allowance to test the card, it's in The Travel Intern's interest to protect the editorial integrity of our website. We have taken every reasonable effort to ensure a realistic and honest review for our readers.
---
This post was brought to you by Revolut.
For more travel inspiration, follow us on Facebook, Instagram, and YouTube.