Must-have travel essentials for your future remote working trip — no.2 helps with planning on the go, working smart, and providing entertainment too 🤩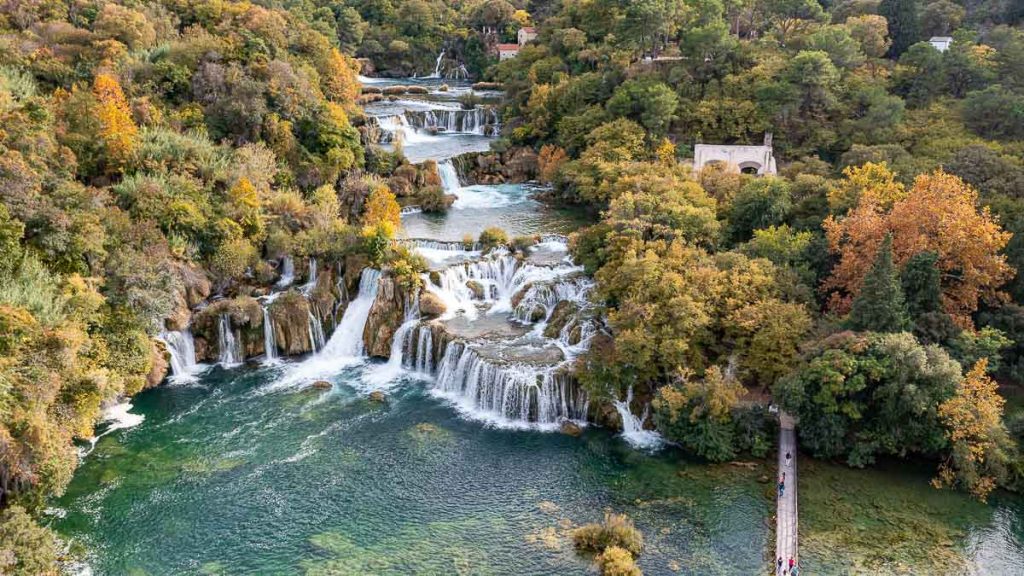 This could be your next office view!
There are many perks to remote working — the flexibility of planning your own schedule, working from places with epic sceneries, and (our favourite) exploring a new city every weekend!
Sometimes, we still look back fondly at the time we spent on a 10-month remote working programme back in 2021, across eight different countries (Croatia, Spain, Portugal, England, Austria, Thailand, the Philippines, and Australia).
That said, working remotely has its troubles too and that's where technology and these travel essentials come in handy! While we were relatively prepared, this list includes some of the items we wish we had on our trips.
Read also: Ultimate Travel Packing List: 35 Essentials to Pack for Long-Term Travel
1) Travel-friendly Extension Plug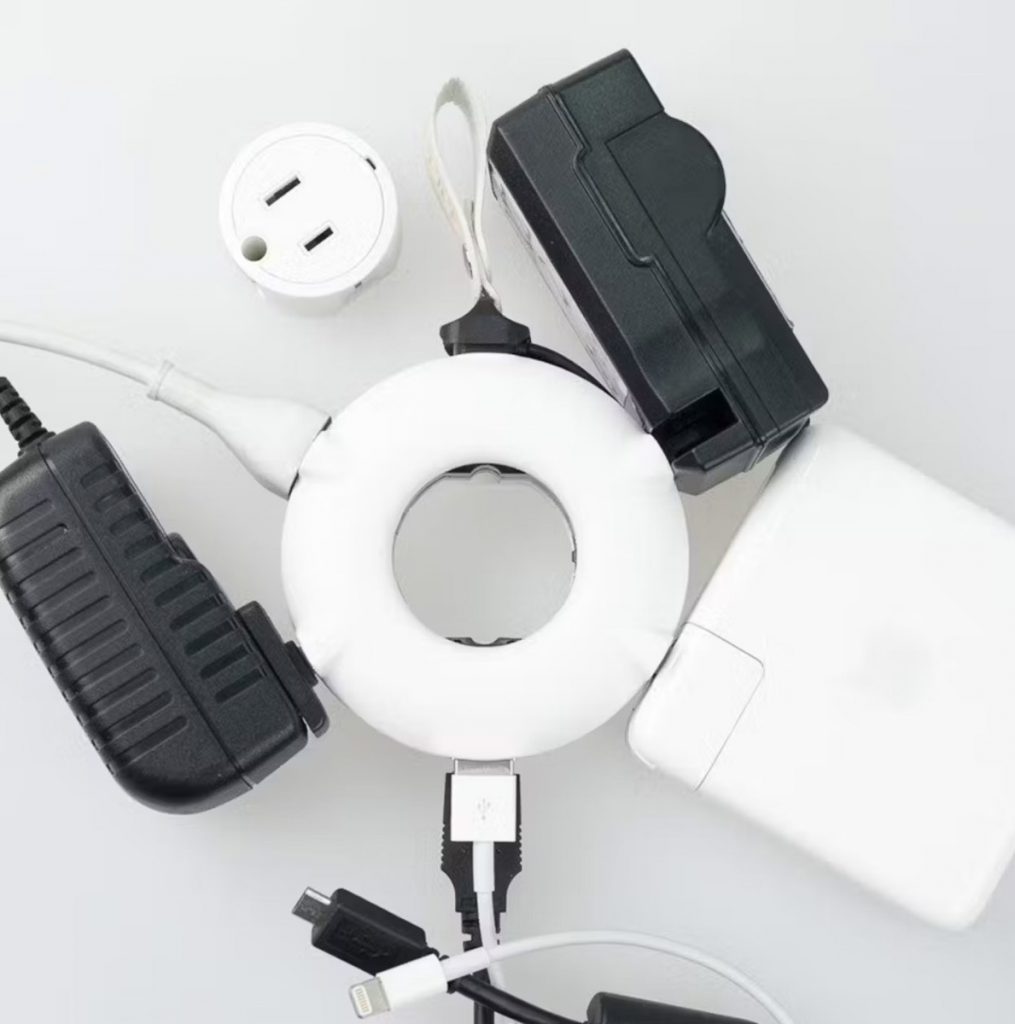 Fun fact, we've had one of these since TTI started in 2016! Photo credit: HipVan
If you're working remotely with a few other companions, an extension plug is a lifesaver when there aren't enough wall sockets!
While most extension plugs come as a long rectangular block and take up plenty of luggage space, the circular shape of the Mogics Power Bagel is literally the size of… a bagel.
The retractable travel adaptor can charge up to seven devices at the same time, with two USB ports, one US adapter and four universal adapters, including the three-pin plug used in Singapore. The head is a two-flat-pin prong but the middle of the Bagel is a universal adaptor so you can connect it to any type of plug.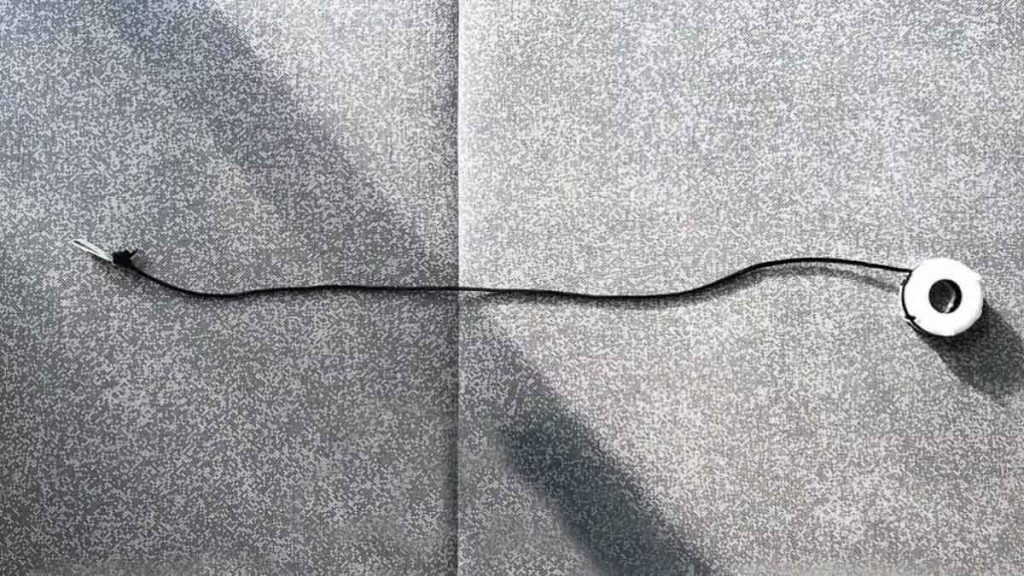 Photo credit: HipVan
The power cable can also extend up to 92cm so you don't have to stick close to the power socket if it's inconvenient. Take note of the power limit though, it can only support 1,512W at 240V and 756W at 120V.
Cost: S$64
2) A Tablet
We love products that serve more than just one purpose! Photo credit: Samsung Mobile Press
If you're used to using a second screen in the office, you'll likely want to work with one while remote working as well. Screens are bulky but a tablet like Samsung's brand-new Galaxy Tab S9 Series makes remote working a breeze.
It comes in three sizes — 11″, 12.4″, and 14.6″ — and the largest weighs around 700g (compared to another screen that averages between 2-4kg).
Other than serving the purpose of an extended screen, other cool functions include:
– Scanning your documents into editable text
– GoodNotes — this popular app is finally on Android, and it comes preloaded with your Samsung tablet (P.S. it comes with a one-year free trial of the full version!)
– Multi-window function — allows up to four apps on one screen (hurray to watching YouTube videos while editing photos, video calling, and working on a document simultaneously)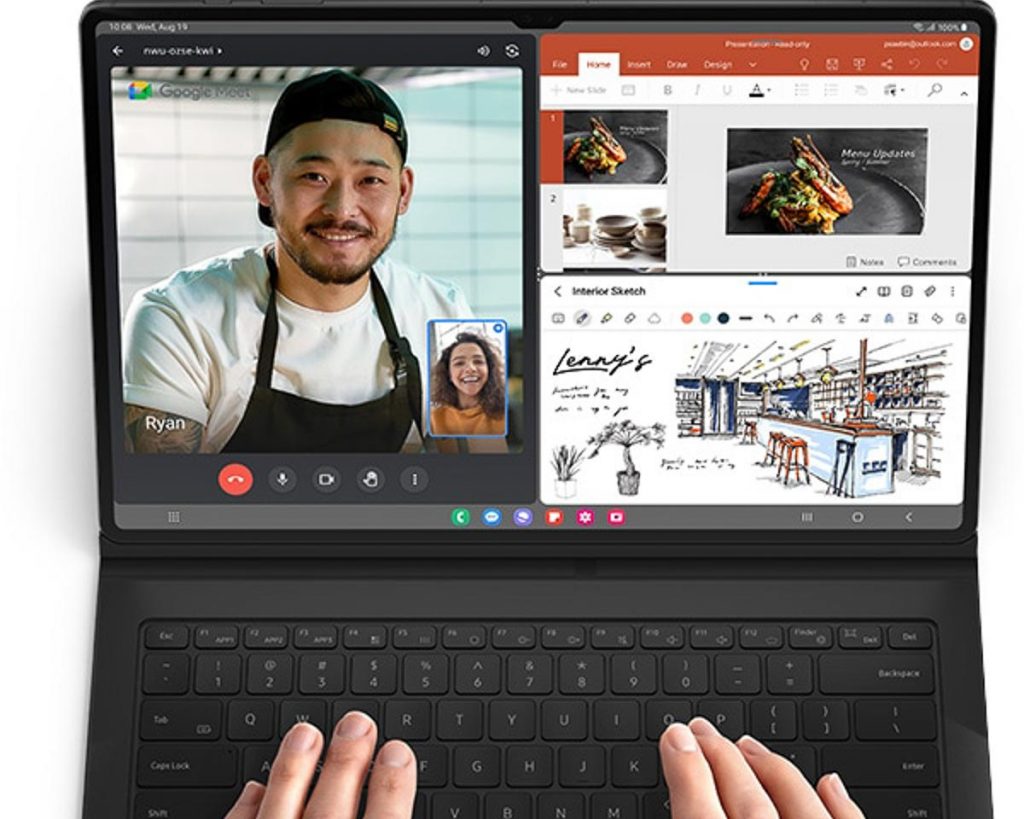 Photo credit: Samsung
Not to mention, extra perks for Samsung smartphone users, who can easily transfer files or images from their phone to the tablet. It comes with the S Pen as well so no need to get that separately.
Fun fact: The tablet and S Pen are also water-resistant so even if they get a little wet (either due to bad weather or accidental spillage), they'll still be perfectly fine!
Cost: From S$1,128
3) Portable Charger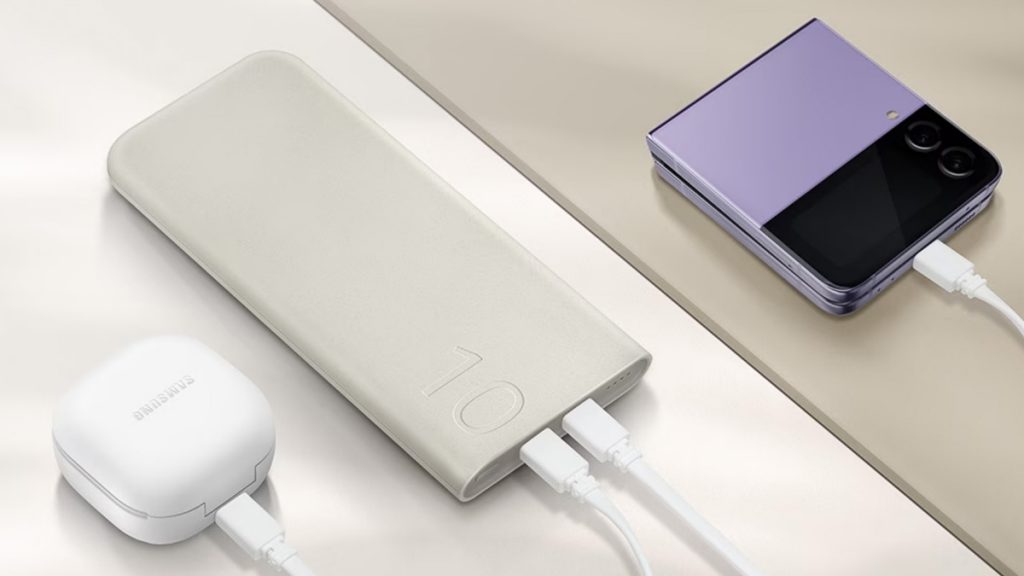 Photo credit: Samsung
A power socket isn't always available when you're on the road. For this, a portable charger is key, so you can charge your tablet and phone to last the day.
Our pick is the Samsung 25W Battery Pack! It has a 10,000mAh capacity and supports 25W with Super Fast Charging too — meaning you can recharge your devices or the battery pack itself quickly. And it can charge up to two devices simultaneously.
Plus, the latest design has curved lines and soft edges which gives a comfortable grip for daily use!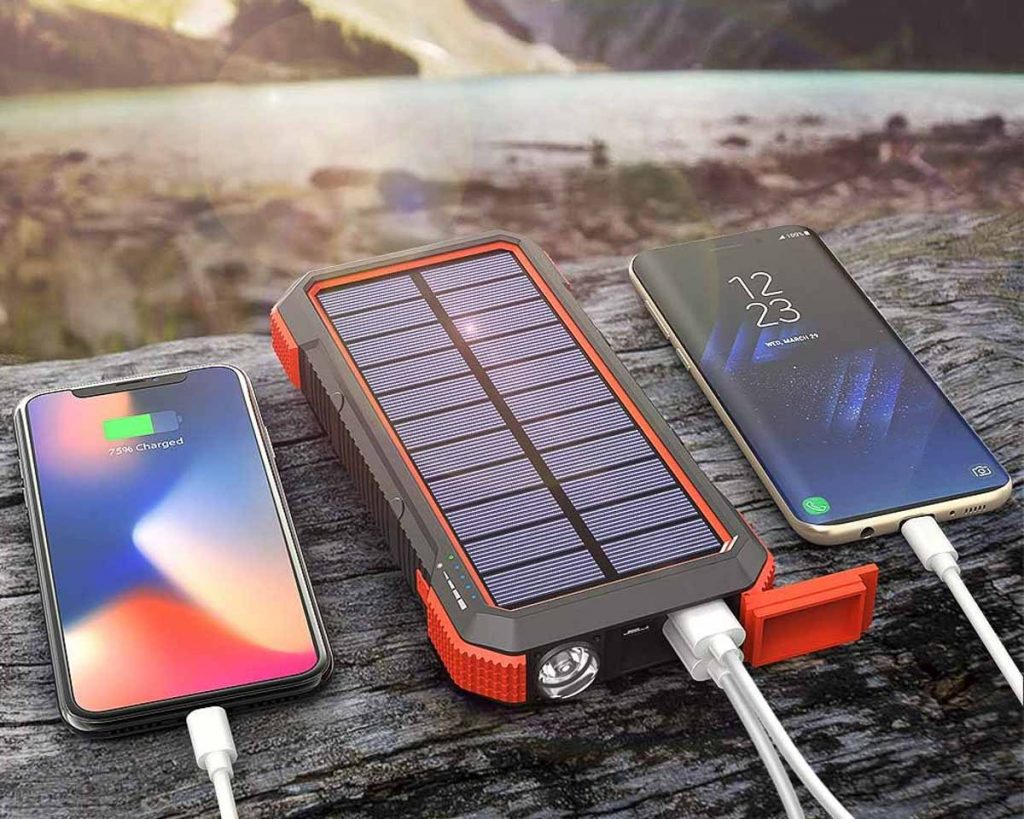 Photo credit: Amazon
But if you're heading out for outdoor activities like hikes on the weekends, you might want to get a solar-powered portable charger instead.
Other than having a high capacity of 20,000mAh, the BGPWST power bank consists of a solar panel so you can charge it under the sun. Three devices can be charged at the same time, via two USB output ports and QI Wireless Charging. There's also a built-in flashlight and compass if you somehow get lost in the woods 😉
Cost: S$59 for Samsung 25W Battery Pack, ~S$70 for BGPWST power bank
4) Portable Wash Bag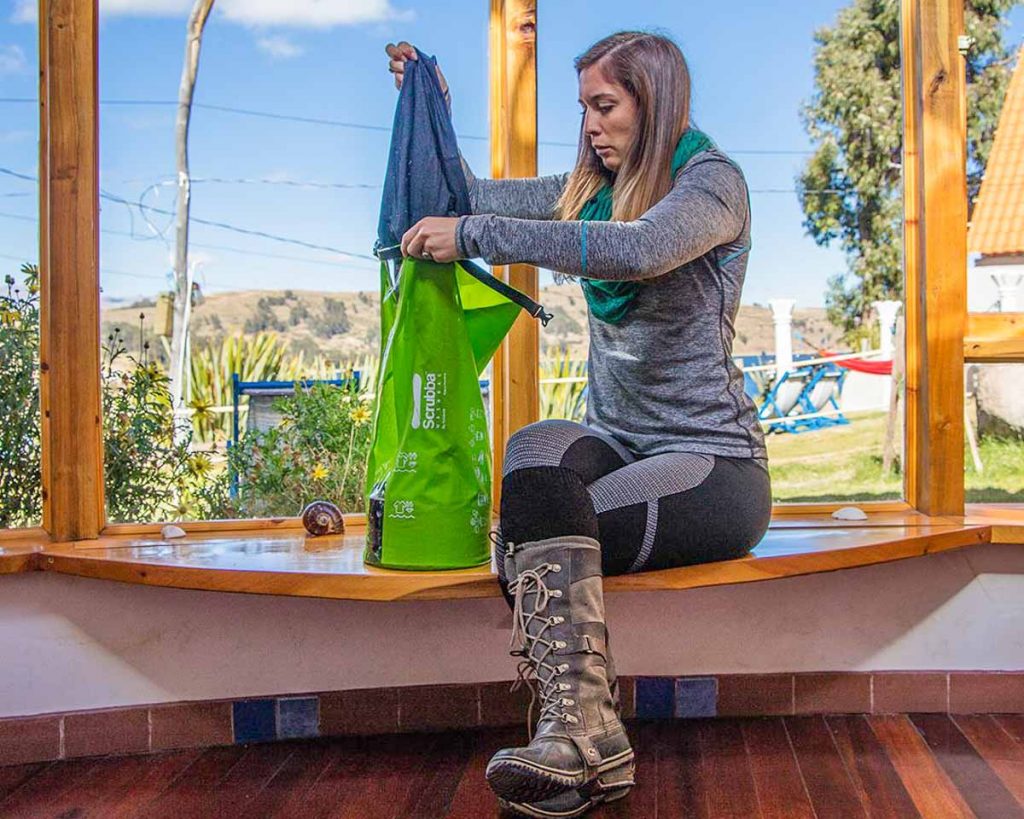 Photo credit: The Scrubba Wash Bag via Facebook
Here's a non-tech travel essential for those on the road for longer periods.
If your accommodation doesn't provide washing machines and the laundromat isn't convenient to get to, here's a nifty alternative — the Scrubba Wash Bag. At just 150g, it's probably the lightest "washing machine" in the world.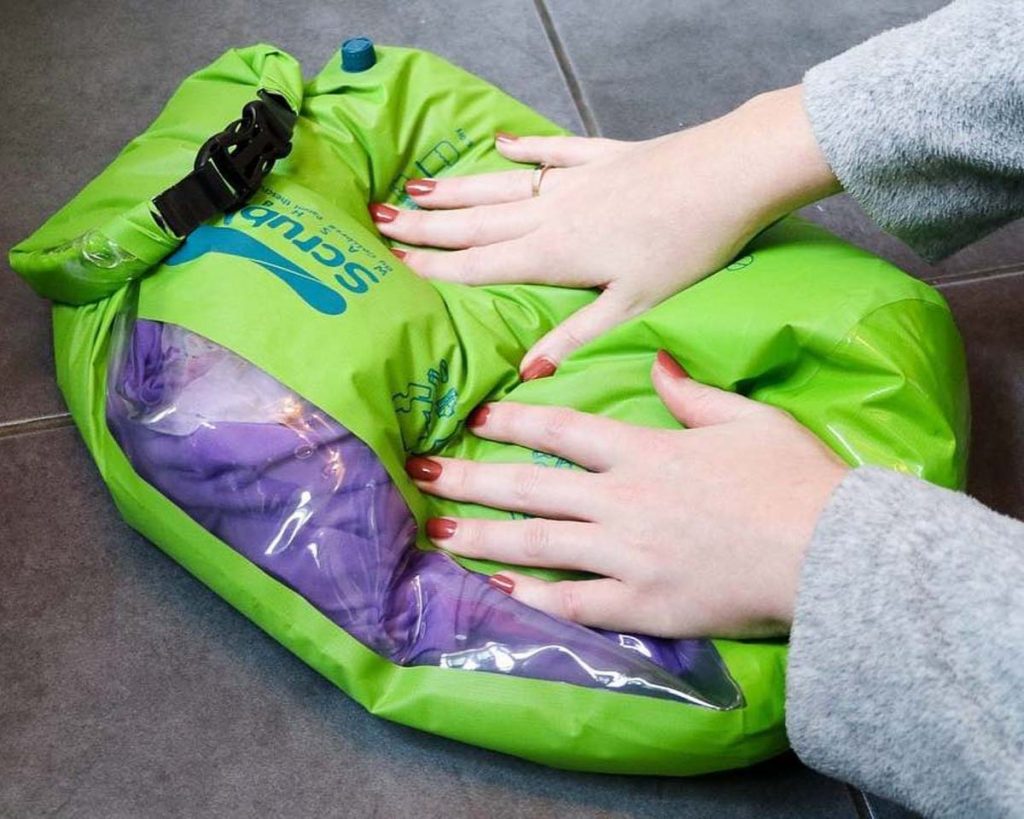 Photo credit: The Scrubba Wash Bag via Facebook
Just drop your clothes (and stinky underwear) in, add some water and detergent, and rub for 30 to 180 seconds. Then, take them out to dry. More detailed instructions are stated on the bag itself.
Cost: ~S$79.70
5) Compact and Foldable Wardrobe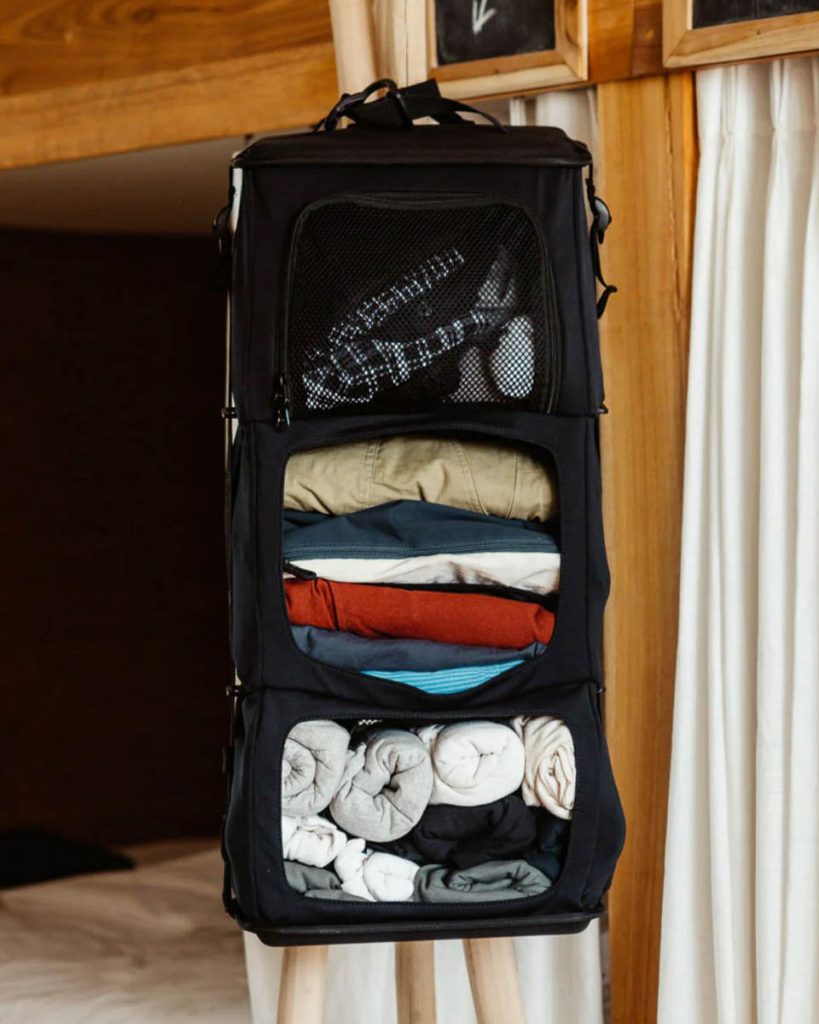 Photo credit: Tropicfeel
Unpacking your clothes every time you switch accommodations can get quite tedious. During our time on the road, the Tropicfeel Wardrobe came in ultra handy!
We love that it's essentially three packing cubes combined into a single "shelf". When packed, there are straps at the sides to compress everything to half the height. When you reach a new accommodation, just remove the "shelf", expand the cubes and hang it up.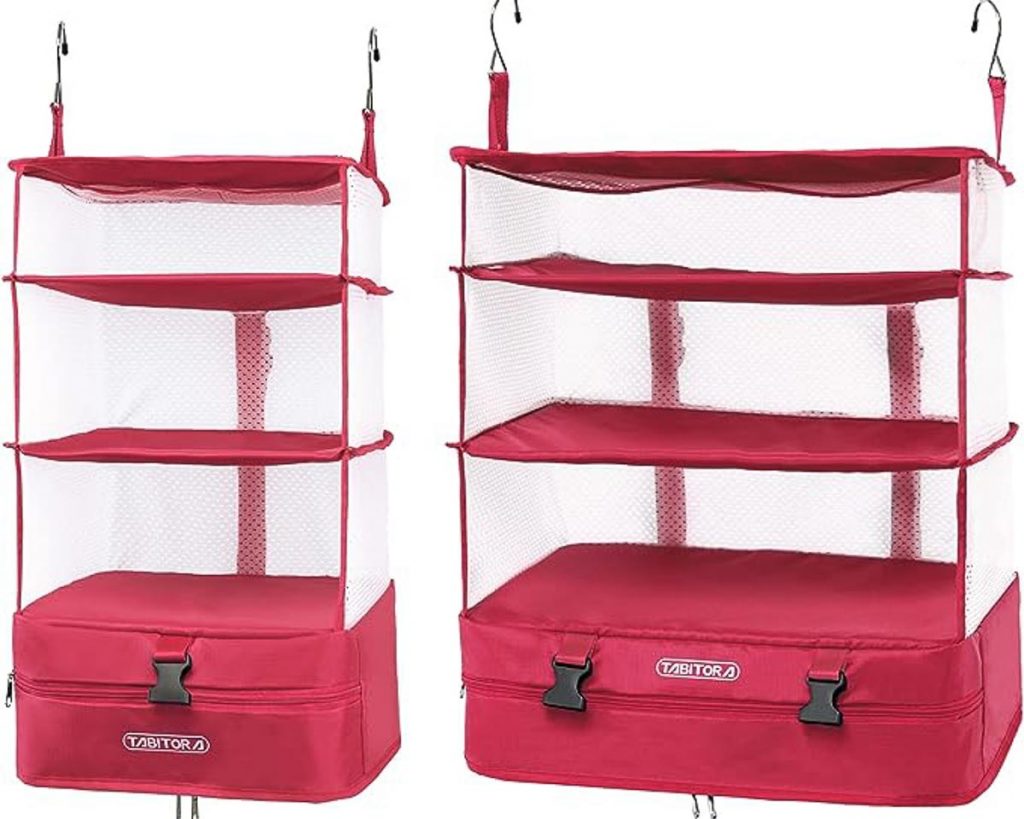 Photo credit: Amazon
For a variety of options, TABITORA Portable Hanging Travel Shelves also offer different sizes from 26″ to 29″ in colours of black, blue, rose, and more.
Cost: €74 (~S$109) for Tropicfeel Wardrobe, ~S$37 for TABITORA Portable Hanging Travel Shelves
6) Personal Safety Alarm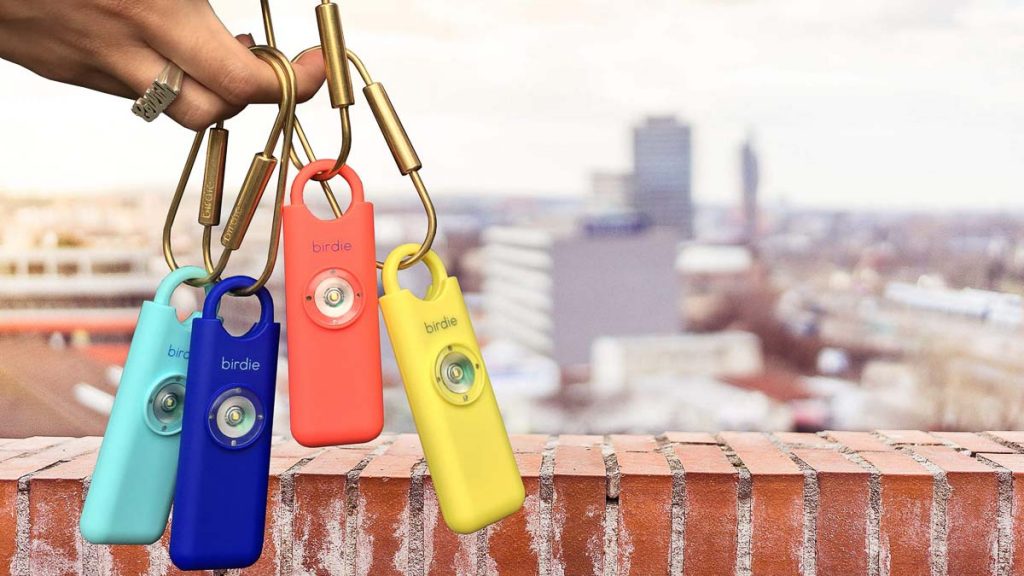 Photo credit: She's Birdie via Facebook
While we believe the world is not as dangerous as it seems, it's sometimes good to have a backup when things go awry.
The She's Birdie Alarm is a compact and portable alarm that can be attached to a keychain or carried in a purse or pocket. The alarm is activated by pulling a pin or pressing a button, emitting a loud and attention-grabbing noise. This can help deter potential attackers and alert others nearby. She's Birdie alarms also often include a built-in LED light and a phone app that can send alerts to emergency contacts.
Although it's mainly marketed towards women, there's really no shame for men to carry one too.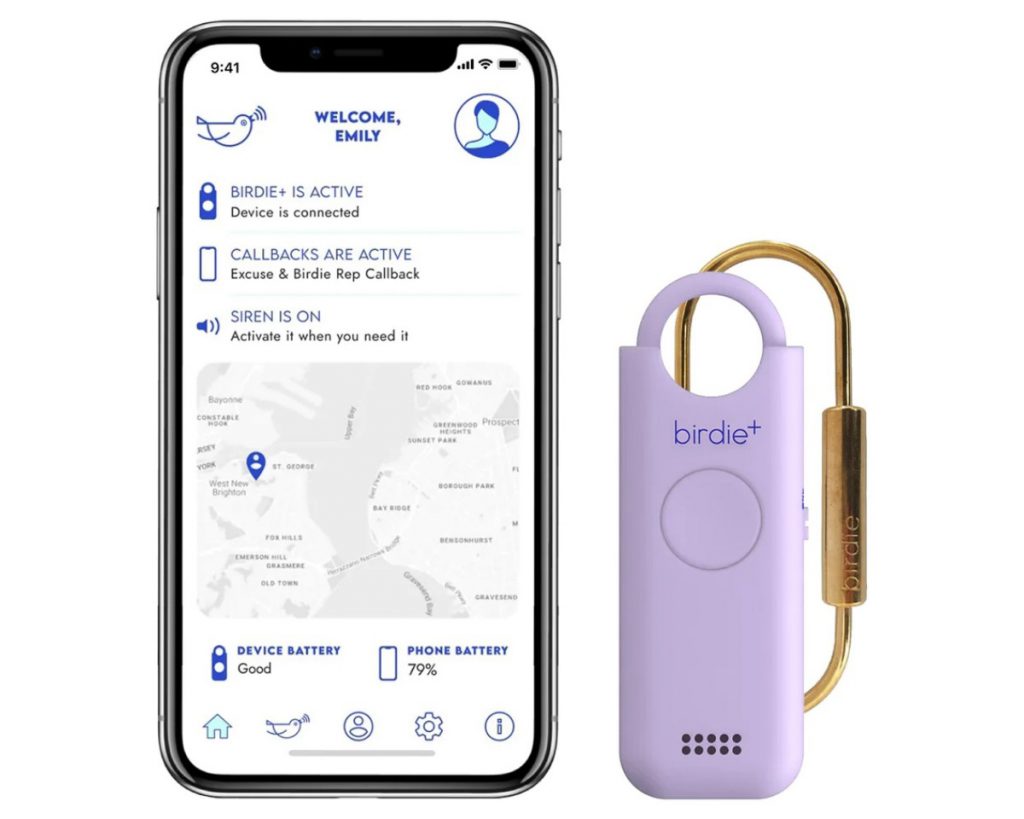 Photo credit: She's Birdie
There's also a Birdie+ option which has an extra button to access new features like a fake "Excuse-to-Leave" Call or location sharing with your emergency contacts.
*Note: You'll need to download the Birdie+ app (iOS or Android) and connect to Bluetooth, as well as enable location sharing, for these extra features.
Both the Birdie and Birdie+ are available in various colours like lavender, indigo and charcoal.
Cost: ~S$36 for Birdie, ~US$32 (~S$43) for Birdie+
7) Bluetooth Tracker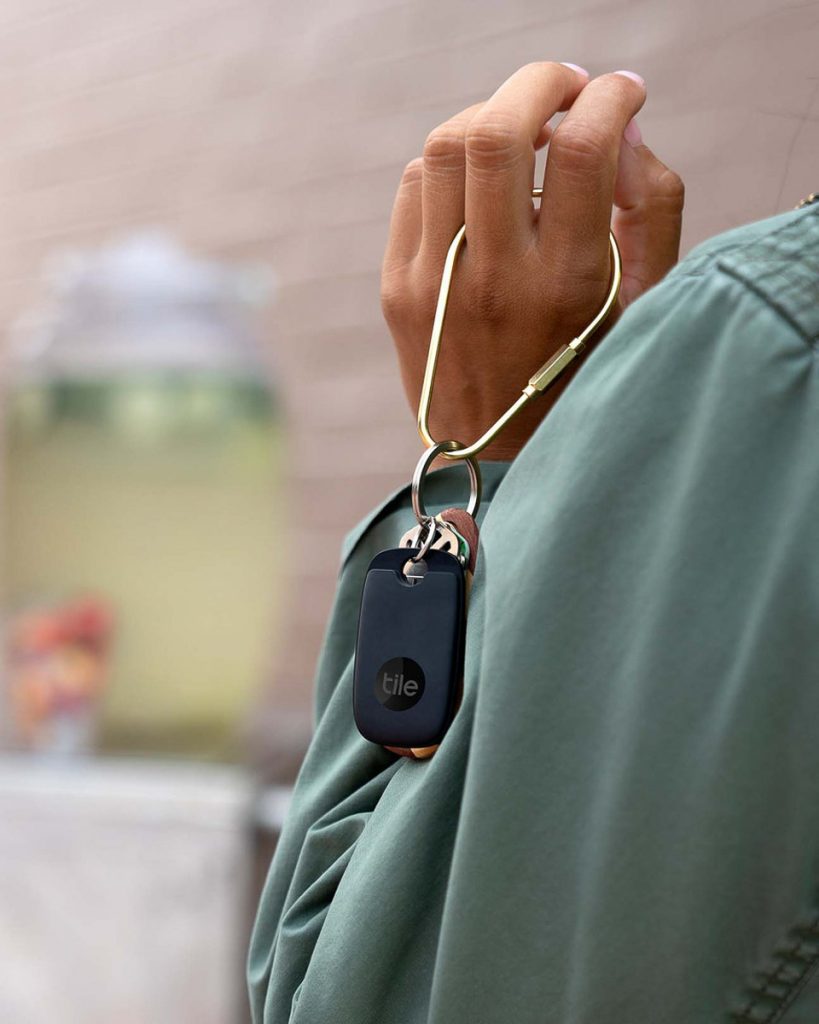 Photo credit: Tile
Another woe about remote working is that moving from place to place makes it easy to lose track of things. Especially nerve-wracking when it comes to your valuables — your wallet, keys, laptop, luggage, yes maybe your underwear too.
For that, we have Tile Pro — a bluetooth tracker you can attach to all your items and track their location from the Tile app (iOS or Android). The tracker will ring if it's within a range of up to 120m!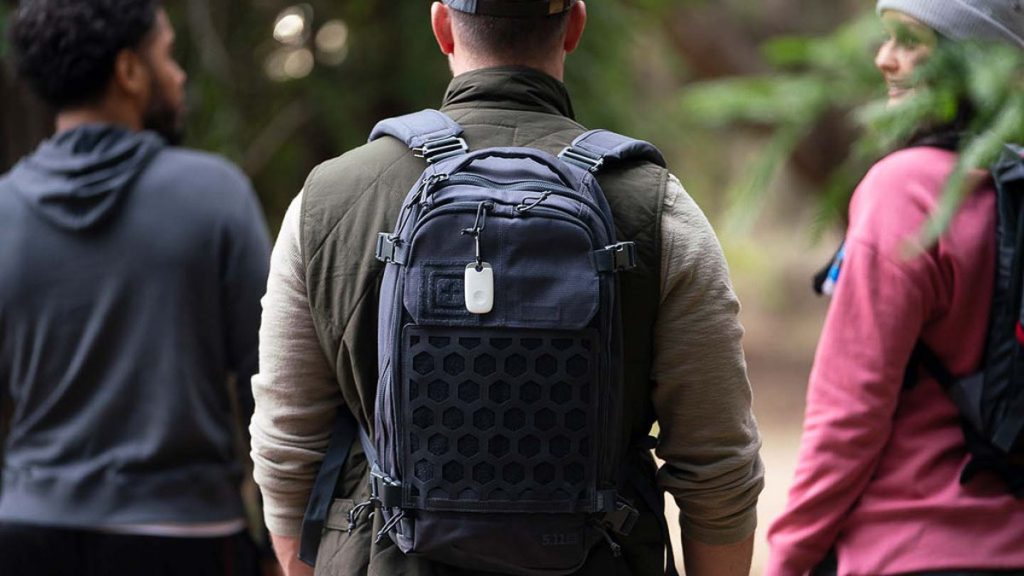 Photo credit: Tile
If not, don't lose hope because your missing item's last location will be shown on the app. So at least you'll know where to start looking. The tracker also has up to a year of replaceable battery so you won't need to change it often too.
Cost: ~S$56.90
8) Smart Water Bottle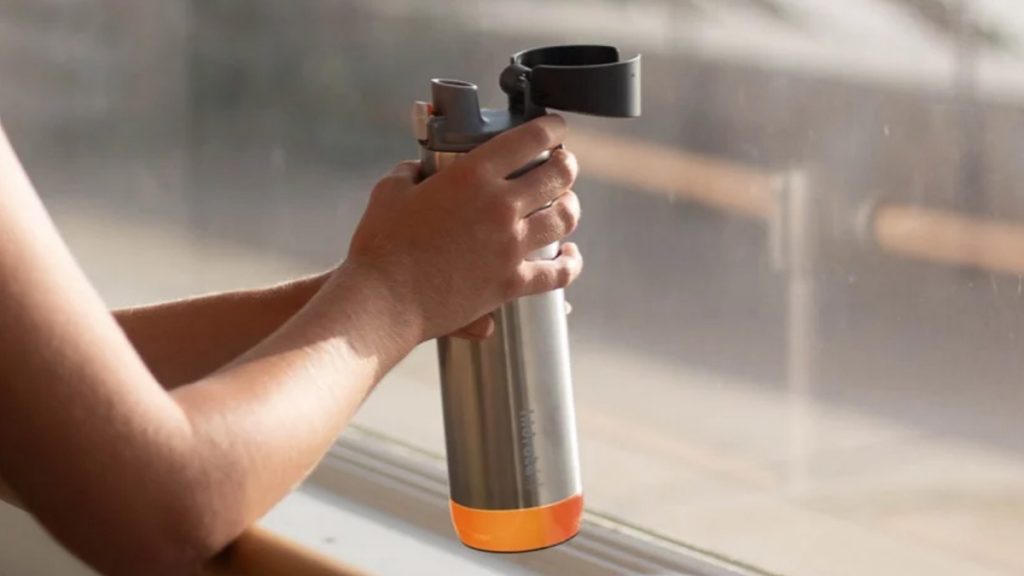 Photo credit: HidrateSpark
For those who tend to forget to drink water when busy working (guilty as charged), get yourself a smart water bottle like the Hidrate Spark PRO. It'll give you regular reminders to stay hydrated with a glowing LED sensor!
It works by connecting the smart bottle to the HidrateSpark app (iOS or Android) via Bluetooth. It'll then track your water intake and give you reminders to drink daily.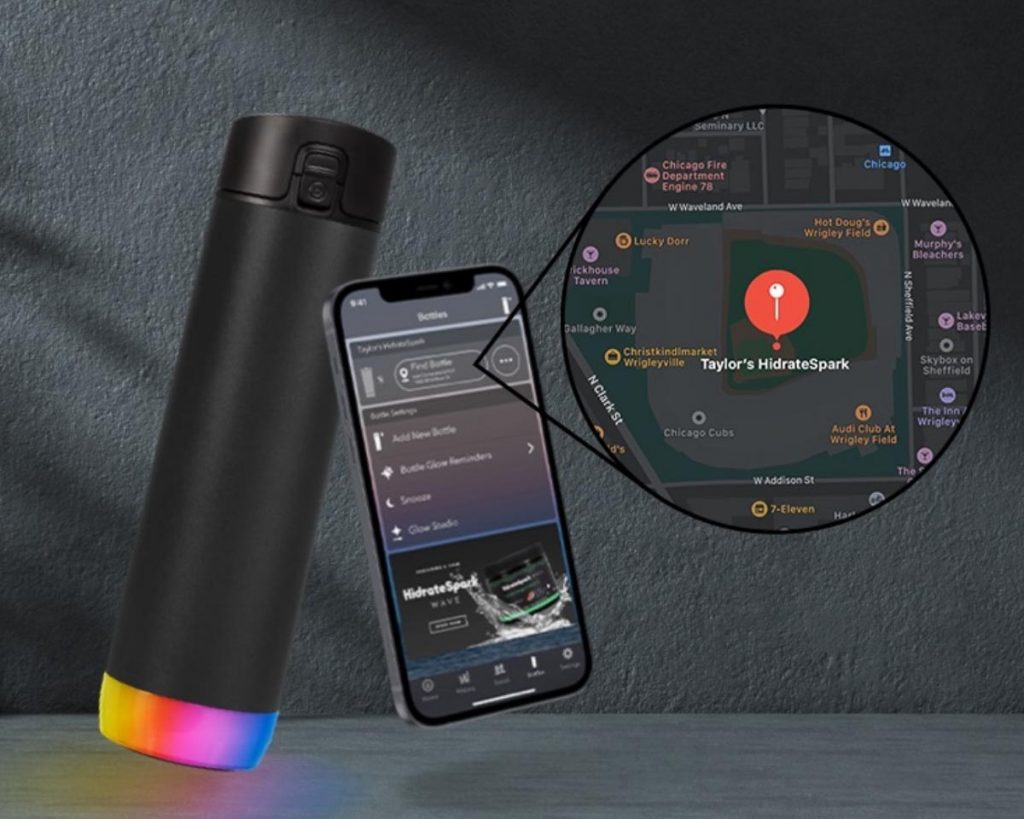 Photo credit: HidrateSpark
*Pro-tip: Use the app to customise your favourite glow colours and light patterns!
You don't need to worry about losing your bottle while on the go too — the app tracks its location based on the last sync timing.
Cost: ~S$107
9) Portable Door Lock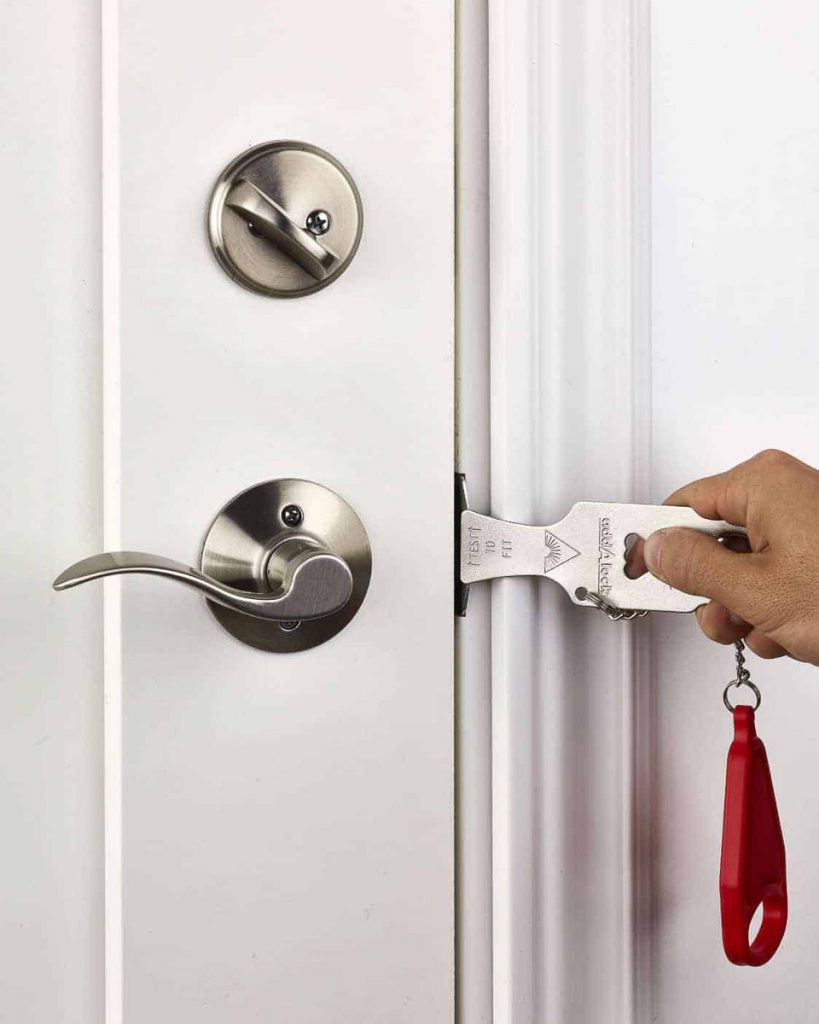 Photo credit: Addalock
You probably won't need this in most places but if the situation calls for it and you're all alone, here's something for an extra sense of security — the Addalock is a portable door lock that can be easily installed and removed in seconds on almost any hinged door that opens inwards.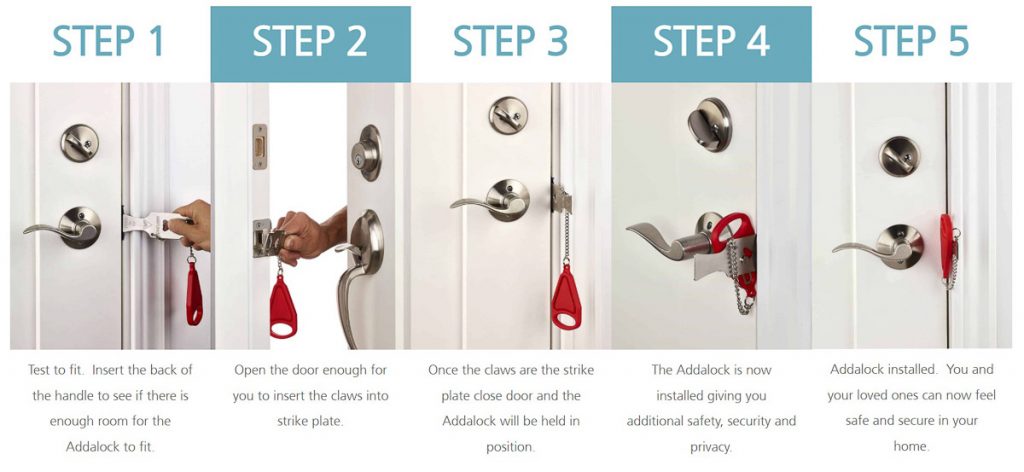 Photo credit: Addalock
Cost: ~S$40
Read also: The Secret to Packing Lighter — 7 Travel Essentials for the Smart Traveller
Having a fuss-free remote working trip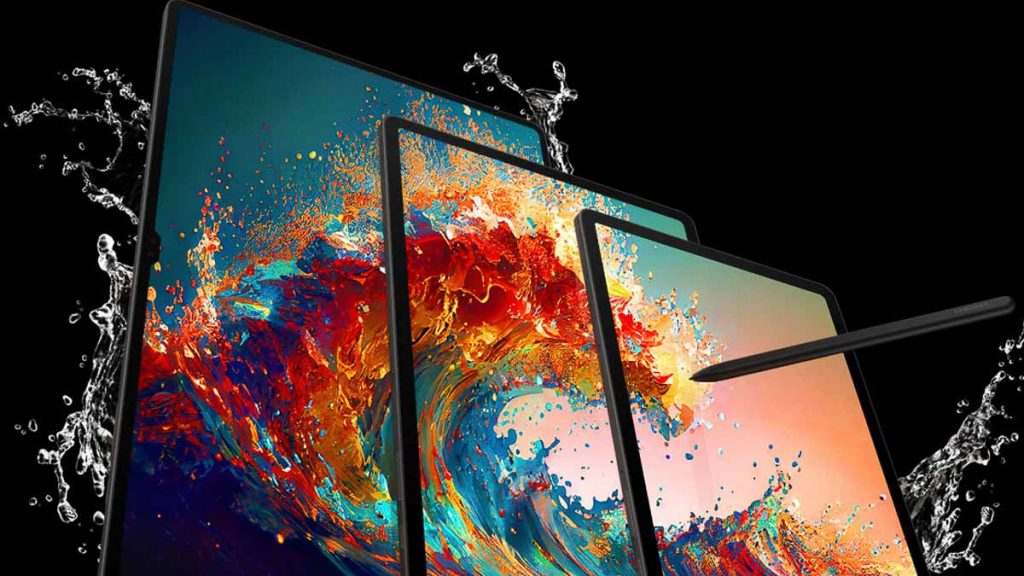 Photo credit: Samsung
Make your remote working trip much more convenient and hassle-free with these travel essentials, especially the Samsung Galaxy Tab S9 Series!
Besides being great for work with features like live collaborative note-taking and multi-windows, you can even use it to plan your trip beforehand too.
Plus, it doubles up as an in-flight entertainment device with a Dynamic AMOLED 2X display to watch Netflix on. Or play high-performance games with realistic graphics thanks to its Snapdragon 8 Gen 2 processor.
Photo credit: Samsung Mobile Press
There are three different types of tablets in the Galaxy Tab S Series to choose from: Galaxy Tab S9, S9+ and S9 Ultra, and they come in both Wi-Fi and 5G variants.
While we recommend the first option for remote workers as it's more portable and compact-sized for travelling, here's a breakdown to see which model best suits your needs!
Device
Galaxy Tab S9
Galaxy Tab S9+
Galaxy Tab S9 Ultra
Display
11″
12.4″
14.6″
Connectivity
Wi-Fi/5G
Wi-Fi/5G
Wi-Fi/5G
Weight
498g/500g
581g/586g
732g/737g
Thickness
5.9mm
5.7mm
5.5mm
Battery
8,400mAh
10,090mAh
11,200mAh
Camera
[Rear] 13MP
[Front] 12MP UW
[Rear] 13MP + 8MP UW
[Front] 12MP UW
[Rear] 13MP + 8MP UW
[Front] 12MP + 12MP UW
Storage
128GB
256GB
256GB
Price
Wi-Fi: S$1,128
5G: S$1,328
Wi-Fi: S$1,388
5G: S$1,588
Wi-Fi: S$1,688
5G: S$1,888
All tablets are available in both Graphite and Beige colours.
What other travel essentials do you suggest for a remote working trip? Let us know in the comments below!
---
This post was brought to you by Samsung.