Known for pristine beaches and fresh affordable seafood, discover the gems of Phu Quoc island in Vietnam!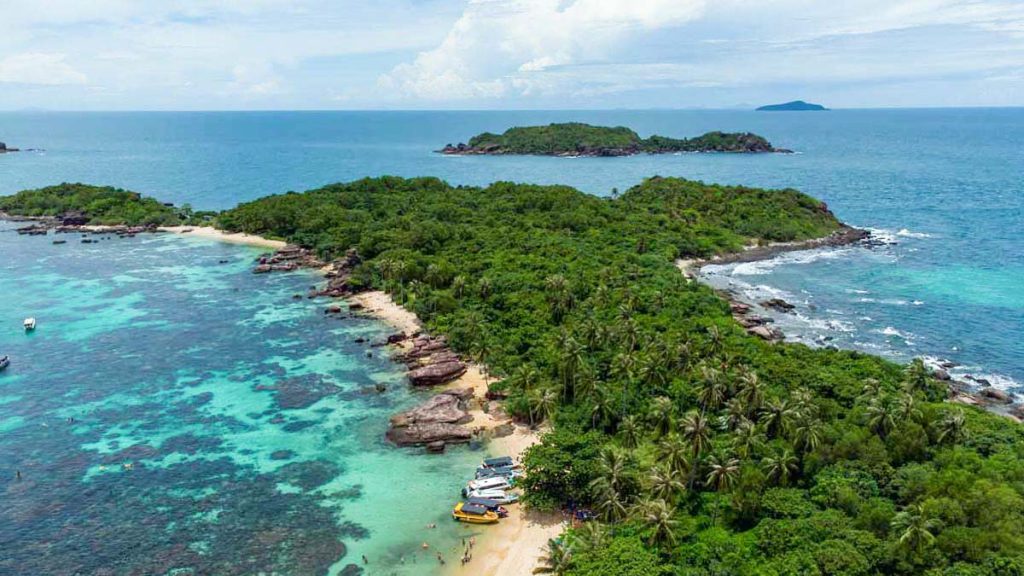 I have been to many island getaways but only recently did I find this hidden gem of an island just a 2+1-hour flight from Singapore!
Nestled in the southernmost of Vietnam, Phu Quoc is an island known best for its pristine beaches and fresh affordable seafood. There are two amusement parks, and multiple fine sandy beaches with a view of turquoise clear blue waters — I was stoked to explore this lesser-known destination.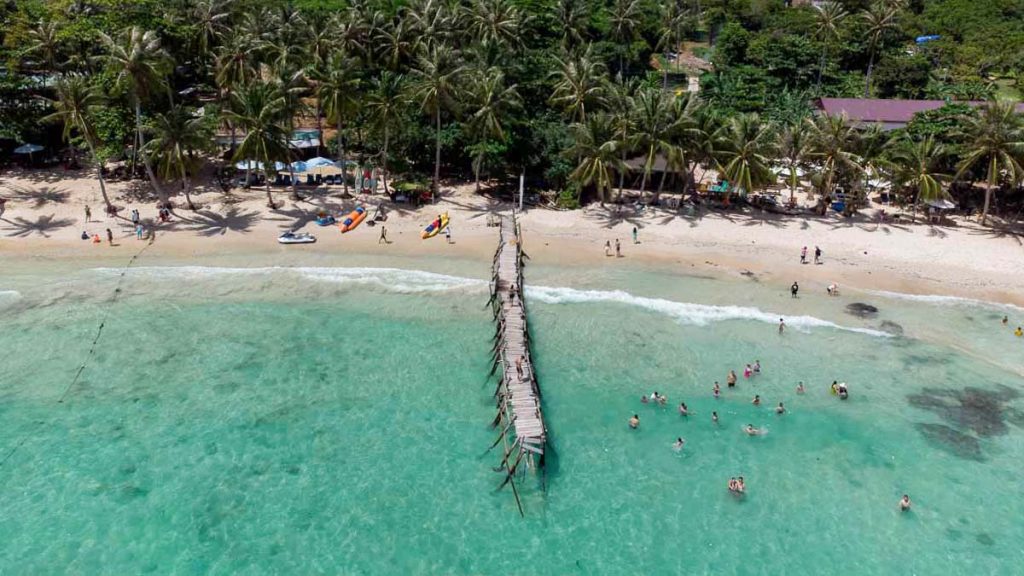 So if you're looking for a short beach escape, here's a three-day Phu Quoc itinerary, where you'll experience Southern Vietnam's most-loved island.
Getting to and Around Phu Quoc
To Phu Quoc: From Ho Chi Minh City's Tan Son Nhat International Airport, it's a 1hr domestic flight to Phu Quoc (~S$70).
Around Phu Quoc: Public transport in Phu Quoc is not available. Most travellers get a rental bike (115,000₫/day), car charter (920,000₫/day), or book a ride via Grab to get around.
Day 1: Phu Quoc's Iconic Attractions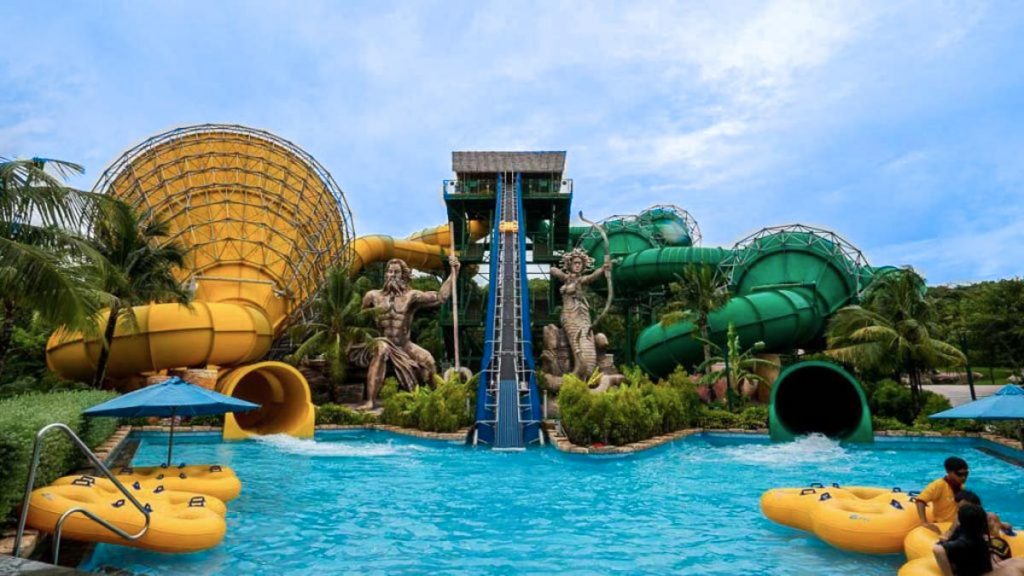 First up on our Phu Quoc itinerary had to be the Aquatopia water park at Sun World. It's one of the two waterparks on this island but we went with the one in the south because Getting to Sun World Phu Quoc is an adventure in itself.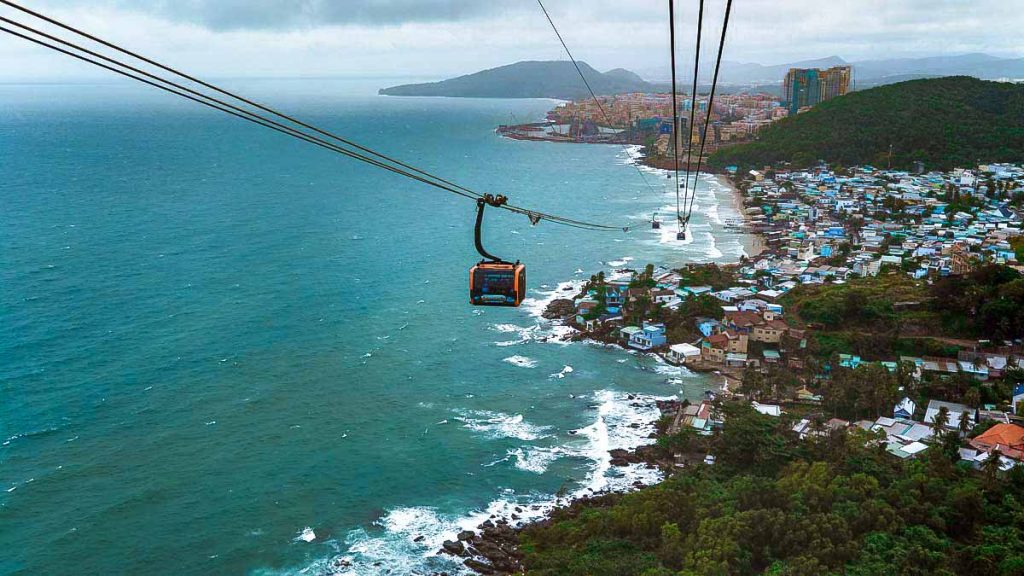 To get to Sun World, we took a ride on the world's longest non-stop cable car. Spanning 7,899m, you could slowly soak in views of the An Thoi Archipelago and spot the little fishing boats sailing around.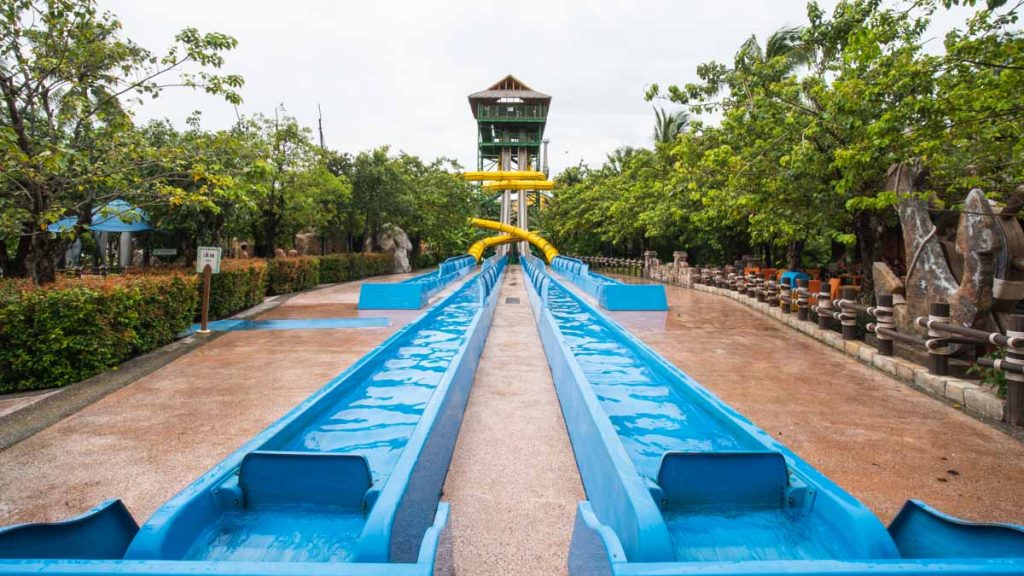 At Sun World, there are over 20 adrenaline-filled slides and water rides in six different zones. Straight away, we had our eyes set on the Python Plunge, a classic trap-door slide with an almost vertical descent!
Check out Poseidon's Revenge if you're here as a group (of up to four). You hop on a float with three others while you go on twists and turns through the slide. But what I really enjoyed was the ridiculous expressions from the others 😈.
*Pro-tip: Lockers are available for rent at the park (30,000đ for a small one, 60,000đ for a big one), so you can leave your belongings there while you play!
Entrance fee: ~S$30/pax (incl. cable car ride)
Opening hours: 8:30AM – 5:30PM
Address: Bãi Đất Đỏ, Phú Quốc, Kien Giang, Vietnam
Ho Quoc Pagoda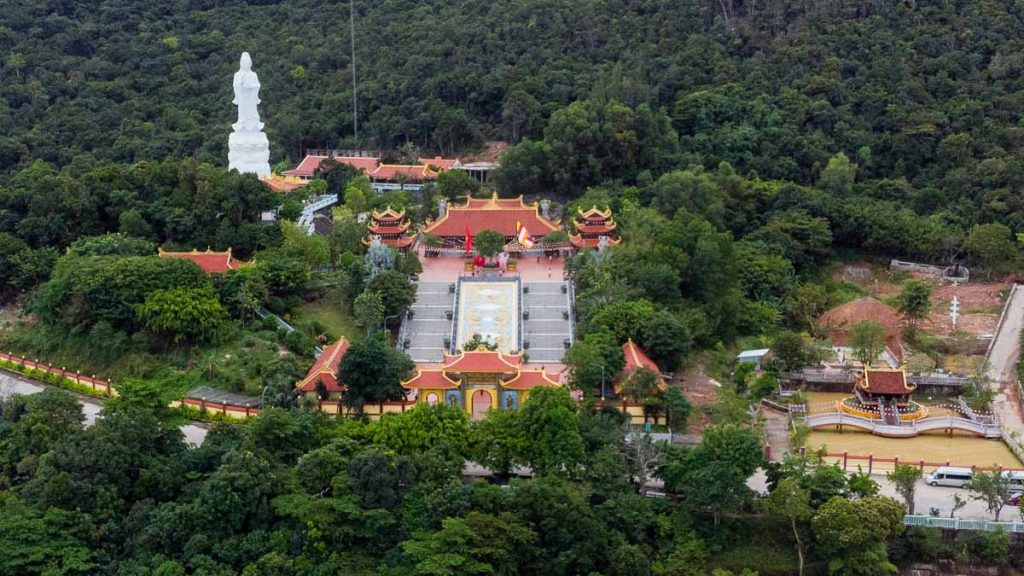 On your way back north into the city, Ho Quoc Pagoda is a note-worthy stop. It is the largest Buddhist temple on the island, famously known for its dragon stairs and towering white Buddha statue. We climbed the stairs and soaked in the panoramic view of the mountains and sea.
Note: Dress in covered-up clothing and remember to take off your shoes if you want to enter the temples inside.
Entrance Fee: Free
Opening Hours: 8AM – 4PM
Address: 426H+57R, Dương Tơ, Phú Quốc, Kiên Giang, Vietnam
Dinh Cau Night Market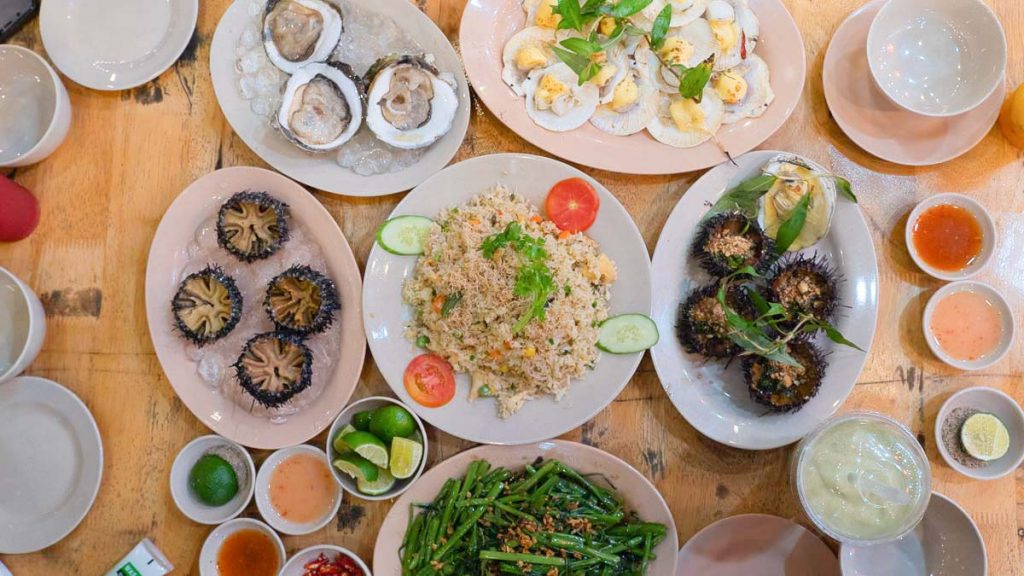 In Phu Quoc, Dinh Cau Night Market is the place to be after sunset. Here you'll find food stalls displaying freshly caught seafood, snacks, fruit juices, and smoothies. For dinner, we settled at a seafood restaurant — Phu Quoc Deli — and ordered sea urchins (22,000đ), fresh oysters (30,000đ), grilled scallop set (120,000đ for eight scallops), and crab fried rice (120,000đ).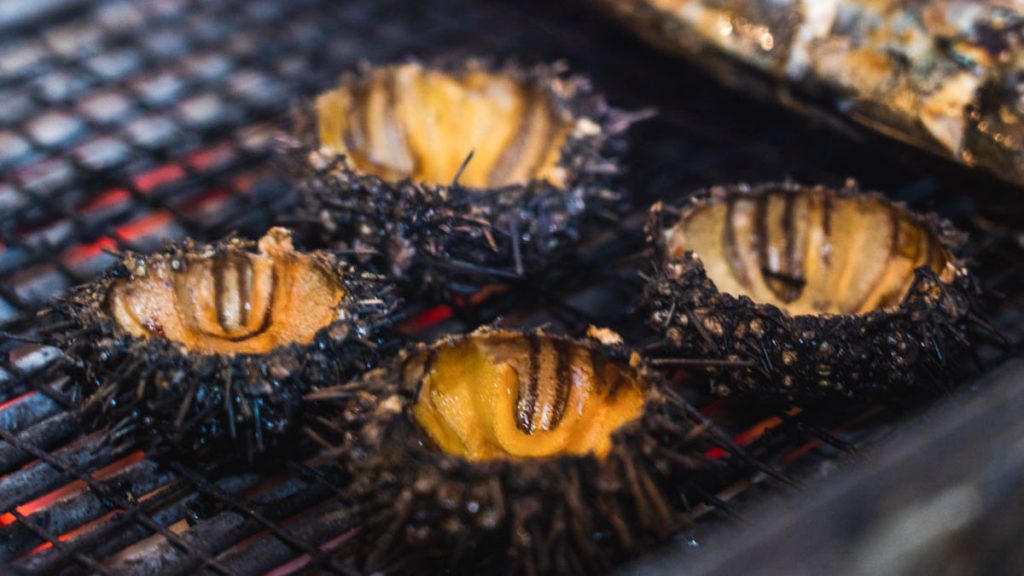 The seafood caught is extremely fresh — not exaggerating, I could taste the ocean with every bite. I personally loved the grilled sea urchin, which is cooked over charcoal and topped with spring onions and peanuts. The best part? It is only 22,000đ per sea urchin! Seriously, just stuff yourself to your heart's content and fulfil your seafood cravings here🤤
Opening hours: 5PM – 10PM
Address: Khu phố 2, Phú Quốc, Kiên Giang, Vietnam
Day 2: Island-hopping in Phu Quoc
Island-hopping is a key highlight in any Phu Quoc itinerary 🏝️
The next morning, we signed up for an island-hopping tour. The guide picked us up from our hotel and brought us to An Thoi Harbor in the south. This tour covered three smaller islands in the south of Phu Quoc, where we had various activities.
*Note: Snorkels and fins were provided as well!
Fingernail Island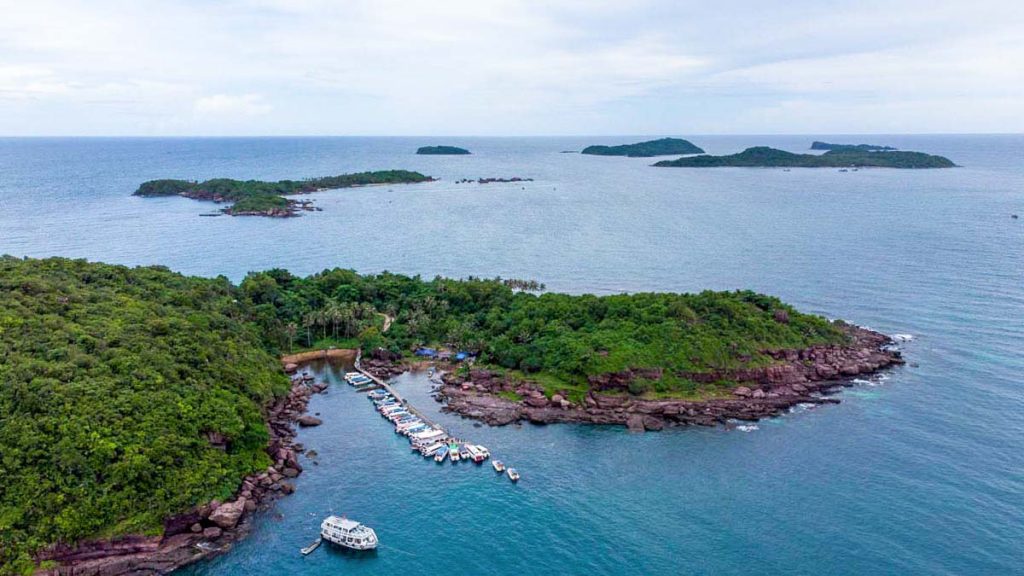 The first stop was Fingernail Island, a small island with turquoise waters. Despite the skies teasing us with a cloudy start, the water visibility was still impressive enough to spot the corals along the coast. It was a shame we could only snorkel in a small designated area due to the monsoon currents 😔. The guide says the best time to be here is between October to April when the water is almost always clear and the sun is always out.
Gam Ghi Island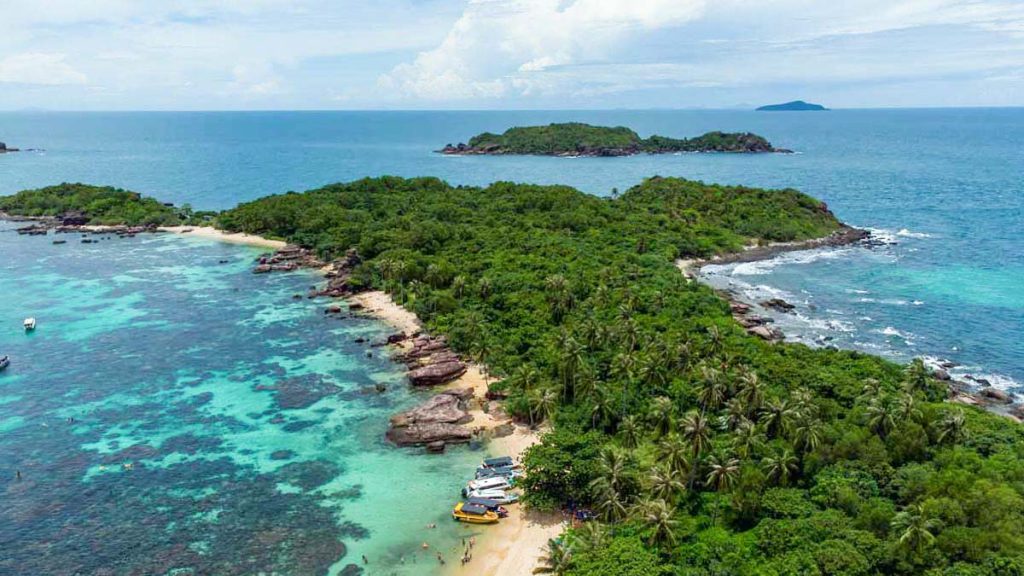 Thankfully, by the time we hopped over to the second island, the sun was out!
Compared to Fingernail Island, Gam Ghi was much clearer and the marine life was a lot more vibrant. After an hour of snorkelling, lunch was served on board!
Mui Rut Island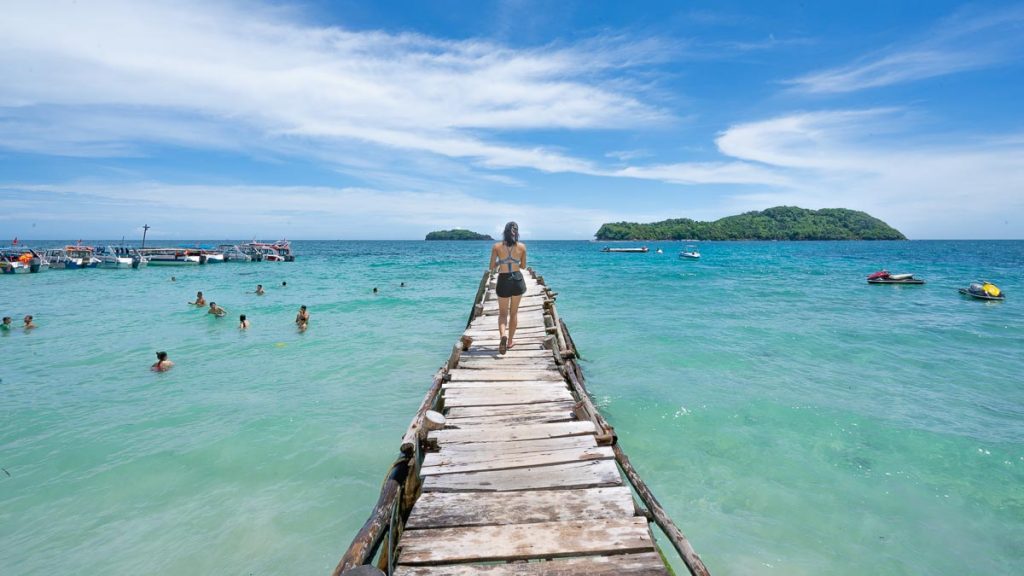 The final island was Mui Rut, a sandy beach bar with a variety of activities like parasailing and jetskiing (available with a top-up). Many of us ended up just chilling on the hammocks or beach chairs around the area as we were drained from all that snorkelling. Be careful of the rocks scattered around the coast — someone lost a toenail while running into the waters 😣
Cost: S$34/pax (incl. round-trip transfers and lunch on board)
Tour timings: 8:30AM – 4:30PM
Meeting point: Hotel pickup is available
Dinner at Tiếu Ngạo Quán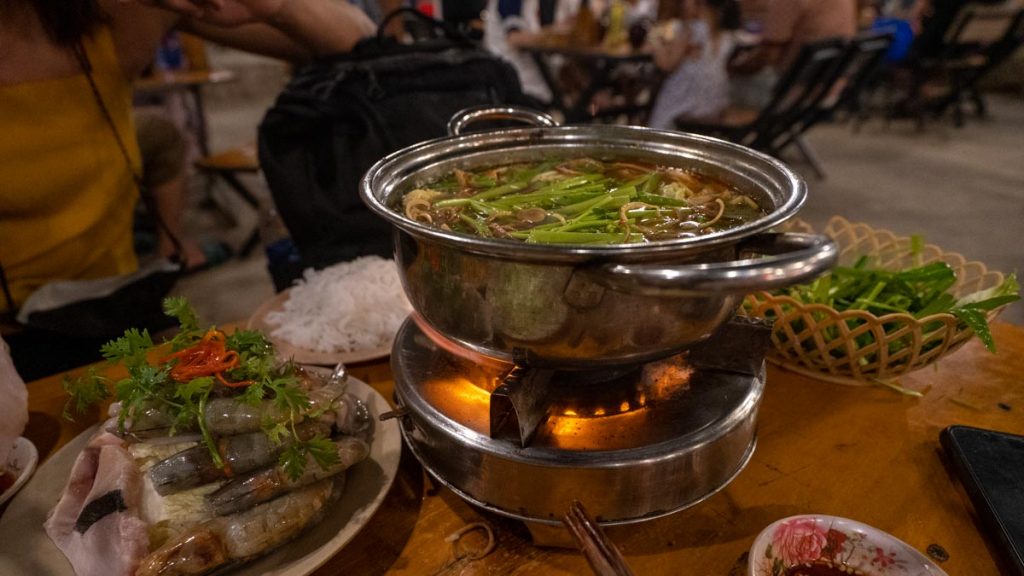 On a cold rainy evening, we were on a mission to find something warm for dinner and found Tiếu Ngạo Quán, a local restaurant neatly tucked along the roadside near our accommodation (M Resort Phu Quoc). The restaurant was bustling with locals so our Singaporean instincts kicked in — if there's a crowd, it should be good.
Our seafood platter had a generous portion of squid, prawns, fish, mixed vegetables, and rice noodles — and the best part was that it only cost ~S$17 for two 😋!
Cost: 290,000₫ for a seafood hotpot set for two
Opening hours: 3PM – 2:30AM
Address: Cửa Lấp, Phú Quốc, Kien Giang, Vietnam
Day 3: Exploring Phu Quoc's Hidden Gems
Sunset Sanato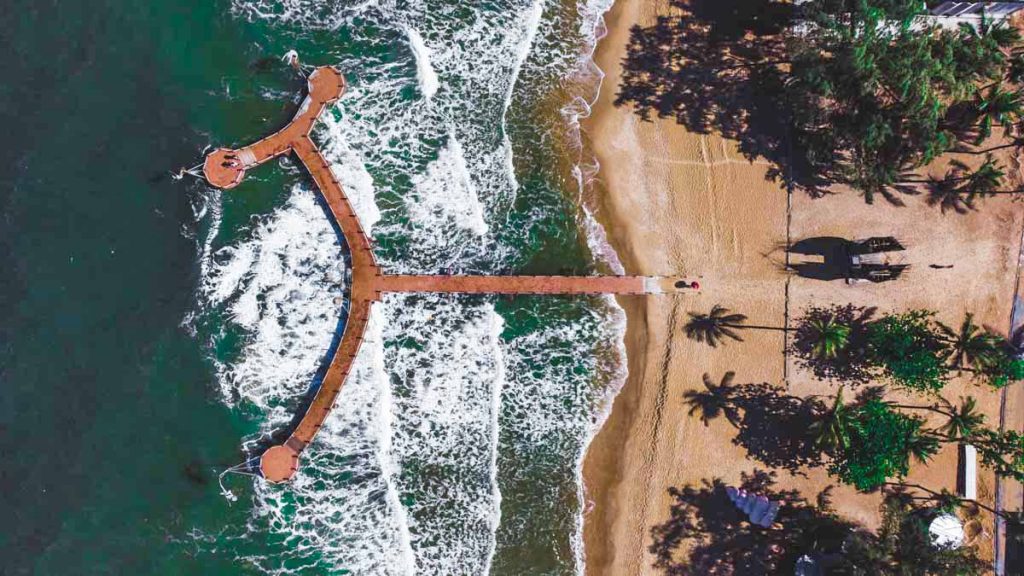 Filled with eccentric art installations designed by talented architect Nikita Marshunok, you could easily spend hours at Sunset Sanato snapping photos for your gram 📸.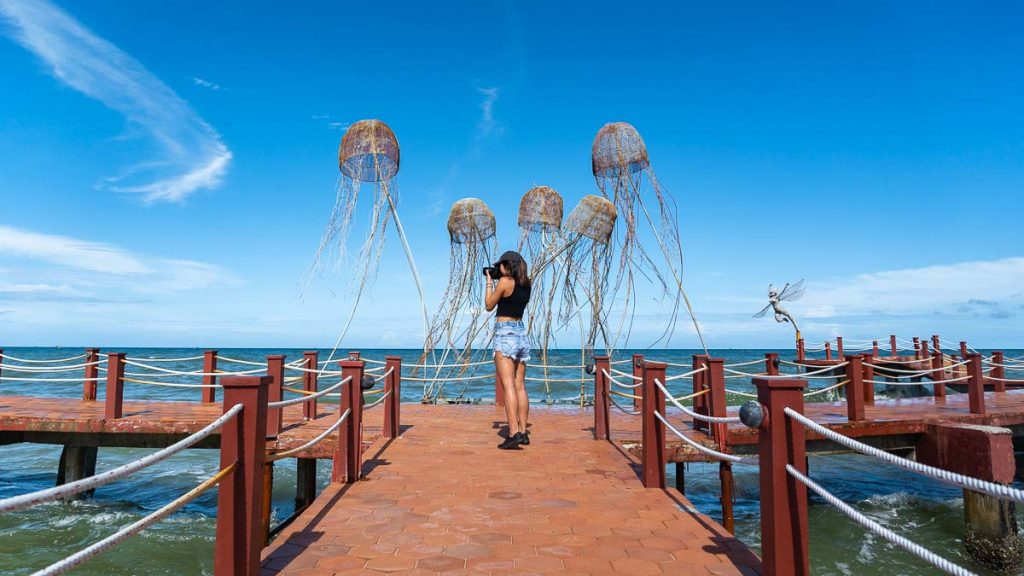 True to its name, one of the best times to visit is sunset. The silhouette of the structures basking in the sunlight makes the place look dreamy and surreal. Visiting at other times of the day has its perks too as the area is a lot less crowded so you get to enjoy the place to yourself.
Entrance fee: 70,000₫/pax
Opening hours: 9AM – 9PM
Address: Dương Tơ, Phú Quốc, Kien Giang 92000, Vietnam
Suoi Tranh Waterfall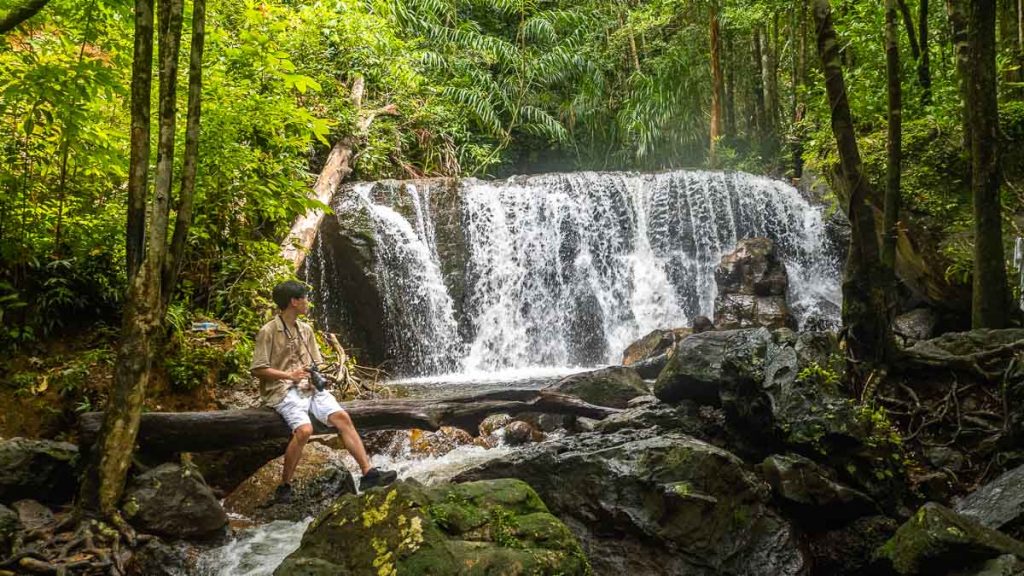 Suoi Tranh Waterfall is hailed as the most charming waterfall on the island by the locals. The path to the waterfall is fairly straightforward, just look out for these blue signs along the way.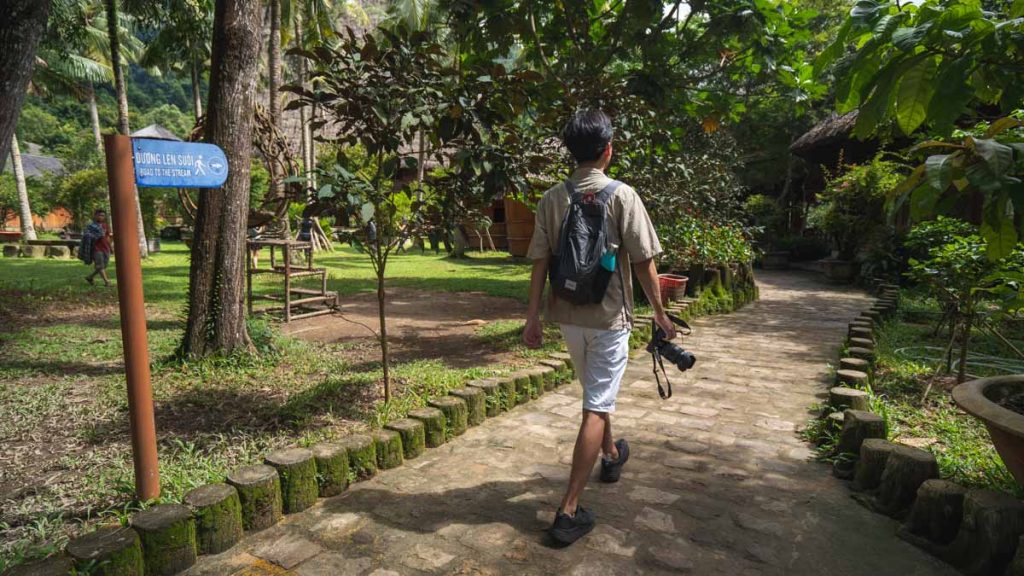 Do wear shoes as it can get quite rocky and slippery as you progress upstream towards the waterfall.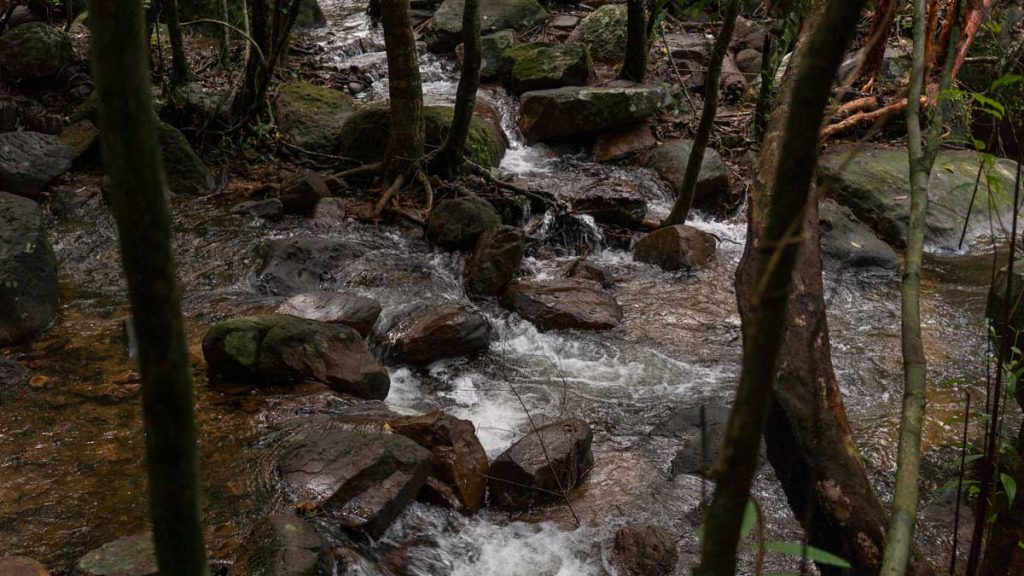 After a 20-minute hike, we were rewarded by a beautiful waterfall cascading into the stream.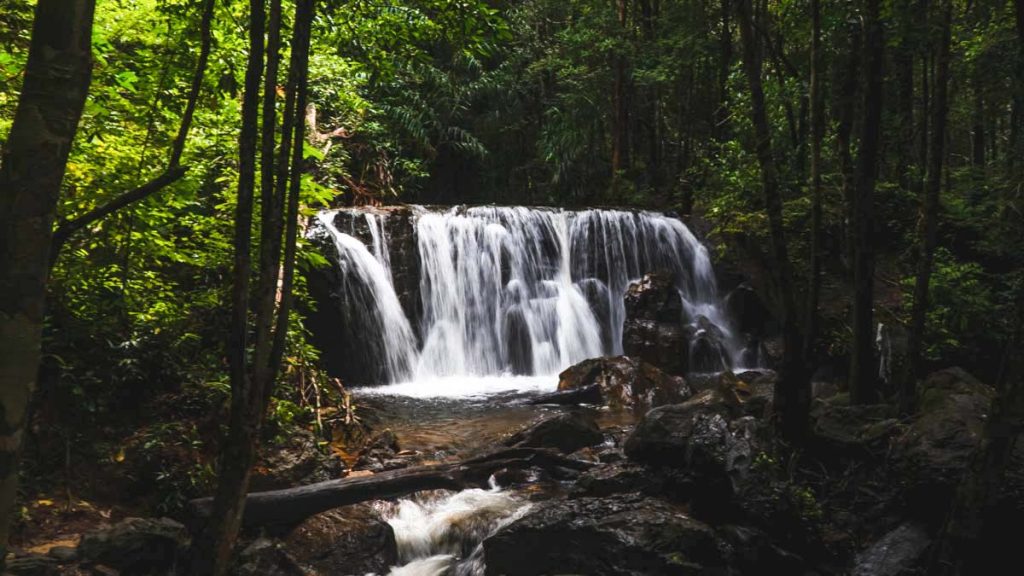 Surrounded by luscious greenery and streams, it's a tranquil place to relax and dip in the cool refreshing waters.
Entrance fee: 30,000₫/pax
Opening hours: 7AM – 9PM
Address: Dương Tơ, Phú Quốc, Kiên Giang, Vietnam
Cafe-hopping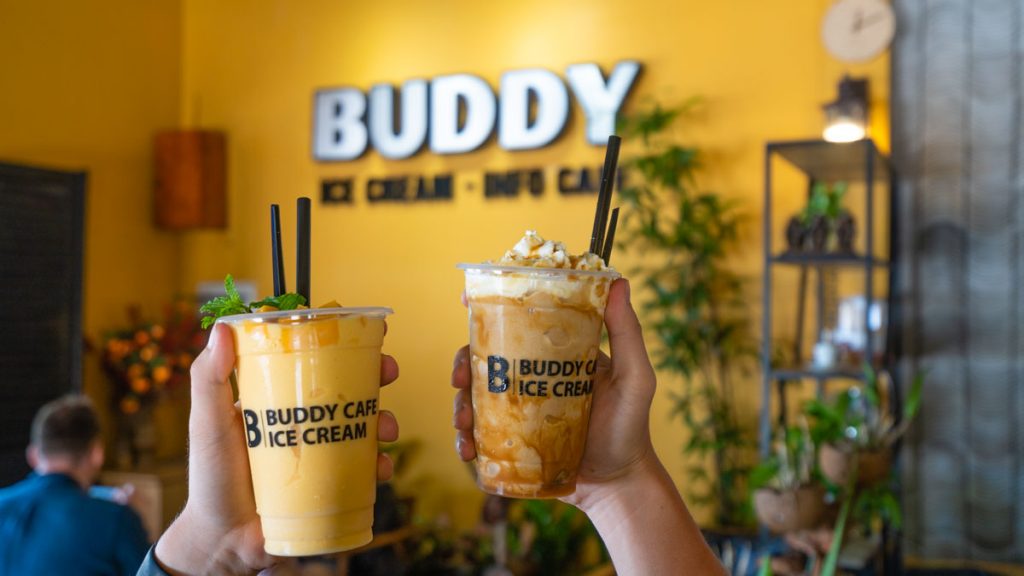 After our rocky hike, we went to Buddy Ice Cream — Info Cafe for a mango smoothie (50,000₫) and a coffee shake (45,000₫) which was really refreshing.
Opening hours: 7AM – 9PM
Address: Dương Tơ, Phú Quốc, Kiên Giang, Vietnam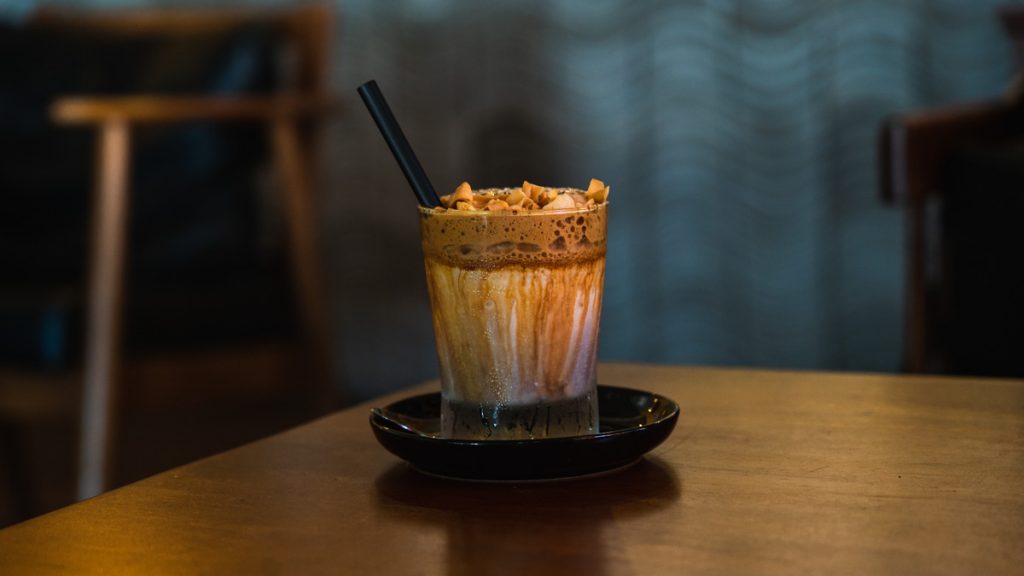 For a coffee fix, check out The Coffee Vegan's espresso coconut (55,000₫). The creaminess of the coconut cream paired with the rich smooth Vietnamese coffee truly made my day. If you're not into caffeine, the coconut smoothie (45,000₫) is a great thirst-quenching alternative.
In general, the cafes around here offer a variety of artisanal drinks and desserts to choose from 30,000₫.
Opening hours: 7AM – 9PM
Address: Dương Tơ, Phú Quốc, Kiên Giang, Vietnam
Read also: Southern Vietnam Food Guide — 17 Best Places to Eat at Ho Chi Minh, Da Lat, Mui Ne, and Phu Quoc
Accommodation in Phu Quoc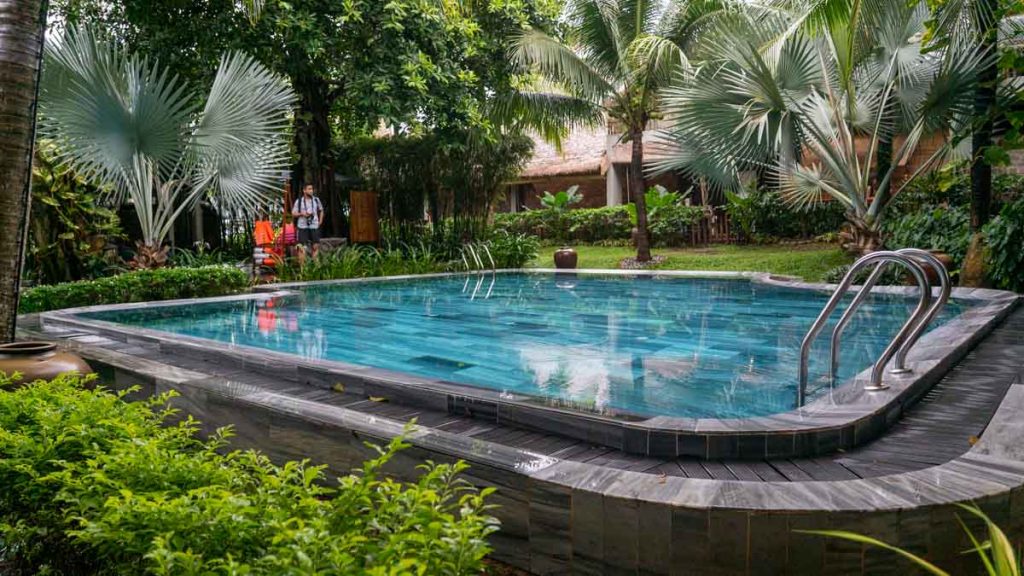 It's best to book your accommodation around Duong Dong or Cua Lap as it gives you easy access to both the northern and southern parts of the island. Being in this prime area, many attractions such as the Dinh Cau Night Market and Sunset Sanato Beach Club are within a 20-minute drive.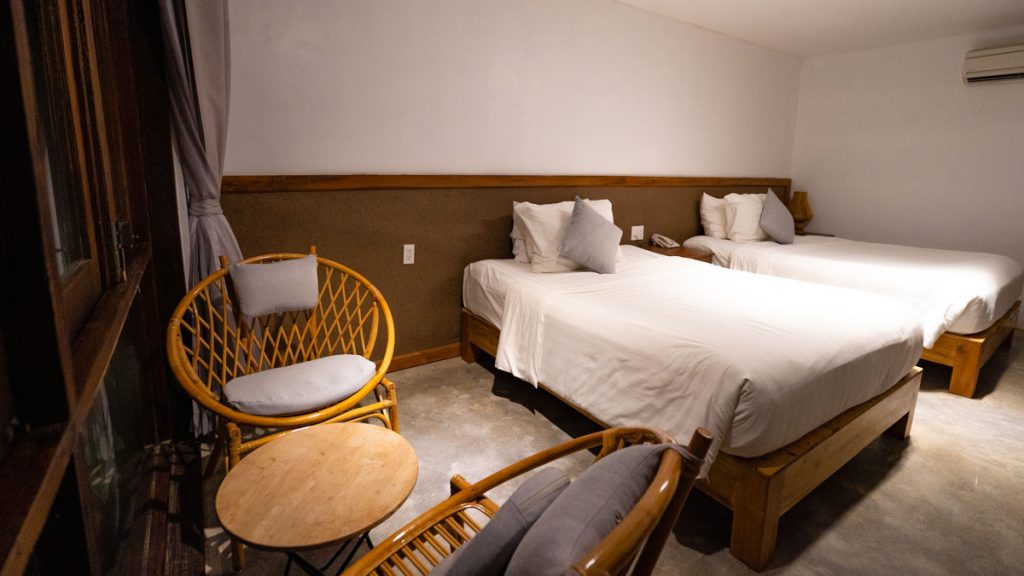 We stayed at the M Resort Phu Quoc, a chalet resort located at Cua Lap. The rooms were spacious, clean, and had a good breakfast buffet with a mix of local and international options.
Cost: ~S$82/night
Address: 169 Tran Hung Dao St, Cua Lap, Duong Dong, Phu Quoc, Vietnam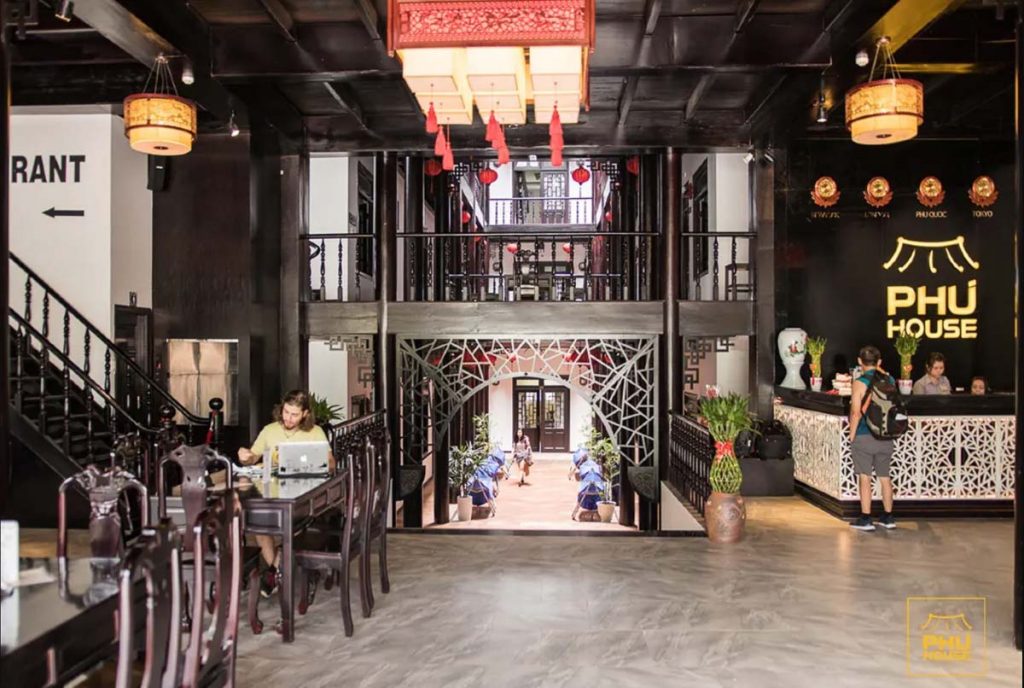 Photo credit: Phu House
Alternatively, if you're solo travelling, the Phu House Hostel is a good alternative. Located at Duong Tran Hung Dao, slightly further north of Cua Lap, it is also convenient to get around the island and great for meeting other travellers.
Cost: From S$13/night
Address: 122 Đường Trần Hưng Đạo, Khu Phố 7, Phú Quốc, Kiên Giang, Vietnam
Tips for Planning Your Phu Quoc Itinerary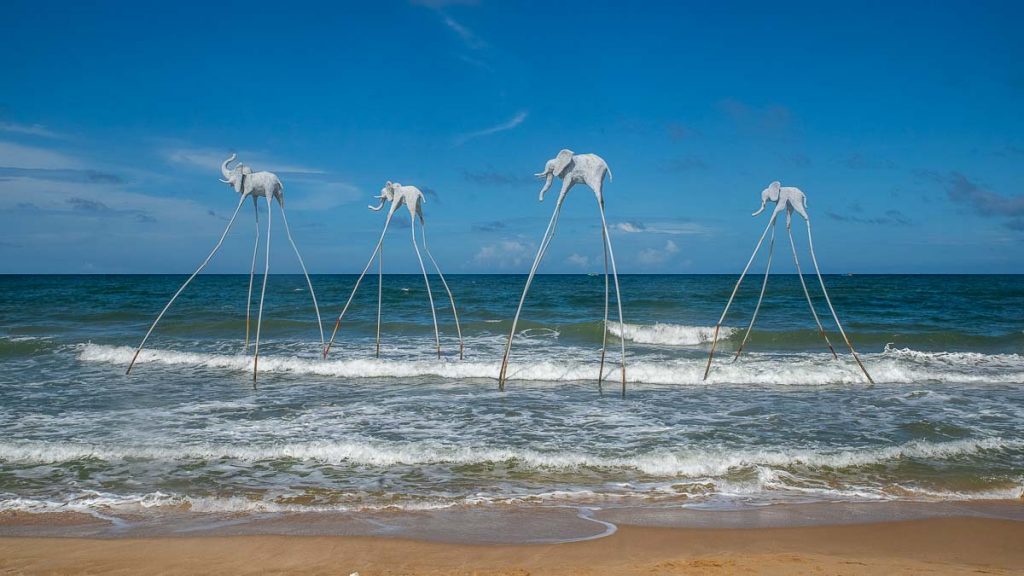 From alluring beaches to its amusement parks, these three days in Phu Quoc have definitely unearthed my love for paradise islands. Here are some tips for planning your next Phu Quoc itinerary:
1) Google translate is your best friend: Use it to communicate with locals as a lot of them may not understand English
2) Cash is king: especially in their markets
3) Get your SIM Card at Tan Son Nhat International Airport in Ho Chi Minh: Phu Quoc Airport does not sell SIM cards. But don't worry, you can still get one at the local shops in Duong Dong if you didn't buy one beforehand. We ordered ours online and collected it at the HCM airport before catching our flights to Phu Quoc.
Planning your Southern Vietnam itinerary? Check out these guides and itineraries from other parts of Southern Vietnam:
– 7-Day Southern Vietnam Itinerary Under S$900 — Best Things to Do in Phu Quoc, Ho Chi Minh, Mui Ne, and Da Lat
– 9 Best Things to do in Ho Chi Minh City — A Less Touristy HCM Guide
– 2-Week Vietnam Itinerary — Heart-Pumping Experiences through Northern and Central Vietnam from Hanoi to Da Nang
What would you like to try most in this Phu Quoc itinerary? Let us know in the comments below!
---