Exclusive to TTI readers: From now till 30th September 2018, book a 4-night Port Klang & Phuket Cruise at only S$399*. Applicable sailing dates: Nov 5, Nov 12, and Nov 19. Promo code and other details below!
Penang to me is a nostalgic safe haven where I look forward to rediscovering again and again. Officially inscribed as a UNESCO World Heritage Site in 2008, Penang's capital Georgetown holds more than just history to her lands. The ever-changing scapes of Georgetown prove that there's always space for creativity and new ideas within the old and static.
A state that celebrates ethnic diversity, Penang's vibrant colours reflect the multiculturalism of her people that's not only evident in her streets but also the food. Also, its proximity makes it the perfect short getaway if you do not have much time to spare.
Here, we've compiled a list of Must-Sees and Must-Eats of Penang's Georgetown. If like us, you find yourself in Penang from a short stopover from the cruise, we've included our exact itinerary at the end of this post!
Travel Essentials for Penang
Getting around: Georgetown is discoverable by foot, or you can rent a bicycle and explore on two-wheels! Taking a Grab Car around is cheap too.

Staying connected: Or the lack thereof. Many cafes in Georgetown has free wifi, so it's not really necessary to purchase a SIM card for Malaysia. For us, we downloaded Google Maps offline onto our phones (do it before you leave Singapore!) to navigate our way around Georgetown. No problems at all!
Essentials: Bring around ~RM 150 (~S$50) in cash. Also, pack along your shades, sunscreen, and fans (paper fans, portable USB fans, etc.), as the sun and heat in Penang can be unforgiving.
Things to do in Penang
1) Visit the Old Chinese Clan Entities of Penang
i) Clan Jetties

Clan Jetties: A blast from the past, the floating village at Pengkalan Weld of George Town is a collective of Chinese fishermen settlements that have been residing on stilt houses since the 19th century.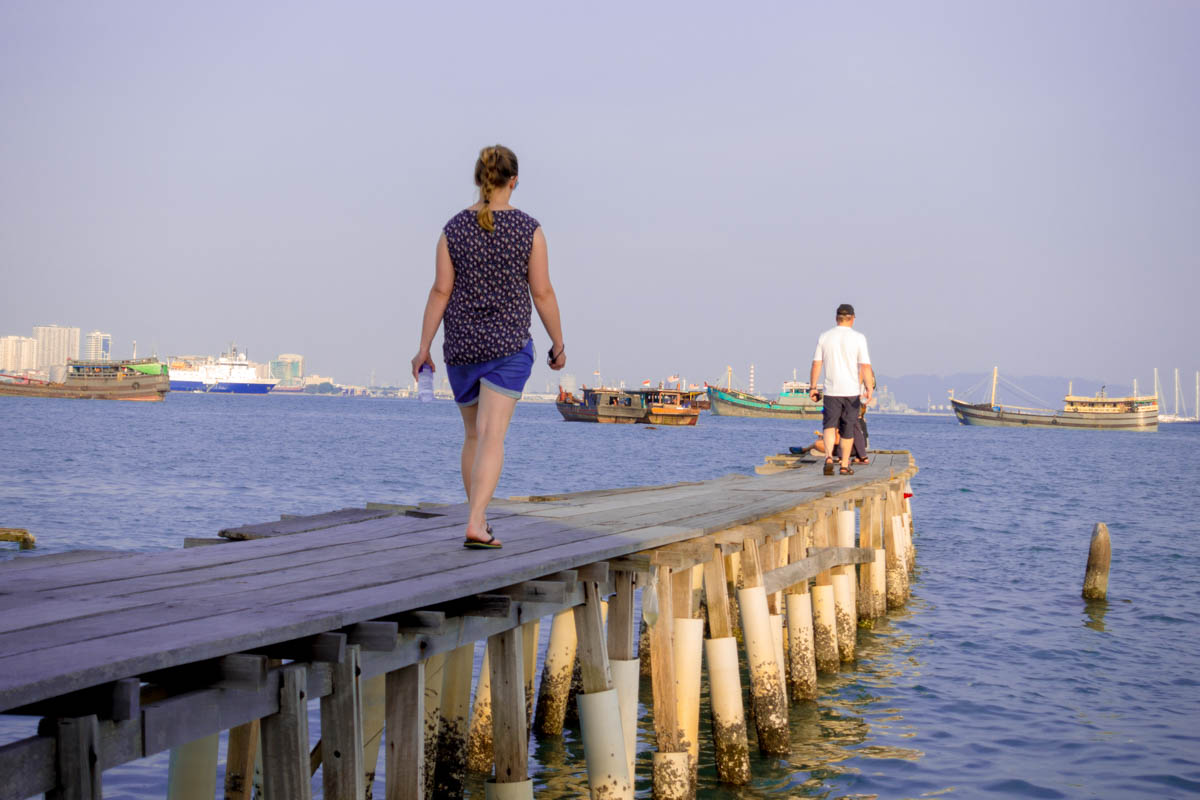 While most of the residents no longer depend on fishing as a livelihood, there are still six clans residing permanently by the waters. Visitors are allowed to explore the clan jetties at any time but do keep in mind to take only pictures and leave only footprints.

ii) Majestic Clan Houses and Mansions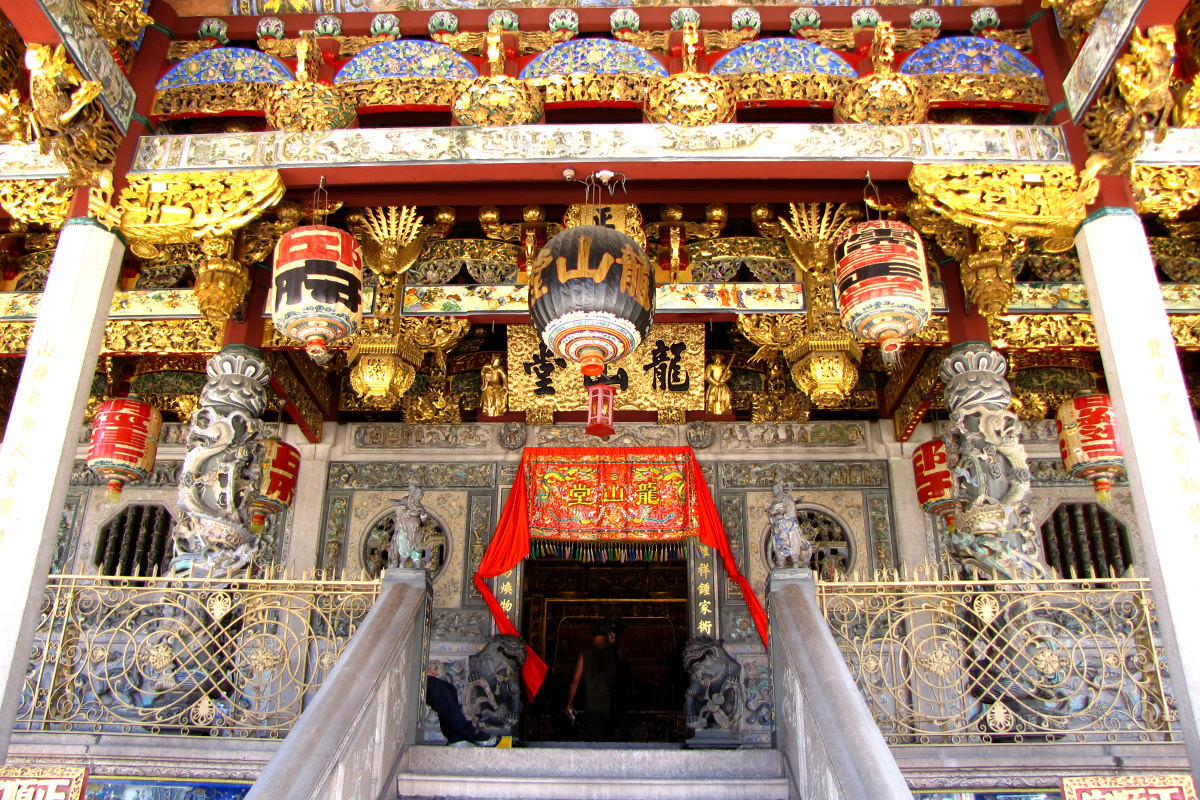 Leong San Tong Khoo Kongsi: A significant piece of heritage, the Leong San Tong Khoo Kongsi (or just "Khoo Kongsi") is the largest clan house in Malaysia. Many have also dubbed it the most extravagant clan house in the whole of Southeast Asia with the intricate wood carvings and gilded gold leaves.
Entrance Fee: RM10/pax
Address: 18, Cannon Square, George Town, 10450 George Town, Pulau Pinang, Malaysia
Opening Hours: 9AM – 5PM daily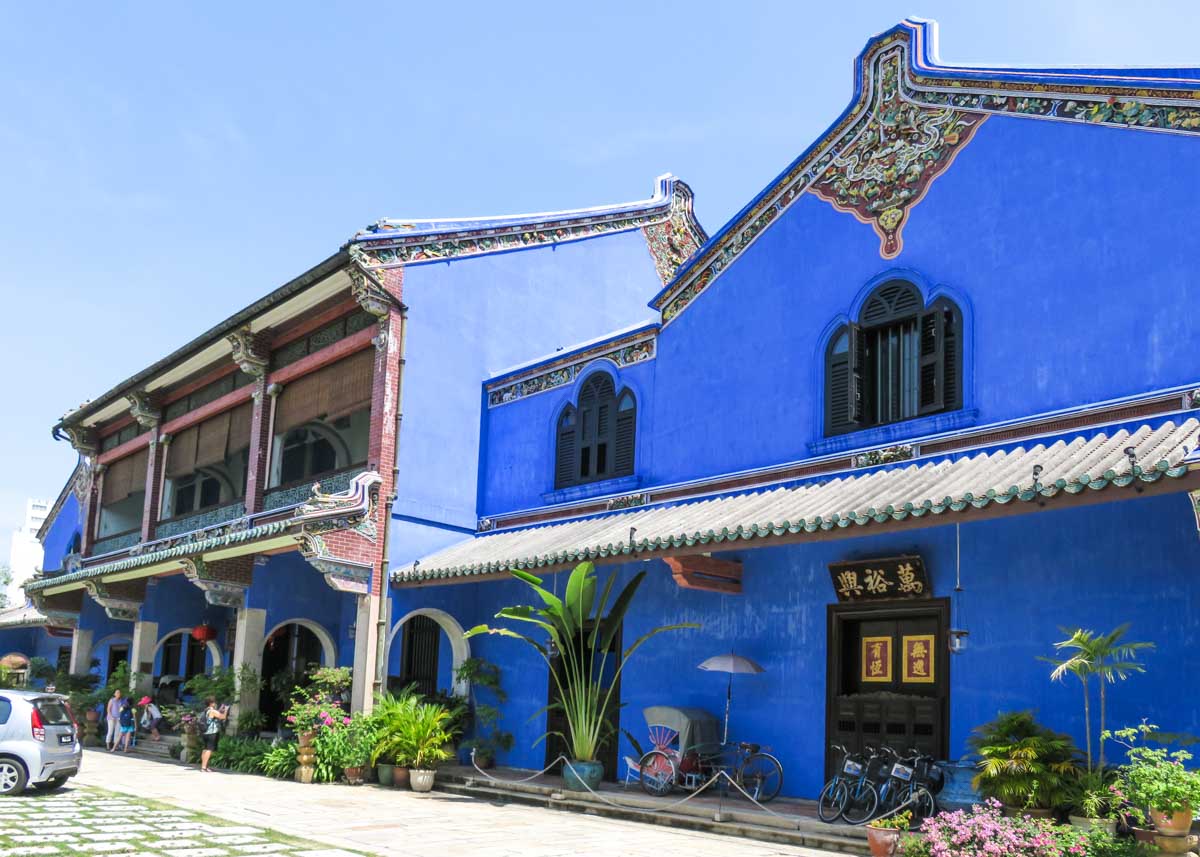 Cheong Fatt Tze Mansion (Blue Mansion): If there's a colour I could paint my entire house in, it'd be blue. In Fengshui, blue represents water, and water brings growth and wealth. That's probably what 19th-century Chinese businessman and politician, Cheong Fatt Tze, had in mind when he had his house, the Cheong Fatt Tze Mansion, built.
This historical landmark is also a boutique hotel now, and there are guided tours conducted thrice per day for curious visitors. Be ready to feast your eyes on the once-lavish life of Cheong Fatt Tze and his many wives.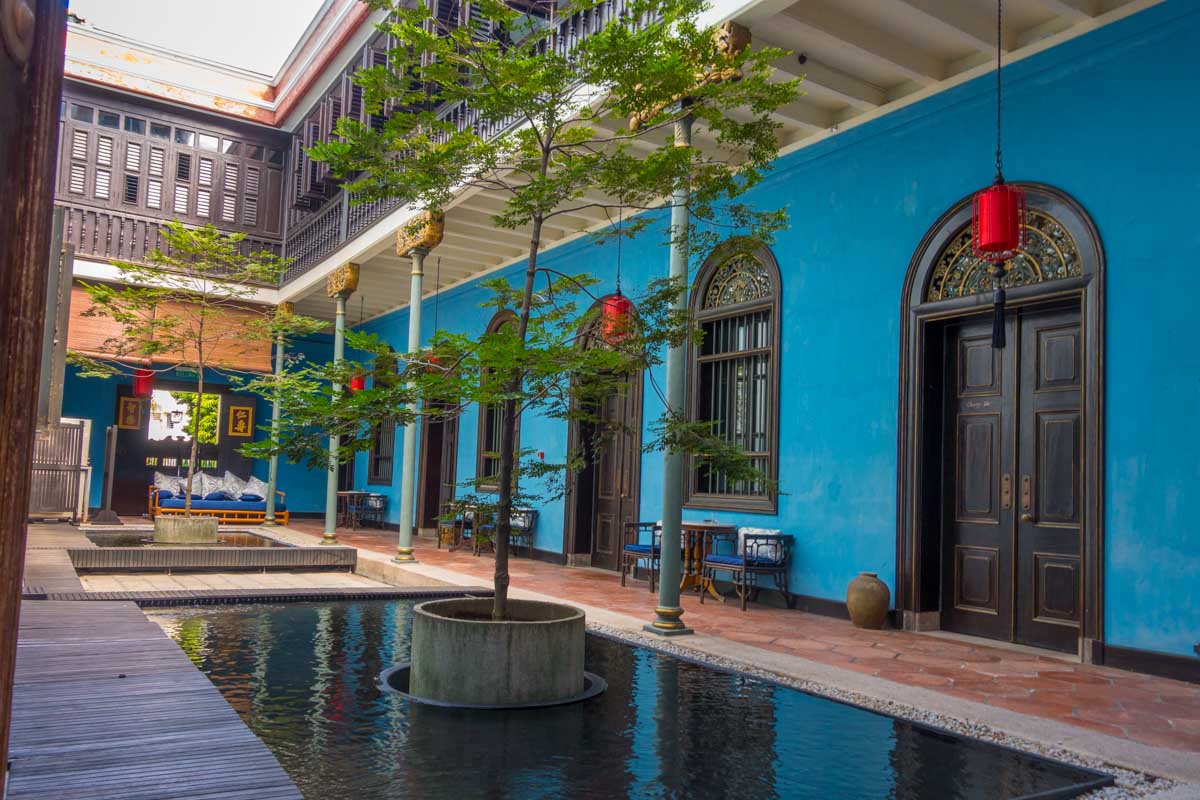 Entrance Fee: RM17/pax
Address: 14, Leith Street 10200 Penang, Malaysia
Guided Tour Timings: 11AM, 2PM, and 3:30PM daily 
2) Exploring Iconic Old-School Streets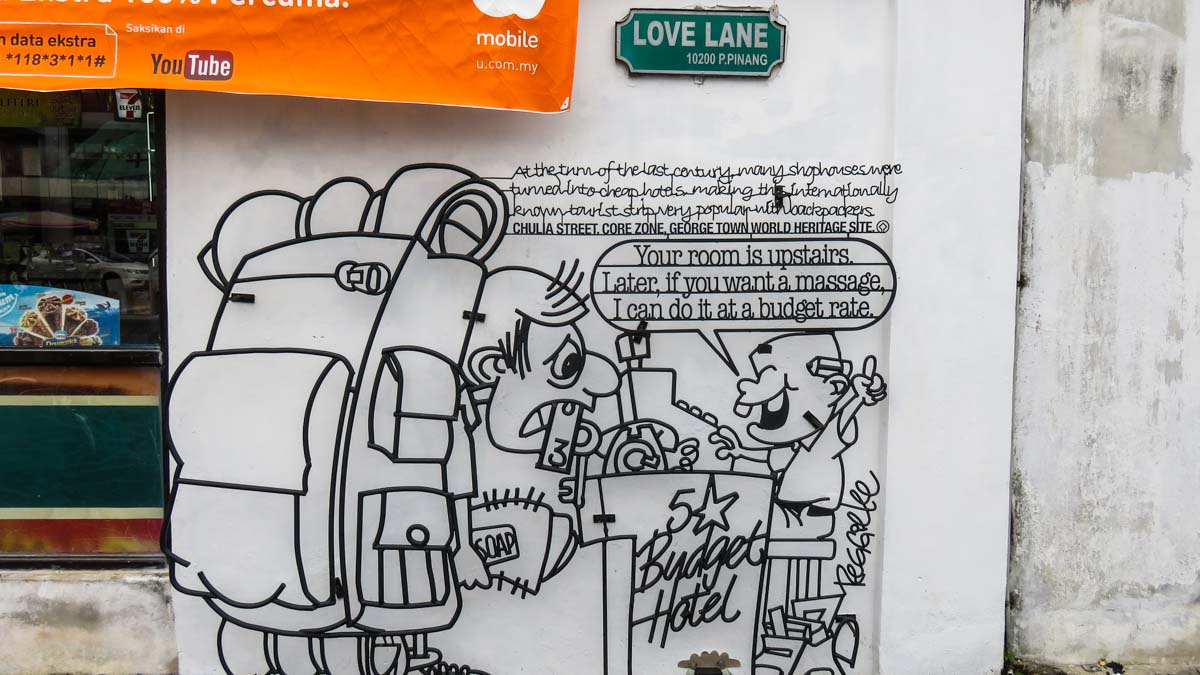 Love Lane: Besides being a food paradise, Georgetown of Penang is also known to many for her quirky street art and mushrooming hipster cafes. Love Lane is of the most visited lanes of Georgetown where many of the rustic old shophouses have been turned into trendy cafes and cheap backpackers' hostels.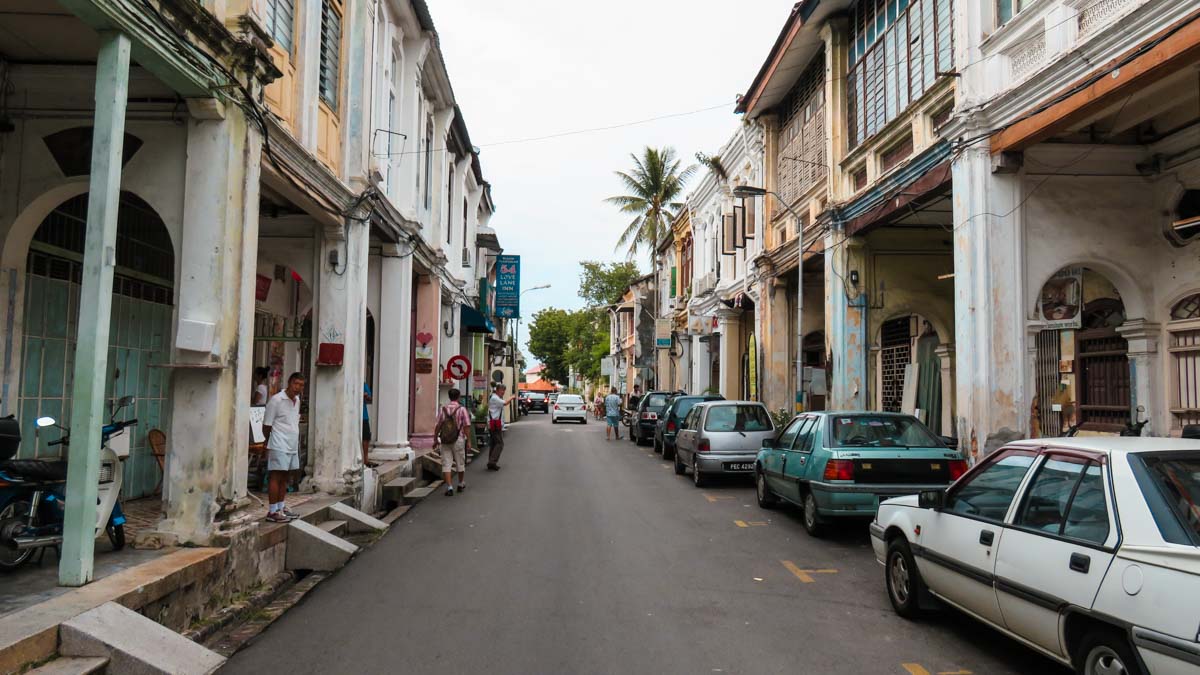 Location: Love Ln, Georgetown, 10200 George Town, Penang, Malaysia
3) Street Arts in Georgetown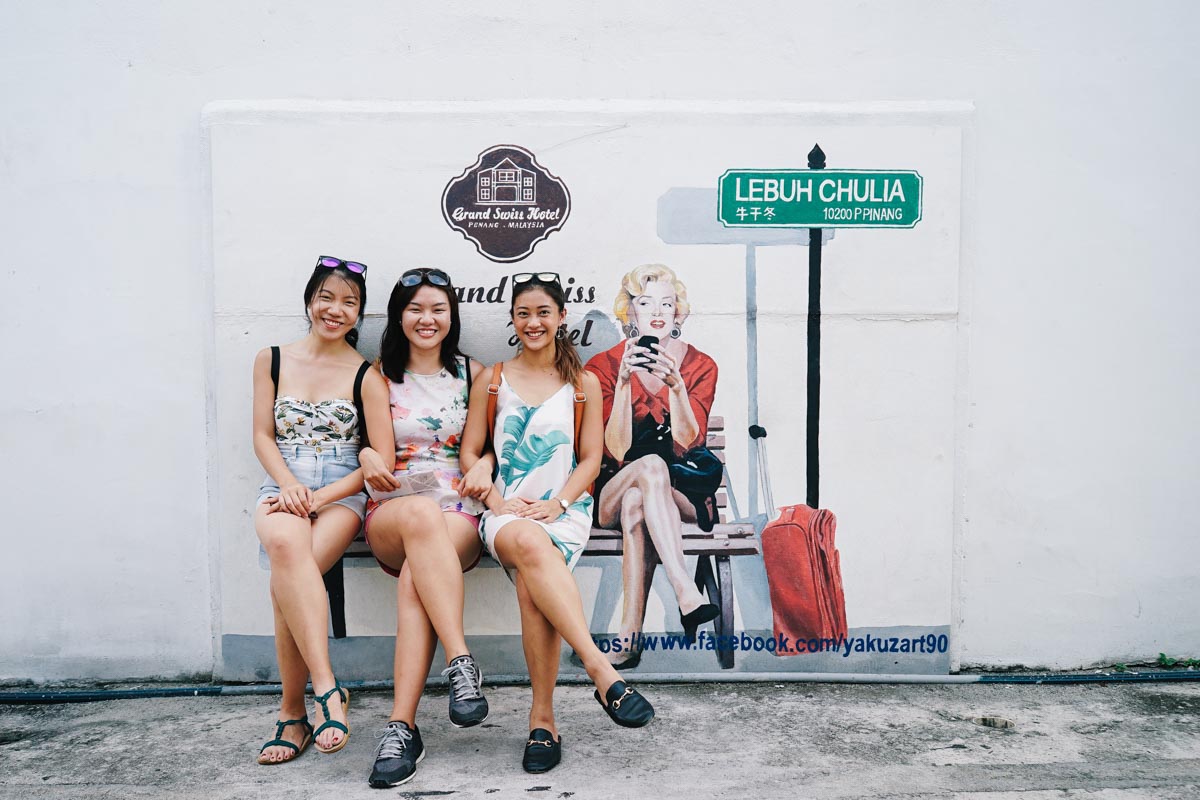 There are a lot of murals (more than 50!) around Georgetown, and some of the more notable ones* are actually located within walking distance of each other. Hunt for some of them at back alleys and forgotten streets while on your way to the next cafe.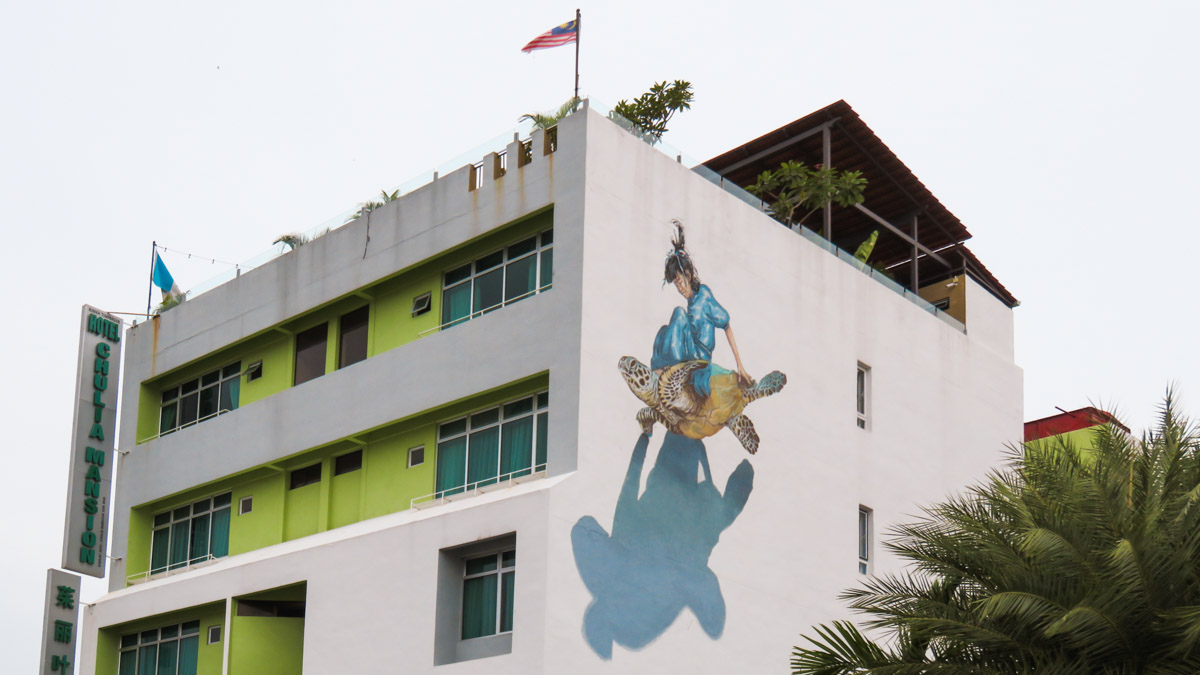 If you're tight on time, you'll really only need to visit two streets — Ah Quee Street and Lebuh Armenian.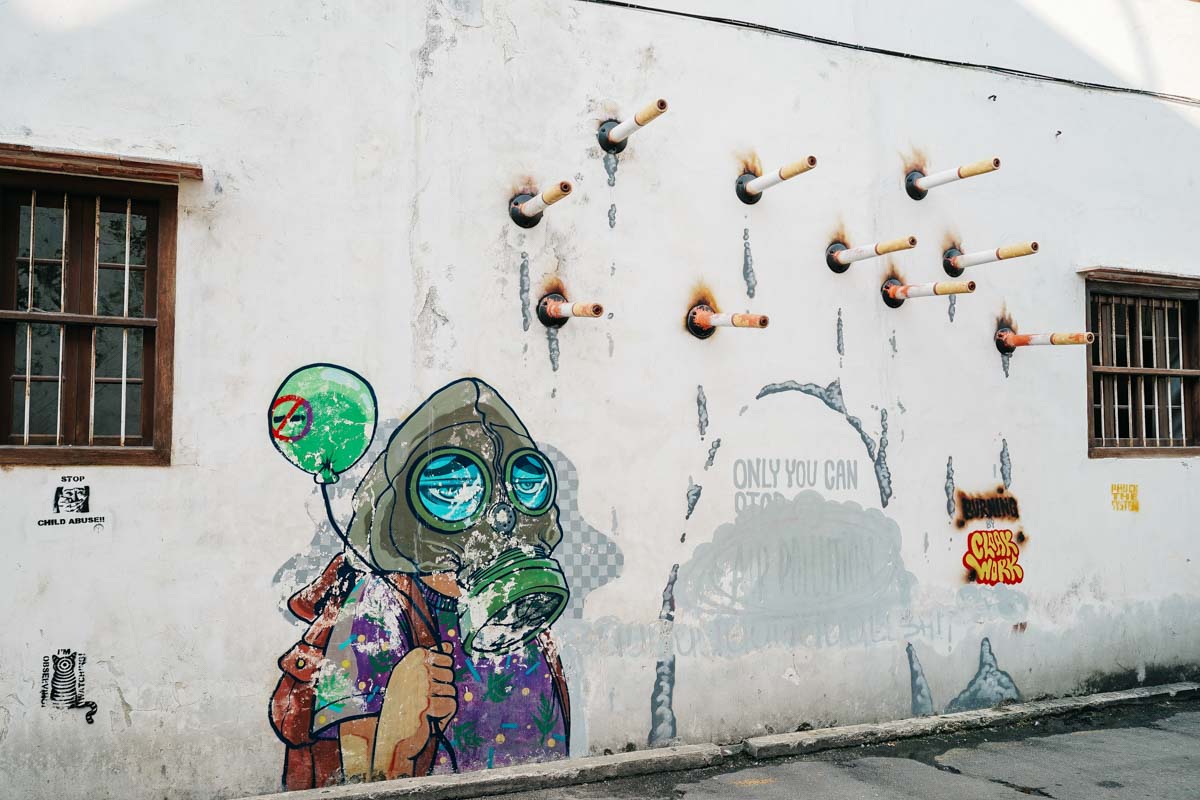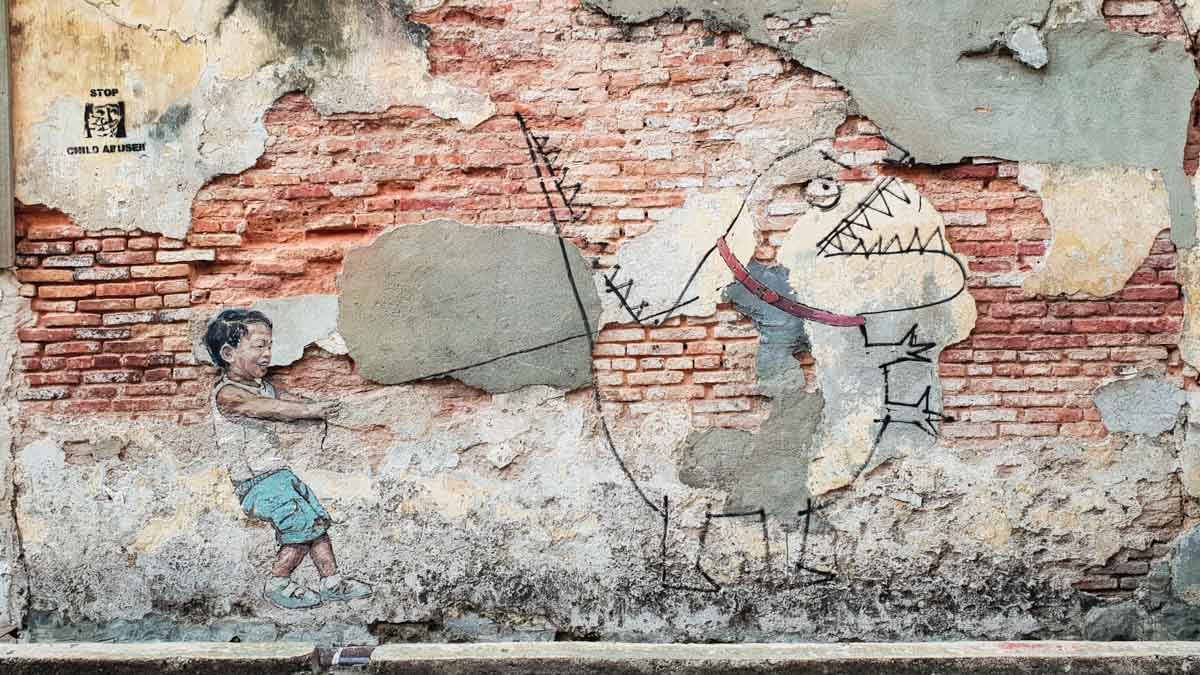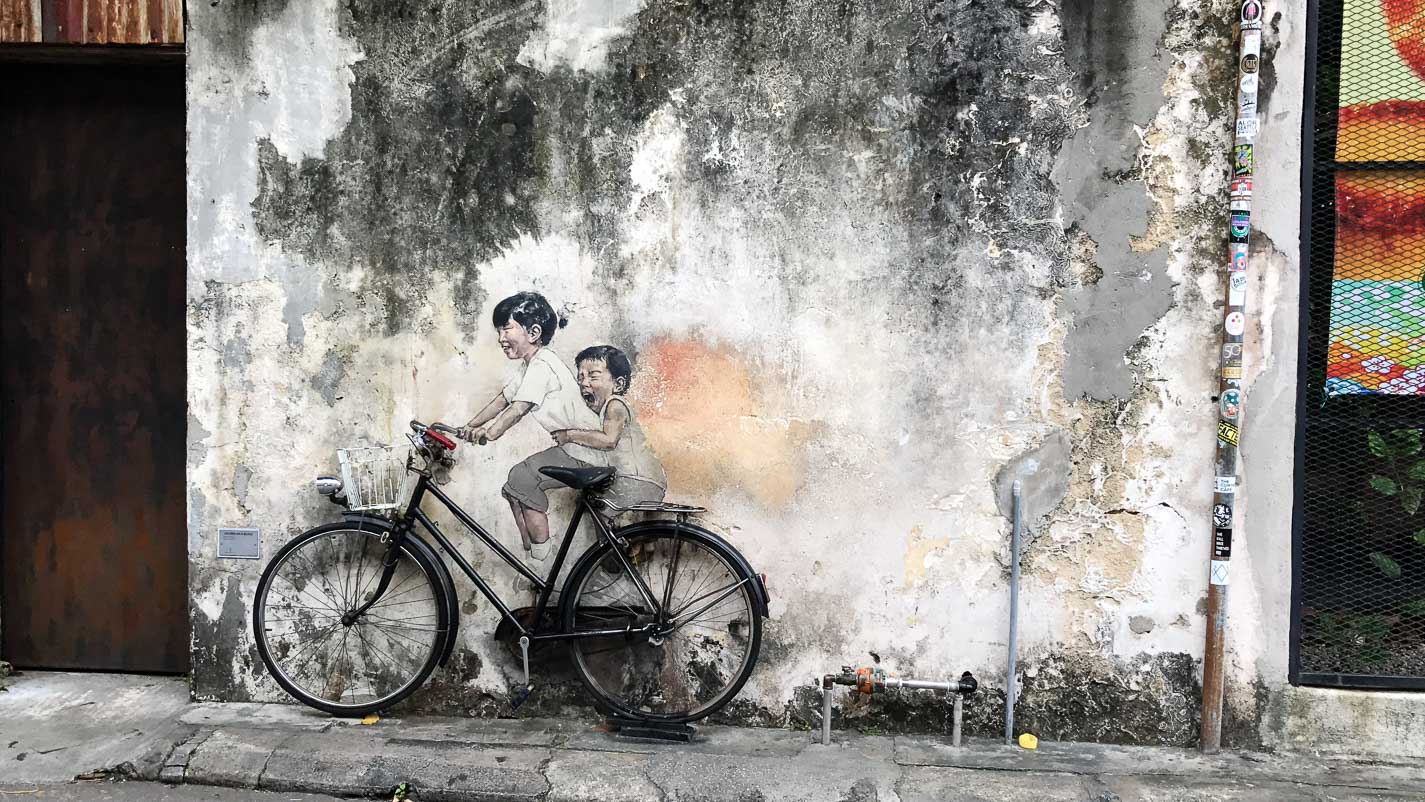 *The murals come and go! Some of which we saw on our previous trips have either faded over time or have been repainted over!
Read also: Guide to Georgetown's Street Art
4) Wonderfood Museum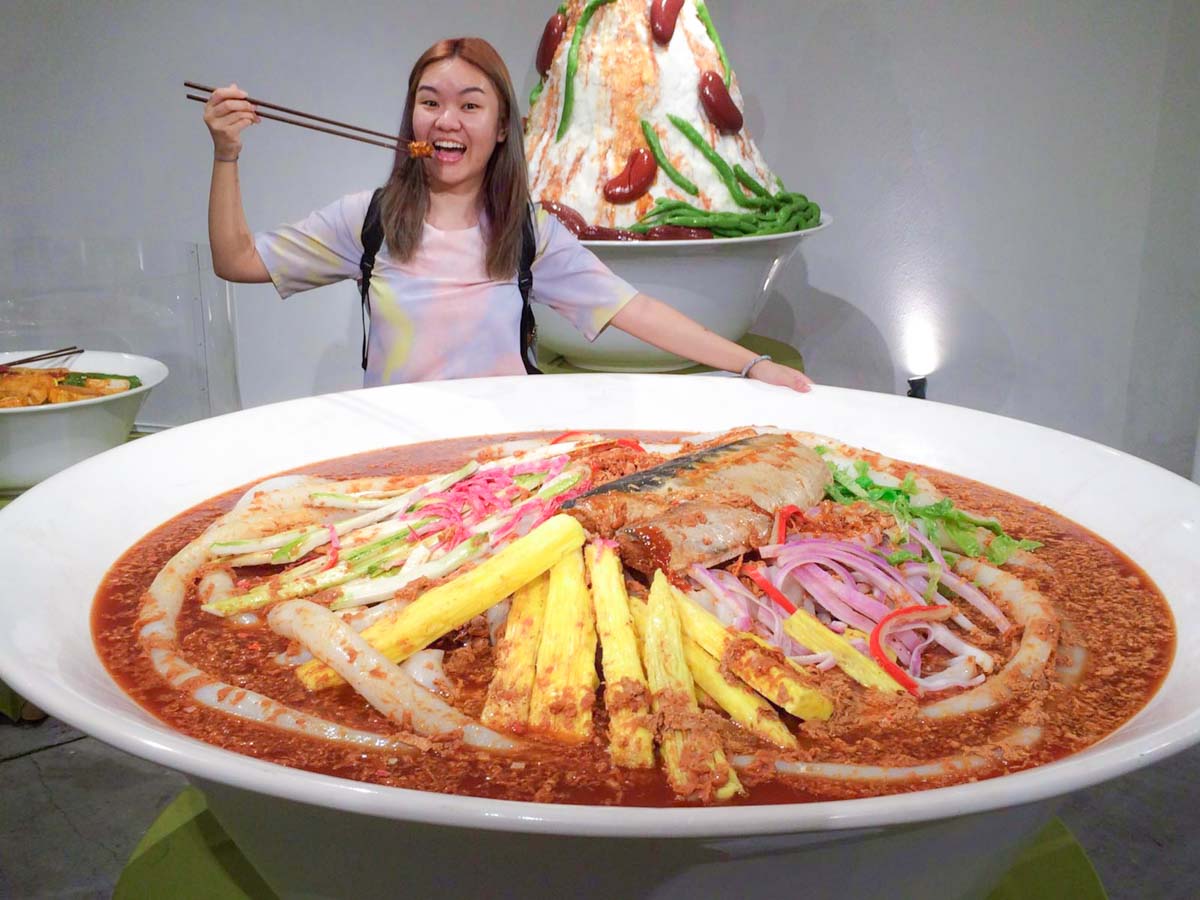 Penang is known as a food haven, and there's a place that amplifies this fact. At Wonderfood Museum, you can find Penang street food of all kinds made into the giant versions of themselves. The whimsical museum celebrates local cultures and tastes of the food people consume in their everyday lives.
Entrance Fee: RM 25/pax
Address: 49, Lebuh Pantai, George Town, 10200 George Town, Pulau Pinang, Malaysia
Opening Hours: 9AM – 6PM daily
What to Eat & Drink
1) Moh Teng Pheow Nyonya Koay & Canteen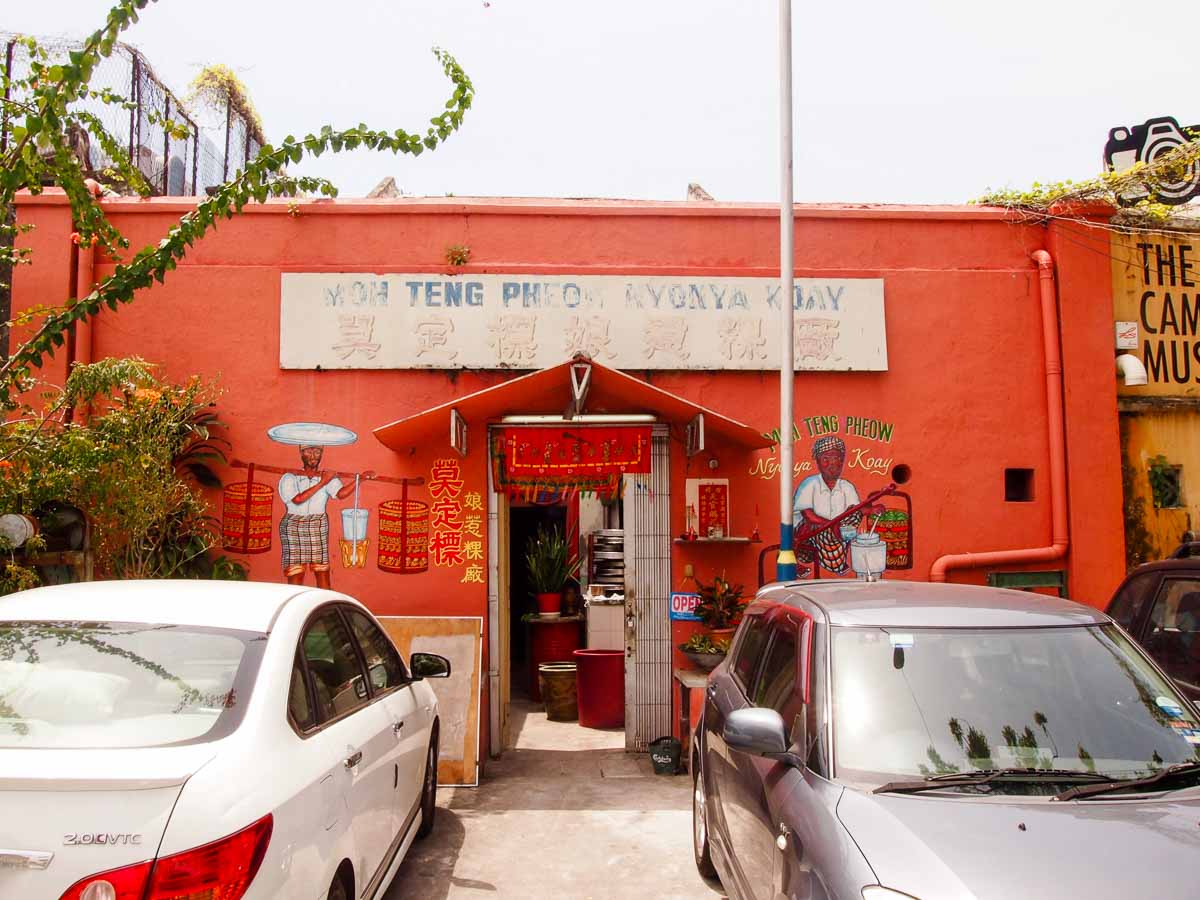 Hidden in a quiet back alley is one of Penang's oldest confectionery shop — Moh Teng Pheow Nyonya Koay & Canteen, a household name that many go to for childhood delights.
This canteen serves a colourful array of traditional kuehs handmade from scratch, a taste that is hard to find now in today's world.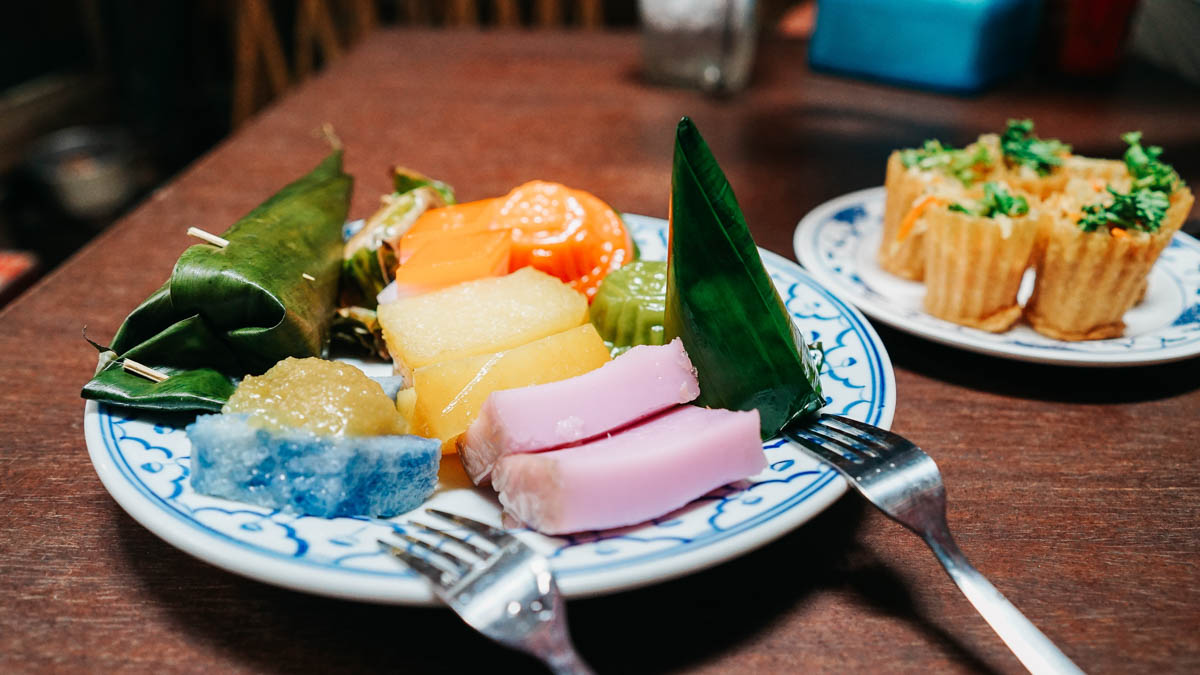 Price: RM0.60–RM1.50/piece
Address: off 10200, Chulia Street Night Hawker Stalls, Lorong Chulia, George Town, 10450 George Town, Pulau Pinang, Malaysia
Opening Hours: 10:30AM – 5:30PM (Closed on Mondays)
2) China House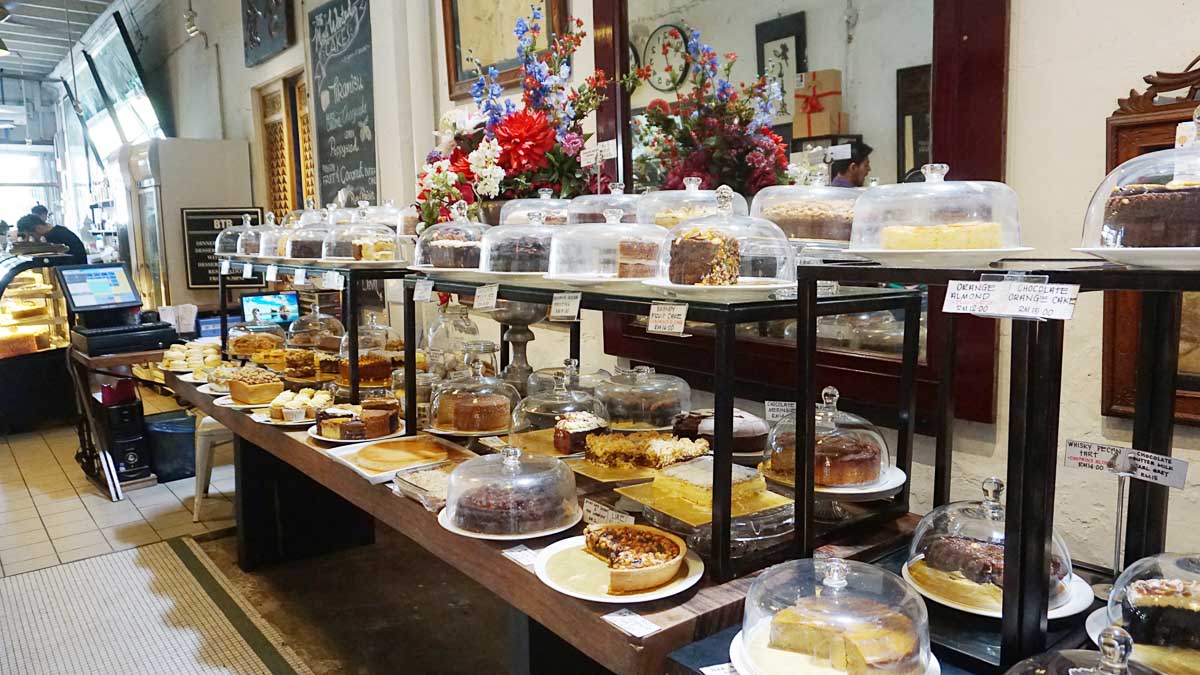 We've introduced them to you before, and really don't mind mentioning them again just because their cakes are dope. Get lost your creative juices flowing in the longest cafe in Penang — China House.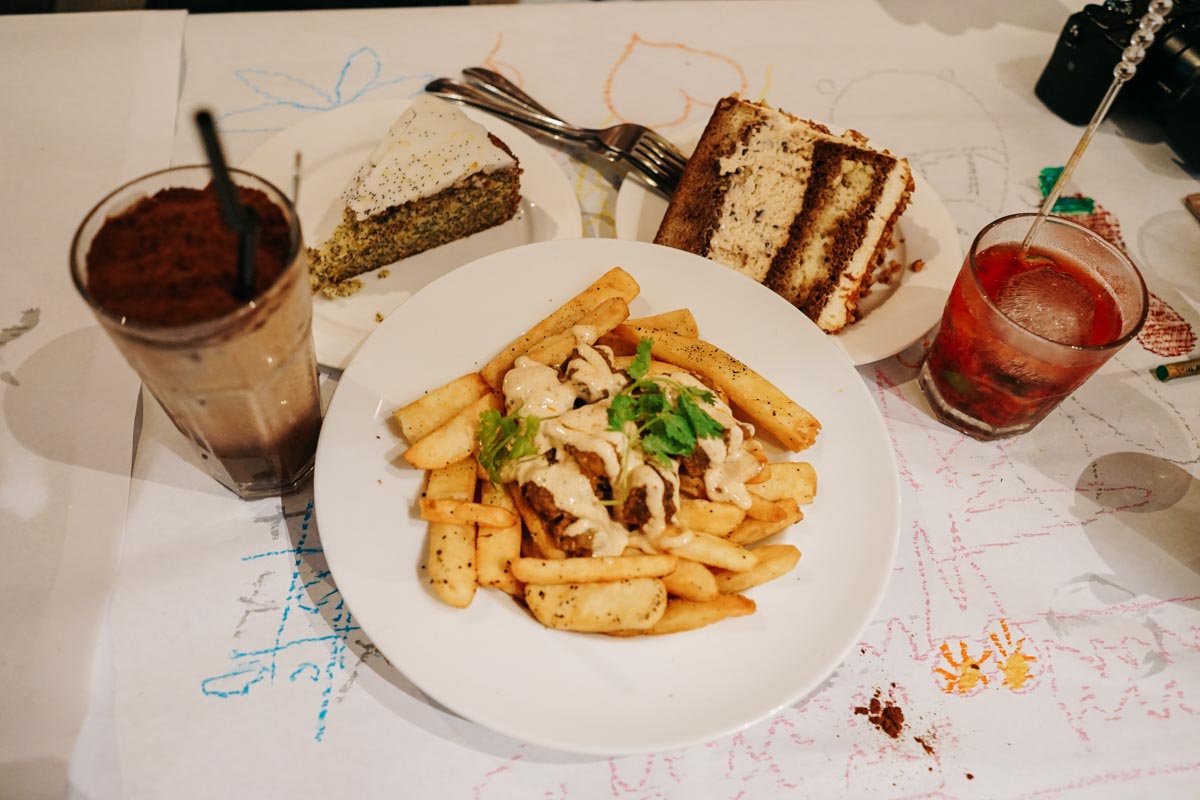 Provided with a cup of loose crayons, patrons are encouraged to draw on the mahjong papers lined on the tables. The best ones get displayed around the cafe! If you think this is just another novelty cafe, you're wrong. China House's specialty coffees and the wide selection of cakes are the highlights one must not miss. The signature Tiramisu cake (RM18) got me hooked.
Costs: RM 10.80-20.80/piece
Address: 153, Lebuh Pantai, George Town, 10300 George Town, Pulau Pinang, Malaysia
Opening Hours: 9AM – 1AM daily
3) 888 Hokkien Mee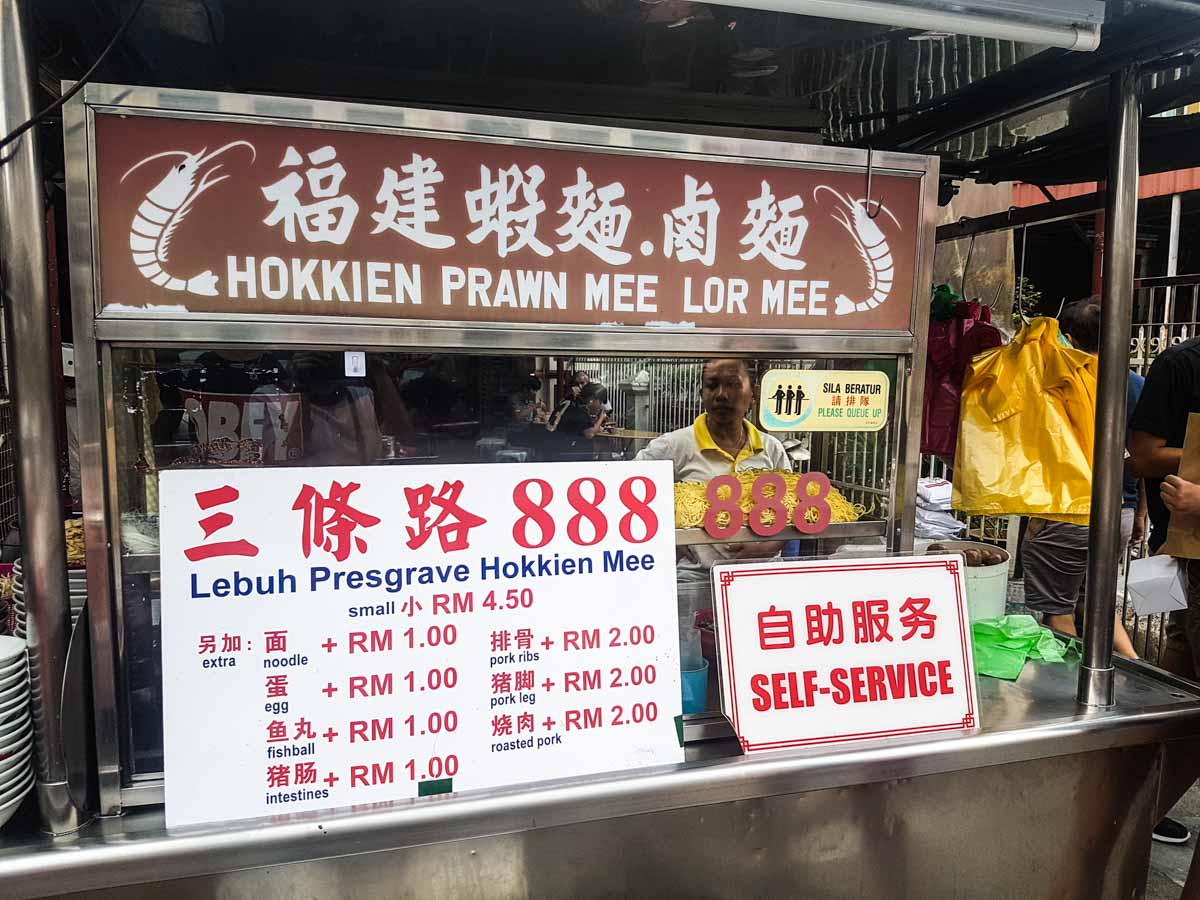 This makan place is slightly out of the way from the heart of Georgetown but is one I'll gladly travel to just to satisfy my cravings for prawn noodles. It is here where you can get more than what you pay for. A basic bowl of prawn noddles cost RM 4.50 (that's S$1.50), and every additional item such as eggs and pork ribs cost from RM1-2/pc (S$0.30-0.70).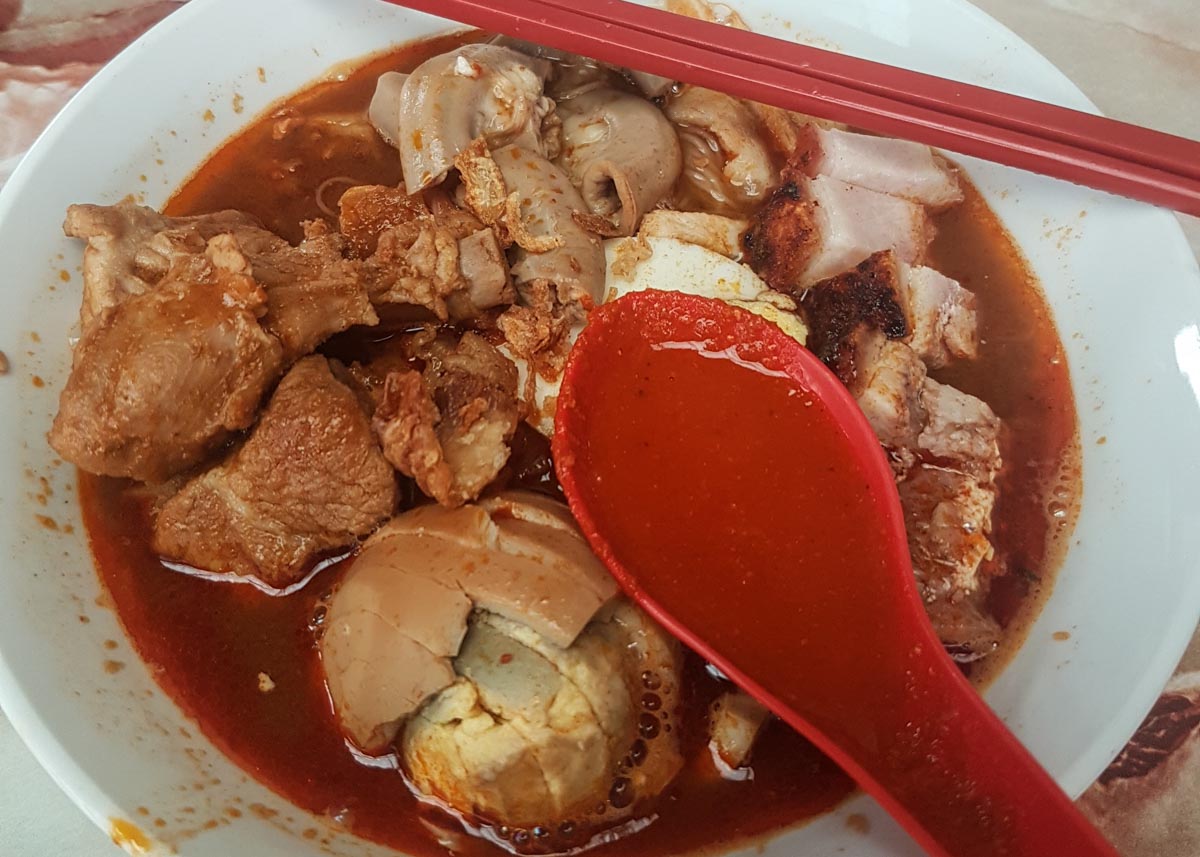 Located approx. 15 mins' walk away from China House, 888 Hokkien Mee sees mostly locals who crave for the local Malaysian Chinese taste, a generous bowl of hot savoury prawn noodles. For food we can walk, alternatively, a Grab ride should cost less than RM10 for that distance.
Cost: RM4.50/bowl; add-ons at RM1-2/ea
Address: 67-A, Lebuh Presgrave, George Town, 10300 George Town, Pulau Pinang, Malaysia
Opening Hours: 5PM – 11:45PM daily
Penang is a food haven you'll never get enough of, here are 6 authentic Penang street foods not to be missed!
Our Penang Day Trip Itinerary — Ideal for Cruise-goers
4PM: Moh Teng Pheow Nyonya Koay & Canteen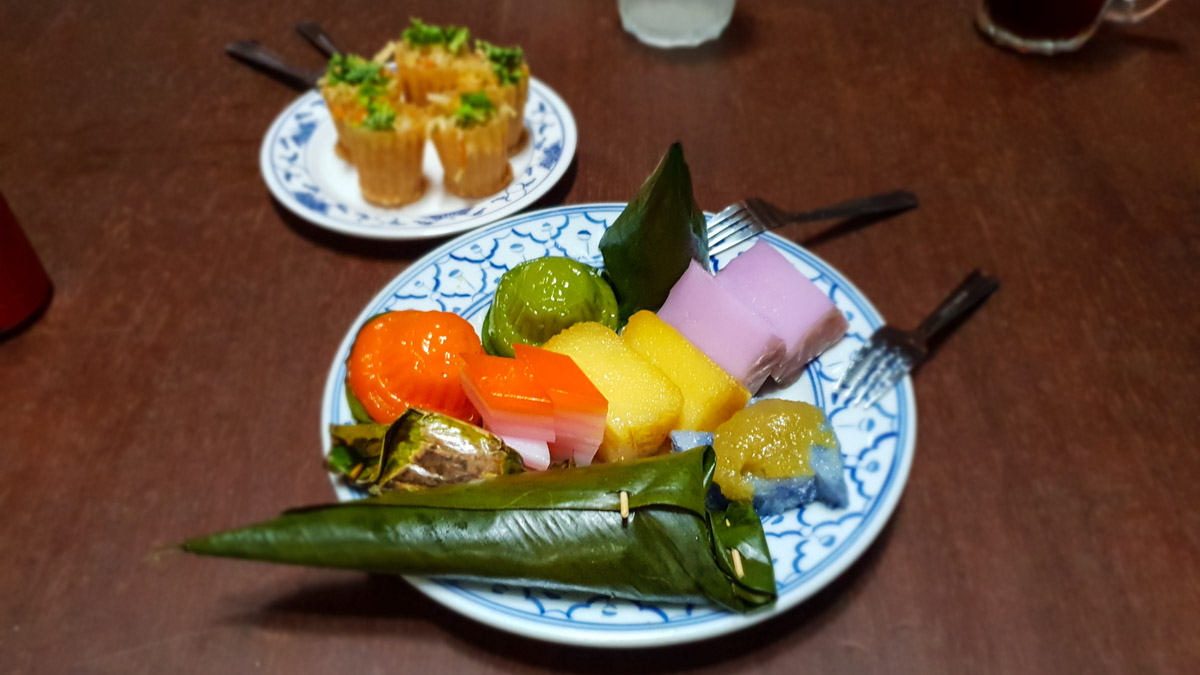 Upon disembarkation, take the free shuttle bus towards the heart of Georgetown (Red Line from Cruise stop marked "10"). We alighted at Leith Street and headed to Moh Teng Pheow Nyonya Koay & Canteen. This old-school confectionary is hidden in a small backstreet, and it takes more than just keen eyes to find it! Though it's our second time to this place, we're sure we'll be back for more!
4:30PM: Exploring Love Lane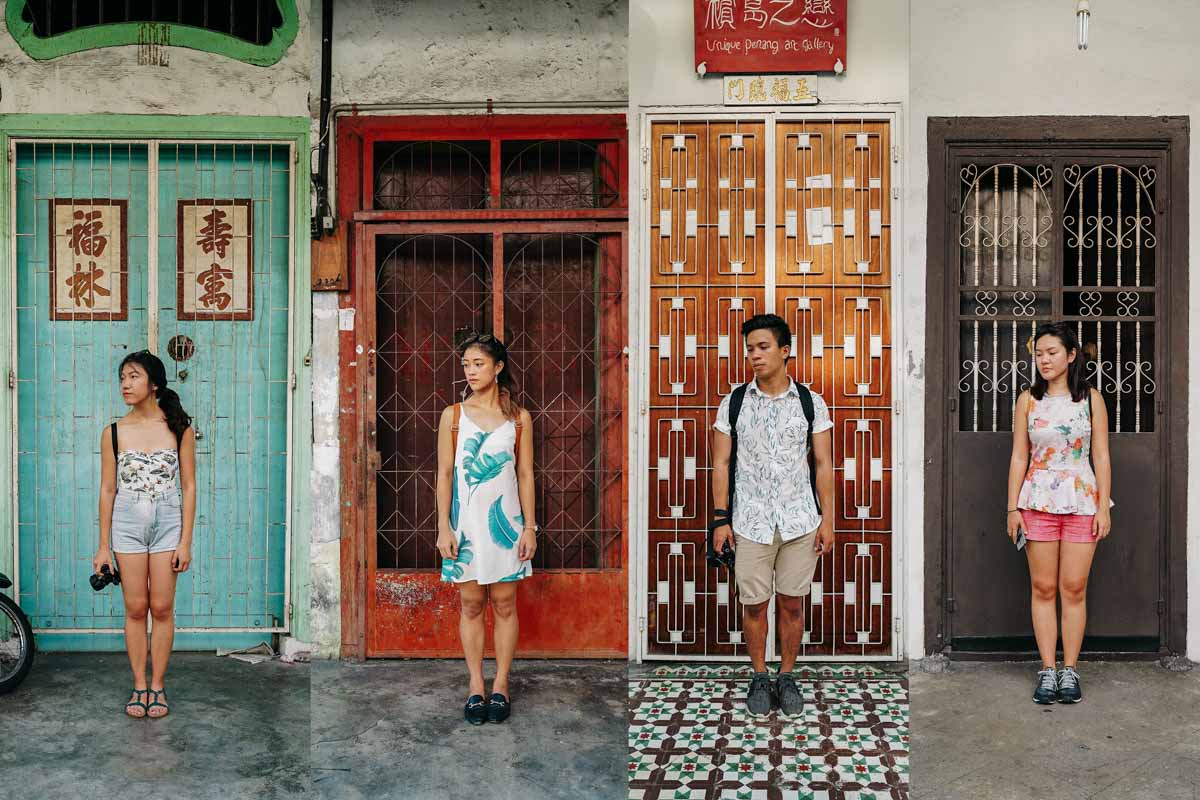 Having a romantic name does come with its perks, like how Love Lane became to be one of the most visited streets of Georgetown. There's no exact answer to this lane's alluring name, but one thing we're sure is that it's here to stay. While we were there, we couldn't help but pose in front of the old shophouses' doors for some OOTD shots. Lovely!
5PM: More sweets at China House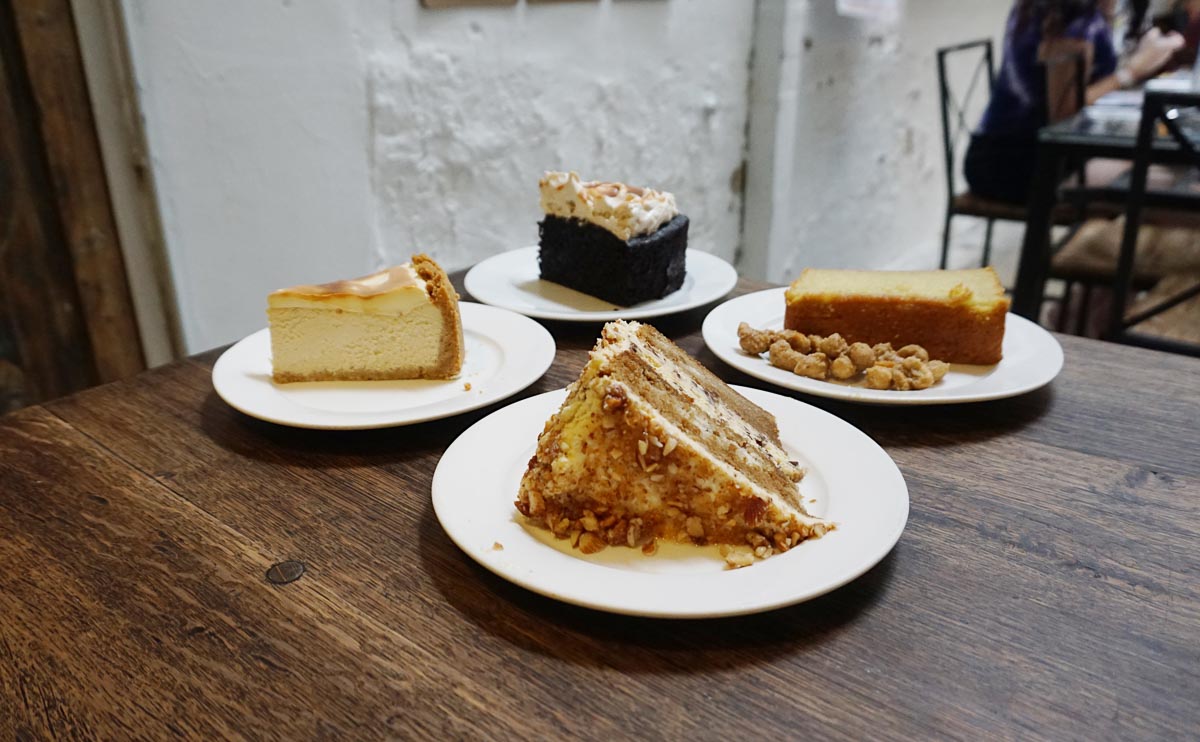 There's always room for desserts, so we went all out with desserts when we're in Penang. After having tasted traditional Chinese kuehs at Moh Teng Pheow, we treated our tastebuds with western delights such as tiramisu and carrot cake.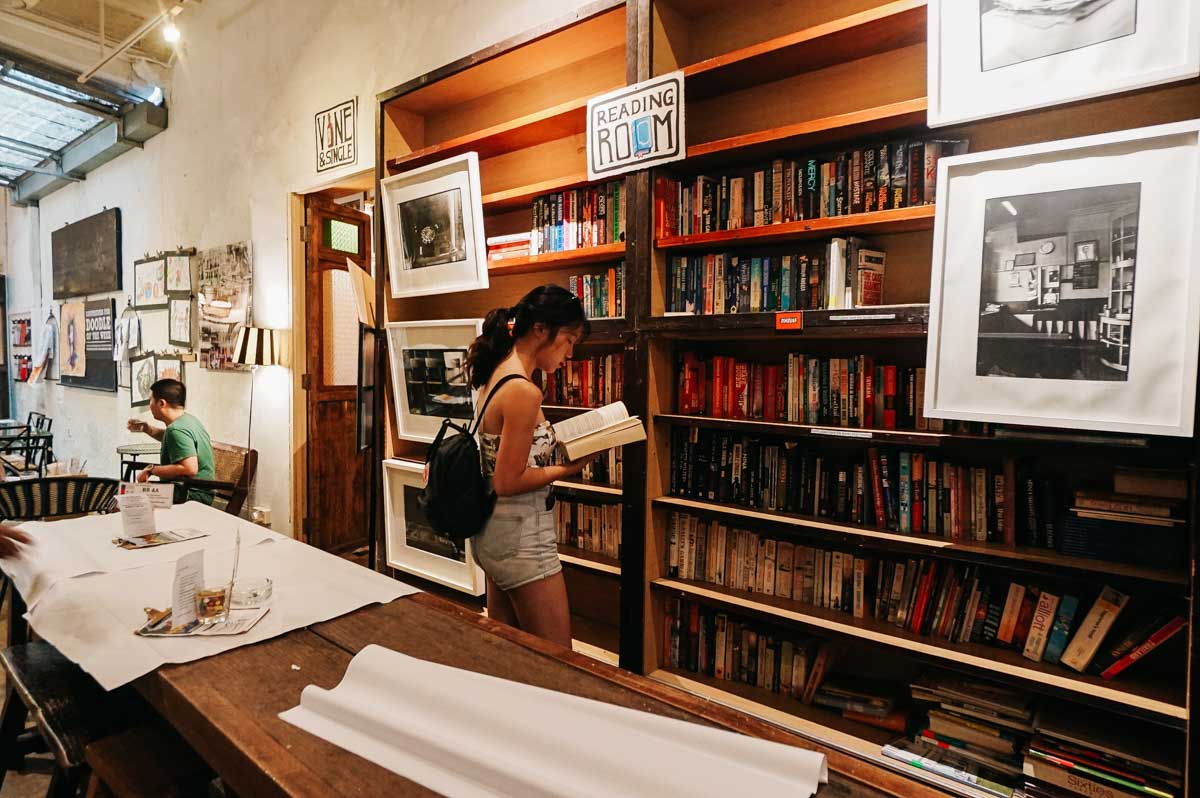 6PM: Hunting-down Street Arts Around Georgetown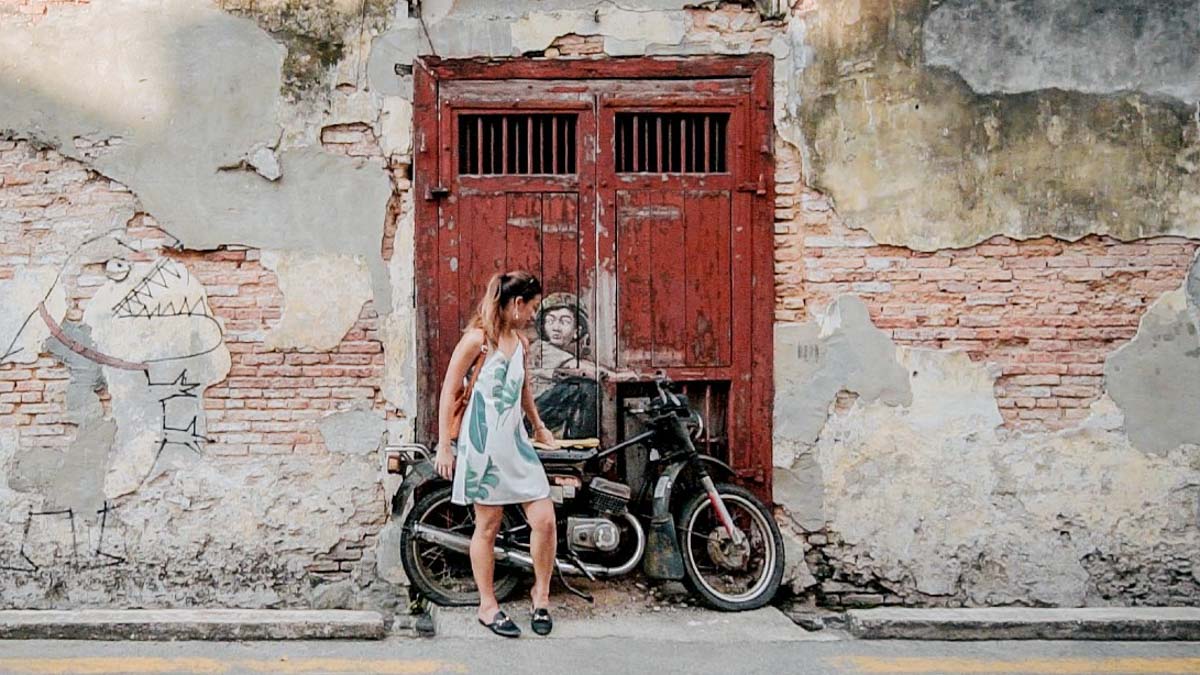 While we definitely would like to pose with every single mural we saw on the streets of Georgetown, time constraint meant that we only had time to see some of them. We were lucky though, as the area we were at is exactly where the more iconic murals are at.
7PM: Catch the sunset at Clan Jetties of Penang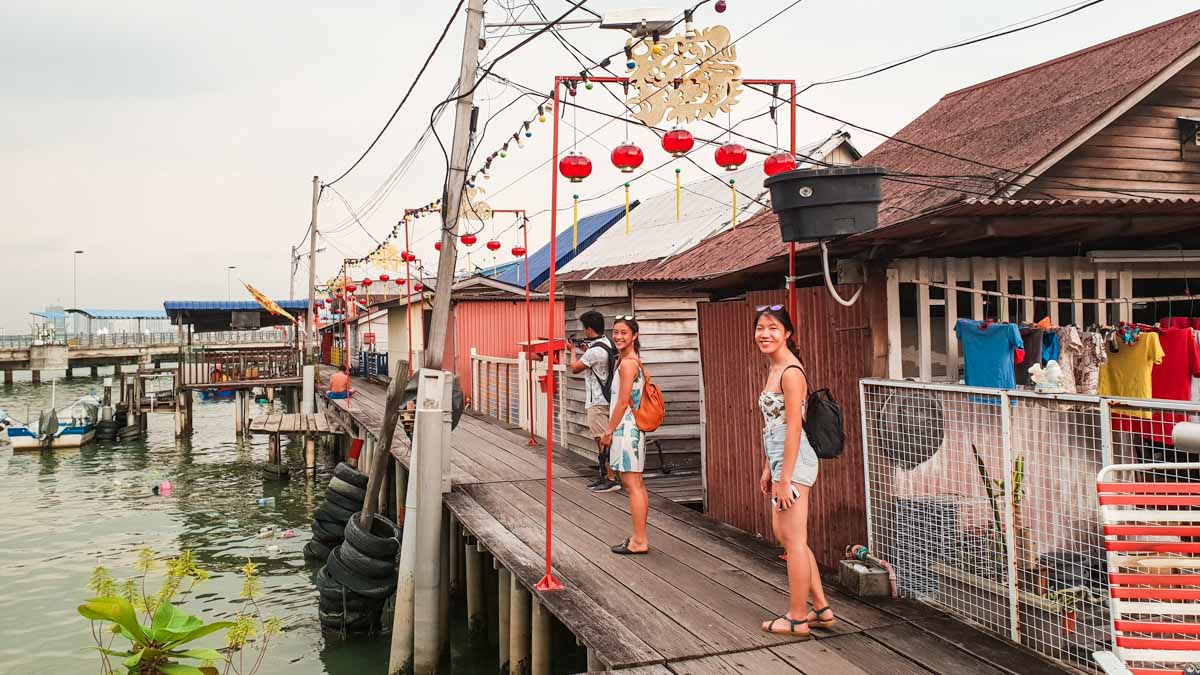 Getting ourselves back to the vicinity of the port, we realised we still have some time on hand before we needed to embark on the cruise. Chasing that golden glow that's soon to merge into the horizon, we made our way to one of the clan jetties of Penang — Lim Jetty.
What pulled us to Lim Jetty instead of the more famous Chew Jetty was precisely the void of a crowd. Also, there are many decorative lights and lanterns along the jetty planks.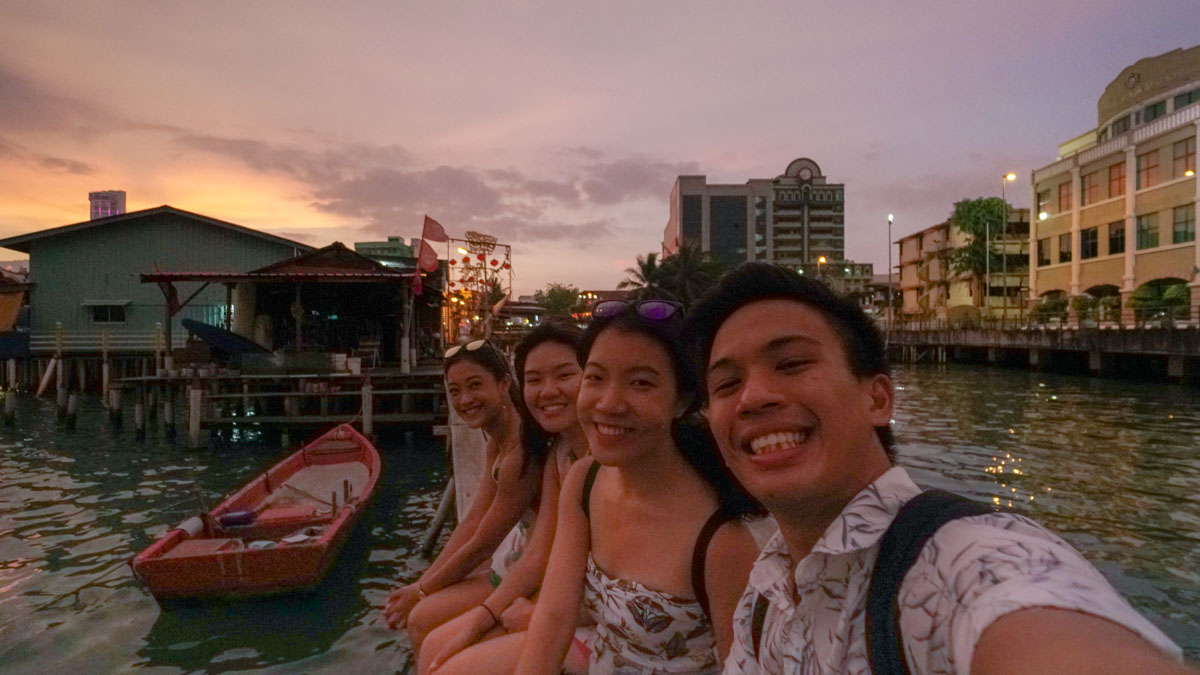 Lim Jetty is just a 10-min walk away from the Swettenham Pier, but do be there at least an hour before the stipulated boarding time.
Explore more places with Royal Caribbean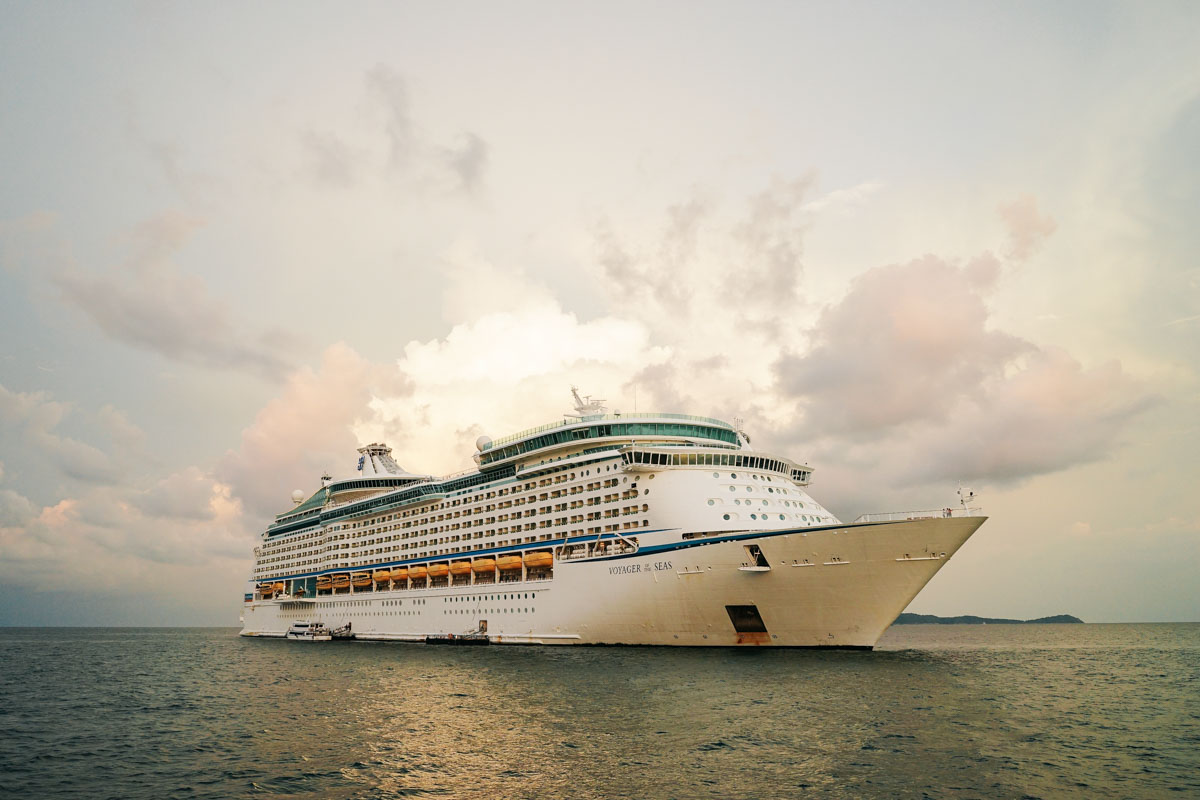 Penang's Port Swettenham is one of the ports of calling cruise ships dock at during a voyage. Besides being a holiday itself, cruise-goers get to explore the surroundings of the various ports too! If you prefer a guided tour in Penang, there are Shore Excursions you can sign up for as well. Other ports of calls include Phuket and Port Klang.
For more cruise tailored land itineraries, check out our Phuket itinerary and Port Klang itinerary!
Book Your Holiday Now With Royal Caribbean
Exclusive only to TTI readers, book a 4-Night Port Klang & Phuket Cruise at only $399*.
Between 1 – 25th Sep 2018, simply select from the following dates: Nov 5, Nov 12, and Nov 19, select 'Balcony', key in <RCTTI> under promo code and enjoy the discounted price of S$399*/pax on your 'Spacious Ocean View Balcony' rooms!
*Excluding taxes & fees
---
This post was brought to you by Royal Caribbean International.
For more travel inspiration, follow us on YouTube, FaceBook, and Instagram.