Dream Cruises Review – If money could buy happiness, perhaps an extra S$1.2k is what you need.
When I heard we were going to experience the Palace Suite on Dream Cruises, I expected the getaway to be lavish — self-indulgent even.
I mean, for a 3D2N Palace Suite getaway that costs ~S$1.2k (room for two) — it's double the amount of the cheapest stateroom on the same cruise. Is the upgrade really worth splurging on?
Read also: Dream Cruise's Thailand Seacation — What to Expect on This Cruise to Nowhere
The Palace on World Dream Cruises Review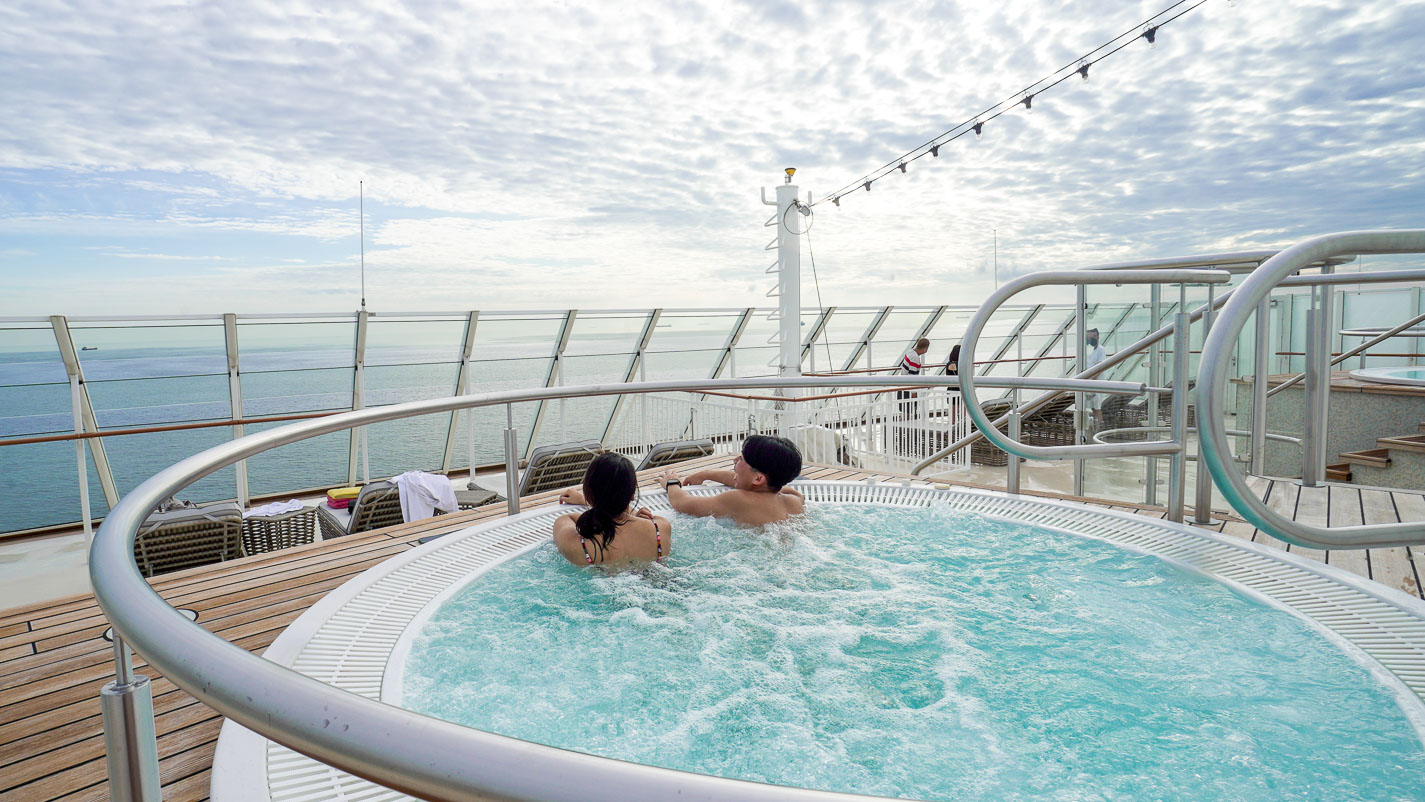 If you've sailed with Dream Cruises, you may have noticed some doors just don't open — unless, you're a Palace guest.
It's truly a premium section on top of the cruise that's reserved for those living in the Palace rooms — think access to a private lounge, restaurants, spa, pool, sun deck and of course, The Palace accommodations.
Our first taste of indulgence was simply getting to our room, which we could arrive at promptly, thanks to priority check-in and an elevator exclusive to Palace guests.
The Accommodation (Palace Suite)
There are four different room types in The Palace, each offering a different tier of luxury. From the highest, there's the Palace Villa, Palace Penthouse, Palace Deluxe Suite and Palace Suite.
That's not to say that our Palace Suite wasn't grand at all.
Behold the Palace Suite, our accommodation for the next two nights!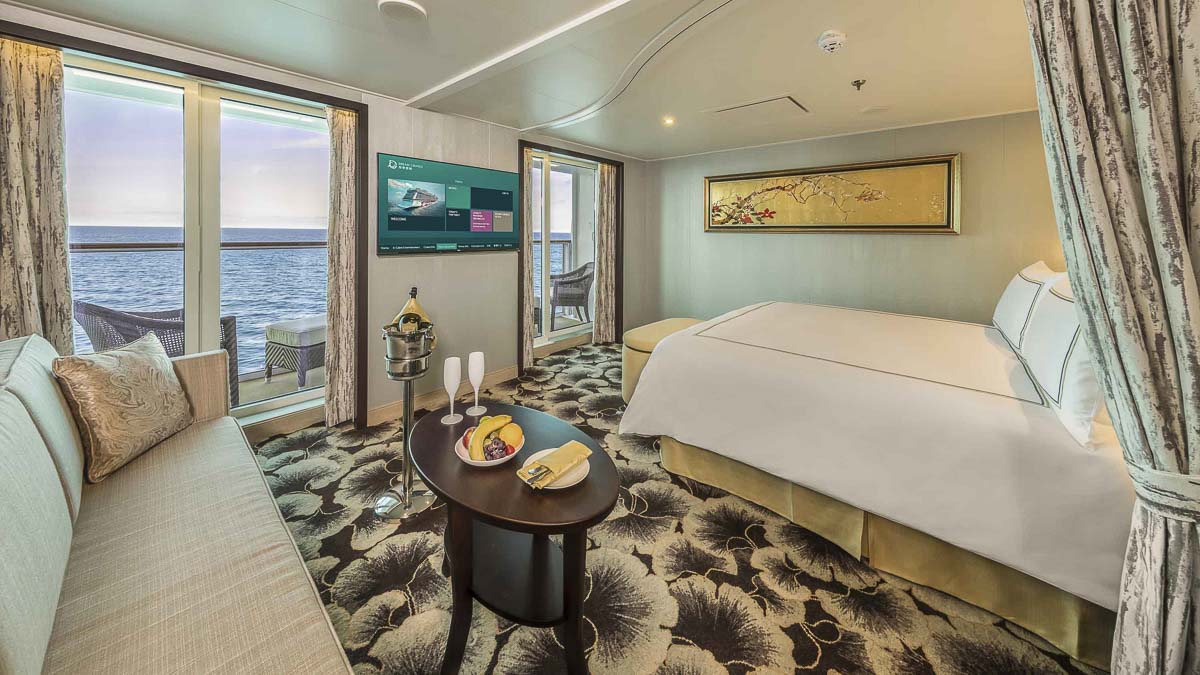 Photo credit: Dream Cruises
With 37sqm of space, the Palace Suite sleeps up to 4 pax with a queen-size bed and double sofa bed — and still has plenty of room to spare. There's also a private (and sizeable) balcony and swish bathroom that comes with a bathtub!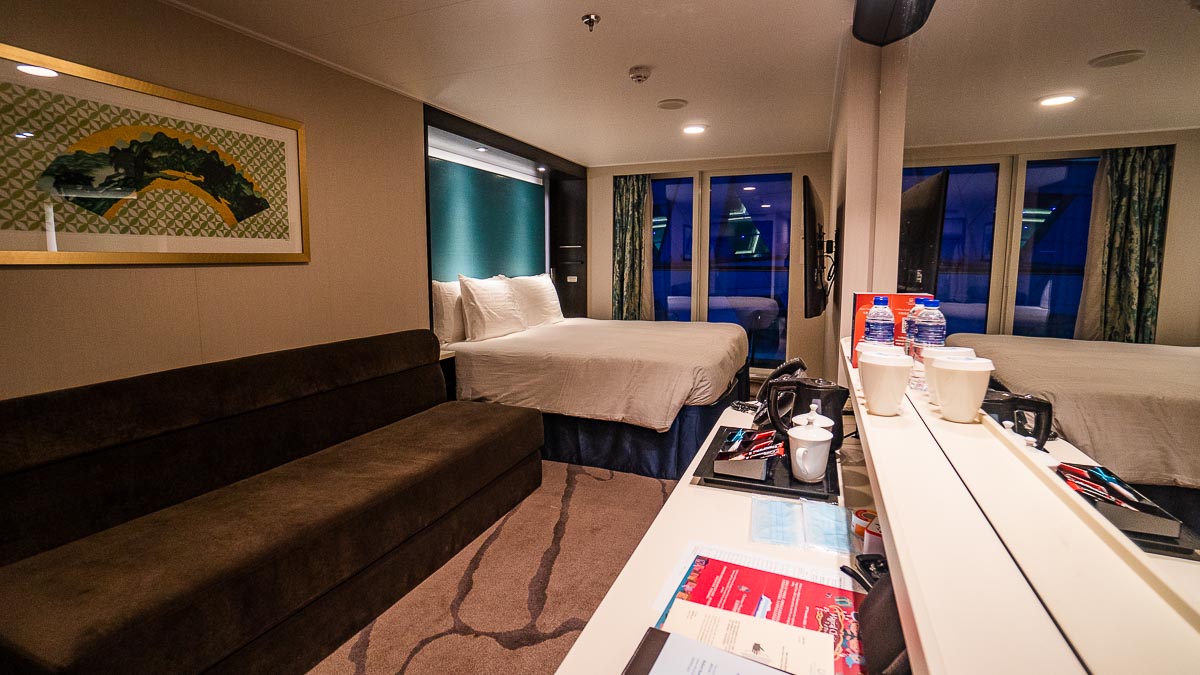 Compared to the Balcony Deluxe Stateroom at 22sqm with a long rectangle layout.
Other room privileges for Palace guests include a complimentary mini-bar, a Nespresso coffee machine as well as luxury linens. I don't own luxury linens back home but as a borderline insomniac and ridiculously light sleeper (who gets awoken by her cat), I might just order some because this bed really got me into a deep slumber. Lying in bed felt like snuggling among clouds.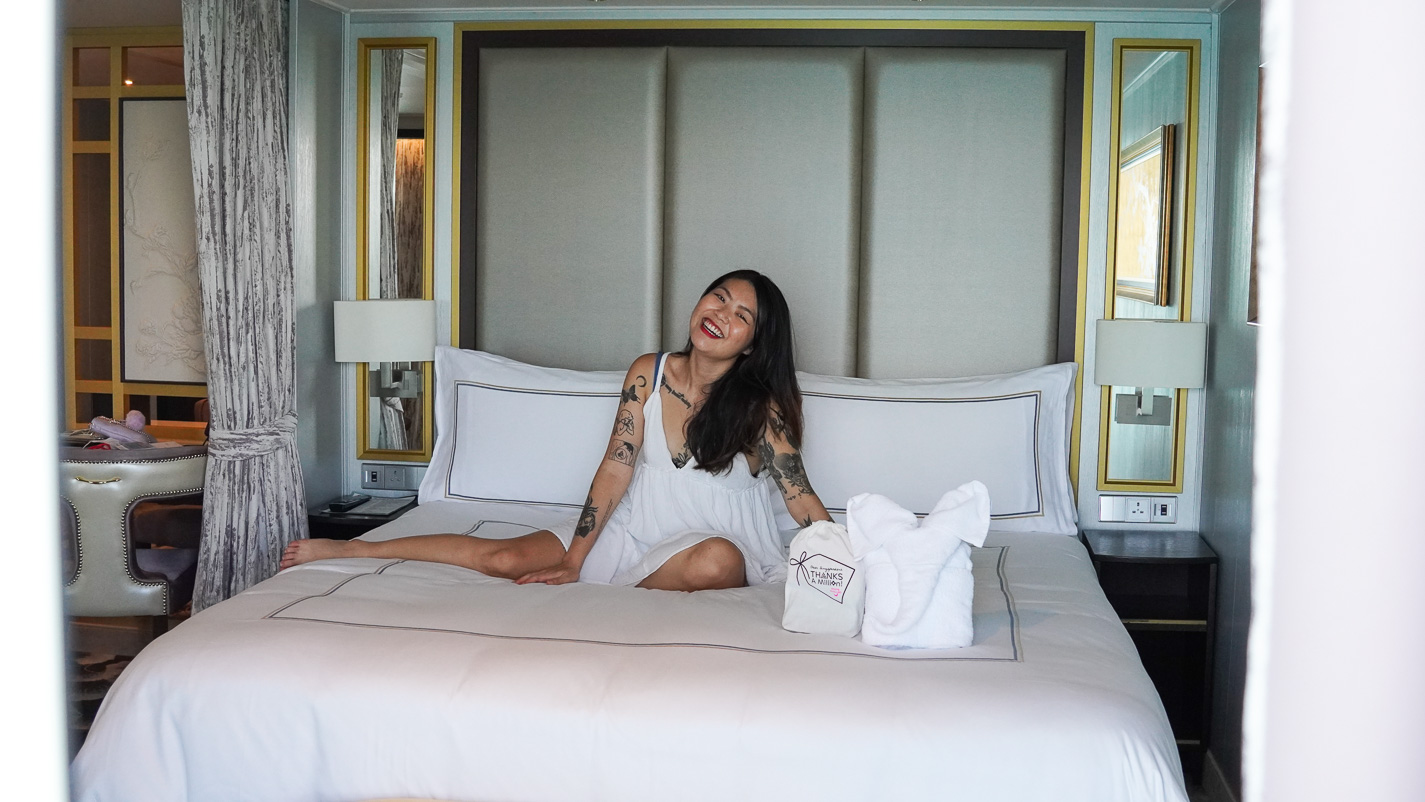 Siri, please play 'Never Gonna Leave This Bed' by Maroon 5 — because same.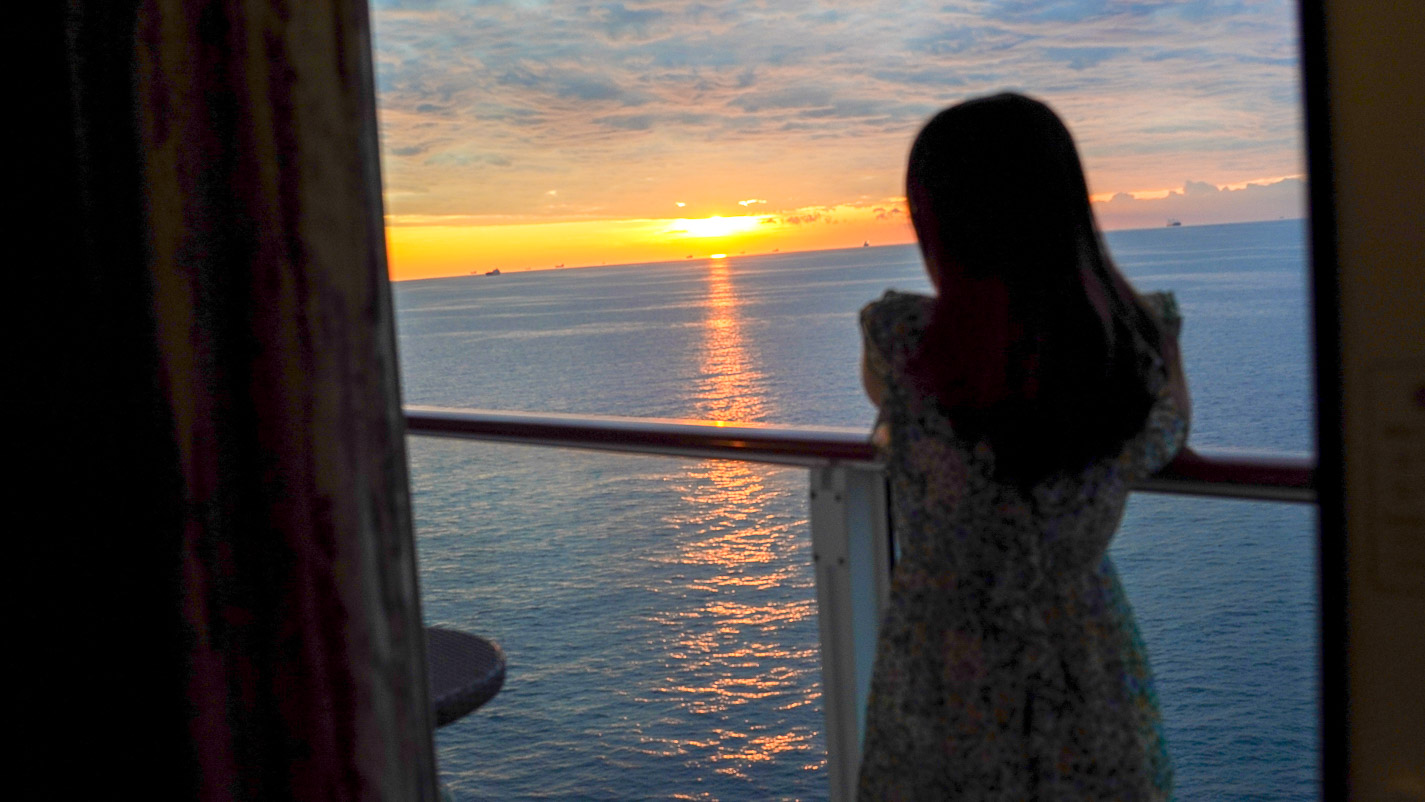 Soaking in the golden sunrise from our balcony ☀️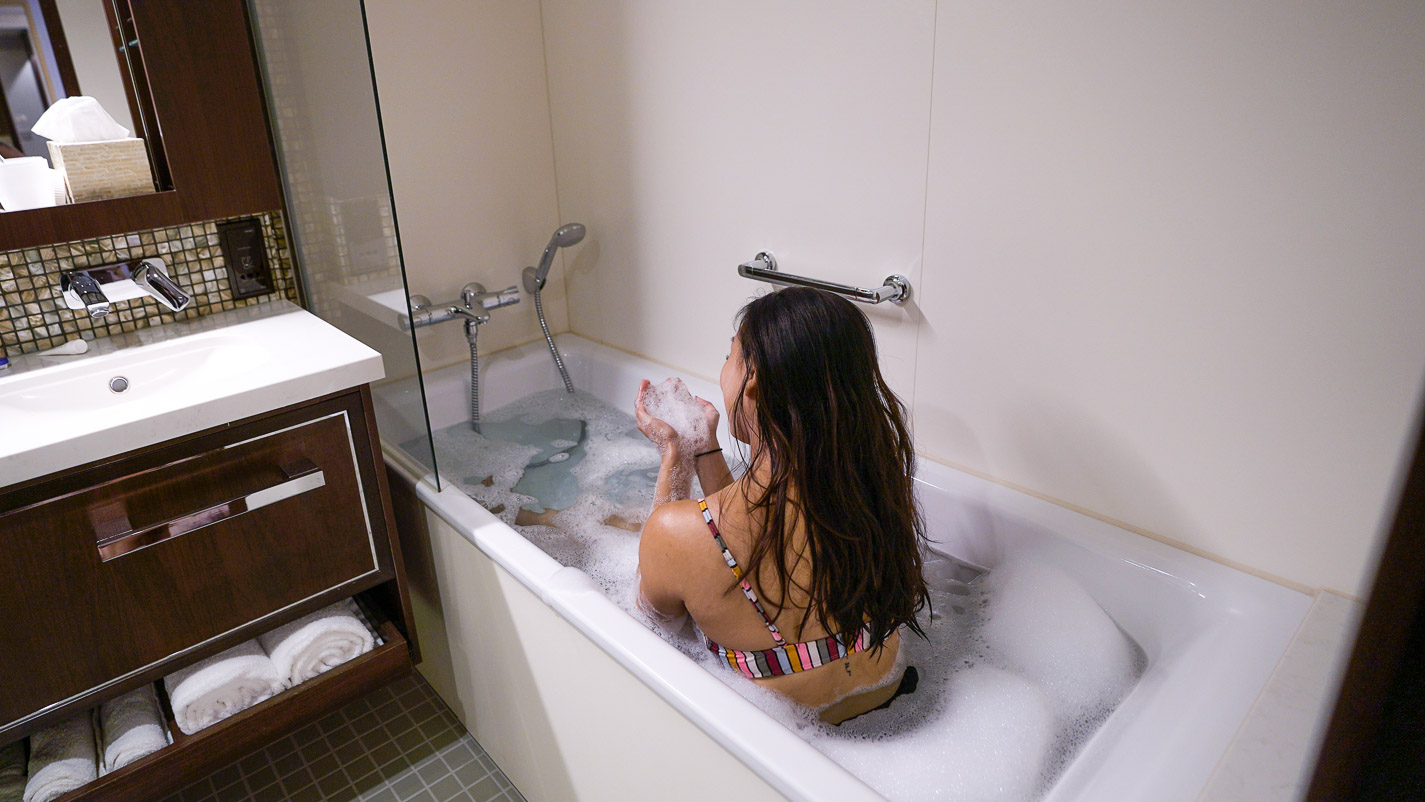 Indulging in a bubble bath with luxury bath foam from Etro — a renowned Italian fashion house.
Having made the most of our accommodation, it was time for us to discover what other perks awaited us.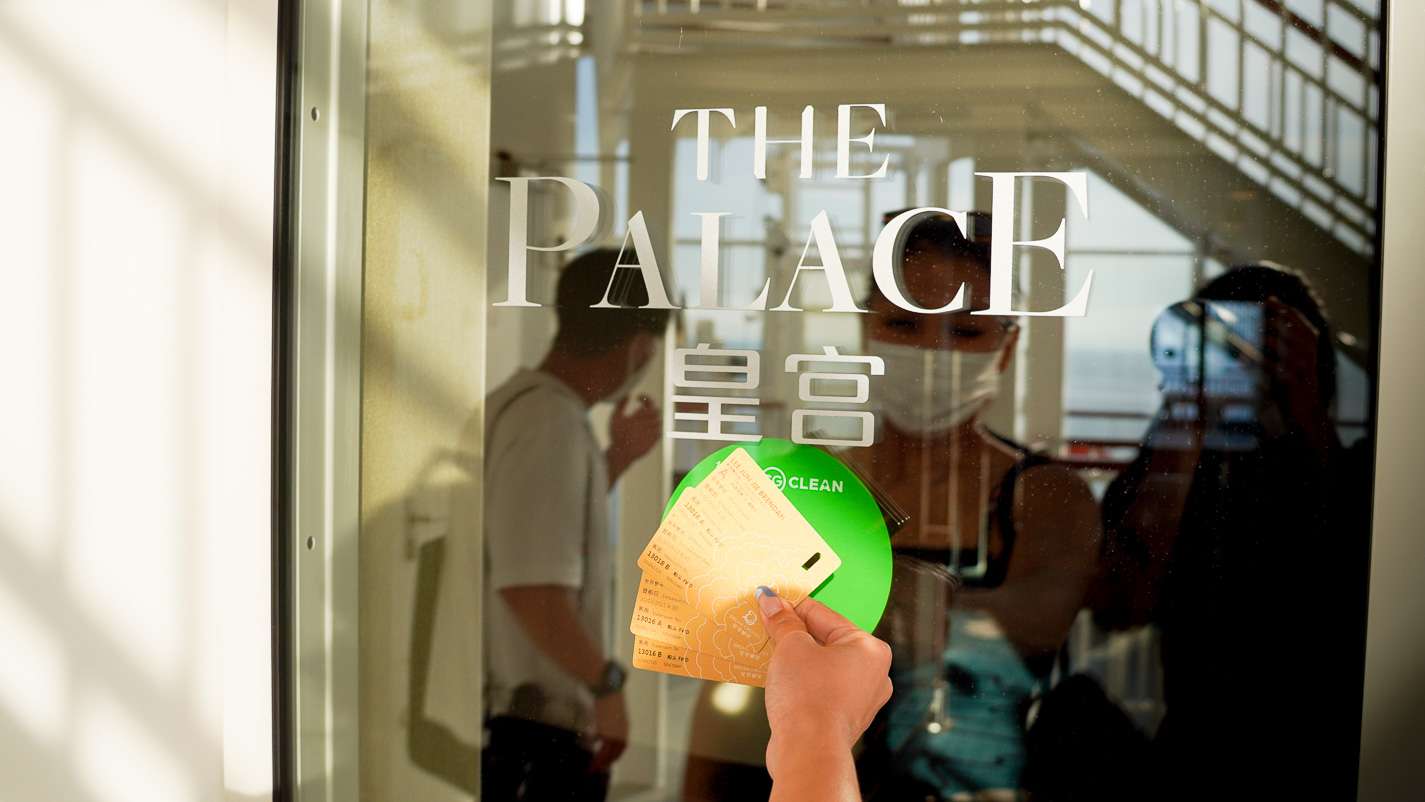 The all-access pass!
Over the next 3D2N, we ditched our titles as common folk and adopted that of royalty.
As Palace guests onboard the World Dream, we had exclusive access to private facilities, high-end specialty restaurants and round-the-clock dedicated butler service — yes, a dedicated butler, I kid you not.
Personal Butler Concierge Service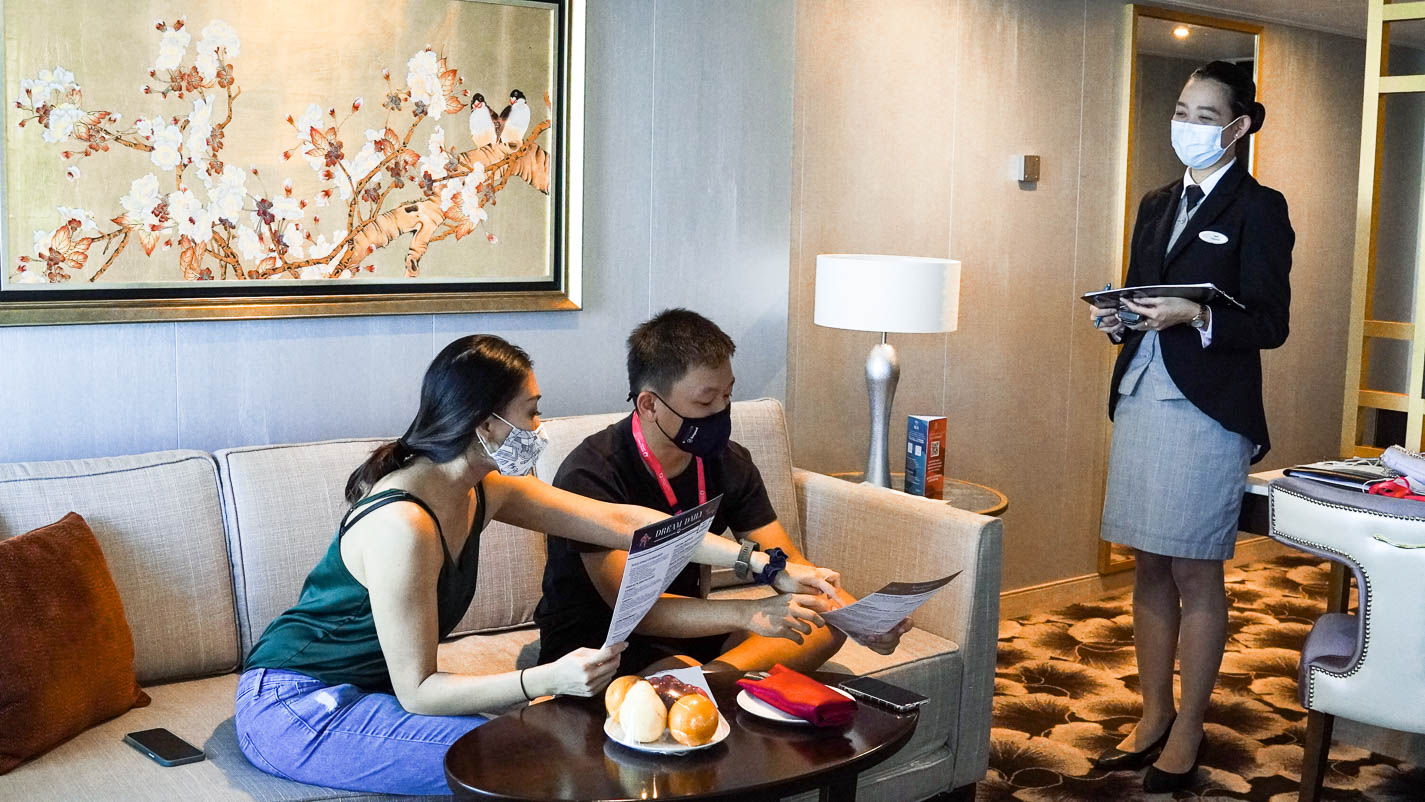 From planning our daily schedule to booking reservations at restaurants, nothing was considered too trivial for our butler, Timmy.
Of course, the first thing we asked was "how do we connect to the WiFi?" Turns out Palace guests get complimentary WiFi so we didn't have to purchase a WiFi package.
I remember casually mentioning we were having steak and seafood grill for dinner. To our surprise, Timmy dropped by to say hi and made sure we'd everything we needed.
She also suggested that we catch the theatrical showcase 'Faith' — priority access and complimentary bookings as Palace guests meant we got the best view in the house.
*Pro-tip: Ask your butler for their extension number so you can reach them when you're out and about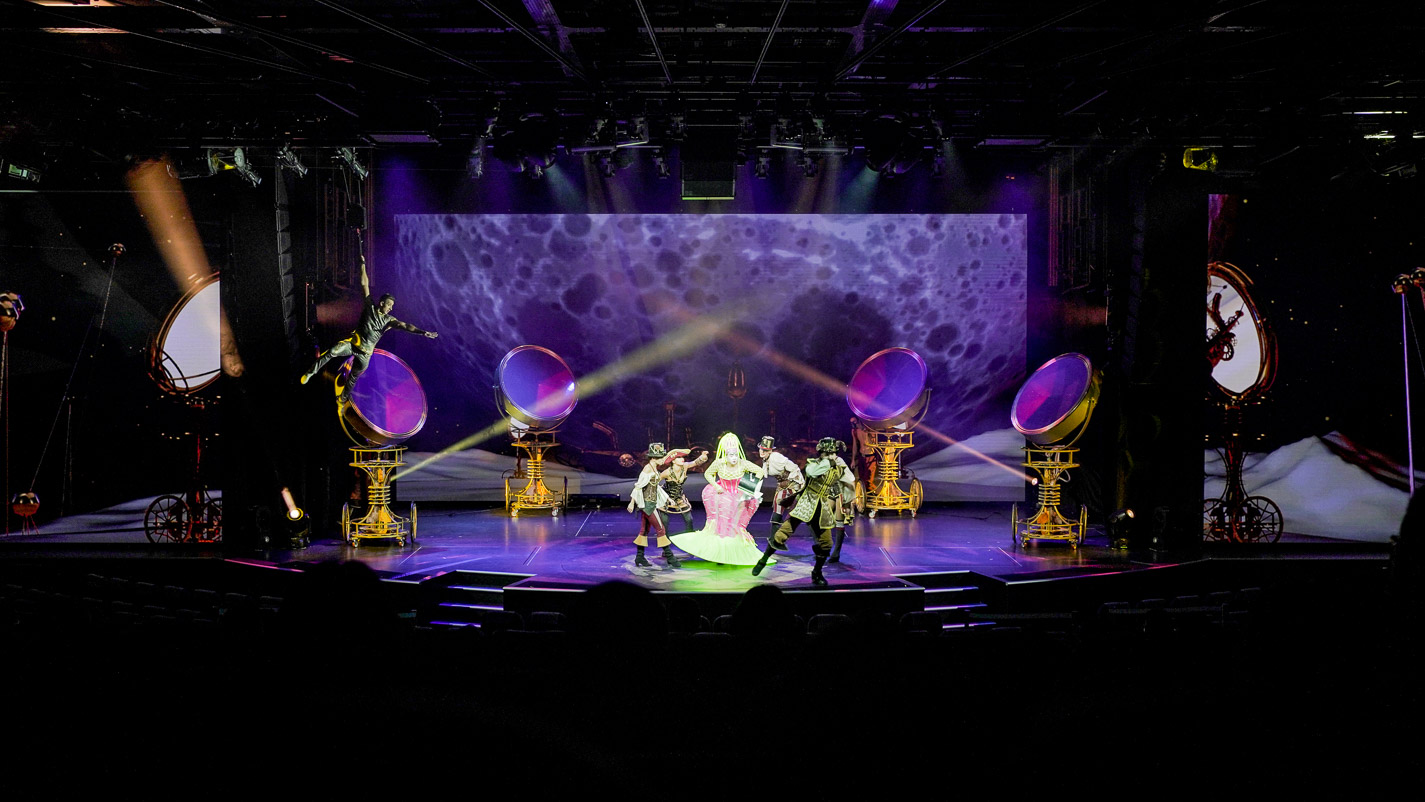 Faith, a theatrical performance about a Sailor overcoming obstacles to pursue his dreams
Read also: What to Expect on a Cruise to Nowhere — Dream Cruises' World Dream Review
Exclusive Facilities For The Palace Guests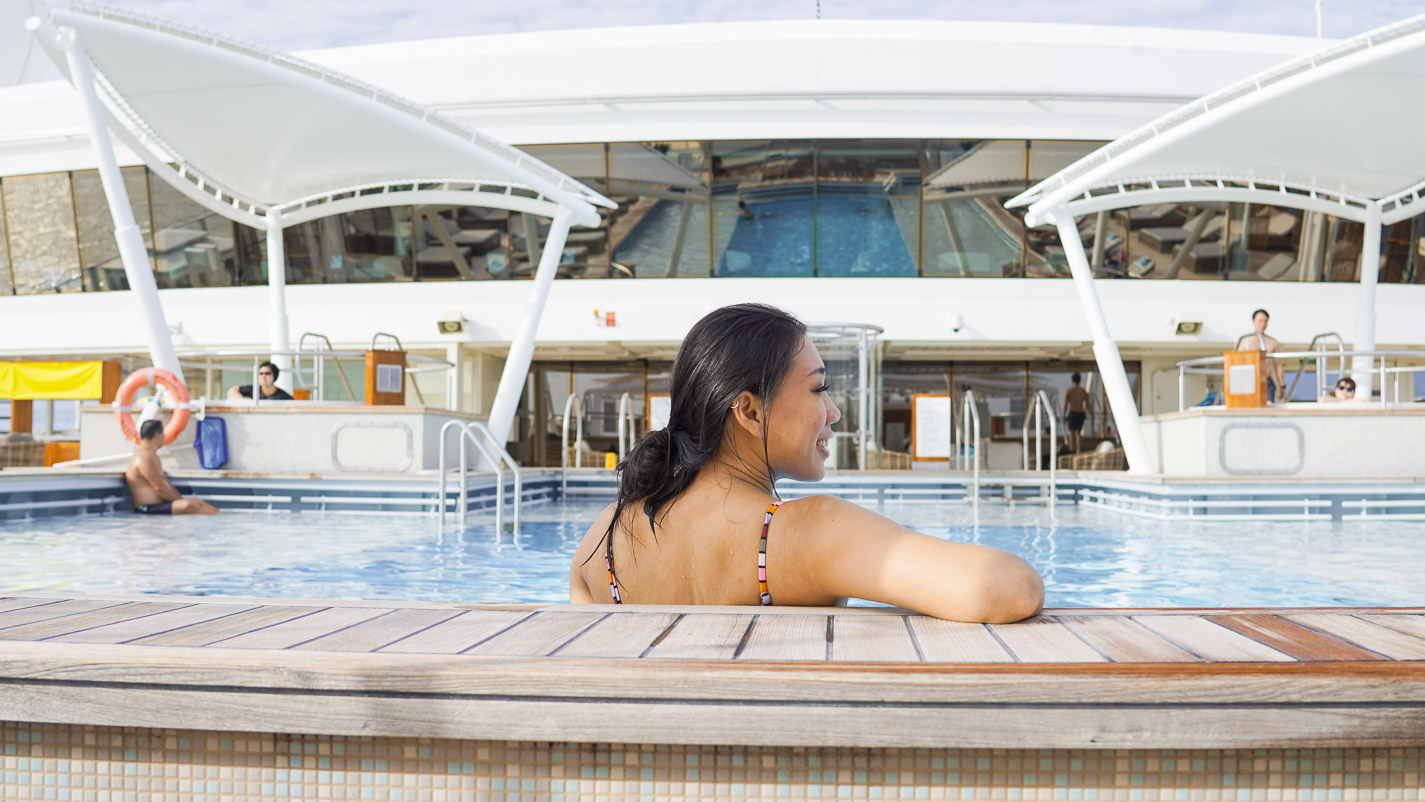 Chilling at our private (and quiet) pool
If you enjoy private and quiet spaces, the public pool and sun deck might not be the most ideal place to chill as it's always bustling with people. But Palace guests have access to an exclusive pool and sun deck, which we made the most of by chilling out at the deck both day and night.
*Pro-tip: For the best views of the sunset, you can either enjoy it from your balcony or by heading up to the Palace sun deck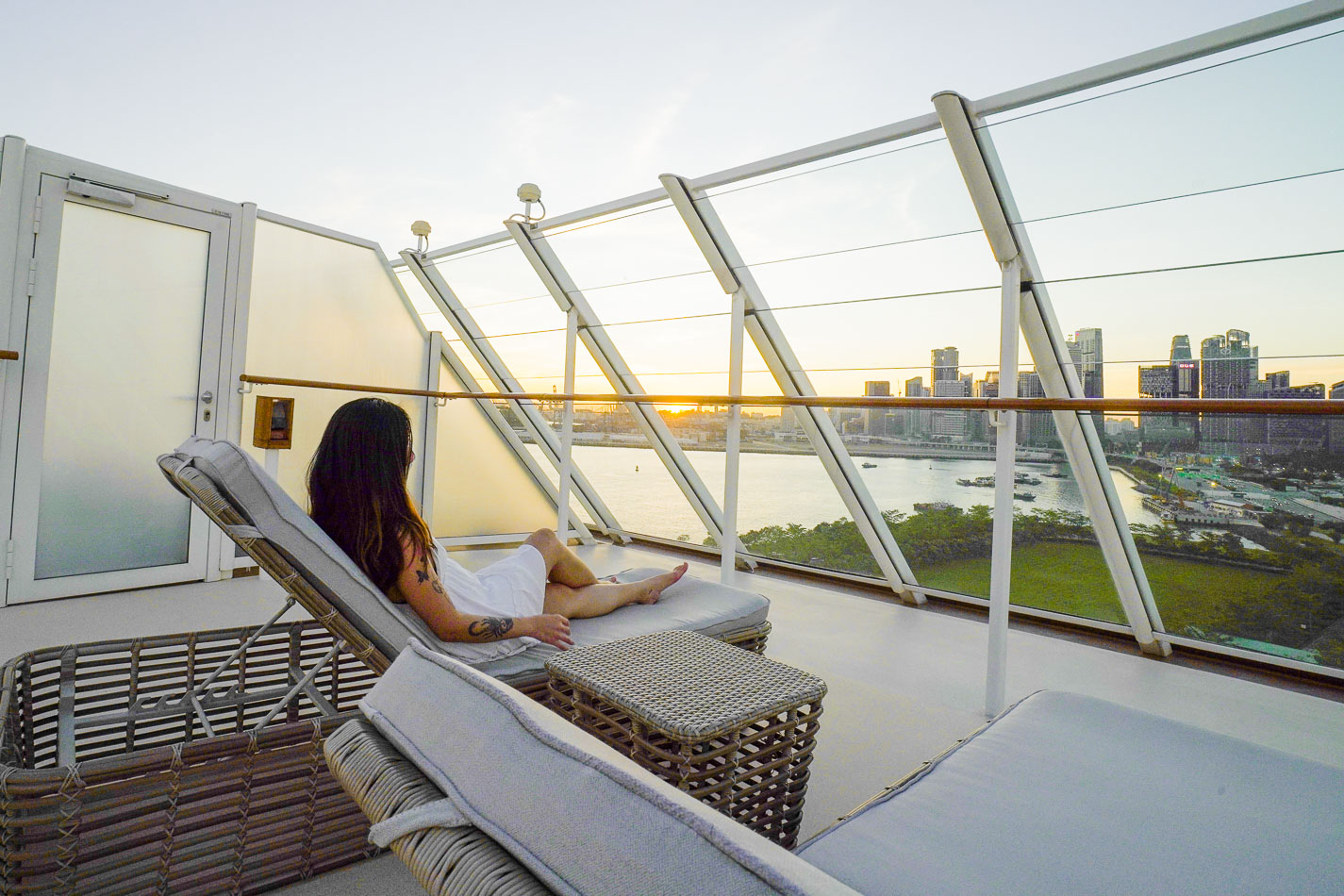 Enjoying an unhinged view of the sunset just before the ship set sail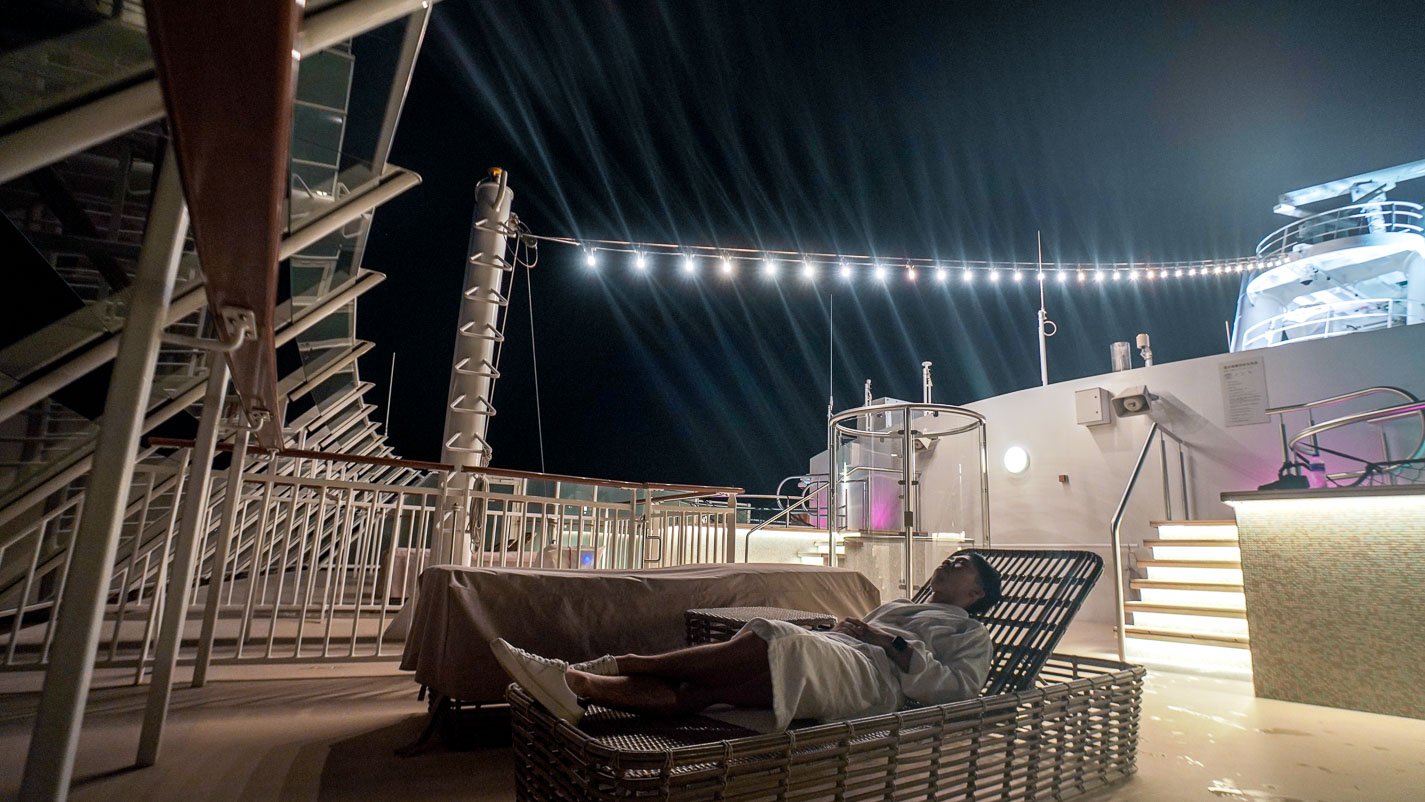 Stargazing at night
Complimentary Dining And Beverages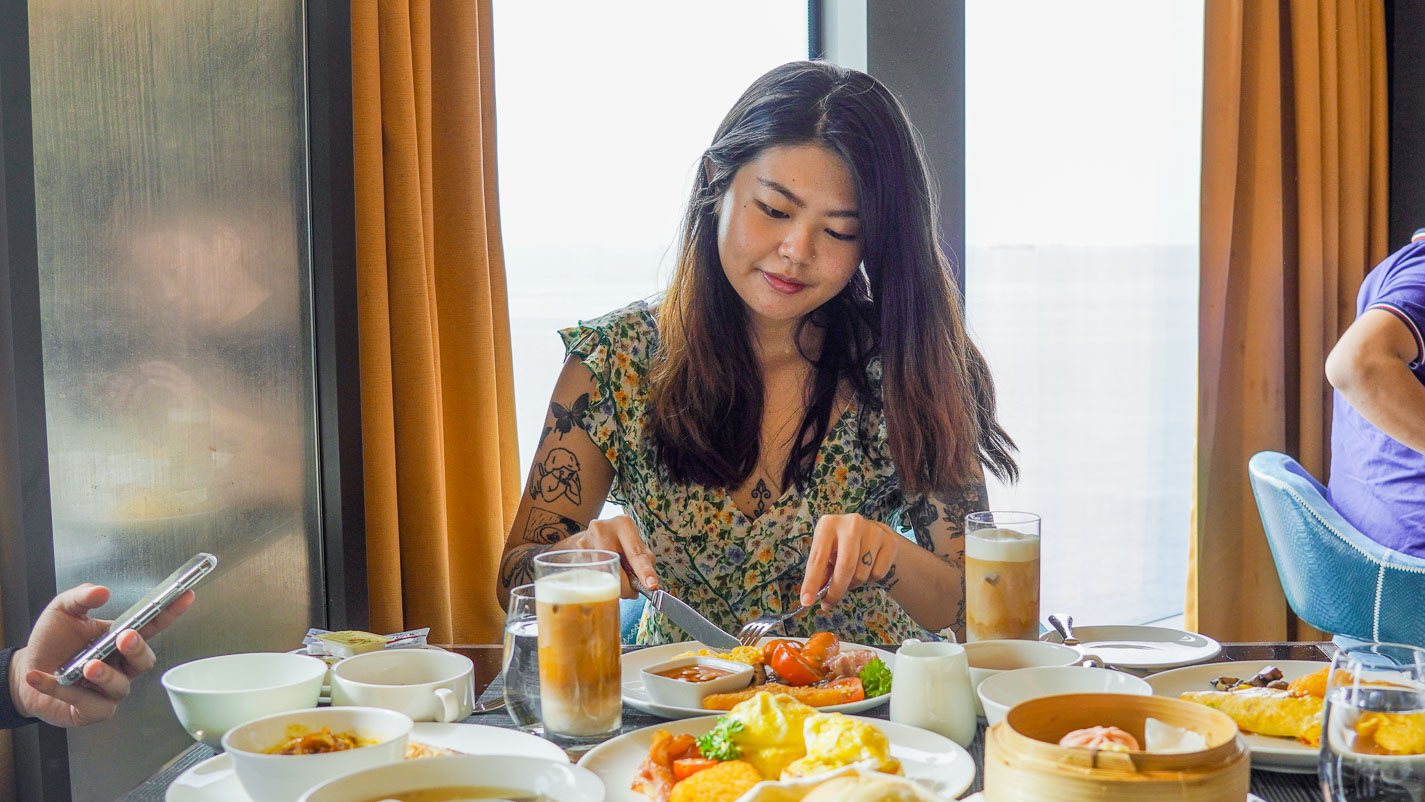 Like every other cruise vacation, you get a free pass to eat whatever you want. The Lido Restaurant is the main buffet place where you get a huge variety of cuisines. The only downside is that it's almost always crowded.
Palace guests don't have to head to The Lido. You have exclusive access to The Palace Restaurant — same variety, sans the crowds.
*Pro-tip: Opt for only breakfast here as you get to enjoy complimentary set menu meals for lunch and dinner at specialty restaurants!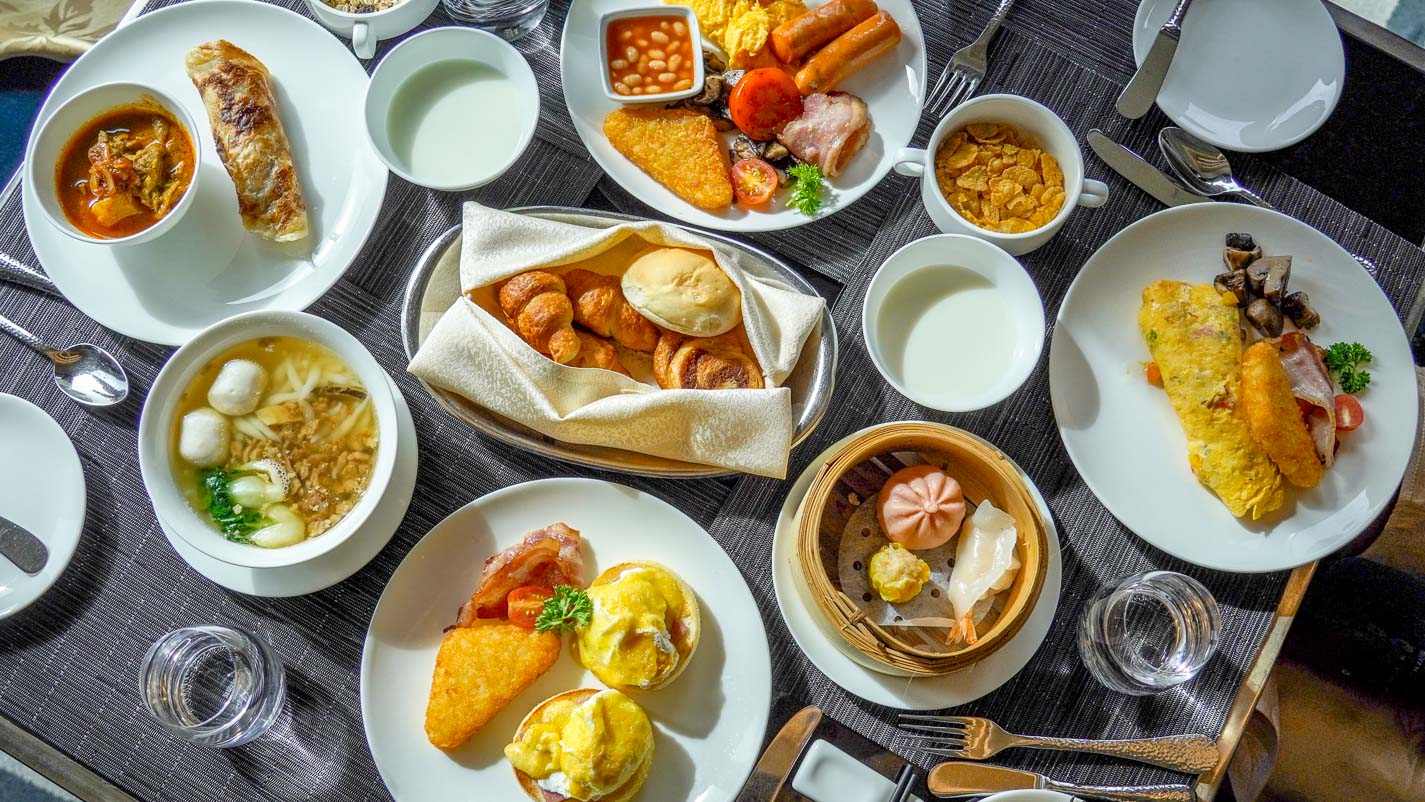 Pictured: Almost everything off the breakfast menu.
Note: The dress code is smart casual in the indoor areas of The Palace.
Happy Hour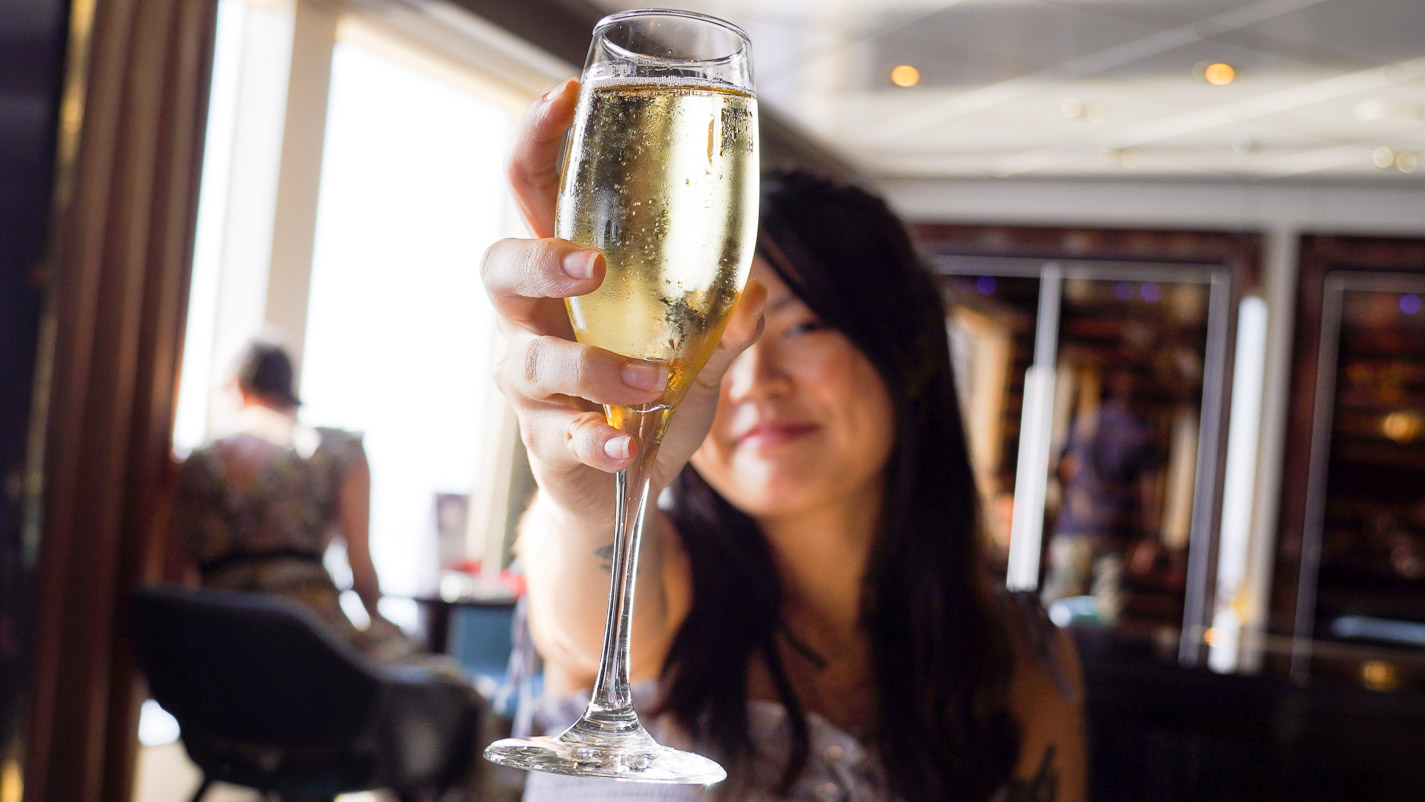 Did I mention that you can get coffee, tea, and chilled drinks for free all day long? For non-Palace guests, this is the equivalent of their 'Refresh' drinks package ($60 top-up for 3D2N cruise).
This complimentary beverage package is only included for Palace guests and it comes with happy hour from 5–7PM. For free-flow alcoholic beverages, simply whisk yourself to The Palace Bar when the clock strikes five and order away!
Fine Dining At Specialty Restaurants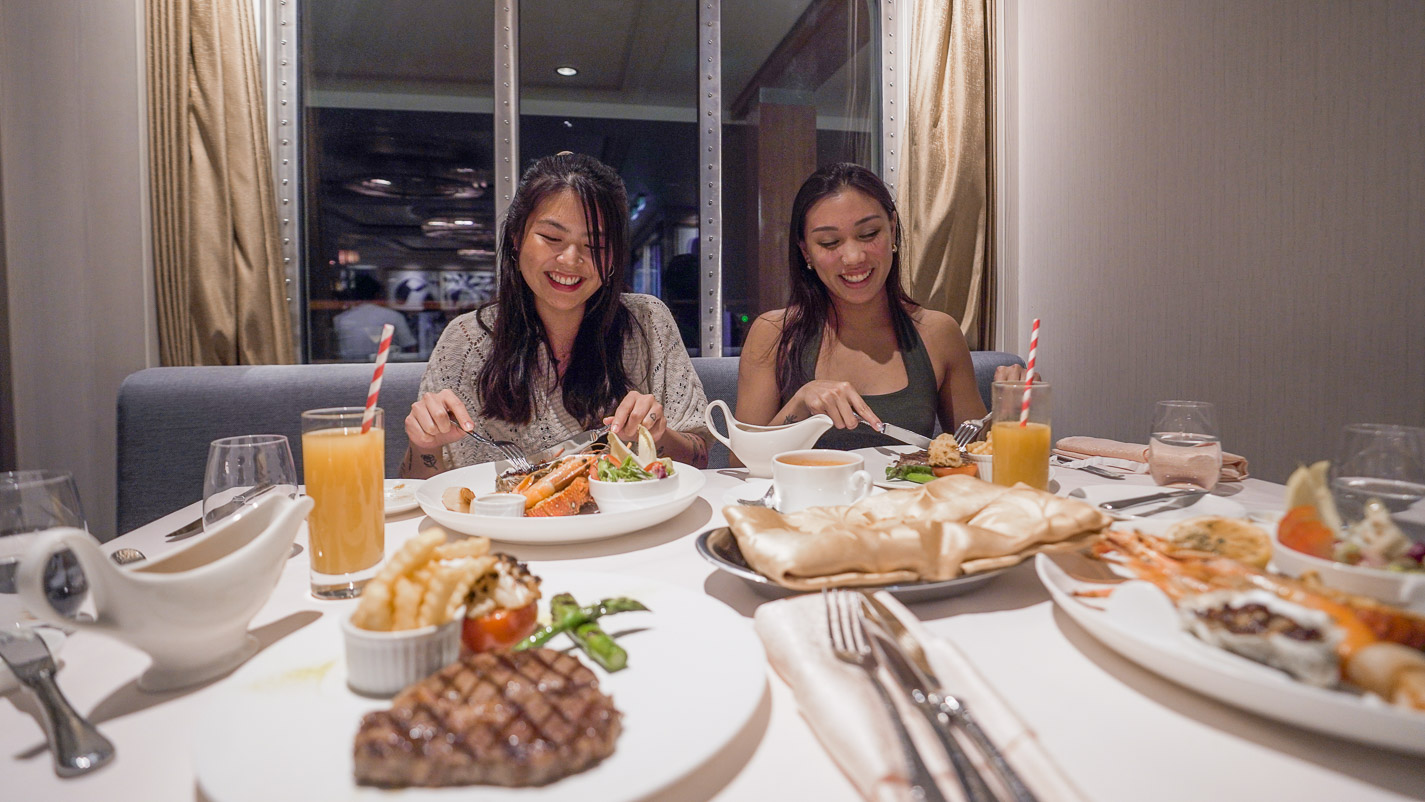 Us savouring our gourmet food at Mark Best's Seafood Grill and Prime Steakhouse
Buffet aside, there are seven specialty restaurants on the cruise — these aren't complimentary for non-Palace guests.
The Palace package includes a complimentary set lunch and dinner menu for each day at the specialty restaurants. If you do the math, that adds up to ~S$300 worth of gourmet food per person. If you're the sort that lives to eat, you're definitely getting more bang for your buck as a Palace guest — along with the non-food perks!
Notable selections include celebrity chef Mark Best's Seafood Grill and Prime Steakhouse, Hot Pot, and Silk Road Chinese Restaurant.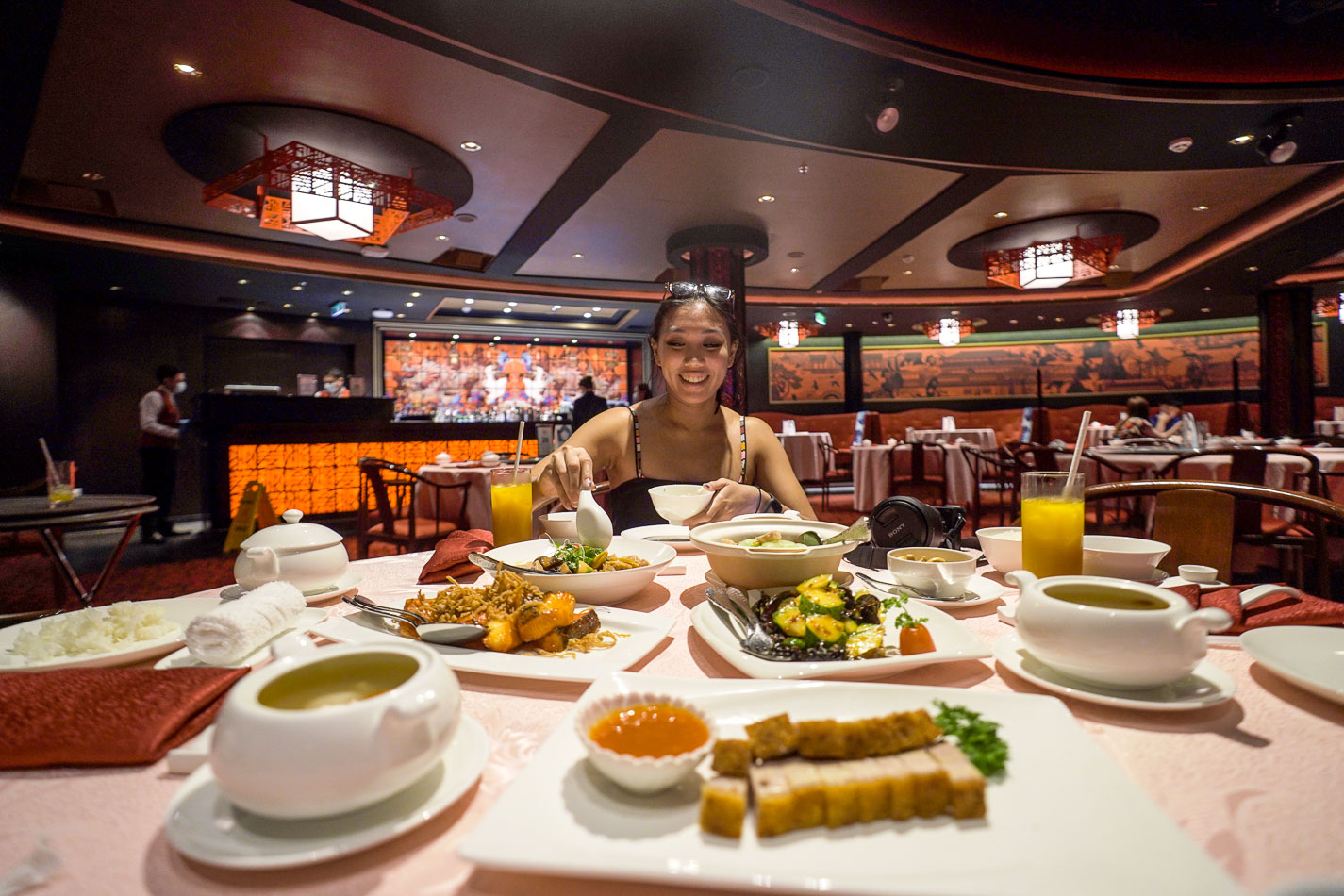 Silk Road Chinese Restaurant: Our set came with five dishes and one personal soup
This, to me, is one of the main selling points of The Palace package. We were always looking forward to the gourmet experiences and not once were we disappointed.
*Pro-tip: To maximise your complimentary dining, try out different specialty restaurants for every lunch and dinner!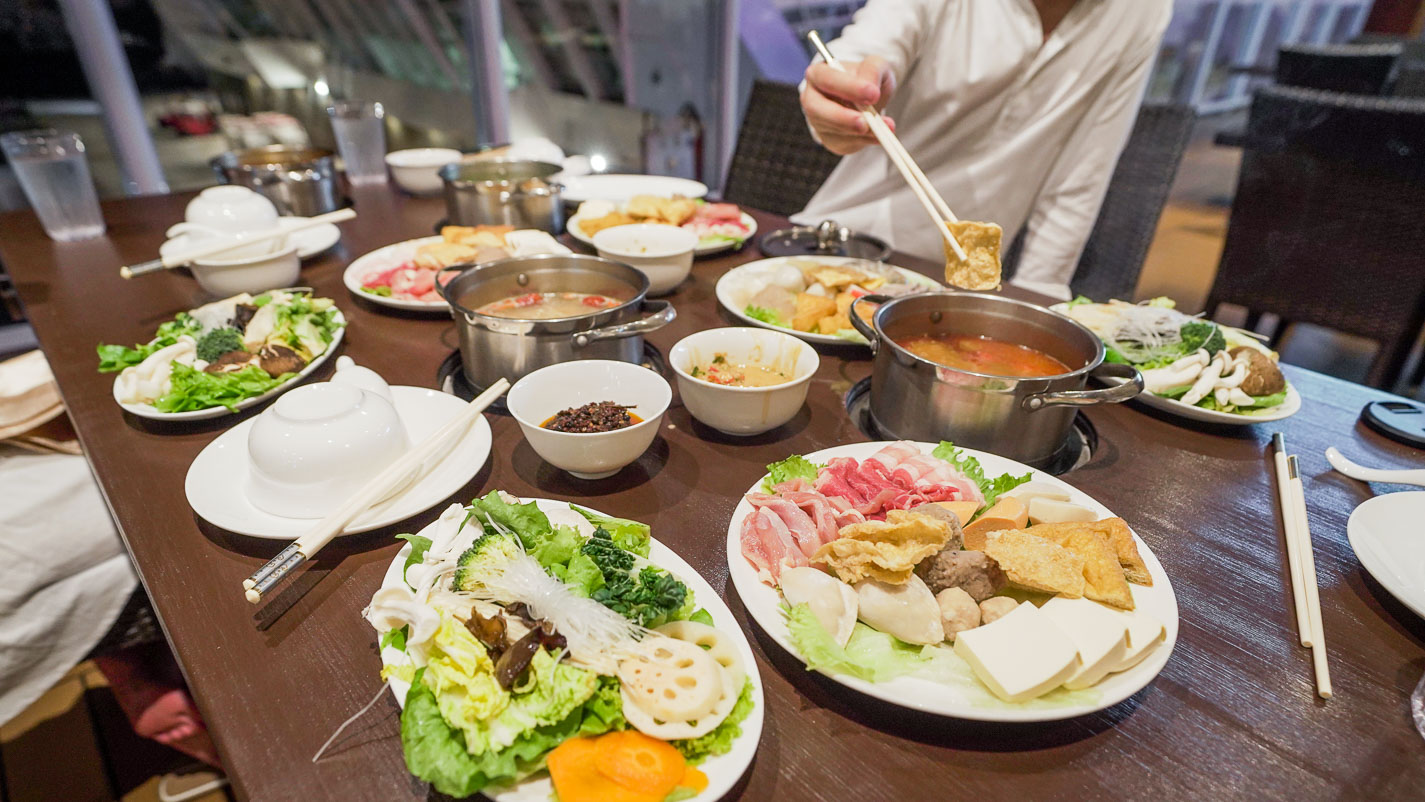 Hot pot on a cruise? Yes please
Private Gym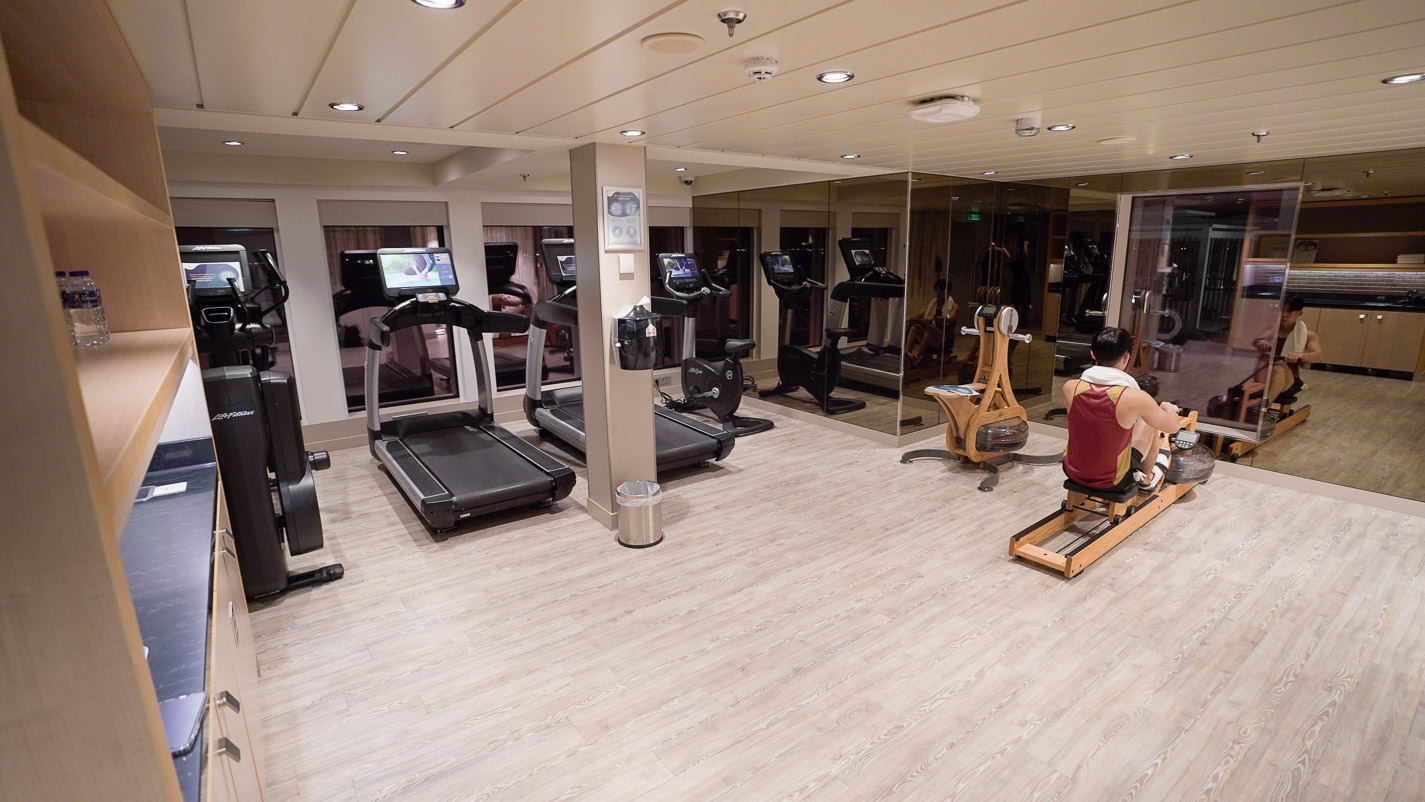 Private Palace gym with treadmills, rowing machine, weights and no crowd!
If you wish to burn off some calories, you can always pop by The Palace Gym for a quick workout. Don't worry about having to wait your turn because the gym's all yours!
*Pro-tip: Like all Palace facilities, you can get your butler to book your preferred timeslot — it's first come first served, so do book early!
Dream Cruises Review Verdict:
Is splurging for the Palace Experience Worth it?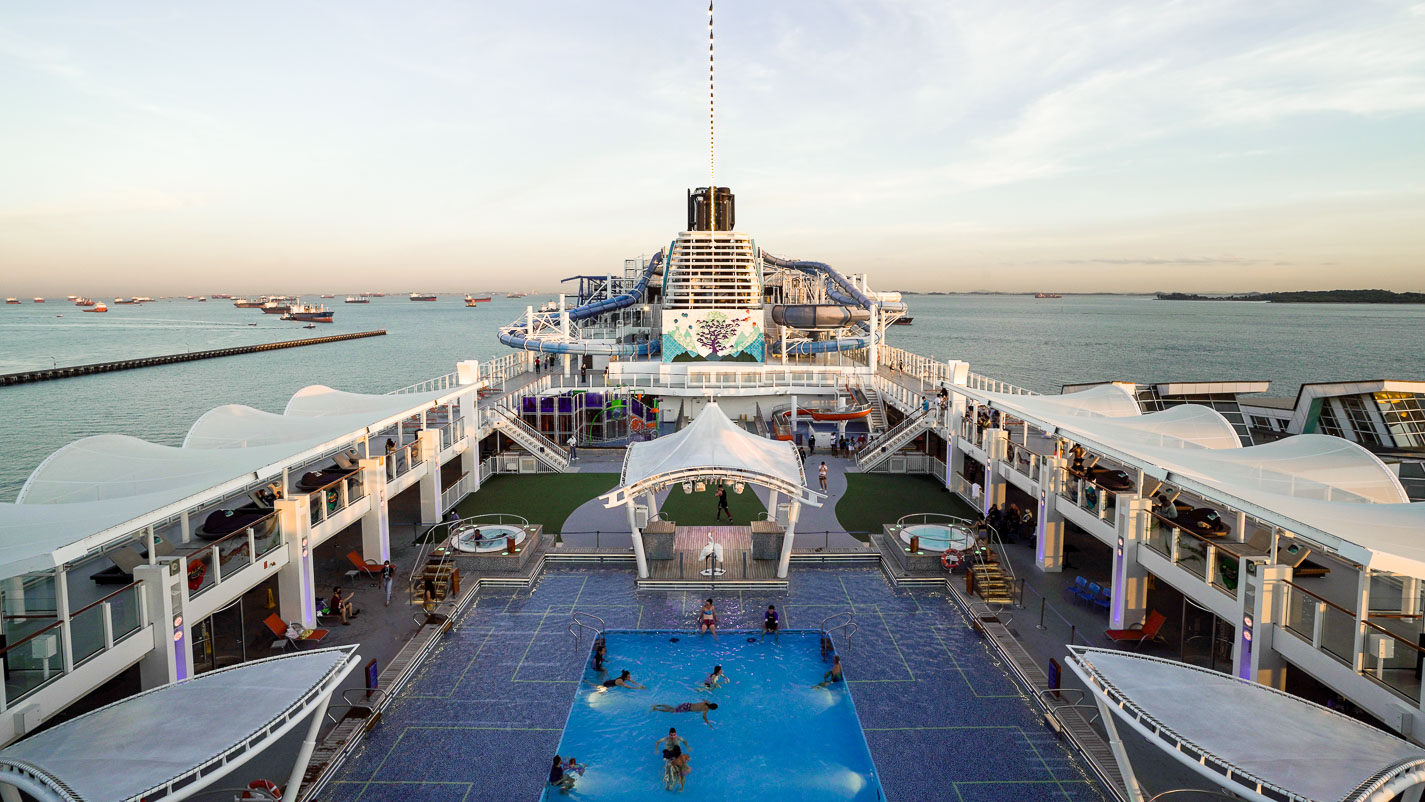 Going on a cruise was something that had never crossed my mind, much less spending S$1,200 on a luxury cruise holiday.
Having experienced it, I must say I get the allure now — you get a bigger and fancier room, complete top-notch personalised service, premium dining, drinks privileges and a pool and sun deck that's essentially yours. There's simply no restrictions or further top-up required for everything you want to do on the cruise.
It also hit me that what we're really paying for is a period of happiness — a time on board the cruise that's free of everyday worries.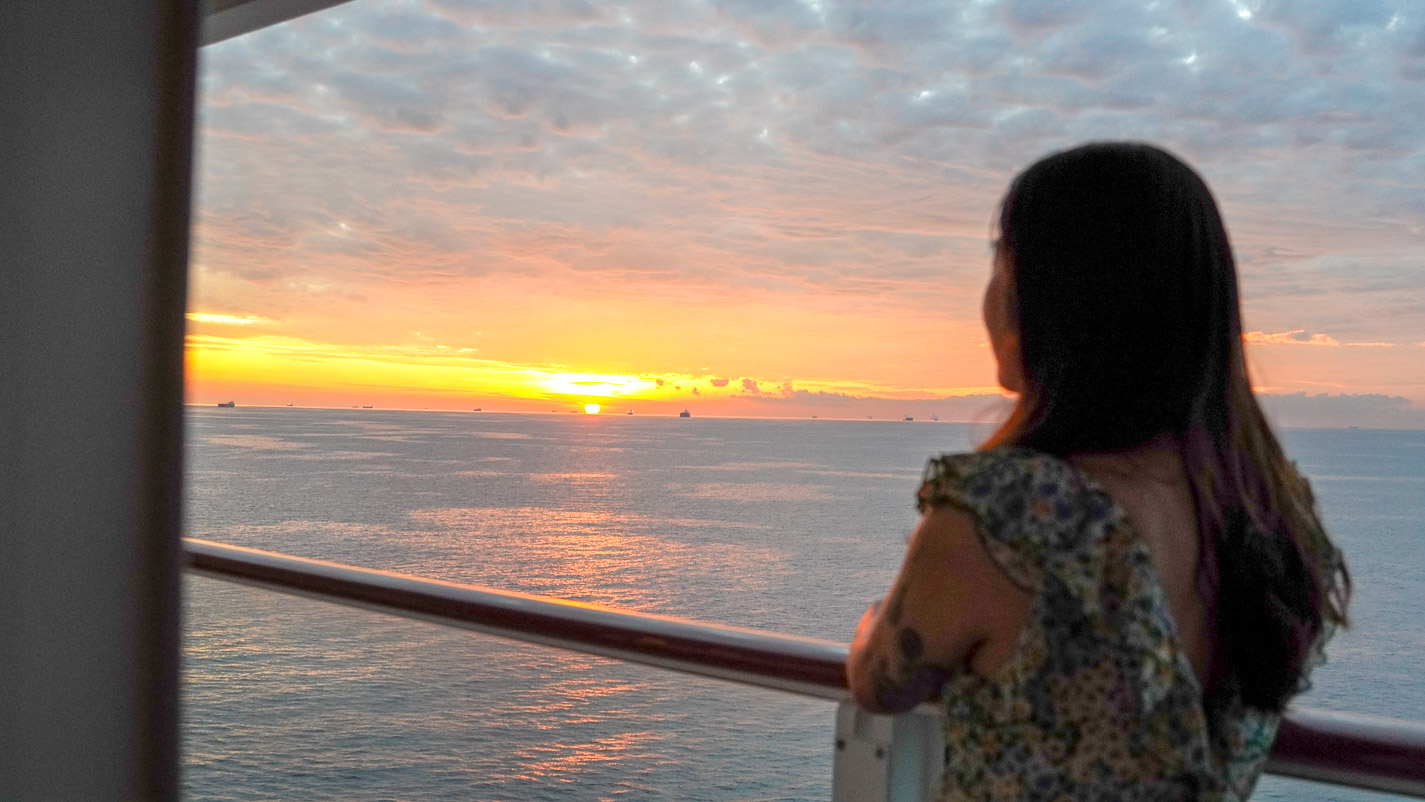 I used to not believe that money can buy you happiness. But as I watched the sun rise over the azure waters from our Palace Suite's ample balcony, that feeling sure came close to it.
The indulgence of comfort and leisure, coupled with exclusivity and privacy definitely made this luxury cruise experience one that's almost impossible to beat.
If you're willing to splurge a little on luxury and comfort, do check out World Dream's upcoming sail dates to experience it for yourself! Let us know in the comments below if there's something we should add to our Dream Cruises review!
---