There are many reasons to hop on a bike and go cycling in Penang. Perhaps you're set on seeing all the street art this city has to offer, or perhaps you'd like to explore the nooks and crannies of Georgetown's colourful (but narrow) lanes. Maybe you want to work off the extra bowl of chendol you inhaled for dessert, or maybe you just want to escape the city's notorious traffic snarls.
Whatever your motivation, the heart of historic Georgetown is chock full of attractions, and we say the best way to see them is on two wheels. At just RM10 per day for a mountain bike, cycling on Penang's flat roads is easy on both your wallet and legs.
We've put together an itinerary that covers the best of Georgetown in an afternoon — which will leave you enough time to cover the traditional to the trendiest spots in town, and grab some authentic Penang street food and drinks along Love Lane afterwards. Don't forget the sunscreen!
Bicycle rental
Start your day along Pengkalan Weld and look for Eko Baiku Enterprise. The owner at this hole-in-the-wall loans out well-maintained solo and tandem bicycles at very reasonable prices.
Cost: RM10 per day for mountain bike rental
Opening Hours: 8:30am – 7:30pm
Address: No.11 Jalan Pengkalan Weld, 10300 Georgetown, Pulau Pinang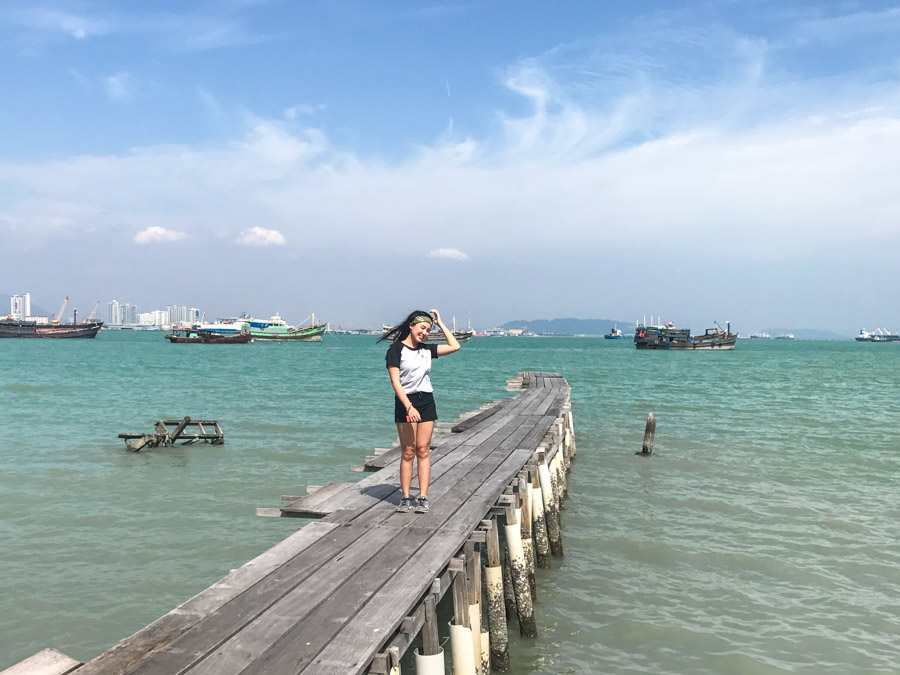 1) Clan Jetties
Cycle along Pengkalan Weld to see the clan jetties, which hark back to Penang's heyday as a trading port in the 17 and 1800s. At the time, a flood of Chinese immigrants built wooden stilt homes, as well as a thriving community, around the quay. Of the seven jetties that remain, Chew Jetty is the largest and most well-preserved. Souvenirs shops and drink stalls flank a narrow wooden passage that is punctuated by Chinese shrines and about 75 homes, inhabited mostly by older folks.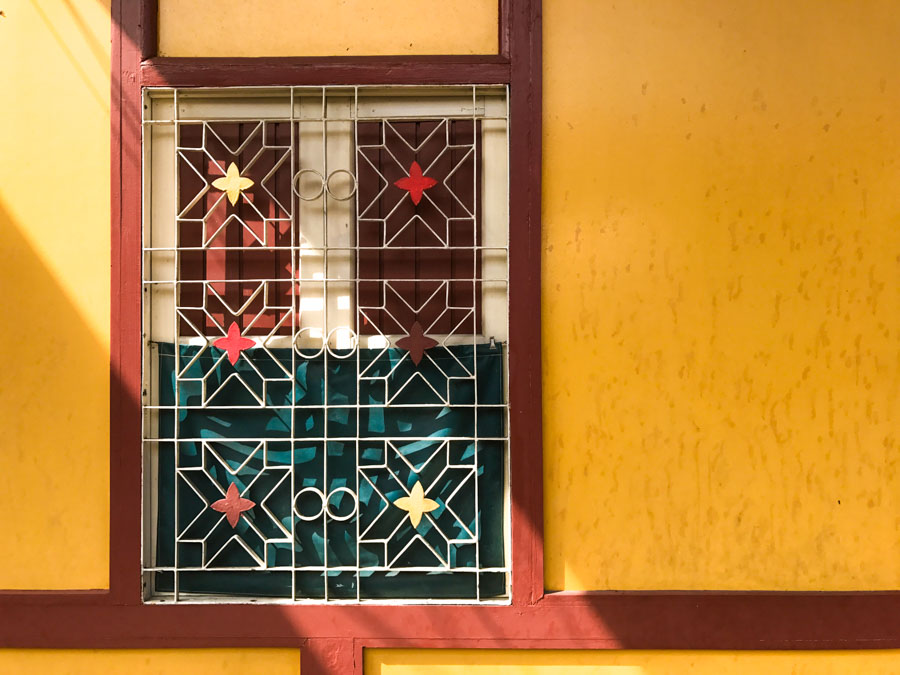 Chew Jetty is worth a quick jaunt, though we prefer the more rustic and (although far more rickety) surrounding jetties. Peep into Tan Jetty's "open-concept" toilets or get trigger-happy with the vibrant hues of Lee Jetty's wrought iron windows – if there is a place to escape from Penang's maddening traffic, this is it.
2) Blue Mansion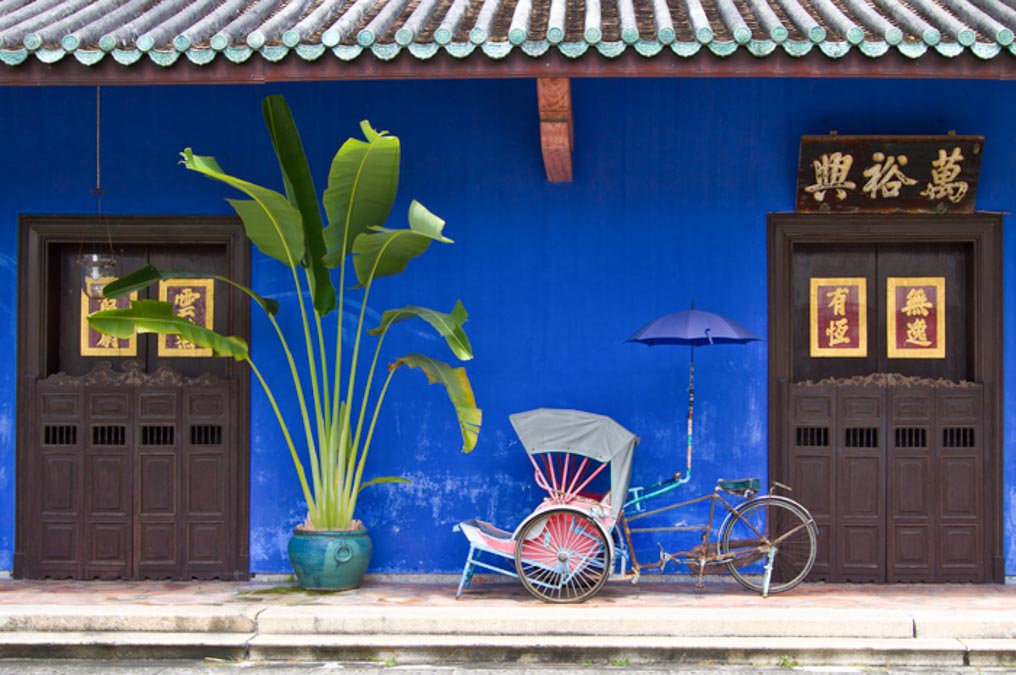 Photo credit: Transindus
About 2.2km from the clan jetties is the iconic Blue Mansion, which was once the home and business of trader Cheong Fatt Tze. We'd love to recommend a stay at the Blue Mansion's boutique hotel, a luxury accommodation that garners rave reviews on hotel booking sites. But if you're on a budget like us, join a guided tour around the historical building, which features a mix of Eastern and Western architecture such as art noveau stained glass and Peranakan floor tiles.
Cost: RM17 per adult, tour included
Tours: 11am, 2pm and 3:30pm
Address: 14 Leith Street, 10200 Georgetown
3) Pinang Peranakan Museum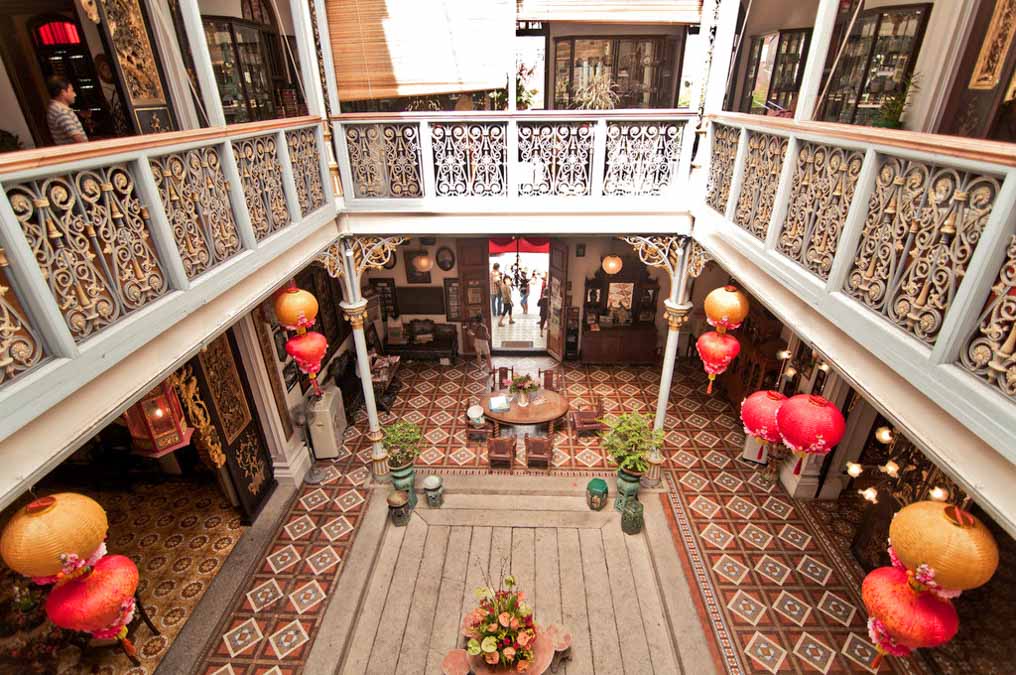 Photo credit: Adam Lai
From the Blue Mansion, the Pinang Peranakan Museum is less than a kilometre away. It's as green as the former is blue, with twee mint walls that open up into an ornate courtyard interior. The glittering chandeliers and towering wooden mirrors are impressive, but so are the museum's little touches – look out for carved archways painted in gold leaf, and mother-of-pearl inlays within the majestic wooden furniture.
Cost: RM20 per adult
Tours: 11am, 2pm and 3:30pm
Address: 14 Leith Street, 10200 Georgetown
*Pro-tip: If you're visiting in a group of five or larger, contact the museum to arrange a complimentary guided tour.
4) Penang's best street art
You can't visit Penang without checking out at least one piece of street art. Better still, turn the corner and make your way down Lebuh Pantai (Beach Street), a 400m stretch that leads to what is arguably Penang's most famous piece of street art – Children on a Bicycle, which attracts snaking queues during weekends.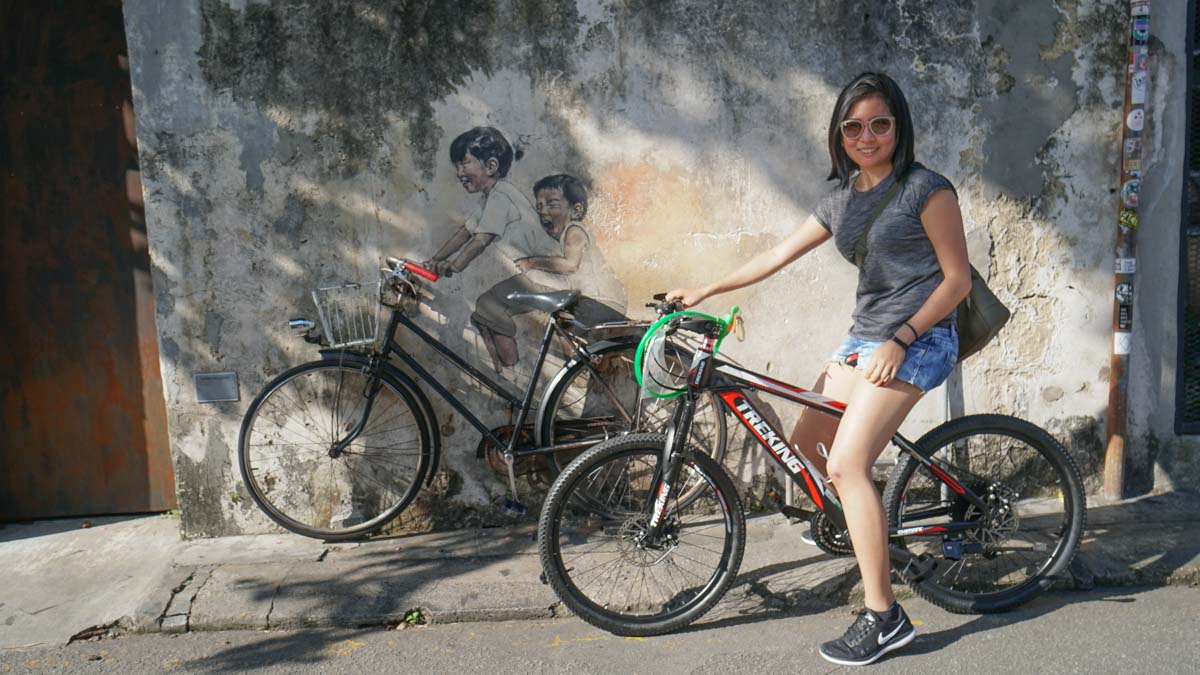 Other notable pieces can be found along neighbouring lanes such as Gat Lembuh Armenian (Armenian Street) and Lebuh Cannon. If you're after some serious photography, this street art map marks all 52 art pieces sprawled across Georgetown, while the Mural Map iPhone app lets you check them off a list by snapping pictures when you find the murals. The app also offers quirky descriptions from Lithuanian artist Ernest Zacherevic about how his art pieces have evolved over time.
Read also: Ultimate guide to the most iconic Georgetown street art
5) Gallery hopping
Penang's independent artists are among its best-kept secrets, and you'll find many of them in and around Armenian Street. The Fuan Wong Gallery specialises in glass art pieces inspired by nature, such as glass trees and wall art. Meanwhile, photography enthusiasts will enjoy Shop Howard, which sells prints and upcycled souvenirs such as bags and cushion covers.

The nearby Camera Museum along Jalan Mutri will delight both shutterbugs and iphone-snappers alike. The museum's showcases a history of the digital camera, a vintage collection, and interactive exhibits such as a camera obscura and a dark room.
Read also: 5 Trendy places in Georgetown every Hipster needs to visit
At the end of the day, pamper your feet (and the rest of your body) with a massage — we recommend Zouk Spa in Georgetown, which thankfully has nothing in common with its Jiak Kim/River Valley counterparts. Sink into a plush armchair or massage bed and let the talented therapists work out the knots from your day on the road. Go on, you've earned it.
Read also: Penang Foodie's Itinerary: Covering Hipster Georgetown in one day
Heading over to Penang for a weekend jaunt on wheels? Hashtag #TheTravelIntern on Instagram to share your adventures with us!