Address: 53 Hollywood Rd, Central, Hong Kong
Cost: From 2000HKD/Night
Check-in/ Check-out: Check-in begins from 2pm. Check-out times are flexible with no extra charge.
Website: Madera Hollywood
TLDR:
– Gorgeous boutique hotel in SoHo
– Value-for-money but plays to those with a higher budget
– Only 2 apartments each level: offers great privacy, space and service
Click to jump to relevant section:
Facilities offered
Other room types
Directions
What to find around
The Madera Deluxe Suite
Thanks to Hotels.com and their diverse selection of over 275,000 hotels to choose from, we got to stay at Madera Hollywood Hotel's deluxe suite for 2 nights, and it was a very suite sweet deal indeed.
As we dragged our luggages up the hilly streets of Hong Kong onto Hollywood road,  the picturesque bars and restaurants, cafes and smoothies-to-go parlours — quite unlike the rest of Hong Kong — stood out, stark as day.
We later learn that this is SoHo, otherwise known as South of Hollywood road, where the new up-and-coming trends take forms of quirky Western-influenced shopfronts.
Madera Hollywood Hotel is situated on the brinks of hip SoHo and a 5-minute walk from the lanes of antique shops and art galleries along Old Hollywood Road.
*Pro-tip: Check out the central-mid-levels escalator and walkway system just by the hotel! This is the longest outdoor sheltered escalator system internationally.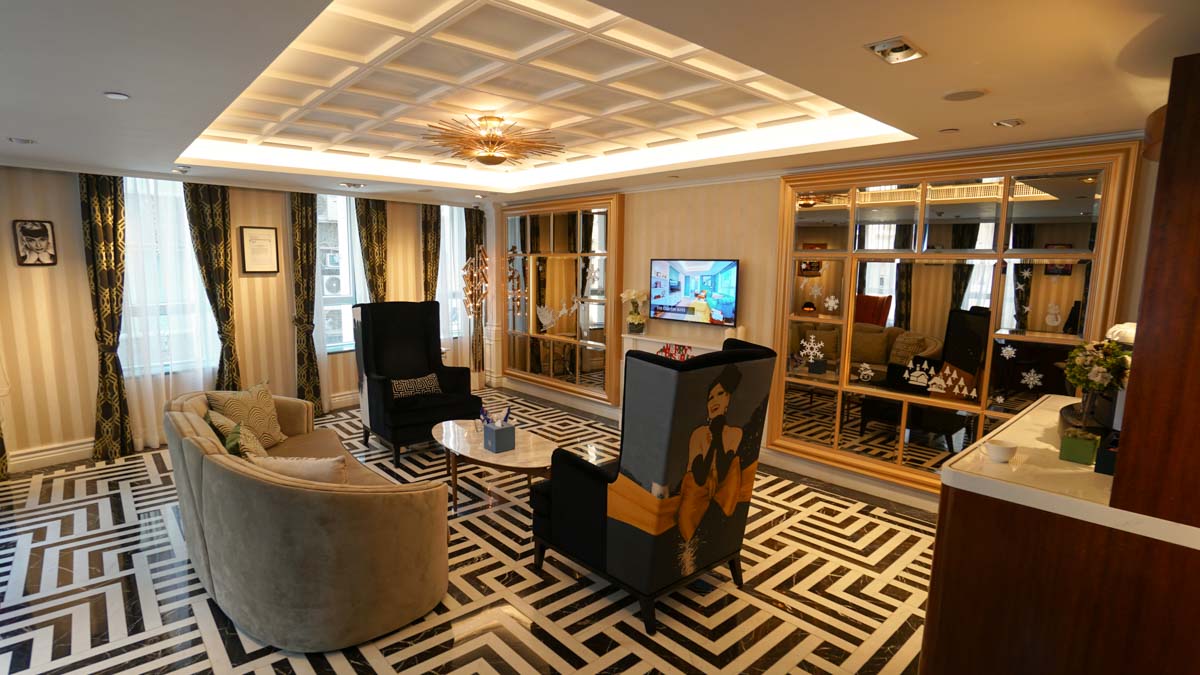 As we were escorted to the hotel reception area, the friendly receptionist greeted us warmly with a generous selection of drinks, ranging from juices and coconut water to beers. Unlike many of the service staff in Hong Kong, we conversed in perfect English as he got us accommodated with the neighbourhood and shared his go-to food places in the area.
The reception, like the rest of the hotel, was decked in Hollywood regency teal and saffron. Artworks of Monroe, Chaplin, Hepburn adorn the walls in kitsch fashion, emulating the Golden Age of old Hollywood.
Rooms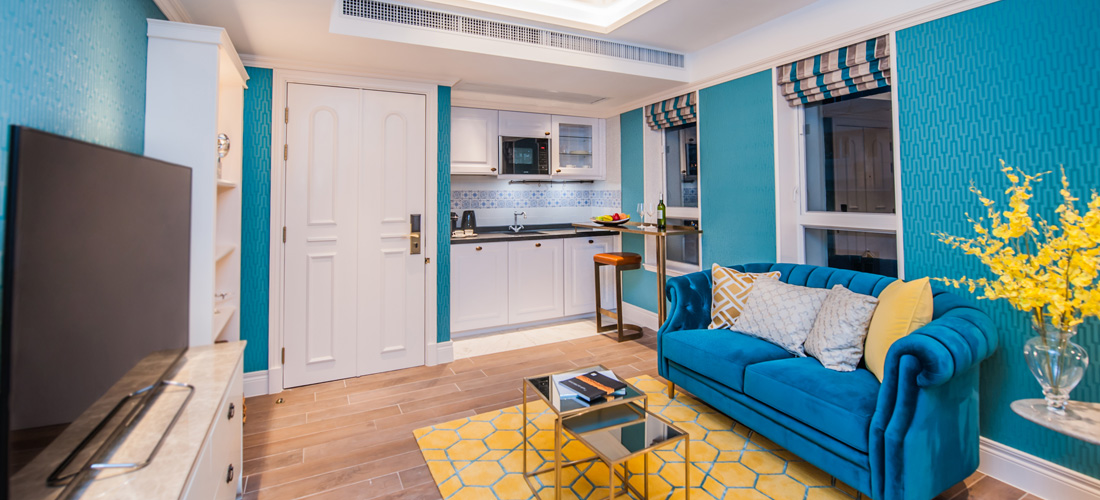 Living room and kitchenette: Upon entering the lush apartment, we were pleased to find out just how spacious our accommodation was. A large teal couch was planted smack in the middle of the living room, where Cherie would be curled up late into the night working on articles for The Travel Intern, while I perched on the counter seats by the kitchenette tapping away at my Macbook.
The kitchenette is a joy to have, with a built-in washing machine and dryer for those of you (like us) traveling for extended bouts of time, the built-in washing machine and dryer is a huge underrated blessing. Upon request, cute pillowy sachets of wash liquid was sent to our room and by the morning, our clothes were fresh and fragrant.
What deserves special mention is the quality full-leaf teas and Nespresso capsule coffees that get replenished daily. To our delight, the minibar and snack bar in the room were completely complimentary, which was music to our 2am-munchies ears.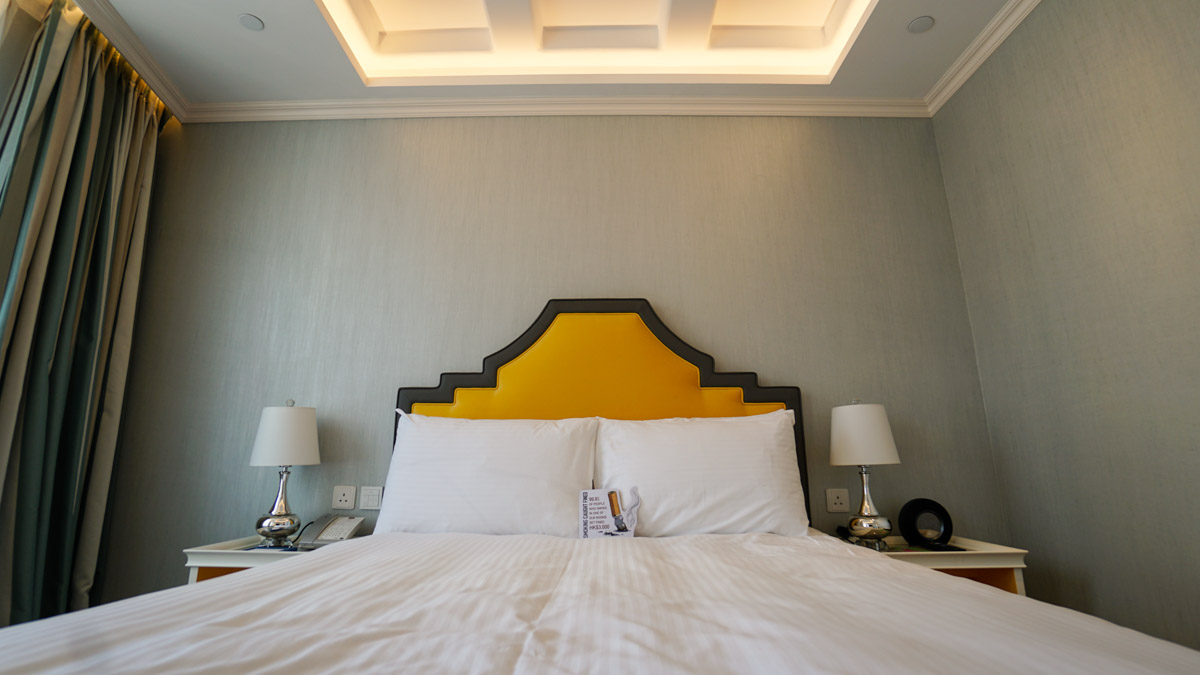 Beds: The deluxe suite comes with either one queen-sized bed or two twin beds. We have nothing much to say for the beds, because well, we fell asleep so quickly and soundly!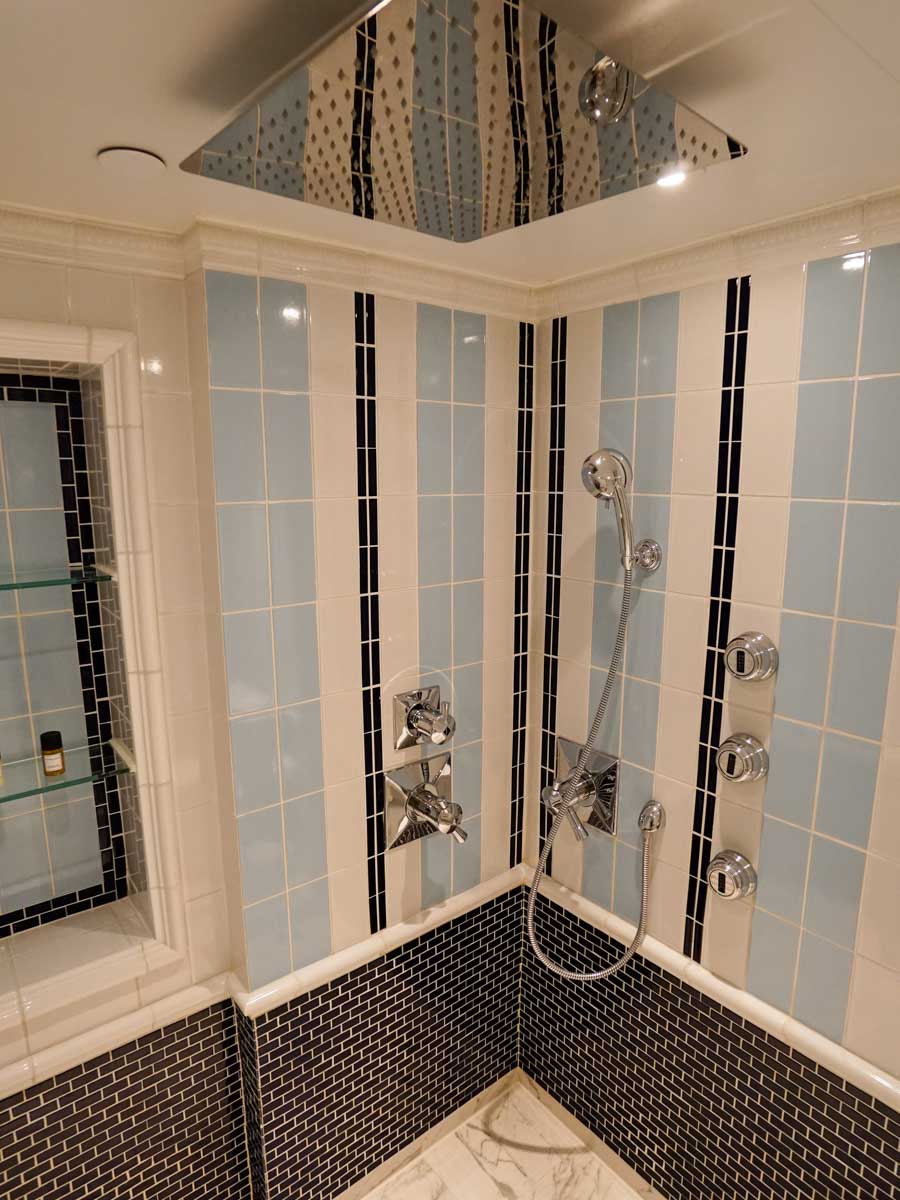 Bathroom: Like the rest of the suite, the bathroom was spacious and clean. I was a little crestfallen to find out there was no bathtub, but Madera Hollywood Hotel impressed once again with not one, not two, but THREE different types of shower heads!
Needless to say, it was really fun playing around with these novel nozzles during shower time; I mean, I have never had three shower nozzles horizontally spout water at me while a huge downpour of warm water engulfed me from above. Madera Hollywood Hotel has revolutionised showers for me argh how do I go back to my normal life now??
*Pro-tip: Wonder where all the toiletries are? Look behind the bathroom mirror!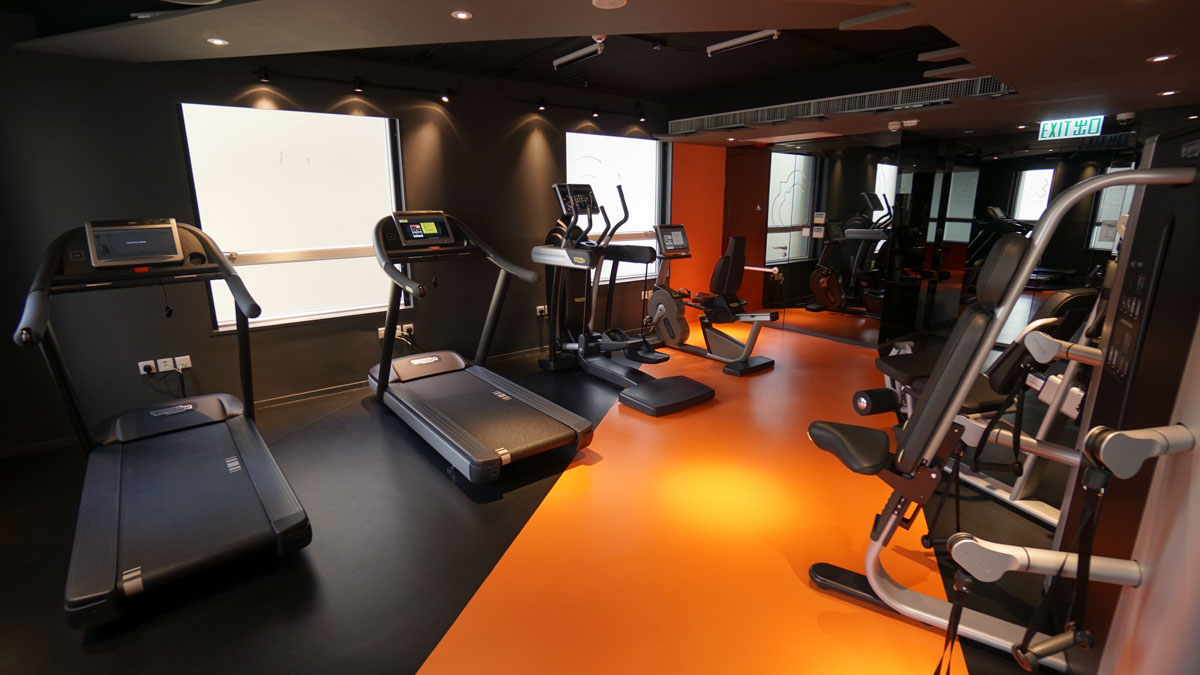 24H Gym: Their well-equipped gym actually opens around the clock! While I personally had no plans to hit the gym (what to do, fat life chose me), I know exactly how working out can be such an integral part of life, especially while travelling.
For those of you in Hong Kong for business, work can be hectic. Having access to the gym at 2am is wonderful for those sudden workout urges after a whole day of gorging yourself with dim sum.
Facilities
Free WiFi, 24 hour gym, guest only card access into building.
In room: Handy Phone (free international calls to certain countries), JBL Speaker, complimentary minibar, mini fridge, washing machine with dryer, detergent*, induction cooker*, Nespresso coffee machine, luxurious rain-shower, hairdryer, shampoo, conditioner, body wash, body lotion.
*Free upon request: Induction cooker, iron, detergent.
Other Room Types
Grand Deluxe Suite
The Grand Deluxe Suite is slightly larger than the Deluxe Suite at 70sqm. Additionally, instead of a bar counter in the kitchenette, this suite comes with a dining table with chairs. I quite liked having a bar counter looking out into the streets of Hong Kong (for the Wong Kar Wai vibes), but a dining table would be much more practical.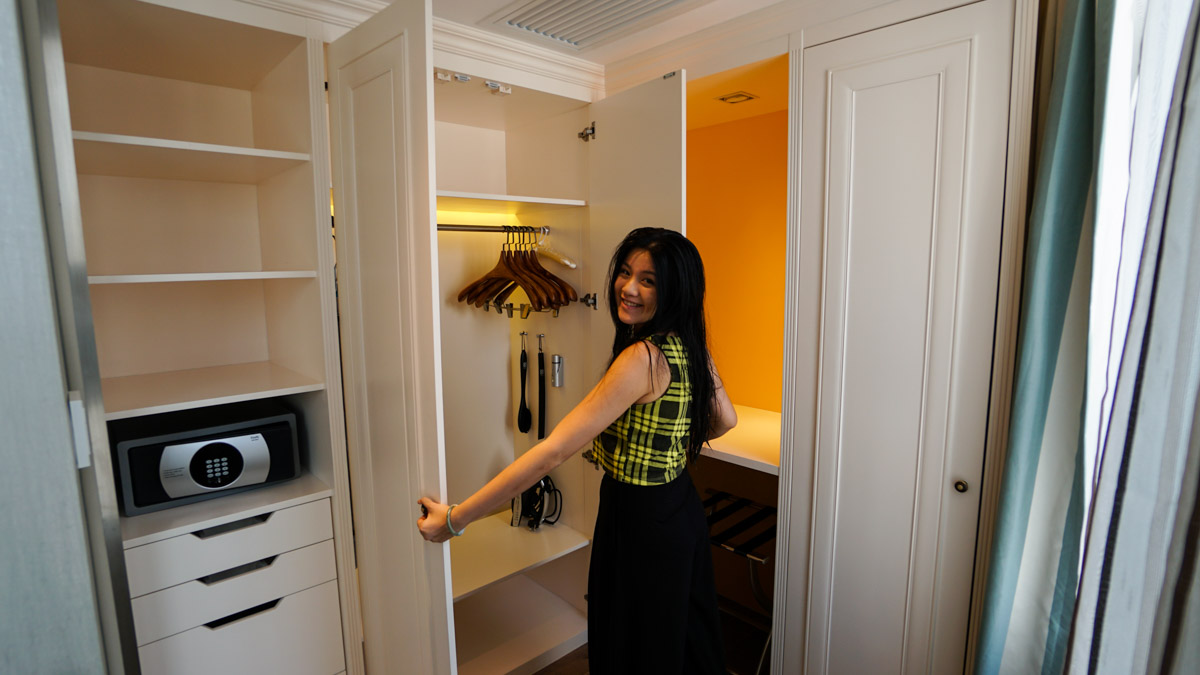 My favourite part of this room would have to be its walk-in wardrobe! This is probably every little girl's dream: a private, indulgent space to primp yourself up every morning.
Cost: HKD2600
Signature Suite – Monroe and Chaplin
Situated on the 26th and 27th floor respectively, the Monroe and Chaplin suite are Madera Hollywood Hotel's signature suites. With only one of each available, these rooms cost a pricier HKD4000-5000 (Off-peak) and HKD7000 (Peak) and do not serve long stay guests.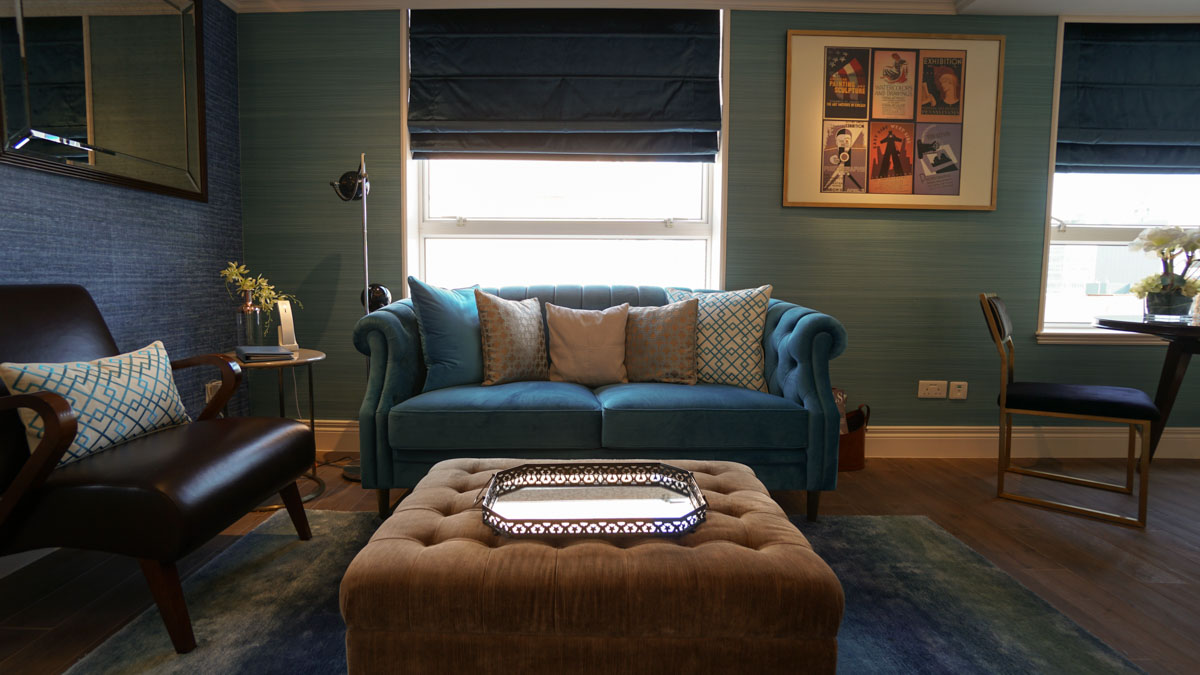 The Chaplin suite is much like the Grand Deluxe suite with a classier, subdued blue colour scheme. The Madera Hollywood team has really taken nuanced design to the next level with the whole collection of Chaplin's works available for guests on the staff, with other ornaments subtly perpetuating the theme of the room.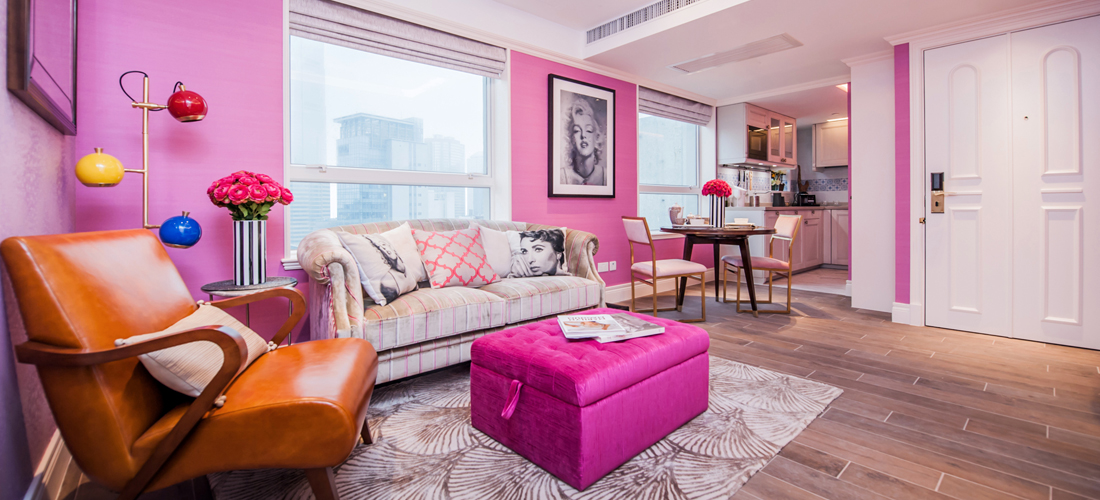 Similarly, the Monroe suite emulates the spirit of Monroe, but in a pretty pink fashion.
Directions
The nearest MTR station from Madera Hollywood is Central station. The 10 minute walk from the MTR station will require some up hill slopes and steps so hop on a cab if you're towing luggage.
Walking directions from Central MTR: From Exit B2, turn left on Des Voeux Road Central toward World Wide Lane, turn left on Pottinger Street, turn right onto Lyndhurst Terrace and finally, right on Hollywood Road. Madera Hollywood Hotel will be on your right.
---
Guide around Madera Hollywood Hotel
Convenience Stores: A 7-Eleven is located just across the road, about 2 minutes away.
Food: Dozens of famed eats and cha chan tengs dot the vicinity. A taste of snake soup from Michelin guide's Ser Wong Fun, some delicious macaroni from Lan Fong Yuen, even kebab from an unknown stall in the — you could hold your very own food tour just around Madera Hollywood Hotel! If we stayed any longer I'd have put on A LOT OF WEIGHT.
Art: Personally, I am mad for art. Besides the little nuggets of culture food provides, you can only imagine how thrilled I was to find a plethora of diverse art galleries and antique shops to the right of the hotel. Perfect for a little quiet time in this busy city.
Lan Kwai Fong and Wyndham Street: What's a trip to Hong Kong without a taste of its vibrant nightlife scene? Only a 5 minute walk away, this is the place to be during your late night adventures.
Star Ferry Pier: If you fancy taking a day trip to one of the nearby islands, the Star Ferry Pier is located a 20-minute walk away.
Conclusion
What truly stood out for us was Madera Hollywood Hotel's standards of space, privacy, location and service. With 2 spacious suites per level in the middle of SoHo Hong Kong, we were planted in such a good location with exceptional personal room.
What's more, the hotel had fantastic WiFi and we were even given a Handy smartphone with unlimited tethering and free international calls to 7 countries (even Singapore!), which made going back to Madera Hollywood after each long day feel like going home.
BOOK A NIGHT AT THE MADERA HOLLYWOOD
---
This post was brought to you by Hotels.com.