Everyone's gone through this, they book a flight to an interesting location, plan their itinerary, and do some homework on what's good to eat, some more than others (I eat to live, some, live to eat). Fast forward and now you're sitting at that famed restaurant, with the 5-star reviews on its crisp duck glazed in unicorn's tears and flambéed with dragon fire. You take the necessary amount of photographs for your social media and finally, sink your teeth into what's supposedly the best thing to happen to a duck since Donald.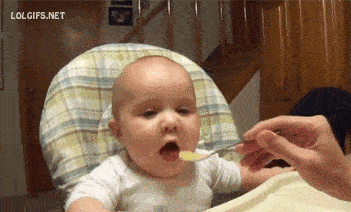 And then, the glass shatters. This tastes like any other crisp duck, below average even. You try to hold back your tears, all those hours spent travelling to this restaurant, all those expectations, shattered.
No my friend, these aren't tears of scrumptiousness, these tears are real, and they're salty, as salty as the duck you just had. With that said, here's our Hong Kong food journey, as we explore the usual raved about spots, and some lesser known gems.
Read also: Seeking Serendipity: Introvert's Guide to Hong Kong
1) Ser Wong Fun (蛇王芬)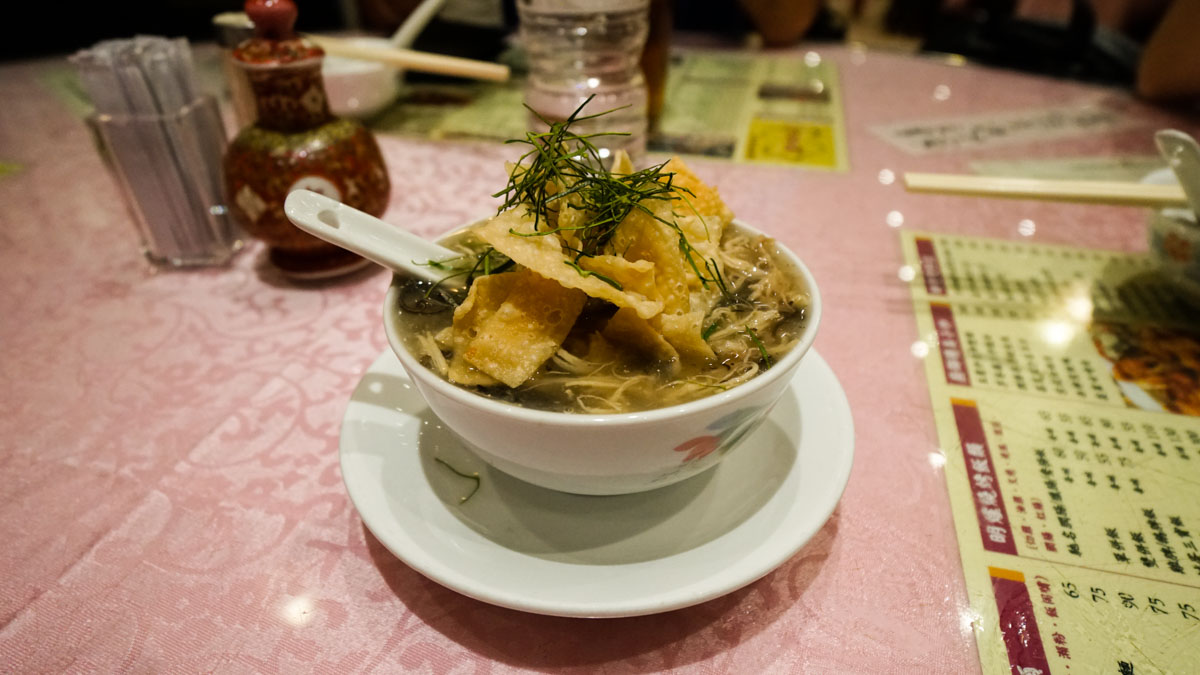 Dozens flock to Ser Wong Fun to try their famed snake soup and duck liver sausage (which made it on 2017's Michelin Guide), so did we. We started off with the Snake Soup, which was an interesting take for me, as I've never tried any form of cooking with our slithery counterpart. The soup tasted strongly of herbs and the consistency was that of Shark's Fin soup. The chicken strips were a nice touch too.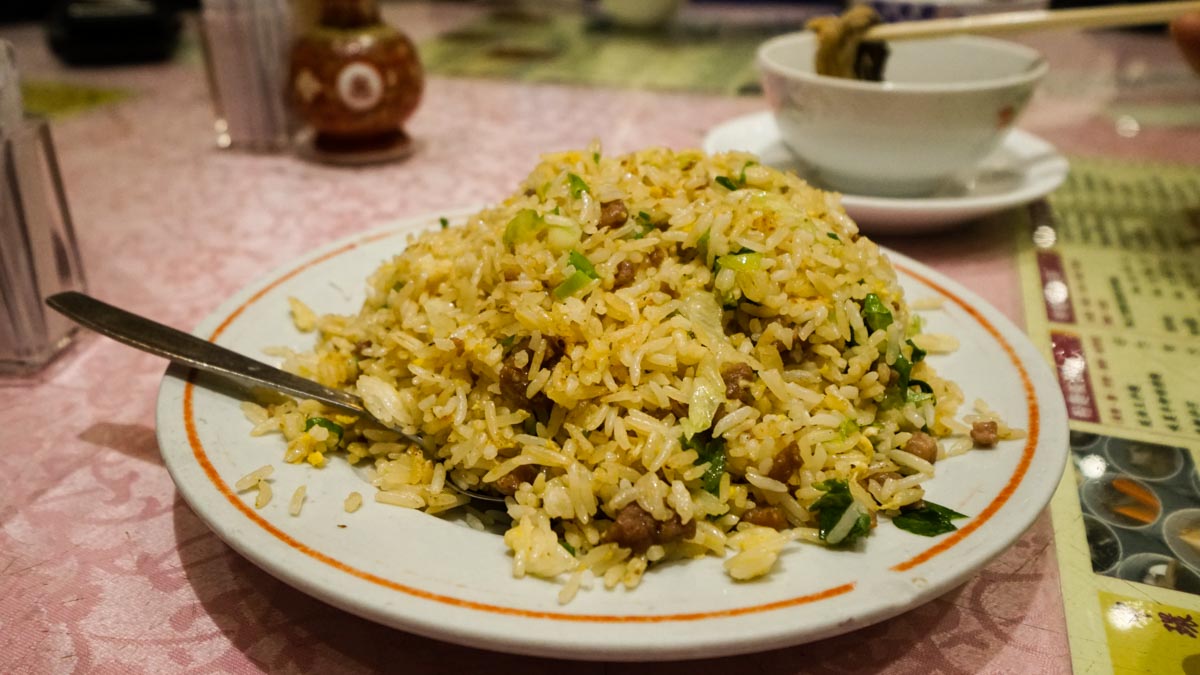 Next up was the Duck Liver Sausage, which had an almost powdery consistency to it as soon as you take a bite. The sausage is made with duck liver (obviously) and lap cheong, which makes the dish for me. I would pair it with this dish with the beef fried rice, add heaps of their chilli paste, and voilà, you'll have yourself a solid meal.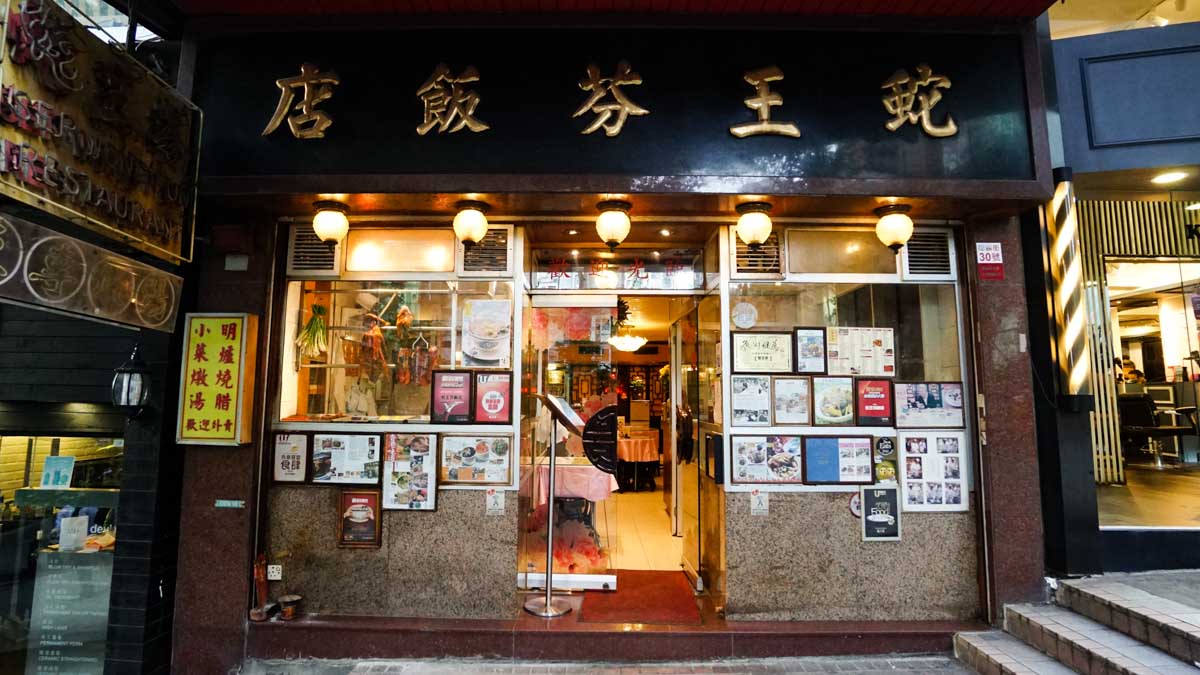 Cost:
Snake Soup – HK$120
Opening Hours: 11.00a.m. – 10.15p.m.
Address: 30 Cochrane Street, Central, Hong Kong.
2) Australia Dairy Company (澳洲牛奶公司)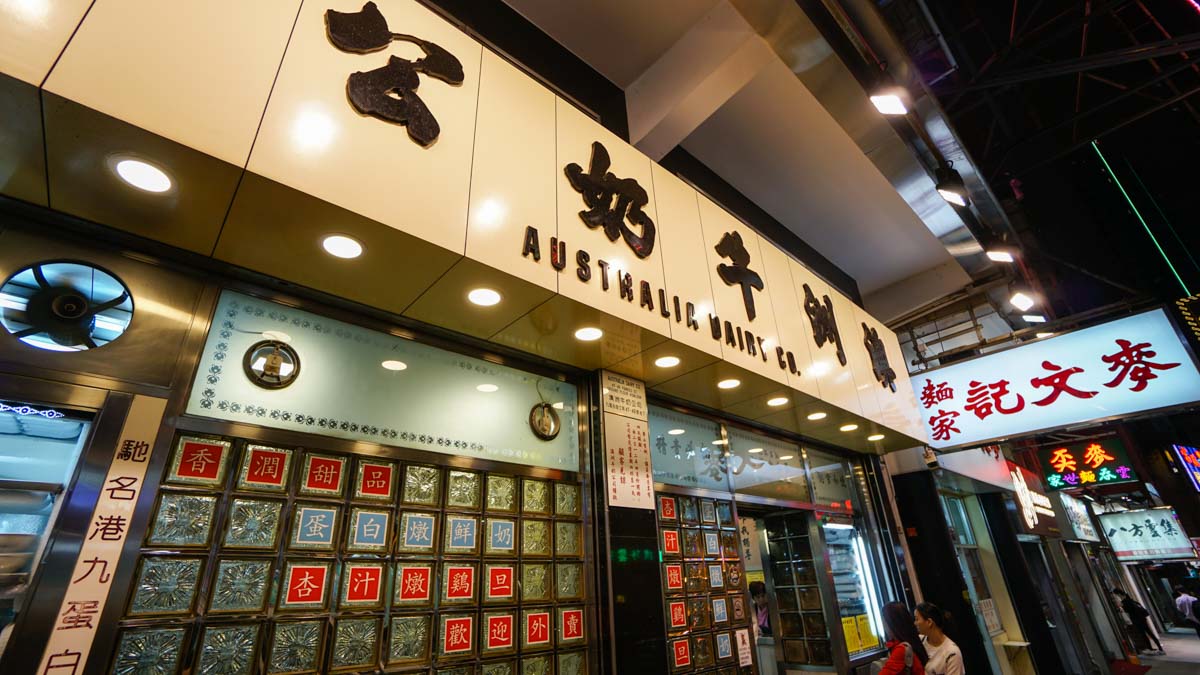 Where does one begin to describe this restaurant. The hype surrounding Australia Dairy Company is unreal. Ask anyone who's planning a trip to Hong Kong and you're sure to see this in their itinerary, ours too. Expectations high, stomachs empty, and armed with what to order, we made our way to this lively space to have a taste of Hong Kong.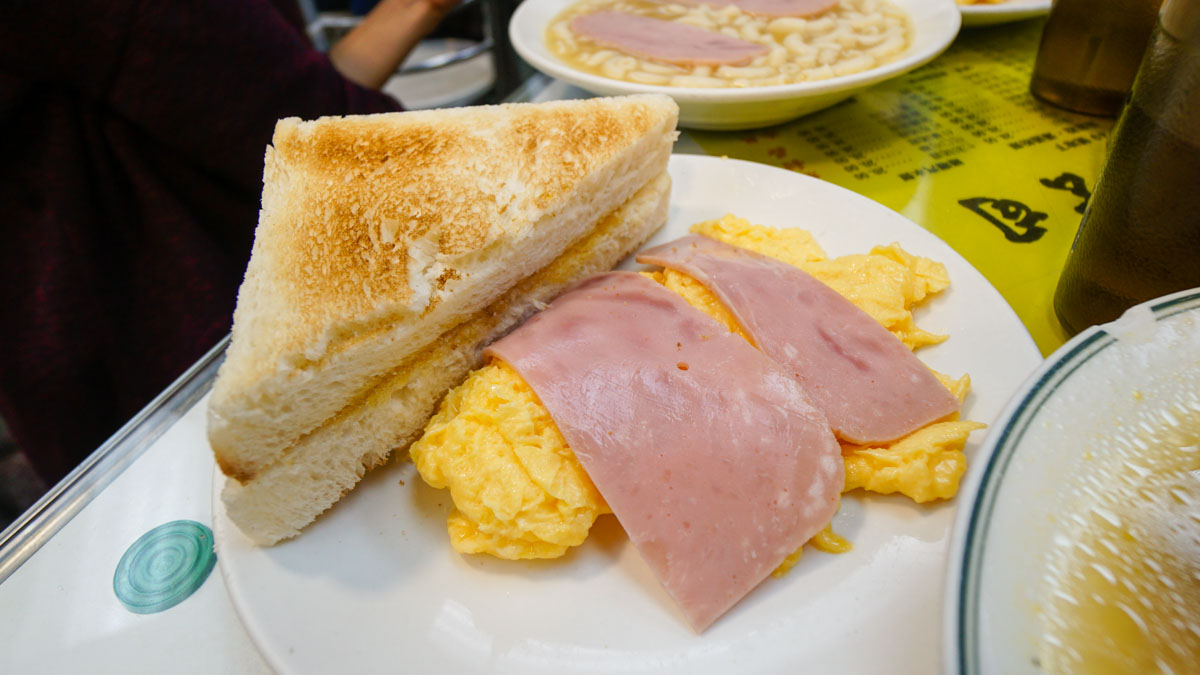 We had a serving of toast with ham and scrambled eggs, which tasted as good as you'd expect. The eggs were fluffy and hot, and the toast had just the right amount of crunch. The ham was well, ham. Things are going in favor of the hype.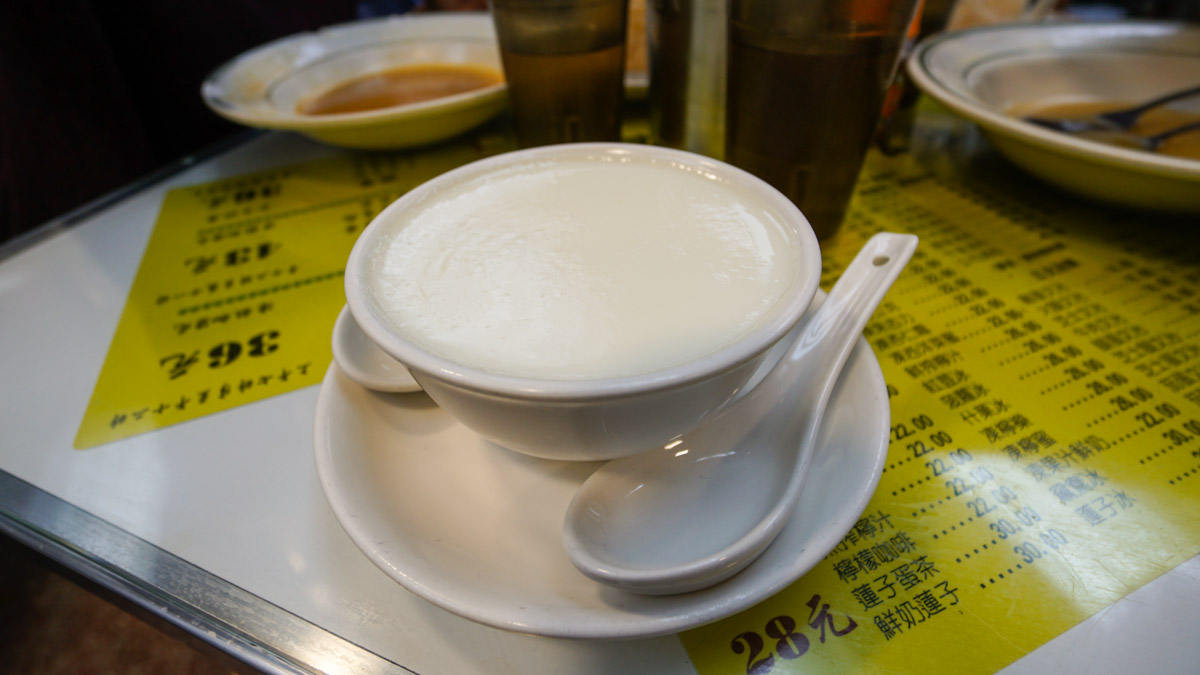 The egg milk pudding was next on the list and it was impeccable, as it was very milky. Once more, things are going great for the hype. Next up, the famous macaroni and ham soup, a staple dish for Hong Kongers who frequent this diner. This dish induced nostalgia as soon as I had my first bite as it reminded me of the first time I tried my hand at cooking instant noodles. During my inaugural attempt at instant noodles, I made the mistake of adding too much water, rendering the noodles and broth tasteless. This was exactly how the dish tasted.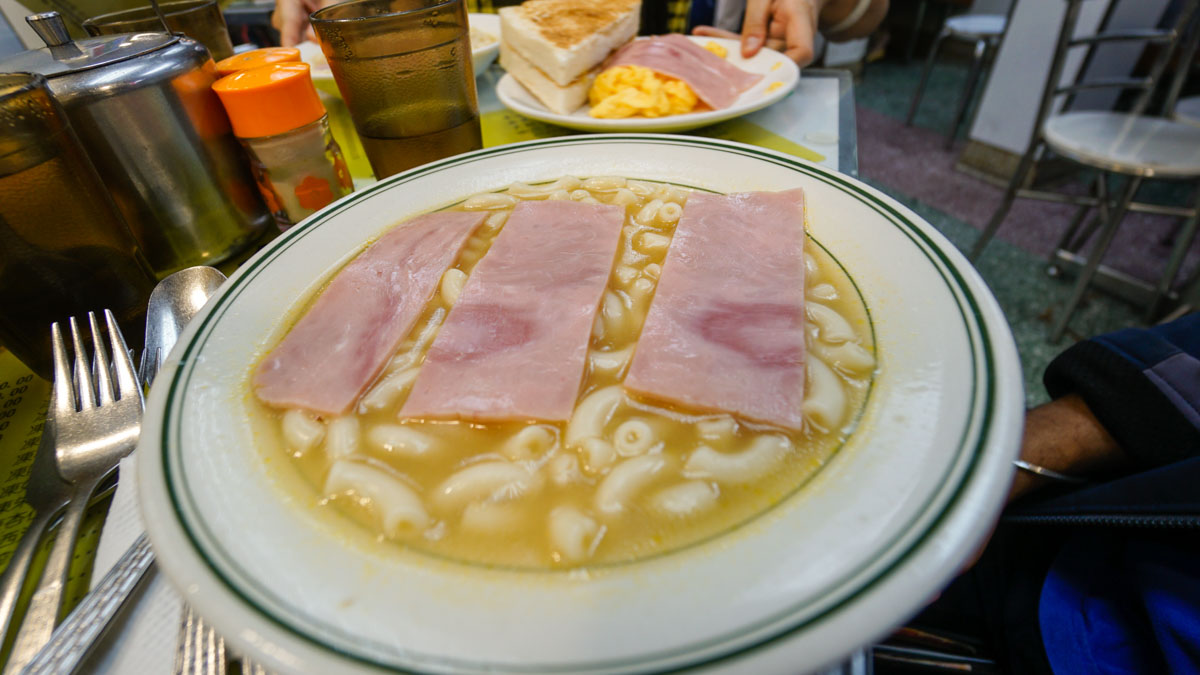 Supposedly, this is the taste that appeals to the masses here in Hong Kong, so if you're up to try and understand their sense of taste, give Australia Dairy Company a try. The food isn't spectacular, but it's an experience as a whole, from the busy waiters who hustle you into ordering (and leaving once you're done), to their antics when you ask for an extra spoon, all the way through the food.
Cost:
Toast with Ham and Scrambled Eggs (in a set with Macaroni and Ham Soup) – HK$43
Egg Milk Pudding – HK$28
Macaroni and Ham Soup – HK$28
Opening Hours: 7.30a.m. – 11.00p.m. (Closed on Thursdays)
Address: 47 Parkes Street, Jordan, Hong Kong.
3) Lin Heung Tea House (蓮香樓)
Update: Lin Heung Tea House (蓮香樓) is permanently closed as of 10 Aug 2022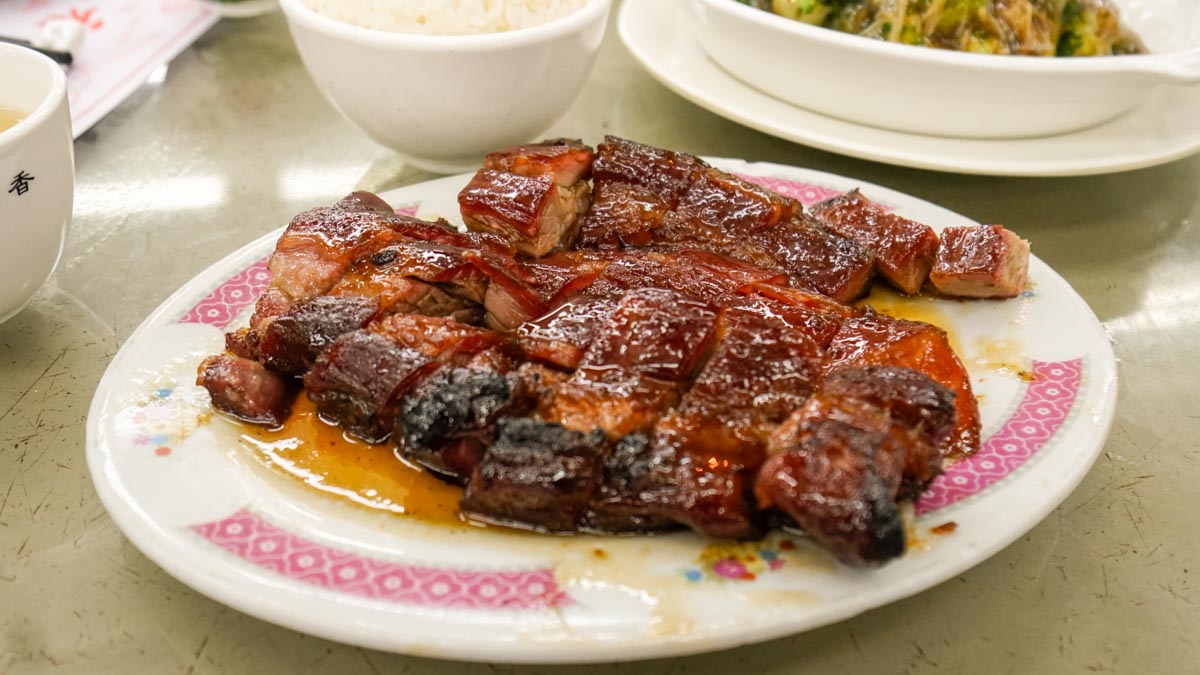 Lin Heung Tea House was the first place I was recommended to have a bite at by an old man when I was faced with the challenge of eating like a local. In true Travel Intern spirit, I checked it out. The food looked rather tempting but the portions were too large for me alone, so I suggested that we return for dinner.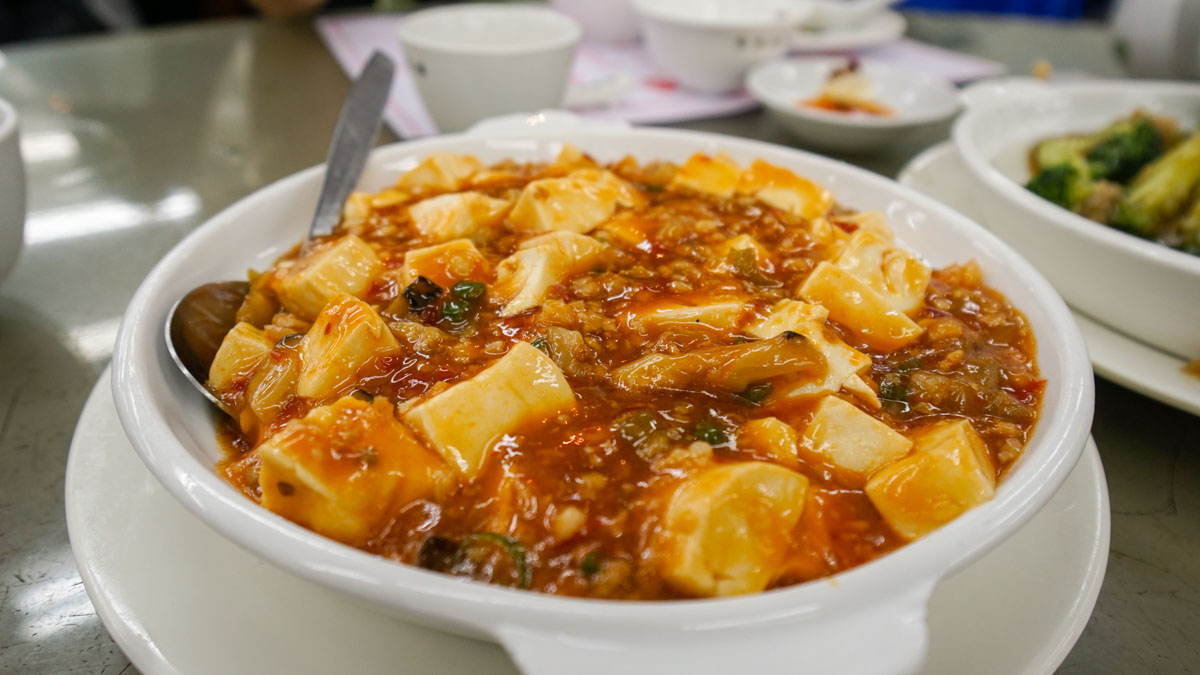 At dinner, we ordered three dishes, the Mapo Tofu, the broccoli with dried scallops, and the char siew (Barbecued Pork). Unfortunately, their famous Siew Yoke had run out so we had to carry on without it. The Mapo Tofu was decent as it complemented the rice nicely. It was slightly spicy, which was a good change of pace as most of the food we encountered on the trip didn't score too high on the spice chart.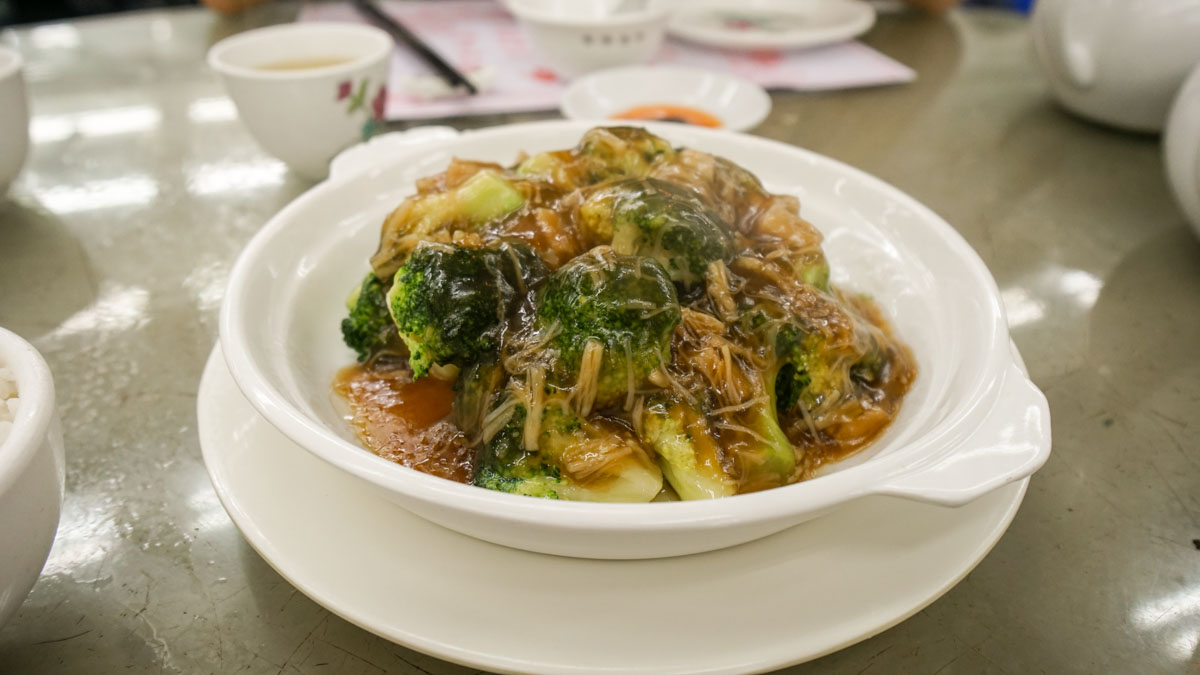 The broccoli with dried scallops was rather tasty (or perhaps we were just really hungry). The gravy that came along with it was not too salty and was generally well-balanced. However, the star of the show was the char siew. One must understand that chicken rice with char siew is a staple lunch of mine, so having this dish melt in my mouth was refreshing. Another added bonus is that the portions at Lin Heung Tea House are big for the price you pay, which makes it very wallet-friendly.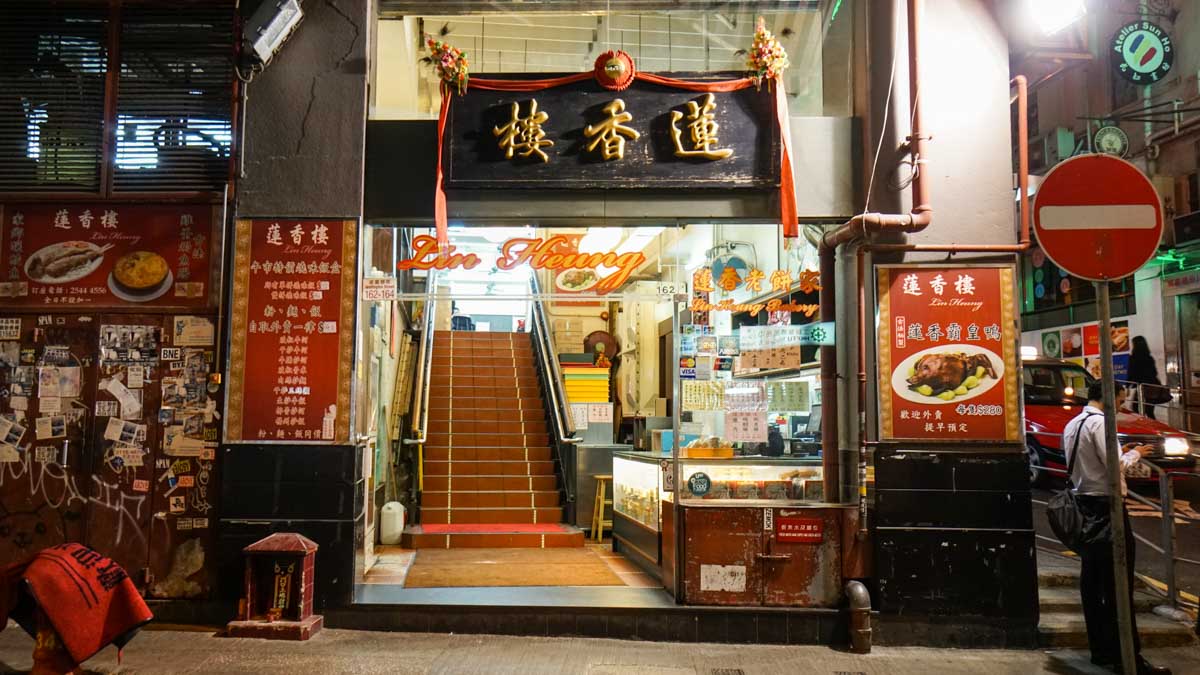 Cost: HK$100 – 200
Opening Hours: 6.00a.m. – 11.00p.m.
Address: 162 Wellington Street, Sheung Wan, Hong Kong.
4) Ding Dim 1968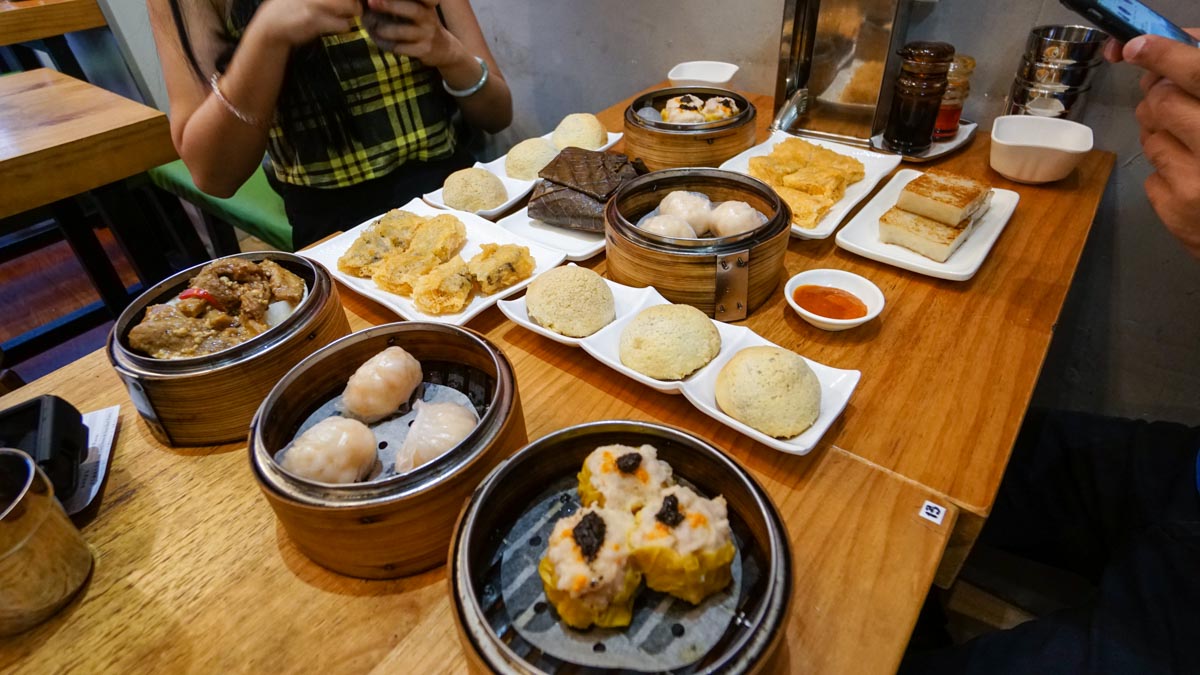 Ding Dim 1968 was an interesting spot on this food journey, mainly because it helped inspire the title. It was a recommended spot by our Puppetmaster himself, as it was a place he frequented during his exchange in Hong Kong eons ago. Seven different plates soon arrived at our table and the feast began. The King Hargow (Shrimp Dumpling) tasted amazing as tucked within were succulent prawns, although the outer layer may have been a little too thick for our liking. Regardless, it was great.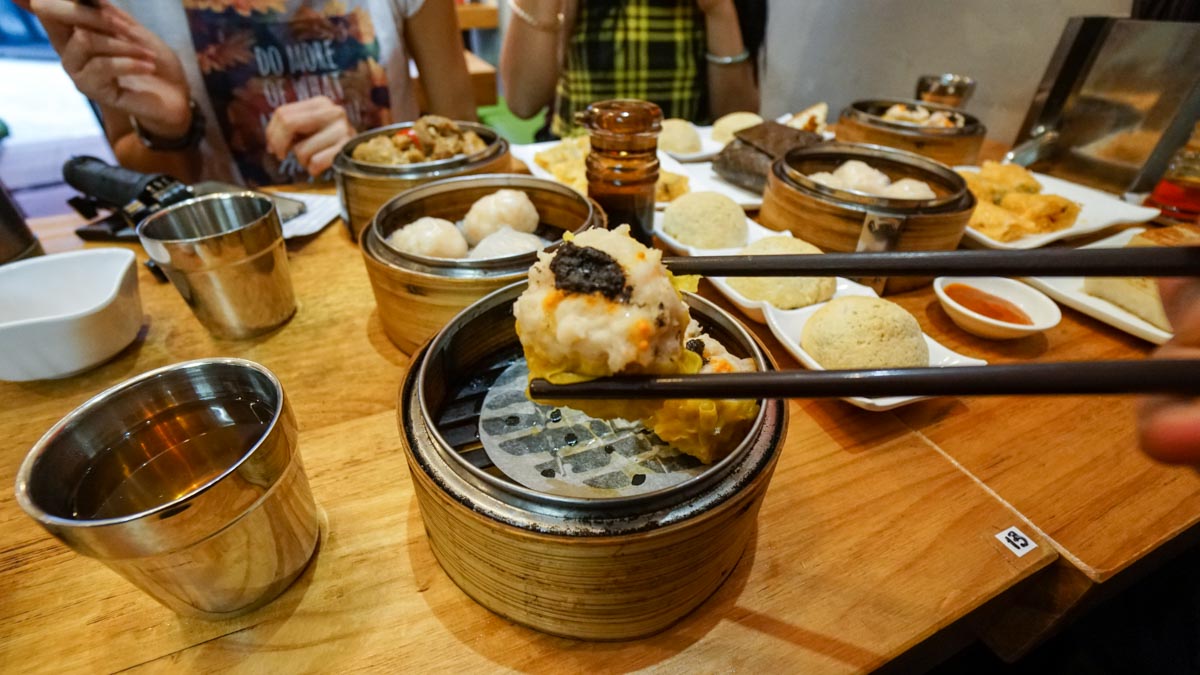 Next up was the Siu Mai with Black Truffle and this is by far the best Siu Mai we have all tasted, enough said. We then had the Golden Beef Tripe in Satay Sauce, as we were feeling slightly adventurous. It was an interesting dish, to say the least, although I believe that it would be the last time we order it. We also had the Baked Pastry BBQ Pork Bun, Pan Fried Turnip Cake, Spring Rolls with Sauteed Mushrooms, and the Sticky Rice Pocket with Chicken which were all equally tasty.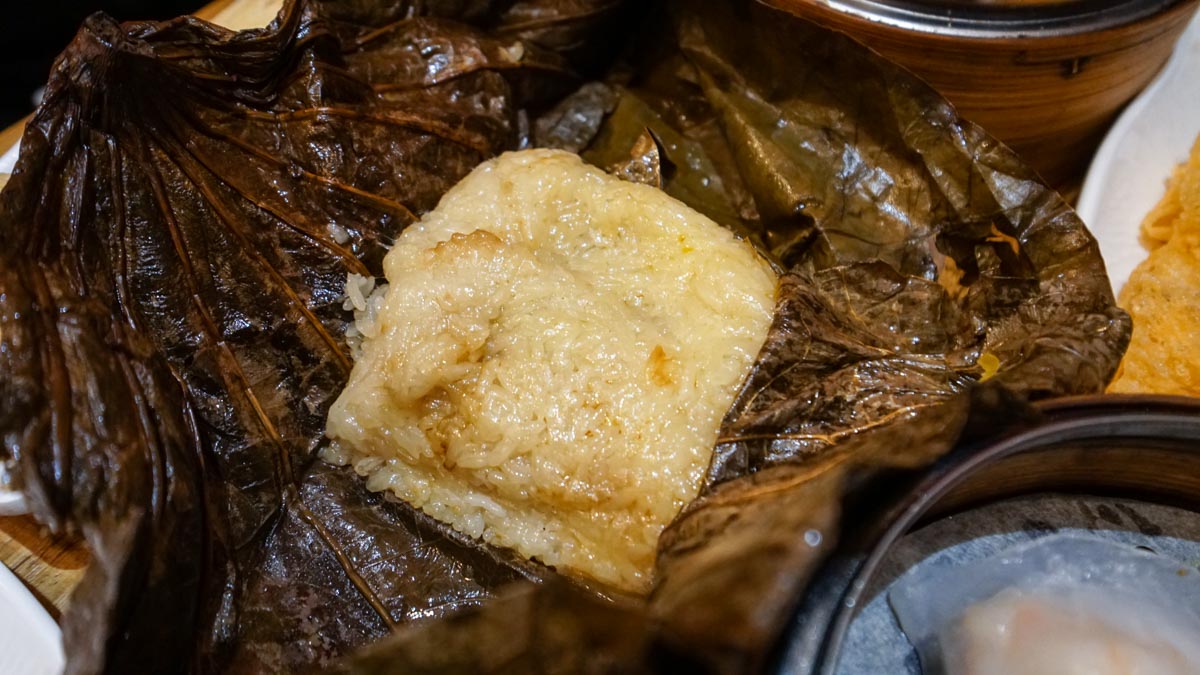 The food at Ding Dim 1968 was generally tasty and well-priced. You also have the option to pair your dim sum with a beer or if you're opting for a detox, perhaps some fresh juices.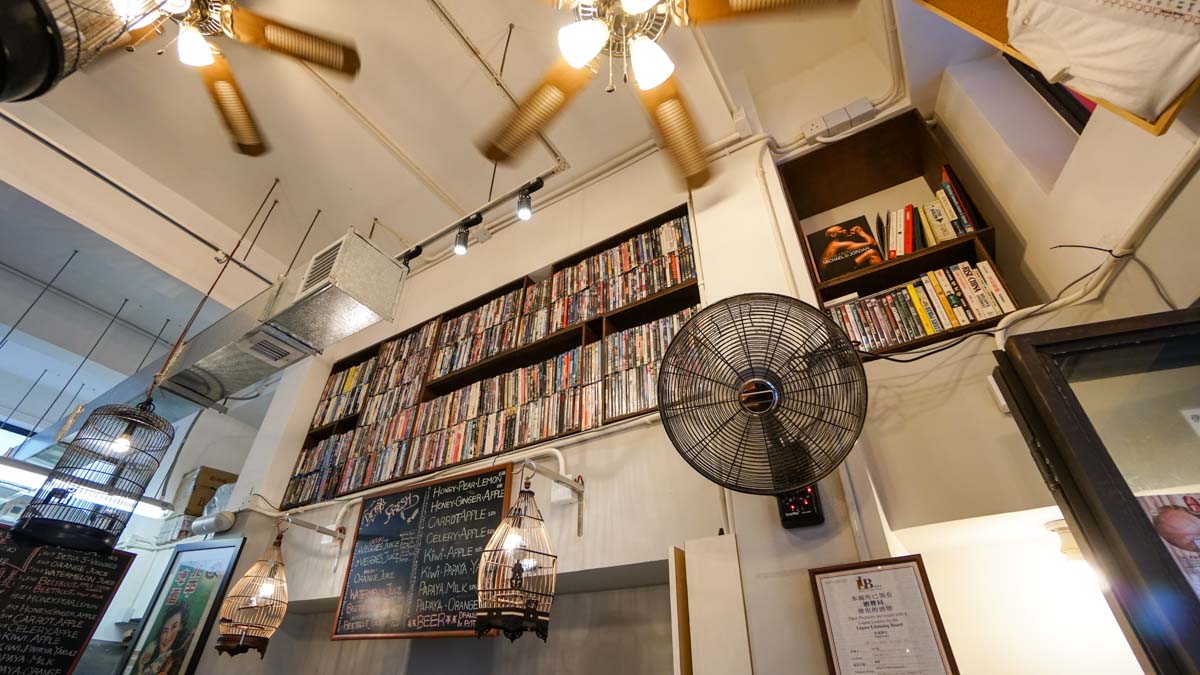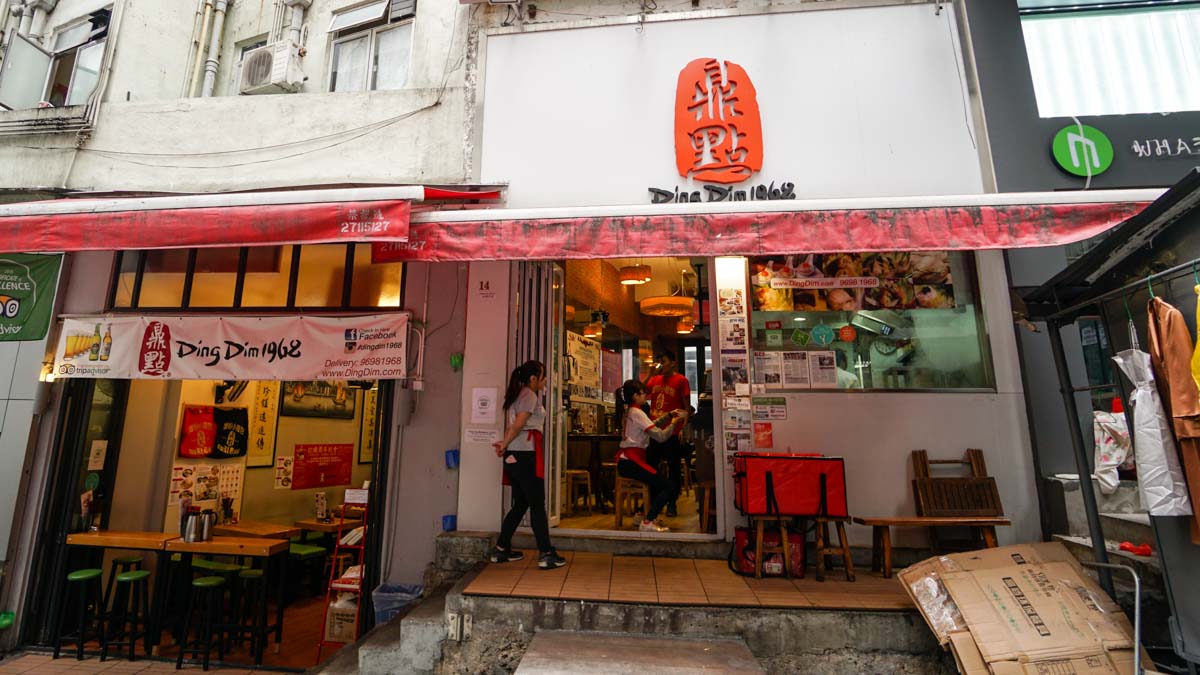 Cost:
King Hargow (Shrimp Dumpling) – HK$32
Siu Mai with Black Truffle – HK$32
Golden Beef Tripe n Satay Sauce – HK$30
Baked Pastry BBQ Pork Bun – HK$30
Pan Fried Turnip Cake – HK$25
Spring Rolls with Sauteed Mushrooms – HK$28
Sticky Rice Pocket with Chicken – HK$32
Opening Hours:
Monday to Wednesday 11.00a.m. – 9.00p.m.
Thursday and Sunday 11.00a.m. – 10.00p.m.
Friday and Saturday 11.00a.m. – 11.00p.m.
Address: 59 Wyndham Street, Central Phone: (852) 2326 1968
5) Lee Keung Kee North Point Egg Waffles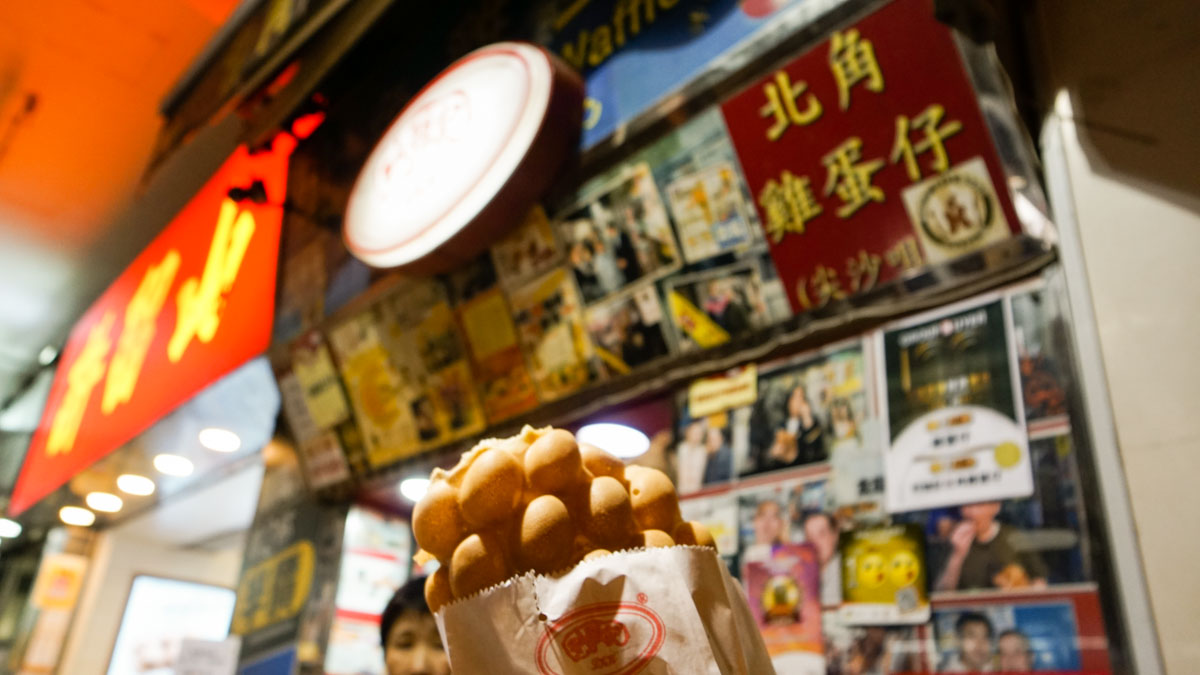 Lee Keung Kee was an interesting one. We walked a good kilometer to this deli, as we heard amazing tales of these egg waffles. And amazing it was, amazing that something that tastes completely normal, has such a huge following around it. The lack of oomph in these waffles was compensated with swift service, regardless of the long lines. Give this a try if you're in the area and are looking for a quick egg waffle fix, but don't walk over a kilometer for it.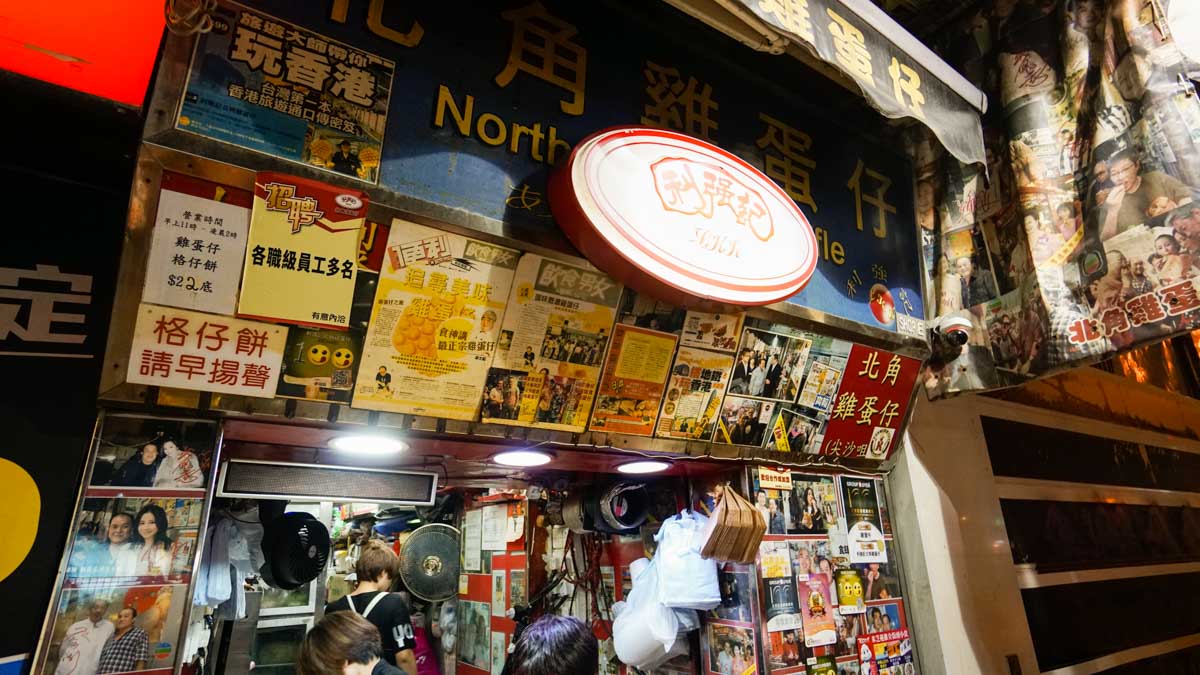 Cost: HK$16
Opening Hours: 10.00a.m. – 11.00p.m.
Address: 178 Nathan Road, Tsim Sha Tsui, Hong Kong.
6) Lan Fong Yuen (蘭芳園)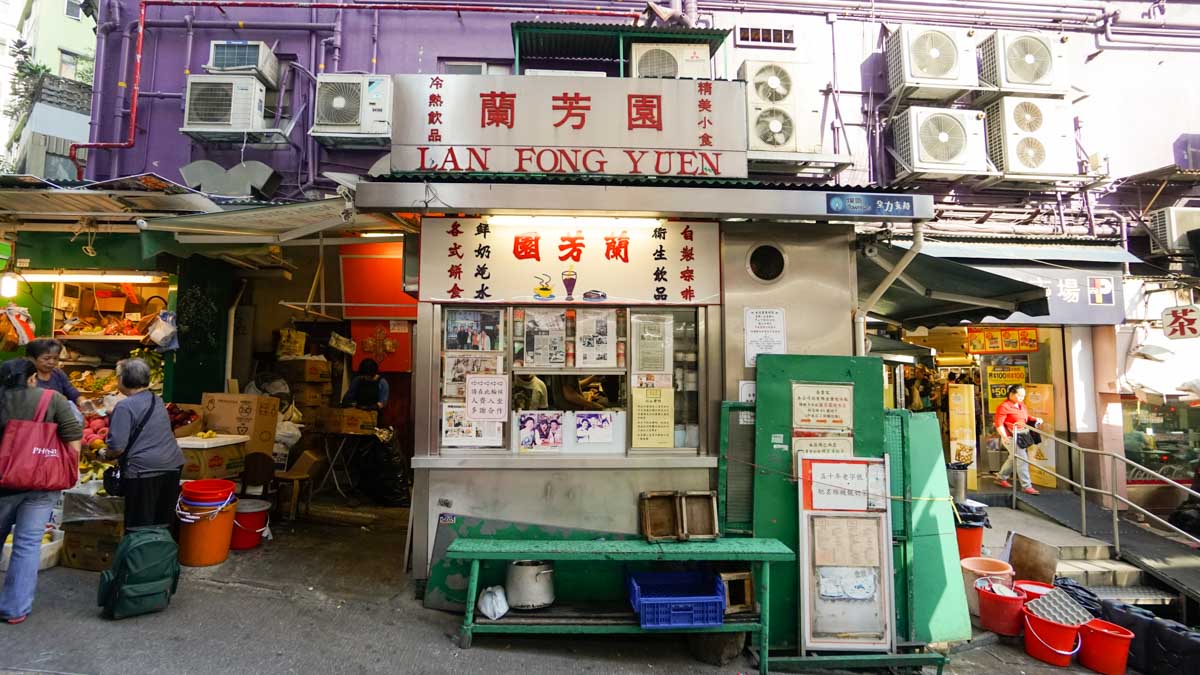 This quaint little Cantonese coffee shop is hustling and bustling as soon as it opens in the morning, so do expect to have some strangers at your table (or vice versa) as that's the nature of these places. As they say, when in Rome, do the Romans (is that how the saying goes?), so we thought, let's start the day with a proper breakfast.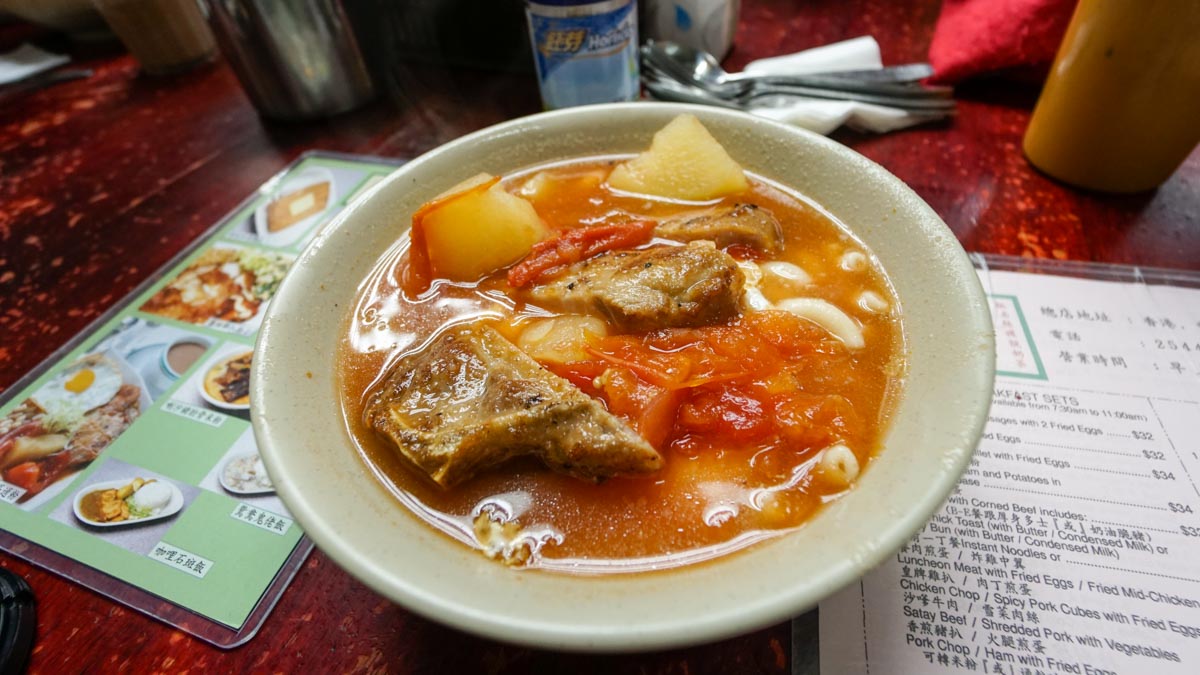 We had the Macaroni with Ham and Potatoes in Tomato Soup base to start, and it was brilliant. I personally felt that this meal has the potential to end hangovers worldwide (only if paired with everything else in this joint). The soup was the perfect dipping pool for the macaroni as the ham and potatoes added to the festivities. This is a definite must try if you're in Hong Kong, be it breakfast at 7.30a.m. or something after a night out.
On our table, we also had fried eggs with corned beef and toast with condensed milk (you could opt for toast with butter too). The eggs were great as expected and the toast was a sweet touch to breakfast. These dishes played drums and bass to the gastronomic concert that is breakfast at Lan Fong Yuen, while the Macaroni with Tomato Soup base was your Freddie Mercury. And no concert is complete without a fan-favorite artiste emerging from the shadows to sing a song or two.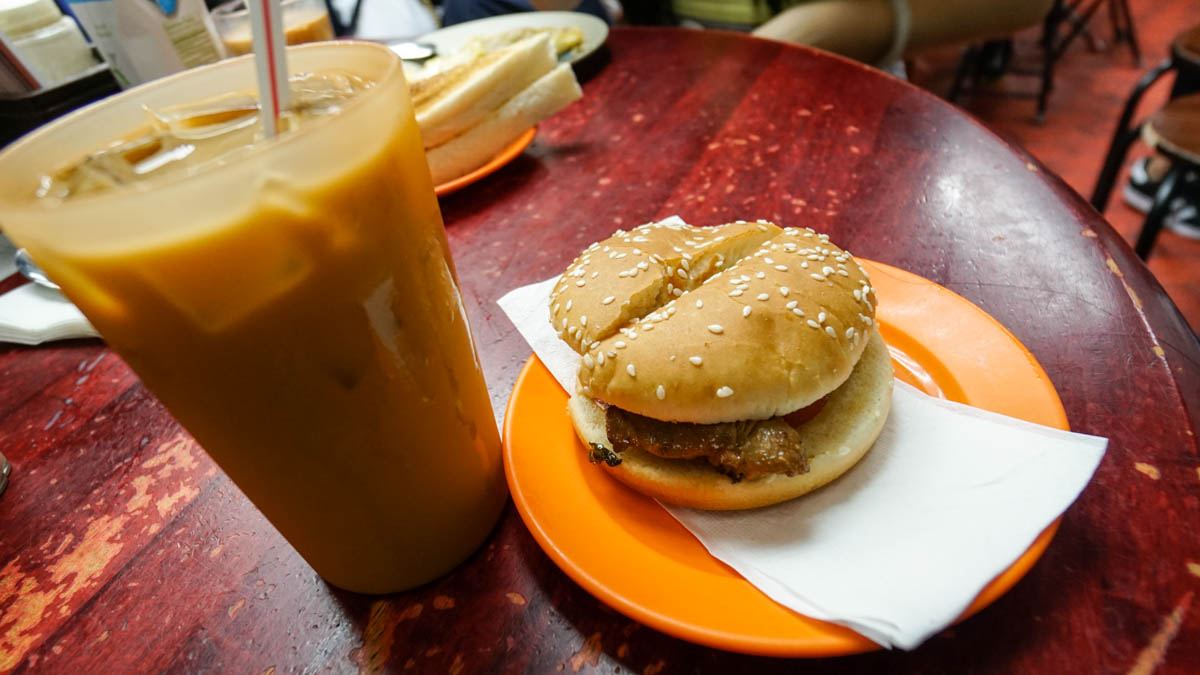 Enter the Hong Kong pork bun. It is as simple as it looks, two buns, a slice of tomato, some butter, a slab of pork, and a whole lotta love! This simple snack takes me back to simpler days in primary school, when my mom used to fix this for me in the morning to have during break times. It may be the simplest of dishes but it definitely struck a chord with me, reminding me of simpler times from yesterday, when all my troubles seemed so far away.
Cost:
Macaroni with Ham and Potatoes in Tomato Soup base – HK$34
Fried Eggs with Corned Beef and Toast with Condensed Milk – HK$32
Hong Kong Pork Bun – HK$24
Opening Hours: 7.30a.m. – 6.00p.m. (Closed on Sundays)
Address: 2 Gage Street, Central, Hong Kong.
7) Lantau Island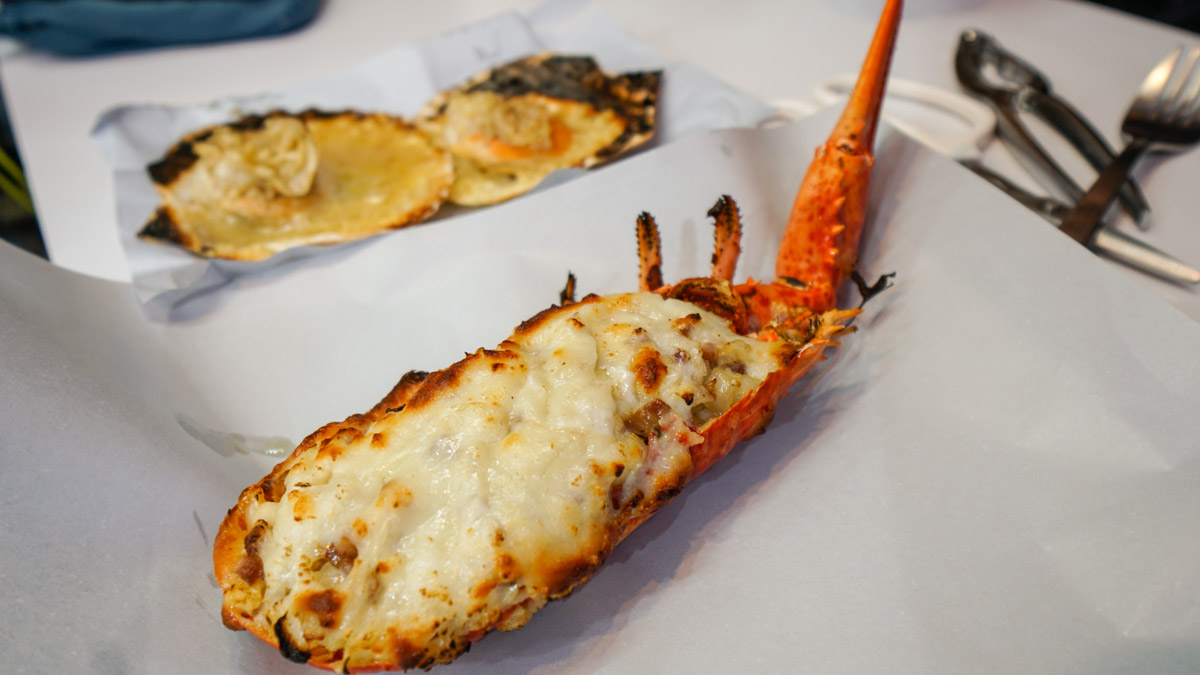 Lantau Island is a tourist spot, getting there by Ngong Ping 360, but as per usual, we went out looking for some fresh seafood (and dolphins, however, the dolphins were a no-show). As we set out to see the Big Buddha and walk on the Wisdom Path, we were challenged on Hunger Street, and that's when we found this gem. There's this stall that's famous for its curry fishballs, but we set out to try something a little milder (we were at a place of peace, remember?). We had a serving of their tau fu fa (beancurd) which was supposedly made from mountain water, which was incredibly milky. Add some of their pink powder (I'm guessing it was grated brown sugar) to this concoction and you'll have a bowl of dessert for the senses.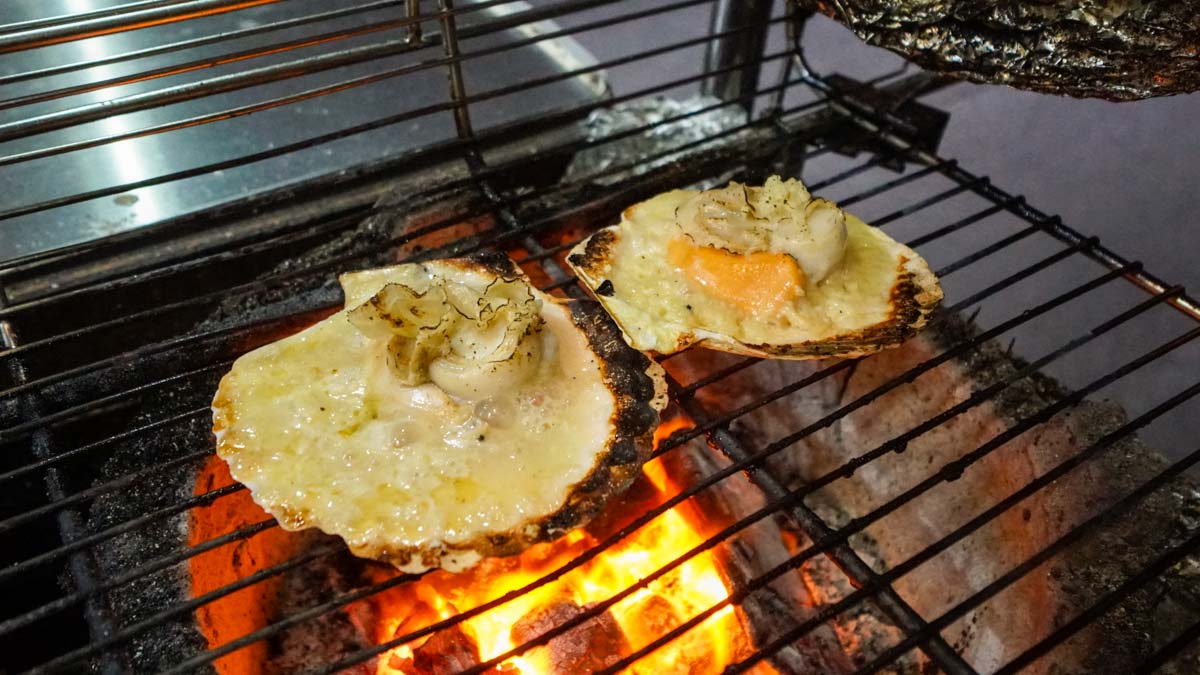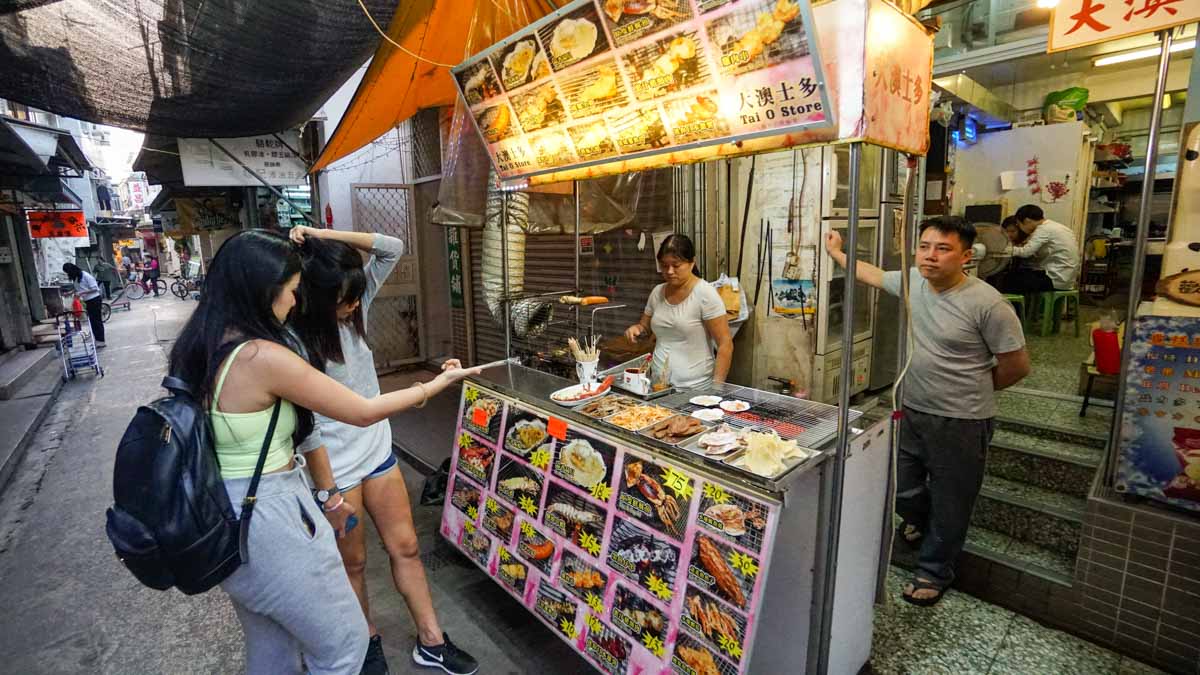 The Tai O fishing village was our next destination on the island as we were on the lookout for the endangered Chinese Pink Dolphins (Pink Dolphins and Pink Powder, sounds fishy). Instead, we ended up with some fresh seafood for reasonable prices. We had a grilled lobster with cheese and garlic, along with some grilled scallops with the same recipe, and they were fantastic. They were grilled to perfection while maintaining its texture. To top it off, they were torched which left the shells slightly charred, adding to the flavours.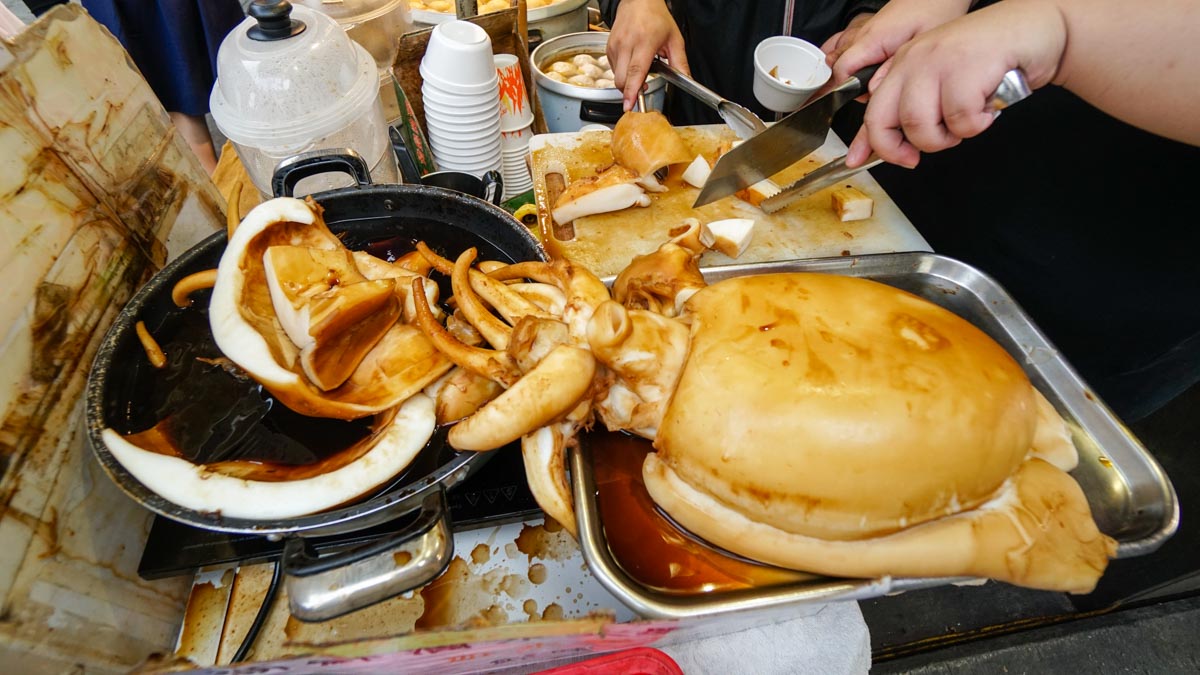 Lastly, there was a younger (and smaller) boiled relative of the good ol' Kraken, so we made it a point to give it a try. The portions were healthy and the squid tasted as fresh as it could (without being alive). The kind gentleman at the stall also allowed photographs with the sea creature which served as a gesture of revenge to Mr. Kraken, for all the trouble it has caused in Norse folklore.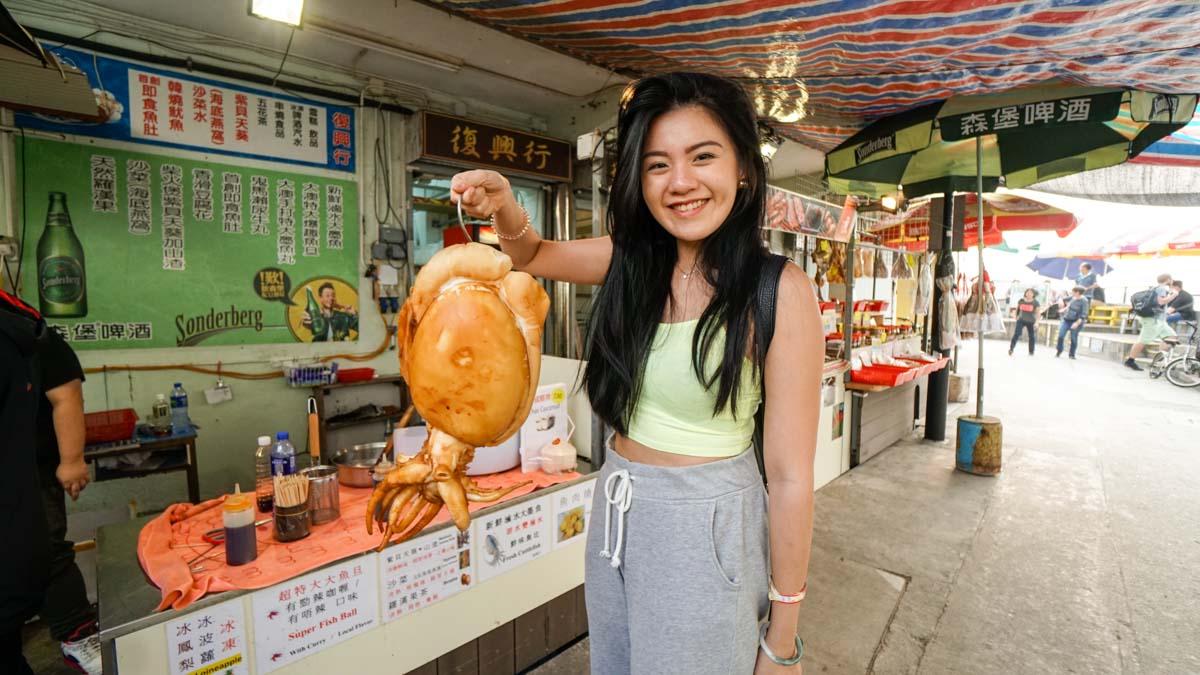 Cost:
Tau Fu Fa – HK$12
Grilled Lobster with Cheese and Garlic – HK$90
Grilled Scallop with Cheese and Garlic – HK$18
Boiled Cuttlefish – HK$45
Address: Lantau Island and Tai O Fishing Village.
8) Café de Coral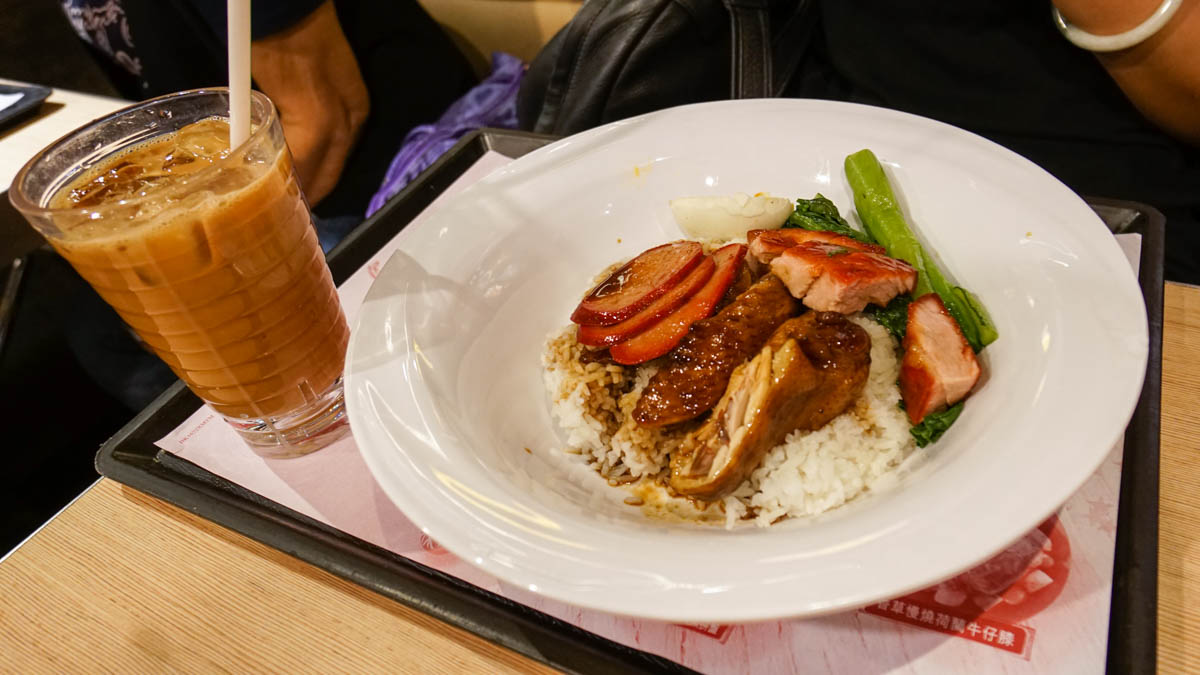 Picture McDonald's. Now take away the thought of obesity, and add a heavy dose of Cantonese style cooking. And for the final touch, add a rotating menu that changes almost every two days. You now have Café de Coral. We had the BBQ Pork Rice Combo that comes with a Salted Egg. The meal was pretty basic (at best) but it gets the job done. Café de Coral is all about simplicity and sorting out your rumbling belly, so, one should not expect dishes served and prepared by Remy Ratatouille and the likes.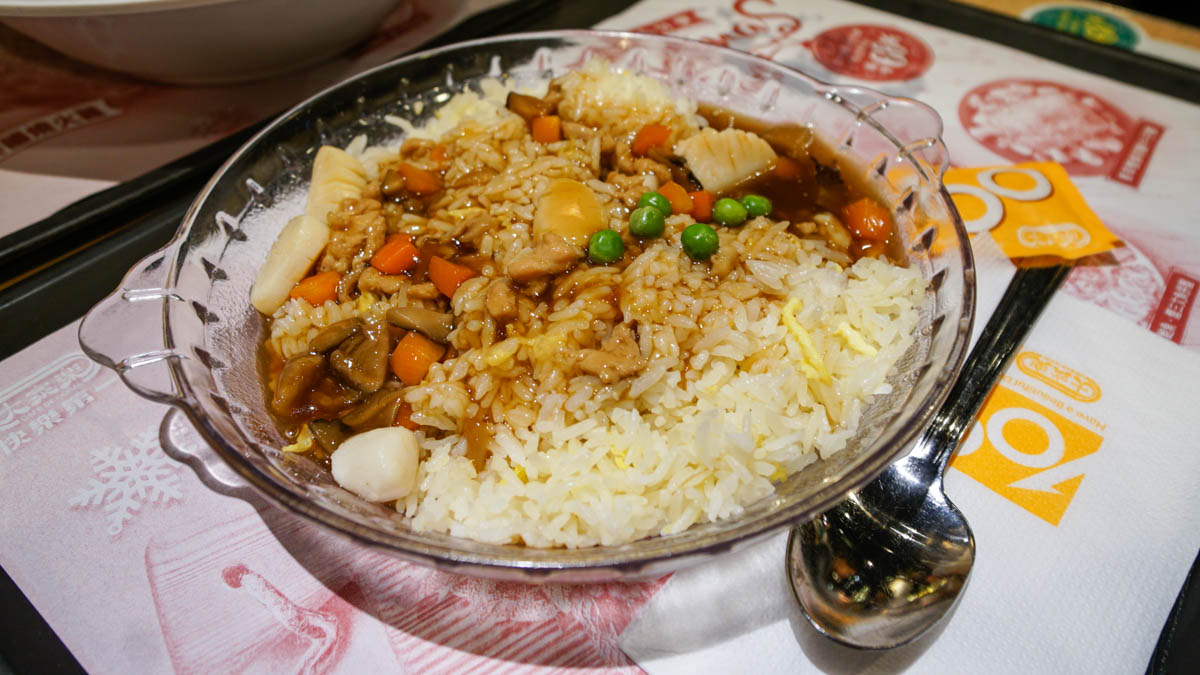 We also had the Scallop Fried Rice, which yet again, seems to fit the basic requirement of "I'm hungry". The service at Café de Coral is quick and the staff are friendly, which is probably their recipe to success as they're the largest Chinese fast food group in Hong Kong.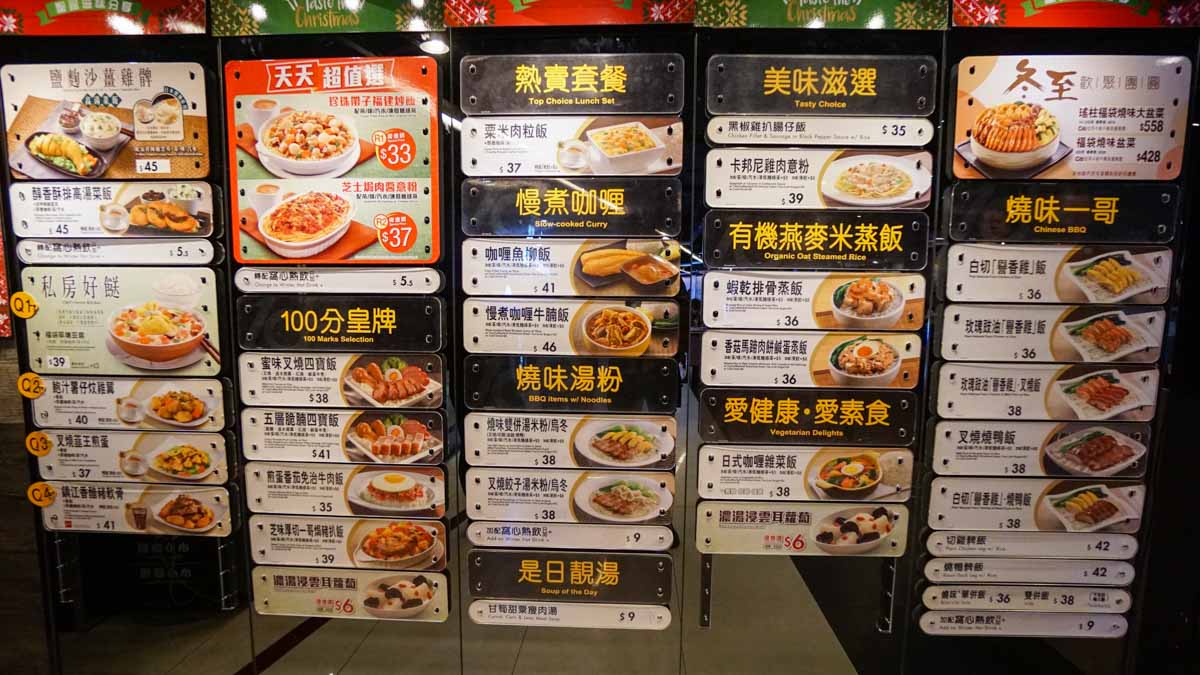 Cost:
BBQ Pork Rice Combo with Saled Egg – HK$38
Scallop Fried Rice – HK$33
Opening Hours: Depending on the location of the outlet, ours was 6.30a.m. – 10.00p.m.
Address: All over Hong Kong.
9) 
Ya Yu Tau Fu Fa (亞玉豆腐花)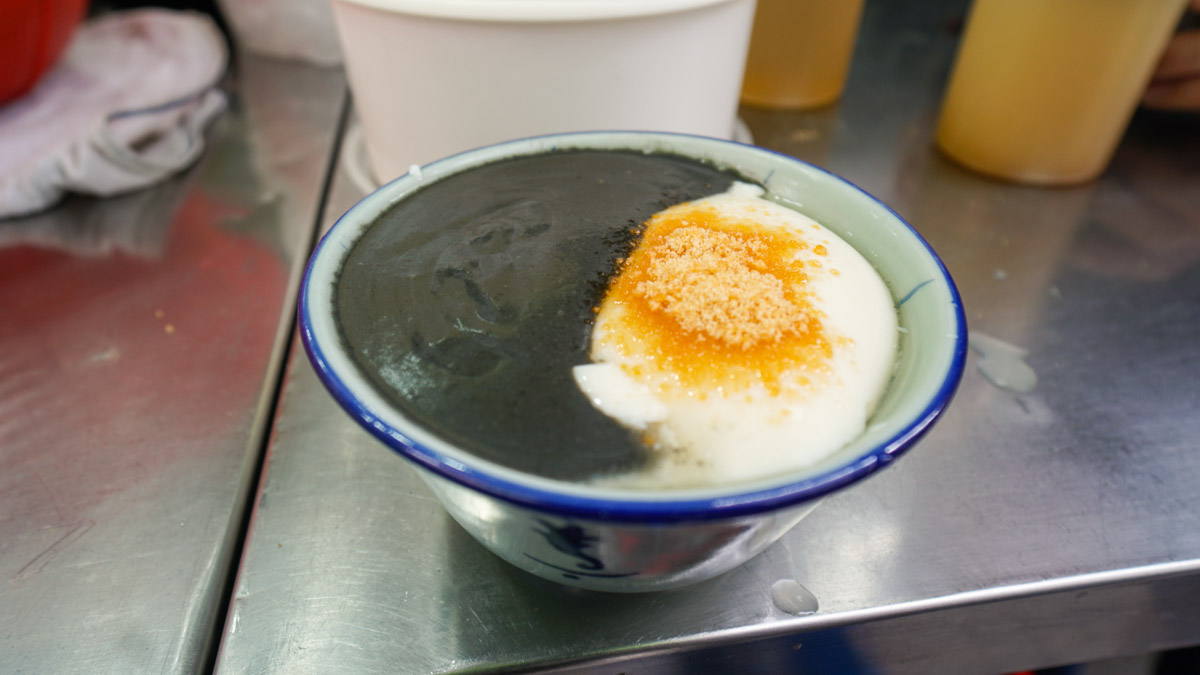 We stumbled upon this Tau Fu Fa (Beancurd) stall as we were heading back to Hotel Sav after a long day of travels. We ordered up a serving of their Yin Yeung which is an equivalent to the ever popular Yin-Yang, which is exactly what it looked like. The black sesame paste was a stark contrast to the milky white tau fu. The dish as a whole could be described as silky smooth, and there's a a choice to add your own amount of sugar, which is perfect as you have control of which level of diabetes you'd like to be remembered for. If you're walking through the area, drop by, have yourself a bowl, and thank me later.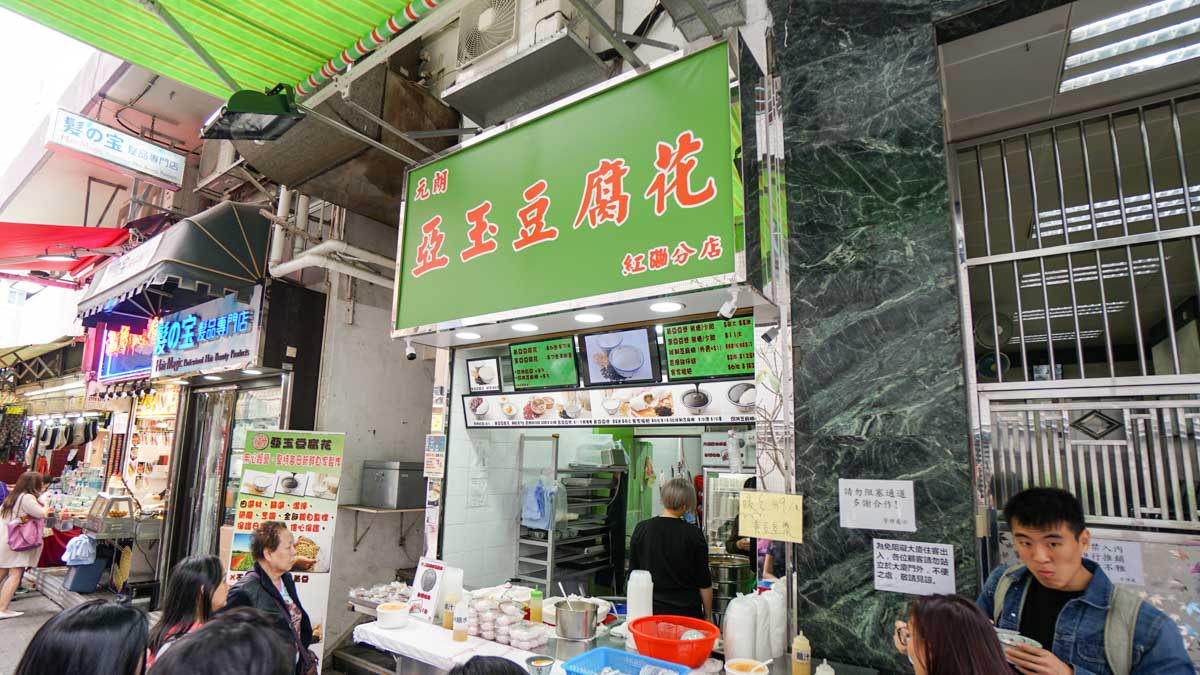 Cost: HK$9
Opening Hours: As long as there is sunlight.
Address: Shop B, G/F, Yuen Fu Building, 99 Dock Street, Hung Hom, Hong Kong.
10) Hung Hom Egg Waffles 紅磡雞蛋仔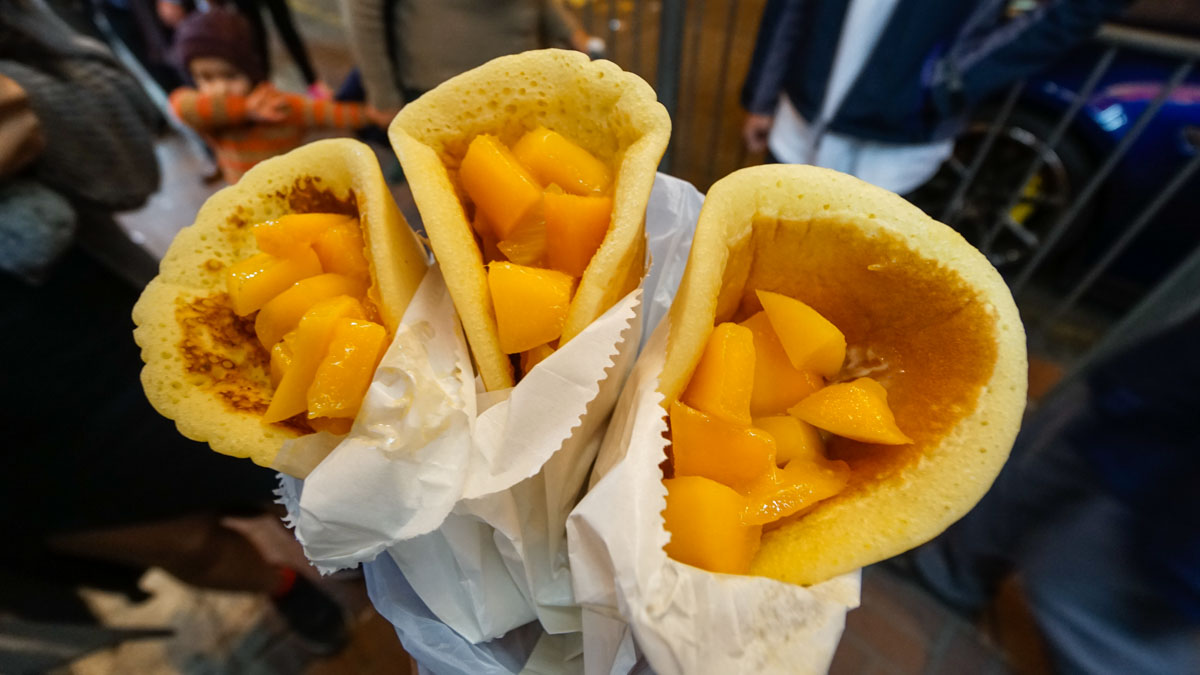 Hung Hom Egg Waffles was recommended to us by an overly-excited hotel staff at our accommodation. She swore by it, and made borderline obscene (no, really!) gestures when describing how good it is. Taken by her charm (and uhh, gestures), we set out to see how good these waffles were.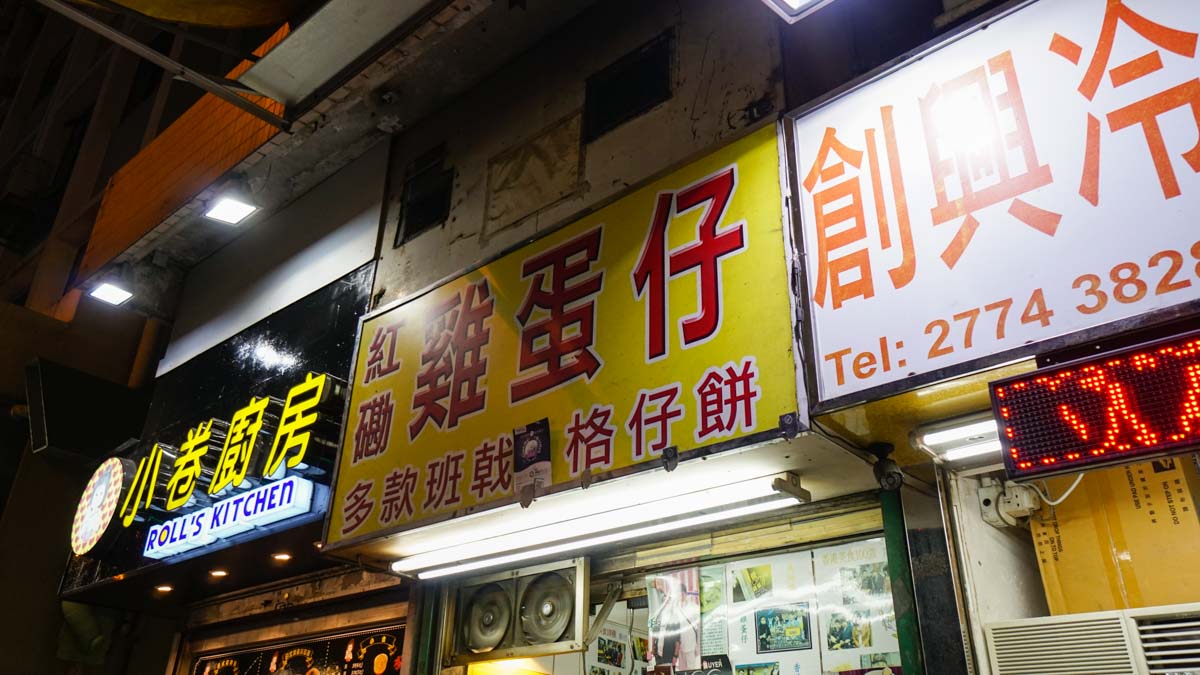 We had a taste of their signature egg waffles, which tasted a lot better than its hyped counterpart. It was well balanced and had the right amount of crunch. Then, we moved on to their mango pancakes, which lived up to its reputation. The waffles were plump and soft, paired with the sweet mangoes and cream, it was a mangorgasm of the senses (a nod to Rachel here for her terrible puns). To top it all off, it was reasonably priced and the staff were super friendly. I was sent off with warm waffles in my hands and a high-five goodbye. Needless to say, if I ever find myself in the area, I'd come back.
Cost:
Egg Waffles – HK$13
Mango Pancakes – HK$20
Opening Hours: 12.00p.m. – 8.00p.m. (Closed on Thursdays)
Address: No. 2, Polly Court, Taku Street, Hung Hom, Hong Kong.
11) Santos Fried Chicken (三多雞脾)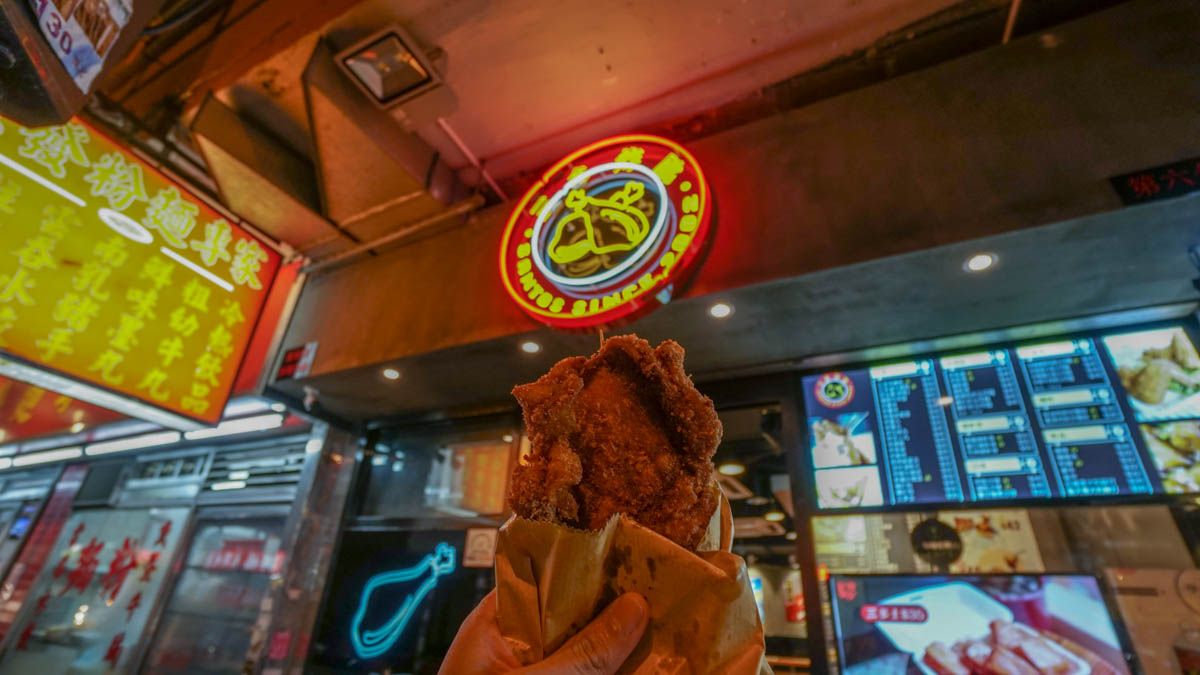 Santos Fried Chicken is your Leicester City FC when it comes to Hong Kong's street food culture. It started off with a little take-away stall in Tai Po and are now on the verge of opening a number of outlets around Hong Kong. We were lucky enough to live a minute's walk away from one of these new outlets, so it was mandatory for us to give this a shot.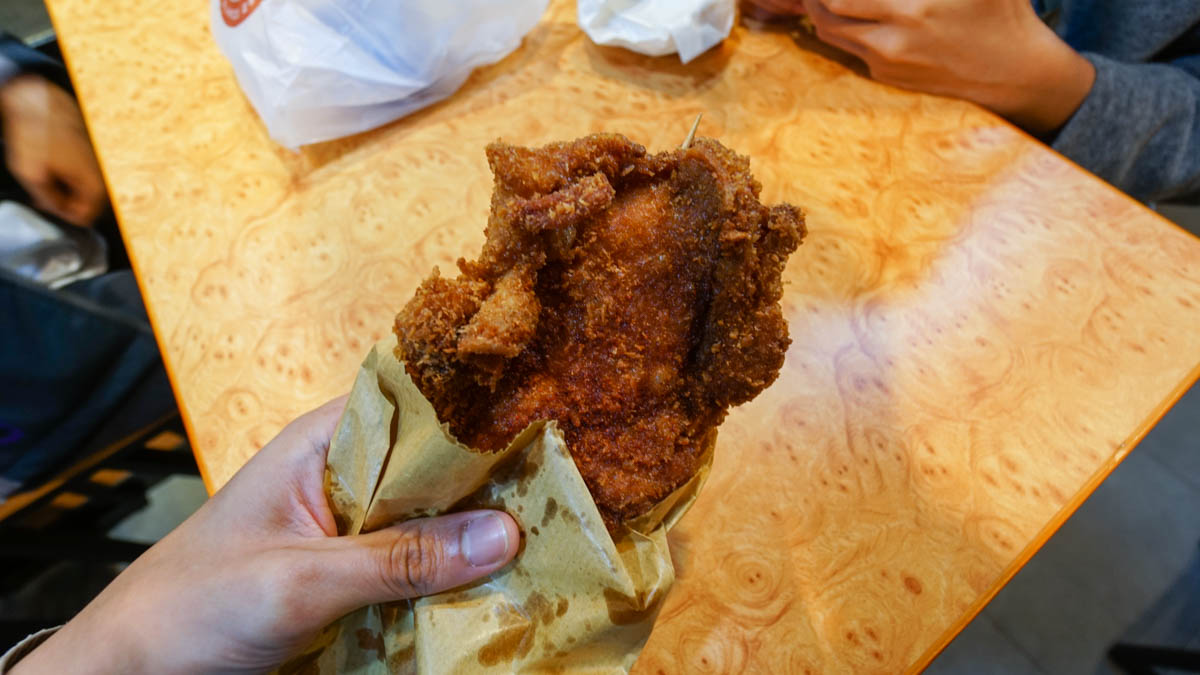 We ordered a leg of their deep fried Original Fried Chicken and were instantly blown away. You have the option to vary the spiciness of your bird, but we opted for something a little mild. The chicken leg was oozing juiciness, which explains the plastic gloves that they give you along with your order. All in all, Santos may give Colonel Sanders a run for his money.
Cost: HK$29
Address: Shop D, G/F, 24 Whampoa Street, Hung Hom, Hong Kong.
12) Chopsticks Kee (筷子記)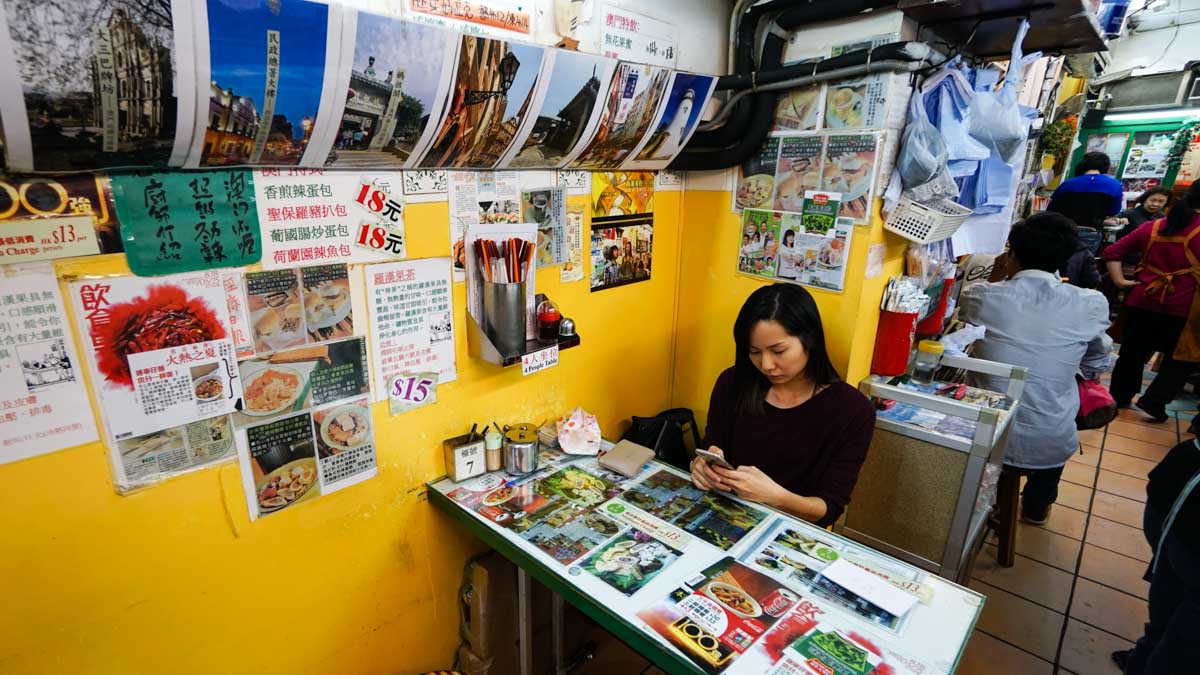 We ended up at Chopsticks Kee after an evening of chasing timelapses at Victoria Peak in Hong Kong. Walking down Wellington Street, we saw a shop that screamed LOCAL — figuratively of course. The ordering process at Chopsticks Kee is rather unique. You pick 3 of 30 over ingredients, choose the type of noodles you'd want, select the base — dry or soupy and await the surprise.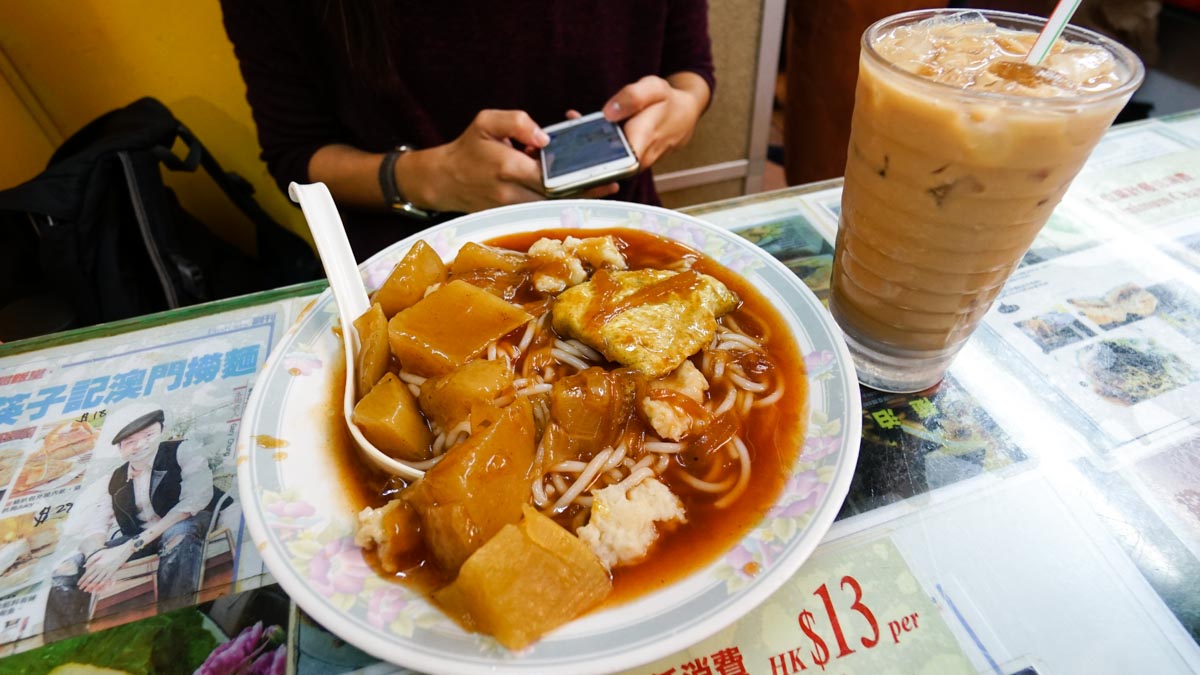 We ended up with two bowls of endless possibilities. In the first, we made a meal that consisted of soup noodles, radish, eggs, Macanese fishcakes (which were thebomb.com) and covered in a tomato/curry sauce. The second bowl was one with dry noodles, curry fishballs, mushrooms, and soy sauce chicken (which were also thebomb.com). All in all the food here was brilliant and we'd definitely recommend you stop by.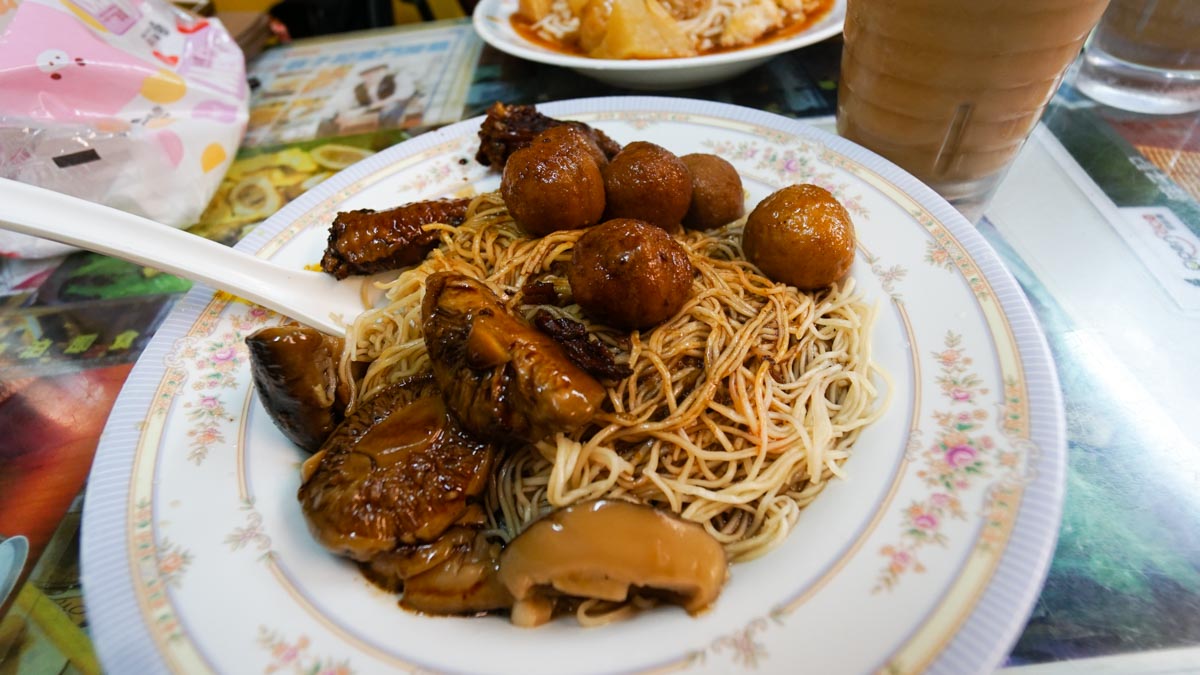 Cost: Sauces Noodle Set (with 3 Ingredients + Drink) – HK$36
Opening Hours: 9.00a.m. – 10.00p.m.
Address: Khuan Ying Commercial Building, 85-89 Wellington St, Central, Hong Kong.
Our Hong Kong food journey was an eye-opening one (to say the least). We tasted and experienced a bunch of different things and although there were times we faced utter disappointment, they were balanced out with moments of sheer joy as soon as we took our first bite. I guess at the end of the day, it's best if you walk into a random shop for a meal, or ask a local (preferably in Cantonese), and always take food review websites and articles with a pinch of salt, which is pretty ironic because this is somewhat, a food article.
Heading to Macau? Check out our 48 hours in Macau Guide!