Urban dwellers craving a mix of exciting city life and quiet nature escapes can get the best of both worlds in Hong Kong, and we're not even talking about Victoria Peak or Dragon's Back.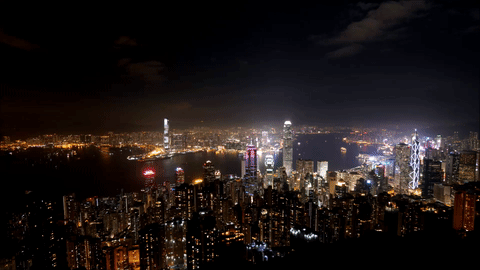 The Victoria Peak may be Google's first recommended "thing to do in Hong Kong". Why not, right? The view from the top is gorgeous — but it's also a non-secret that's on every other tourist's Hong Kong must-do list.
Hong Kong is often dismissed as "just another Singapore", but did you know 70% of Hong Kong is actually pure greenery? Not many do, which makes it the perfect city to uncover some of the more underrated escapes.
For those craving more nature in a city, here are 9 lesser-known escapes with views you might enjoy aside from places like Victoria Peak.
Also read: 5D Hong Kong Itinerary — A Guide To Exploring the Different Sides of Hong Kong
1) Sai Kung Islands — West Dam, Tiu Chung Arch, Elephant Trunk Cave, Tai Chi Rock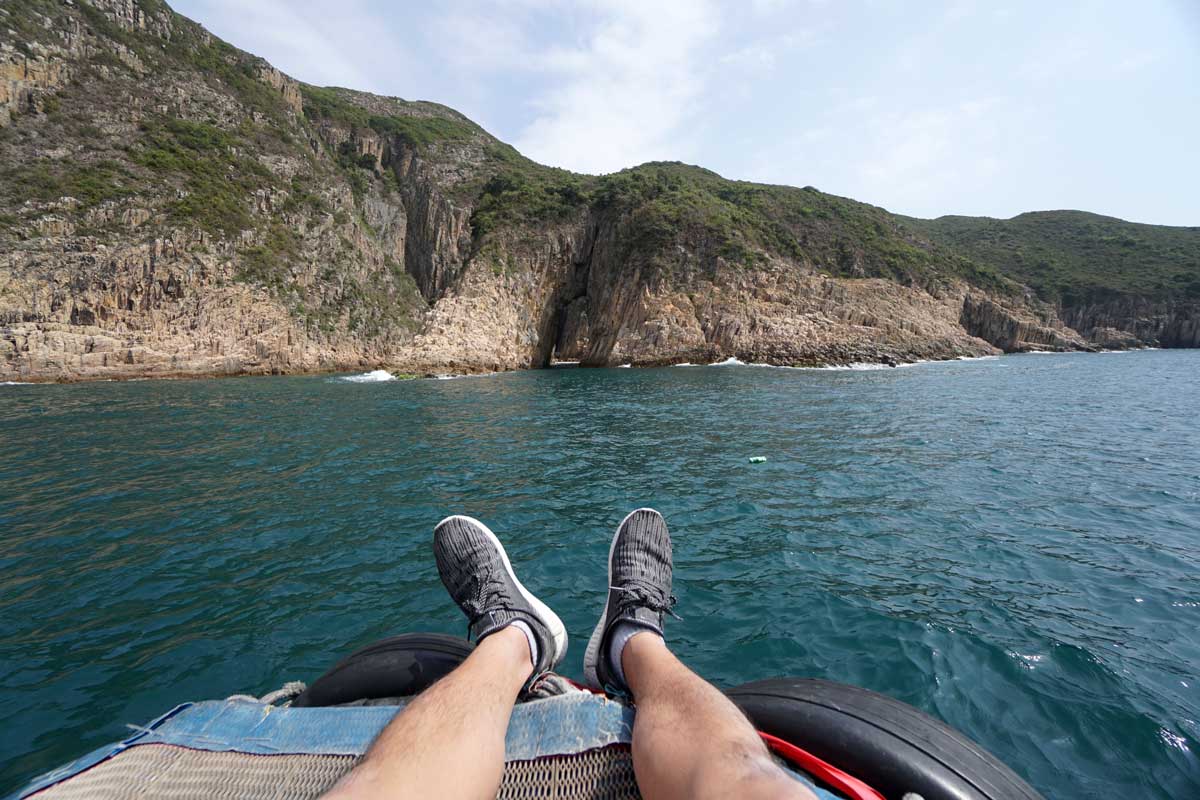 The best way to get around here is to hop on a boat! You can hire one from Sai Kung Pier for HK$50 (~S$8) and check out some of the best sights like West Dam, Tiu Chung Arch, Elephant Trunk Cave, and Tai Chi Rock.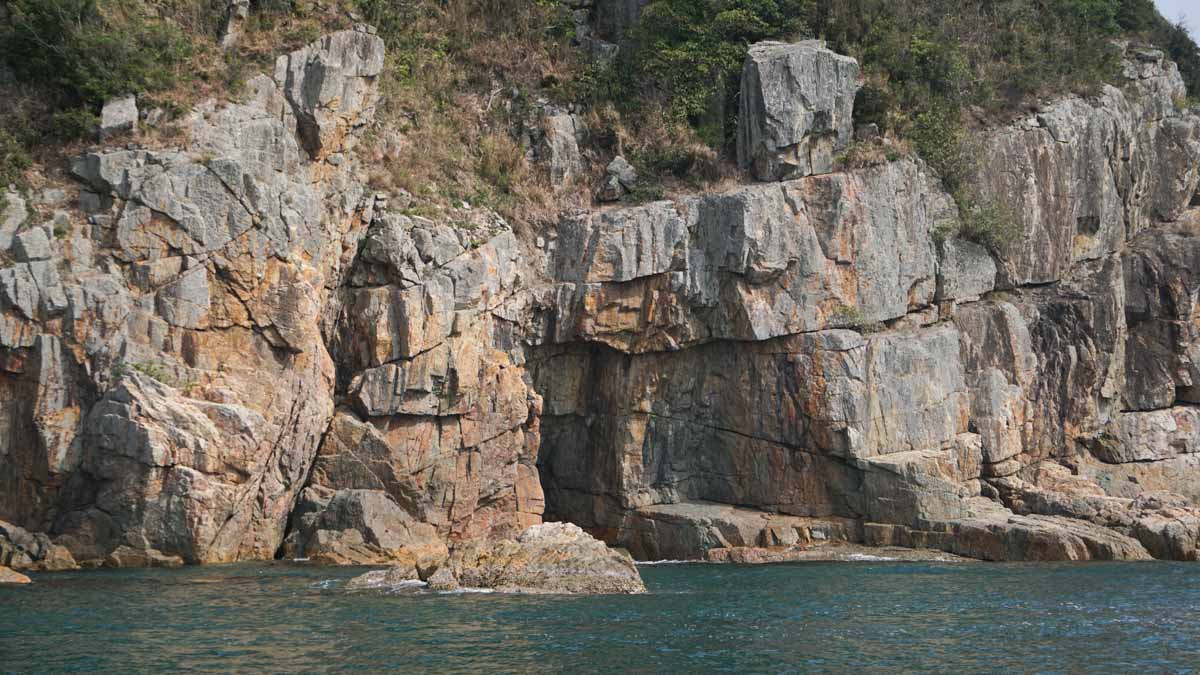 If you're prone to getting sea sick, do bring along pills as the current tends to get choppy at times!
How to get there: 
Take green minibus 1A from Choi Hung MTR, Exit C1 to Sai Kung Pier. At the pier, hire a round trip ride from a boat vendor for HK$50 (~S$8)
For a guided tour, the guides on the Geopark boat tour help make the experience more personal. We learnt about the best summertime activities in the area, and how a cluster of unassuming ships actually served as detention centres for maritime criminals!
Cost: ~S$168
Duration: ~3 hours
Tour Route: Sai Kung Pier (9AM) – Kau Sai Chau and High Island Area – West Dam, Bell Shaped Arch, Elephant Trunk Cave, Tai Chi Rock – Sharp Island (30 min stop) – Sai Kung Pier (12PM)
2) Pineapple Mountains (菠蘿山)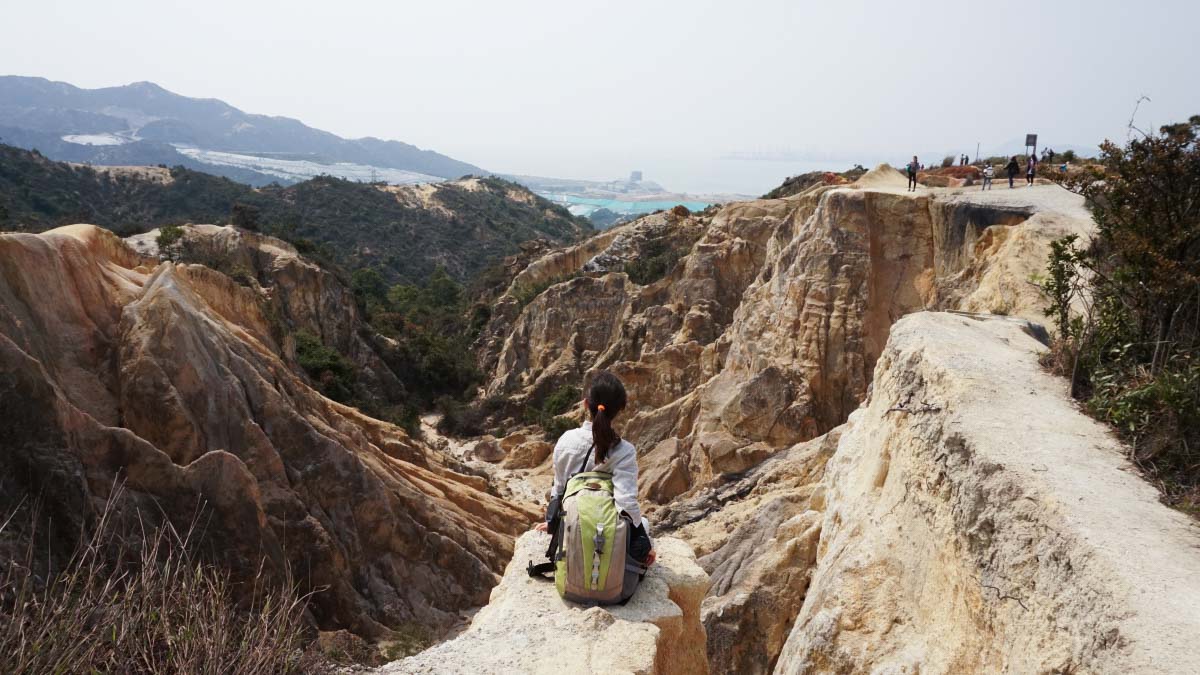 Dubbed Hong Kong's equivalent of the Grand Canyon, its yellow-hued, weathered rocks resemble the famed pineapple buns of Hong Kong. From the peak, you can even see the coastline of Shenzhen! The hike up is generally easy, except for a few tricky slopes along the path.
The ground is sandy and slippery, so exercise caution when traversing the rocks. The location is also near Tsing Shan Firing Range, so check the official website for military firing practice schedules updated monthly.
How to get there:
From Siu Hong MTR, take the light rail train (LRT) along the red line to Leung King (良景). Cross over the tram lines and head left down Tin King Road (田景路) until it bends right. Continue down the road until you reach a trail path heading upwards. The best way to get back is the same way down.
3) High Island Reservoir — East Dam (萬宜水庫東壩)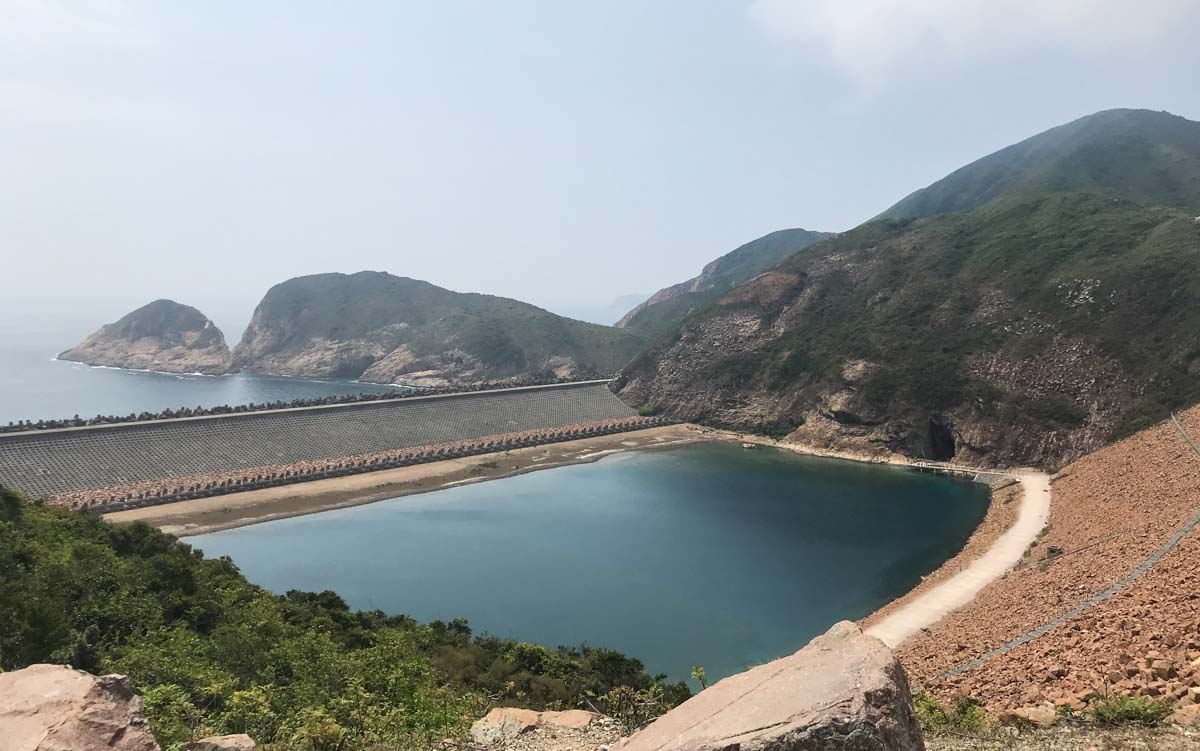 Lo and behold, the pièce de résistance across Hong Kong's entire Geopark — the East Dam of High Island Reservoir. Get up close with gigantic dolosse blocks, a sea cave, and iconic S-shaped hexagonal rock columns formed from volcanic activity.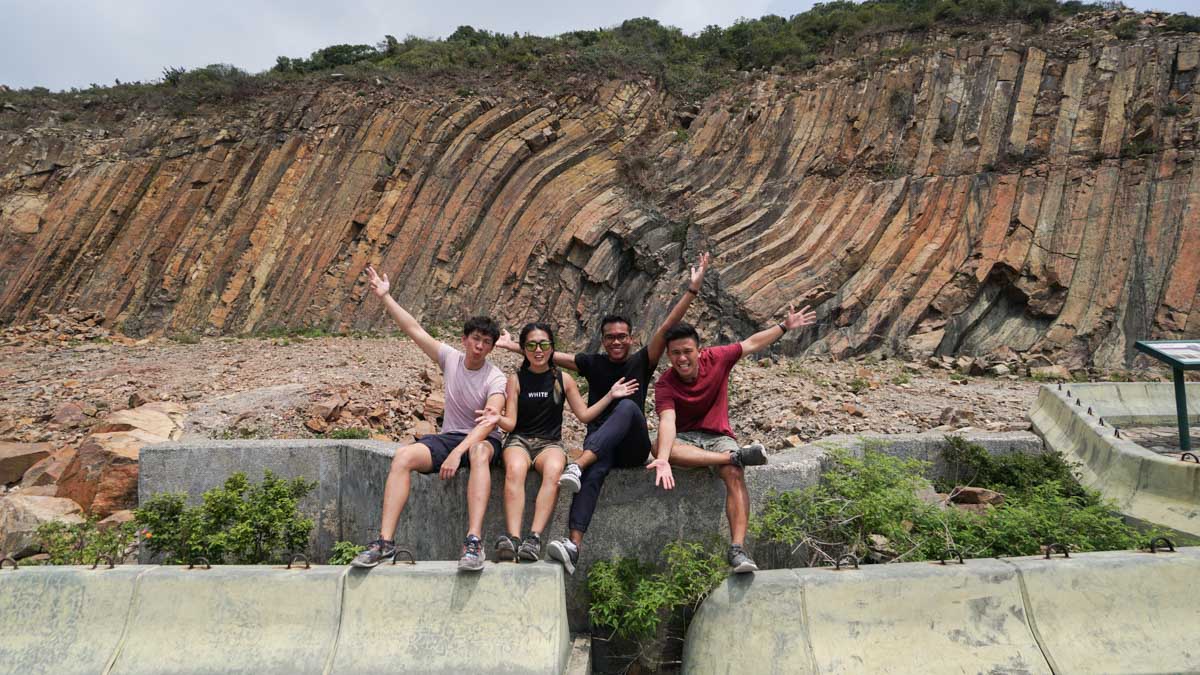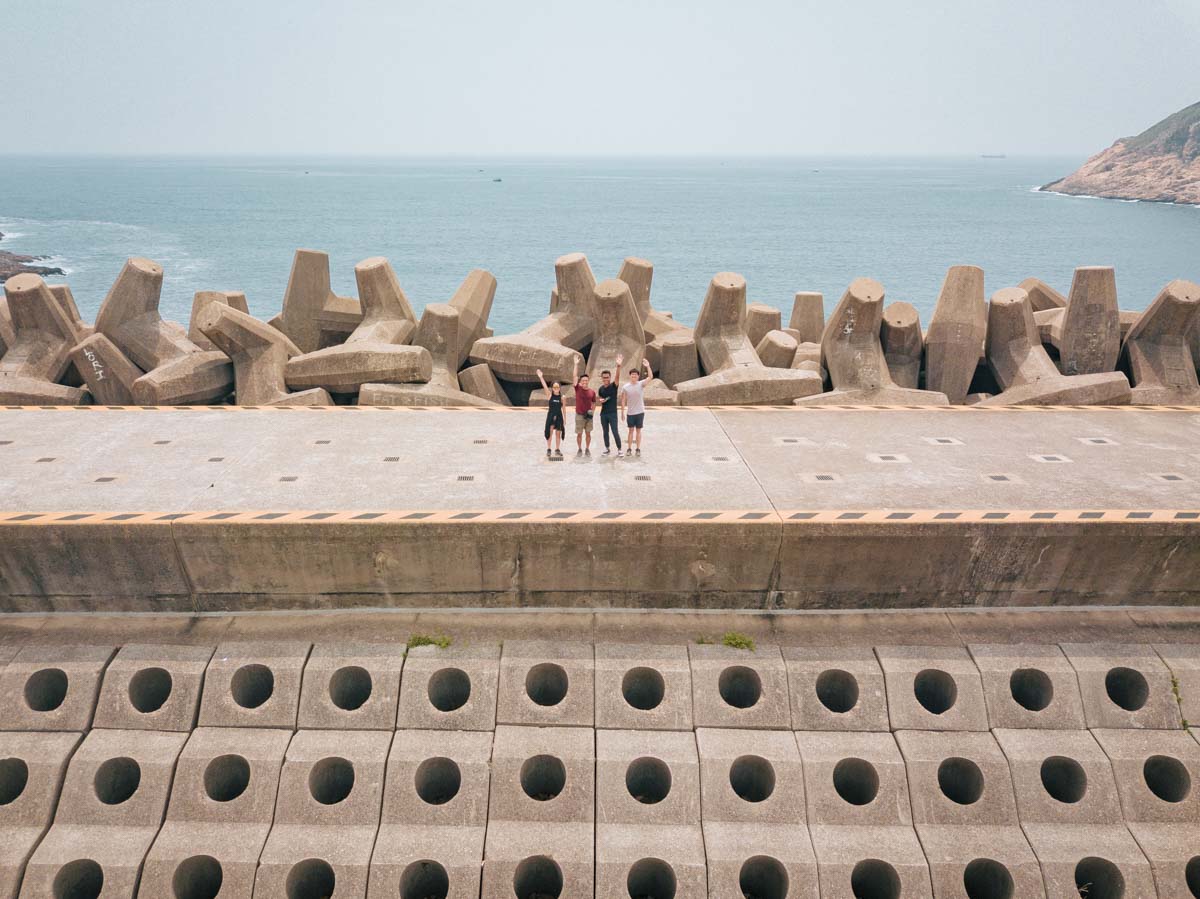 There are plenty of Instagrammable areas too!
*Pro-tip: The East Dam is also the start of the MacLehose Trail. Take 10 – 15 minutes and walk up the path for a while to experience a view of the South China Sea even better than from East Dam.
How to get there:
From Sai Kung Pier, take a green taxi up to the East Dam (~HK$120, or ~S$20). Getting back to Sai Kung Pier might be tricky if there are no cabs; if possible, get the phone number from your taxi driver, or try your luck carpooling with other tourists.
The Geopark Hiking Tour takes you deeper into the Geopark, bringing you along even more scenic sights towards Pak Lap (白腊). We stopped for a good lunch there before heading back to Sai Kung Pier via a boat ride, that's an experience in itself.

Cost: ~S$172
Duration: ~8 hours (8:30AM – 4:30PM)
Pick Up: Central Post Office
4) Ng Tung Chai Waterfalls (梧桐寨瀑布)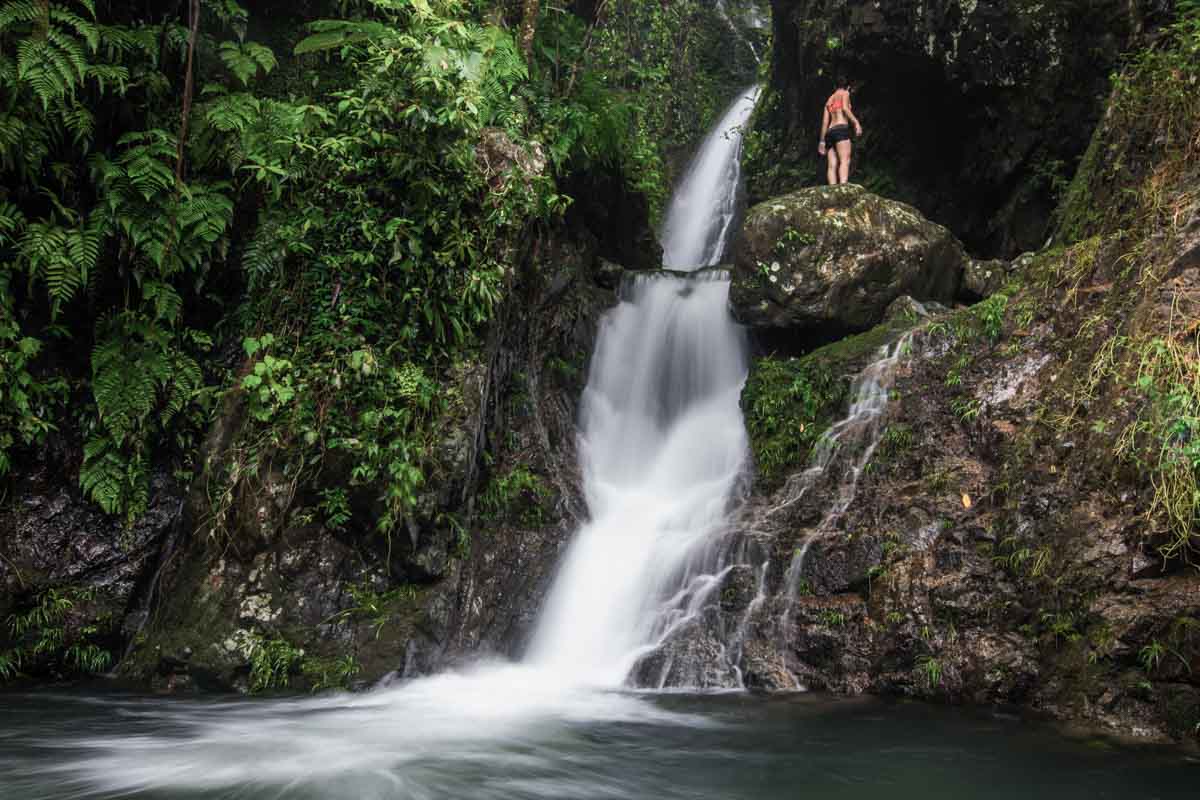 The highest waterfall in Hong Kong nestled in the Tai Mo Shan Country Park (大帽山郊野公園), the Ng Tung Chai Waterfalls comprise 4 different waterfalls named after their altitudes — the Bottom Fall, Middle Fall, Main Fall and Scatter Fall.
Clear signposts are scattered throughout the 5km trail, so you don't have to worry about getting yourselves lost.
How to get there:
From Tai Wo MTR Exit A, turn left and head down an escalator to the bus terminal. Take Bus 64K from the first road lane that heads towards Yuen Long (West) (元朗 (西)) and alight at Ng Tung Chai (梧桐寨) stop. Alternatively, take the green minibus 25K and alight at the same stop.
To return, take Bus 64K in the opposite direction back to Tai Wo MTR Station.
5) Hakka Villages — Wu Kau Tang (烏蛟騰), Sam A Tsuen (三椏村), Lai Chi Wo (荔枝窩)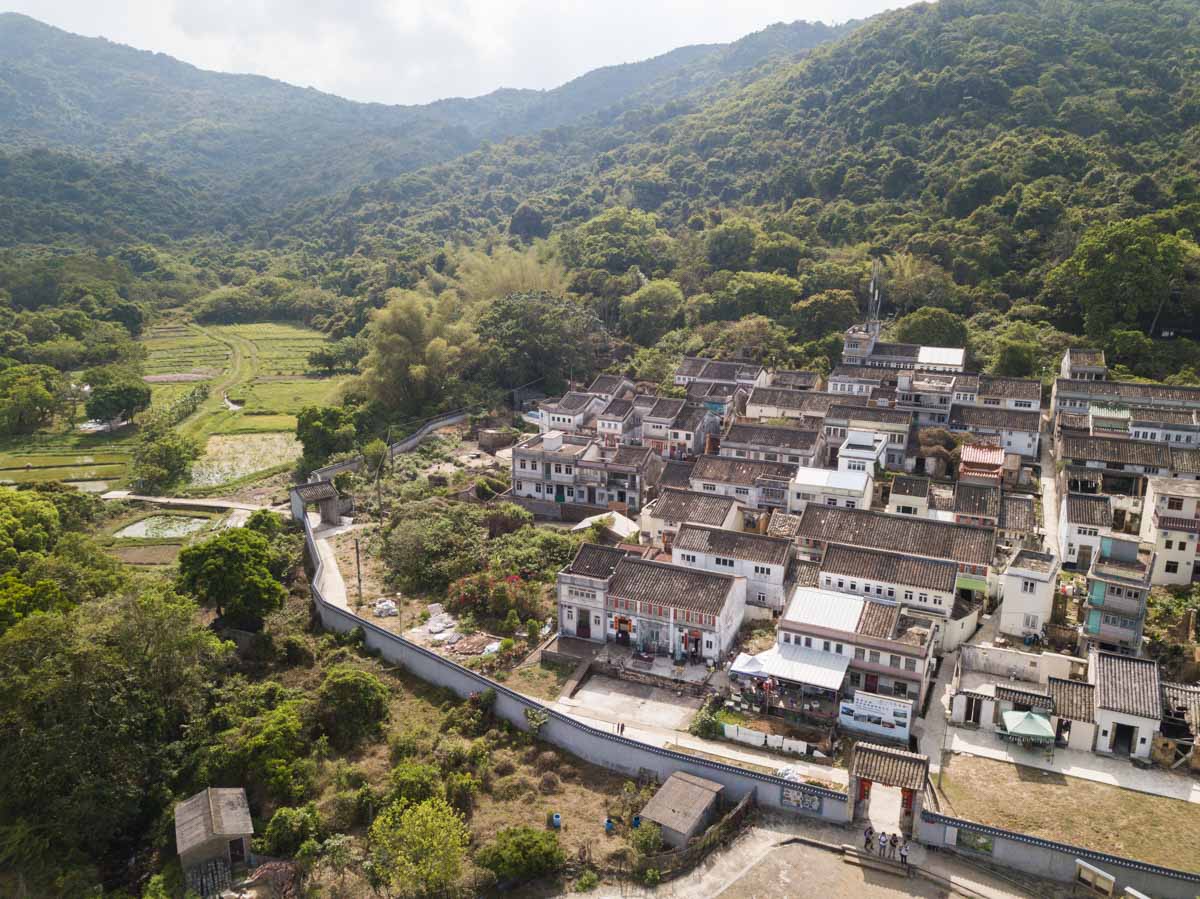 Some of the few Hakka villages left in Hong Kong — trek from Wu Kau Tang to Lai Chi Wo through nature and along Yan Chau Tong Marine Park (印洲塘海岸公園). Witness how the remaining villagers live, while appreciating the unique Hakka architecture.
The total hike could take between 3 to 3.5 hours, so pack along food and drink to refuel!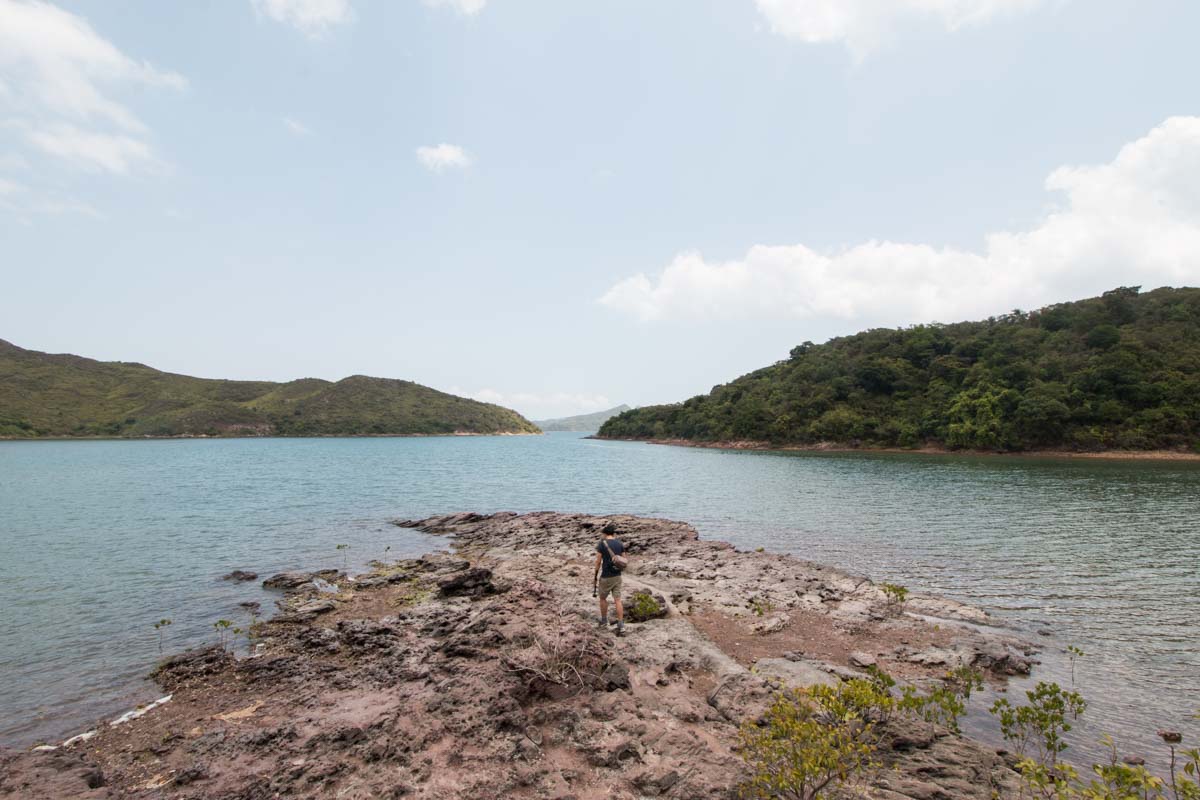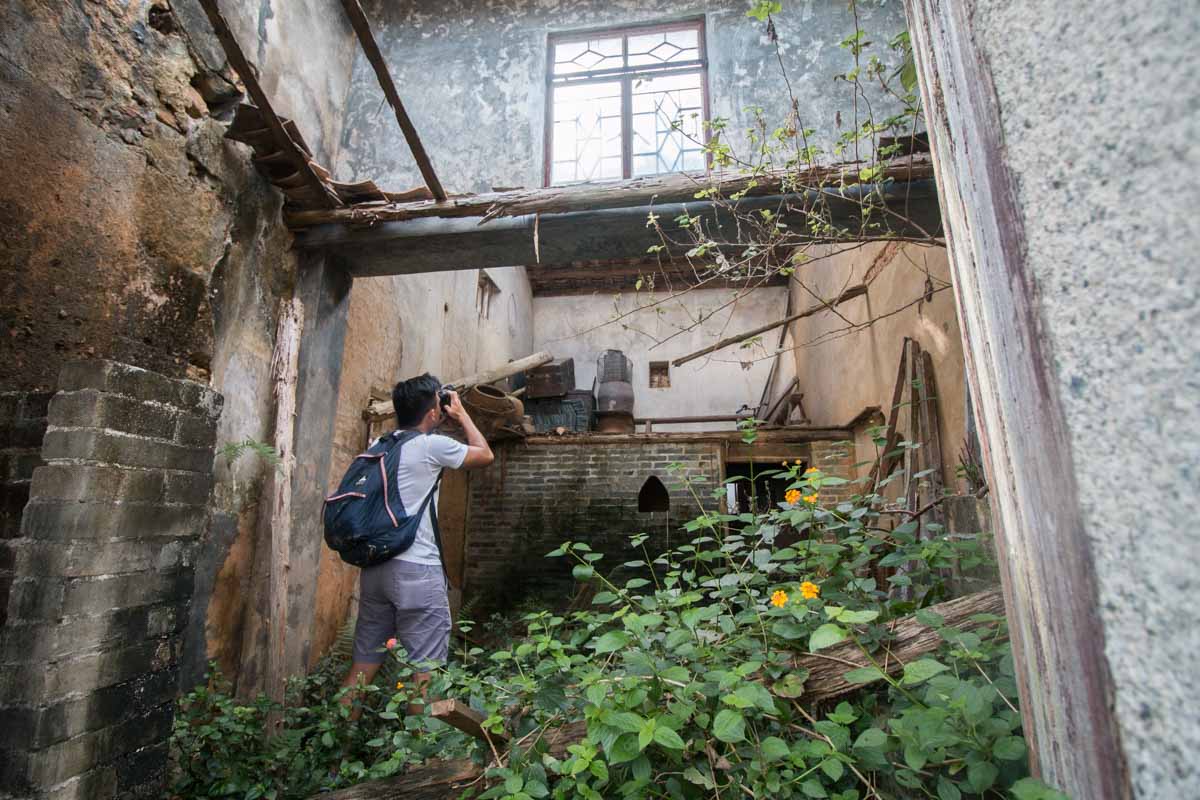 How to get there:
From the minibus terminus at Tai Po Market MTR, take green minibus 20C to Chi Sum Road (祠心路) — Tin Sam Village (田心村), then walk 1.5km on to the Wu Kau Tang Country Trail (烏蛟騰郊遊徑). Get on the Tiu Tang Lung Path (吊燈龍) and walk another 3km to reach Lai Chi Wo.
With the guided Lai Chi Wo Hiking Tour you can glean insights on the villages' history and restoration efforts, as well as explore abandoned ancient villages along the way. The tour also provides a yummy lunch stopover at Fook Lee Tea House (福利茶室) in Sam A Tsuen, which usually doesn't open unless there are tour bookings.
Cost: ~S$173, includes round trip transport and lunch
Duration: ~8 hours
Tour Route: Tai Po Market MTR Station (10AM) – Wu Kau Tang – Lunch at Fook Lee Tea House – Lai Chi Wo – Ma Liu Shui Pier – University MTR Station (5.30PM)
6) Clear Water Bay (清水灣)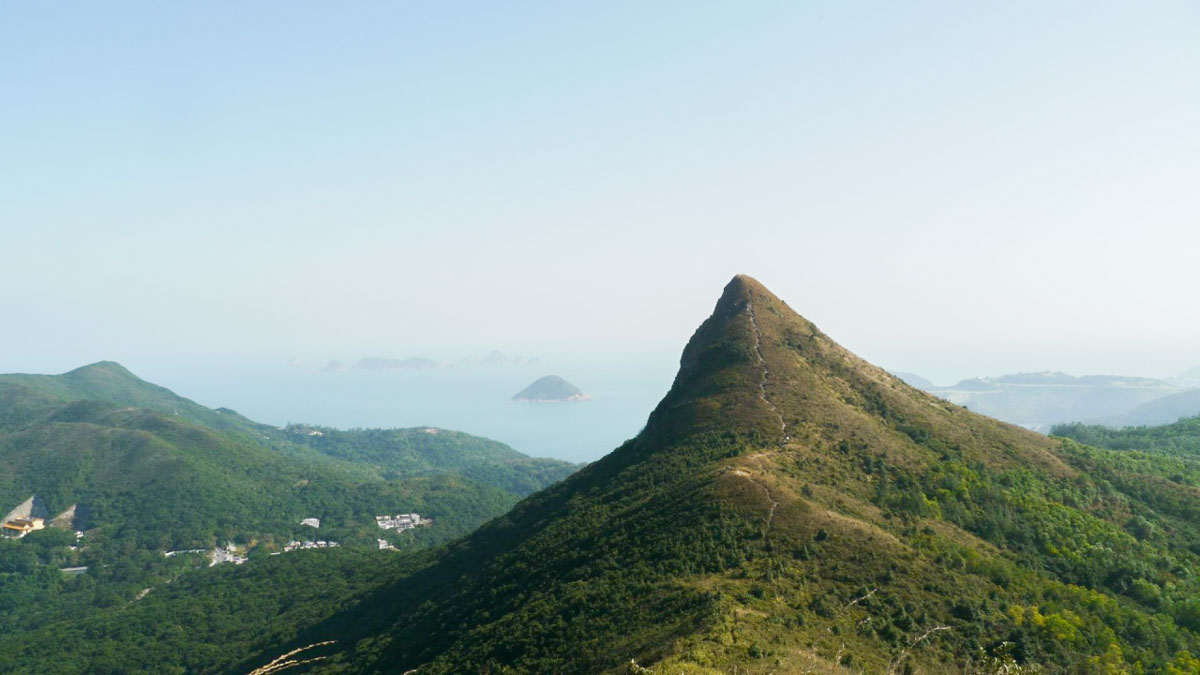 In just 2 – 3 hours on this hike following the Clear Water Bay Country Trail, be greeted with an expansive view of the blue waters from the High Junk Peak (釣魚翁), 1 of the 3 sharpest peaks of Hong Kong. As you head downhill after the 7km hike, you may even catch a glimpse of Ninepin Island (果洲), Tung Lung Island (東龍洲), and Lion Rock Hill (獅子山).
*Pro-tip: On the trail, you will encounter forks in the path that have no signs. Always go with the left in such cases, as they offer better views than the right.
How to get there:
From Tseung Kwan O MTR's bus terminus at Exit A1, take green minibus 103M to Ng Fai Tin (五塊田). Hike towards Tai Miu Au (大廟坳) (look out for directional signs stating that) about 6km.
To get back, hike downhill towards Clearwater Bay Golf & Country Club (清水灣鄉村俱樂部), then head left down the road towards Po Toi O Chuen (布袋澳村) Road and turn right. Take minibus 16 to Po Lam MTR at the bus stop in front of the Po Toi O Fishing Village.
7) Fan Lau, Lantau South (分流, 南大嶼山)
If you're headed to Lantau Island, get your hiking shoes on and walk along the Lantau Trail (鳳凰徑) from Fan Lau. It runs for 70km ending in Mui Wo town, but split into 12 sections that you can choose to hike depending on your time and ability — each offering top-down sea views, beaches and unspoilt nature.
Depending on your route, you may also hike to the famous Fan Lau Fort (分流炮台) that once served as a military lookout.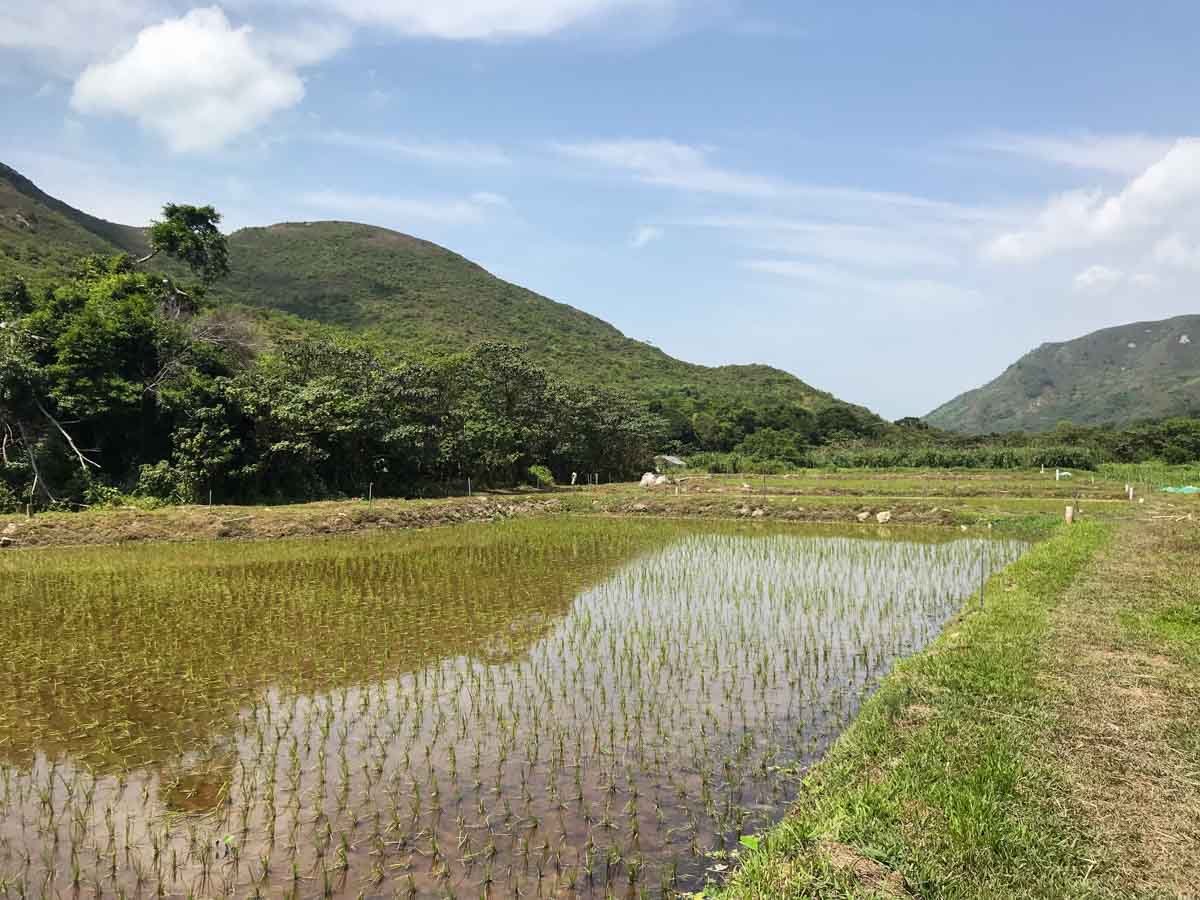 Along the midpoint of Section 7, we stopped by a private farm at Yi O (二澳) for lunch. With produce straight from the farm, the farmers cooked up a delicious spread of beetroot soup, chicken with tomatoes and freshly-picked cherry tomatoes! *Do note that this private farm only opens for guided tours like the one we did (more info at the bottom of this section).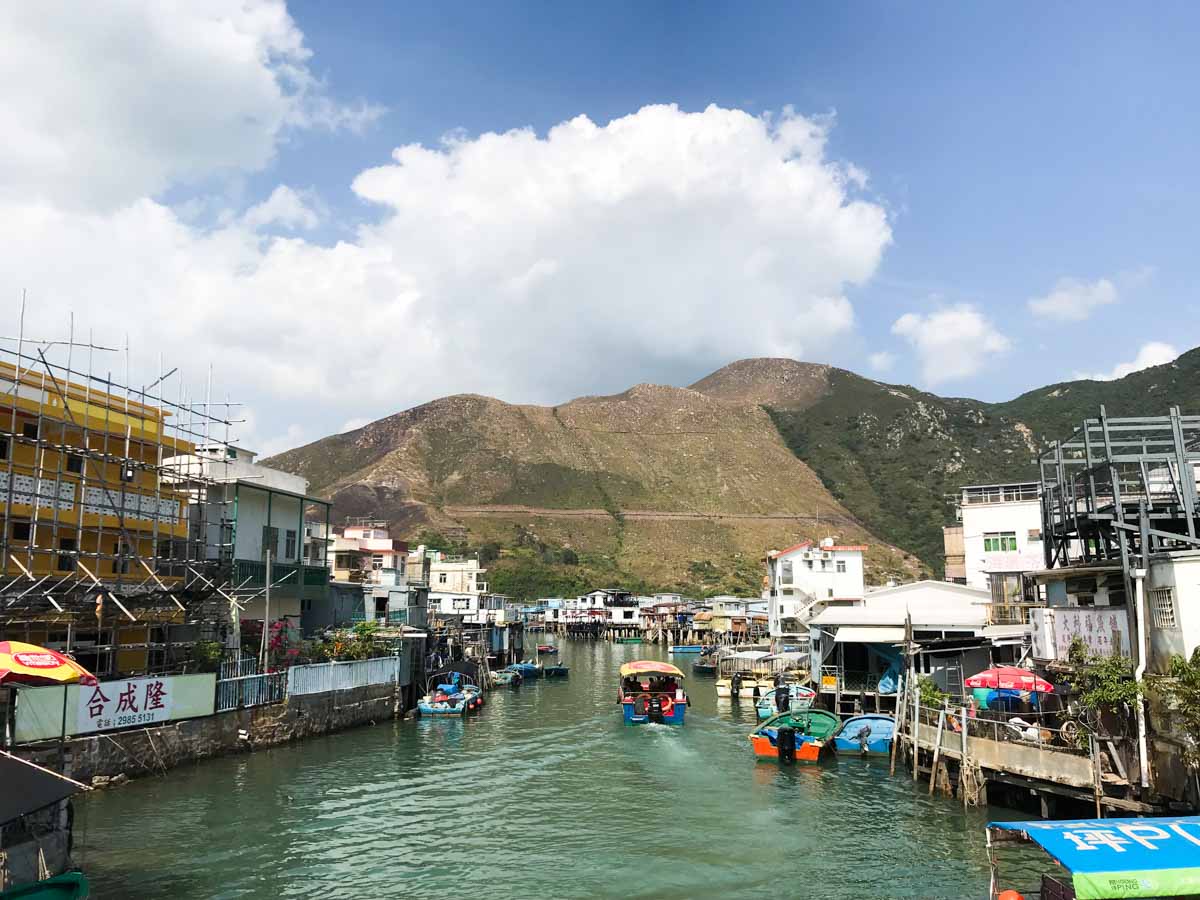 End off your hike in Tai O (大澳) Fishing Village and walk through the market for street snacks, dried seafood and souvenirs. You can also further embark on boat tours that take you along the fishing village for a more intimate experience with the residents!
How to get there:
From Tung Chung MTR, take Bus 11 to Tai O Fishing Village (HK$11.80/HK$19.20 for Sundays and PHs) about 1 hour. The Lantau Trail can be accessed from the bus stop, which starts at Section 7.
For a guided tour, check out the Lantau South In-Depth Agriculture Fishery and Heritage Tour which includes a pick-up from Tung Chung MTR Station, lunch at the private farm and a knowledgable guide.
Cost: HK$450/pax
Duration: ~5–7 hours
Tour Route: Tung Chung MTR Station (Exit B) (9:30AM) – Tai O (via taxi) – Fan Lau (via boat) – Yi O – Lunch and Farming Activity at Yi O – Tai O (via boat) (4:30PM)
Note: Depending on flexibility and time allowance, tour routes can be customised to include the scenic Shek Pik Reservoir (石壁水塘) and Fan Lau Fort for sweeping sea views.
*Pro-tip: Instead of taking a bus back to Tung Chung MTR, take Bus 1 from Tai O to Mui Wo, then walk to the Ferry Pier and purchase a ticket to Central for HK$15.90 (~S$2.70) / HK$23.50 (~S$3.90) on Sundays and PH.
8) Discovery Bay (愉景灣) from Mui Wo (梅窩)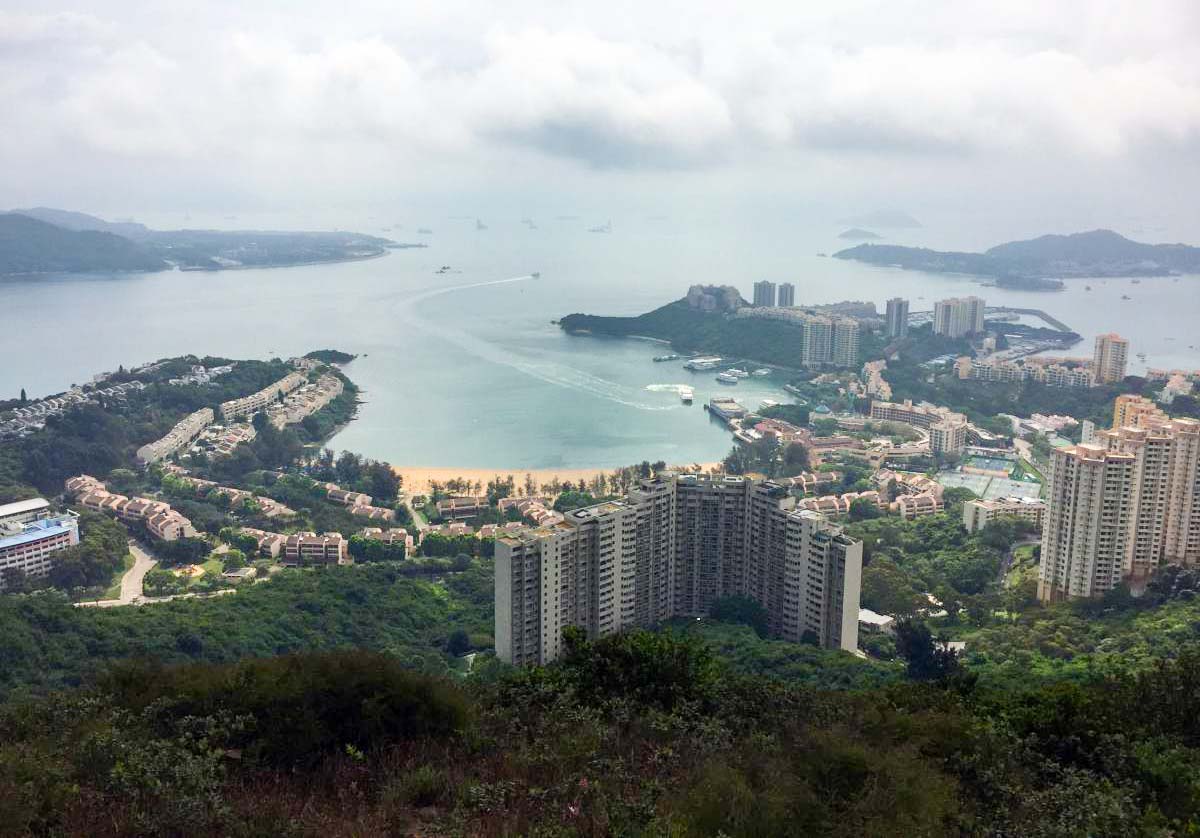 This 10km trail involves climbing lots of stairs, so prepare to sweat, and bring a water bottle in case it gets too hot! It's not the easiest of hikes, but most of the trail is paved, which means you're unlikely to get lost.
Along the way, you'll be treated to views of Lantau and Sunset Peaks, and even a glimpse of Lamma Island on a cloudless day.
The trail ends at Mui Wo, which has a cooked food centre right beside the ferry pier. Grab a meal or cold beer while waiting for your ferry back to Hong Kong Island.
How to get there:
Take a 25-minute ferry from Central Pier 3 to Discovery Bay Pier for HK$40 (or ~S$6.70). Exit Discovery Bay Plaza and turn left on Plaza Lane, then turn right onto Discovery Bay Road. Walk for 550m, and you should see the start point marked by a white sign and green sign with stairs heading up.
To return to Hong Kong Island, take the ferry from Mui Wo Ferry Pier to Central for HK$15.90 (~S$2.70) / HK$23.50 (~S$3.90) on Sundays and PH.
9) Sharp Island, Sai Kung (橋咀洲, 西貢)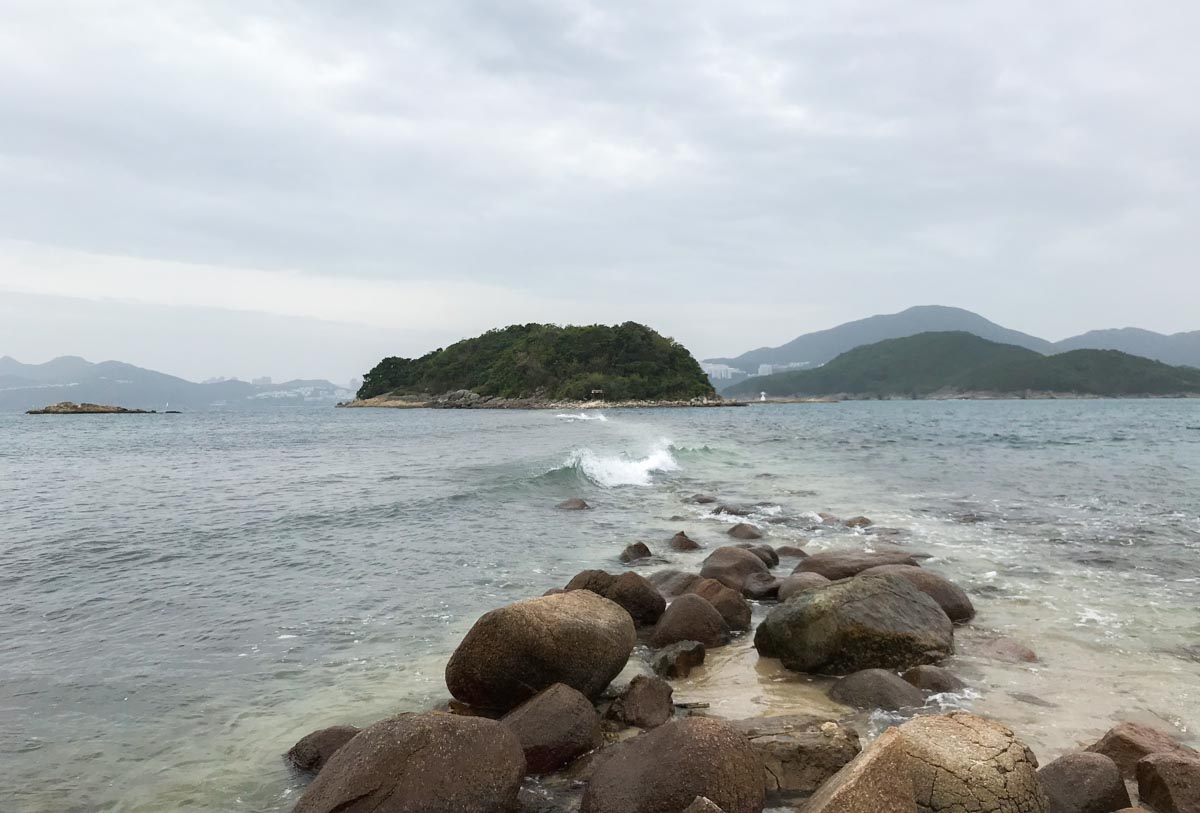 A 10-minute boat ride away from Sai Kung Pier (西貢公眾碼頭), Sharp Island is on the edge of a gigantic area where a cluster of volcanoes erupted and collapsed 140 million years ago, leaving a crater known as a caldera.
The island is also known for its quartz monzonite rocks resembling the famous Hong Kong Pineapple Bun (bo lo bao), and gives- off a reddish glow when directly under the sun.
During low tides, a 250m-long tombolo (or sand bar) connects Sharp Island to a smaller island nearby, Kiu Tau (橋頭) which you can walk across (pictured above).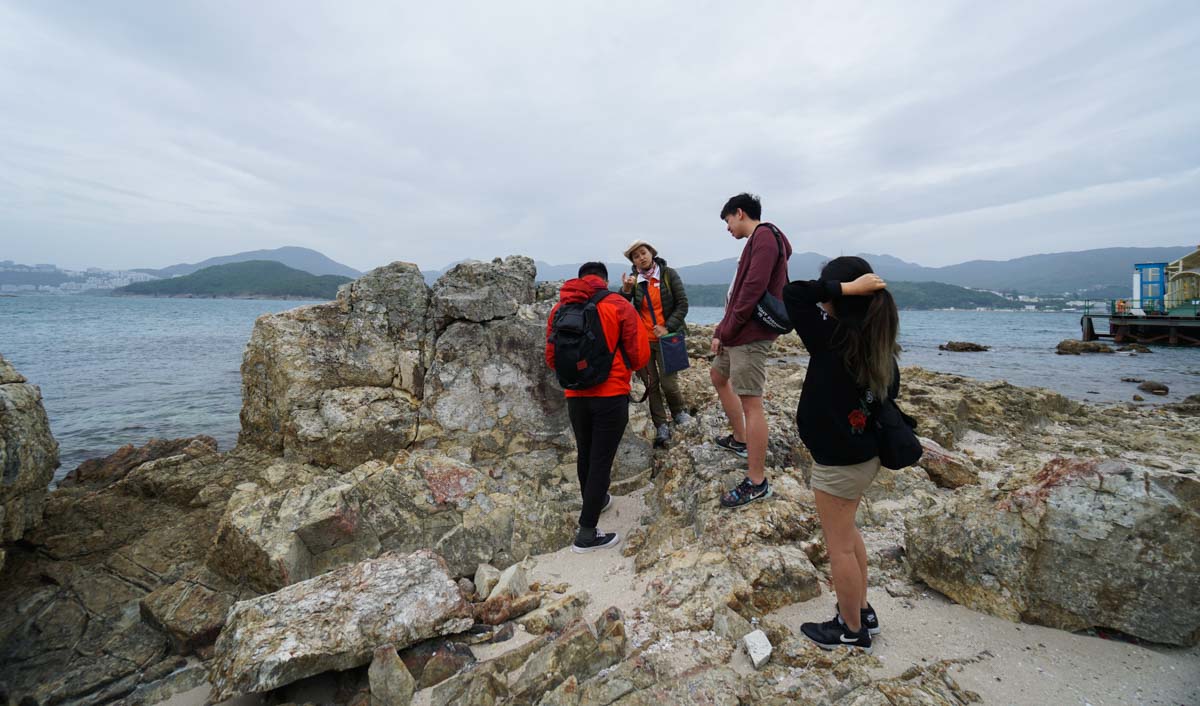 To learn more about the natural rock features and Hong Kong's history of volcanoes, head to the Volcano Discovery Centre at Sai Kung Pier, which also showcases different types of hexagonal rock columns around the world.
If you're a nature buff, head to the Lions Nature Education Centre which houses elaborate exhibitions including a seashell museum and bird-watching garden. Our Geopark guide was not only super passionate and knowledgeable about rocks, she could recognise specific birds just from the sounds they make too!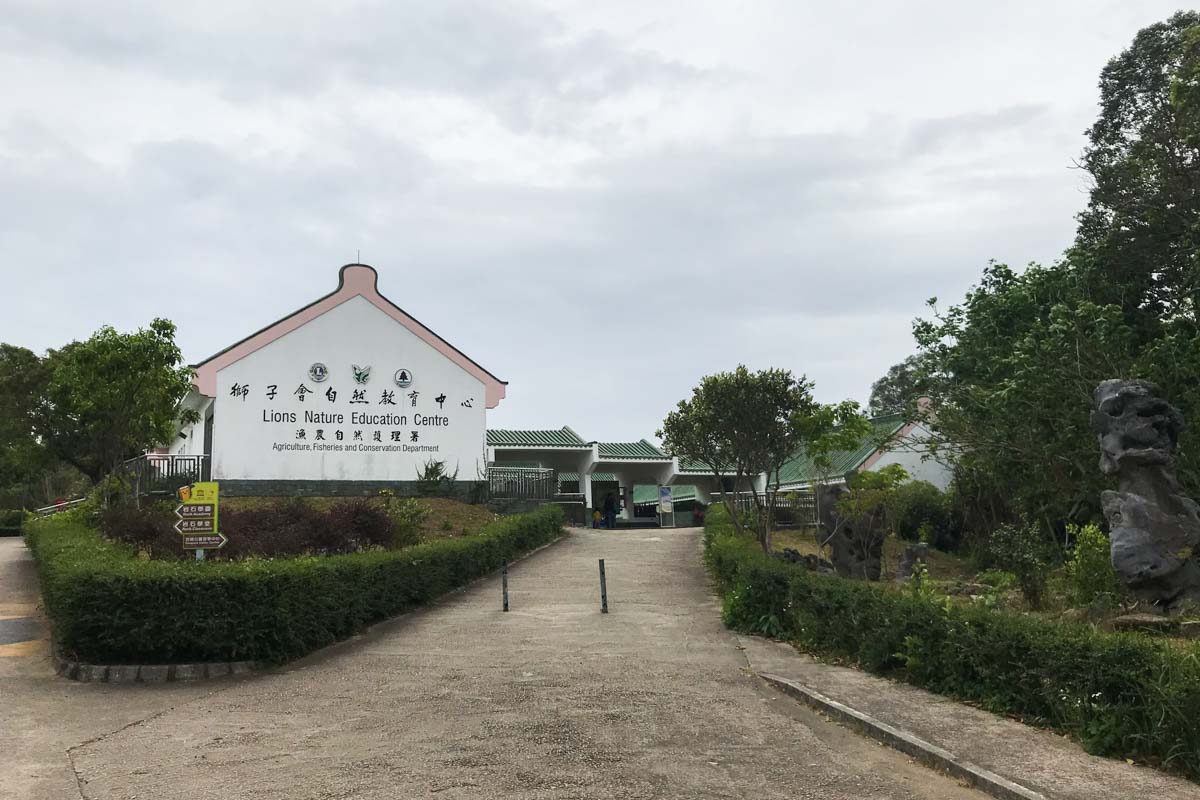 How to get there:
From Sai Kung Pier, you can hire a round-trip ride from a boat vendor for HK$30 (~S$5), which allows you a 1-hour stay at the island. To get to the Lions Nature Education Centre, take green minibus 1A from the pier and alight at Pak Kong (北港), then walk 400m.
For a guided tour, the Rock Academy Tour brings you around Sai Kung's Volcanic region. Start from a pick up Kowloon Hotel, you're whisked away to Sharp Island, a mild but scenic hike up Hak Shan Teng and a stop at the Volcano Discovery Centre and Lions Nature Education Center in Tsiu Hang before returning back to Kowloon.
Cost: ~S$84 (Tour is unavailable on Tuesdays)
Duration: ~5 hours (9AM – 2PM)
Pick Up: Kowloon Hotel
---
This post was brought to you by Hong Kong Tourism Board.
For more travel inspiration, follow us on Facebook, Instagram, and YouTube. 
View this post on Instagram