Co-written by: Michelle Neo & Edelyn Chua
From giant sea clams to goat sashimi, here are the wildest, wackiest and most wondrous food you can find in Okinawa, Japan's southernmost prefecture.
Japan is currently the country with the most Michelin Star restaurants, but you'll be surprised to find out that that none of them are on Okinawa, often dubbed the Hawaii of Japan. But this doesn't mean Okinawa has no good food.
On the contrary, this tropical Japanese island boasts a plethora of food types from wow to wild. There's no need for official stamps of recognition when validation is the word of mouth from locals and visitors.
This Okinawa food guide aims to introduce the unique Okinawan food that's not quite the same from your usual Japanese cuisine (goat sashimi, anyone?).
1) Okinawan Taco Rice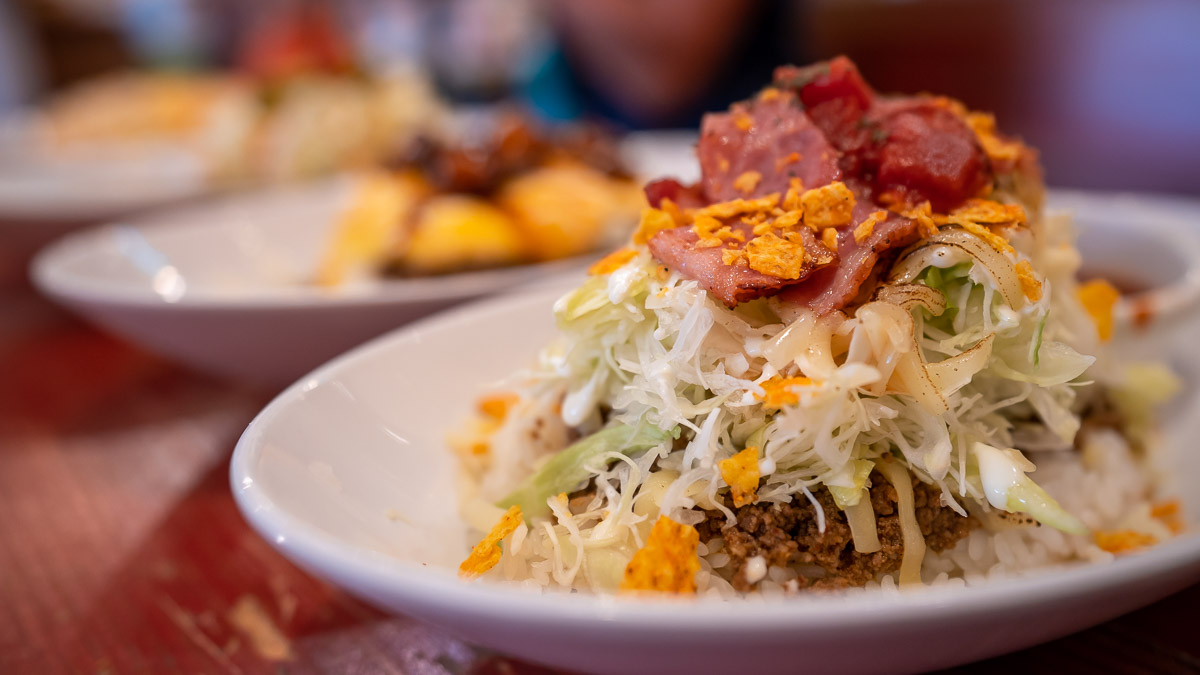 An iconic Okinawan dish, taco rice is a fusion of Mexican and Japanese cuisine just as its name suggests. Instead of taco shells, the usual taco-flavoured ground beef fillings are enjoyed with Japanese short-grain rice instead.
Many diners have taco rice on their menus, but we recommend King Tacos for a taste of the authentic Okinawan comfort food. For something fancier, Taco Rice Cafe Kijimunaa serves up piping hot omutaco — taco rice with a runny omelette on top.
King Tacos (キングタコス)
Cost: ¥400
Opening Hours: 10:30AM – 12AM
Address: 4244-4 Kin, Kin Town Kunigami Okinawa
Taco Rice Cafe Kijimunaa (タコライスカフェ)
Cost: ¥650
Opening Hours: 11AM – 10PM
Address: 2F Depot Island Building C, American Village, 9-1 Mihama, Chatan Town
2) Sea Grapes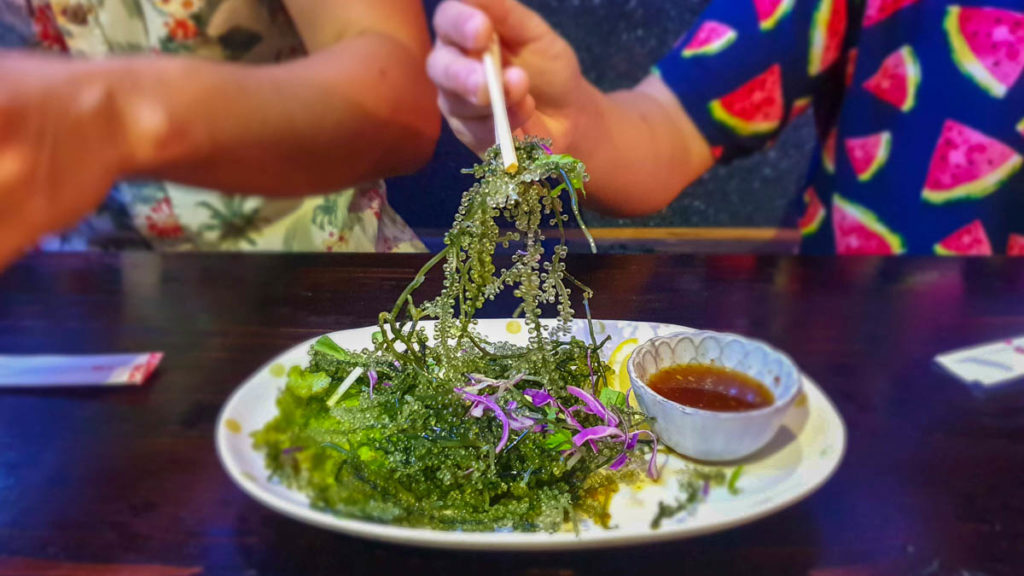 Sea grapes, locally known as umibudo, is a type of seaweed often eaten raw with vinegar in Okinawa. Some people call it the "vegan caviar" as the tiny "grapes" burst as you bite into them, releasing a salty yet refreshing taste. Sea grapes can be found at most Okinawan diners and supermarkets.
3) Okinawan Onigiri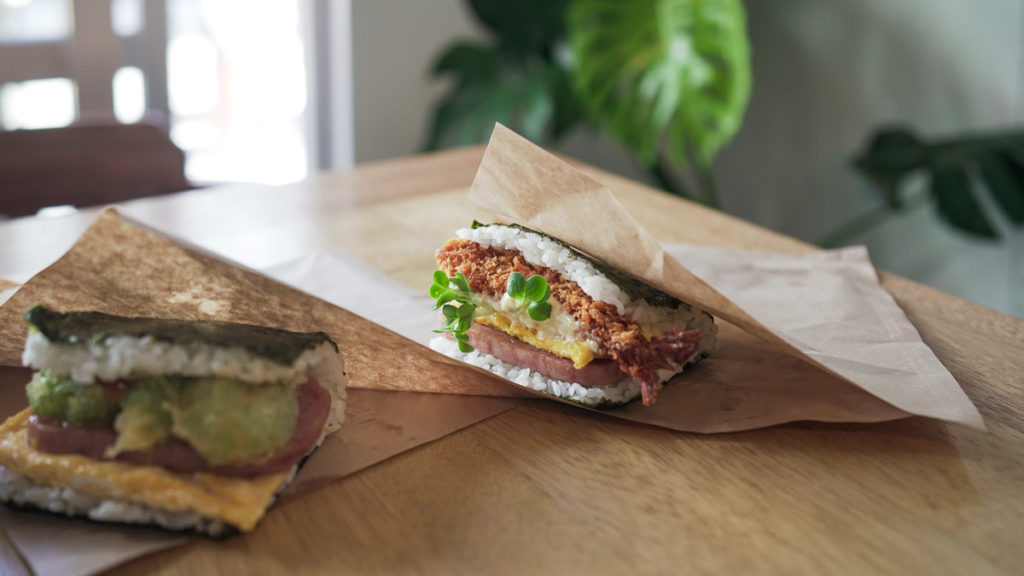 In Okinawa, onigiri are prepared a little differently. Due to influence from the US troops stationed in Okinawa, luncheon meat (or spam) is a prominent plate stuffer. So it's no surprise that onigiri in Okinawa come sandwiched with a slice of luncheon meat!
To accommodate the size and shape of spam, onigiri in Okinawa are rectangular, instead of the triangular-shaped ones we're used to seeing.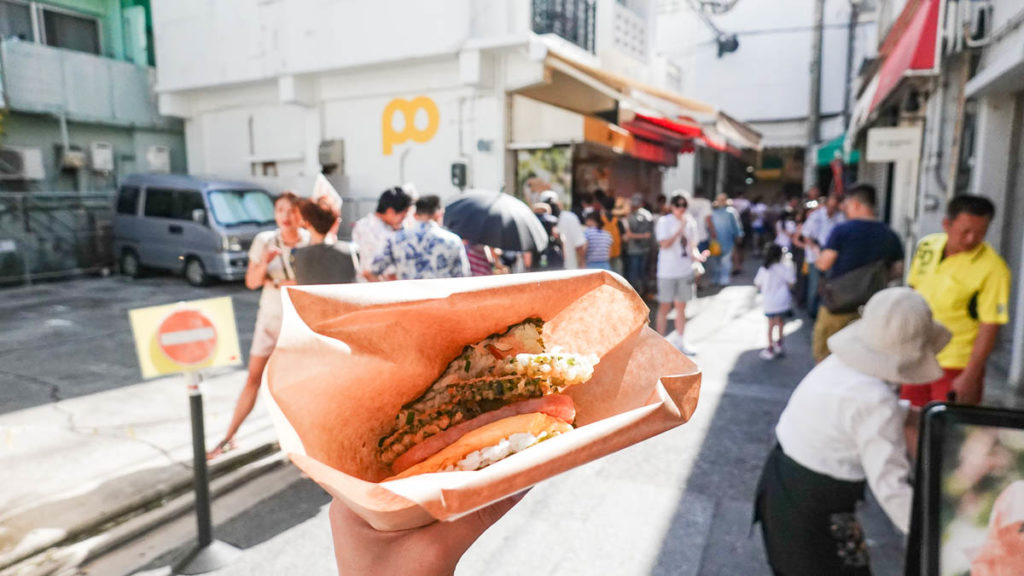 At the Heiwa Dori Street alley, a snaking queue quietly forms as people wait patiently to order freshly prepared onigiri. Filling choices range from loofah tempura and bitter gourd to tuna. We had our breakfast here, and it was fantastic. Who knew simple luncheon meat wrapped with rice and seaweed could taste so awesome?
Pork Tamago Onigiri Honten (Kokusai Street branch)
Cost: From ¥250
Opening Hours: 7AM – 5:30PM, closed on Wed
Address: Japan 900-0014, Okinawa, Naha, Matsuo, 2 Chome−8−35
Want to know what's around the area? Check out our Ultimate Okinawa Guide!
4) Pig Head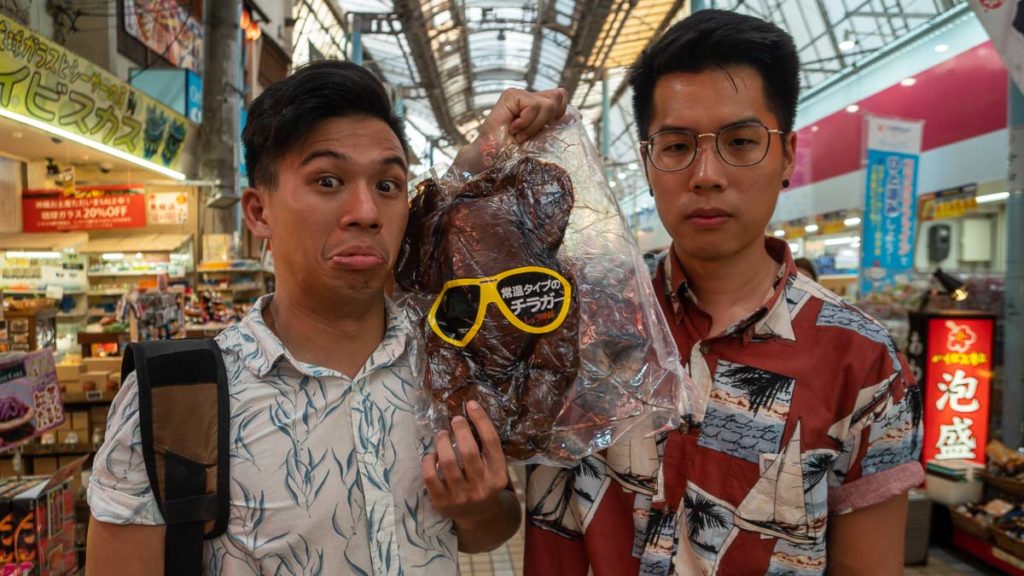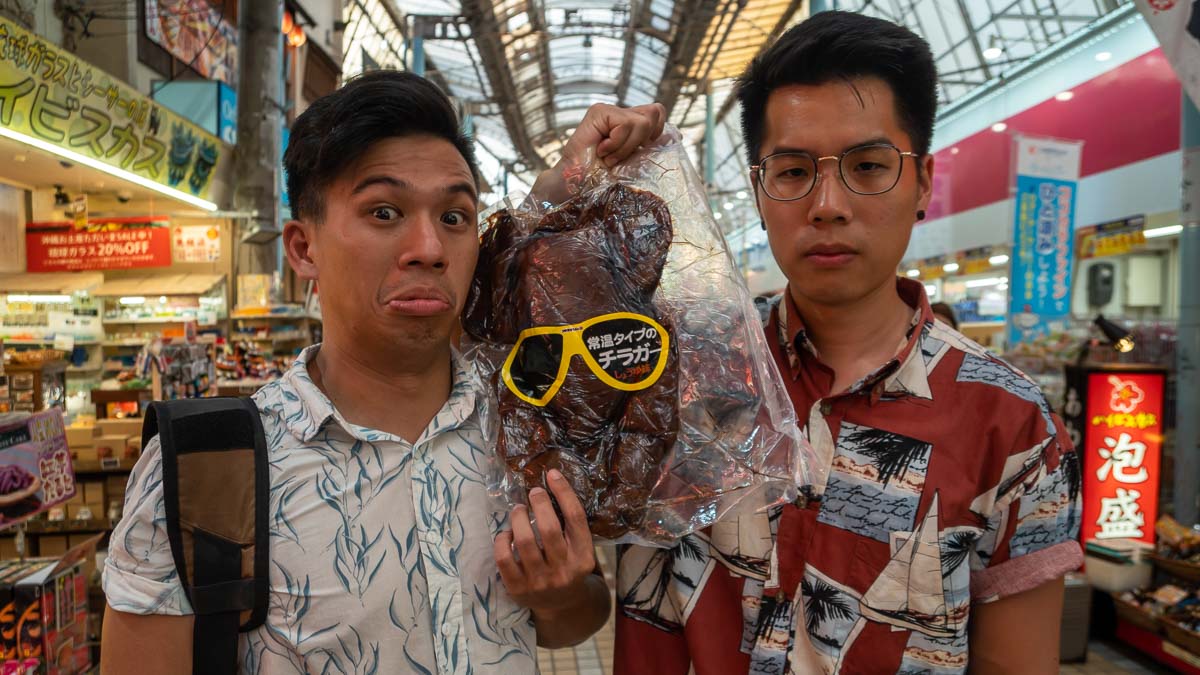 Okinawans love their pork so much that there's a saying, "every part of a pig is eaten besides its squeal". So another oddly interesting food item you'll see a lot in Okinawa is entire pig's heads sold in markets.
Although the look of it isn't something visually acceptable by everyone, I have to say it's a pretty tasty treat. That is, if you enjoy gelatinous textures when it comes to food.
5) Snake Wine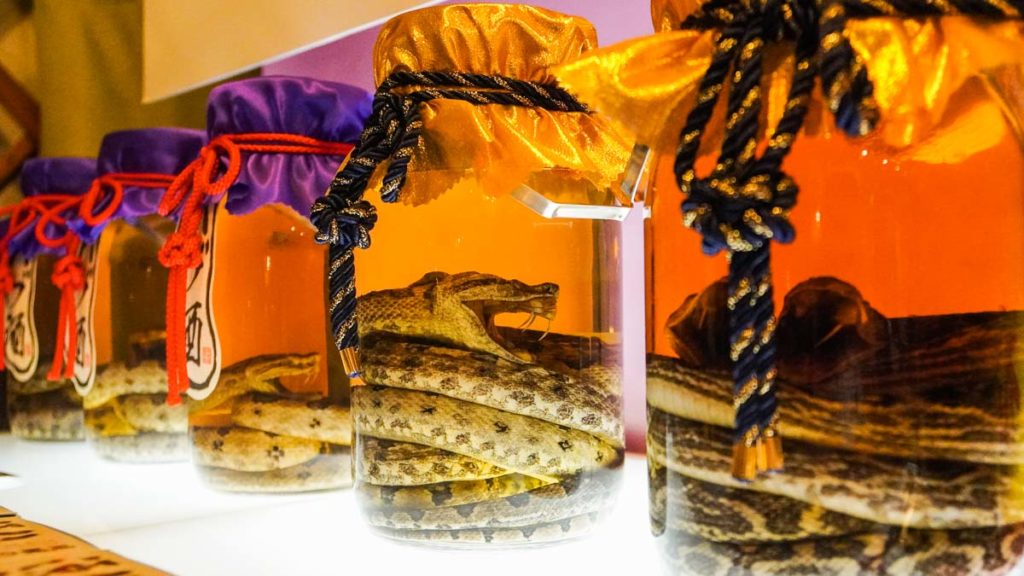 Snake wines, while not the most unusual drink in the world, is unusually common in Okinawa. Habushu (or habu sake) is an awamori-based liquor made in Okinawa, and it's said to strengthen the body and boost stamina! The snakes used to make it are venomous pit vipers found only on Japan's Ryukyu Islands.
6) Snake Soup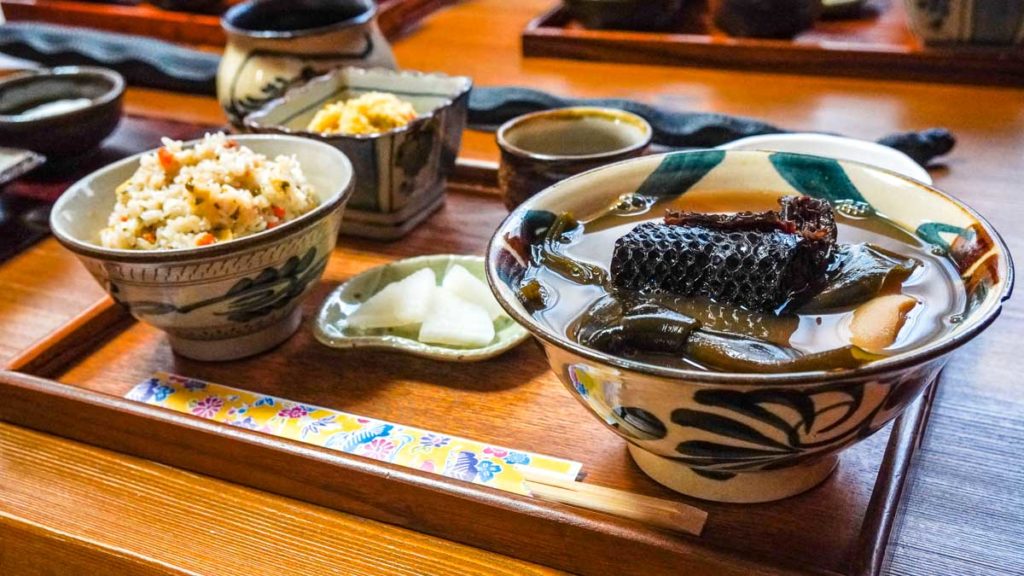 Okinawans do seem really adventurous when it comes to food. Besides snake wines, they also enjoy soups made with venomous sea snakes. The irabu, or black-banded sea krait, is a highly venomous sea snake (10 times more venomous than cobras!) that lives in the waters of Kudaka Island, a small island south of Okinawa's main island.
Till this day, all sea snakes used to prepare the irabu soup are caught wild by elderly ladies using only their bare hands. Say what?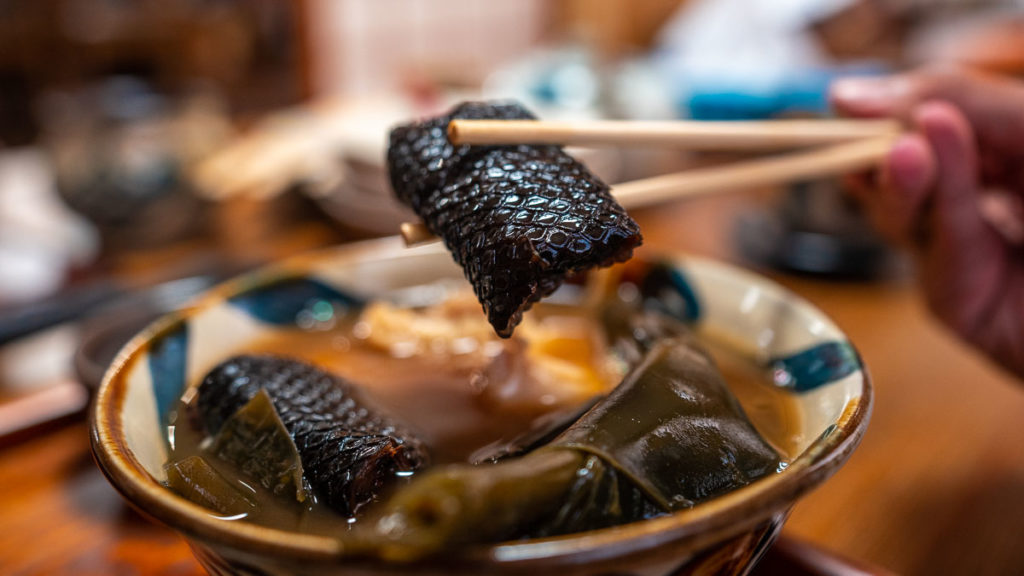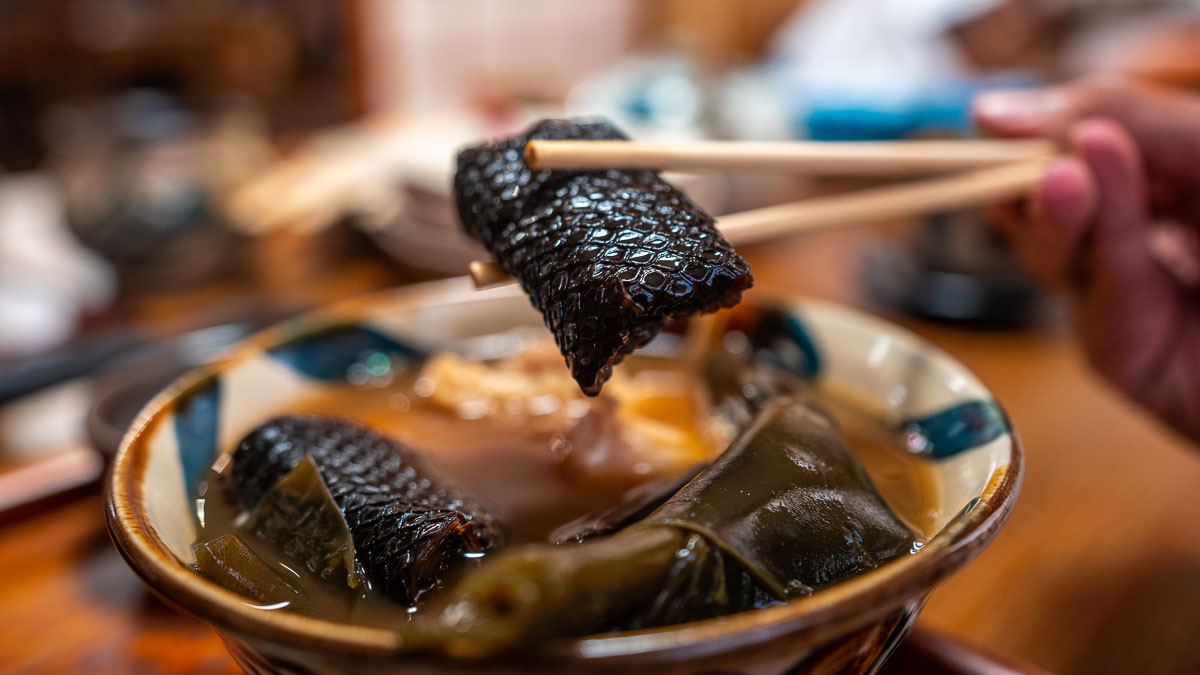 And if the harvesting process doesn't sound wild enough, maybe the preparation process will. Irabu caught will then be smoked for flavouring and preservation. It then takes another 16–36 hours to prepare and cook the smoked snakes before being served to diners. The long hours include scrubbing, deboning, and of simmering the snakes!
There are only a few places in Okinawa where you can still have a taste of this dish today. One famous place is Kana, a family-run restaurant that serves up to 30 bowls of irabu soup each week. Reservations at least a week in advance are definitely needed but it's 10/10 recommend if you're daring enough!
Kana Restaurant (カナ)
Cost: From ¥3,800
Opening Hours: 6PM – 9PM, closed on Sun, Mon and Thu
Address: 515-5 Yagibaru, Kitanakagusuku-son, Nakagami-gun, Okinawa-ken 901-2304
Tel: 098-930-3792 (for reservations)
7) Okinawan Soba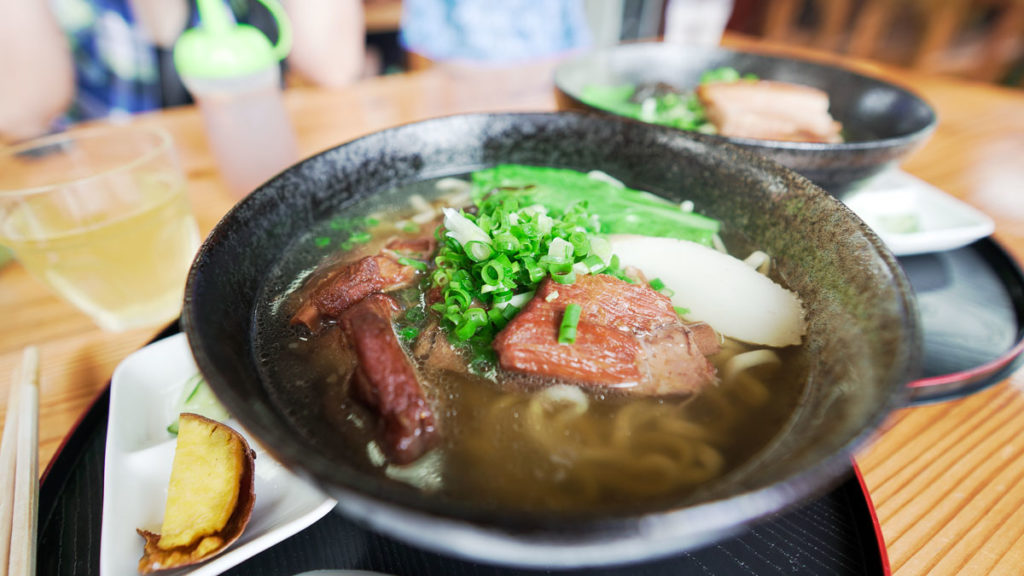 Okinawan soba is the absolute comfort food. It's unlike the typical soba we know of — it's slightly thicker and flatter, kind of curly, and served in clear tasty broth with thick slices of pork belly or pork ribs.
Okinawan soba is a staple dish in Okinawa that can be found almost everywhere, but here are some restaurants we tried and recommend:
Ryukyu Shinmen Tondou (琉球新麺 通堂)
Opening Hours: 11AM – 12:30AM
Address: 5-4-6 Kinjo, Naha City, Okinawa (and 4 other branches)
Ryukyu Sabo Ashibiuna (琉球茶房 あしびうなぁ)
Opening Hours: 11AM – 3PM, 5PM – 11PM
Address: 2-chōme-13 Shuritōnokurachō, Naha, Okinawa 903-0812, Japan
Sacchan Soba (幸ちゃんそば)
Opening Hours: 10AM – 4PM, closed on Mon
Address: 2 Chome-11-11-3 Ominami, Nago, Okinawa, Japan
Hamaya Soba (浜屋そば)
Opening Hours: 10:30AM – 8:30PM
Address: 2-99 Miyagi, Chatan, Nakagami District, Okinawa 904-0113, Japan
8) Goat Sashimi
Sashimi is loved by people all over the world, but goat sashimi is one that's definitely something not everyone finds palatable. The raw goat meat smells very gamey and can be revolting for people who don't like the gaminess of mutton.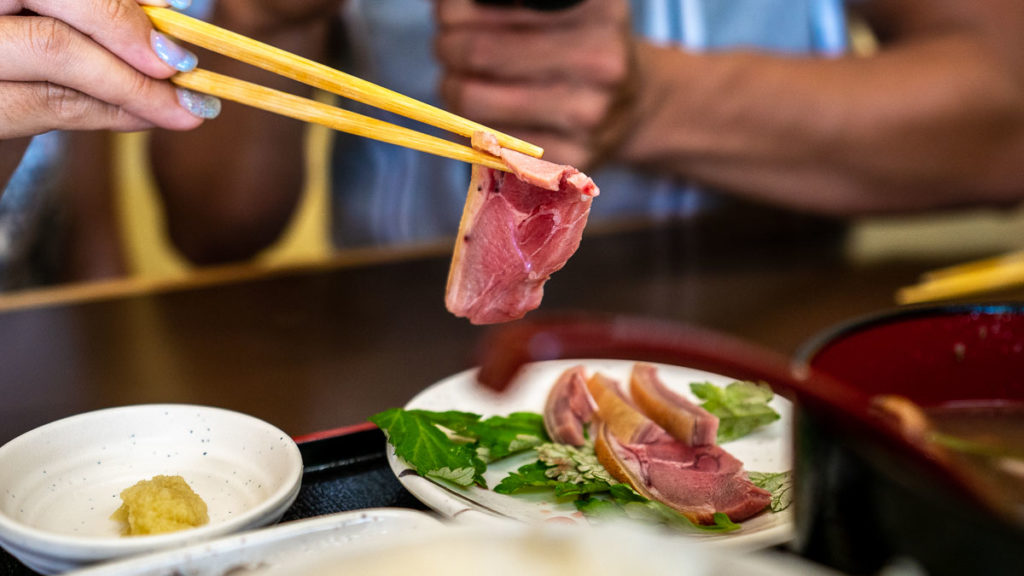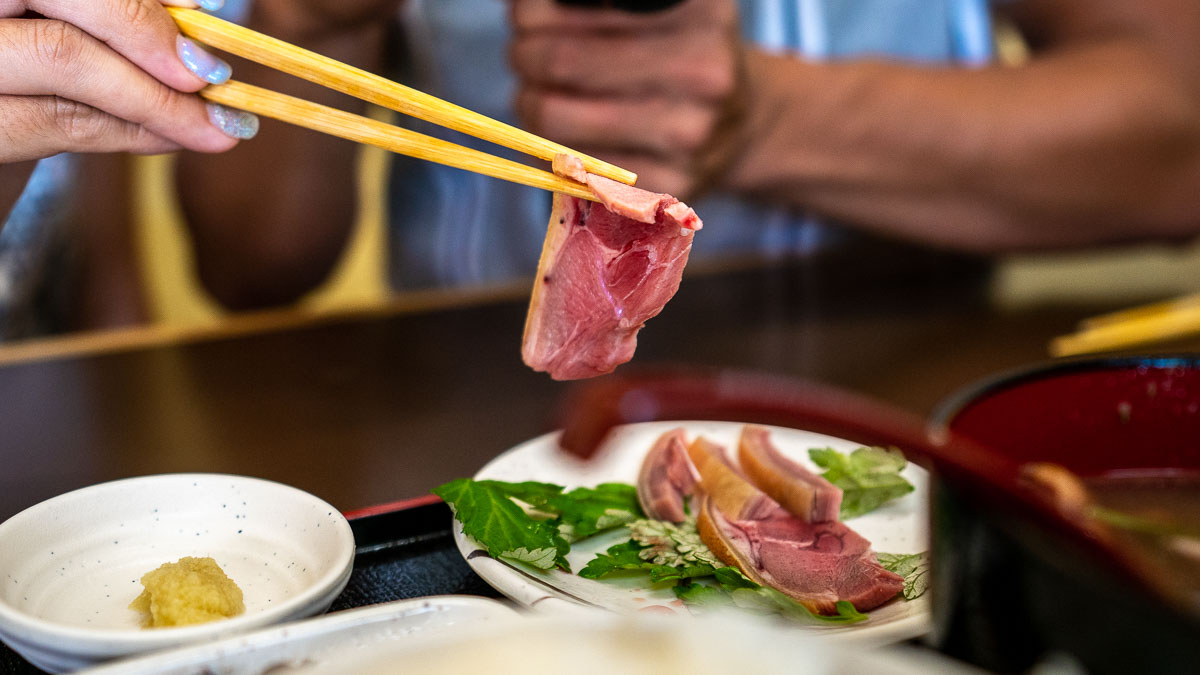 At Yanbarukuinaa, the yukke, sashimi, soup, and stir-fried goat blood are some dishes worth trying. It's no doubt an acquired taste, but if you already love mutton, give this Okinawan delicacy a try.
Yanbarukuinaa — Goat Sashimi (山羊料理 山原食いなぁ)
Cost: ~¥1,600
Opening Hours: 12PM – 12AM, closed on Mon
Address: 3 Chome-13-1 Nishi, Naha, Okinawa 900-0036, Japan
Read also: 7-Day Okinawa Itinerary Under S$1.2k — Road Trip in Japan's Underrated Island Utopia
9) Awamori (Okinawan Rice wine)
Photo credit: Wikimedia
Okinawa has a homegrown alcoholic beverage (other than Orion Beer) — the awamori. This rice-based distilled liquor actually originates from Thailand, when the technique of distillation made its way to Okinawa from Thailand in the 15th century.
So unlike every other rice wine of Japan, awamori uses long-grain rice imported from Thailand for production. Awamori is sold for consumption at most restaurants, izakayas and even convenience stores in Okinawa.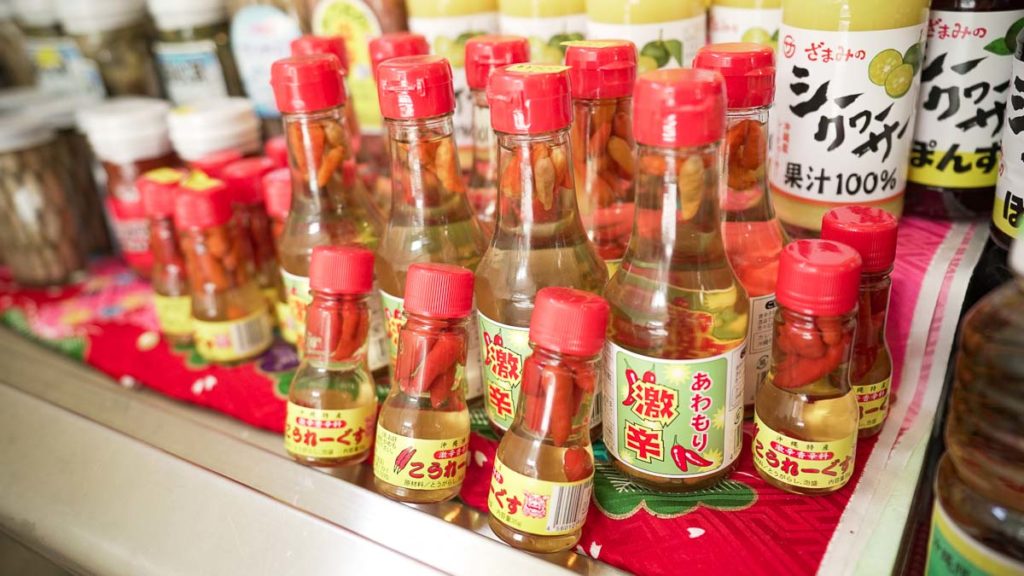 The koregusu is a chilli-infused awamori.
While typically enjoyed on the rocks, awamori is also used in another iconic Okinawan condiment commonly seen in soba houses — the koregusu. The koregusu is a chilli-infused awamori often used as a hot sauce with Okinawan soba.
You'll recognise the clear bottles of liquid with a few chillis in them, which can be found in every soba house and supermarket. The perfect souvenir for the folks who love spice!
10) Turbo Marmoratus (Great Green Turban)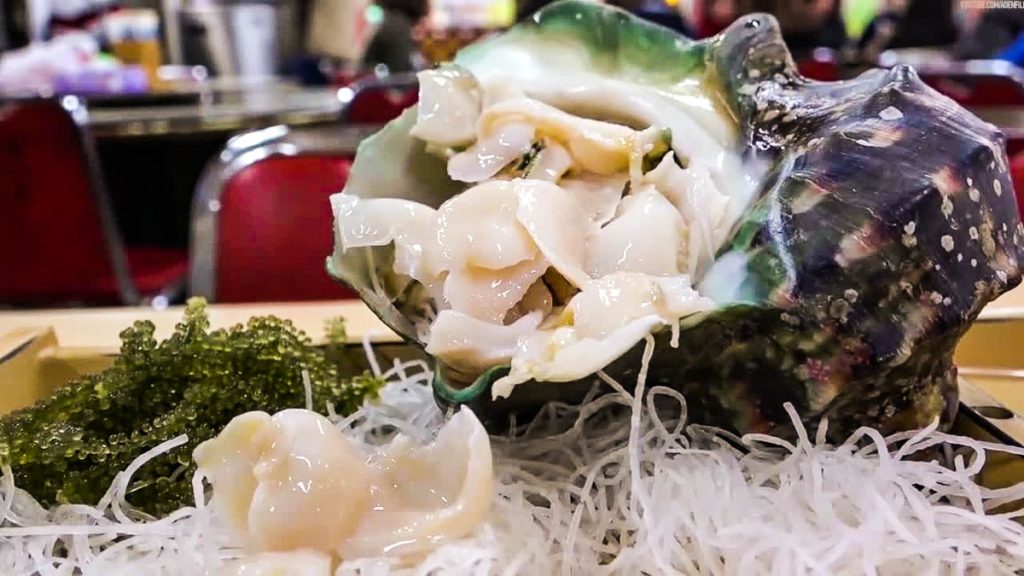 Photo credit: netease.com
Walking through the First Makishi Public Market you'll come across many seafood stalls selling giant green sea conch along with colourful parrotfish. The edible molluscs are crunchy to the bite and mostly eaten raw sashimi-style. Giant Green Turbans can grow up to 20cm in length and weigh up to 1.5kg each.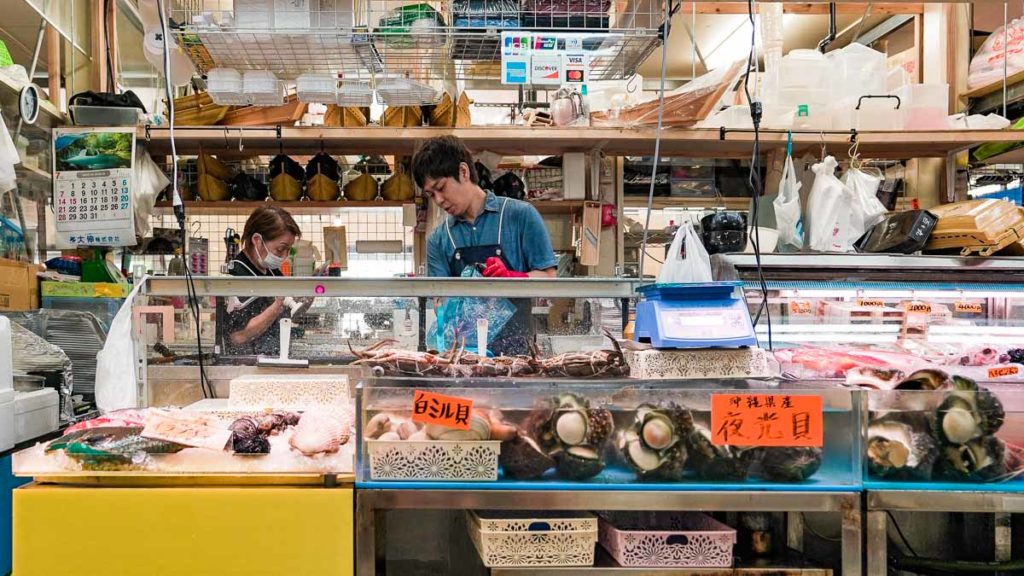 Also known as "the kitchen of Okinawa", First Makishi Public Market is where many locals do their daily marketing. But in recent years, tourists have also made their way to the old market for the freshest seafood.
Eat what you buy immediately by getting it cooked at any restaurant located at level 2 of the market for about ¥500! If you're looking for places to eat in Naha city, you cannot miss First Makishi Public Market for its wide array of Okinawan food.
Cost: ~¥1,500 – ~¥4,000/pc (depending on size)
11) Parrotfish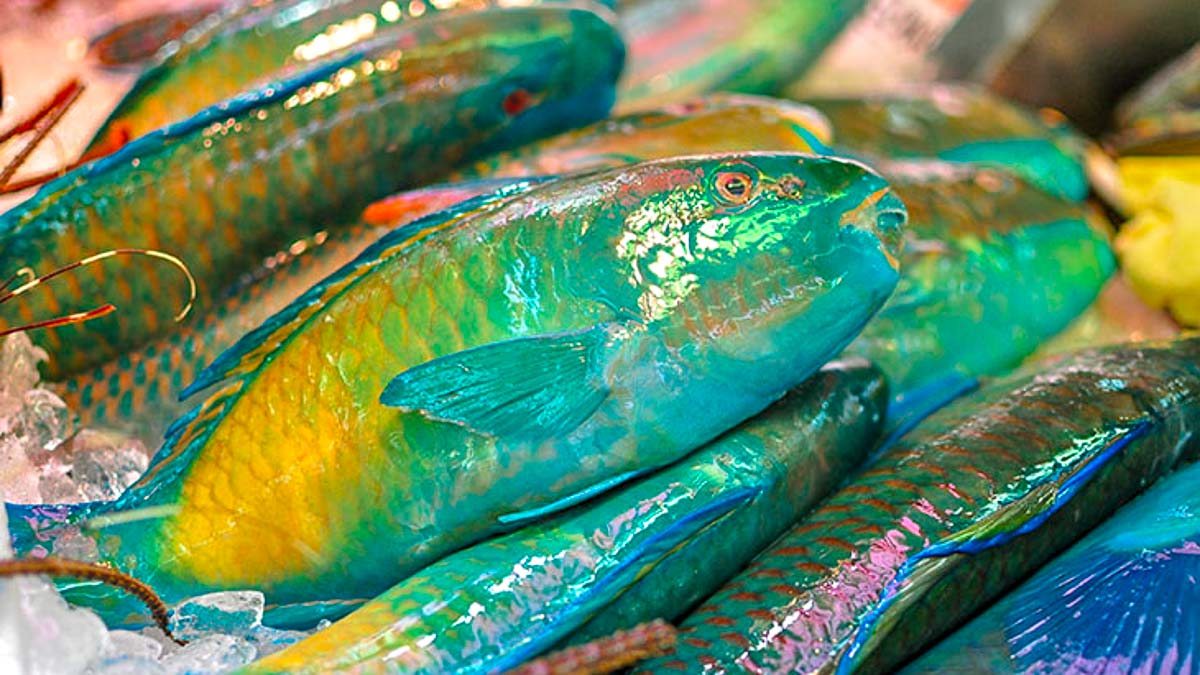 Photo credit: Okinawaclip.com
Being surrounded by the ocean, you can bet Okinawa's seafood scene is fresh and bustling. One of its strangest eats is the parrotfish, known locally as irabucha.
A lovely shade of emerald green, this fish can be found in almost all stalls at First Makishi Public Market. You can order it straight from the shopkeeper and have it sashimi-style, or bring it to an onsite restaurant to have it deep-fried.
12) Sukugarasu (Fermented Fish)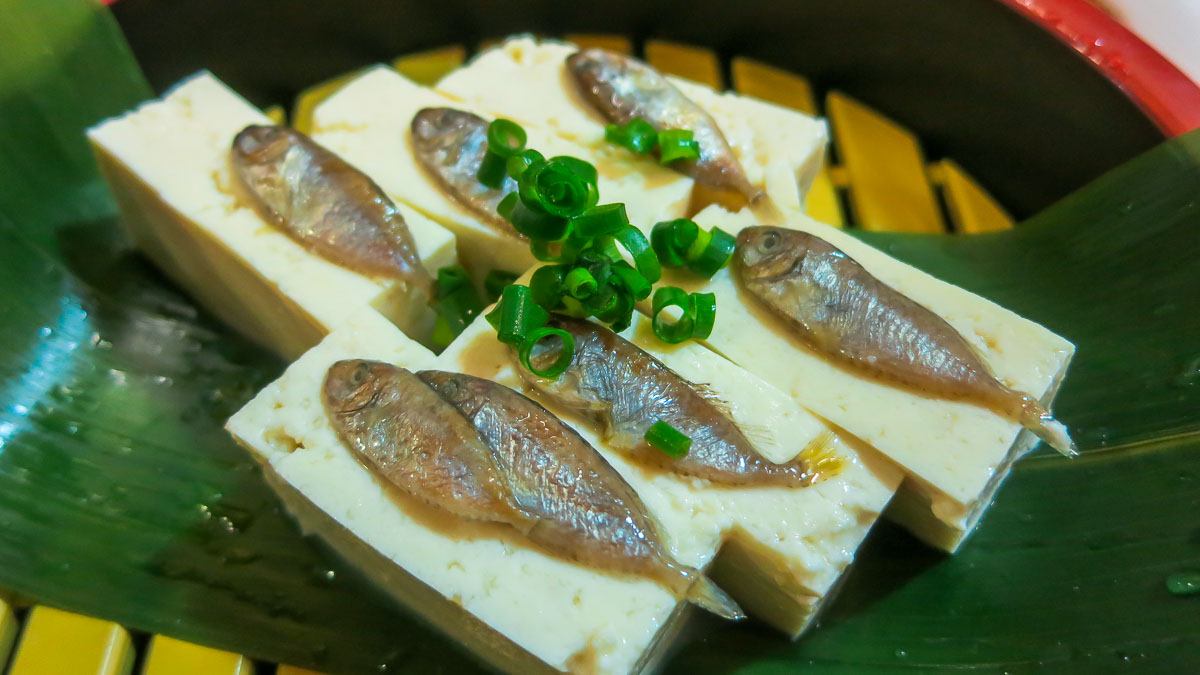 Photo credit: Temporarilylost.com
Found in most izakayas and restaurants, sukugarasu is an Okinawan specialty where pickled baby fish is served atop bite-sized pieces of tofu. The fish is cured in salt for over a year, and is popular amongst locals. It's a popular snack that's best enjoyed with alcoholic drinks like beer or awamori.
13) Tofuyo (Fermented Tofu)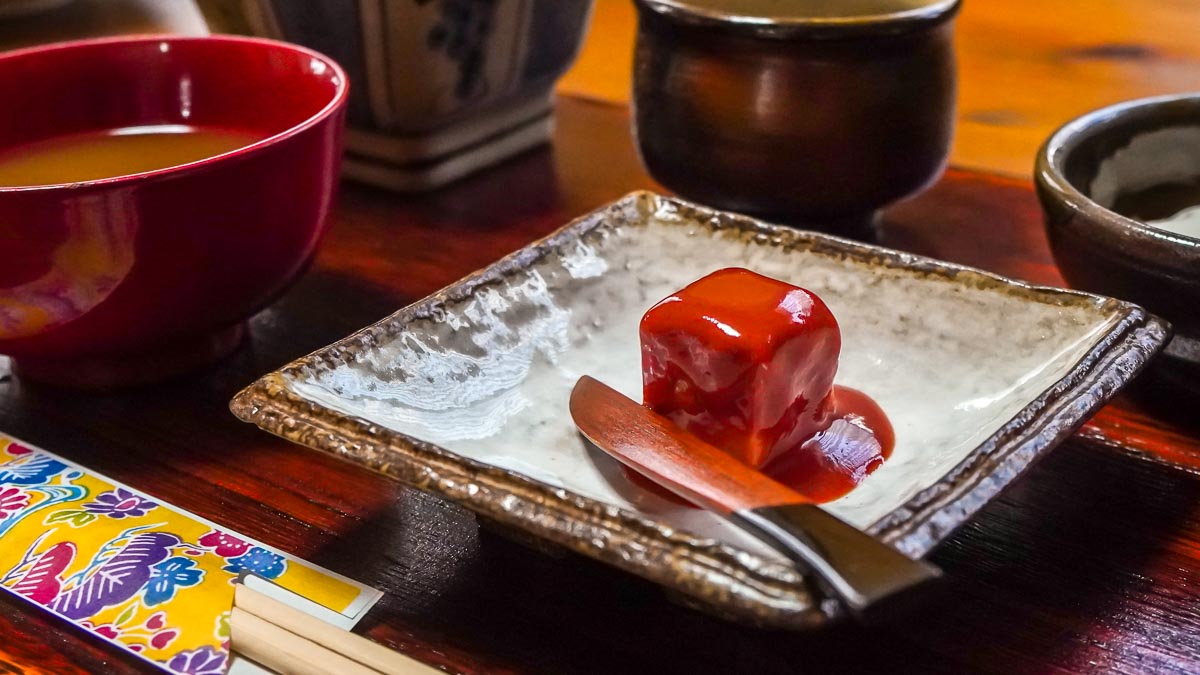 If Taiwanese stinky tofu makes you run the other way, you don't need to worry about tofuyo! Fermented in red kouji (yeast rice) and awamori, tofuyo tastes like a strong cheese. It can be rather intense for first-timers, and should be eaten in very small quantities at a time.
The specialty is available in most restaurants, but you can opt to join a tour to see how it's aged in a cave!
14) Mimiga (Sliced pig's ear)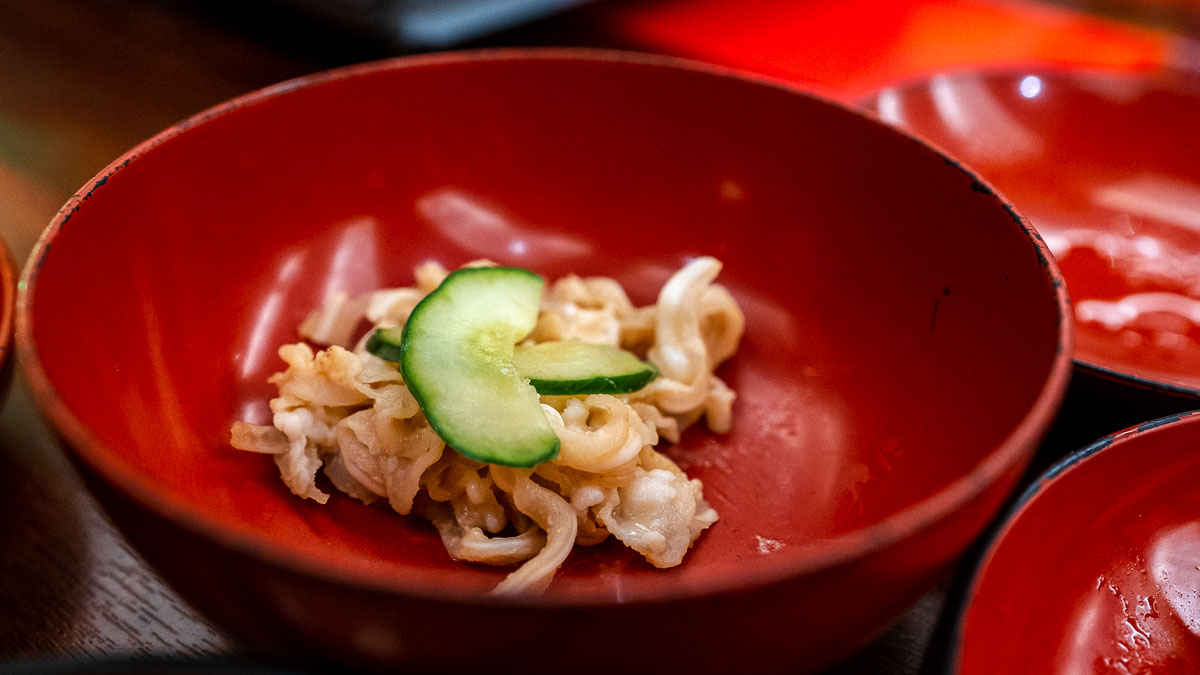 It's not just the pig's face that's a delicacy — the ears are too! Mimiga is prepared by first burning hair off, before boiling or steaming to make it tender. The result is flesh and cartilage that's both soft and crunchy. Many locals like to pair the tasty dish with alcohol, but it's an acquired taste for some!
15) Funazushi (Fermented carp)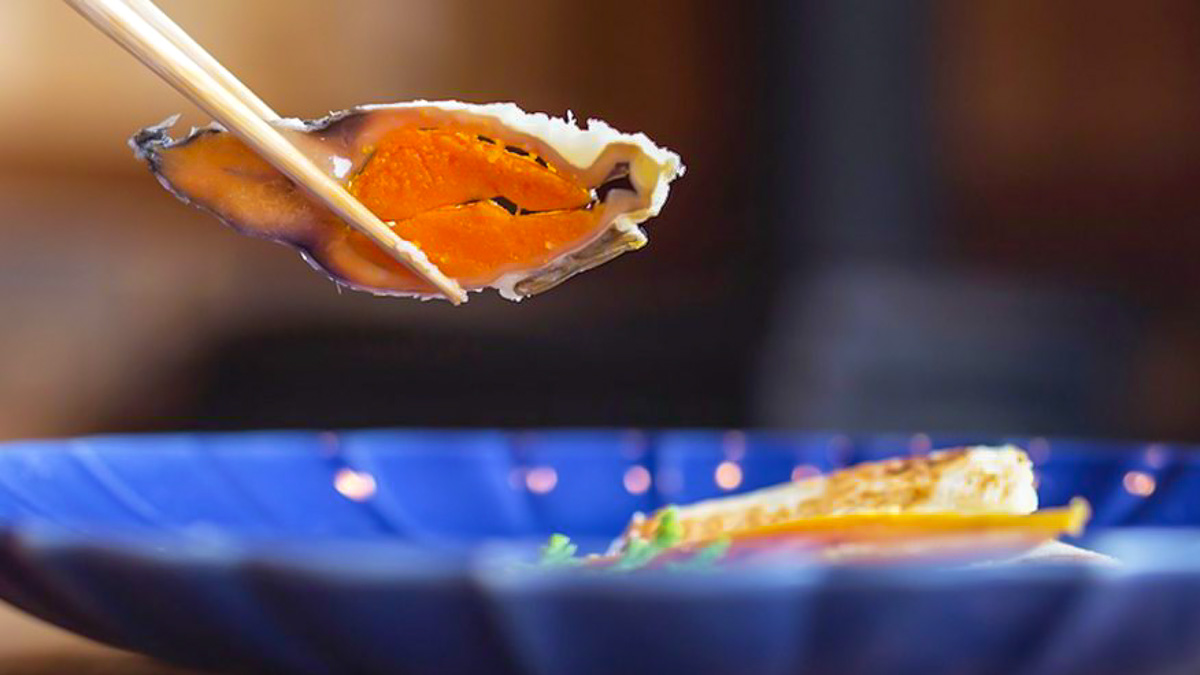 Photo credit: Tapswineshop.com
Found almost everywhere in Japan, funazushi is basically pickled fish sushi. Crucian carp is pickled in salt for over a year, before being pickled in rice and vinegar for three more years. It's usually sliced and eaten on its own, but can also be served in soup or fried in tempura batter.
16) Goya Chanpuru (Stir-fry bitter gourd)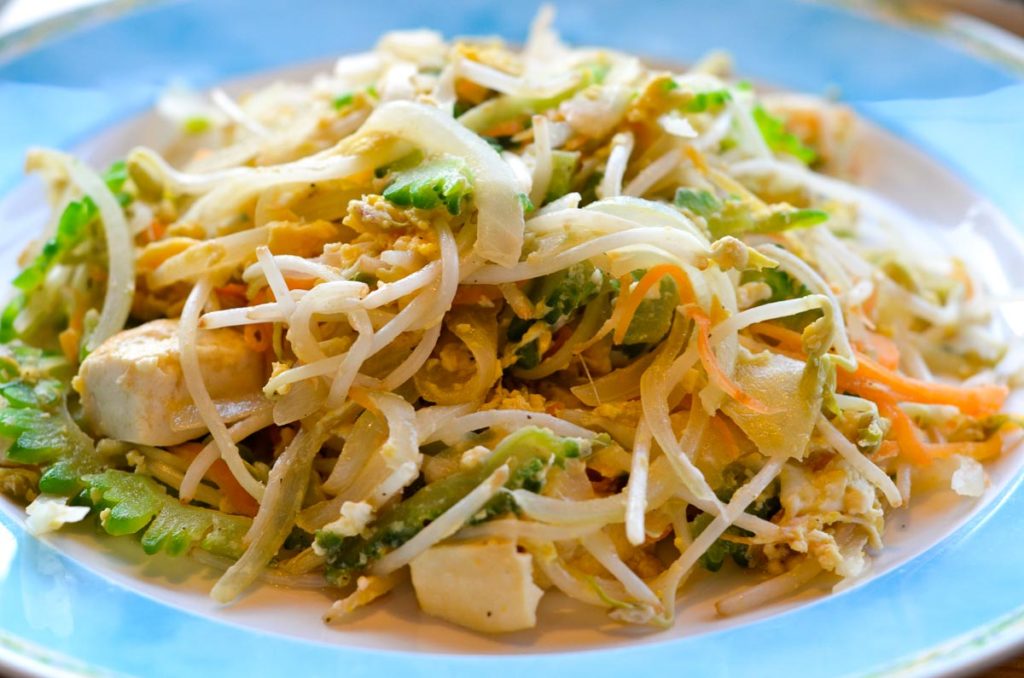 Photo credit: Wikimedia commons
Chanpuru is Okinawan to mean "something mixed", and the dish goya chanpuru is a stir-fry dish with bitter gourd mixed with other ingredients like beansprouts, eggs, carrot, small chunks of luncheon meat and tofu.
Interestingly, the word "chanpuru" is sometimes used to refer to the Okinawan culture of being a mixture of Ryukyuan, Mainland Japanese, and Northern American cultures. Goya chanpuru can be found in most Okinawan restaurants.
17) Okinawa Pork (Okinawan Agu Pork)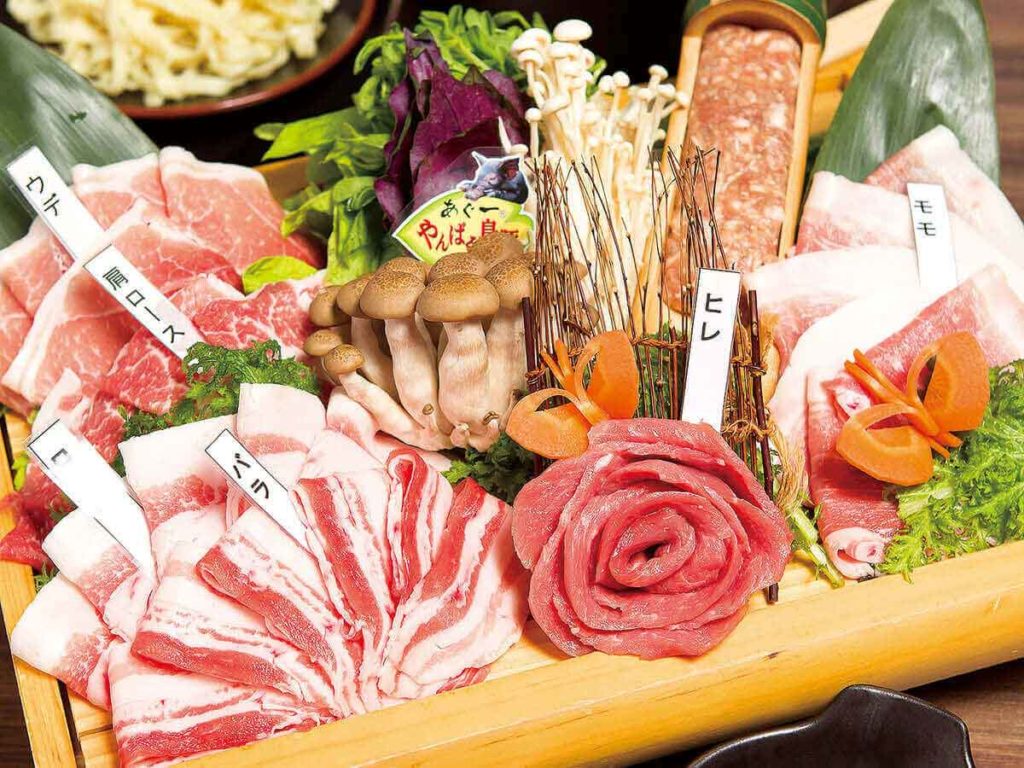 Photo credit: okinawatraveler.net
As mentioned earlier, pork is a big part of Okinawan cuisine. And while there are many varieties of pork, the most famous in Okinawa would be the Agu pork, from native black pigs of Okinawa.
The Okinawan Agu pork is a highly regarded variety of pork for its rich flavours, melty texture, and lower cholesterol percentage as compared to regular pork. It's apparently best enjoyed over shabu shabu, sukiyaki, or yakiniku! Here's where you can try it:
Matsumoto Agu Shabu-shabu Senmonten
Cost: ¥5,000/pax
Opening Hours: 5:30PM – 10:30PM
Address: 1F, Matsuyama Garden Bldg., 1-7-1, Matsuyama, Naha-shi, Okinawa
Ufuya
Cost: From ¥1,030/dish
Opening Hours: 11AM – 5PM, 6PM – 10PM
Address: Nakayama 90, Nago City, Okinawa Prefecture
Tonsen Okinawa
Cost: ~¥1,600/set
Opening Hours: 11AM – 5PM
Address: Maekawa-418-1 Tamagusuku, Nanjō-shi, Okinawa-ken 901-1400, Japan
18) Beni Imo (Sweet Potato) Everything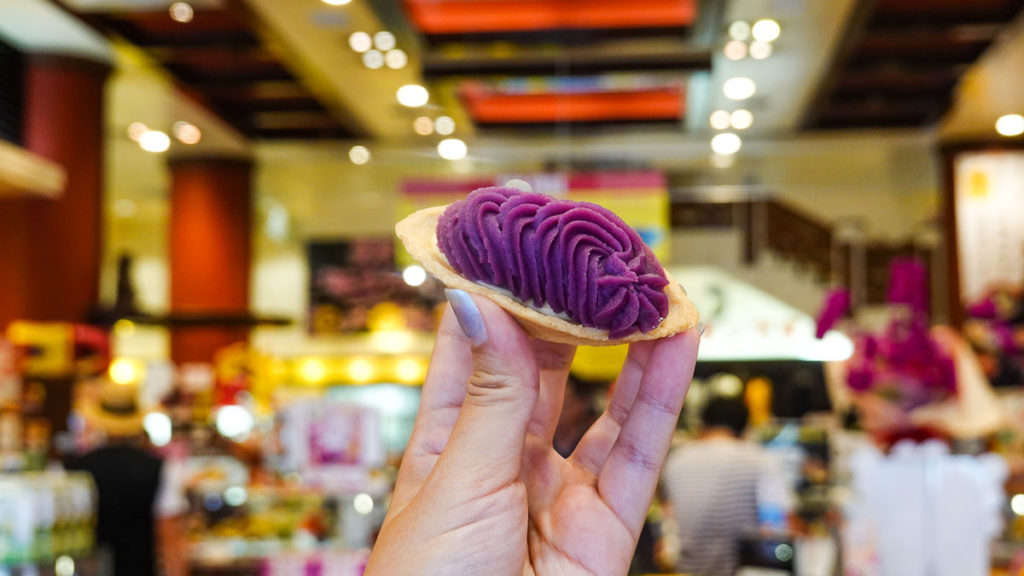 Beni imo is a purple-fleshed sweet potato found in Okinawa. This vibrant purple tuberous root is iconic in Okinawa, and there are all sorts of snacks made beni imo flavoured. Tarts, ice cream, puffs, chips, cheesecakes, chocolates and even vinegar, you name it, they've got it.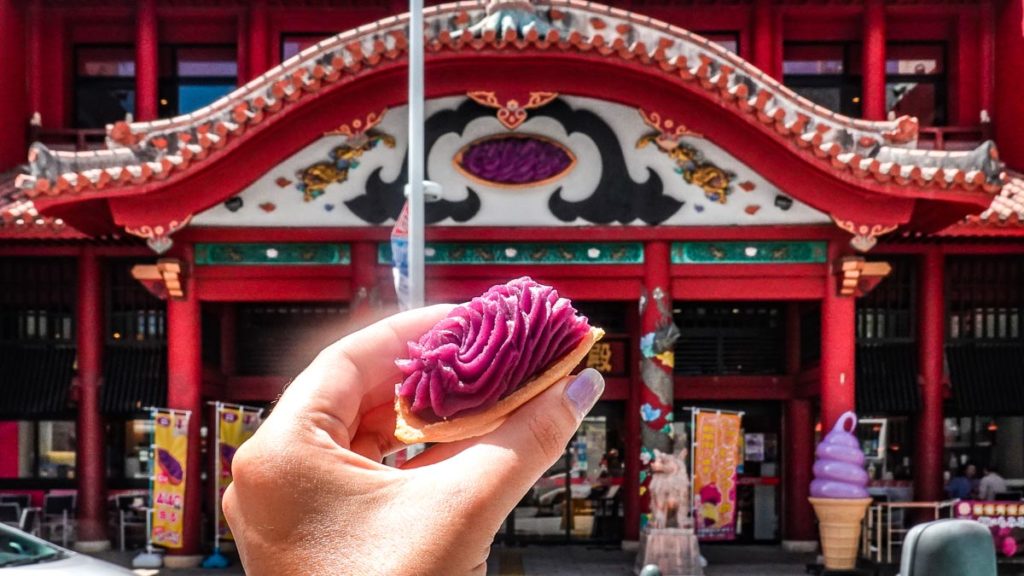 Kokusai Dori (International Street) has numerous shops selling beni imo products, but if you're looking for the one-stop-shop for all-things sweet potato, head to the Okashi-goten Kokusai Street Matsuo Store. With a store facade modelled after the Shuri Castle, these folks have truly immortalised beni imo as the pride of Okinawa.
Okashi-goten Kokusai Street Matsuo Store (御菓子御殿 国際通り松尾店)
Opening Hours: 9AM – 10PM
How to get there: On Kokusai Street, walk 3 mins from Kencho-mae Station
19) Okinawan Donut (Sata andagi)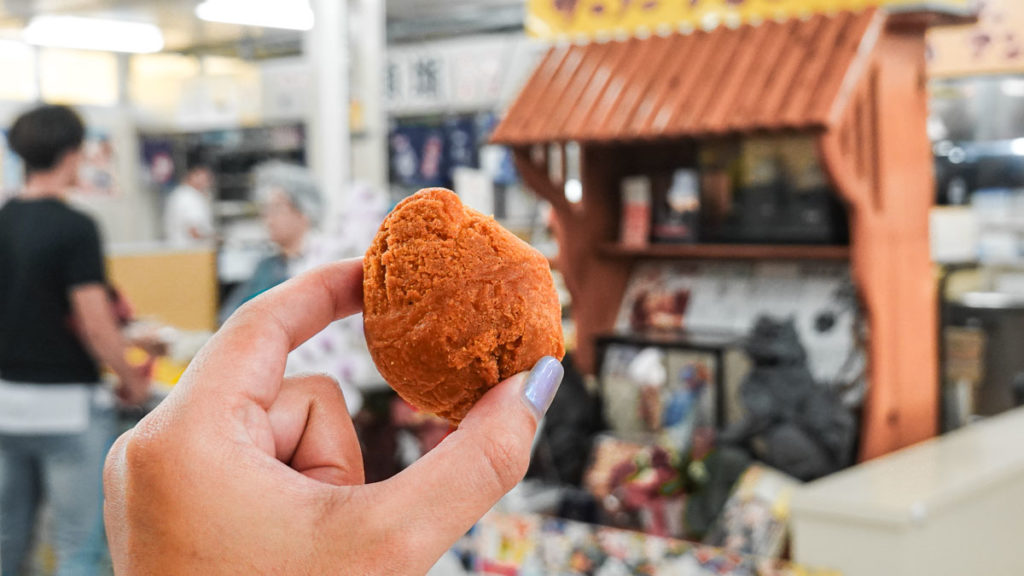 These deep-fried donut balls are nothing like your usual western fluffy sugary or glazed ring donuts. Instead, they're dense and have a more cake-like texture that make for hearty snacks at any time of the day.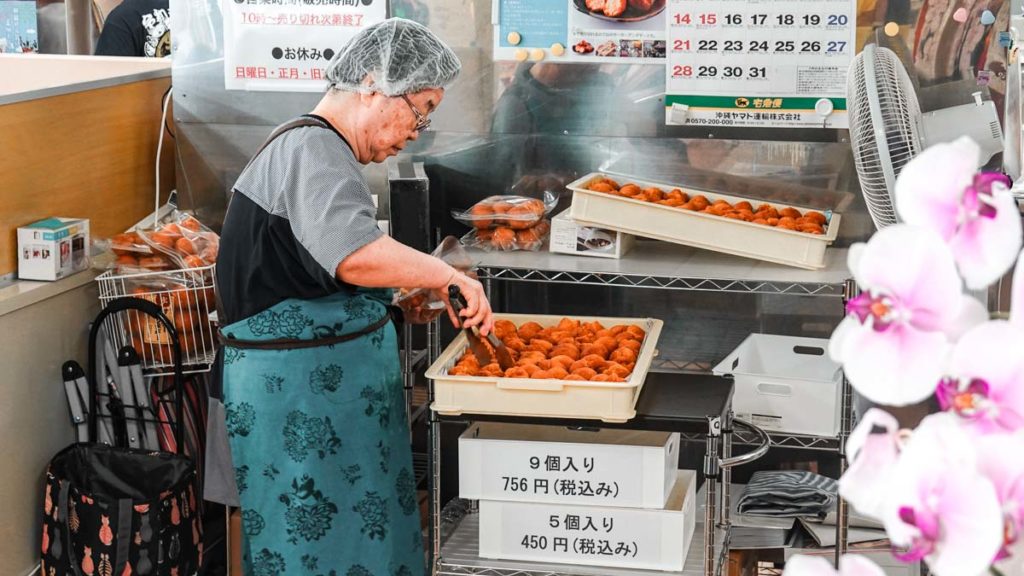 The traditional donuts balls can be found at most markets and confectionery stores, and come in flavours like sweet potato, brown sugar, white sugar, pineapple, and even coconut! We recommend getting them at Ayumi no Sata Andagi, a popular donut stall at Naha that only sells the traditional donut in one flavour — brown sugar.
Ayumi no Sata Andagi
Cost: ¥450/5pcs, ¥756/9pcs
Opening Hours: 10AM till sold out
Location: Level 2, First Makishi Public Market, Naha city, Okinawa
20) Blue Seal Ice Cream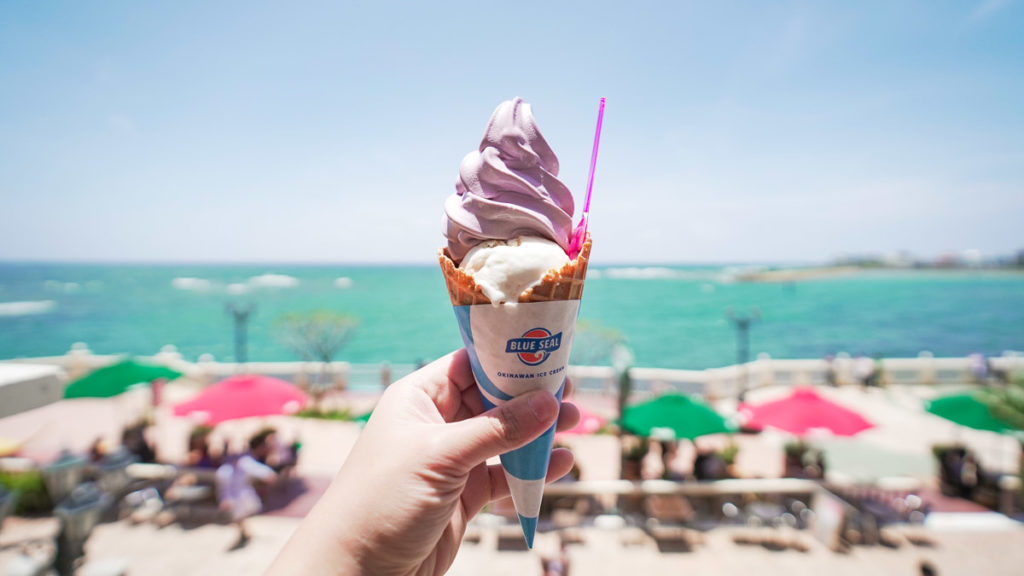 Okinawa is best visited during the summer months for its mesmerising blue seas and skies. But the summer heat can be unforgiving, and that's when you'll appreciate how often you can find Blue Seal Ice Cream stores. This ice cream chain has stores literally everywhere.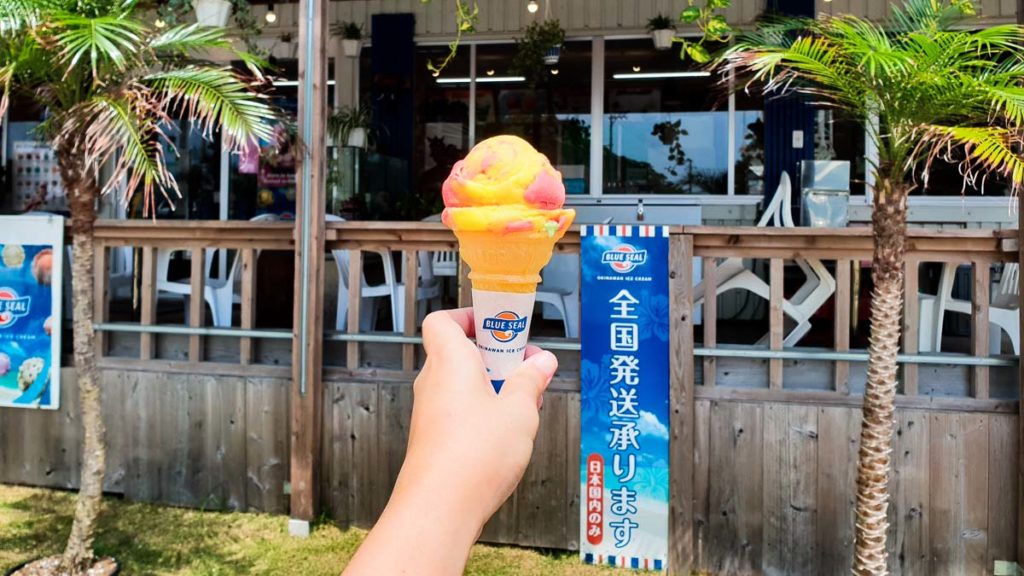 Cost: From ¥350
21) Sea Salt Ice Cream (and Other Sea-Salt Products)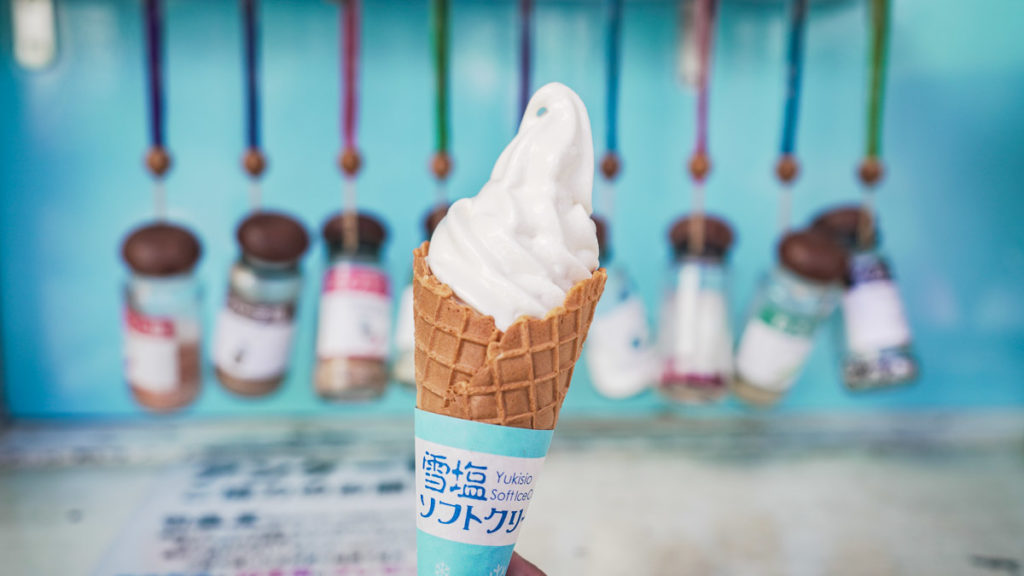 Sea salt from Okinawa is said to be the answer to longevity as the salt harvested there are high in minerals and low in sodium. When nature gives you something good in abundance, make full use of it, gurl!
In Okinawa, you can find sea salt products of every kind, from beauty products to soft-serve ice cream. Yes, the ice cream is salty, but also creamy and refreshing. For an interesting kick, top your ice cream with different flavoured salts outside the store (and it's all free too)!
Yukisio Salt Ice Cream
Cost: ¥280 – ¥380
Opening Hours: 9:30AM – 9PM
Address: 3-chōme-2-59 Makishi, Naha, Okinawa 900-0013, Japan
22) Okinawan Brown Sugar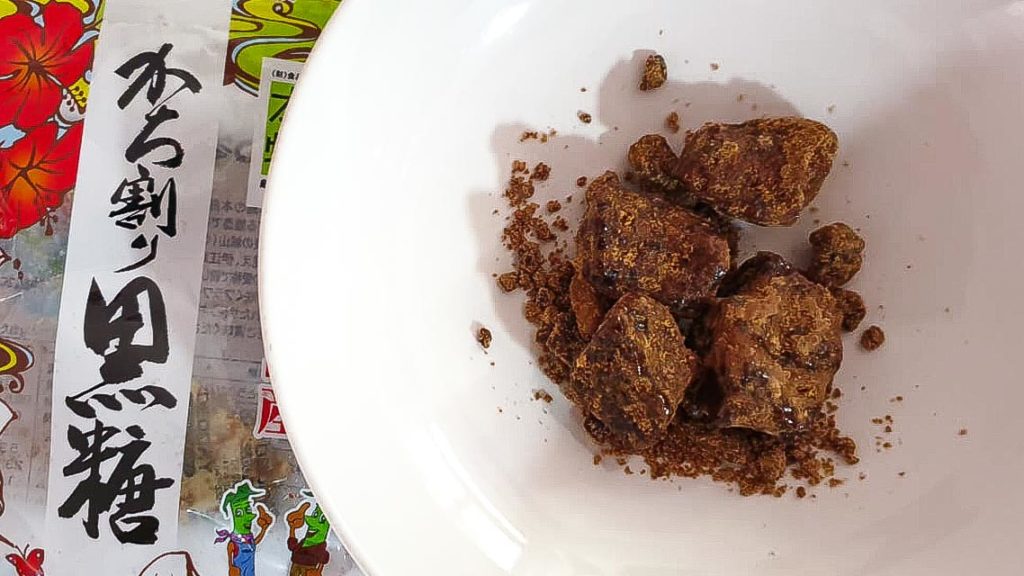 Brown sugar milk tea is all the rage now and if you're a fan of the caramelised goodness, you'll want to try the OG brown sugar in Okinawa.
Also known as kokuto, Okinawa's brown sugar is often taken as they are — raw. Essentially made from sugarcane juice, Okinawan brown sugar is said to be high in calcium and iron, and helps alleviate body heat.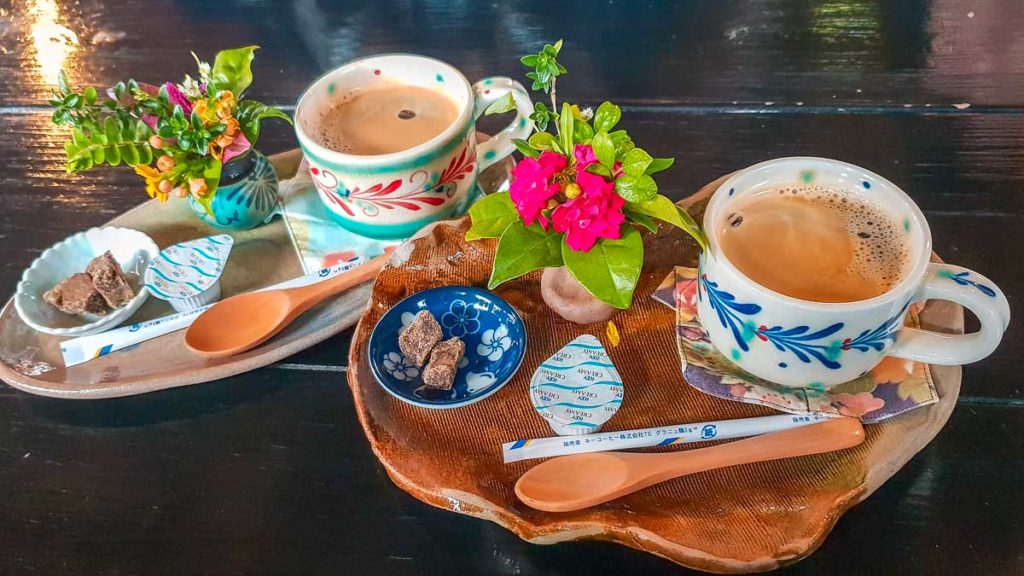 Most cafes in Okinawa serve coffee with brown sugar cubes at the side.
While the brown sugar can be consumed as it is, there are many other ways to enjoy this saccharine goodness. Melt a few cubes in hot water and drink it brewed, use it as a coffee/tea sweetener substitute, or even cook it together with instant noodles!
Read also: 14 Awesome Things To Do in Okinawa and How to Best Capture Them — Okinawa Photo Guide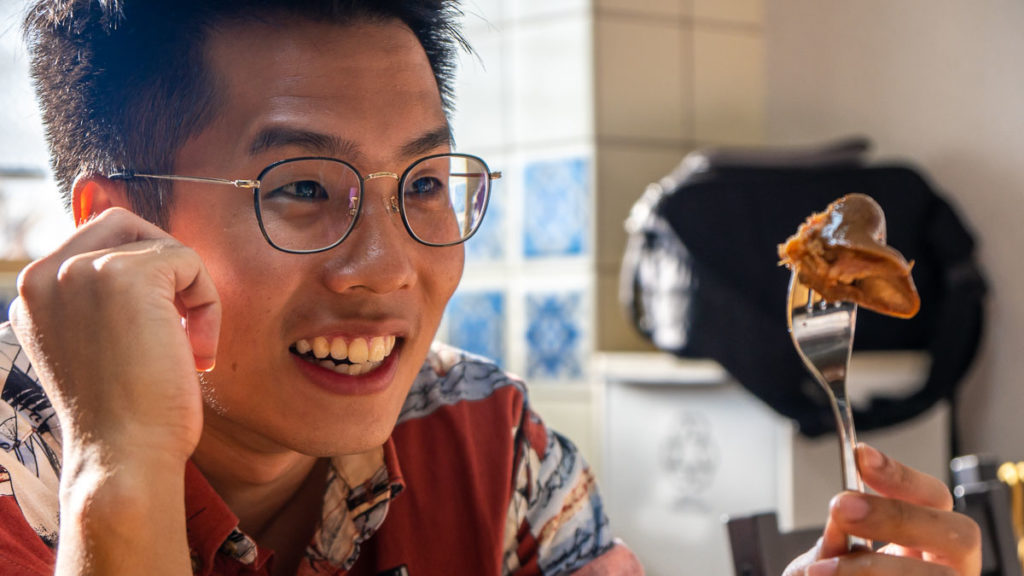 Deliciousness comes in all shapes and sizes, and Okinawa has no shortage of either! We set out to try as many Okinawan specialties as we could, and we were amazed by the many usual and exotic eats the island offered.
For an interesting adventure, give these things on this list a try! It may not be your cup of tea, but it's a foodie experience worth remembering (or maybe gagging) about. 🍽️
Read also: 7-Day Okinawa Itinerary Under S$1.2k — Road Trip in Japan's Underrated Island Utopia
Check Flights to Naha (Okinawa)
Ready to start your food adventure in Okinawa? Check flight prices with this widget:
If you can't see the widget above, click here to check flights from Singapore to Okinawa!
Did we miss anything in this Okinawa Food Guide? Let us know in the comments!
---
Like what you see? Follow us on Facebook, Instagram, YouTube, and Telegram for more travel updates!