I'm not one to take photos while on holidays. However, Okinawa was different. With surreal blue waters, fascinating culture, and exciting activities at every turn, I found myself in a camera trigger-happy mode.
We got to take Sony's RX0 II, α6400, and RX100 VI out for a spin during our time in Okinawa. Each camera was unique, yet functional and easy-to-use, making it a breeze to get those perfect shots. 👌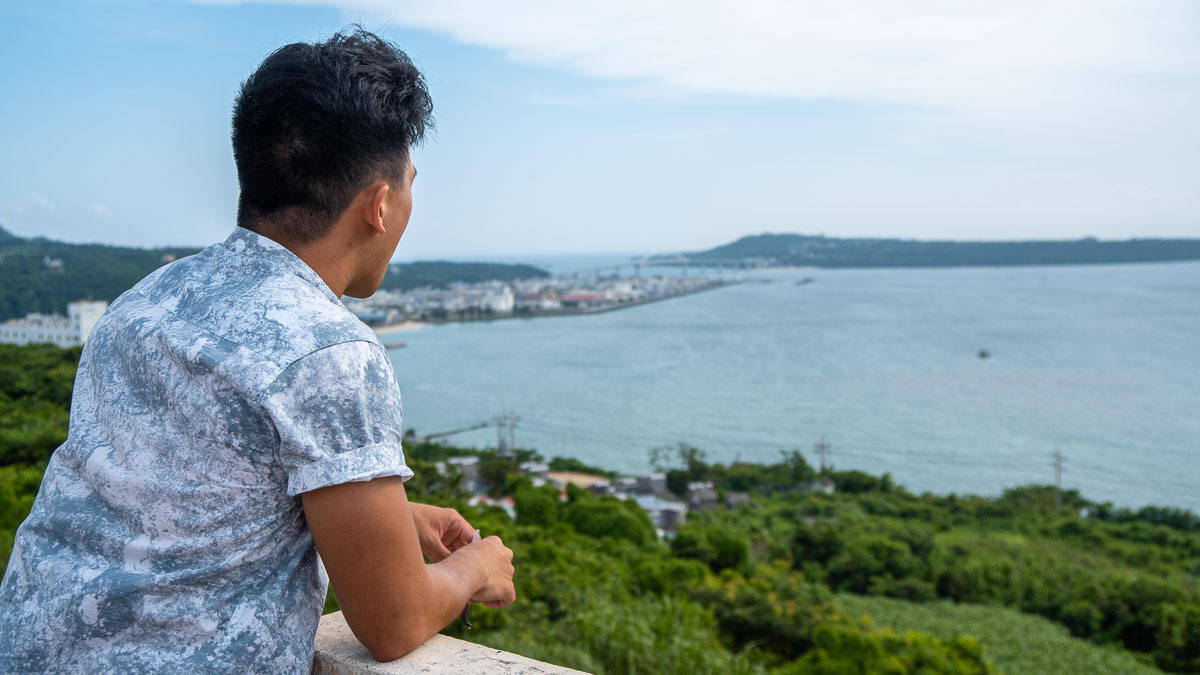 Studies may argue that taking photos during holidays may alter your memories. But I believe when done in moderation, you'll look back on these photos and remember the place and people you shared these experiences with. It's these moments and feelings that are worth capturing!
So the next time you're in Okinawa, here are some unmissable adventures you and your fam should check off!
P.S. Want to practise your photography skills? Join the TTI Content Experts on a TTI Experiences trip to exotic destinations!
1) Snorkelling in Okinawa's Clear Blue Waters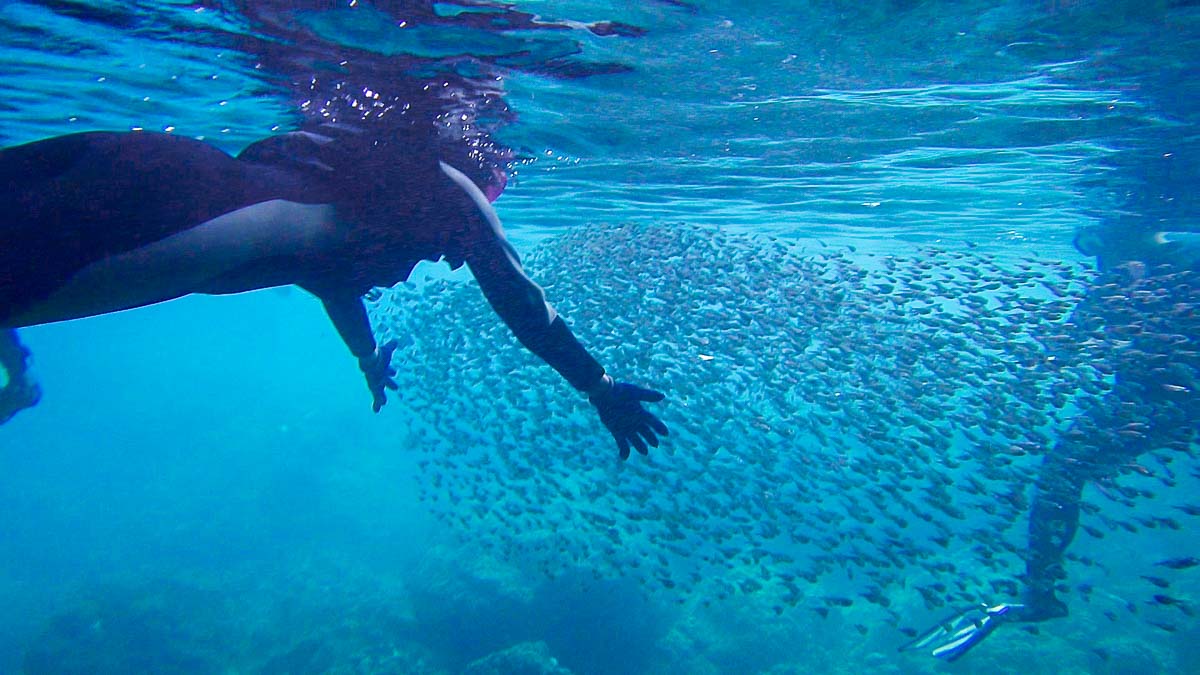 Okinawa is surrounded by waters that are as crystal clear as they are a lovely shade of blue. The island is a hotspot for sea lovers, and is perfect for water sports like snorkelling and diving (no experience required).
Under the surface, you'll be amazed by the huge schools of tropical fish swimming by. Capture your snorkelling shots with them using Sony's RX0 II, which is waterproof up to 10m!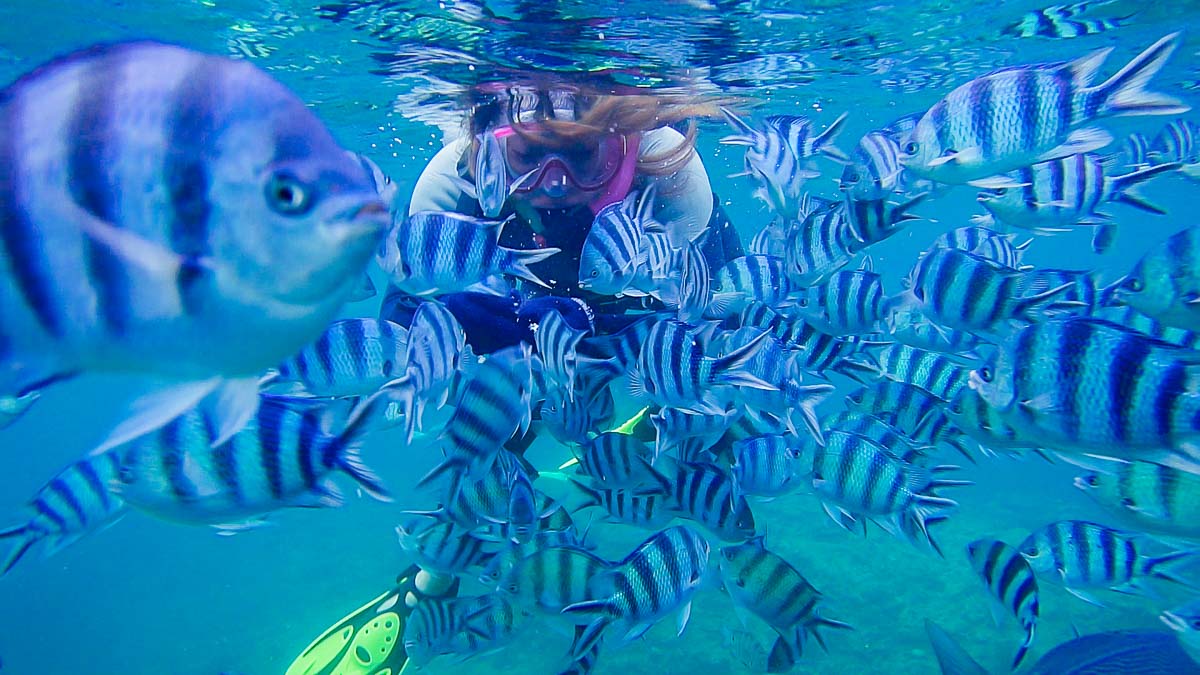 Location: Outside the Blue Cave, Cape Maeda
Photo settings: Sony's RX0 II — shot on Auto mode.
2) Savouring Okinawa's Unique Eats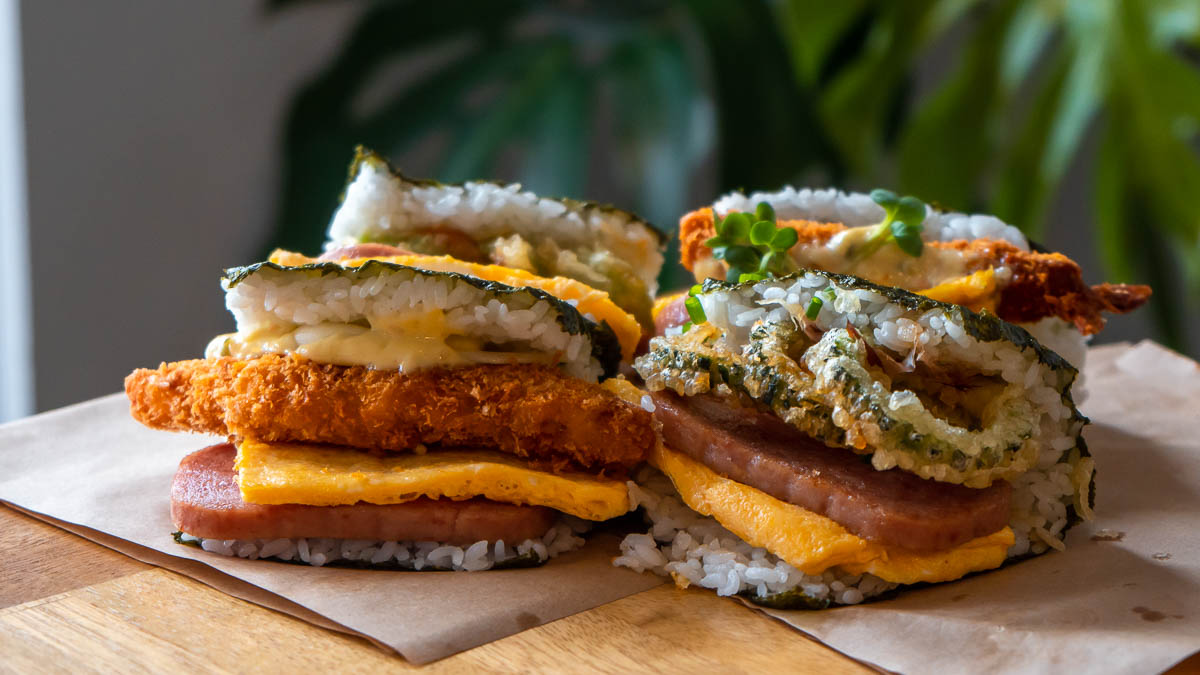 Okinawa takes the humble onigiri (Japanese rice ball) and elevates it further. Pork Tamago dishes out freshly made onigiri stuffed with egg, spam, and various toppings like fish and goya (bitter gourd) tempura.
To get that #foodporn shot, zoom in on Sony's SEL1670Z lens to produce a spectacular bokeh effect. The blurred background contrasts with the crisp, mouth-watering details of the onigiri. Yum!
Location: Pork Tamago Onigiri Honten (ポークたまごおにぎり本店 牧志本店)
Japan, 〒900-0014 Okinawa, Naha, Matsuo, 2-chōme−8−35 1階
Photo settings: Sony's α6400, SEL1670Z — 70mm, 1/320, f4, ISO500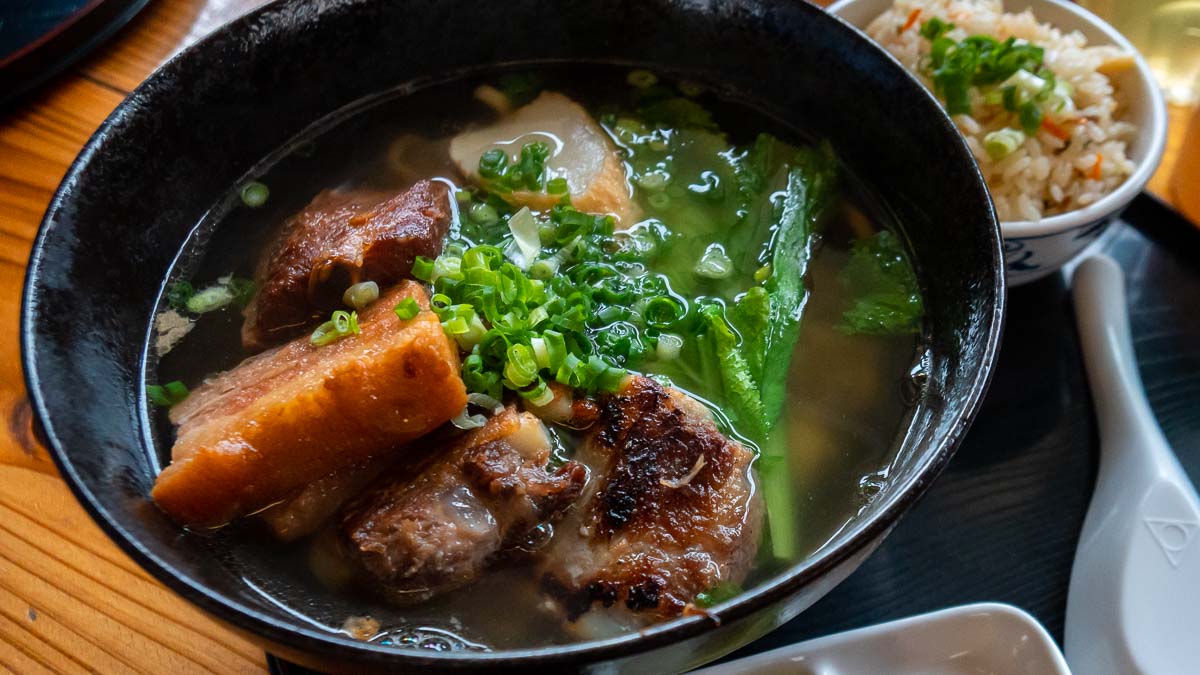 Another Okinawan specialty? Soba. While the traditional version is made with buckwheat, Okinawan soba is with wheat flour (similar to udon). It's served in a clear broth with vegetables, fish cake, and tender pork, making it a perfect comfort food any time.
Location: 幸ちゃんそば
2-chōme-11-11−3 Ōminami, Nago, Okinawa 905-0015, Japan
Photo settings: Sony's α6400, SEL1670Z — 17mm, 1/1600, f4, ISO1600
3) Exploring Okinawa's Northernmost Point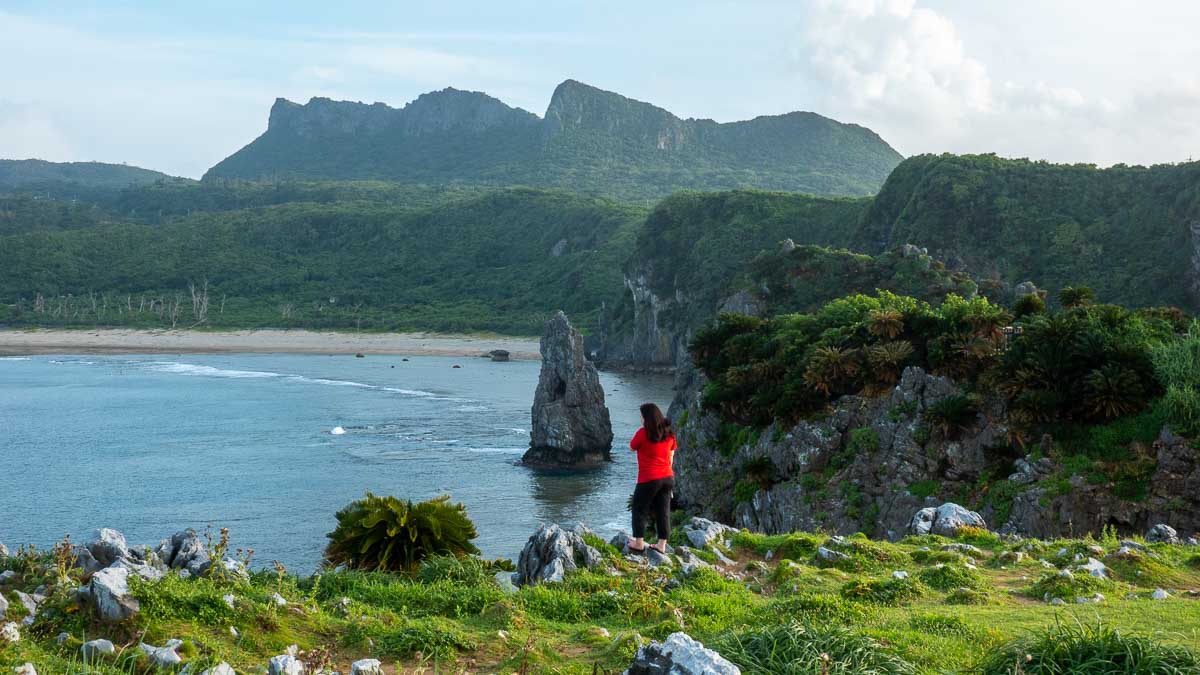 Most travellers don't explore beyond Okinawa's North Central Area, where the famous Churaumi Aquarium is located. But we say it's worth making a trip up to the beautiful Cape Hedo, Okinawa's Northernmost tip.
The cape overlooks the South China Sea on the west and the Pacific Ocean on the east. It's an extremely picturesque area with panoramic oceans views, rocky cliffsides, and emerald green foliage — perfect for chilling out and taking gorgeous #wanderlust photos.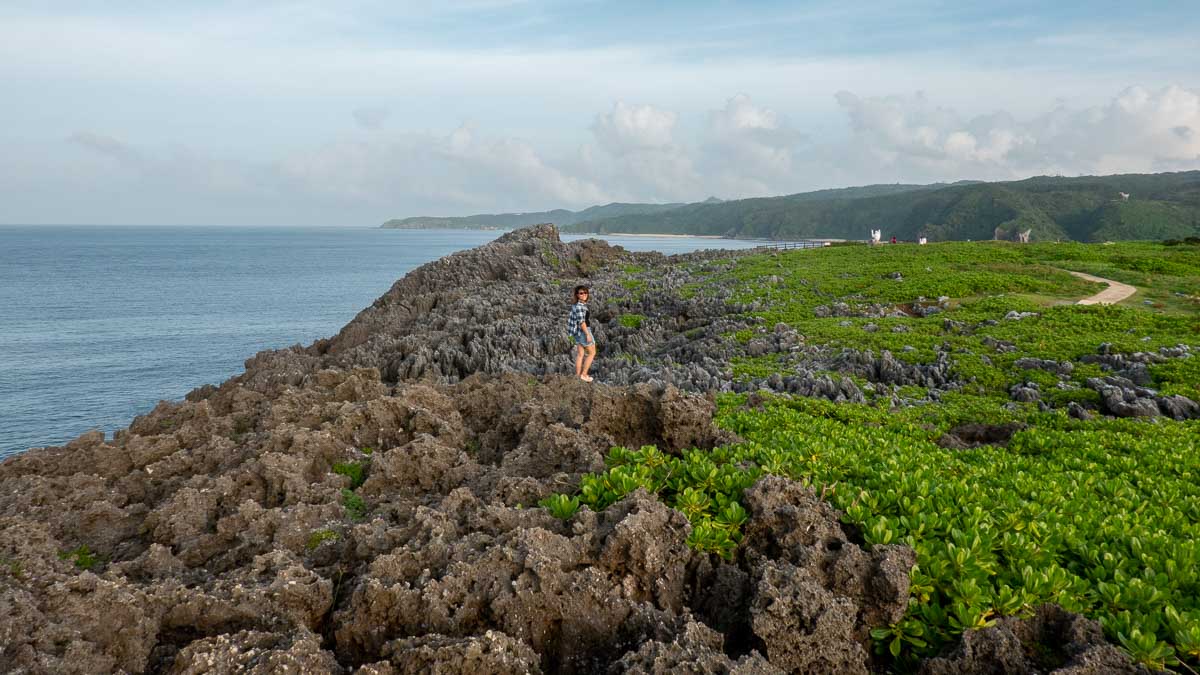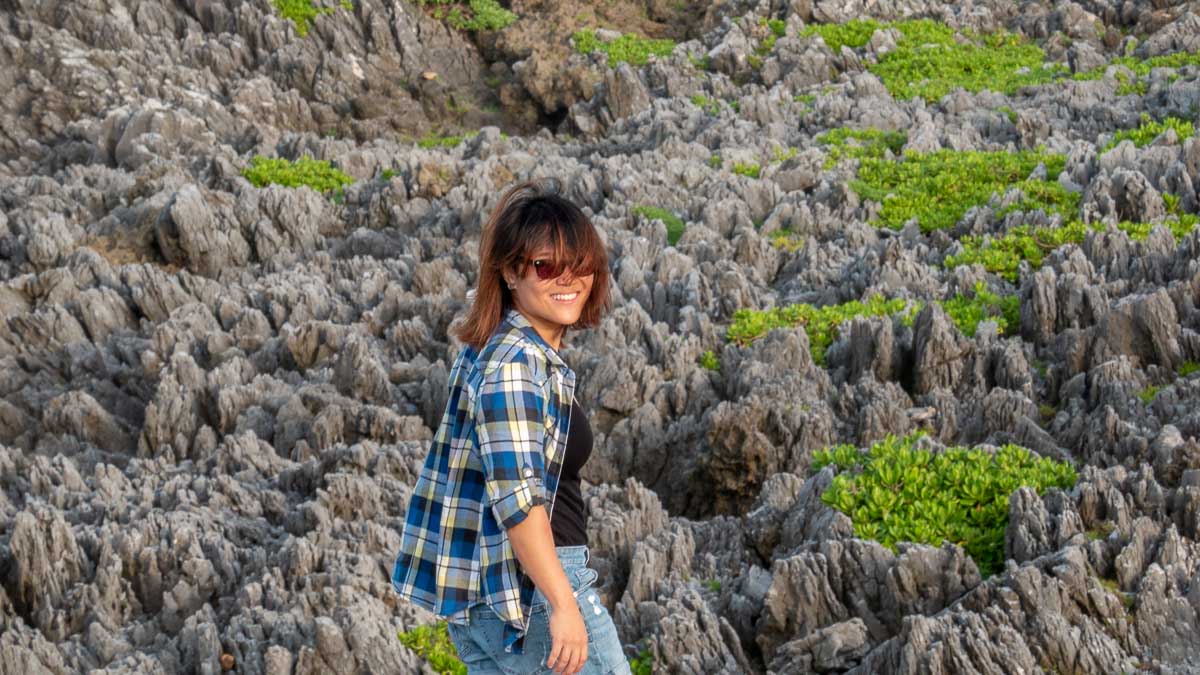 Play around with distance! Standing at the same spot, we used the broad zoom range on Sony's RX100 VI to take the two photos above, at 9mm and 72mm respectively. The fast autofocus feature also makes it easy to catch subjects, still or in motion.
Location: Cape Hedo (辺戸岬)
Hedo, Kunigami, Kunigami District, Okinawa 905-1421, Japan
Photo settings: Sony's RX100 VI — 1/11, f2.8, ISO125
Curious about where else to explore in Okinawa? Check out our one-week road trip itinerary!
4) Parasailing over the East China Sea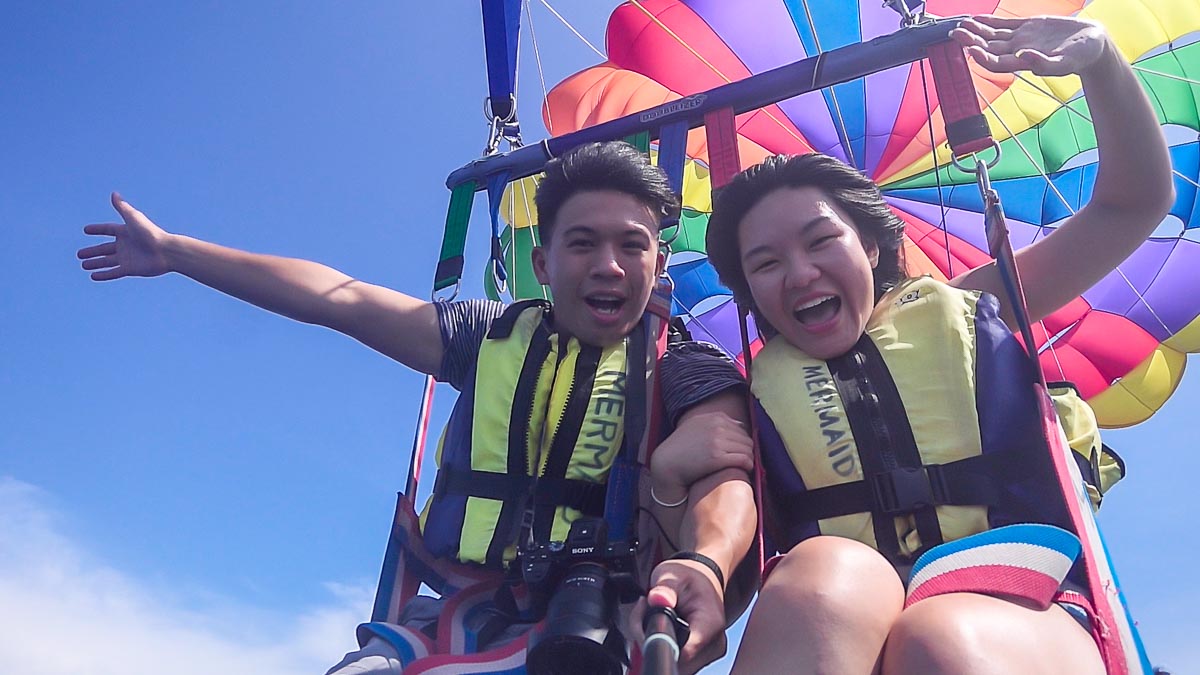 Conquer the skies with an exhilarating parasailing experience over the East China Sea in North Okinawa. At 50m, you'll enjoy scenic views of the island's coastline and waters beneath. Just hang on tight when exiting and entering the speedboat!
You can bring your cameras or smartphones along for the ride. However, we didn't want to risk dropping any of them in the water! Instead, we snapped our airborne selfies with the compact RX0 II, mounted on a selfie stick (with wrist strap!) for extra protection.
Location: Motobu Port (本部港)
Sakimotobu, Motobu, Kunigami District, Okinawa 905-0225, Japan
Photo settings: Sony's RX0 II — shot on Auto mode.
5) Walking Underwater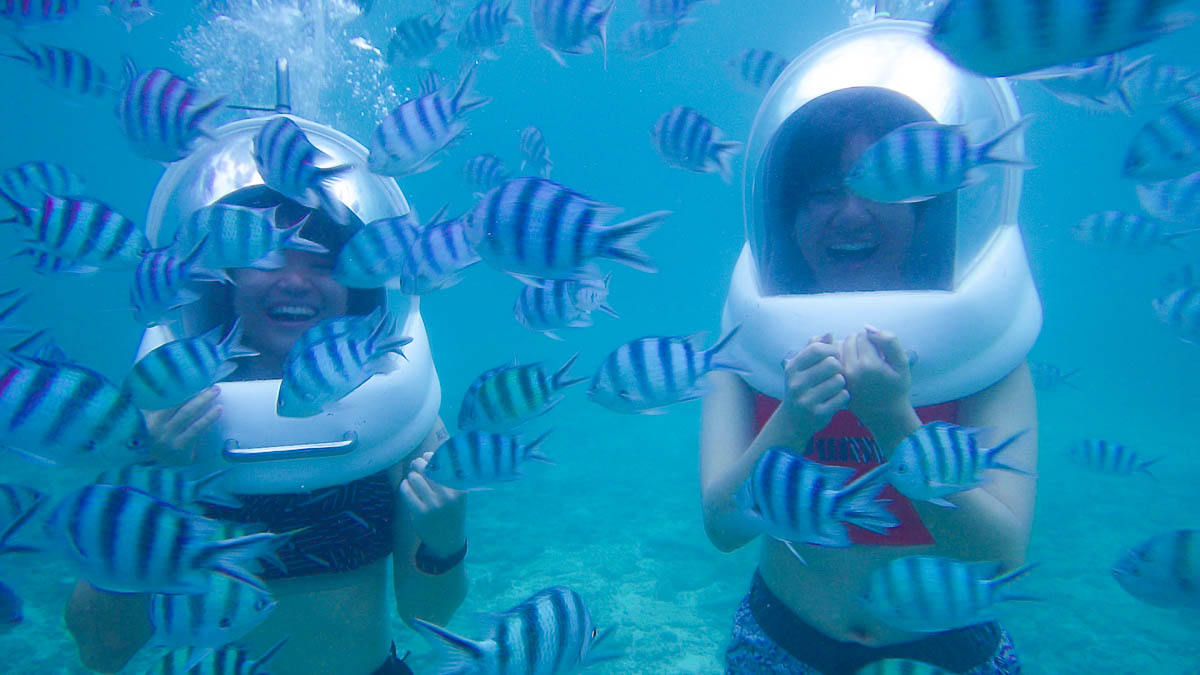 Remember when we said Okinawa's waters are crystal clear? This extends down to the seabed too! Earn a different pair of sea legs by going for a Marine Walk at Onna Village.
You'll venture 5m underwater to roam amongst fishes and colourful coral reefs. Your guide might even lead you to cool sights like giant calms and clownfish too. Captured this surreal experience easily with the RX0 II, which is waterproof up to an impressive 10m!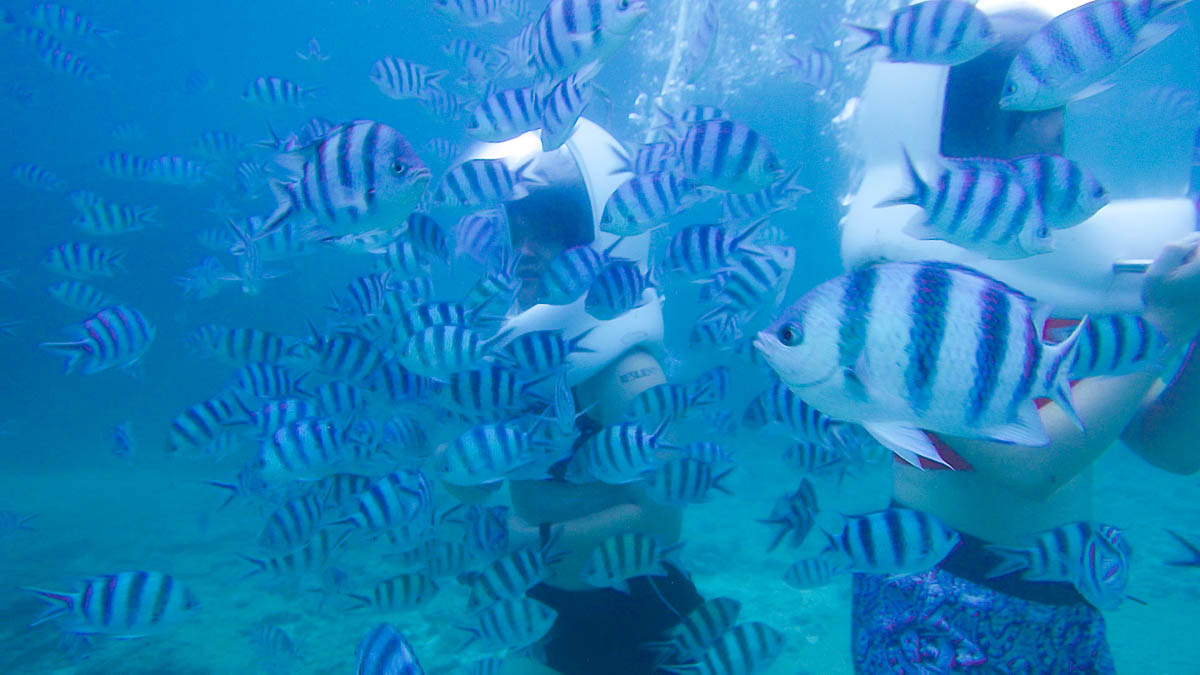 Location: Seven Ocean Club
159-4 Maeganeku, Onna, Kunigami-gun, Okinawa 904-0414, Japan
Photo settings: Sony's RX0 II — shot on Auto mode.
6) Playing with Adorable Hedgehogs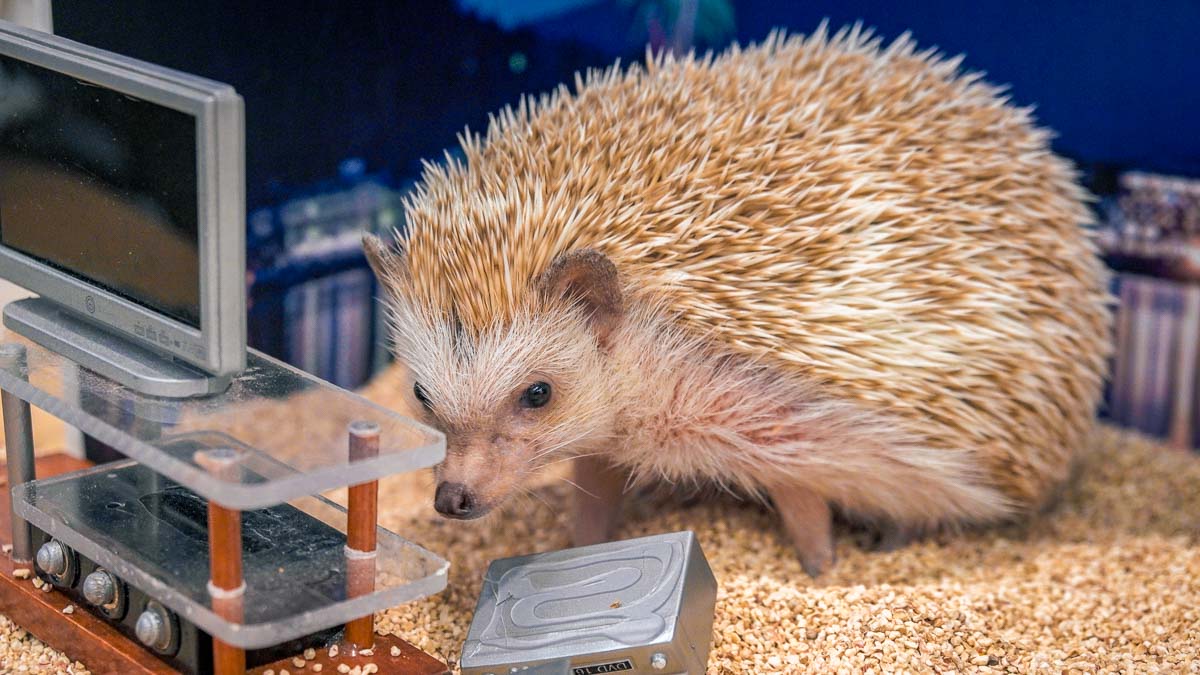 Housed in a kawaii cafe, Chiku Chiku Hedgehog Cafe allows visitors the chance to observe and hold some really cute hedgehogs. A one-hour session includes unlimited drinks, and snacks to feed the hedgehogs with.
Do note that hedgehogs are nocturnal by nature, so they may not be very active in the daytime.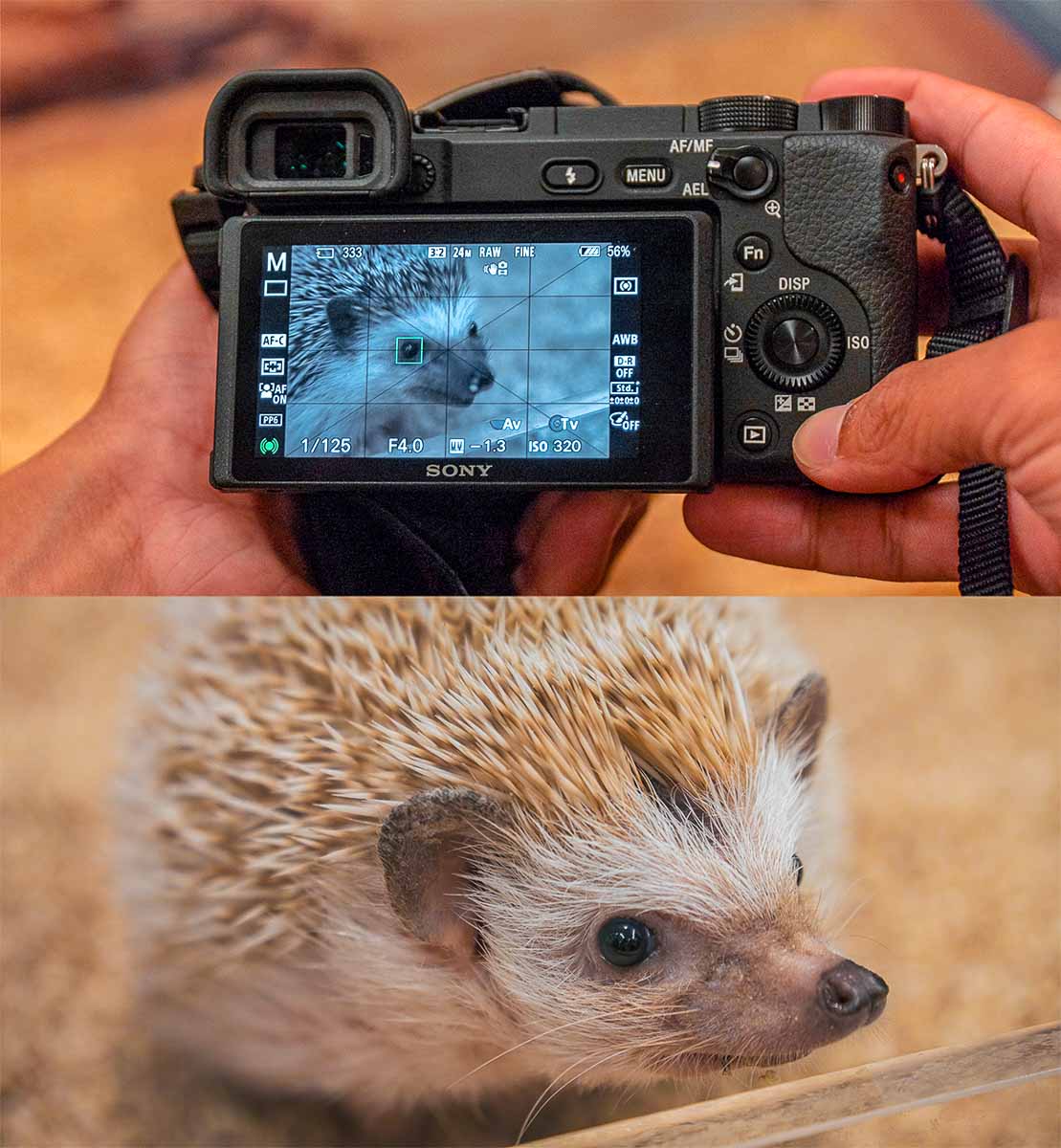 For animal shots, whip out the α6400! The real-time eye autofocus function works for both humans and animals, so your subject will always be in sharp focus regardless of its movement. Who knew a hedgehog could be so good-looking?
Location: Chiku Chiku Hedgehog Cafe (ちくちくCafe)
Japan, 〒900-0014 Okinawa, Naha, Matsuo, 1 Chome−2−8 2F
Photo settings: Sony's α6400, SEL1670Z — 70mm, 1/125, f4, ISO320
7) Speeding through Okinawa's Streets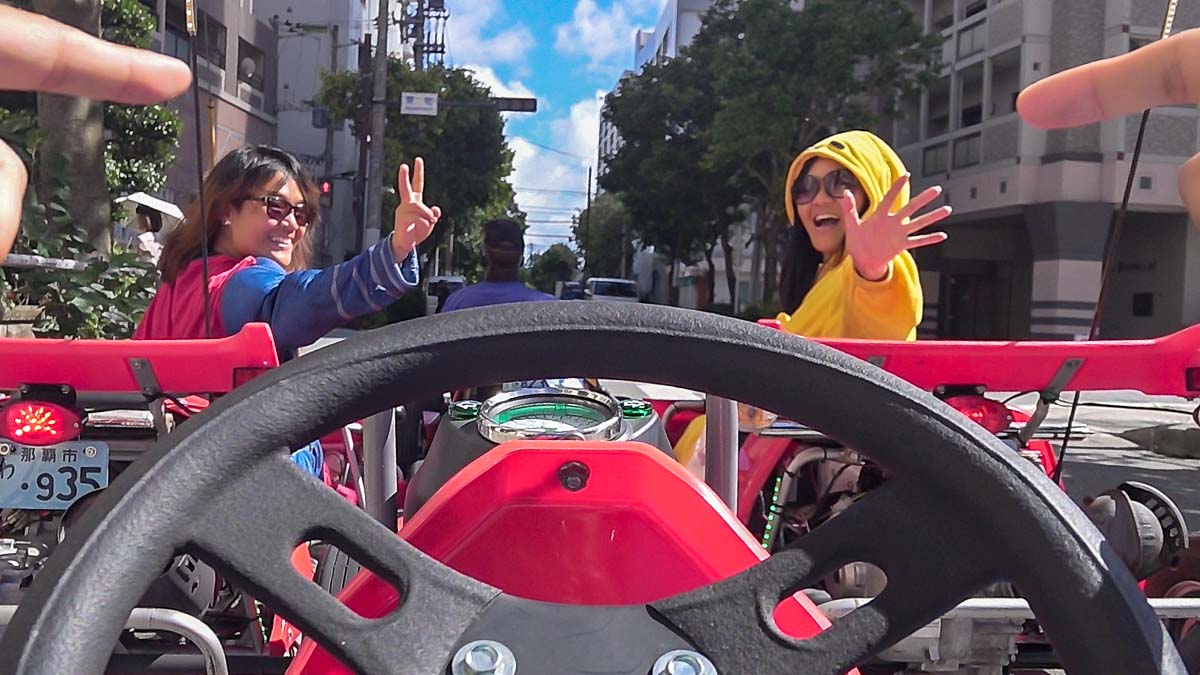 Okinawa offers street go-karting that'll satisfy anyone with a serious need for speed. In reality, you're (probably) not going anywhere above the city's 50km/h speed limit, but the rush of wind in your face will feel like it!
Selfie sticks and phone use are forbidden while driving, so attach your RX0 II to a chest mount before driving off! The in-built electronic stabilisation of the RX0 II ensures a stable and smooth recording of your wicked ride.
Location: Street Kart Tour Okinawa
7-1 Higashimachi, Naha, Okinawa 900-0034, Japan
Photo settings: Sony's RX0 II — shot on Auto mode.
Read also: Ultimate Okinawa Guide — 33 Exciting Things to Do in Japan's Paradise Island
8) A Different Kind of #OOTD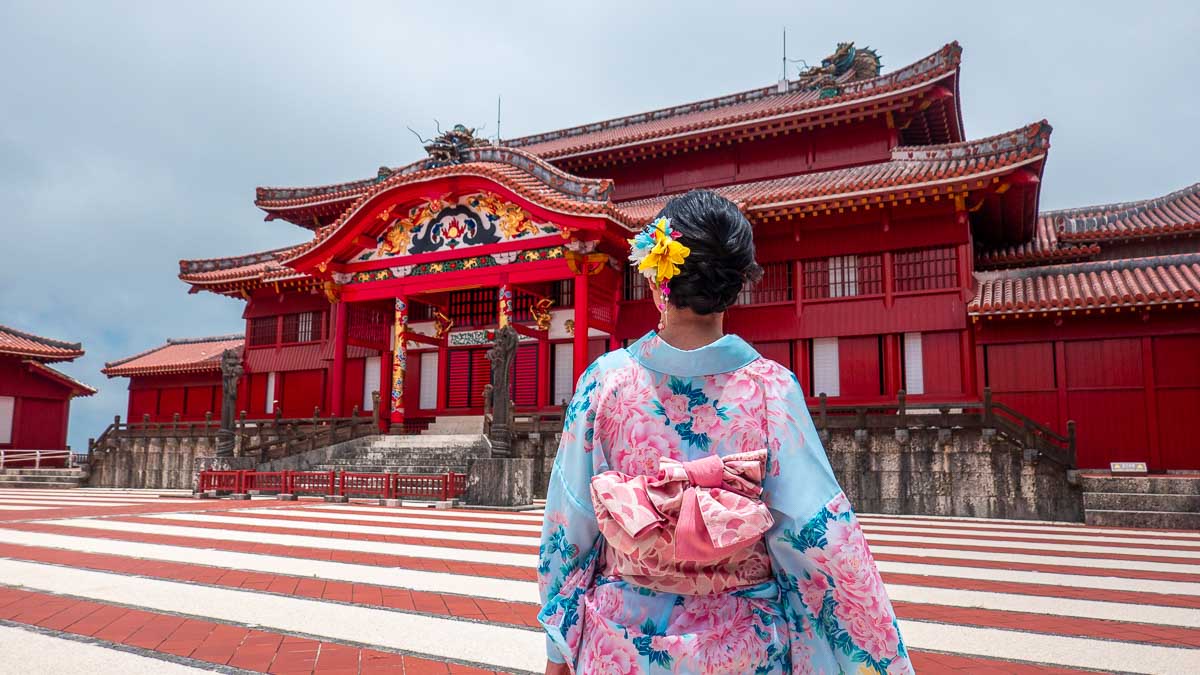 Are you really in Japan if you don't try their traditional clothing? For an interesting Instagram spin, rent a kimono or summer yukata!
We wore elegant yukatas to Shuri Castle, the residence of Ryukyuan kings in the past. The castle is packed full of history, as well as beautiful photo spots. Take your time to explore and play with lighting and angles!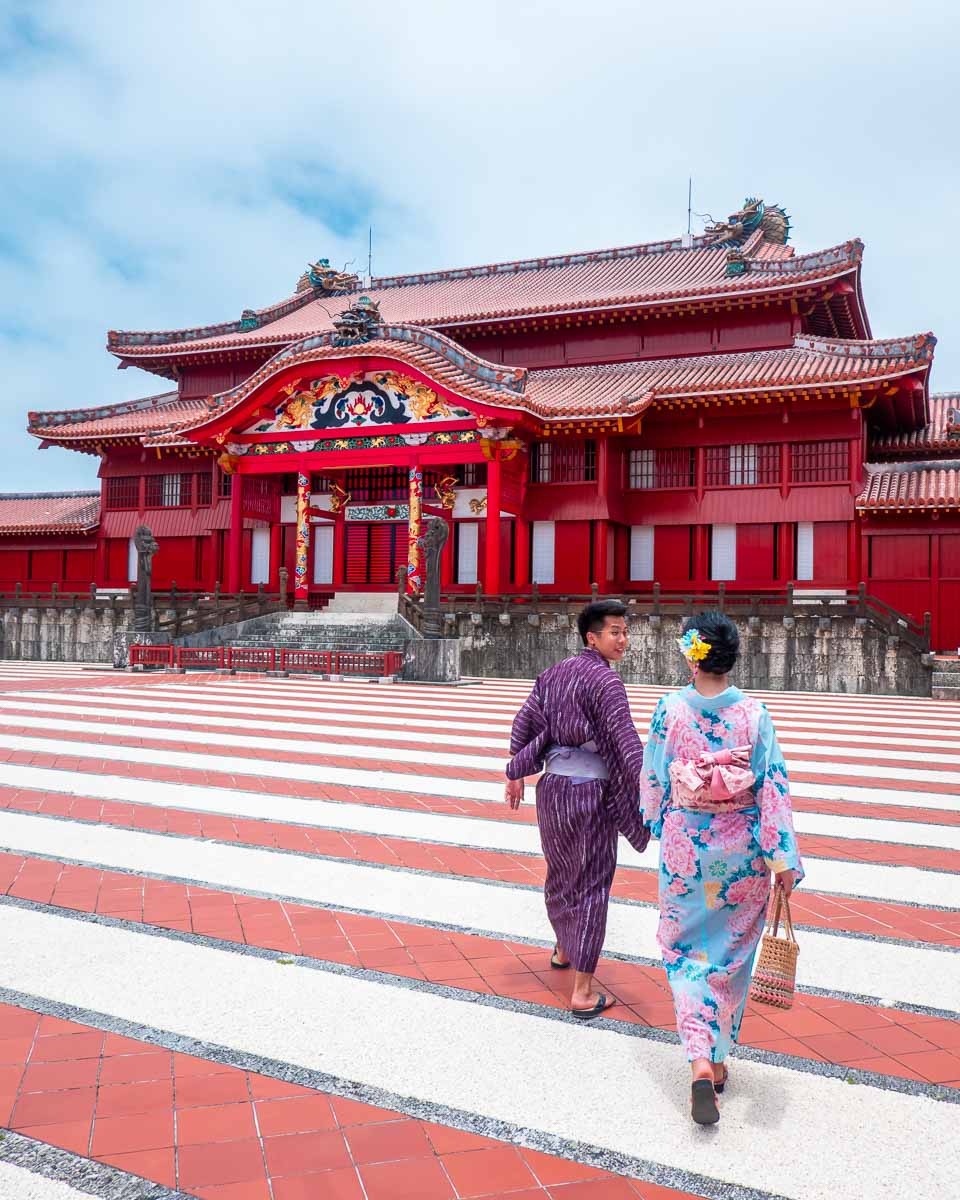 We left our bulky belongings in the yukata rental shop so they wouldn't ruin our overall look. We brought the RX100 VI, and used its board zoom range to snap sharp photos at various distances like we did at Cape Hedo.
Location: Shuri Castle (首里城)
1 Chome-2 Shurikinjocho, Naha, Okinawa 903-0815, Japan
Photo settings: Sony's RX100 VI — 1/4000, f2.8, ISO160
*#OOTD Pro-tip: Ensure that the background isn't too distracting that it takes the attention away from the outfit's details.
9) Training to be Another Karate Kid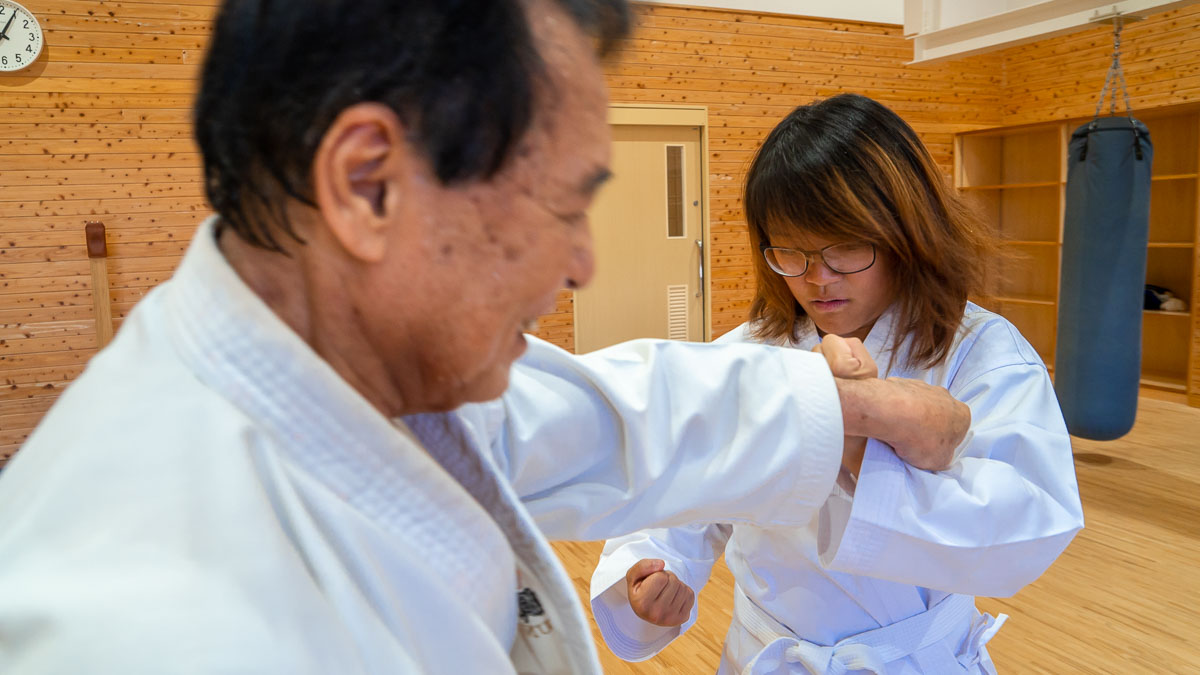 Okinawa may be famous for its beaches, but a lesser-known fact is that the island is also the birthplace of Karate. At the Okinawa Karate Kaikan, you'll train under Karate masters who will teach you basic attack and defence moves.
Our sensei gave us a vigorous workout by throwing non-stop punches, and we had to use what we learnt to quickly block him. Sony's α6400 real-time tracking function came in super handy here, as we were still in focus despite fast, dynamic movements.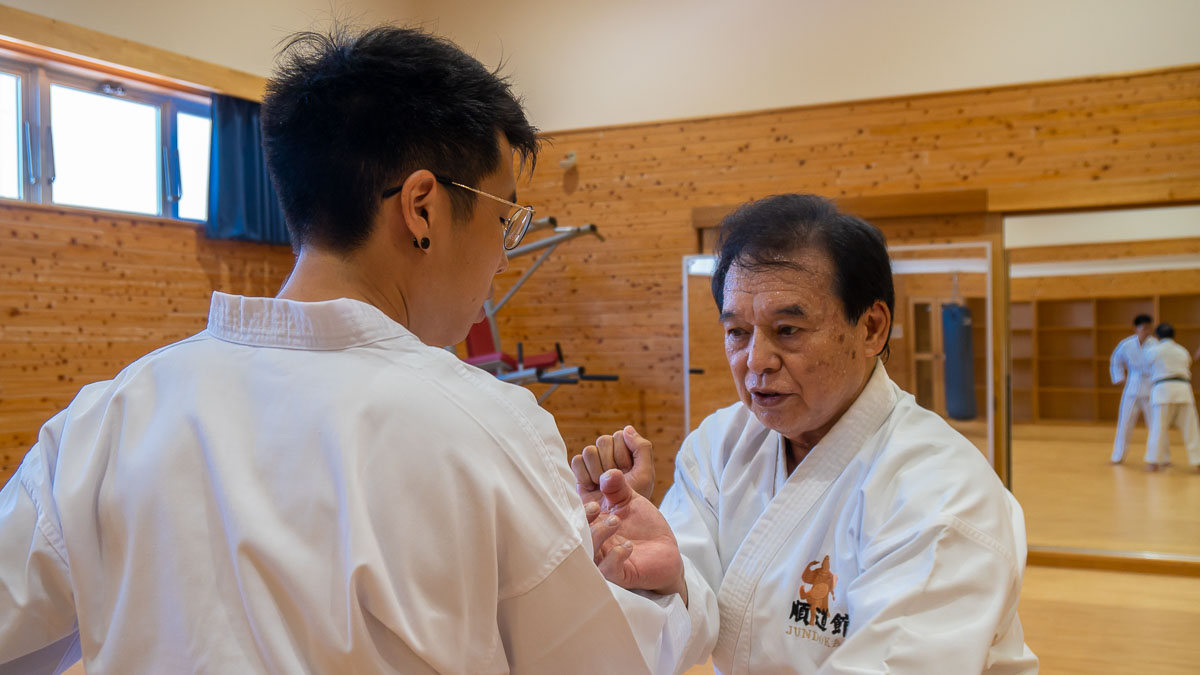 Location: Okinawa Karate Kaikan (沖縄空手会館)
854-1 Tomigusuku, Okinawa 901-0241, Japan
Photo settings: Sony's α6400, SEL1670Z — 26mm, 1/200, f4, ISO500
10) Orion Beers on the House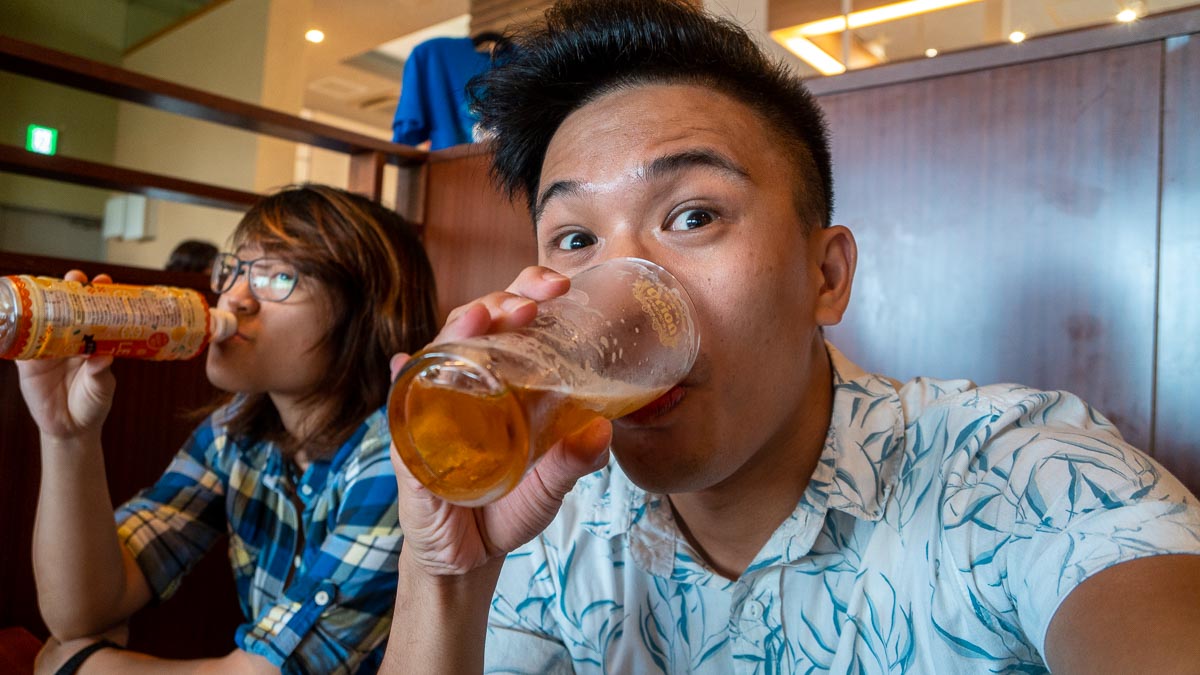 Celebrate your island holiday with some Orion Beer! At the Orion Happy Park, free factory tours are conducted daily to teach visitors about the famous local brew. At the end, visitors are treated to two glasses of free beer. Drivers don't get to enjoy this, but remember: safety is sexy! 😜
Want a flattering selfie? Shoot at a low focal length (e.g. 16mm) on Sony's SEL1670Z lens! You won't get a distorted face or fisheye effect that appears in some smartphones.
Location: Orion Happy Park (オリオンハッピーパーク)
2-chōme-2-1 Agarie, Nago, Okinawa 905-0021, Japan
Photo settings: Sony's α6400, SEL1670Z — 16mm, 1/100, f4, ISO1000
11) Tasting Okinawa's Strangest Foods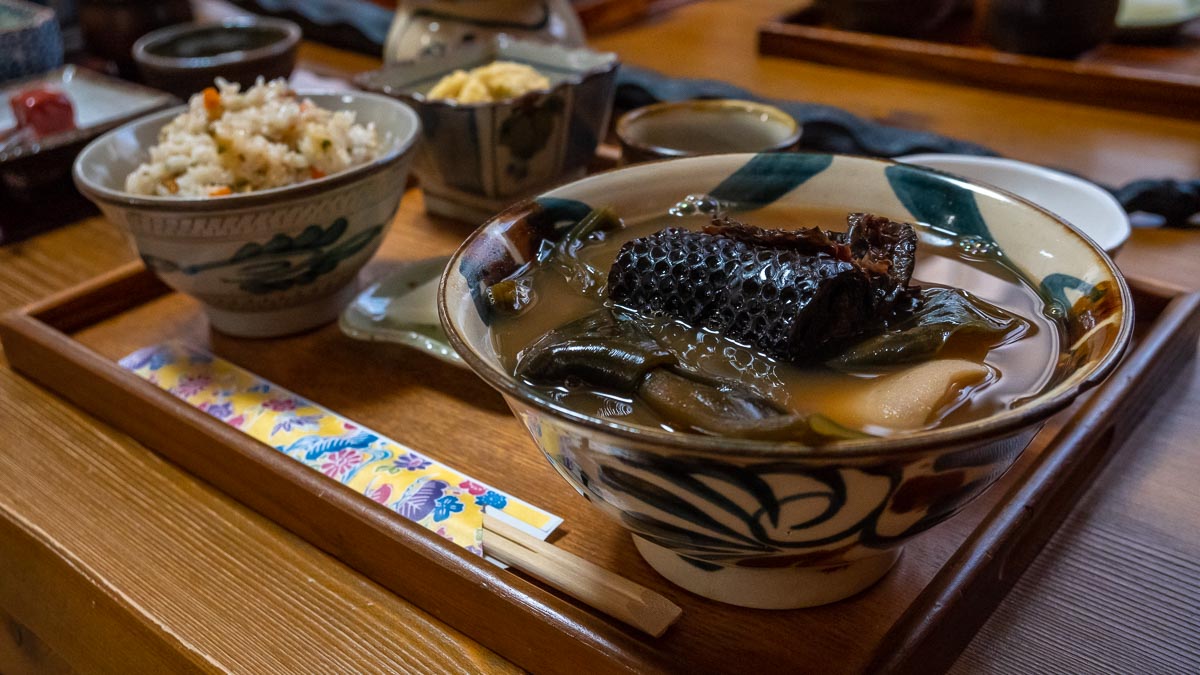 Japan has many bizarre foods and Okinawa is no exception. One of their specialties is irabu, a sea snake that's said to be 10 times more venomous than a cobra. Tasting like a mix of tuna, bacon, and kombu, the irabu has a mindblowing umami flavour, unlike anything we've had before!
Use a bokeh effect to highlight the snakeskin texture with the convenient touch focus function on Sony's α6400. Remember to shoot at a higher focal length (e.g. 70mm) to create the blurred background!
Location: Irabu Dining Kana (イラブー蛇料理 カナ)
515-5 Yagibaru, Kitanakagusuku, Nakagami-gun, Okinawa 901-2304, Japan
Photo settings: Sony's α6400, SEL1670Z — 67mm, 1/100, f5, ISO2500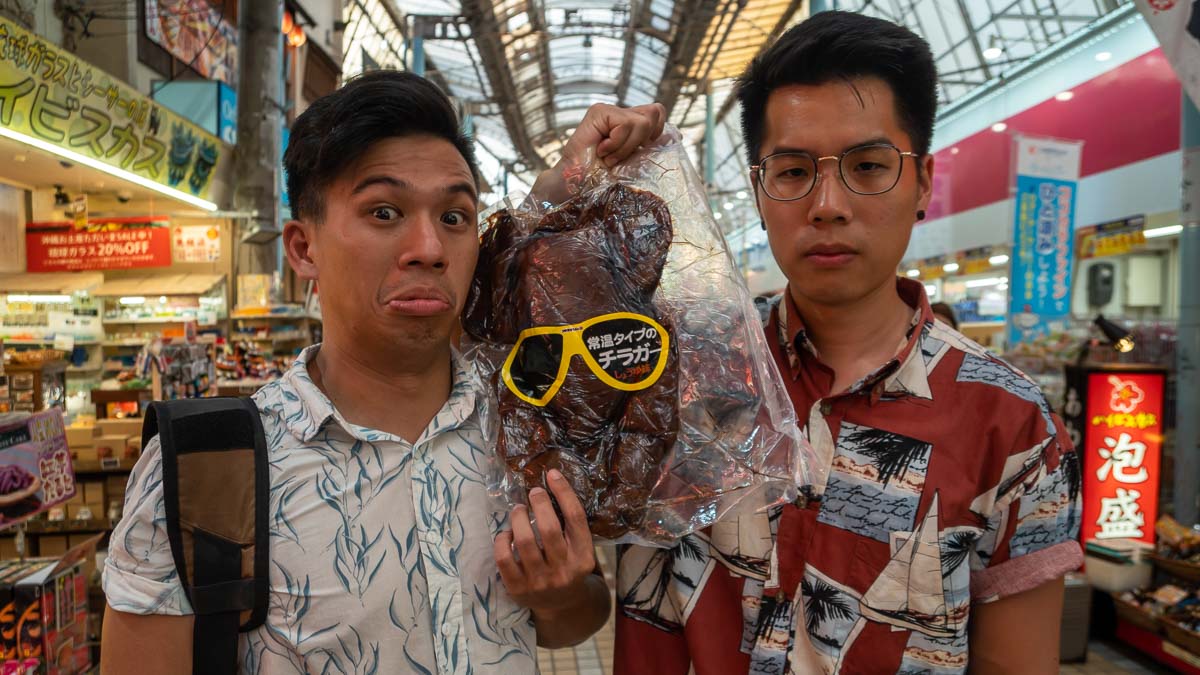 If snake is far too exotic, there's always pig. Okinawans prefer pork over beef, and you can enjoy any part — even the face! Pre-packaged and ready-to-eat, these pig faces are scarily gelatinous with a soy teriyaki taste.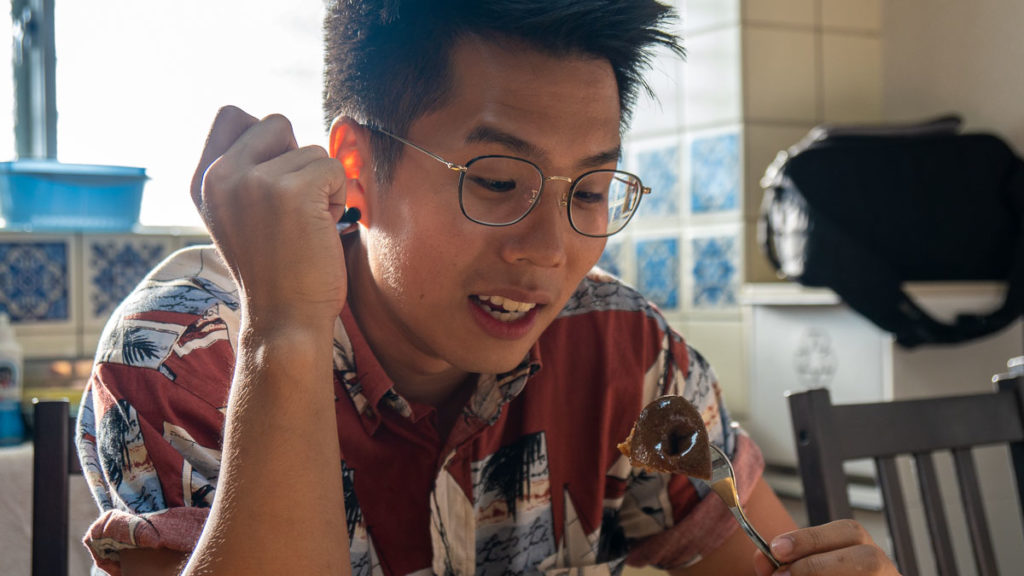 Quickly capture your friends' reactions to the 🐷 with Sony's α6400 real-time eye autofocus! This feature works for both animals and humans, and produces sharp photos that you and your friends will no doubt laugh at in future.
Location: Kokusai-dori (那覇国際通り商店街, International Street)
3 Chome-2-10 Makishi, Naha, Okinawa 900-0013, Japan
Photo settings: Sony's α6400, SEL1670Z — 37mm, 1/125, f4, ISO250
12) Taking a Selfie with One of Okinawa's Biggest Pineapples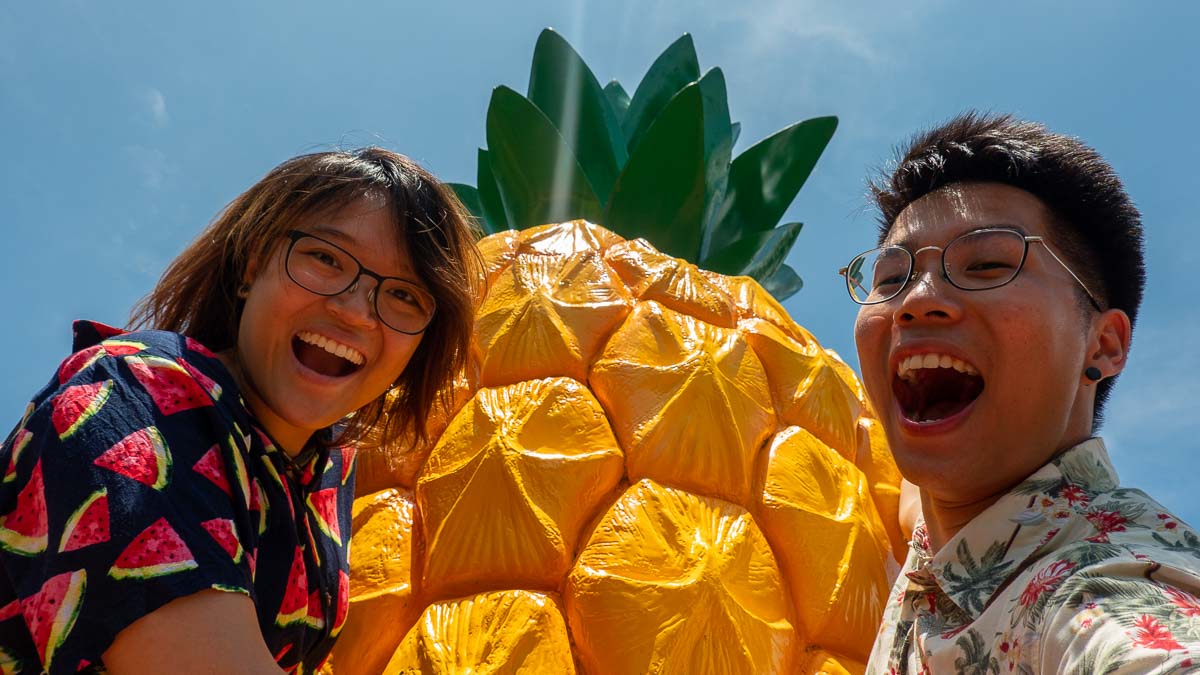 Nago Pineapple Park is a mini theme park dedicated to all things pineapples, which used to be cultivated in Northern Okinawa. It's a cutesy park that's more suited for pineapple lovers, families with young children, or friends who just want some silly fun.
Show off your best (or worst) faces! Use the flip-up screen on Sony's RX100 VI to nicely frame your selfie shots, then snap away shamelessly.
Location: Nago Pineapple Park (ナゴパイナップルパーク)
1195 Biimata, Nago, Okinawa 905-0005, Japan
Photo settings: Sony's RX100 VI — 1/1000, f4, ISO125
13) Catching a Summer Festival with Fireworks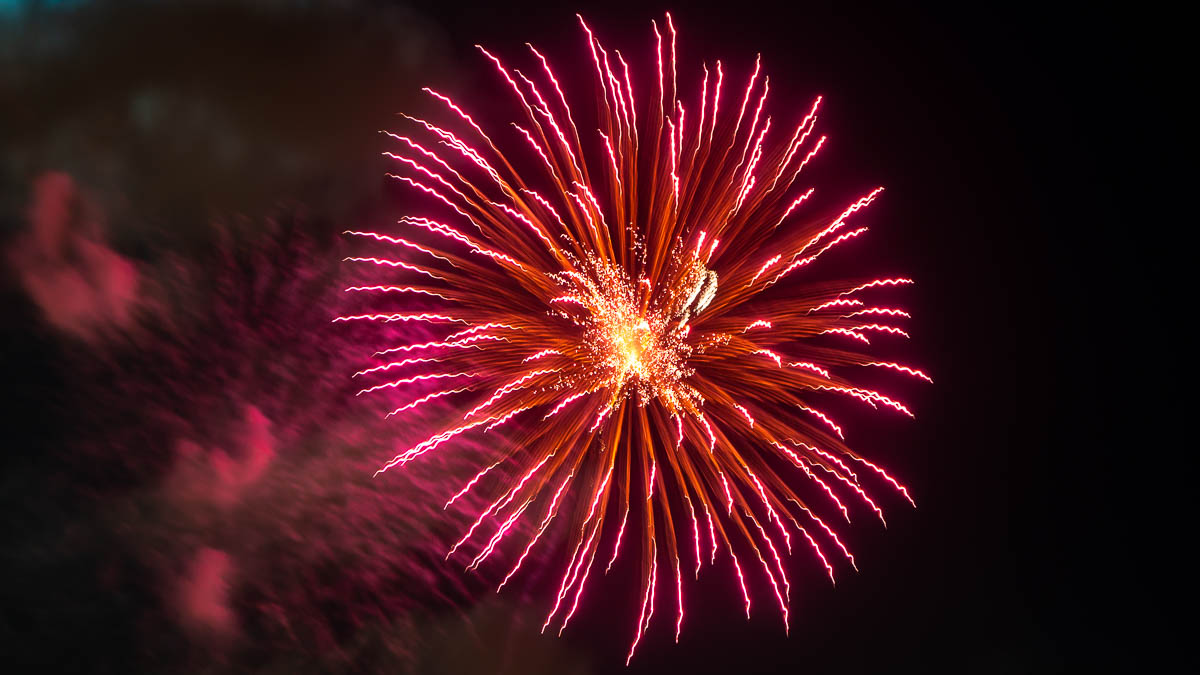 If you're visiting Okinawa in July, look out for annual bashes like the Ocean Park Expo Summer Festival or the Chatan Seaport Carnival. These summer festivals go into full swing, with exhilarating beachside activities and live performances. At night, they close with massive firework displays. Arrive early to secure the best seats!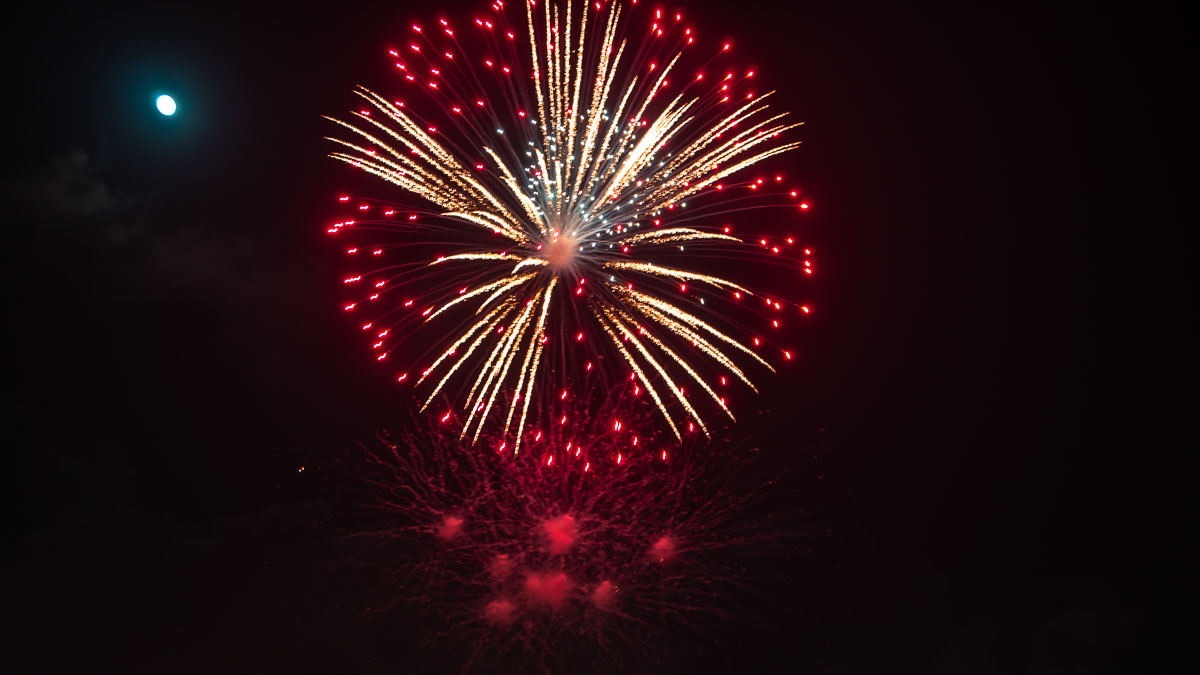 Bring out the vibrancy of Okinawa's fireworks with Sony's α6400, which performs well in low-light situations. For this kind of photography, shoot in Manual mode. You'll need a combination of a low ISO (typically 100 or 200), and a slow shutter speed to capture the moving light trails of the fireworks.
We shot at a lower aperture (f4) to make our light trails brighter. However, you can shoot at a higher aperture for darker images. You'll need to fine-tune the settings depending on the lighting conditions, and how much you want to vary the length of the fireworks' light trails.
Location: Sunset Beach (北谷サンセットビーチ)
Japan, 〒904-0115 Okinawa, Nakagami-gun, Chatan, Mihama
Photo settings: Sony's α6400, SEL1670Z — 25mm, 1.3s – 1/15, f4, ISO200
14) Wandering around Churaumi Aquarium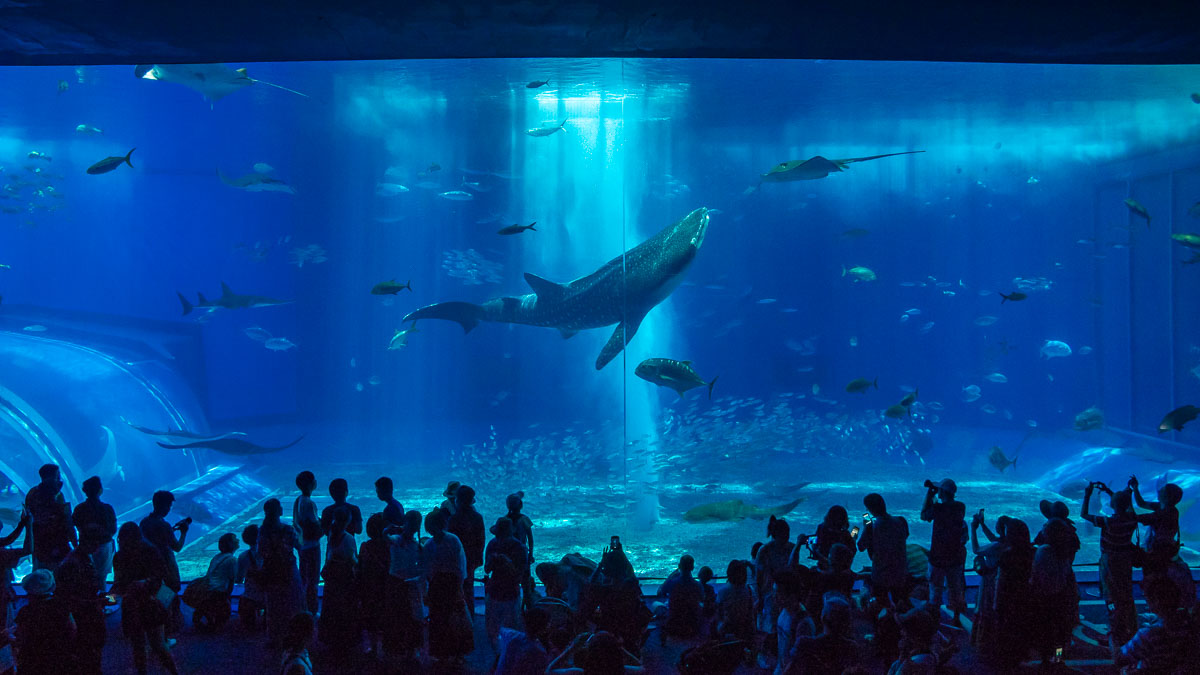 One of the largest aquariums in the world, the Okinawa Churaumi Aquarium is a must-visit. Its main attraction is the Kuroshio Sea tank, which holds majestic whale sharks, graceful manta rays, as well as countless fishes and eels.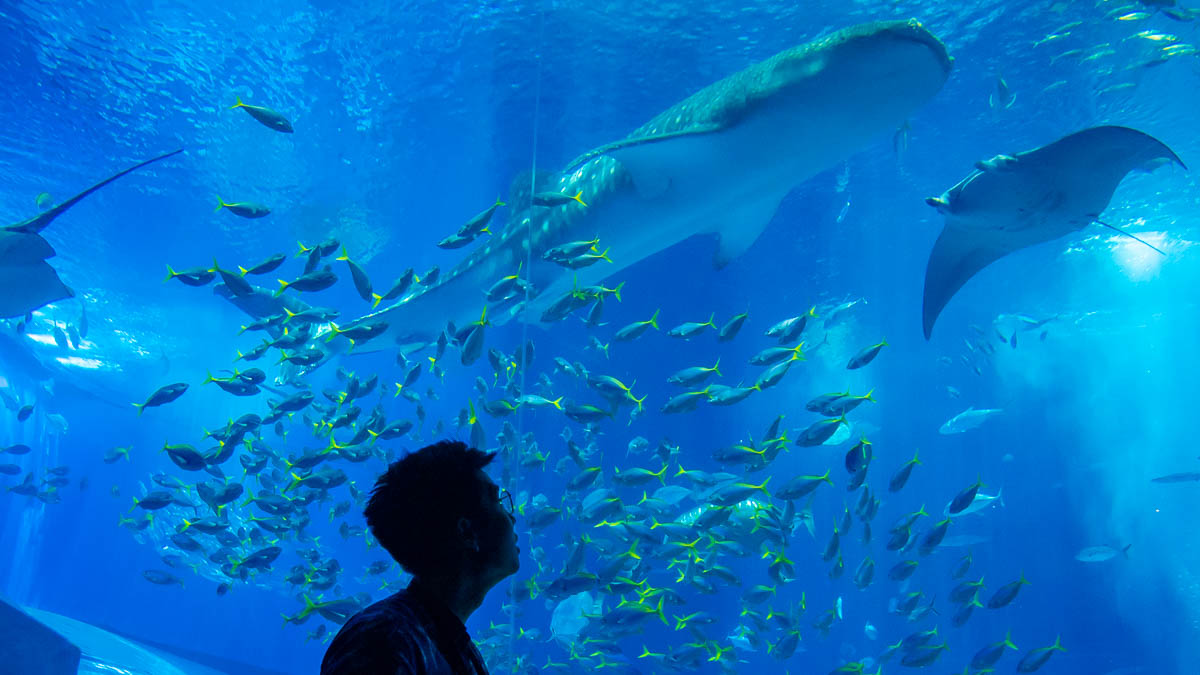 The low-light performance of Sony's α6400 and SEL1670Z lens helped us take sharp photos in the dim aquarium. We recommend shooting at a high ISO and fast shutter speed to capture the marine animals in their graceful motion.
Patience is a virtue. You may need to wait a long while before you manage to catch the animals in an ideal spot for your photo, but it'll be worth it! Don't be afraid to also play around peoples' silhouettes to amplify the beauty and fascination of these creatures.
Location: Okinawa Churaumi Aquarium (沖縄美ら海水族館)
424 Ishikawa, Motobu, Kunigami-gun, Okinawa 905-0206, Japan
Photo settings: Sony's α6400, SEL1670Z — 16mm, 1/160, f8, ISO2500
Capturing Timeless Memories with Sony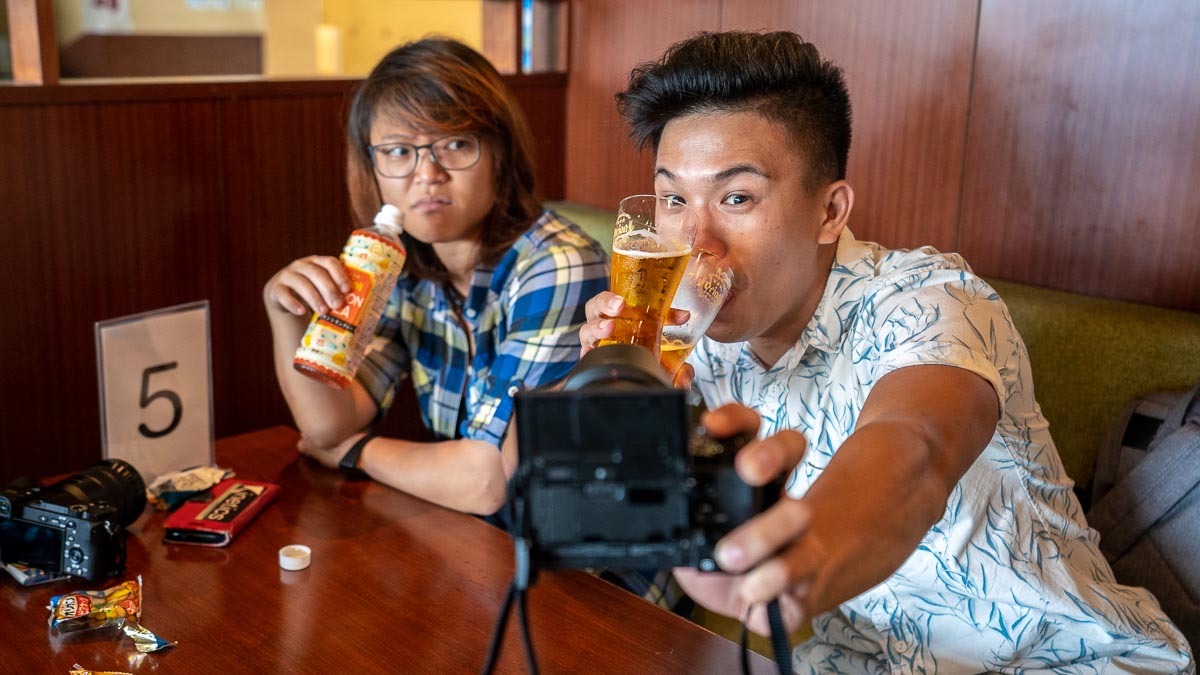 When travelling, it's normal to want to take photos of every waking moment. It's easy to whip out your phone and tap away, but sometimes you end up with blurred or grainy photos.
Taking photos on professional cameras is a good solution to this problem. Although some may feel it's too difficult, or something only pros can do, I disagree! I'm no photography expert, but I found that Sony's cameras were beginner-friendly and simple to use.
During our Okinawa trip, we used three different Sony cameras to capture our fun-filled experiences (and silly moments). Here's a breakdown!
Sony's RX100 VI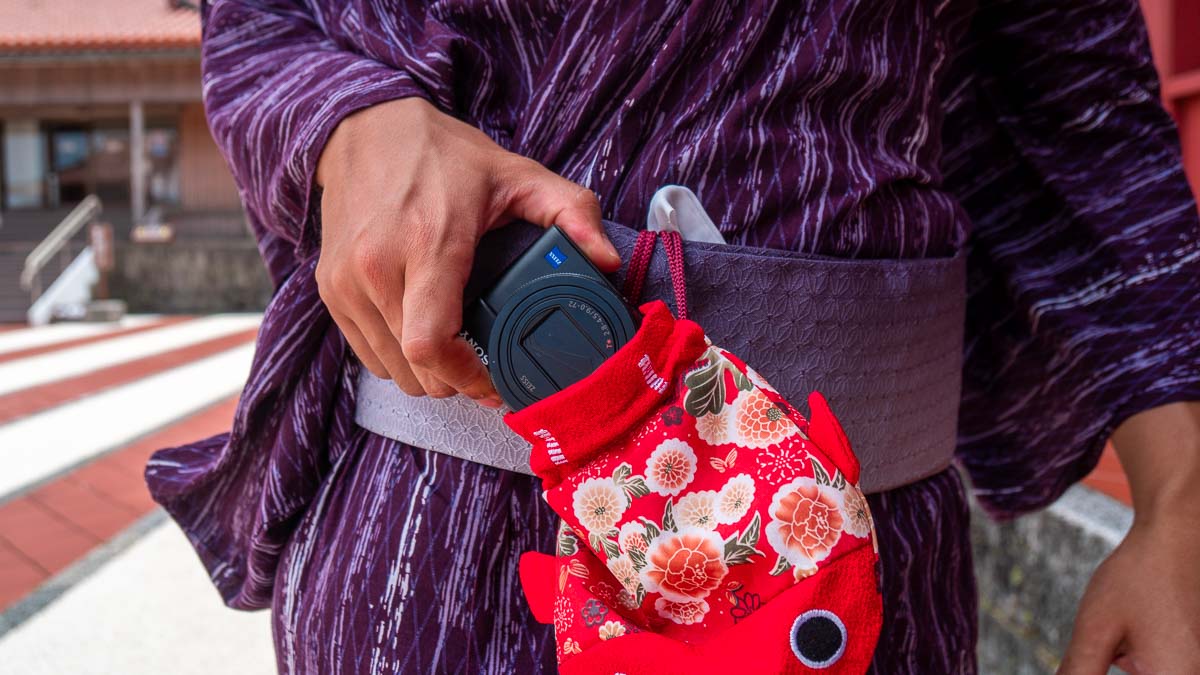 Compact and lightweight, Sony's RX100 VI was my favourite camera. The point-and-shoot camera has a broad zoom range (24-200mm), making it possible to take photos both near and far! The quick autofocus function also meant we needn't worry about shaky shots, even when it's fully zoomed in.
The pocket-sized camera was incredibly convenient to bring around everywhere we went. This was most helpful when we were wearing our yukatas and didn't have our daypacks with us.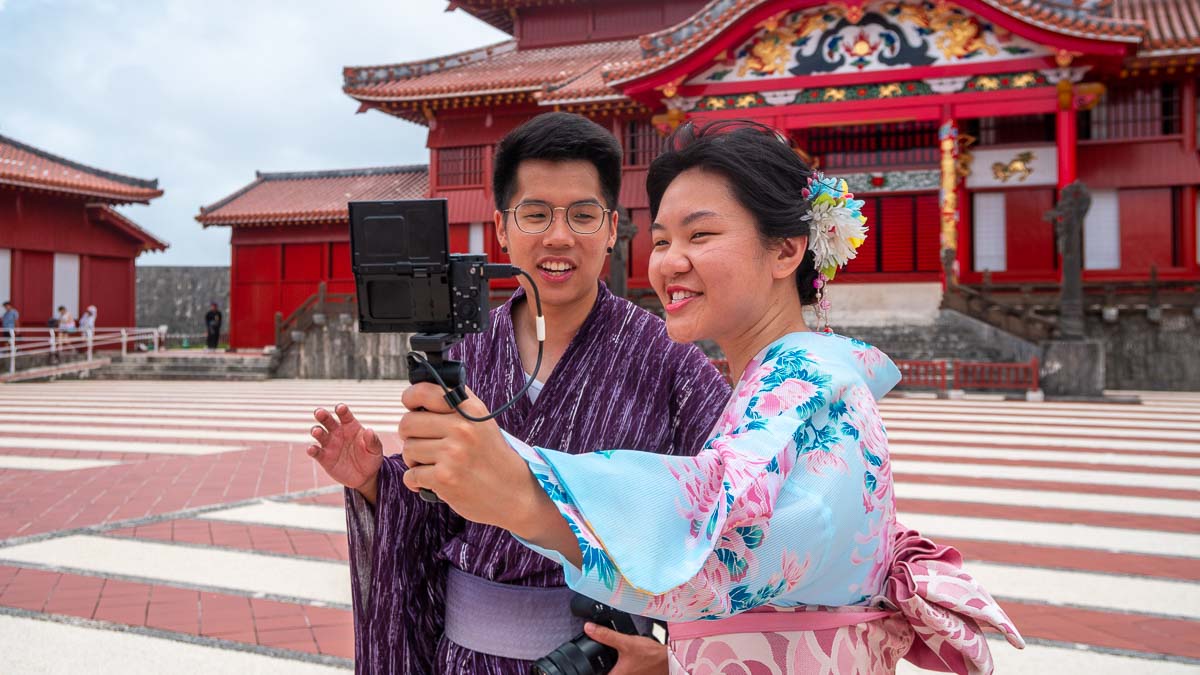 The camera's flip-screen and VCT-SGR1 shooting grip also made it effortless to take selfies and vlogs about our experiences. In all, the RX100 VI is a solid travel camera that allows anyone to venture into travel vlogging — something new to spice up your holiday!
Sony's α6400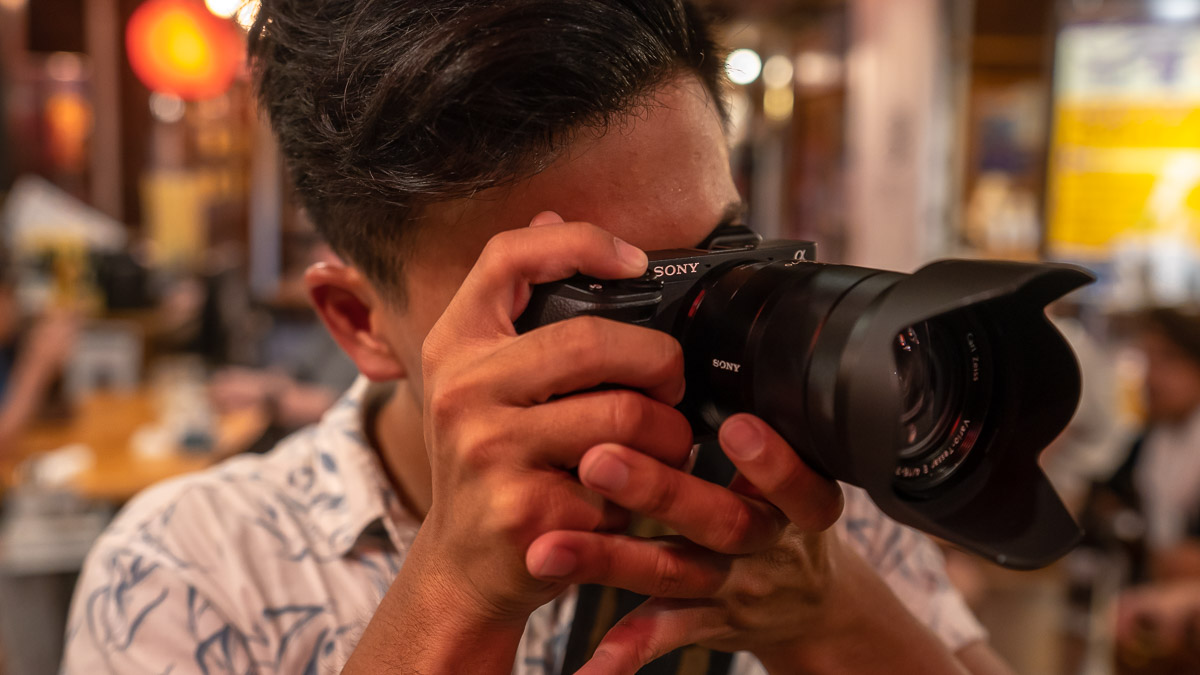 For those who want to experiment with travel photography, Sony's α6400 is a trusty mirrorless camera. Of the three, the α6400 is the most versatile. Compared to the RX100 VI, we had a higher range of control over photo and video settings. We also liked how we were able to change lenses to achieve different kinds of shots — a feature the other two cameras did not have.
In terms of shooting, we mainly used Sony's SEL1670Z for photos. The mid-range zoom lens comes with in-built image stabilisation and responsive autofocus. However, we swapped out the lenses for others to achieve different kinds of shots for videos.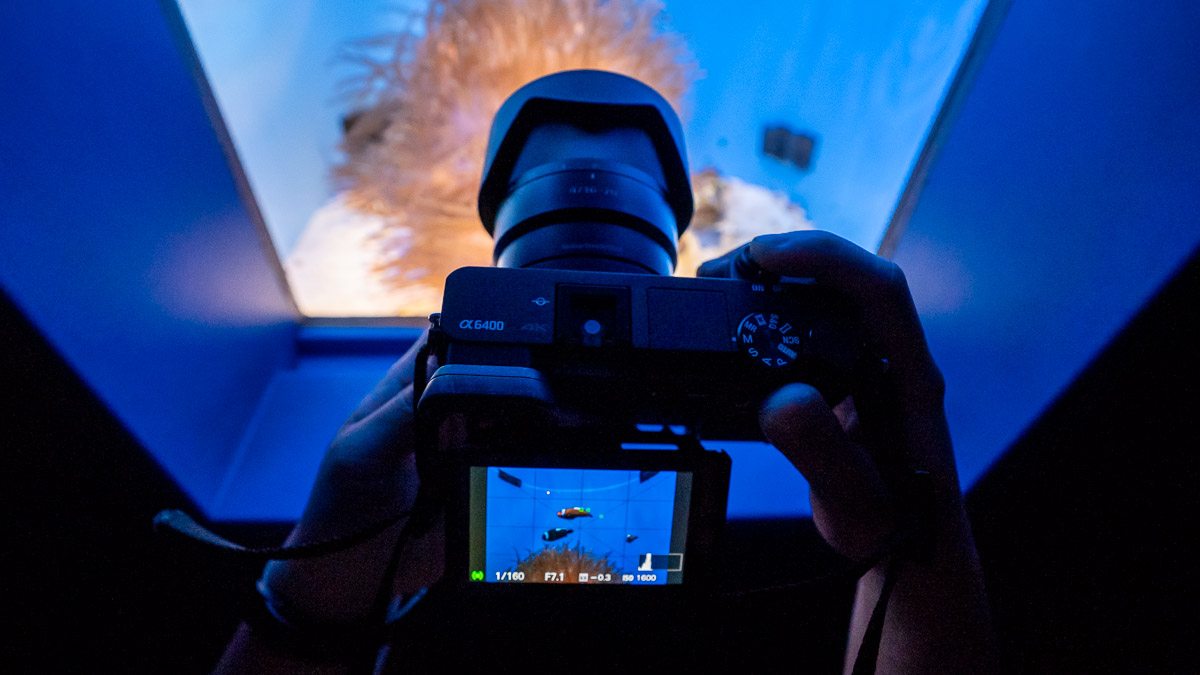 The α6400's reliable low-light performance enabled us to shoot in dim places, like the aquarium and streets at night, with fair ease. Comparably, smartphone cameras tend to produce rather grainy or discoloured night images.
Sony's RX0 II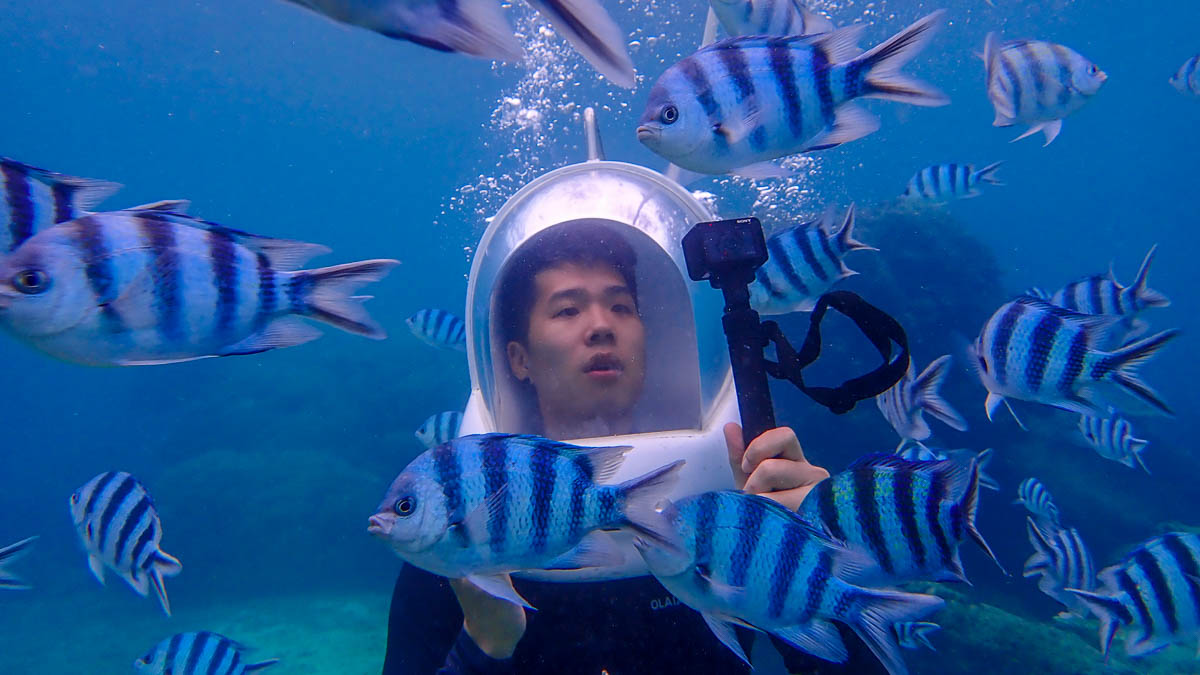 Finally, Sony's RX0 II is a tiny tough camera that's great for on-the-go shooting during adventurous activities. Besides fitting snugly into the palm of your hand, it's also shockproof and waterproof (up to 10m)! The image quality is also super-clear, impressive given its ultra-compactness.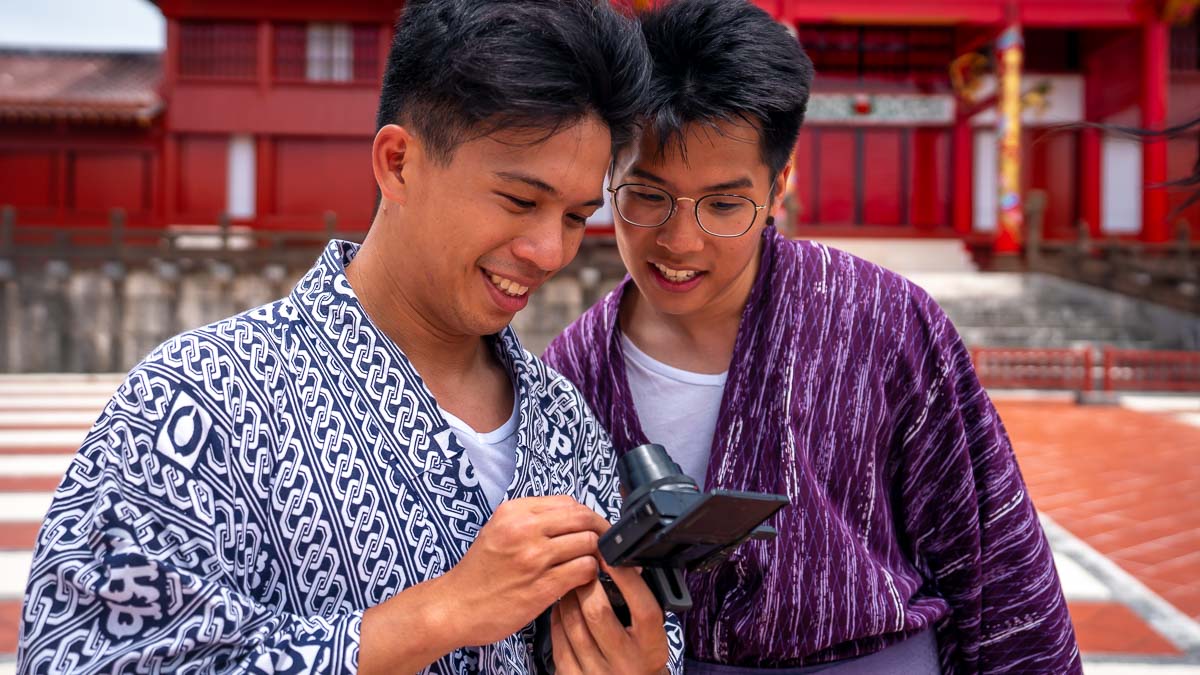 In all, you really don't need to be a professional photographer to take photos. The Sony cameras we used were all fairly easy to operate, and we had a lot of fun playing around with them to get the best shots.
That said, no matter what camera you choose, the paradisal island of Okinawa will offer loads of experiences you'll find hard to forget!
Exclusive Sony Private Sale For TTI's Readers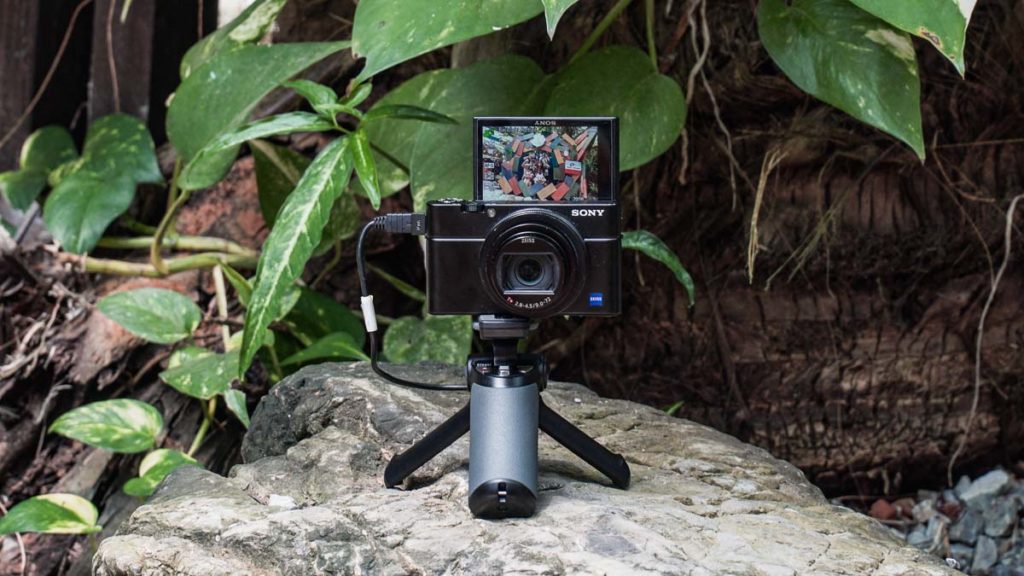 If this post has got you itching to get a new camera, you're in luck! On the 28th September (Saturday), we're teaming with Sony for a day of travel video and photography workshop and a private sale exclusively for readers of The Travel Intern! Pst we hear they're offering up to 60% off they electronics!
Spots are limited so be sure to RSVP early — more details in the RSVP link!
---
This post was brought to you by Sony.
Like what you see? Follow us on Facebook, Instagram, and YouTube for more travel updates!
</figure>
View this post on Instagram