Change up your workout routine and hike through your neighbourhood instead!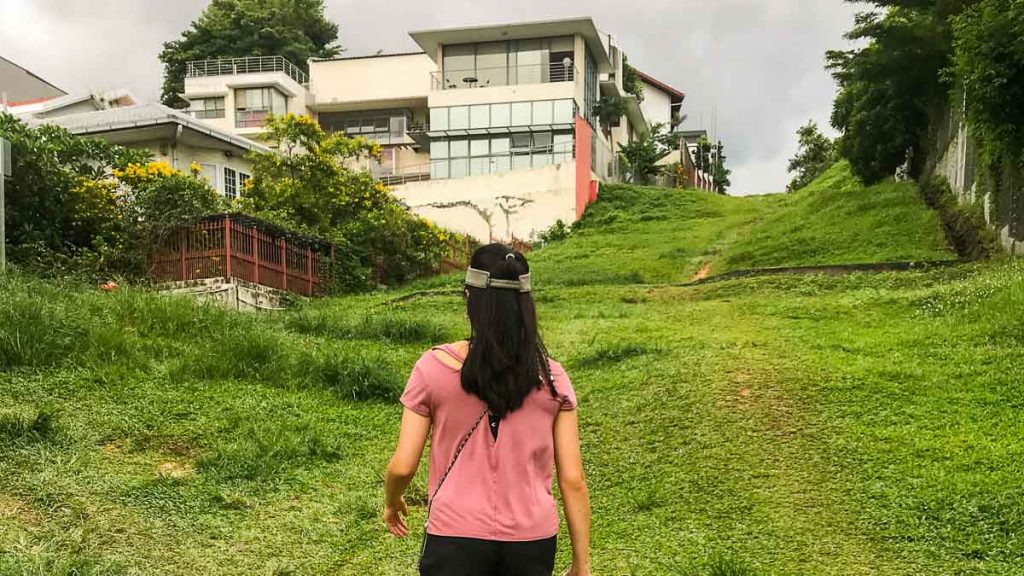 With the recent CB-lite situation, most of us are back to the WFH life.
As per Uncle Lawrence's last update, we're gradually moving into Phase Three (Heightened Alert) with gyms reopening and F&B establishments now allowing dine-in (up to two persons) — yay!
But if you want to be extra safe and are looking for alternative ways to be active, why not go for extended walks through your neighbourhood instead?
If you're living between Holland Village and Bukit Timah, there's a lot to uncover by foot. The explorer in me was well-satiated with every new discovery that awaited me at each turn!
From lesser-known eats to secluded parks not found on the maps, here are three urban hiking trails to explore Holland Village, Bukit Timah and all the goodness in between ✨
Route #1: The Green Corridor From Holland Village to Bukit Timah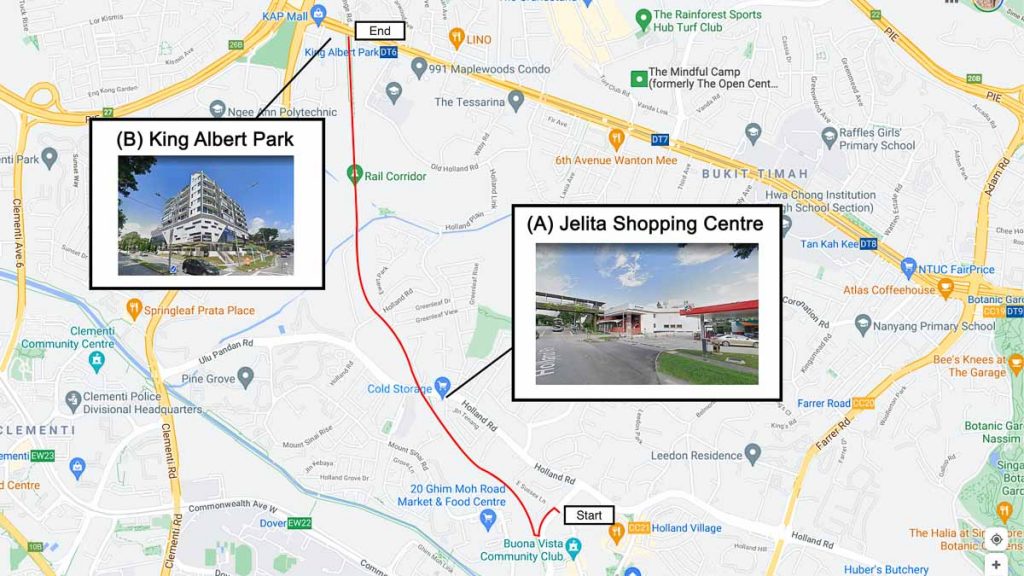 Distance: 3.45KM
Duration: 45 mins
What used to be Malaysia's KTM railway line is now a tranquil hiking trek surrounded by lush forest landscapes — perfect for those who want a break from our concrete city.
The Green Corridor stretches from Buona Vista to the old Bukit Timah Railway Station. But for those starting out at Holland Village, there's an opening right opposite of 18A Holland Drive.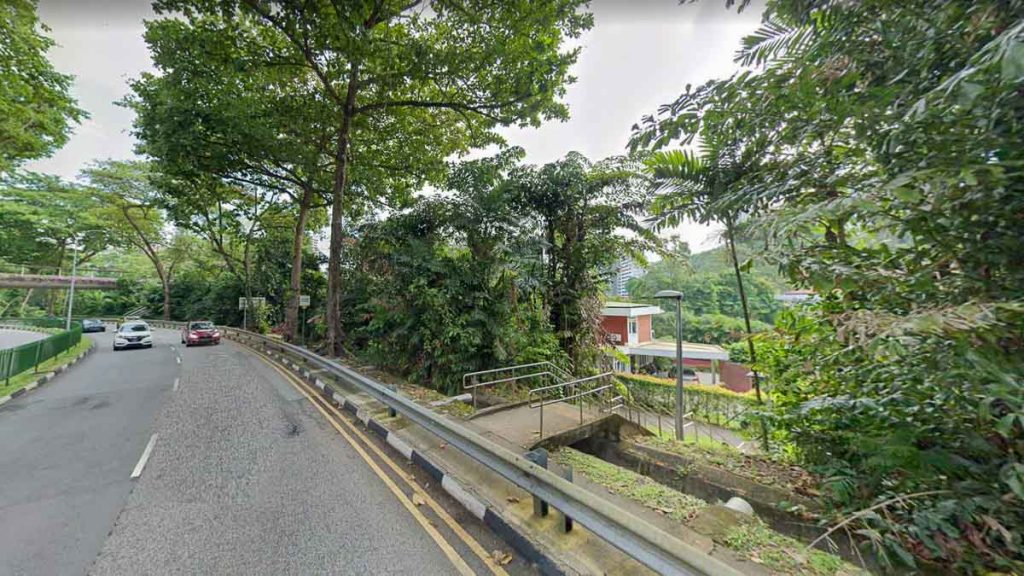 How to get there: From Holland Village MRT (Exit B), walk up Holland Avenue and make a left on Holland Road. Turn left again at North Buona Vista Road and walk straight to get to Block 18 Holland Drive. Cross the road at Block 18, turn left and walk toward the overhead bridge until you see a flight of stairs on your right.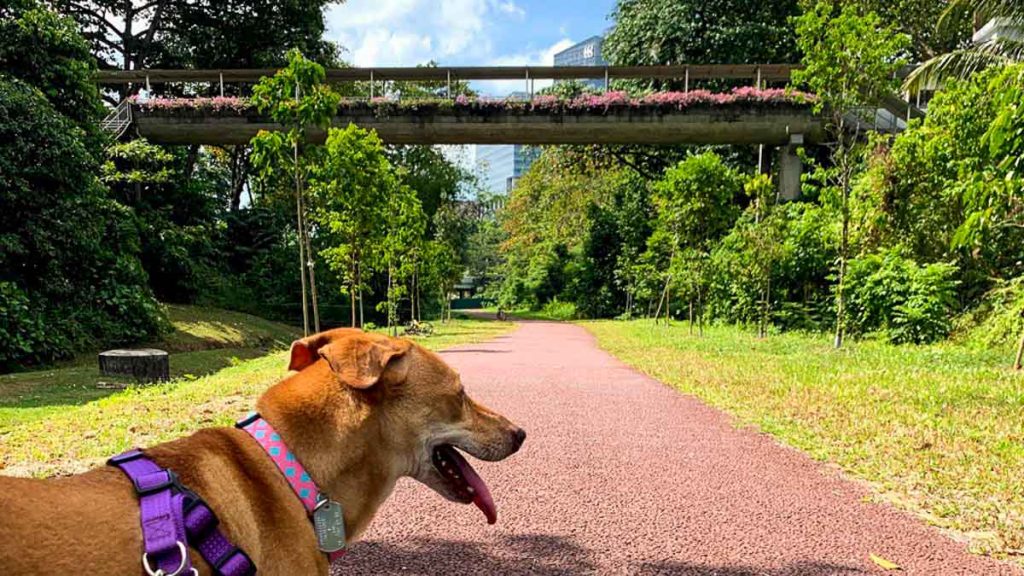 Head down the stairs and you'll find a walking track. On the track, take a right (away from the overhead bridge) to make your way toward Bukit Timah.
As you're walking, look out for a staircase on the right (point A on the map). Up the stairs, you'll find a Caltex and Jelita Shopping Centre — take a break here if you need!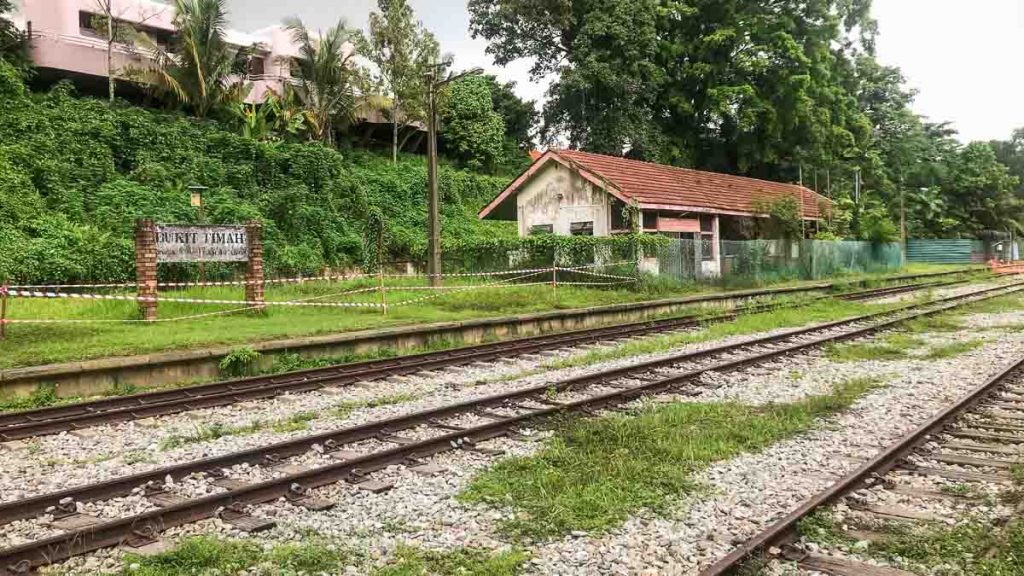 Otherwise, keep going until you reach the Bukit Timah Railway Station. Once you exit, make a left at the main road and head to King Albert Park for some refreshments 🍩🥤
Read more: Hiking Clementi Forest – A Secret Route Off the Green Corridor
Route #2: Walk From Holland Village to Sixth Avenue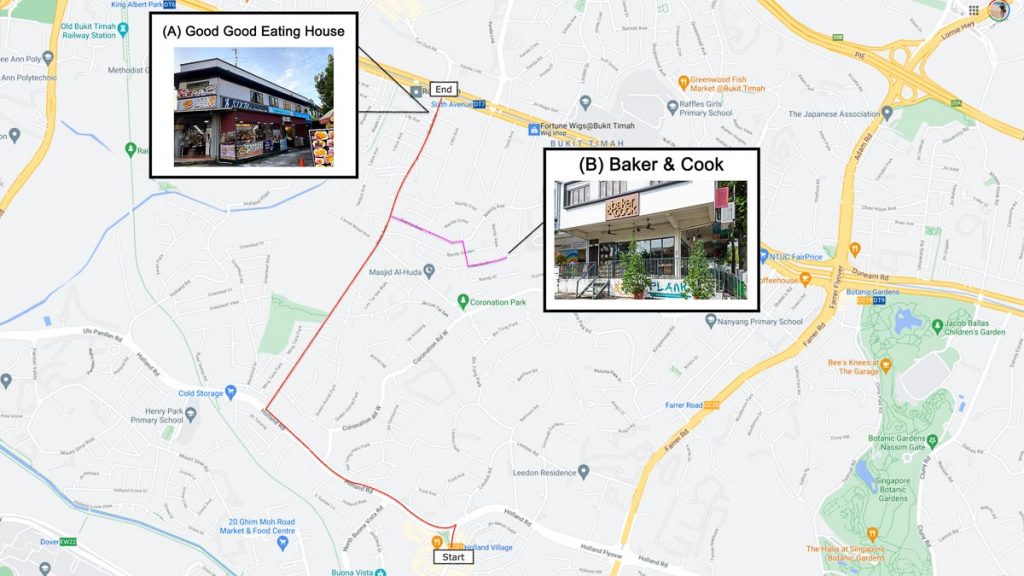 Distance: 3.2KM
Duration: 40 mins
Start your weekend with a morning walk through gorgeous neighbourhoods. And discover great food and coffee along the way!
How to get there: Starting at Holland Village MRT (Exit B), hit left on Holland Road toward Ulu Pandan. Turn right on Sixth Avenue and walk all the way straight until you see a row of shophouses on your left.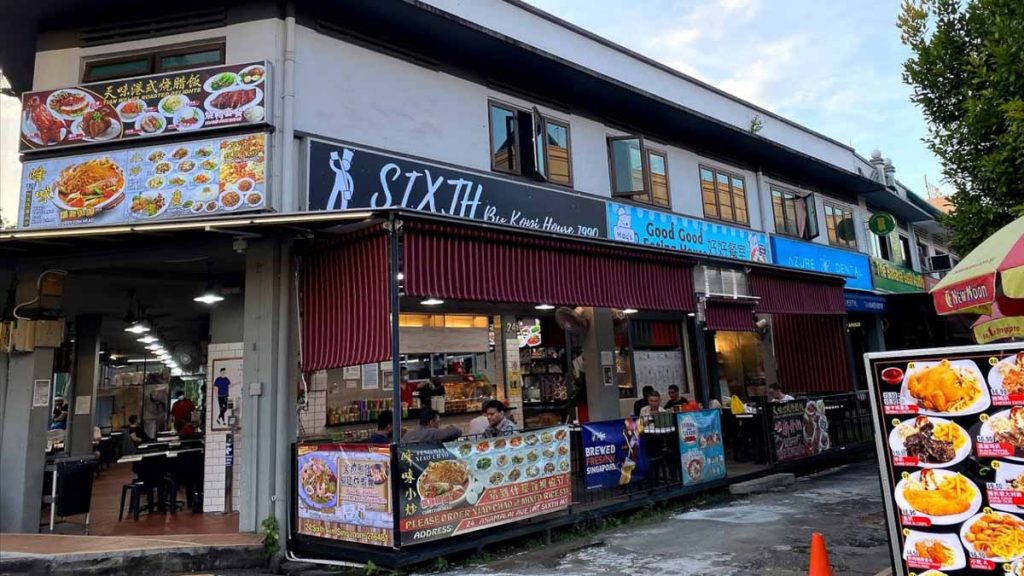 Photo credit: 6th Avenue Wanton Mee
Here, you're spoilt for choice with delicious local favourites from the Kopitiams. We recommend Good Good Eating House's Wanton Mee and Mawa Merah's Ayam Penyet.
If you'd just like a quiet coffee run, check out Baker and Cook at Namly Estate!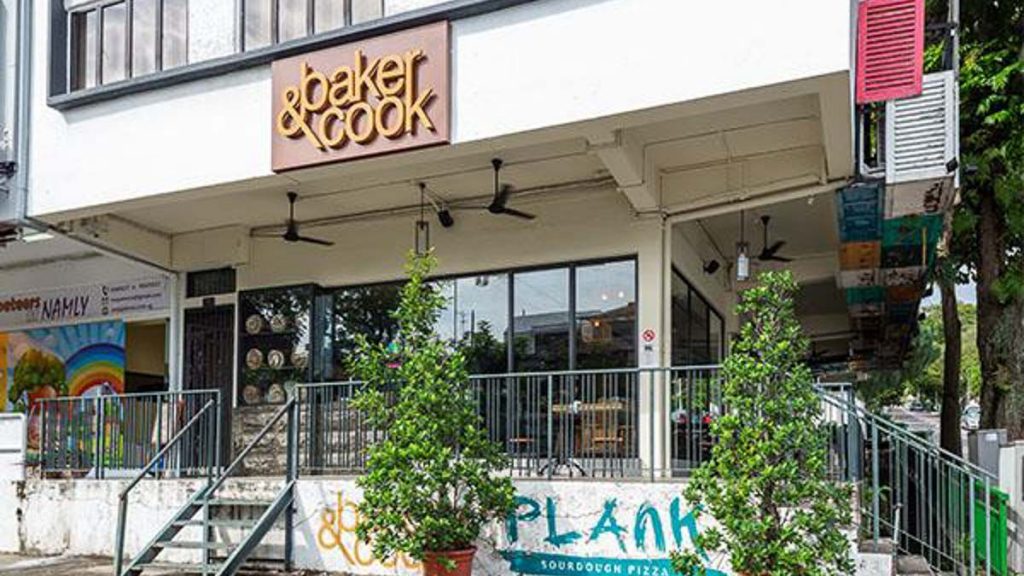 Photo credit: Baker & Cook
How to get to Namly Estate (pink route on map): make a slight detour along Sixth Avenue and head into Namly Garden. Make a right on Namly Drive to reach Baker & Cook. Enjoy some of Singapore's best coffee and bring home fresh bakes!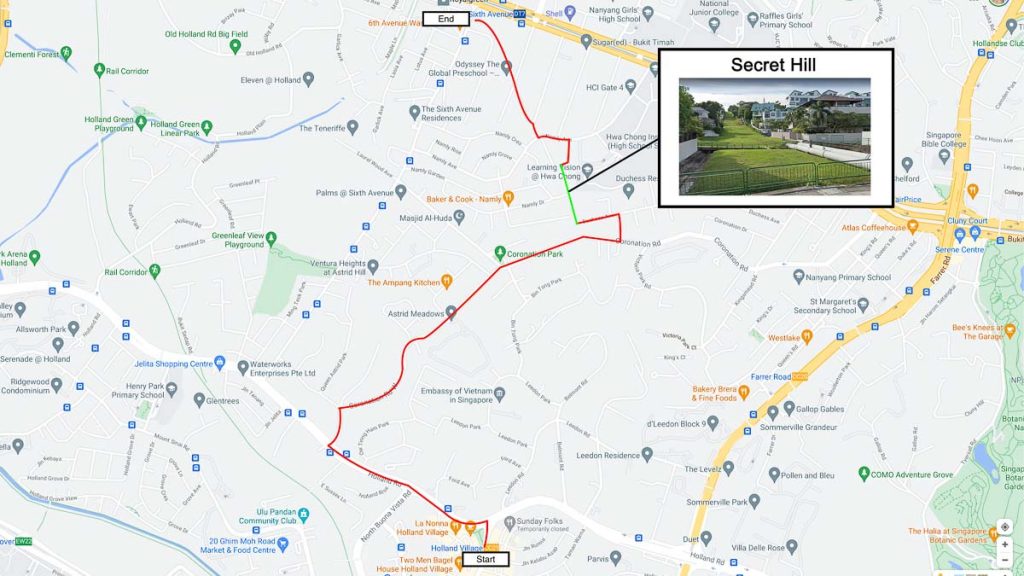 Distance: 4KM
Duration: 50 mins
This route explores the area between Holland Village and Bukit Timah. It's great for dog-owners as you'll discover a hidden hill where dogs go running! There's also fancy houses to sightsee along the way.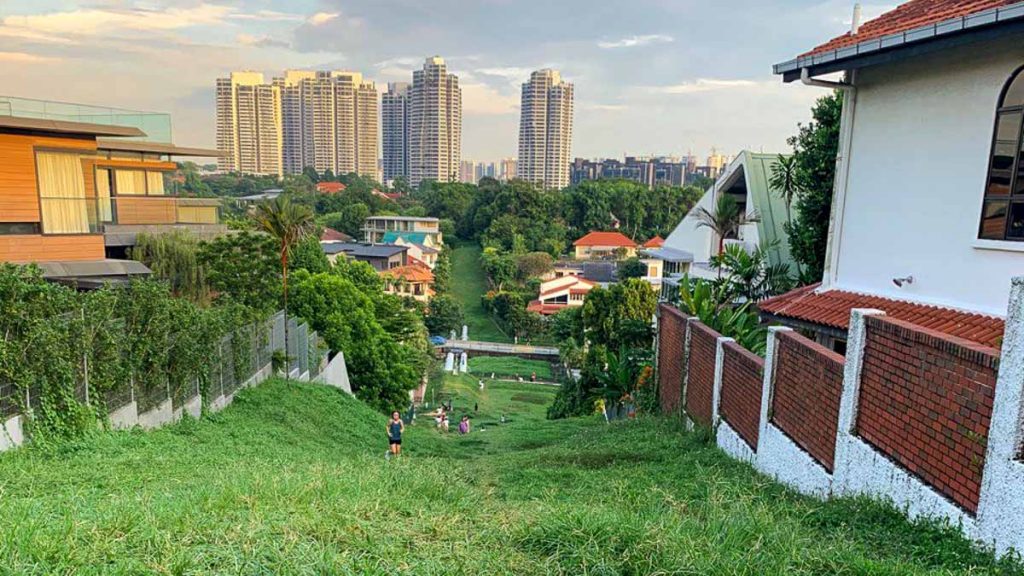 How to get there: Like the previous route, walk down Holland Road Toward Ulu Pandan. This time, turn right onto Coronation Road West. Stay on Coronation Road West until you see two large white pipes (it's hard to miss), immediately you'll see an open green space and the hill.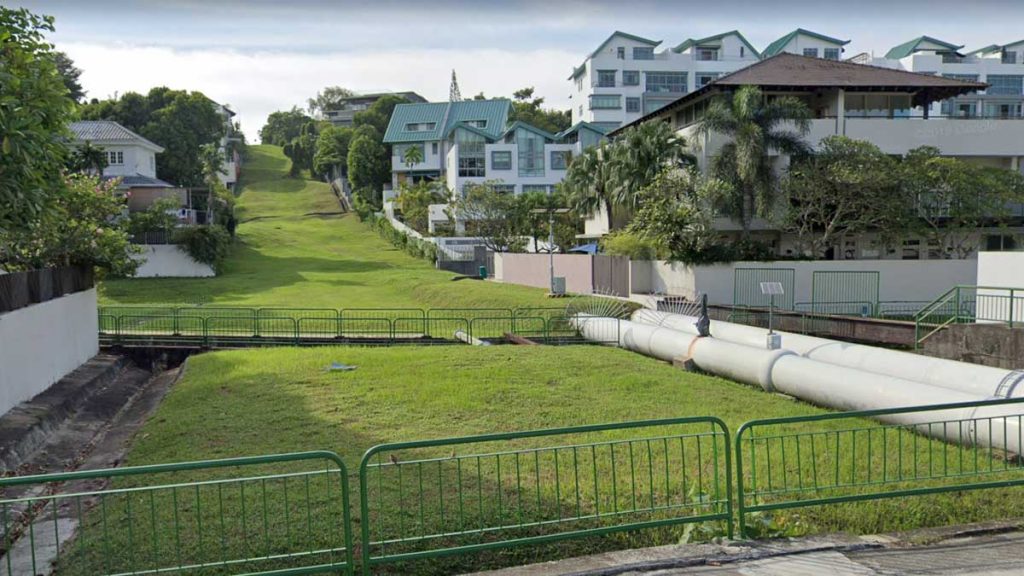 To enter, walk further up and make a left into Duchess Ave, at the end make a left again and you'll find the entrance at the end of the lane.
To get to Sixth Avenue: Walk up the hill and go straight onto a second grass area. Keep going until you come to an opening on your right — a road leading downwards (Namly Close).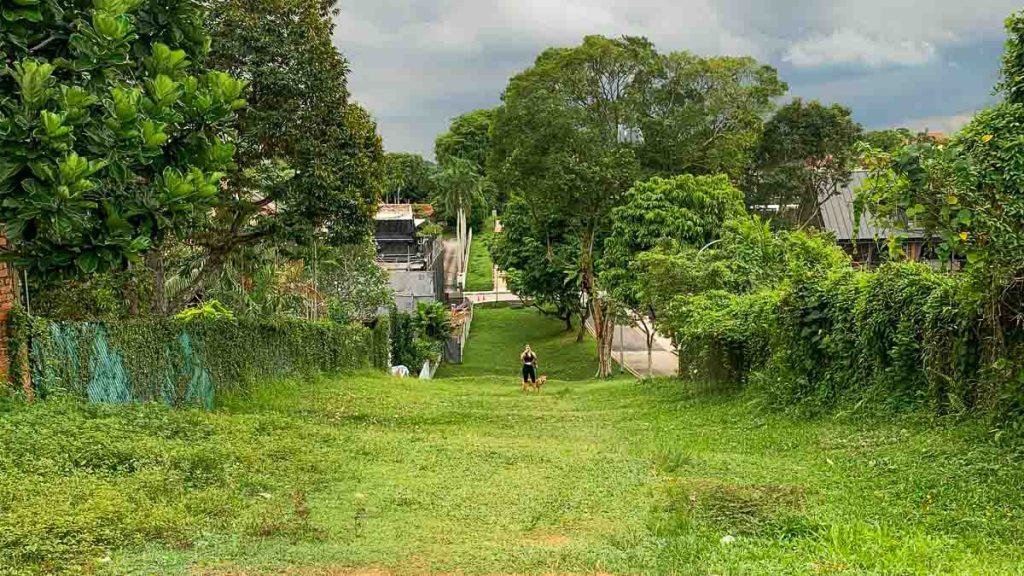 Walk down and cross over to the flight of stairs. Take the stairs and you'll be headed to Third Ave. Once you hit Third Ave, follow the road on the left until you reach Odyssey Playschool.
Get on the green path between the playschool and the construction site — you'll reach Sixth Avenue in no time.
Exploring your neighbourhood safely
Exploring the neighbourhood on foot is a great way to quell any restlessness while being responsible — although we have amazing hiking trails around Singapore, I prefer not to travel across the island while we're on Heightened Alert 😂
On top of that, it's the perfect activity for smaller numbers. Go solo for some 'me time', with your furkid or with family (no more than four). Just remember to mask up as you would on any low-intensity hike and practice safe-distancing!
If you're starting from Bukit Timah, here is a list of places to check out at Holland Village!
For a sick cup of coffee:
Arabica Coffee
Craftsmen Specialty Coffee
Hoshino Coffee
For freshly baked goods:
Tiong Bahru Bakery
Tai Cheong Bakery
Baker & Cook
Da Paolo Gastronomia
For food:
Two Men Bagel
KL Chilli Ban Mee
Umi Nami (affordable Chirashi bowls)
Kyushu Pancake Cafe
Little Caesars Pizza
Martin Zwertz
What other Singapore neighbourhood guides should we make? Tell us in the comments!
---