Eastern Taiwan is nature's playground with views all around and unique activities that are hard to find elsewhere — we were tempted to gatekeep! 👀 P.S. score the best travel deals on flights, accommodations and activities at the end of this Taiwan itinerary!
After tracing Taiwan's West Coast in spring, chasing cherry blossom blooms and exploring the iconic old towns that draw millions of tourists annually, we wanted to take the road less travelled and enjoy the quieter Eastern side of Taiwan!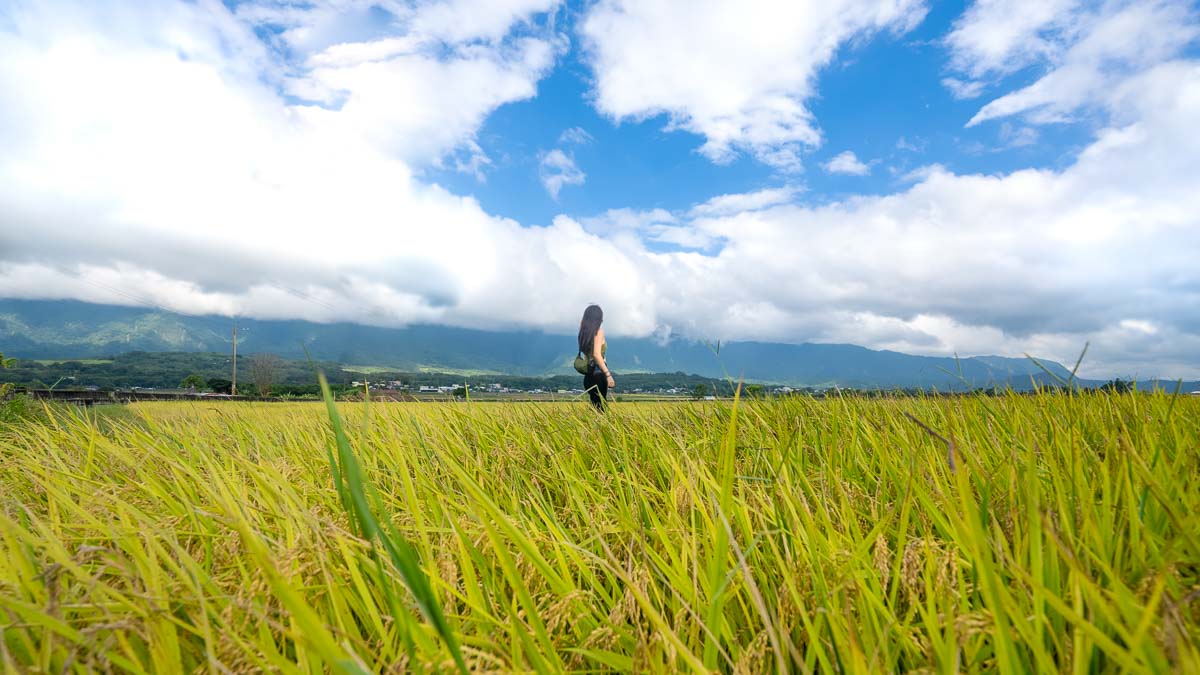 And sure enough, our eyes were fed with the best views nature has to offer! We had quite the adventure in just five days, so here's our ultimate Eastern Taiwan itinerary covering everything you need to see and do on the superior side of Taiwan!
Eastern Taiwan Itinerary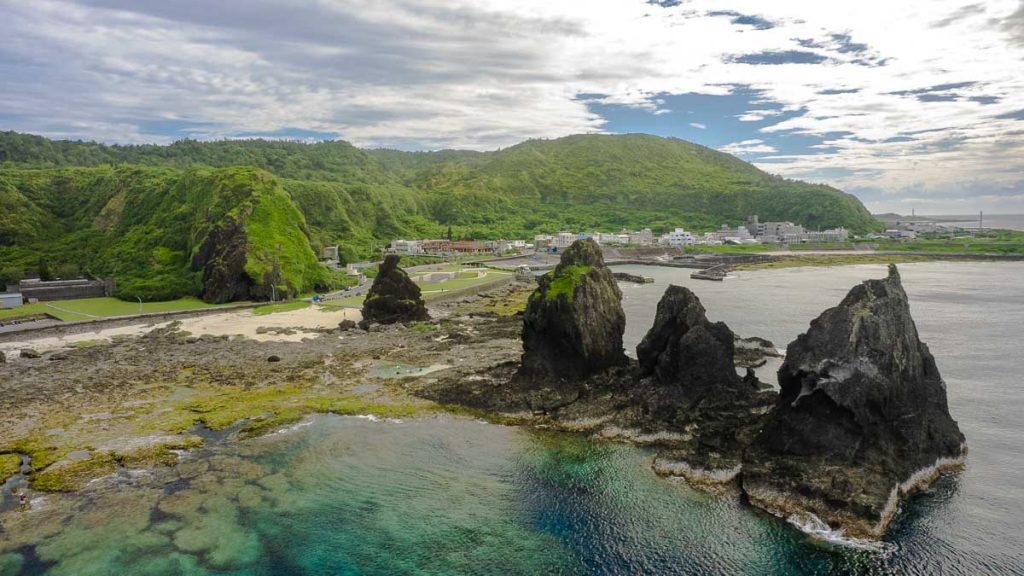 Several airlines fly direct from Singapore to Taoyuan International Airport, the starting point for this Taiwan itinerary. These include China Airlines and EVA Air — Taiwan's two major airlines — and the newer STARLUX Airlines! ✈️
Eastern Taiwan is connected by the Taiwan Railway (TRA). While it's slower than the High-Speed Rail (HSR) that connects the western coast, cheaper TRA tickets and gorgeous coastal views make up for the time.
Day 1: Taitung
Day 2: Green Island
Day 3 – 4: Hualien
Day 5: Yilan
PSA: Save more on trip expenses with Citi travel deals, incl. airfare promos for the airlines mentioned above. Plus, get discounts off hotels and activities from Agoda, Trip.com, Klook and KKday! Read till the end for more.
Day 1 – Taitung 台東市
Getting from Taoyuan to Chishang: Take a 38min Airport MRT to Taipei Main Station, followed by a ~3hr 41min TRA train to Chishang Station
Getting from Chishang to Taitung: ~35min via TRA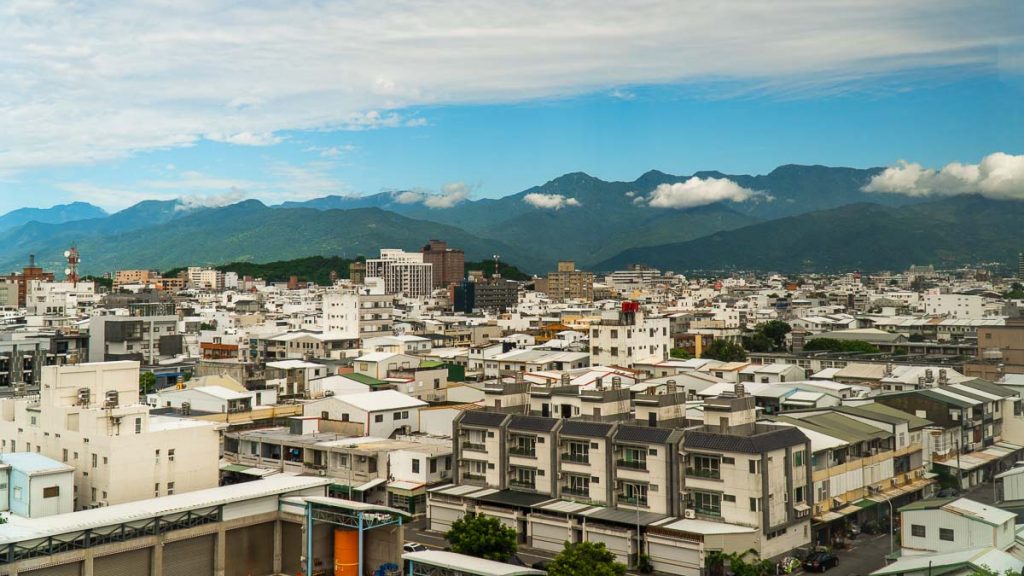 Our first stop of the trip is Taitung County, which directly translates to 'East Taiwan'. While not many international tourists travel to visit, this underrated region is home to stunning countryside and coastal views. It's also the gateway to Green Island!
Mr Brown Avenue 池上伯朗大道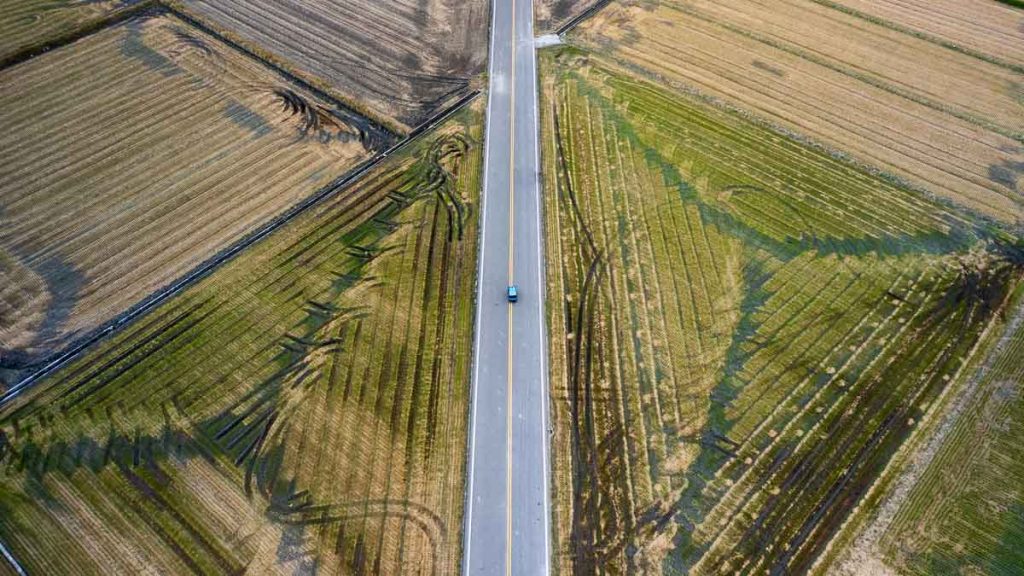 After travelling for hours, we were in desperate need of fresh air so we headed to Mr Brown Avenue in Chishang Township to be surrounded by nature. Known for its idyllic golden rice fields, Chishang is the postcard picture of a quaint small town.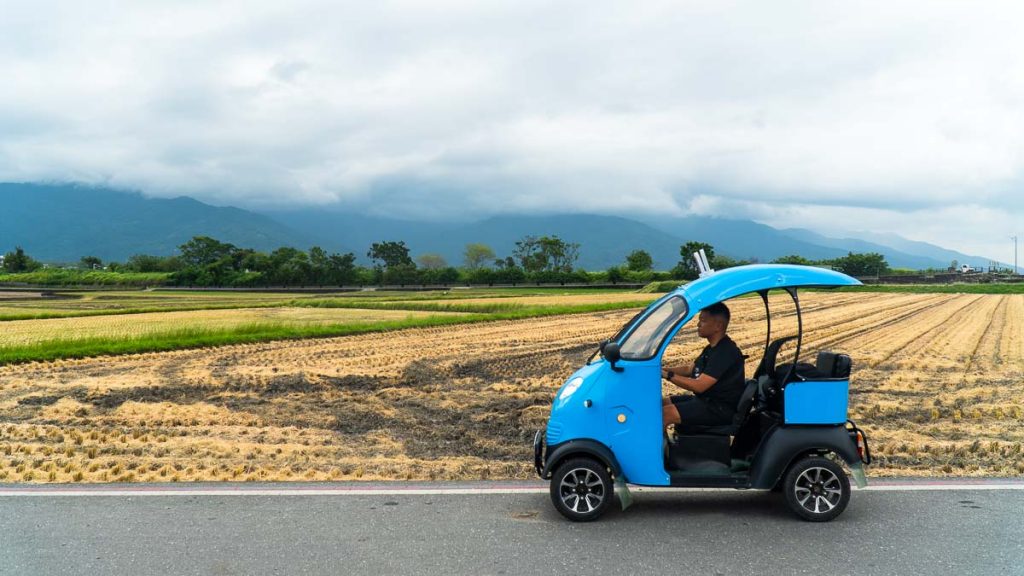 Paradise Road is also connected to Mr Brown Avenue and looks like a never-ending path leading straight to the lush mountains. Cutting through the middle of the rice fields, many visitors would drive electric vehicles or bicycles rented from the town to enjoy the views.
We rented a tuktuk (嘟嘟車) to explore the area, and the novelty of revving one (albeit at 20km/h), down the scenic countryside made it feel like we were in a Taiwanese coming-of-age movie!
*Note: A driving licence isn't required to drive a tuktuk, but you'll need to be at least 18 years old.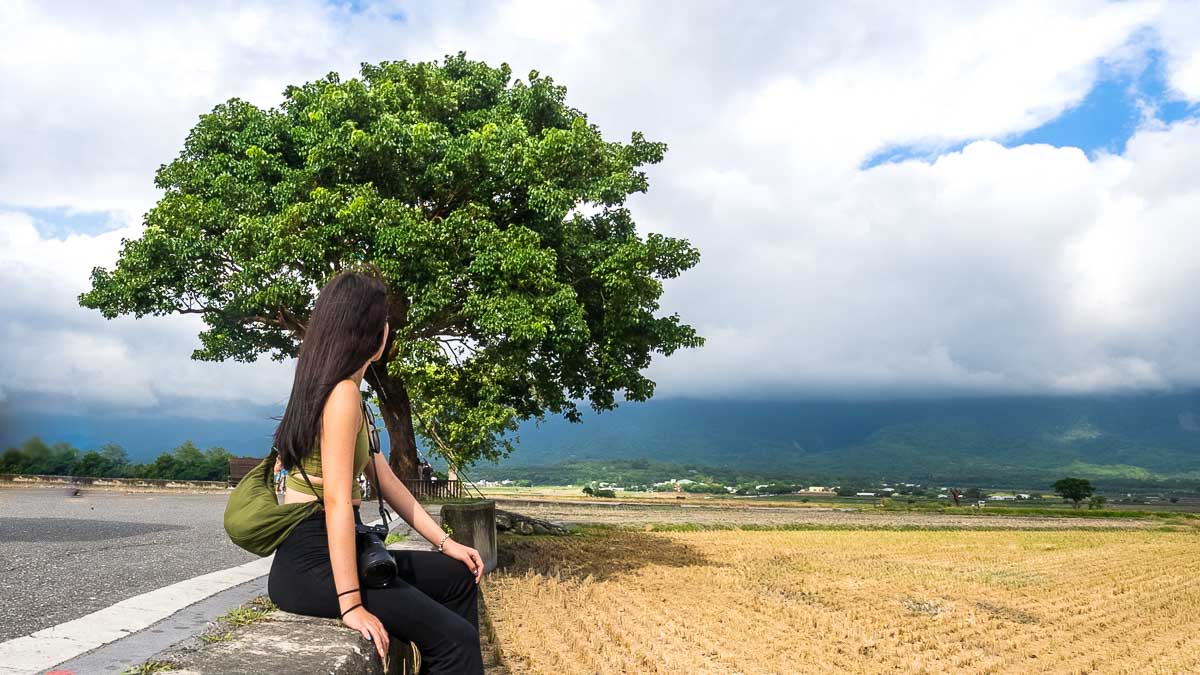 We also stopped by Takeshi Kaneshiro Tree — the most famous tree in Eastern Taiwan thanks to a 2013 EVA Airways ad featuring its namesake. Despite looking unassuming, this tree is what put Chishang on the tourist map!
Mr Brown Avenue 池上伯朗大道
Entrance fee: Free
Opening hours: 24 hours
How to get there: A 10mins tuktuk drive from Chishang Station (Google Maps)
TukTuk Rental Shop 池上風情
Cost: From NT$800 for 2hrs
Opening hours: 6AM – 6PM
How to get there: Take the side exit of Chishang station, the rental shop is opposite BIKE DE KOFFIE (Google Maps)
Ning Ji Hot Pot Restaurant 寧記火鍋店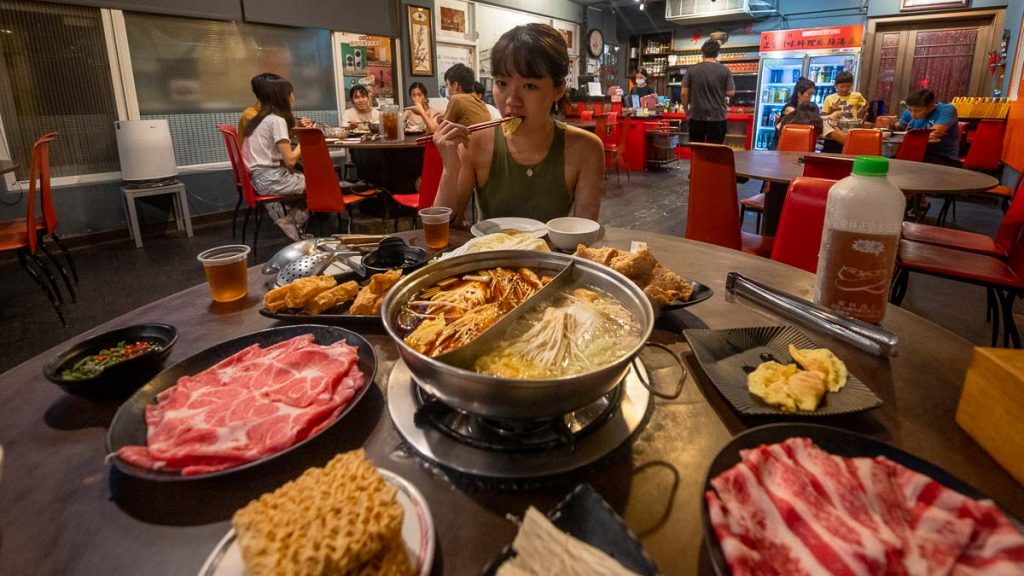 Hotpot is a staple in Taiwanese cuisine and we celebrated our first night in Taiwan at Ning Ji Hot Pot in Taitung City. They only serve their signature Ying Yang pot — half chicken and half mala soup 🌶️
Be warned as it's spicy.
They don't have an English or illustrated menu so we spent a good 10 minutes on Google Translate deciding on ingredients to order and it was worth the effort — the snow beef (雪花牛肉) and plum blossom pork (梅花豬肉) were our favourites. We recommend coming in a group to save cost as the portions are large.
*Pro-tip: Settle the dinner bill with your Citi PremierMiles Card and earn 2 miles per S$1 spend in foreign currency. Citi miles never expire!
Cost: ~NT$825/pax for 2
Opening hours: 5:30PM – 12AM
Address: No. 231-1, Xinsheng Rd, Taitung City, Taitung County, Taiwan 950 (Google Maps)
*Note: The soup charge is NT$400/groups of four and below, with an additional charge of NT$80/pax for groups above 4
TTwilight Bazaar 微光集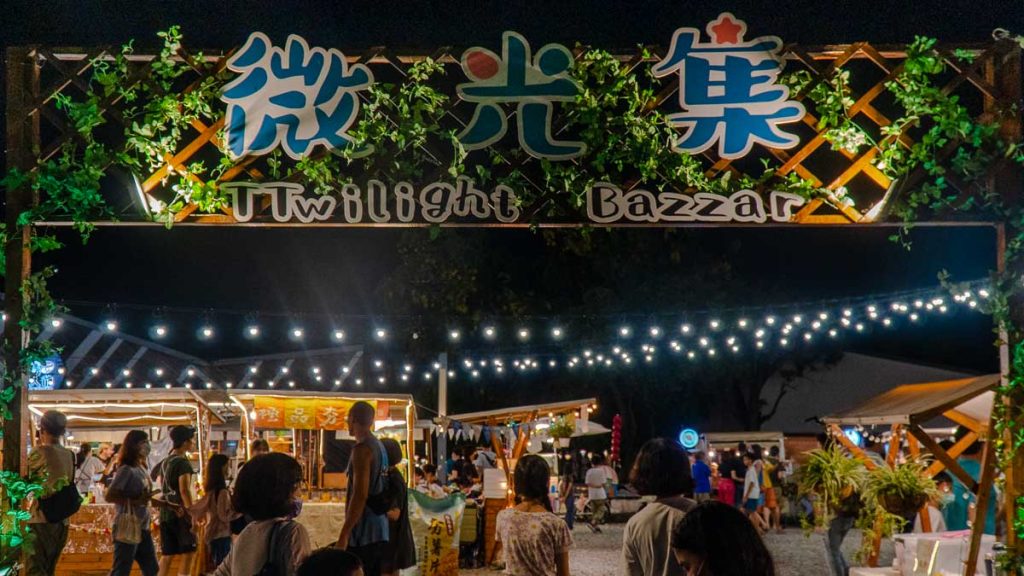 We stumbled upon TTwilight Bazaar en route to Tiehua Music Village. The latter village is the creative epicentre of Taitung, where rising musicians and independent artists come together weekly to perform and sell their crafts at the flea.
However, there's an entrance fee of NT$600 (~S$25) to enter the premises. A free alternative is the TTwilight Bazaar located beside the village where local crafts, cocktails, and aboriginal food are sold — you can even get your portrait as an animal drawn!
There's also a dedicated space for musicians to show off their talent within the bazaar and we caught the tail end of a violin act! We grabbed a snack, found a seat and soaked in the good vibes 🎶🤙
Entrance fee: Free
Opening hours: 5PM – 10PM
Address: No. 123, Xinsheng Rd, Taitung City, Taitung County, Taiwan 950 (Google Maps)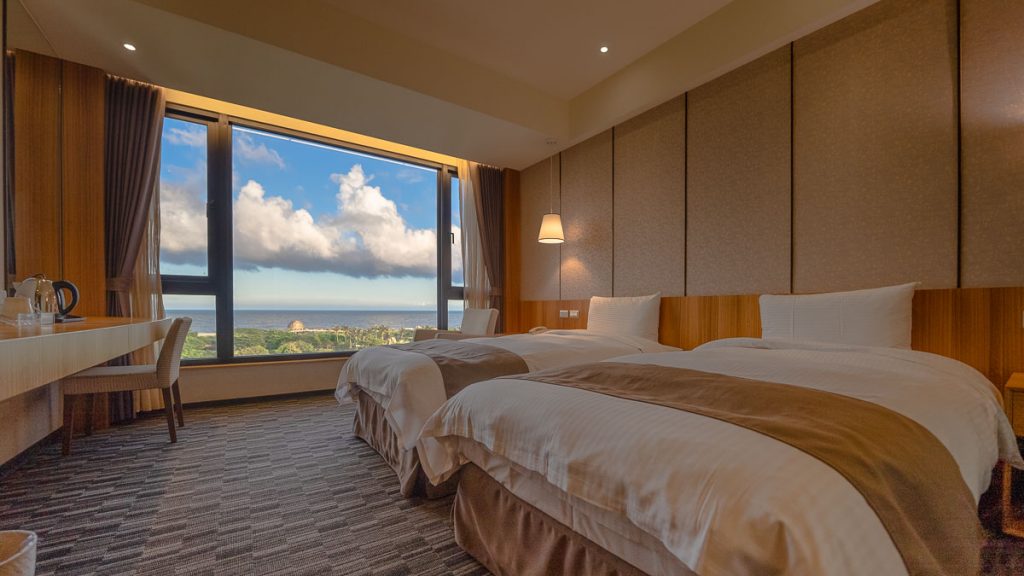 Where to stay in Taitung: Kai Shen Starlight Hotel (From ~S$142/night for a twin room with a sea view incl. breakfast) only a 7-minute drive to attractions like TTwilight Bazaar and Fugang Harbour.
One of our best planning tips is to tap on accoms deals to reserve your budget for more epic activities. From now till 30 Sep 2023, Citi Cardmembers can enjoy up to S$100 off hotels on Trip.com, or up to 22% off bookings on Agoda with a Citi Mastercard®.
Day 2 – Green Island 綠島
Getting to Green Island: ~50min via ferry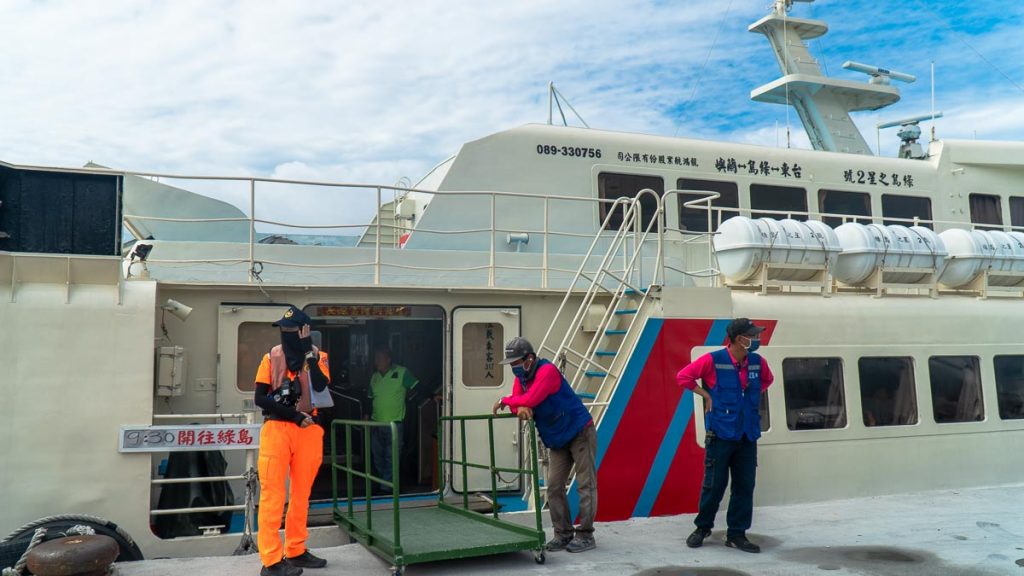 The next day, we headed to Fugang Harbour to catch our ferry to Green Island. Informally known as Lyudao, Green Island is a small volcanic island with dramatic coastal landscapes and world-class dive spots.
Ferry to Green Island: ~S$50/pax for roundtrip ferry tickets — pre-book your Green Island ferry tickets via Klook with a Citi Card and save up to S$10 (min. S$150 spend).
Getting around Green Island: There is no public transport or taxi service on the island so most visitors will rent a scooter (~S$15/day). Electric scooters are an alternative option for those without a valid International Driver's Permit (IDP).
Car rental is also available, albeit less common. We pre-booked ours via KKday — get 50% off your KKday booking (capped at S$50 per transaction) with Citi Cards!
Chaikuo Diving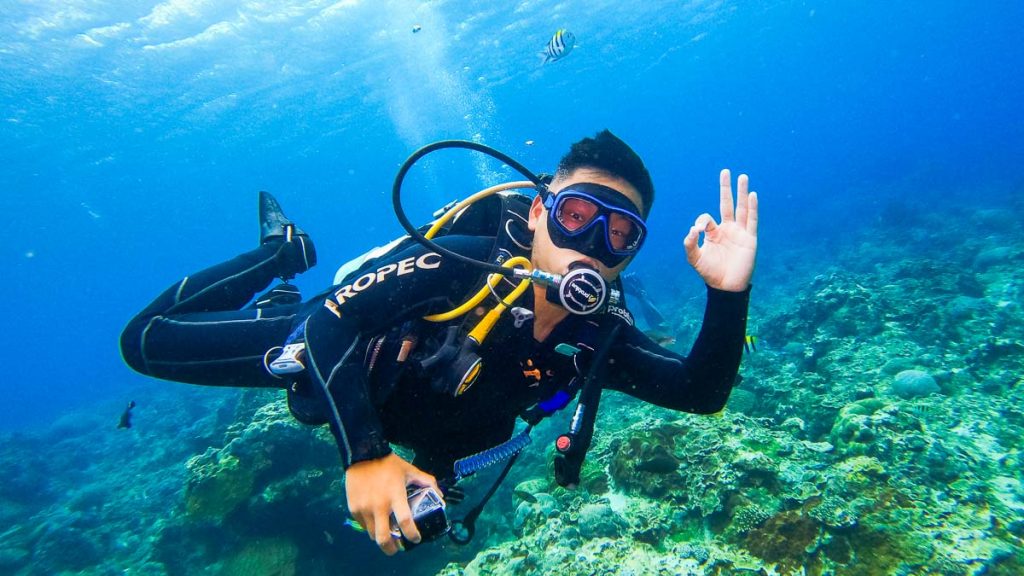 When on Green Island, do as the locals do — and do-ve we did!
Sessions are available for all skill levels but I opted for a one-on-one guided discovery scuba diving session as it was my first time diving. After a safety briefing and a quick pep talk from my guide, I found myself floating along the vibrant reef Nirvana baby-style — a core memory I'll never forget!
The visibility was incredible and we spent half an hour exploring the vibrant corals of Chaikuo (柴口). As someone who has only snorkelled along the surface, it was surreal to see fishes of every colour of the rainbow swimming around us — even the emo nemos!
Sea turtles and hammerhead sharks are also common sights in the area but alas, we didn't spot any this time.
Cost: ~$101.20/pax (incl. GoPro camera footage)
Activity timings: 7AM, 9AM, 11AM, 1PM, 3PM, 5PM
Meeting point: No. 10-3, Bay Dive, Lvdao Township, Taitung County, Taiwan 951 (Google Maps)
*Note: Dive spots are chosen by the operators and are weather condition dependent.
SeeSeaToast 熱壓吐司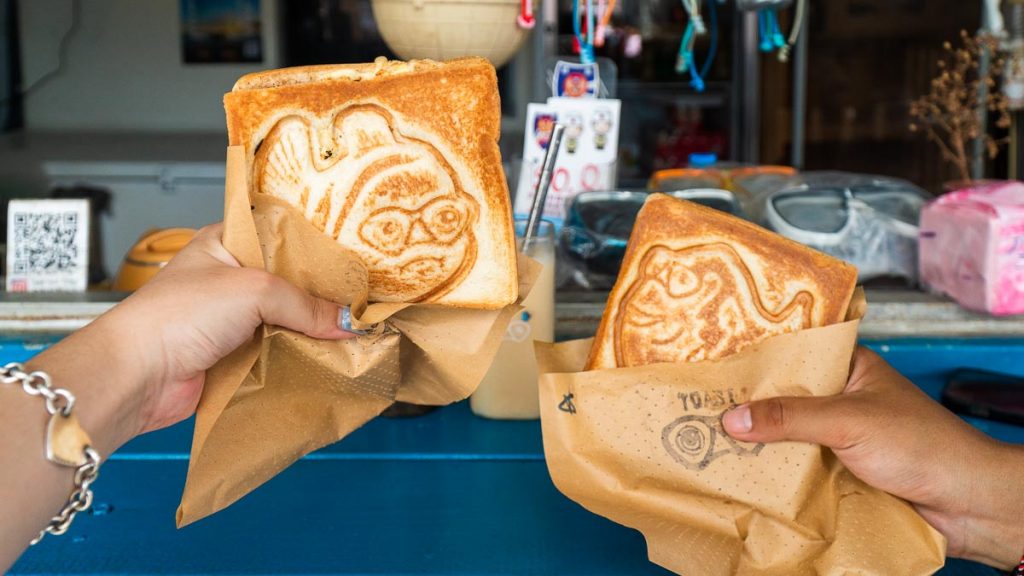 After working up an appetite, we dropped by SeeSeaToast for lunch. A small shack located on the side of the road, they serve the most adorable grilled toasts.
We tried their speciality — the chicken, century egg and cheese toast! I was a bit iffy on the century egg but it tied the flavours together and added an extra dimension to the texture — 10/10 would eat again 🤤
There are two other flavours — Tuna Corn Cheese and Mochi Chocolate Peanut.
Cost: NT$80/toast
Opening hours: 9:30AM – 6:30PM
Address: 951, Taiwan, Taitung County, Lvdao Township, Zhongliao, No. 190-3 (Google Maps)
Little Great Wall 小長城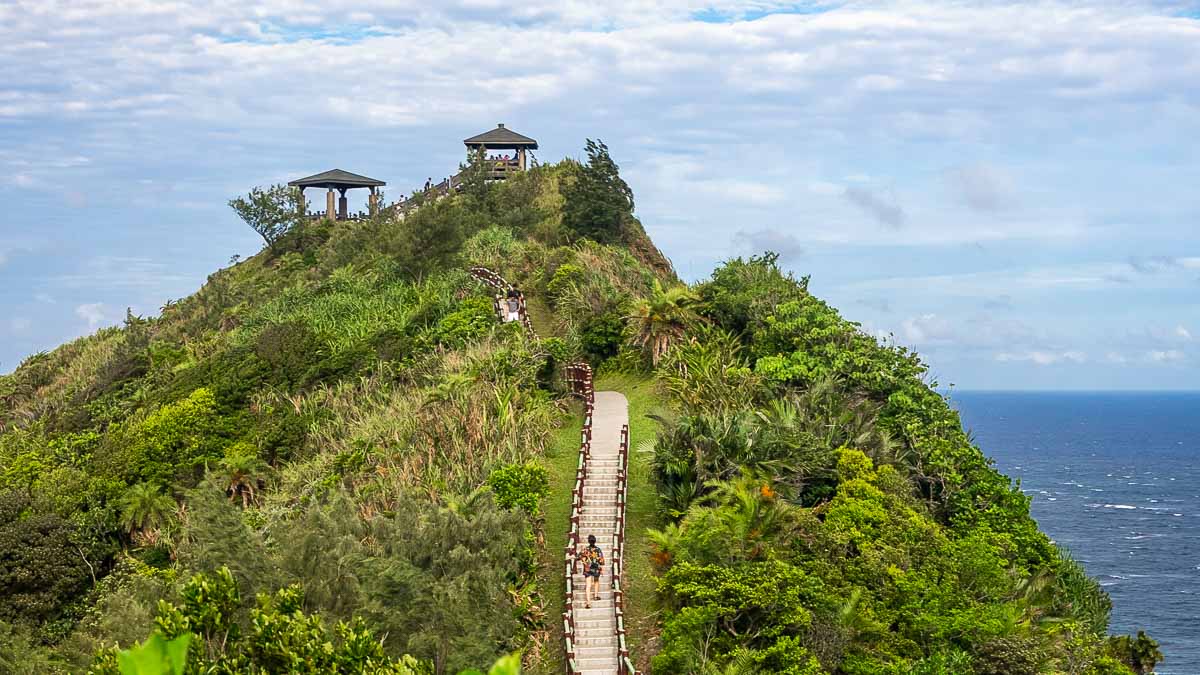 Green Island may be small (45min drive round-island), but it's packed with stunning nature views.
The Green Island's Little Great Wall (小長城) might not exactly resemble its "Seven Wonders of the World" counterpart but I'd argue that the views from the top are a wonder in their own right.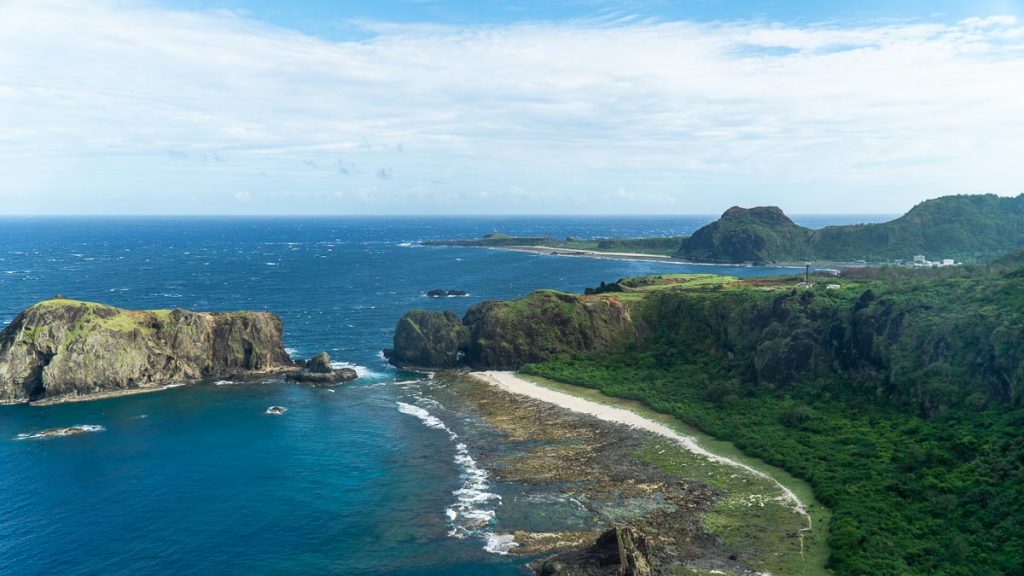 Can you make out a Pekingese Dog and Sleeping Beauty from the rock formations?
Perched on the edge of a cliff, the 400m trail features winding steps that lead to a pagoda overlooking the Pacific Ocean and Haishenping (海參坪), a crescent moon-shaped bay with rock formations. It's also a popular stargazing and sunrise spot.
The trail is 10 minutes one-way so if you're looking for a family-friendly activity, this should be added to your Taiwan itinerary!
Entrance fee: Free
Opening hours: 24 hours
Address: Lvdao Township, Taitung County, Taiwan 951 (Google Maps)
Wangong Arch 彎弓洞
Just a five-minute drive away is the Wangong Arch, the sea cave of Youzihu Bay.
It took us a while to locate the entrance but we eventually found our way by following an unmarked path toward the left side of the beach. With a 10m high ceiling, Wangong Arch is the largest cave on the island and opens up to a beautiful view of the bay — quite literally a hidden gem!
*Pro-tip: Pack a swimsuit as there are tide pools by the edge of the cave you can swim in!
Entrance fee: Free
Opening hours: 24 hours
Address: 951, Taiwan, Taitung County, Lvdao Township (Google Maps)
fufukitchen 富富廚房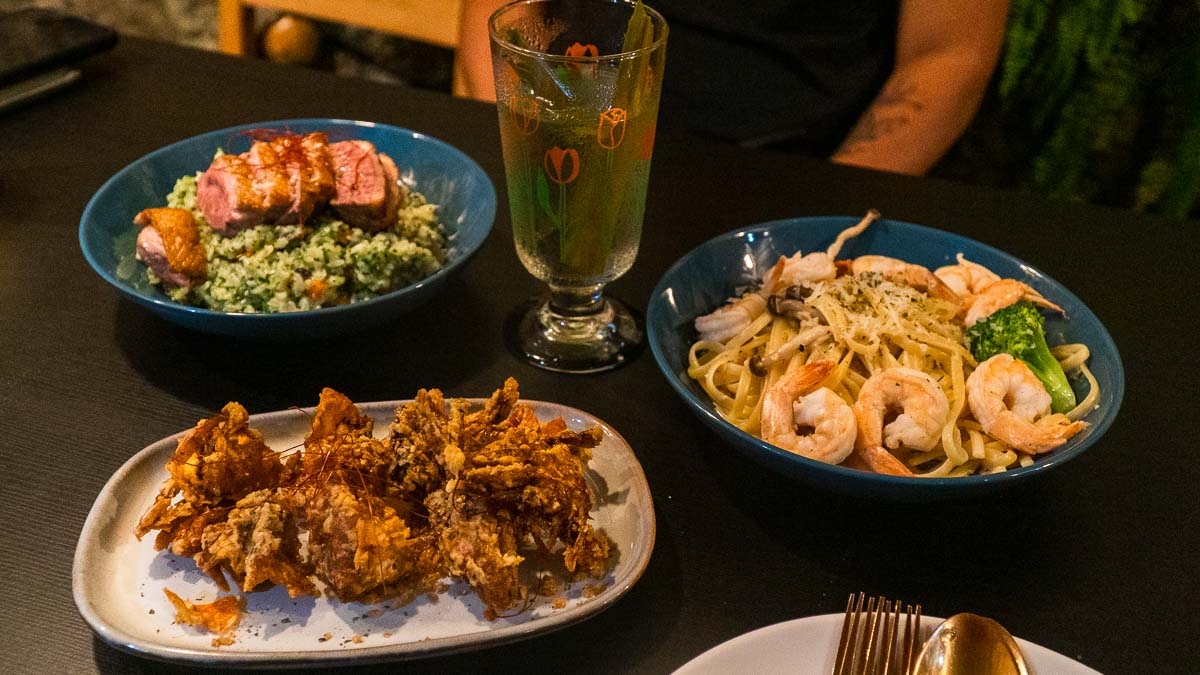 It might seem weird to have an Italian dinner while in the far corners of Taiwan but in our defence, seafood tastes the freshest while on an island.
fufukitchen is a cosy Italian restaurant specialising in pasta and risotto. We ordered the Linguine with Shrimp (NT$320), and Duck Breast and Pesto Risotto (NT$380) which were a delicious break from Chinese cuisine!
The star of the show was the Fried Soft Shell Crab (NT$280) which was crispy and well-seasoned. Make sure to make a reservation as the restaurant is usually crowded!
Cost: From NT$280/main
Opening hours: 11:30AM – 2PM (Last order 1:30PM), 5PM – 9PM (Last order 8:30PM)
Address: 951, Taiwan, Taitung County, Lvdao Township, No. 179 Zhongliao (Google Maps)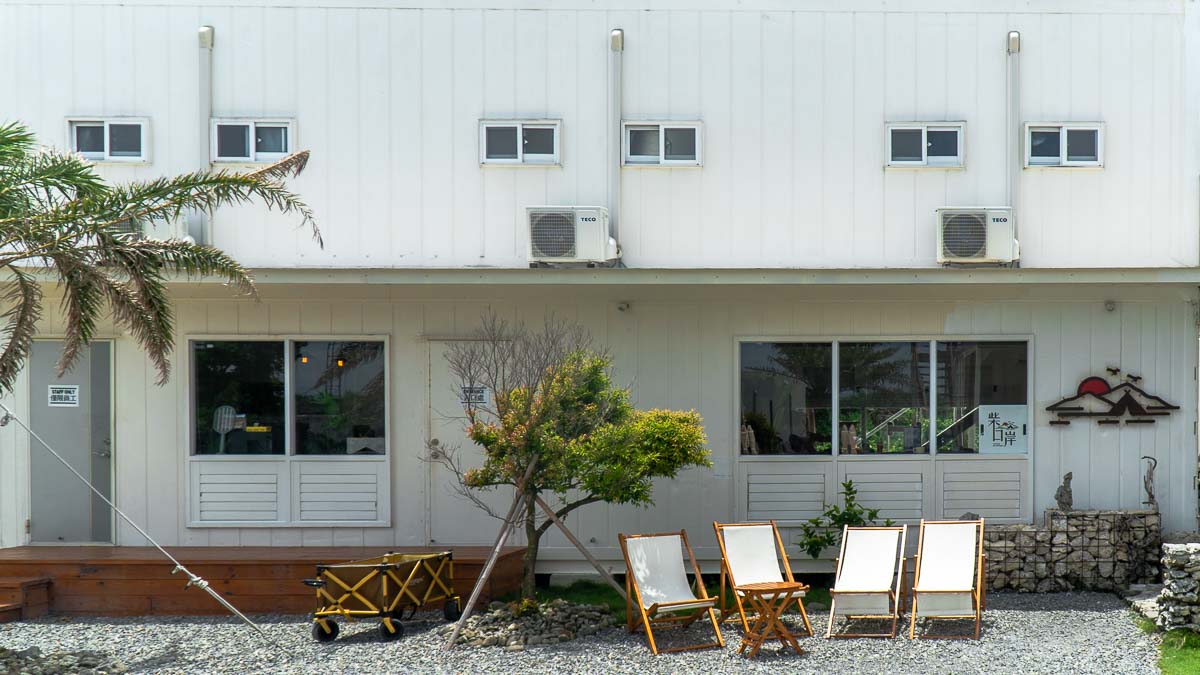 Where to stay on Green Island: Chaikuo Waterfront (~S$152/night for a double room with garden view). It's located opposite Chaikuo Beach and within walking distance of restaurants and cafes.
*Pro-tip: Save up to 22% on accommodations when booking with your Citi Mastercard® on Agoda, or up to S$100 off hotels and flights on Trip.com with your Citi Card.
Day 3 – Hualien 花蓮市
Getting from Taitung to Hualien: ~1.5hrs via TRA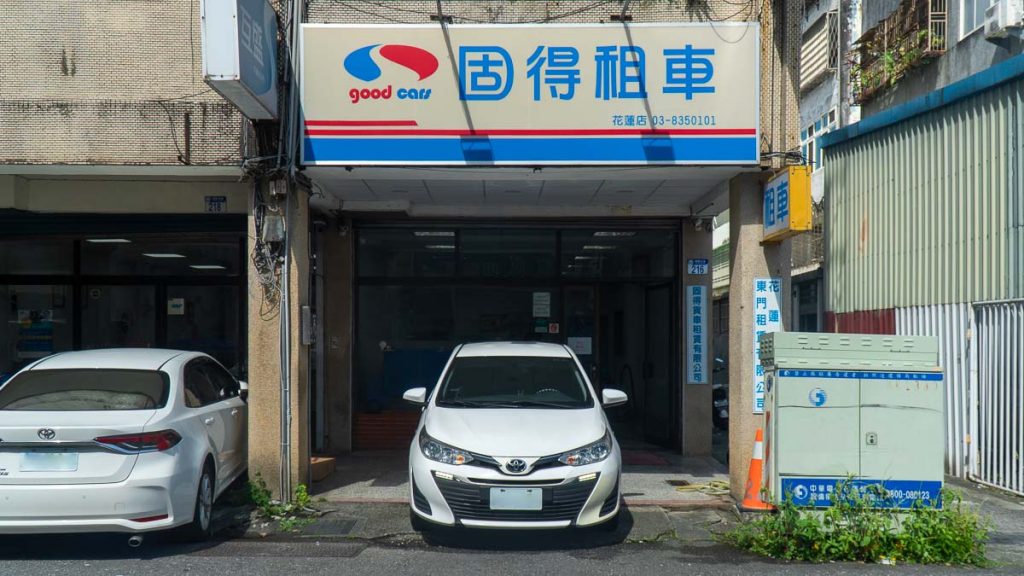 After saying goodbye to Green Island, we headed back to the city to explore Taiwan's largest county — Hualien.
Car rental: From ~S$56/day via Klook. The car rental place is a six-minute walk from the station but Good Cars Car Rental (固得租車-花蓮店) offered to drive us there for free. Bring your driver's licence, IDP and credit card during pickup.
*Note: Cars drive on the right-hand side of the road in Taiwan!
Shiba Inu Café Roasters 咖逼小売所 | 斗宅。揀茶舍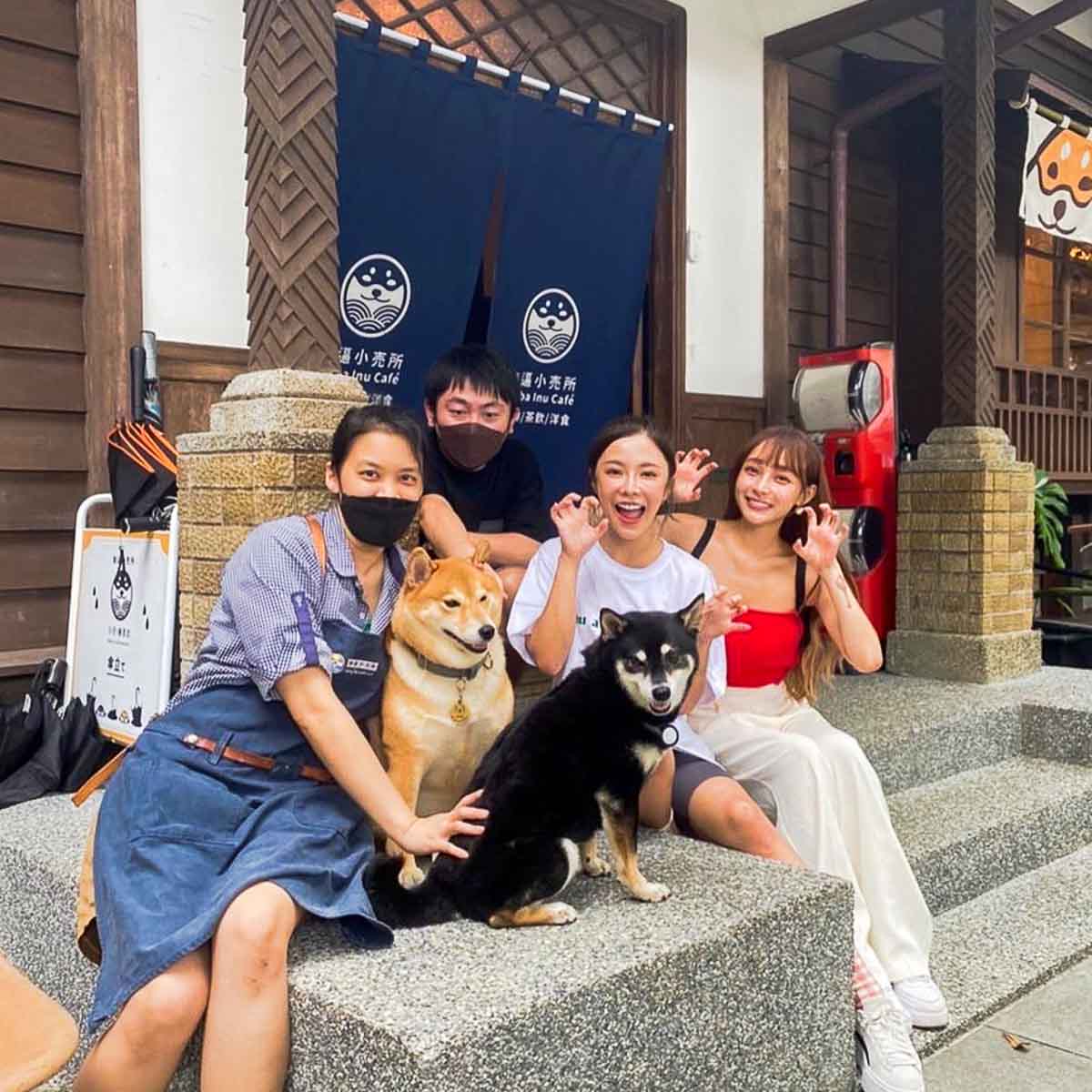 Photo credit: @shiba.inu.cafe via Instagram
Not to be mistaken as a pet cafe, Shiba Inu Café Roasters is a Shiba-themed cafe that serves adorable drinks and desserts. The cafe is in a Japanese-style building that dates back to the Japanese occupation — picture tatami mats, sliding paper doors and traditional kimonos on display!
The cafe is home to two resident shiba-inus, Dou Cai and Xi Mei, but they were out on their daily neighbourhood walk when we visited 😢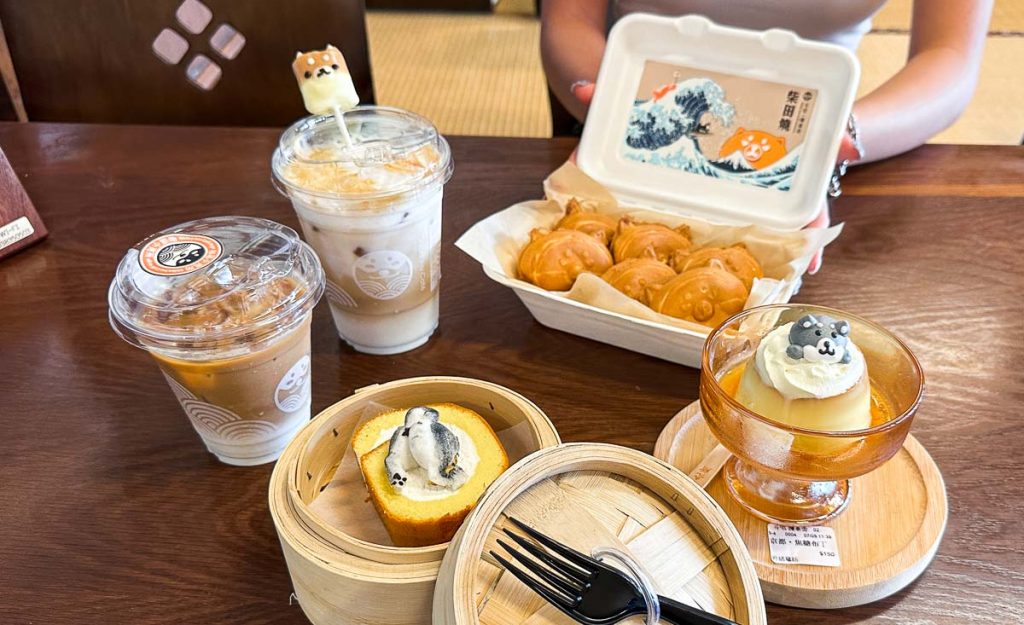 They offer an array of desserts but our highlights are the Shiba-shaped taiyaki (NT$150) and Swiss roll (NT$160). The former is a waffle filled with cheese or red bean and the latter is a Swiss roll with a dog butt sticking out — kawaii!
Cost: Minimum spend of NT$200/pax
Opening hours: 11AM – 7PM
Address: No. 23號, Sanmin St, Hualien City, Hualien County, Taiwan 970 (Google Maps)
*Note: Socks are required to be worn inside the cafe and are available for rent if needed.
Taroko National Park 太魯閣國家公園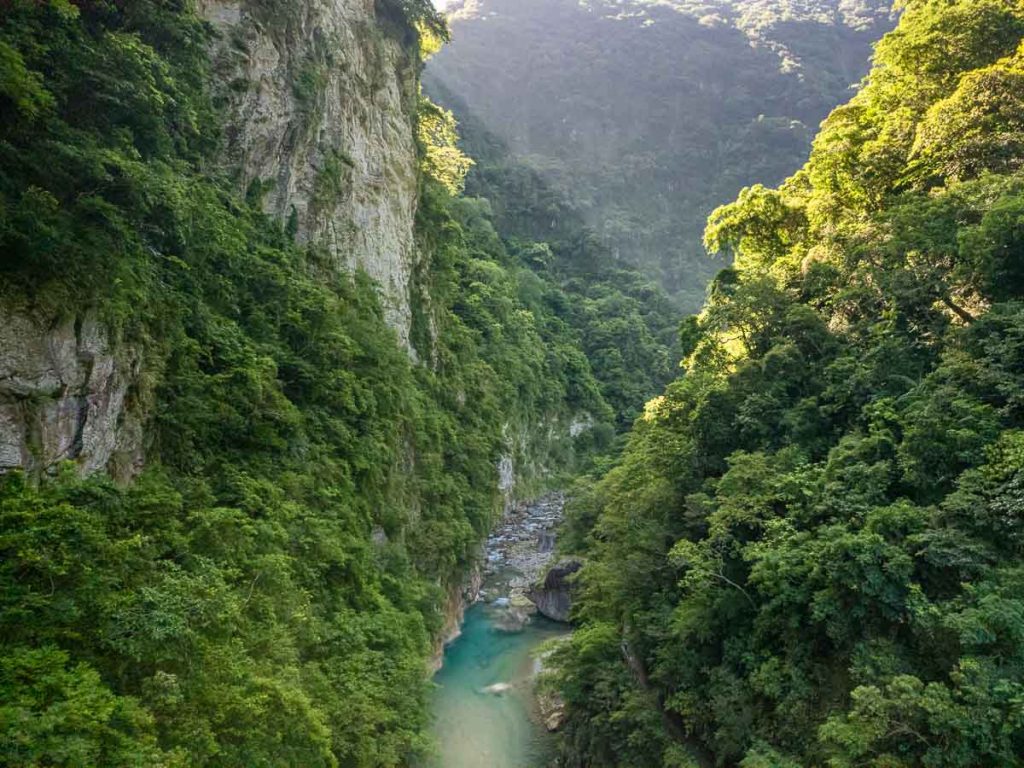 Arguably the most famous landmark in Hualien, no Eastern Taiwan itinerary is complete without visiting Taroko National Park. With towering marble canyons, gushing blue gorges and winding roads carved out the side of a mountain, driving through the park felt like I was in How to Train Your Dragon!
We visited the park back in 2018 but didn't manage to cover everything due to its scale. Our first stop is Swallow Grotto (燕子口), where swallows have made holes in the side of a cliff for their nests. There's a footpath where we watched the birds fly high above a chasm — don't look down if you're afraid of heights 🥴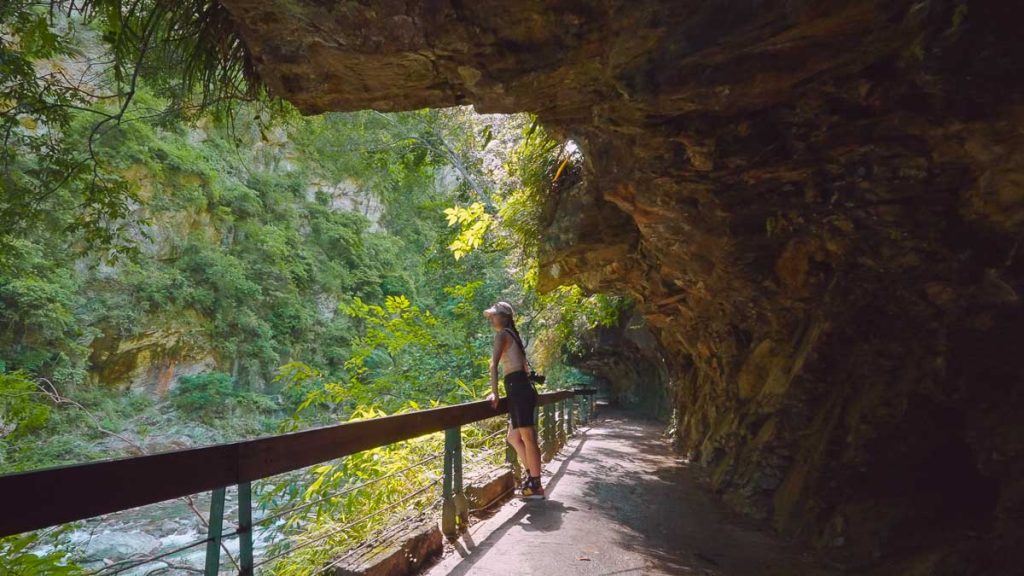 Taroko National Park is known for their hiking trails so we checked out the Shakadang Trail. The trail is primarily flat and spans 1.5km one-way, going against the vivid turquoise river.
The end of the trail is marked by huts selling refreshments and indigenous souvenirs but a shop owner told us to continue on for another five minutes to get to the stream.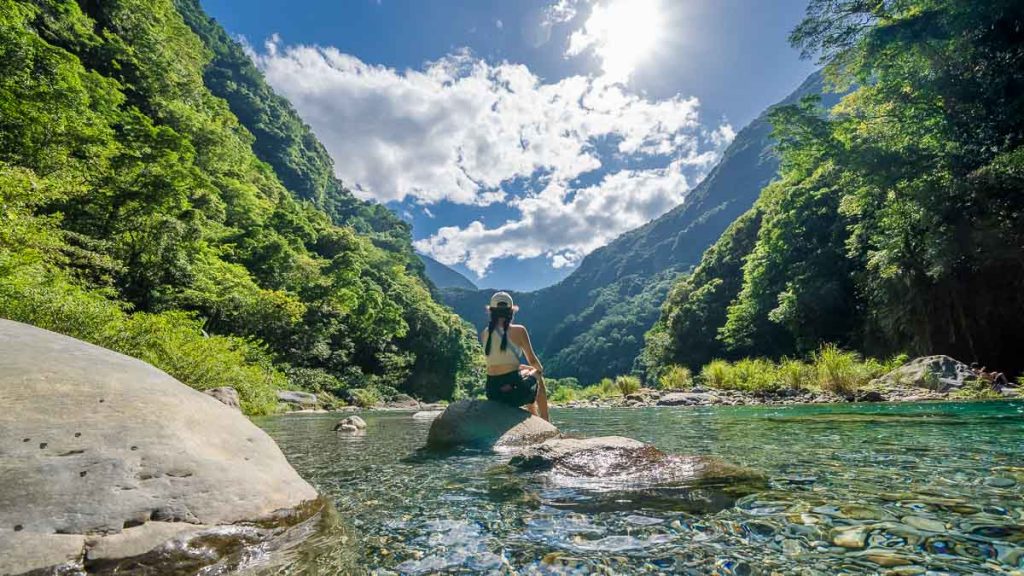 We climbed down some rocks to get to the stream and the crystal-clear pool is an untouched nature paradise. Dipping our feet into the cool waters after hiking in Taiwan's summer heat felt like the biggest reward.
Taroko National Park is also home to many natural and cultural wonders such as the Baiyang Waterfall and the Shrine of Eternal Spring but unfortunately, we didn't have time to check them out — we'll be back!
*Note: There are no lifeguards or mobile service on the trail so take note of your personal safety!
Shakadang Trail 砂卡礑步道
Entrance fee: Free
Duration: ~2 hours roundtrip
Starting point: 972, Taiwan, Hualien County, Xiulin Township
Read also: 8D Eastern Taiwan Itinerary: The Gateway to Nature's Best Adventures (Yilan, Hualien, Taitung and Kenting)
Liyu Lake Holiday Resort 花蓮鯉魚潭露營渡假村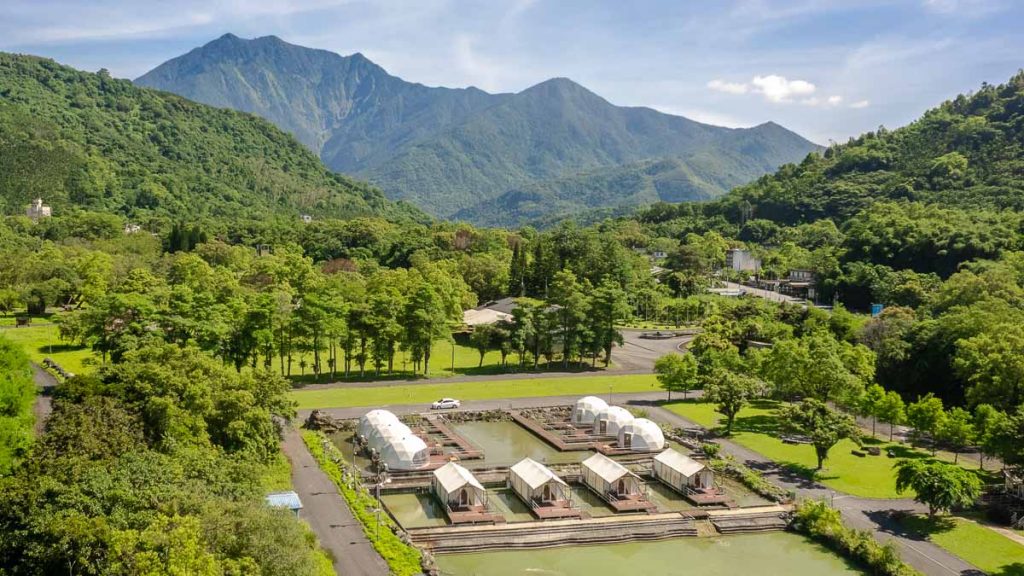 As someone who loves nature but hates roughing it out, glamping is the best of both worlds 💅.
Liyu Lake Holiday Resort offers different types of glamping rooms but we chose the bubble-like dome with hopes of stargazing. The huge room is fully furnished and there's even an in-room shower — Matt Damon wishes his Martian dome was like this!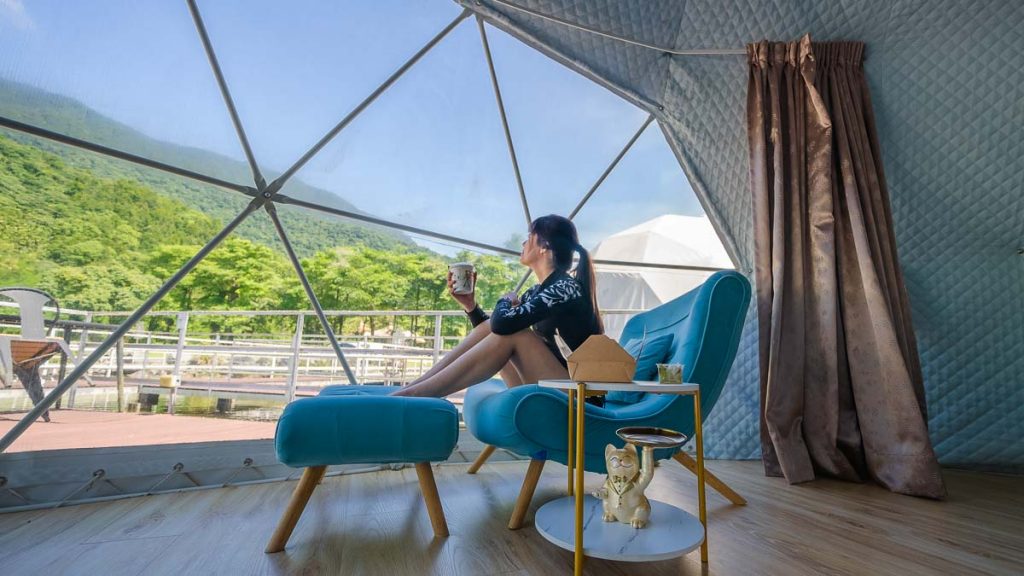 We had a pre-booked BBQ dinner (NT$800/pax) on the campsite before turning in for the night. Though it ended up being too cloudy for stargazing, waking up to a view of clear blue skies and mountains from the comfort of our beds was the best part ✨!
Cost: From ~S$197/night incl. breakfast
Address: No. 90, Section 2, Chinan Road, Shoufeng Township, Hualien County 974 (Google Maps)
*Pro-tip: Bring a sleep mask because the tent is bright after sunrise.
Day 4 – Hualien 花蓮市
Liyu Lake 鯉魚潭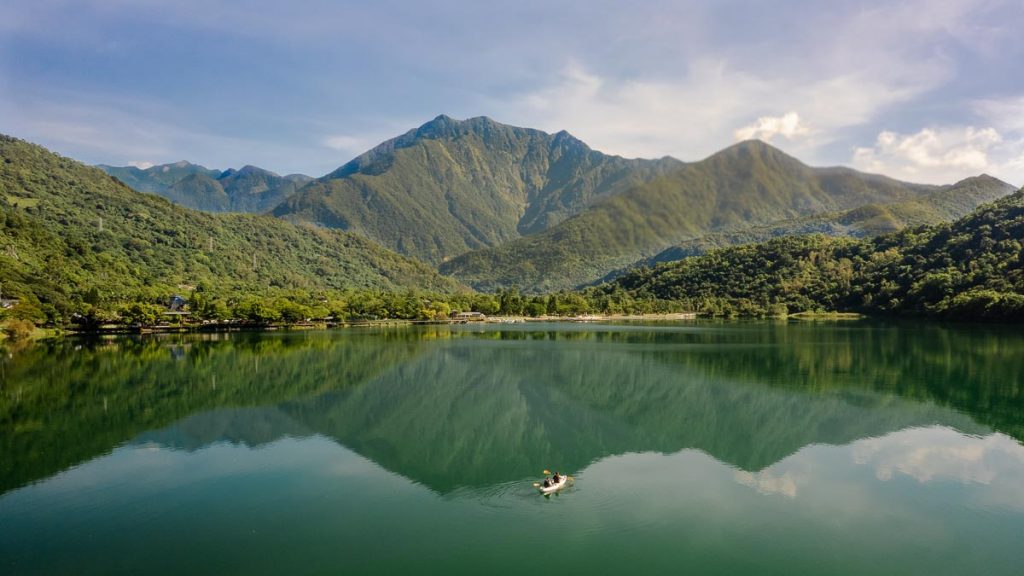 We woke up bright and early to beat the crowd at Liyu Lake (鯉魚潭) and sure enough, we had the whole lake to ourselves.
Just a five-minute drive from our accommodations, Liyu Lake is the largest lake on this side of Taiwan. We rented a kayak to get the best view of the lake, from the very middle, where we were treated to an insane sight — the mountains and sky reflecting off the surface of the lake.
Renting swan boats and stand-up paddling are alternative activities you can do at the lake.
Cost: ~$13/pax for 1.5hrs
Activity timings: 8AM, 9:30AM, 11AM, 12:30AM, 2PM, 3:30PM
Meeting point: No. 52, Section 1, Chinan Rd, Shoufeng Township, Hualien County, Taiwan 974 (Google Maps)
*Pro-tip: Save on Liyu Lake kayak rental and glamping accoms with Citi Cards — enjoy S$10 off Klook bookings (min. spend of S$150), or 50% off KKday bookings (capped at S$50 per transaction).
Ultralight Aircraft 日光輕航機場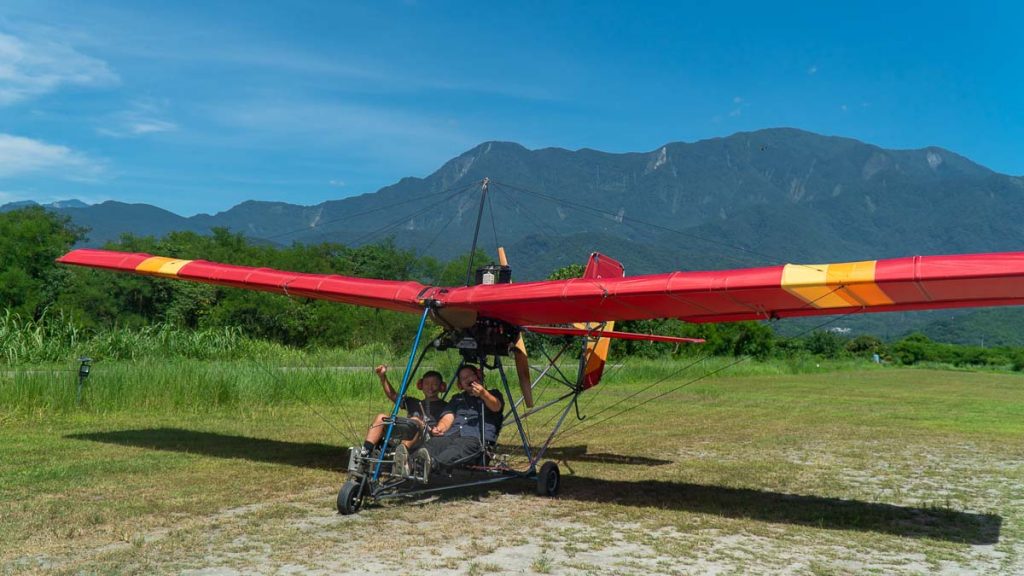 Soar above the mountains on an ultralight aircraft to get the ultimate view of Hualien.
While many have heard of paragliding in Taiwan, not many know about a light aircraft flight — where you fly through the sky in a two-seater, open-air plane! I'm a self-proclaimed adrenaline junkie but I almost chickened out in the days leading up to it.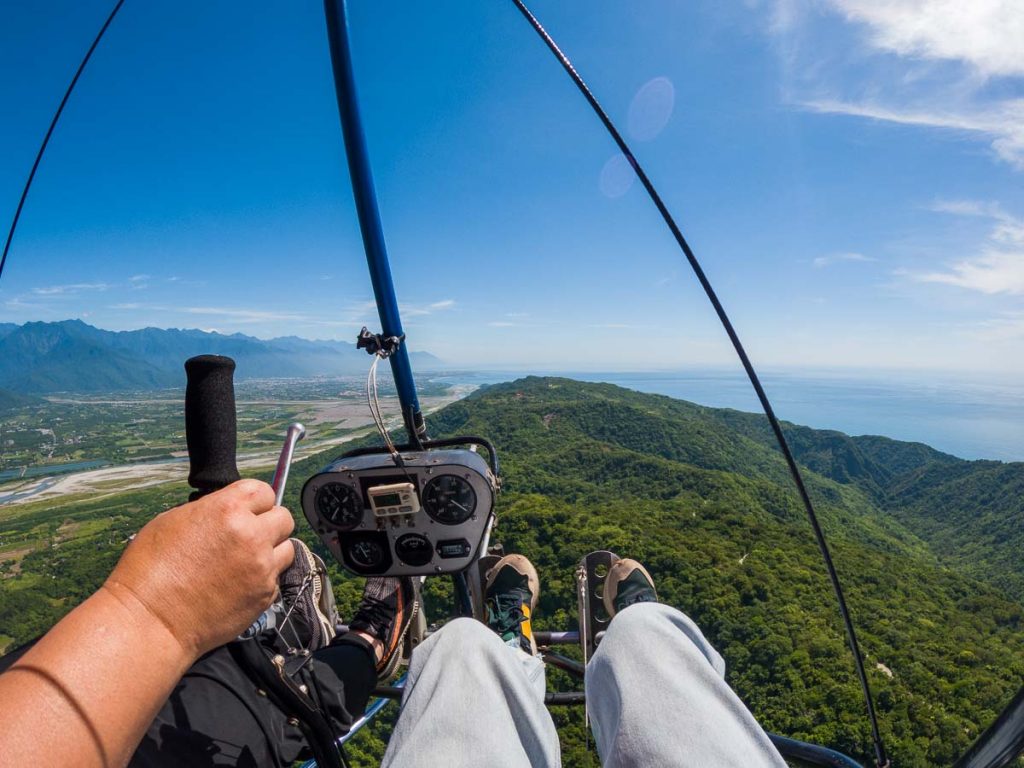 Nonetheless, the feeling of the wind whipping around me while being front row to an unforgettable view melted away all my fears. The pilot even flew close to the surface of the river, where we chased birds Aladdin style — the highlight of the trip!
There are different flight paths and durations to choose from and we opted for the 20-minute flight which flew over Hualien's mountainous East Rift Valley and the Pacific Ocean (NT$3,500/pax).
Cost: From NT$2,000
Activity timings: Varies
Meeting point: No. 191, Ln 21, St 600 Fengping Rd, Shoufeng Township, Hualien City, Taiwan 97443 (Google Maps)
*Pro-tip: This operator accepts credit card payments, so reward yourself with views (and miles) by paying with the Citi PremierMiles Card. Earn 2 Citi Miles per S$1 spend in foreign currency — and Citi Miles don't expire!
Read also: 25 Unique Things To Do In Taiwan Besides Visiting Night Markets
Parallel Time and Space Tea Room 平行时空·小茶屋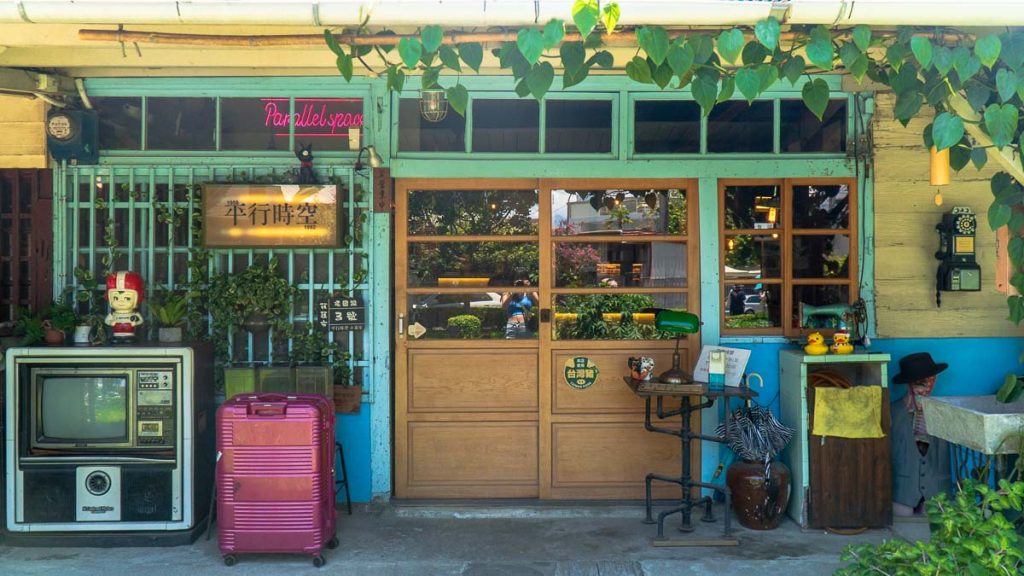 Walking into Parallel Time and Space Tea Room (平行時空·小茶室) is like walking into a 1980s time capsule.
The tea room is decorated with vintage furniture, toys and even posters of Chinese celebrities from back in their heyday — but it still has a modern touch to it! Plus, being greeted by a gentle schnauzer upon entering immediately won us over 🐕.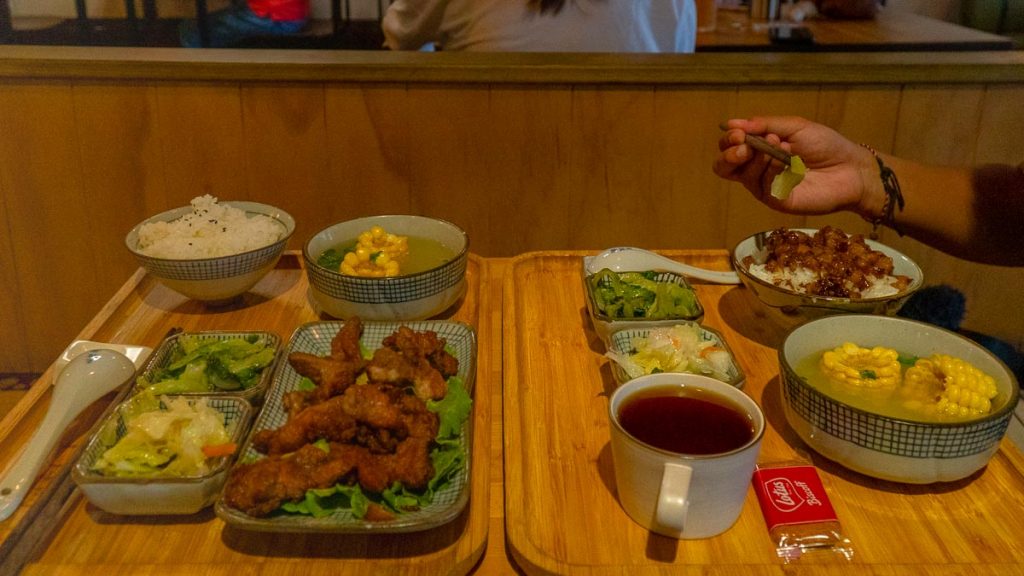 They specialise in Taiwanese set meals served with two vegetable side dishes and soup. We tried the Braised Pork Rice Set (NT$99) which had melt-in-your-mouth soft meat packed with flavour. The Traditional Fried Pork Chop Set (NT$189) reminded me of a home-cooked meal — nostalgic and absolutely delicious!
Cost: From NT$99/set
Opening hours: 11:30AM – 8PM, closed between 2:30PM – 5PM, closed on Wed
Address: No. 3, Jianguo Rd, Hualien City, Hualien County, Taiwan 970 (Google Maps)
Turumoan Whale and Dolphin-Watching Tour 多羅滿賞鯨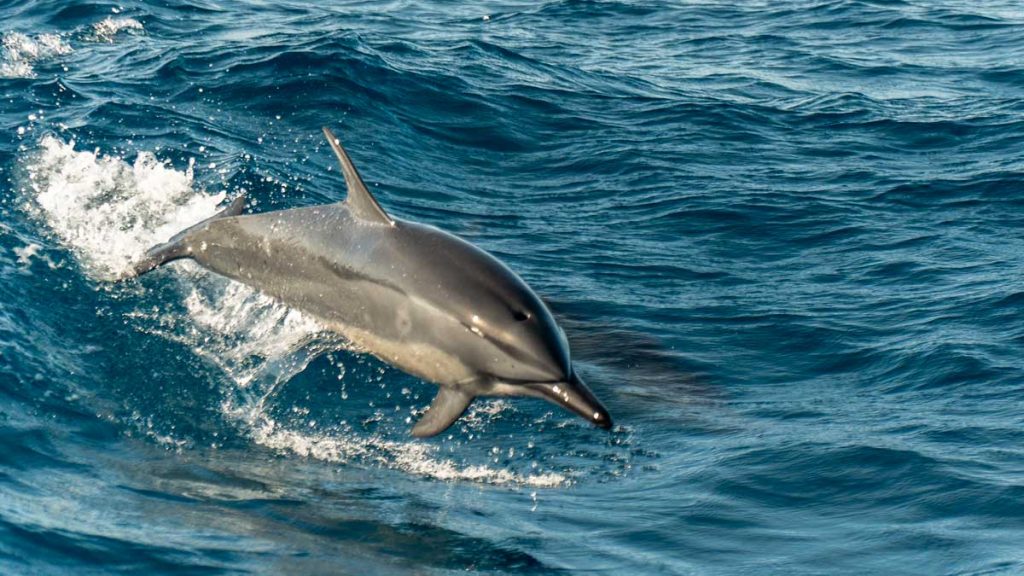 Taiwan's East Coast is the prime location for migratory fishes passing through — and with that brings whales and dolphins 🐬!
I've only seen dolphins in aquarium enclosures, so to see wild dolphins playfully chasing our boat and leaping from the water was an indescribable experience. Dozens of Bottlenose and Risso's dolphins swam just metres from the boat, while Spinner dolphins flipped mid-air all around us — almost as if they were showing off!
Turumoan Whale Watching Company in Hualien does several trips daily and we were led by a marine expert who identified and tracked the dolphin species.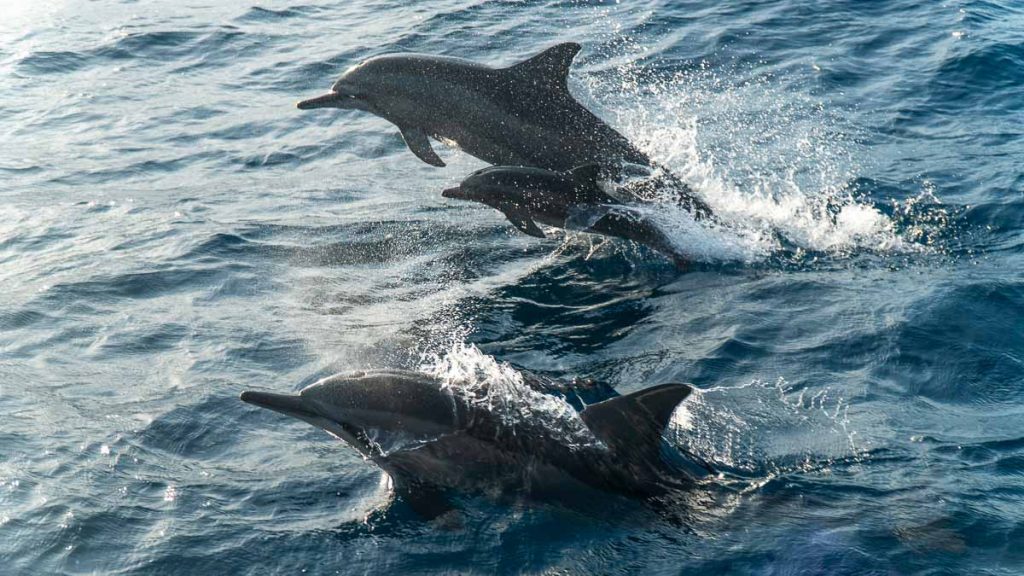 The baby dolphin leaping out of the water with its parents was a jaw-dropping moment!
Dolphins can be seen all year but it's recommended to visit between April to November if your goal is to see Orcas or Humpback Whales.
Take note that whale sightings are not guaranteed as these are ultimately wild animals — we visited during Sperm Whale season (May – Sep) but didn't manage to spot any 😭
Cost: ~S$33.30/pax without transfer, ~S$37.70/pax with transfer
Tour timings: 6:30AM, 8:30AM, 2PM, 4PM
Meeting point: Huadong No.15, Hualien County, Hualien City, Taiwan 970
*Note: For those driving, report to the tour operator's office first for a mandatory safety briefing before driving over to the pier for the tour.
Dongdamen Night Market 東大門夜市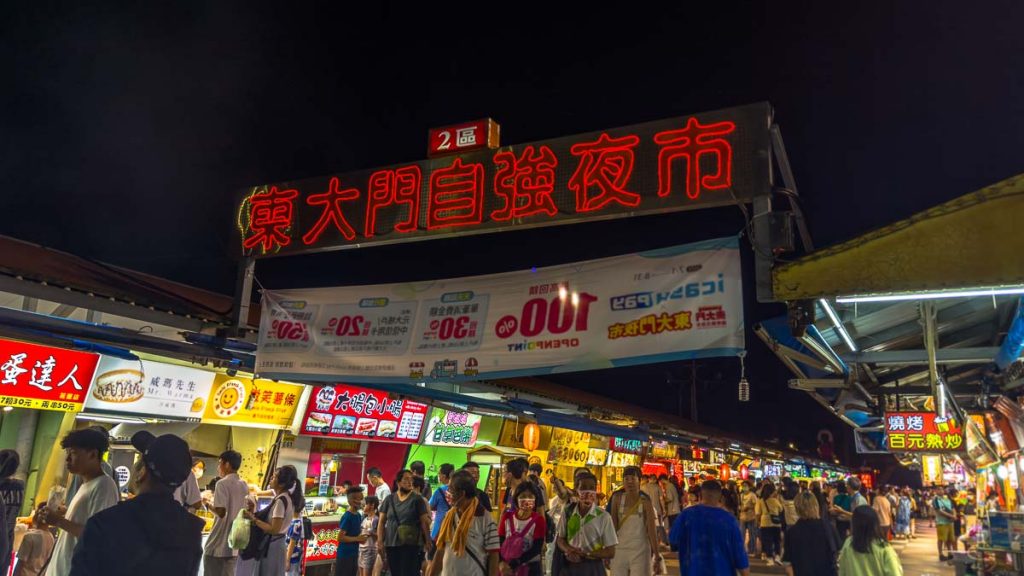 No trip to Taiwan is complete without going to a night market, and Dongdamen Night Market is the largest one in the county. Endless rows of stalls lined every corner and we got lost a couple of times — there are over 400 food stands!
You'll find all the Taiwanese night market staples like oyster omelettes and stinky tofu but at a fraction of the price sold in Taipei!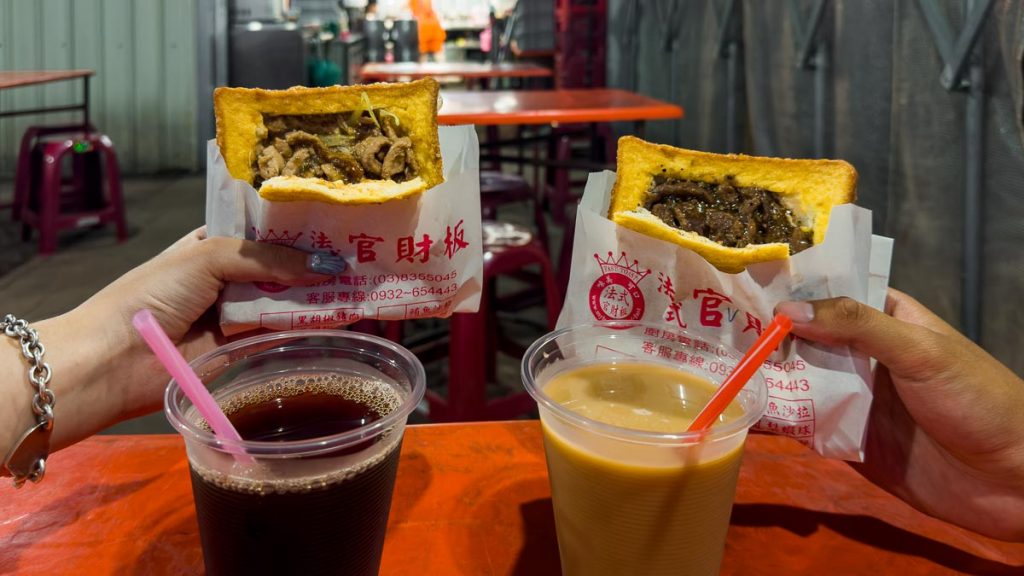 After seeing highly raved online reviews of 法式官財板, we had to try their 'Coffin Bread' and it didn't disappoint! It's essentially a hollowed-out French toast stuffed with meat. We ordered their Signature Black Pepper Beef (NT$65) and Barbecue Sauce Pork (NT$60) which came with a free drink!
Buskers are scattered around the market so you can sit down and indulge in your food loots while watching the performances. There are also games and cheap fortune-teller booths you can partake in — in which I found out my love life is hopeless 💔
Opening hours: 6PM – 12AM
Address: No. 50, Zhongshan Rd, Hualien City, Hualien County, Taiwan 970 (Google Maps)
Accommodation in Hualien City: Kindness Hotel Hualien (~S$154/night for a business double room) incl. breakfast and free parking.
Day 5 – Yilan 宜蘭市
Getting from Hualien to Yilan: ~1hr via TRA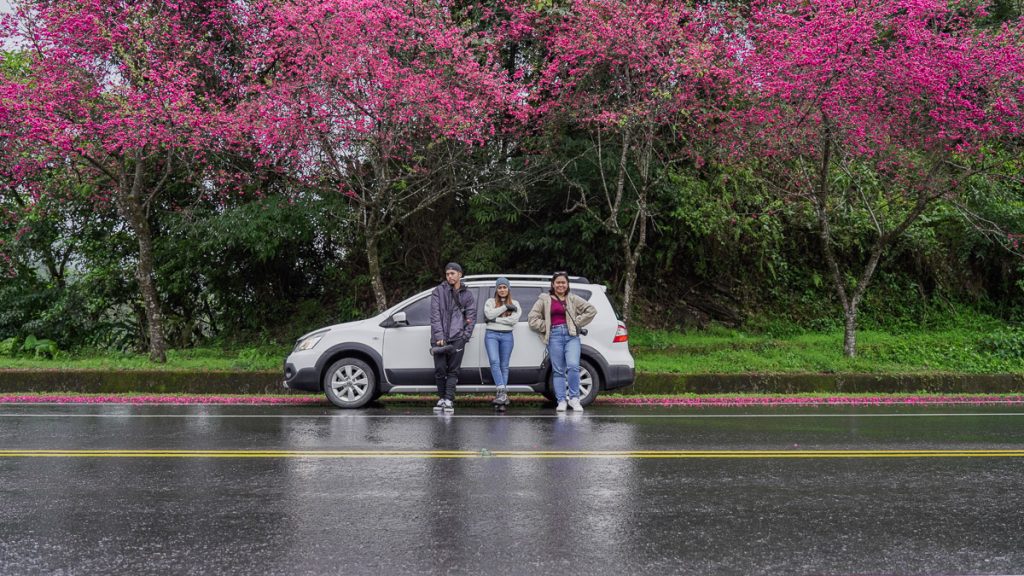 Our last day was spent exploring Yilan, Taiwan's Northeastern county before we took a ~1.5hr train back to Taipei to catch our flight.
Getting around Yilan: As public transport is infrequent, we rented a car for the day to get around Yilan. Taxis are an affordable alternative to get around town.
Zhang Mei Ama's Farm 張美阿嬤農場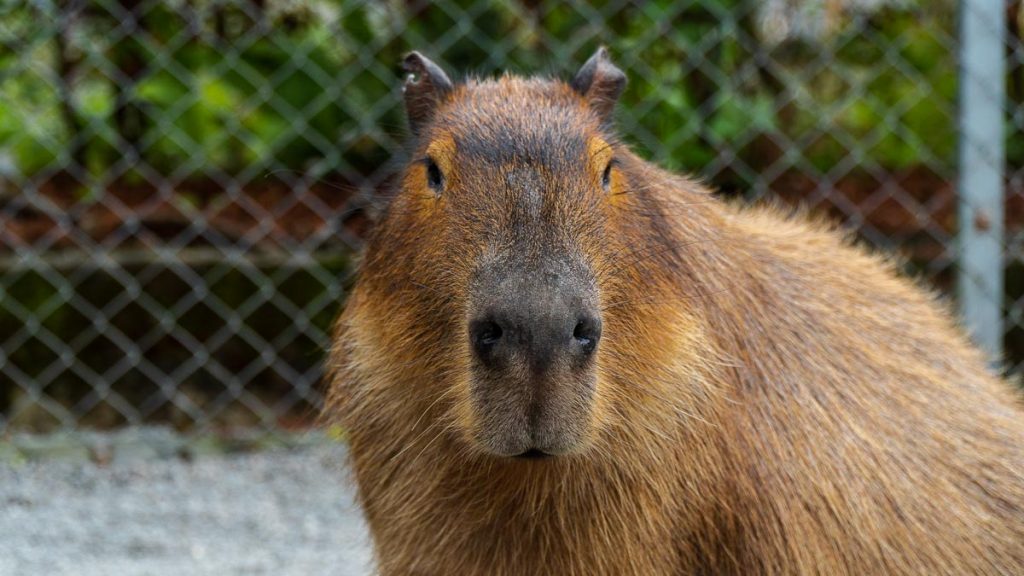 Zhang Mei Ama's Farm went viral on TikTok earlier this year and it's all thanks to the 🎶capybaras~ capybara, capybara, capybara, capybarasss…🎶
But did you know you can get up close and personal with other adorable farm animals like Sika deers, alpacas, and even the real-life Shaun the Sheep?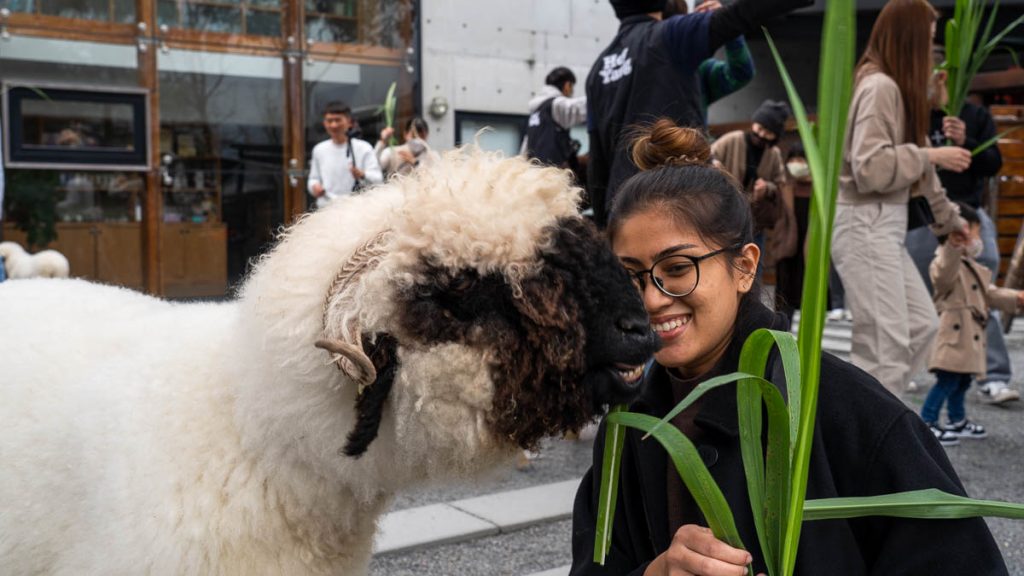 We pre-booked our tickets and exchanged them for vegetables to feed the animals. Be warned, the deers will tail you and gobble it all up so remember to spread out the feed so it'll last for all three exhibits!
All tickets come with a complimentary snack you can claim before exiting — we recommend trying Yilan's famous scallion pancake!
Cost: From ~S$9/pax
Opening hours: 9AM – 5:30PM
Address: No.26, Aly.11, Ln.141, Sec.2, Xingjianxi 1st Rd, Sanxing Township, Yilan County, Taiwan (Google Maps)
Chilli Hunter Ice Cream 葉家香礁溪辣椒文創館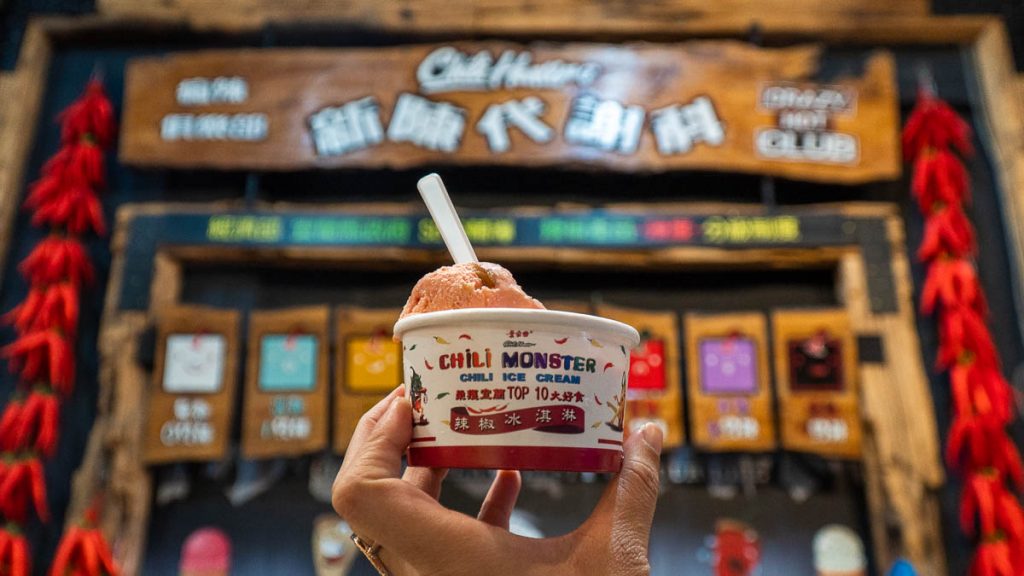 Imagine the show Hot Ones, but make it ice cream #juxtoposition. Chilli Hunter is a novelty ice cream store with chilli pepper as their feature ingredient.
They have different flavours corresponding to varying spice levels so choose carefully! We tried their spiciest flavour, the strawberry ice cream and our tastebuds got destroyed.
The shop also sells other chilli-infused products like chocolates, crisps, and beer!
Cost: From NT$80/scoop
Opening hours: 10AM – 10PM
Address: No.61, Sec.5, Jiaoxi Rd, Jiaoxi Township, Yilan County, Taiwan (Google Maps)
Yunoyado Onsen 東旅湯宿溫泉飯店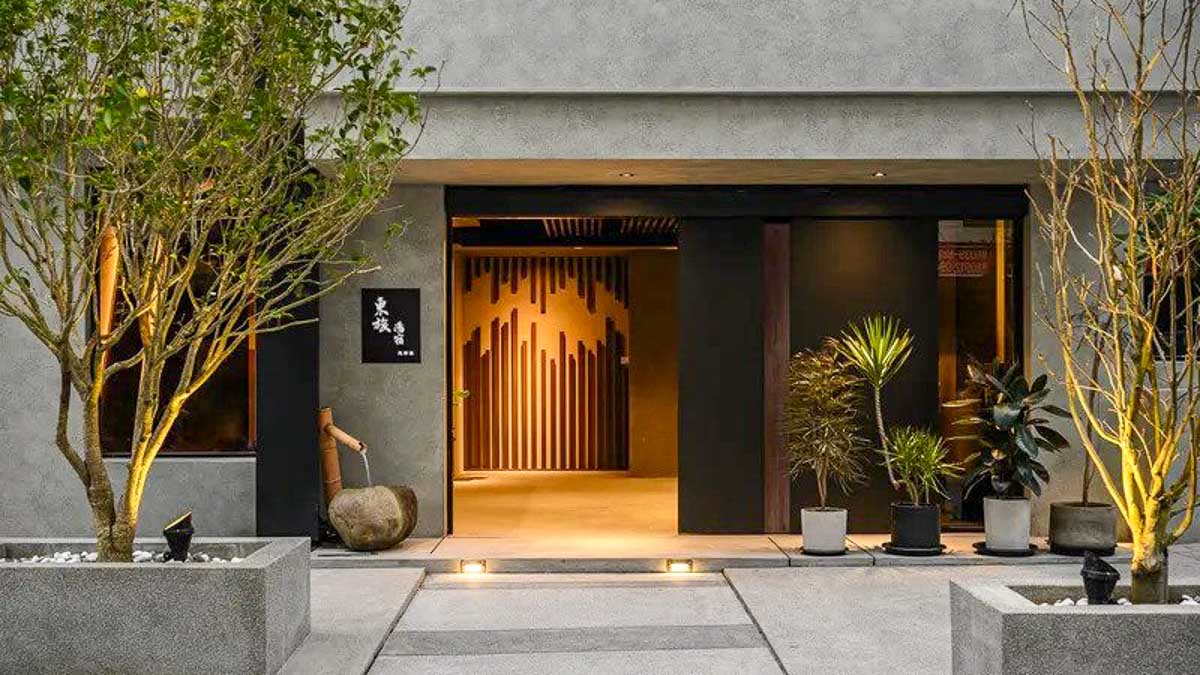 Photo credit: Klook
After setting fire to our mouths, it only made sense to have a last-minute hot spring session for the full East Asia experience before saying goodbye to Taiwan ♨️
Yunoyado Onsen is only a three-minute walk from Chilli Hunter and each booking includes a private onsen room for two! After decompressing in the sauna, refresh yourself with a complimentary afternoon tea set — a hard reset for the train ride back to the airport.
Cost: From S$14/pax for 2 hrs
Opening hours: 9AM – 11PM
Address: No. 28, Deyang Rd, Jiaoxi Township, Yilan County, Taiwan 26244 (Google Maps)
Read also: 5D4N Taiwan Itinerary Under S$500 — A Lesser-known Scenic Road Trip From Taipei to Yilan
Tips for Planning Your Taiwan Itinerary
1) Download the TRA app to get around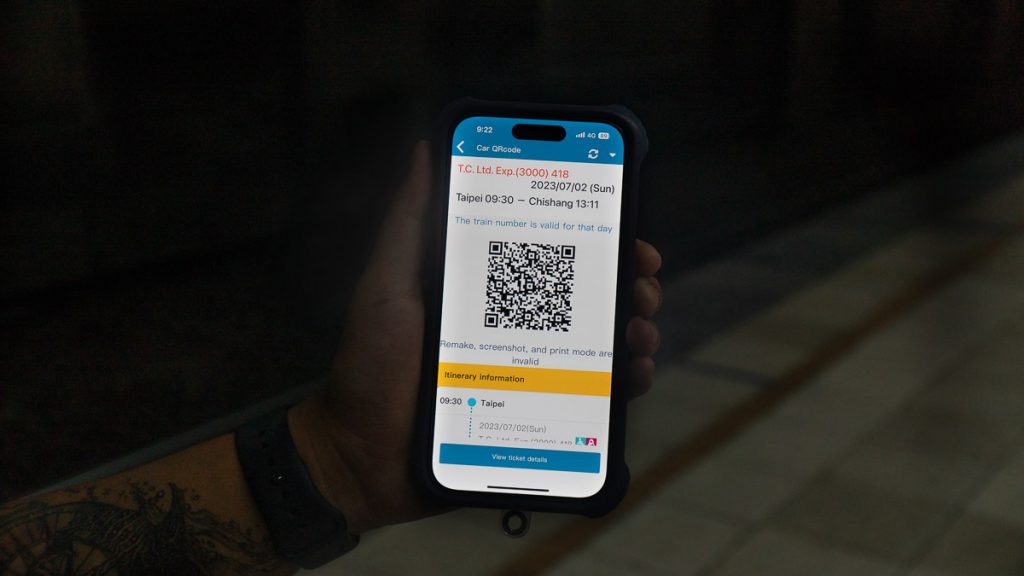 We found that it was more convenient to purchase our TRA train tickets on the Taiwan Railways Administration app (iOS / Android) as all our bookings were easily accessible under 'My Tickets'. Just scan the QR code when you enter and exit the train station and you're good to go!
Take note that if you're purchasing tickets for more than one person, you'll need to 'divide your ticket' by sending a link to claim the individual QR code from another TRA app account. We didn't know and got fined ~S$30 🤡
2) Carry some cash as backup for payment at local shops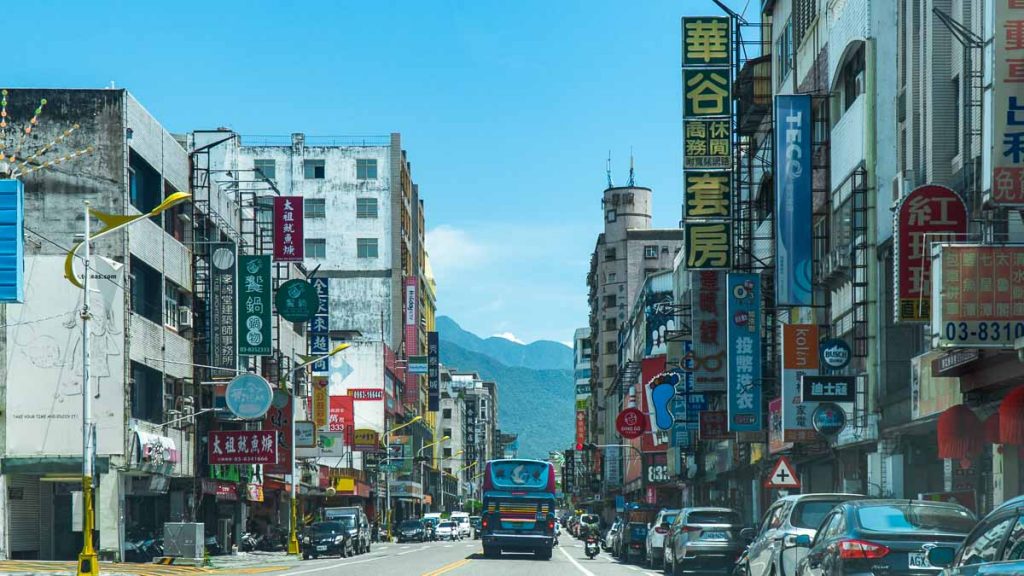 While we prefer to carry less cash in favour of cashless payment on our travels, many local eateries and night markets in Eastern Taiwan are cash only so make sure you bring along enough NTD!
There's also an extra surcharge for credit card payments in some establishments. Make up for this with a card that earns you rewards, like the Citi PremierMiles Card which gets you 2 Citi Miles for every S$1 spend in foreign currency.
3) Get discounts on flights, accommodation, and activities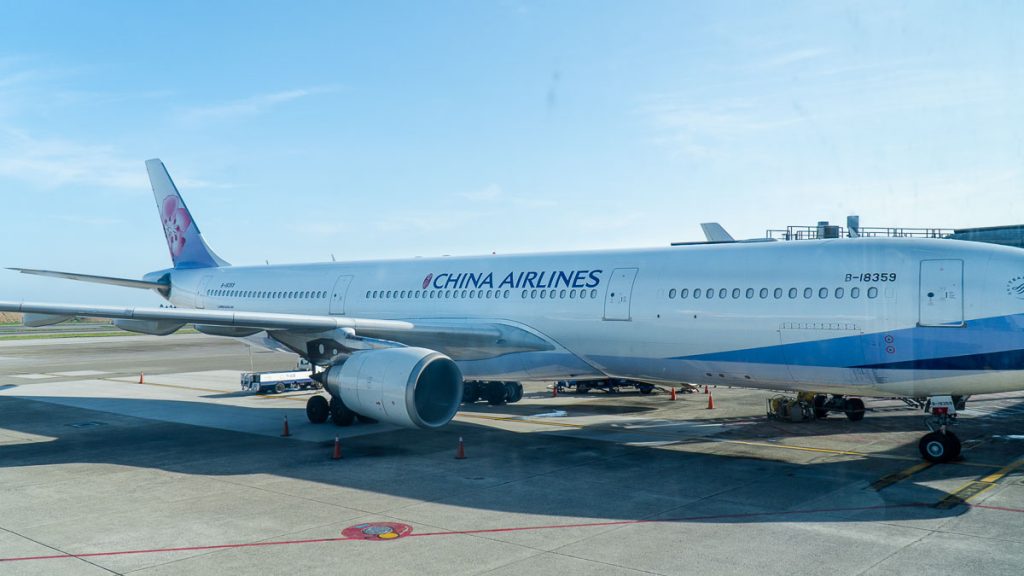 While Taiwan is not the most expensive destination, checking off multiple counties in a single Taiwan itinerary can add up! Here's how you can score some savings on your next trip to Taiwan! For Citi Cardholders, look out for these special travel promotions:
| | | |
| --- | --- | --- |
| Merchant | Offer | Valid until |
| Agoda | Get up to 22% off bookings with a Citi Mastercard® | 30 Sep 2023 |
| Trip.com | Get up to S$100 off hotels and flights for bookings with Citi Cards | 30 Sep 2023 |
| Klook | S$10 off bookings with min. S$150 spent on your Citi Card | 31 Dec 2023 |
| KKday | 50% off bookings with Citi Cards, capped at S$50 per transaction | 31 Dec 2023 |
| China Airlines | 3% off all cabin and all booking class | 30 Sep 2023 |
| EVA Air | Get 5% off regular airfares | 31 Dec 2023 |
| STARLUX Airlines | Get 10% off with the promo code STARLUXCITI, applicable to web fares for SIN-TPE and SIN-TPE-LAX one-way, round-trip flights. | 30 Nov 2023 |
Offers are subjected to T&Cs.
Plus, the fun doesn't end in Taiwan. China Airlines offers seamless connections to other destinations in Japan, Korea, China, Europe and North America — time to make the most of a promo? 😉
Read also: 6D Hokkaido Itinerary for Under S$1k — Must-Eat, See and Dos in Sapporo, Otaru, Asahikawa and Biei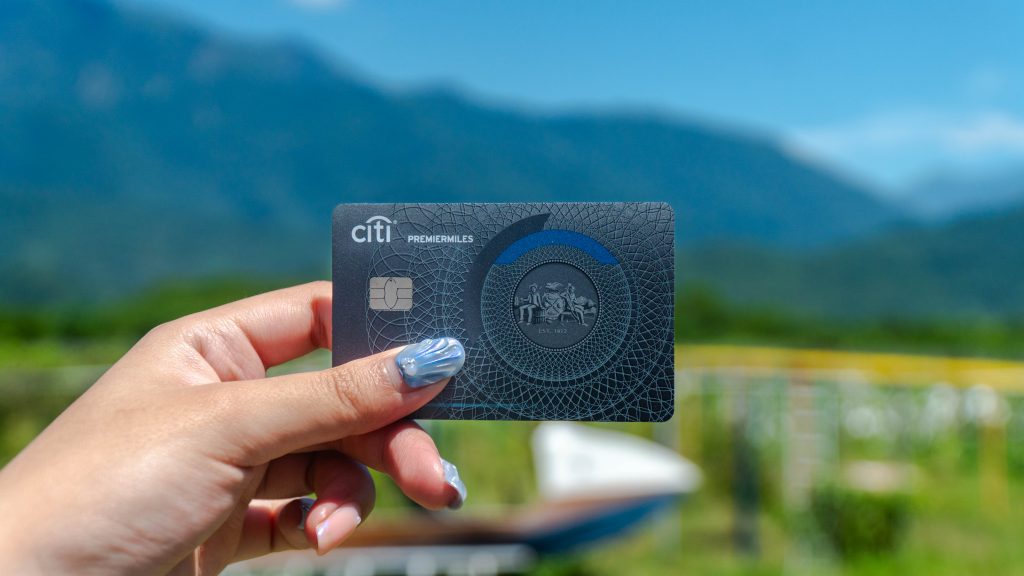 In addition, earn 2 Citi Miles per S$1 spend in foreign currency with the Citi PremierMiles Card! Citi Miles don't expire so you can redeem them anytime for your next vacation.
If you don't have a Citi PremierMiles Card yet, apply now and get Welcome Miles of up to 30,000 bonus Citi Miles*!
*Valid until 31 October 2023. For new Citi Cardmembers only. T&Cs apply.
4) Use the Google Translate Camera function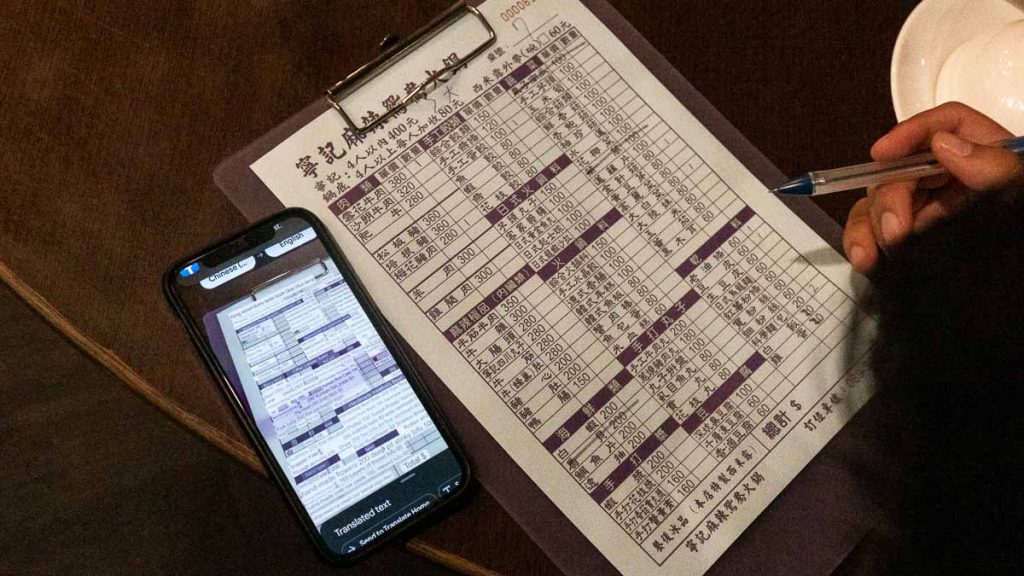 Taiwan uses Traditional Chinese on everything from websites to menus, so having the Google Translate app camera function on standby made ordering food so much easier. English is also not widely spoken (especially on this side of Taiwan) so this will come in handy!
5) Pre-order your SIM Card before arrival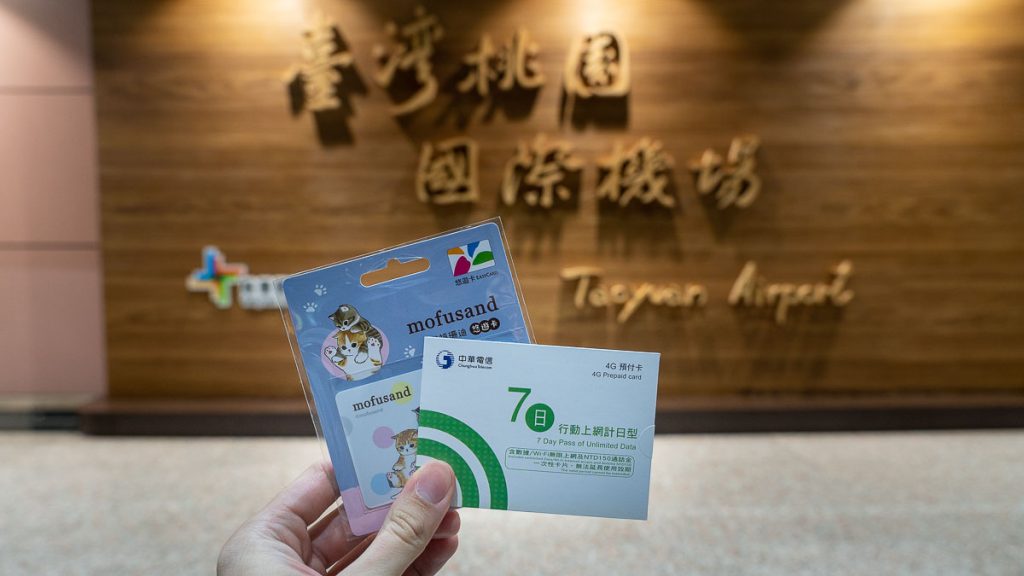 We got the 5-day SIM card with unlimited data for ~S$13. Just present the purchase voucher to the counter staff at Taoyuan International Airport after immigration and they'll help install the SIM to your device!
What's a must-visit place in your Taiwan itinerary? Let us know in the comments below!
---
This post was brought to you by Citi Cards.