Explore familiar favourites and uncover hidden gems — all in this Hokkaido itinerary. Read till the end for year-end travel deals on flights, hotels and activities! Warning: lots of drool-worthy food recommendations coming up!
We visited Hokkaido previously on an eight-day road trip covering 10 different areas. This time, we wanted to slow down and enjoy each place a little better.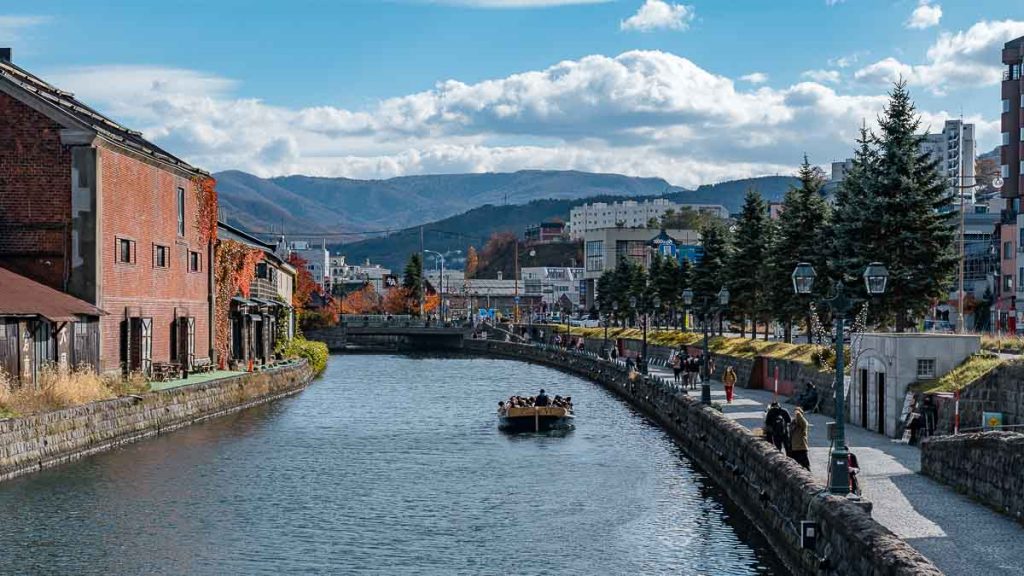 We got to revisit familiar favourites like the Otaru Canal, but also discover new hidden gems and (many) food spots we didn't see the last time.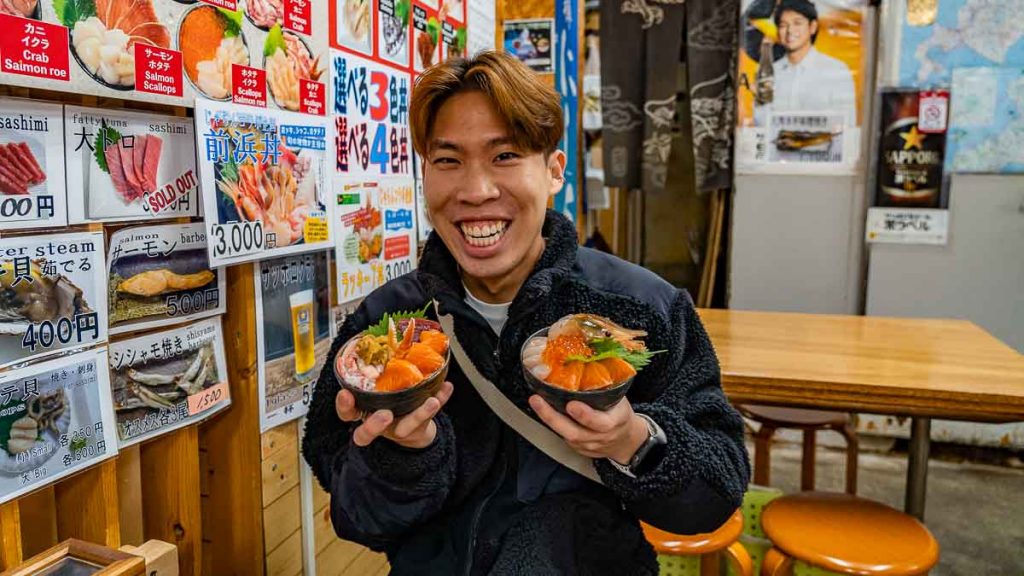 With slightly under a week, here's our 2022 Hokkaido itinerary covering non-seasonal experiences you can enjoy any time of the year in Hokkaido.
Hokkaido Itinerary and Budget Breakdown
Click on each city to jump to the relevant section:
Day 1-2: Sapporo
Day 3: Day trip to Otaru
Day 4: Asahikawa
Day 5: Day trip to Biei
Day 6: Sapporo
Budget Breakdown
Accommodation: S$263.67
Transport: S$285.21 (does not incl. flights)
Activities: S$23.68
Food: S$330
Misc: S$71.49
Total: S$974.04
Detailed breakdown for one pax here (prices are accurate at the time of writing). Flights aren't included as prices fluctuate.
*Pro-tip: Save more on trip expenses with Citi Credit Card travel deals, including up to S$100 off hotels, flights or experiences on Traveloka, or 25% off Agoda hotel bookings with Citi Mastercard® Credit Cards.
Day 1-2: Sapporo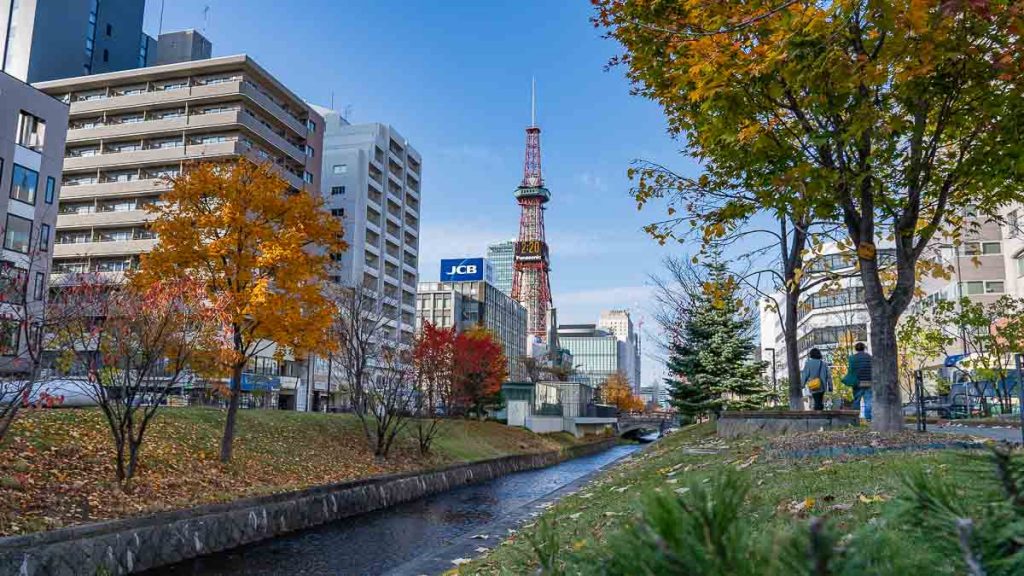 Sapporo is Hokkaido's vibrant capital city known for good food and beautiful cityscapes.
Soup Curry Garaku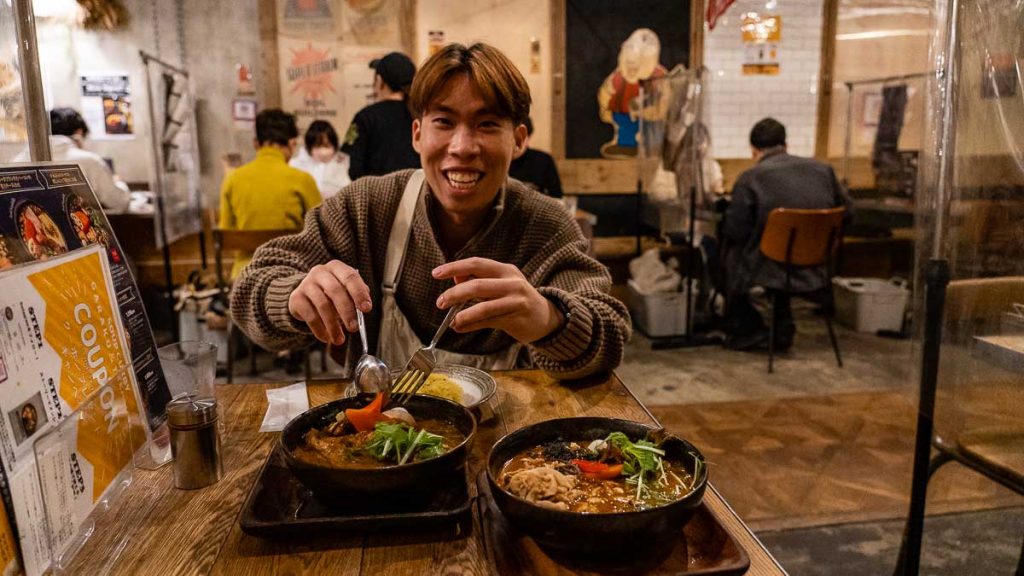 Originating from Sapporo, soup curry is a must-try when in Hokkaido. There's no flour in it, so it's a lot lighter than tonkatsu (pork cutlet) curry. We visited the popular Soup Curry Garaku which was walking distance from our hotel.
Their best seller is pork soup curry, but it was sold out by 2PM so we got chicken (¥1,250) and pork shabu (¥1,390) instead. The soup is light, with lots of veggies like broccoli, mushrooms and lotus root — the perfect dish to enjoy after a long day.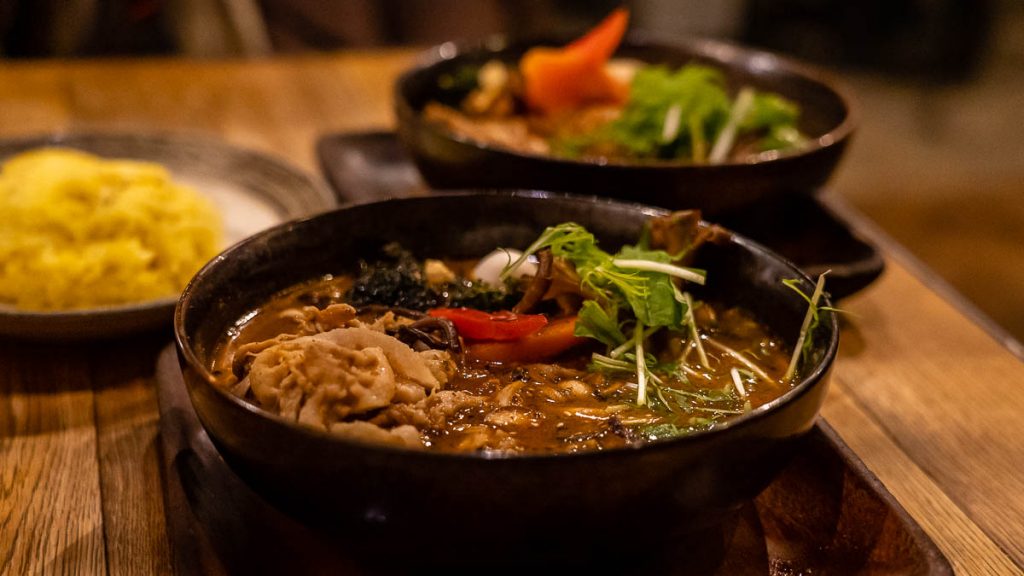 There's three rice portion sizes; we opted for the small but would recommend medium if you want a full meal. For spice, there's level one to 40! Regular is a level three, which is what I got.
*Pro-tip: Get a queue number from the machine when you arrive. If you have LINE, you can check the queue status on your phone and walk around while you wait!
Cost: From ¥1,250/main (~S$12.20)
Opening hours: 11:30AM – 3PM, 5PM – 8:30PM
Address: Japan, 〒060-0063 Hokkaido, Sapporo, Chuo Ward, Minami 2 Jonishi, 2 Chome−6−1
Tanukikoji Shopping Arcade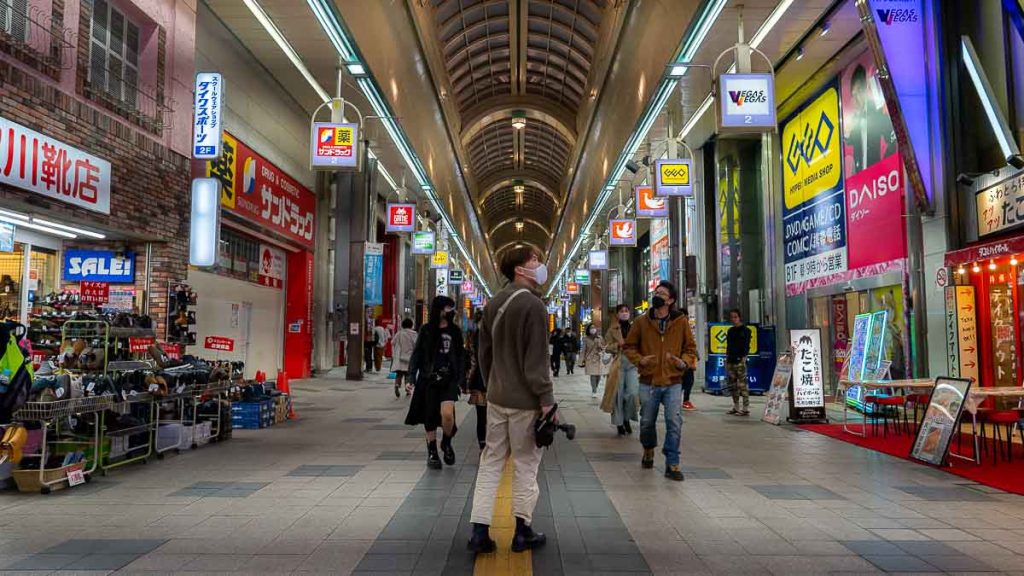 For retail therapy, head to Tanukikoji Shopping Arcade, a 1km-long stretch of shops and restaurants in the heart of Sapporo. There's all the Japanese favourites (like ABC Mart and Matsumoto Kiyoshi), plus a few cool thrift shops.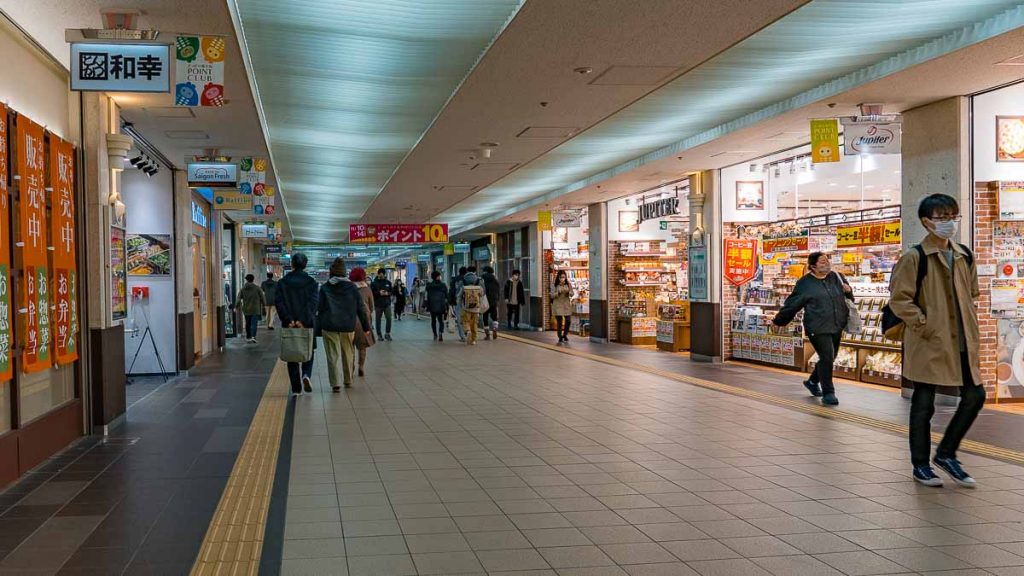 There's also a massive underground shopping complex that connects most of the malls and train stations along the main street. If you're visiting Sapporo during winter months, take the underpass to avoid the cold.
Opening hours: 24 hours — shops generally close at 8PM
Address: Japan, 〒060-0062 Hokkaido, Sapporo, Chuo Ward, 南2・3条西1~7丁目
*Pro-tip: Spend on your Citi PremierMiles Card to earn 2 miles with every S$1 overseas spend — if you don't have one yet, apply now and get up to 30,000 bonus Citi Miles.
Sapporo TV Tower and Odori Park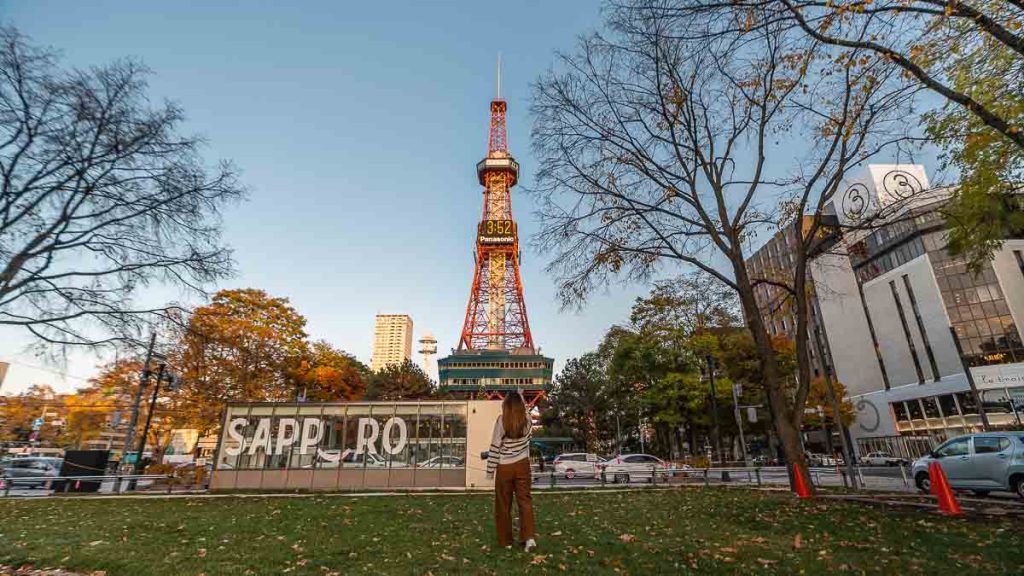 We weren't intending to head up to the Sapporo TV Tower but the weather that day was so good that we got tickets on the spot via Klook to catch the sunset from the observation deck.
*Pro-tip: Get 20% off experiences on Klook by booking with Citi Credit Cards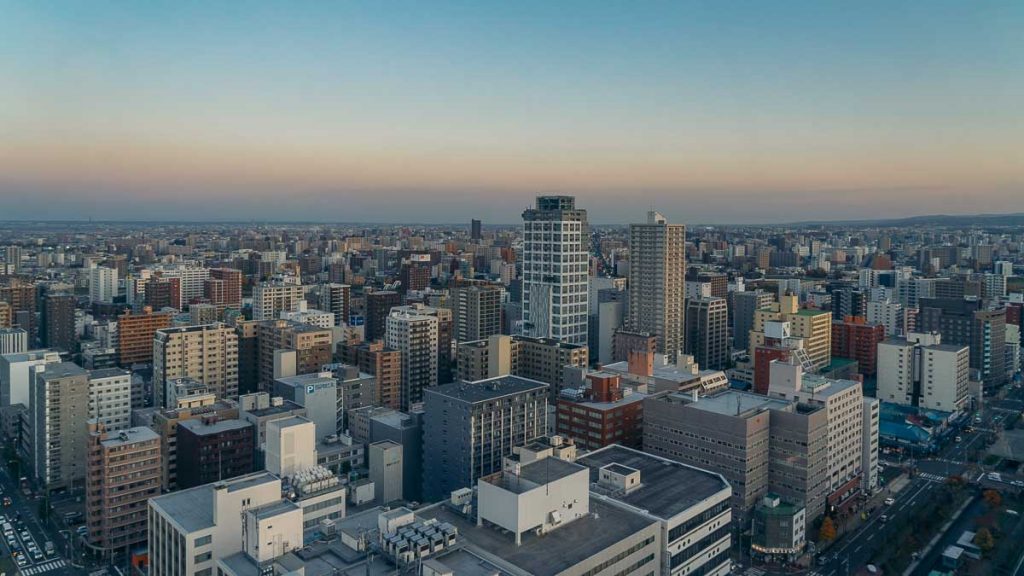 From 90m high, you've got great views of the cityscape and Odori Park! Each night, the tower lights up.
Entrance fee: ~S$7.89 via Klook
Opening hours: 9AM – 9:50PM
Address: 1 Chome Odorinishi, Chuo Ward, Sapporo, Hokkaido 060-0042, Japan
Gotsubo Oyster Bar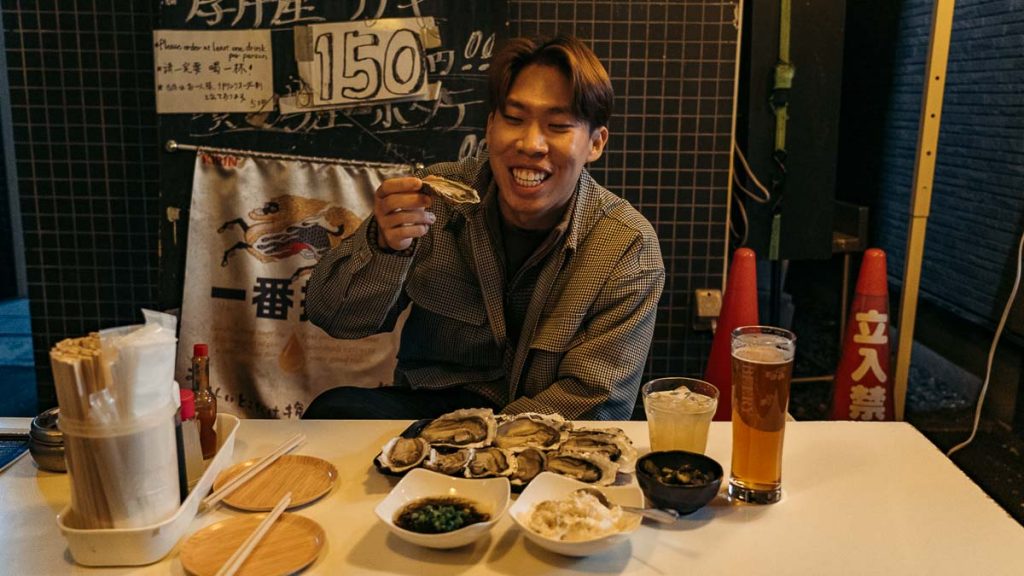 We found several reviews online raving about the oysters at Gotsubo Oyster Bar. As seafood lovers, we had to try it for ourselves.
Located in a quiet side alley in the nightlife district of Susukino, it wasn't crowded when we visited at around 6PM on a weekend.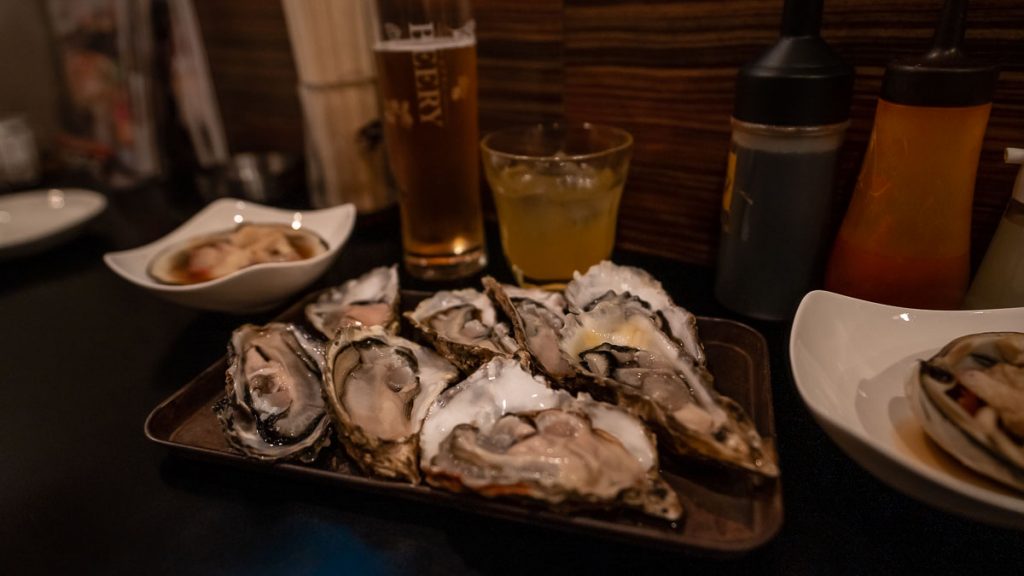 It costs just ~¥150/oyster (minimum of five). We ordered six and the chef threw in two more for free~!
We also had baked scallops (¥490 for one) and soy sauce baked giant surf clams (¥690), which were palm-sized and juicy. The highlight of the meal was definitely the oysters — they were huge and fresh, and had us returning once more before leaving Hokkaido.
This place is small and only seats about 15 at a time, so come early.
Cost: ~S$18/pax (Cash only)
Opening hours: 5PM – 2AM
Address: Japan, 〒064-0806 Hokkaido, Sapporo, Chuo Ward, Minami 6 Jonishi, 3 Chome−6-8 BASE-01
Ramen Yokocho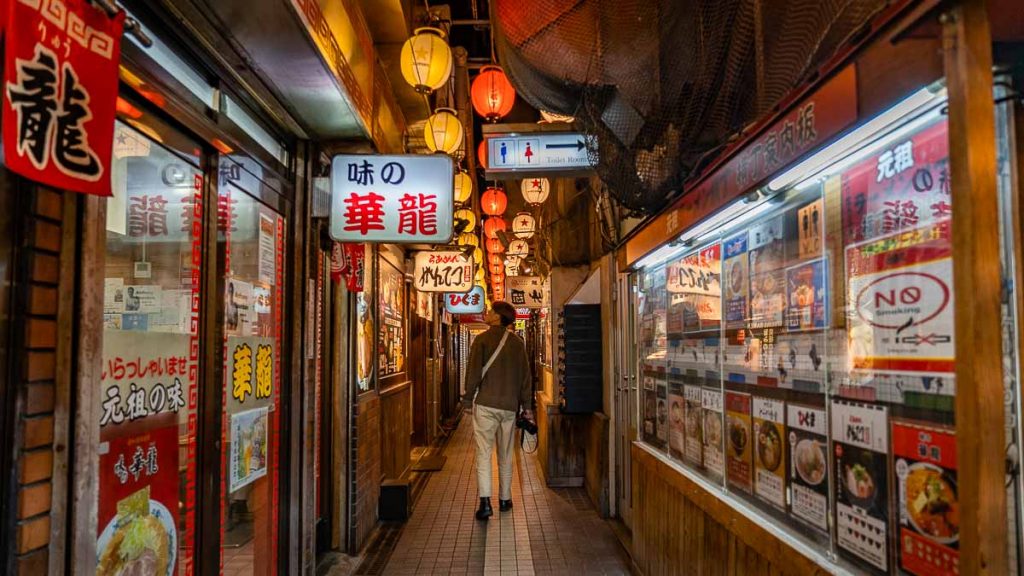 Ramen is a huge part of Hokkaido's culinary scene, and each city has its own specialty. Sapporo's ramen is miso-based, and a great place to try it is Ganso Sapporo Ramen Yokocho. This ramen alley in the Susukino district features 17 ramen shops!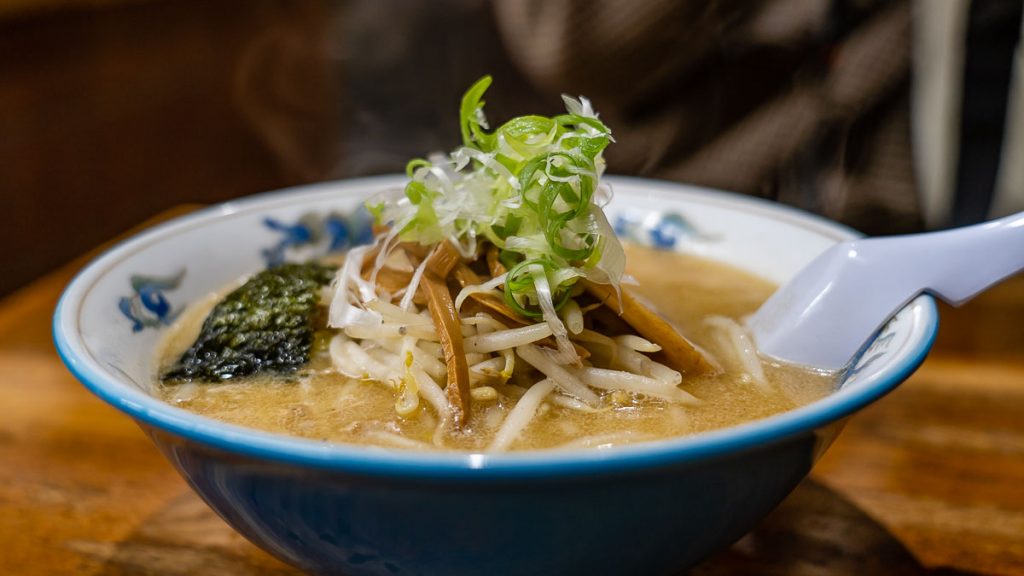 We had miso noodles (¥800) and fried gyoza (¥500), which made for a very hearty meal.
Cost: From ¥800/bowl (~S$7.90)
Opening hours: Varies
Address: N Grande Building 1F, Minami 5-jo Nishi 3-chome, Chuo-ku, Sapporo
Read also: Hokkaido Food Guide — 9 Must-Eats on Your Next Japan Itinerary
Shiroi Koibito Park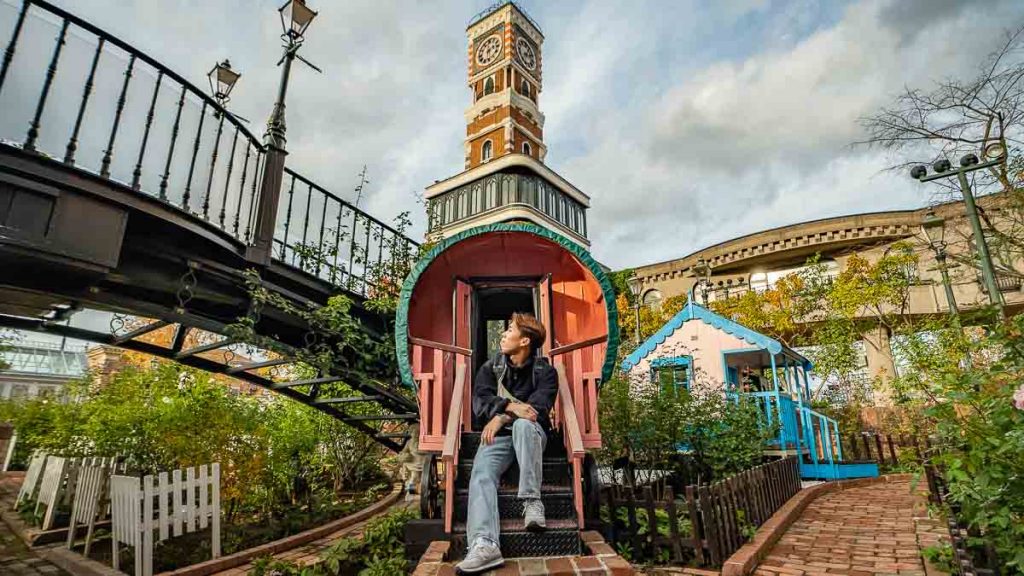 The name Shiroi Koibito might not immediately ring a bell. But you've probably seen their white chocolate biscuits — it's one of Japan's most famous snacks! Shiroi Koibito Park is a chocolate theme park built in 1976 dedicated to these treats.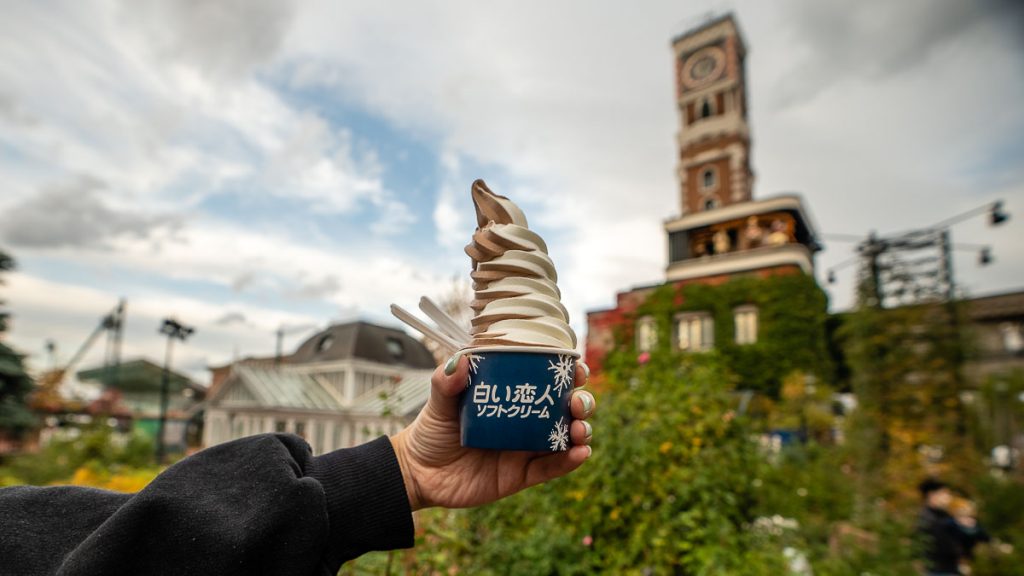 The outdoor garden is my favourite part of the park, which takes inspiration from British architecture. There are mini houses scattered all over and gives the feel of a fairytale village. Each hour, the Mechanical Clock Tower opens up to reveal automated animals!
Enjoy a soft serve ice cream (¥550) while you're there — there's a small snack stand outdoors.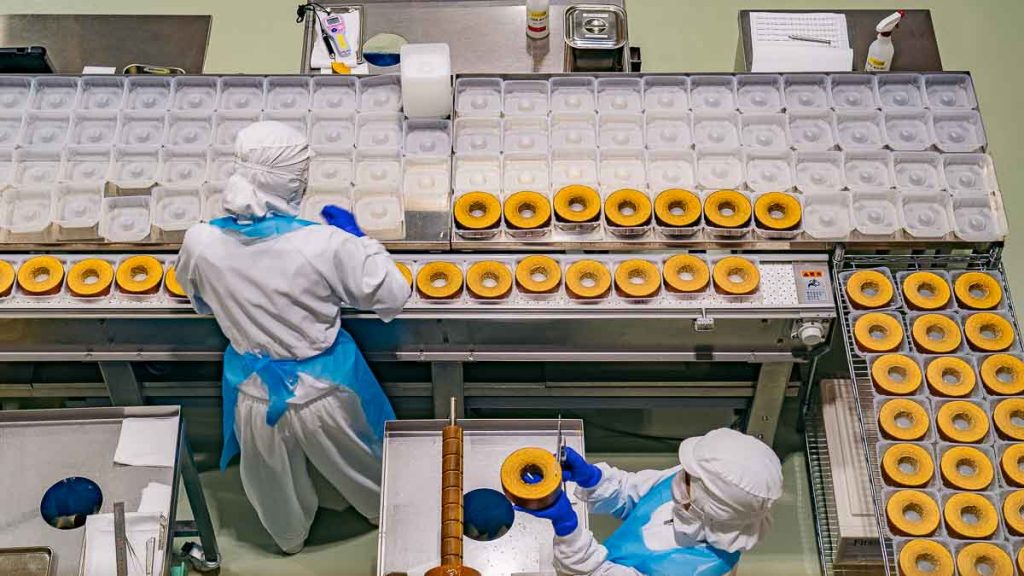 Inside, visitors can sign up for cookie decorating classes at Sweets Workshop Dream Kitchen or learn about the history of the Shiroi Koibito biscuits — and even watch them being made!
Before leaving, have lunch at one of the on-site restaurants, or stock up on snacks at the Piccadilly shop.
Entrance fee: ¥800 (~S$7.90) — the outdoor garden, restaurants and Piccadilly shop is free entry
Opening hours: 10AM – 5PM
Address: Miyanosawa 2-2-11-36, Nishi-ku, Sapporo, Hokkaido 063-0052
Kani Honke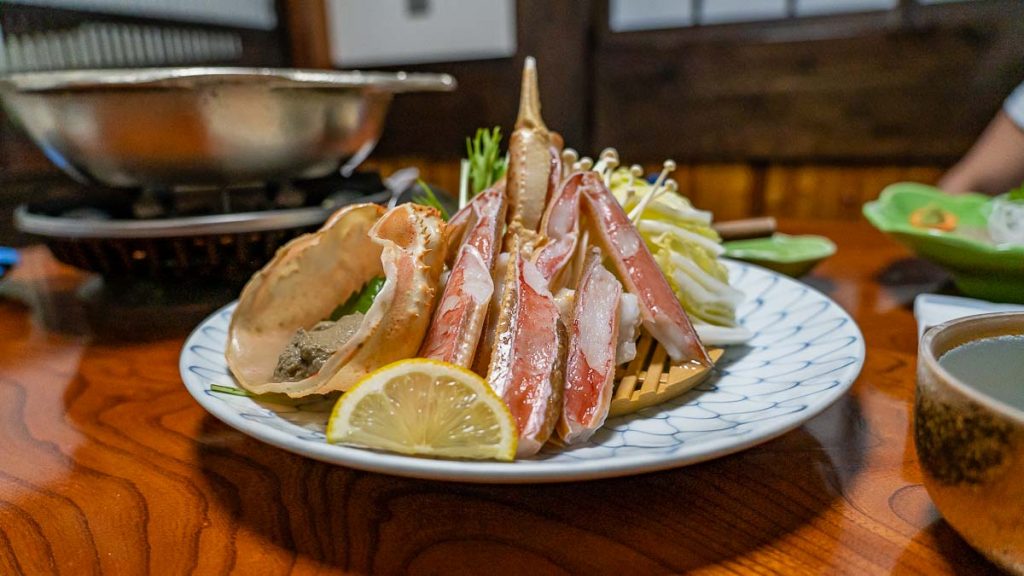 Crab is something Hokkaido is known for. So we couldn't exclude Sapporo's most famous crab restaurant, Kani Honke, in our Hokkaido itinerary! The restaurant isn't hard to find — it occupies an entire seven-storey building that's noticeable the moment you step out of Sapporo station.
There's an extensive menu, from course meals and hot pot sets to a la carte dishes.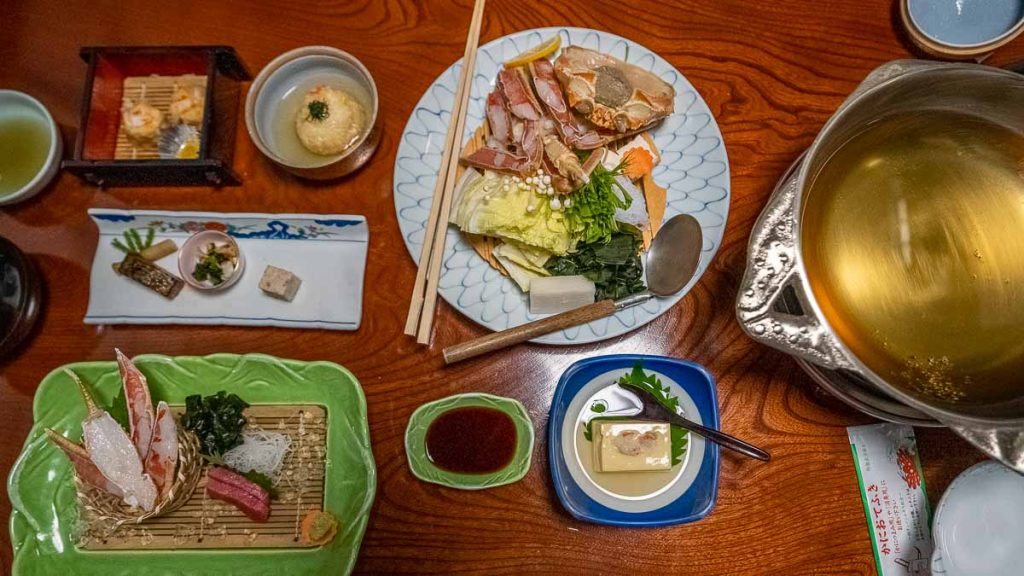 We ordered a kanisuki (hotpot style) course for ¥9,637 (~S$94) which includes eight dishes to share. The main course was the snow crab hot pot and sashimi! It was my first time trying raw crab, and the meat was really creamy and smooth.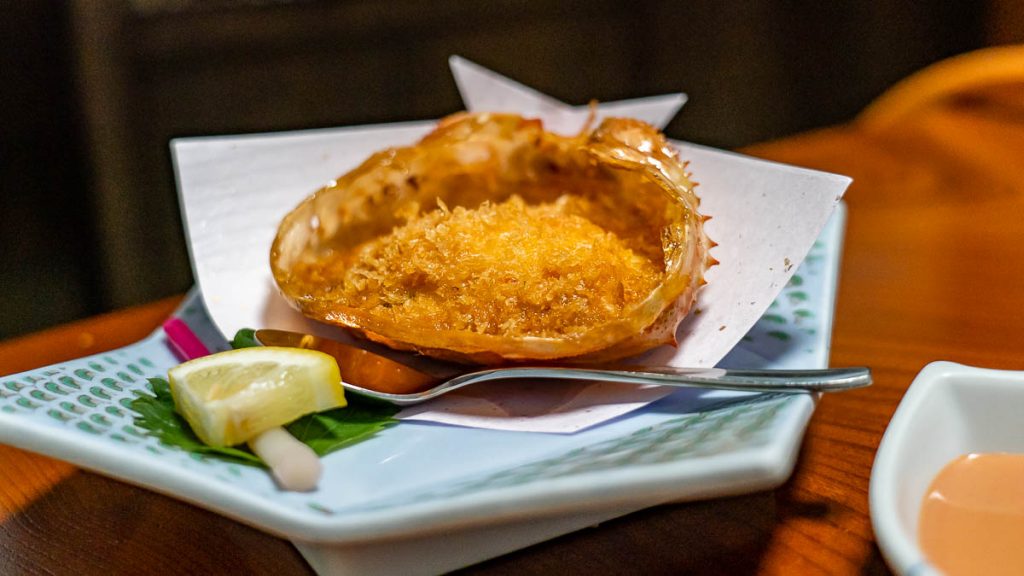 One set wasn't filling enough for two people, so we added one portion of fried crab meat (¥1,650) and snow crab sushi (¥2,000). Both were really good!
*Pro-tip: Make a reservation online at least 10 days in advance — they close online bookings after that. Alternatively, go at off-peak hours. We went around 5:30PM and got a seat without reservation.
Cost: ~S$60/pax
Opening hours: 11:30AM – 10PM (Last order 9:30PM)
Address: 2-1-18 Kitasanjo-Nishi, Chuo-ku, Sapporo, Hokkaido
K.L.I.M Dessert Cafe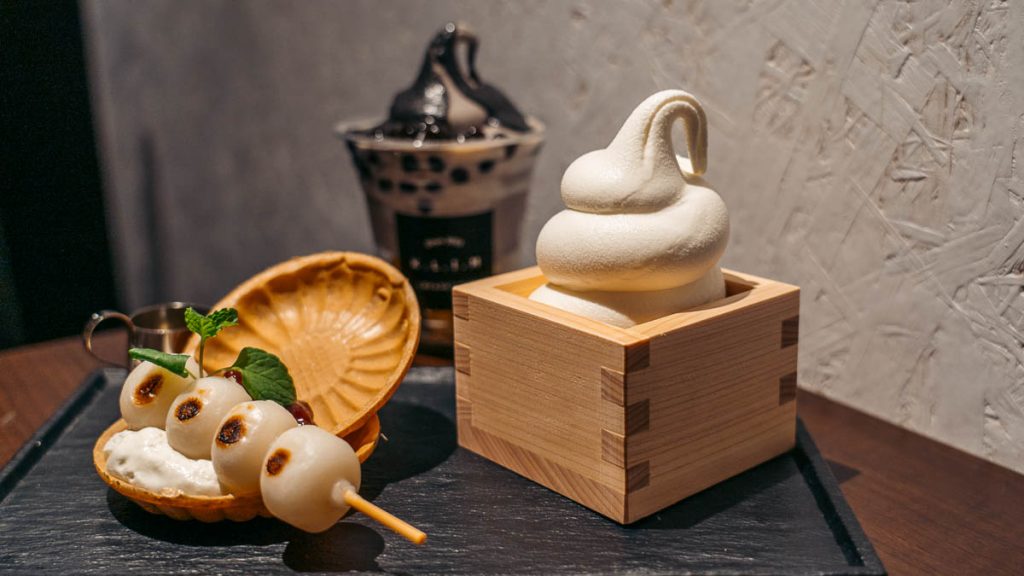 It isn't a trip to Hokkaido if we didn't include Hokkaido soft serve! For dessert, we headed to K.L.I.M which newly opened in 2021. We had milk soft serve with dango (¥1,100) and their signature black sesame and coconut soft serve with pearls (¥900). Both were really good!
Cost: From ¥400 (~S$3.90)
Opening hours: 7PM – 3:30AM
Address: 5 Chome Minami 6 Jonishi, Chuo Ward, Sapporo, Hokkaido 064-0806, Japan (They have another outlet that opens from 11AM – 5PM)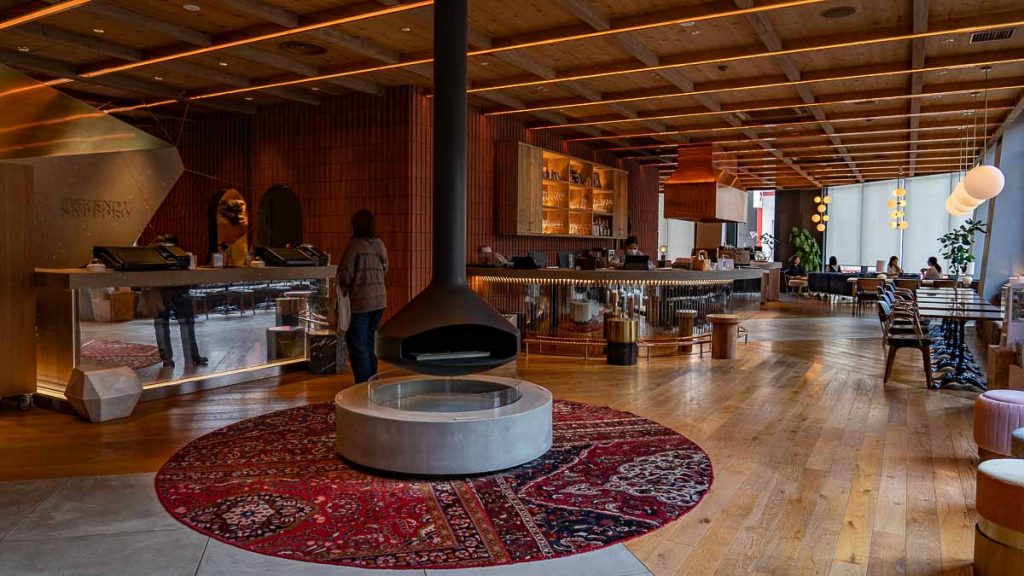 Where to stay in Sapporo (3 nights): The Knot Sapporo (from ~S$93/night for a twin room). It's 1.4km from Sapporo station, and right beside Tanukikoji Shopping Arcade and several other restaurants.
*Pro-tip: Book with Citi Mastercard Credit Cards to enjoy 25% off hotel bookings on Agoda!
Day 3: Day Trip to Otaru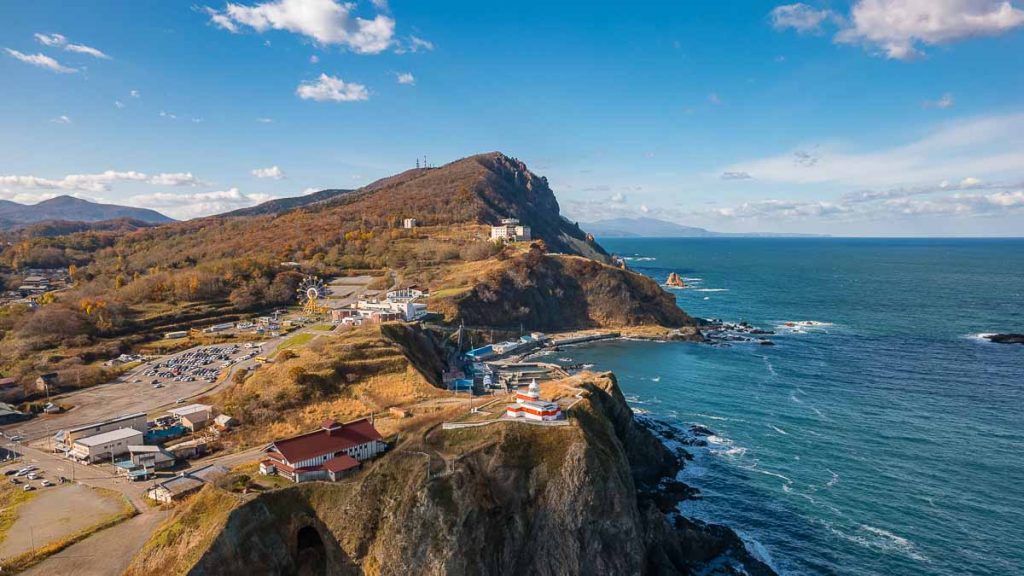 Getting from Sapporo to Otaru: 35min via train
Otaru is a charming coastal town that can easily be covered as a day trip. This is one train journey you don't want to nap on — the route is extremely scenic. It snakes along the coast and we even spotted several surfers catching waves!
*Pro-tip: Pre-book your Hokkaido JR Pass via Klook and save up to S$50 with Citi Credit Cards.
Hiyoriyama Lighthouse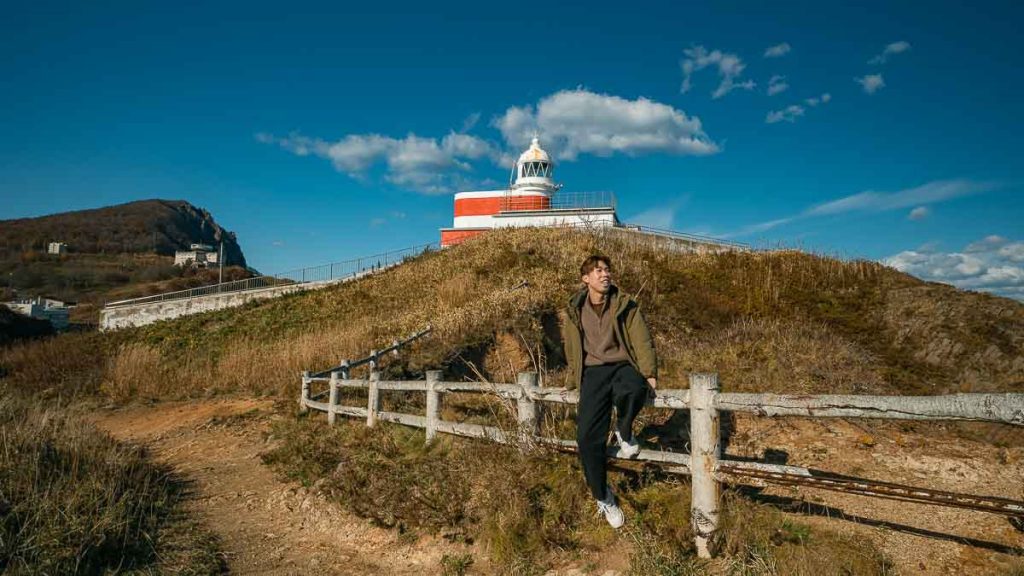 First stop of the day — Hiyoriyama Lighthouse. It's a 30-minute bus ride from Otaru Station (¥240); get off at Otaru Aquarium. From there, it's a short eight-minute walk to the lighthouse.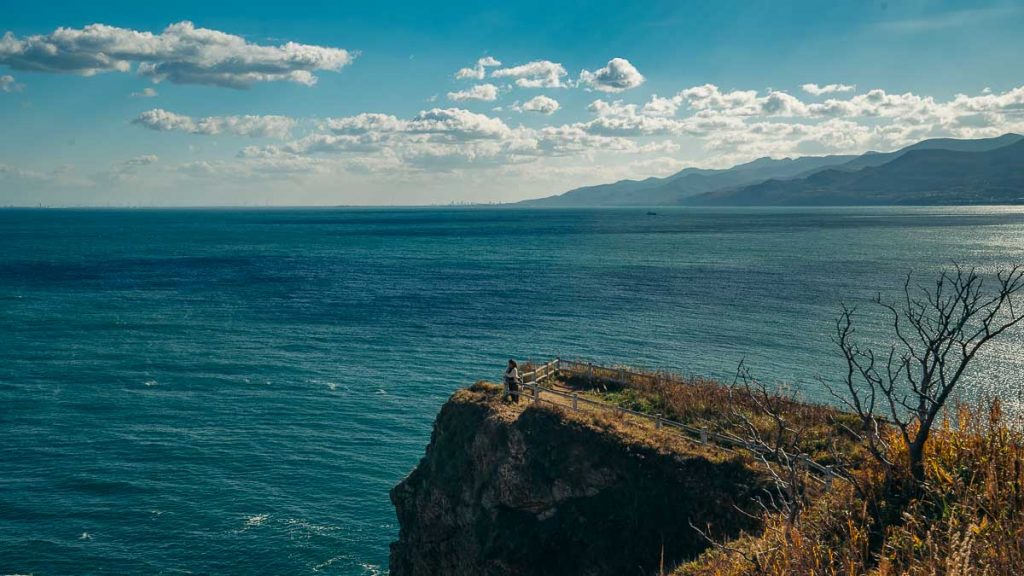 The area surrounding the lighthouse is really scenic. It's the perfect vantage point to take in Otaru's coast and the Sea of Japan — a highlight of this Hokkaido itinerary!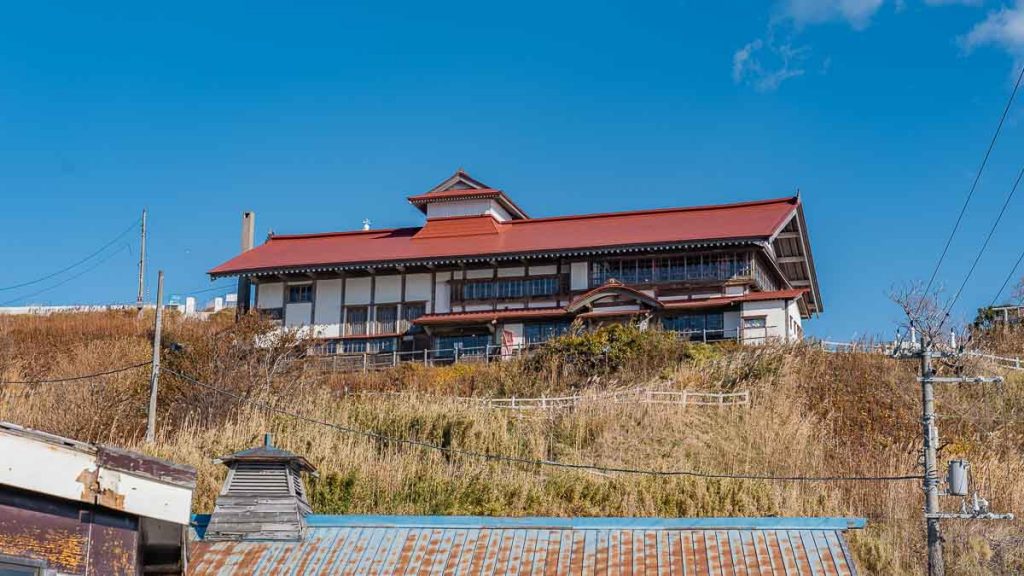 Beside the lighthouse is Nishin Goten, or Herring Mansion — a tribute to Otaru's past where herring fishing played a major role in the city's development. Drop by (¥300 entry) to catch a glimpse of life as a fisherman in the olden days!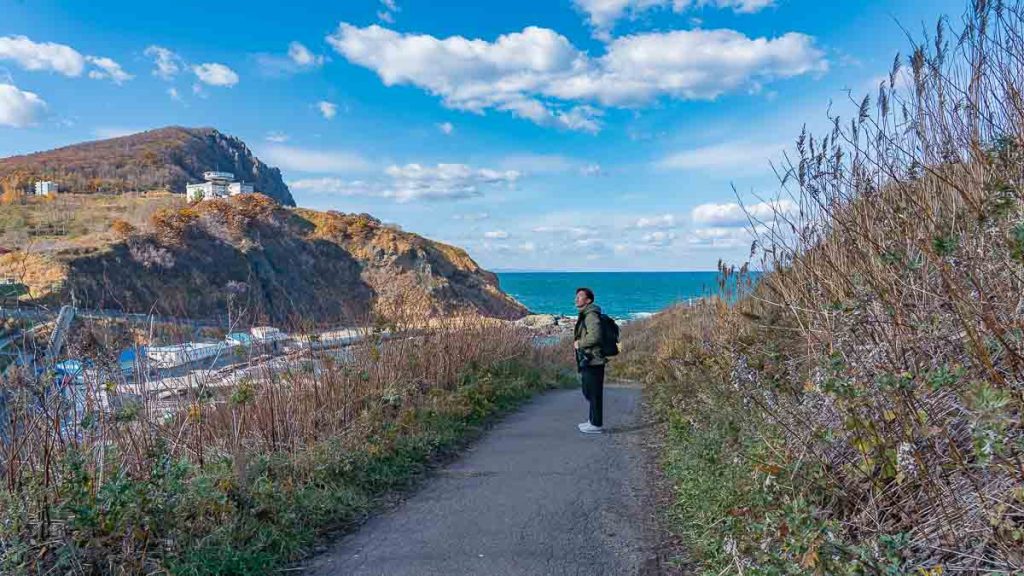 Nearby, there's also the Otaru Shukutsu Panorama Observation Deck and a few nature trails for those who'd like to spend more time exploring the coast.
Entrance fee: Free
Opening hours: 24 hours
Address: 3 Chome-240 Shukutsu, Otaru, Hokkaido 047-0047, Japan
Sankaku Market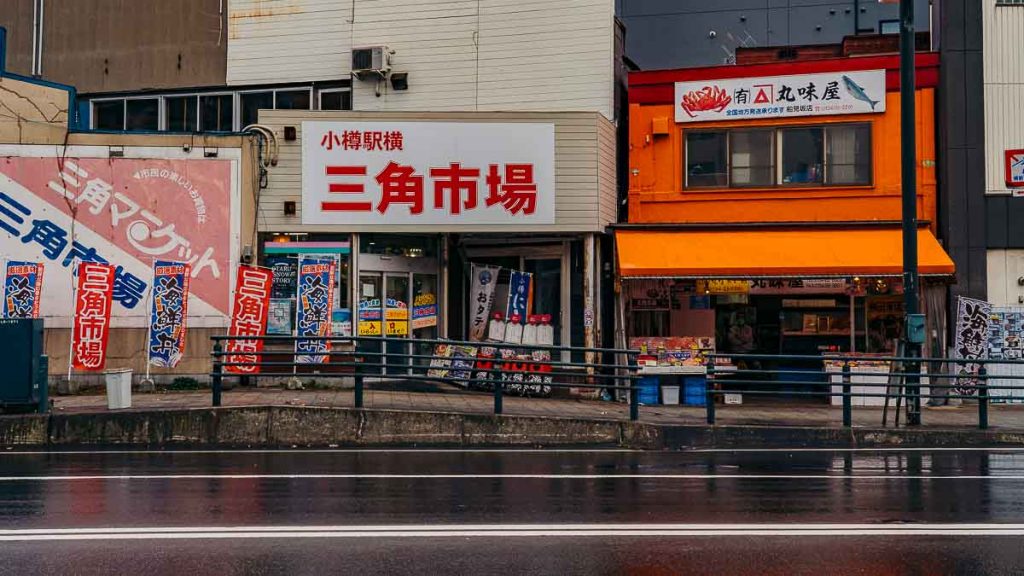 Next stop, breakfast at Sankaku Market. From the outside, it doesn't look like much.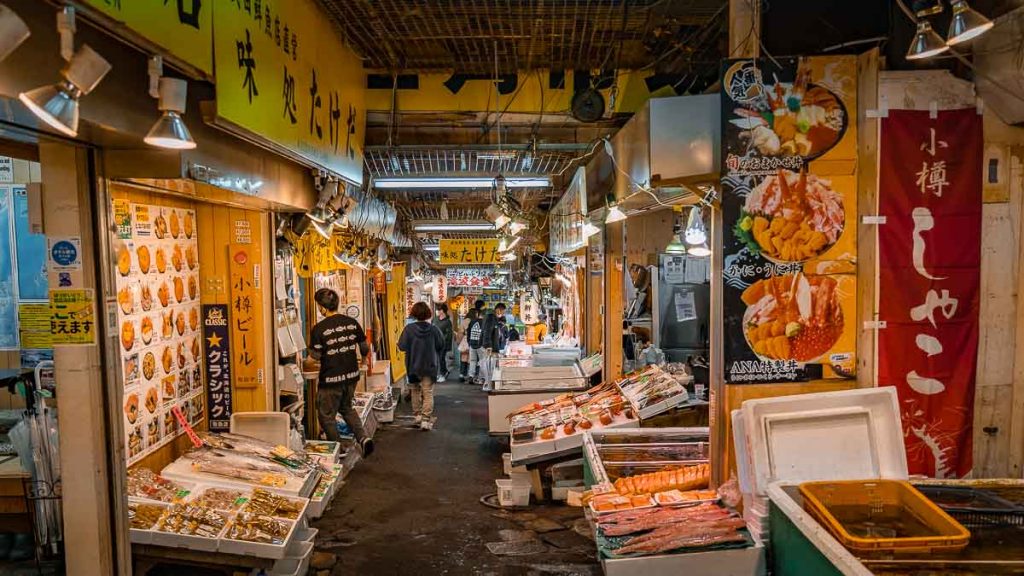 Step inside and you'll find several eateries all selling one thing: kaisendon. Kaisendons are Japanese rice bowls with fresh seafood — my absolute favourite. 🤤 What better place to try it than a fish market that supplies seafood?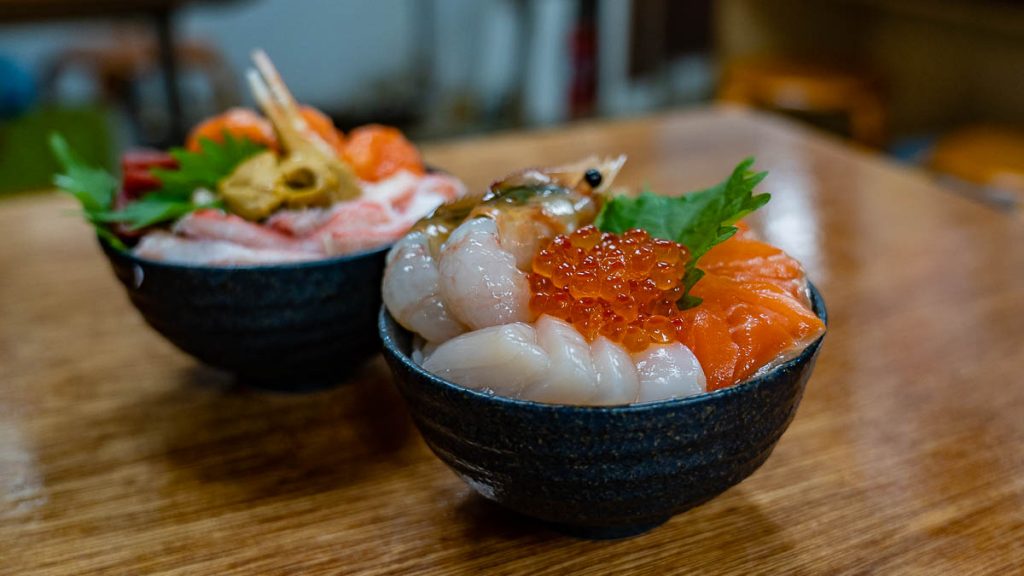 There are several combinations to choose from, and you can even DIY your own bowl! We went with the four-seafood bowl (¥2,200 for a small portion and ¥2,700 for a large) — I chose scallop, salmon, shrimp and ikura. The seafood was seriously fresh and I was desperately savouring each bite to prolong the whole experience.
Our advice? Don't bother ordering the small.
Entrance fee: Free
Opening hours: 8AM – 5PM
Address: 3 Chome-10-16 Inaho, Otaru, Hokkaido 047-0032, Japan
Former Temiya Railway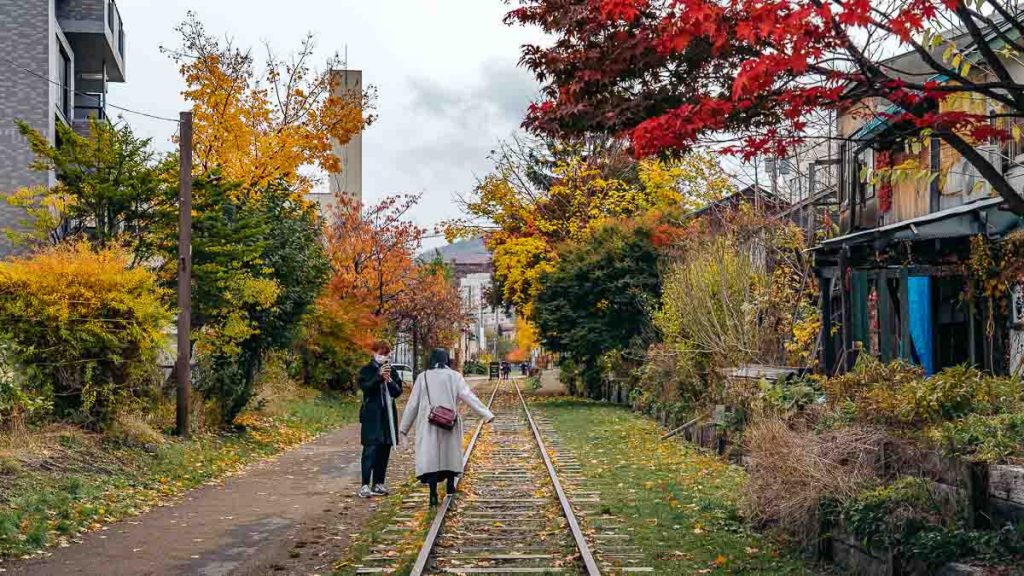 Walking distance from Sapporo station, the Former Temiya Railway was once used to transport coal to Otaru. It's a nice place to take photos, especially in autumn when the leaves are multi-coloured!
Entrance fee: Free
Opening hours: 24 hours
Address: 1 Chome-15-14 Ironai, Otaru, Hokkaido 047-0031, Japan
Otaru Canal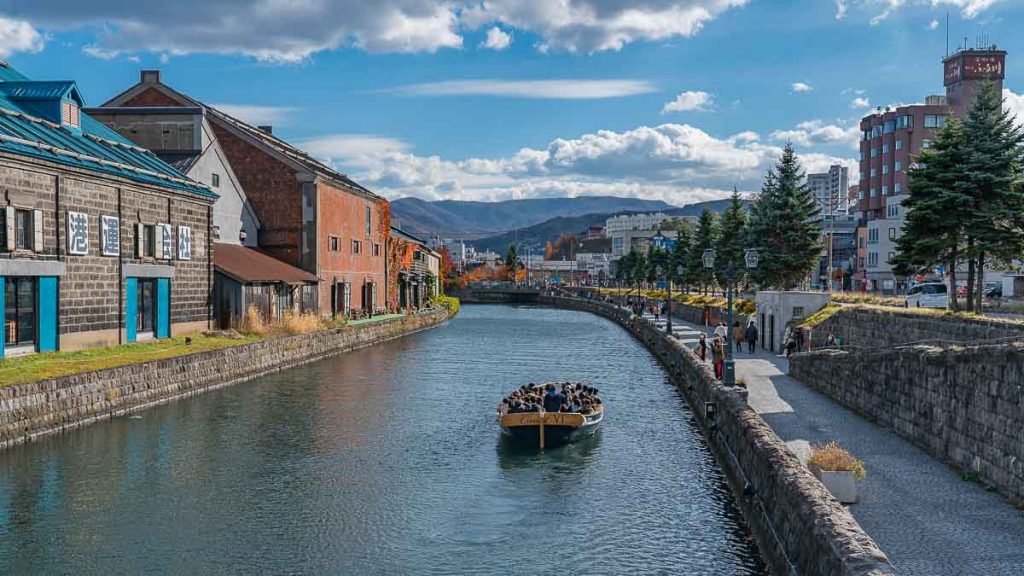 Otaru Canal is the city's most recognisable attraction. Built in 1923 for small boats to transport goods to warehouses, the canal was restored in the 1980s and became a popular tourist spot. The warehouses now house restaurants and souvenir shops!
Visitors can enjoy a 40-minute sightseeing cruise (¥1,500) along the canal or just walk along the pedestrian street beside it. Boats depart hourly between 11AM and 6PM.
Entrance fee: Free
Opening hours: 24 hours
Address: 5 Minatomachi, Otaru, Hokkaido 047-0007, Japan
Sakaimachi Dori Shopping Street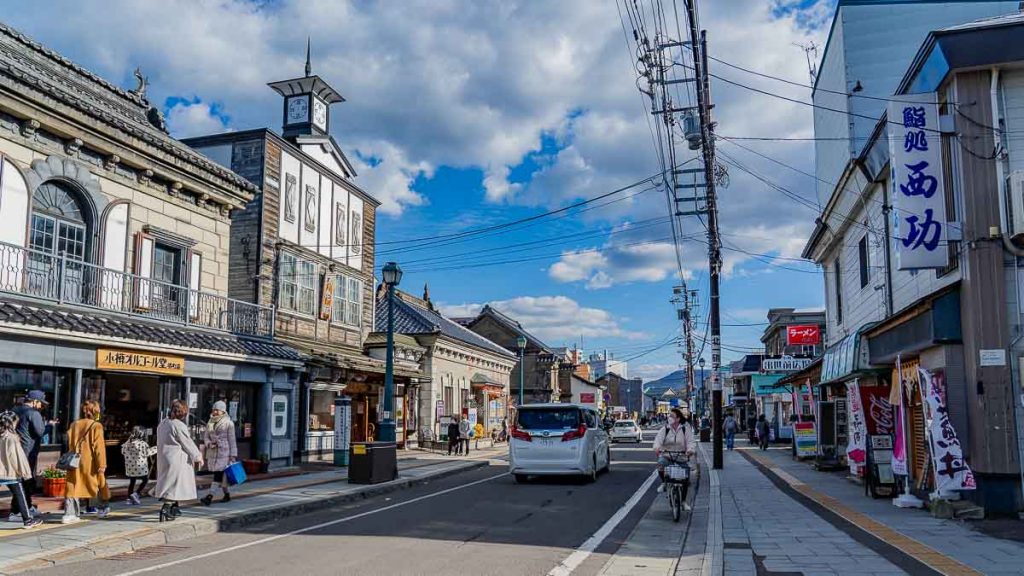 Hokkaido has shopping streets in every city, but few offer the same charm as Otaru's Sakaimachi Dori Shopping Street. It's a short walk from Otaru Canal and is home to many restaurants, souvenir shops and dessert stands.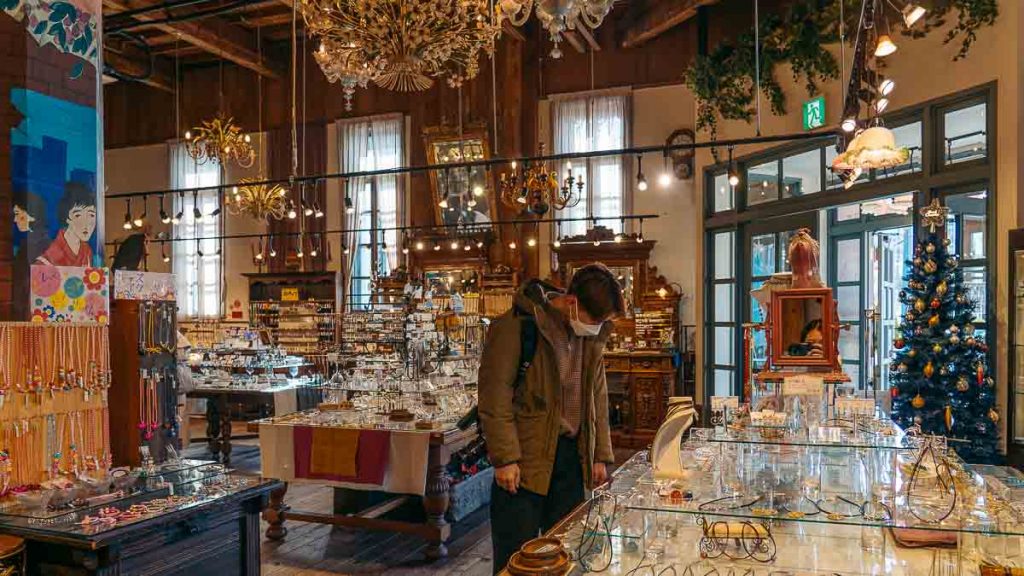 Otaru is known for glassware, so you'll find everything from glass jewellery to ornaments. I couldn't resist buying a couple of tiny glass sculptures (¥550 each) to bring home!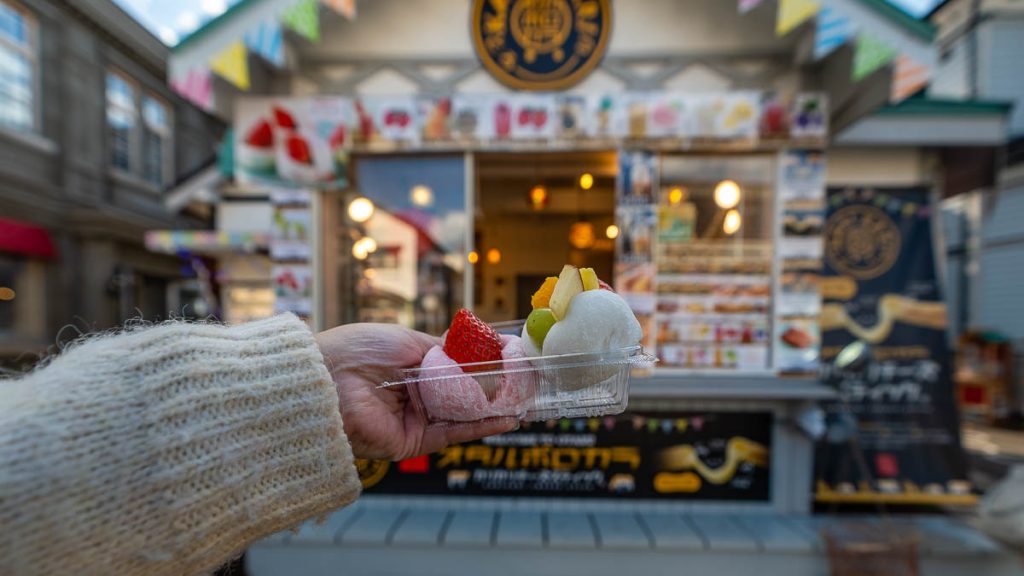 Mochi with fruits for ¥350 each.
Entrance fee: Free
Opening hours: 24 hours — shops generally close by 7PM
Address: 4-4 Sakaimachi, Otaru, Hokkaido 047-0027, Japan
Soba Restaurant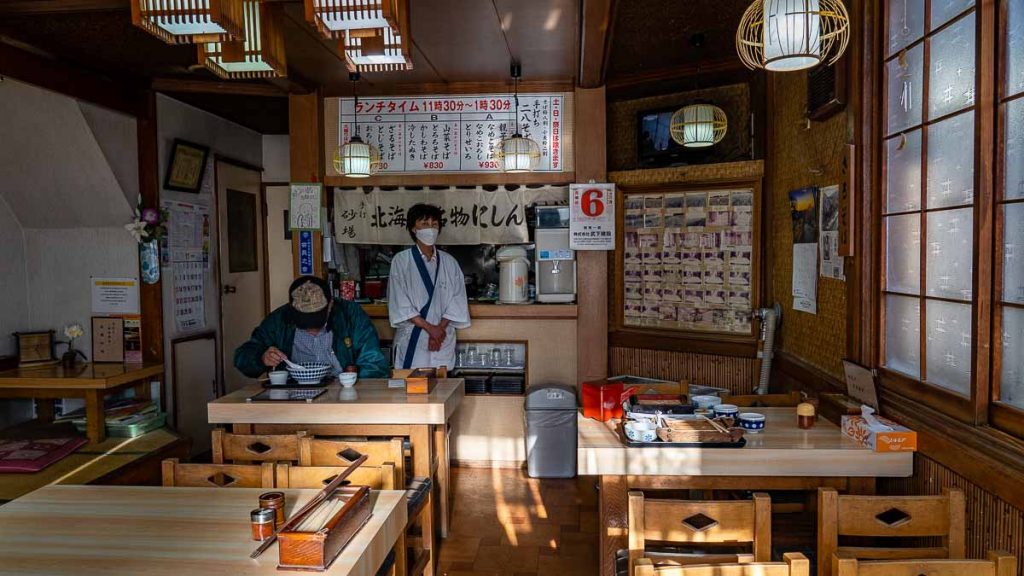 Before heading back to Sapporo, enjoy authentic soba at this quaint little restaurant. There's no English name or menu and there's only six tables, but this turned out to be one of our most enjoyable meals.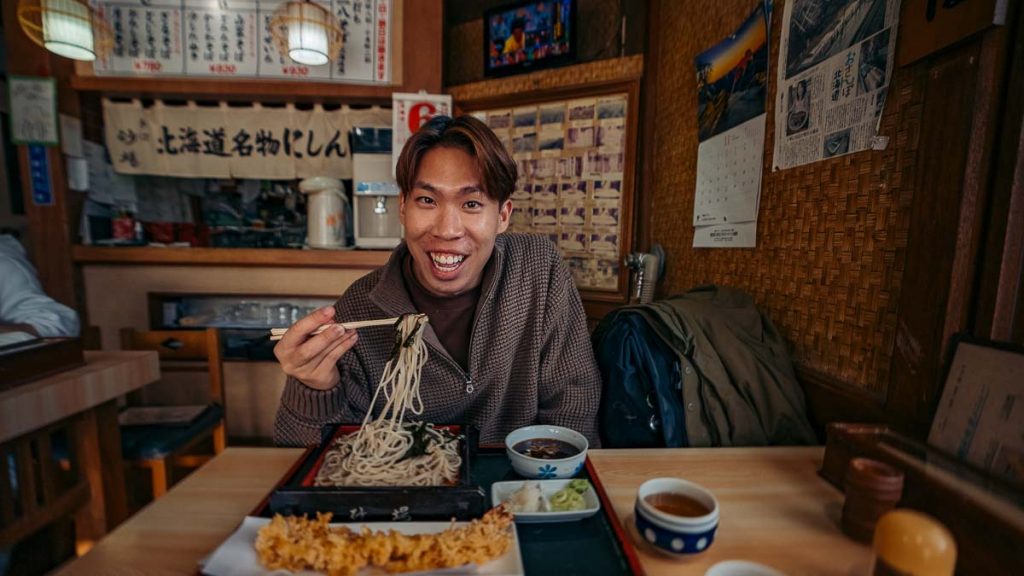 They serve both cold and warm soba; we went with the classic cold soba with giant tempura shrimp.
The noodles were springy; the dipping sauce refreshing and a nice balance of sweet and salty. The tempura shrimp was the biggest surprise — literally. It was huge and had a nice crunch to it.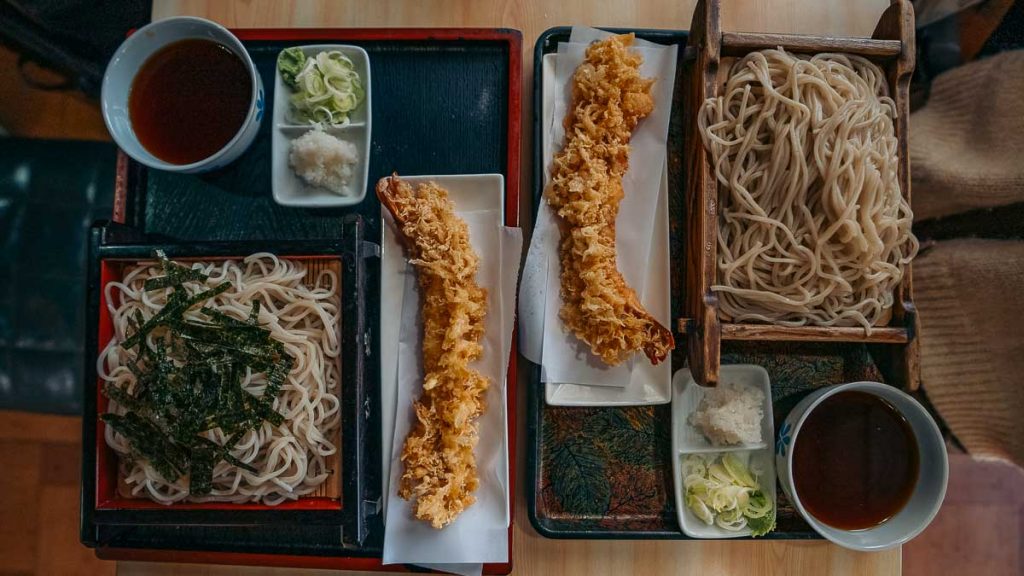 After finishing, we were given hot water to add to the soba sauce. The water reduced the sweetness and made it into a nice soup, which was a nice end to the meal.
*Pro-tip: This soba restaurant is located opposite Minami-Otaru station. Take the train back to Sapporo from here instead of walking back to Otaru station.
Cost: ~¥1,000/pax (~S$9.90)
Opening hours: 11:30AM – 3PM
Address: 9-10 Sumiyoshicho, Otaru, Hokkaido 047-0015, Japan
Day 4: Asahikawa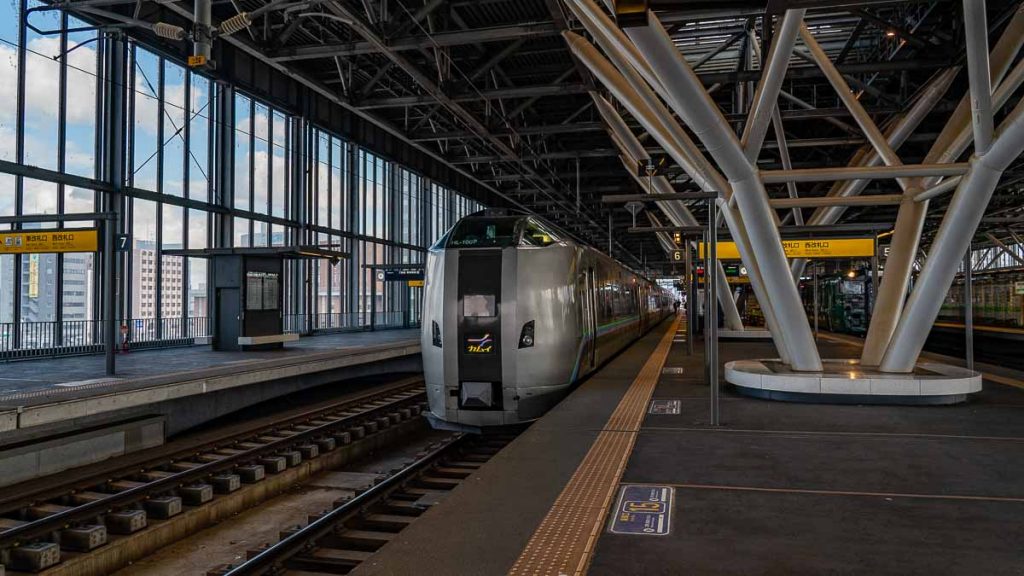 Getting from Sapporo to Asahikawa: 1hr 25min via train
Located north of Sapporo, Asahikawa is Hokkaido's second largest city. It's surrounded by mountains and is a great base to explore surrounding nature spots like Daisetsuzan National Park and Biei!
Asahikawa Ramen Village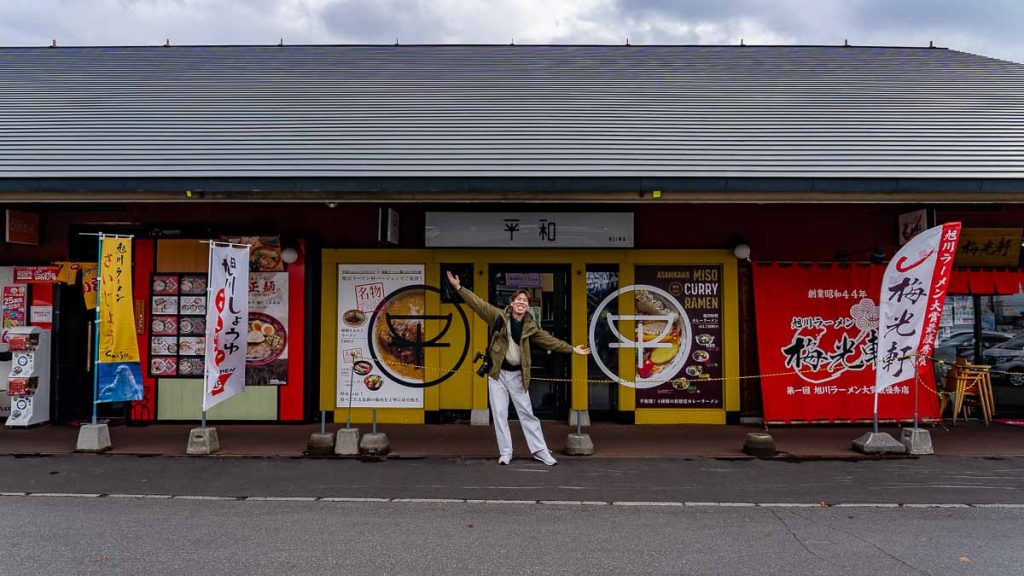 For lunch, we headed to Asahikawa Ramen Village. There are eight ramen shops here — a great place to try Asahikawa's soy-based ramen. I had soy ramen with minced pork (¥900) while Brendan tried it with intestines (¥900).
The ramen here is oilier than Sapporo ramen and the noodles are chewier.
*Pro-tip: A few of the same ramen shops can be found in downtown Asahikawa, so feel free to skip the trip here if you'd like to save time as the trains here can be infrequent.
Cost: From ¥900/bowl (~S$8.90)
Opening hours: 11AM – 8PM
Address: 4 Chome-119-48 Nagayama 11 Jo, Asahikawa, Hokkaido 079-8421, Japan
Hokkaido Gokoku Shrine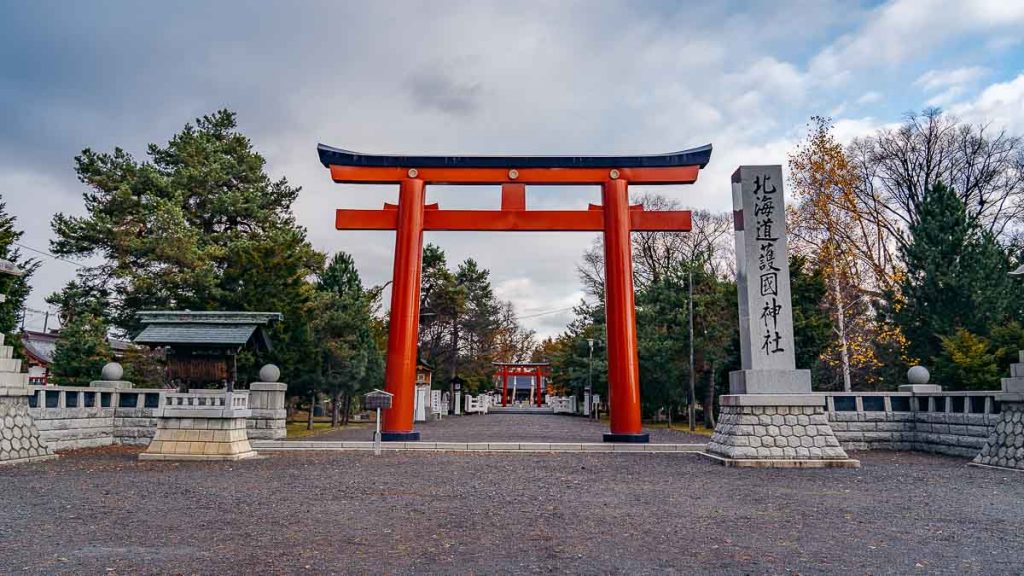 The Hokkaido Gokoku Shrine is a little out of the city centre, but that's what makes it a hidden gem. Built in 1902, there are three giant torii gates — the photographers in us were really excited about this.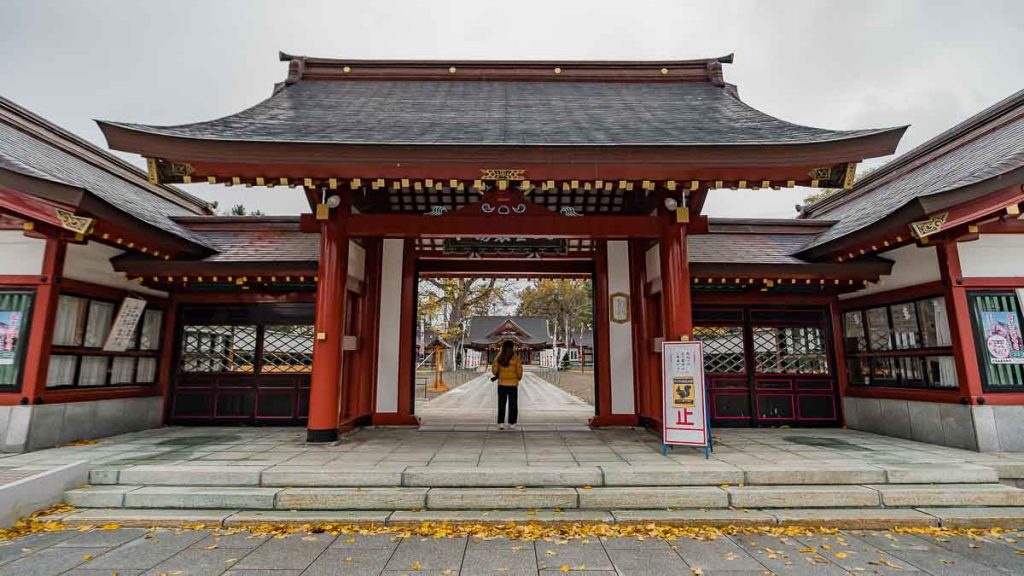 We visited on a weekday and there was only one other family around, which meant we had the place to ourselves to enjoy the architecture.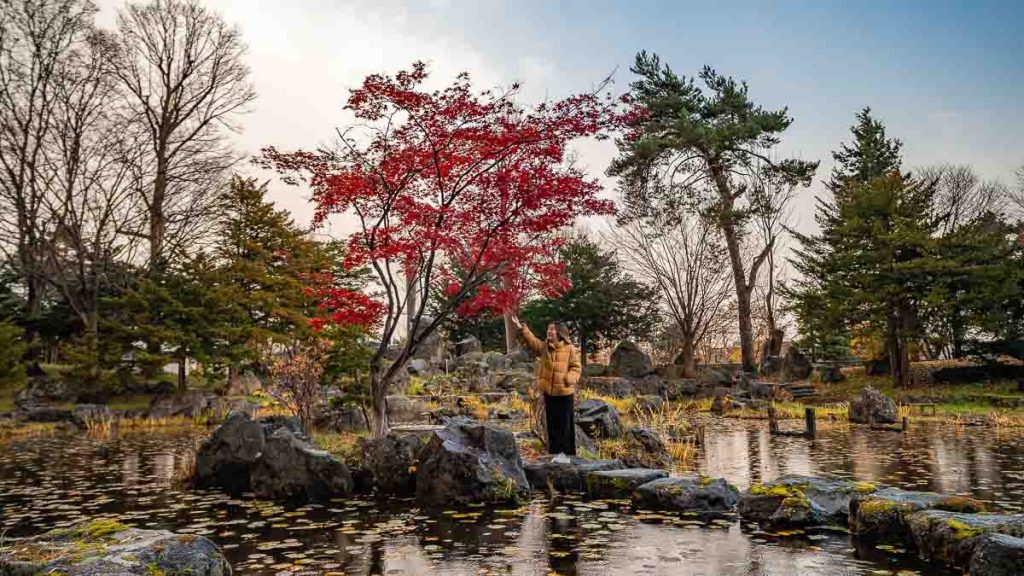 Do drop by the garden before leaving. It's another great photo spot!
Entrance fee: Free
Opening hours: 24 hours
Address: 1 Chome-2282-2 Hanasakicho, Asahikawa, Hokkaido 070-0901, Japan
Mutton BBQ Daikokuya Main Store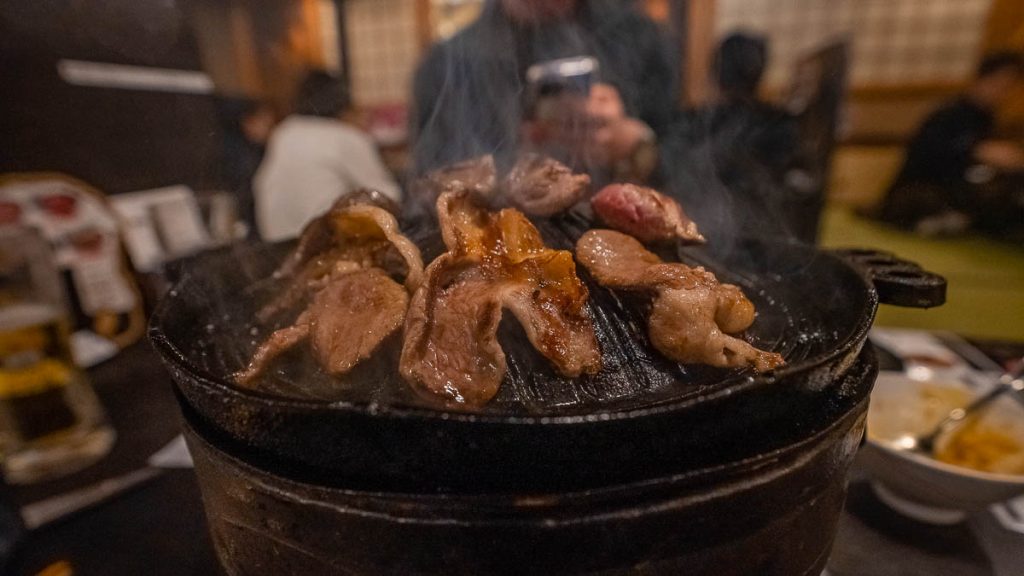 For dinner, we went to Mutton BBQ Daikokuya Main Store for another Hokkaido favourite — jingisukan (mutton bbq). One set of meat (¥2,400) includes a portion of rump, shoulder loin and tenderloin. We also ordered sides like horseradish cucumber and kimchi (¥350 each), egg rice (¥300) and sausages (¥550 for two).
The meat surprisingly wasn't gamey! My favourite part was the tenderloin, which we ended up ordering more of.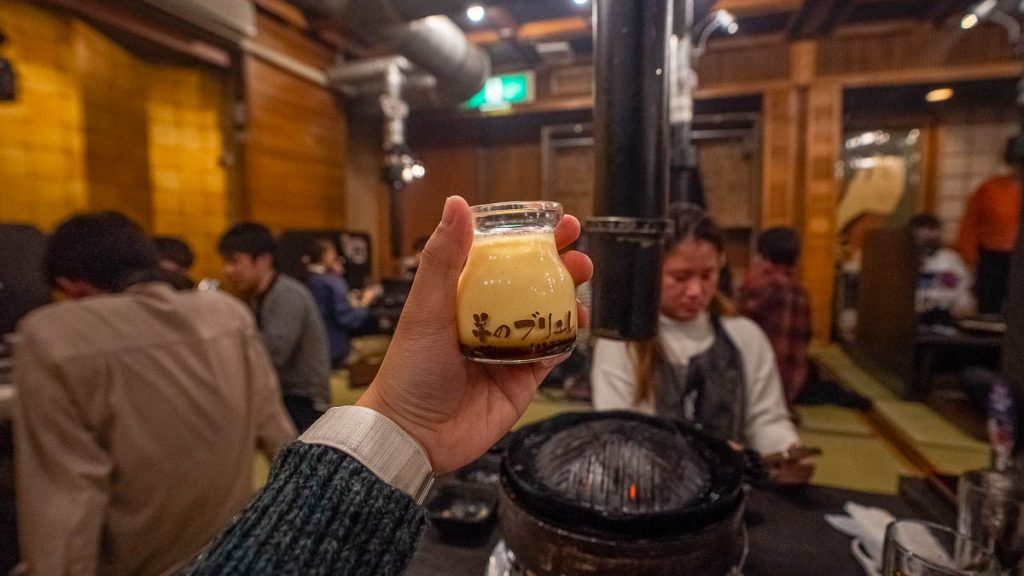 For dessert, we had sheep pudding (¥450) which was creamy and paired well with caramel sauce.
Cost: ~S$30/pax
Opening hours: 5PM – 10PM (Mon – Fri), 4PM – 10PM (Sat – Sun)
Address: Japan, 〒070-0034 Hokkaido, Asahikawa, 4 Jodori, 5 Chome−1425番地 3・4 仲通
Heiwa Shopping Street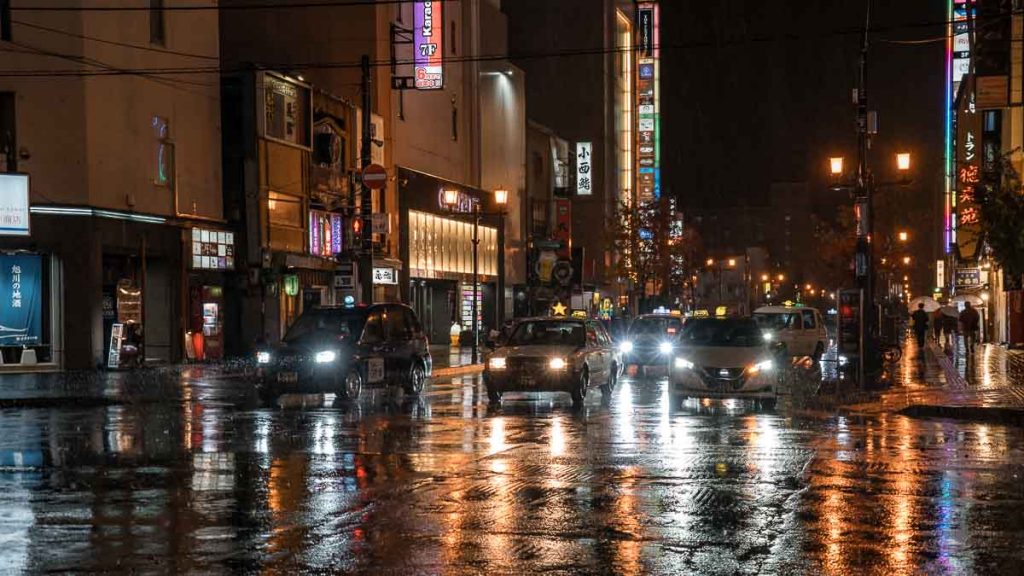 Heiwa Shopping Street is Asahikawa's main shopping hub, with plenty of restaurants too. It's located right opposite Asahikawa station and was walking distance from our hotel.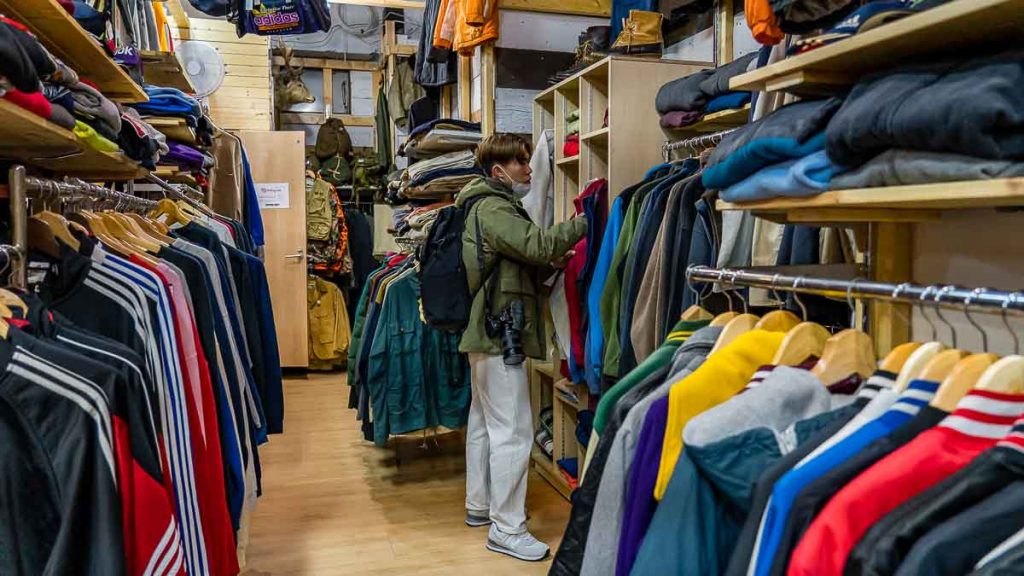 We enjoyed exploring the little thrift shops which sell secondhand clothes, shoes and bags!
Opening hours: 24 hours — Shops generally close at 8PM
Address: 8 Chome-41-28 8 Jodori, Asahikawa, Hokkaido 070-0038, Japan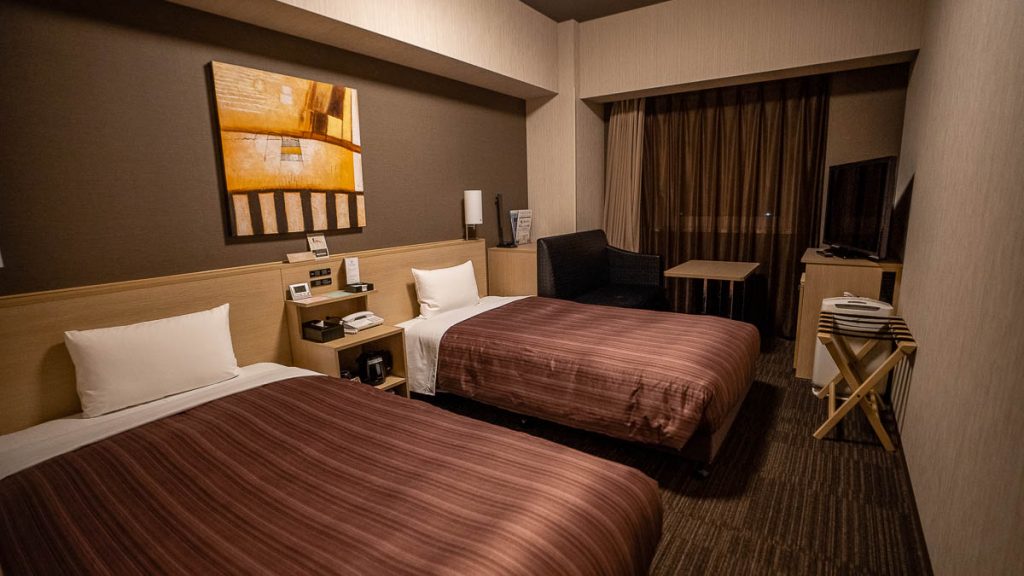 Where to stay in Asahikawa: Hotel Route Inn Grand Asahikawa Ekimae (from ~S$88/night for a Twin Room). It's located beside Asahikawa station.
Day 5: Day Trip to Biei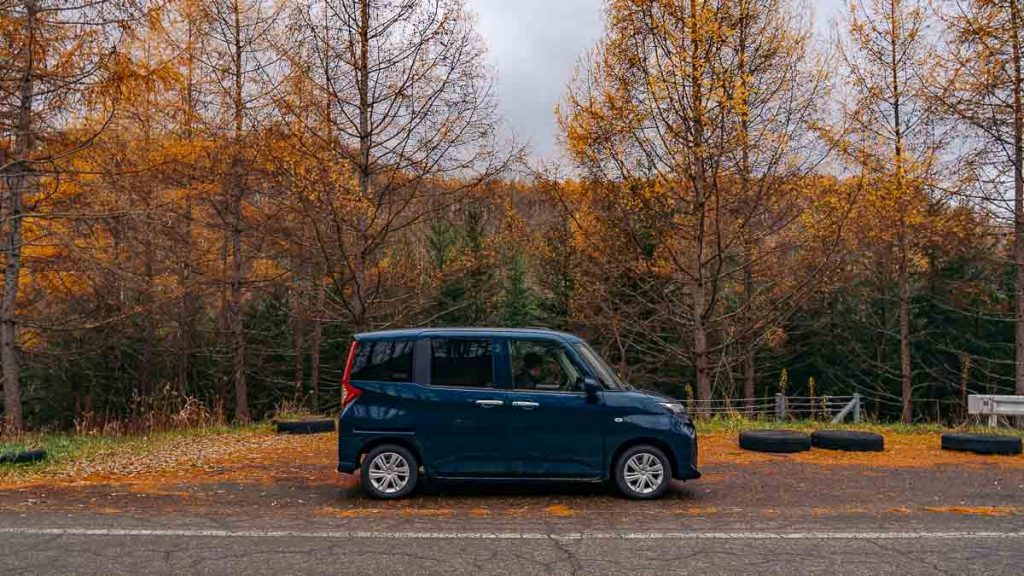 The next day, we rented a car to explore the nearby town of Biei.
Car rental: From ~S$59.99/day via Klook. The car rental place was right beside our hotel in Asahikawa (Route Inn Grand Asahikawa Ekimae). Bring your international driving permit (IDP) and a credit card during pickup.
*Pro-tip: Get up to S$50 off your car rental on Klook with your Citi Credit Card.
Shirogane Blue Pond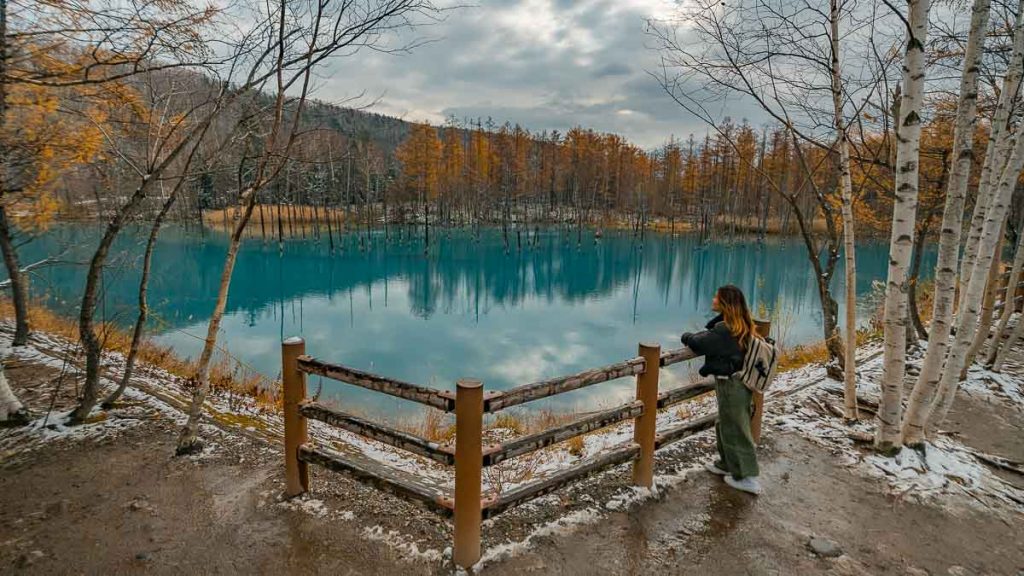 Asahikawa to Shirogane Blue Pond: 49min drive
The Shirogane Blue Pond is arguably what put Biei on the map. The bright turquoise colour reflected in the water is actually due to aluminium particles from the nearby Shirogane Onsen.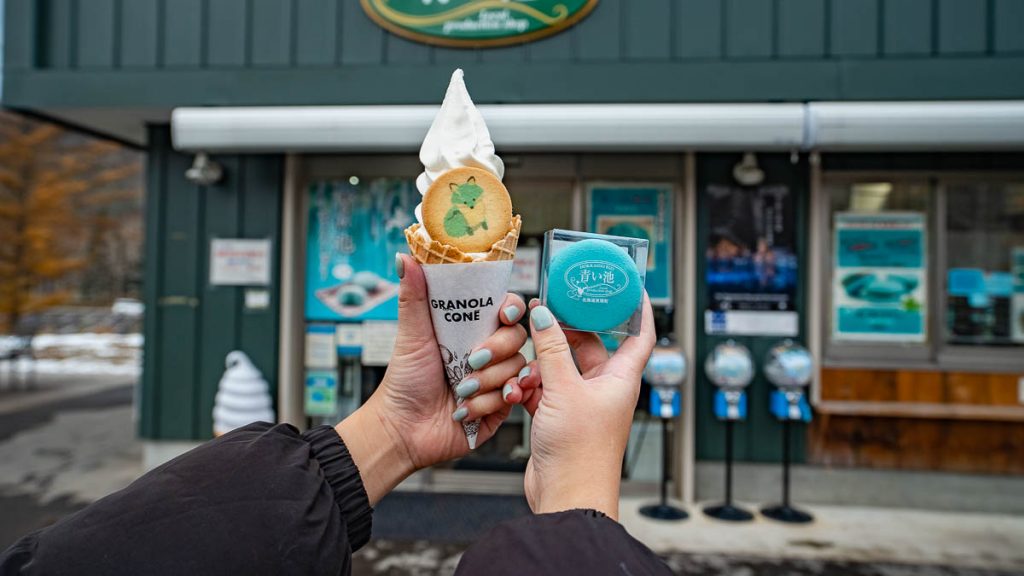 There's also a small dessert stand at the entrance — we got a soft serve and macaron before leaving!
Entrance fee: Free (¥500 parking fee)
Opening hours: 24 hours
Address: Shirogane, Biei, Kamikawa District, Hokkaido 071-0235, Japan
Shirahige Waterfall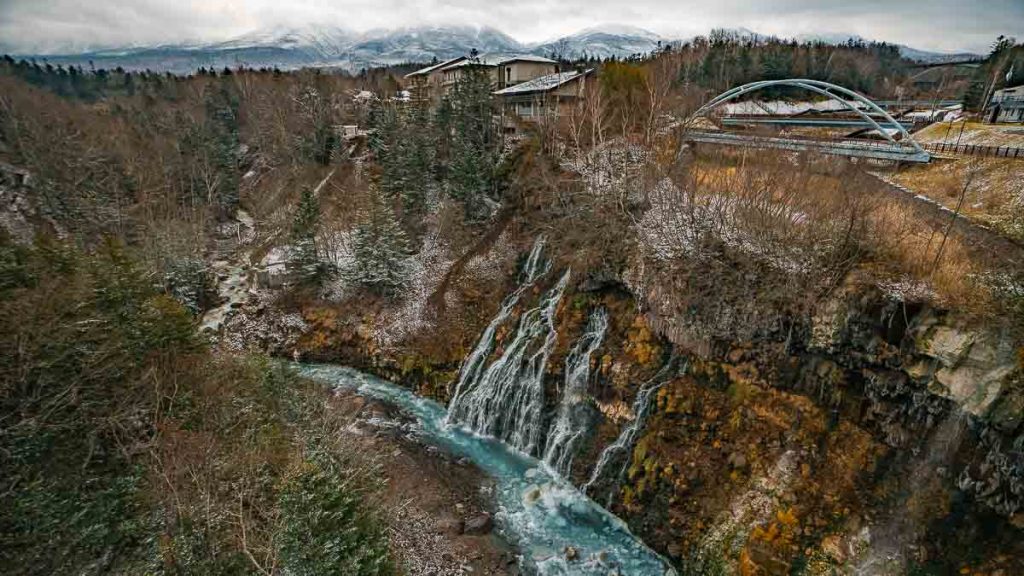 Shirogane Blue Pond to Shirahige Waterfall: 4min drive
Shirahige Waterfall means "white beard waterfall" — a fitting name for the streams of water cascading down a cliff slide.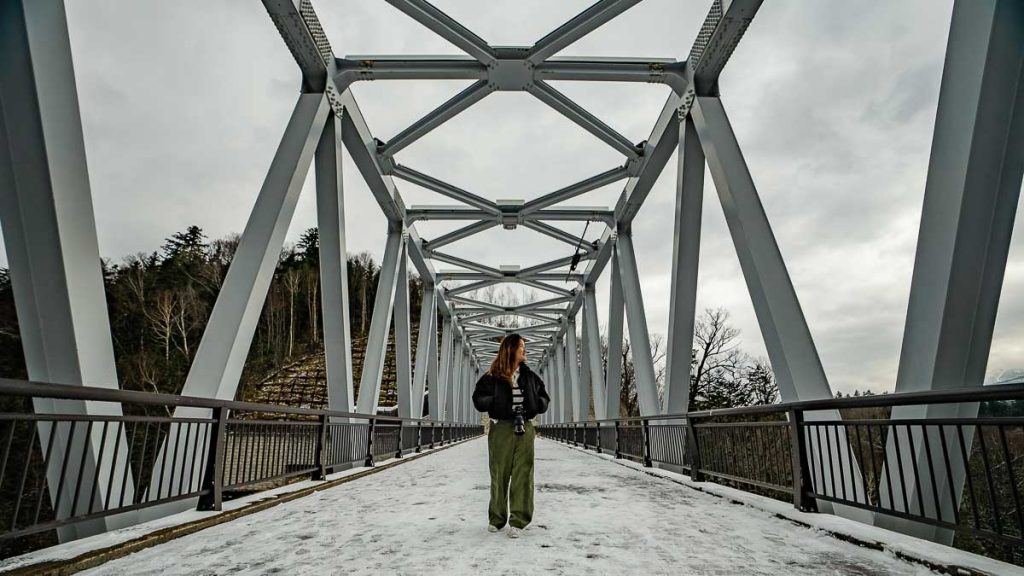 Walk along the bridge beside it to get a good view of the falls. It was snowing while we were there in the first week of November which only added to the charm of the place.
Entrance fee: Free
Opening hours: 24 hours
Address: Shirogane, Biei, Kamikawa District, Hokkaido 071-0235, Japan
Tokachidake Observatory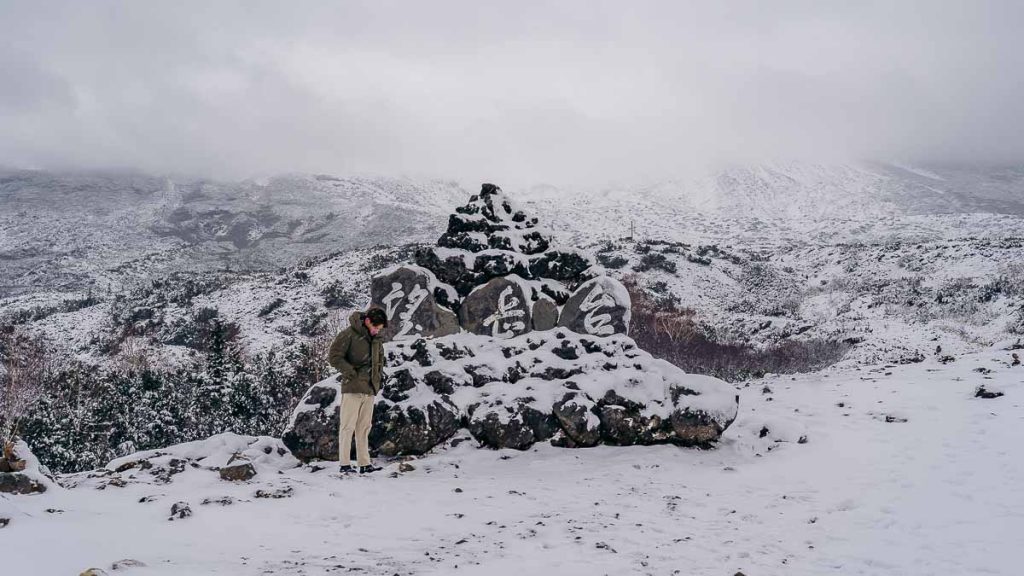 Shirahige Waterfall to Tokachidake Observatory: 7min drive
Located 950m above sea level, Tokachidake Observatory is a fantastic spot to take in the surrounding volcanoes and mountains. It's the starting point for a few hiking trails, but we were just there to check out the views and have lunch.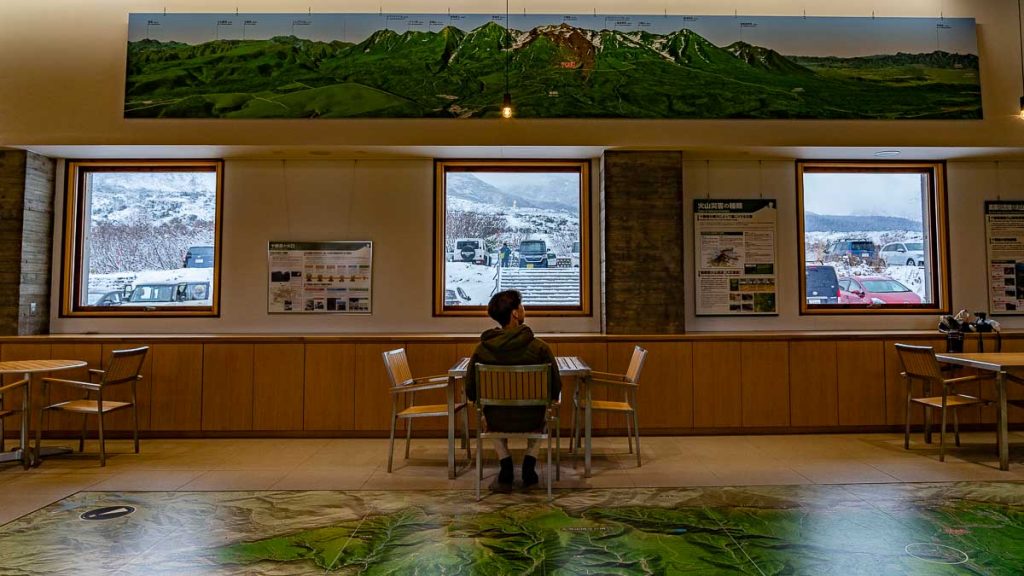 There are no restaurants here — we packed convenience store food before driving out of Asahikawa. The indoor seating area was a great spot to enjoy our food!
Entrance fee: Free
Opening hours: 24 hours
Address: Shirogane, Biei, Kamikawa District, Hokkaido 071-0235, Japan
Shikisai no Oka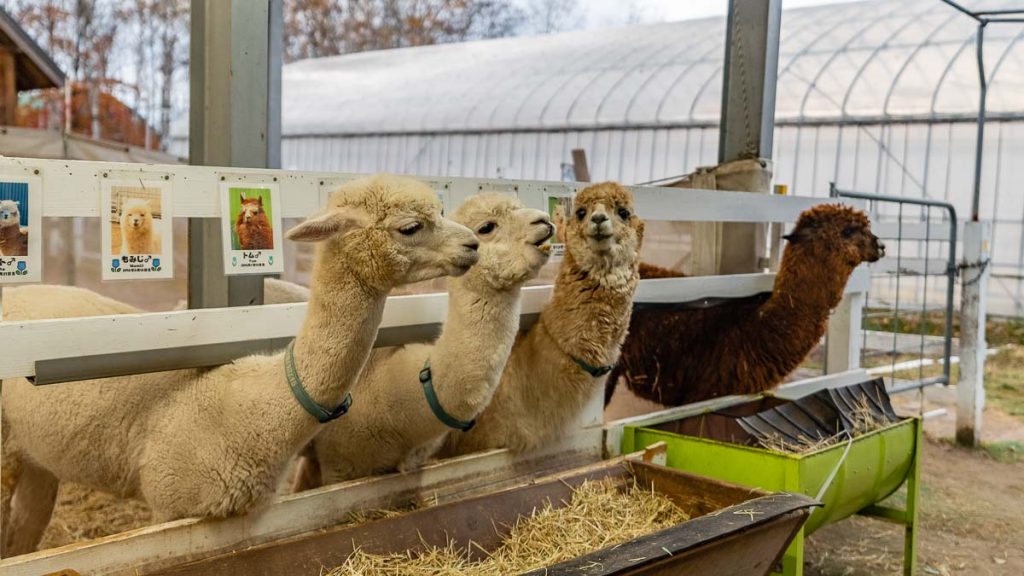 Tokachidake Observatory to Shikisai no Oka: 27min drive
Shikisai no Oka is known for its beautiful flower gardens that can be enjoyed from spring to fall. But there's still a reason to visit during off-season — the alpaca farm that's open all year round.
There were around 16 adorable alpacas in the feeding pen, with a bunch more resting inside. Purchase veggies to feed them (¥100/basket). Just make sure to watch out for their spit!
Entrance fee: ¥500 (~S$4.90)
Opening hours: Varies depending on season
Address: Shinsei, Biei, Kamikawa District, Hokkaido 071-0473, Japan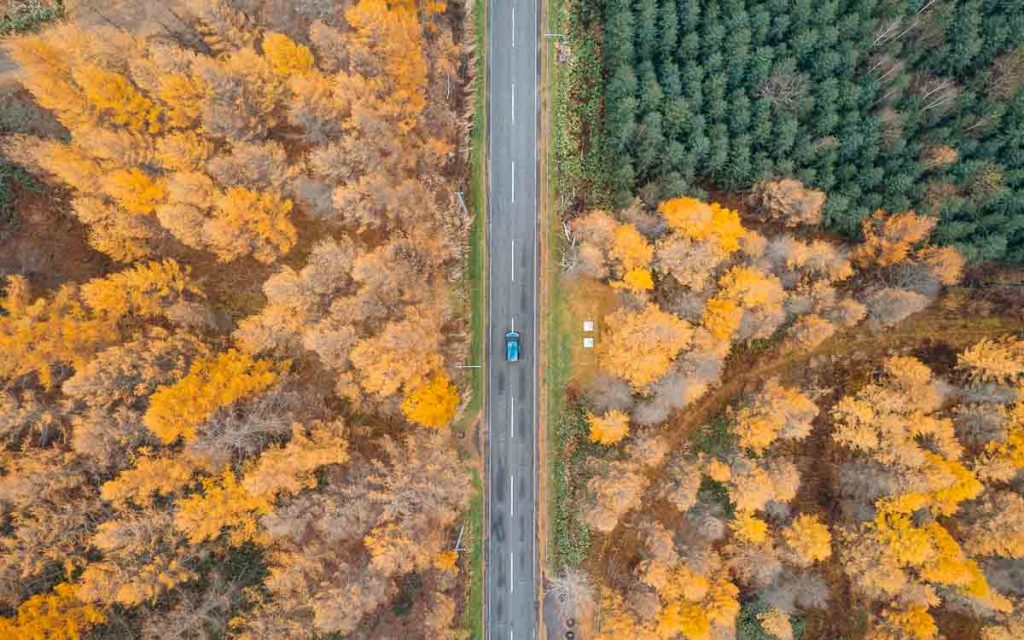 After stopping by the town of Biei for a coffee break, we headed back to Asahikawa to return the car.
We'd planned to also check out Asahidake Ropeway but the poor weather changed our plans. If the weather is in your favour, check out the scenic 1.7km round trip hike at the top of the ropeway!
Tenkin Izakaya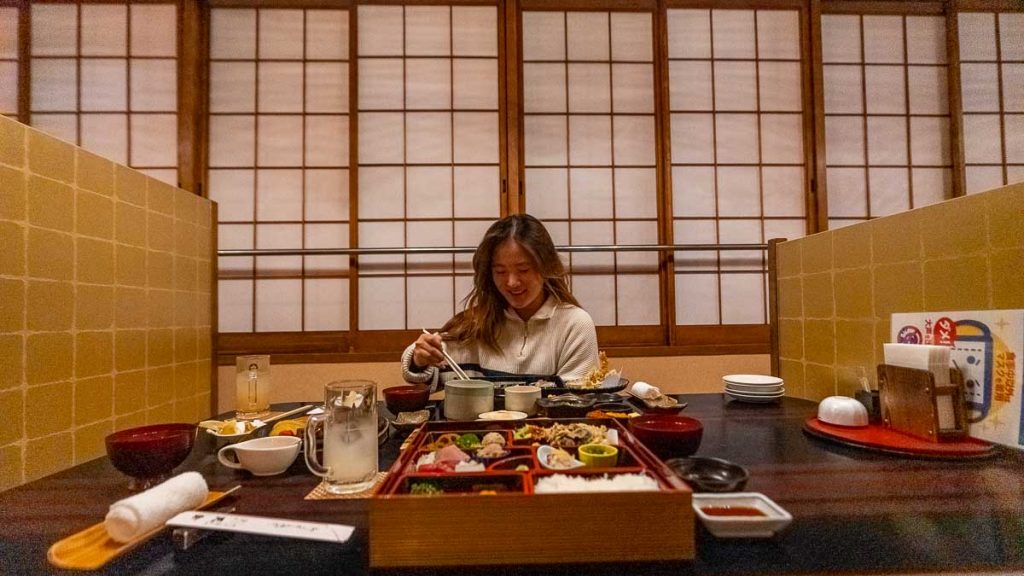 Tenkin Izakaya is one of Asahikawa's oldest izakayas and was probably the best (or second best) meal of this Hokkaido itinerary! The interior is that of a traditional Japanese restaurant, where diners are seated on tatami mats on the floor.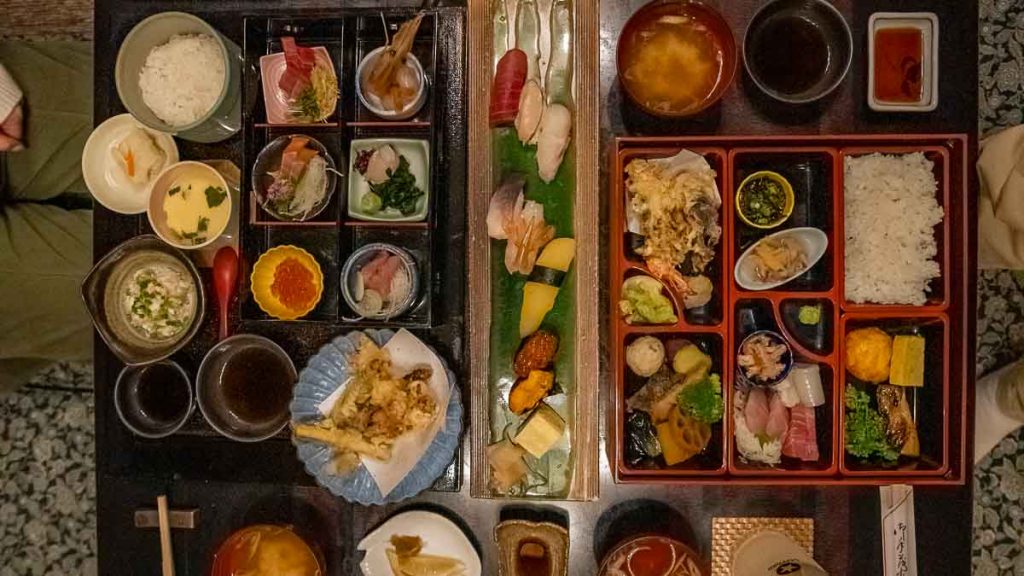 I had a sashimi set (¥3,850) while Brendan ordered a tempura and sashimi bento (¥33,000). Mine had a good selection of fresh seafood (ikura, scallop, prawn, tuna and more) as well as tempura and chawanmushi.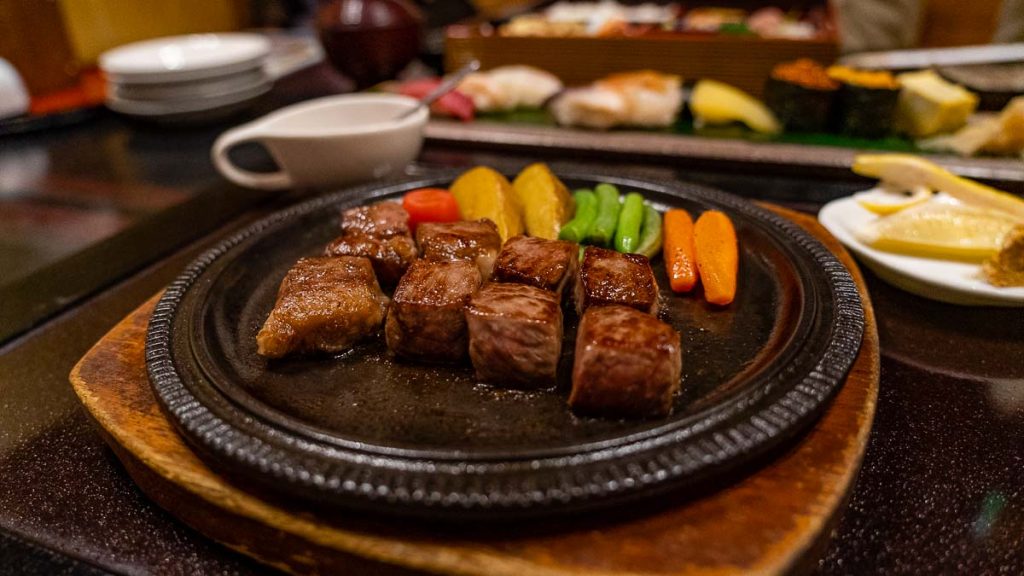 We also ordered Japanese black wagyu steak (¥3,245). The meat was delicious — really tender and juicy!
Cost: ~¥4,500/pax (~S$44.20)
Opening hours: 3PM – 11PM
Address: 7 Chome 3 Jodori, Asahikawa, Hokkaido 070-0033, Japan
Day 6: Sapporo and Heading Home
Getting from Asahikawa to Sapporo: 1hr 25min via train
Streets of Sapporo
Our last day was spent wandering the city centre and doing last-minute souvenir shopping. Sapporo Kita 3-jo Plaza, the Hokkaidō Government Office and Botanic Garden Hokkaidō University are some scenic areas worth checking out if you have the time.
Katsuissen Conveyor Belt Restaurant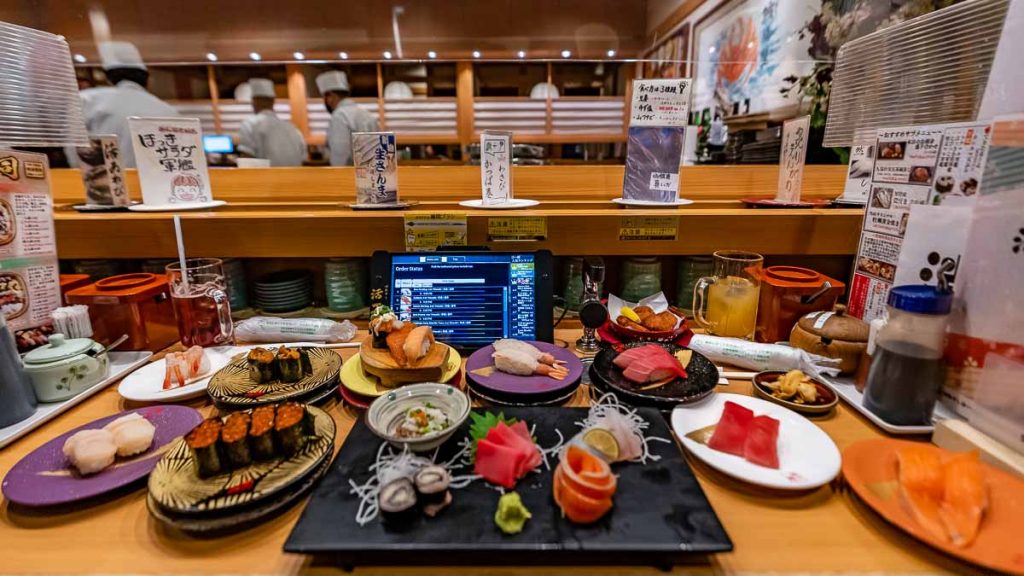 We couldn't leave Hokkaido without eating at a sushi belt restaurant. The previous team ate at the popular Nemuro Hanamaru, so we wanted to try a different place. Katsuissen is located near Tanukikoji Shopping Arcade and is another highly-rated spot!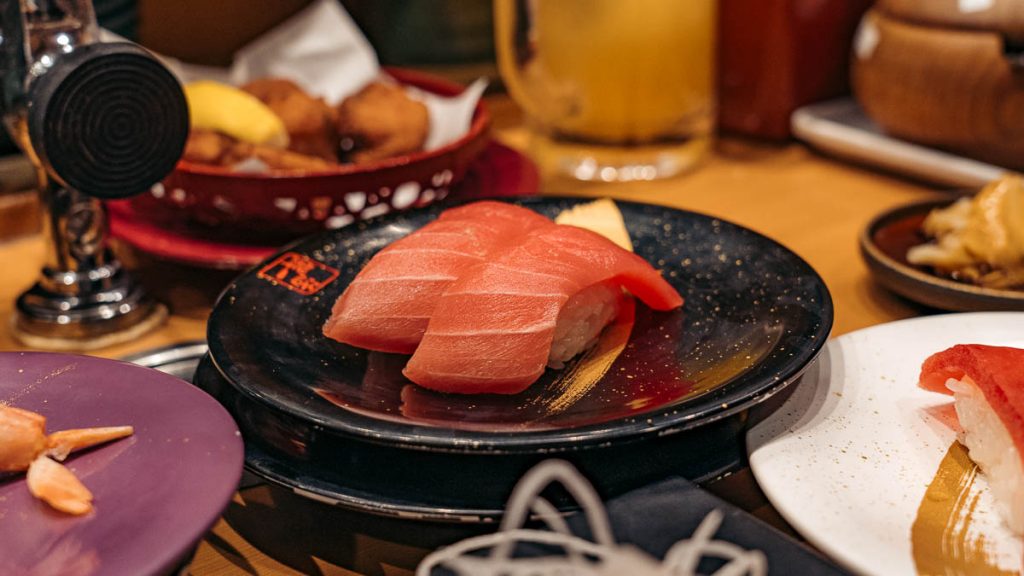 There's all the classics — giant red shrimp, ikura, tuna, salmon. It was the perfect end to our Hokkaido trip.
*Pro-tip: Conveyor belt restaurants are really popular among locals. We shortlisted a few restaurants, but were turned away from two. Despite them closing at 10PM, they cut off their queues around 8PM to ensure all customers get seated. Make a reservation or arrive early to avoid disappointment!
Cost: ~S$30/pax
Opening hours: 11AM – 3PM, 4:30PM – 11PM (Mon – Fri), 12PM – 11PM (Sat – Sun)
Address: Japan, 〒060-0063 Hokkaido, Sapporo, Chuo Ward, Minami 3 Jonishi, 5 Chome−1
Tips for Planning Your Next Hokkaido Itinerary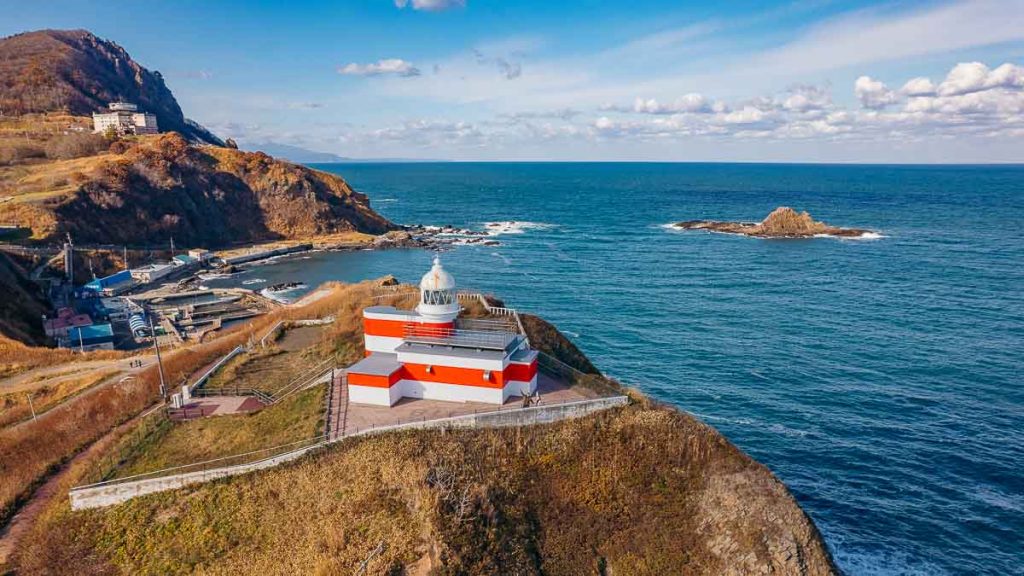 We absolutely loved Hokkaido — the food, weather, views, shopping… one week was hardly enough.
If you're planning a trip to Hokkaido, here are some tips: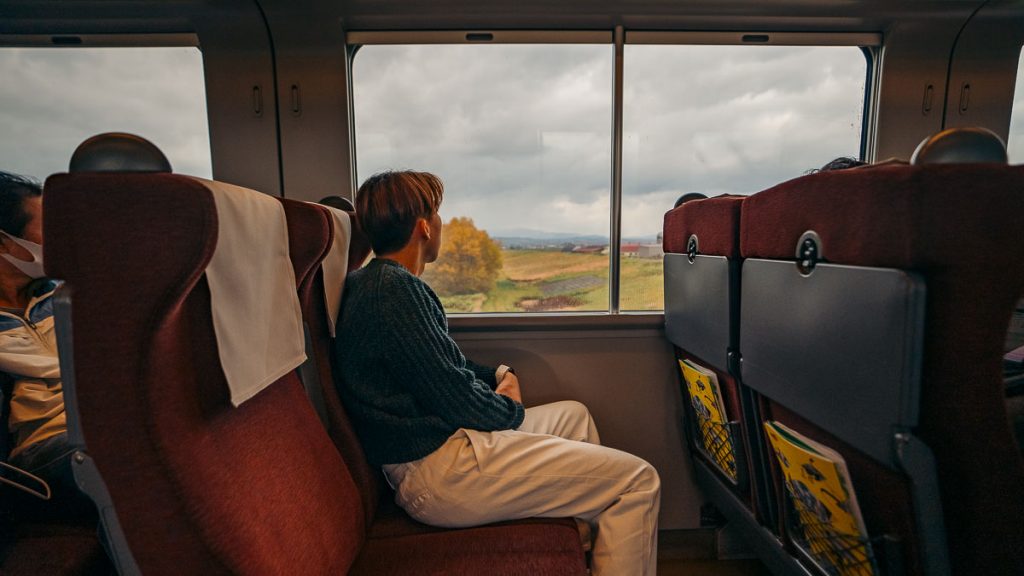 1) Trains in Japan are very timely, so you have to be as well.
Since there were only two of us on this trip, we chose to travel via train most of the way so we could rest more on longer journeys.
We got the 7-day Hokkaido JR Pass (~S$239.95) and used the Japan Travel app (available on iPhone/Android) to plan our routes. It shows bus and train timings too while on the go too!
*Pro-tip: The Hokkaido Rail Pass entitles you to free seat reservations on the reserved carriage! Just head down to the JR information desk at the train station and let the staff know which train timing you'll like to reserve seats for.
2) Bring your passport for tax refunds!
Many shops offer tax refunds for tourists on the spot when you spend at least ¥5,000 (~S$48). You just have to show your passport to claim it!
3) Get discounts on flights, accommodation, and activities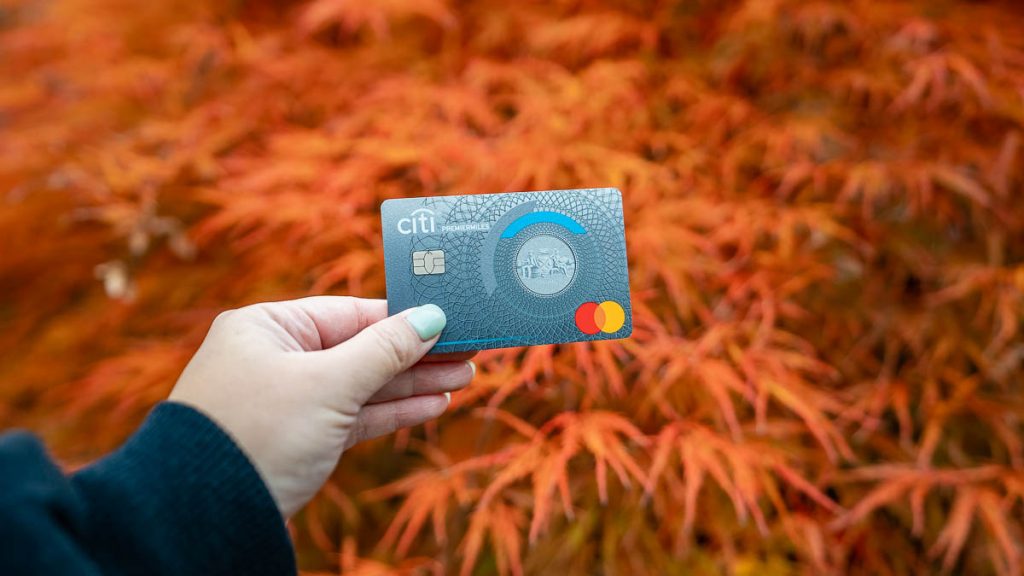 Be sure to look out for travel deals so you can save on your travel essentials! We made use of these Citi Credit Card Travel Deals:
– Traveloka: Up to S$100 off hotels, flights or experiences
– Agoda: 25% off hotel bookings with a Citi Mastercard Credit Card
– Klook: Up to S$50 off bookings (incl. transport passes, car rental and WiFi); 20% off experiences
Citi Credit Cardmembers also earn 2 miles with every S$1 overseas spend with the Citi PremierMiles Card. Good news — Citi Miles never expire, so you can rake them in to redeem for your next adventure!
If you don't own a Citi PremierMiles Card yet, apply now and get up to 30,000 bonus Citi Miles* *T&Cs apply. Welcome offer is valid till 31 Jan 2023.
4) Fill up this online registration form a few days before your flight to Hokkaido.
After completion, you'll receive a QR code to show upon arrival at New Chitose Airport. Complete this at least a few days before your flight!
5) Pre-order your SIM Card before arrival
We got the 14-day eSIM with unlimited data for ~S$37.89. A QR code and set-up instructions were delivered via email so there was no need to source for SIM cards at the airport when we arrived (or even change the SIM cards).
Have questions about our Hokkaido itinerary? Let us know in the comments below!
---
This post was brought to you by Citi Credit Cards.
Like what you see? Follow us on Facebook, Instagram, Tiktok, and YouTube for more travel updates!