Book your Eastern Taiwan activities and tours with the promo code <TTIGOESTAIWAN> to enjoy a 5% discount on any of the activities we've experienced in this itinerary.
The Best of Eastern Taiwan
Travel Essentials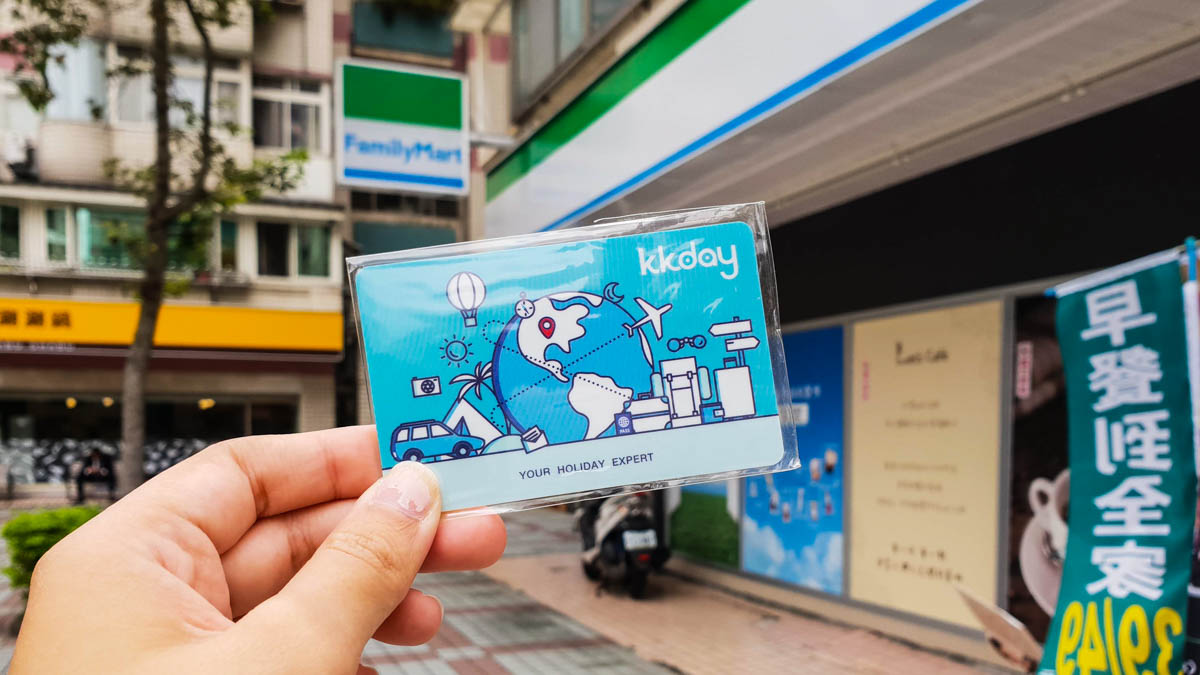 Public transport: In more developed cities like Taipei and Kaohsiung, public transportation is both time and cost-efficient. Get the rechargeable Happy Cash Card (S$4) for use on both transport as well as payment in convenience stores such as Family Mart found all over Taiwan!
Staying Connected: Traveller's Sim Cards and 4G Wifi devices are readily available for purchase or rental at Taoyuan International Airport's arrival hall.
Car rental: Renting a car (S$62/day) to self-drive around eastern Taiwan is the easiest and most efficient way! Alternatively, take the scenic TRA (Taiwan Railway Administration 臺灣鐵路) trains from one county to another.
D1 – Taipei
Lunch at Crazy Cart Café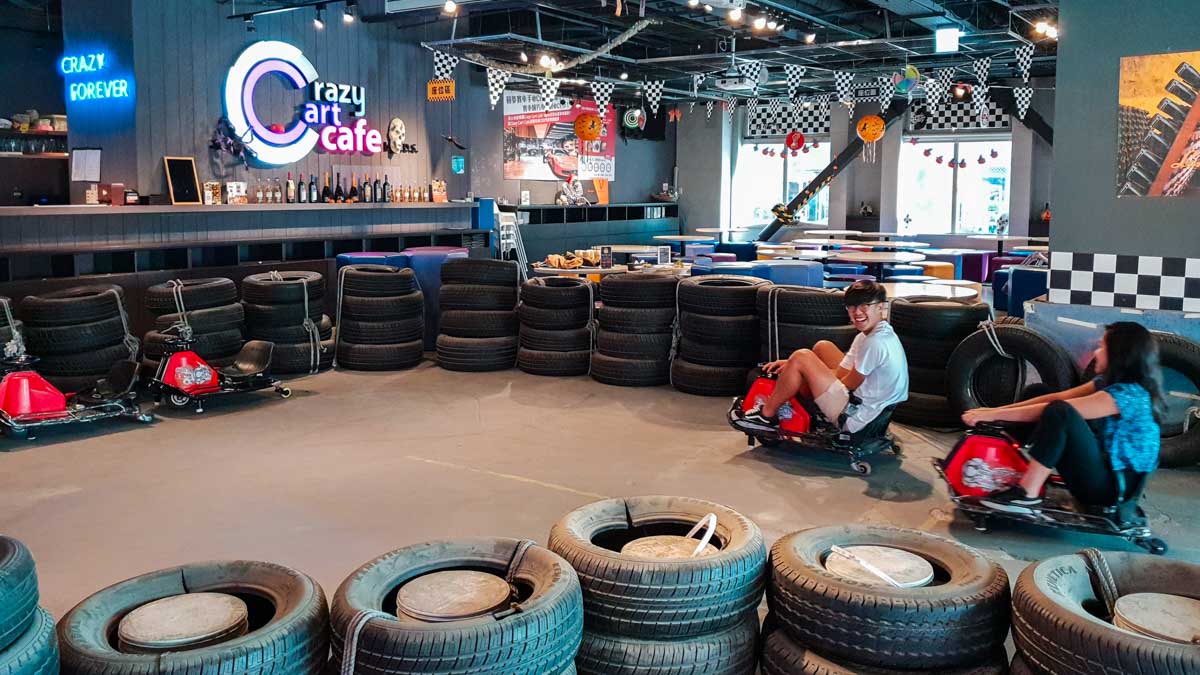 Other than having food, the Crazy Cart Café is a unique go-cart concept store that brings a speedy adventure to meals! The cafe is located slightly out of the touristy belt of Taipei and may not be the easiest to find, but is sure worth the effort!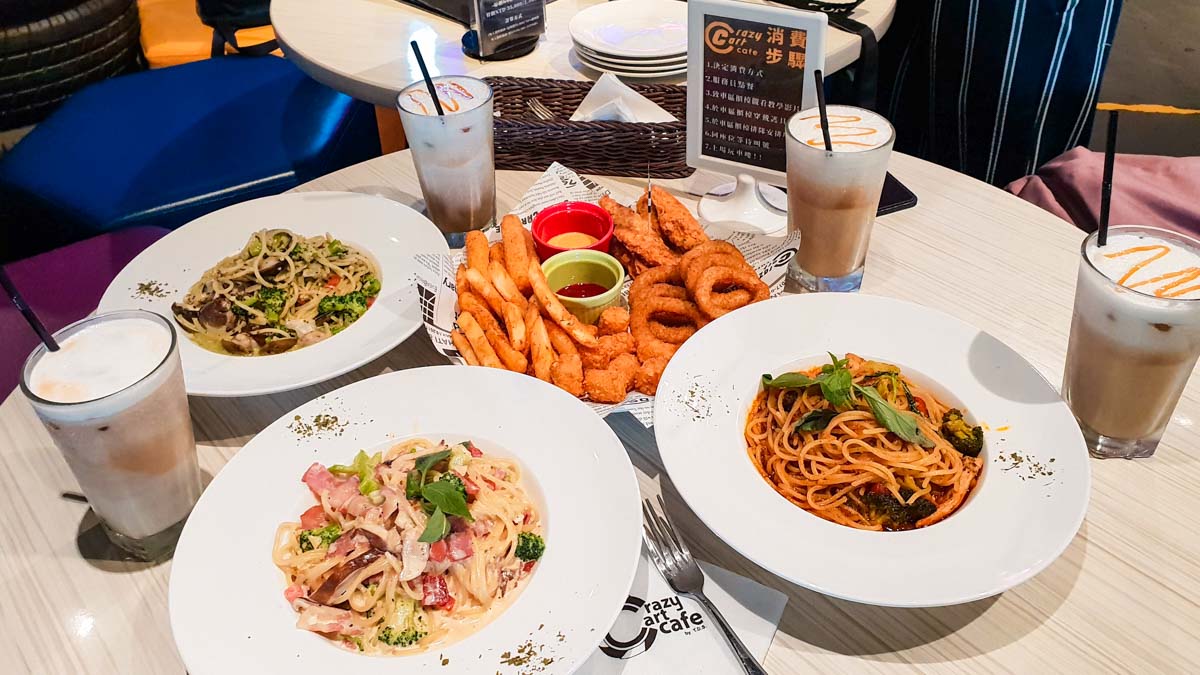 Each meal session lasts 2.5 hours only, so do plan your time well between carting and eating!
Cost: NT$650 (NT$500 for Go-Cart), NT$300 min. order for patrons not doing go-cart.
Opening Hours:
Tuesday, Saturday – Sunday: 11:30AM – 2PM, 3 – 5:30PM, and 6 – 8:30PM
Wednesday – Friday: 12 – 2:30PM, 3 – 5:30PM, and 6 – 8:30PM
Closed on Mondays
Address: No. 300, Yangguang Street, Neihu District, Taipei City, Taiwan 114 [300號陽光街內湖區臺北市]
Read also: 25 Unique Experiences in Taiwan
Hunt Down a Locals' Hideout — MAJI MAJI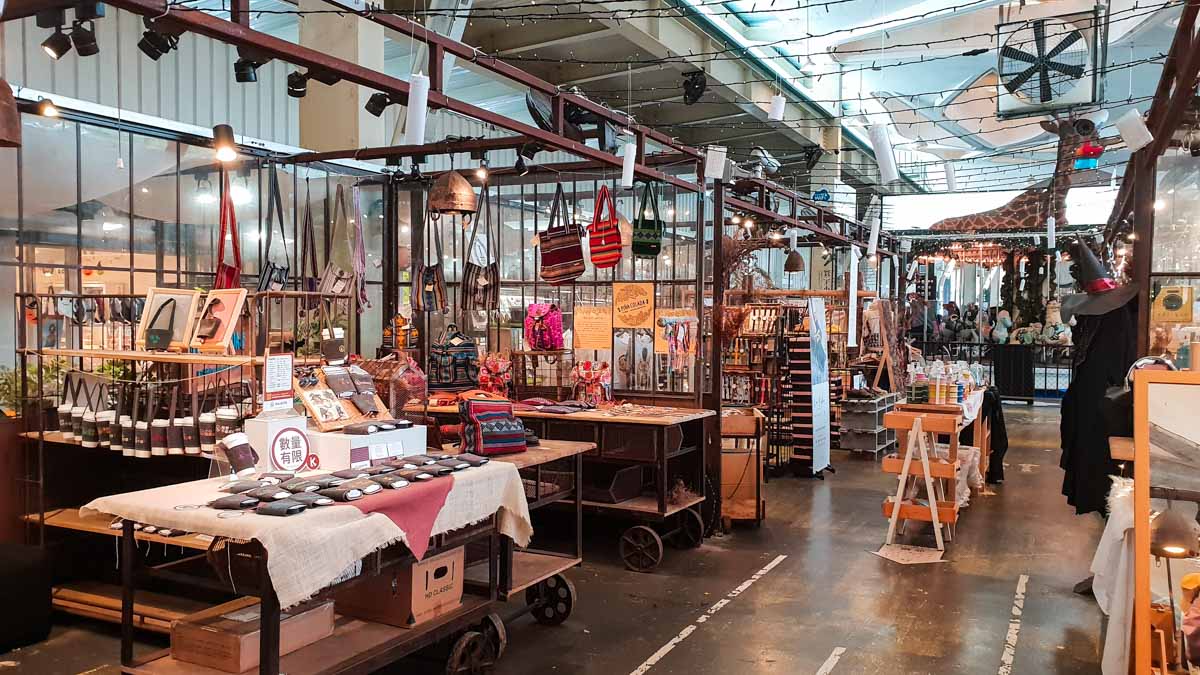 A new kid on the block, MAJI Square (MAJI集食行樂) is a conglomeration of local stalls from food to little trinkets such as in handmade earrings and bracelets. Walk around the hipster carnival set-up for some shopping.
Opening Hours: 11AM – 9PM
Location: No. 1, Yumen Street, Zhongshan District, Taipei City, Taiwan 10491 [臺北市中山區玉門街1號]
Tsay Chuen Kuan Massage Treatment 再春館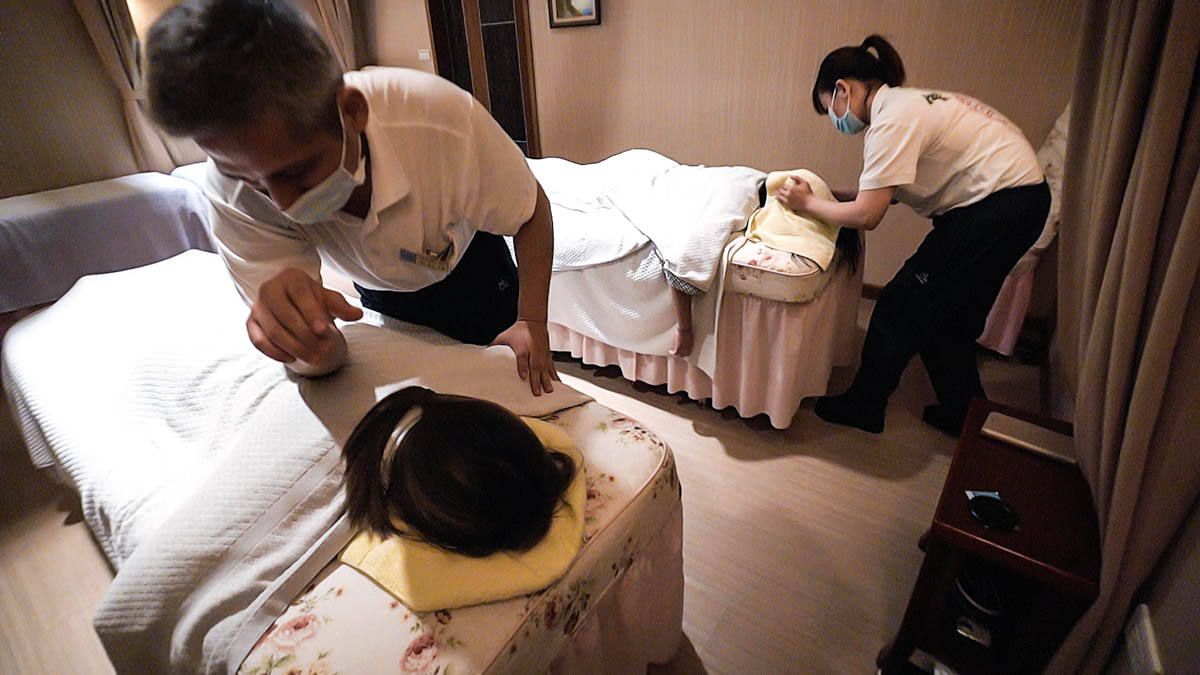 My first Taiwanese massage at Tsay Chuen Kuan Massage has opened me up to a whole new world of physiological indulgence. Unlike the Thai-style massage that we're familiar with, Taiwanese massage is more of a therapy that alleviates aches, targeting specifically at lymph nodes and the circulatory system. Choose either foot reflexology or a full body massage and you're guaranteed to feel rejuvenated after the therapy session.
Cost: S$40-90/session 
Opening Hours: 9:30AM – 11PM
Location: No. 8, 2/F, Section 2, Nanjing Dong Lu, Zhong Zheng District, Taipei City [臺北市中正區南京東路二段8號2樓]
Accommodation in Taipei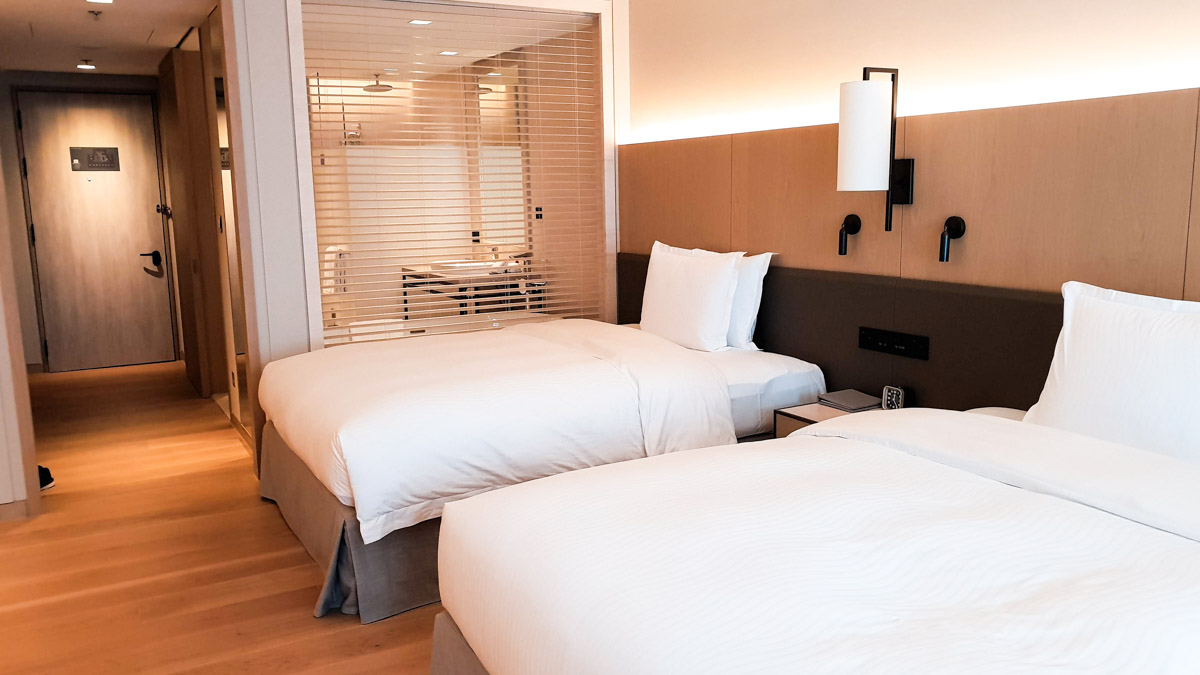 Booking of accommodation was through the Skyscanner app was a breeze as it filters the "best", or most worth it, by price points and ratings. With that, we found ourselves a luxurious yet affordable option, Taipei Marriott Hotel, situated in a quieter side of Taipei.
Cost: From S$274/night for a double room 
Address: No. 199 Lequn 2nd Road (intersection with Jinye 4th Road), Zhongshan District, Taipei, Taiwan [臺北市中山區樂群二路199號 (與敬業四路交叉口)]
D2: Taipei – Yilan
Breakfast at Lailai Soy Milk 來來豆漿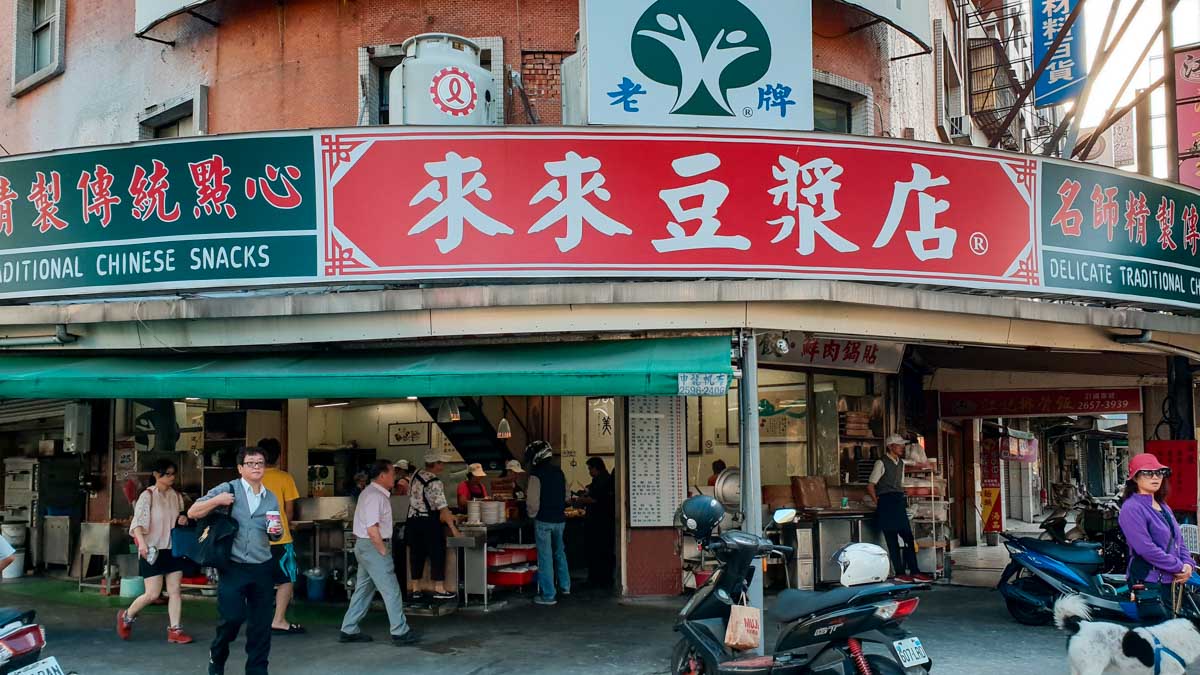 We started the day with traditional Taiwanese breakfast at Lailai Soy Milk that's just a short 10min walk away from Taipei Marriott Hotel. We ordered a bowl of savoury soybean milk (NT$32/bowl) out of curiosity having heard so much about Taiwanese soy milk.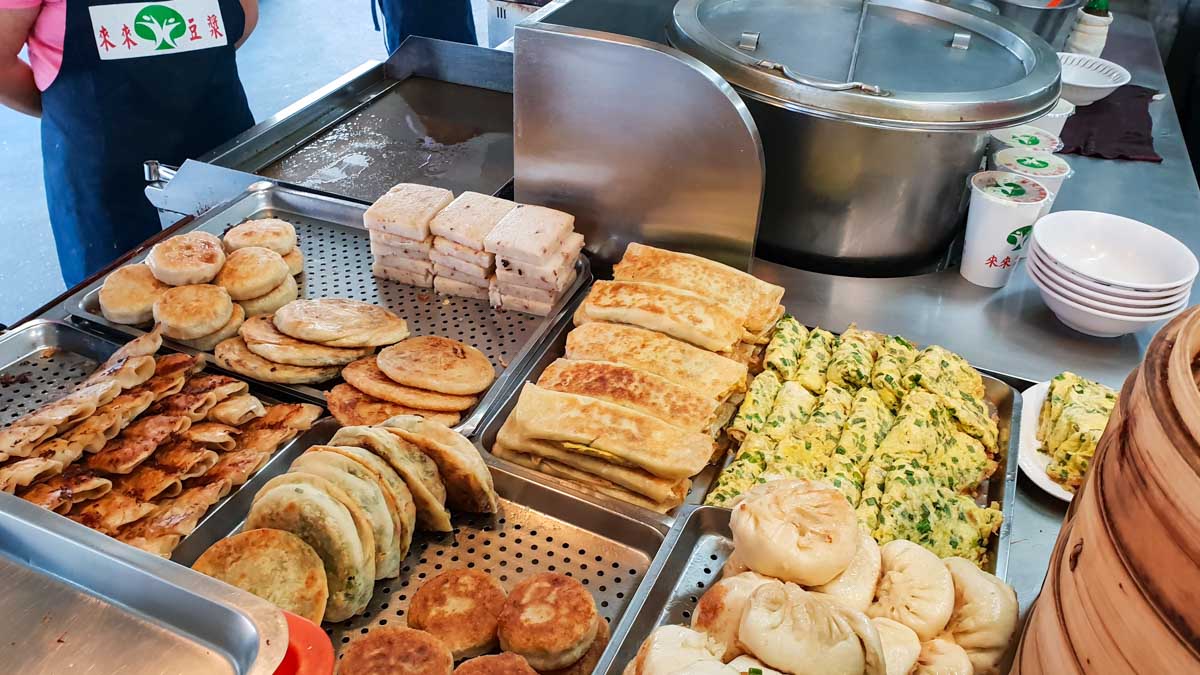 Well, it's definitely an acquired taste not many can stomach. If I were to best describe the taste, it's like drinking a bowl of egg-drop soup with youtiao. Also recommended is the pan-fried beef puff (牛肉餡餅) generously stuffed with juicy beef within.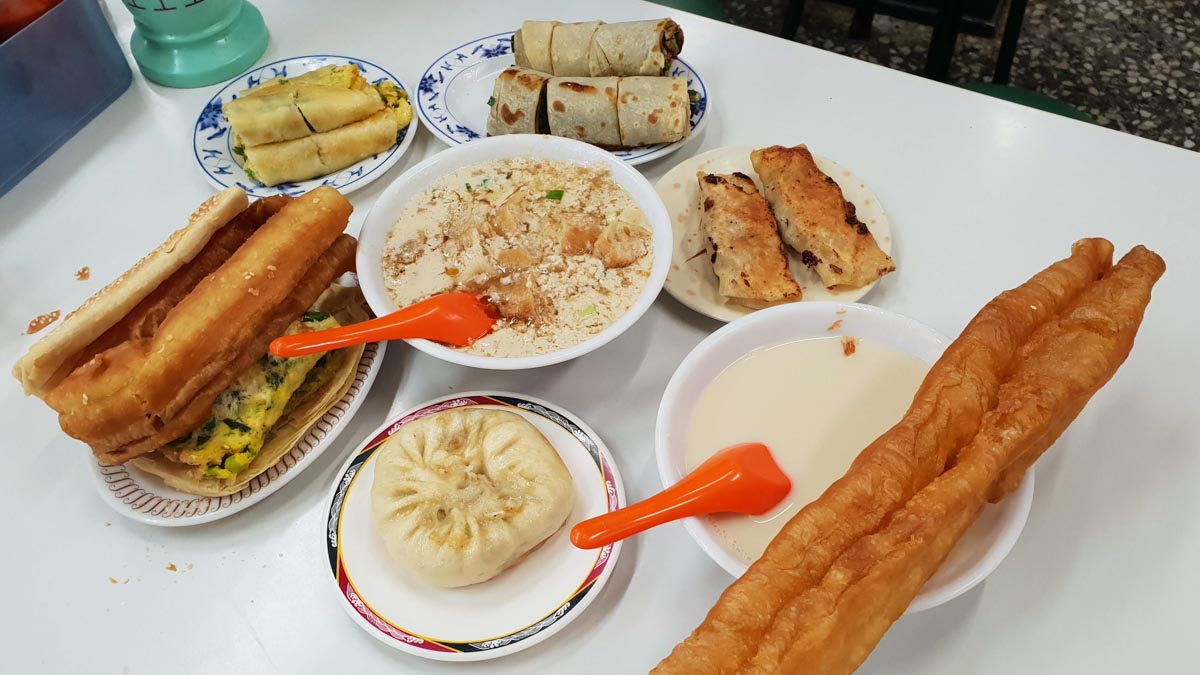 Cost: ~NT$10–88/pc
Opening Hours: Opens 24h
Address: No. 93, Section 1, Neihu Road, Neihu District, Taipei City, Taiwan 114 [台北市內湖區內湖路一段93號]
Day Tour to Yilan from Taipei
After breakfast, we hopped on a
flexi day-tour from Taipei to Yilan
 that covers up three interesting spots. While the tour is pre-arranged to bring you to some notable areas of Yilan, you can actually request to visit places within Yilan that's out of the planned route (upon driver's approval).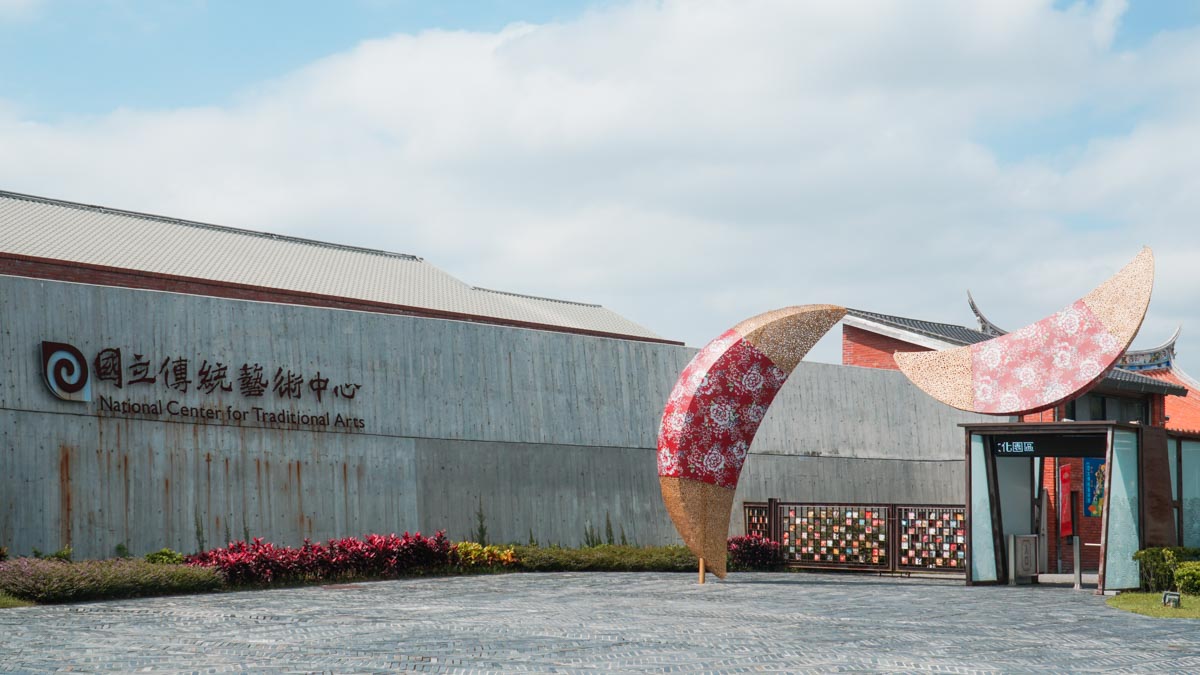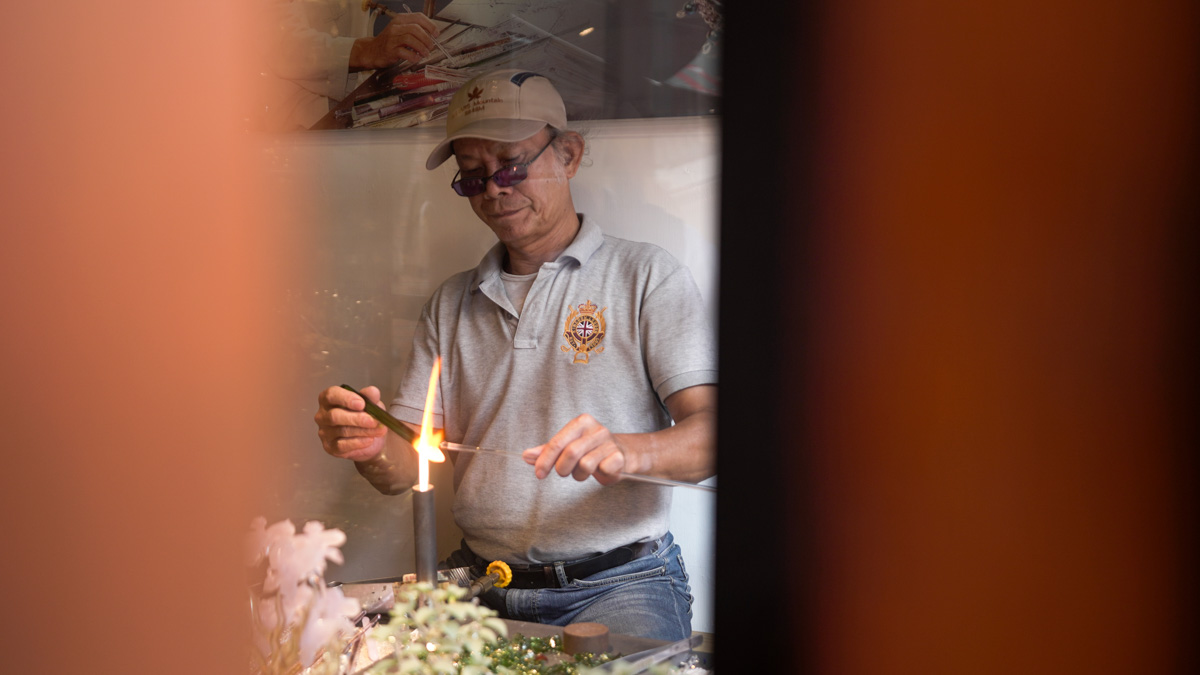 Some interesting stores we saw included an ornamental glass shop where a skilled craftsman intricately sculpted tiny glass leaves from molten glass.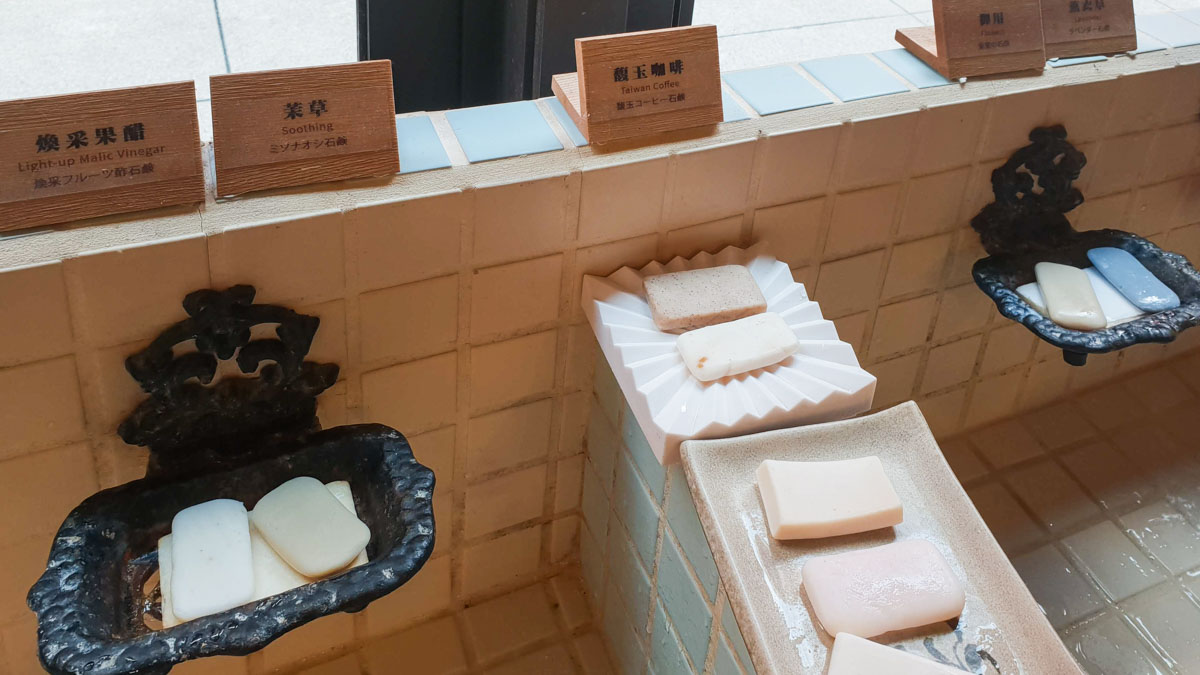 Another shop sold soaps of every scent you can imagine — including unusual scents like coffee and vinegar.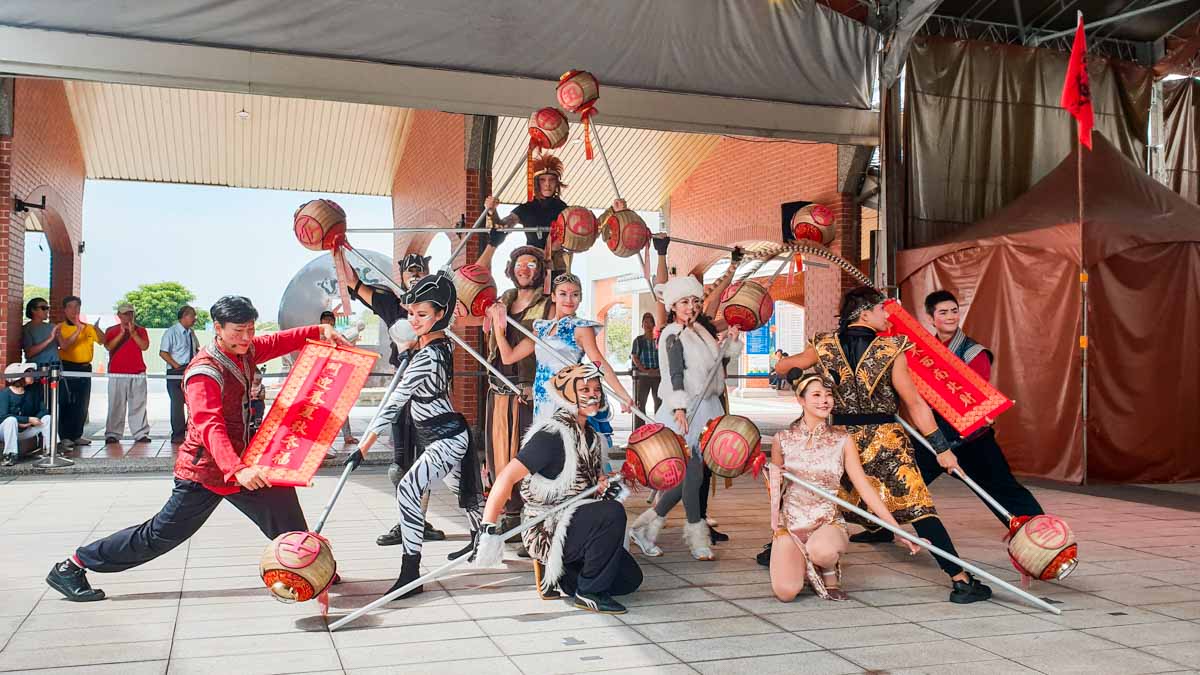 We even managed to catch a Zodiac-themed street dance performance by the performing arts group,
FervorTaiwan (藝想台灣劇團)
.
Entrance Fee: NT$150/pax (non-peak season); NT$250/pax (peak season)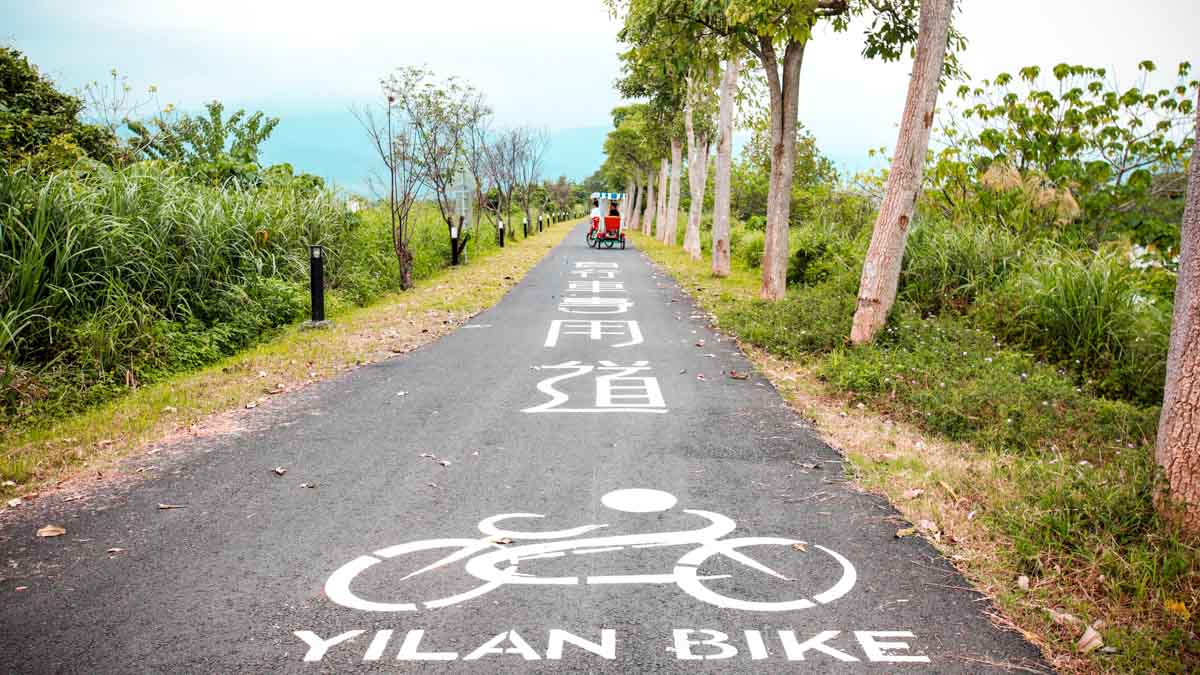 2) Dong Shan River Park (冬山河親水公園) — Accessible by a boat ride from the arts centre, explore the park either on a quadracycle with your friends or simply cycle solo. The cycling path starts from the iconic red Lizejian Bridge (利澤簡橋) and loops at Dongshan Railway Station (冬山車站). The one-way distance is about 5km, and a slow loop ride will take about 1.5–2 hours.
Costs: NT$600/motorised quadracycle; NT$250/motorised bicycle
Costs: NT$60/pc
Opening Hours: 7PM – 1AM
Address: No. 226, Linsen Road, Hualien City, Hualien County, Taiwan [花蓮縣花蓮市林森路226號]
The shrimps' tiny eyes will look like two bright little purplish orbs under our headlamps, and that's how you can spot them little prawns in the pitch black stream.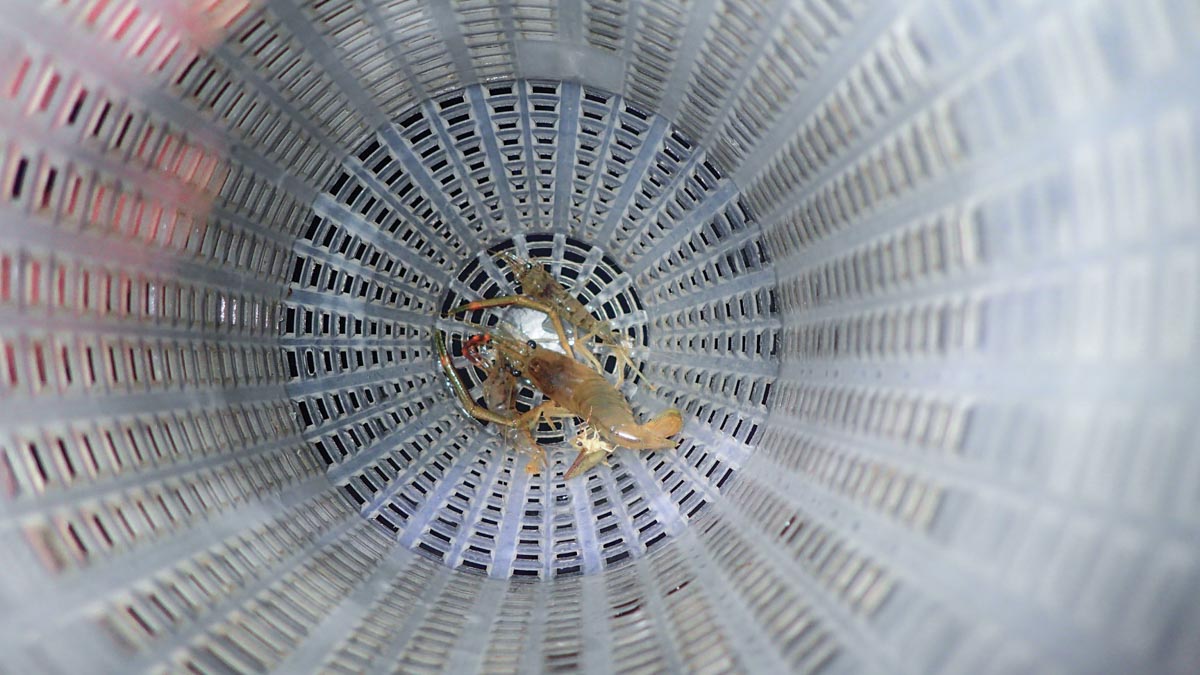 After around 40mins of catching, or trying our luck scooping up some unlucky shrimps, we were gathered back to our meeting point for dinner. And no, we don't actually eat the shrimps we caught as they are too small and not suitable to be eaten, so they're released back into the stream. Instead, our guides had nicely prepared us some barbecued meat and bamboo rice.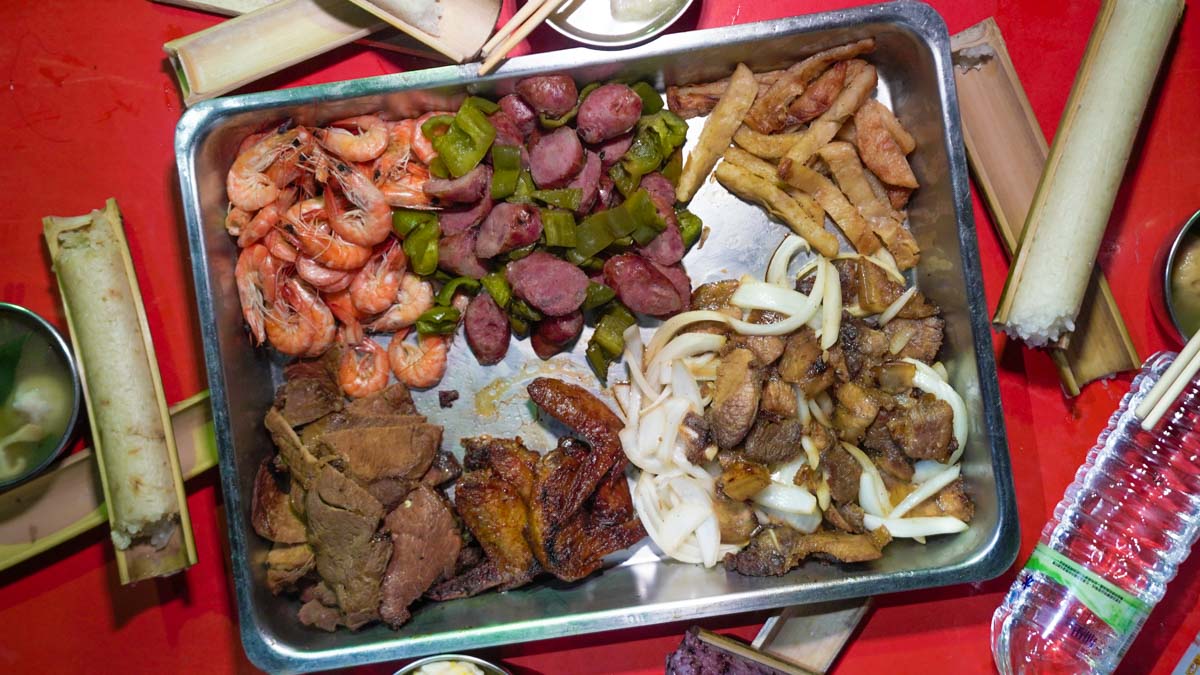 River Shrimping with BBQ Dinner
Cost: S$38/pax
Pick-up & Drop-off: Any location in Hualien
D5: Hualien – Taitung
Taroko National Park 太魯閣國家公園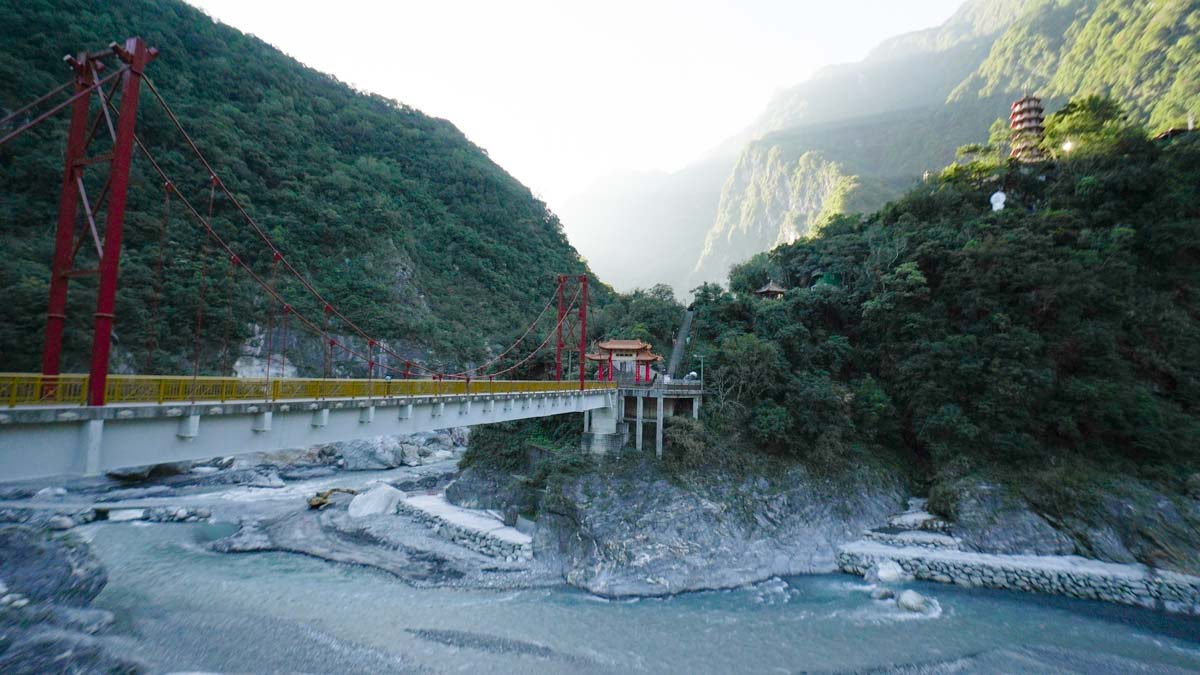 We headed to Hualien Railway station to collect our rental car for our morning drive to Taroko National Park (太魯閣國家公園). If you are driving into Taroko like us, do check the road and trail conditions prior as certain roads could be closed due to weather conditions.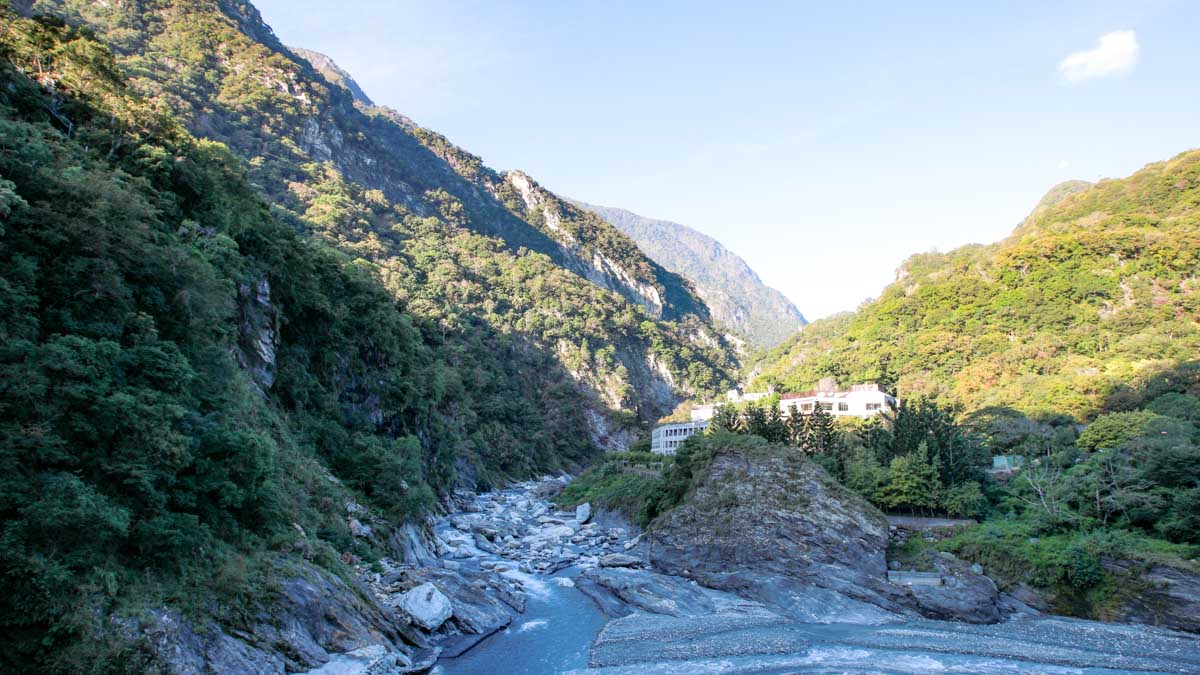 A must-visit for all travellers to Hualien, Taroko National Park's majestic rocky mountains puts the stun in "stunning". As we drove through the narrow and winding roads in Taroko, we felt immensely small against the gigantic rock formations.
It may be a national park, but unless you are a serious hiker, hiking through Taroko is no walk in the park. Putting the size into perspective, Taroko is 920km² while Singapore is only 721.5km². Permits are also required to hike the mountaineering trails.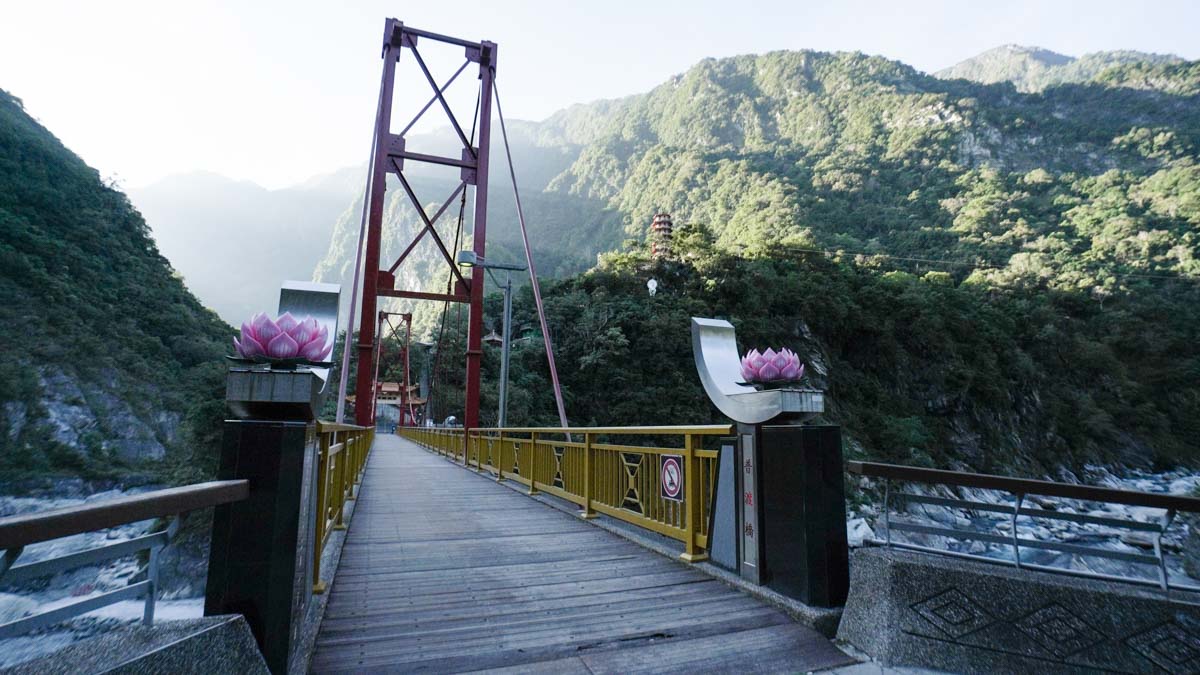 As we did not have much time, we drove to several scenic spots such as the Cimu Bridge (慈母橋) and Yue Wang Pavilion (岳王亭) for some photo-taking opportunities with nature's amazing backdrop.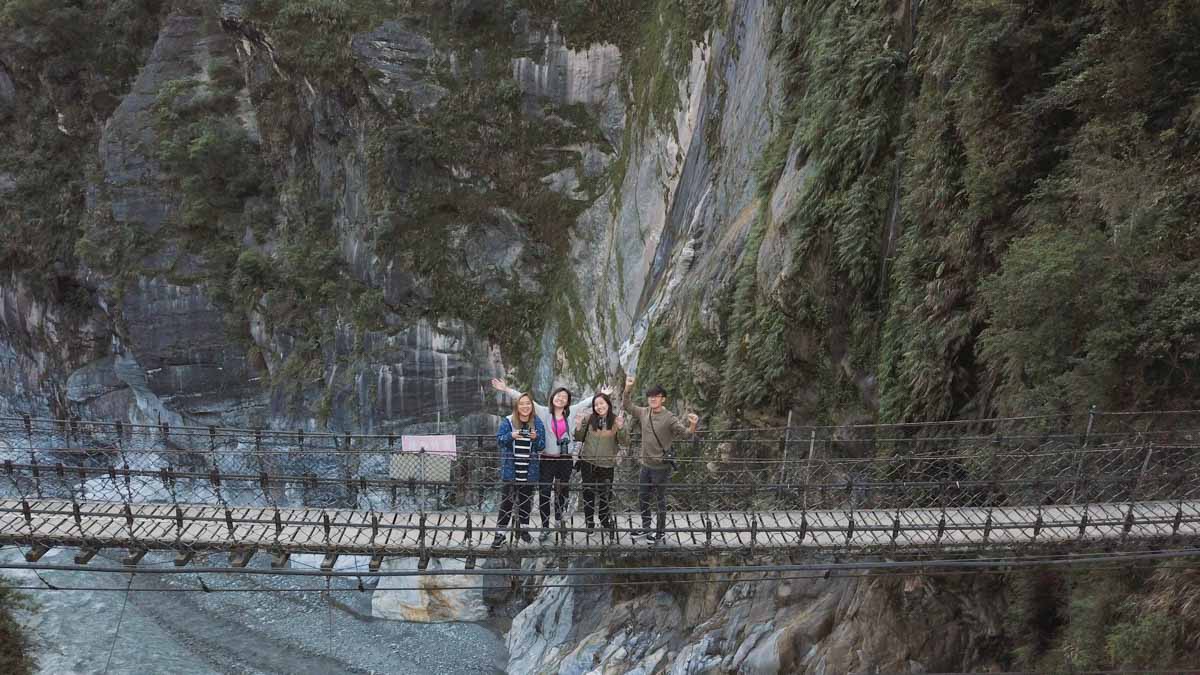 Transportation: Driving is the fastest and most comfortable way to get here but a cheaper (but much slower) option is the shuttle bus (NT$170/pax) that runs to-fro Hualien station and Taroko Visitor Park four times a day. Alternatively, hop on a taxi. We got to know a taxi driver, Mr. Paul, who can be contacted at +886972507388.
Hualien Paragliding Experience 花蓮飛行傘體驗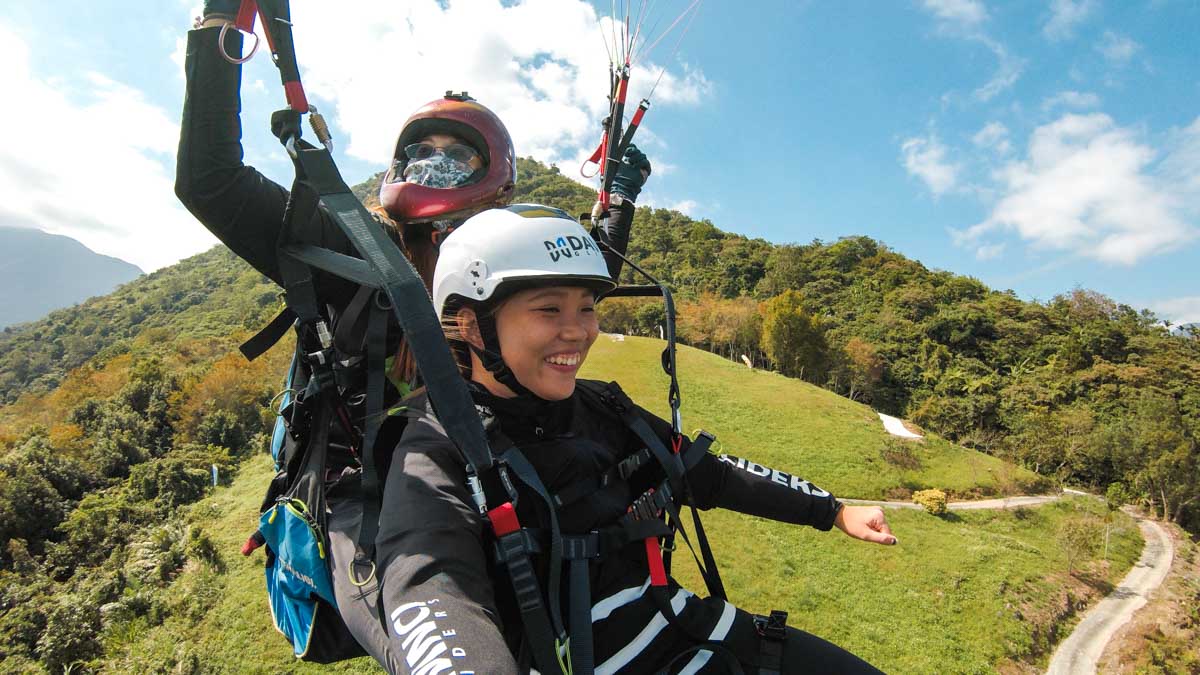 Hualien's breathtaking scenery of the East Rift Valley (花東縱谷) is best viewed from the top, and the best way to do so is paragliding (S$114) above the mountains. In mid-air, you'll see the mosaic of colours from the paddy fields, houses, seas, and gorges. Gorgeous.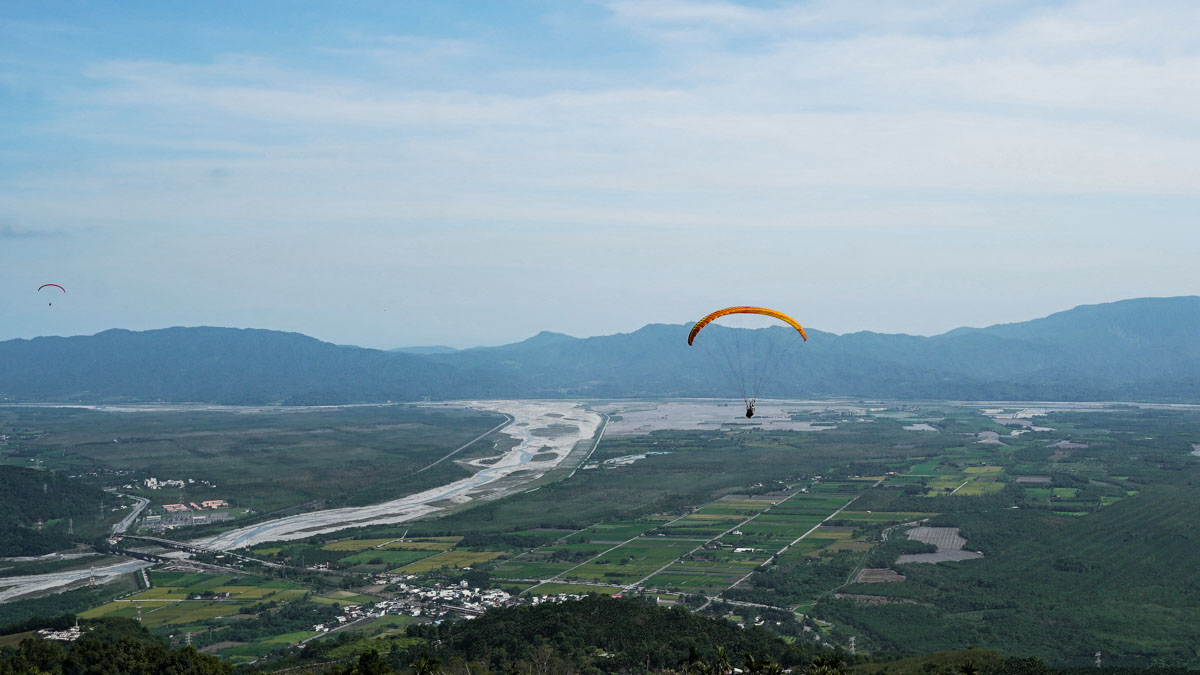 Get your pictures and video instantly as the GoPro footages will be transferred to your mobile phone after the flight. Be sure to have at least 4GB of space in your mobile, and you can instantly upload your amazing flight onto your social media accounts.
Cost: S$114/pax
Meeting Point: No. 137, Zhangqiao Road, Fenglin Township, Hualien County
(Nearest station: East Line Railway's Wan Rong Station 萬榮車站)
Lunch at Four-Generation Farmer 四代務農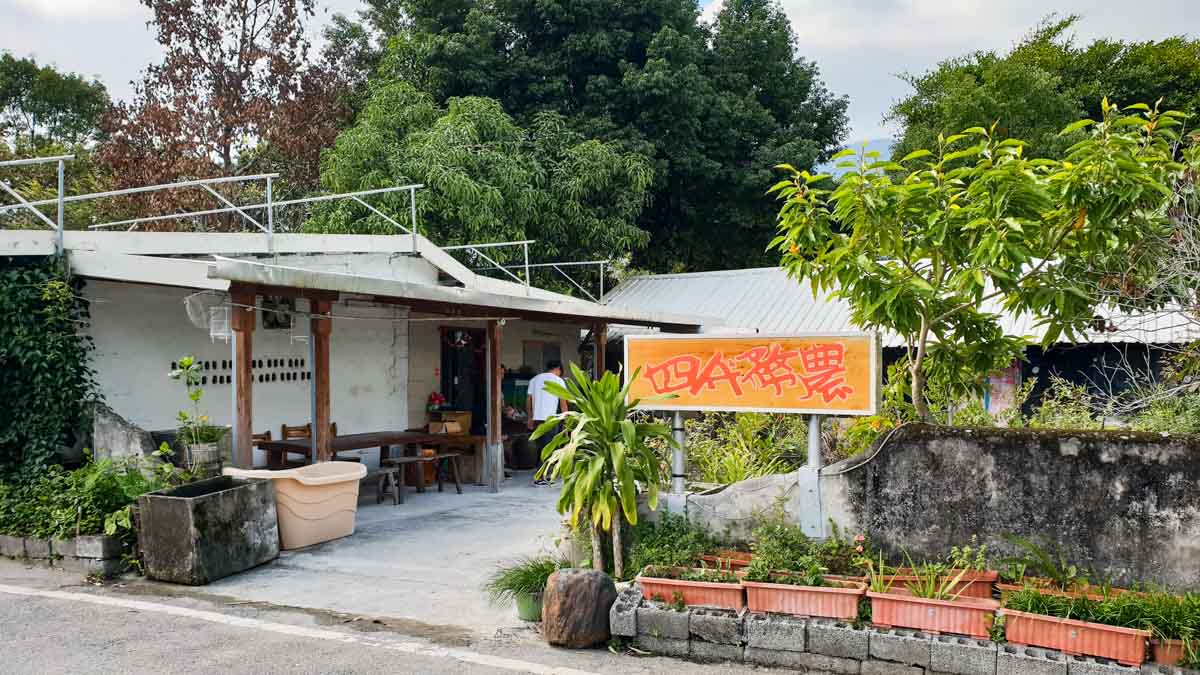 Located far out in the countryside of Hualien is Four-Generation Farmer, an omakase-style family-run restaurant.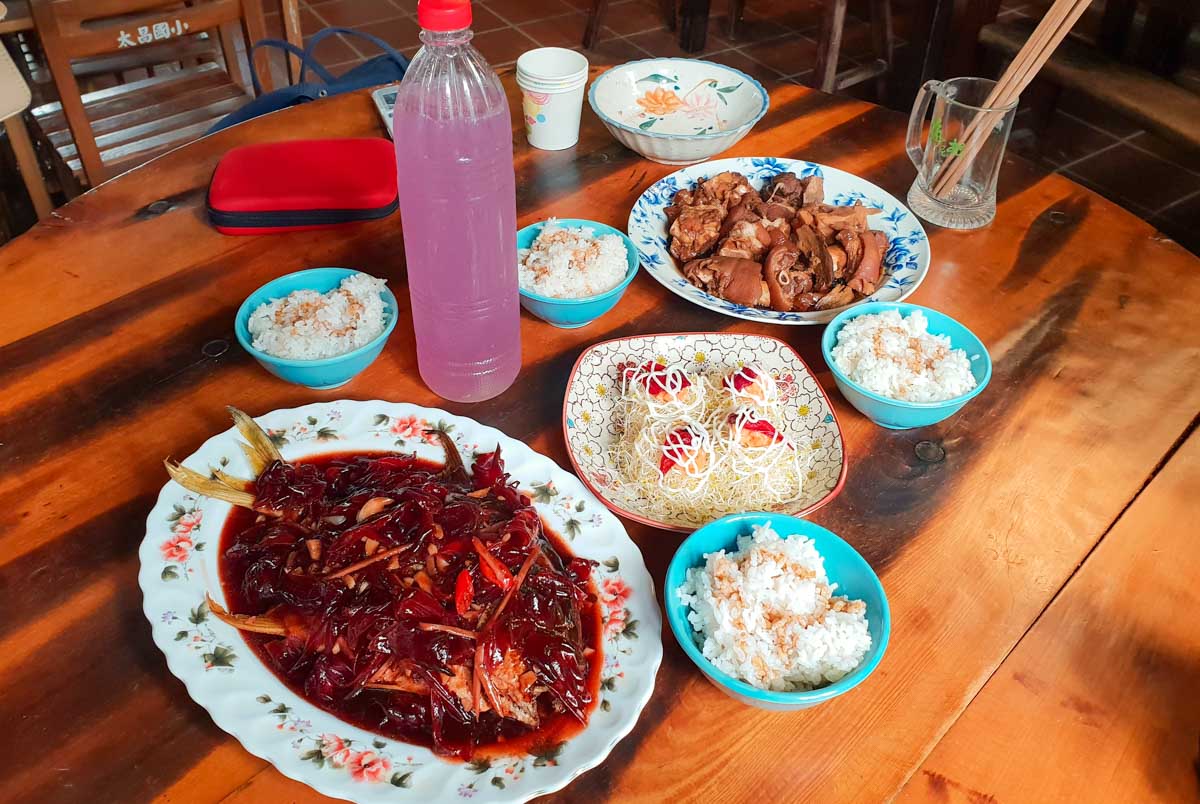 At Four-Generation Farmer, you pay NT$300 per head, and the chef will whip up dishes with whatever he has in his kitchen. When we were there, we had some homely stir-fried fish with roselle sauce, braised pork knuckles, and dried radish omelette.
Cost: NT$300/pax
Opening Hours: 11AM – 2PM (Lunch), 5PM – 8PM (Dinner)
Address: No. 1, Dazhong Road, Fenglin Township, Hualien County, Taiwan 975 [花蓮縣鳳林鎮大忠路1號]
Brown Boulevard 池上伯朗大道
We stopped by Brown Boulevard (伯朗大道) as we drove southwards to Taitung (台東). The big plains of paddy field are seemingly endless. The main street of Brown Boulevard has since been turned into a bicycle path and closed to cars, only allowing visitors to pass through via foot or bicycle.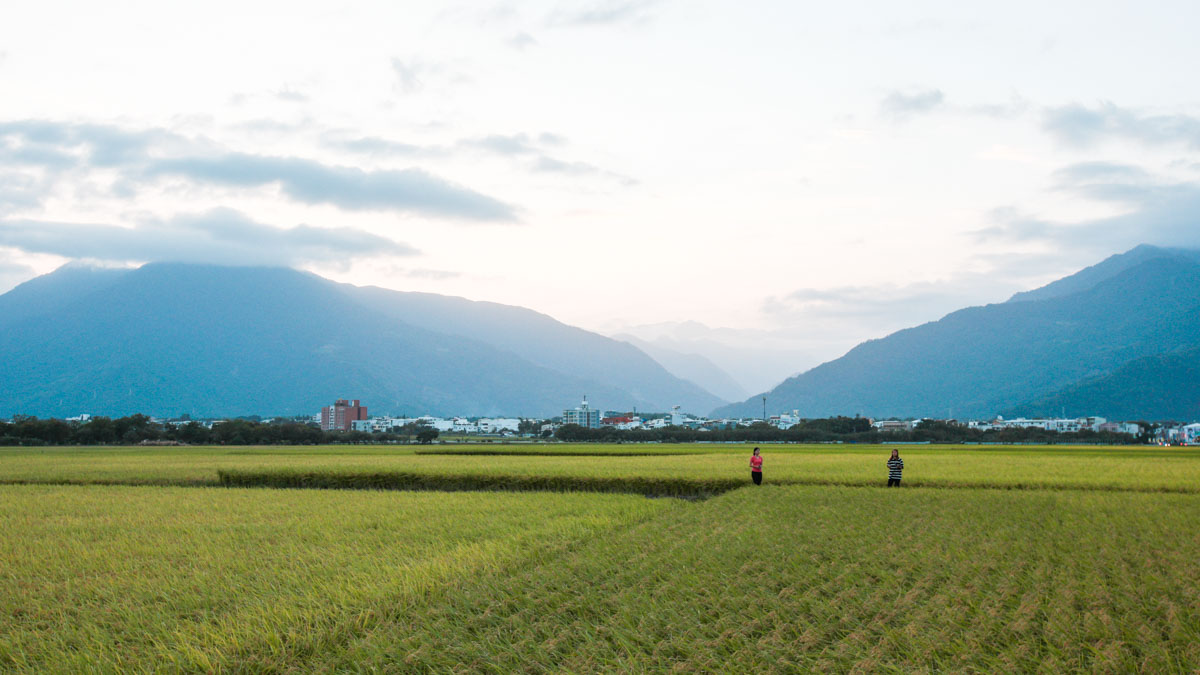 Location: 958, Taiwan, Taitung County, Chishang Township [958台東縣池上鄉]
Siwei Night Market 四維夜市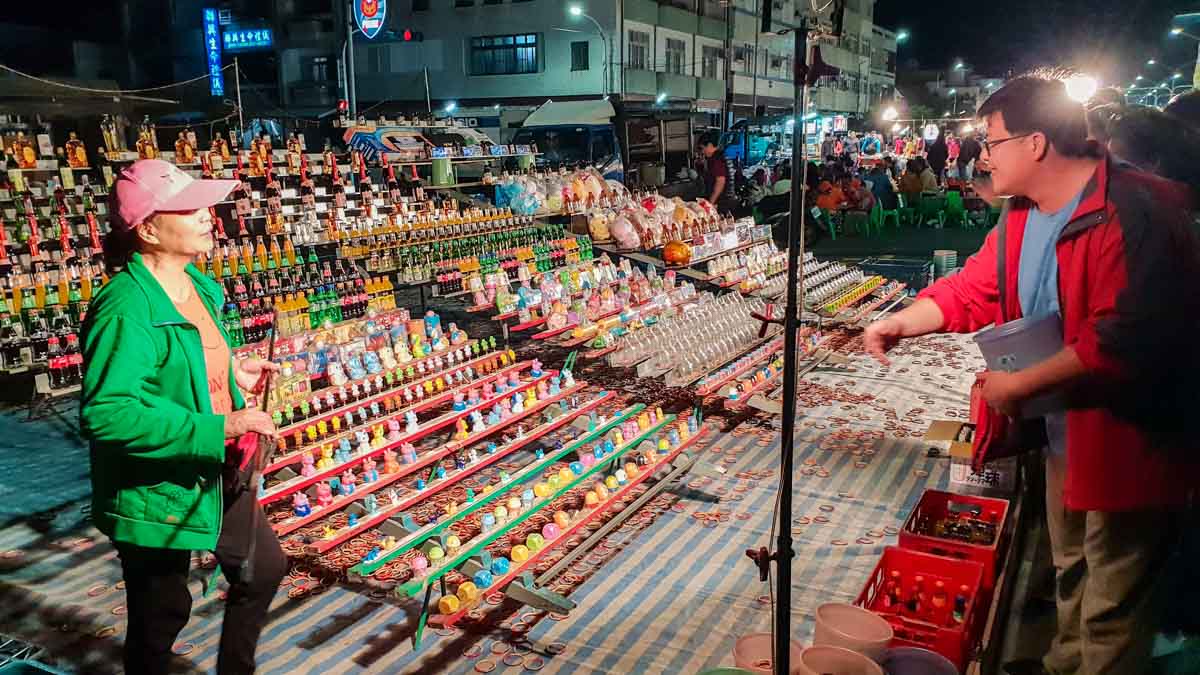 Open only on Sundays, Siwei Night Market (四維夜市) in Taitung is a gem left untouched by time. Walking down the night market brought back memories of pasar malams of the '90s, where there are old-school carnival arcade games and hawkers cooking behind their push-carts stalls.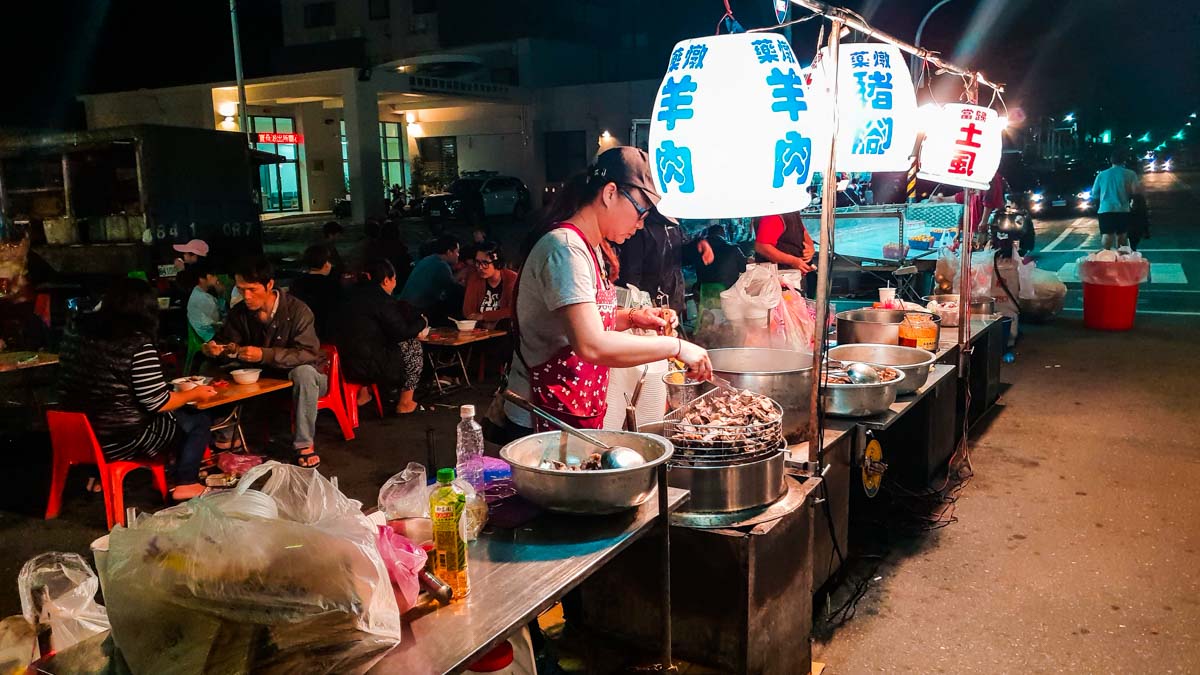 Opening Hours: Sundays 6PM till late (Closed on Mon-Sat)
Address: Lane 464, Section 1, Siwei Road, Taitung City, Taitung County, Taiwan 950 [台東縣台東市四維路一段464巷]
Accommodation in Taitung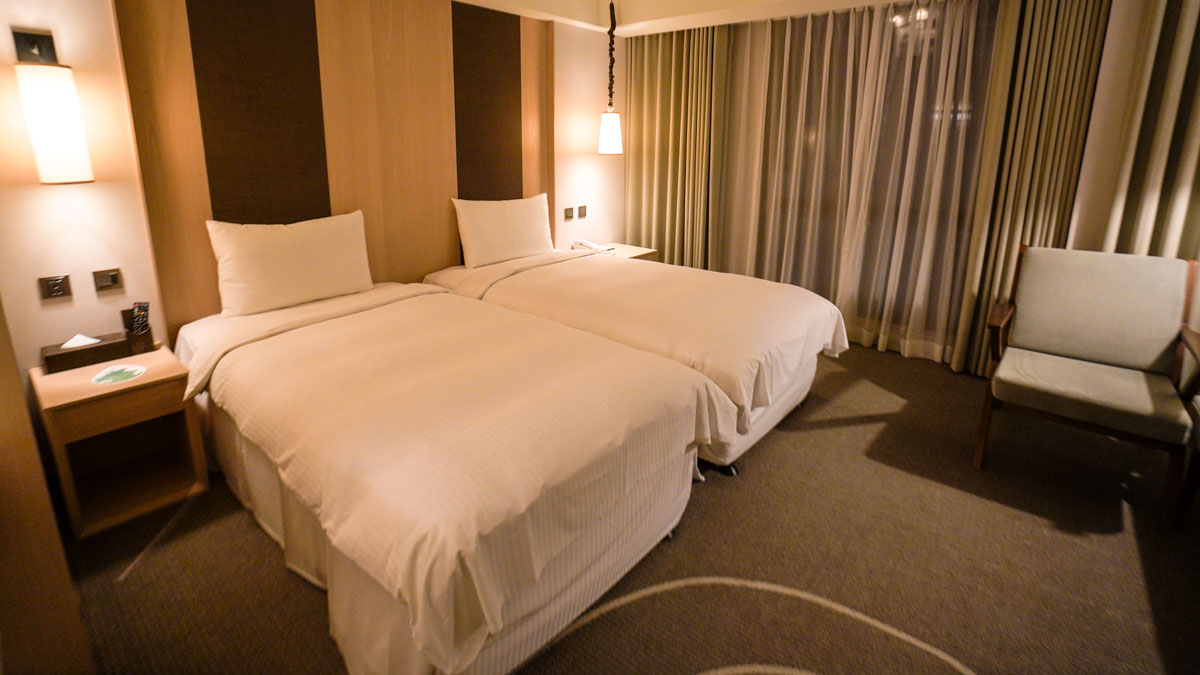 Our crashpad for the night was Inn by the Village (台東南豊鉄花桟), a modern hotel conveniently located in the city. There are bicycles free for rent for hotel guests at any time of the day.
Cost: From S$113/night
Address: No.585, Sec. 1, Zhonghua Road, Taitung City, Taiwan [台東縣台東市中華路一段585號]
D6: Taitung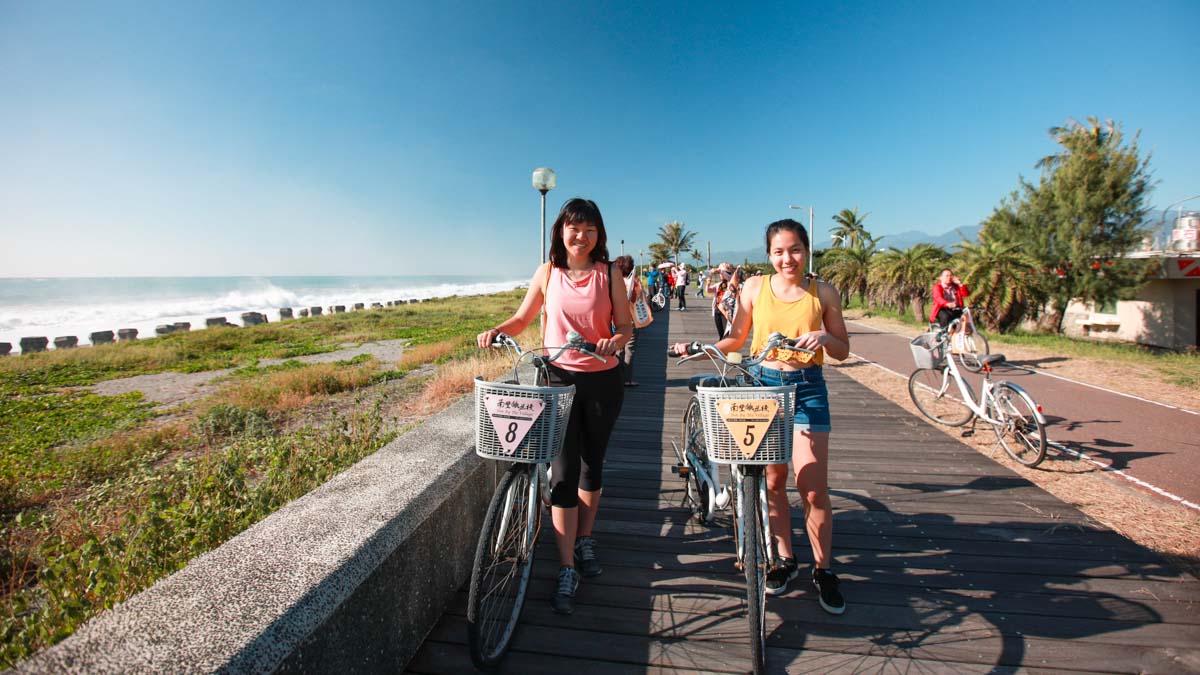 Taitung is known for its great outdoors, especially their bike trails that attract cycling enthusiasts from all over the world to hit the roads that guarantee sweet views of mountains and seas.
With our rented bicycles from our hotel (free with a deposit of passport), we cycled around 10mins to the nearby Haibin Park (海濱公園) by the sea. The bike path is clearly demarcated on the roads.
If you have sufficient time, take the longer cycling route that goes all the way to the old rail tracks. Now named "Railway Arts Village (鐵花村音樂聚落)", the old rail tracks has since been revamped into an outdoor activity corner for arts and music, easily somewhere you could spend up to a whole day at!
D7: Taitung – Kenting
From Taiwan's hidden gem, Taitung, we proceeded further south to the island's paradise — Kenting, that's described by tourists as "Taiwan's Hawaii".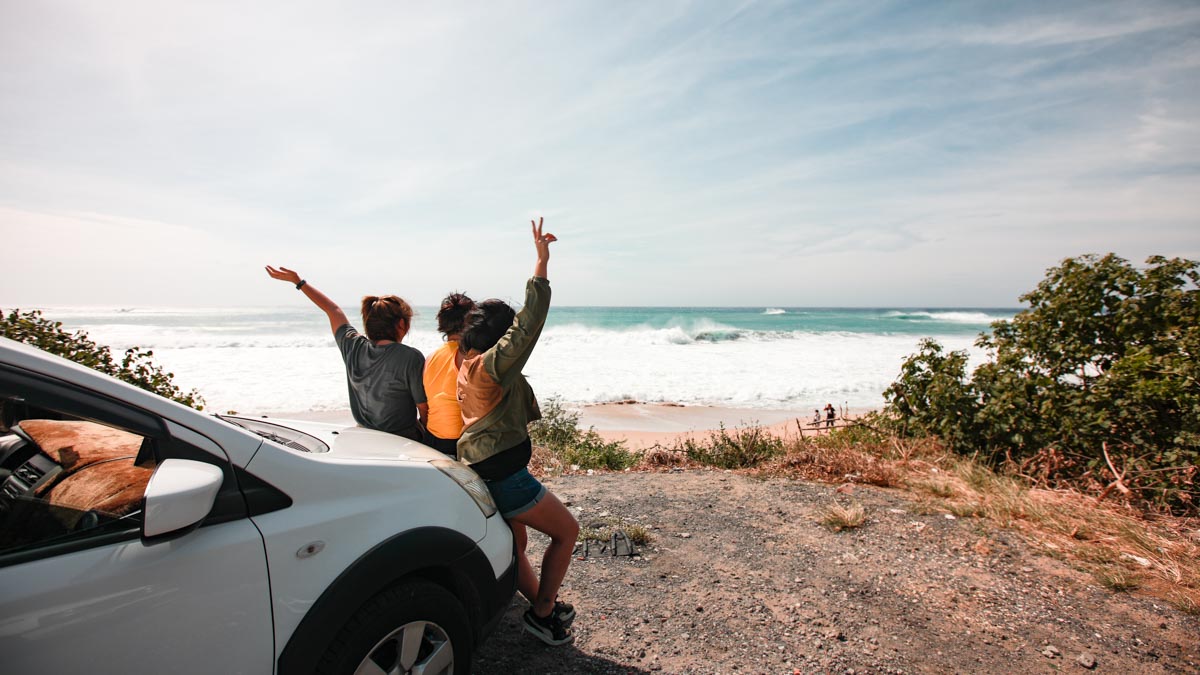 Snorkelling at Houbihu, Kenting 墾丁後壁湖浮潛驚喜體驗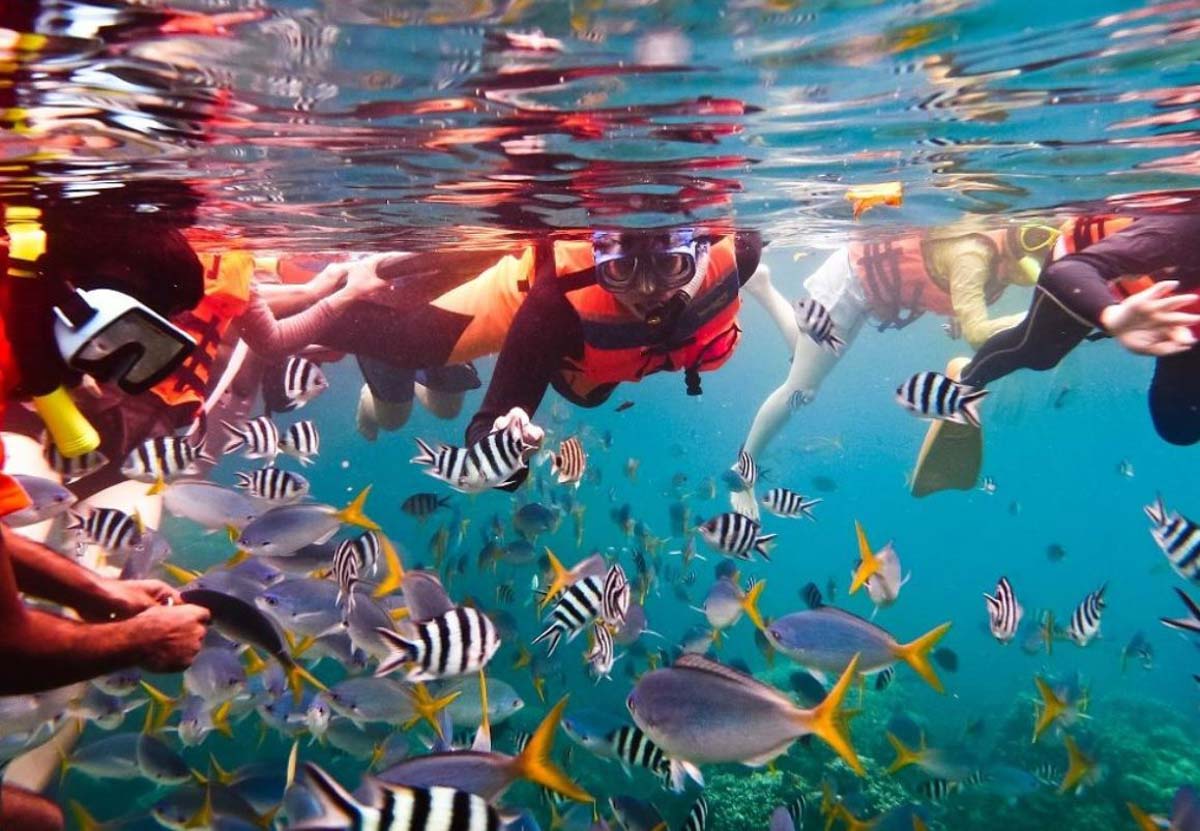 Kenting is known for white beaches that are drastically different from more common black sand beaches around Taiwan. The "white" beaches are formed by dead corals and shell fragments that's been washed ashore. The area is ideal for snorkelling or skin diving as the corals can be found in shallower waters — allowing you to get closer to the corals and spot more marine life.
Houbihu (後壁湖) is one of Kenting's most scenic skin diving spot with many different species of fish and sea creatures such as sea urchins.
Cost: S$14/pax (min. 2 pax)
Lunch at A Shin Sashimi 阿興生魚片
This humble seafood restaurant was recommended to us by a local, in his words, "very fresh very cheap". Which is true; you're looking at an entire platter of assorted sashimi — salmon, tuna, marlin, and herring for only NT$300 (~S$15). Such lobangs can't just be kept to ourselves, so here are the details.
Cost: NT$100-300/platter of sashimi
Opening Hours: 11AM – 8PM
Address: No. 8-6, Daguang Road, Hengchun Township, Pingtung County, Taiwan 946 [屏東縣恆春鎮大光路8-6號]
Fu De Temple & Guanshan Lookout 高山巖 福德宮 & 關山觀景臺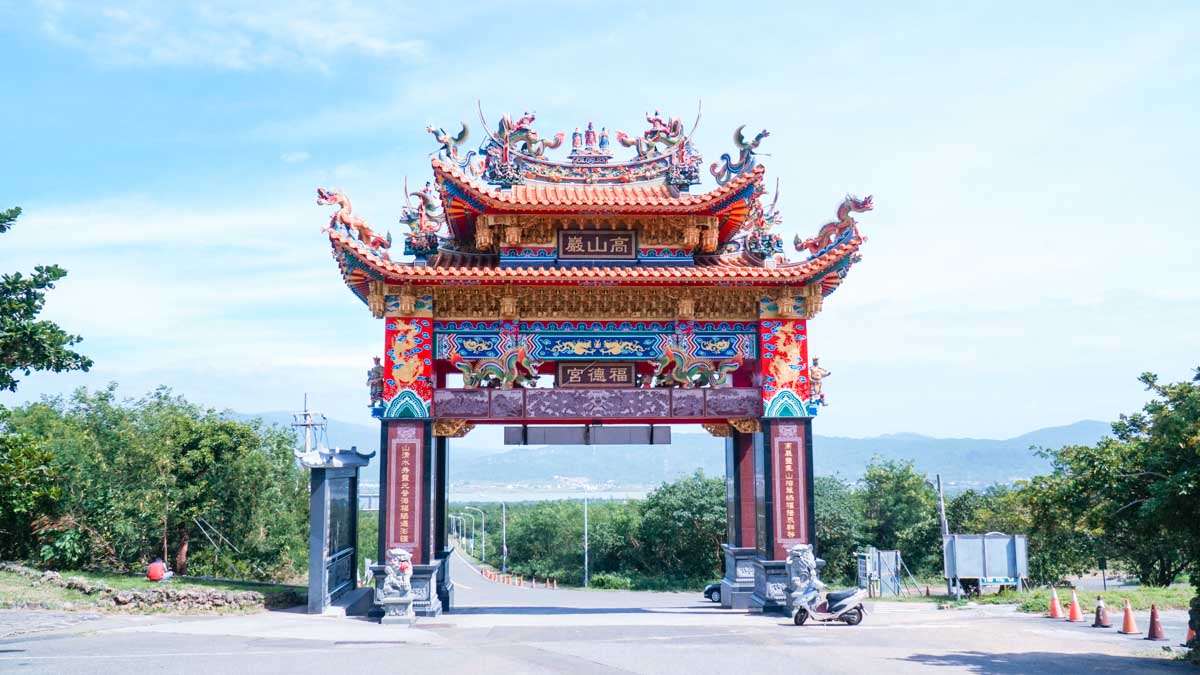 At Hengchun Township of Kenting lies a world's top lookout that's not known to many. A short walk from Fu De Temple (高山巖福德宮) is the Guanshan Lookout (關山觀景臺) that's been voted by CNN as one of the top 12 sunset spots in the world.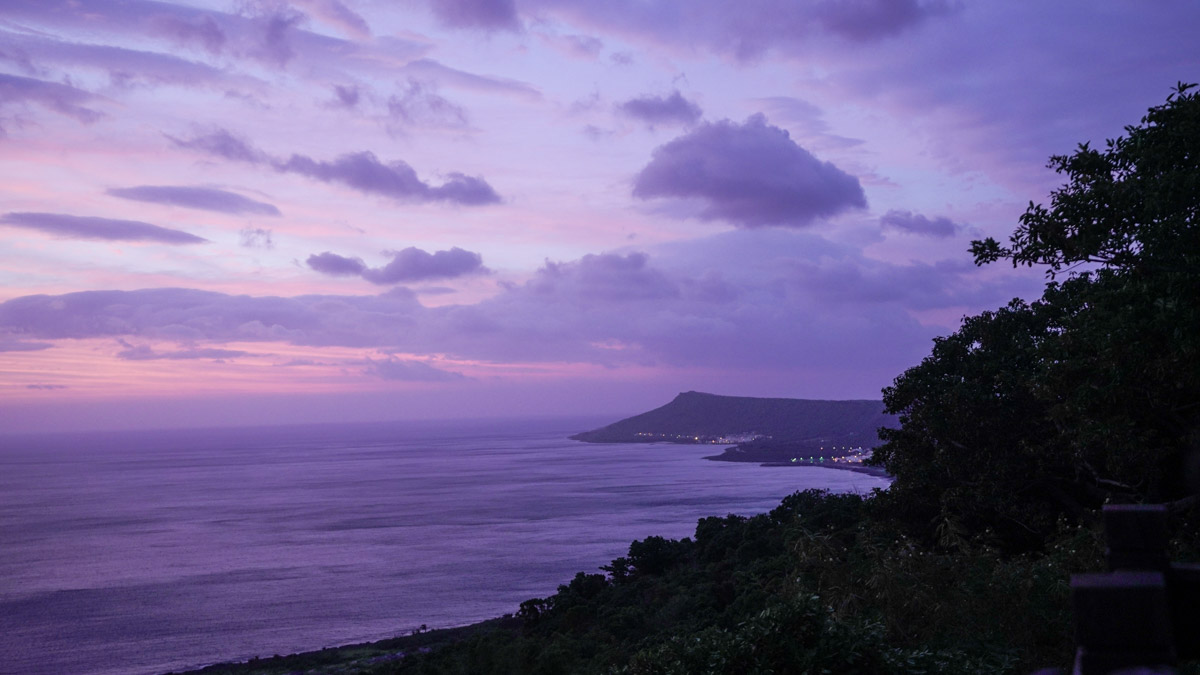 Entrance Fee: NT$60/pax
Location: No. 17-1, Binlang Road, Hengchun Township, Pingtung County, Taiwan 946 [屏東縣恆春鎮檳榔路17-1號]
Chu Huo Special Scenic Area 出火特別景觀區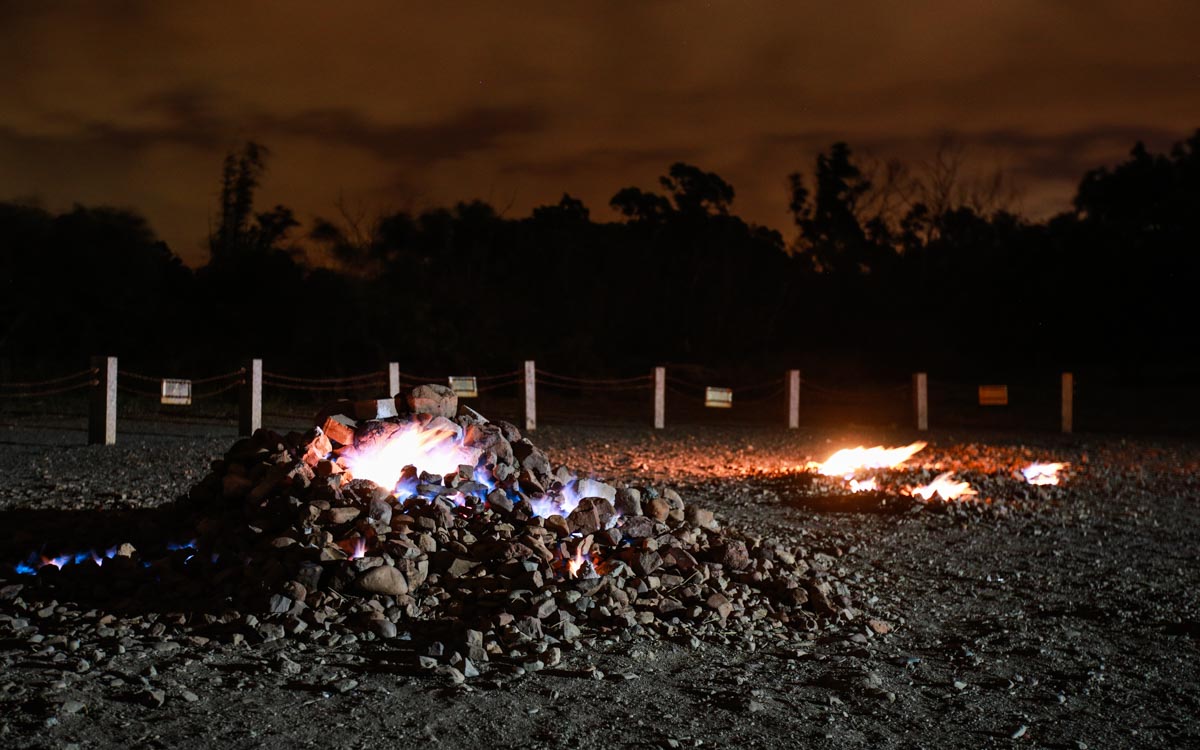 A natural phenomenon, Chu Huo (出火) is where the natural gas that's leaking from the ground get ignited. We visited just after sunset to see the eternal flame from the ground burn brightly — like how it has been for the past forty years.
Location: No. 259-2, Hengdong Road, Hengchun Township, Pingtung County, Taiwan 946 [屏東縣恆春鎮恆東路259-2號]
Kenting Night Market 墾丁大街夜市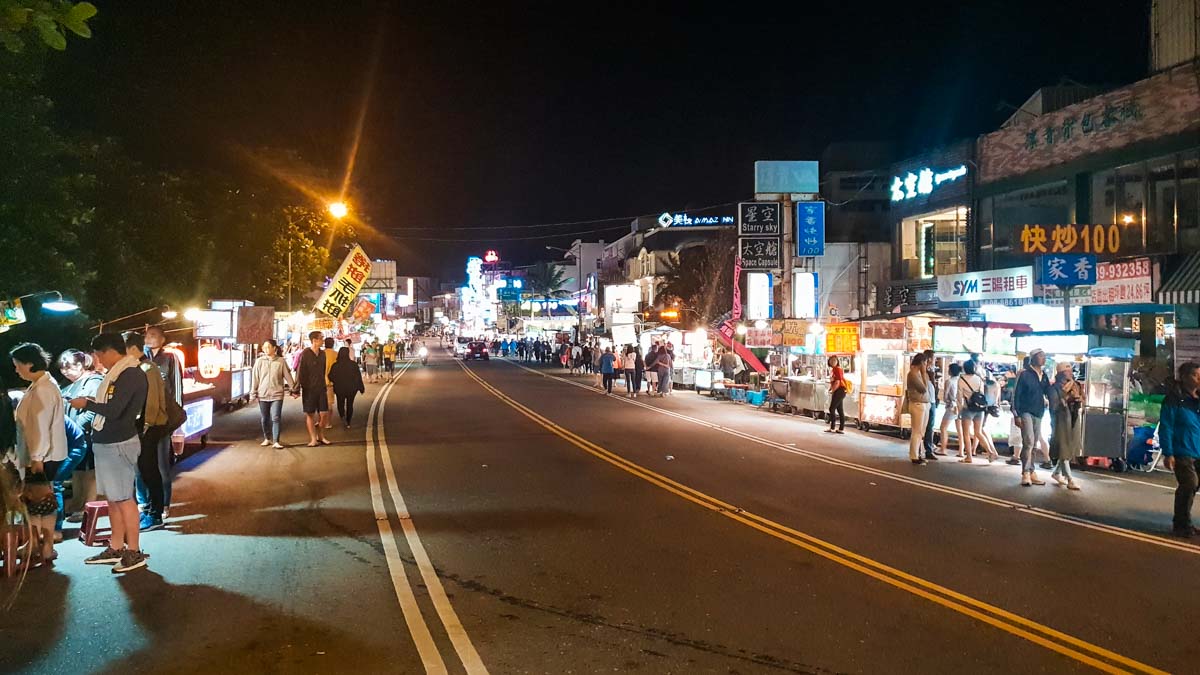 Later in the night, we walked along the Kenting Night Market that starts from Caesar Park to Kenting National Park. Spanning 2km long, Kenting Night Market is the second largest night market in southern Taiwan.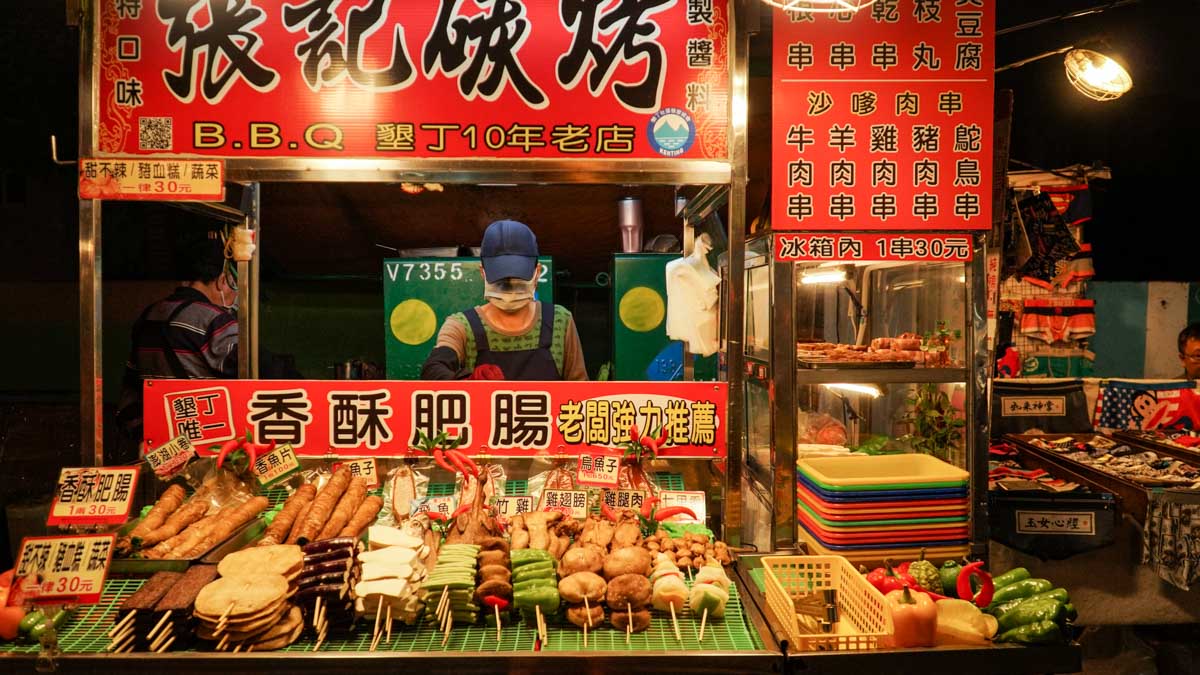 As usual, we settled our dinner gobbling from one stall to the next. While Kenting Street is open 24hrs, the portable stalls usually open from 6:30PM to 9:30PM.
Accommodation in Kenting
Caesar Park Hotel (墾丁凱撒大飯店) is a Bali-themed hotel that boasts sea-frontal views. The hotel also has a direct shuttle service to-fro Kaohsiung's Zuoying Train station once a day. Do refer to Caesar Park's official site for timetable and reservation information.
Cost: From S$120/night
Address: No. 6, Kending Road, Hengchun Township, Pingtung County, Taiwan 94644 [屏東縣恆春鎮墾丁路6號]
D8: Kenting – Kaohsiung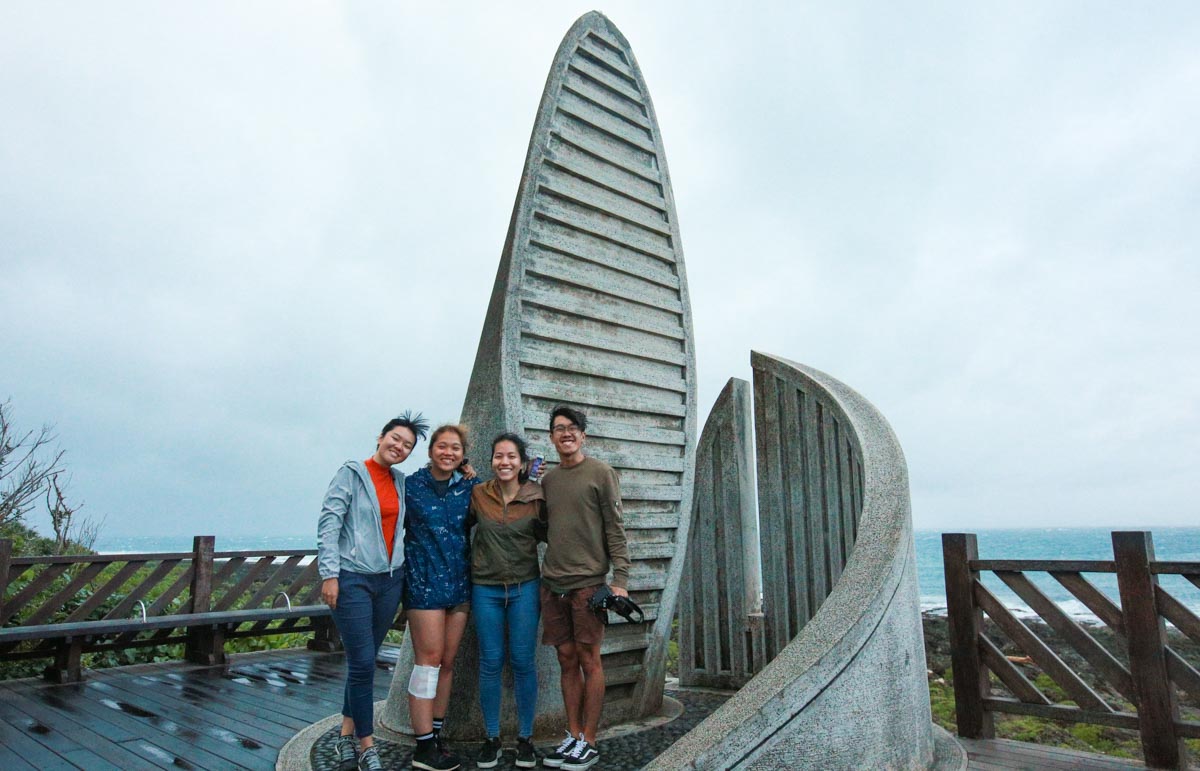 After catching the sunrise at Taiwan's Southernmost Point in Kenting, we left the tropical paradise and headed to Kaohsiung, our final leg of the trip.
Fo Guang Shan Buddha Museum 佛光山佛陀紀念館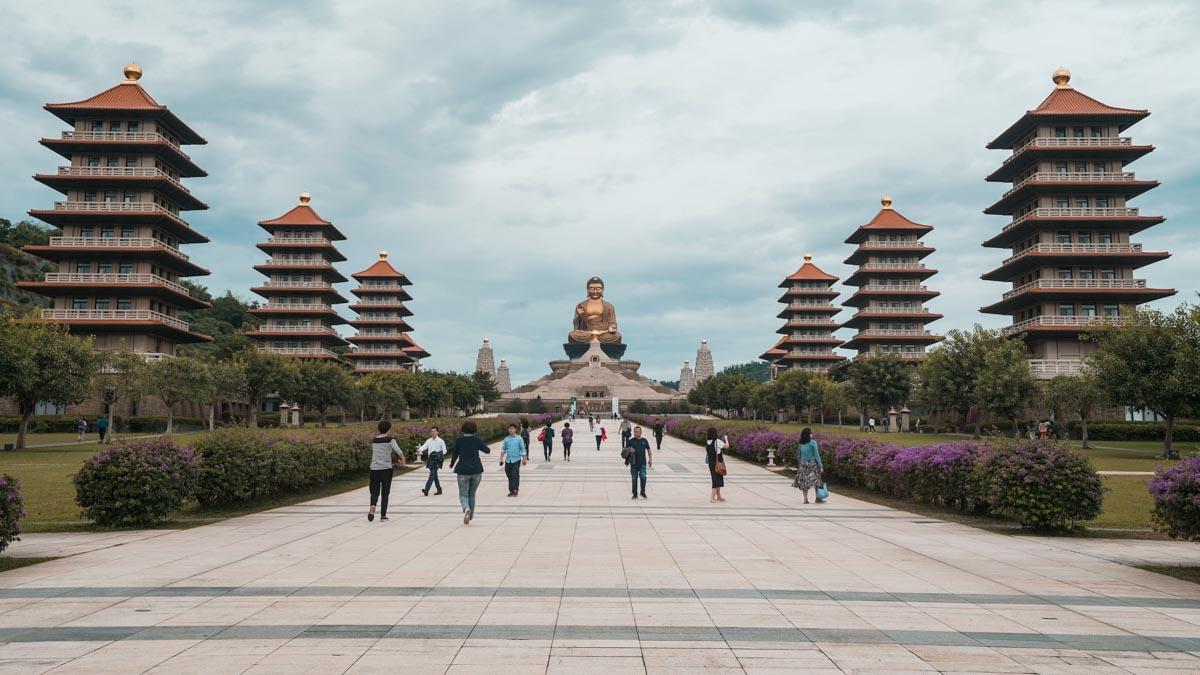 Thereafter, we headed to Fo Guang Shan (佛光山), the largest Buddhist temple in Taiwan. The compound is so huge that some people will go there as a day-trip.
Transportation: Driving from Kaohsiung city to Fo Guang Shan takes about 20mins. The Harvard Express Bus (NT$70/pax) that shuttles to-fro Kaohsiung HSR station and Fo Guang Shan takes 45 mins. Taxis make the same trip at half the time for NT$100/pax. You may contact Mr. Huang at +886933307574 for taxi services around Kaohsiung and Fo Guang Shan.
Entrance Fee: FREE
Opening Hours: 9AM – 7PM (Closed on Tuesdays)
Address: No. 1, Tongling Road, Dashu District, Kaohsiung City, Taiwan 84049 [高雄市大樹區統嶺路1號]
Gao Xiong Po Po Shaved Ice 婆婆冰店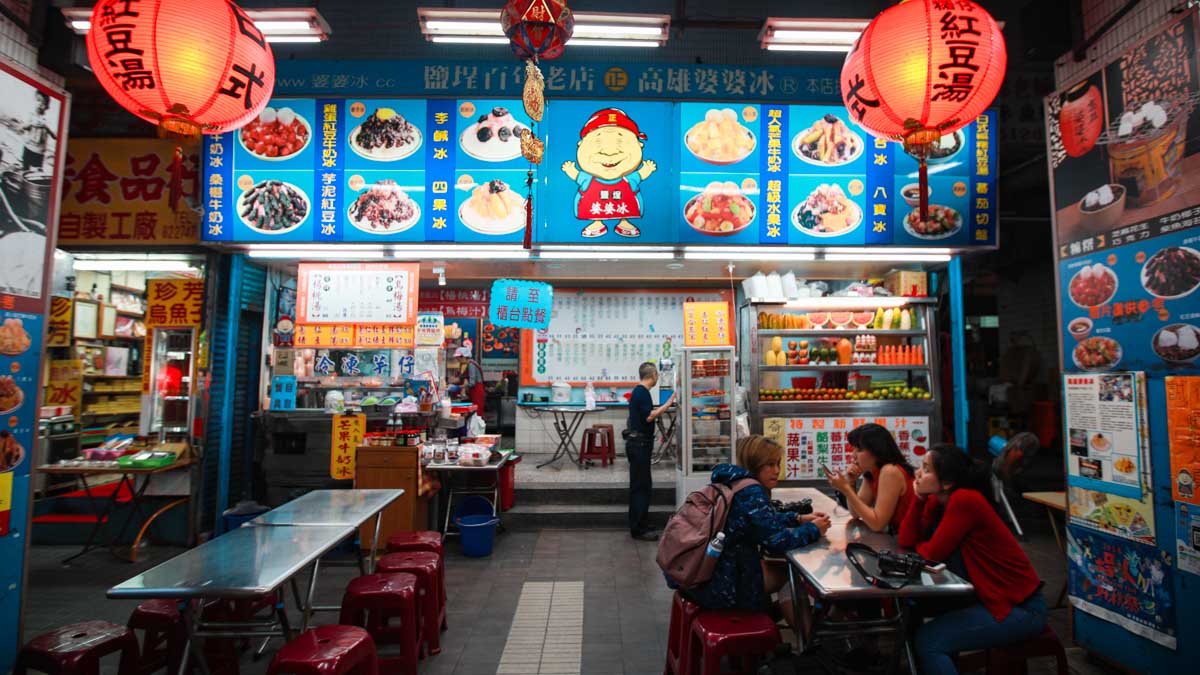 Another locals' favourite, Gao Xiong Po Po Shaved Ice (婆婆冰店) has been frequented by many since 1934. While there are three shaved ice stores with very similar names (all grandma-related), we heard that Gao Xiong Po Po is the most authentic one.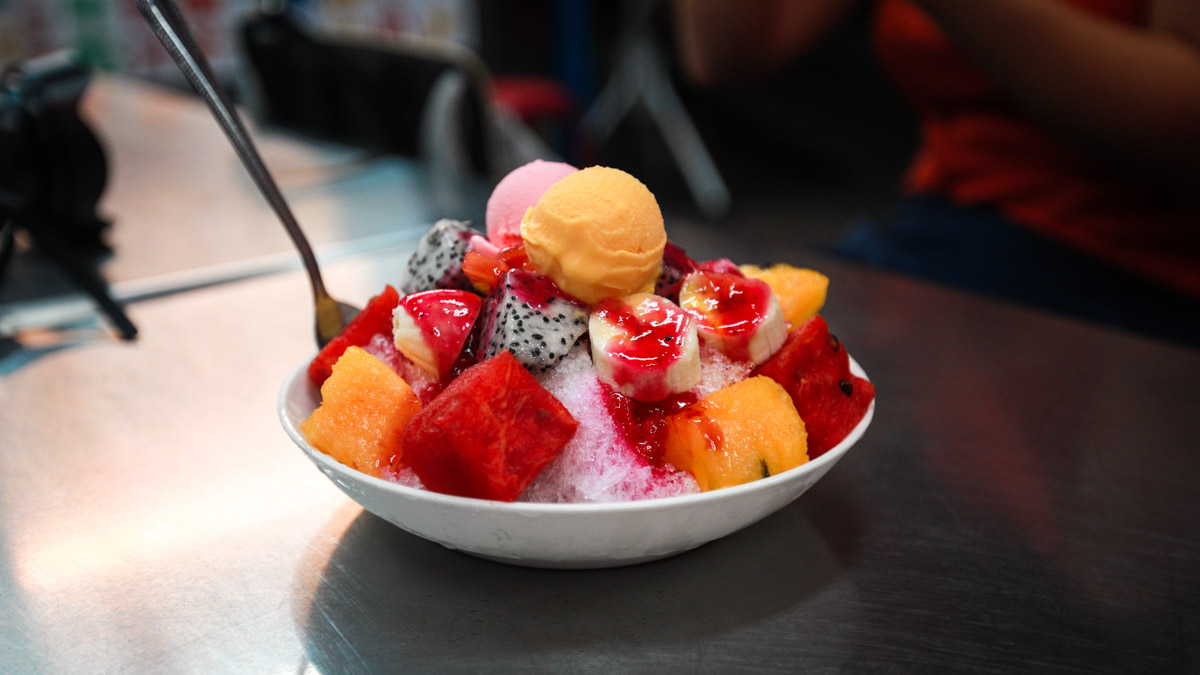 Cost: NT$80-100/bowl
Opening Hours: 9AM – 12AM
Address: No. 135, Qixian 3rd Road, Yancheng District, Kaohsiung City, Taiwan 802 [高雄市鹽埕區七賢三路135號]
Liuhe Night Market 六合觀光夜市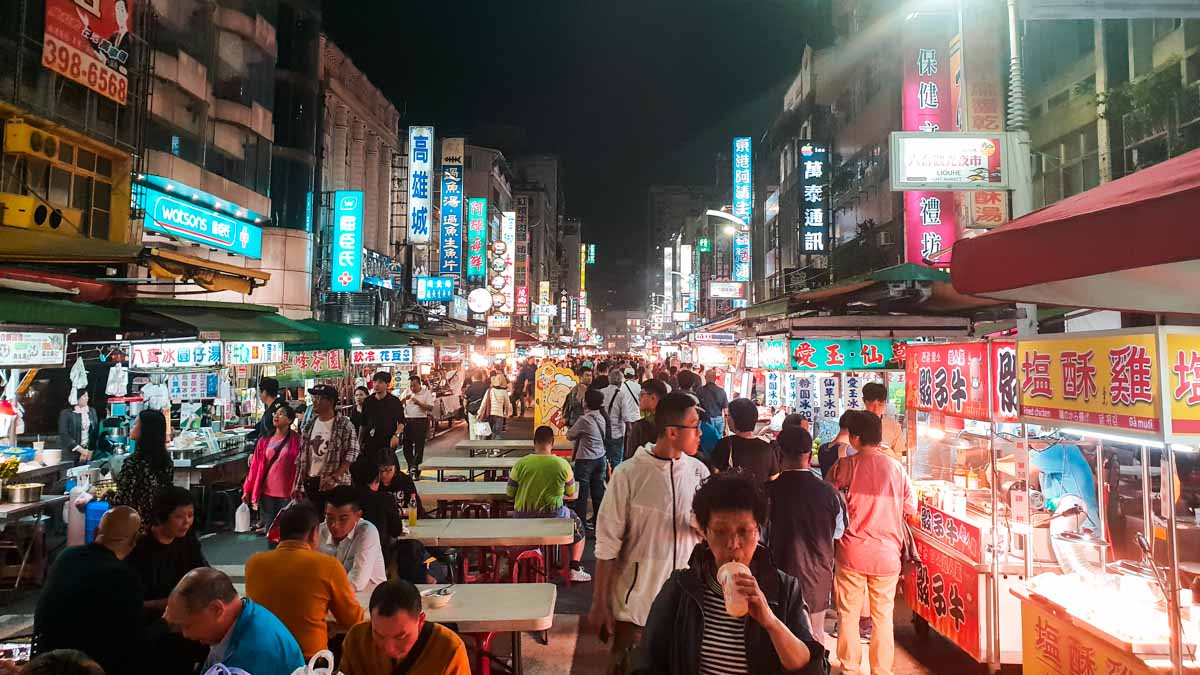 We then walked around Liuhe Night Market, a smaller night market in Kaohsiung. Although it does not have as many stalls as Ruifeng Night Market, it's adequate if you're craving for some local delights like the small sausage in large sausage (大腸包小腸), seafood, oyster omelette, and fried rice.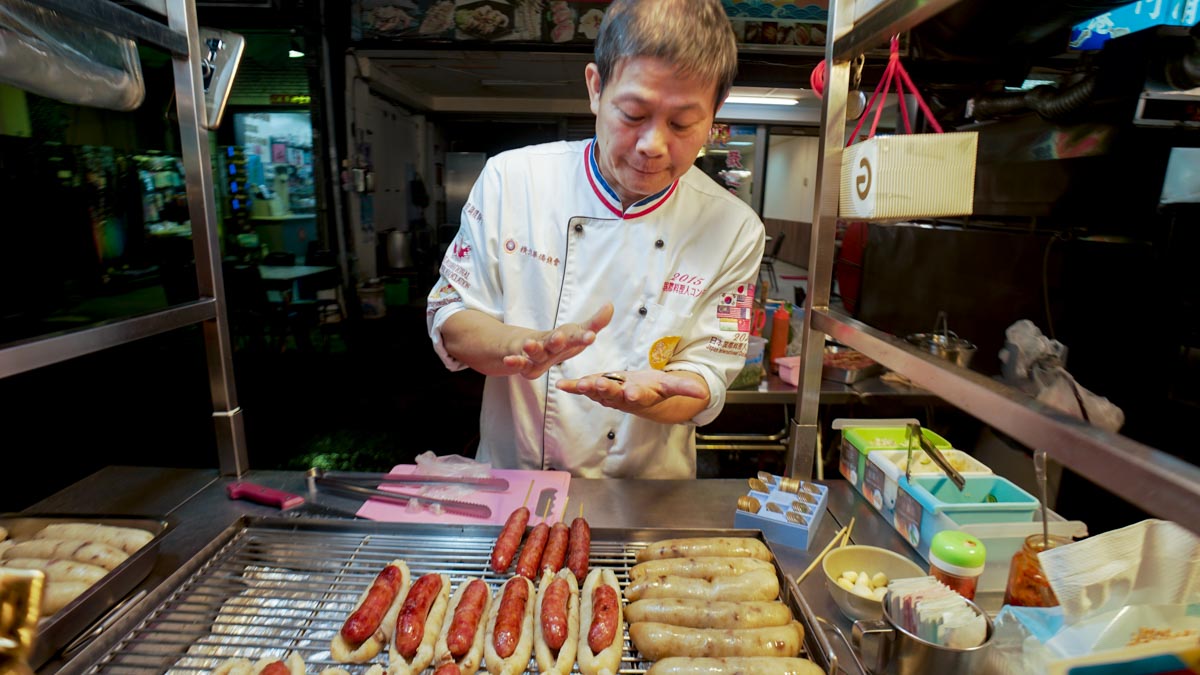 Opening Hours: 6PM till late
Location: 800, Taiwan, Kaohsiung City, Xinxing District [台灣高雄市新興區六合二路與中山一路口]
Accommodation in Kaohsiung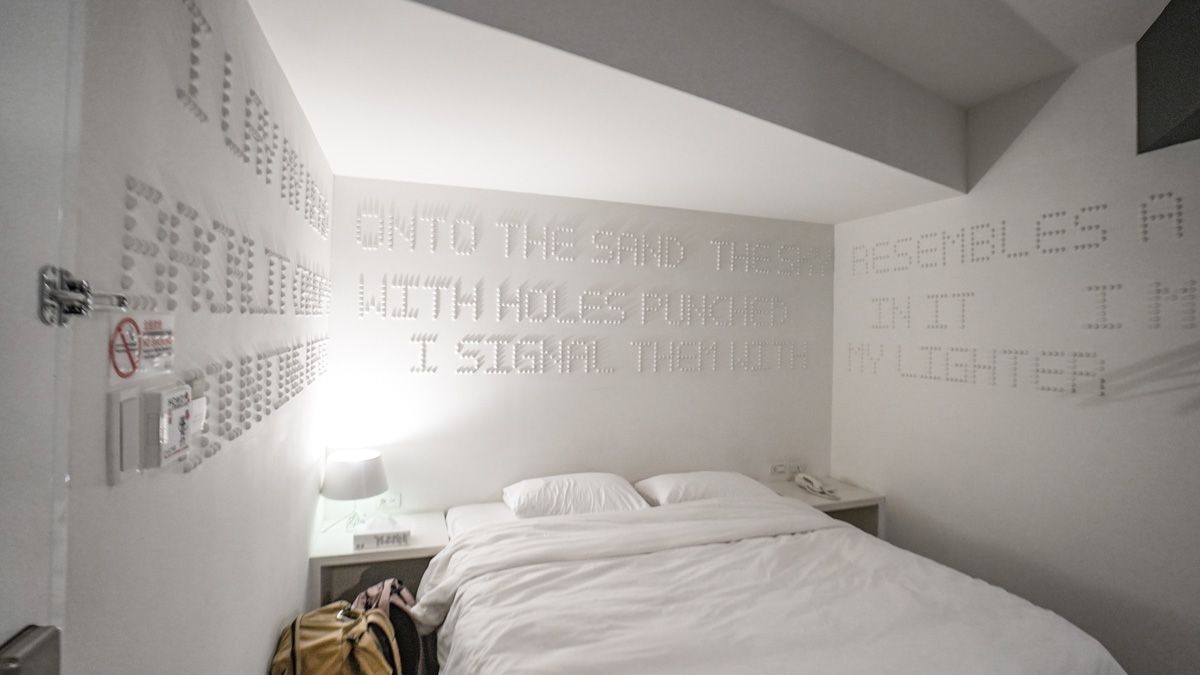 The Icon Hotel 艾卡設計旅店 is a newly opened boutique hotel is an affordable and cosy stay in Kaohsiung. Each room is designed to a theme, from cartoonish to wacky and dreamy.
Cost: From S$60/night
Address: No. 328, Minsheng 1st Road, Xinxing District, Kaohsiung City, Taiwan 800 [高雄市新興區民生一路328號]
Book Your Activities for Eastern Taiwan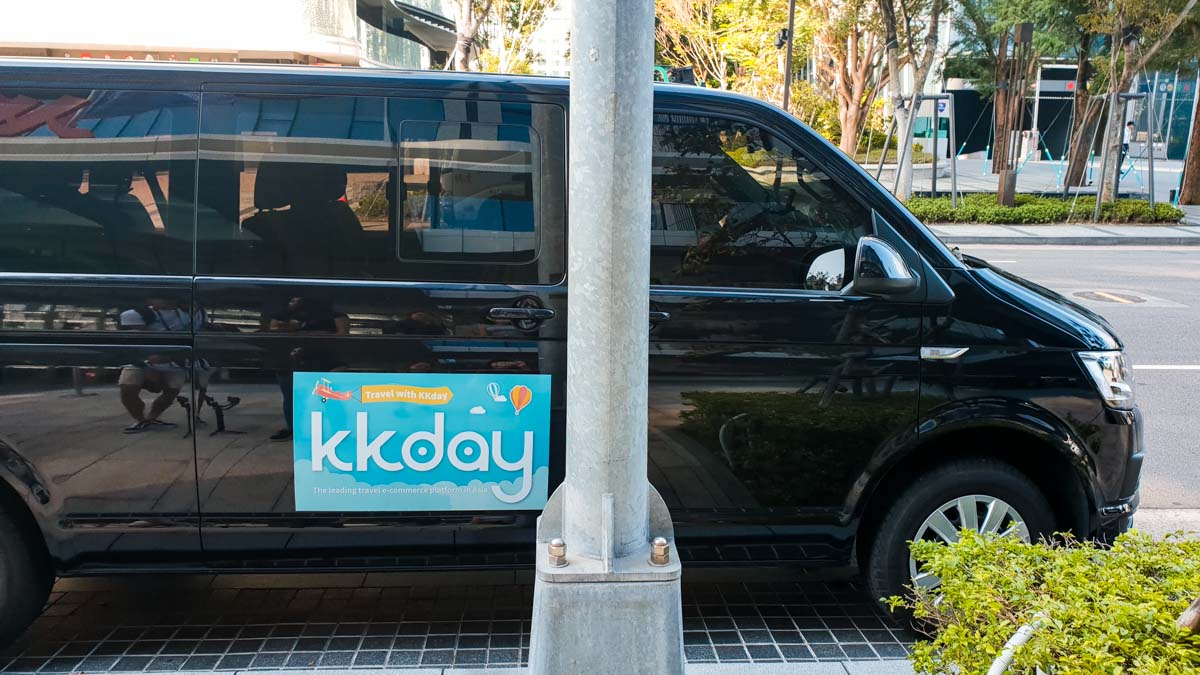 The eastern side of Taiwan may not be as famous or easily accessible as the western, but exploring the natural beauty of Yilan, Hualien, and Taitung was very convenient with KKday's tours and activity bookings!
Headquartered in Taiwan, KKday is an expert in curating activities and travel-related products in Taiwan. The best part is how accommodating and flexible the tour operators were. For example, one of the tours was supposed to be a round trip from Taipei to Yilan but with a simple request, the driver agreed to drop us off at Yilan.
Book your activities and tours through KKday with the promo code <TTIGOESTAIWAN> to enjoy a 5% discount* on any of the activities we've experienced in this itinerary.
Here's what we got from KKday:
Happy Cash Card (TPE Airport Pick-Up): S$4/card
Tsay Chuen Kuan Massage Treatment: From S$40/pax
Day Tour from Taipei to Yilan: S$224/tour (up to 4 pax)
Turtle Island Whale Watching Tour: S$58/pax
Hualien River Trekking: S$38/pax
Car Rental: From S$63/day
Hualien Paragliding: S$114/pax
Hualien River Shrimping: S$38/pax
Kenting Skin Diving: S$14/pax
*Promotion valid from now till 28 February 2019. Travel experiences must be completed by 31 March 2019.
Accommodation in Taiwan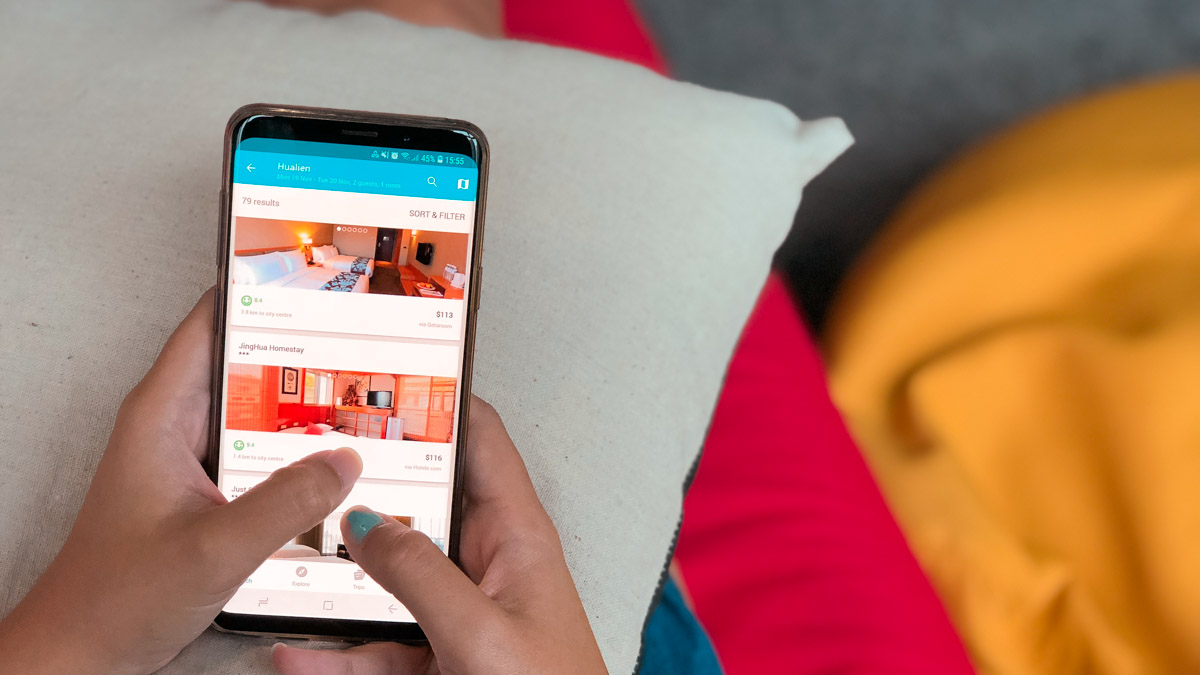 If you're used to the convenience of searching for flights on Skyscanner, you'll be happy to know they've now extended that convenience of researching to accommodation! Instead of having to check across various sites such as Agoda, Booking.com or Hotels.com, Skyscanner is the one-stop platform you need to browse through all the accommodation options available based on your preferred location and budget.
From boutique hotels to minsu (guesthouses), and even the more luxurious but affordable 5-star hotel, you can easily match what's "best" based on your budget — that's how we easily found all our accommodations in this itinerary 😉
Know of other interesting places to visit in eastern Taiwan? Let us know in the comment section below 🙂
---
This post was brought to you by KKday, Taiwan Tourism Bureau Singapore Office, and Skyscanner.
For more travel inspiration, follow us on Facebook, Instagram, and YouTube.