Yes, this was the Royal Caribbean Cruise to Nowhere ship that had a suspected Covid-19 case on board.
You might have caught the news of the Cruise to Nowhere that returned early because of a suspected Covid-19 case. Yes, we were on that cruise.
Turns out, it was a false alarm. And despite having our mini-getaway cut from four to three days, there was still loads that went on before disembarking.
If you're planning a vacation while the travel borders are still closed, here are our thoughts and experience on the Royal Caribbean's Quantum of the Seas — Asia's largest cruise ship!
Pre-boarding process for a Cruise to Nowhere
PCR Test
Taking a PCR test will be the new norm as travel is slowly reintroduced. On Royal Caribbean cruises, the cost of your swab test is included in your cruise package — you just have to test negative before boarding!
Once you've booked your cruise, you will receive instructions to schedule your PCR test via email. You'll also be prompted to sign up for a few apps before heading down to Raffles Convention Centre to have your swab test taken.
We had ours taken two days before the cruise and received our results the next day.
The test was uncomfortable but honestly still bearable. I heard the experience varies a bit but my tester was really quick and gentle, so no tears on my end. If there's any advice I can offer though, it's to breathe slowly through the process so your body stays relaxed!
Check-in
One of thee apps you'll need is the Royal Caribbean app. This app has everything you need from checking-in to the activity schedule as well as for tracking your cruise expenditure.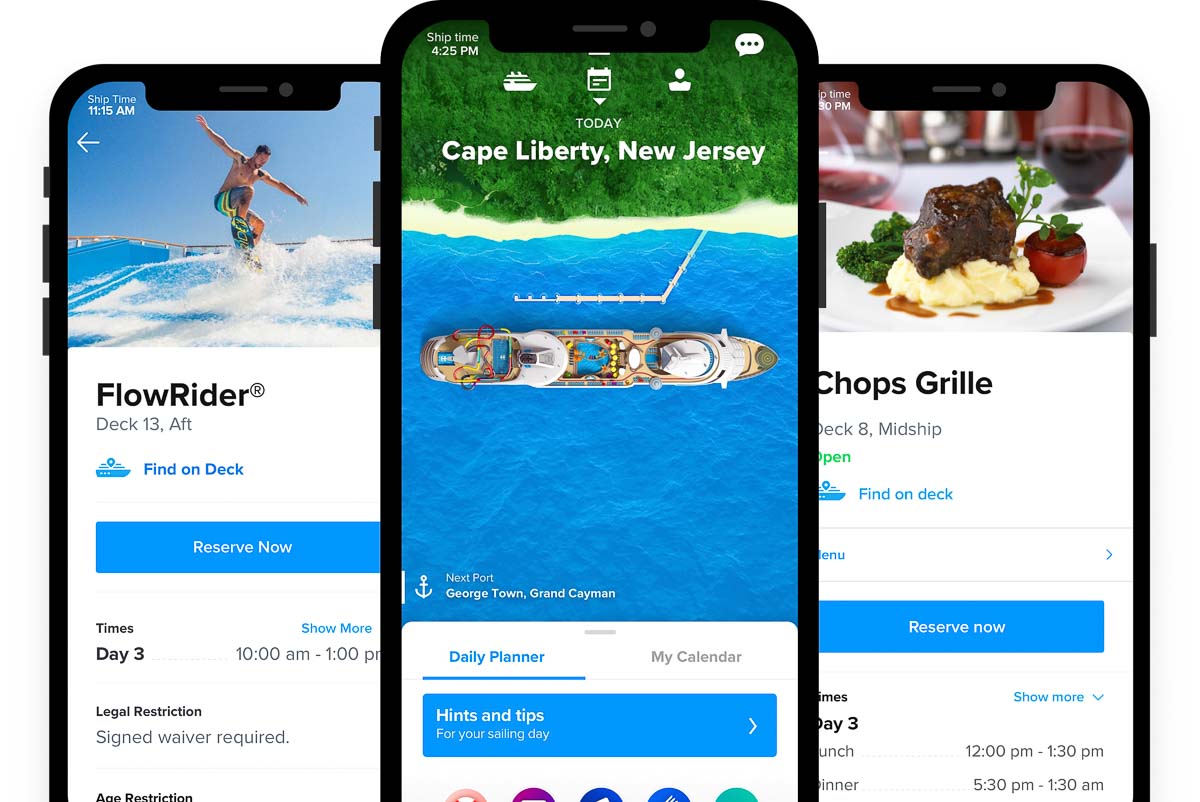 Photo credit: Royal Caribbean
Choose your time slot: Pick from 30-minute intervals between 2–7PM. Checking in by designated time slots ensures that the check-in process is smooth and that the cruise centre isn't crowded with people. For us, the entire process from health screening to immigration took no more than half an hour!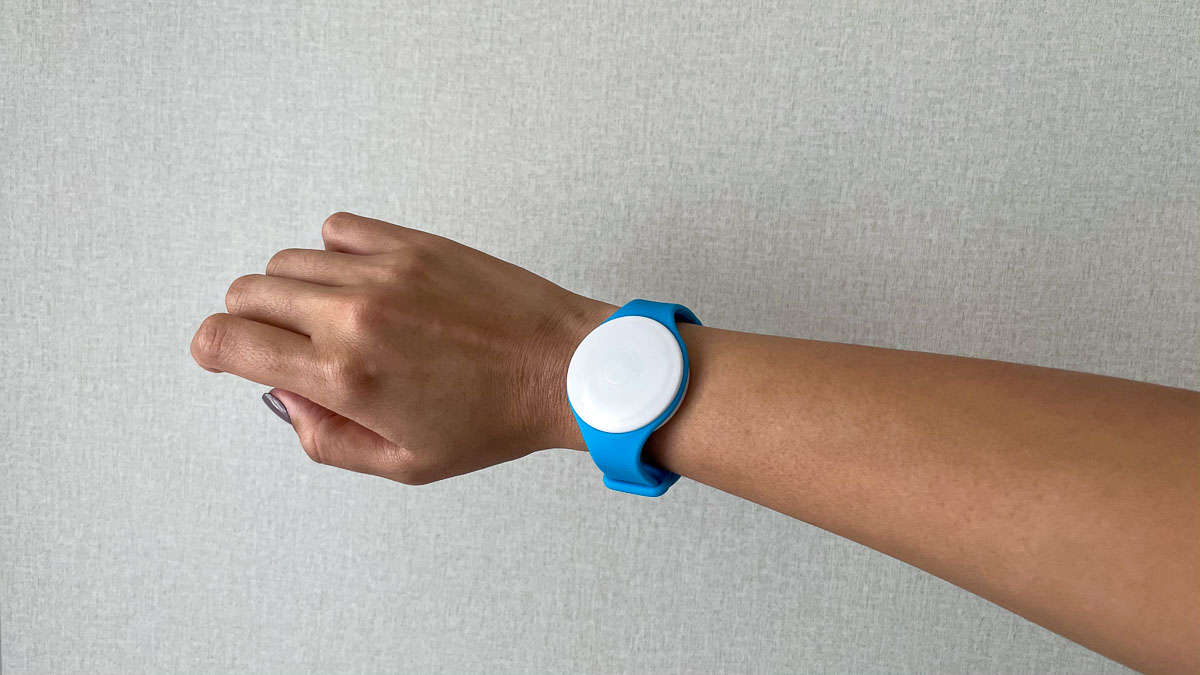 During check-in, you'll also receive a Tracelet. We were told to wear it throughout the cruise for contact tracing. It's not the most fashionable accessory, but well, safety is sexy 😉
Cruise to Nowhere Accommodation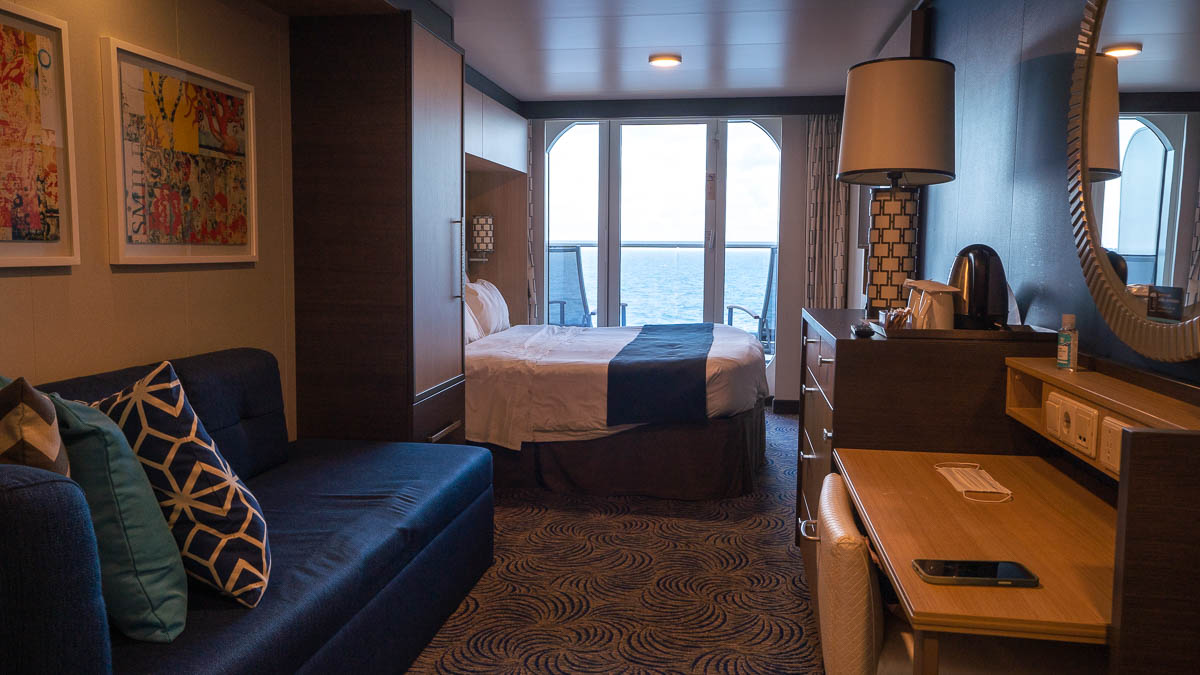 We stayed in a balcony room with views of the endless sea (from S$359/pax for three nights). Comes with a queen bed, long sofa, en-suite bathroom and a private balcony.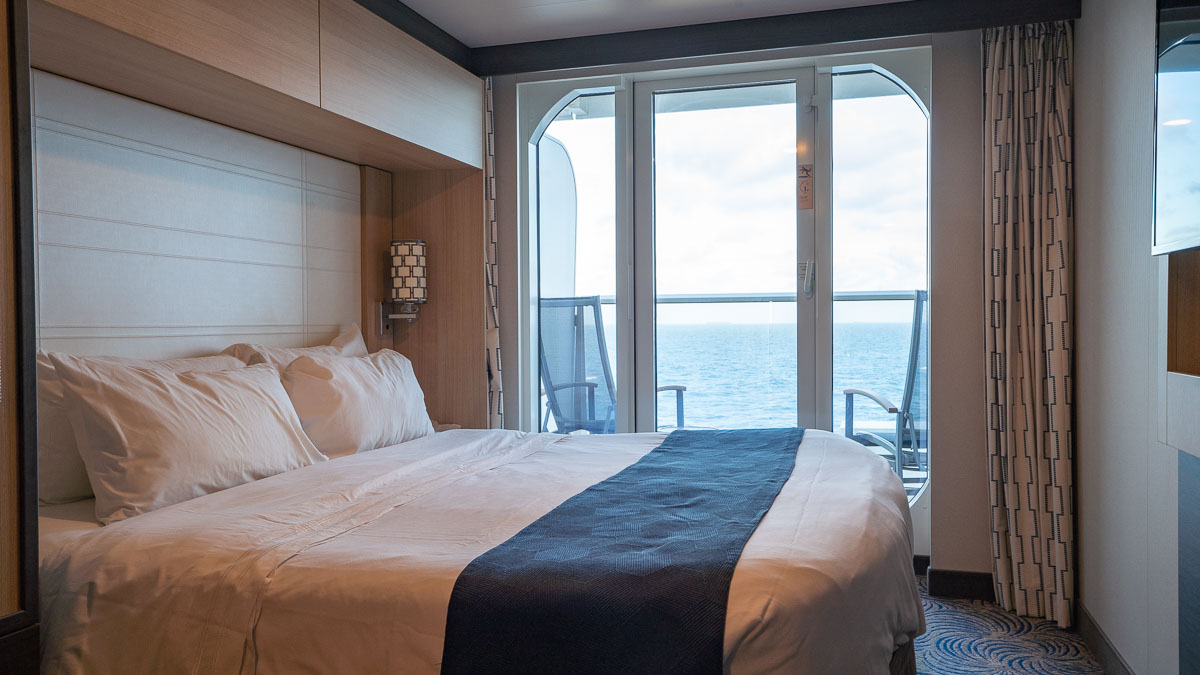 I loved starting my morning slow on the balcony watching the waves go by!
However, if you don't see yourself spending much time in the room, the simple Interior Room is just as cosy, just without the views. Rates for the Interior Room start at S$279/pax for three nights.
Alternatively, pamper yourself with one of their suites (from S$599/pax).
Grand Loft Suite Stateroom
The Grand Loft Suite comes with a mezzanine level, a king-sized bed, two bathrooms, a spacious living and dining area and an equally spacious balcony 🤯 Some of the suites even come with a private jacuzzi!
Different suites come with different perks. For example, if you're staying at the Grand Loft Suite (above), you get complimentary access to all specialty dining experiences as well as free-flow drinks* (alcoholic beverages included) all day, every day! You get a Royal Genie (a personal butler of sorts but better)!
*any drink US$12 and below
Things to Do on Royal Caribbean's Quantum of the Seas
For Thrill Seekers
Ripcord by iFly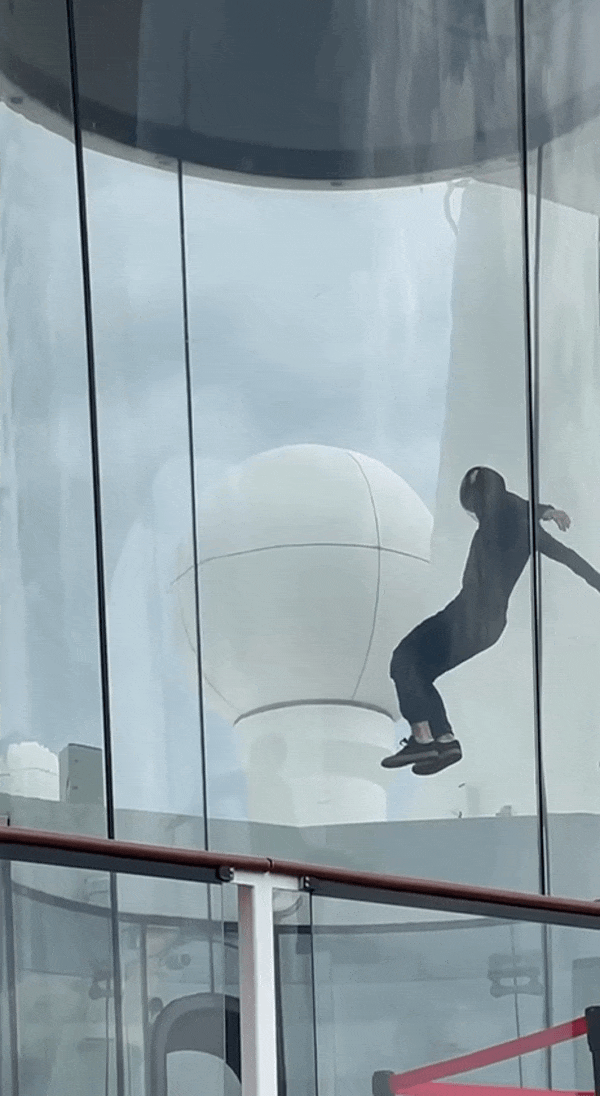 One of the coolest things on the Quantum of the Seas is the skydiving simulator! It's slightly smaller than the one in Sentosa but still gives you the thrills of free-falling.
Cost: US$40/flight — complimentary for suite guests (Star Class)
Flowrider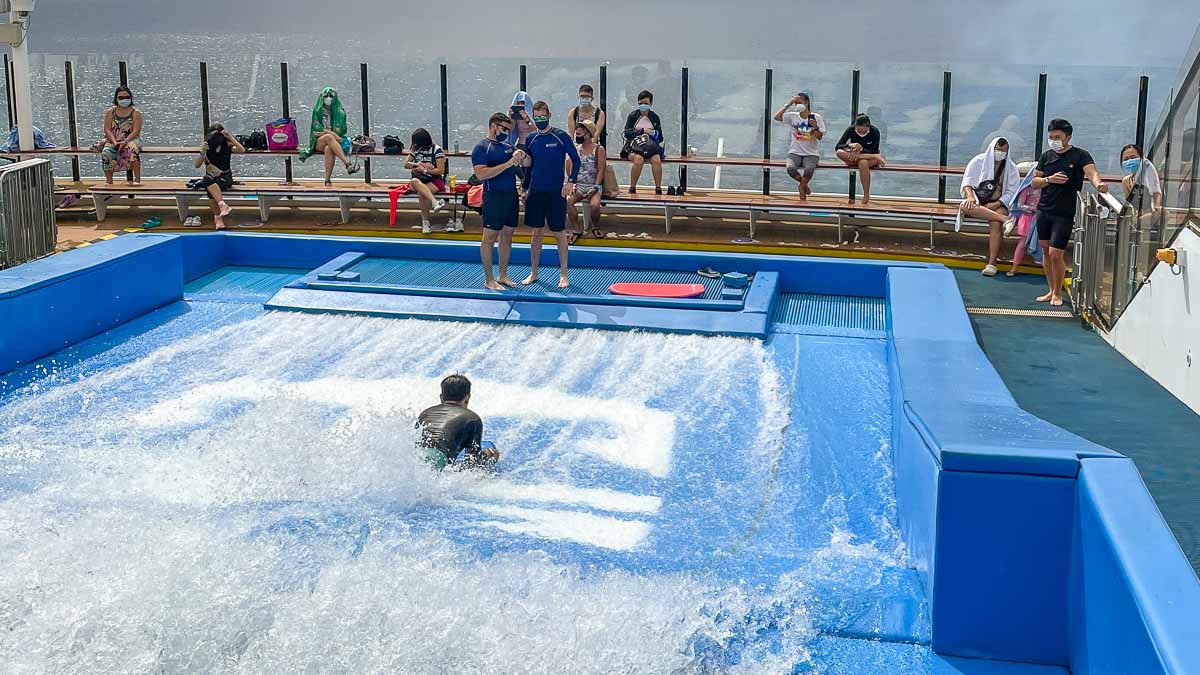 The 12-metre simulator will definitely get your adrenaline pumping as you try to keep your balance.
It's open from 9:30AM to 5PM, but the first and last half an hour is set aside for advanced surfers. So, if you already have prior surfing experiences, head there first thing in the morning to get first dibs!
*Pro-tip: Register when it opens before the crowd pours in, then try out the rock wall right next door while waiting for the advance session to end.
Cost: From US$69 for private sessions, free for group sessions
Rock climbing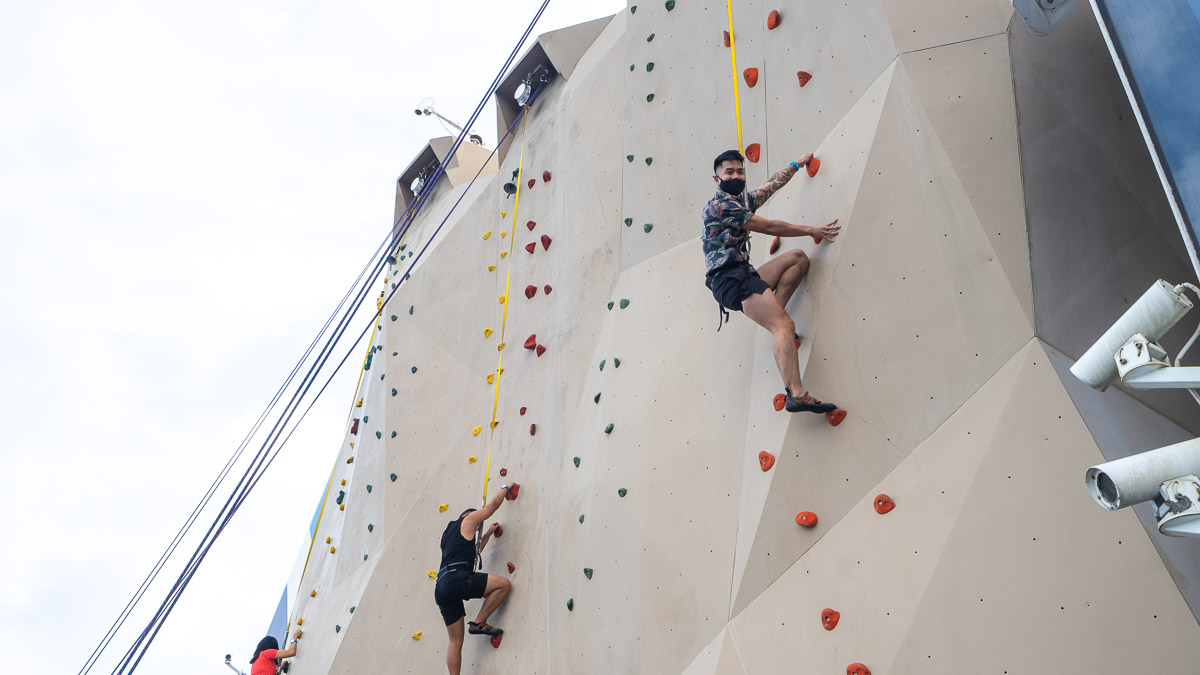 Avid climbers might find the wall underwhelming, but I encourage you to still give it a try. The seemingly manageable routes get trickier as you make your way up with strong ocean winds howling at you.
*Pro-tip: Don't rush up the wall, and check each handhold before pulling on it. Some of the grips loosen after a full day of climbers.
Cost: Free
Dodgem Cars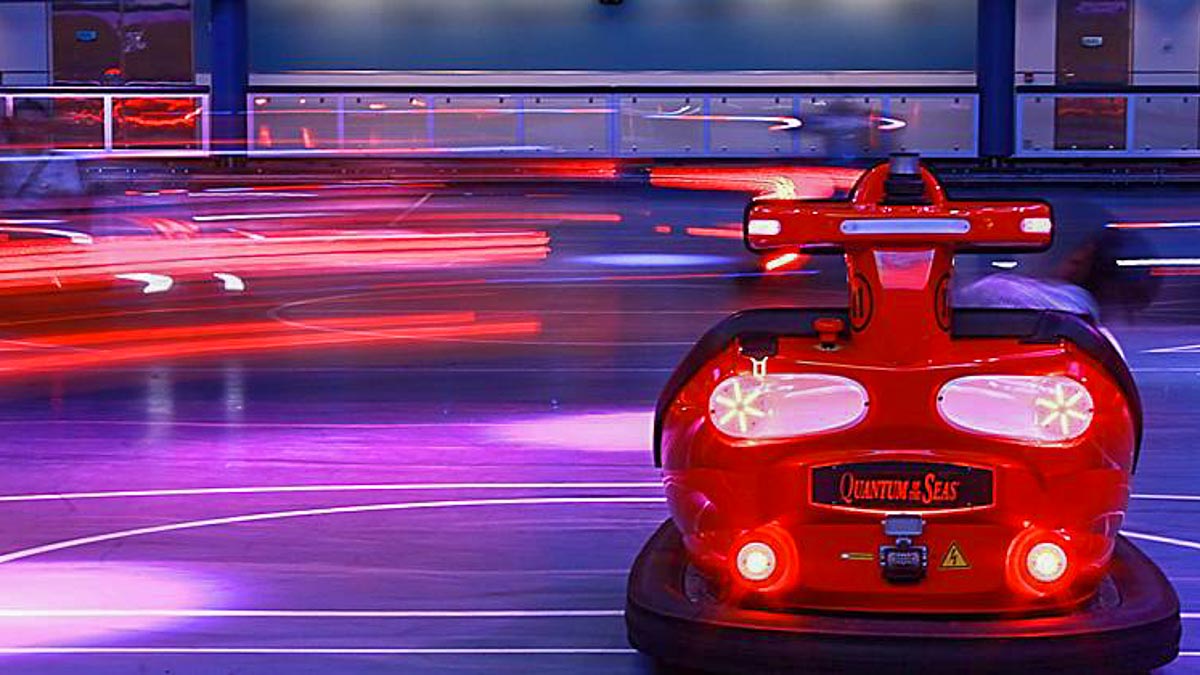 Photo credit: Royal Caribbean
Everybody loves bumper cars because you can drive recklessly — and without a license! It's fun for both kids and adults to chase and bump into one another.
The bumper arena is located in the SeaPlex, a multi-purpose space that hosts other activities in the day. Here, you can have a friendly game of basketball with your mates or combat each other on the Xbox!
*Pro-tip: Spaces are easily booked out. Head to the SeaPlex when it opens (9AM) to book your activities for the day!
Cost: Free
For An Uninterrupted Time
The North Star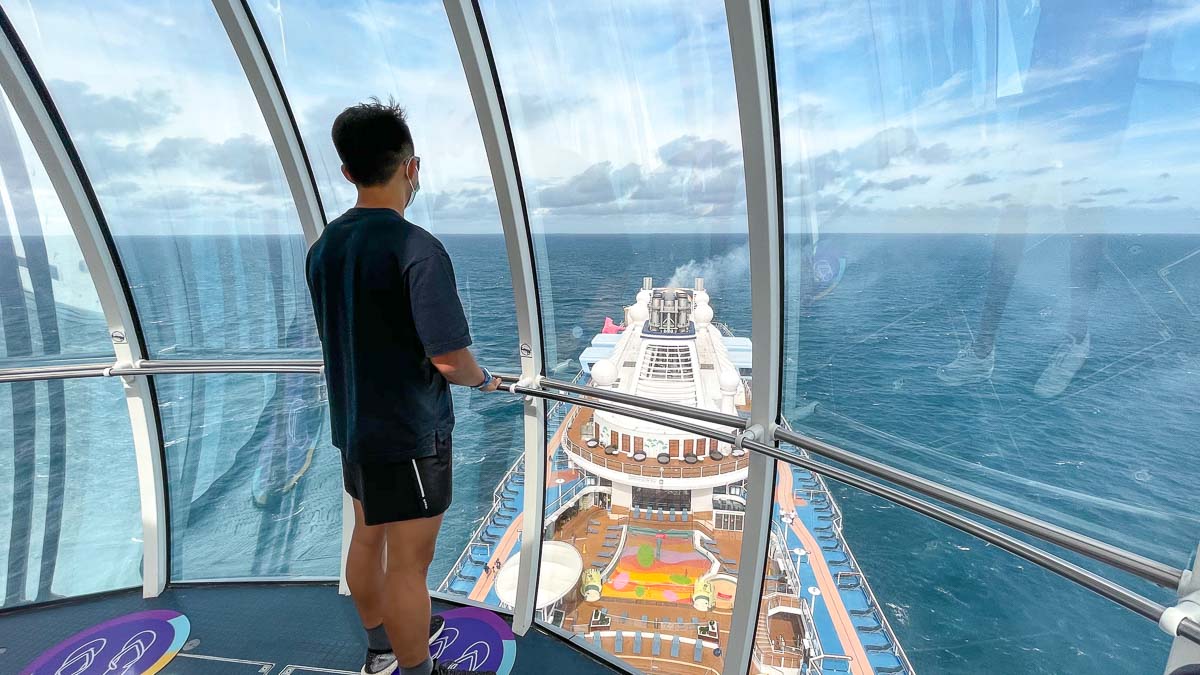 For the best views on the cruise, get high up on the North Star! Check out the endless horizon and a top down view of the cruise resembling a giant playground.
It's a seven-minute ride up to heaven — rising 300 feet above, being on the North Star was a nice break from the busyness below. Each ride takes in six people at a time, with allocated standing points one metre apart.
*Pro-tip: Catch a ride at the beginning of the trip before the ship leaves Singapore's shores. You'll get sick views of Marina Bay unlike any other.

Cost: Top-up fee required
The Solarium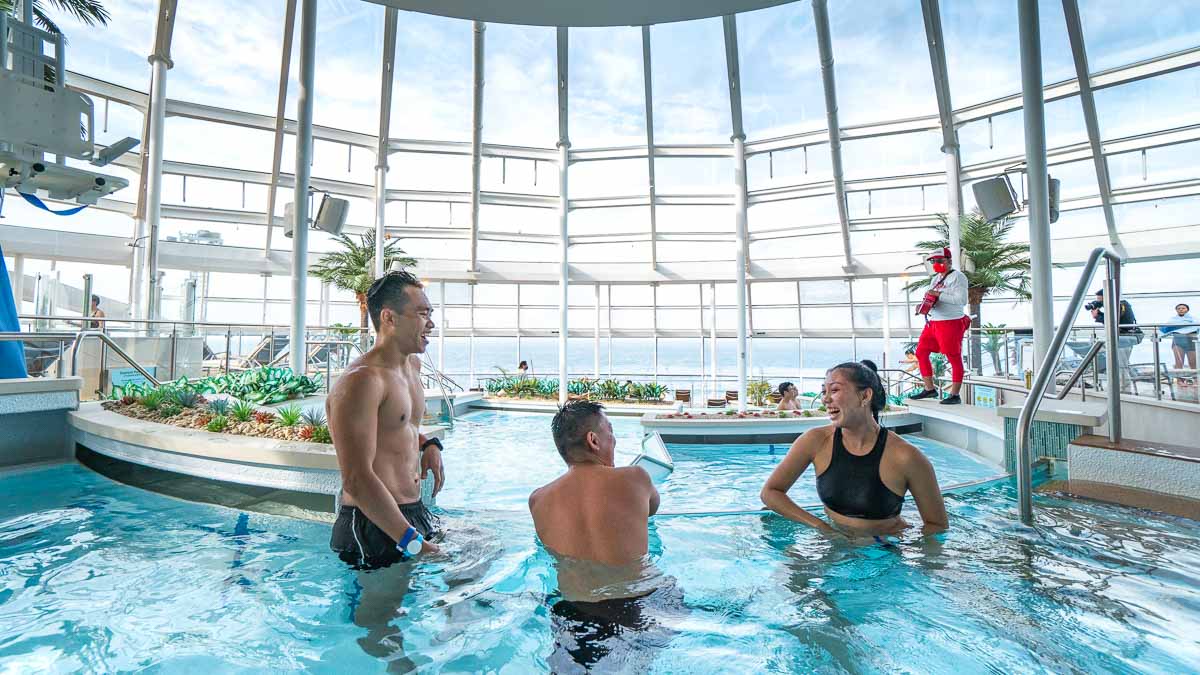 Located at the front of every Royal Caribbean ship, this indoor pool area is for adults only (aged 16 and above). With floor to ceiling windows, you get to soak in the warm pool with views of the sea. It's a great place for adults who want an uninterrupted dip away from rowdy kids.
There is also a bar and two jacuzzis, perfect for unwinding after a long day of activities.
*Pro-tip: Be there to catch the sunset — it's the best place to watch the sun go down with a drink in hand.
Entrance fee: Free
Shows
The entertainment doesn't stop just because the sun goes down. Each night, there are different performances to catch. Check the schedule on the Royal Caribbean app and book your seats early!
Two70
It's said that Royal Caribbean's most impressive multimedia performances are shown here. The theatre's two-storey windows show stunning ocean views in the day, and become massive visual displays by night.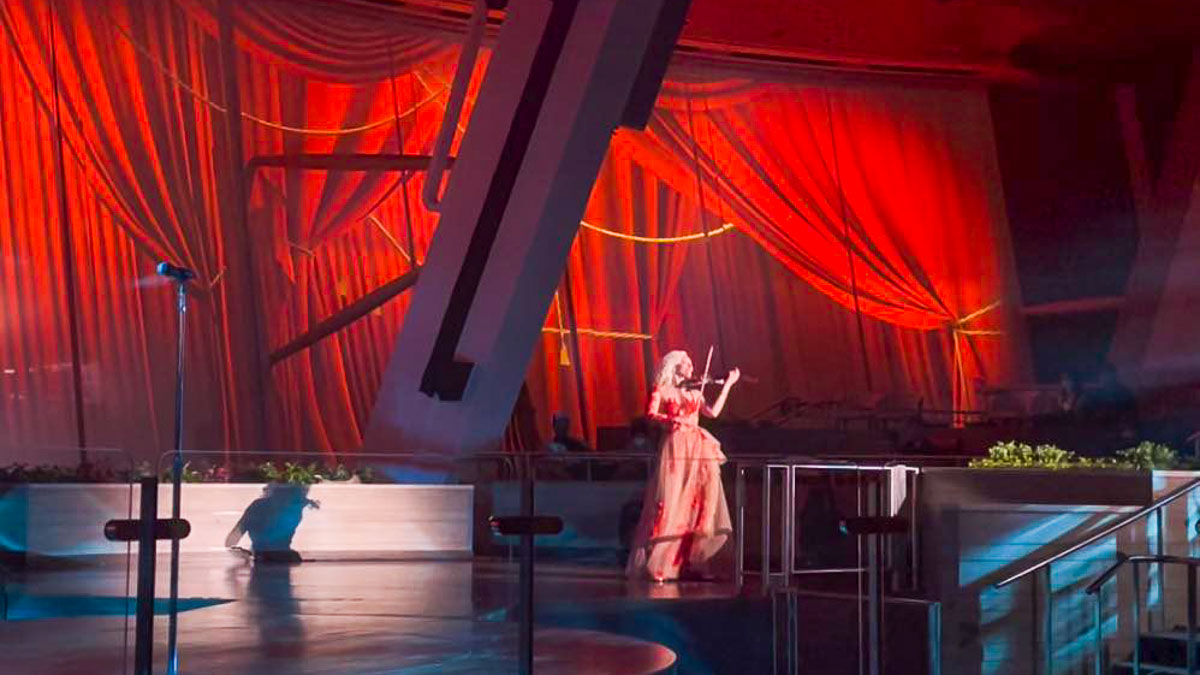 From music performances to mind-boggling magic shows, we were thoroughly entertained each night with these talented acts.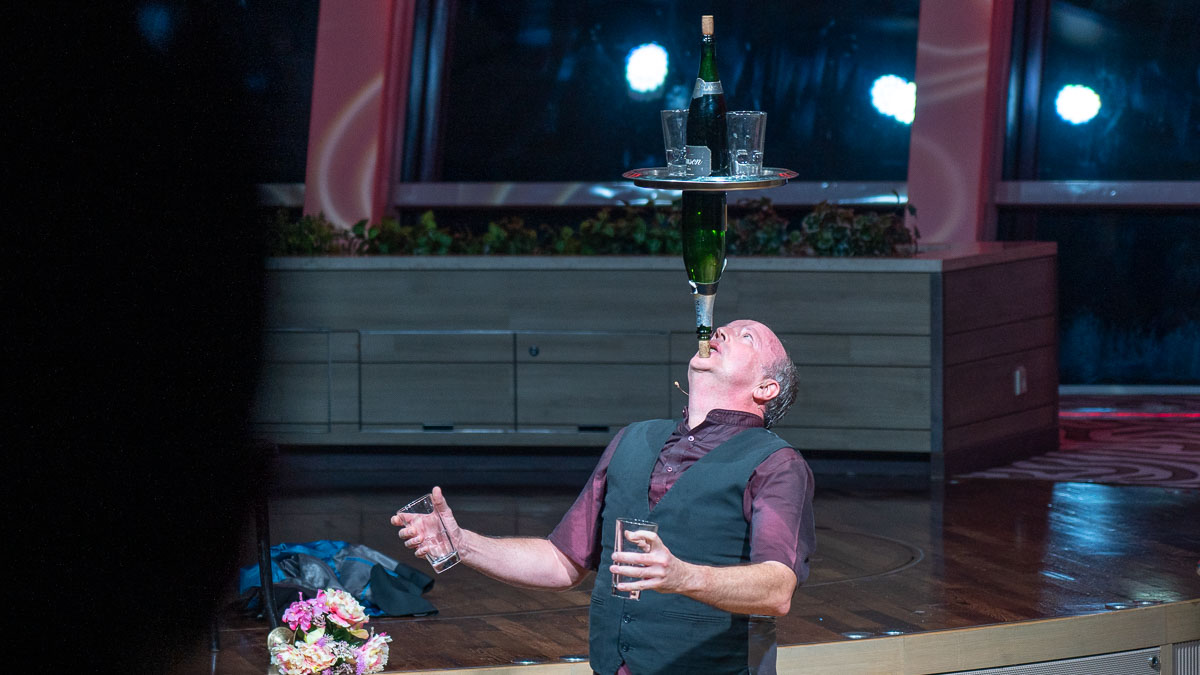 This magician cum comedy juggler kept us on our toes and gave us stitches from laughing!
Cost: Free
What to eat on Royal Caribbean's Quantum of the Seas
Complimentary Dining Options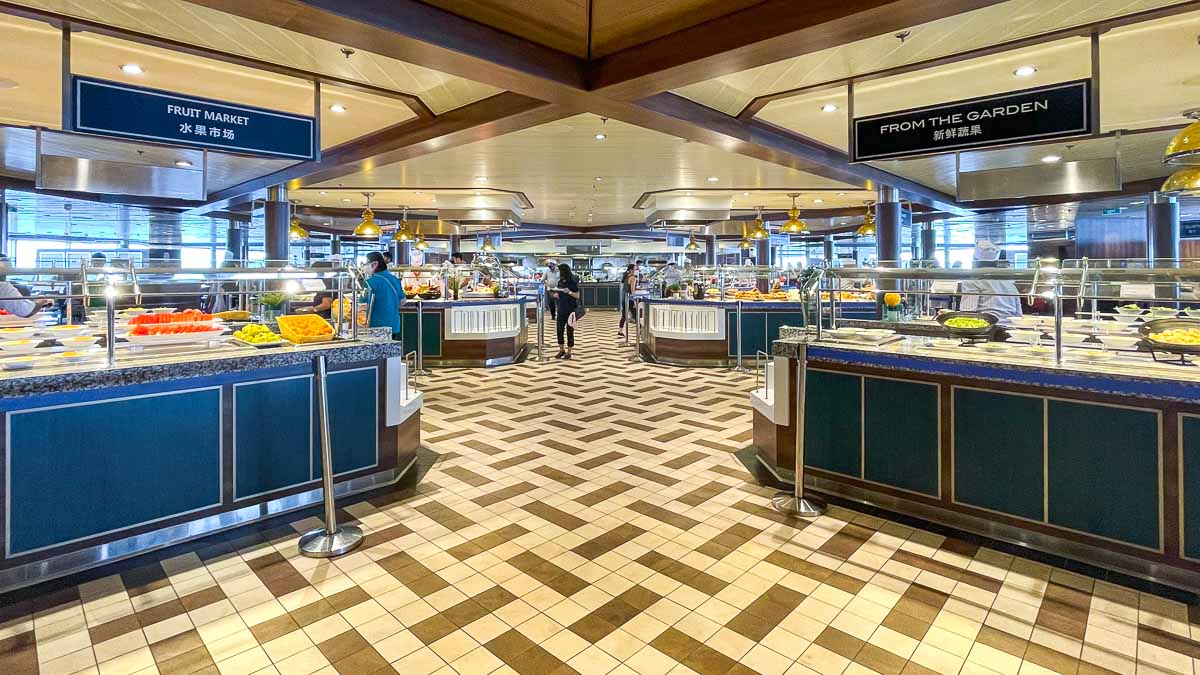 Windjammer is an all-you-can-eat buffet hall with a wide array of options. It's open during all meal times (breakfast, lunch and dinner). Vegetarian and gluten-free options can be found here too.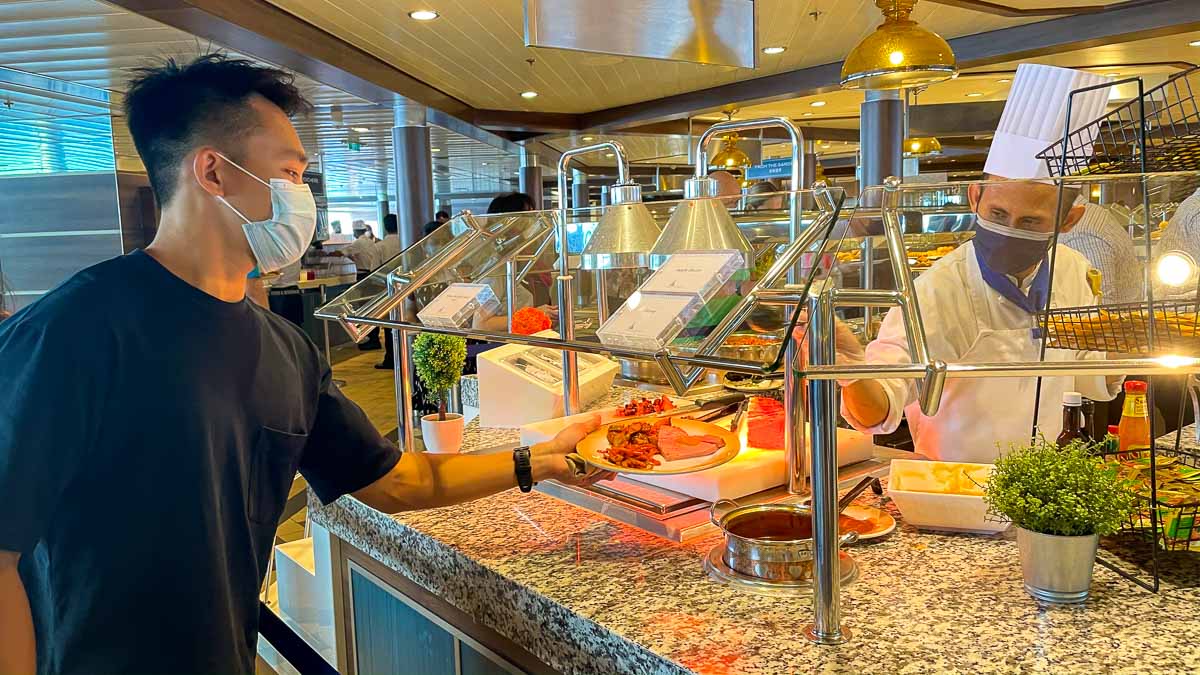 As we're cruising in a pandemic, the friendly staff pile food on your plate instead.
The shared dining halls have specific meal timings, and lunch ends at 1:30PM. If you do miss these timings, check out Sorrento's pizza or Dog House's crafted hot dogs instead!
Specialty Dining Experiences
These Cruise to Nowhere dining experiences require a top-up (unless you're in a suite), but I'd say it's worth the top-up considering how much more it would cost back on land.
Royal Caribbean has nine specialty restaurants ranging from affordable to hella fancy. Here are our top three!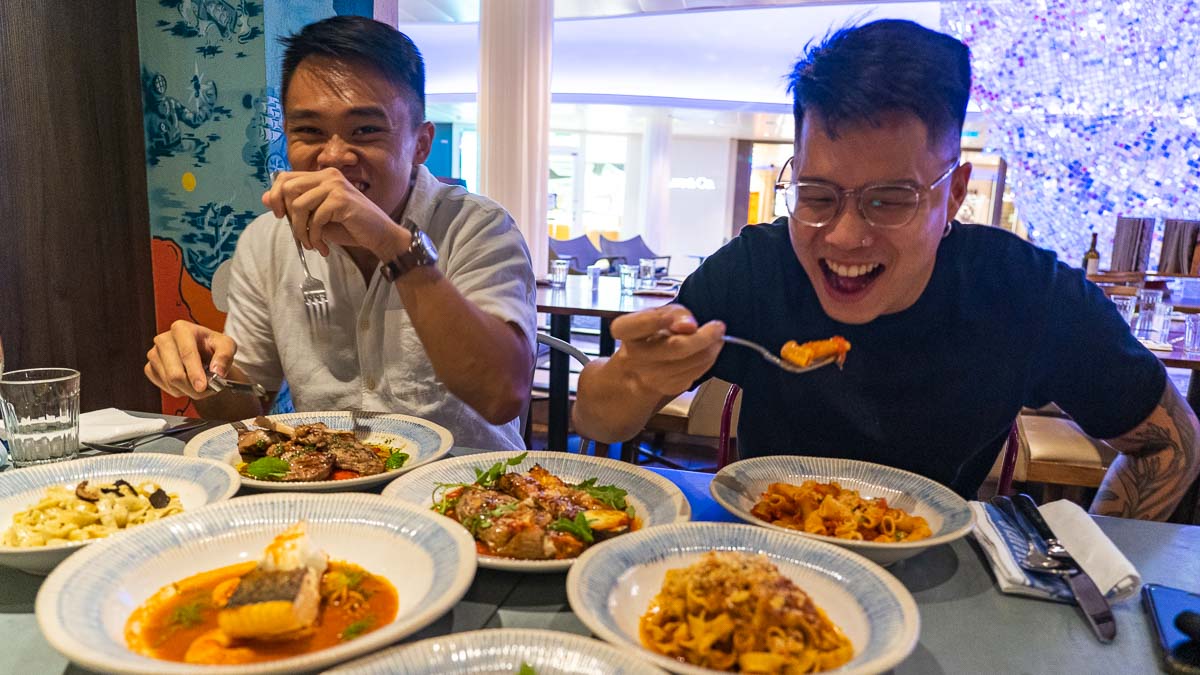 Jamie's Italian: We had one of our best nights stuffing ourselves here. They have an à la carte buffet you won't find at any other outlet on land.
For ~S$53, you get to choose anything off their menu. Peter, our helpful waiter, told us to pick one from each category. So we got the famous meat plank to share along with one appetiser, pasta, main and dessert each.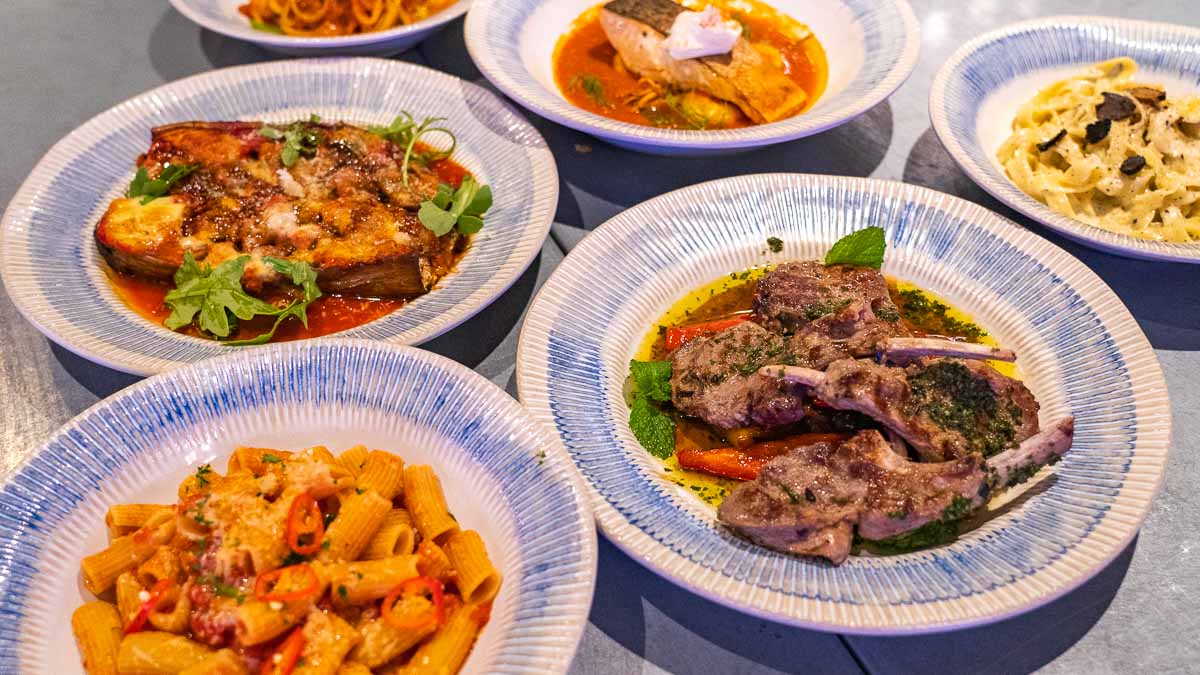 The lasagne and the truffle tagliatelle are a must-have!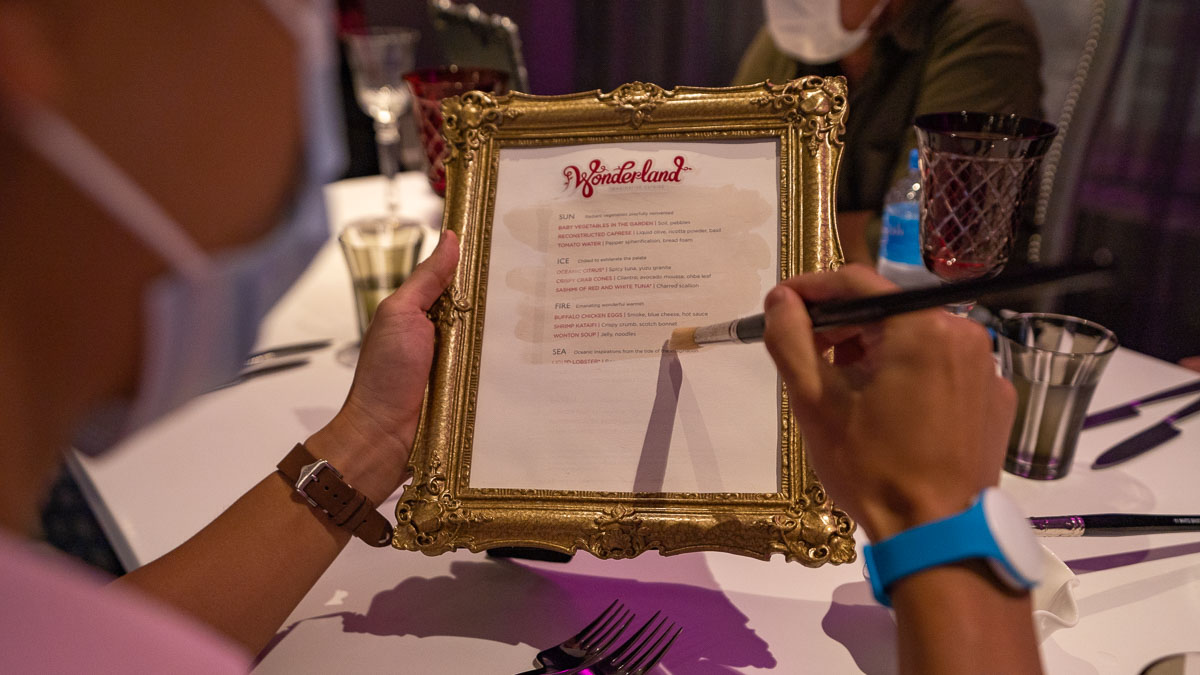 Wonderland: Inspired by the whimsical world from Alice in Wonderland, this specialty restaurant takes you on a journey from the moment you pick up the menu.
Meals are served course–by–course, however, instead of picking out what you want to eat, your meal is kept a mystery and what you get depends on the elements you pick — Sun, Ice, Fire, Sea or Earth. We had a lot of fun trying to make out the flavours in each dish!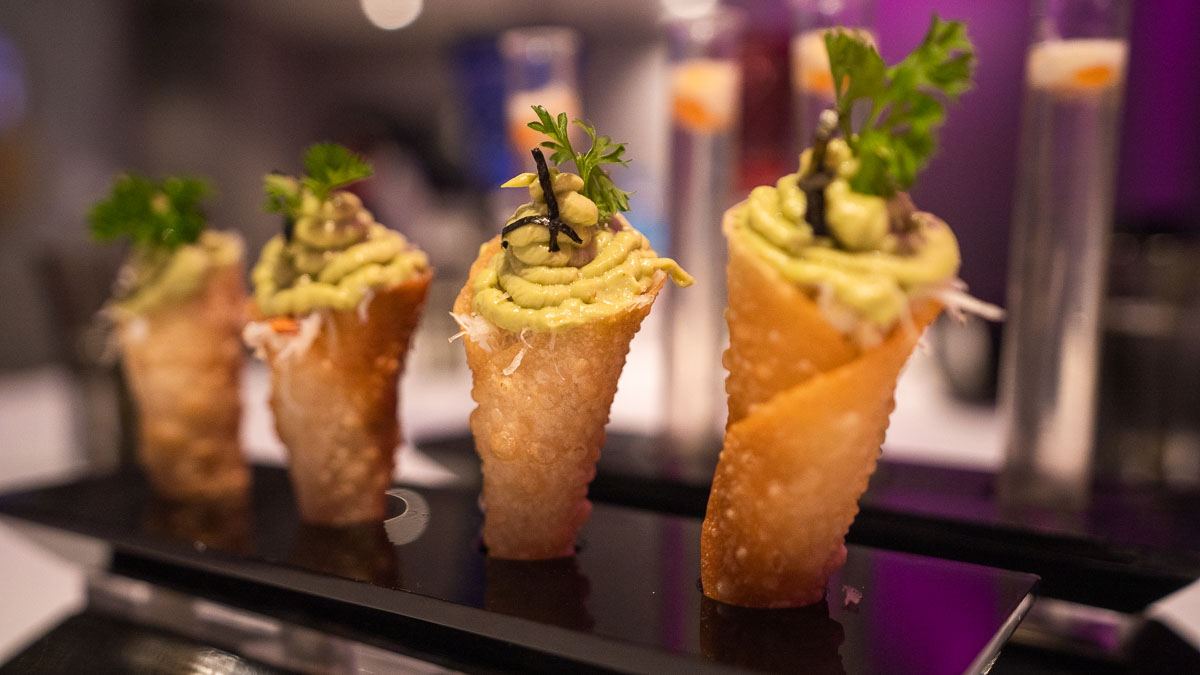 One of our favourite appetisers was the crispy crab cone. It's fresh crab wrapped in a wanton cone, topped with avocado. We swear we could've had 10 of those, but then we wouldn't have space for our glorious entrees 😂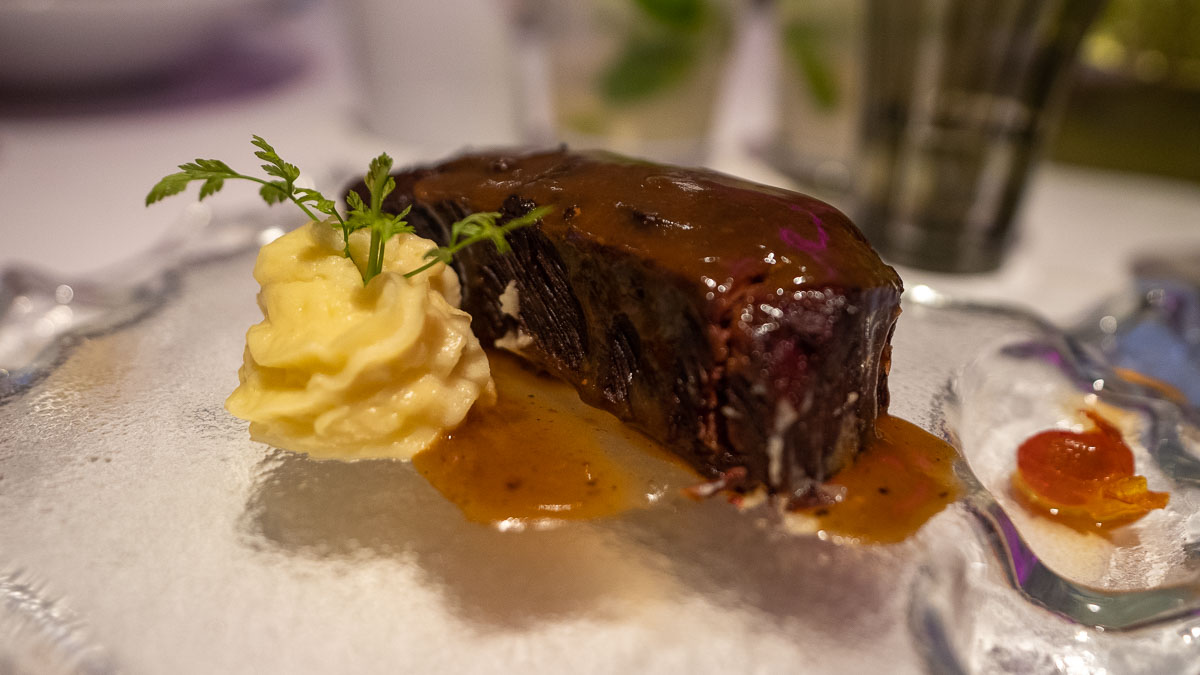 We chose the Terroir Beef and the Halibut. The steak was really tender, but the real winner was the fish — it was melt-in-your-mouth perfection 🤤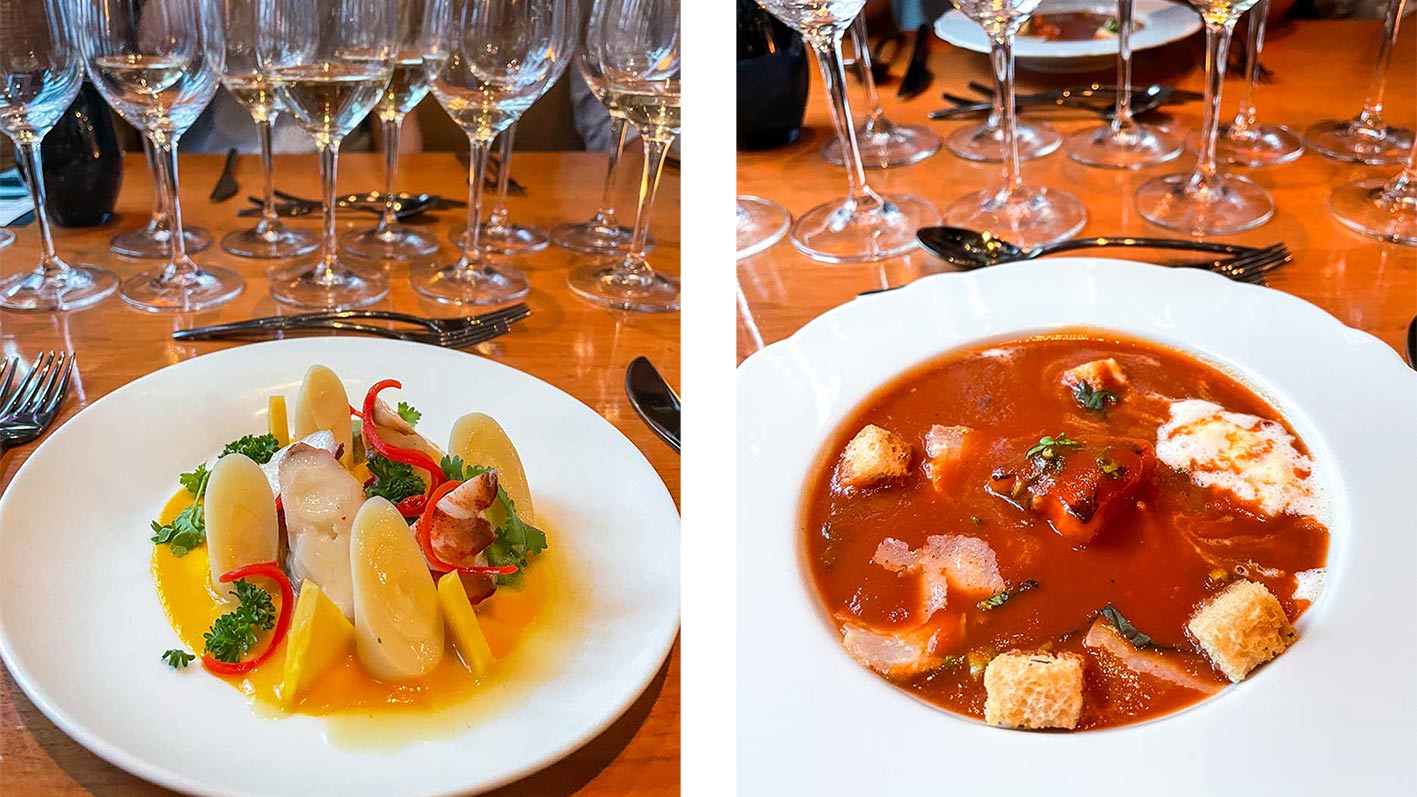 Chef's Table: One of the most exclusive dining experiences on the cruise, this six-course fine-dining meal is prepared by the ship's Chef de Cuisine.
The best part though, is that each course comes with a sommelier-selected premium white or red wine to pair with the dish.
Not to worry if wine pairings aren't your forte — the waiters will be beyond happy to explain!
Is a Cruise to Nowhere Worth It?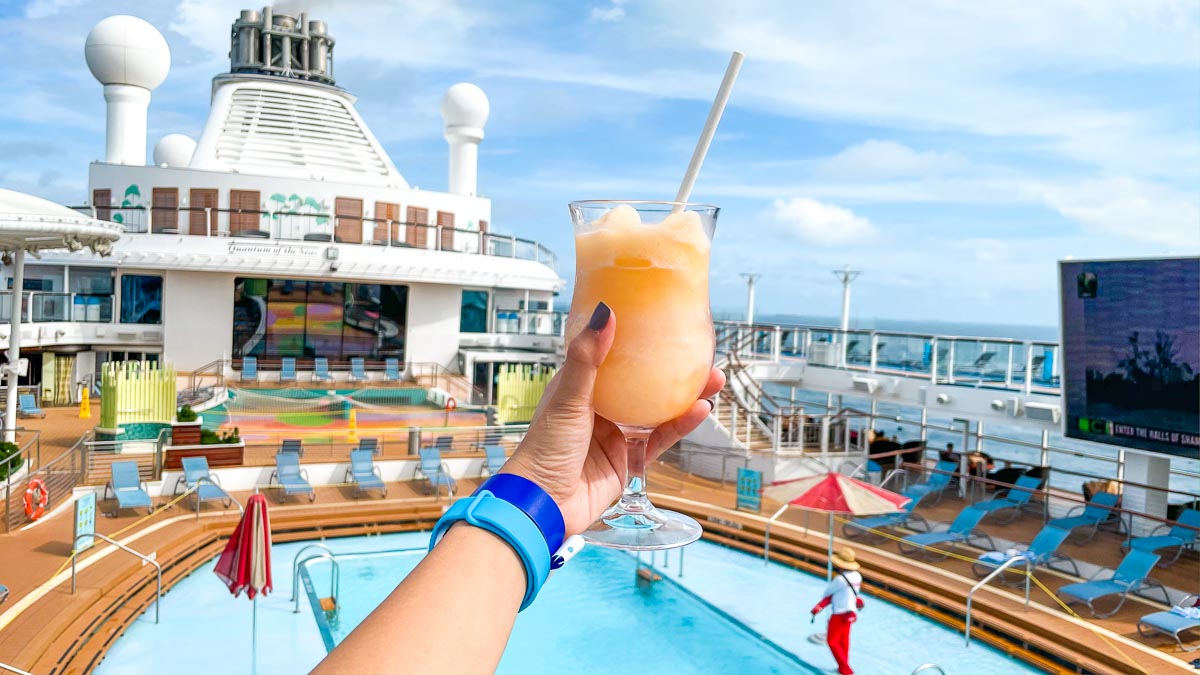 Some of you may know we were on the cruise with the suspected Covid-19 patient. Thank goodness it turned out to be a false positive! And although the trip was cut short, we got a sneak peek of what it's like cruising during a pandemic and I must say, I'd gladly hop onboard a cruise again.
Despite the unfortunate event, the Royal Caribbean team showed that they had everything under control. While waiting for instructions, food was brought to our rooms and the captain kept us updated at expected intervals, so kudos to the team!
Read more: What It Was Like When a COVID-19 Case Was Confirmed on a Cruise to Nowhere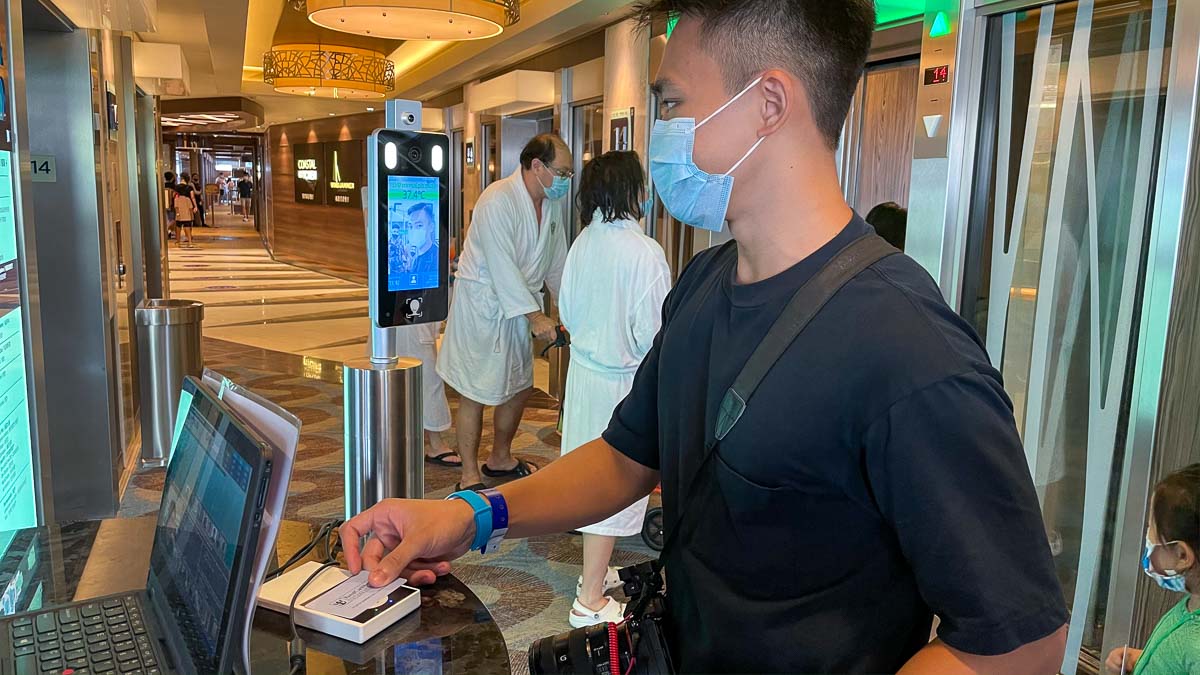 During the entire cruise, we also probably checked in and sanitised more than we would've on a regular day.
On the Royal Caribbean cruise, each juncture required us to tap our SeaPass, take our temperature and sanitise our hands. Safe distancing was also always practiced and we'd get gentle reminders from the staff before the crowds would form.
Given the safety measures, fun activities and chance to "travel" out of Singapore, I say a Cruise to Nowhere is probably your best bet at a vacation before the travel borders open up again.
Planning to go on a Cruise to Nowhere? Comment any questions you have below!
---