Think you've tasted everything China has to offer? This Yunnan food guide highlights the province's unique cuisine that you can't miss.
When you think of Chinese cuisine, the usuals always come to mind — xiaolongbao (soup-filled dumplings), Beijing's peking duck, zhajiangmian (pork noodles with vegetables). All yummy dishes no doubt, but perhaps a lil too familiar.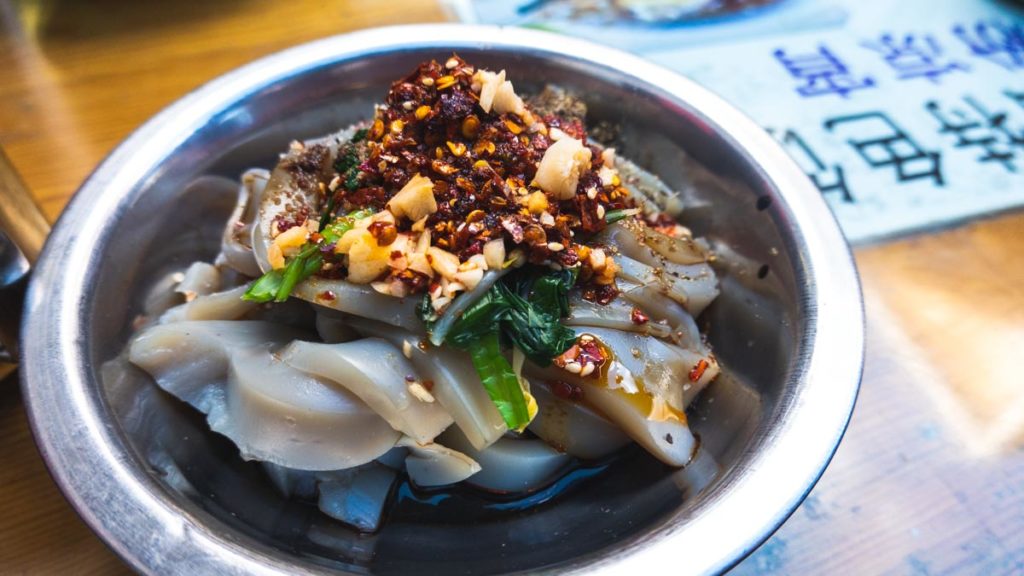 Now, have you ever heard of yak ice cream? Naxi blood sausage (it's anything but nasty, trust)? How about cross-bridge rice noodles? These Yunnan dishes may sound exotic but they're hugely popular in the province — plus you won't find authentic versions of them anywhere else in China!
If you ask me, Yunnan's food is right up there together with the province's breathtaking landscapes, ethnic diversity and rich culture. Hopefully this Yunnan food guide will convince you to give it a visit. ✌🏼
Read also: 9 Reasons Why Yunnan Should Be On Your Travel Bucket List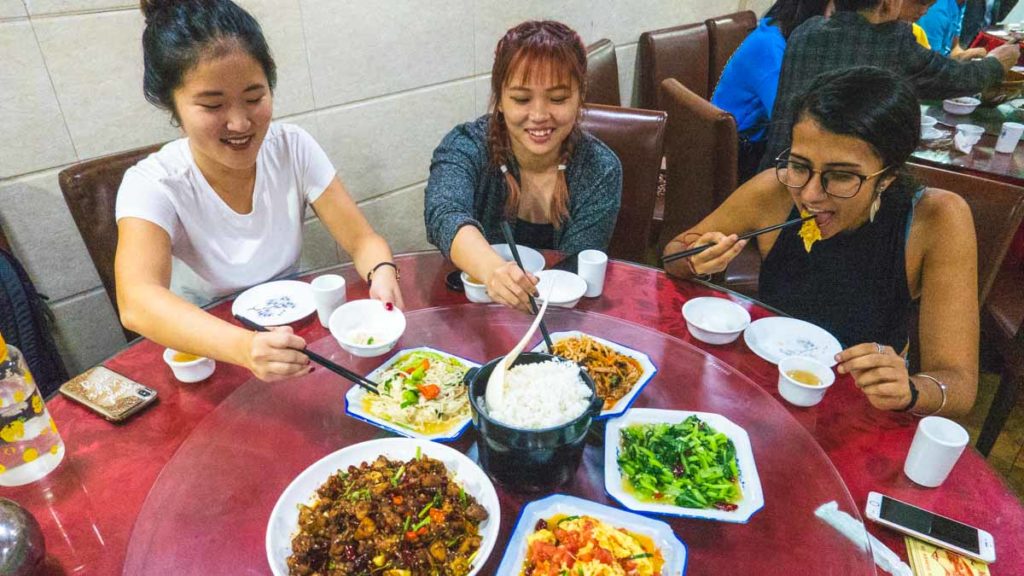 Most, if not all our meals during our two-week-long Yunnan trip were very affordable (under S$25 for four people — that's S$6.25/pax), and 100% satisfying. You won't find too many big fancy restaurant chains here, and the food leans toward the home-cooked, tze char (dishes meant for sharing) style of cuisine — our favourite!
Our Yunnan food guide has 11 unique Yunnan dishes that make the province an underrated food paradise!
1) Cross-Bridge Rice Noodles (过桥米线)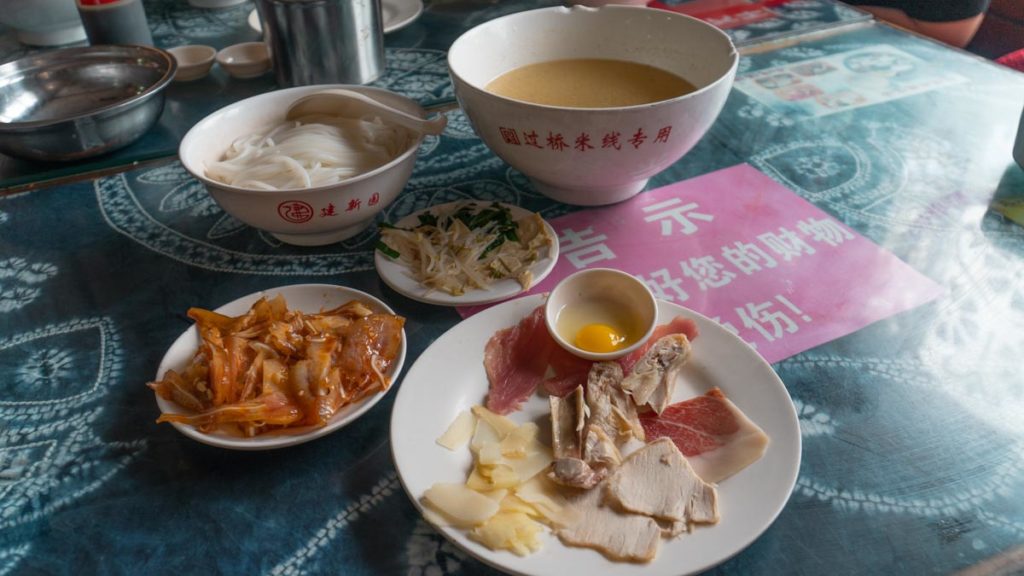 Just like how Singapore has chicken rice, Yunnan has Cross-Bridge Rice Noodles. The story behind its curious name? A scholar (supposedly) studied on an island and every day his wife brought him his favourite food, rice noodles. Each day, she had to cross a bridge to get to him and by then the food would get cold.
To keep the food warm, she packed the ingredients separately and only combined them upon arrival. This method of preparation is so effective, it's still practised till this day!
You can easily find restaurants specialising in cross-bridge rice noodles in every city — we had ours at the famous Jian Xin Yuan restaurant in Kunming for 20RMB a bowl!
健新园 (Jian Xin Yuan)
Opening Hours: 8AM – 10PM
Address: No.195 Baoshan Street, Wuhua District, Kunming 650021, China
Read also: 16 Things to Do in Kunming — Unexplored Gem in China Just 4 Hours from Singapore
2) Yak Meat (牦牛肉)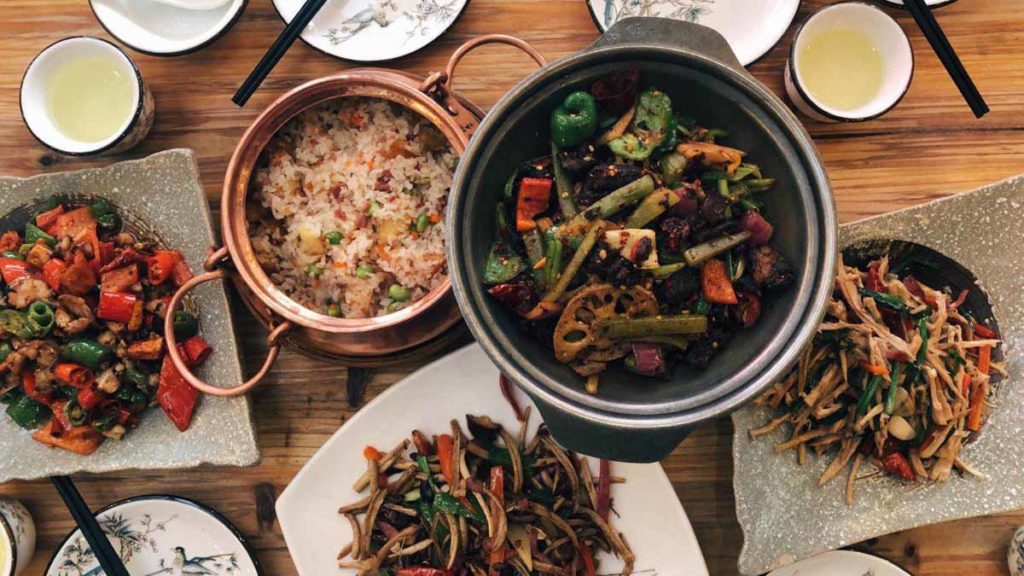 Yak is a staple protein of the Yunnanese people. It tends to be on the tougher side, but is extremely flavourful. Stir-fried, cooked in hot pot and grilled are just some of the ways the locals prepare the meat!
Besides dry pot yak meat, we tried other local dishes at a popular restaurant in Shuhe Ancient Town in Lijiang — Naxi bronze pot rice (a must-try!), highland bullfrog, wild bamboo shoots and stir-fried tea tree mushrooms. At 228RMB (~S$44) for four, this was one of our more expensive meals. But for five well-portioned dishes, I think it's still a pretty good deal.
飞花触水小锅饭 (Fei Hua Chu Shui Small Pot Rice)
Opening Hours: 10AM – 10PM
Address: No. E12-2B Fei Hua Road (next to Rural Credit Cooperatives' ATM), Shuhe Ancient Town, Lijiang, Yunnan (云南省丽江市束河古镇酒吧街飞花触水 飞花路E12-2B号)
3) Steam Pot Chicken (汽锅鸡)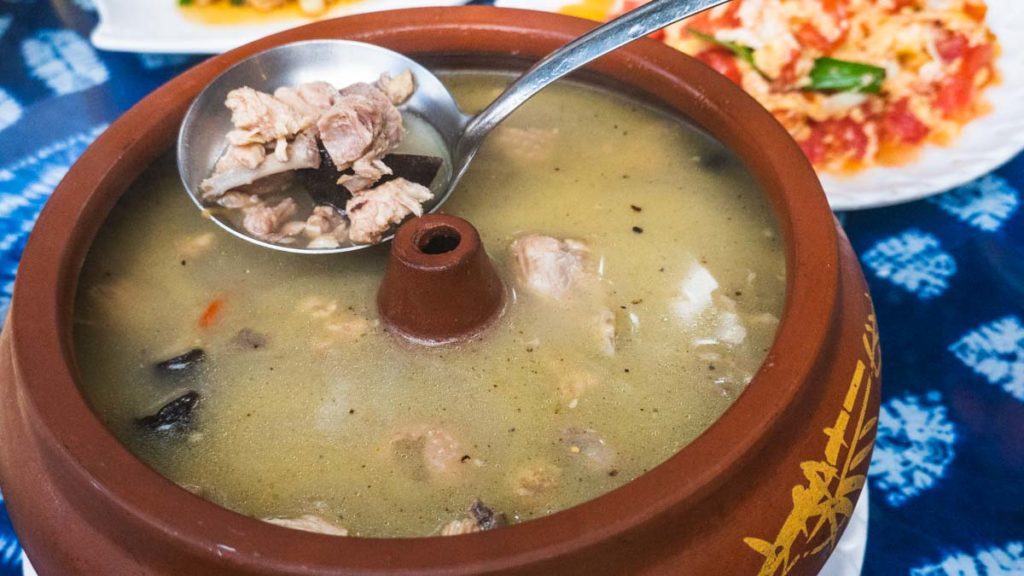 Steam pot chicken is a Yunnan favourite. The chicken is cooked with local herbs and served in the same ceramic pot — the little chimney-like spout in the centre facilitates the circulation of steam, hence its name!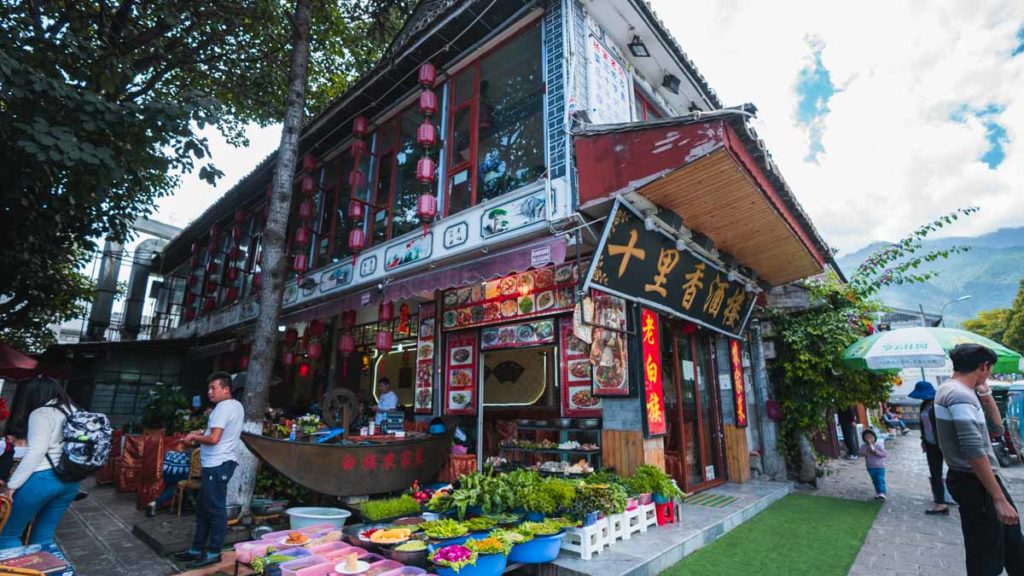 This process results in a broth that's so yummy you might have to stop yourself from licking the bowl clean. We tried ours at a restaurant just outside Dali Ancient City (entrance pictured above)!
十里香酒楼 (Shilixiang Restaurant)
Opening Hours: 8:30AM – 11:30PM
Address: No.39 – No.42, Yita Road, South Gate, Dali Ancient City, Yunnan Province
Read also: 12D Yunnan Itinerary: China's Best Kept Secret — Kunming, Dali, Lijiang, Shangri-la
4) Wild Mushroom Noodles (野生菌米线)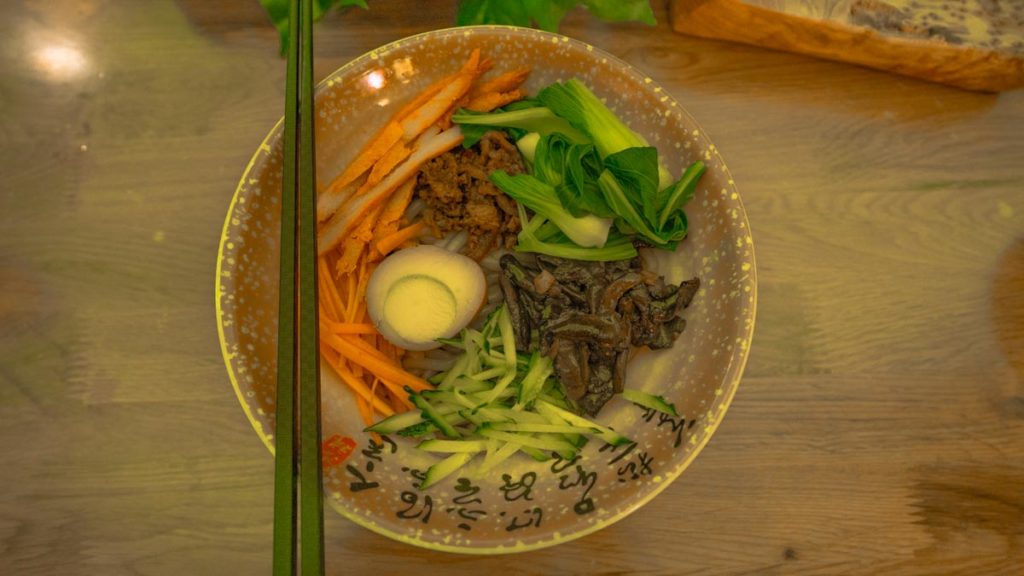 Known as the "Kingdom of Mushrooms", Yunnan is home to over 5,000 types of mushrooms, with around 800 of them being edible.
This is going to be an unpopular statement, but I don't like mushrooms. But in the spirit of stepping out of my comfort zone (and also because it's my job to eat whatever's put in front of me), I decided to give wild mushroom noodles a try.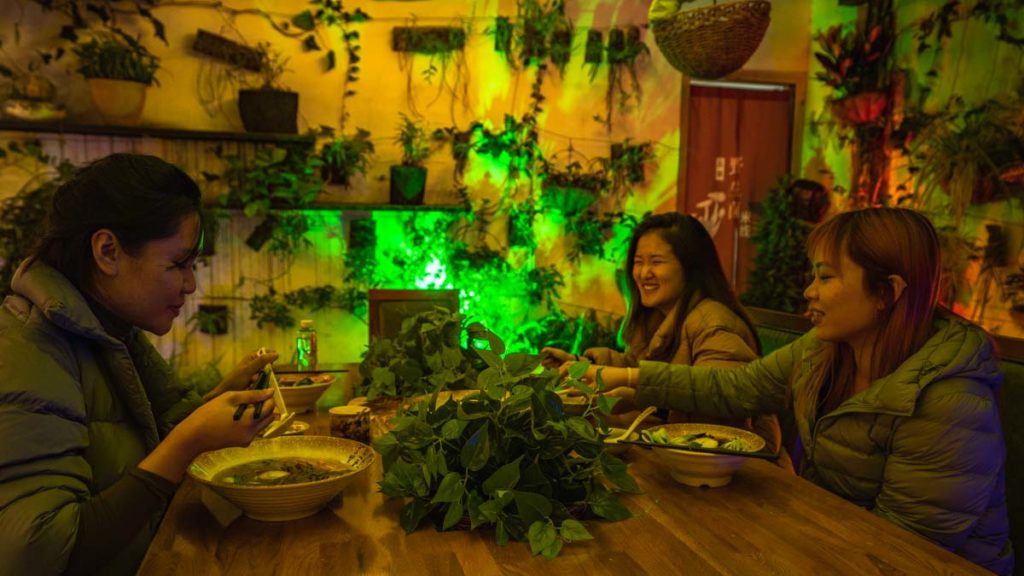 And boy I'm glad I did because the mushroom noodles (32RMB) we tried were truly God-sent. For a mushroom-hater of over two decades to get converted after just one meal, you know it had to be pretty damn fantastic.
云南野生菌米线 (Yunnan Wild Mushroom Rice Noodles)
Opening Hours: Closes at 10PM
How to get there: The restaurant is in Dali Ancient Town. Facing Bad Monkey Bar (59 Renmin Road, Dali, China), turn left. The restaurant is about a 10-minute walk down the same street on the left, beside a bubble tea store.
5) Tibetan Hotpot (藏式火锅)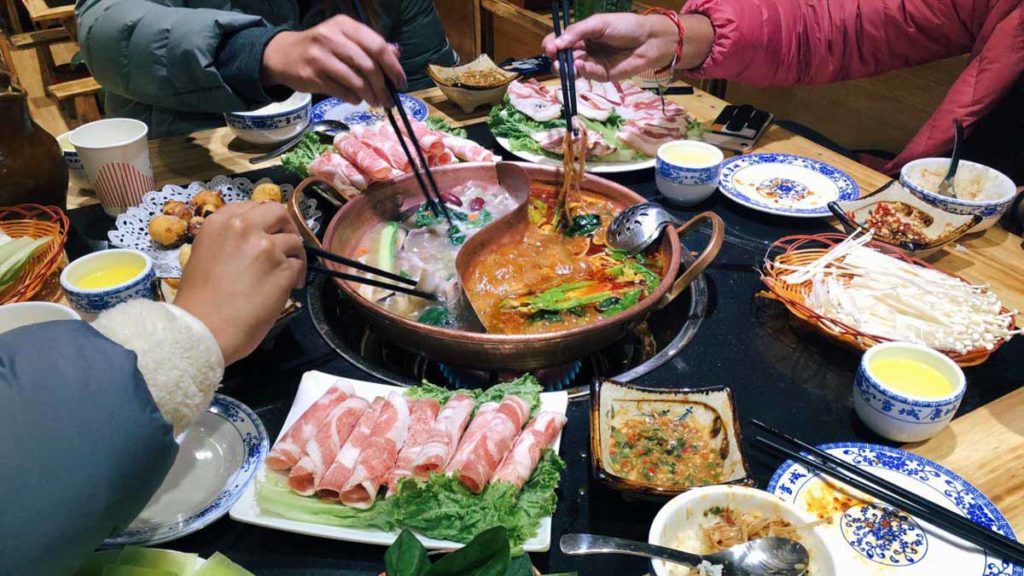 Who doesn't love a good hotpot? It's delicious, and a fun way to dine. Tibetan Hotpot typically features yak or black goat meat as the main star, and for ours we chose the latter along with the mala (numb and spicy) and wild mushroom broth. Not to mention, there's a Haidilao-esque condiment station too. #bliss
Our total bill was 386RMB (~S$75) but it managed to fetch us two portions of goat, one large portion of pork, a whole bunch of veggies and some yak cheese balls to try (Wasn't a fan of the yak cheese but it's always good to try new things right?).
小桥流水藏式火锅樓 (Xiaoqiao Flow Water Tibetan Hotpot Building)
Opening Hours: 9AM – 11:30PM
Address: Chi Lang Shuo Road, Dukezong Ancient Town (池廊硕,杜克宗古镇)
6) Chickpea Jelly Noodles (凉粉)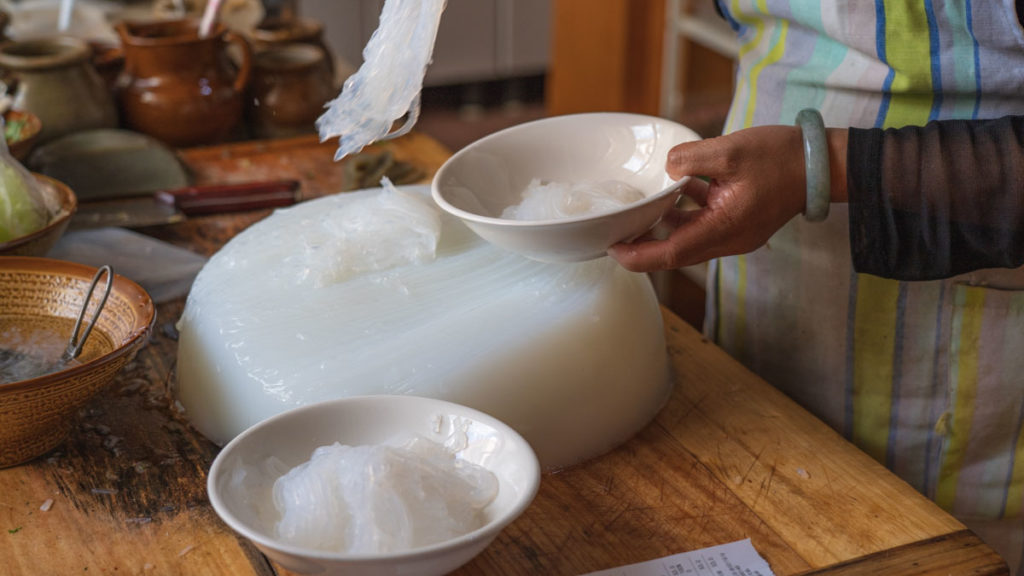 Liang fen (starch jelly) is a cold dish made from rice or bean starches (typically chickpeas!). The dish is sour and spicy yet surprisingly refreshing and well-seasoned with ingredients like vinegar, soy sauce, garlic, sesame oil, chives and mung bean sprouts — all the good stuff!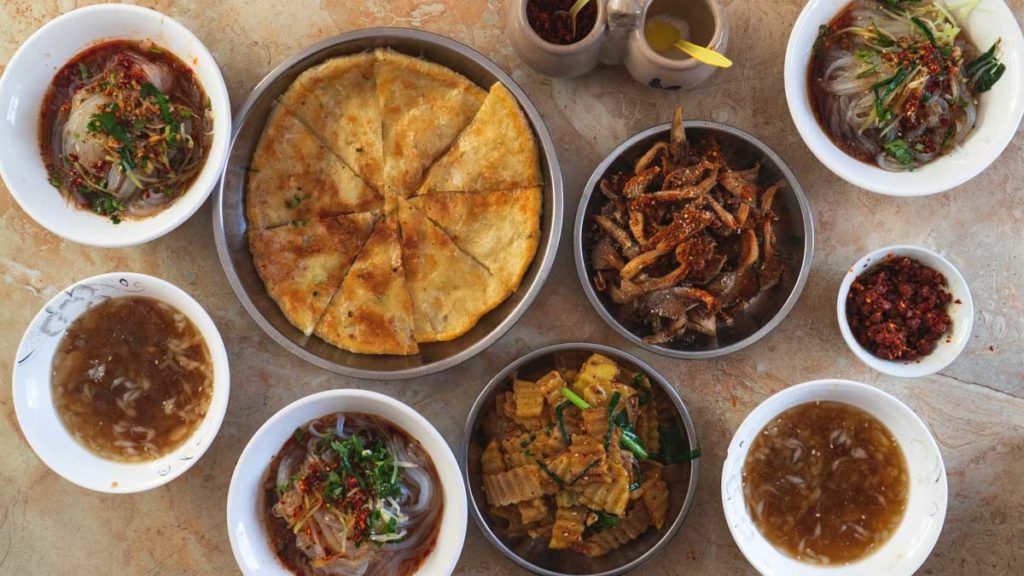 凉粉小吃 (Liang Fen Eatery) is a small restaurant recommended by our local driver and ended up being one of the cheapest meals we had. For 53RMB (~S$10) total, we had three servings of liang fen, cold rice "shrimp" desserts, and three side dishes to share. What a steal!
凉粉小吃 (Liang Fen Eatery)
Opening Hours: 8AM – 3:30PM
Address: No. 116 Xiang Shan Street, Chong Shan Section, Lijiang, Yunnan (象山街崇善段116)
7) Naxi Blood Sausage (麻补)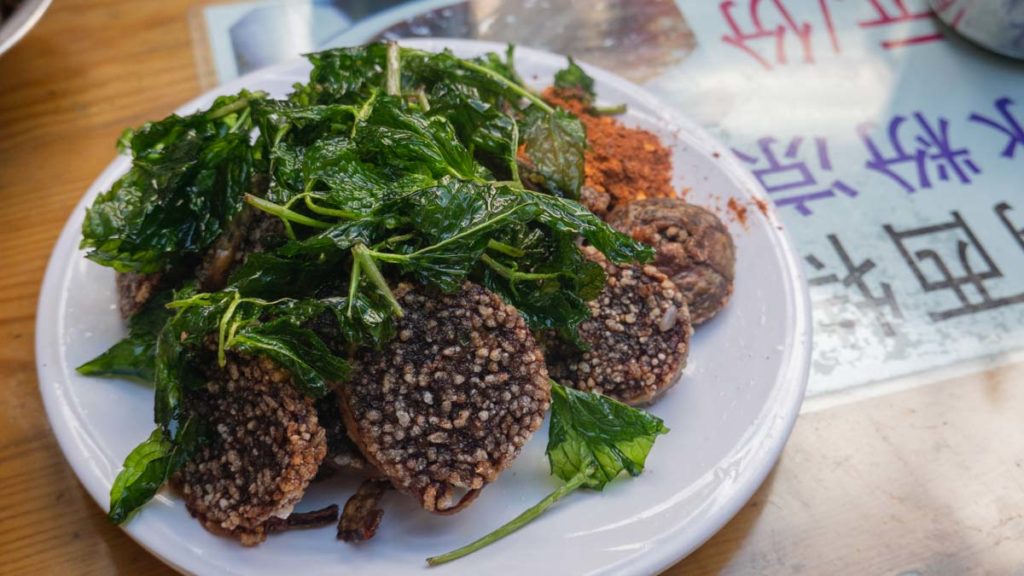 Naxi blood sausage is a local Lijiang speciality. It's made by stuffing pig's blood, rice and other herbs into pork intestine and then frying/steaming it. Sounds downright nasty but if you look past all that, it's actually really good.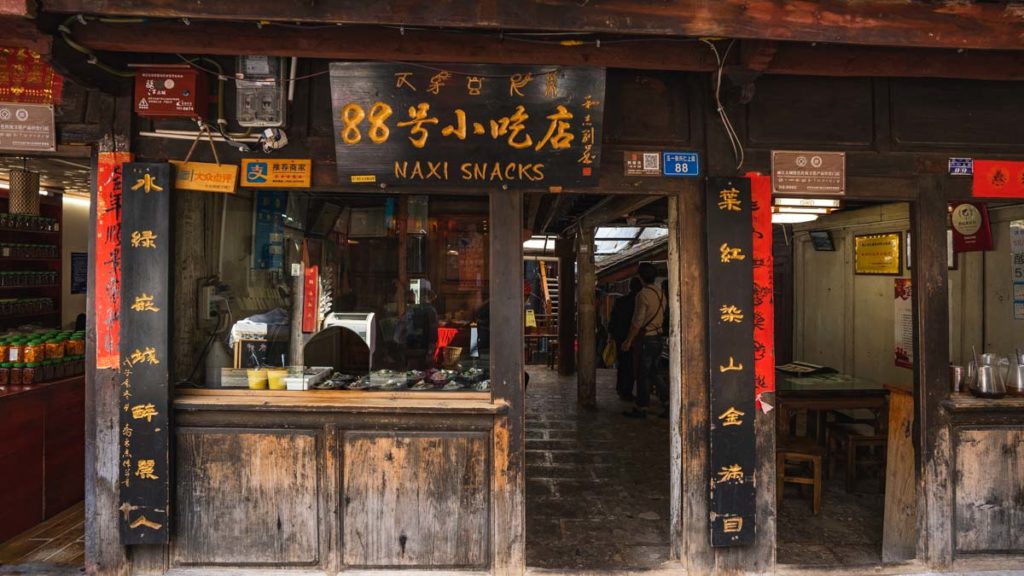 You can find Naxi blood sausage in several snack stores all over Lijiang. We had ours at 88号小吃店, a popular snack store in Lijiang Ancient Town which sells other local delicacies as well.
88号小吃店 (Naxi Snacks)
Opening Hours: 9AM – 11PM
Address: 88 Wu Yi Street, Lijiang Ancient Town, Yunnan Province
8) Garlic Seafood (大蒜海鲜)
Okay, this one isn't exactly a Yunnan delicacy — but it was absolutely delightful. So how could I not include it? Here we have prawns (25RMB), crab claws (25RMB) and bamboo clams (my fav!)(20RMB) cooked in tons and tons of garlic and spices.
We each also had a bowl of rice noodles (2RMB) to soak up the sauce after we polished off all the seafood, before washing everything down with soya bean milk. This eatery opens till late — perfect as a supper spot!
龙门花甲时尚海鲜小吃 (Longmen Seafood Snacks)
Opening Hours: 9AM – 2AM
Address: No. 41 Wenhua Street, Wuhua District, Kunming City, Yunnan (云南省昆明市五华区文化巷41)
9) Naxi Grilled Fish (纳西烤鱼)
You can't tell from the picture, but the Naxi grilled fish is right at the bottom, completely doused in onions and capsicums. We had it at a popular Naxi restaurant in Lijiang Ancient Town called TianTian Xian (Daily Fresh).
Sourced from local lakes and rivers, the fish is marinated in black vinegar and cilantro before being grilled. We also ordered stir-fried pork, garlic spinach, garlic Chinese cabbage, mantou (steamed bun) with condensed milk and some drinks for a total of 117RMB (~S$23). Happy tummies and happy wallets.
天天鲜 (Daily Fresh)
Opening Hours: 11:30AM – 9PM
Address: GuCheng District Wu Yi Street, WangJiaZhuang Alley 47, Lijiang China
10) Baba (粑粑)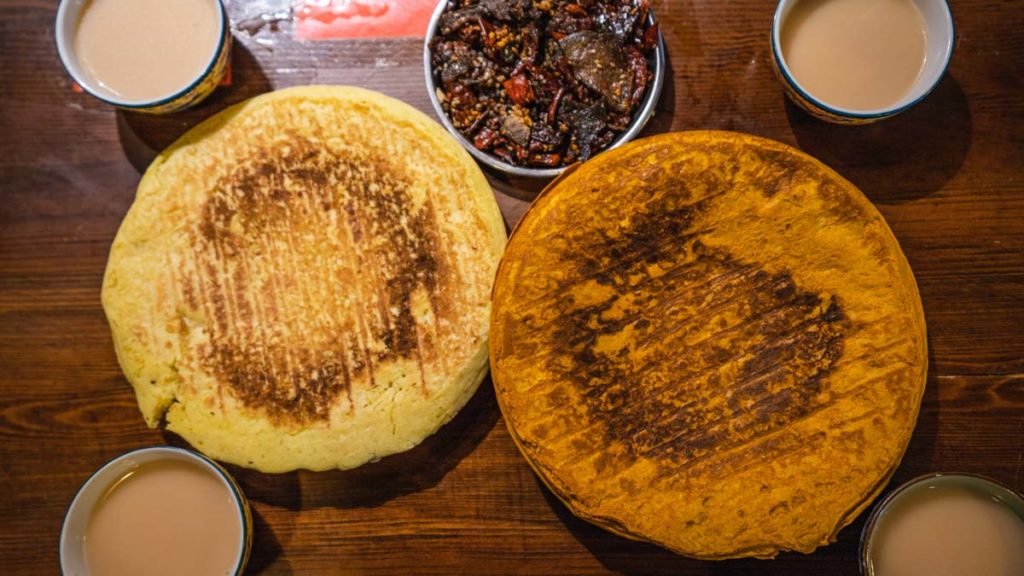 Baba is a well-known Tibetan snack. It's a thick, soft bread served either plain or with various fillings like minced pork or red bean paste. We ordered the corn and wheat flavoured ones (12RMB each), dried yak meat as well as a jug of yak butter tea. I have to admit the butter tea didn't exactly suit my fancy but it's something you can't visit Yunnan and not at least try!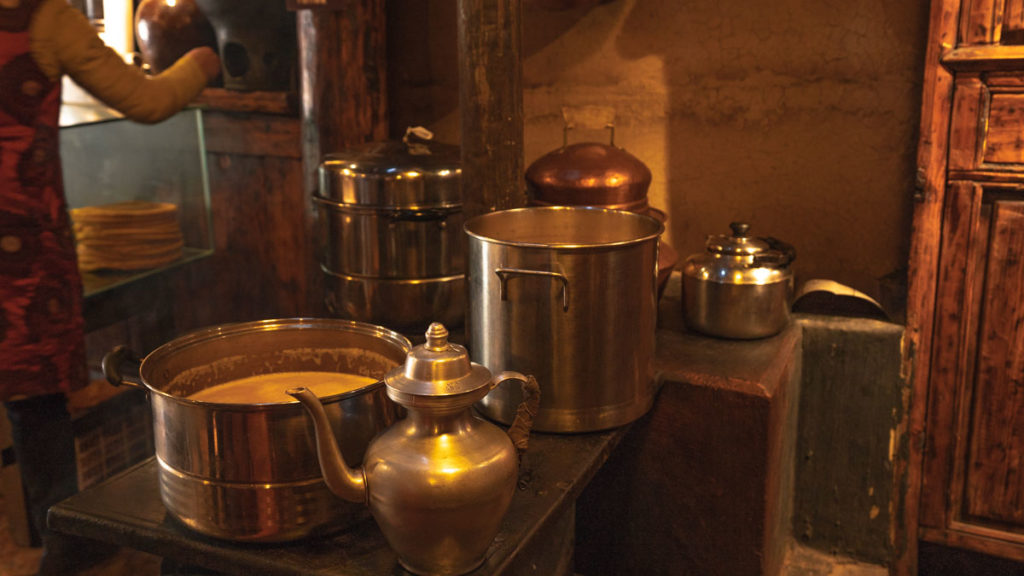 You can find baba and yak butter tea all over Yunnan, but we tried it at a small Tibetan snack store in Bala Village at the Balagezong Scenic Area in Shangri-la. The small eatery was a nice glimpse into the Tibetan culture, with traditional decor and a cosy interior.
Read also: Yunnan Nature Bucket List For Outdoor Lovers — Shangri-la, Lijiang, Dali, Kunming
11) Yak Ice Cream (牦牛冰淇淋)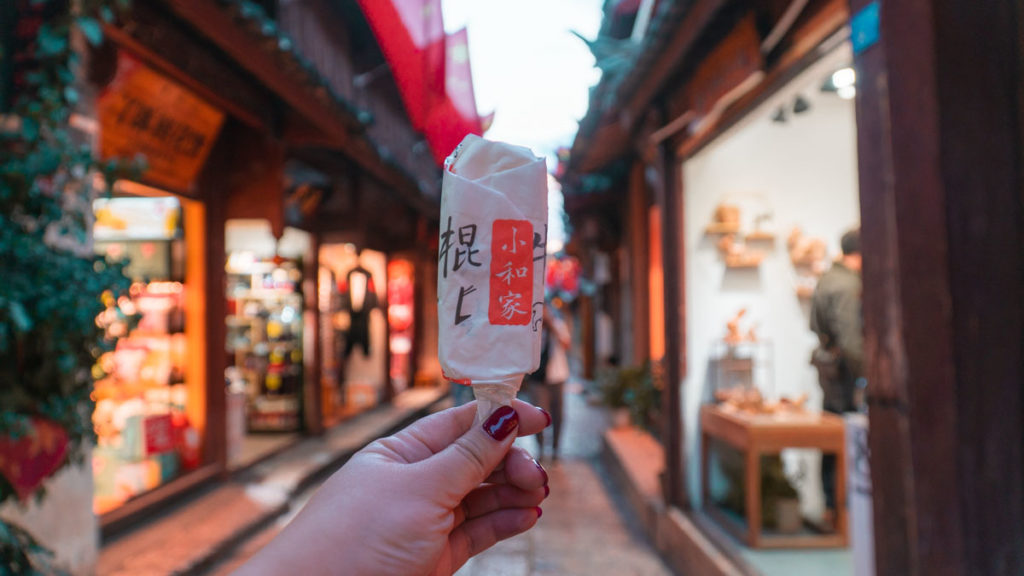 What would a Yunnan food guide be without some dessert? We've tried yak meat, yak butter tea, yak cheese balls and now here's one more yak dish to top it all off — yak ice cream (5RMB). This dessert is actually really creamy, and a perfect snack to munch on while you explore the streets. It can be found in most ancient towns in Lijiang!
Discover the Best of Yunnan Cuisine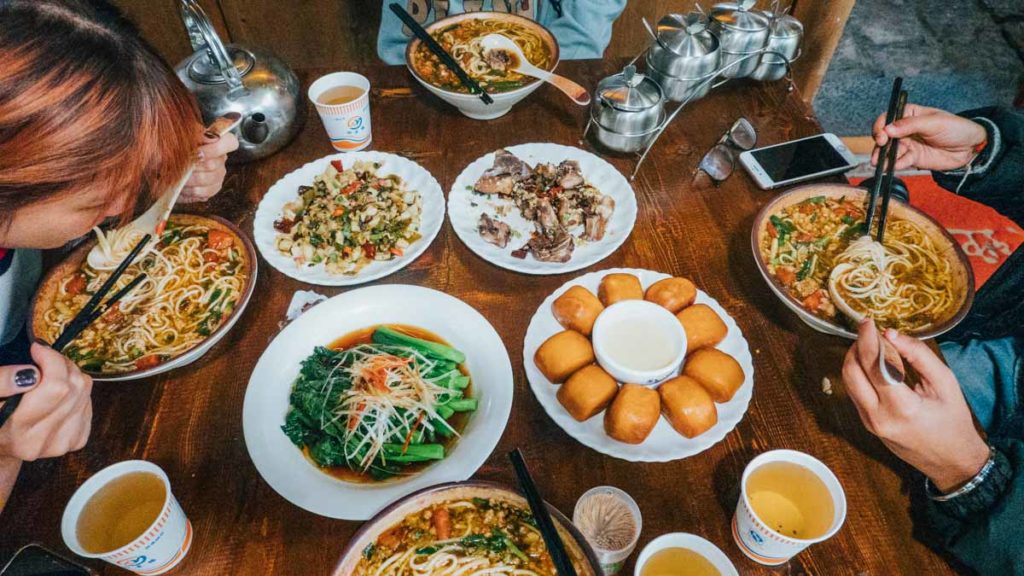 Food makes up a huge part of a place's identity, especially for a culturally diverse province like Yunnan. The many ethnic groups mixed with the unique crops grown in Yunnan's cooling climate have had significant influence on the dishes here.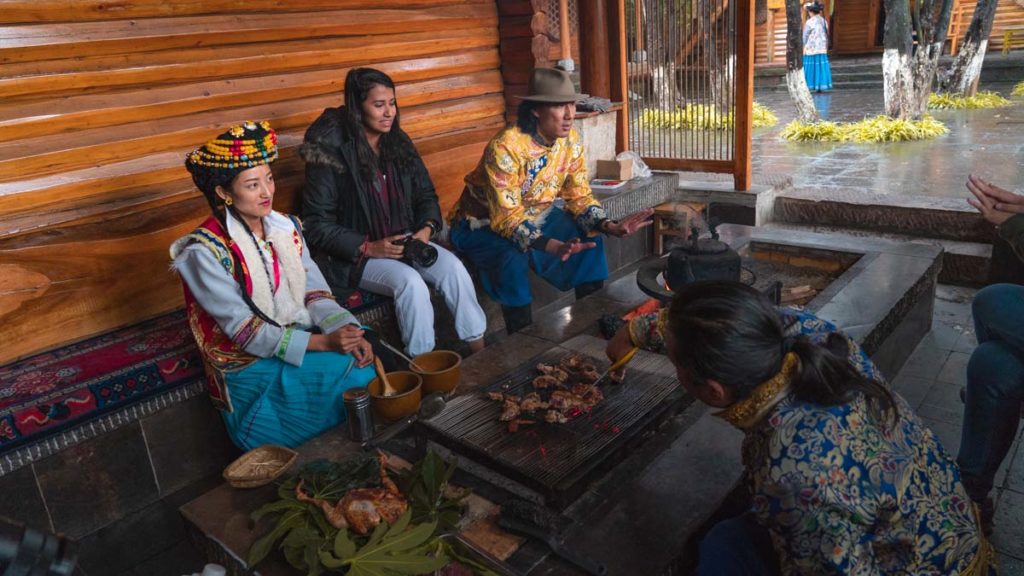 Each ethnic group brings its own unique delicacies to the table, creating a culinary experience unlike any other province in China. So if beautiful mountains and rich culture isn't enough to convince you to visit Yunnan, the food here just might do the trick.
Planning a trip to China? Check out some of our other content below!
– Yunnan Nature Bucket List For Outdoor Lovers — Shangri-la, Lijiang, Dali, Kunming
– 2-Week China Itinerary — Rail Adventure Across Beijing, Shanghai, Hangzhou and Suzhou
– 25 Exciting Things to Do in Shanghai — First Timer's Guide From Must-Dos to Hidden Gems
Which dish do you want to try most in this Yunnan food guide? Let us know in the comments!
---
For more travel inspiration, follow us on Instagram, YouTube, and Facebook!