Abandoned cars, gated tombs and old statues — a hike at Bukit Brown might send shivers down your spine…
If you're bored of the usual hiking trails in Singapore, how about exploring a historic cemetery? 😧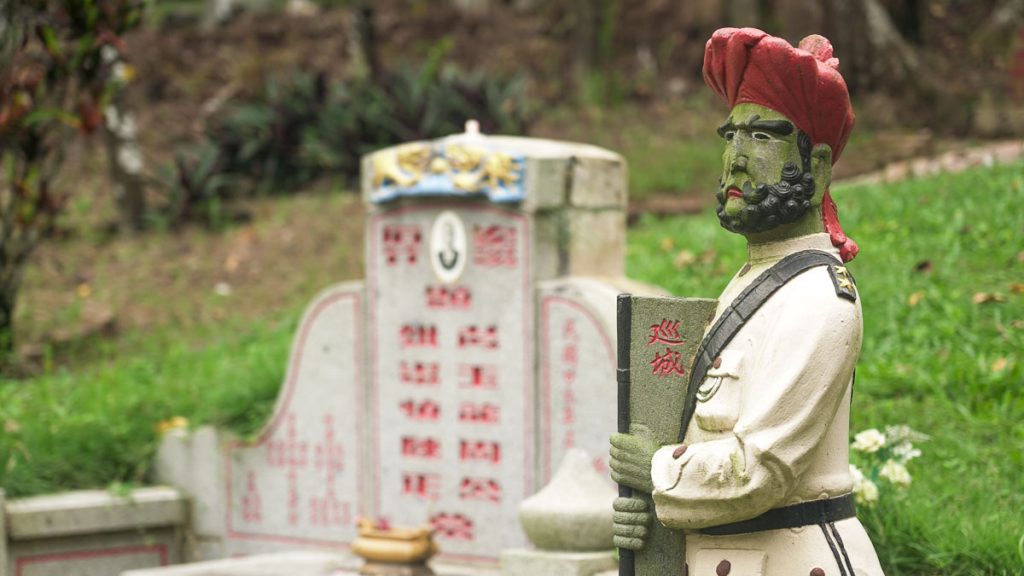 A walk through Bukit Brown Cemetery promises a rich blend of nature and history. Opened in 1922, Bukit Brown has roughly 100,000 tombs belonging to the Chinese from various social classes.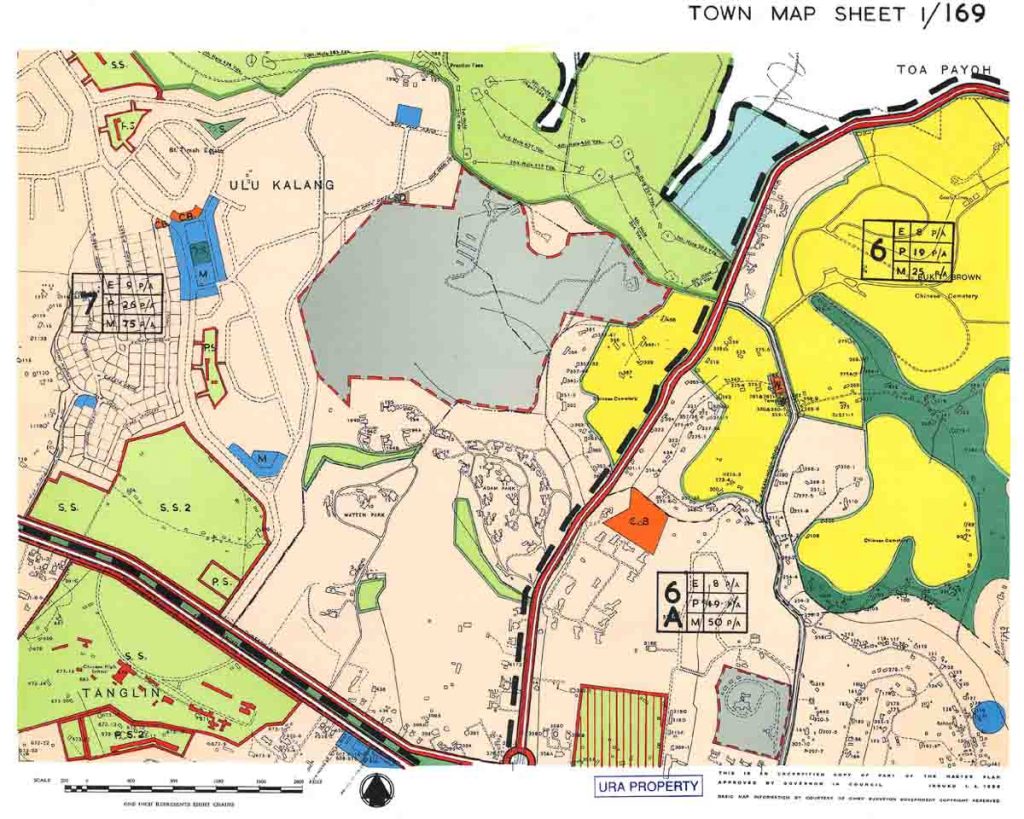 Photo credit: URA
Back in the 1950s, coolies lived in Bukit Brown and were believed to have helped maintain the cemetery. Over the years, nature has taken over, with several tombs overgrown with vegetation.
Beyond the century-old graveyard, there are some pretty cool nature and photography spots along the way as well!
Read also: Thomson Nature Park — Hiking to Ruins of a Former Hainan Village
Getting to Bukit Brown Cemetry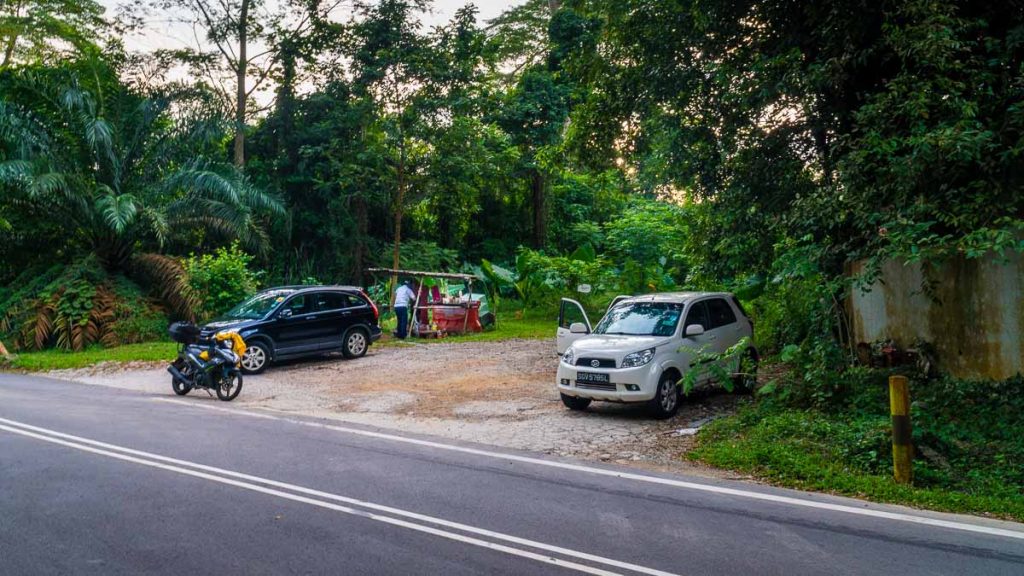 By public transport: From Botanic Gardens MRT (exit A), cross the overhead bridge. Then, make a right turn to get onto University Road. Walk 13min until you see Kheam Hock Park.
By car: Bukit Brown doesn't have a carpark. If you're planning to drive, park at the housing estate along University Road and walk towards Kheam Hock Park.
When you arrive at Kheam Hock Park, there is a flyover. Walk under it; the entrance to the trail is immediately on your right.
Recommended Route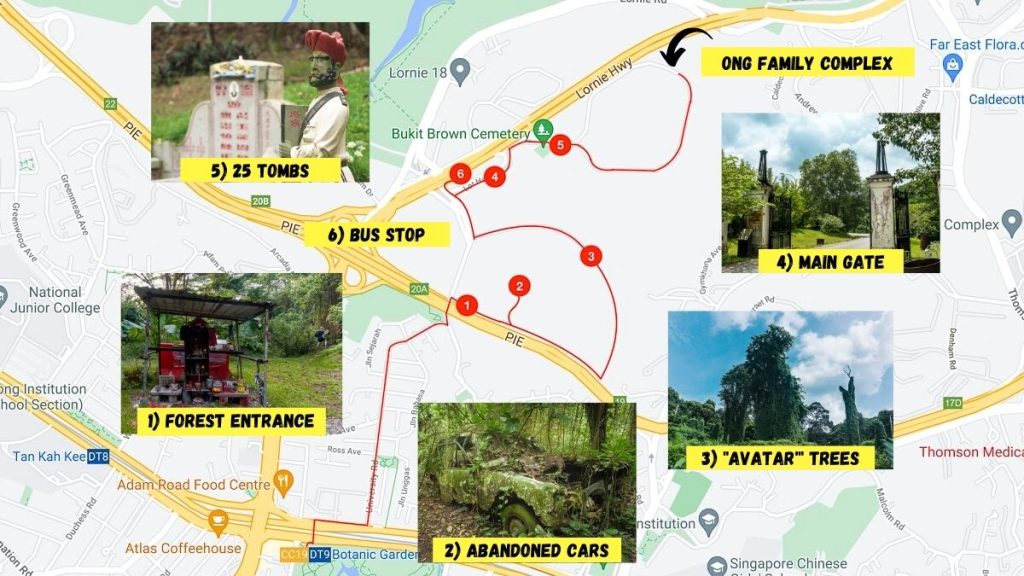 The trail starts at the forest entrance and ends when you reach the Ong Family Complex. From there, walk back out and exit the cemetery through the main gate.
When you're done hiking, head to the bus stop (Stop ID: 41169) along Lornie Highway, just five minutes from the main gate. For drivers, head onto Kheam Hock Road, towards Kheam Hock Park to return to your car.
Recommended time: ~3hrs
Difficulty: 2/5
1) Starting Point: Forest Entrance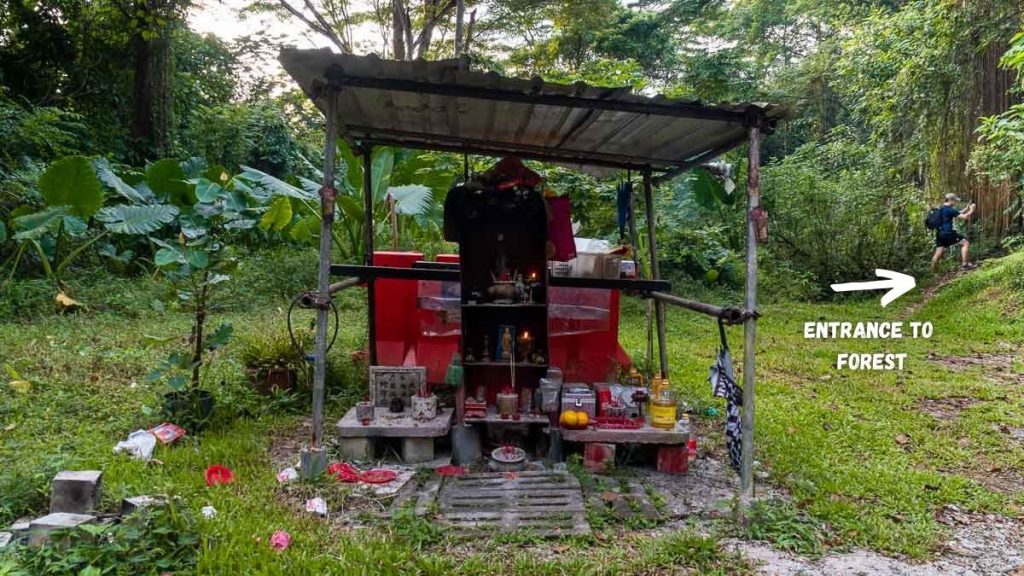 At the starting point, there's a slightly hidden slope on the right. Take that path to start your hike.
Upon entering the forest, follow the well-trodden path, parallel to the expressway. After a 15-minute walk, you'll come across this obvious yellow sign.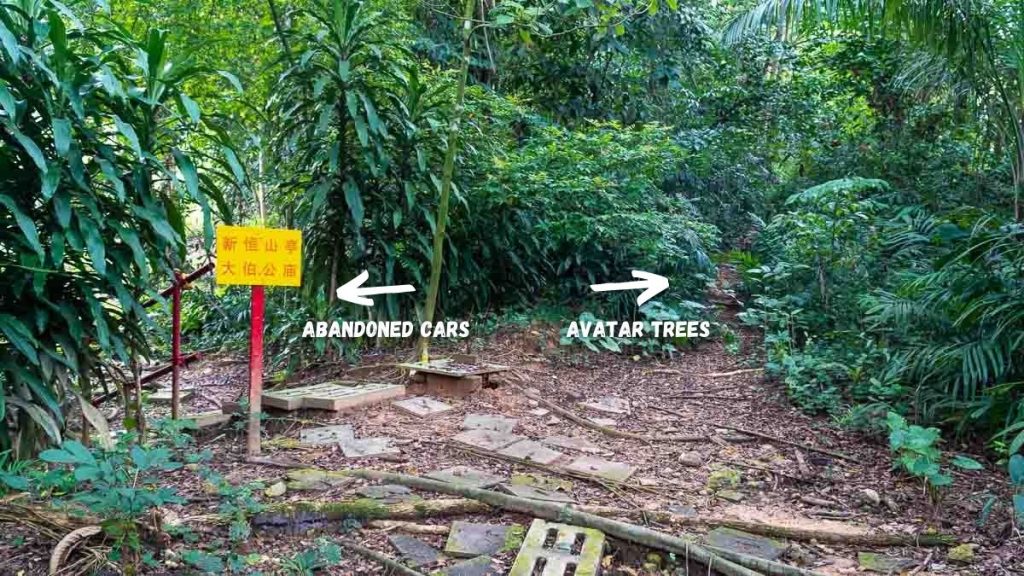 Make a left turn and head down the stairs. You should see a narrow path to your left — take the path and continue walking for about five minutes.
You'll know you're on the right track if you come across a flight of stairs shortly after.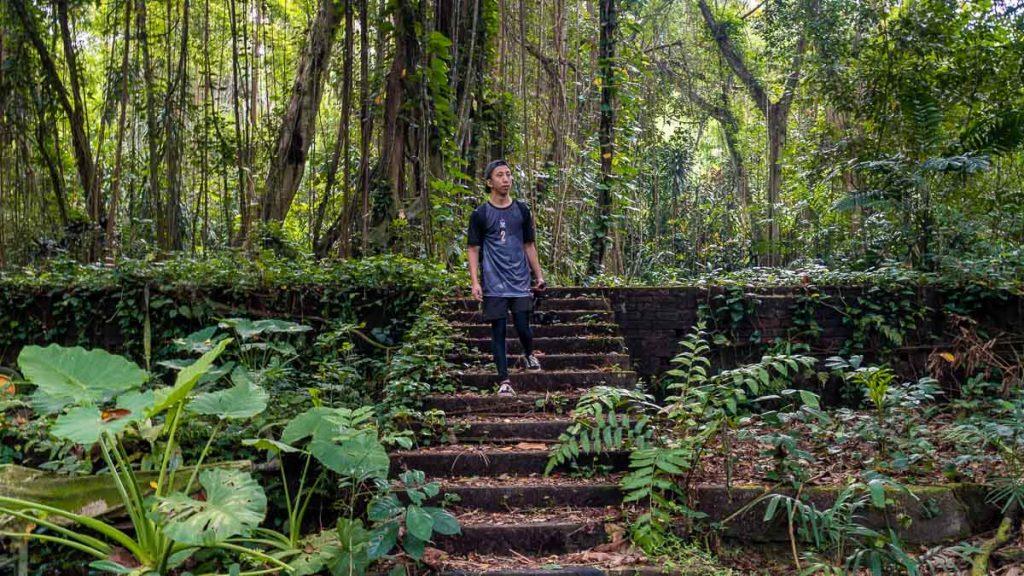 There'll be a small stream on your right that you'll need to cross — be careful as the "bridge" is unstable and slippery!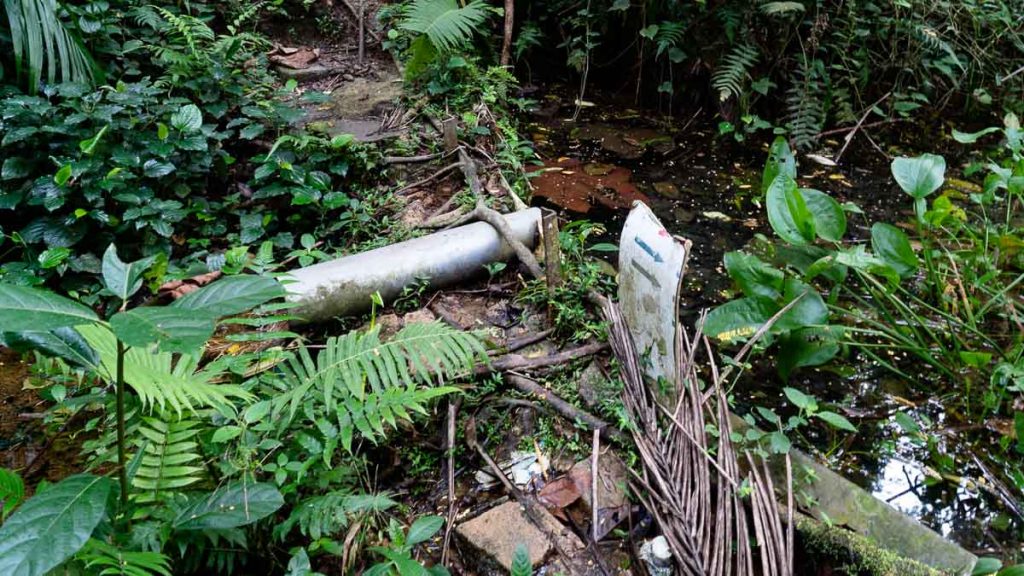 2) Abandoned Cars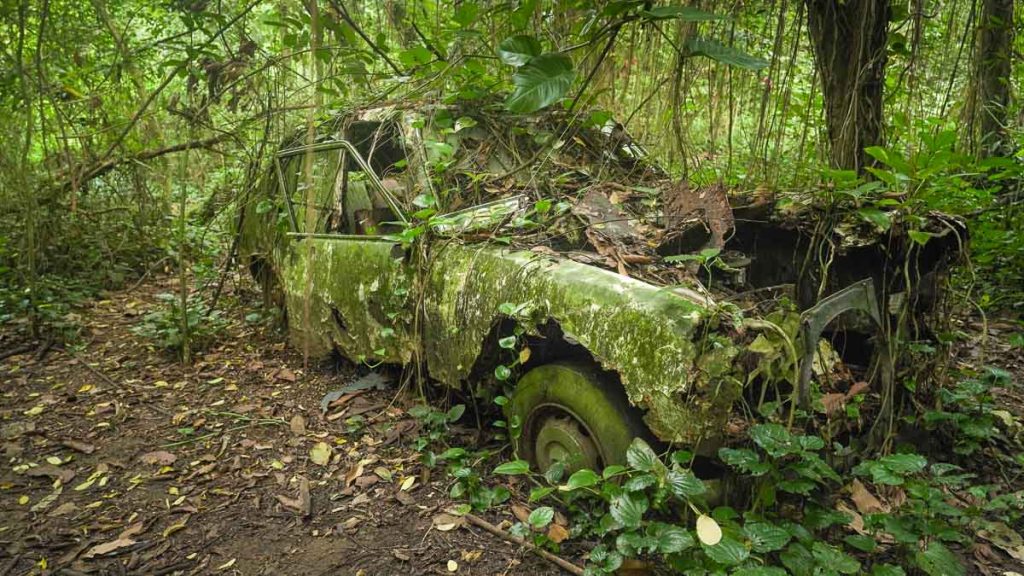 As the path continues uphill, you'll finally arrive at the abandoned cars. All three of them.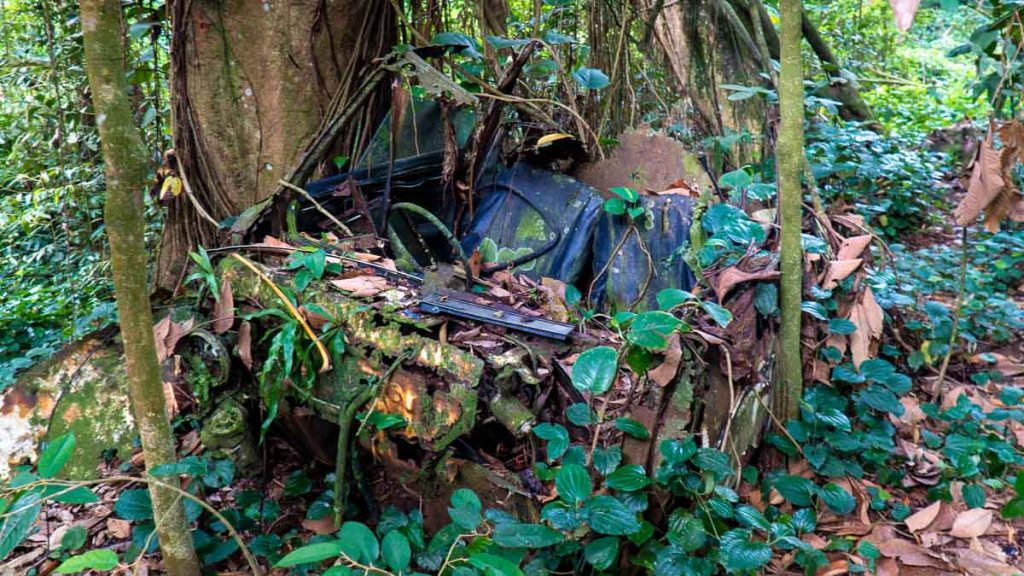 Or should I say two and a half cars?
Straight out of a horror film, these vintage cars covered in climbers were a little unsettling at first. What's bizarre is their location in a forest, nowhere near any roads — makes you wonder how they got here in the first place. 😖
When you're done marvelling at the mysterious cars, retrace your steps to the yellow sign. Take the path on the right.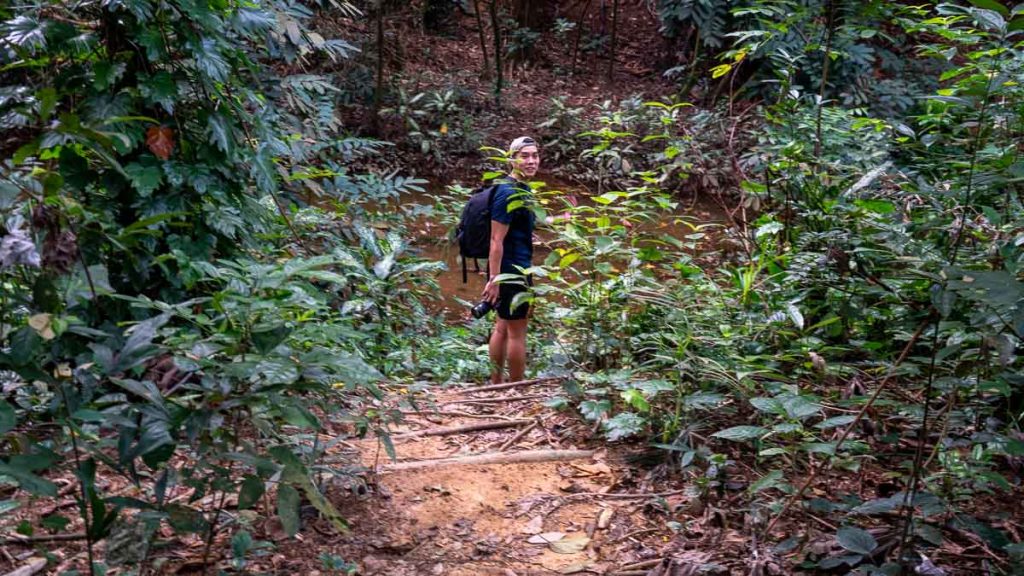 Follow the defined path (with the expressway in sight) and you'll eventually reach a downhill slope to a small stream. At the bottom of the slope, take the muddy path on your left.
3) "Avatar" Trees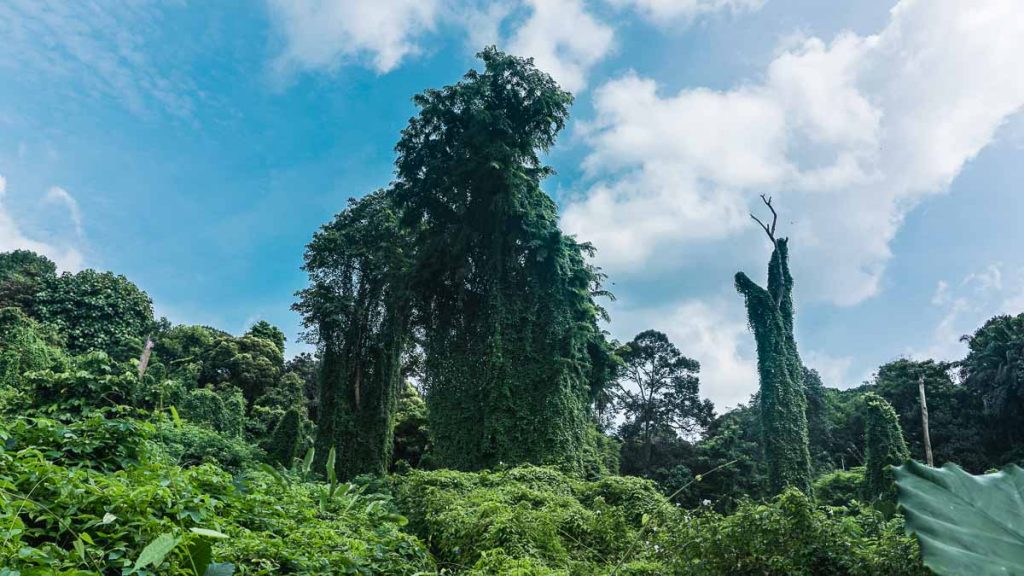 Continue on the path for about 15 minutes and you'll reach an open area surrounded by majestic trees. Don't they remind you of the trees from Avatar?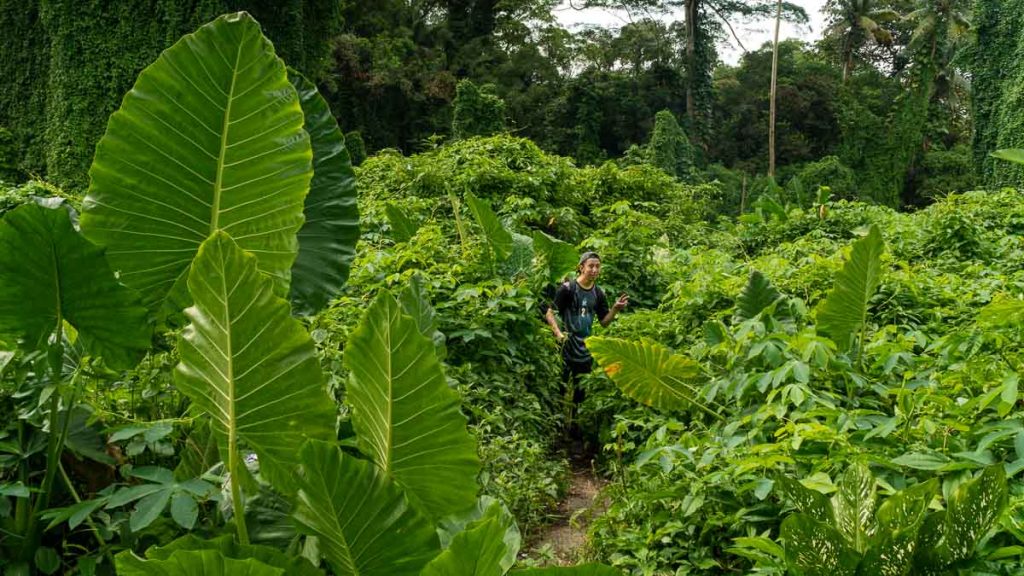 Once you manage to tear yourself from the Avatar trees, be sure to soak in the stunning landscape at eye level. Take a moment to breathe in the fresh air while keeping your eyes peeled for wildlife!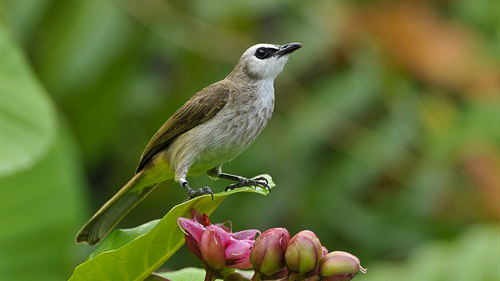 Photo credit: NParks
If you're lucky, you might spot some nationally threatened birds such as the Straw-headed Bulbul or White-bellied Woodpecker.
After that, follow the trail out of the forest, towards the cemetery.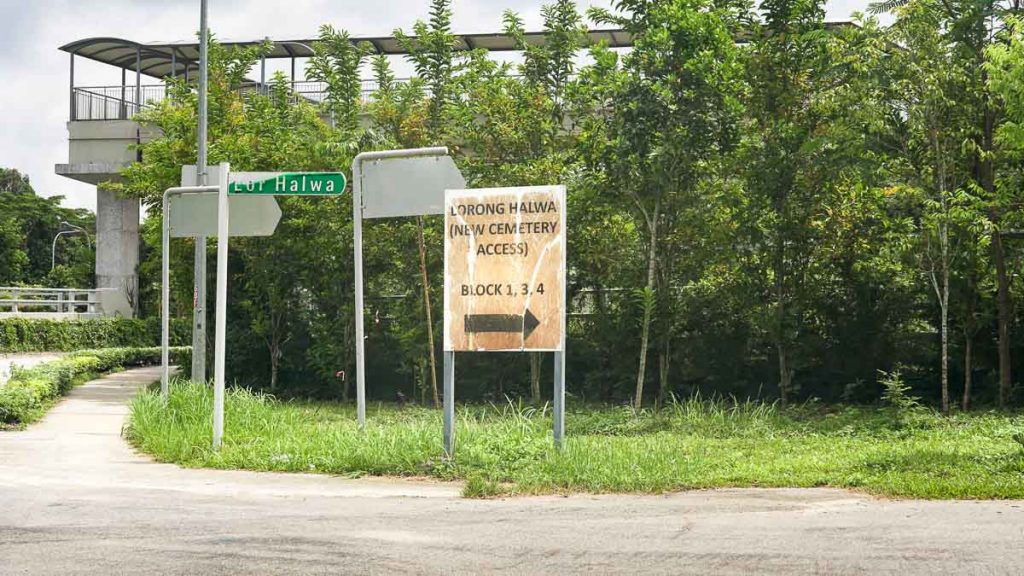 At the end of the path lies the main road. Make a right turn and continue walking until you see this signboard.
Follow the sign and you'll see this iconic cast-iron gate that marks the main entrance of Bukit Brown Cemetery.
4) Main Gate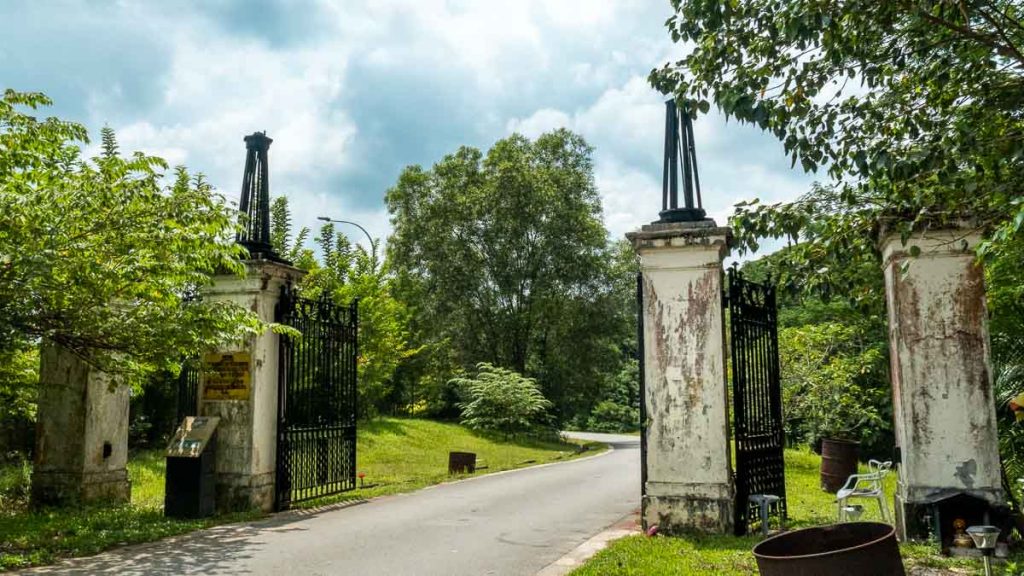 Note: The main gate is locked from 5:30PM (Mon – Sat), and is closed on Sundays and Public Holidays.
There are roughly 100,000 tombs in Bukit Brown, but Bukit Brown Wayfinder features the stories of 25 iconic ones.
5) 25 Tombs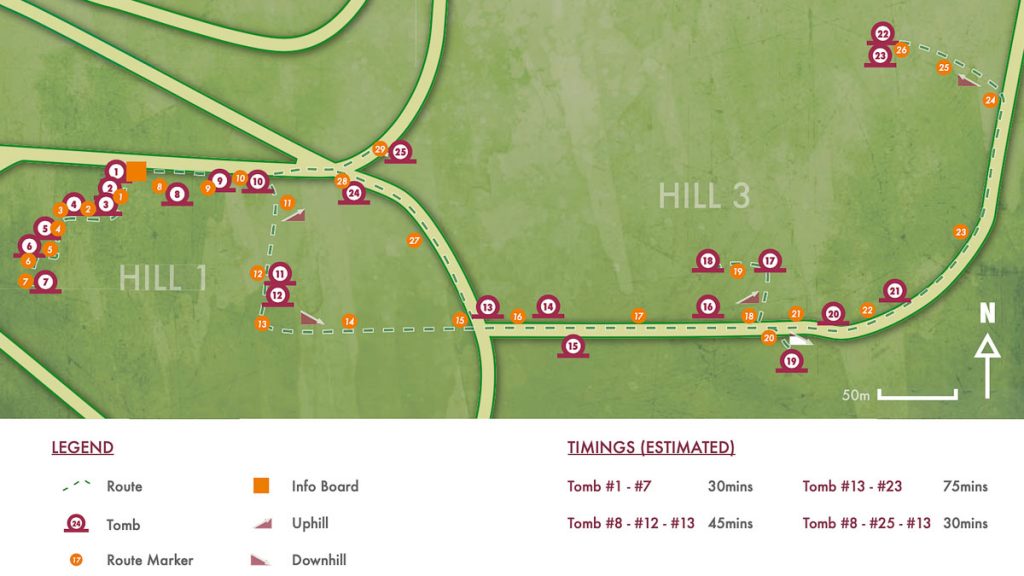 Most tombs are marked with a signboard, with basic information about the person it belongs to. It'll help you better appreciate the area's historical significance, revealed in the unique carvings and inscriptions.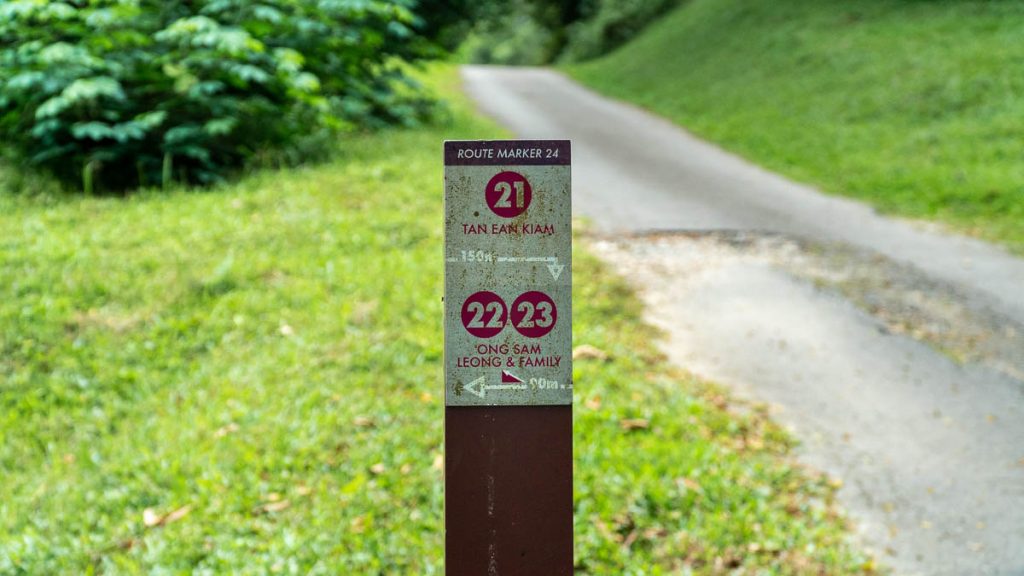 *Pro-tip: If you're unsure of the way, look out for route markers scattered along the trail!
Here are some of the interesting ones to look out for:
Tomb 8 — The Gated Tomb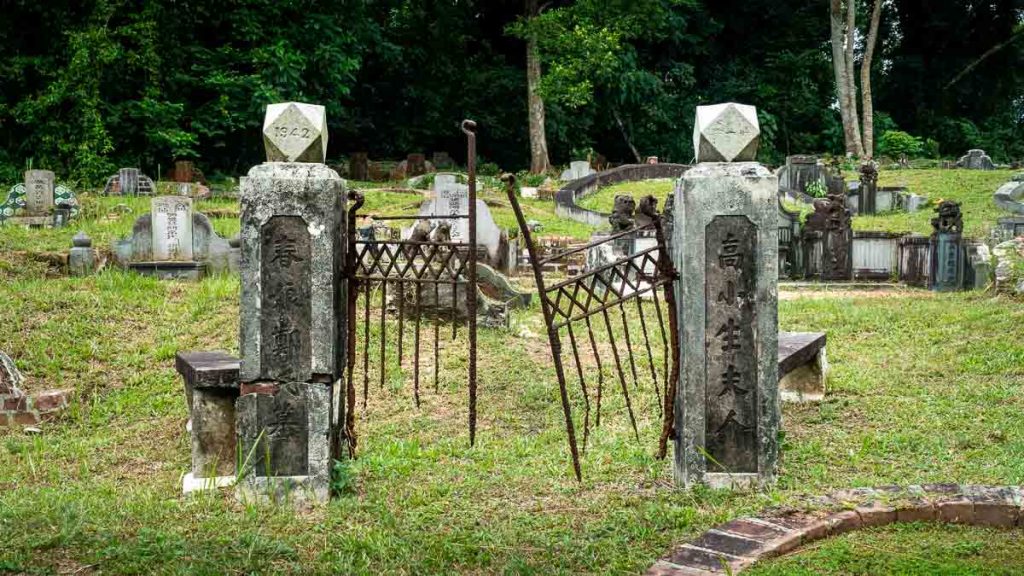 Bukit Brown Cemetery has a few gated tombs but this is by far the most striking.
The Gated Tomb belongs to the wife of Koh Seow Seng, Tay Choon Neo. Koh was a director of the Chinese Twakow (bumboats) Owner's Association before the 1920s. When he passed, Tay became the sole caretaker of their four children. Her devotion to her family was marked with a tomb erected in an auspicious location to bless all descendants.
A tomb of this size was highly unusual during the Japanese Occupation as simpler burials were preferred during the chaotic era.
Tomb 16 — Chew Geok Leong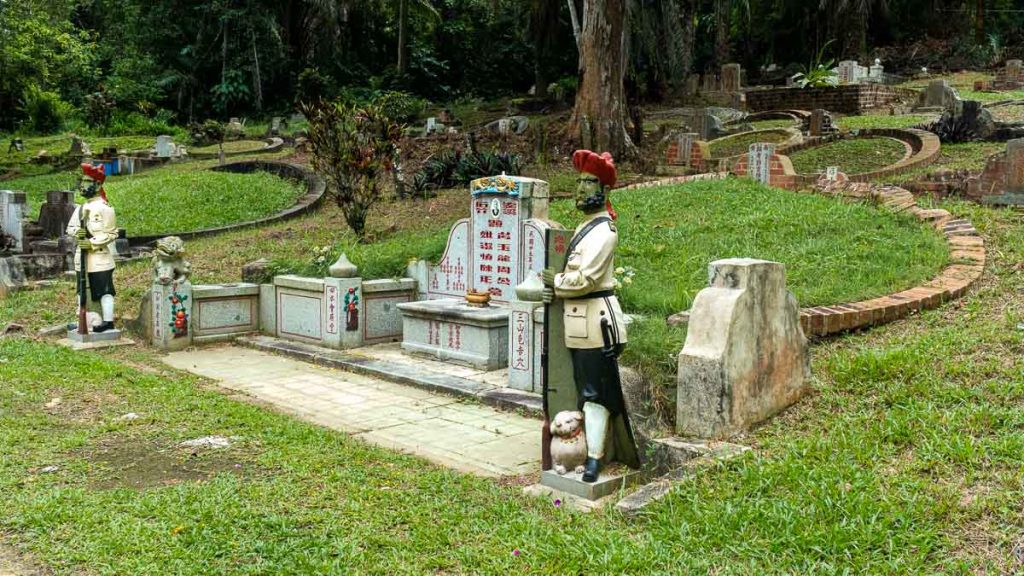 There are a few life-sized statues in the Bukit Brown Cemetry. But one pair that stands out are these vibrantly painted Sihk guards belonging to the late Chew Geok Leong's tomb — the most famous one here. Born in Anxi, China, Chew fled ongoing conflict and started a Chinese medical practice shop in Singapore.
Fun fact: Chew's tomb is a "live" tomb, meaning it was prepared for him while he was still alive. He conceptualised his tomb and ordered the coffin and statues from China!
Tomb 22 and 23 — Ong Family Complex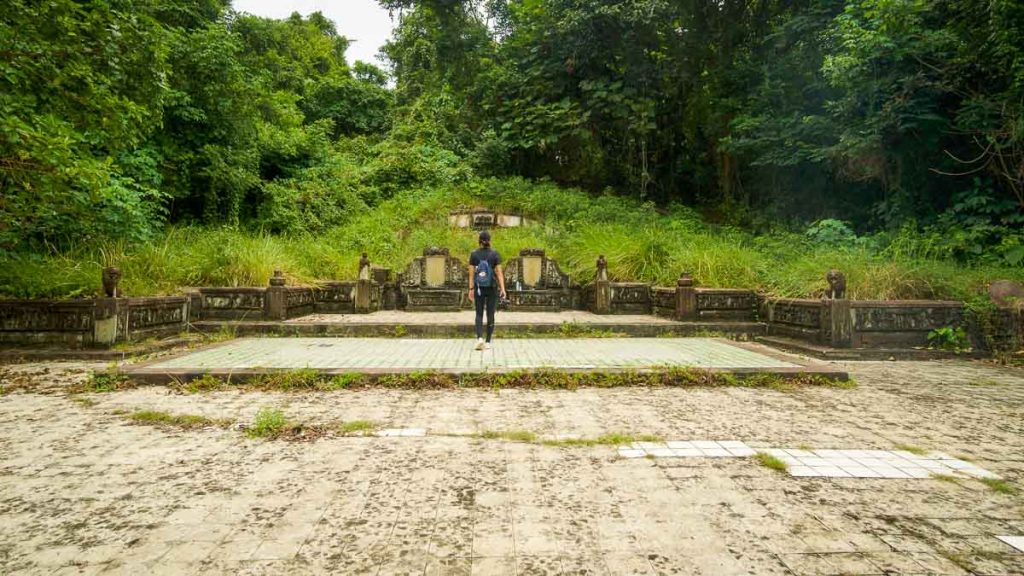 Spanning 600m2 (that's 10 three-room HDB flats!), the Ong Family Complex is the largest in Bukit Brown. It sits at the highest point of the Greater Bukit Brown area — symbolising Ong Sam Leong's wealth as a prominent Peranakan business owner.
The family's burial ground was designed based on fengshui. Hence the half-moon-shaped courtyard, which gathers qi (auspicious energy). You'll also find a pair of Sikh Guards, two lions, and a moat, amongst other features of this massive tomb.
Things to note when hiking Bukit Brown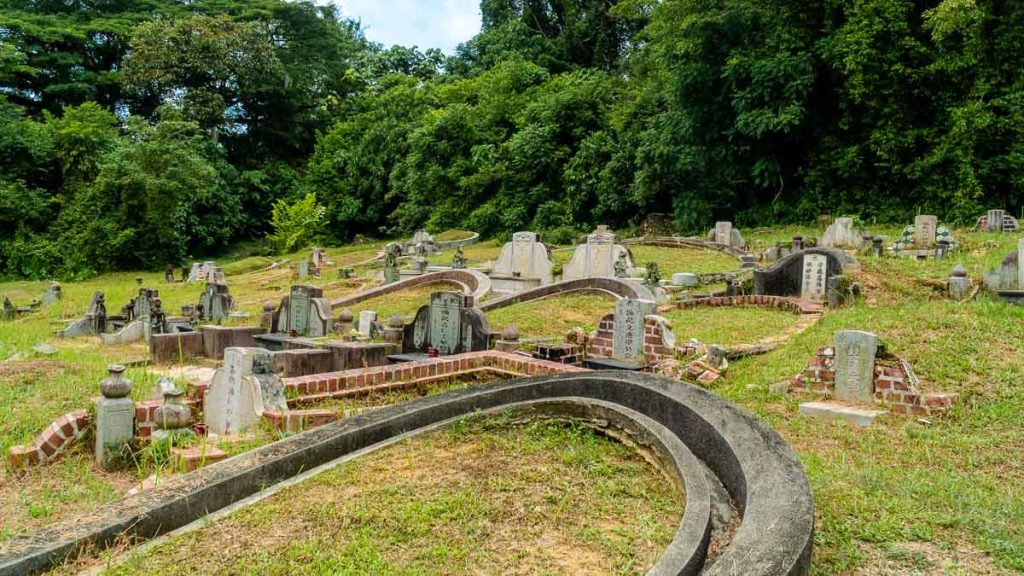 While the idea of hiking through a cemetery didn't appeal to me at first, my experience there changed my perspective completely.
The tranquillity of Bukit Brown offered a relaxing hike, something you might not experience at crowded nature parks. Plus, the unique blend of nature and history really set it apart from all the other hikes in Singapore.
If you're planning on visiting Bukit Brown, do take note of the following:
1) Be respectful. It is a cemetery, after all. Avoid stepping on tombs and refrain from making too much noise.
2) There aren't any toilets at Bukit Brown. The closest one is at Botanic Gardens MRT.
3) Bring insecticide and wear long pants — the mosquitos were the scariest part of our hike.
Keen to explore more unique hiking trails in Singapore? Check these out:
– The Forgotten Bukit Batok Hillside Nature Park — Hiking to Hidden 'Torii Gates' in Singapore
– Hiking Clementi Forest – A Secret Route Off the Green Corridor
– Hiking Sungei Buloh Wetland Reserve — Instagrammable Pods, Coastal Boardwalks, and Crocodiles
What are some of your favourite hikes in Singapore? Let us know in the comments below!
---
Like what you see? Follow us on Facebook, Instagram, YouTube, and Telegram for more travel inspiration!