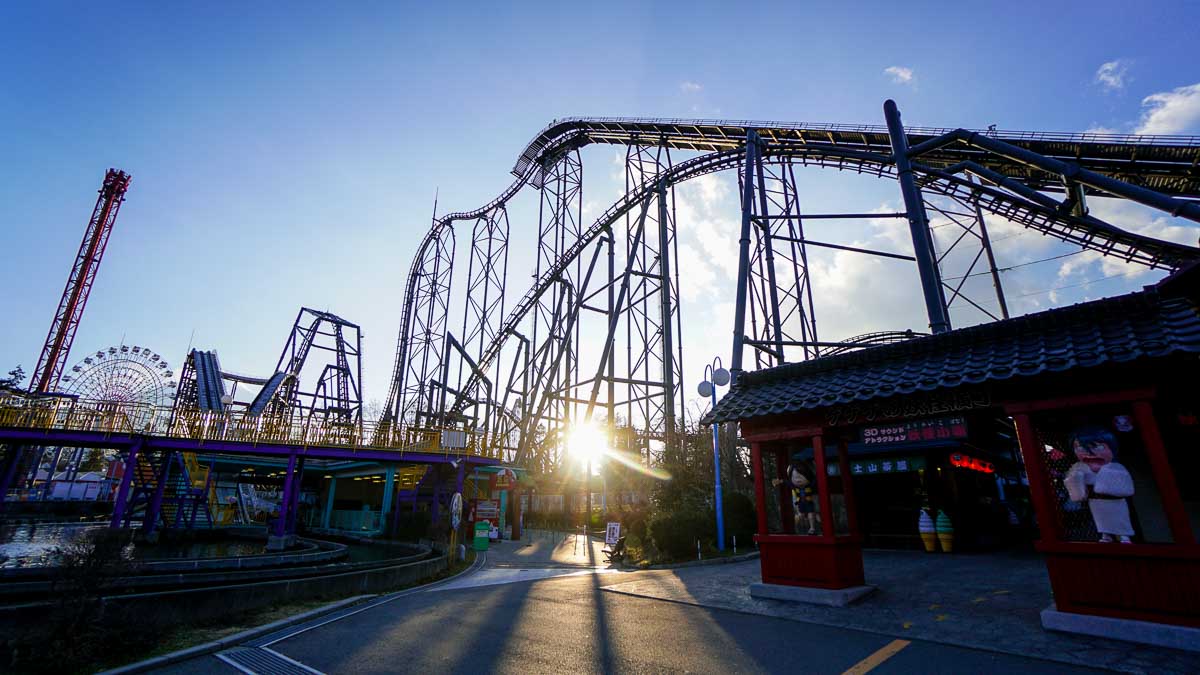 Disneyland, DisneySea and Universal Studios may be popular theme park favourites in Japan. But if you're an adrenaline junkie looking to put your guts to test in some of the world's best roller coasters, Fuji Q Highland is where you really should be.
I mean, have you seen a roller coaster that drops, not just 90° down but dangles at the edge for a moment before plunging down 121° inwards?!
Or the Dodonpa that launches into 172km/h in only 1.8 seconds?! That's probably your closest experience to being in a rocket launch off.
At the end of the day, we were buzzing with adrenaline and throats sore, evidence of the screaming done. Would we come back again? I think it's a a pretty resounding yes. Here's our Fuji Q Highland guide to experiencing them all in a day's trip from Tokyo.
The best Fuji Q rides to tackle first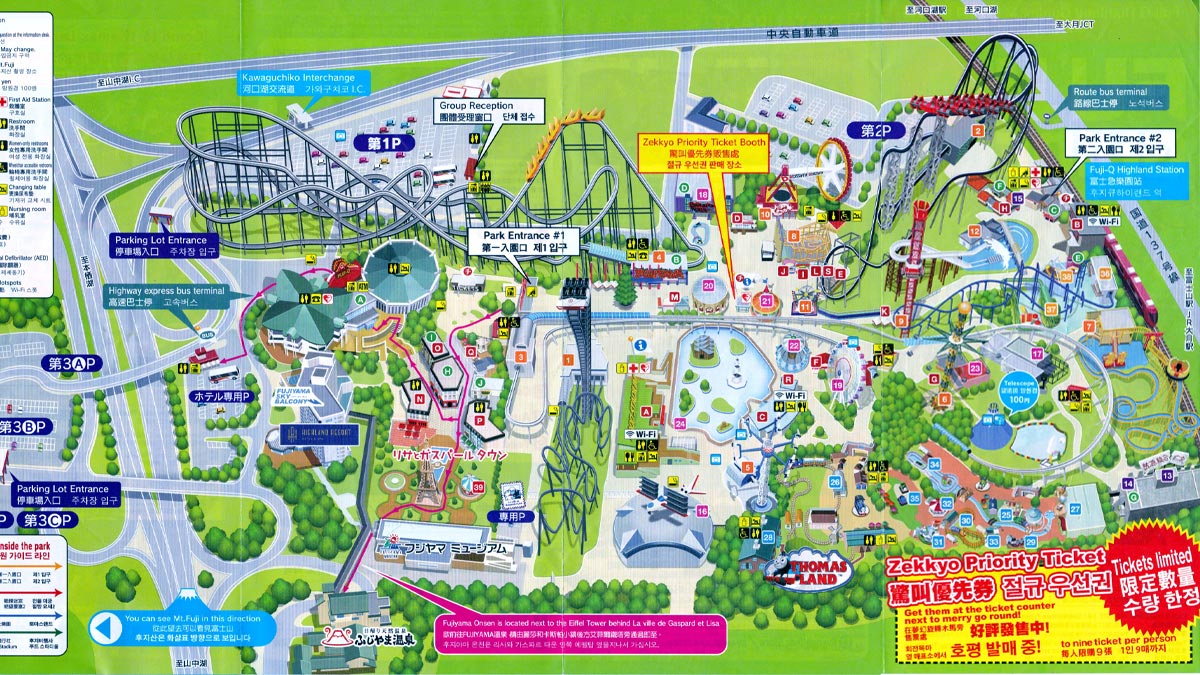 Fuji Q Highland has 12 "Screamer" rides and 3 "Horror" attractions. Though I'm not sure why they're in separate categories because they all induce a lot of screaming. We were pretty lucky to visit on a day where queues were only 40minutes (max) long but during the summers and other peak periods, the wait time can extend up to 3 hours.
There are limited Fast Passes to purchase in the park itself (marked by the yellow box on the map). Make a run for it as these passes run out really quickly. But happen to miss out and are short on time, here's the top 5-absolute-must-try(s)!
1) EEJANAIKA: Most number of inversions (Broke the Guinness Record!)

The track itself honestly doesn't look like much from far. But that's only until you realise… these aren't just regular seats where you have your feet planted on the ground and the tracks beneath you.
Not only are you seated backwards without being able to anticipate the tracks but you're hanging from the top, tracks above, feet dangling in the cold breeze.
Then the ride begins; you launch off. Your chair spins 360 degrees in angles you never knew existed. Dipping from a high point as your chair individually spins along in a forward and backward somersault.
After a total of 14 inversions, you leave the ride forgetting for a moment where you are.
Unanimously, this turned out to be our favourite ride of all.
2) FUJIYAMA: King of Coasters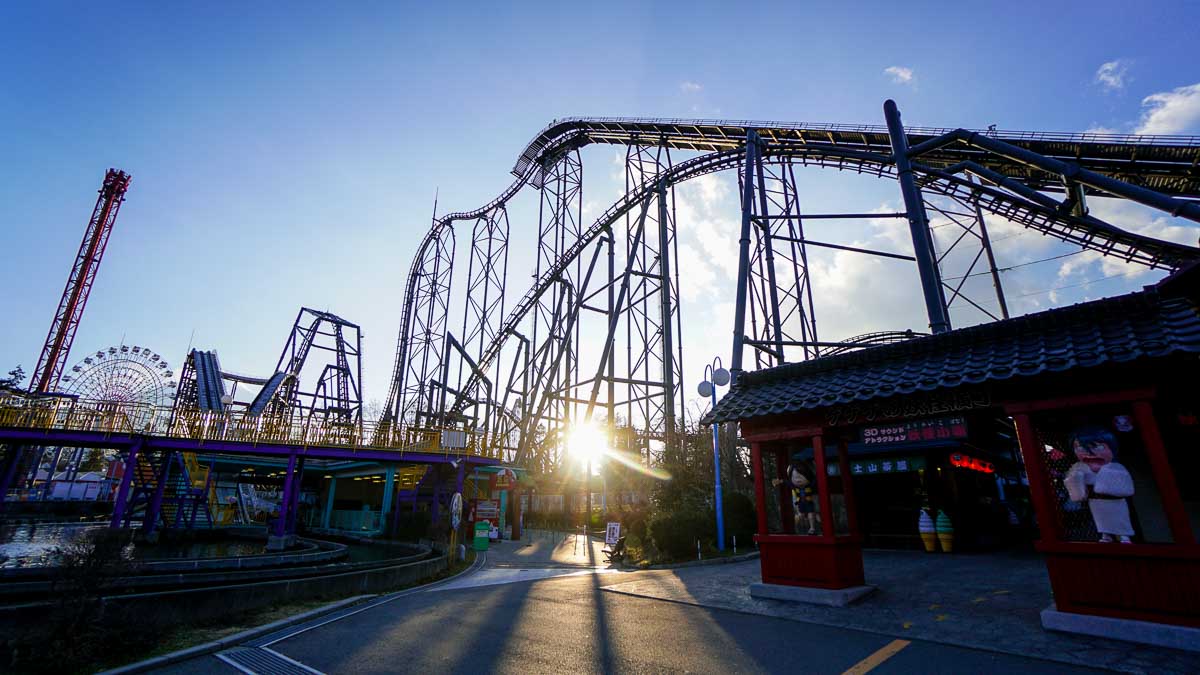 Unfortunately this ride was closed due to strong winds when we were there. But a roller coaster named after the park, you can expect quite the ride.
Nicknamed the "King of coasters", the 79m ride runs up to a maximum speed of 130km/h, down 12 drops with the maximum being 70m! While there aren't any inversions, every dip rewards you with gorgeous views of Mount Fuji, all while feeling (literally) a roller coaster of emotions.
3) TAKABISHA: Steepest in the world
What starts out in pitch darkness, the ride very quickly launches you into quick twits and turns typical of any roller coaster. After 4 fancy inversions, the ride slows into a tunnel, tricking you into a false sense of security (as if the ride has ended).
And this is where the ride really starts. In front of you is a 90° vertical ascend. The cart stops right at the edge where you peer over and see no tracks before you because the drop is curved in at 121°! You plummet down the tracks, complete another 3 inversions before the cart really comes to a halt.
It's no wonder why the Takabisha appears on almost every "Scariest Roller Coaster in the world" list.
4) Do-DODONPA: Highest launch acceleration in the world
Don't be fooled by the simple look of this track. Once titled the fastest roller coaster in the world, the Do-dodonpa starts off with a 180 km/h launch in only 1.56 seconds! That's a 3.3G force, higher than the 3G astronauts feel during take-off.
Definitely earning its title as one of the top 10 best roller coasters in the World by TIME.
5) SUPER SCARY LABYRINTH OF FEAR: Longest haunted house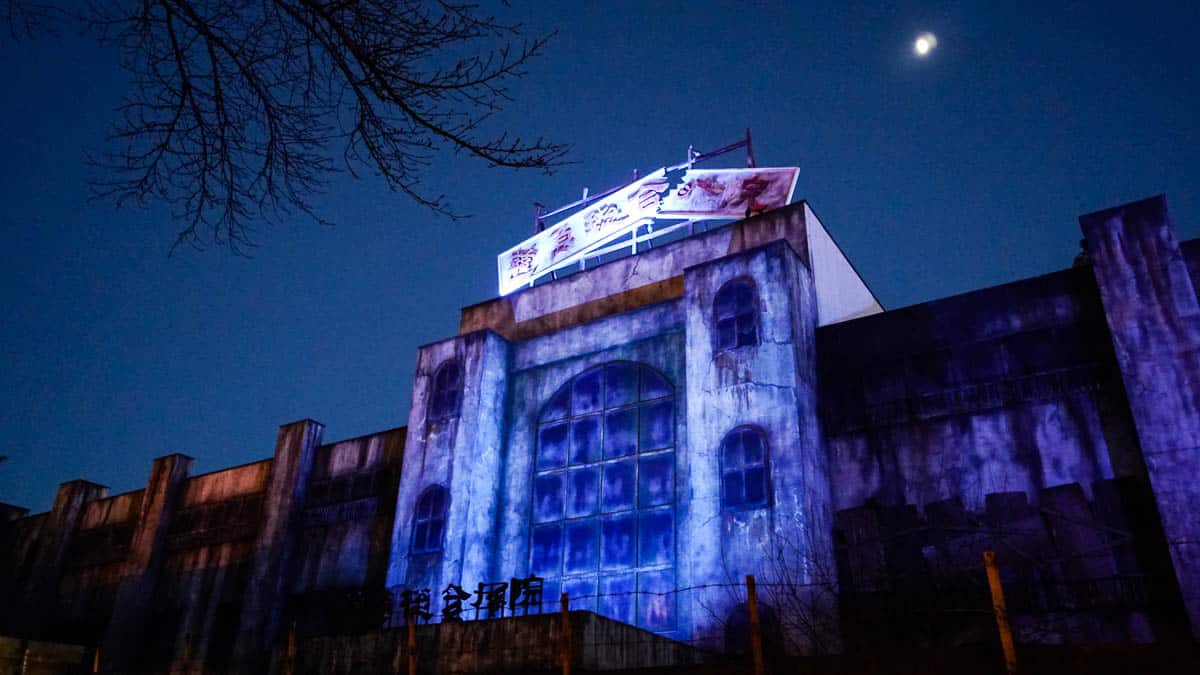 When you feel like you need a break from all that screaming, be sure not to expect it from this place.
As its name suggests, the Super scary labyrinth of fear is a 2 storey Hospital themed building where you get to find your own escape route. Each room has its own themes like the quarantine ward, the bacteria lab and the new mortuary.
At 900m long, it was at some point, the longest haunted house in the world. (Today, it's just the longest I've ever come across!)
Most people take up to 60 minutes and it can sometimes feel like there's just no way out but it might be somewhat relieving (and unsettling) to know there are emergency exit doors for people who feel like they just can't go on.
Note: You will need to purchase an additional ticket for this at ¥500/pax
*Pro-trip: The attraction closes 1hr 10mins before the park closes to be sure not to leave this till the end of your day!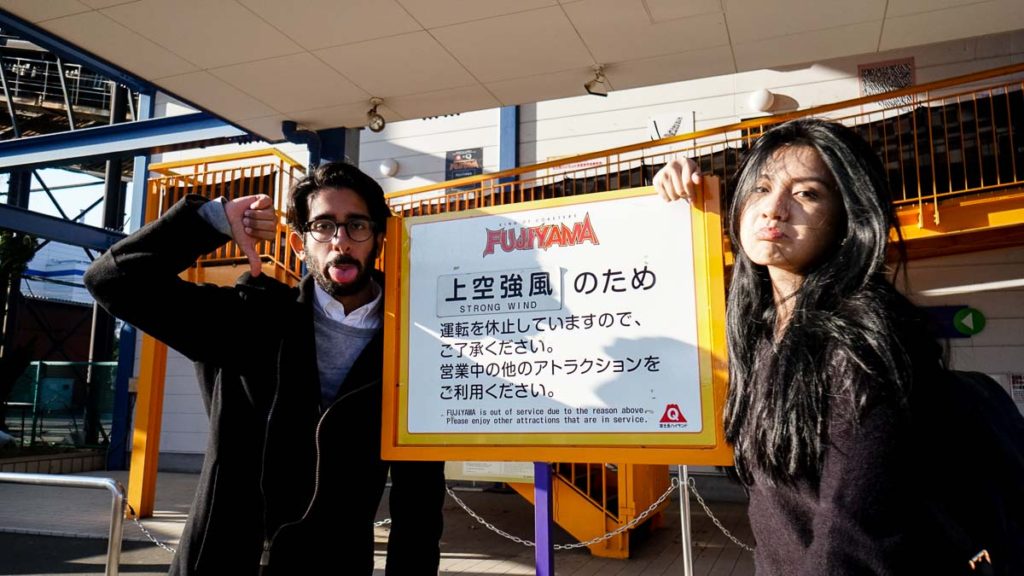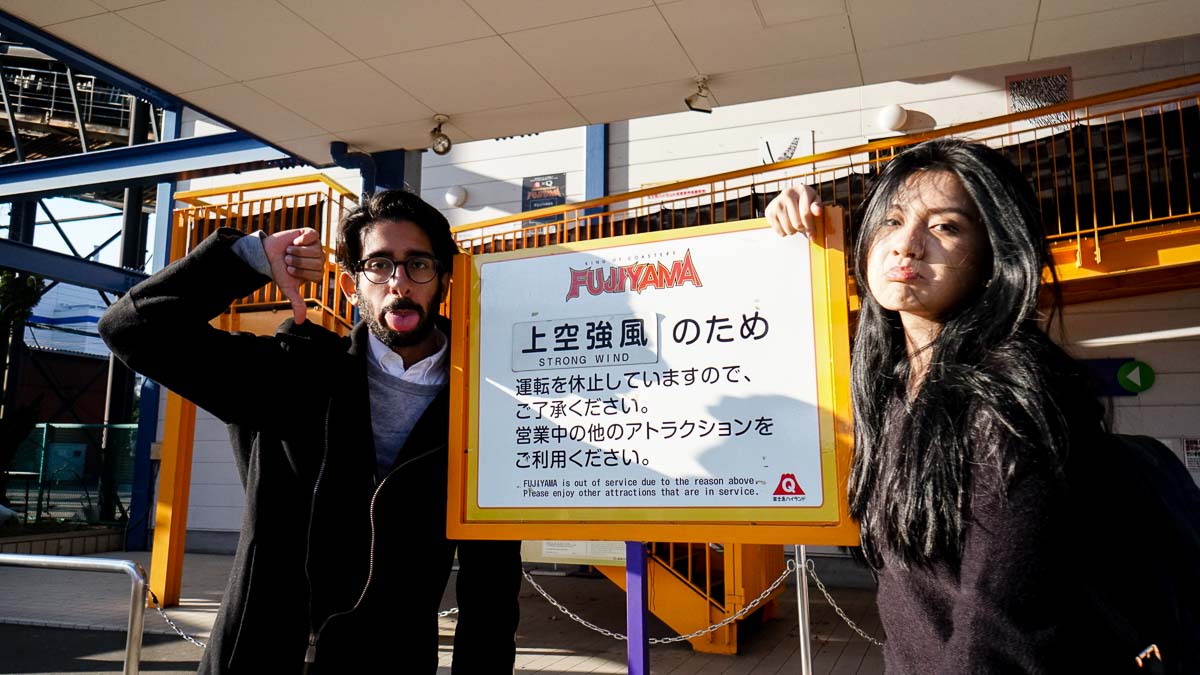 It was quite unfortunate that 3 out of 4 of the park's most famed roller coasters were closed either due to strong winds or construction that day. Be sure to check the 7 day weather forecast and pick the day with the lowest chance of precipitation and avoid days with gusts of wind over 5km/h. I'm pretty sure we'll be visiting once again!
---
Purchase your Fuji Q tickets beforehand
Being an extremely popular theme park for the locals, tickets at the counter can run out on certain days. Most locals either get their web tickets from the official website (only in Japanese) or at the ticketing terminals at selected convenience stores.
Trust us when we say save yourself the hassle of figuring (in Japanese) the different tickets tiers — you can purchase access only tickets, pay per ride or the unlimited ride Free Pass. Just get your tickets online beforehand.
On Klook, you can get the unlimited ride pass for S$66. Plus if it's your first time, get an extra S$5 (~US$3.50) off by using the promo code <TTIKLOOK>!
*Remember to print out your tickets and exchange for a pass at the counter just outside the entrance. No queuing required!
Getting from Tokyo to Fuji Q
Located at the base of Mount Fuji, Fuji Q Highland is 2 hours away from Tokyo by train or a Highway bus that drops you directly in front of the park.
The more time and cost effective option being the latter, here's how to get there.
Highway bus from Shinjuku Station:
1) Check the timetable and make reservations for the Highway bus (as well as the return). The first bus leaves at 7:15 and every 30minutes after that. No payment is required but you'll have to print out the reservation and make payment for the ticket at the bus station counters. Payment can be made up to a month beforehand so either do this way in advance or head to the station 30minutes earlier.
2) From Shinjuku train station, locate the Shinjuku Expressway bus terminal on the opposite side of the road.
3) Head up to level 4 to make payment and collect your reserved bus tickets (if you have not). There will be a door number printed on the ticket.
4) The ride is 1hr 40mins so sit back comfortably and take a quick nap before arriving right at the entrance of Fuji Q Highland Park.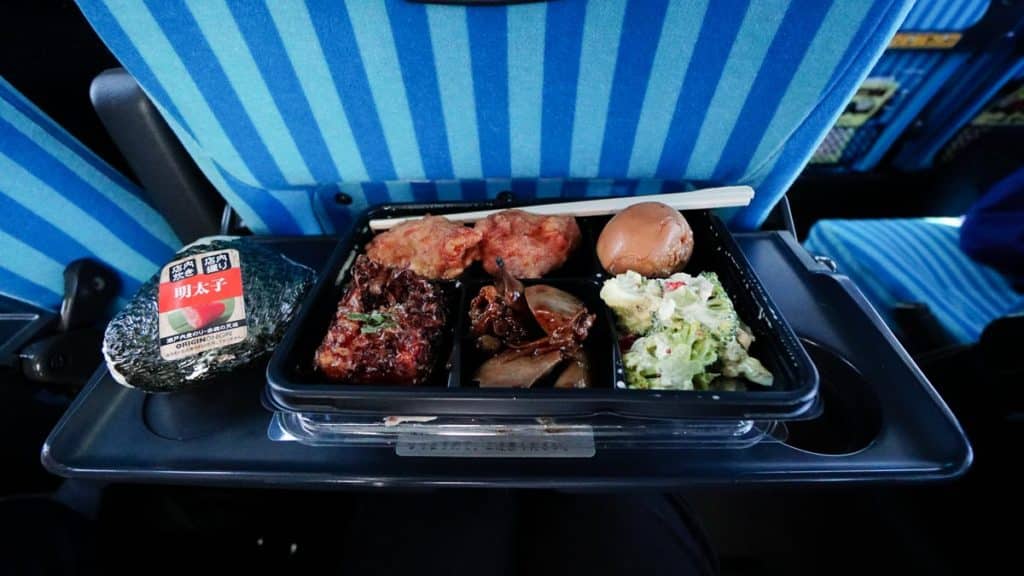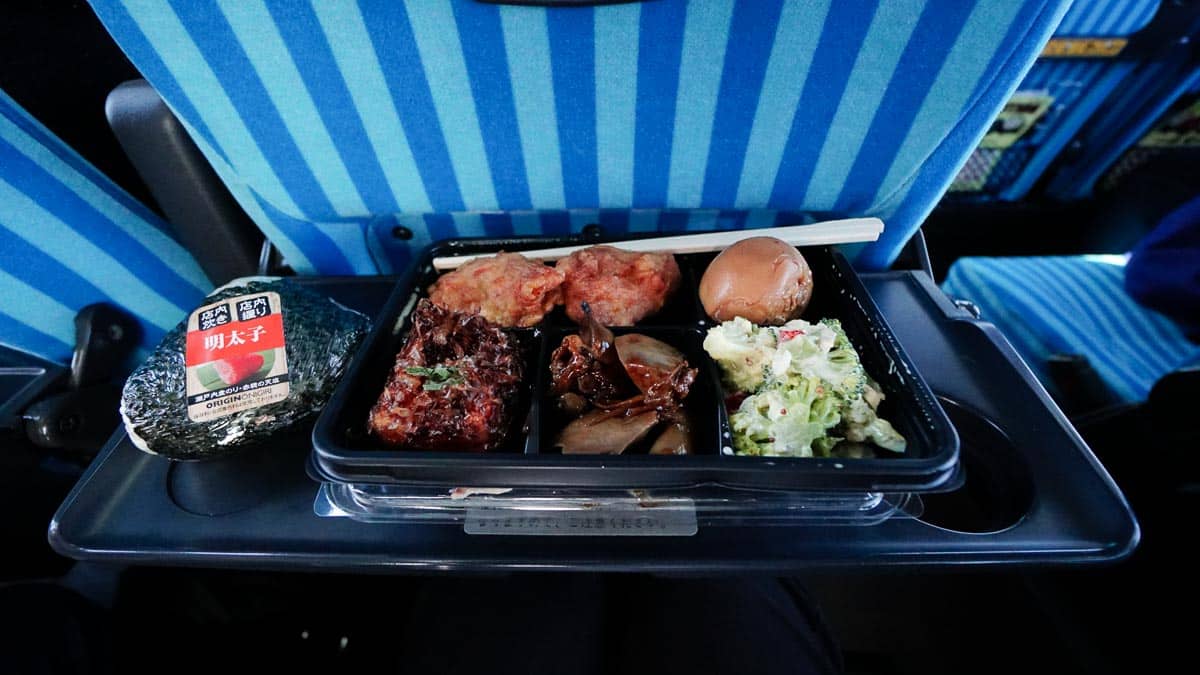 *Pro-tip: There are tables available at the seat so pack some breakfast to have on the bus. Just remember to bring your trash along when you leave.

Hope you found this Fuji Q Highland Guide useful! For other fun things to do in Tokyo, check out our Quirky Tokyo Guide.
Read also: 11 Bucket List-Worthy Rollers Coasters Around the World
Have you been to Fuji Q? What was your favourite ride? Let us know in the comments sections below!
Featured image credit: Tofugu
---
This post was brought to you by Klook.