Since the dawn of Casey Neistat, time-lapses have become a vital part of videography, be it vlogs, music videos, or short films. The awe that time-lapses leave you in is undeniable, as it shows how everything falls into place by speeding things up, and at the same time, slows time down for you to catch a glimpse.
Travel videos too have a knack for featuring these beauties, and as we're a travel blog, it's only fair that we give you our take on the best spots to capture time-lapses in Asia.
1) Tokyo, Japan
Tokyo unites tradition and modernity in a beautiful marriage that one can only stand in awe and appreciate. We personally witnessed these traits during our stint in the metropolis, making our way through each prefecture and noting the key differences between each and every one of them.
Time-lapsing in Tokyo would be rather unique when compared to the other cities in this list, as Tokyo presents you with saturated hues of reds and (almost) blinding flashes of white as the city is always buzzing.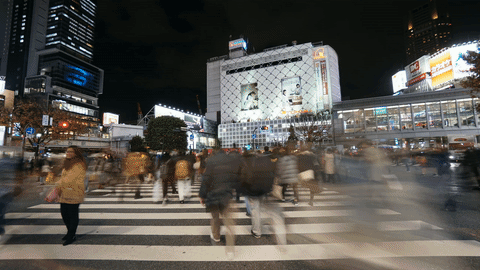 An obvious pick to this list, the Shibuya crossing is listed as one of the busiest crossings on the planet. Bordered by towering buildings lit with dancing neon, the time-lapses you'll get from a session here are remarkable. You'll also have the choice to mix it up and get a birds' eye view (well, almost) from the Starbucks behind.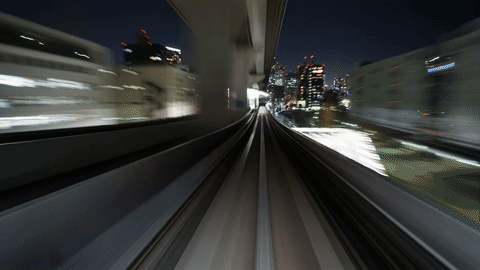 Our second pick in Tokyo would be the self manned trains that run across the rainbow bridge towards Odaiba. Since there's no driver blocking the front view, set your camera up in one of these and watch the light fly by. While you're waiting for the camera to record the magic, be sure to look around as you'll meet a multitude of characters Tokyo provides. From your anime loving cosplayers, to the salarymen and salarywomen rushing for the last train at the end of every day.
Besides these places, a few other points of interest for getting time-lapses in Tokyo are Pachinko Parlors. Pachinko, is a mechanical game that originates from Japan and is commonly used as a low-key form of gambling. Here, you'll see dozens of people staring blankly into these machines. This may not seem like the setting for a time-lapse, but you'll need to look a little closer. There are slight movements in the hands of these players as they sit there for hours, which will provide you with an interesting balance of constant movement and things being stationary. We'll also add in areas such as the Harajuku Street, Shinjuku, and the Meguro River (during the cherry blossom season) as top places to get your time-lapse fix in Tokyo.
For other scenic spots, be sure to check out this article I wrote on falling in love with Tokyo.
2) Hong Kong
Hong Kong, a city that paces like no other. Everything in Hong Kong moves at 2X speed and you're constantly playing catch up if you're not up to the pace of the city. Hong Kong provides you past paced action pans in your time-lapses during the day, and lights brighten up the sky as night falls.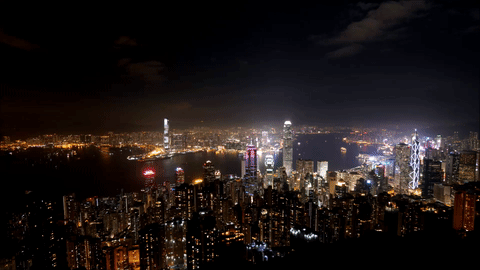 The first spot on our list of spots to time-lapse in Hong Kong is Victoria Peak. This seems like a classic as Victoria Peak gives you an amazing vantage point to the island down below. Here, you'll see Hong Kong in all her glory, noticing her little quirks and fidgets as she takes on the evening in full splendour.
*Pro-tip: While the Peak Tower will offer you an undisrupted skyline view, queues can get pretty long. We say skip the queues, walk down Lugard Road just left of the building.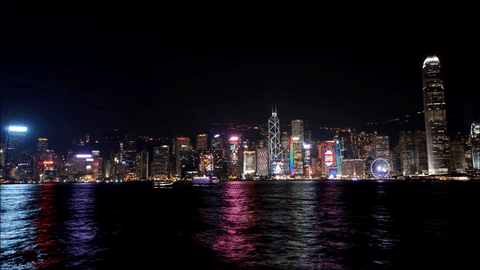 The next spot in Hong Kong shares a similar name as the first, Victoria Harbour. Thousand flock to Victoria Harbour night after night to witness the (rather mediocre) light show.
Here's our opinion, ditch the light show and get a good spot right beside the barricades and set your gear up. You'll get a great view of the island (or mainland, depending which side you're on) and the waterways in between. Junk boats decked in colorful livery zoom past and the night sky will be your canvas, as you'll notice in your time-lapse.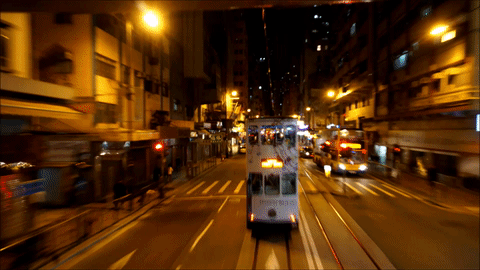 The next best thing in Hong Kong for your time-lapse needs would be to get one while on Hong Kong's signature trams. This time-lapse experience would probably one of the most social (and therapeutic ones) as you'll be able sit out the duration of this time-lapse with your friends. This is how we approached it. We bought some beers, got on the tram, set up the camera, sat back and enjoyed the ride on the tram across the city.
Other spots, which we would recommend for time-lapses in Hong Kong would be Lantau Island, Tai O Fishing Village, Lan Kwai Fong, and the hiking trail that is Dragon's Back.
Read also: Guide to Hong Kong
3) Phnom Penh, Cambodia
The Kingdom of Cambodia is a vital spot in South East Asia if you're chasing timelapses. Besides having rich cultural heritage and constantly appearing on our television screens, the Khmer are a fine bunch who've built a scenic city around the architectural heirlooms of their forefathers.
To kick off your time-lapse chase, start off with a shot at the King Norodom Sihanouk Memorial. A simple structure to commemorate revered leader, this spot provides you the right amount of land and sky to let the Cambodian skies take form through your time-lapse.
As with every city that one visits, the street markets are a definite must-visit on your daily agenda. Set your camera up through Psar Thmei and while you capture Cambodia in its glory, you can indulge in local delights and feast like the Khmer. Here, you'd be able to capture the daily lives of Cambodia's people and see how putting food on the table is very similar across all South East Asian countries.
Other spots such as the Royal Palace and the Silver Pagoda are also sure to give you the shots you need for your Cambodian time-lapse fix.
4) Bangkok, Thailand
Bangkok is a haven for all expats, all throughout the year. The amazing weather, scrumptious food, great shopping deals, and overall fun-factor makes it a must visit spot on (almost) everyone's travel bucket list. During our time in Bangkok, we realized that this city had a lot more to offer besides Pad Thai and overpriced Tuk-Tuk rides. Bangkok had ultimate time-lapse potential. Although we may not have shot impeccable footage during our stay in Bangkok, we've noted down some of the best spots to get time-lapses in Bangkok.
First off, would be the Chao Praya River. This waterway plays host to hundreds of boats buzzing around every day, so getting footage of the waterways, or from one of these boats itself, will results in an interesting piece of footage for you to play with.
A few other notable spots can be seen from the video above. Places such as Damnoen Saduak Floating Market and Soi Cowboy provide a different dimension to your time-lapses, something that you can only achieve through your time in Bangkok.
We'd also suggest you get a time lapse of the crazy traffic here in Bangkok as you're guaranteed to spend some time in it. Last but definitely not the least, you'll want to try and get a time-lapse out of a moving tuk-tuk. This may prove rather tough as there's an obvious space confinement, not to mention the general fiasco that is a tuk-tuk ride, but if you manage to execute it well, you'll have yourself an amazing piece of work. Other locations featured in the video are BTS Stations, Malls, Ekkamai, and the Victory Monument.
And while you're there, check out our guide on what to do in Bangkok other than shopping.
5) Hanoi, Vietnam
Breakfast, the most important meal of the day. Legend says that if you indulge in a breakfast of champions daily, you'll eventually turn into a champion yourself. This legend proves true for the Vietnamese as a taste of Banh Mi in the morning will definitely set the tone for the rest of the day. But, this isn't an article about food (fortunately).
To start your time-lapse journey right here in Hanoi, you should start off at one of the oldest, and most beautiful churches in the land, St. Joseph's Cathedral. Here, you'll be presented with various situations and characters of common folk. Set up a time-lapse for a wedding perhaps, or even one of the traffic (and people) who make their way to this wonderful site to receive visual and spiritual blessings.
Another option would be to visit the Temple of Literature. Home to Vietnam's first university, the Temple of Literature is an amazing spot to get cultured and acquainted with the Vietnamese. The temple offers plenty of visuals for you to get a great time-lapse and is a tourist hotspot. We'd also recommend the streets of Hanoi on the weekends as the roads are closed down for the public to engage in activities.
An added bonus is that the Ho Hoan Kiem Lake is right beside the central area of Hanoi, which provides you with the waterworks needed to create your perfect time-lapse.
Other areas to time-lapse would be The Opera House, Le Duan Street and Ba Dinh Square.
6) Kuala Lumpur, Malaysia
Kuala Lumpur is well known for it's multiracial citizens and great food, and a tower of sorts (Petronas Twin Towers? Never heard of it). It isn't often that you'd find a skyline like the one in Kuala Lumpur, mainly because many skylines don't have three skyscrapers that make an obvious appearance from miles away.
https://vimeo.com/137673356
Since we're on the topic of these towers, a good spot to time-lapse would be from the Petronas Twin Towers itself, as you'll be able to see Kuala Lumpur in all its' glory. KLCC Park would also be a great alternative if heights aren't your thing, as you'll be able to capture the towers and see it from a whole new perspective. If you're a sweet talker, you'll be granted access to Menara Maybank, which has an amazing view of the Kuala Lumpur skyline (towers included).
If you'd want more vivid colors in your work, head over to Chinatown in Petaling Street to see the sights and sounds of what may be Kuala Lumpur's most famous tourist spot. The food, people, and counterfeit goods are sure to dazzle you on your journey to acquire the best time-lapses in Asia.
If you're looking for something rather cultural, head on over to Batu Caves (especially during Thaipusam) to witness feats that one can only imagine. A time-lapse of people making their way up and down the 272 steps that Batu Caves offers to the pilgrims is surely to leave you in awe. Now, imagine those steps, but with multiple cultural offerings that weigh a fair bit (okay, that's an understatement).
If you're in the mood for something rather fashionable though, the Bukit Bintang crossing in front of the Pavillion Mall in Kuala Lumpur will be your poison to pick. Known as a go-to spot during Kuala Lumpur Fashion Week, this crossing is iconic with fashion culture in Kuala Lumpur and is the home to the stylistas of the city. Set your gear up, sit back, and you'll have your own version of a catwalk at your fingertips.
7) Singapore
Last, but definitely not the least, is Singapore. This buzzing little island has a plethora of time-lapse spots for you to get the best out of your journey.
We'd start off at Marina Bay Sands, an obvious spot for every tourist who sets foot on Singaporean soil. The lavishness that is Marina Bay Sands is one-of-a-kind and really puts into perspective how well this little island is doing in the general scope of things. The lights, the skyline, and the body of water around Marina Bay Sands gives you all Singapore has to offer when it comes to time-lapse versatility. A favourite spot would also be from the infinity pool at the highest floor of Marina Bay Sands.
Another good take on time-lapses in Singapore would be to get on the Singapore Flyer and leave your camera running as the ferris wheel takes its course. You'd be amazed at the results, trust me.
Shooting the Singaporean skyline isn't complete without a visit to Clarke Quay, where you'd get a glimpse of the business district's skyline in all it's glory. Sentosa and the dockyards of Singapore's ports are also great spots to capture time-lapses as they provide a different element altogether when it comes to content.
This is our take on some of the best spots to time-lapse in Asia. But, don't take our word for it, go out and explore. If you do, let us know how these spots fared for you in the comment section below!