The Thomson-East Coast Line has 20 stations up and running so we decided to be a tourist in our own country — here are cool finds we discovered!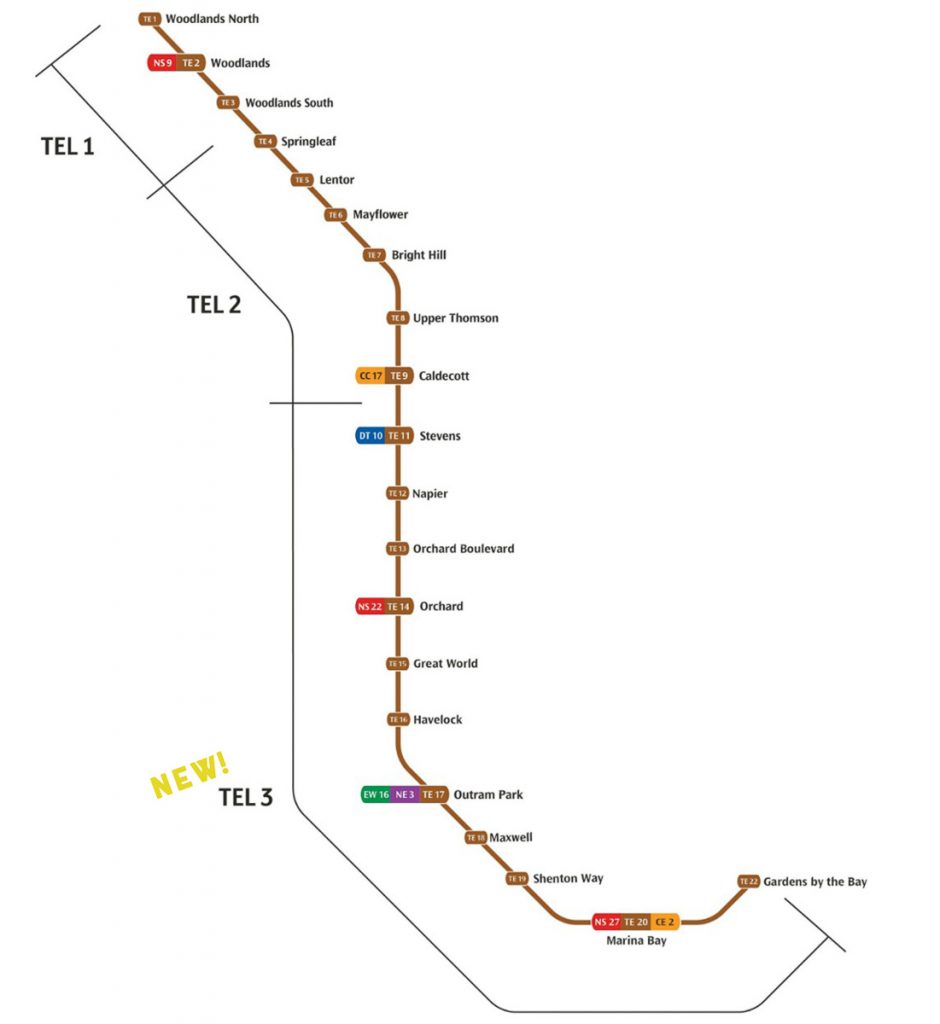 Photo credit: Land Transport Authority
As an Eastie that doesn't live along the Thomson-East Coast Line, the opening of Stage One and Two wasn't exciting. But Stage three meant that it now intersects Outram Park MRT on the green line. This was my chance to be a tourist in my own country.
From the quirky Jurassic Nest Foodhall to the rare tropical flora and fauna in Napier, here are nine cool places I discovered along the Thomson-East Coast Line 🚉
1) Jurassic Nest FoodHall (Gardens by The Bay MRT)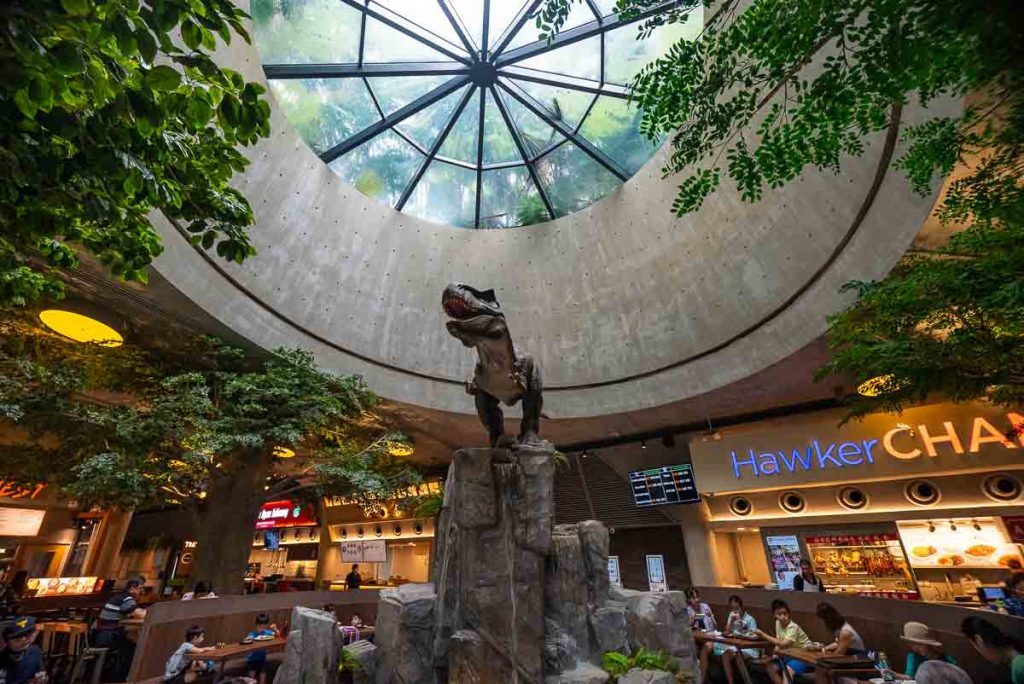 Jurassic Nest FoodHall is Singapore's first dinosaur-themed food hall serving only Michelin-rated food!
Located in Supertree Grove at Gardens by The Bay, this prehistoric food court has a variety of cuisines. Order from icons like Tsuta to Bismillah Briyani — the world's first Michelin-starred ramen and the world's only Michelin-awarded briyani respectively.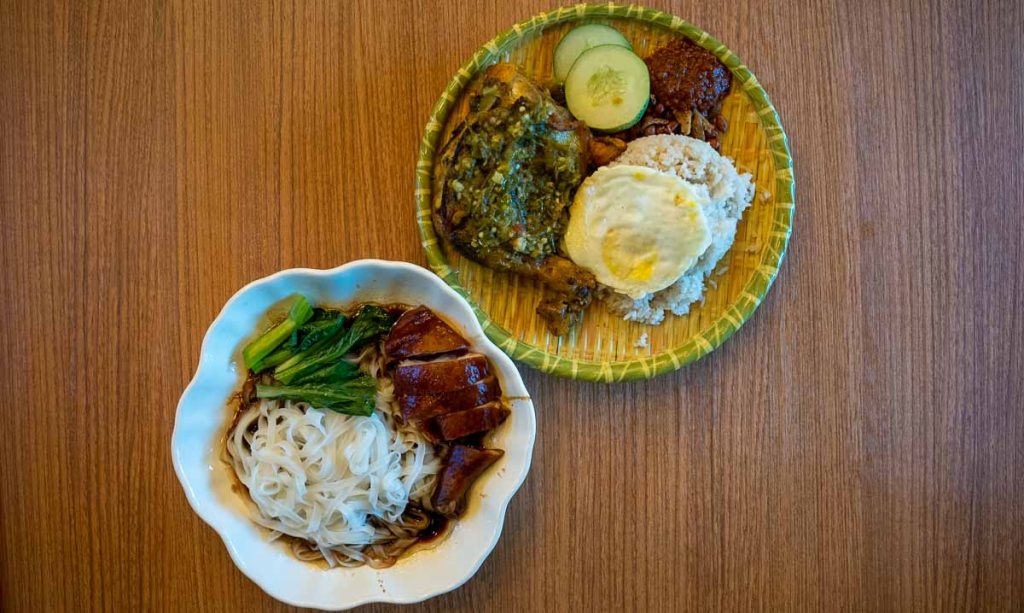 Other Michelin-rated food we tried was the Soya Chicken Hor Fun (S$9.80) from Hawker Chan and Nasi Lemak Cabe Ijo (S$12.90) from Nasi Lemak Ayam Taliwang for a Halal option.
The hor fun packed a punch with its sweet and umami sauce while the mega-saurusly portioned nasi lemak had fragrant rice, juicy chicken and cabe ijo (green chili sauce) which worked up quite a heat!
Fun fact: The T-rex and Brachiosaurus in the indoor section of the food hall comes to life hourly between 12PM – 8PM while the Oviraptor outside does so hourly from 11:30AM – 7:30PM.
Cost: From S$9.80
Opening hours: 11AM – 9:30PM
Address: 18 Marina Gardens Dr, #01-19, Singapore 018953
How to get there: Alight at Gardens by The Bay MRT Exit 1 and walk 20 mins to Supertree Grove
2) Market Blue (Orchard Boulevard MRT)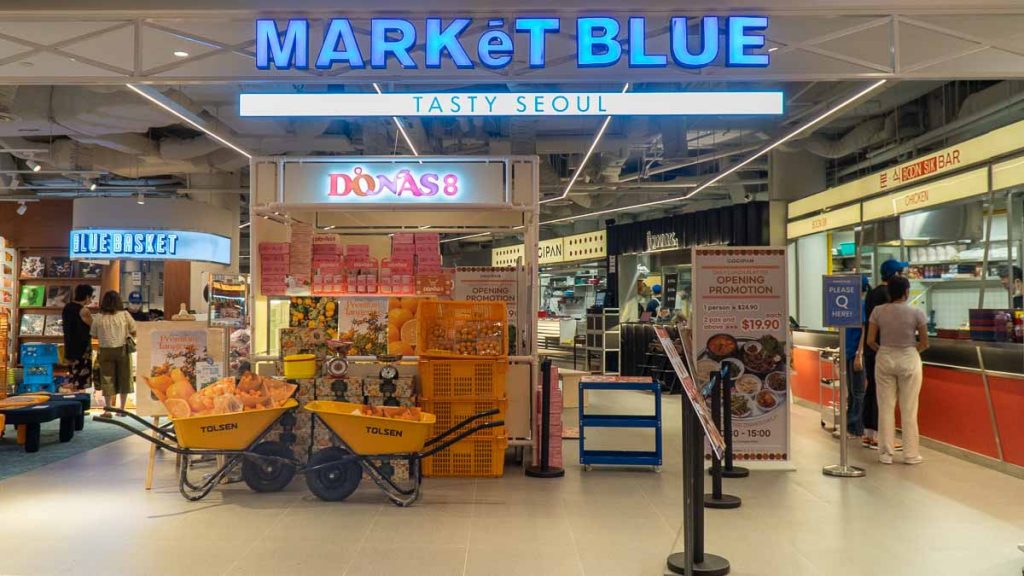 A Korean grocer, food hall and marketplace packed into one space, Market Blue is a one-stop lifestyle mart for a quick Korean fix.
Previously known as the online store Blue Basket, Market Blue is where you'll find direct-from-Korea items without having to wait or pay for shipping!
This physical store is filled with Korean snacks like Honey Butter Chips and Corn Cho (corn snacks covered in chocolate). You can also find traditional Korean homeware, apparel, toiletries and trinkets available on shelves.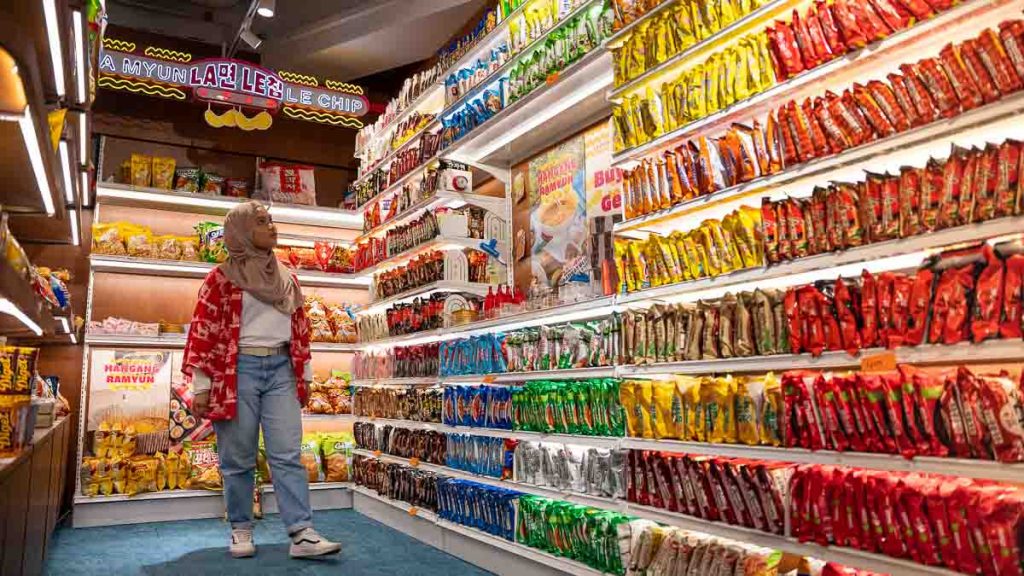 Our favourite section of the retail store is the Ramyeon Library where you can pick and mix different flavours of Korean ramyeon — even those not usually found in Singapore such as Chapaghetti (black bean sauce), Baehongdong Bibim Ramen (sweet pear, spicy and sour), Ottogi Jin Jjambbong Ramen (spicy seafood soup).
Market Blue also has a hawker section selling Korean-style street food like Rose tteokbokki and baekban (Korean home-cooked-style dishes with rice, soup and side dishes) so you can grab a grub after shopping.
Opening hours: 10:30AM – 5PM (food hall closes at 3PM, closed on Mon)
Address: 163 Tanglin Rd, Tanglin Mall, B1-122 123,124, Singapore 247933
How to get there: Alight at Orchard Boulevard MRT Exit 1 and walk towards Tanglin Mall
3) Woodlands Sourdough (Maxwell MRT)
Just a 5-minute walk away from Maxwell MRT, CBD folks can get a quick sourdough fix from Woodlands Sourdough on their way to work!
This second outlet is a smaller version of the Muslim-owned bakery — so you no longer have to travel all the way to Upper Thomson to get your hands on these naturally-leavened bakes!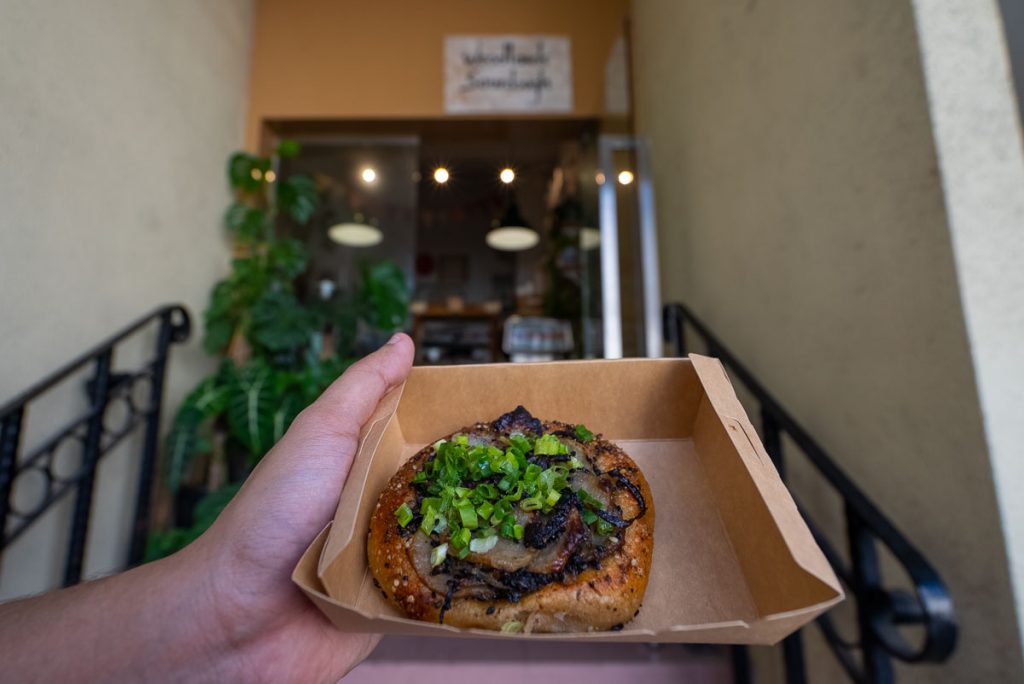 We recommend the Mushroom or Potato Bialy (sourdough bread roll with sauteed onions and mushroom/potato, S$5) for savoury lovers and a Kardemummabullar (sourdough cardamom bun, S$4) if you're looking for a warm spice kick.
Cost: From S$3
Opening hours: 8:30AM – 3PM (Thu – Sun)
Address: Emerald Garden, 31 Club St, #01-02, Singapore 069468
How to get there: Alight at Maxwell MRT Exit 1 and walk 5 mins towards Club Street
4) Sembcorp Coolhouse (Napier MRT)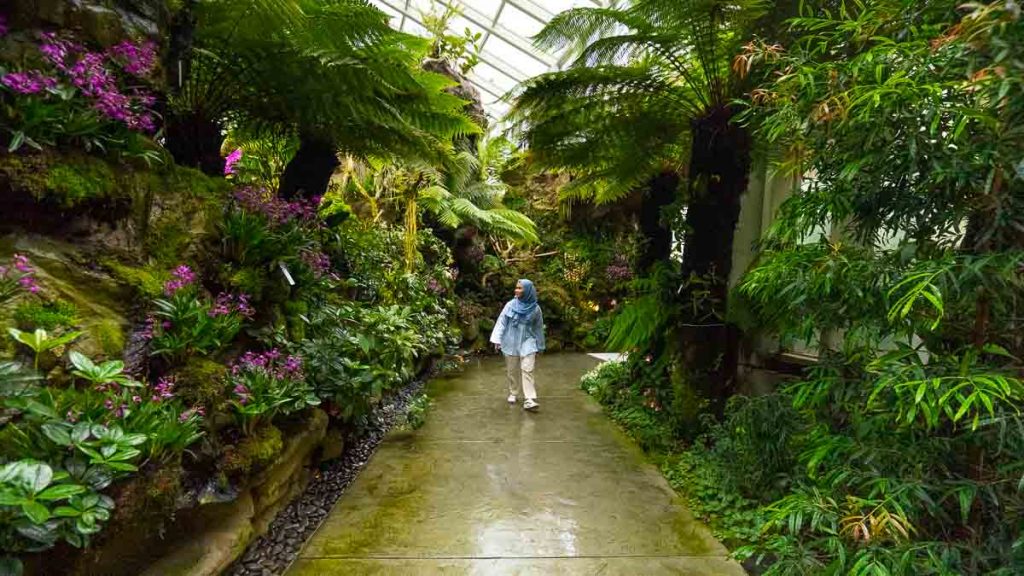 As someone who likes scenic walks but hates the heat, the Sembcorp Cool House was a chilly respite from the very warm Singapore Botanic Gardens.
The Sembcorp Cool House in the National Orchid Garden is part of three display houses at the Tropical Montane Orchidetum — a collection of greenhouses filled with tropical flora and fauna like begonia and several orchid varieties.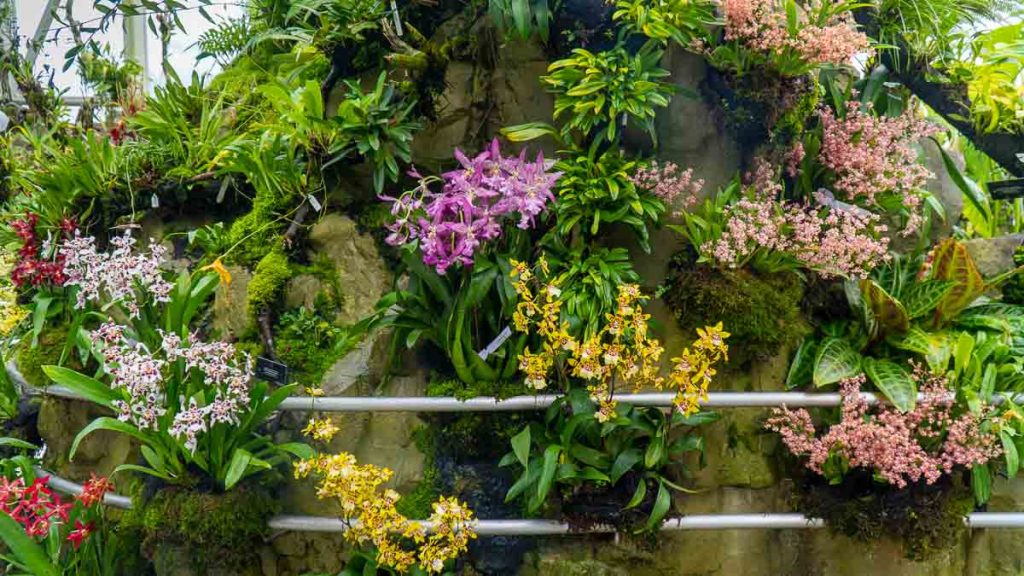 There's really no need to rough it out in an actual forest to see these rare and hybrid species.
Cost: From S$1 for entry into the National Orchid Garden (free til 2 Jan 2023)
Opening hours: 8:30AM – 7PM
Address: 1 Cluny Road, Singapore Botanic Gardens, 259569
How to get there: Alight at Napier Station Exit 1 and walk 15mins towards National Orchid Garden
5) Food Junction With Al Fresco Rooftop Dining (Great World MRT)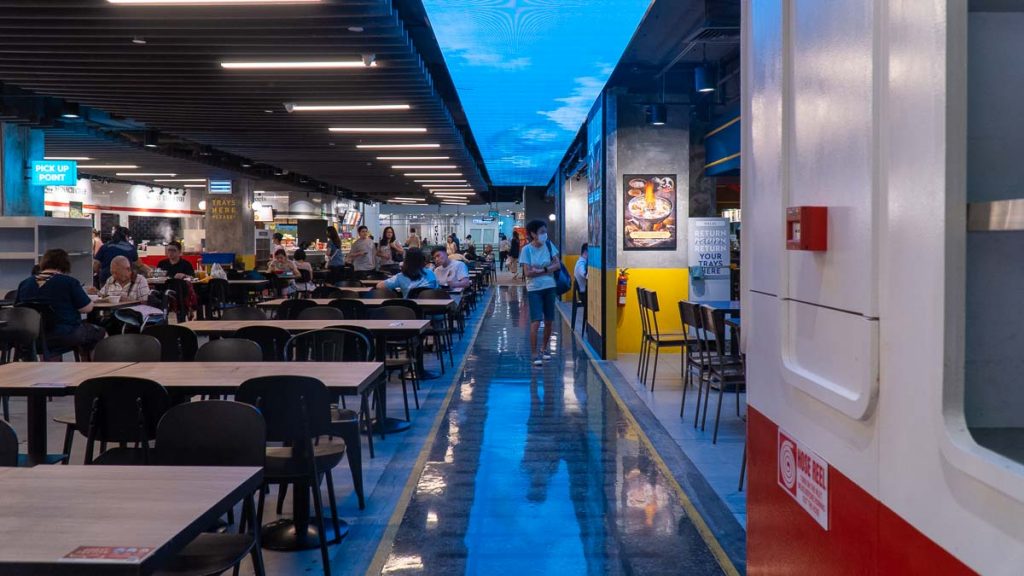 Stop by Great World for a bite at Food Junction. The food court was recently renovated following a railway theme — a nod to Tanjong Pagar Railway Station and the former Great World Amusement Park's Ghost Train ride.
Just like any other Food Junction, enjoy a wide range of options like Mala and Nuodle 牛嘴 一 both halal-certified.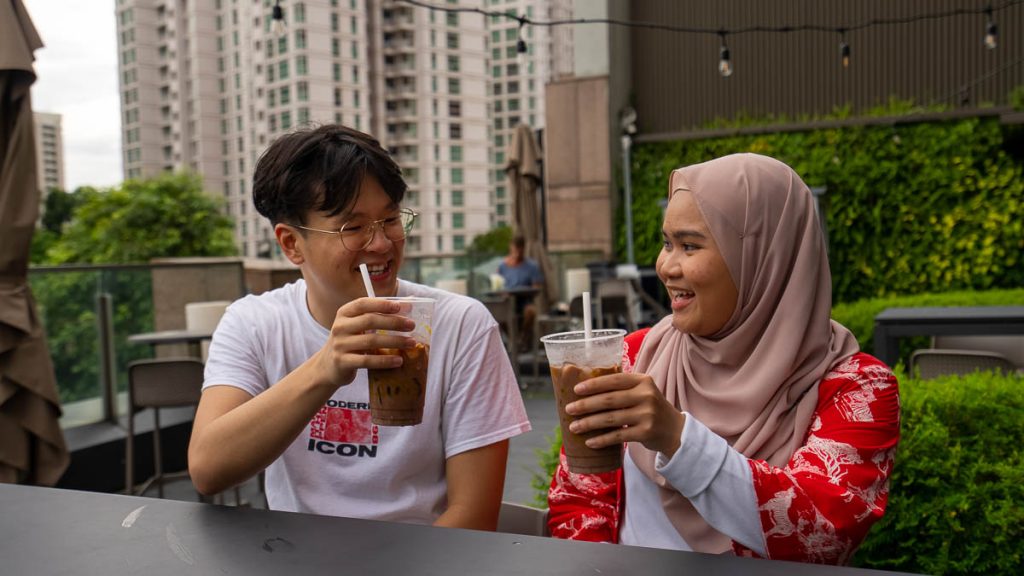 For a change of scenery from your usual food court dining, head out to Al Fresco Rooftop Garden for a meal in the breezy outdoors!
Opening hours: 10AM – 10PM
Address: 1 Kim Seng Promenade, #03-116, Great World, Singapore 237994
How to get there: Alight at Great World MRT Exit 1 and walk 5 mins towards Great World
6) Singapore Chinese Cultural Centre (Shenton Way MRT)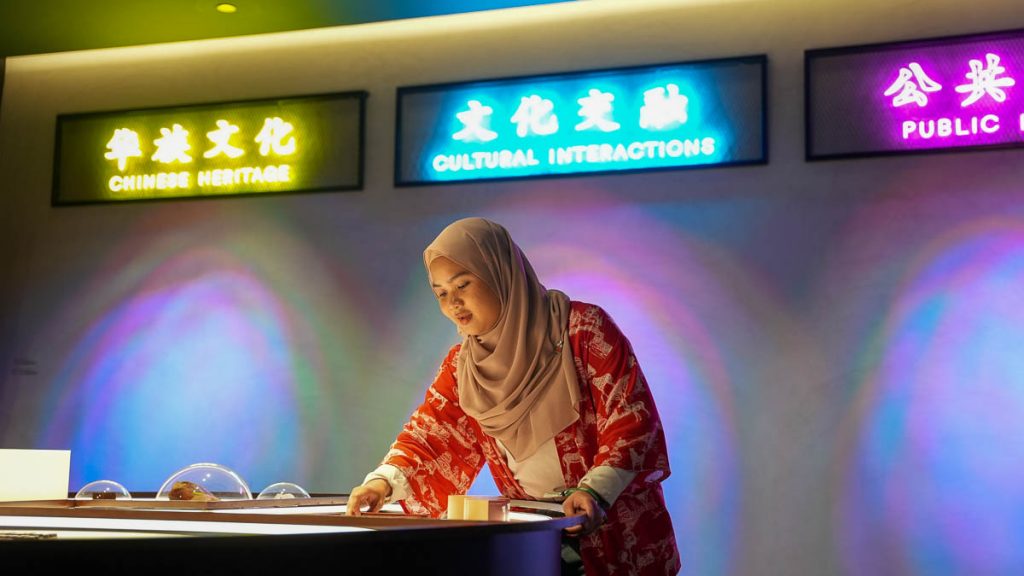 Get cultured at the Singapore Chinese Cultural Centre.
The second floor currently houses SINGAPO人 (pronounced Singapo-ren) — an exhibition exploring the Singaporean Chinese identity. The exhibition is highly interactive with games, videos and polls. Results are recorded through an RFID bracelet registered to your name before entering the exhibition!
Overall, it's a digestible introduction to understanding local Chinese culture such as habits, dialects and ancestry.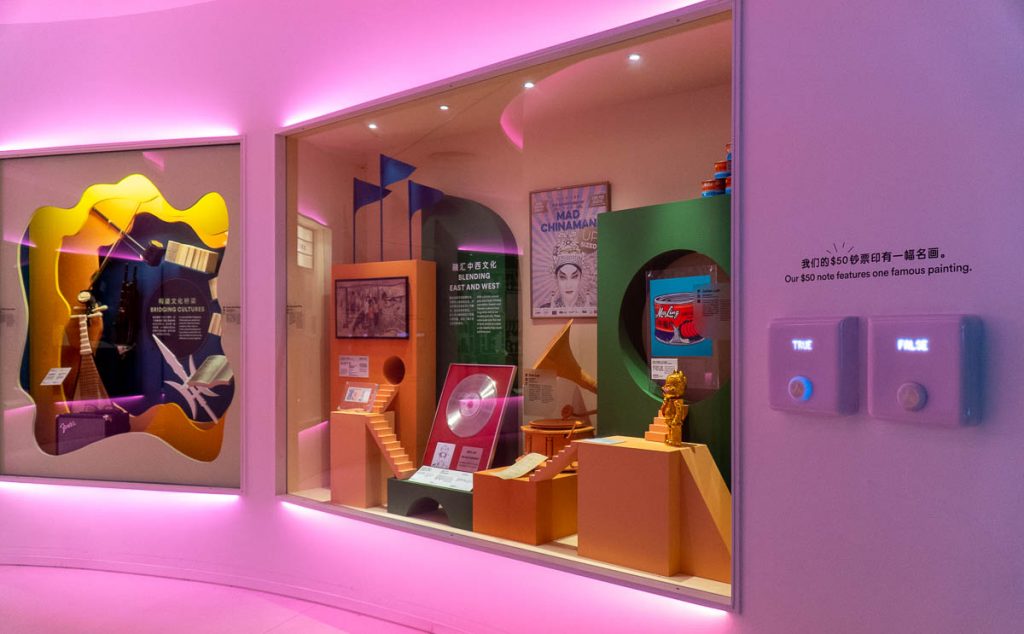 Don't just stop at just one exhibition, though. Explore the other levels of the centre for more exhibitions like 兔gether (pronounced Tu-gether) — a rabbit-themed art installation on the rooftop garden, to welcome the Year of the Rabbit!
Entrance fee: Free
Opening hours: 10AM – 8PM (opens 2PM on Mon)
Address: 1 Straits Blvd, Singapore 018906
How to get there: Alight at Shenton Way MRT Exit 2 and walk 4 mins on Park Street towards Shenton Lane to get to Union Street
7) Keong Saik Bakery (Outram Park MRT)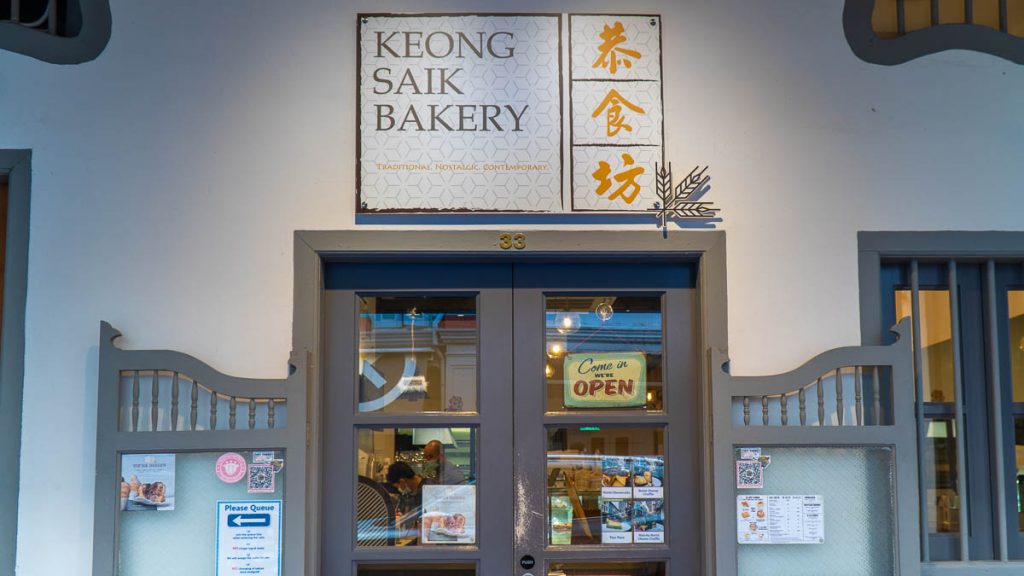 A perfect blend of old-school kopi culture and modern-day boulangeries, Keong Saik Bakery offers an elevated coffee shop experience.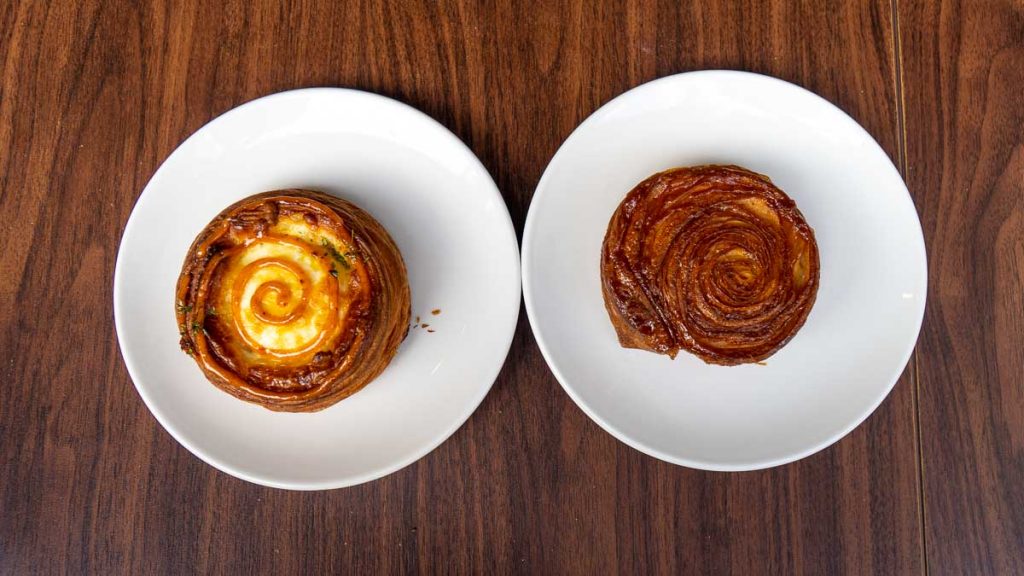 You'll find classic viennoiseries (laminated pastries) and those with traditional flavours here. We tried the Kouign-amann ($3.90) which was flaky and sweet from the caramelised sugar crust and the Otak Danish (S$4.80) — they were very generous with the otak-otak!
Keong Saik Bakery also serves up your usual Kaya Toast and Soft Boiled Eggs if you're looking for a classic Singaporean breakfast.
Cost: From $3.50
Opening hours: 8AM – 8:30PM
Address: 33 Keong Saik Rd, Singapore 089140
How to get there: Alight at Outram Park MRT Exit 4 and walk 5mins towards Keong Saik Road
8) Gyūnion (Shenton Way MRT)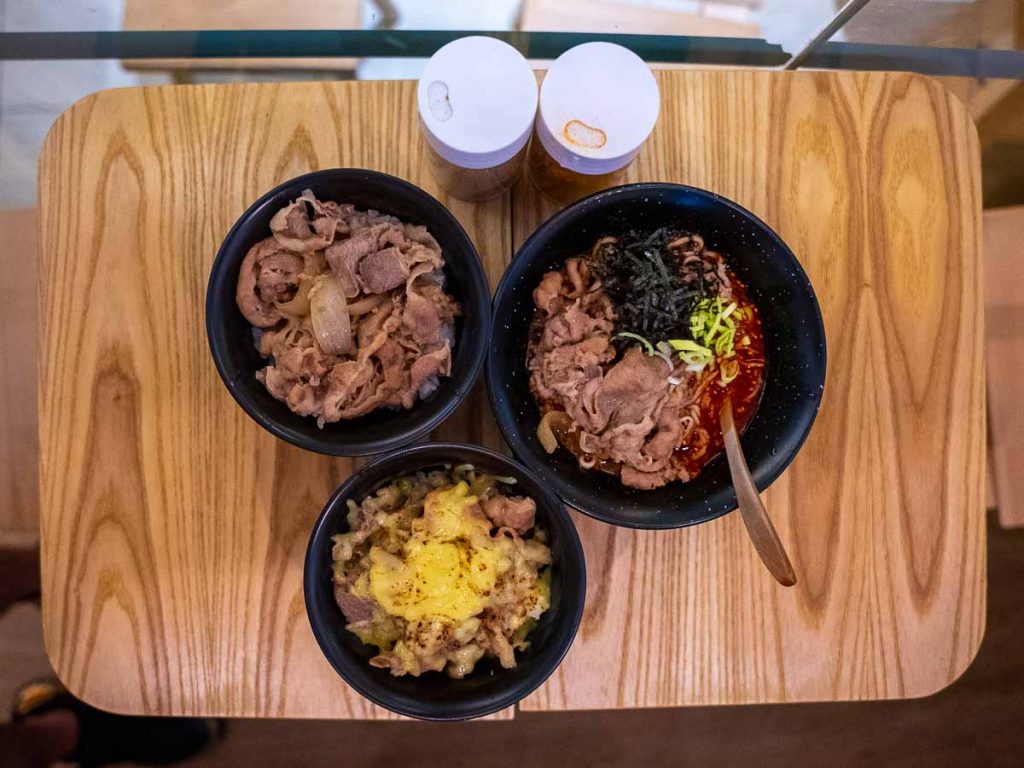 Gyūnion is a popular Muslim-owned lunch spot in the heart of the CBD selling affordable Japanese-inspired donburi and ramen.
Tucked in the corner of Oxley Tower's second floor, the establishment's tiny — but the meal is hearty.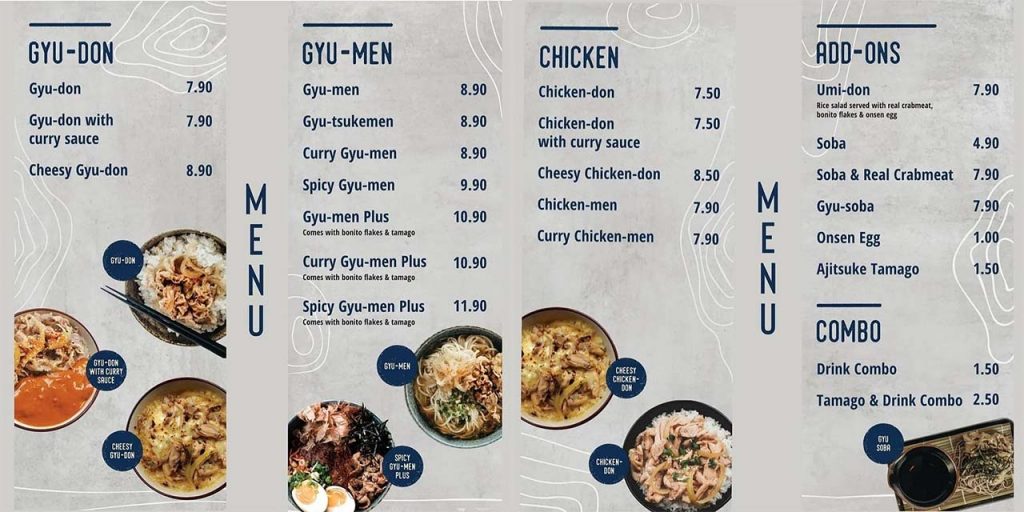 Photo credit: Gyūnion via Facebook
We had the Spicy Gyu-men (S$9.90) and Gyu-don (S$7.90), but our favourite was the Cheesy Gyu-don (S$8.90). The fluffy rice, melty cheese and sweet-tasting tender beef really hit the spot.
Dine-ins are limited to only eight seats. It's a one-man-show — literally one singular guy cashiering and prepping the food — but don't worry, it moves fast. If you're rushing for time, opt for takeaway.
Cost: From S$7.90
Opening hours: 12PM – 6:30PM (closes 8PM on Thu and Fri, closed on Sat and Sun)
Address: Oxley Tower, 138 Robinson Rd, #02-03 Oxley Tower, Singapore 068906
How to get there: Alight at Shenton Way MRT Exit 6, take the elevator to level 2 of OUE Downtown and walk straight following the bridge to Oxley Tower
9) Sustainable Singapore Gallery (Gardens by The Bay MRT)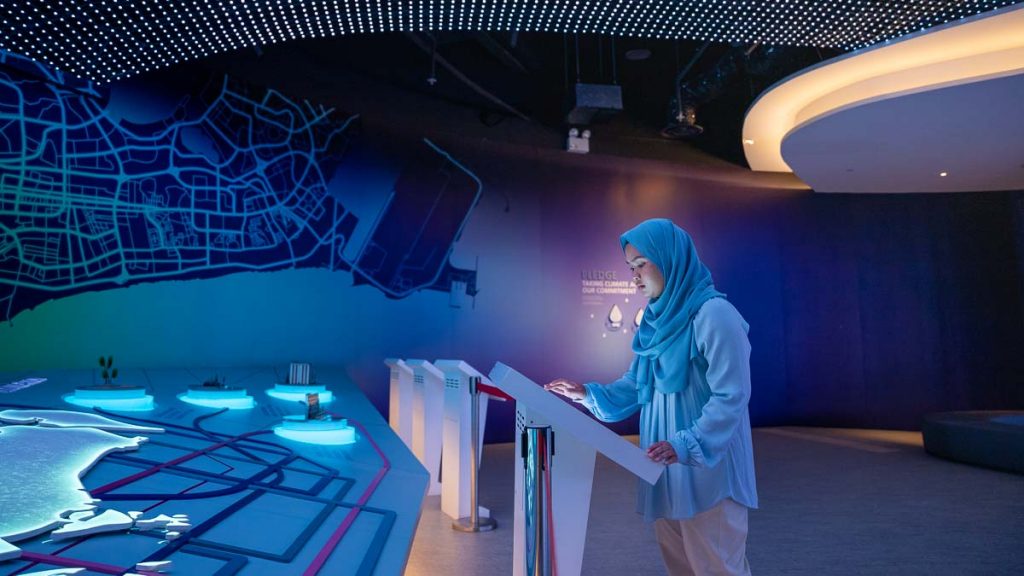 Prior to the opening of the Thomson-East Coast line, getting to Marina Barrage involved a 30-minute walk from Bayfront MRT. It's now just a 5-minute walk from Gardens By The Bay MRT!
Other than having picnics and flying kites at Marina Barrage, the Sustainable Singapore Gallery is worth a visit.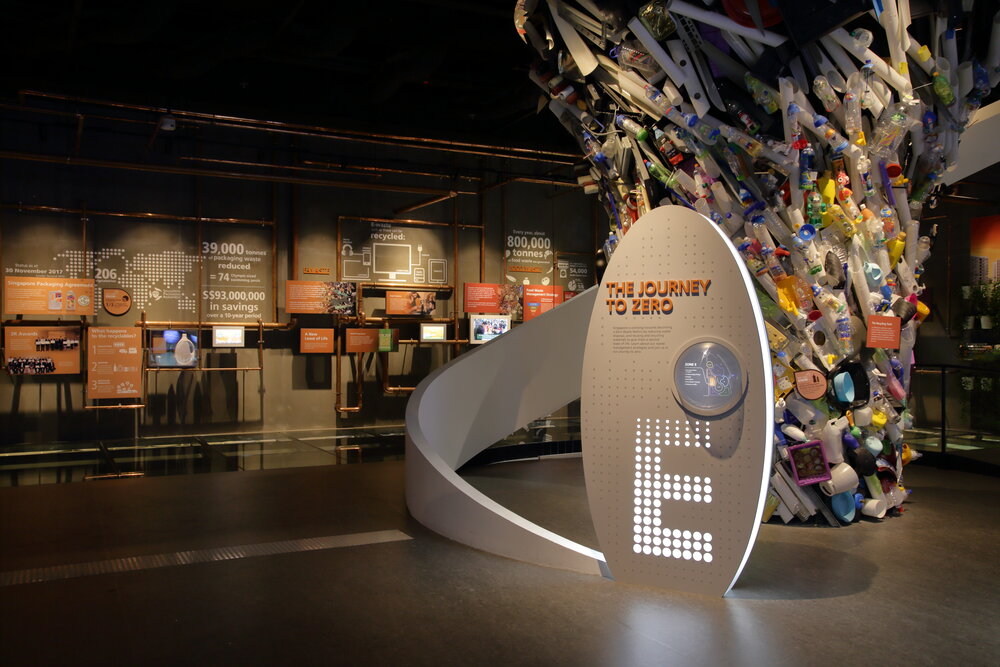 Photo credit: Sustainable Singapore Gallery
Walk through the different zones to learn about climate change in Singapore. We had fun understanding Singapore's sustainability efforts in interactive ways such as doing quizzes on carbon footprint, pedalling on stationary bikes to learn about car-lite roads and using touch screens to test which types of waste can or cannot be recycled.
Entrance fee: Free
Opening hours: 9AM – 6PM (closed on Tues)
Address: Level 2, Marina Barrage, 8 Marina Gardens Dr, Singapore 018951
How to get there: Alight at Gardens By The Bay MRT Exit 2 and walk 5 mins
Explore new experiences along the Thomson-East Coast Line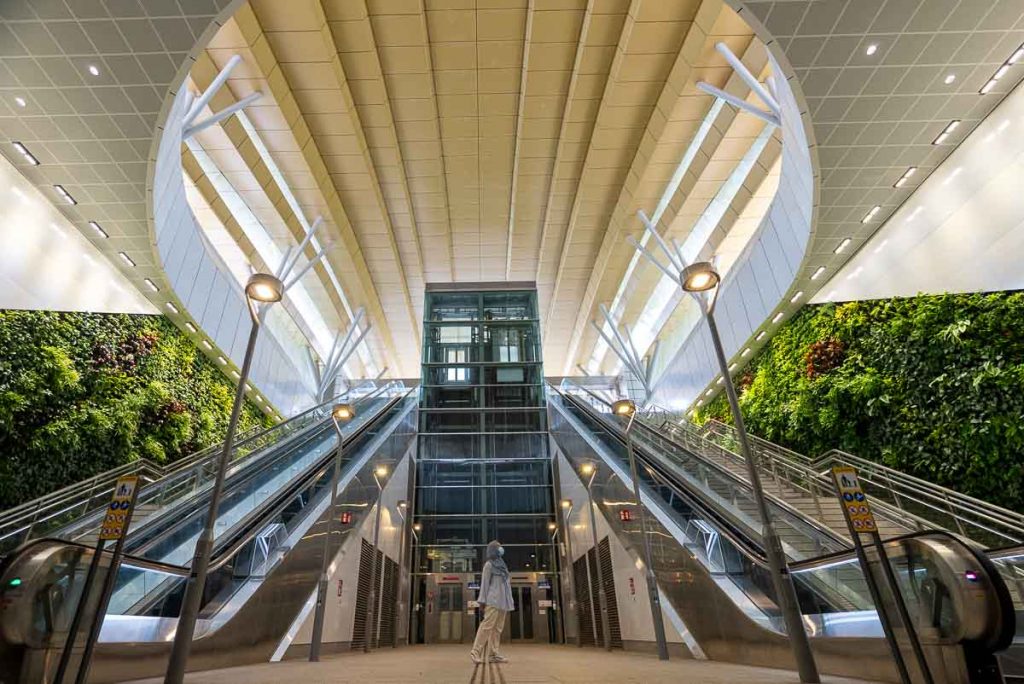 As a local, it's easy to forget that there are still new experiences and sights yet to be discovered in Singapore. I'm one to confine myself to familiar places so I was giddy with excitement when I saw a T-rex in a food court and a whole wall of ramyeon.
Despite being a small nation, it seems that Singapore always comes up with new things for us to explore. It was nice to experience this — once considered — ulu side of Singapore with fresh eyes.
These areas of Singapore were previously inconvenient for me to get to — but it's now so much easier with the new stations along the Thomson-East Coast line.
Though it'll still take some time for the Thomson-East Coast line to open fully, there are already 20 stations up and running!
Know any other cool places along the Thomson-East Coast Line? Let us know in the comments below!
---
Like what you see? Follow us on Facebook, Instagram, YouTube, and Telegram for more fun things to do in Singapore!