Read till the end to find out how you can score some epic travel deals for your next adventure in Taiwan!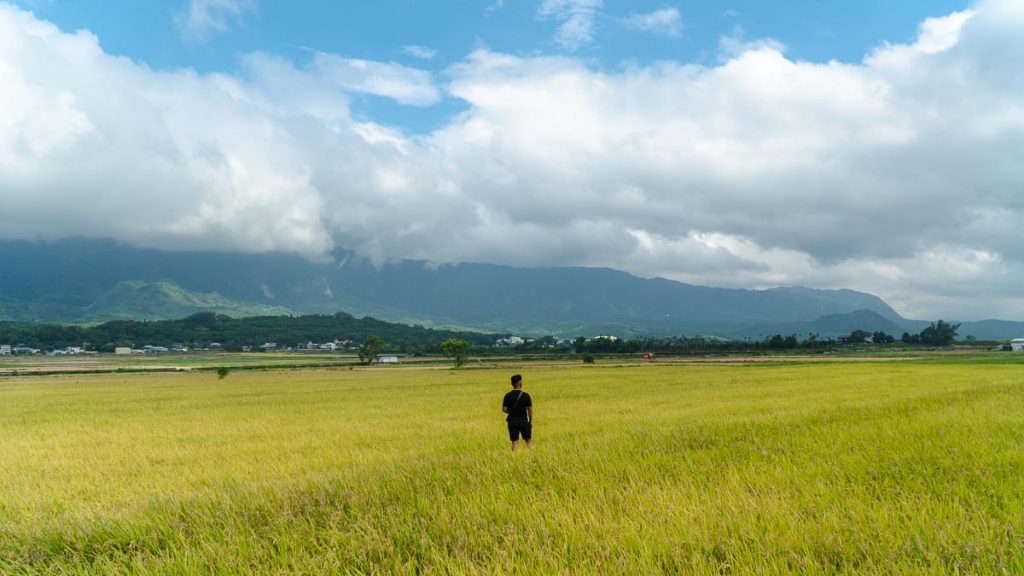 When I think about Taiwan, my mind drifts to mouth-watering Taiwanese food, cheap shopping and of course the sparkling Taipei city skyline. Adventure and adrenaline were the last things I expected — and I was immediately proven wrong after going on a whirlwind five-day trip to Eastern Taiwan!
I live for the thrill, so I was delighted to find out that there's an array of activities for an adrenaline lover like me to choose from in Taiwan — across the land, sea, and sky! Plus, they're relatively more affordable compared to other countries. For example, paragliding in New Zealand would've cost ~S$204/pax while in Taiwan it's cheaper at ~S$124/pax.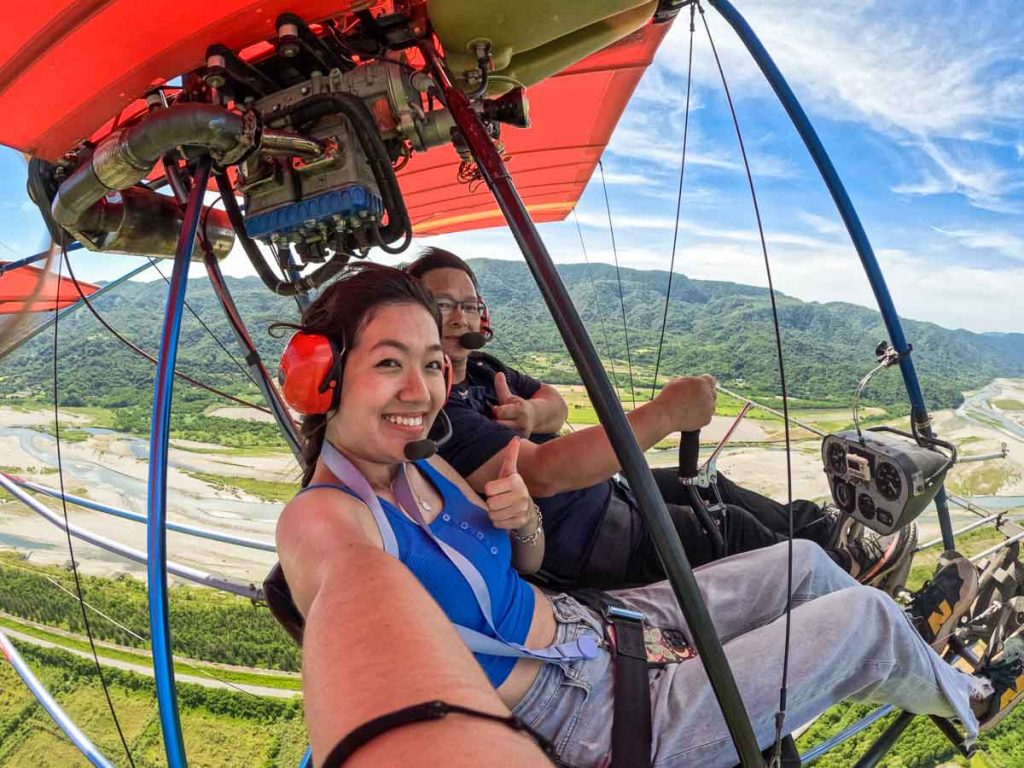 If you're ready to embark on some crazy adventures in Taiwan, here's our list of 13 unforgettable things to do:
*Pro-tip: Save on flights, accommodations, and experiences with Citi travel deals — including up to 3% off all cabins and all booking classes with China Airlines, up to S$100 off hotels and flights on Trip.com, or S$10 off bookings on Klook with Citi Credit Cards! More on this at the end 😉.
1) Scuba dive in blue waters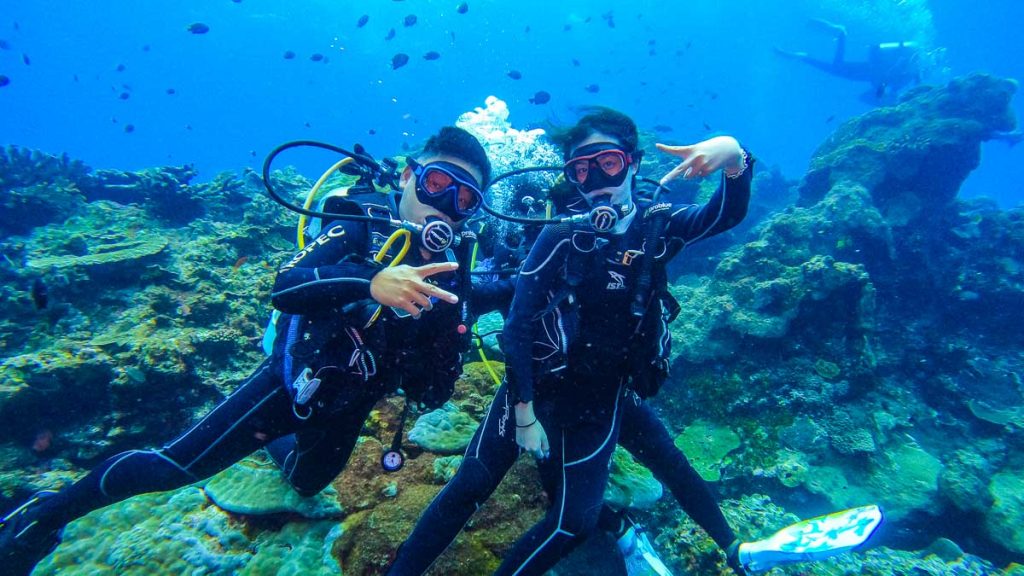 Taiwan is an underrated diving destination — with its spectacular coasts and offshore islands proving that life is indeed better under the sea.
Just an hour's ferry from Taitung City, Green Island (绿岛) has clear waters with excellent visibility and many stunning dive sites. Fun fact: It's also home to the deepest functioning underwater mailbox in the world!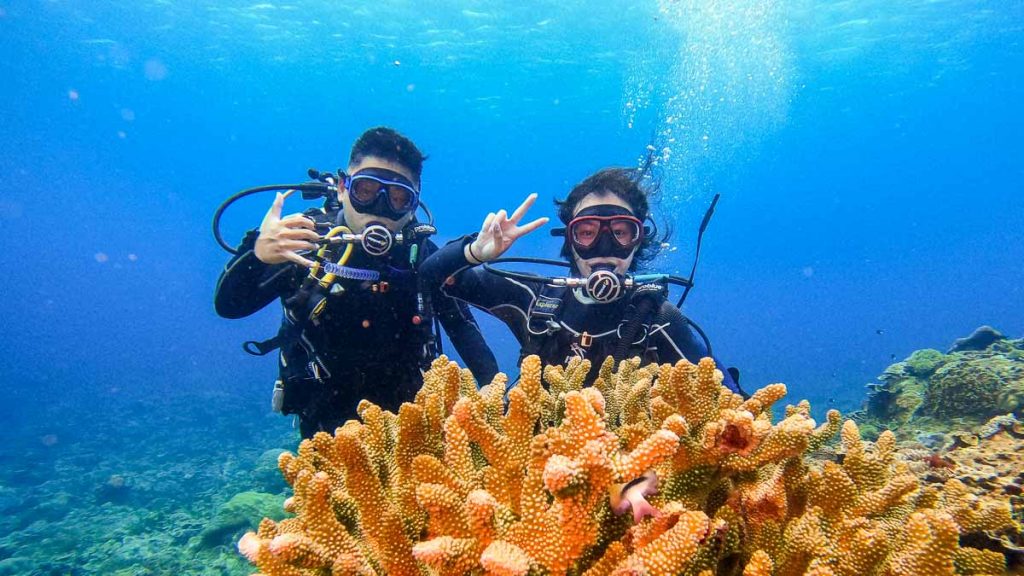 While sessions are available for all skill levels, I opted for the beginner level as it was my first time diving! I felt quite nervous at the start but a one-on-one discovery scuba diving session with a guide helped me safely ease into wild unchartered waters 🧜‍♀️.
We spent half an hour exploring the vibrant corals with fishes that were every colour of the rainbow — we even spotted an emo nemo! Sea turtles and hammerhead sharks are also common sights in the area but alas, we weren't that lucky.
Cost: ~$101.20/pax (incl. GoPro camera footage)
Activity timings: 7AM, 9AM, 11AM, 1PM, 3PM, 5PM
Meeting point: No. 10-3, Bay Dive, Lvdao Township, Taitung County, Taiwan 951
*Pro-tip: Stay overnight on Green Island to explore its stunning landscapes without feeling the pressure of catching the return ferry! Book your accoms with a Citi Card to enjoy up to S$100 off on Trip.com, or up to 22% off on Agoda with a Citi Mastercard®
2) Soar over mountains on an ultralight light aircraft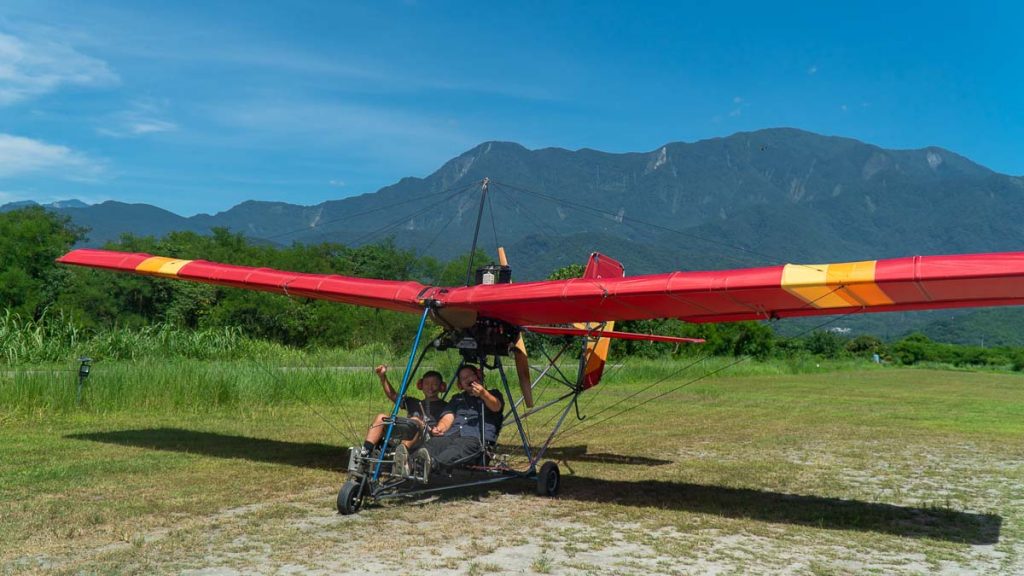 Hualien already has breathtaking views of the mountains and valleys from the ground but Sunlight Aircraft (日光輕航機場) takes it to the next level — the very top to be precise!
Warning though: flying across the sky in an open aircraft is not for the faint of heart.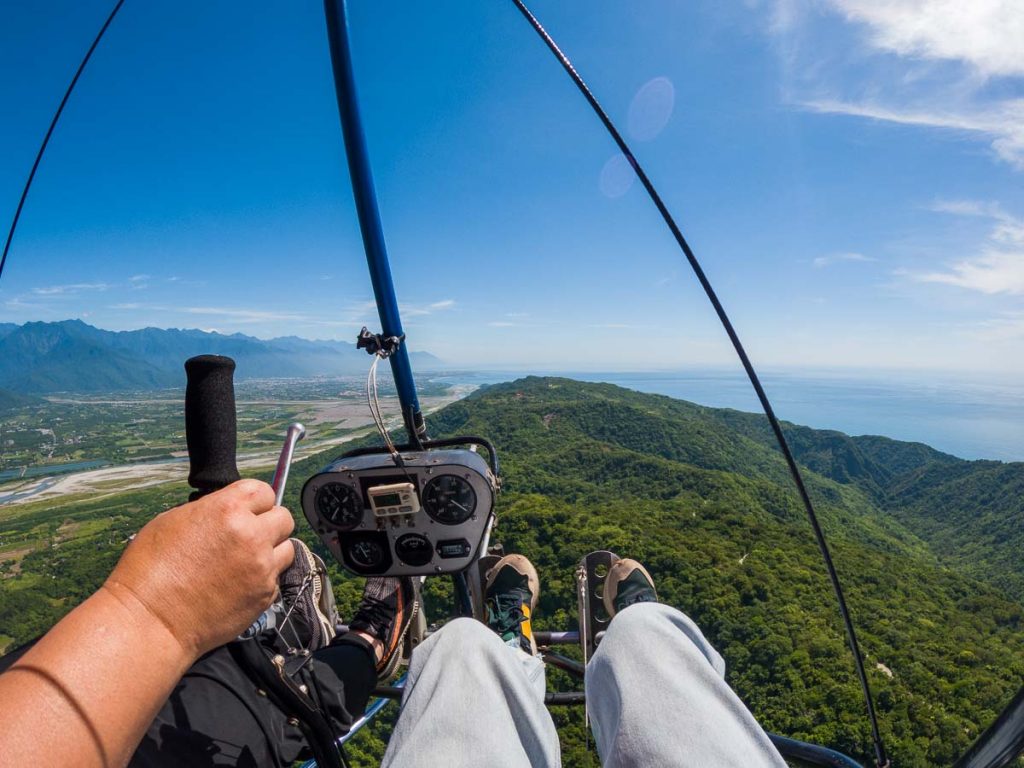 Nonetheless, the feeling of the cool wind whipping around me while being front row to an unforgettable view was definitely a pinch-me-moment. At one point, we were flying just above the surface of a river — the closest thing to a magic carpet ride!
There are different flight paths and durations to choose from and we opted for the 20-minute flight which flew over Hualien's East Rift Valley and the Pacific Ocean (NT$3,500/pax).
Cost: From NT$2,000
Activity timings: Varies
Meeting point: No. 191, Ln 21, St 600 Fengping Rd, Shoufeng Township, Hualien City, Taiwan 97443
*Pro-tip: Book your activity with the Citi PremierMiles Card to earn 2 miles with every S$1 spent overseas!
3) Go on a whale and dolphin-watching tour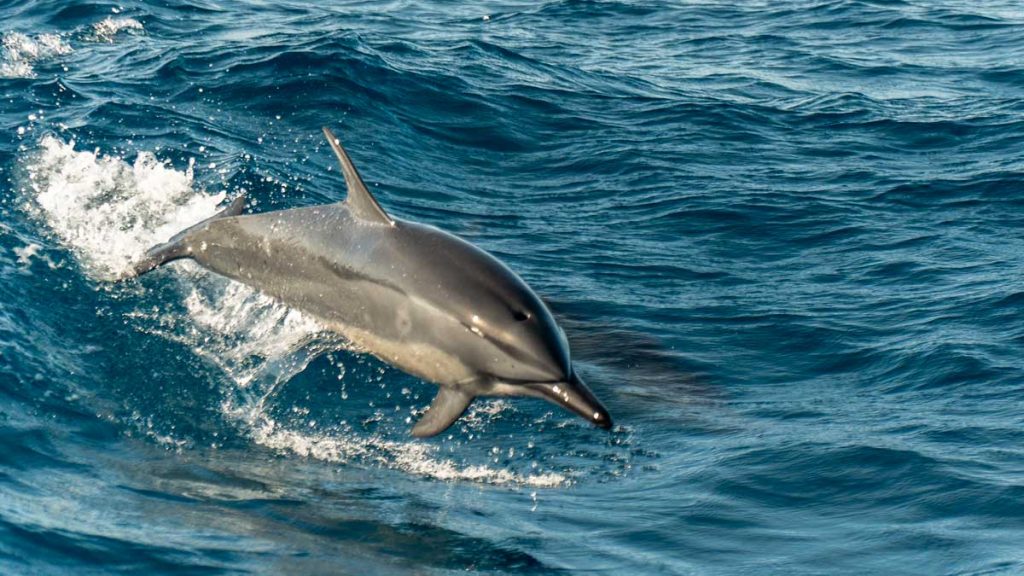 Thanks to the migratory fishes that pass through Taiwan's East Coast, you don't have to travel to the Maldives to experience a magical whale and dolphin spotting cruise!
Turumoan Whale Watching Company in Hualien does several trips daily and we were led by a marine expert, which made it feel more educational than touristy. For example, we learnt that spinner dolphins got their name for being its acrobatic tendency to spin multiple times mid-air for oxygen!
The only dolphins I'd ever seen previously were those in theme parks or aquariums so I didn't anticipate seeing so many pods chasing our boat! Bottlenose and Risso's dolphins were leaping out just metres away, while Spinner dolphins flipped — a core memory for sure 🐬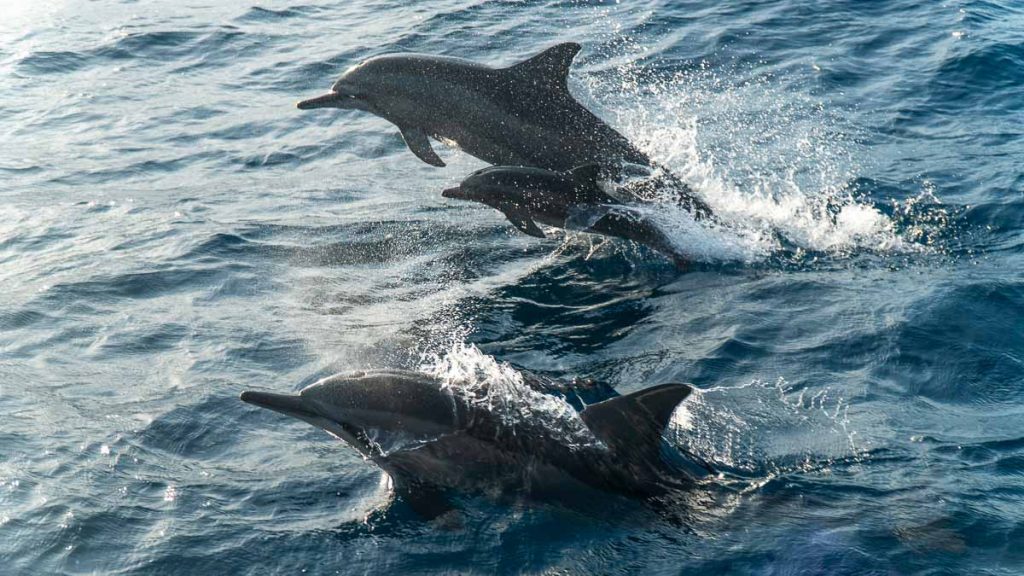 Dolphins are around all year but if you want to increase your chances of spotting Orcas and Humpback Whales, visit during the migratory season (April – Nov).
Although take note that as these are wild creatures, sightings are not confirmed — we visited during the Sperm Whale season (May – Sep) but didn't manage to spot the elusive whales 😭.
*Note: For those driving, report to the tour operator's office first for a mandatory safety briefing before driving over to the pier for the tour.
Cost: ~S$33/pax without transfer, ~S$38/pax with transfer
Tour timings: 6:30AM, 8:30AM, 2PM, 4PM
Meeting point: Huadong No.15, Hualien County, Hualien City, Taiwan 970
*Pro-tip: Get S$10 off Klook activity bookings with a min. spend of S$150, or 50% off KKday bookings (capped at S$50 per transaction) with Citi Cards!
4) Hike a stunning "Great Wall"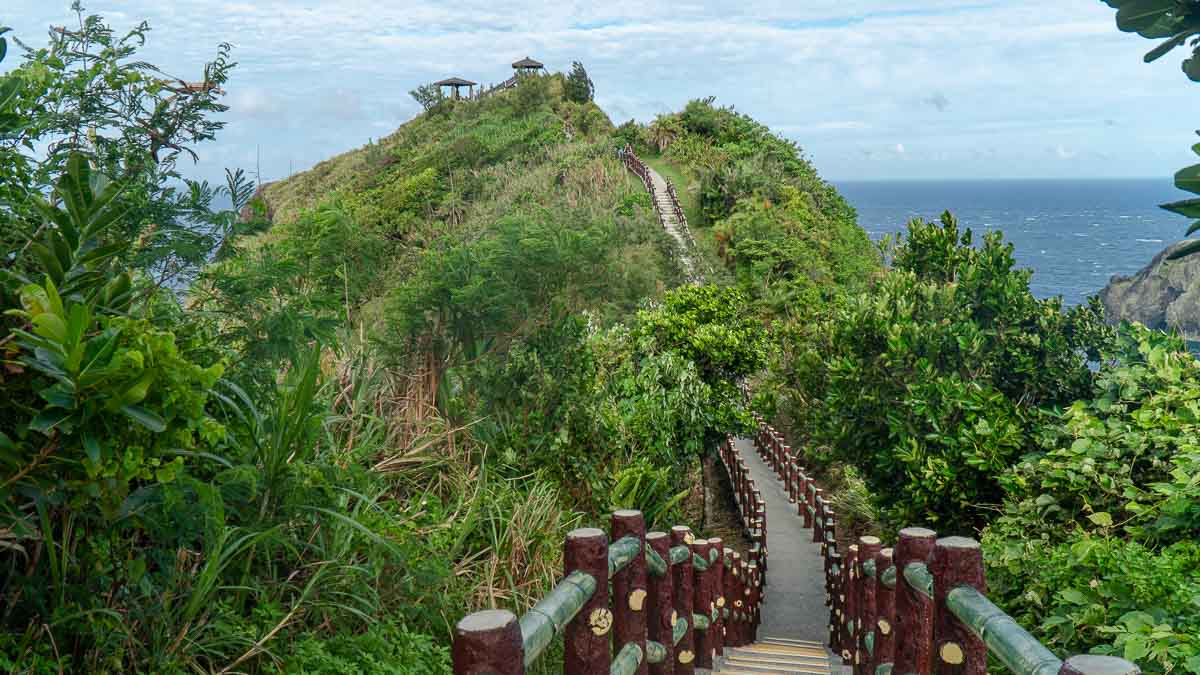 While it may not resemble its Beijing counterpart exactly, the views from Green Island's Little Great Wall (小長城) are equally as impressive.
Perched on the edge of a cliff, the 400m trail features winding steps that lead to a pagoda overlooking the Pacific Ocean.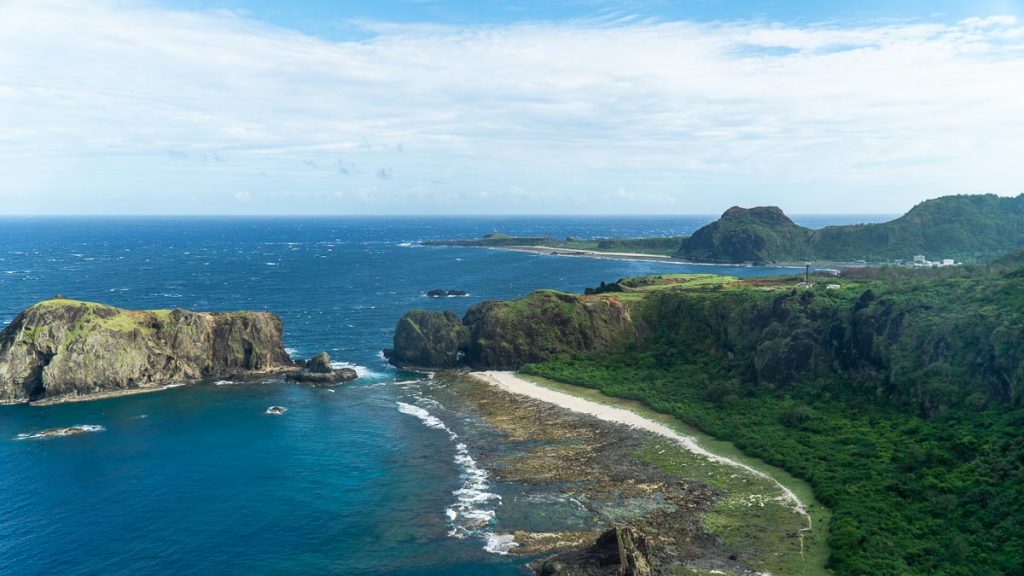 The trail boasts stunning views of Green Island's Haishenping (海參坪), a crescent moon-shaped bay with rock formations that resemble a Pekingese Dog and Sleeping Beauty! I could definitely make out Sleeping Beauty Rock but I'm iffy on the dog.
The locals recommend the Little Great Wall as a stargazing or sunrise spot so if you're looking for a family-friendly activity, this trail should be added to the list!
Entrance fee: Free
Opening hours: 24 hours
Address: Lvdao Township, Taitung County, Taiwan 951
5) Tuktuk across the countryside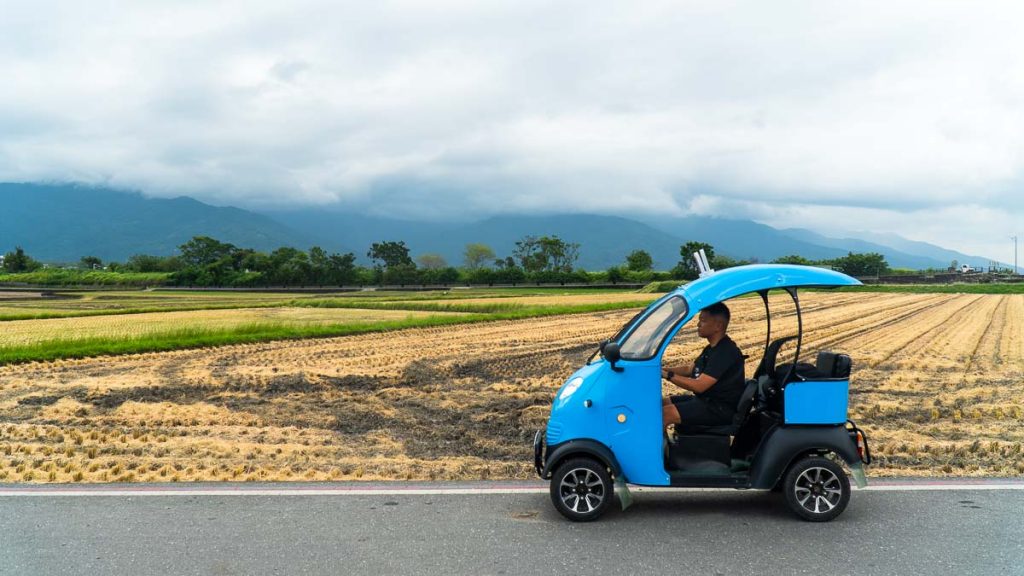 Ever seen a tuktuk outside of Thailand?
We rented a tuktuk to explore the popular rice fields in Chishang, and it was surprisingly easy to drive. While the speed isn't as fast as Thailand's, there's something thrilling about revving past fields with the wind in my hair.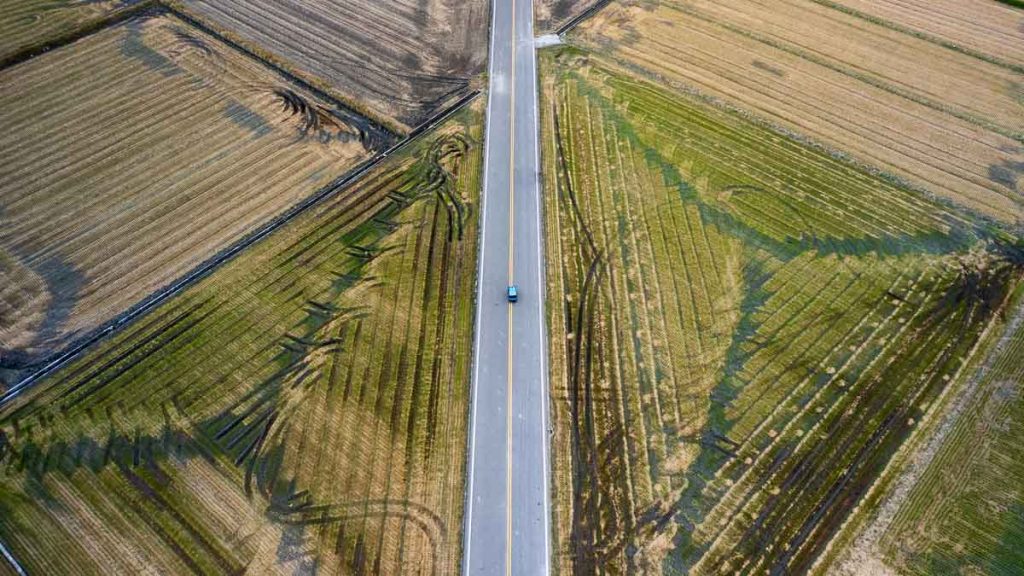 We drove to Paradise Road and Brown Boulevard where there were endless miles of golden paddy fields. It's a special path where visitors can drive their tuktuks, electric vehicles or bicycles down and enjoy Chishang's charming landscapes.
*Note: A driving licence isn't required to drive a tuktuk, but you'll need to be at least 18 years old.
Cost: From NT$800 for 2hrs
Opening hours: 6AM – 6PM
How to get there: Take the side exit of Chishang station, the rental shop is opposite BIKE DE KOFFIE.
6) Kayak on a tranquil lake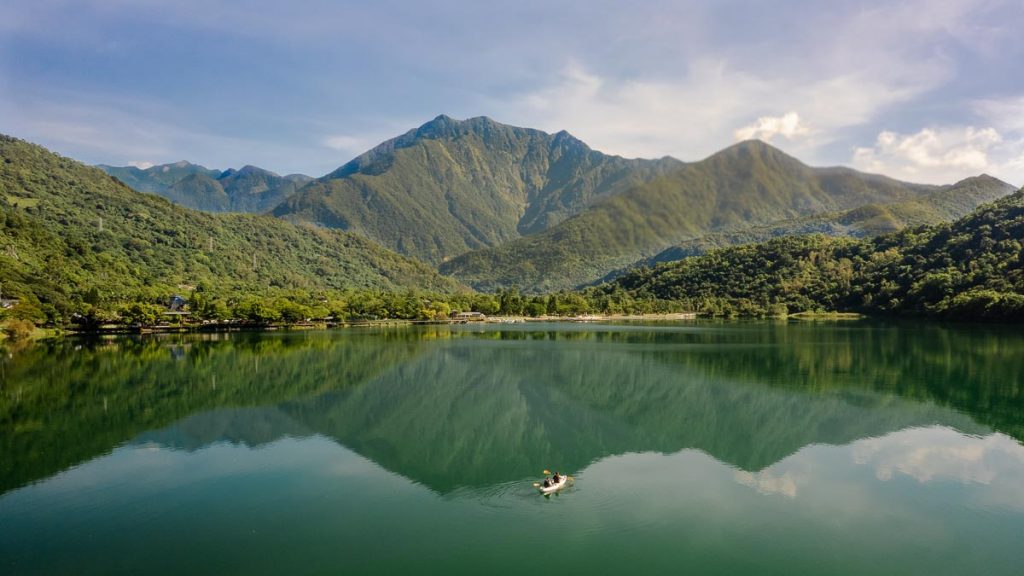 Taiwan is home to many gorgeous lakes and the best way to soak in the landscape is by kayaking to the very centre!
We rented a kayak at Liyu Lake (鯉魚潭) in Hualien and paddled across the tranquil waters, where we were ultimately treated to beautiful views of the mountains. The calm water surface reflected the lush green mountains and sky, which made it nothing short of magical — plus we had the whole lake to ourselves too!
*Pro-tip: Book the earliest morning slot to beat the crowd!
Cost: ~$13/pax for 1.5hrs
Activity timings: 8AM, 9:30AM, 11AM, 12:30AM, 2PM, 3:30PM
Meeting point: No. 52, Section 1, Chinan Rd, Shoufeng Township, Hualien County, Taiwan 974
7) Paraglide over a vast valley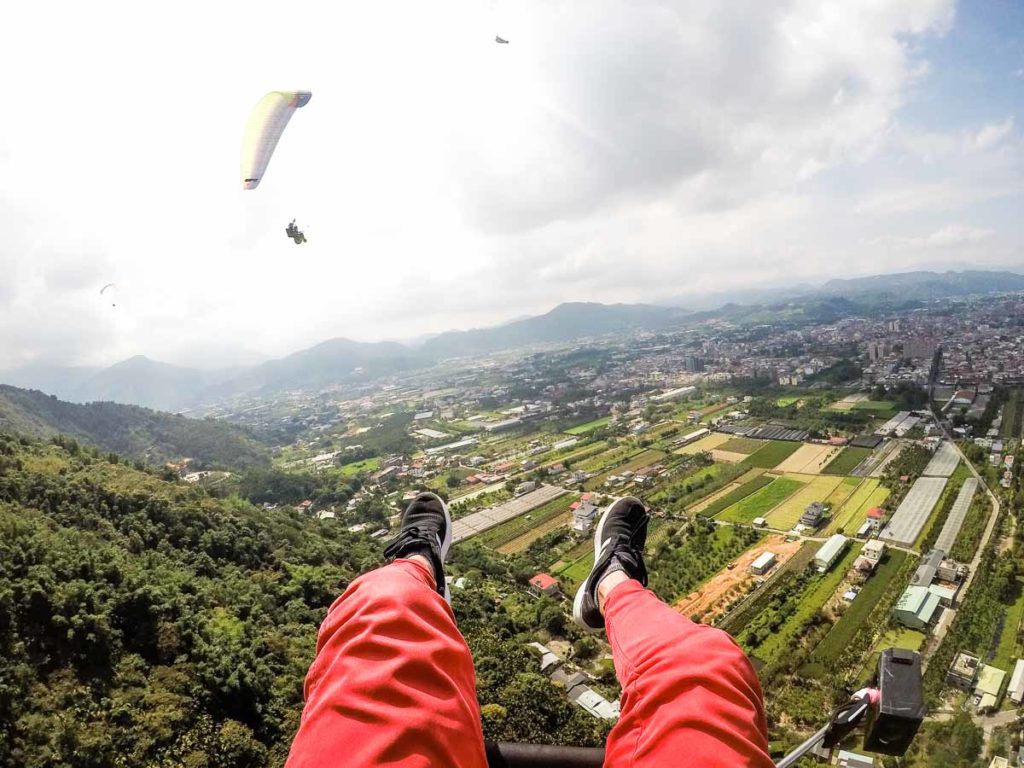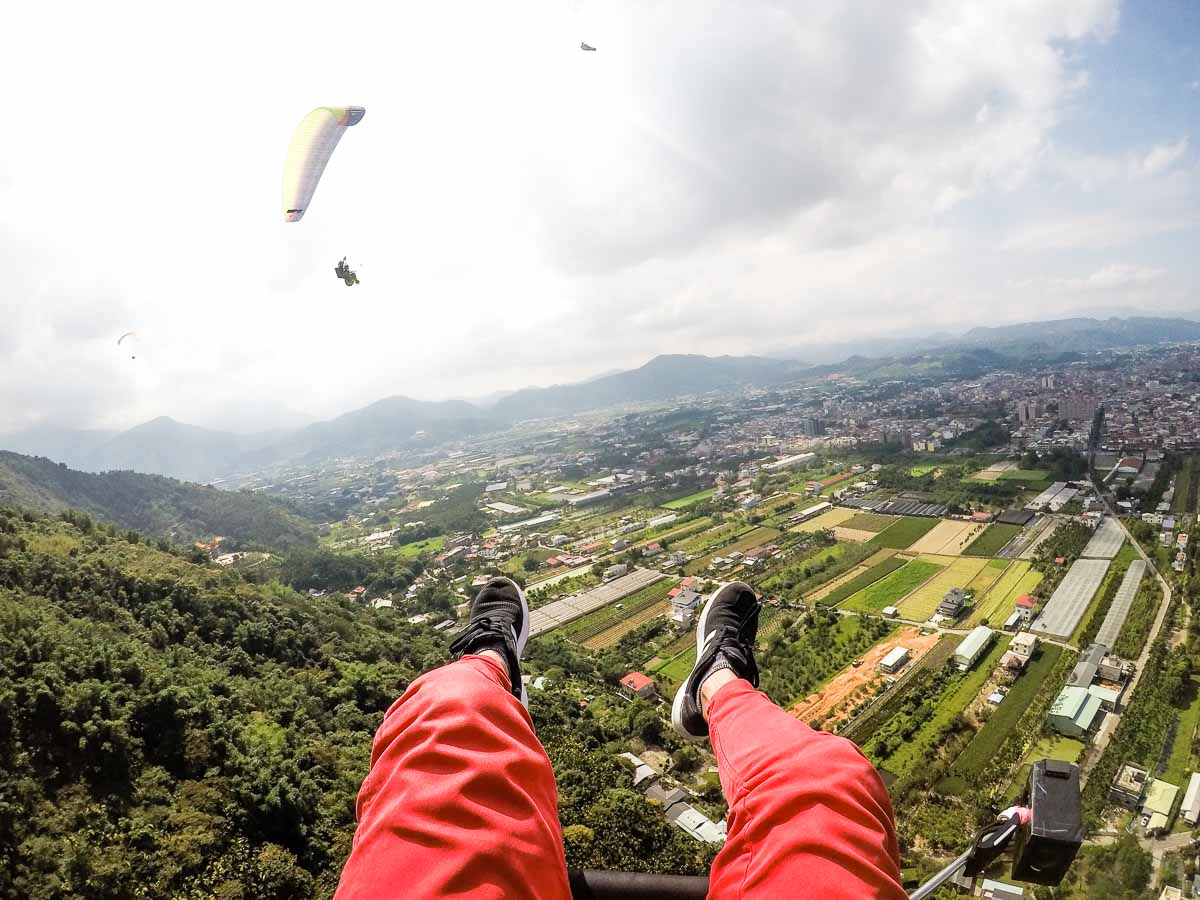 For those with an adventurous streak, paragliding in Taiwan is a unique way to take in Taiwan's magnificent nature views!
There are many popular spots to take to the skies like Yilan, Hualien, and Taitung so you'll be spoilt for choices depending on which parts of Taiwan you're travelling to.
We recommend taking off in Puli though, specifically Hutou Mountain (虎頭山) where you'll be (metaphorically) blown away by the mountains, lakes and endless green lands!
Book your flight with the Citi PremierMiles Card to stretch your dollar and earn 2 miles with every S$1 spent overseas.
Cost: ~S$124/pax (incl. transfer and GoPro camera footage)
Activity timings: Slots are available between 11AM – 5PM
Meeting point: Varies
Read more: 8D Taiwan Itinerary: Insider's Guide to Hidden Adventures from Taipei to Kaohsiung via THSR
8) Trace the currents on a river trekking tour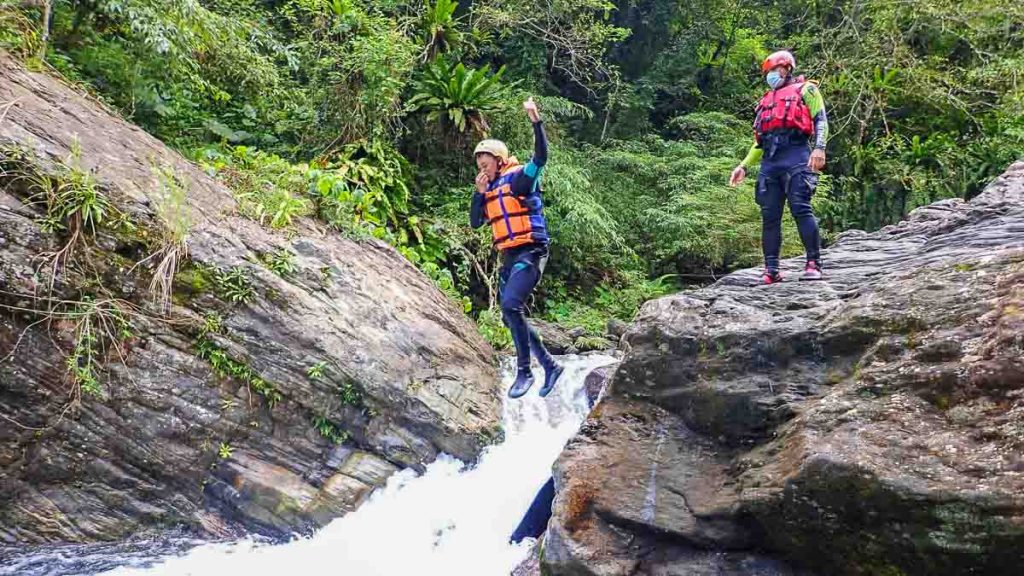 Photo credit: 溯溪王Riverking via Facebook
Embark on a river-trekking adventure in Hualien, where you can jump off cliffs and slide down gushing nature slides 💦.
There are half-day and full-day expeditions you can choose from, depending on your schedule. The tour is also conducted in Mandarin so it would be helpful to have someone in the group who can translate!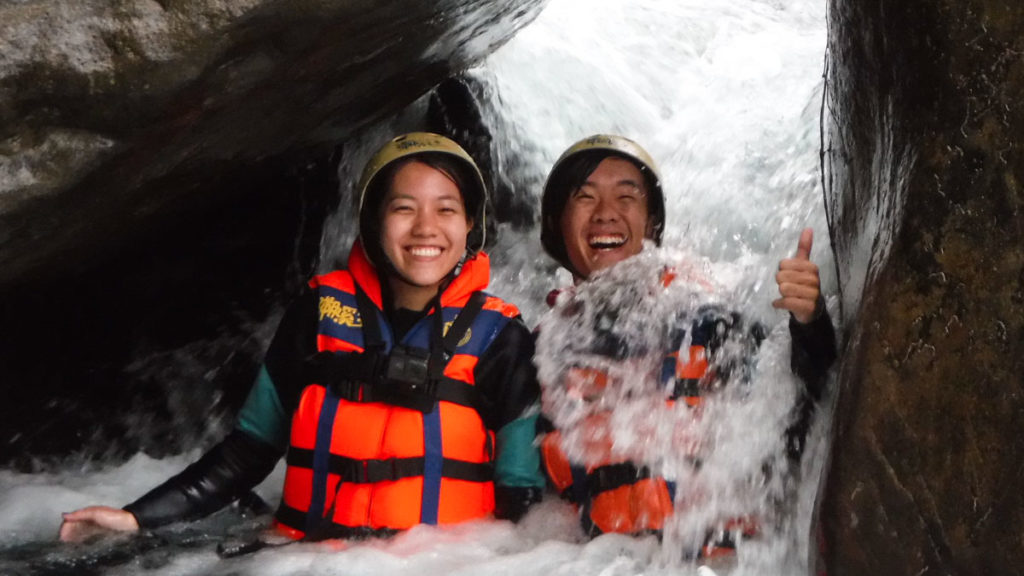 Photo credit: 溯溪王Riverking via Facebook
We took the 4-hour tour which started with a short trek through the forest before revealing cyan waters where we jumped straight in.
The water was really refreshing in the summer heat and at the end, we were even rewarded with hot bowls of noodle soup — yes, while still waist-deep in water!
*Note: Attempt only if you're in good physical condition as the rocks can be difficult to traverse when wet.
And remember to get travel insurance which covers adventurous activities like this! We got ours from Klook — enjoy S$10 off min. S$150 spent with your Citi Credit/Debit Card.
Cost: ~S$52 for half-day tour, ~S$91 for full-day tour
Activity timings: 8AM or 1PM (Only available for half-day tour)
Meeting point: Hotel transfer is available in Hualien
9) Explore a lesser-known hiking trail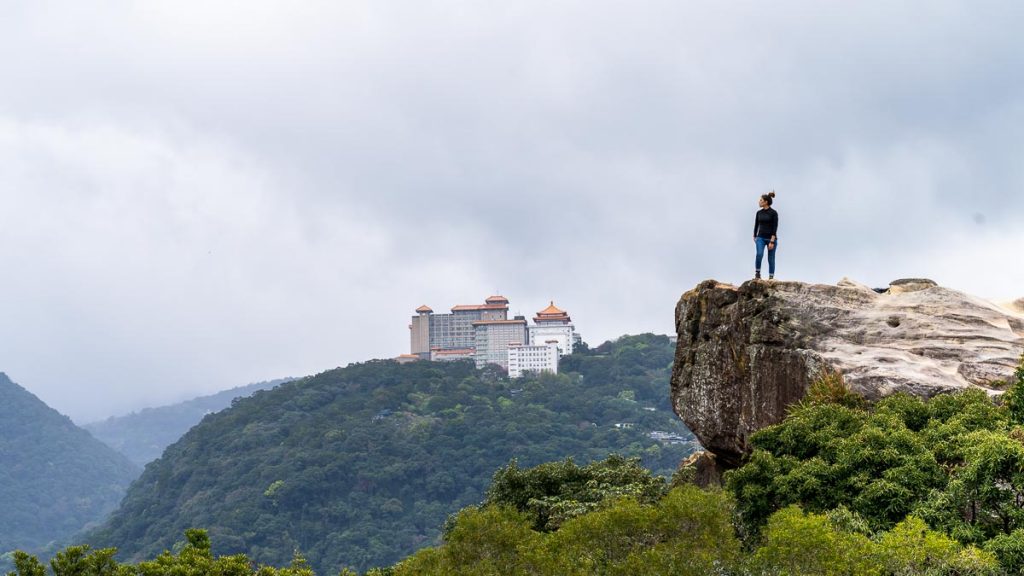 A hidden gem only locals know about, Junjianyan Hiking Trail (軍艦岩親山步道) trail leads to Battleship Rock — a cliff overlooking the city with picturesque views. But do be careful when standing on the edge for photos!
*Pro-tip: Take the entrance at National Yang-Ming Chiao Tung University where it'll only take 10 minutes to reach the cliff.
Entrance fee: Free
Opening hours: 24 hours
Address: Qiyan Rd, Beitou District, Taipei City, Taiwan 112
Read more: 5D4N Taiwan Itinerary Under S$500 — A Lesser-known Scenic Road Trip From Taipei to Yilan
10) Cruise down the beach on an ATV adventure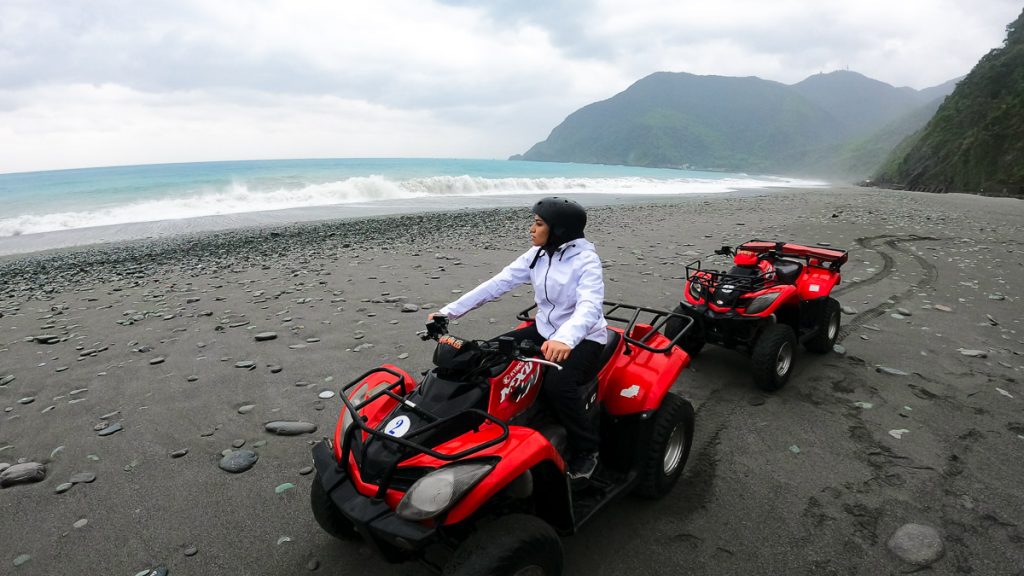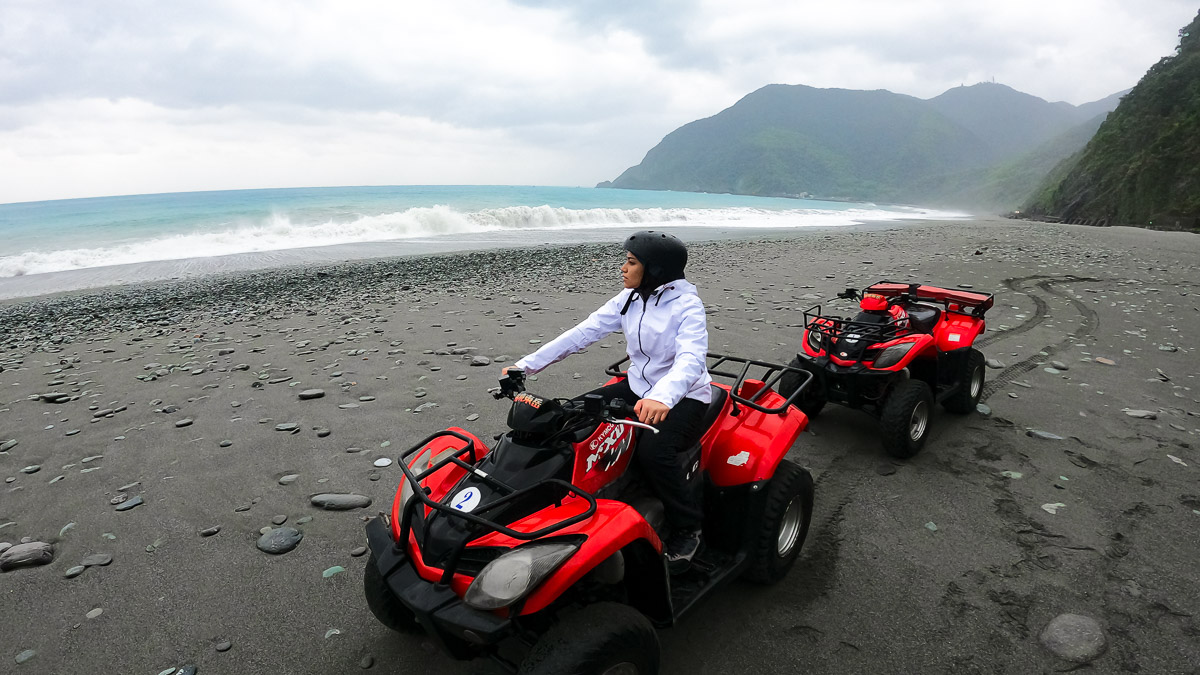 Navigate the twists and turns of Nan'ao's untamed natural beauty as you pass through wild terrains on an off-road ATV adventure — shallow rivers, sandy beaches, and a rugged rocky jungle!
But first, make sure you pass the practice run or you'll end up as a backseat passenger (like one of us, for continuously ramming into the bushes! oops).
Cost: S$22/pax for 1hr
Activity timings: 10AM, 11AM, 1PM, 2PM, 4PM
Meeting point: Camping Super Chill East Side, Suhua Rd, Sec.5, Nan'ao Township, Yilan County, Taiwan
11) Try a giant swing at a cultural village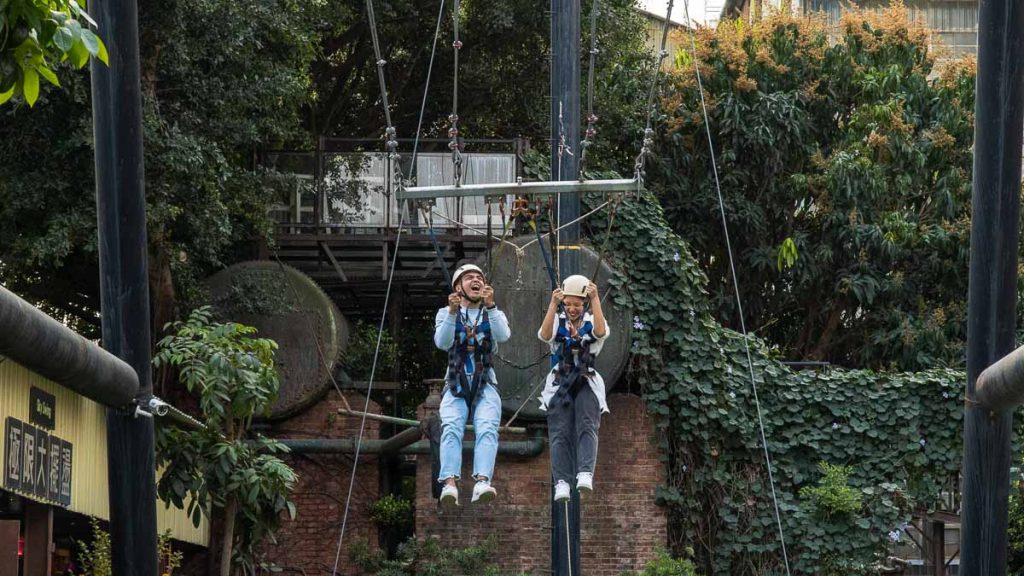 The Ten Drum Cultural Village (十鼓文創園區) in Tainan is mainly known for its drum performances and sugar warehouse museum, but did you know it has an adventurous side too 😉?
We tried the Sky Swing, which was like a Viking ship carnival ride — but without the ship. Swinging to and fro while strapped to a harness and with only the rope to hold onto may sound like a nightmare for those afraid of heights but was extremely fun for us adrenaline junkies.
The park also features a zip-line and a seven-storey free-fall attraction!
Entrance fee: S$19/pax
Opening hours: 10AM – 8:20PM (Weekdays), 9:30AM – 8:20PM (Weekends)
Address: No. 326, Section 2, Wenhua Rd, Rende District, Tainan City, Taiwan 71755
12) Go river tubing along the river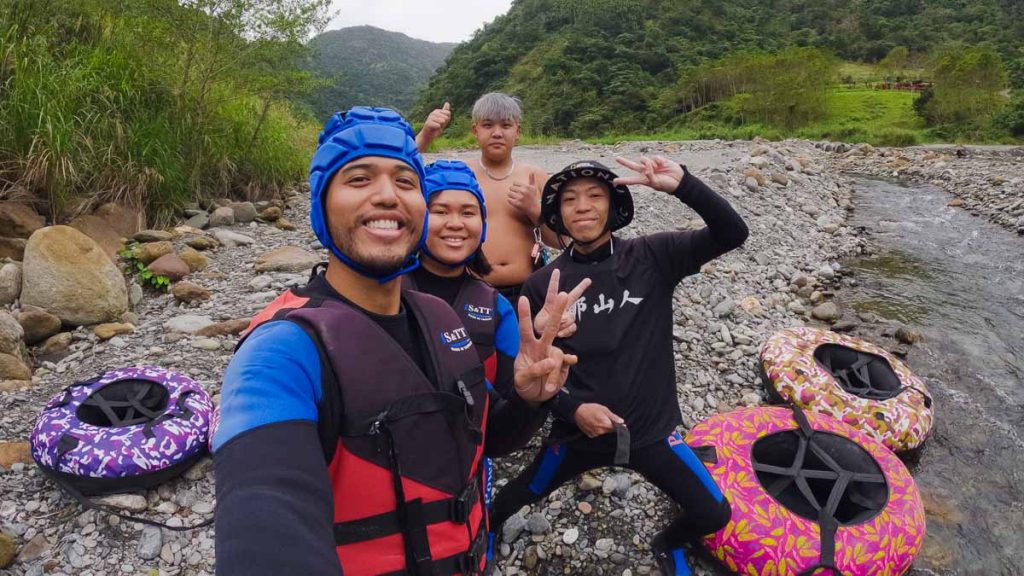 The Nan'ao River (南澳溪) in Yilan is like the grown-up version of a waterpark's lazy river — faster but still oddly relaxing. And if you're looking for some thrill but with less physical exertion (compared to rafting) for your Taiwan adventure, river tubing is the way to go!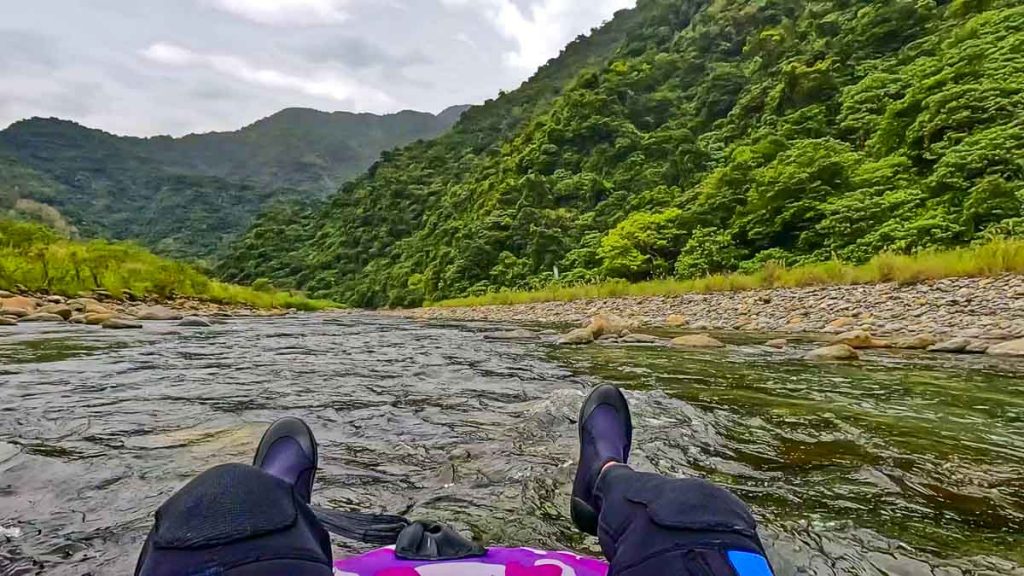 We were swept downstream while saddled in a tube that took us to a waterfall at the end. There's even a huge rock along the stream that we scaled and cliff-dived off of.
As there are designated time slots, don't forget to pre-book this activity — get S$10 off bookings on Klook (min. spend of S$150) or 50% off bookings on KKday (capped at S$50 per transaction) with your Citi Card!
Cost: S$44/pax for 3hrs
Activity timings: 9AM or 1PM
Meeting point: Na Sun Na Gu Leisure Farm, No.2, Jinyang Rd, Nan'ao Township, Yilan County 27246, Taiwan
13) Stand-up paddle board at an alpine lake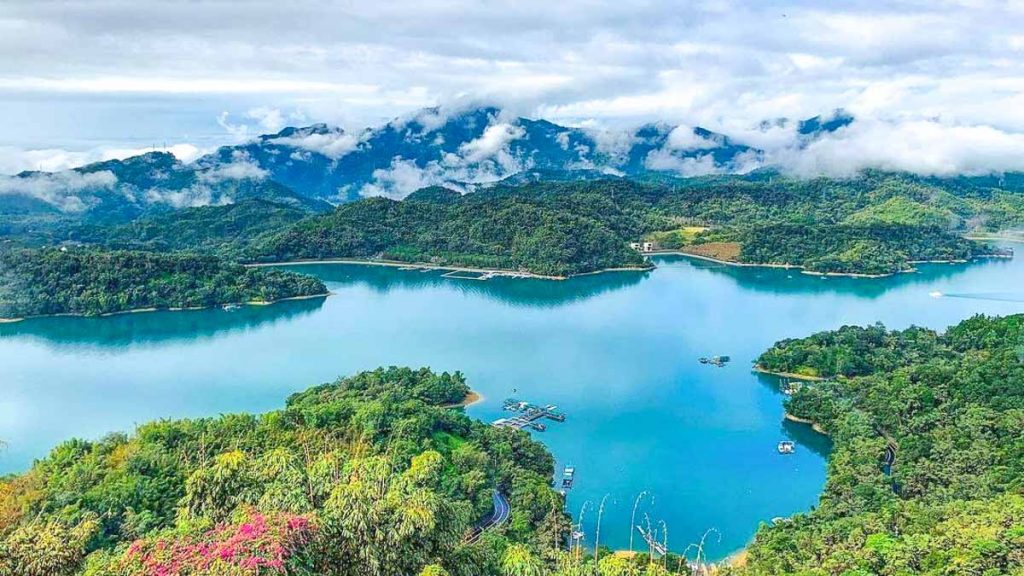 Photo credit: @grave_before_shave_ via Instagram
Sandwiched in a valley surrounded by beautiful mountains, Sun Moon Lake (日月潭) is one of Taiwan's most famous lakes!
Experience its beauty for yourself by taking a stand-up paddling (SUP) class right in the middle of this crescent moon and sun-shaped alpine lake 🌙.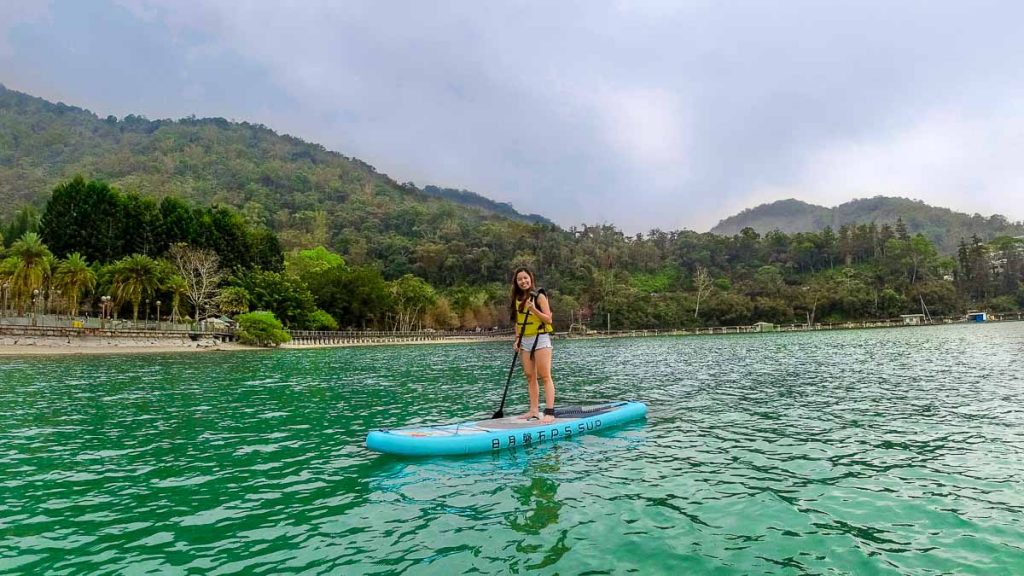 Based on experience, it's actually easier than it looks! We struggled a little at the start but thankfully got the hang of it and no one fell into the lake. If you get tired, it's also quite therapeutic to sit down and slowly paddle while admiring the serene surroundings.
*Note: The class is conducted in Mandarin but body language and eye power go a long way!
Cost: ~$30.40/pax for 1hr
Tour timings: Hourly from 9AM – 4PM
Meeting point: Crescent Bay, near Shuishe Pier or near Sun Moon Lake Ropeway
Bonus: Go Dome Glamping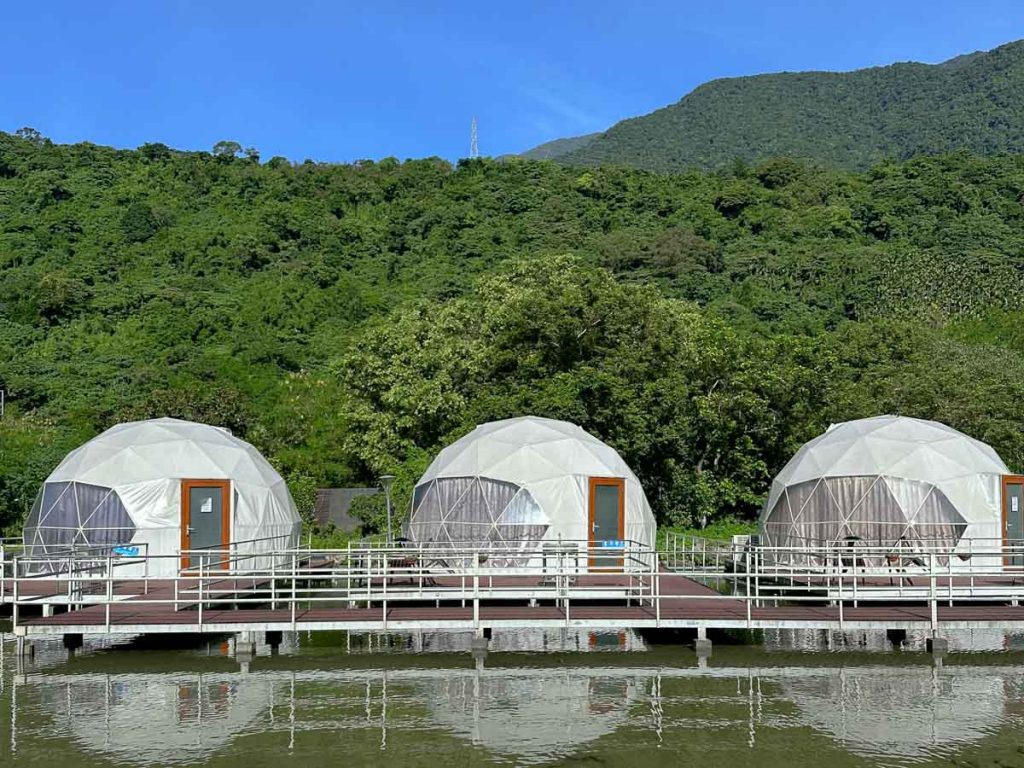 While not exactly an adventurous activity, glamping in Taiwan will definitely be an unforgettable experience. Waking up to clear blue skies and mountains from the comfort of my bed? Sign me up 🤚.
As someone who loves nature but hates insects and roughing it out, this was the best of both worlds. We stayed at Liyu Lake Glamping Resort in Hualien and it fulfilled my 'The Martian' dreams of staying in a bubble-like dome. The campgrounds also have a sauna and BBQ pit you can pre-book for dinner (NT$800/pax)!
*Pro-tip: Bring a sleeping mask because it gets bright after sunrise.
Cost: From ~S$197/night incl. breakfast
Address: No. 90, Section 2, Chinan Road, Shoufeng Township, Hualien County 974
Tips for Planning Your Taiwan Adventure
1) Pre-book your travel essentials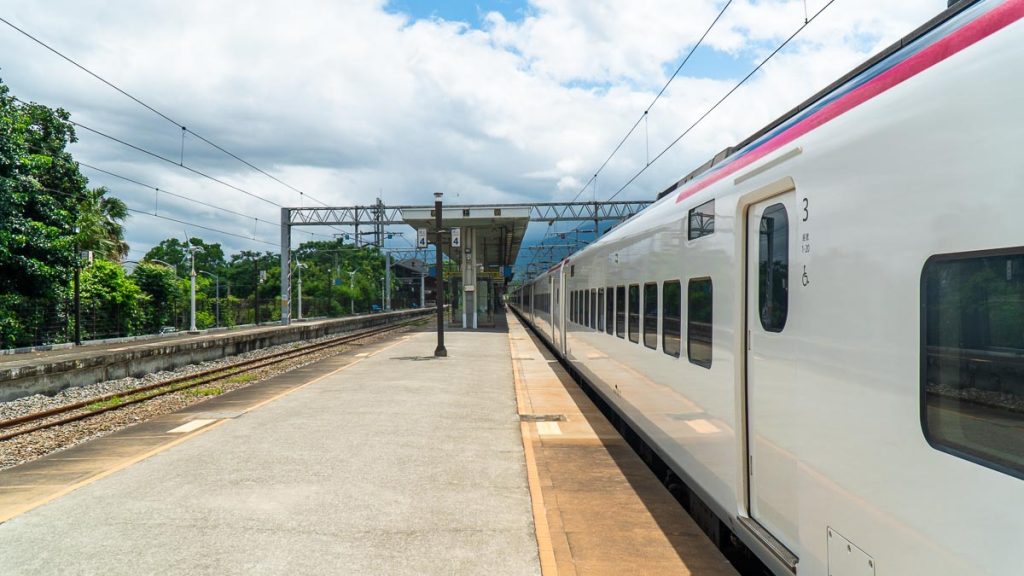 Insurance: As some of the adventurous activities on this list have a higher risk like scuba diving and paragliding, it's essential to buy insurance for peace of mind.
Transport: Aside from Taipei, places like Hualien and Taichung have higher footfall during peak season so do pre-book your Taiwan High-Speed Rail or Taiwan Railway tickets before they are snatched up.
Flights: We flew direct from Singapore to Taipei with China Airlines which operates twice daily flights. We opted for the earlier departure so we could have a full day to explore upon landing at 7AM!
Our aircraft (an Airbus A321Neo) was also pretty cool. Each seat was fitted with a large 4K high-resolution screen for optimal in-flight entertainment, and you can even pair your own wireless earphones via Bluetooth! What I appreciated the most though, was the free texting WiFi so I could do some last-minute trip research 😄
*Pro-tip: Taiwan is a pretty popular destination during the holiday season so try to book your flights (and accommodation) in advance to get the best rates!
The good news is, start planning your trip now and enjoy 3% off all cabins and booking classes with China Airlines when you book with your Citi Card (valid till 30 Sep 2023)! There are also Citi Travel Deals available for EVA Air and STARLUX Airlines till 31 Dec 2023.
For even more savings, use your Citi Credit/Debit Card to get up to S$100 off hotels on Trip.com. Citi Mastercard® holders can also enjoy up to 22% off bookings on Agoda.
2) Check the season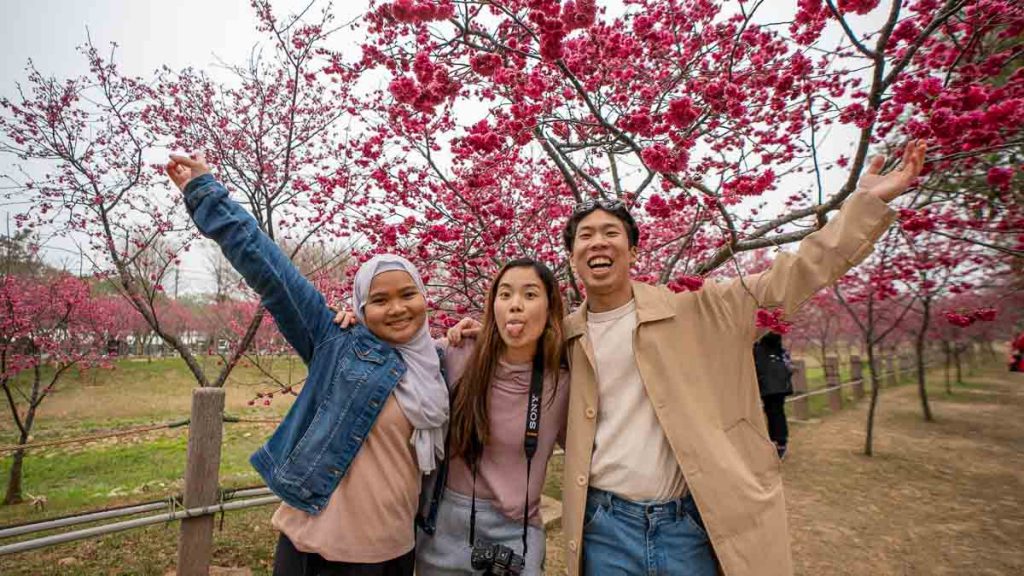 Taiwan experiences all four seasons so take note of which period you're visiting when planning your experiences.
Best seasons: February – April (spring season so you might catch pretty pink cherry blossoms!)
Avoid: June – September (when the winds are strong and torrential downpours can happen mid-day)
3) Look out for discounts to save money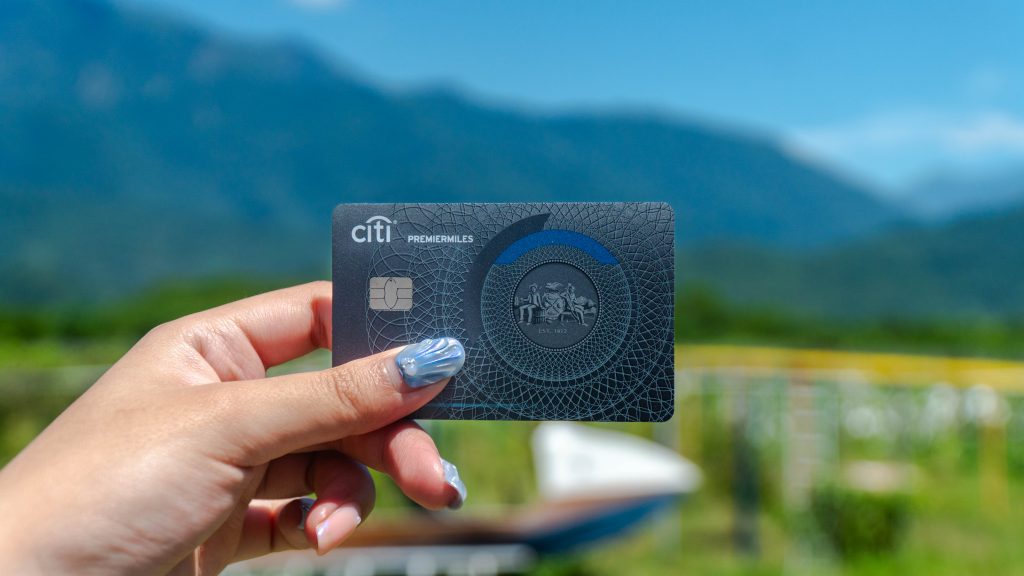 Adventurous experiences can be expensive so here's how you can score some savings for your next trip to Taiwan! For Citi Cardholders, look out for these special travel promotions:
| | | |
| --- | --- | --- |
| Merchant | Offer | Valid until |
| Agoda | Get up to 22% off bookings with a Citi Mastercard® | 30 Sep 2023 |
| Trip.com | Get up to S$100 off hotels and flights for bookings with Citi Cards | 30 Sep 2023 |
| Klook | S$10 off bookings with min. S$150 spent on your Citi Card | 31 Dec 2023 |
| KKday | 50% off bookings with Citi Cards, capped at S$50 per transaction | 31 Dec 2023 |
| China Airlines | 3% off all cabin and all booking class | 30 Sep 2023 |
| EVA Air | Get 5% off regular airfares | 31 Dec 2023 |
| STARLUX Airlines | Get 10% off with the promo code STARLUXCITI, applicable to web fares for SIN-TPE and SIN-TPE-LAX one-way, round-trip flights. | 30 Nov 2023 |
Offers are subjected to T&Cs.
psst. Your adventures don't have to end in Taiwan, as China Airlines also offers seamless connectivity to other destinations such as Japan, Korea, China, Europe and North America!
Read also: 6D Hokkaido Itinerary for Under S$1k — Must-Eat, See and Dos in Sapporo, Otaru, Asahikawa and Biei
In addition, earn 2 Citi Miles with every S$1 spent in foreign currency with a Citi PremierMiles Card! Plus, Citi Miles don't expire so you can redeem them anytime for your next vacation.
PSA: If you don't have a Citi PremierMiles Card yet, apply now and get a welcome gift of up to 30,000 bonus Citi Miles*!
*T&Cs apply. Welcome gift is valid till 31 Oct 2023. Valid for new Citi Cardmembers only.
4) Download Google Translate and LINE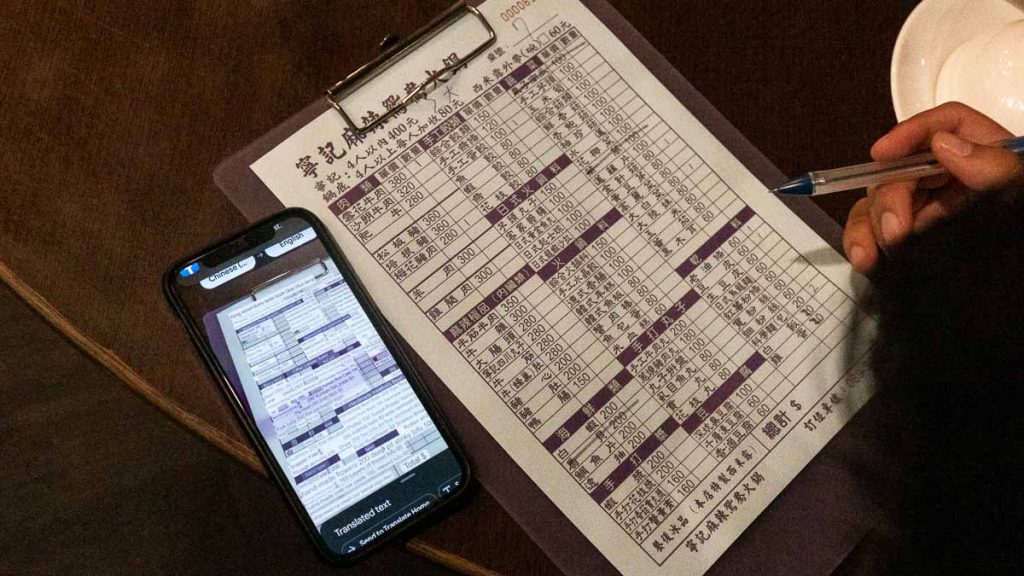 Taiwan uses Traditional Chinese on everything from websites to menus, so having the Google Translate app camera function on standby made ordering food so much easier. English is also not widely spoken (especially on this side of Taiwan) so this will be your best friend!
Download the LINE app to communicate directly with activity vendors and hotels as email responses may take a while.
Planning an adventure in Taiwan? Check out these Taiwan guides and itineraries:
– 9D Taiwan Itinerary Under S$100/day From Taipei to Kaohsiung
– 19 Unique Things to Do in Taiwan's West Coast — Muslim-friendly Guide to Exploring Iconic Spots and Hidden Gems
– 5D4N Taiwan Itinerary Under S$500 — A Lesser-known Scenic Road Trip From Taipei to Yilan
– 25 Unique Things to Do in Taiwan Besides Visiting Night Markets
– 8D Taiwan Itinerary: Insider's Guide to Hidden Adventures from Taipei to Kaohsiung via THSR
Which adventurous activity would you go for in Taiwan? Share your favourite ones in the comments below!
---
This post was brought to you by Citi Cards.