First published: 26 Sep 2017
Discover hidden gems and explore iconic landmarks with a twist — all in this insider's Taipei itinerary!
Taipei. One of our favourite travel destinations in Asia. Most of us visit for the shopping and food — sticking to the usual hotspots, not venturing far from places like Ximending (西門町), Shilin (士林) and the famed Yongkang Food Street (永康街). I must admit that this happened on my previous two trips to Taiwan too.
But after meeting a couple of Taiwanese friends on our travels, I realised there's much more to Taipei and Taiwan than shopping and eating (买东西,吃东西). Eating is still a BIG part, but so are the scenic outdoors, culture, and stories behind the different towns on the outskirts of Taipei.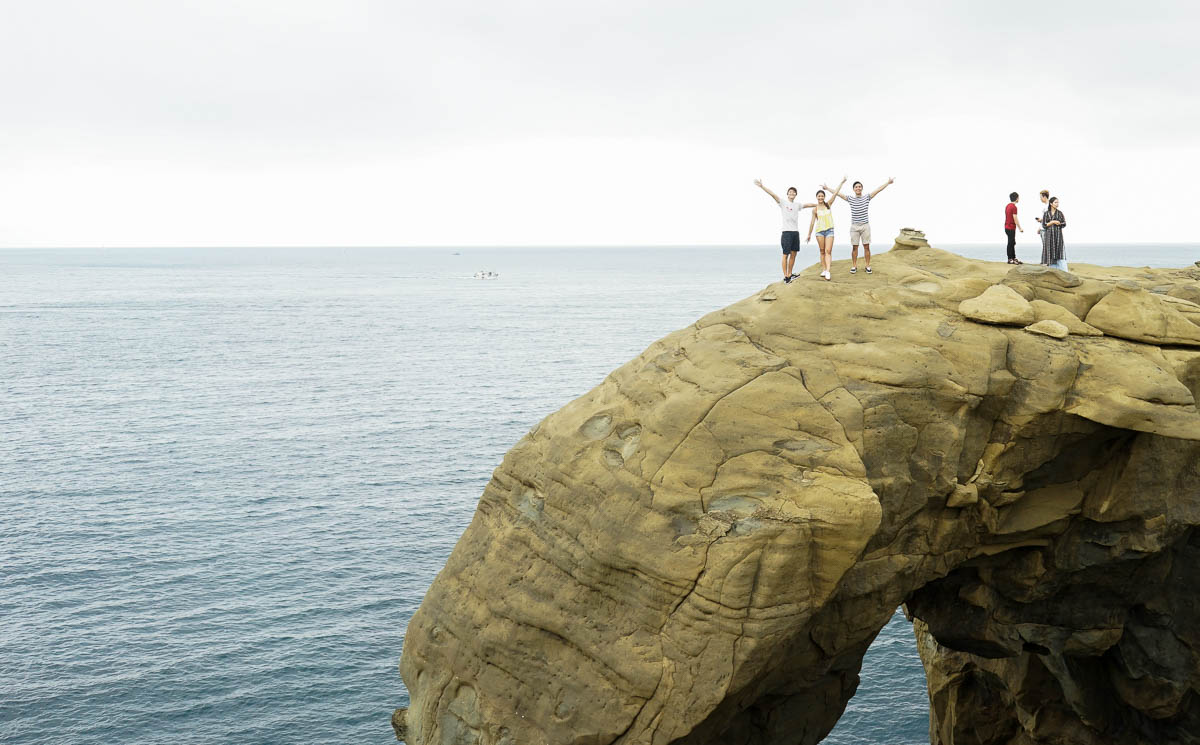 Even for the touristy stuff, we found that there are often more interesting and local ways of experiencing them differently.
So here's our 4D3N insider Taipei itinerary to make the most out of your trip here.
Pre-trip Essentials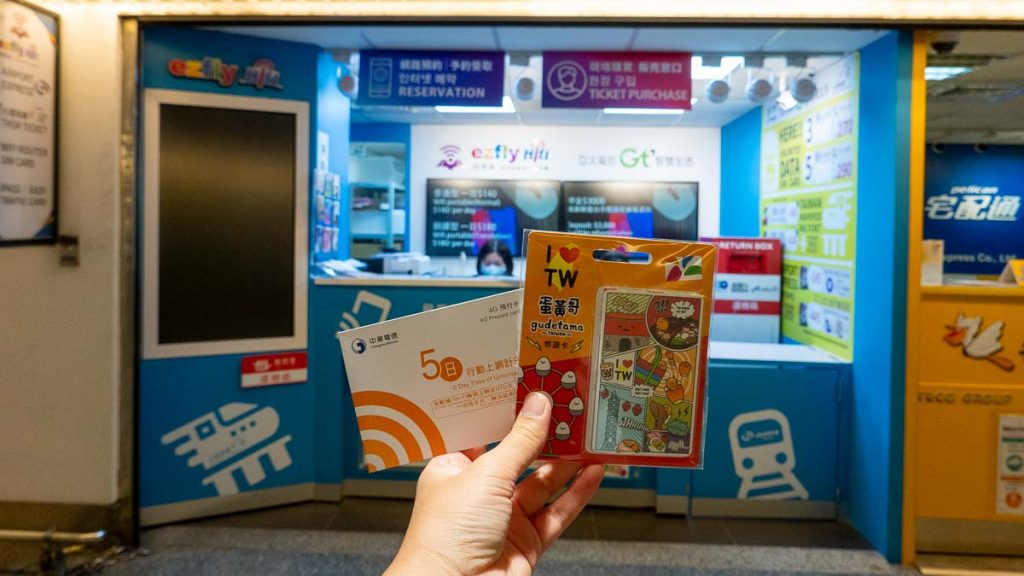 Connectivity: While there's free WiFi at the airport and numerous hotspots around the city, nothing beats having the convenience of Google at your fingertips. I suggest pre-ordering your 4G SIM cards (from ~S$13 with unlimited data and connectivity even in the mountainous regions) or WiFi devices (from ~S$5/day) to save time.
Another hassle-free option is to purchase an eSIM (from ~S$10.60 for 5 days, 1GB/day) which you can activate on your phone without needing to swap physical SIM cards. Just double check that your device is compatible beforehand!
Travel Insurance: We purchased a 4-day Essential Plan, which offers competitive rates and covers medical expenses for adventurous activities to trip cancellations or amendments from terrorist attacks.
Day 1: Rediscover Taipei City
Arrive in Taipei
We flew into Taipei from Singapore via Jetstar, arriving 6AM at Taoyuan International airport, giving us a full day ahead to explore.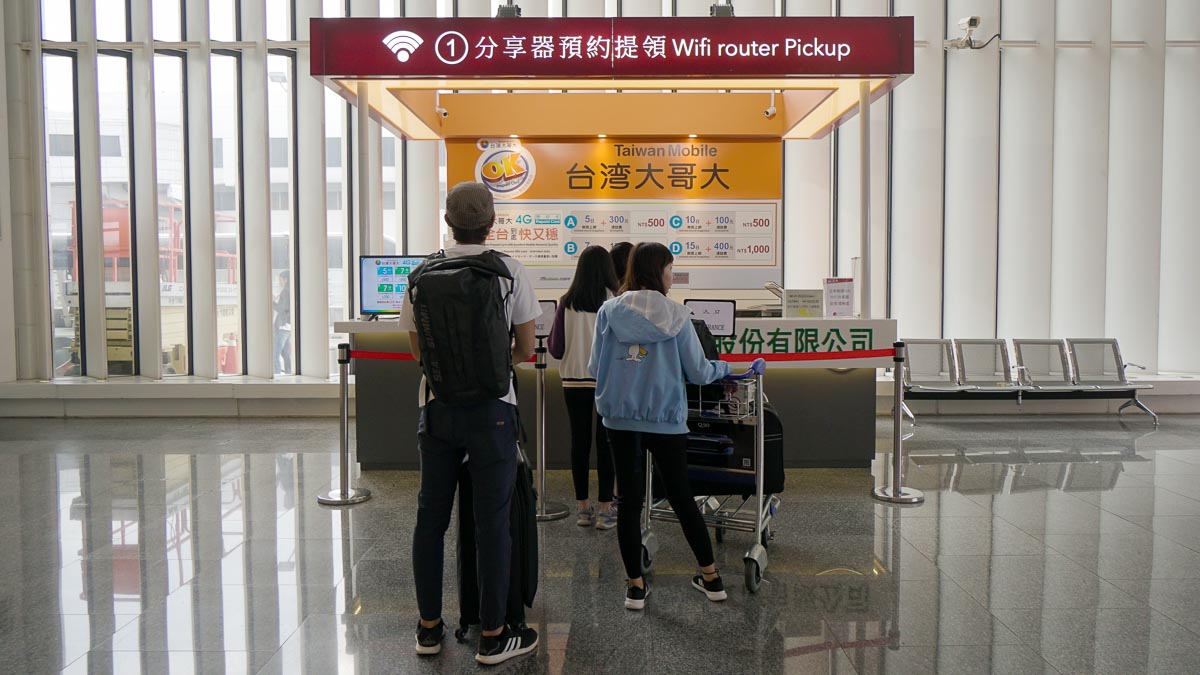 Getting to the city: The most common and cheapest option is via the Taoyuan Airport MRT (~S$6). But if you don't wish to lug your luggage around, you can get an airport transfer from Taoyuan Airport directly to your accommodation.
Eating Local in Taipei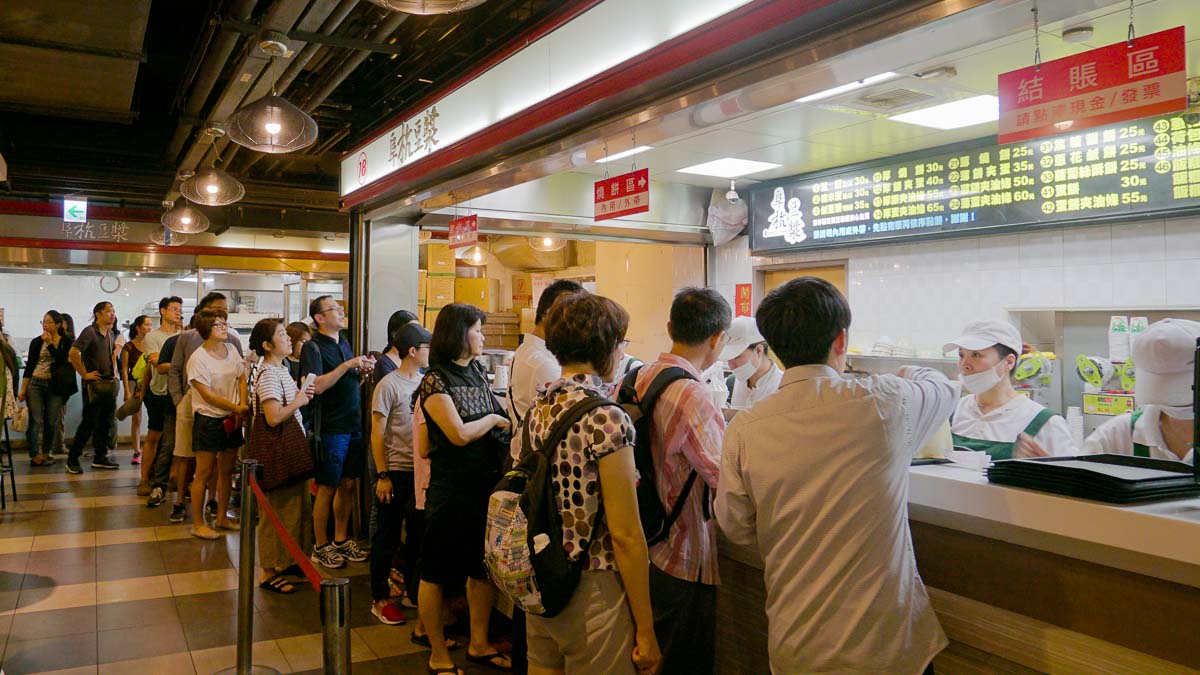 First agenda of our Taipei itinerary… food! We headed straight to Fu Hang Soy Milk (阜杭豆漿), a breakfast spot popular with both locals and tourists. This queue stretched to the bottom floor when we were there!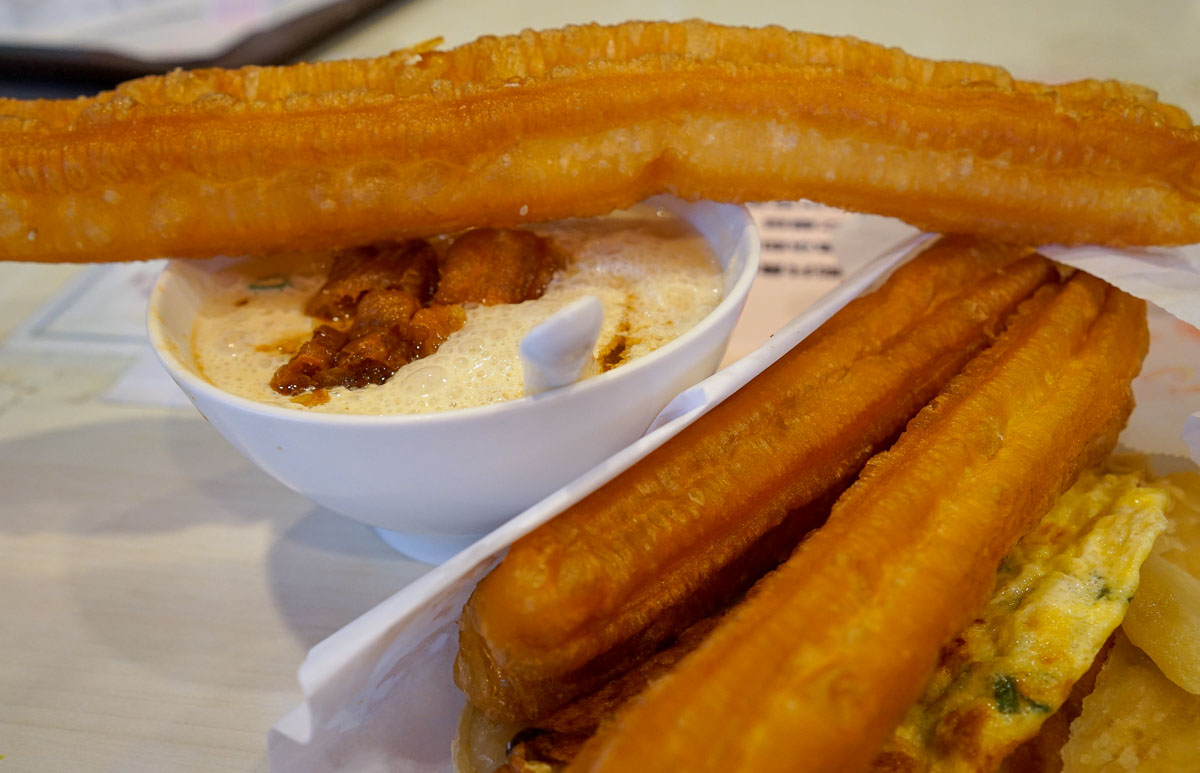 The unique salty soy milk and crispy dough sticks are hot favourites, though we heard the egg crepes were pretty good too.
*Pro-tip: Arrive before opening hours if you can. We queued for 30 minutes (at about 9AM) and heard it could have been longer.
Cost: From NT$15 (~S$0.70)
Opening hours: 5:30AM – 12:30PM, closed on Mon
Address: 100, Taiwan, Taipei City, Zhongzheng District, Section 1, Zhongxiao East Road, 108號2樓
Huashan 1914 Creative Park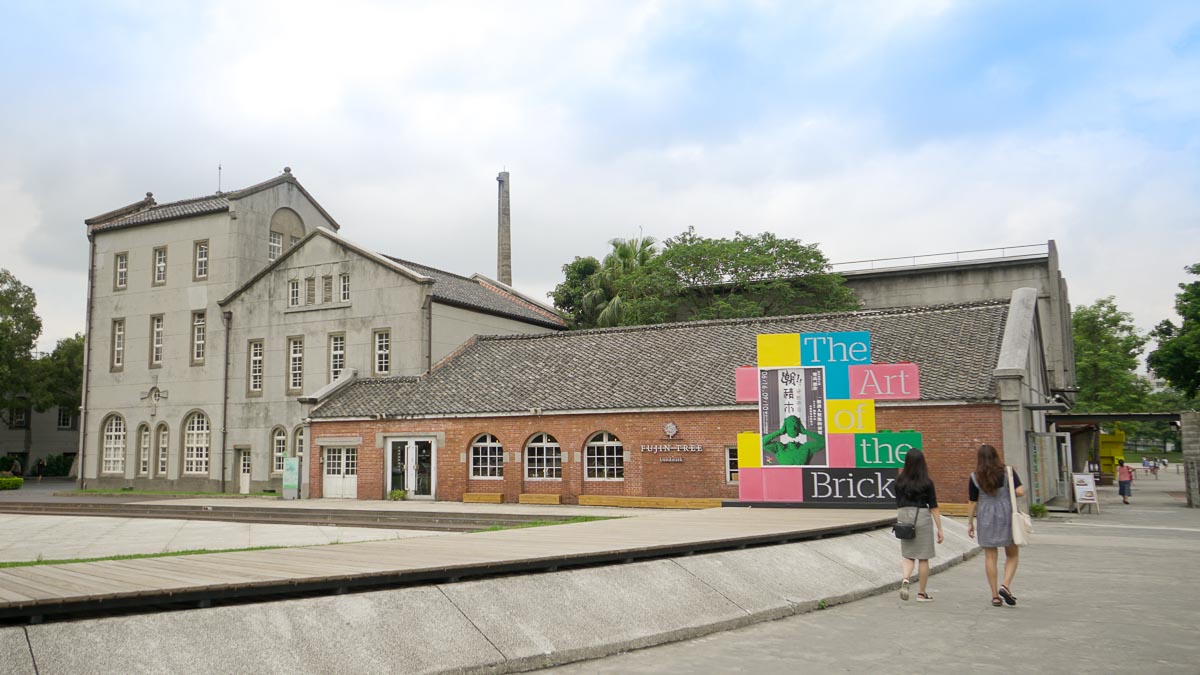 After a short walk around Huashan 1914 Creative Park, a cool creative district with lots of galleries, cute shops, and photography spots, it was back to eating as we hunted down one of the best beef noodles in Taipei.
Most people go to Yongkang Beef noodles, but we headed the other direction instead after a local friend's recommendation.
Lin Dong Fang Beef Noodles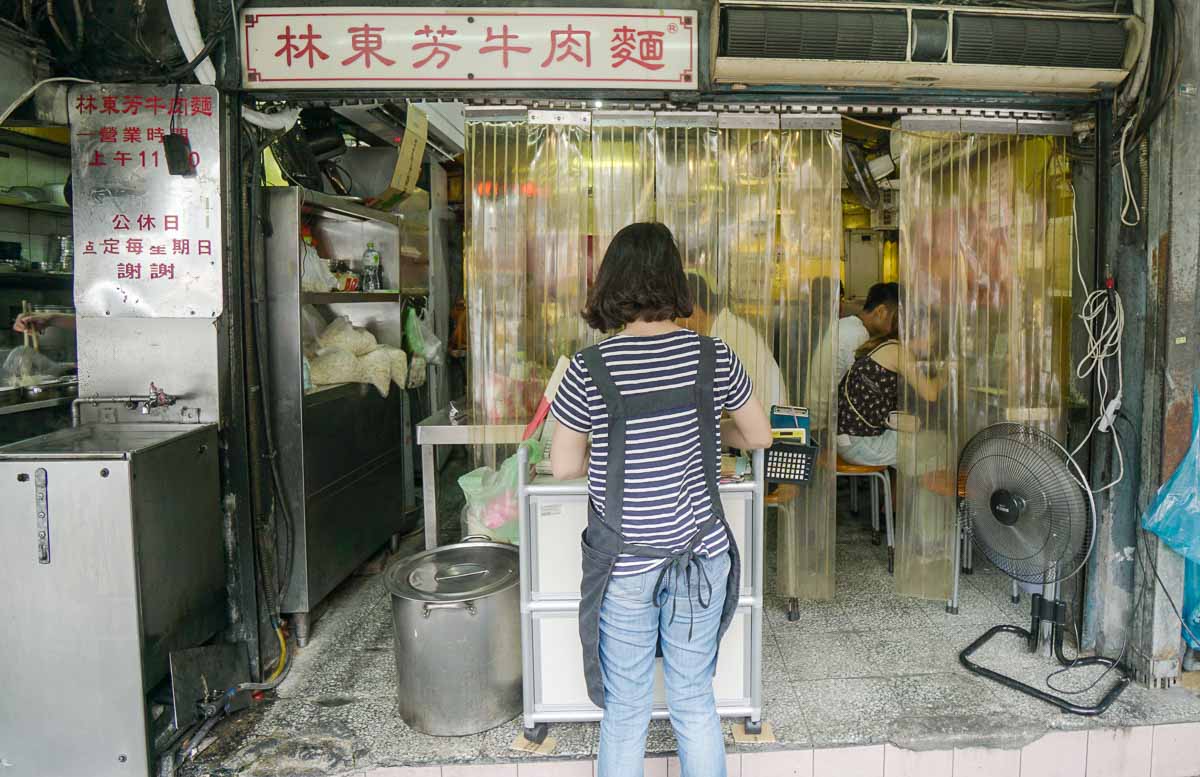 Tucked in a shabby-looking shop along Bade Road is Lin Dong Fang beef noodles (林東芳牛肉麵). Don't be fooled by its appearance though. This eatery is well-regarded and made it to the Michelin Bib Gourmand list in 2018!
All I can say is that we weren't disappointed. The beef was rich and super tender, and I especially loved how their chilli oil is made out of beef grease, which complimented the broth super well.
Don't spend too long sitting around or taking pictures though. The shop auntie (大姐) will definitely get impatient with you. True hallmark of a local food joint I guess.
*Pro-tip: Get your meal vouchers via Klook to enjoy 10% off your beef noodles!

Cost: From NT$150/bowl (~S$6.50)
Opening hours: 11AM – 3AM
Address: No. 322號, Section 2, Bade Rd, Zhongshan District, Taipei City, Taiwan 104
Experiencing Taipei 101 Differently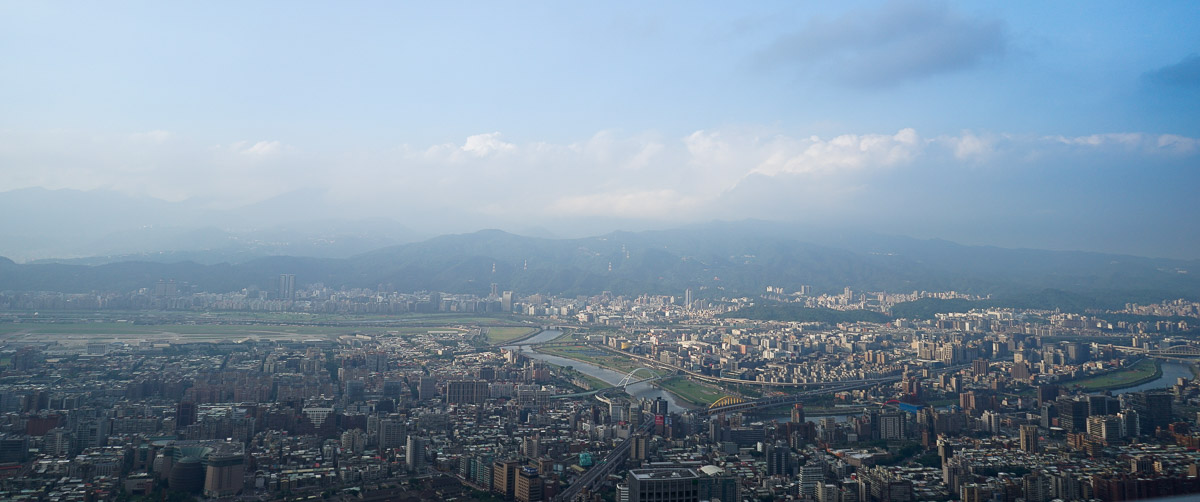 No Taipei itinerary would be complete without visiting the iconic Taipei 101. Instead of heading straight to the top, check out one of the highest Starbucks in the world.
Located on Level 35 of Taipei 101, this secret Starbucks even requires you to make a reservation a day in advance (by phone +886-2-81010701) due to its popularity. I must say it was quite cool having a cup of coffee so high up.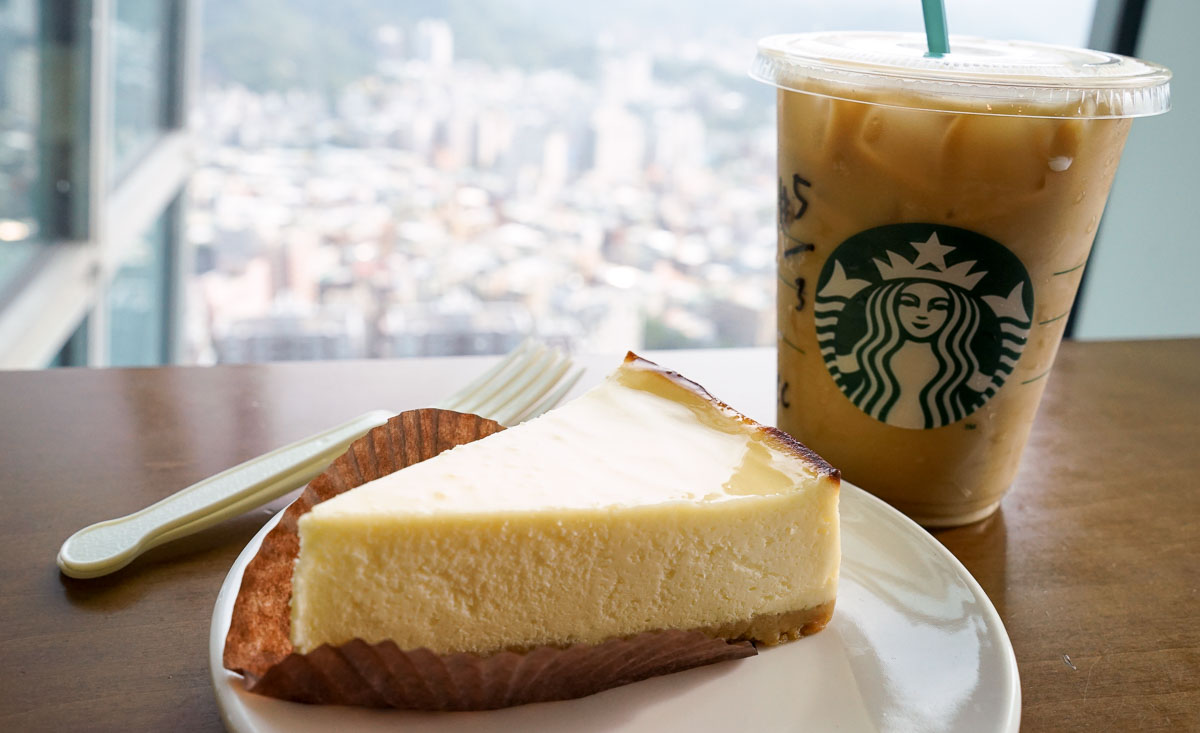 *Pro-tip: Buy your Taipei 101 observatory ticket (from ~S$26.50) online as it is cheaper than purchasing it on the spot.
Cost: Minimum spend of NT$250/pax (~S$11), max 90 mins stay
Opening hours: 7:30AM – 8PM (Mon – Fri), 9AM – 7:30PM (Sat – Sun)
Address: 35F., No.7, Sec. 5, Xinyi Rd., Xinyi Dist., Taipei City 110, Taiwan
Elephant Mountain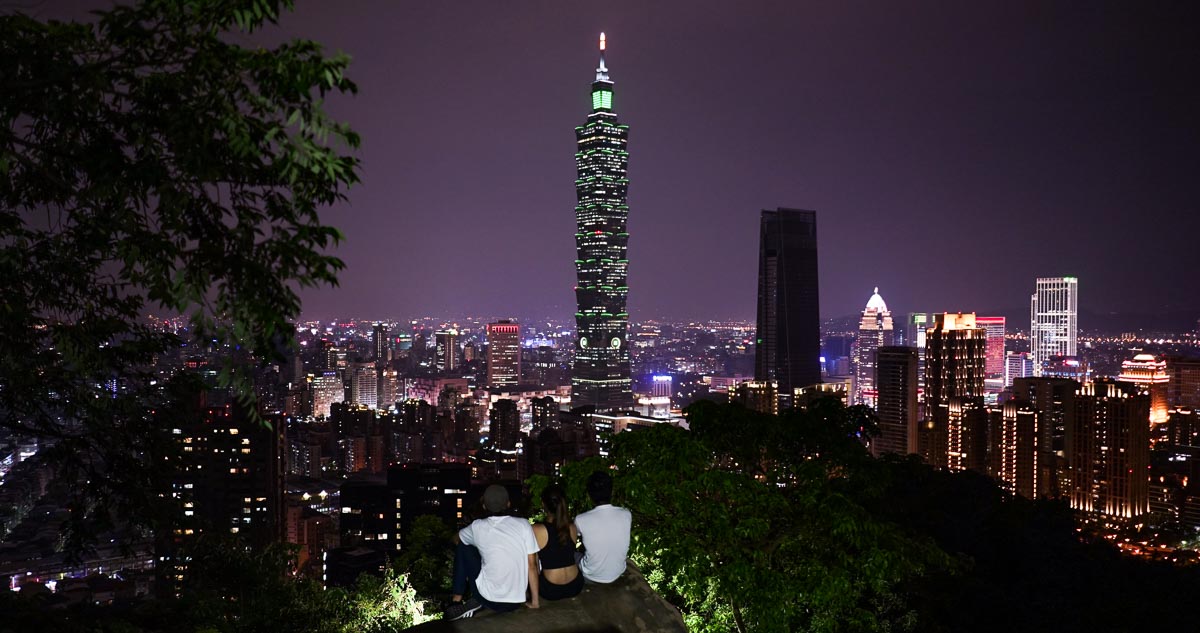 The part that many of us miss though, is the view of Taipei 101 together with the rest of the city.
Just a couple of minutes on foot from Taipei 101 is Elephant Mountain (象山). It's a bit of a climb up the hill (15-20 minutes from the bottom of the trail), but if 60-year-old uncles and aunties can climb those steps, I don't see why we can't! I assure you the views are worth it.
*Pro-tip: Bring water. The only shops are on the road leading towards the start of the trail.

Cost: Free
Opening hours: 24 hours
How to get there: Walk 15 mins from Xiangshan Station to trailhead, then walk 15 mins to peak
Tong Hua Night Market – The Local's Choice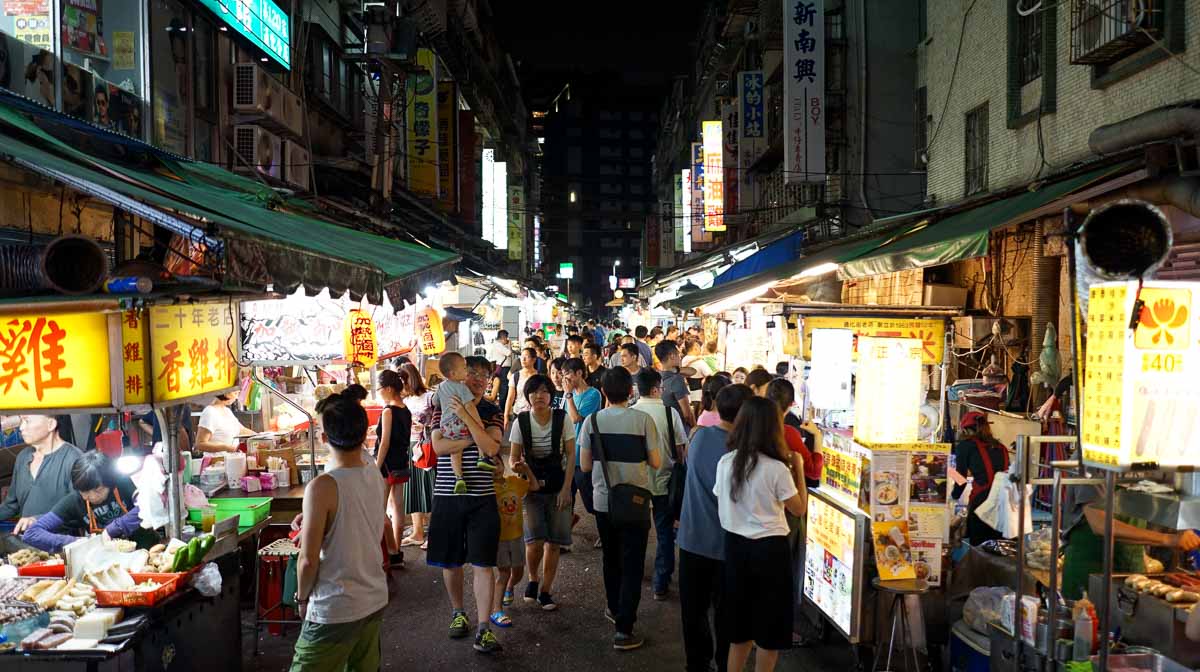 After the short climb, it's time to reward ourselves at the night market. We headed to Tong Hua Night Market (通化夜市), also known as Lin Jiang Street Night Market near Taipei 101.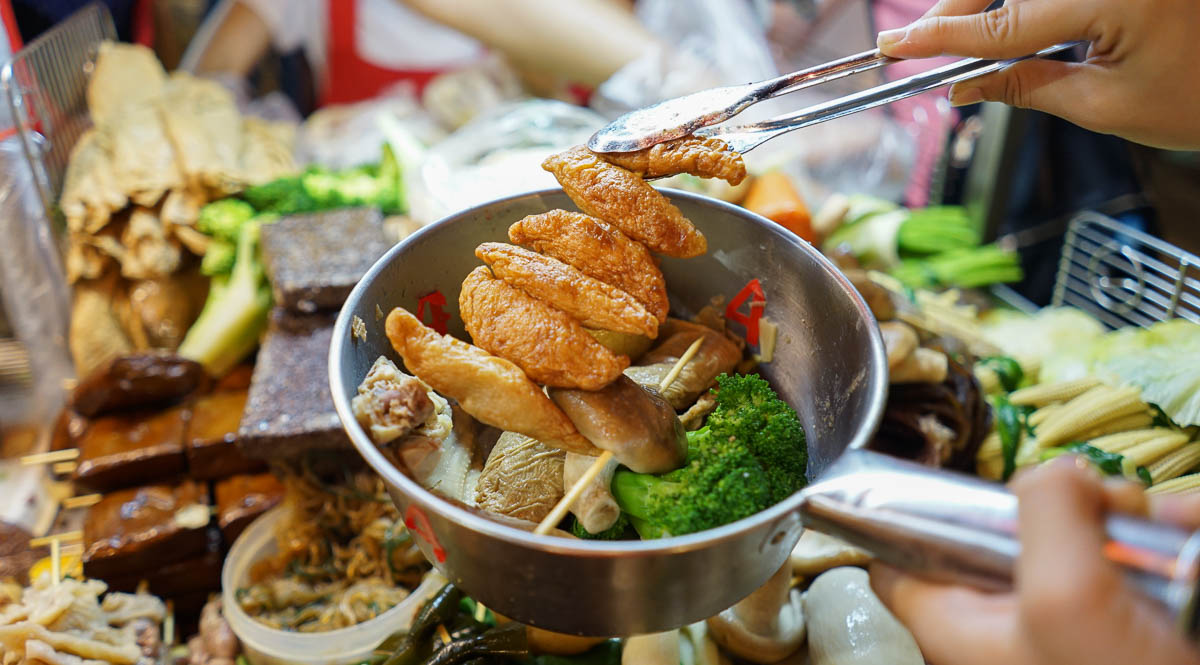 It's not as big as Shilin Night Market or Raohe Night Market, but it's less touristy and more frequented by locals. I mean, it doesn't matter how big a night market is. Even if you are in a group, there will be tons of shops selling the same food to your limited stomach capacity. At Tong Hua Night Market, you get a similar experience with a more manageable crowd.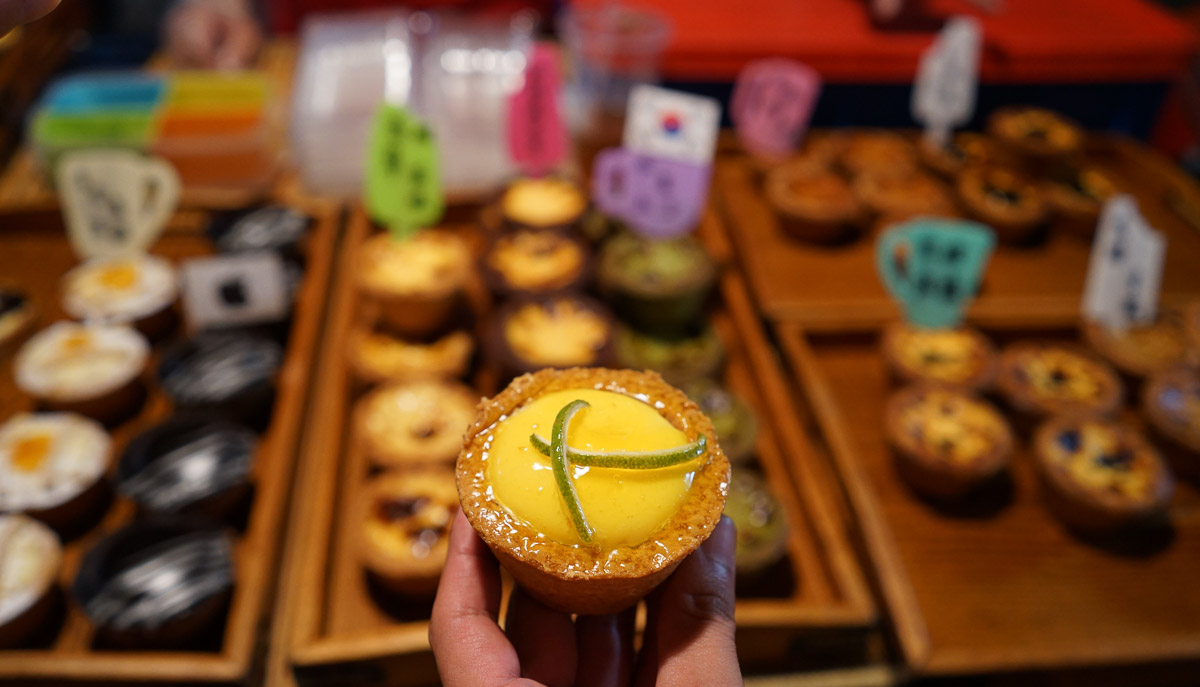 Eggs tarts at Tong Hua Night Market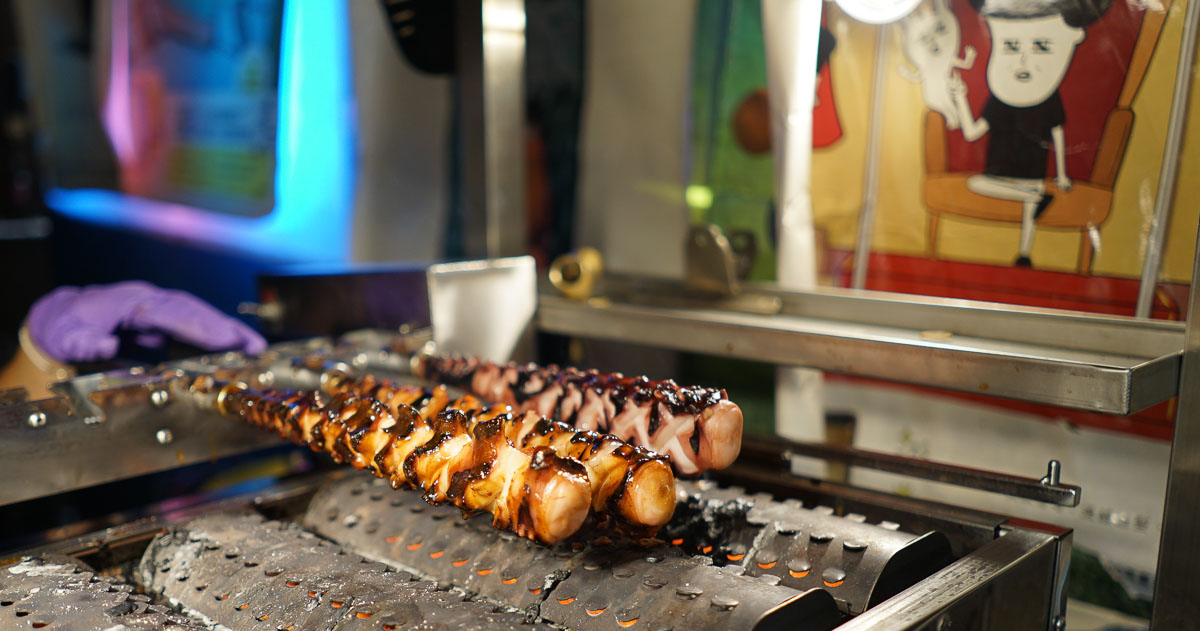 Be sure to try the unassuming and simple Ice Fire Dumpling (御品元冰火湯圓-台北總店). The refreshing hot sesame/peanut tang yuen on shaved ice is very popular amongst locals. Perfect after all the street food in the night market.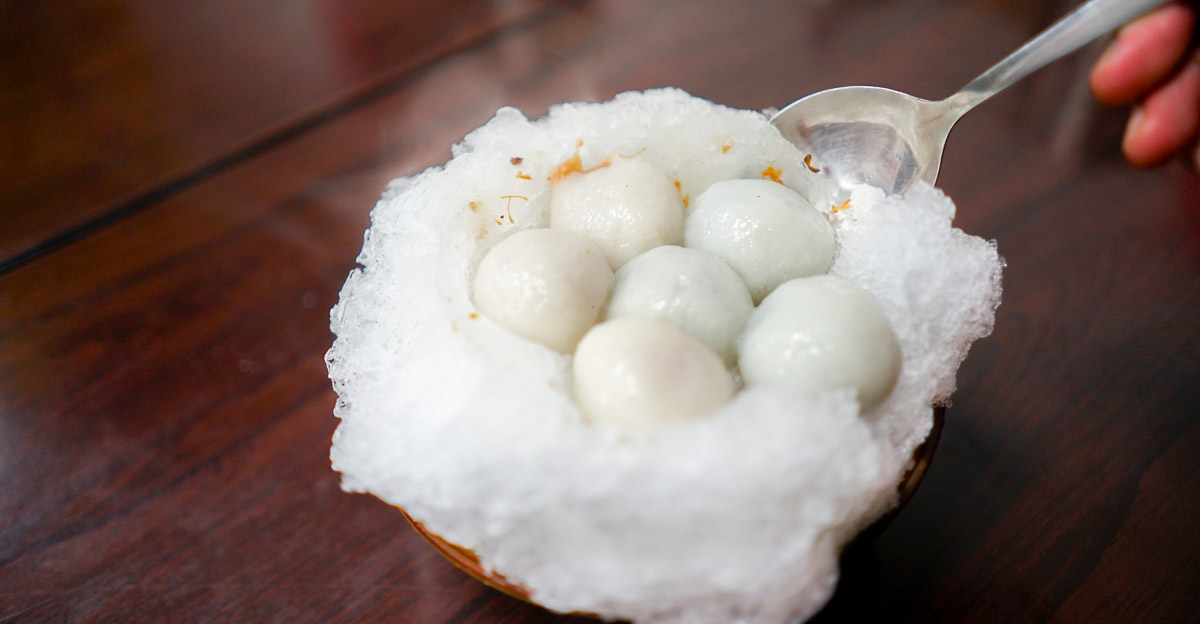 Opening hours: 6PM – 12AM
How to get there: Walk 5 mins from Xinyi Anhe Station
Accommodation in Taipei – OwlStay Flip Flop Hostel Garden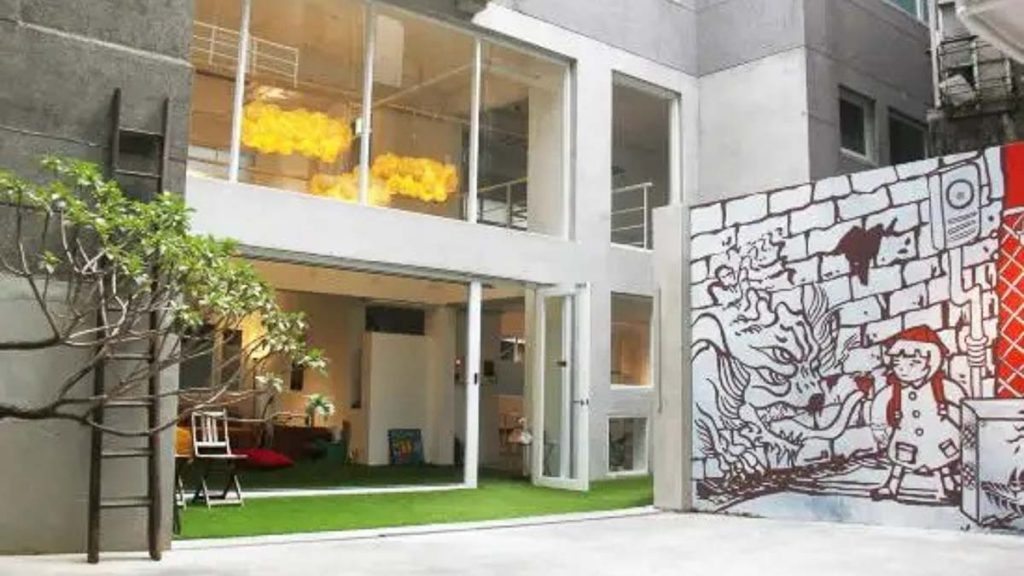 Photo credit: Klook
Flip Flop Hostel is the epitome of budget-but-not-too-shabby accommodation. Clean, modern, and in an unbeatable location just 5 minutes by foot from Taipei Main Station. The dorms also have personal lockers so you won't have to worry about your valuables. There are private rooms for those who want a little more privacy too.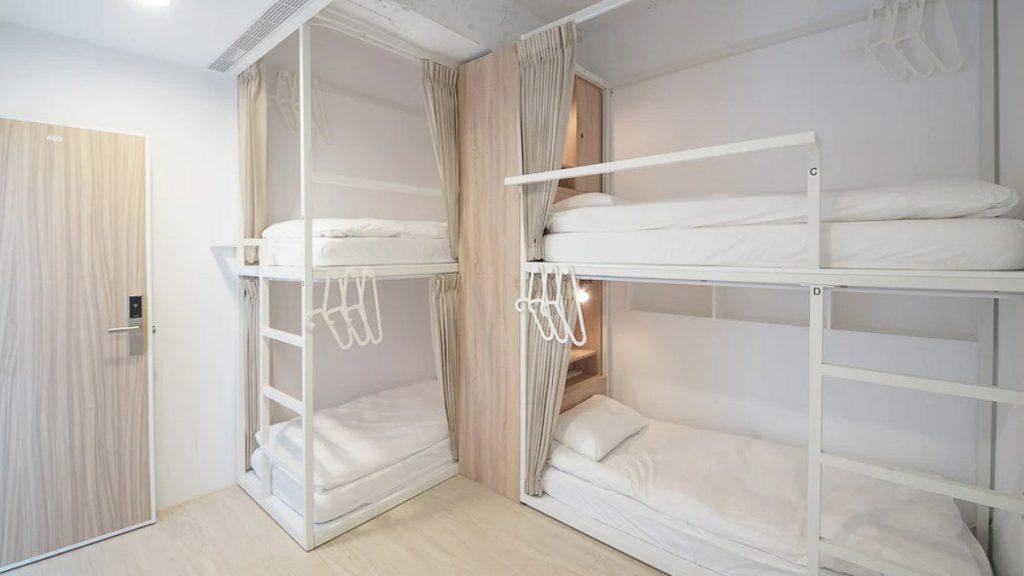 Photo credit: Klook
People often ask why we prefer hostels, and the answer is simple. It's cheaper so you can spend more on experiences (and eating) instead. Hostels are also a great way to socialise and get information too.
Cost: From NT$650 (~S$28) per night in a 6-bed mixed dorm
Address: No. 122, Chang'an W Rd, Datong District, Taipei City, Taiwan 103
Day 2: Motorcycle Tour — Exploring Shifen, Jiufen, North Coast
Day trips out of Taipei are common but on a motorcycle? That's a first! When we found out there was a motorcycle tour (~S$110 via Klook) to the places we wanted to visit, we knew we had to make this the highlight of our Taipei itinerary. What better way to explore the outskirts of Taipei than on the transport of choice amongst the locals?
*Note: You will be riding pillion with an experienced rider, so don't worry about not having a motorcycle licence.
When we saw our guides turn up at our hostel in the morning, we knew we were in for an awesome day. With their shiny customised bikes, these guys are actually local bike enthusiasts who banded together to provide an alternative experience for the more adventurous.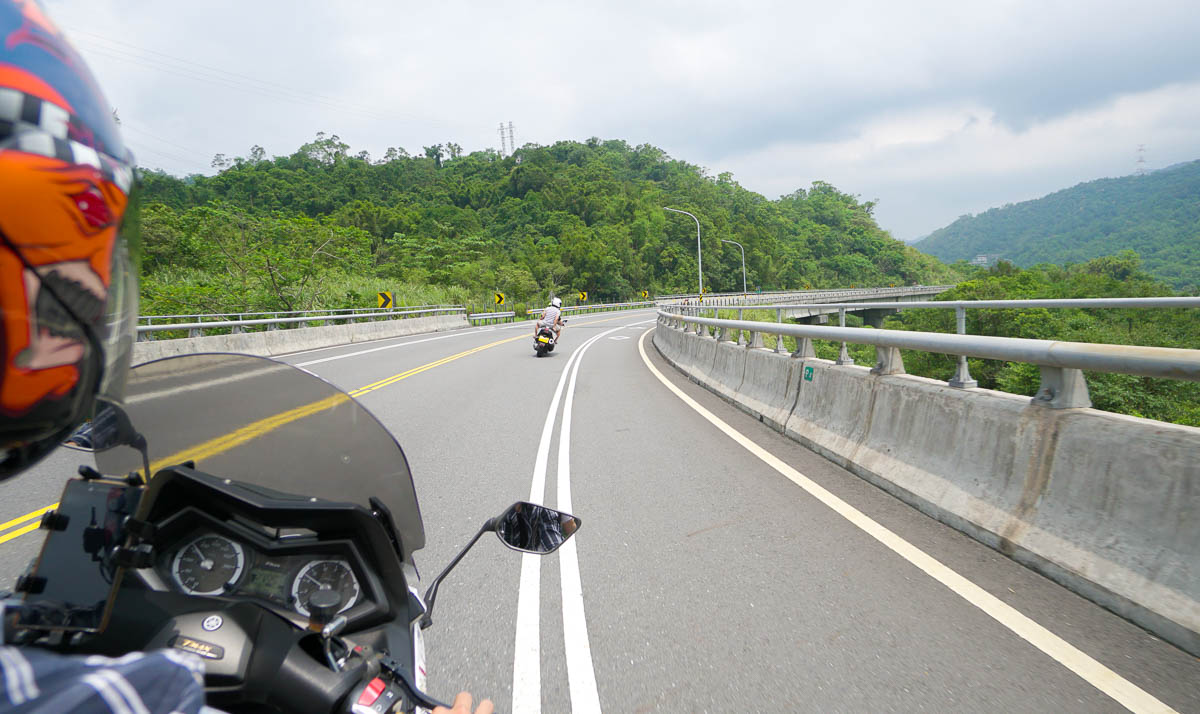 To be honest, we were a little hesitant at first. But our guides Ah Wei, Darren, and Edward were very professional and always kept safety in mind. Only after we were comfortable did they try to make our ride more fun. 😉
Charm of Shifen Old Street (十分老街)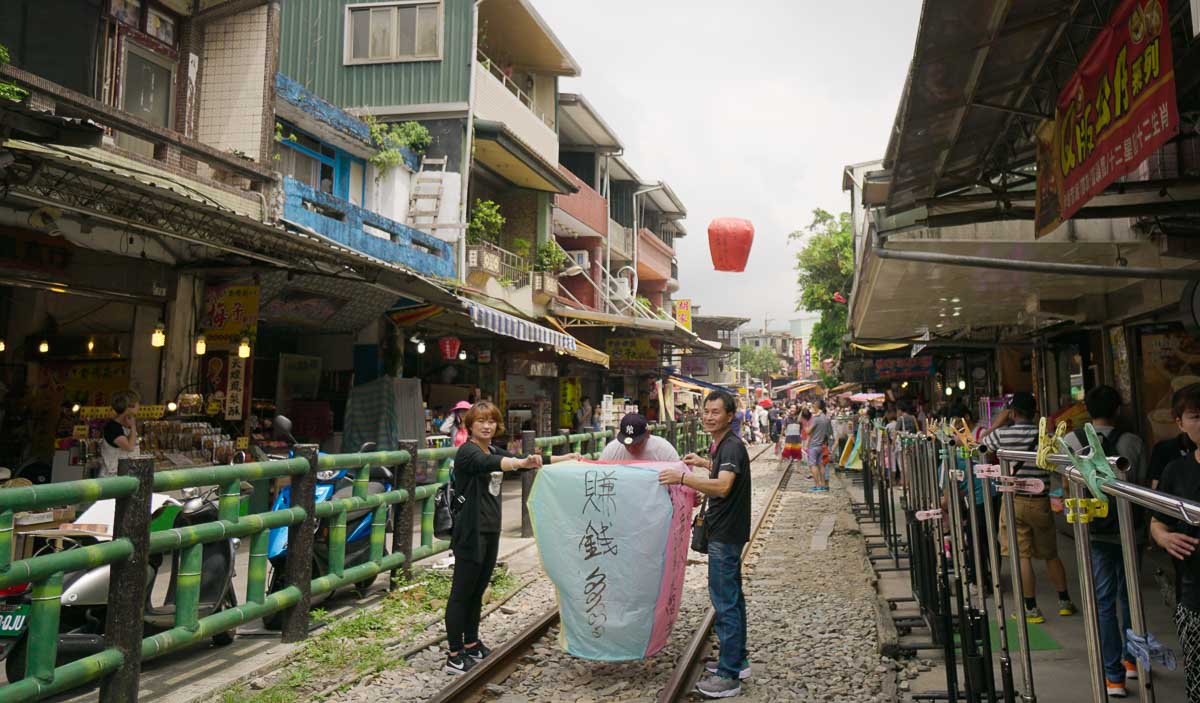 Our first proper stop was at Shifen Old Street (十分老街), a marketplace near the train station where people can release Sky Lanterns with well wishes on them. The railway track between the two rows of shops is still in service, which makes for an interesting sight when the train approaches and everyone scurries out of the way.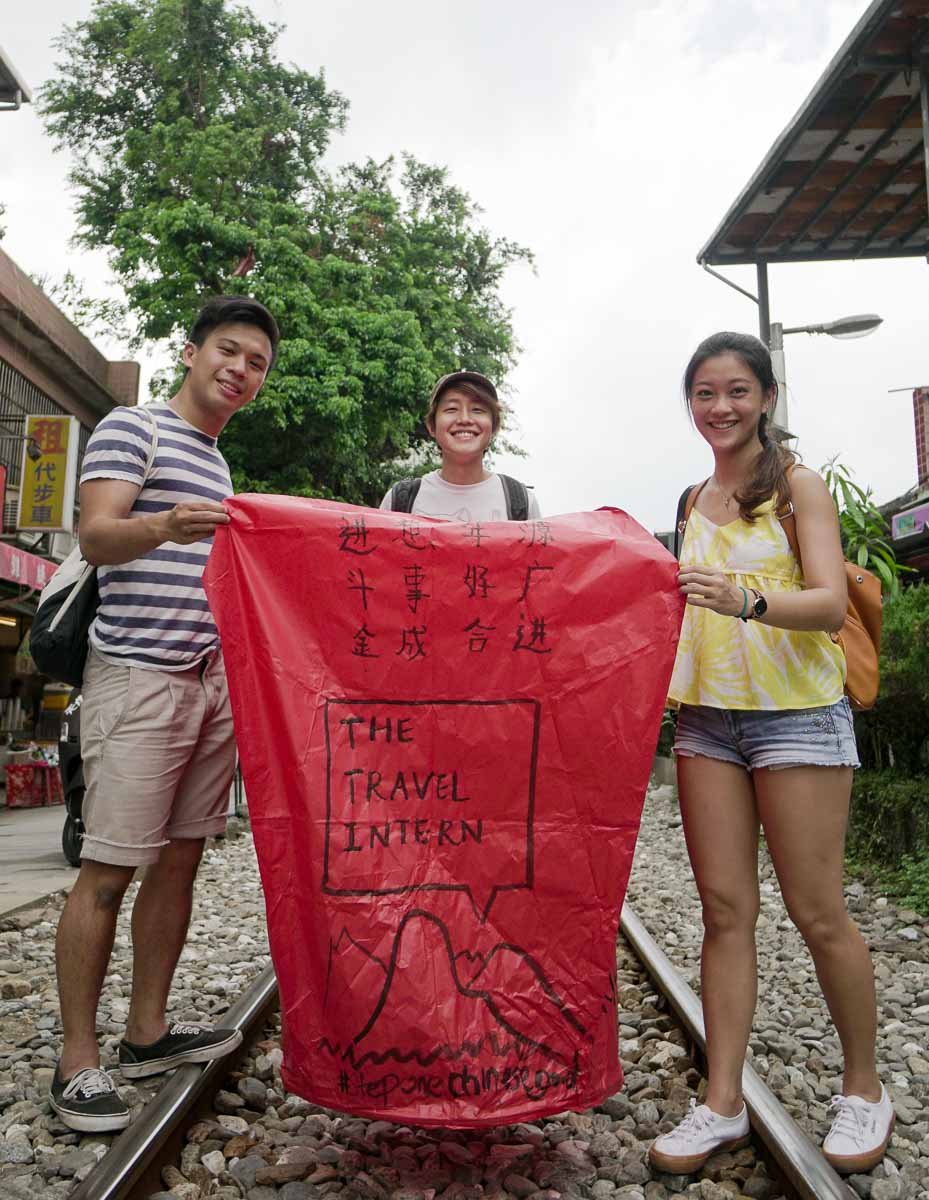 It's mainly a tourist town now, but we still found it charming with all the snacks and mountainside scenery.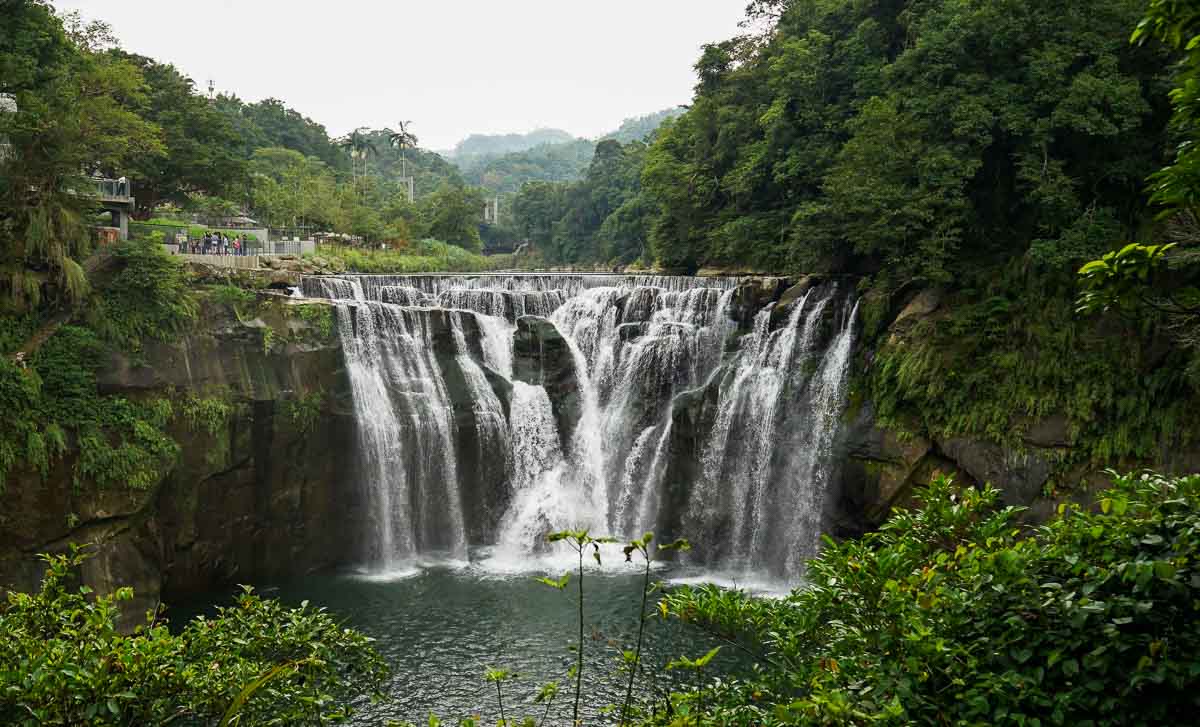 Nearby is the impressive cascading Shifen Waterfall (十分大瀑布), Taiwan's widest waterfall, which some nicknaming it Taiwan's Niagara Falls.
Cost: Free
Opening hours: 24 hours
Address: No. 81號, Shifen St, Pingxi District, New Taipei City, Taiwan 226
Eating in Jiufen Old Street (九份老街)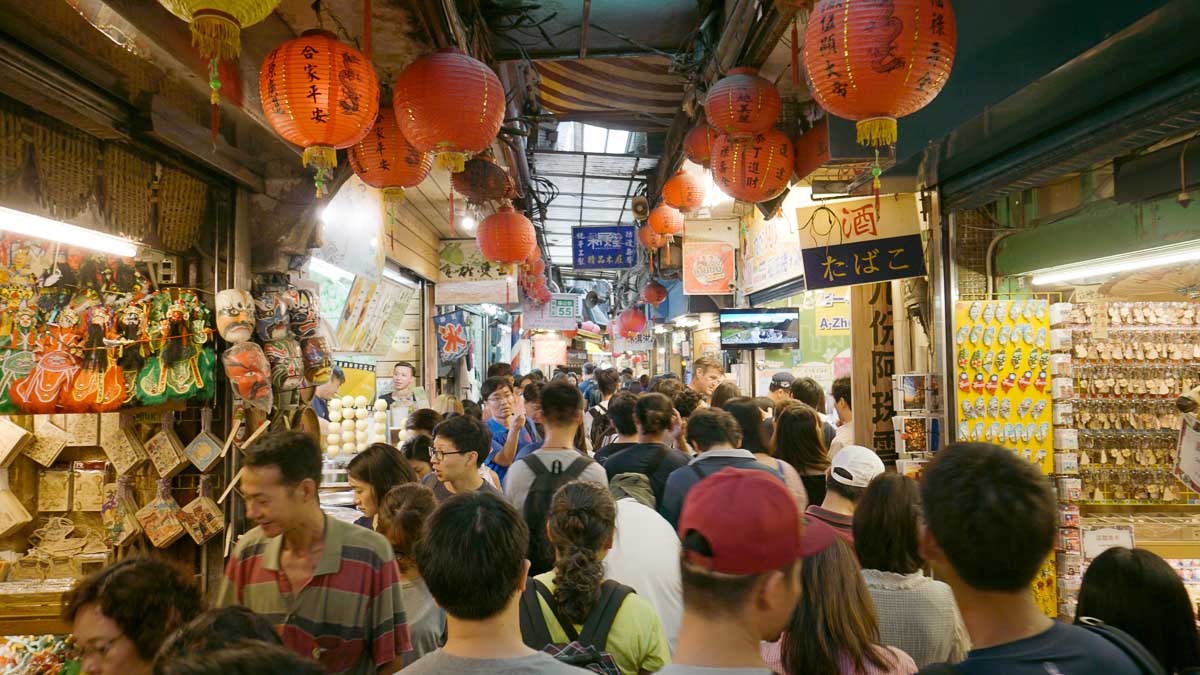 We were then off to the village of Jiufen, a formal gold mining town which inspired the setting for Miyazaki's 2001 film Spirited Away. These days it's another popular day trip destination where people come to feast on Taiwanese snacks and food.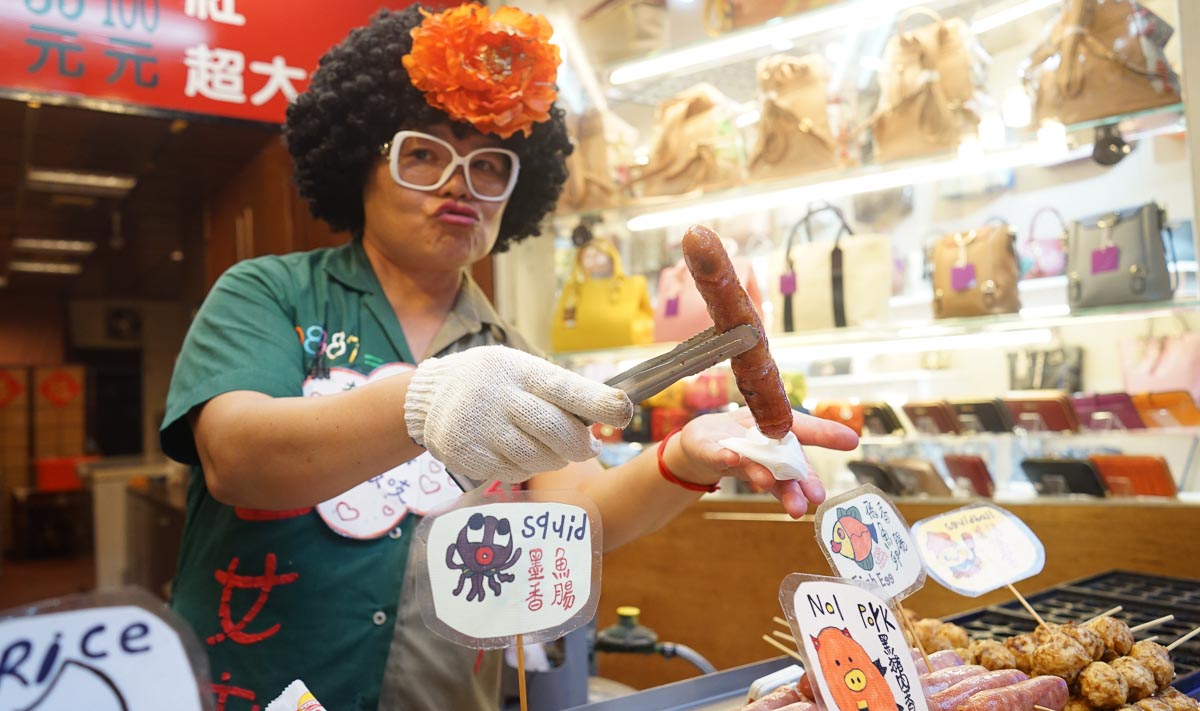 Wild Boar Taiwanese Sausage and the adorable shop owner at Wu Di Wild Boar Sausage (無敵黑豬肉香腸). The double sausage and rice in sausage are worth a try too.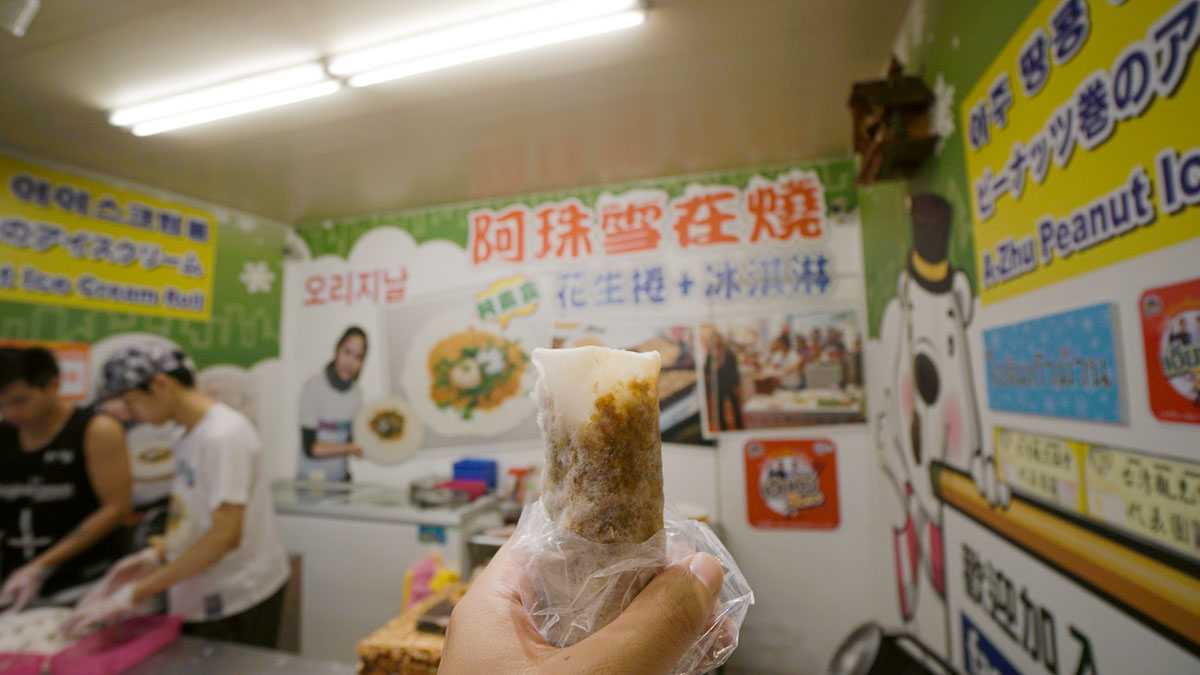 The queues can be long, but A-Zhu Peanut Ice Cream Roll (九份阿珠雪在燒) is another must-try here at Jiufen.
Cost: Free
Opening hours: 8AM – 7PM (Mon – Thu), 8AM – 10PM (Fri – Sun)
Address: Jishan St, Ruifang District, New Taipei City, Taiwan 224
Check out our comprehensive day trip guide to Jiufen and Shifen too!
Scenic North Coast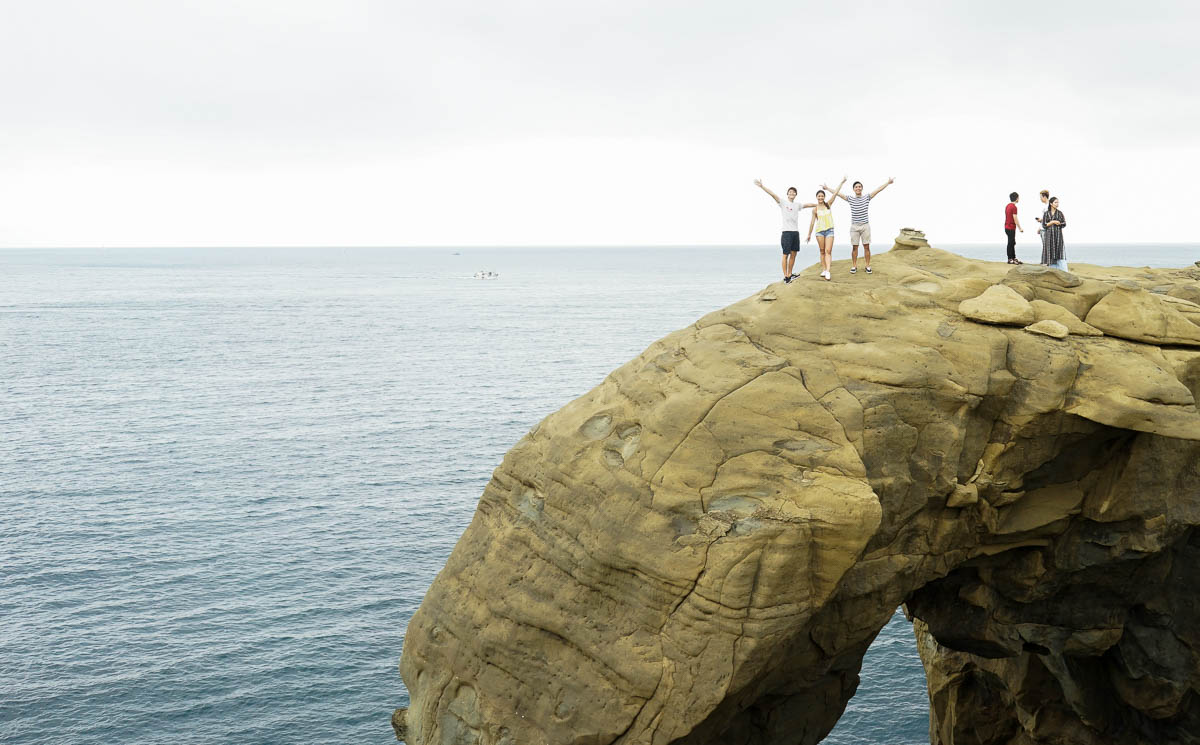 It was then a nice scenic ride along the coast, with the sea on one side and mountains on the other. Eventually, we ended up at Shen Ao Elephant Rock (深澳岬角), which has a pretty distinctive feature of looking like an elephant's trunk.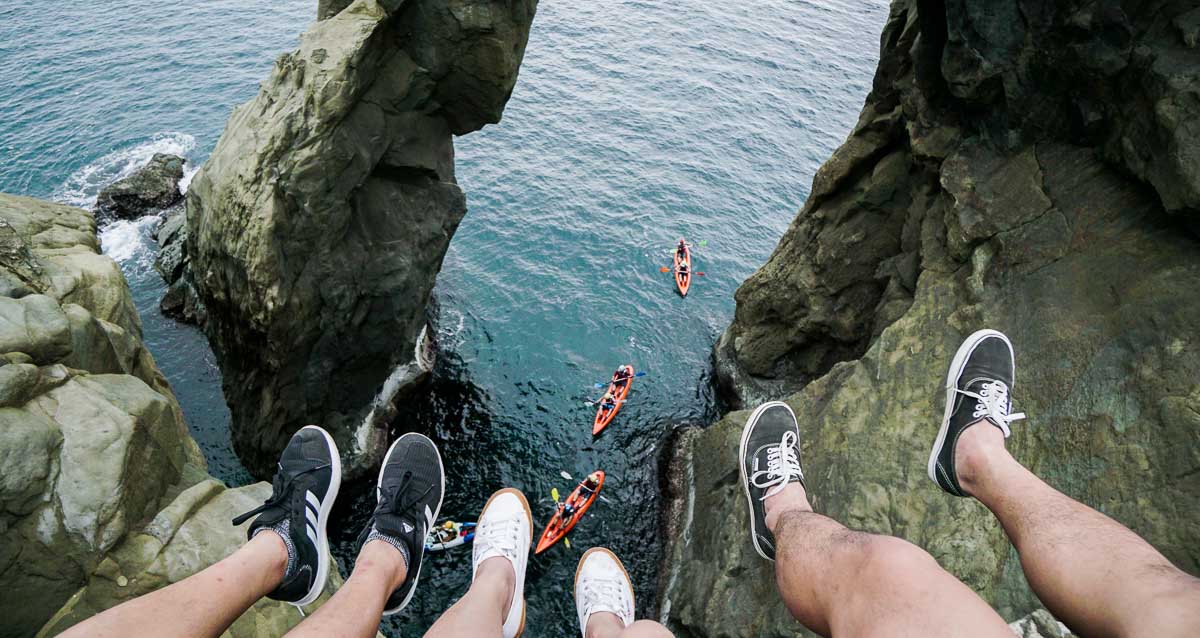 The best part of the tour though wasn't the sights. And it also wasn't about feeling cool riding through the city and countryside. The best parts were actually the warmth and sincerity of our guides.
They're a very fun bunch, always eager to accommodate, and have an interesting outlook on life. They showed us their lives and brought us to lesser-known spots along the way. There was even this secret photo spot recommended by our tour leader Ah Wei, where we had to ride slowly through the narrow winding roads up the mountain.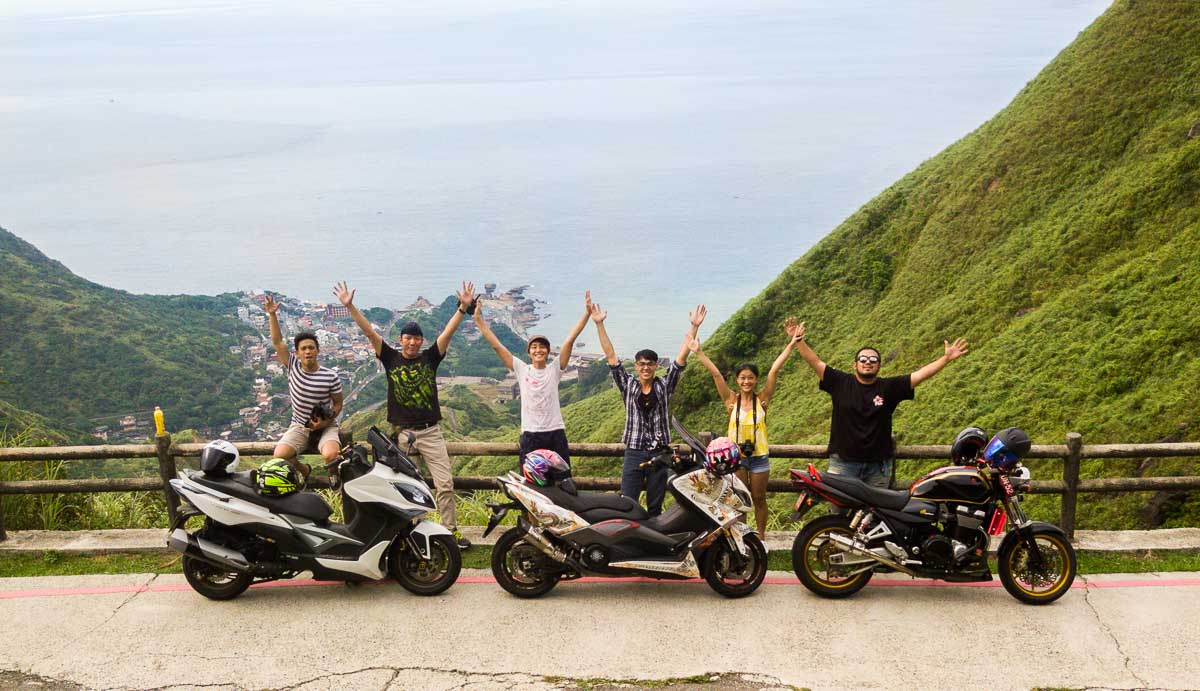 It's cliche to say this, but we came as strangers and left as friends. I guess that's the beauty of travel, meeting people from another part of the world, and leaving with a warm heart and more open mind.
For those with an adventurous spirit. This motorcycle tour is something you definitely have to experience.
They have a couple of predetermined routes, but the guys are flexible and open to suggestions. For us, we booked their 8-hour Maniac Tour & 4-hour Dusk Tour, and combined them into a super long customised tour
*Pro-tip: Use the chat app LINE to work out the plan with the tour leader before your trip. You will receive the contact details after booking the tour. Do request an English-speaking guide if your Mandarin isn't fluent!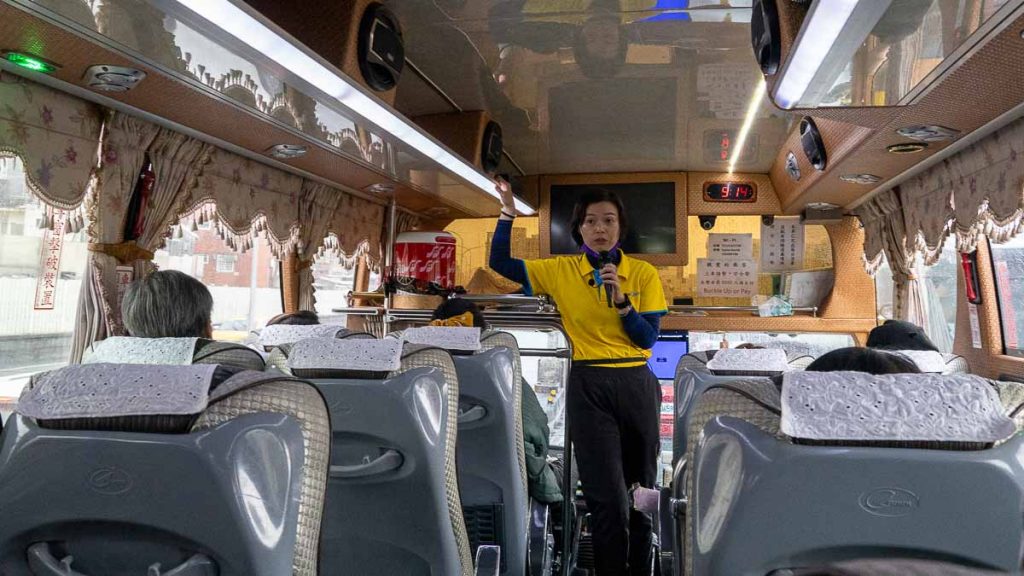 If motorcycles aren't your thing, check out this tour (from ~S$26 via Klook) that takes you to the outskirts of Taipei on a shuttle bus.
Day 3: Beitou Hot Spring & Keelung Port City
Beitou – The local Hot Spring Town
The next day, we took a convenient MRT ride to Xinbeitou to explore the hot spring town. It's a relaxing town, with key sights like Thermal Valley (地熱谷), the Hot Spring Museum, and Public Library to slowly explore.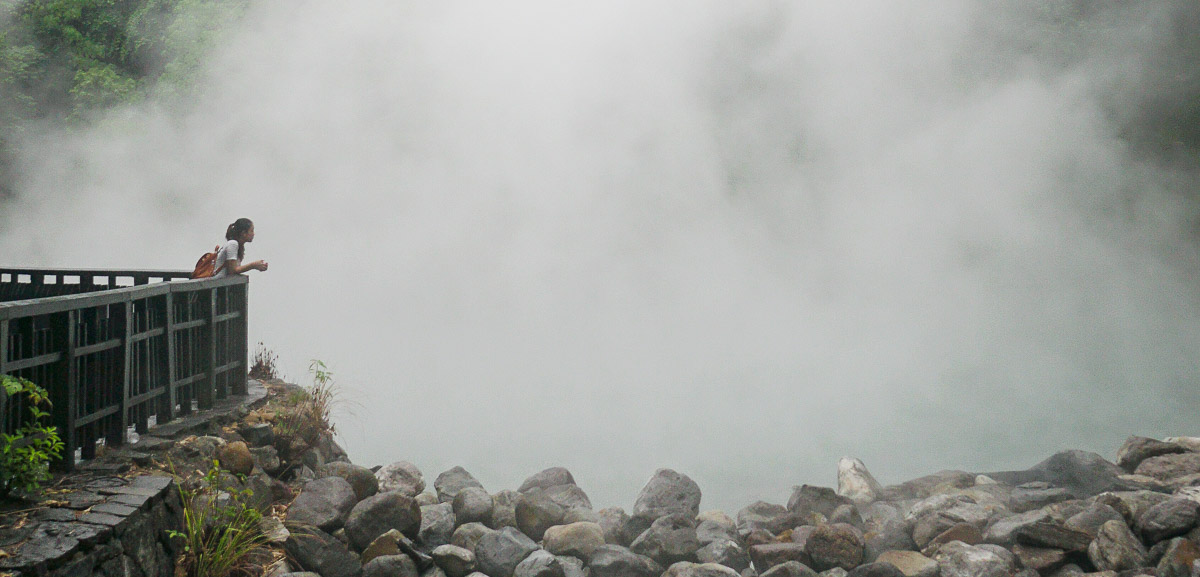 Lots of gas that day at Beitou Thermal Valley.
The highlight though was a visit to a local hot spring called Xinbeitou Public Hot Springs/Millennium Springs (新北投千禧湯露天溫泉). For NT$60/pax, we soaked for 2 hours, alternating between the hot and cold pools. Perfect after the previous day's activities.
*Pro-tip: Remember to bring proper swimwear, as board shorts and FBTs are not allowed.
Man Lai Hot Spring Ramen (滿來溫泉拉麵)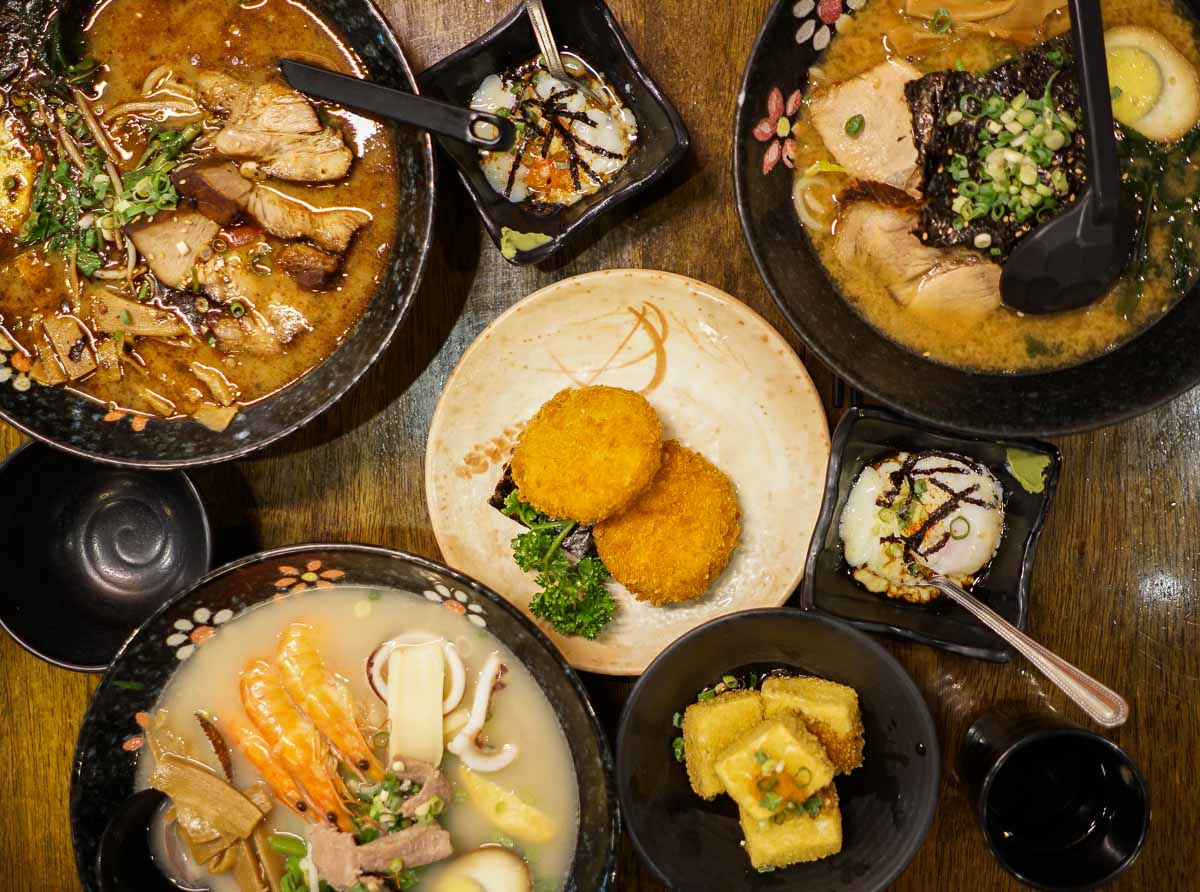 We then had a late lunch at Man Lai Hot Spring Ramen (滿來溫泉拉麵), well known for its Taiwanese-style ramen, hot spring eggs, and tofu. Avoid meal times if you don't want to queue for too long!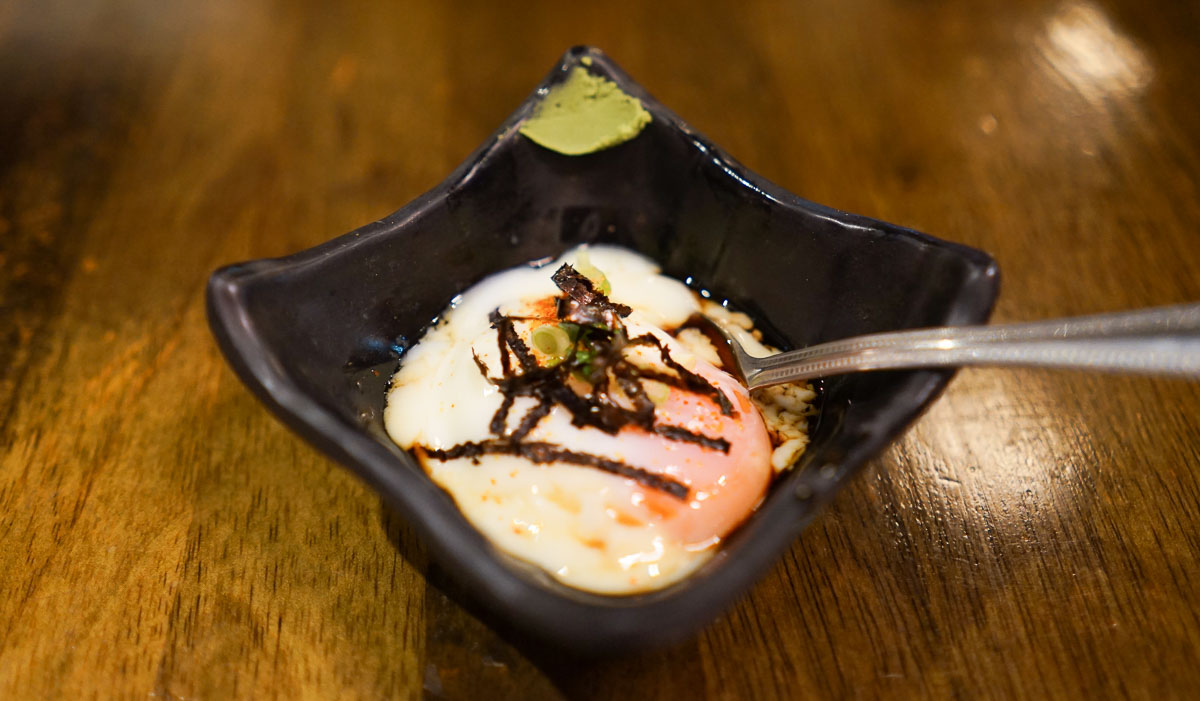 *Pro-tip: Order the fried tofu and the staff will ask you to play a secret game for a small discount!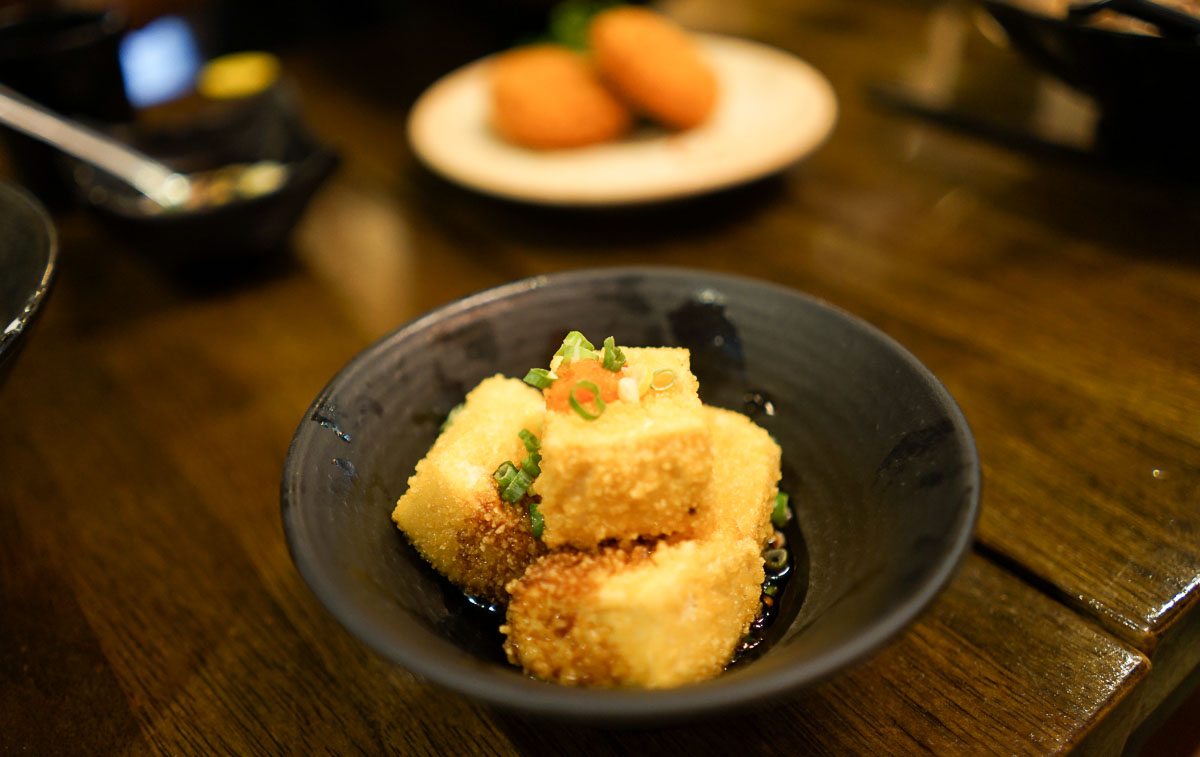 Cost: Ramen from NT$150 (~S$6.50), sides from NT$30 (~S$1.30)
Opening hours: 11:30AM – 9PM
Address: No. 30, Zhonghe St, Beitou District, Taipei City, Taiwan 112
Underrated Keelung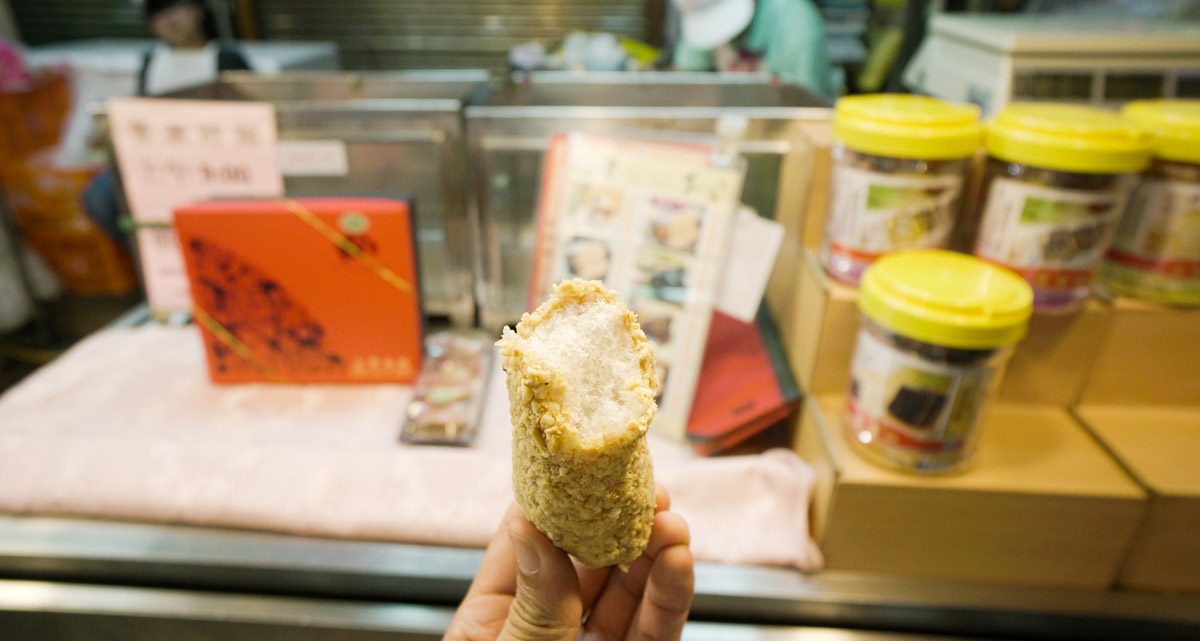 After half a day in Beitou, we headed back to Taipei for our bags and left straight for Keelung via a local train for NT$41 (~S$1.80).
Keelung is a port city that is probably past its golden days. A strategic fort in the past, it's now better known for food and the Miao Kou Night Market (廟口夜市) that rivals the night markets of Taipei.
Heping Island Park (和平島公園)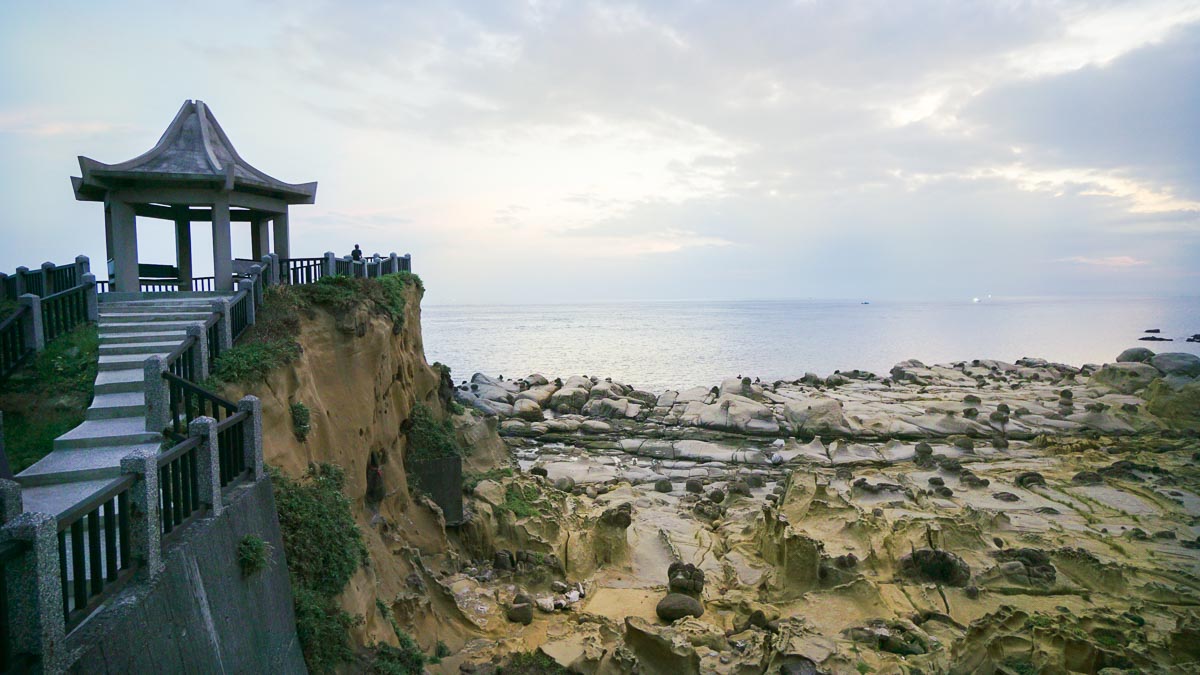 The beautiful Heping Island Park (和平島公園) was a short bus/taxi ride from the town centre. A beautiful pavilion overlooking the coastline can be found along the Huanshan hiking trail.
Entrance fee: ~S$5/pax via Klook
Opening hours: 8AM – 6PM
Address: No. 360號, Pingyi Rd, Zhongzheng District, Keelung City, Taiwan 202
Keelung Lien Cheng Bakery (基隆連珍餅店)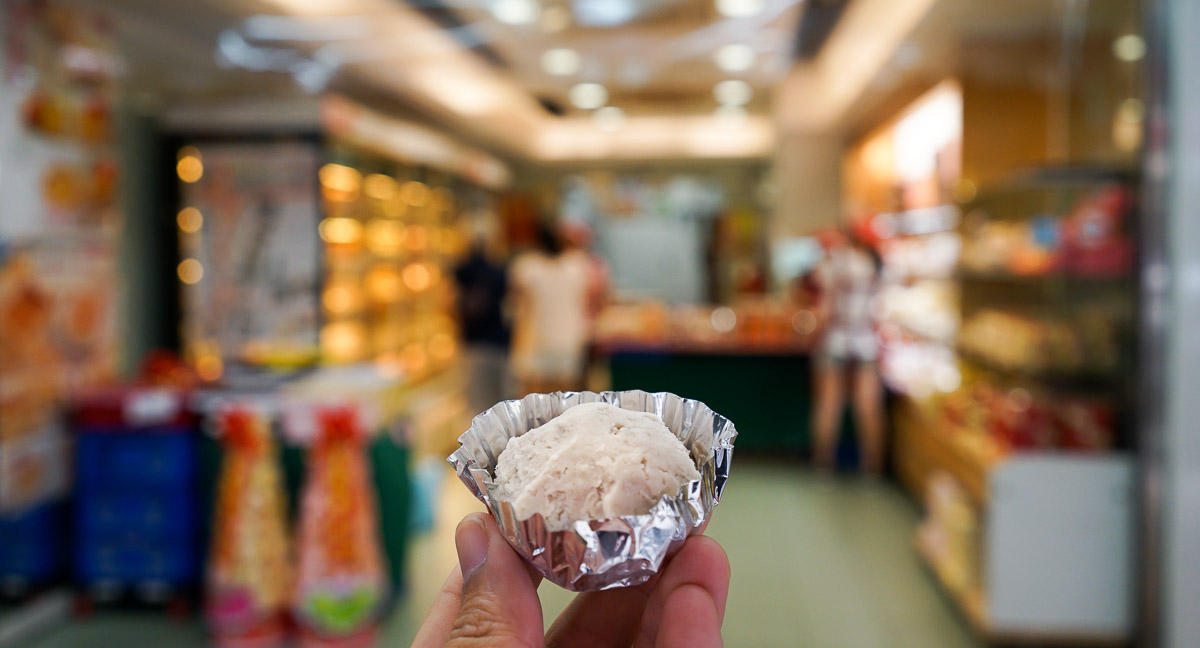 Do also check out Keelung Lien Cheng Bakery (基隆連珍餅店) for their awesome Yam balls as well. Taiwanese celebrity Xiao S visited once and said it was one of the best bakeries she has been to.
Cost: NT$55 (~S$2.40) for 4 yam balls
Opening hours: 8AM – 9PM, closed on Mon
Address: No. 42, Aier Road, Ren'ai District, Keelung City, Taiwan 200
Kanziding Fish Market (崁仔頂漁市場)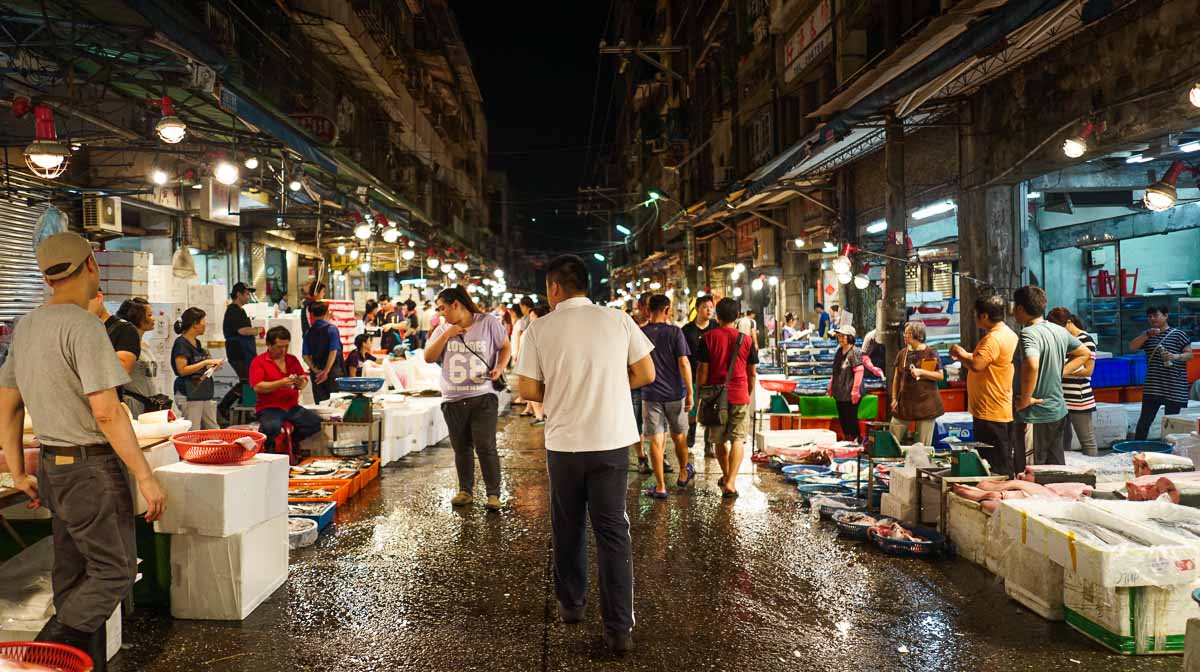 While most people visit Keelung on day trips, the real gem lies in what happens in the wee hours of the morning. Kanziding Fish Market (崁仔頂漁市場) is the biggest wholesale seafood market in Northern Taiwan. Chefs from as far as Taichung supposedly come here for the best fresh produce.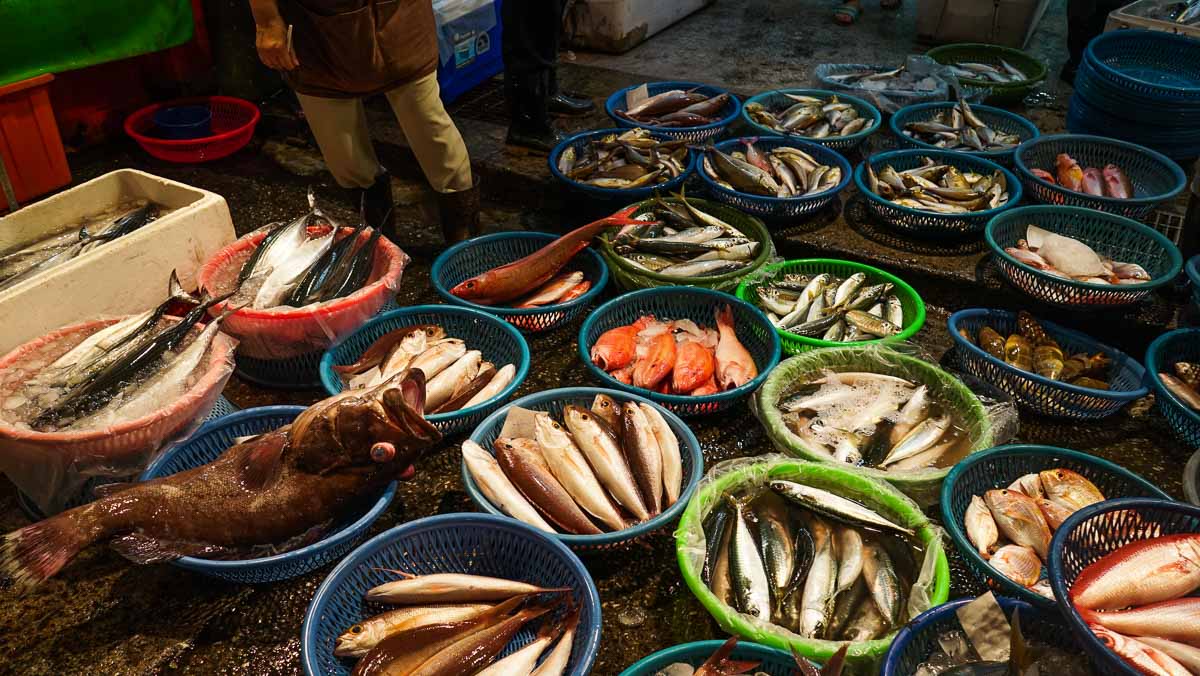 Wanting to understand the culture and famous fish auction better, we went on a local midnight fish market walking tour (~S$43 via Klook) that currently only runs every Saturday.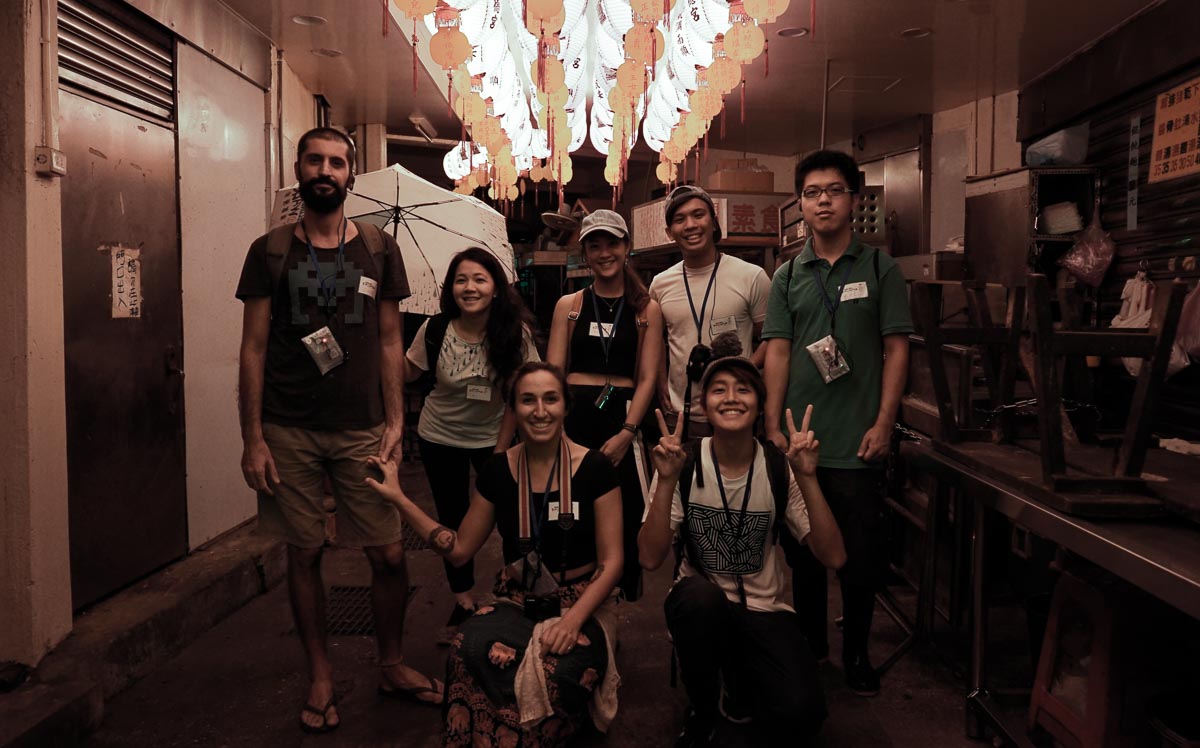 The wireless earpiece was a nice touch as it allowed us to hear our guide even if we wandered off or when it was too noisy.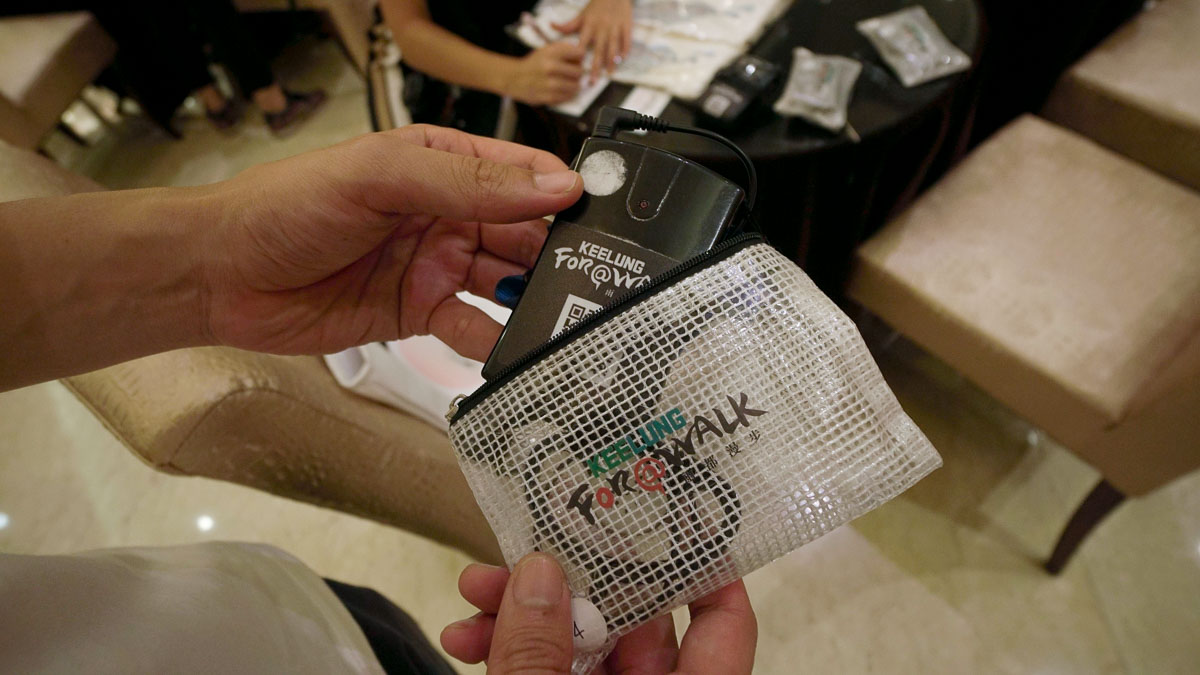 What made the tour special though, were the interactions with the locals. Most tours usually bring you to places where people are trying to sell you things. However, the ones on this tour were very authentic.
From a whiskey bar owner sharing local drinking culture, to the veteran fish auctioneer who showed us the nuances of the auction game, they simply wanted to share their knowledge and love for Keelung!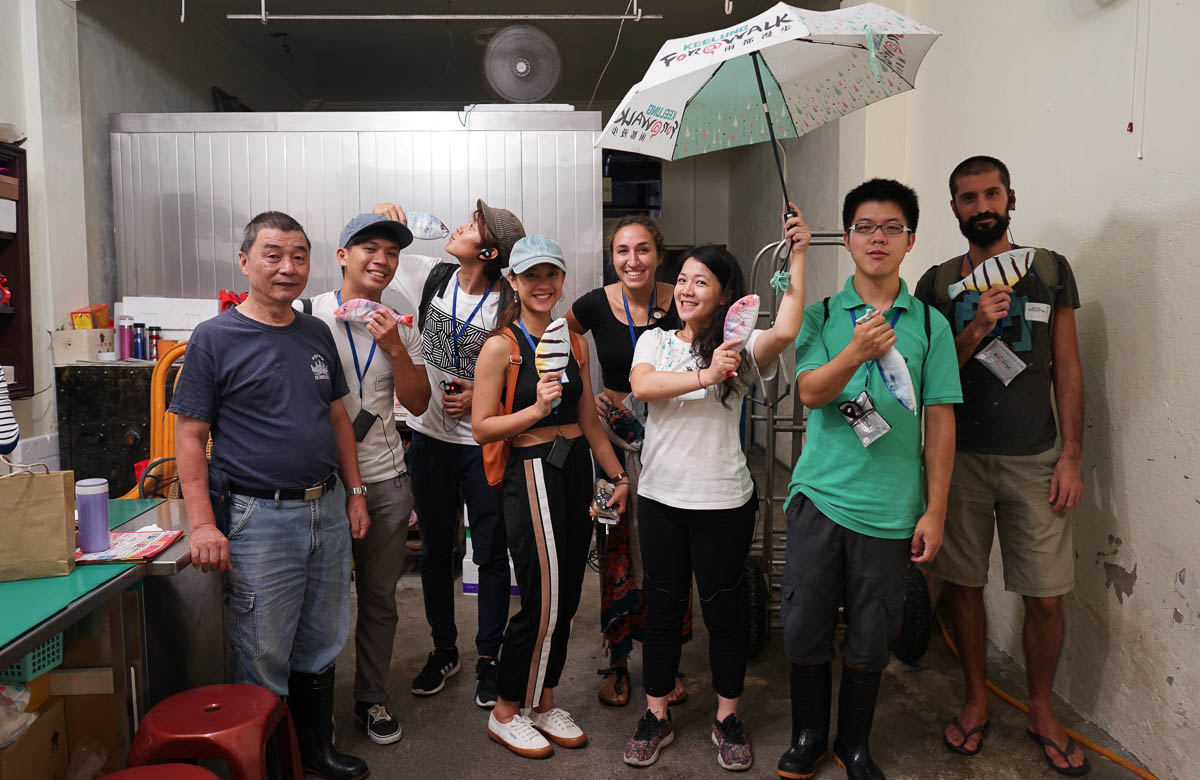 Cost of tour: ~S$43/pax via Klook for 3hrs
Opening hours: 12AM – 5AM, closed on Sun and Mon
Address: Xiaoyi Rd, Ren'ai District, Keelung City, Taiwan 200
Zhutian (朱添鮮魚號)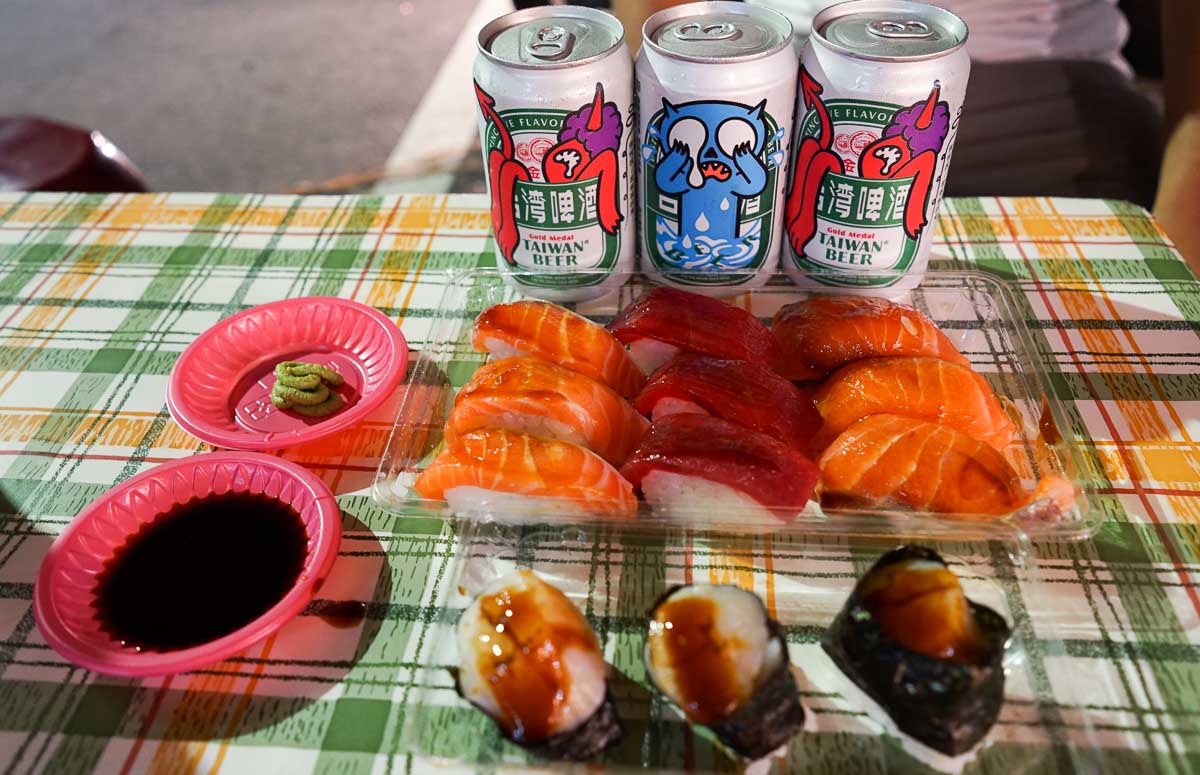 After the tour, we couldn't resist getting some fresh sashimi at Zhutian (朱添鮮魚號).
Cost: From NT$20 (~S$1)
Opening hours: 9PM – 4AM
Address: 200, Taiwan, Keelung City, Ren'ai District, Rensi Road, 45號號
Accommodation in Keelung – Yung Feng Hotel (永豐旅店)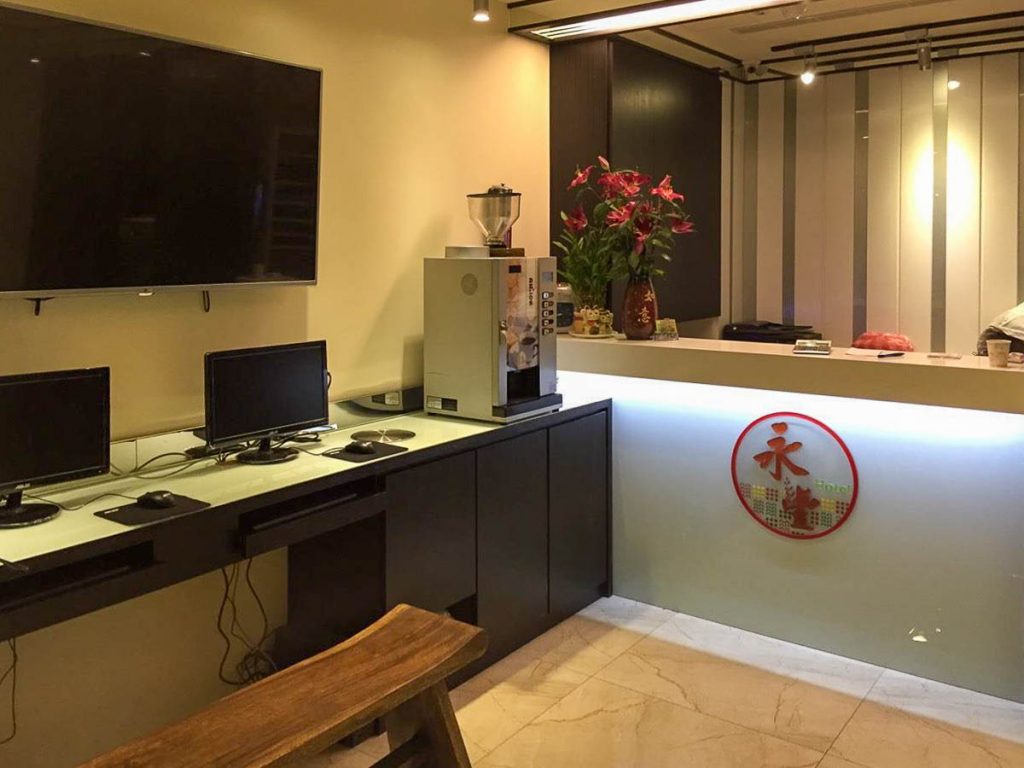 Photo credit: Klook
Yung Feng Hotel is pretty basic. But at just 2 minutes by foot to Miao Kou Night Market, and 5 minutes by foot to the Fish Market, the location is perfect for exploring Keelung.
Cost: Quadruple room from ~S$75 per night
Address: 200, Taiwan, Keelung City, Ren'ai District, Lane 49, Aisan Rd, 14號2樓
Day 4: Yehliu Geopark & Taipei City
Touristy but Spectacular Yehliu
The next day, we headed back to Taipei and dropped our bags at the lockers in Taipei Main Station before taking a 4-hour private car charter to visit Yehliu Geopark and its surroundings. This was perfect as it allowed us to maximise the last day of our Taipei itinerary instead of wasting time taking public transport.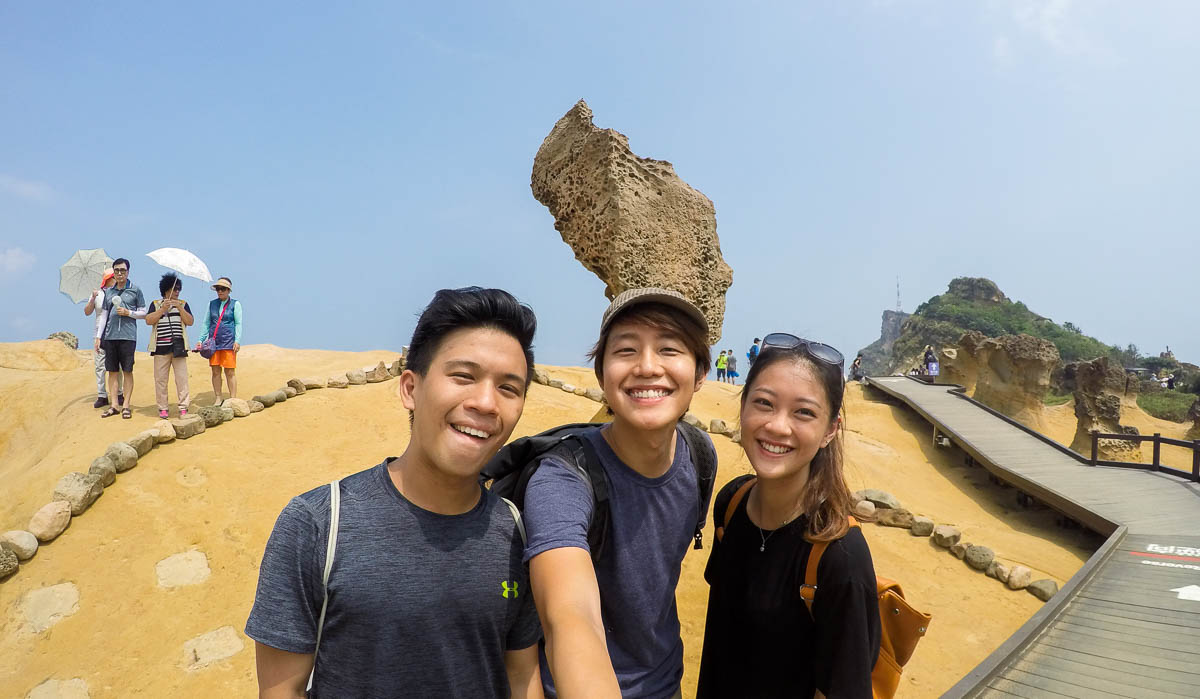 The famous Queen's Head Rock.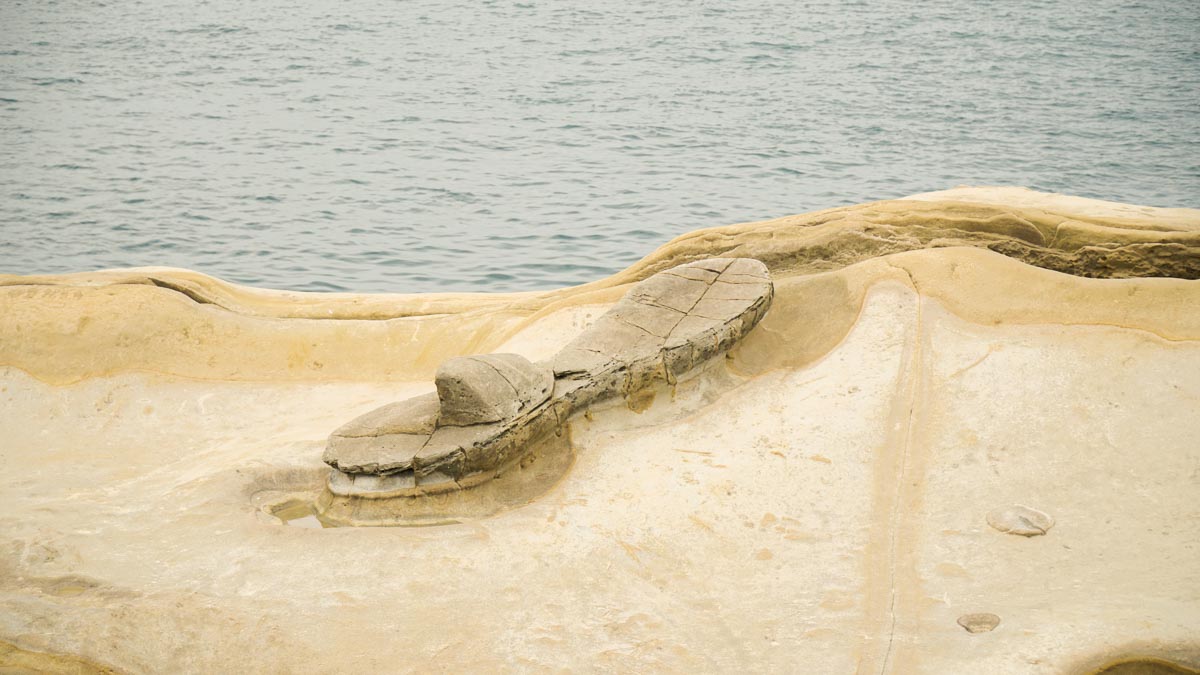 Can you figure out what this is?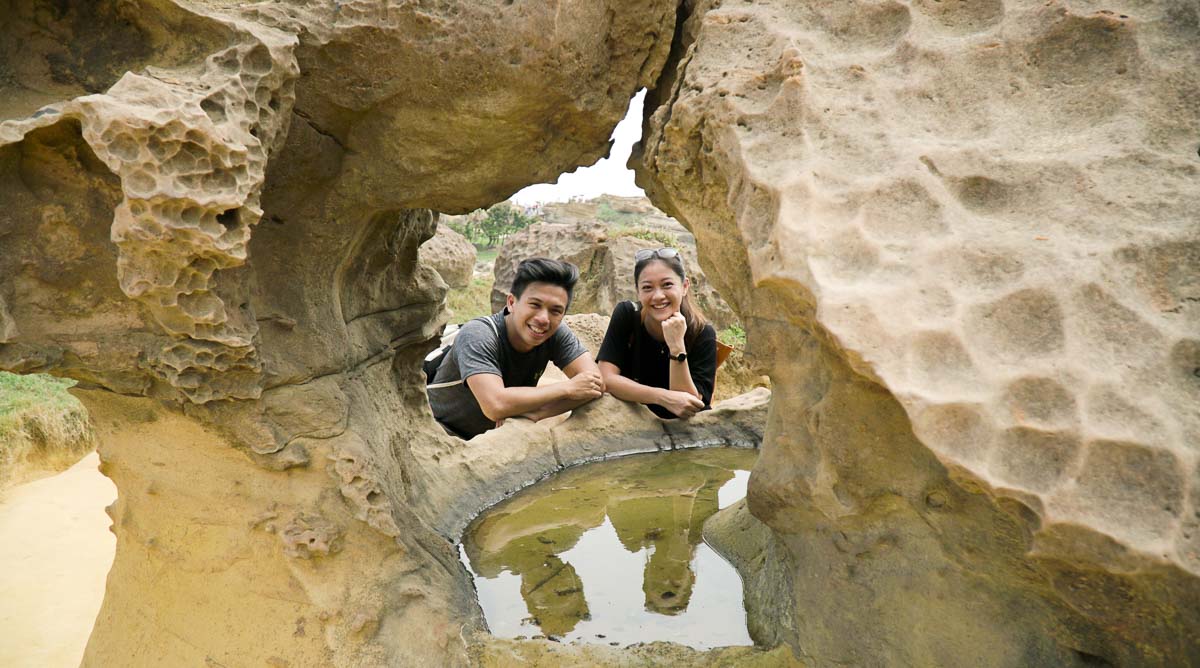 Some of the rock formations do require some imagination, so come with an open mind. Nevertheless, it was very scenic.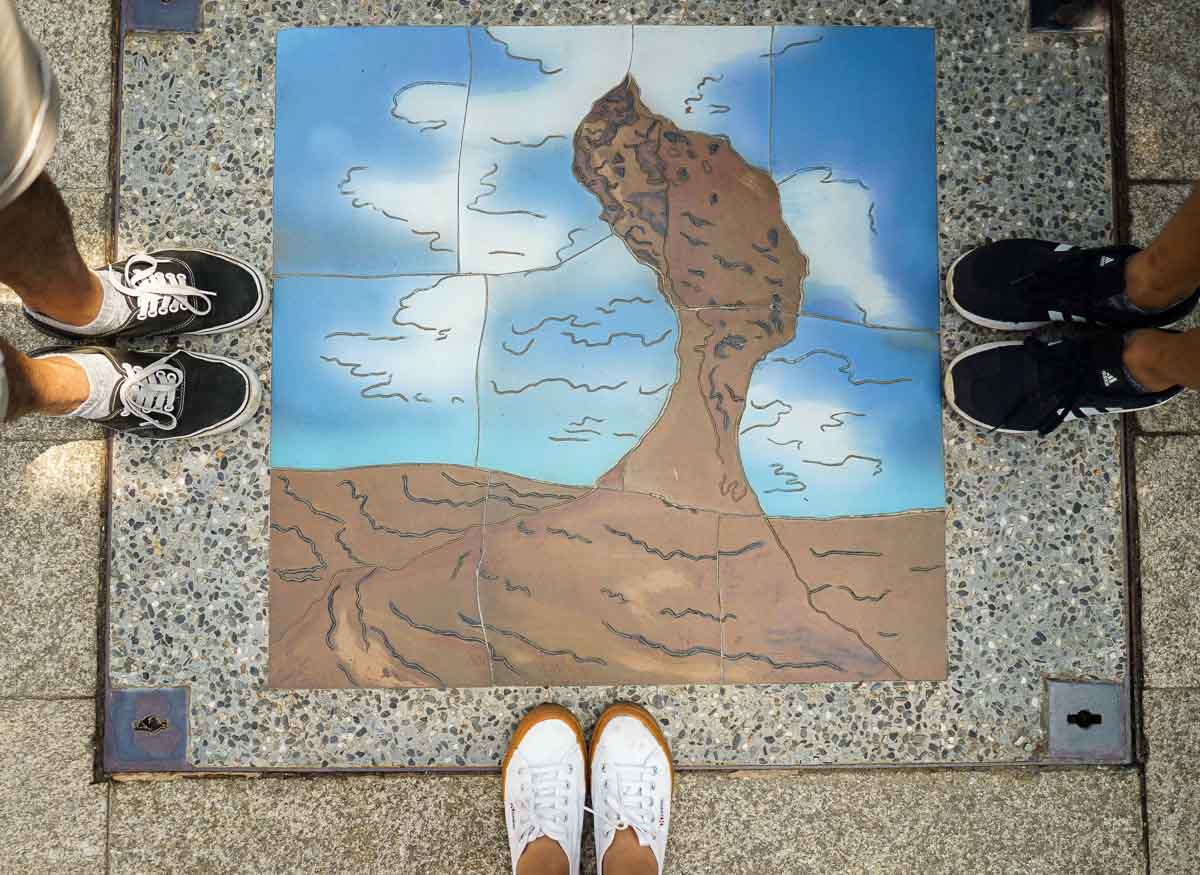 *Pro-tip: Try to visit when the park opens at 8AM in the morning to avoid the crowds. We arrived too late and many of the tour buses were already there.
Entrance fee: ~S$5.50/pax via Klook
Opening hours: 8AM – 5PM
How to get there: Drive 45mins from Taipei Main Station
Tamed Fox Cafe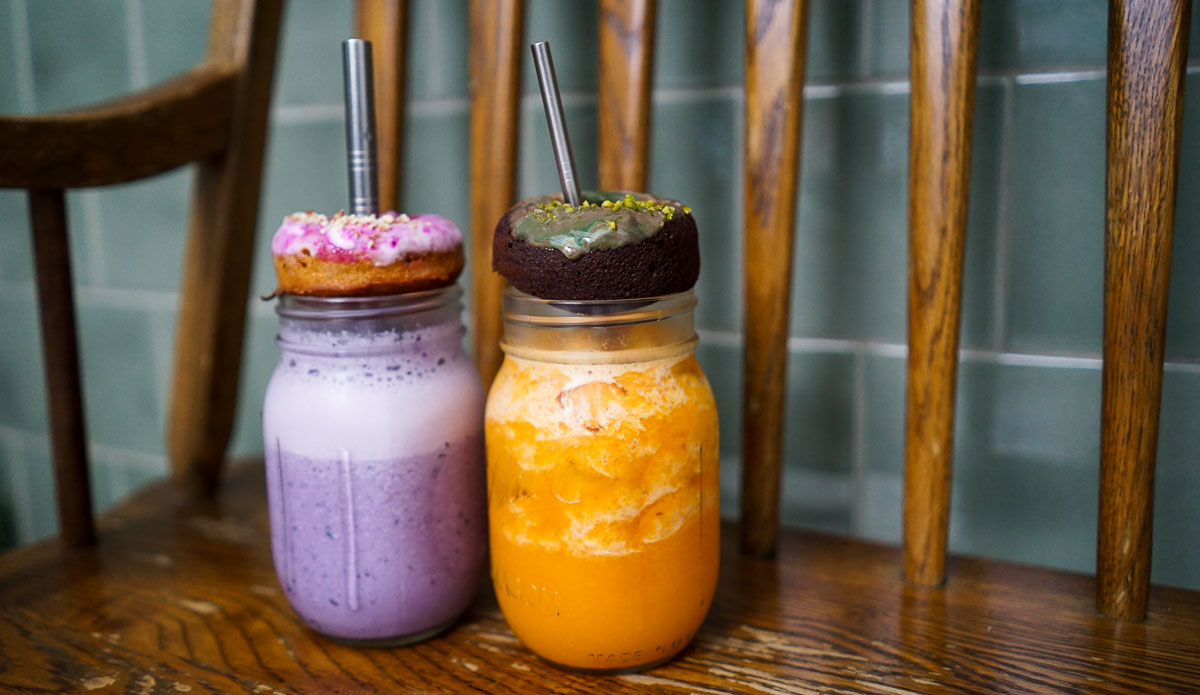 We then visited Tamed Fox Cafe for a break and some really Instagrammable food (looks better than it tastes). The cafe has a very nice vibe, and you can easily spend hours chilling there.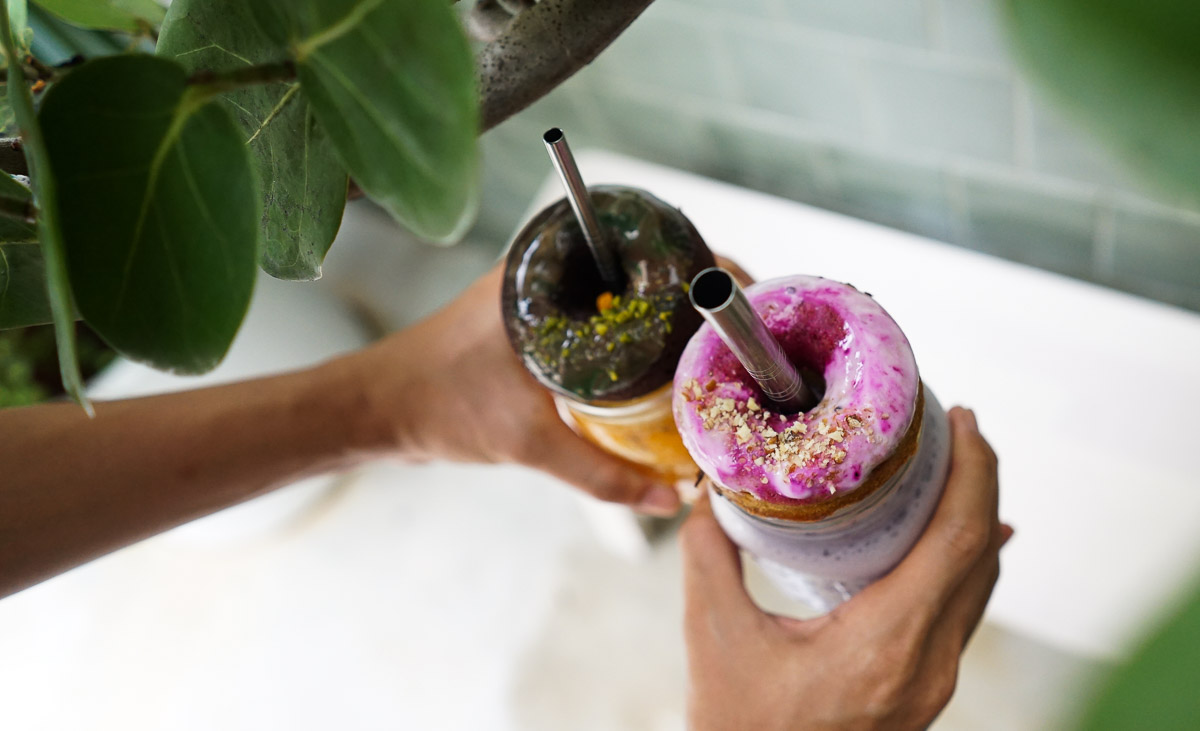 *Pro-tip: Buy a doughnut and drink to make your own Instagram creation
Cost: From NT$260/main (~S$11.40), from NT$60/drink (~S$2.60)
Opening hours: 9AM – 5:30PM
Address: No. 5號, Lane 76, Siwei Rd, Da'an District, Taipei City, Taiwan 106
Snow King Ice Cream (雪王冰淇淋)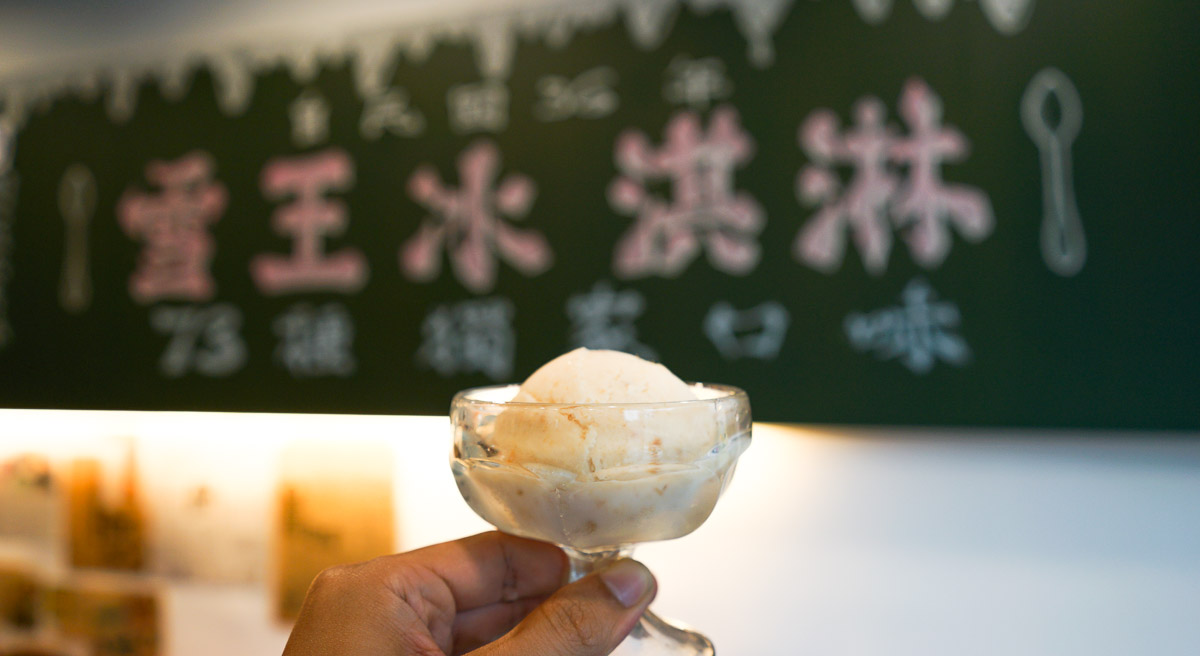 Finally, we ended our Taipei food hunt at the famous Snow King Ice Cream (雪王冰淇淋), which serves some really unique ice cream flavours. Their pork floss ice cream really tasted like pork floss in ice cream!
Cost: From NT$80 (~S$3.50)
Opening hours: 12PM – 8PM
Address: 100, Taiwan, Taipei City, Zhongzheng District, Section 1, Wuchang St, 65號2樓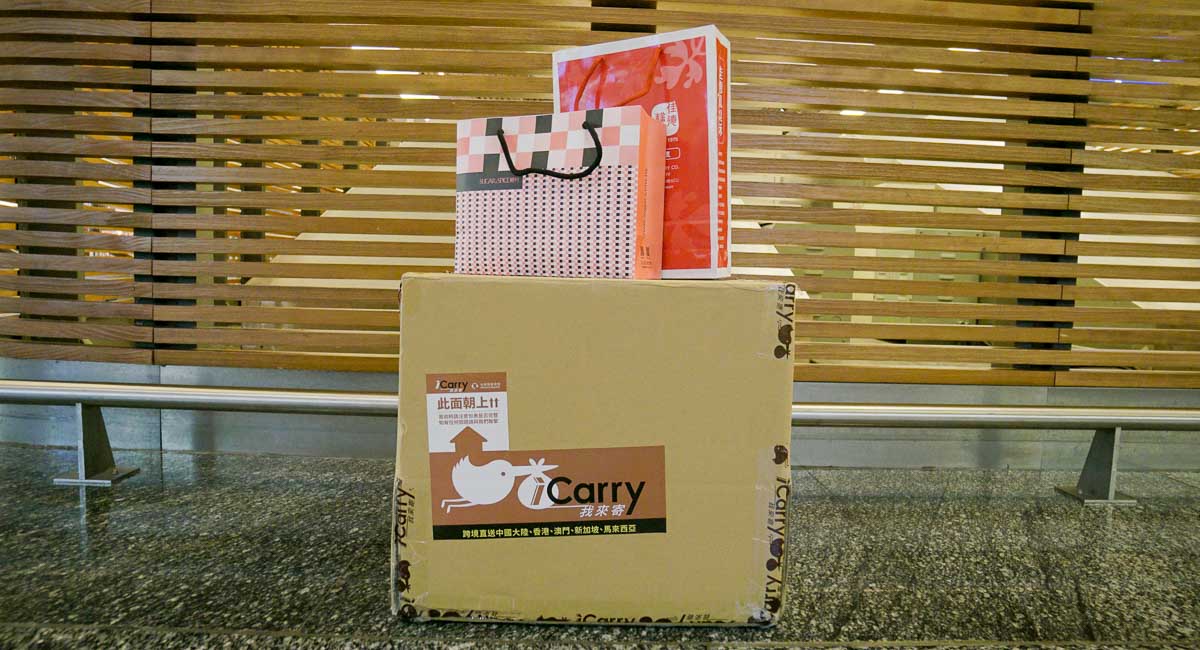 It was then off to the airport by carpool, before collecting the food souvenirs we pre-ordered online at the airport. I liked how it was already packed into a box (we removed them for photos), so you can easily check the entire box without worrying about repacking. The more brittle snacks were also bubble wrapped for extra protection.
We got Chia Te Bakery's Pineapple Tarts, Kuai Che's dried and crispy pork, and nougats from Sugar & Spice.
Tips For Your Taipei Itinerary
Most Taiwanese speak Mandarin, though the older ones speak the Taiwanese Min dialect — similar to Hokkien spoken in Singapore.
| | |
| --- | --- |
| Hello/Greetings | 你好 (lí-hó) / 你好 (nĭ hăo) |
| Thank you | 感謝 (kám-siā) / 謝謝 (xiè xiè) |
| Cheers! (toasting) | 呼乾啦! (ho͘ ta là!) / 乾杯! (gān bēi) |
| Sorry | 歹勢 (phái-sè) / 對不起 (duì bù qĭ) or 抱歉 (bào qiàn) |
| Goodbye | 再見 (chài-kiàn) / 再見 (zài jiàn) |
| | |
| --- | --- |
| Time zone of Taiwan | GMT +8 hours (Same as Singapore) |
| Telephone code | +886 |
| Currency | NT$ – Taiwan New Dollar (NTD) |
| Power plug & socket outlet | Types A & B – 110V 60Hz. |
If you plan to visit other parts of Taiwan, check out our other guides:
– 8D Eastern Taiwan Itinerary: The Gateway to Nature's Best Adventures (Taipei, Yilan, Hualien, Taitung and Kenting)
– 25 Unique Things To Do In Taiwan Besides Visiting Night Markets
– The Ultimate THSR Taiwan Food Guide: 25 Must-eats in Taipei, Taichung, Tainan, and Kaohsiung
– Top 7 things to do in and around Kaohsiung — Gateway to Taiwan's laid back South
Hope you found our Taipei Itinerary useful. Do let us know in the comments below if you have any other recommendations!
---
This post was brought to you by Klook.