#FoodForThought: Not all things were created equal — my insatiable appetite, and my finite physical capacity for food.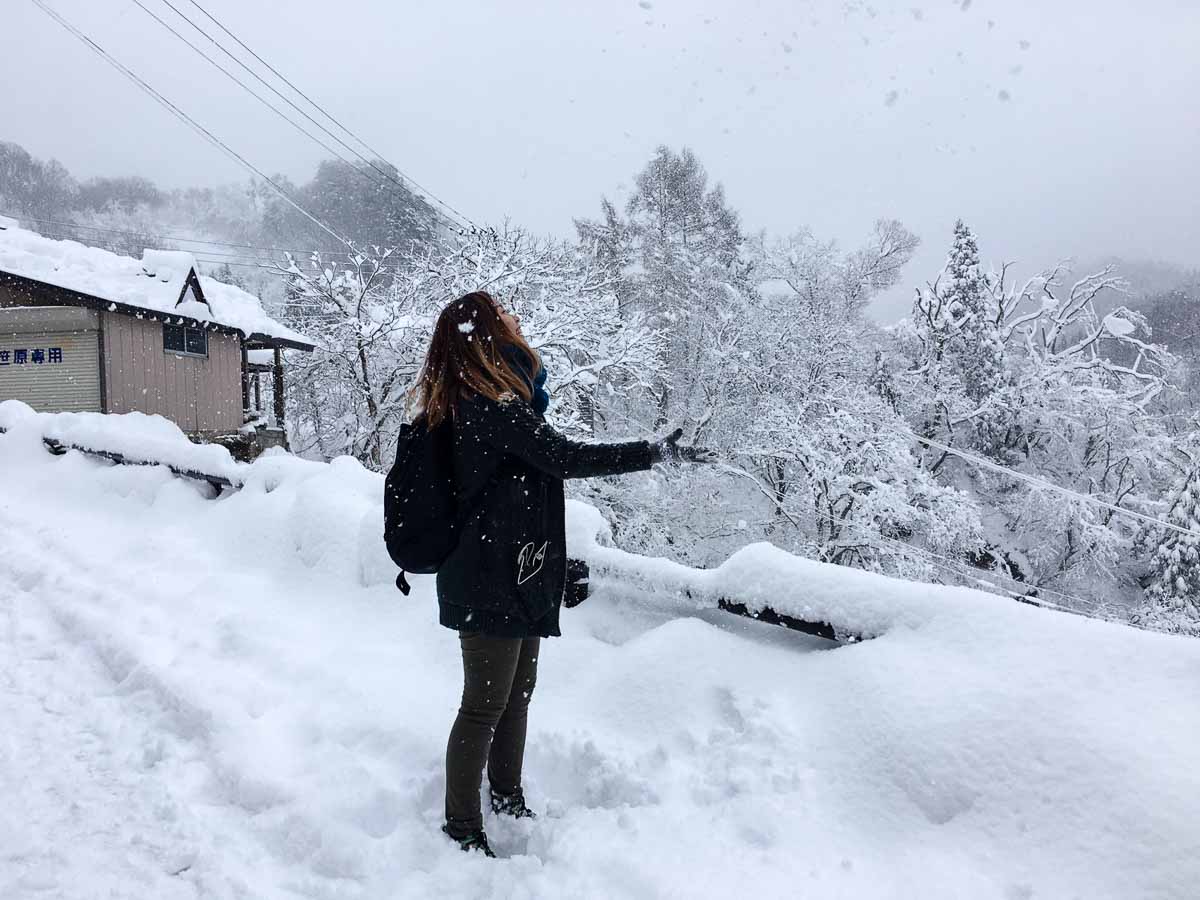 About 2 hours North of Tokyo, Yamagata prefecture's mountainous region is the perfect backdrop to enjoy Japan's nature and savour some of the best foods that Japan has to offer. Yamagata home to Kobe beef's top rival — Yonezawa beef, Japan's sweetest Delaware grapes and cherries, and even has an old township cafe that serves up traditional siphoned coffee.
If you get the chance to visit this winter wonderland here are 7 things to eat in Yamagata that are sure to whet your appetite.
Read also: Yamagata Guide — Japan's secret wonderland
1) Yonezawa beef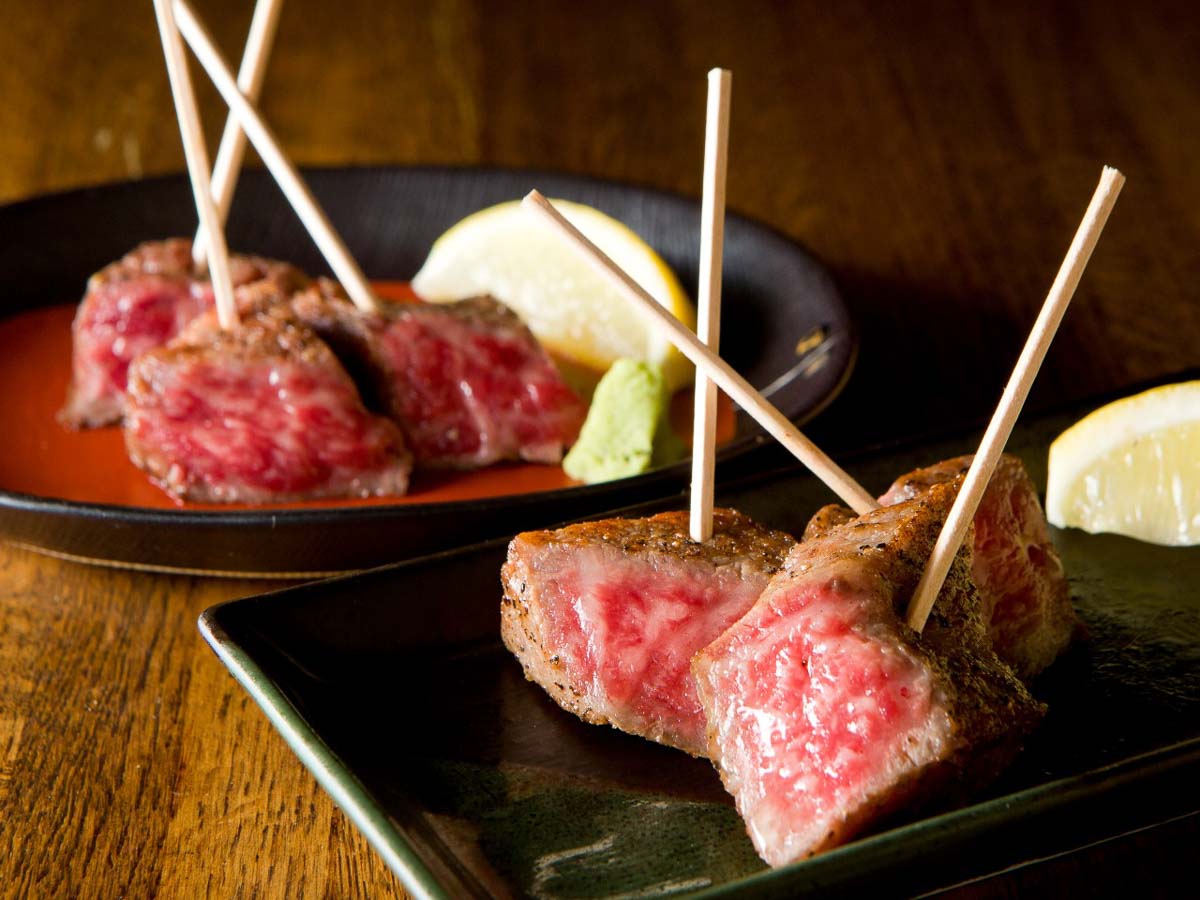 My mum always told me to "cow-nt" my blessings. This trip I heeded her advice and sampled one of the top 3 most celebrated beefs in Japan — The Yonezawa beef. The melt-in-your-mouth marbled slices definitely gave the moos of Kobes and Matsusakas a run for their money.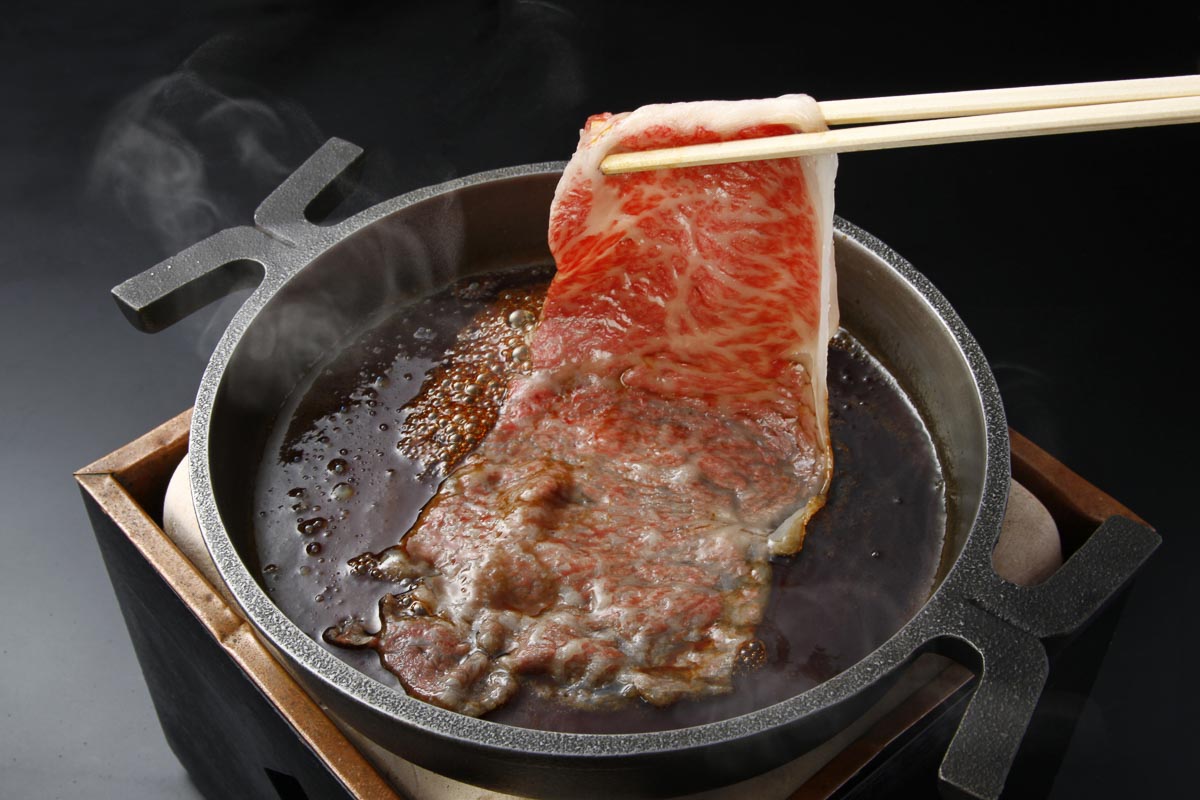 You can enjoy it sukiyaki style, swish it in a shabu-shabu, or, my personal fave, grilled with the fats slightly melted off leaving a slight crisp to the moist meat.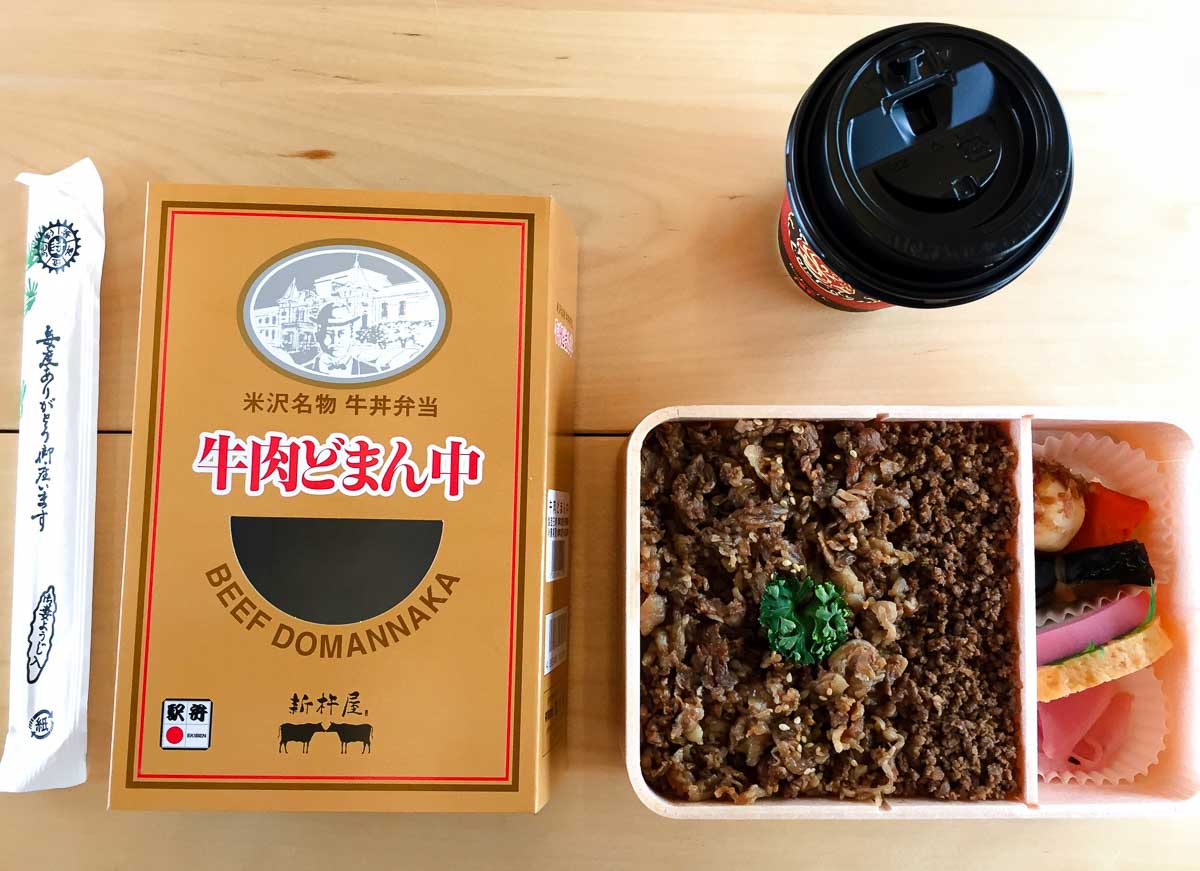 I even tried it bento style, available at the Yamagata train station.
There are many restaurants that serve up their own take on Yonezawa beef, but the name the locals swear by is Yonezawa Beef Dining Bekoya. Be it raw, shabu-ed, or grilled, they're your go to Beef-bae.
Yonezawa Beef Dining Bekoya
Address: 3-2-34 Higashi, Yonezawa-shi, Yamagata Prefecture, Japan
2) Basashi (Horse sashimi)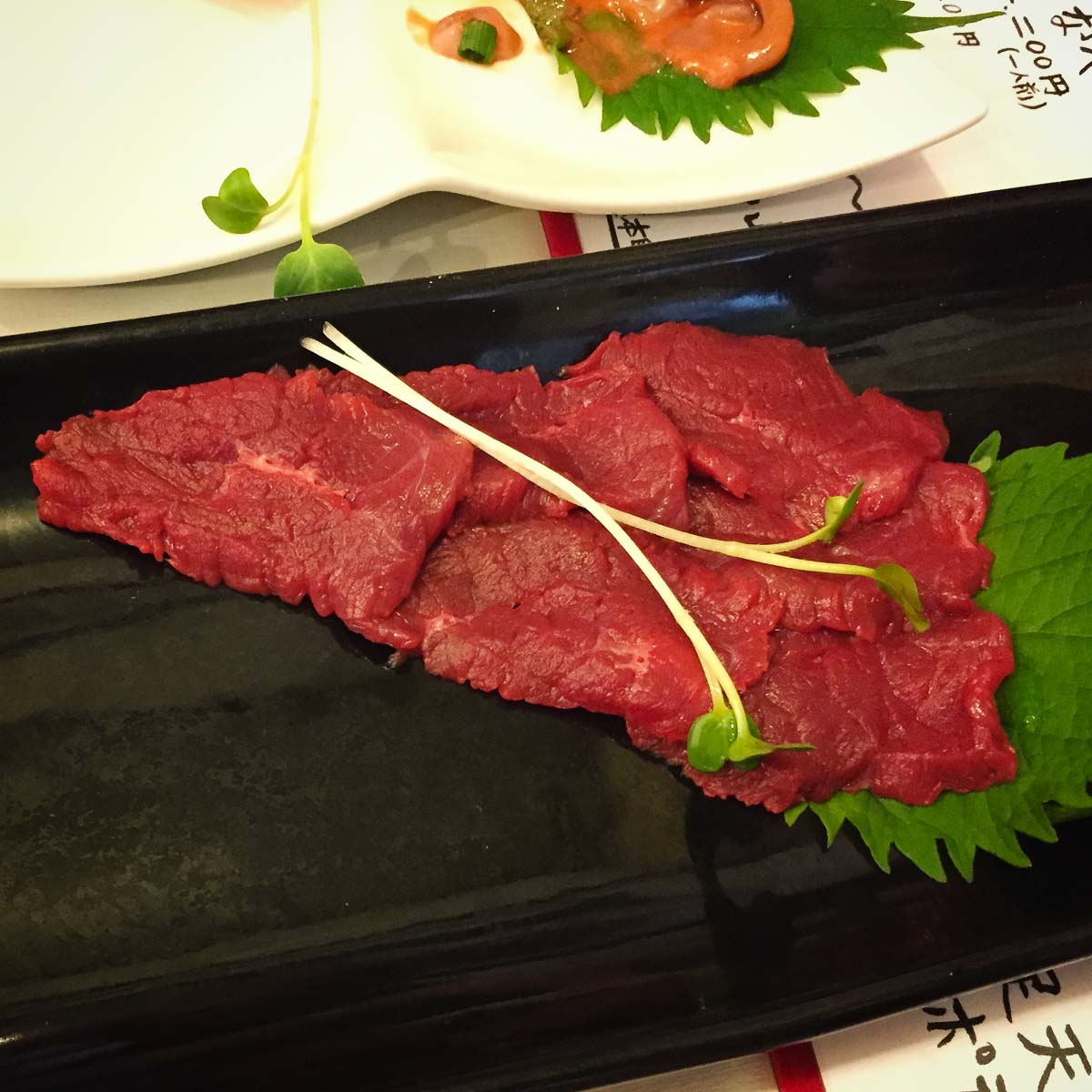 I was 'horse'-nestly scared at first, at the thought of eating a horse, not so much so that it was scary, but only because it was foreign (one must try everything at least once). So I tried the surprisingly bright red horse sashimi.
If you've had beef tartare, you'd love horse sashimi. Not only is it a rare delicacy, it is also a healthier choice. It is known for being low in cholesterol, fat, calories, and much higher in protein compared to pork, beef and chicken.
Best place to try it is at Hottnaru (warming heart) izakaya street. If you're not used to the taste, you can drown it out with the wide variety of sakes and other snacks such as squid roe and tamago for your late-night snack.
Hottnaru Izakaya street
Address: 2-1-14-6, Nanoka-machi, Yamagata-shi, Yamagata Prefecture, Japan 990-0042
3) Imoni (meat soup)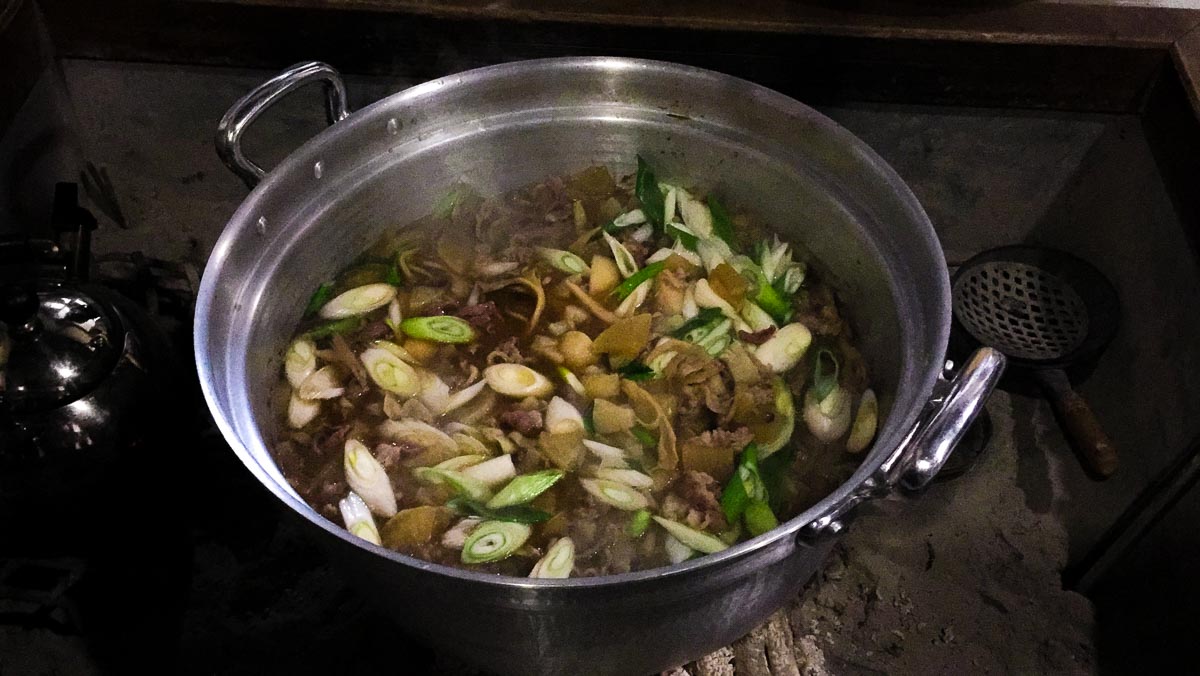 There is nothing more comforting than a warm bowl of soup on a cold winter's day. With the combination of taro and meat broth, Imoni is a staple for those who live in Yamagata. While miso-based Imoni can be found in other regions, Yamagata's Imoni differentiates itself with it's light shoyu-base which is enhanced by the freshest Yonezawa beef, giving it the right balance of sweet and savoury.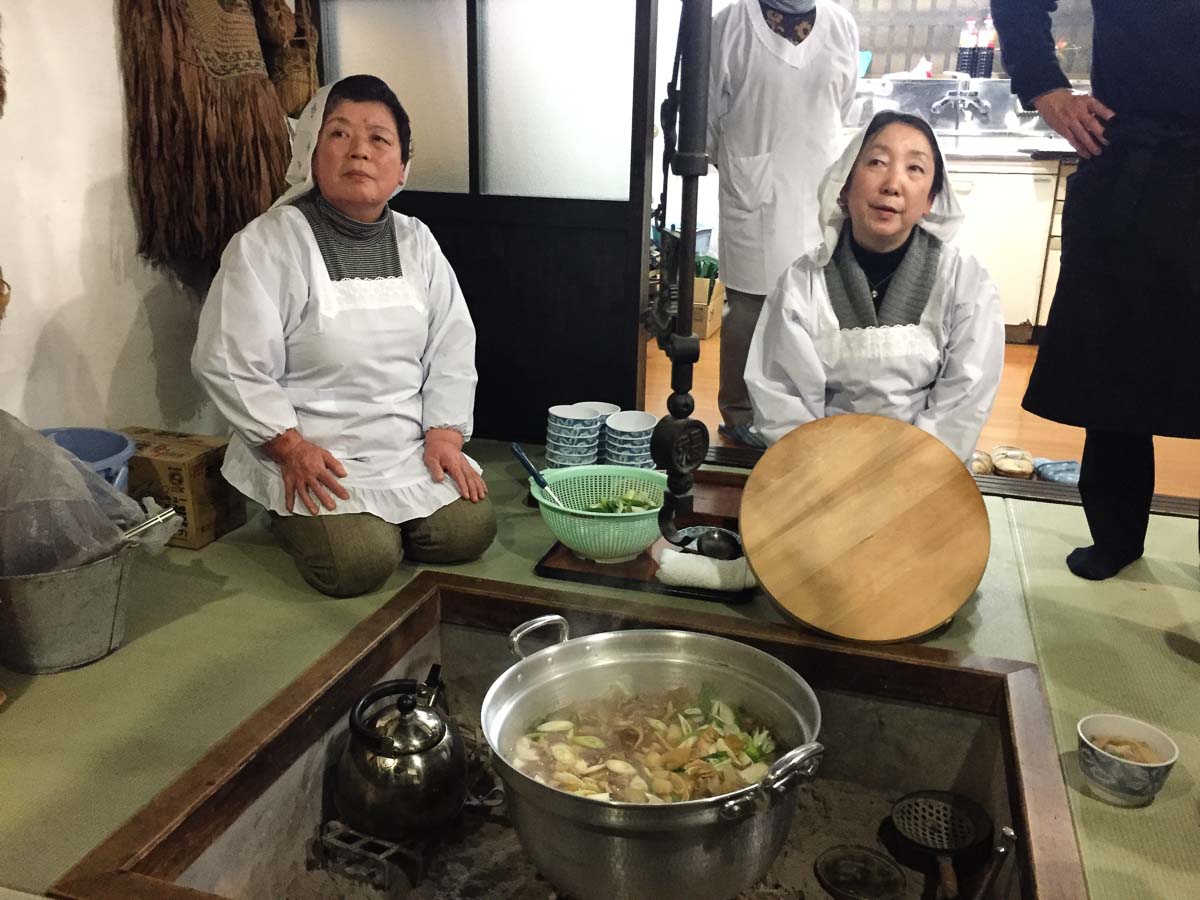 You can find this at almost any restaurant, but the best we had was in Takahata, cooked by the lovely 70-year-old Hat-Chan. You can find her shop, Obakoya, on Showa Main Street. She also serves up a mean Hacchan-yaki (red bean pancake).
Obakoya
Opening hours: 9.00am – 7pm (or till sold out)
Address: Obakoya, No. 17, Syowa Main Street, Takahata, Yamagata Prefecture, Japan
4) Hacchan-yaki (Red bean pancake)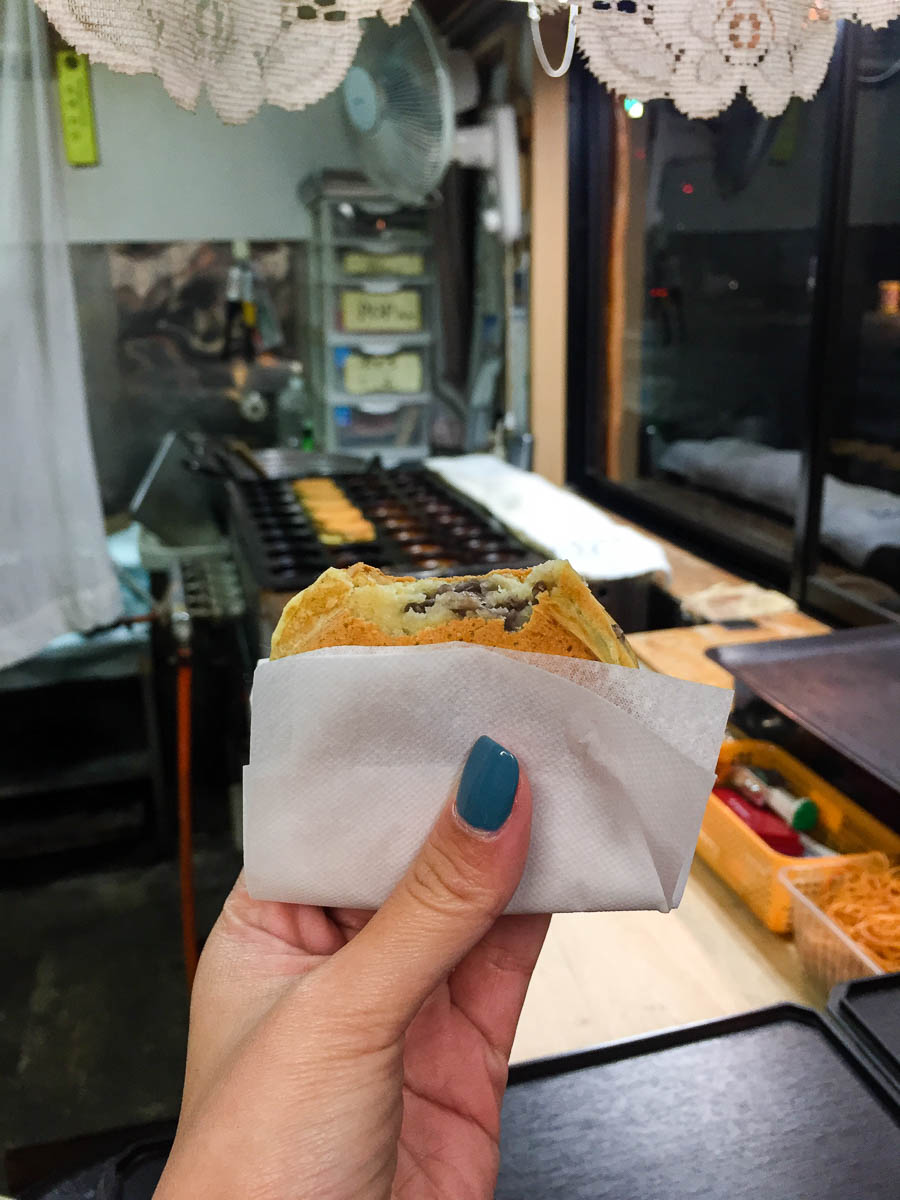 This is the legendary Hacchan-yaki (red bean pancake) that everyone in Takahata, Yamagata, raves about.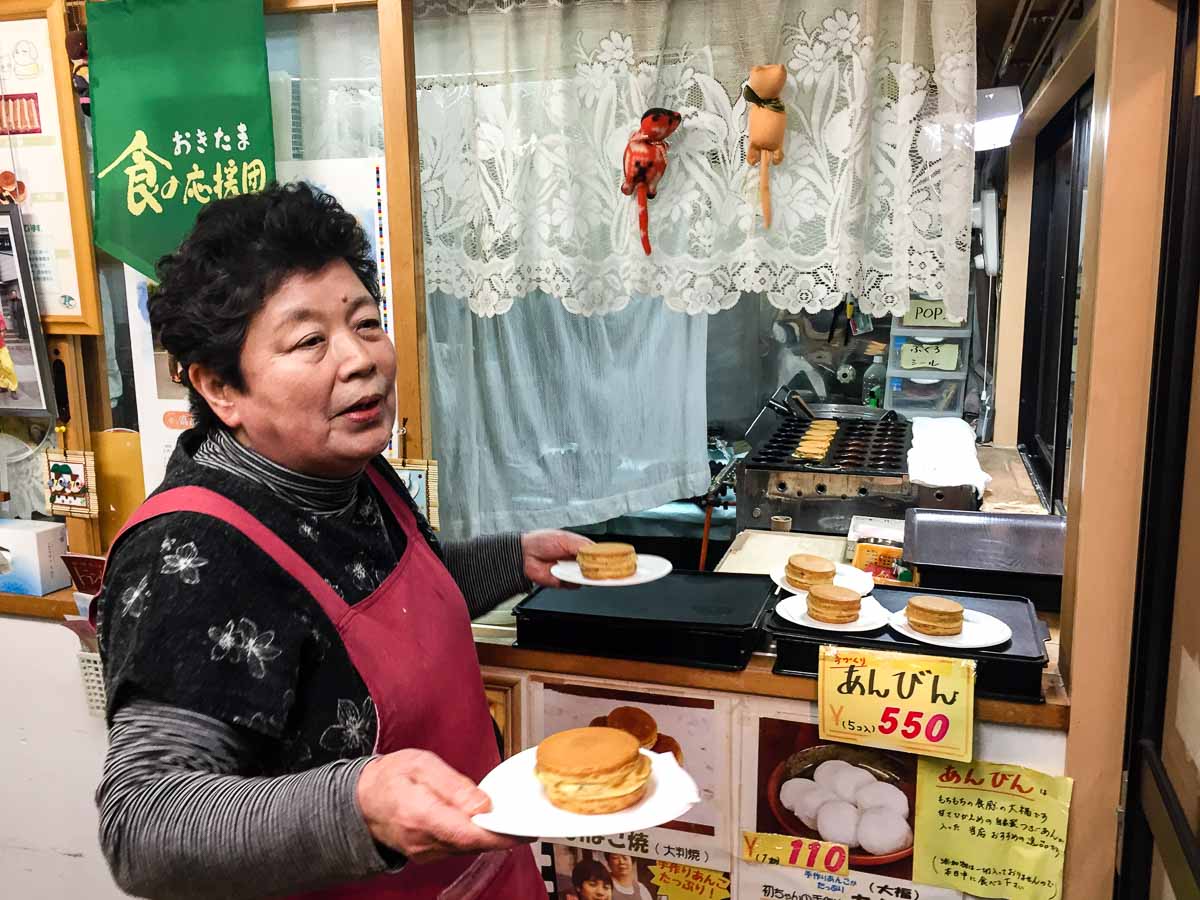 Made with love by Hat-chan, the pancake is crisp on the edges and soft on the inside, with the warm azuki paste right at the heart of the pancake. The azuki paste is finely ground each morning by Hat-chan and the little round pockets of warmth are sold out really quickly within the day.
*Pro-tip: Be sure to head there before 3pm to make sure you get yourself a piece!

Address: No. 17, Syowa Main Street, Takahata, Yamagata Prefecture, Japan
5) Traditional siphoned coffee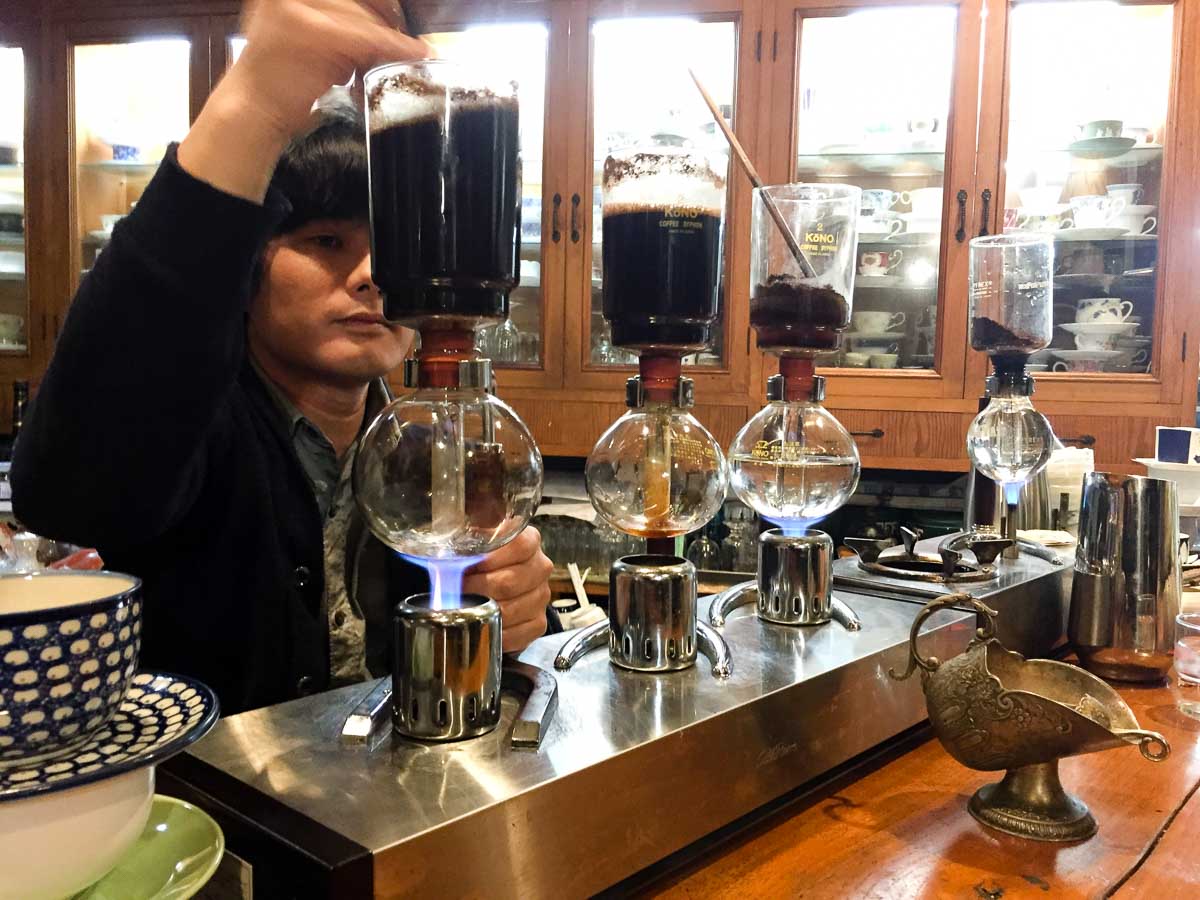 Right down the street 3 units away from Hat-chan's little nook, is a cafe that still uses the traditional method of siphoning coffee.
The lady boss has passed on her skills to her son who is the current barista. The siphon is split into two chambers where the coffee is brewed in a vacuum with the vapour pressure accumulated from the burner below. Once done, the coffee flows from the top chamber to the bottom chamber, much like how sand flows through an hourglass, therapeutic to watch and really fragrant to drink.
6) Salmon bento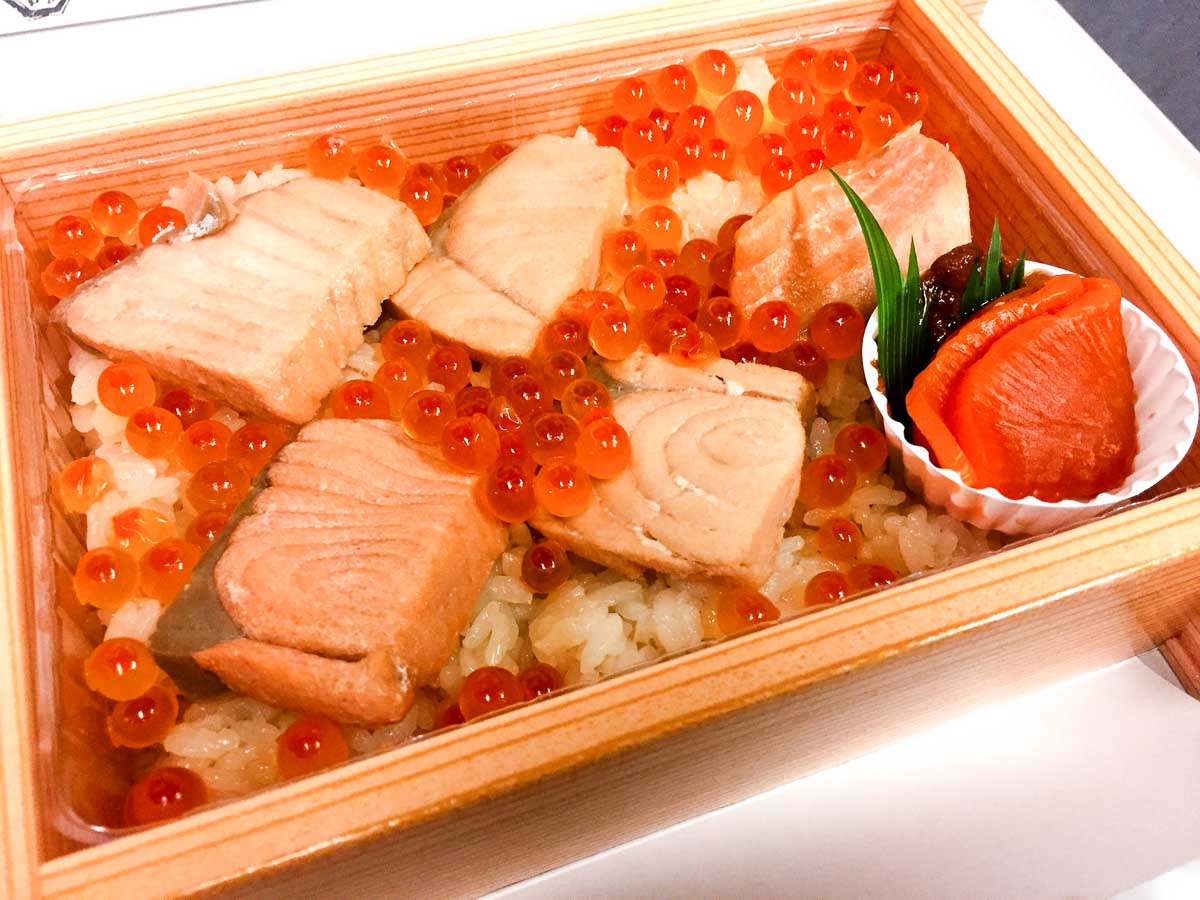 Plainly calling it "salmon bento" doesn't do justice to the awesomeness of this box of orange magic. It's just about all your salmon dreams come true! Imagine admiring the sights along your Japan railway ride and then you are gifted with an unassuming bento box that unveils itself to you in all it's salmon goodness, competing with your eyes for airtime. It was hard to concentrate on the scenic view outside.
First thing I noticed was how generous the serving was! I couldn't decide whether it was the thick firm slices of salmon, crunchy roe jewels, slightly soy-seasoned pearl rice, or just the combination of everything that captivated my tummy. The chef was on a "roe-ll" with this one.
For about SGD12, this is a steal for the quality ingredients you're getting. You can get them along the JR-East Tohoku line between the Miyagi and Tokyo stations.
7) Onsen eggs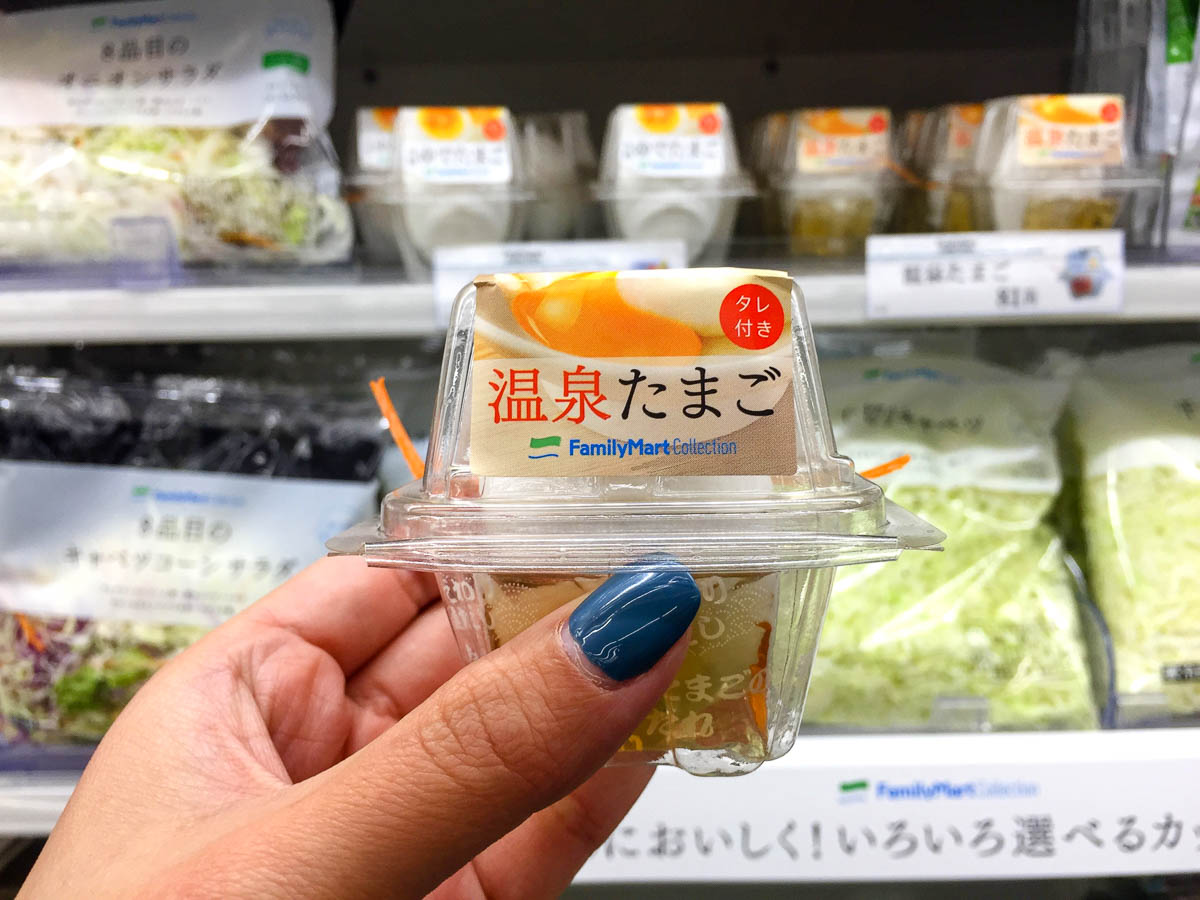 I am certain the reason Family Mart got its name is due to the amazing food it has that makes it feel like home. It's like 7-11 on steroids! It is in Family Mart that I found an Onsen egg. If you're craving a midnight snack, turn on your Family Mart Chef mode and upgrade your bowl of instant Tonkutsu ramen with an Onsen egg. Trust me, it tastes egg-strordinary!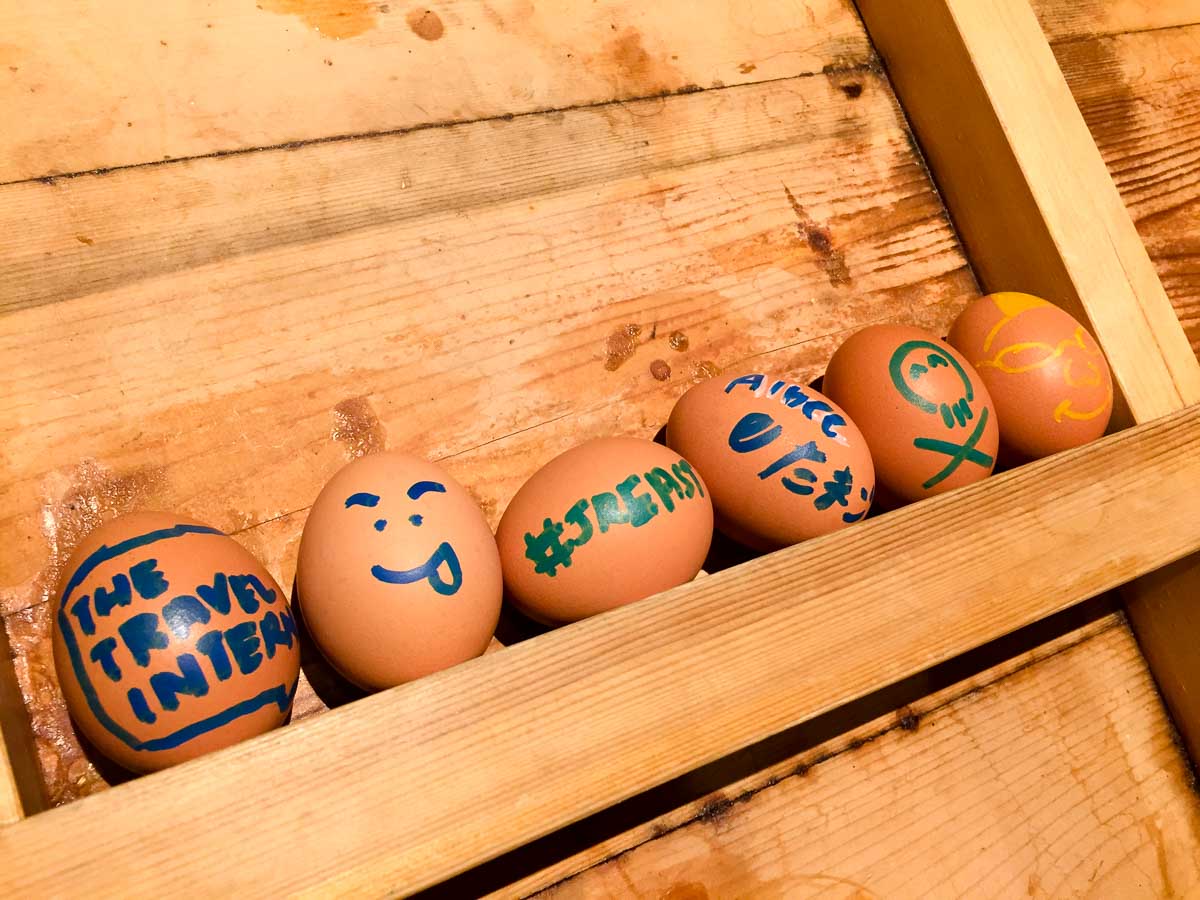 We were also lucky enough to DIY our own Onsen egg at our hotel – Takinoyu Ryokan. The hotel is a spa-hotel which not only has an onsen for us human beings, but a dedicated onsen bath for eggs special treatment before you savour it. You can even decorate your eggs with the colourful markers provided at the store before putting them to boil.
BONUS: Gyu-tan (牛タン
)
– Beef tongue
On the way back to Tokyo, we stopped by at Sendai for lunch.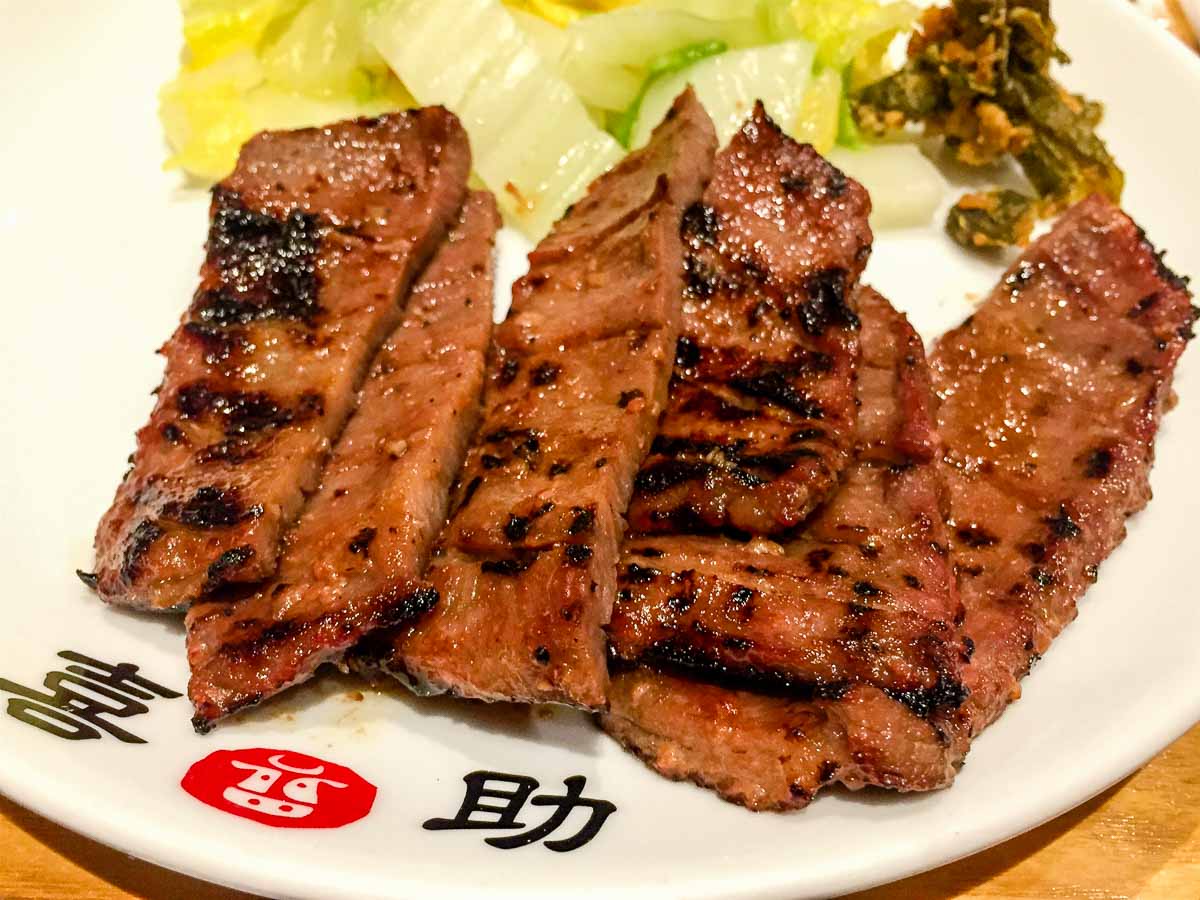 I never thought I'd french kissed a dead cow, technically I did, but more accurately, I tried Gyu-tan (or beef tongue). Despite the irrational fear of eating something weird, the Sendai traditional specialty is surprisingly oishi! It tastes like the juiciest, fattest cut of beef that literally melts in your mouth!
It is normally charcoal grilled and served with mugi gohan (steamed white rice with barley), and a side of oxtail soup. I had mine with a ponzu dipping sauce which was amazing! The light citrus flavour with a tinge of spiciness pairs perfectly with the crisp succulent meat.  
A must-try when you're in Sendai! The city has almost 100 beef tongue restaurants that you can choose from. We had ours at the Aji no Gyutan Kisuke, which was conveniently located at the food haven located in the basement floor of S-PAL Sendai shopping mall.
Aji no Gyutan Kisuke
Opening hours: 11am – 11pm
Address: S-PAL Sendai, 1-1-1, Chuo, Aoba-ku, Sendai-shi, Miyagi, 980-8477
Traveling around Yamagata
With so much good food in Yamagata, it can really take days to savour the taste of Tohoku. Having the flexibility of a five-day JR EAST PASS (Tohoku area) and not having to worry about costly travel between places really helps (especially when the train comes with an onboard footbath) Check out the list of valid train routes and train timetable to help you plan your foodie journey.
You can purchase the pass at the JR EAST Travel Service Center at Narita or Haneda airport at ¥20,000. But if you purchase your ticket online, or at the instore ticket counter at JAPAN RAIL CAFE in Singapore, you can get it for ¥19,000, and save that ¥1,000 to fund your Shinkansen snack packs!
Read also: Ultimate guide to maximising your JR East Pass
This post was brought to you by JR East.