Say goodbye to overpacking with this winter packing list!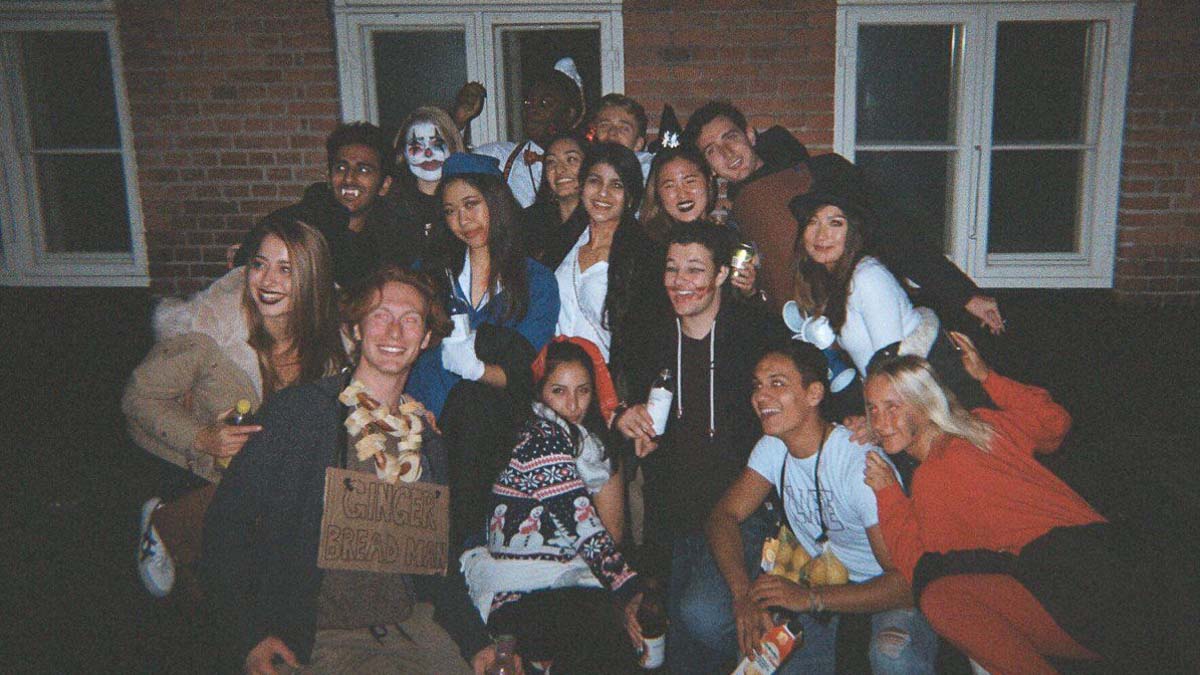 Celebrating Halloween in Copenhagen.
Student exchange is one of the most exciting times in university — the pre-exchange prep, however, is not.
After sorting out my visa, accommodation and flights, I was ready to go on my semester-long exchange to Copenhagen. Well, almost.
There was just the dreaded task of packing. Six months was a long time, and I'd be there for two seasons — Autumn and Winter. I knew I definitely couldn't pack my regular Singapore wardrobe. But I wasn't sure what I needed and how much to pack.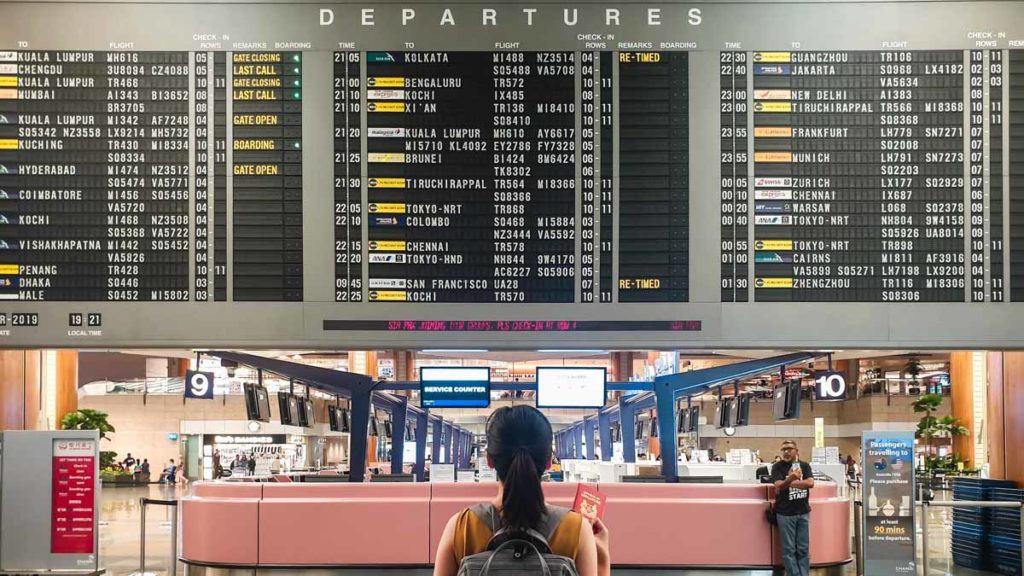 It's normal to feel some anxiety during the packing process. After all, you don't want to overpack, nor do you want to realise you've forgotten something important after boarding the plane!
To ease that packing anxiety, we've asked past exchange students who went to cold countries for tips. Here are some things you shouldn't leave without:
*see below for a downloadable winter packing checklist!
1) Summer Clothes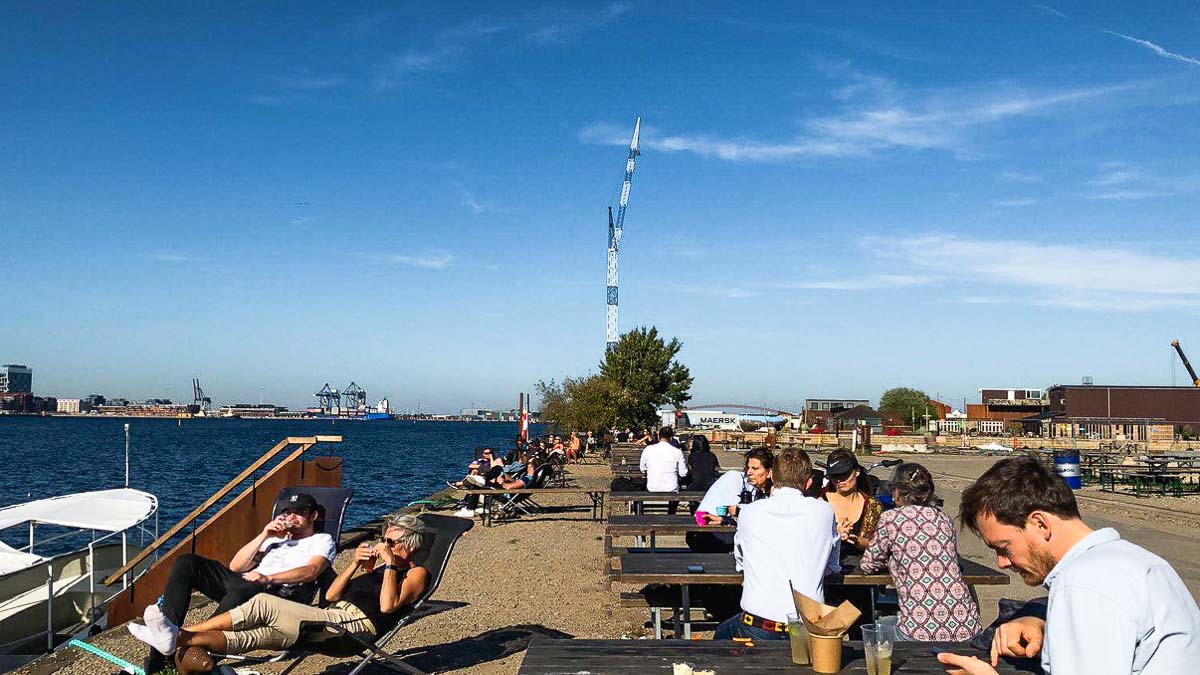 Late September in Copenhagen; it was around 20°C!
Just because you're headed to cold countries like Japan, Europe or America, it doesn't mean it's already cold when you arrive.
During most seasonal transitions from Winter to Spring, and Summer to Autumn, you can still wear t-shirts! They're great for going outdoors on sunny days.
Pack a lighter jacket for layering when it's chilly but not yet winter. I'd recommend a denim or leather jacket, which helps to dress up any outfit.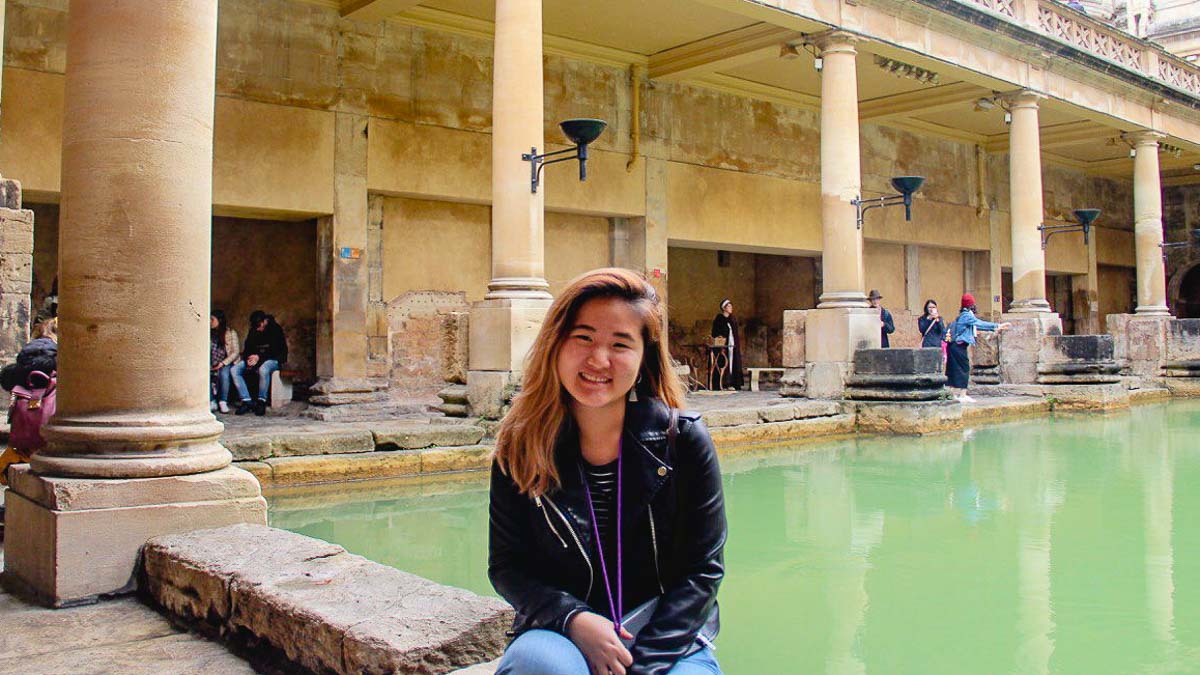 Me during a trip to Bath, England!
Michelle recommends packing a few sets of summer clothes. This is if you're going on exchange to Europe in the first half of the year — it gets "bloody hot" towards June.
*Pro-tip: Bring a swimsuit! Even in winter, it can be useful during your travels, especially if you're visiting thermal baths or beaches.
Not sure what winter clothes to add to your packing list? Check out our guide on what to wear in winter — from stylish to sub-zero temperatures.
2) Extension Cord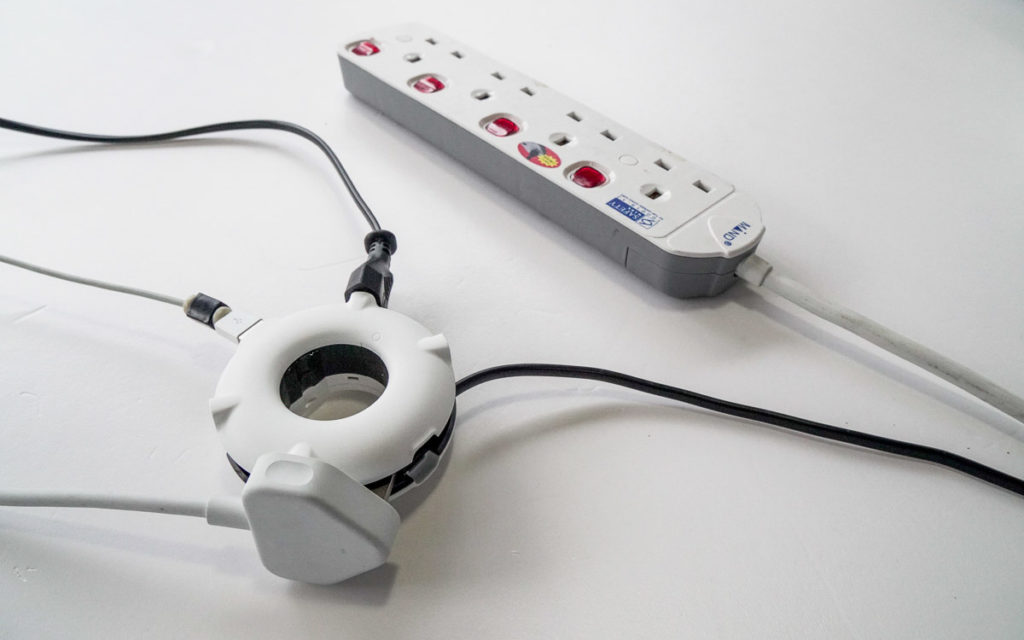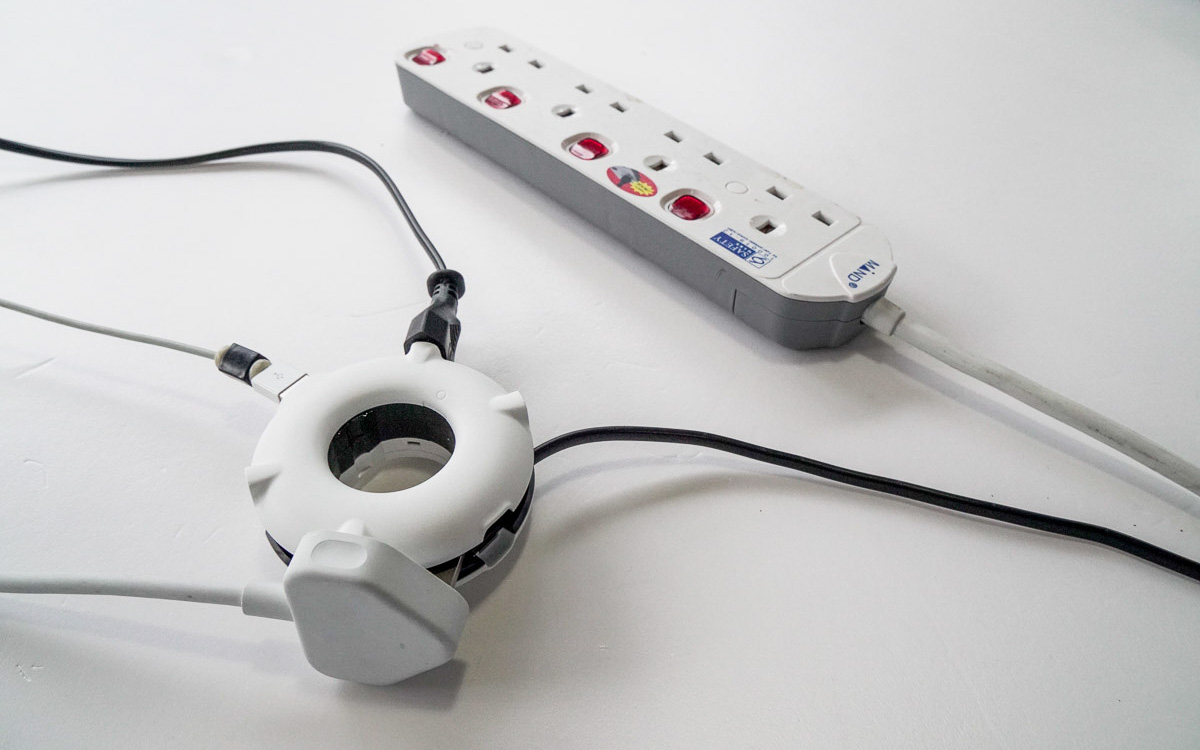 Several things to charge, but only one adapter. The solution? Bring an extension cord. To save space, get the Mogics Power Bagel (~S$64). It's super compact, and can charge up to seven devices!
It's one of our favourite travel essentials, and I wished I knew about it during my exchange.
3) Travel Backpack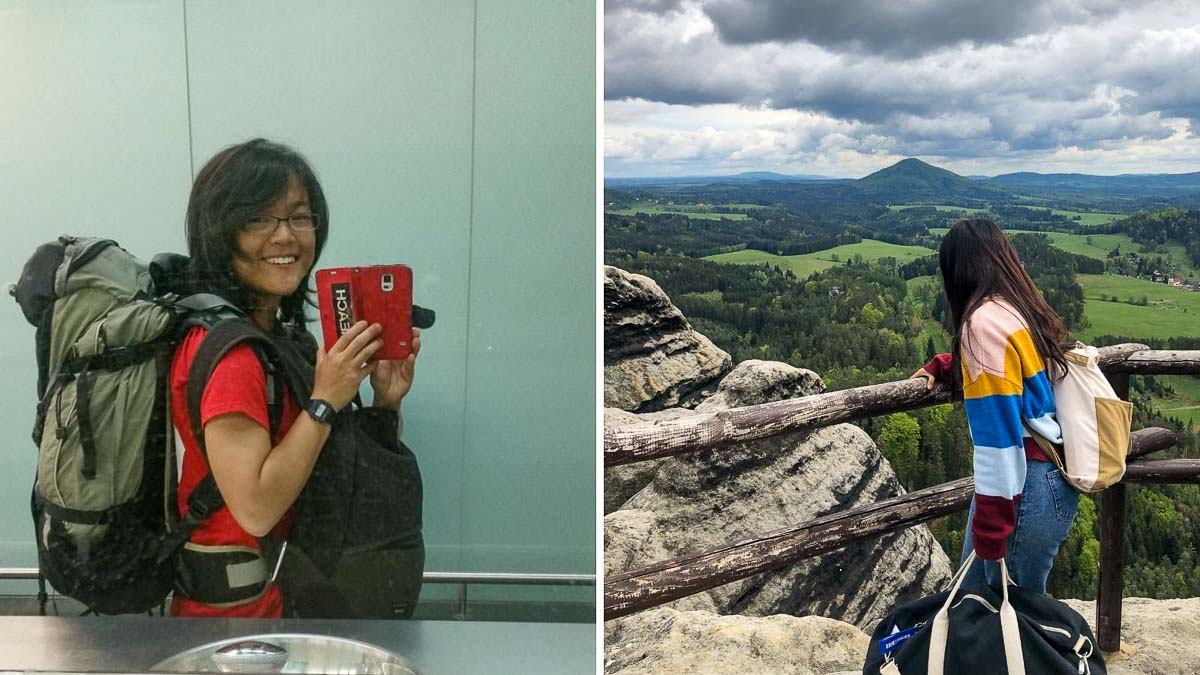 Mich backpacking with ease in the UK (left), and Geri struggling with her duffel on a two-day hiking trip in the Czech Republic (right).
A good travel backpack can change your life. Trust me, you'll be thankful your hands are free when you're navigating a new city or rushing to the airport.
So, avoid bulky duffels or wheeled luggage! The latter is hella noisy on Europe's cobblestone streets. It's also painful to carry up and down stairs when there are no lifts — especially common in old buildings or metro stations.
Storytime: I nearly missed my flight back to Copenhagen from Budapest. Granted, there was poor planning, but having to juggle a huge duffel (amongst other items) made me even more flustered. It didn't help that my gate was on the other end of the airport. Moral of the story: A backpack gives you a more streamline position, enabling you to sprint to your departure gate. #broscience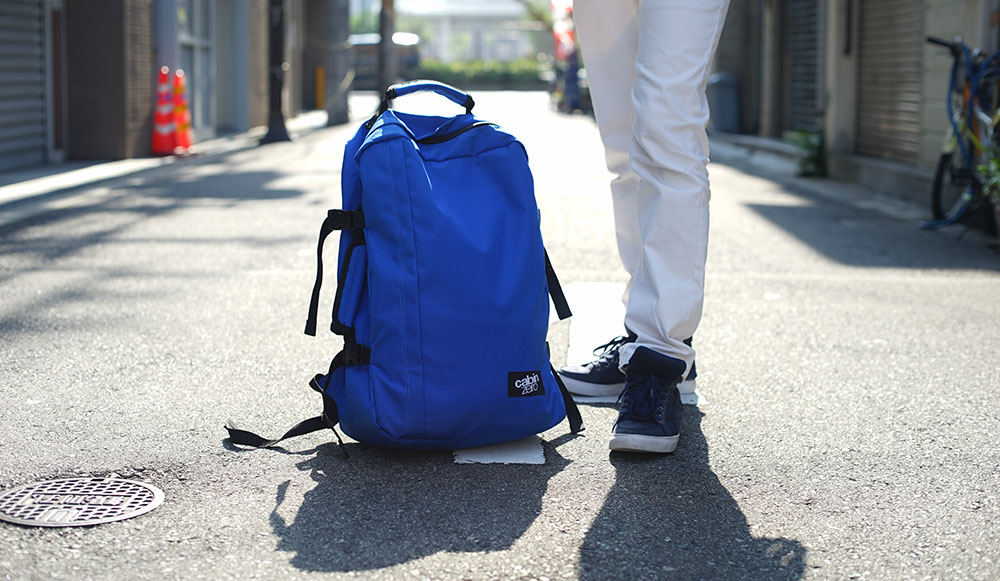 Our favourite brands include Cabin Zero and The North Face. Decathlon also has affordable options, starting from S$40.
4) Clothes for a Night Out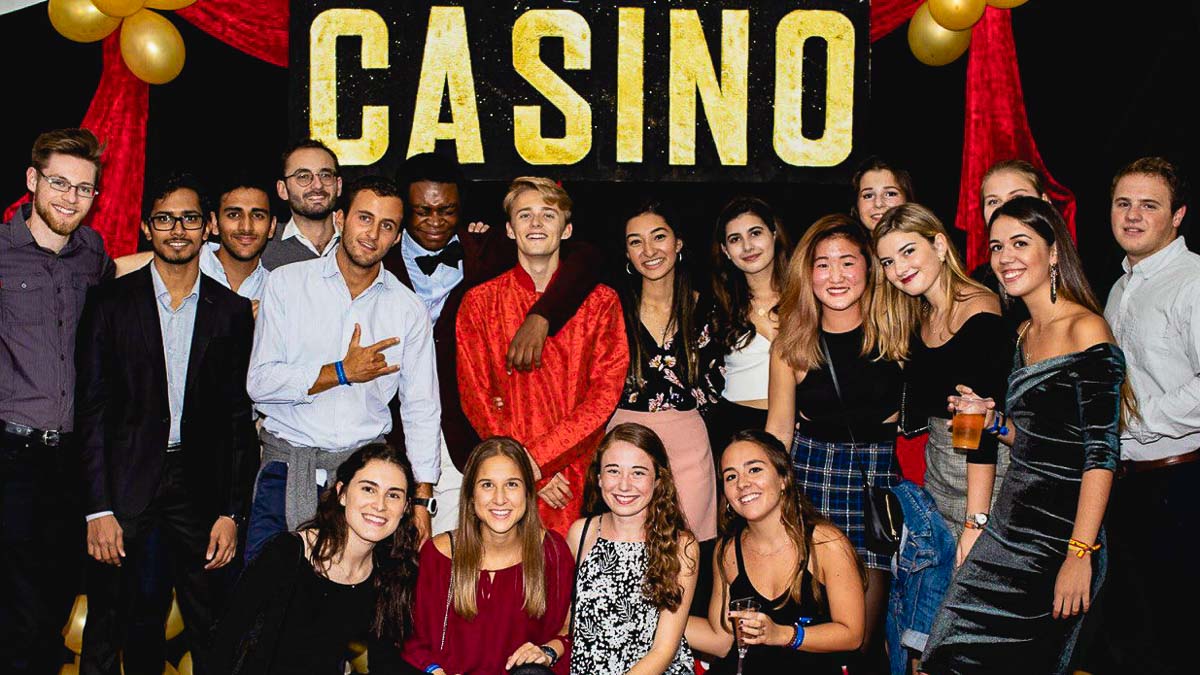 Welcome dinner for exchange students at Copenhagen Business School!
Some schools have an orientation week for exchange students, with a formal dinner at the end — and people do dress up! I stupidly only packed jeans and sneakers, so I had to do some last-minute shopping.
You'll also probably hit the clubs once in a while, and you don't want to be the only one in a sweater. I'd advise bringing a couple of nicer tops you can match with dark jeans and boots. Leave the crazy dresses at home!
5) Reusable Bag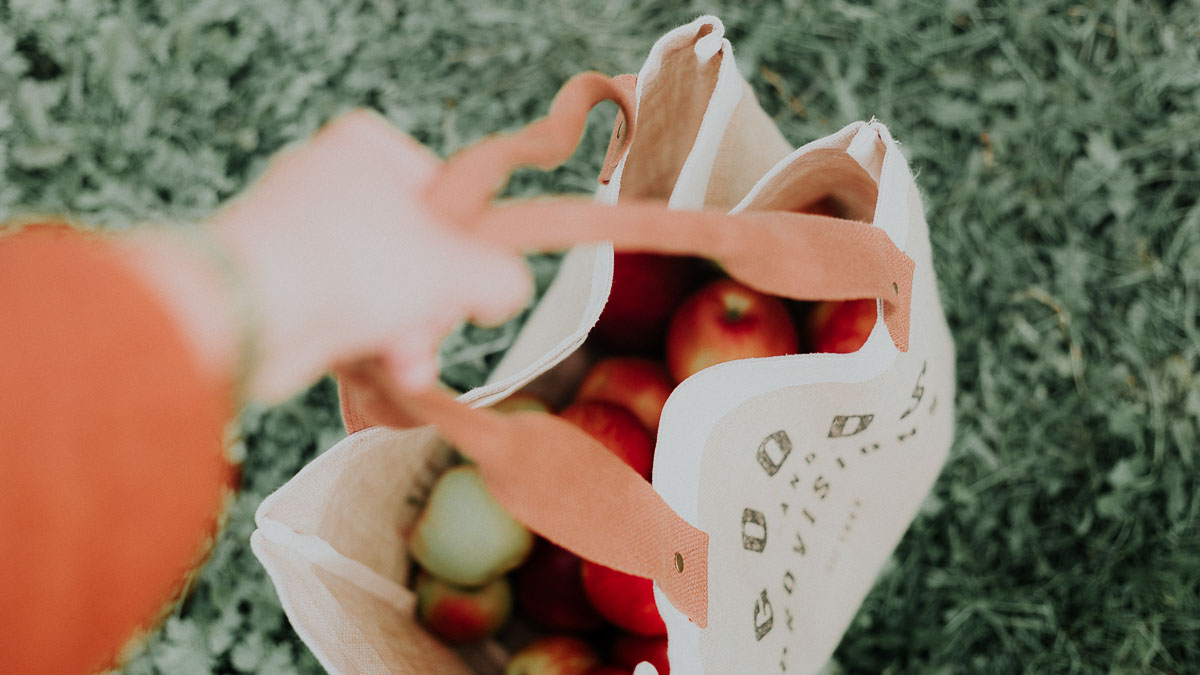 Photo credit: @priscilladupreez via Unsplash
Reusable bags are a life-saver when you're doing laundry or grocery shopping. Most supermarkets in Europe often charge extra for plastic bags.
In the UK, the plastic bags they provide aren't sturdy like the ones in Fairprice. They tend to tear after using once, and can sometimes break on your way home!
*Pro-tip: Bring a foldable reusable bag to save space. You can get plenty of cheap ones online.
6) Cooking Pastes and Snacks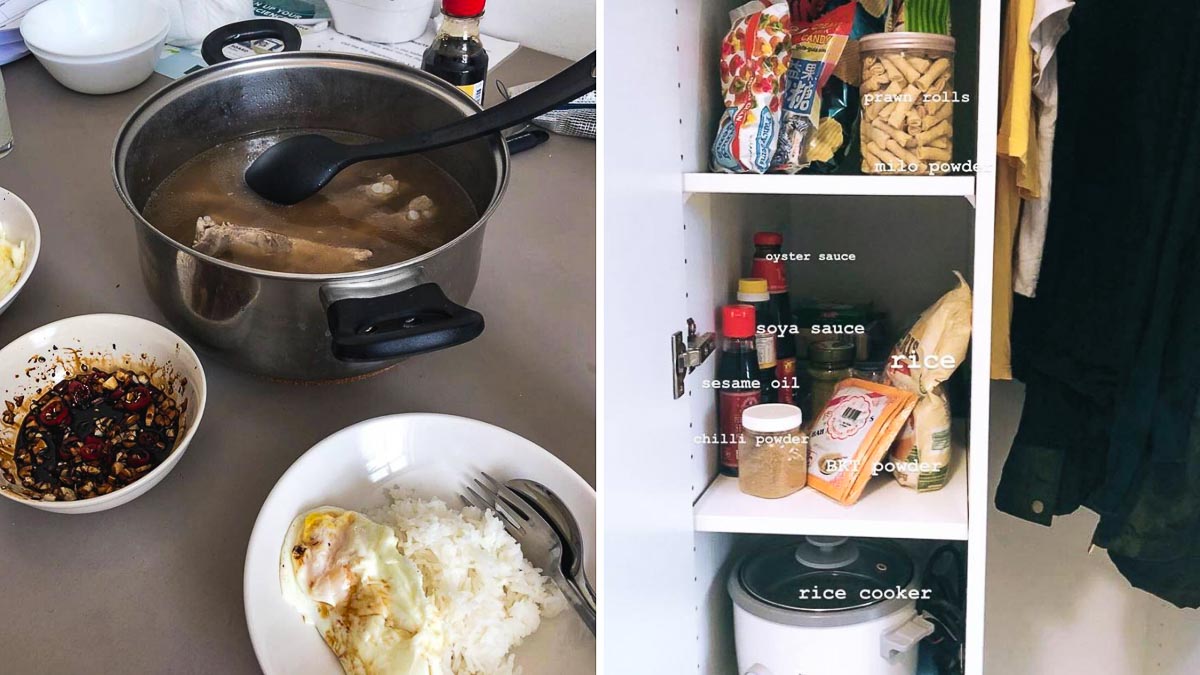 On the left is a steaming pot of bak kut teh. My pantry on the right is a bit overkill, but I have no regrets. And no, I didn't bring the bag of rice — that was bought.
You'll miss home (read: food from home) at some point, and having cooking pastes will bring a sense of familiarity. Popular pastes include bak kut teh, chicken rice, and curry. They're pretty idiot-proof, which is a huge plus.
Indomie and milo power are also student exchange favourites!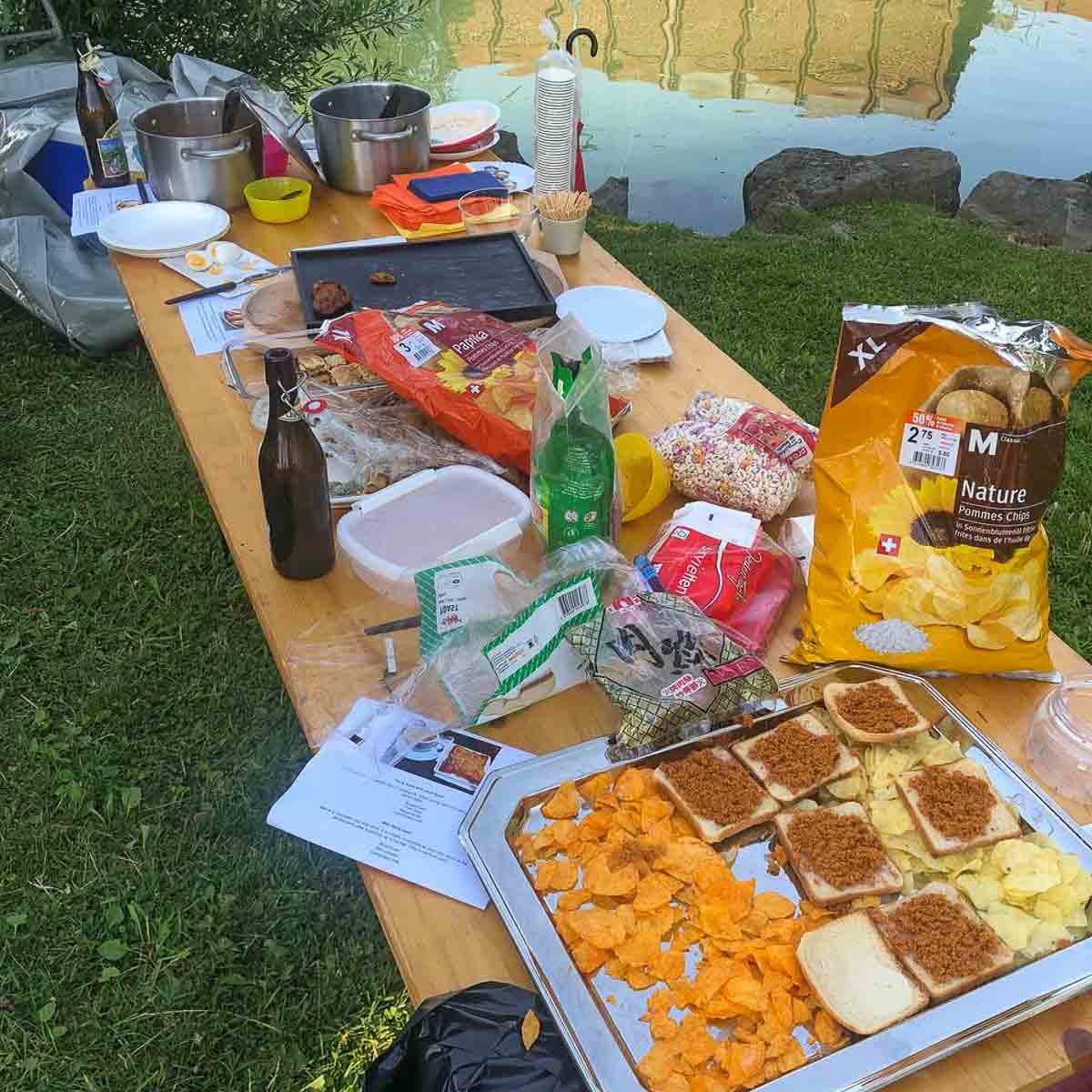 Photo credit: Vanessa
Vanessa prepared a spread of pork floss toast and curry puffs for her friends in Sweden!
Food from home is also great for sharing with your new international friends! You get to showcase a bit of our local culture, plus it's a nice conversation starter.
Cooking pastes are especially important for those heading to the UK or Scandinavia. Asian marts are scarce and eating out is expensive! Don't overpack though, like Geraldine did when she went to Germany. She ended up eating out a lot because it was affordable, and didn't finish what she brought. As a rule of thumb, don't pack more than two weeks worth of food.
7) Hand Warmers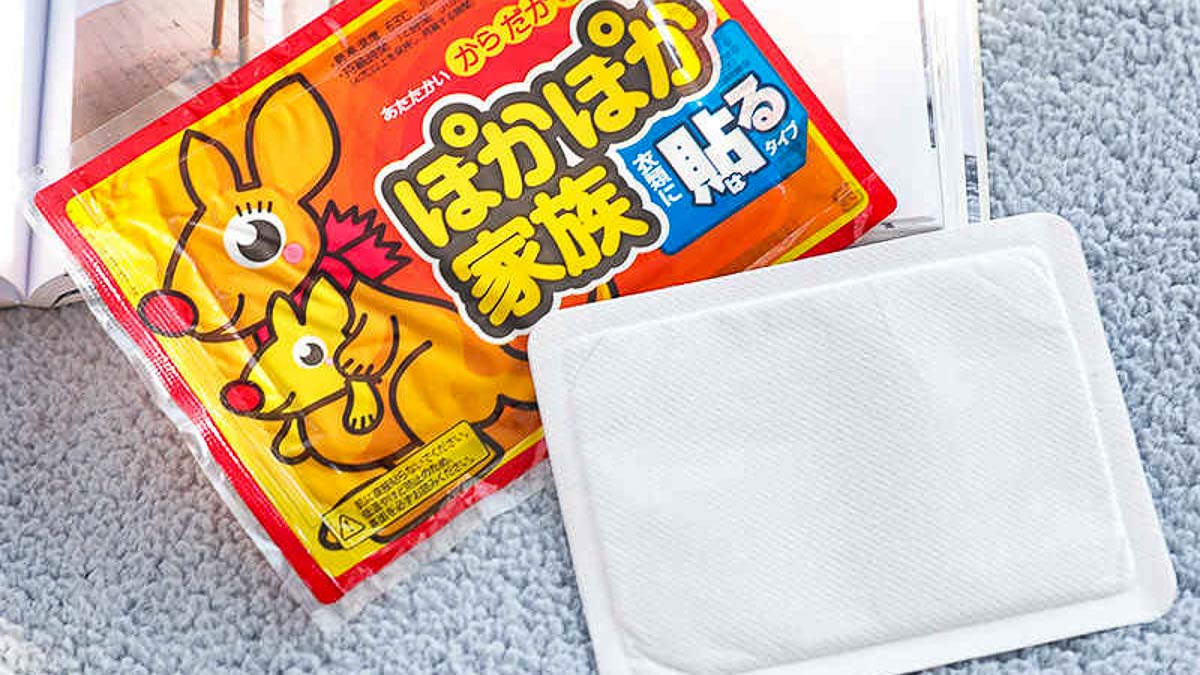 Photo credit: AliExpress
Michelle and Vanessa, who went to the UK and Sweden for exchange respectively, highly recommend bringing heat packs. They're great for keeping your hands toasty during winter. Heat packs are pretty expensive in Europe, so buy them in Singapore!
Buy heat packs at Watsons, or online on Lazada.
8) Bonus: Rice Cooker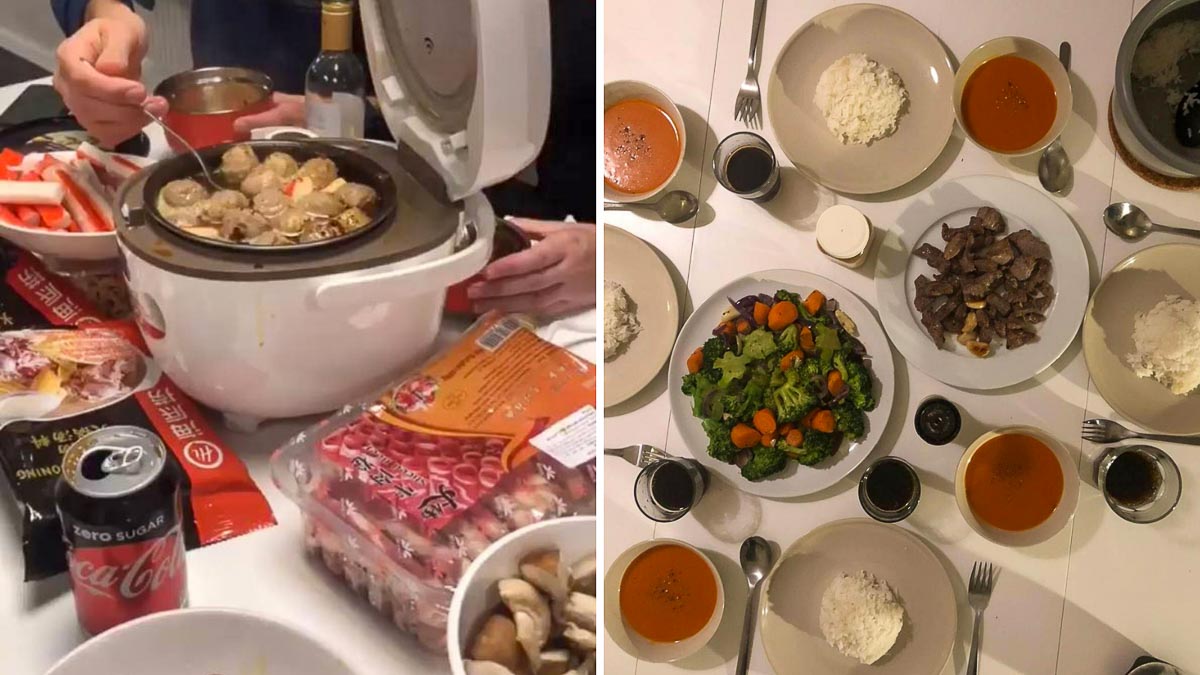 Before you judge, hear me out. There are many pros of having one around.
1) You can cook rice.
2) You can have a steamboat with friends.
3) You can steam chicken.
Oh, the endless possibilities! But I'll admit a rice cooker is more of a luxury than a necessity. This is also mainly for students going to countries where eating out is really expensive, like Denmark or Switzerland. You'll most likely be cooking a lot, and having a rice cooker will make life easier.
If you decide to bring one, bring a mini cooker (Michelle brought a Toyomi mini cooker) or one that you don't intend to bring home! I brought a really old one, and gave it to a friend who was on exchange for a year.
Download the ultimate student exchange winter packing list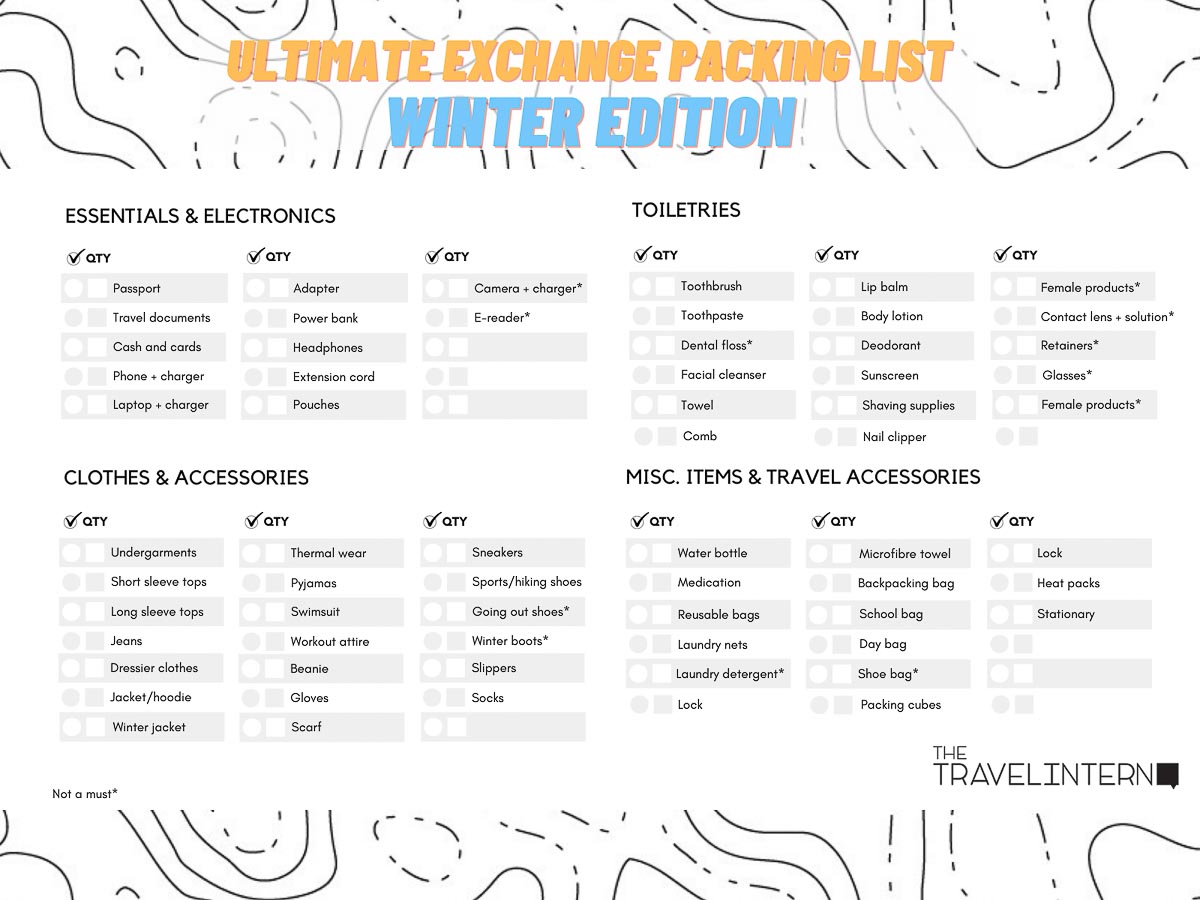 Want to print out your own checklist for reference? Download our winter packing list here!
Stumbling home after a night out, going on spontaneous trips, and meeting people from all over the world. My semester-long student exchange in Copenhagen was — by far —one of the highlights of my university life!
So pack the essentials above, follow our checklist, and I'm sure you'll have a fine time overseas too. I'll end off with a couple of tips from friends who've been on exchange to Europe and America during winter.
1) Organisation is key.
Winter clothes are bulky, so how you pack matters. Packing cubes are great for items like underwear or t-shirts. But for winter jackets or chunky sweaters, use vacuum packs to save space! You can easily get vacuum pack bags on Lazada or at Daiso.
2) Resist the urge to fill up the entire 40kg baggage allowance.
I guarantee you'll shop during your semester abroad. Try saving at least one-third of space, or bring a foldable duffel!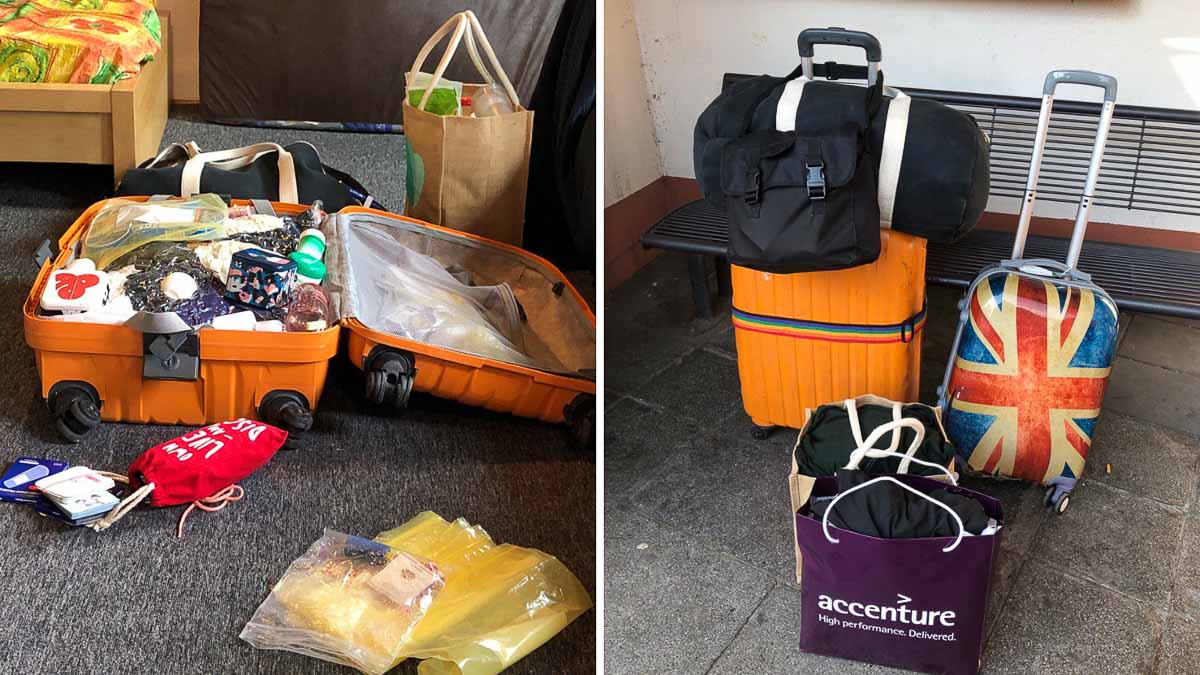 You don't want to be dragging this much to the airport on your own.
Don't worry about not being prepared for the cold — you can buy most things when you arrive! Places like USA, Canada and UK have affordable shops like Target and Primark, where you can stock up on winter clothing.
Final words of advice: You really don't need to bring 10 sweaters.
Looking to make the most of your student exchange? Check out our 15 budget tips for travelling in Europe, and simple lightroom tips that'll instantly up your IG game.
Many thanks to Michelle Neo (UK), Geraldine Ng (Germany), Edelyn Chua (USA), Vanessa Thien (Sweden), Fiona Mei Robinson (Sweden), Zhang Zheyuan (Netherlands), Jason Siah (USA), Hannah Wong (Korea), Adele Chiang (UK), Alexis See (Sweden) and Avril Fong (Canada) for sharing your packing tips!
Have you been on student exchange? What are some items you wish you included on your packing list?
---