These experiences are sure to be the highlights of your next Australia itinerary!
Update as of 24 Jan 2022: Vaccinated Singaporean citizens are now able to travel to seven Australian states and territories – read on to discover some of the unique experiences they have in store, and refer to this website for the latest requirements for international travellers.
After spending most of 2020 without travelling, I'm sure we're all itching for our next adventure.
Good news for those who love epic road trips, wildlife encounters, and jaw-dropping landscapes — an Australia and Singapore Air Travel Bubble might just happen soon! 🤞🏻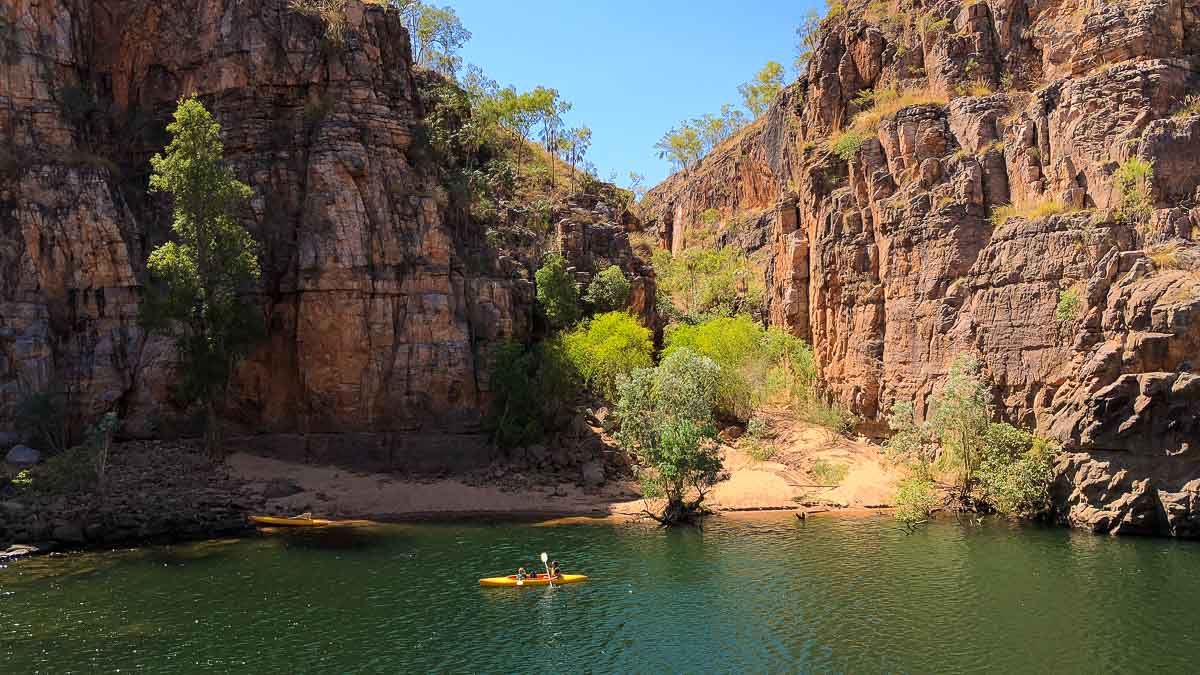 Nitmiluk National Park, Northern Territory. Photo credit: Tourism Australia
With a total of eight massive states and territories, there's loads to cover in Australia!
So to help you plan your next Australia itinerary, here are 16 epic experiences to check out — a little of each in every state (we bet you've yet to check off more than half of this list)!
Read also: The Ultimate Australia Road Trippin' Guide — 10 Itineraries For The Perfect Adventure of a Lifetime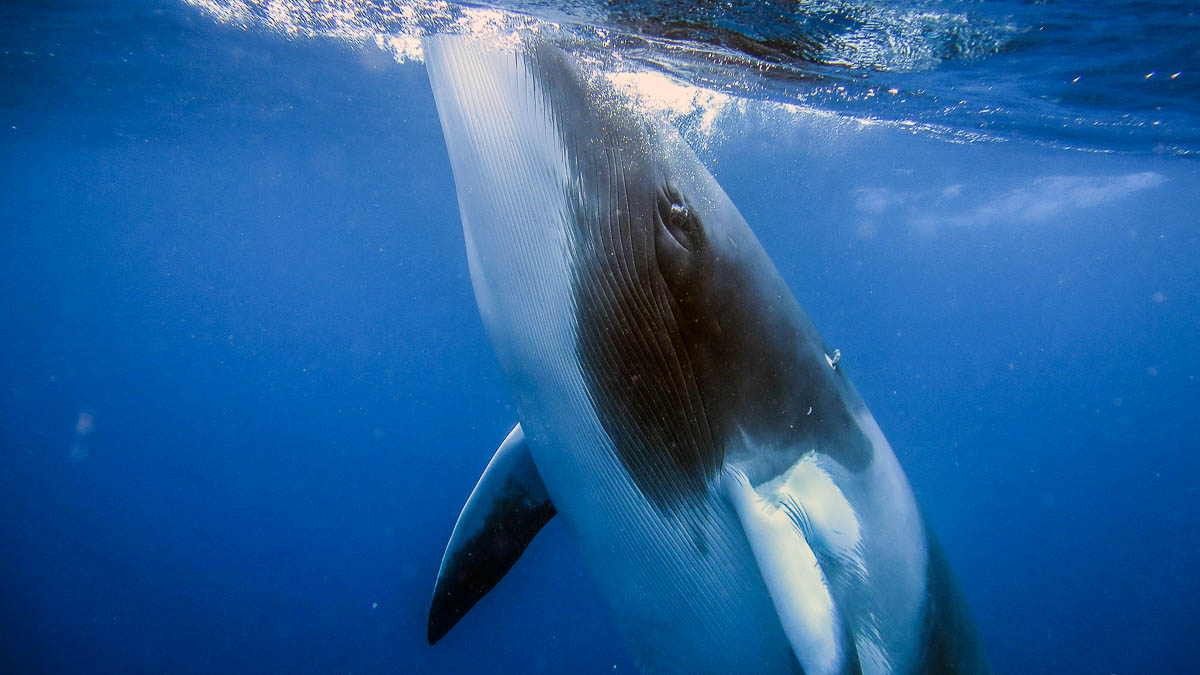 Dwarf Minke Whales in Cairns, Queensland. Photo credit: Alan Mosley
New South Wales Itinerary
1) Canyoning in the Blue Mountains National Park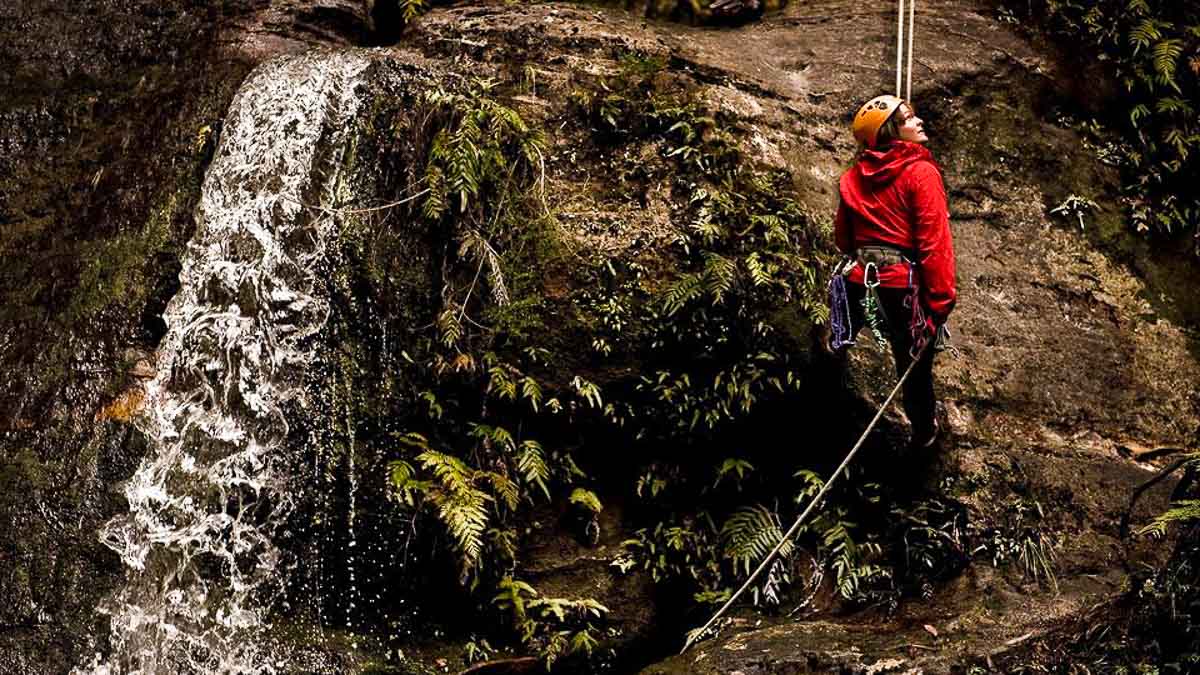 Photo credit: Blue Mountains Adventure Company
Just a two-hour drive from Sydney lies the incredible Blue Mountains. Home to massive valleys, waterfalls, and over 70 scenic bushwalking tracks, this national park has a buffet of outdoor activities.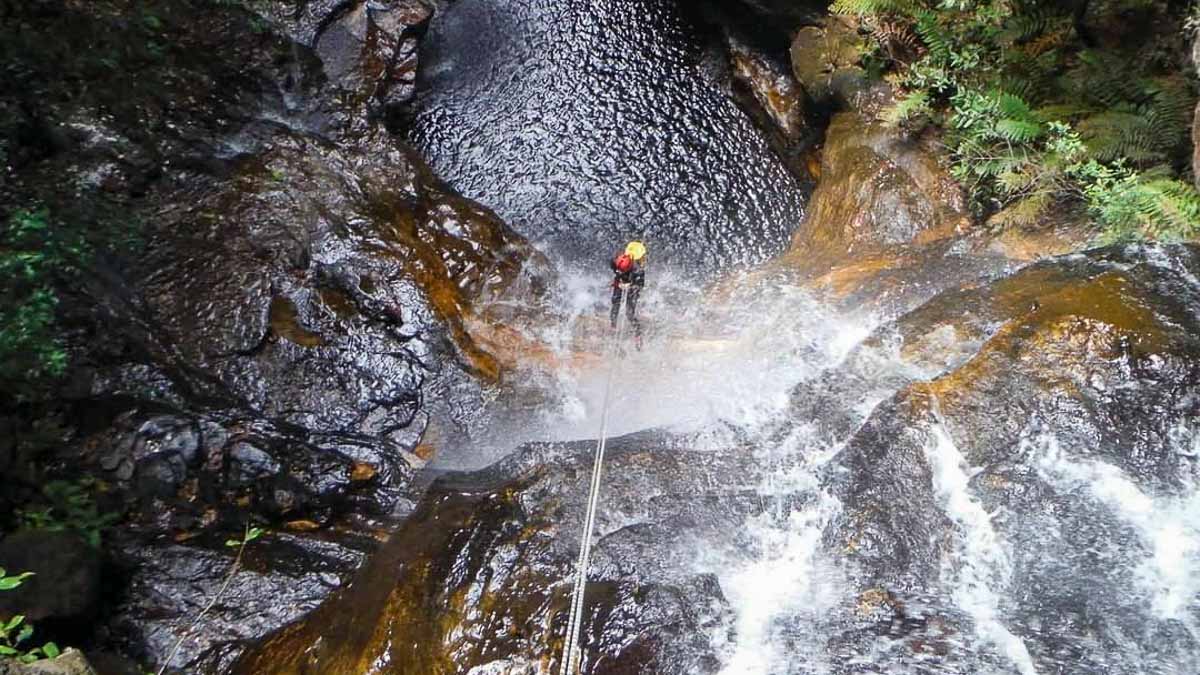 Photo credit: @bluemountainsadventurecompany via Instagram
The hikes here are memorable, but if you're craving an unforgettable experience, go on a canyoning adventure. The Blue Mountains' Grand Canyon track near Blackheath is among Australia's best nature spots. Spend a day abseiling from heights of up to 30m, traversing boulders, and wading through cool waters.
Read also: 3D2N Blue Mountains Australia Itinerary: The Perfect Getaway Just 90-Minutes From Sydney
Other things to do in the Blue Mountains National Park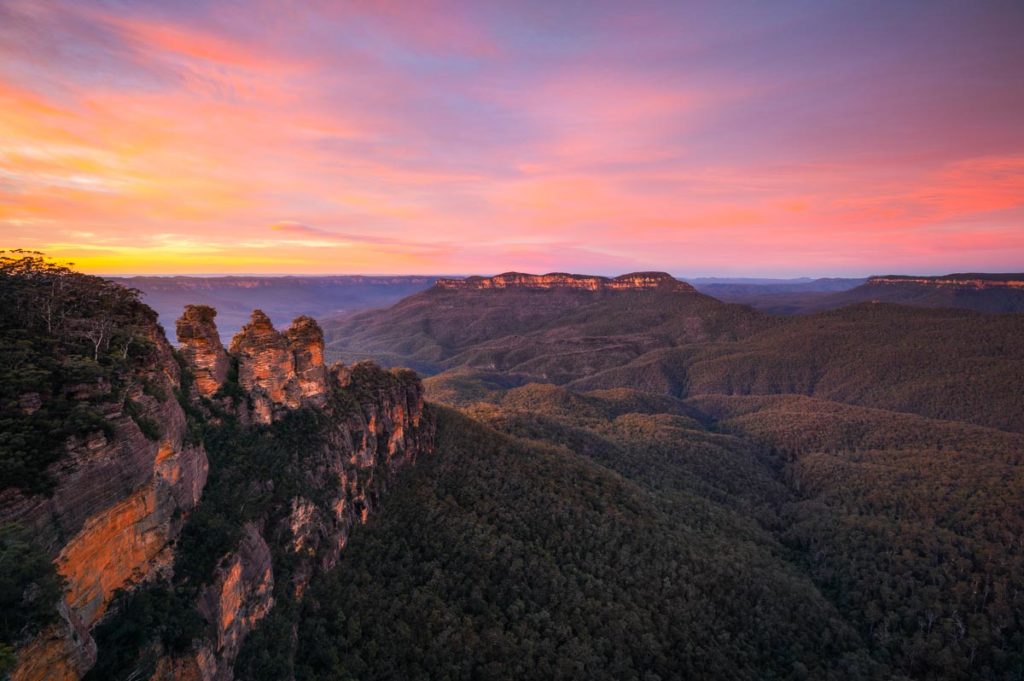 Photo credit: Destination NSW
You can't visit the Blue Mountains without a stop at the The Three Sisters rock formation. It's the park's most well-known landmark!
According to legend, three sisters from the Katoomba tribe fell in love with three brothers from a rival tribe. This was forbidden and led to a huge fight between tribes. To protect the sisters, a witchdoctor turned them into stone. But he was killed in battle before he could reverse the spell, leaving the sisters in their rock form to this day.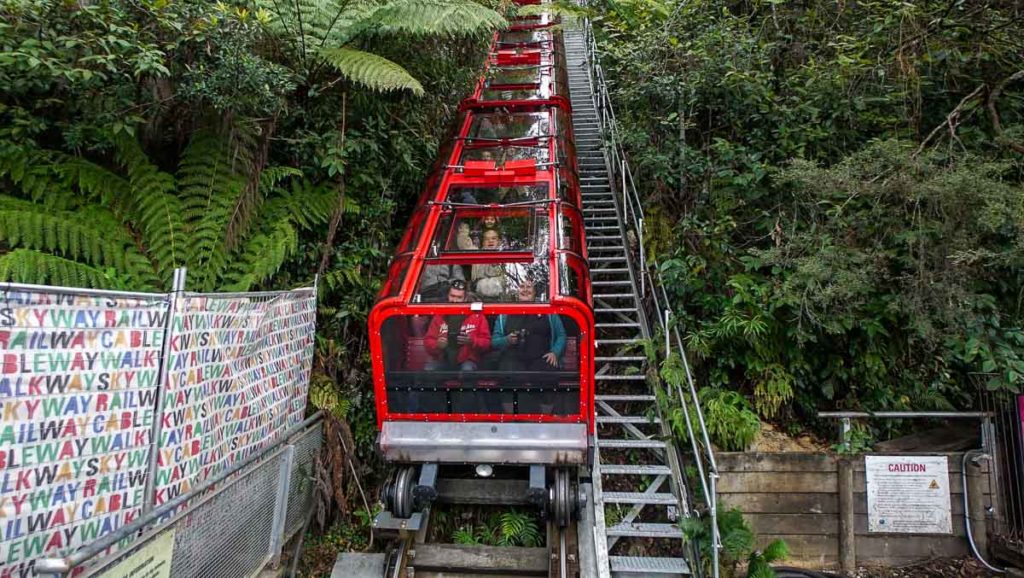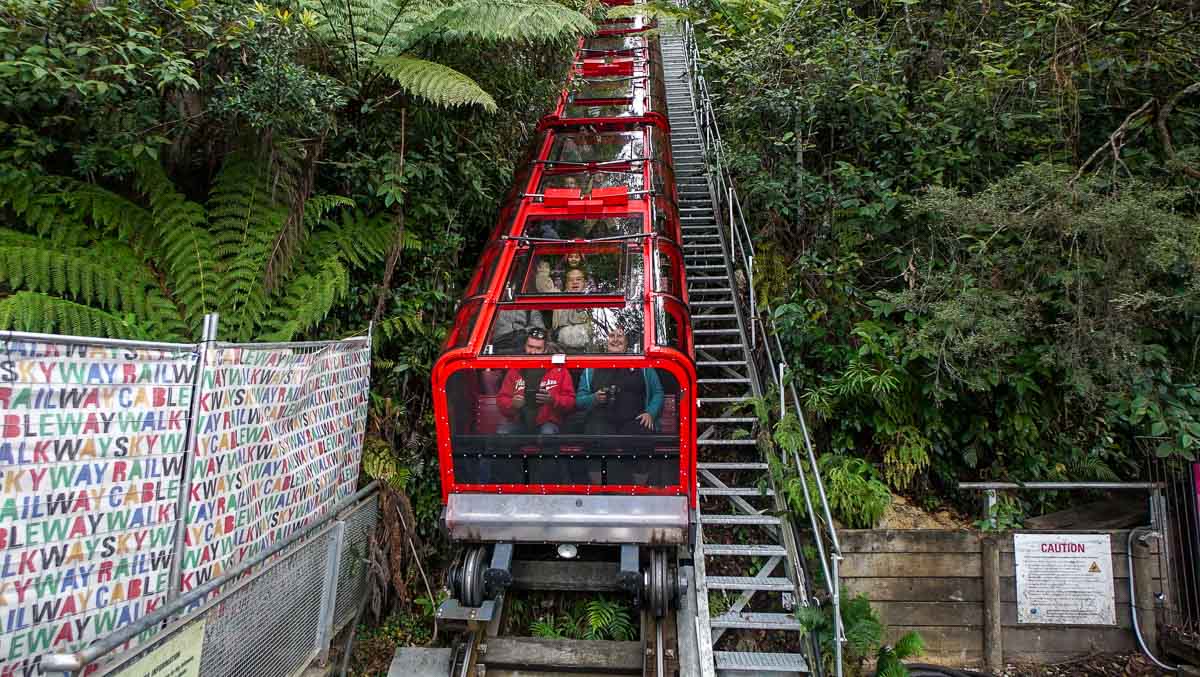 Other must-sees include Wentworth Falls, Govetts Leap Lookout, and the Scenic Railway — the world's steepest passenger railway.
2) Swim with the puppies of the sea at Montague Island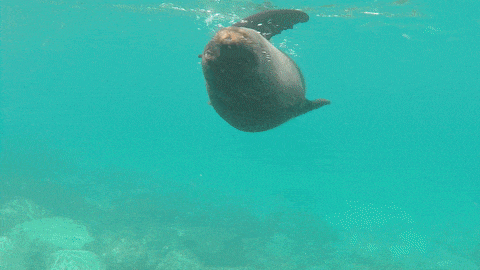 Our week-long New South Wales road trip was jam-packed with adventures, but the highlight was swimming with fur seals at Montague Island (Barunguba). A four hours' drive south of Sydney, it's one of the best places to meet the largest fur seals in the world!
There's nothing like seeing wild animals in their natural habitat. These curious creatures will swim up close and imitate your actions — from playful spins to quick dives.
The best time to visit is in Spring (September to November). It's also the prime time for spotting humpback whales.
Read more: Snorkelling with Seals on Montague Island – NSW Australia
Other things to do at Montague Island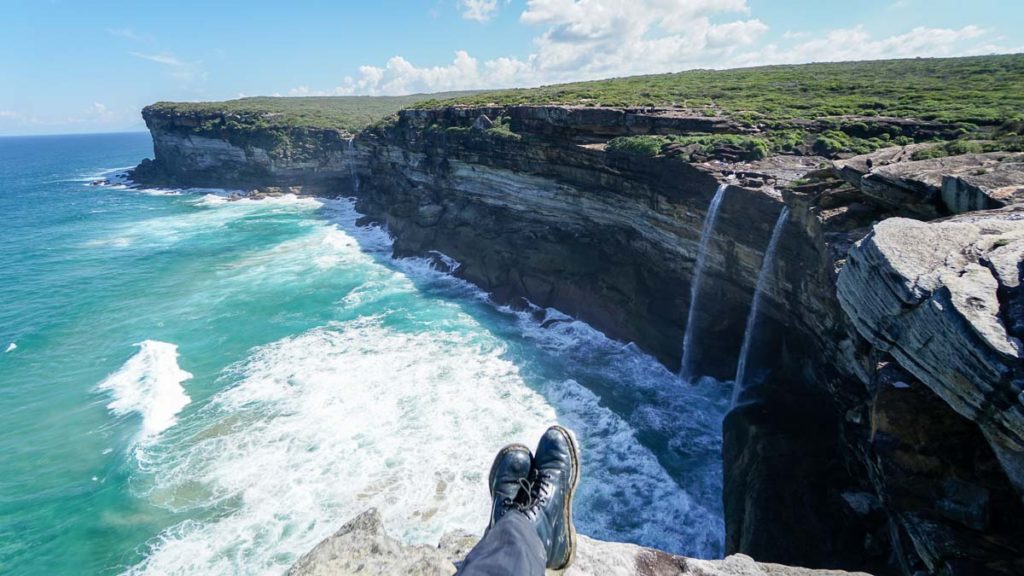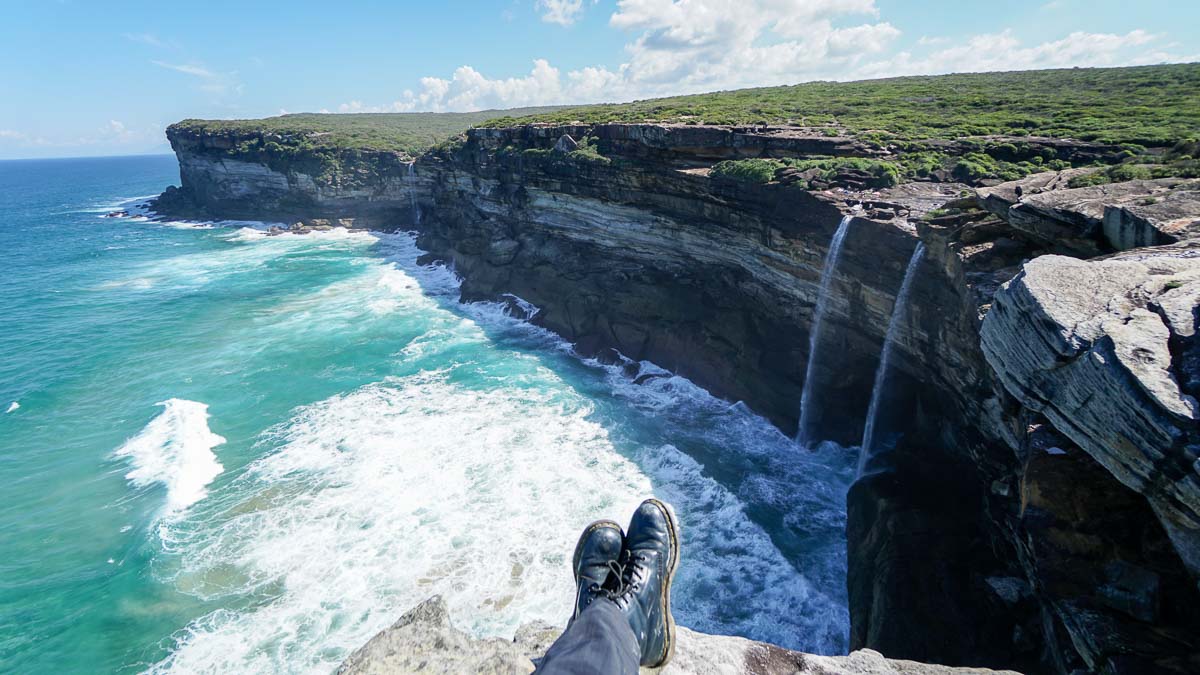 Curracurrong Falls, Royal National Park.
Make the most of your trip to Montague Island by road trippin' along New South Wales's beautiful South Coast. Stop by the Royal National Park, Australia's oldest national park, and take in the best view of the epic Curracurrong Falls from Eagle Rock.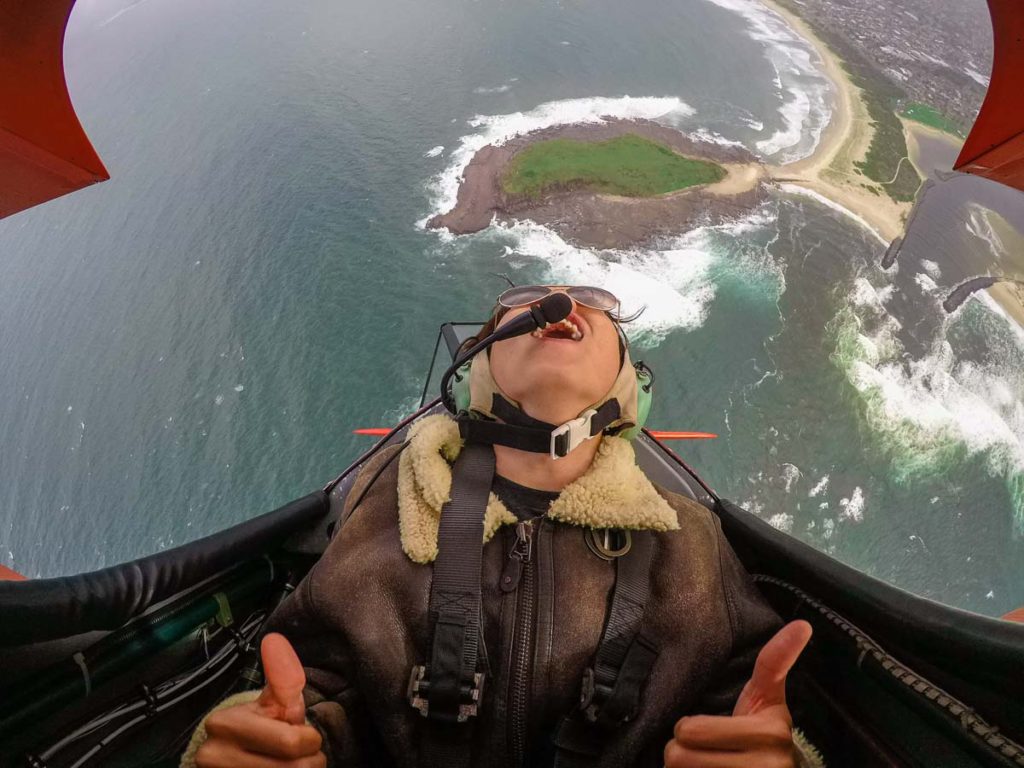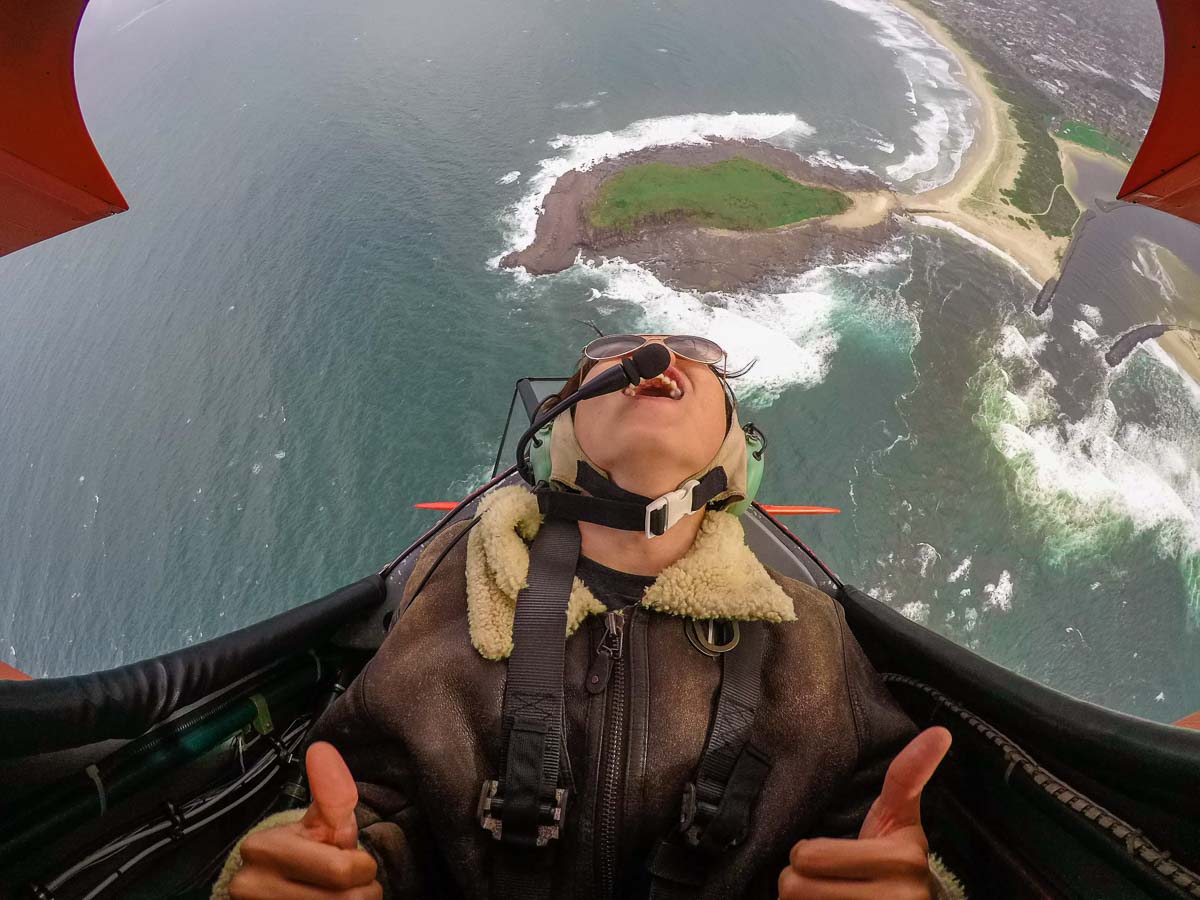 Looking for more adventure? Try a biplane experience. Sit back and (try to) relax as you soar through the sky and experience high-adrenaline loops!
Read more: Sydney South Coast Road Trip — 7 Day Australia Itinerary From Sydney to Eden
Western Australia Itinerary
3) See the vibrant pink lake at Port Gregory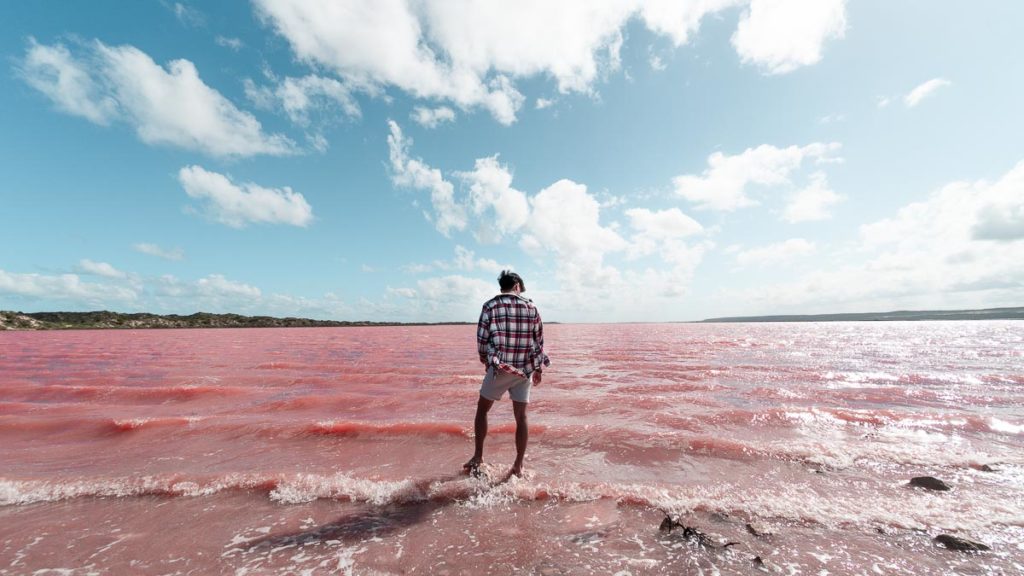 Here's something you don't see every day. Hutt Lagoon, also known as the Pink Lake, changes hues depending on the season and time of day! Sometimes it's a bubblegum pink, other times it appears more reddish. The lake's unusual colour is caused by high water salinity.
Read also: 16 Picture-Perfect Places Every Australia Itinerary Needs
Other things to do near Port Gregory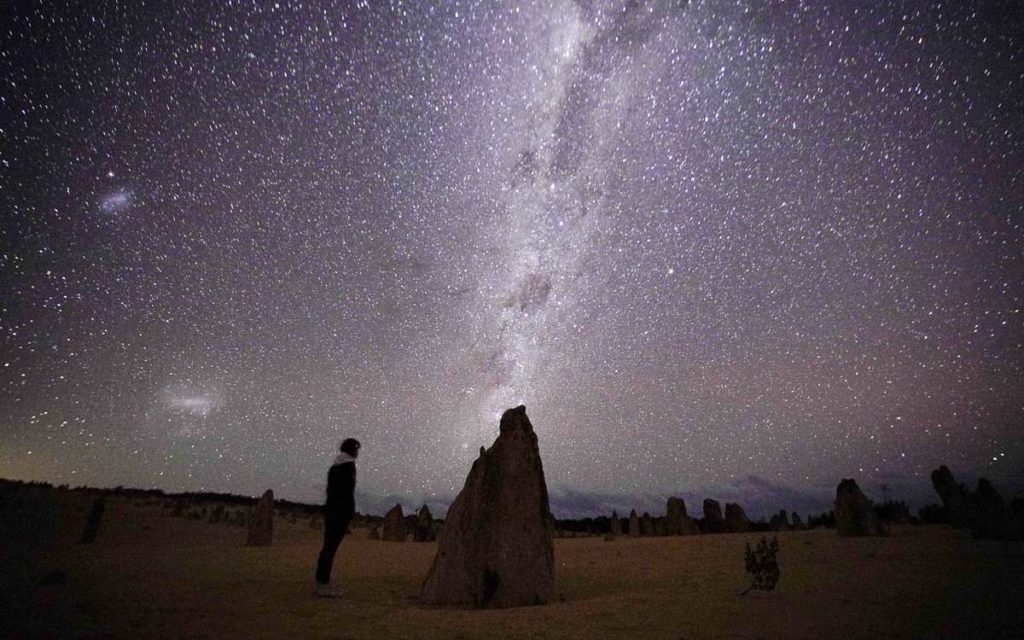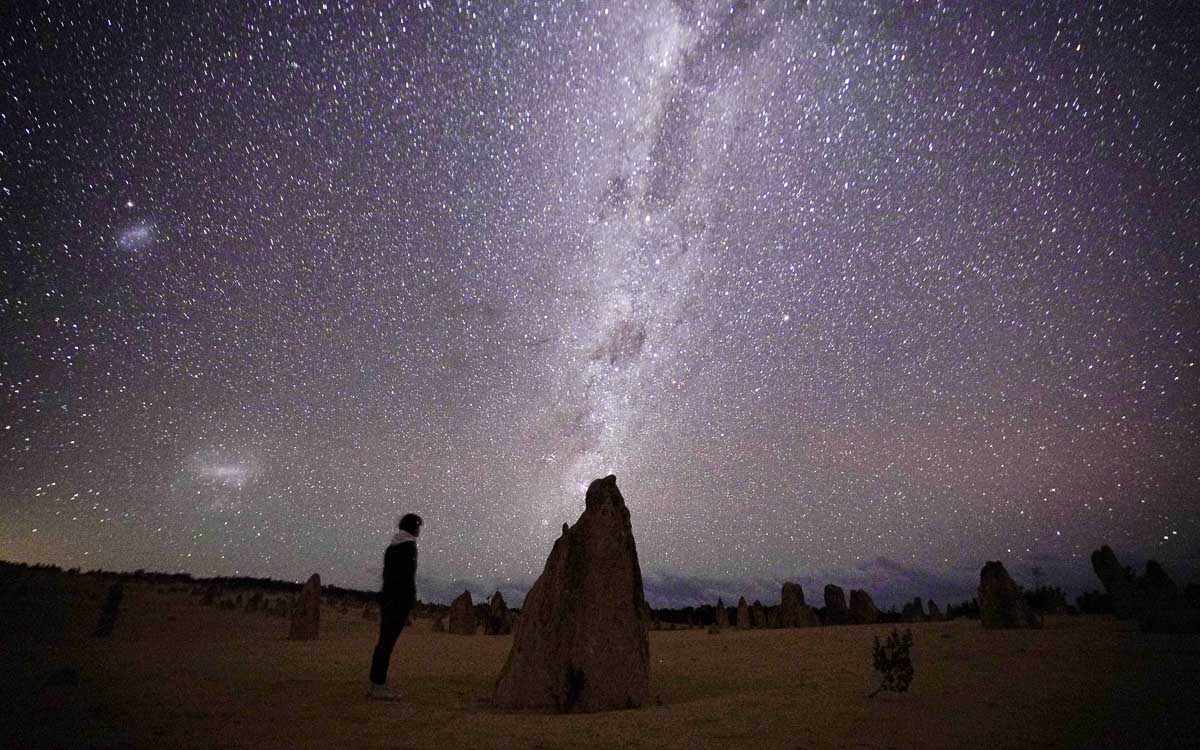 The Milky Way at the Pinnacles Desert!
The Coral Coast runs from Perth all the way to Exmouth in the north — expect to see miles and miles of incredible natural landscapes!
No Western Australia itinerary is complete without a visit to the Pinnacles Desert in Nambung National Park. This spectacular limestone moonscape is shaped by centuries of wind. Come after dark to see the Milky Way in its full glory!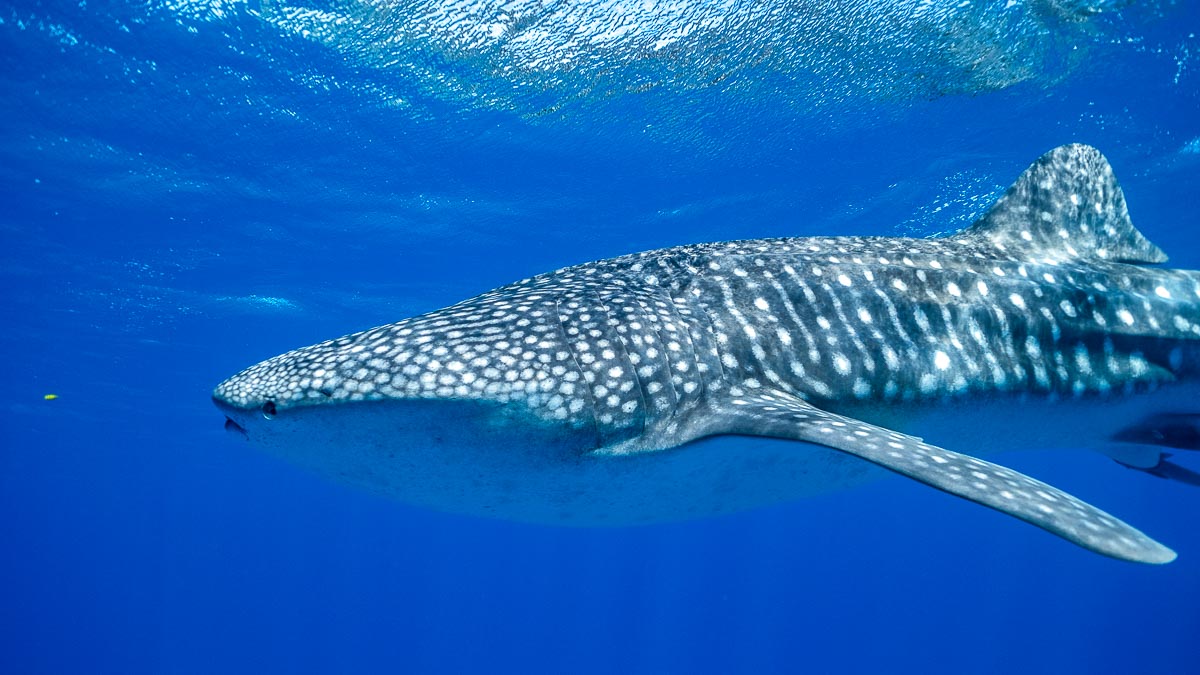 Photo credit: Tourism Australia
Over at Ningaloo Reef, friendly whale sharks gather in large numbers from April to July. Swimming up close with the world's largest fish (yes, whale sharks are indeed fish) was an unforgettable experience during our Western Australia road trip.
Note: Western Australia is not yet open for quarantine-free travel. More details here
Read more: 11D Western Australia Itinerary — Coastal Road Trip From Perth To Ningaloo
4) Cross the legendary Gibb River Road in the Kimberley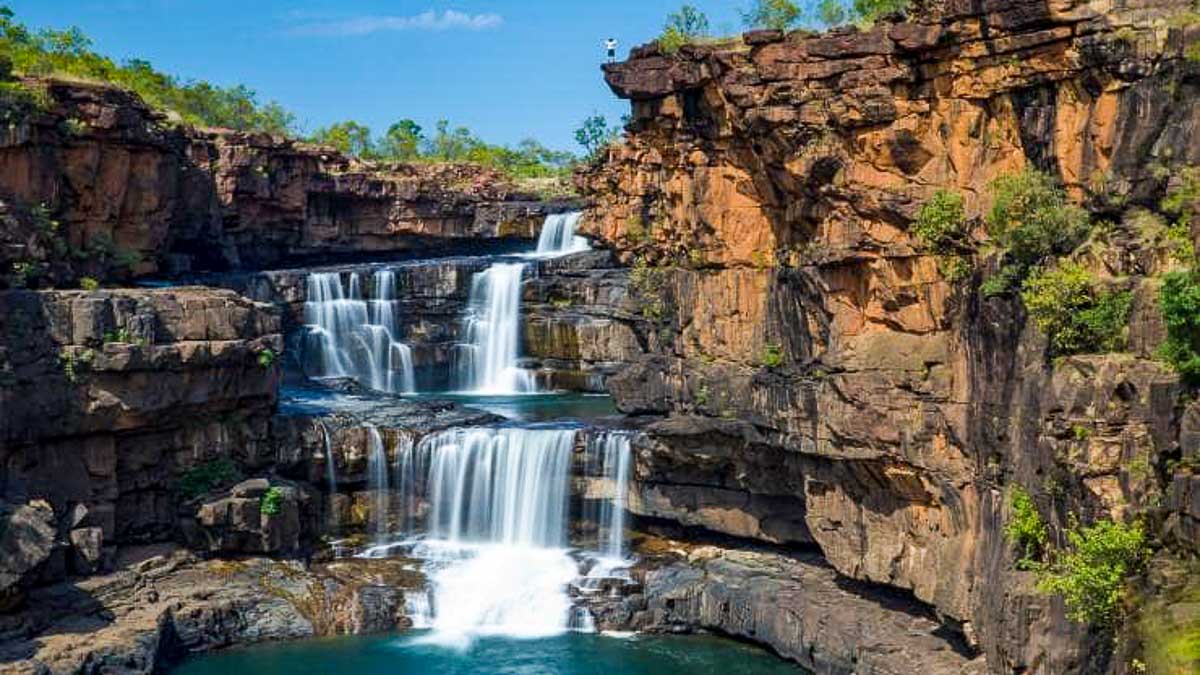 Mitchell Falls. Photo credit: Tourism Western Australia
Presenting one of Australia's top road trips — a 12-day four-wheel drive road trip along the Kimberley's Gibb River Road. This region is one of the world's last wilderness frontiers. It's also three times the size of England, with a population of less than 40,000.
Visit the postcard-worthy Bell Gorge with its cascading waterfalls and cooling waterholes. This oasis is popular for bushwalking, swimming and birdwatching. Mitchell River National Park is another gem; take a scenic flight for incredible views of Mitchell Falls and Drysdale River.
Other things to do in the Kimberley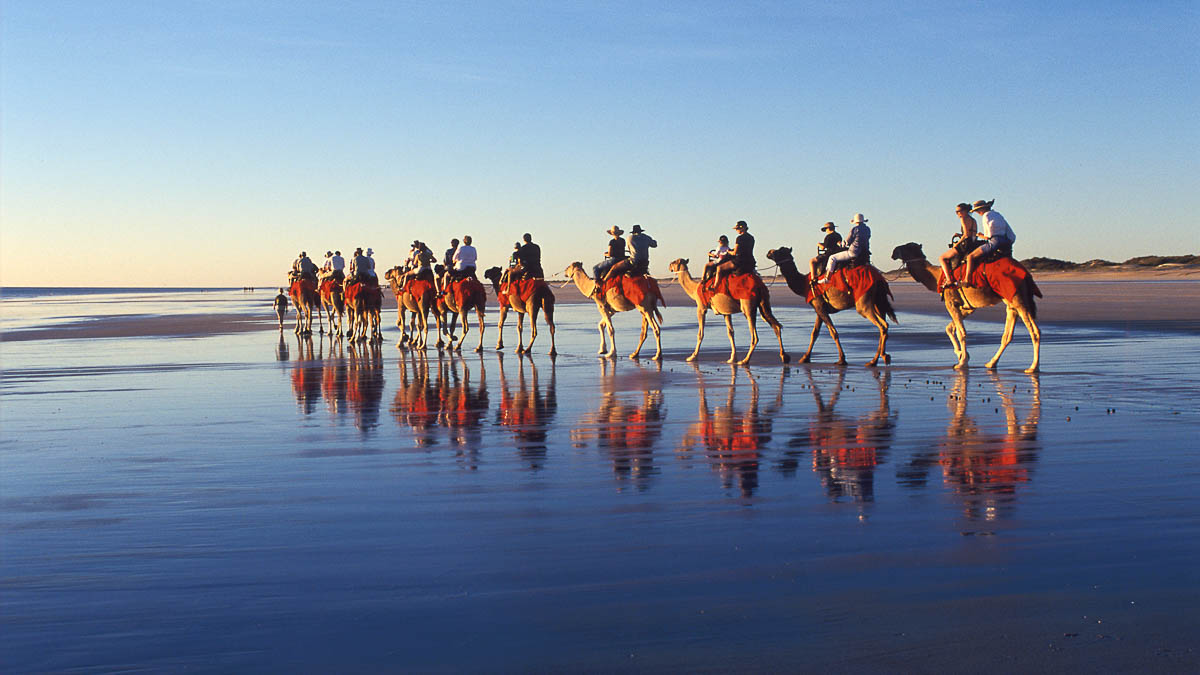 Photo credit: Tourism Australia
No trip to the Kimberley is complete without a visit to Broome, a laidback coastal town. It's the gateway to the Kimberley region, with direct flights from Perth year round. You can harvest pearls at the Cygnet Bay Pearl Farm, ride into the sunset on a camel at Cable Beach, or spot rare snubfin dolphins on an ocean cruise!
Note: Western Australia is not yet open for quarantine-free travel. More details here
Queensland Itinerary
5) Dive with Dwarf Minke Whales in Cairns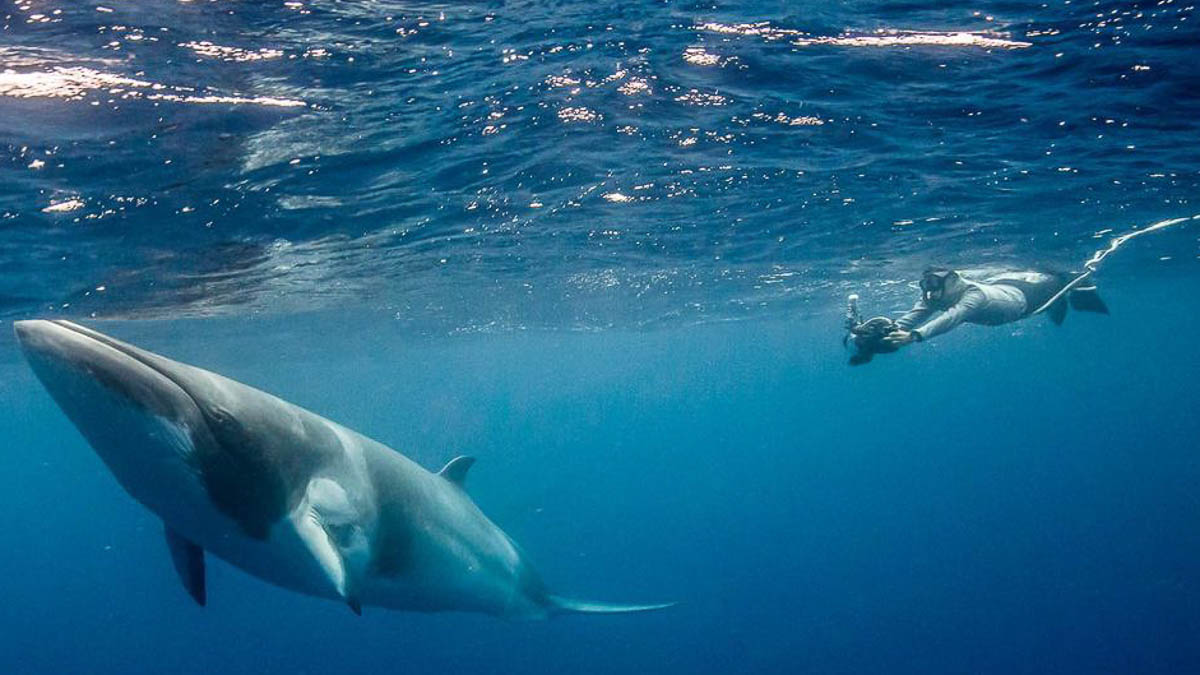 Photo credit: @mikeballdive via Instagram
Ah, the Great Barrier Reef. This treasure trove of marine life makes up 10% of the world's coral reef ecosystem. And Cairns is the gateway to this magnificent reef! If the ocean is your second home, you'll want to experience a dwarf minke whale dive expedition.
These gentle giants grow up to 8m in length, and the Great Barrier Reef is the only place that offers dive tours to see them. A three-night expedition includes a low-level scenic flight over the reef, and up to 10 dives at world-class spots like Ribbon Reefs.
Other things to do near Cairns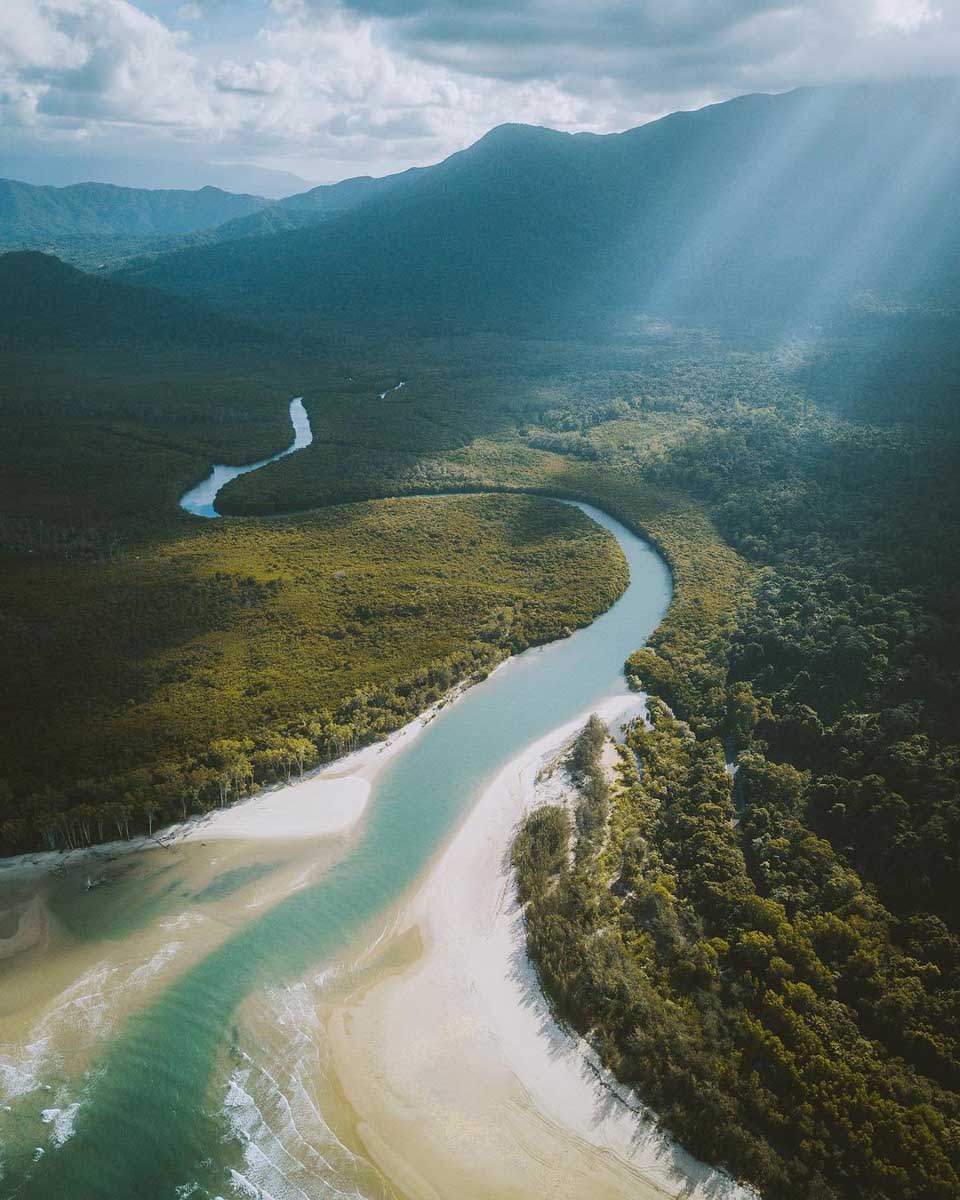 Photo credit: @harrisoncandlin via Instagram
The Great Barrier Reef Drive from Cairns to Cooktown explores the best of Queensland's coast. Drop by the Daintree Rainforest, the world's oldest tropical rainforest — which provided inspiration for the movie Avatar.
This forest was called "the most extraordinary place on Earth" by Sir David Attenborough. Check off the many hiking trails, or spot saltwater crocs while cruising along the river.
6) Live in an eco-camp in Noosa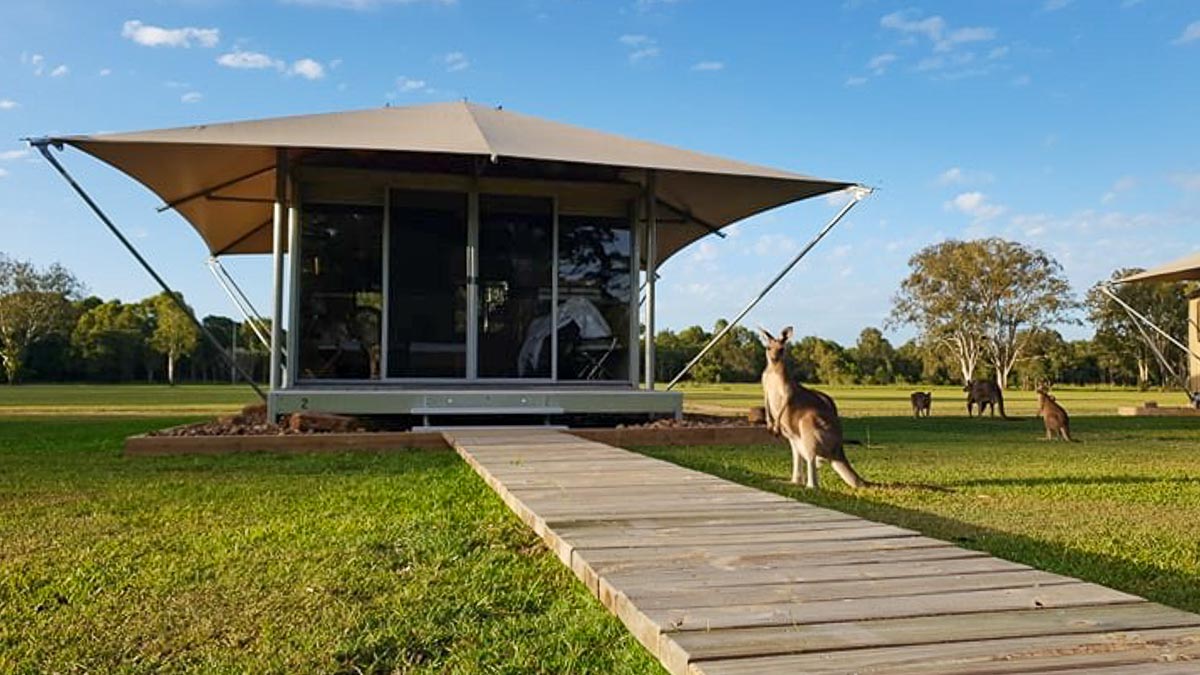 Photo credit: @habitatnoosa via Instagram
Habitat Noosa is a 65-acre eco-camp located in the Sunshine Coast, in the stunning Great Sandy National Park — which means there's tons to do! Pick from several hiking and biking trails with vastly different scenery: hidden rainforests, vibrant cliffs by the beach or clear lakes.
Looking for a no-frills camping experience? Stay in a Wilderness Tent! If you're craving a bit of luxury, opt for a Paperbark Tent — private deck, bar fridge, power access all included.
Don't be surprised to see furry neighbours hopping about — the eco-camp is home to a large eastern grey kangaroo population!
Other things to do near Noosa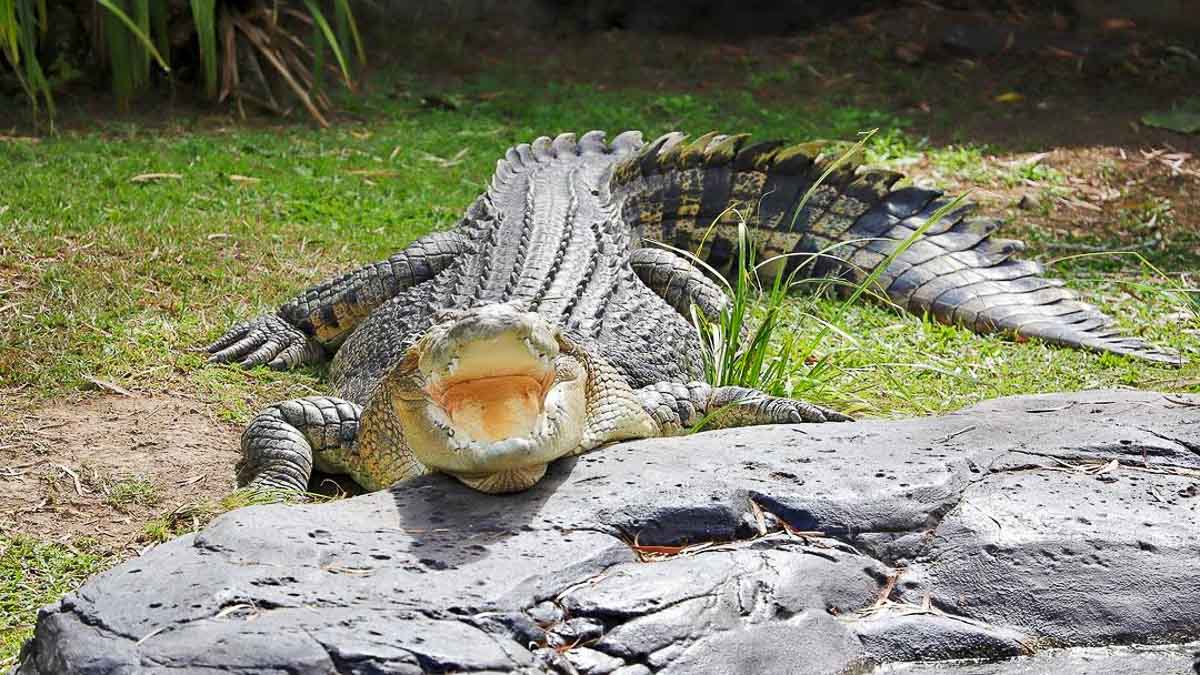 Photo credit: @australiazoo via Instagram
Visit the Australia Zoo, made famous by the late Crocodile Hunter Steve Irwin. For a once-in-a-lifetime experience, swim with magnificent humpback whales during their annual migration from Antarctica.
Make the most of your trip to Noosa by exploring the rest of Queensland's Sunshine Coast! This route offers a bit of everything — a vibrant food scene, laidback beaches and numerous outdoor activities.
Tasmania Itinerary
7) The Southern Lights at Cradle Mountain-Lake St Clair National Park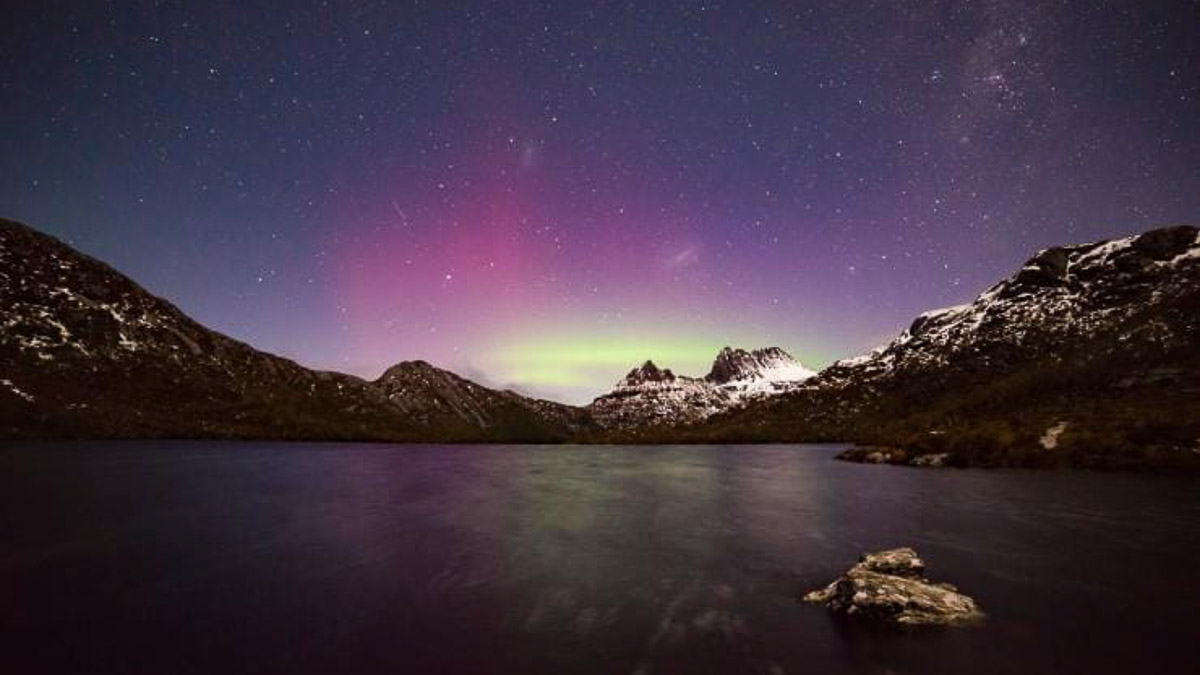 Photo credit: Tourism Australia
Many travellers know of the Northern Lights, but few are aware of the equally mesmerising Southern Lights.
Tasmania's Cradle Mountain-Lake St Clair National Park is the perfect stage for this stunning year-round performance. It's also a top spot for stargazing — a beautiful opening to the main event.
Other things to do near Cradle Mountain-Lake St Clair National Park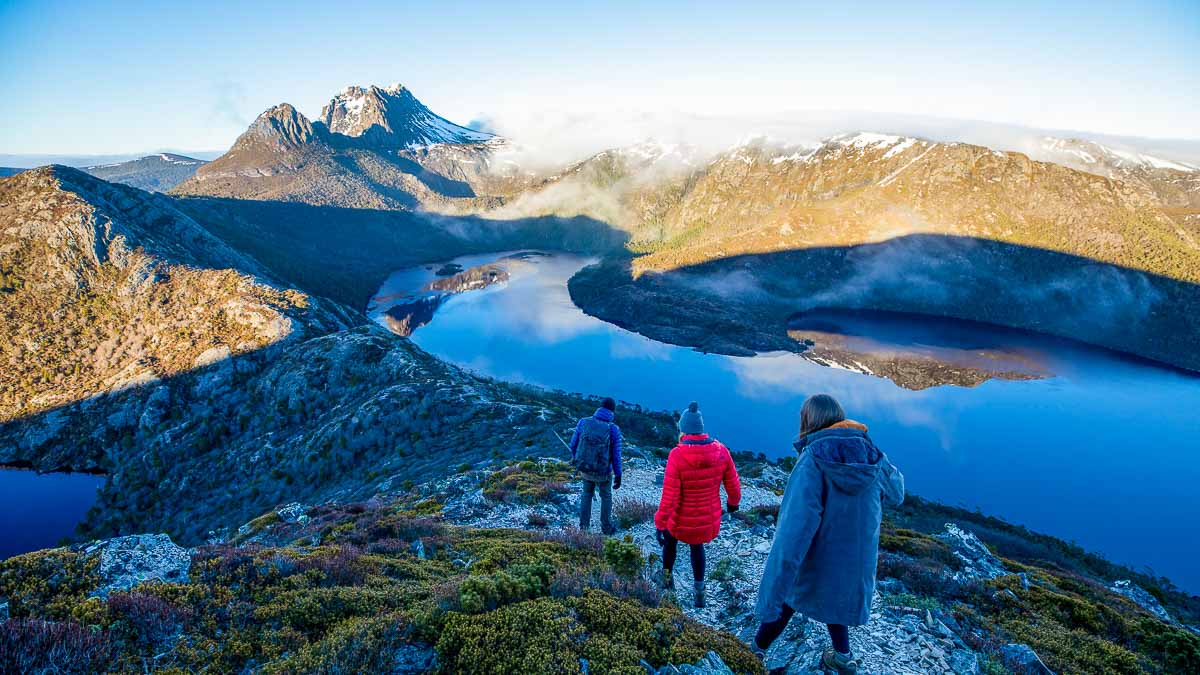 Photo credit: Tourism Australia
Experienced hikers will enjoy the challenging Overland Track (65km one-way, six days) which passes Cradle Valley and Cradle Mountain.
Want to admire the park from above? Enjoy a helicopter ride over Australia's deepest gorge, Fury Gorge, and Tasmania's highest mountain, Mount Ossa.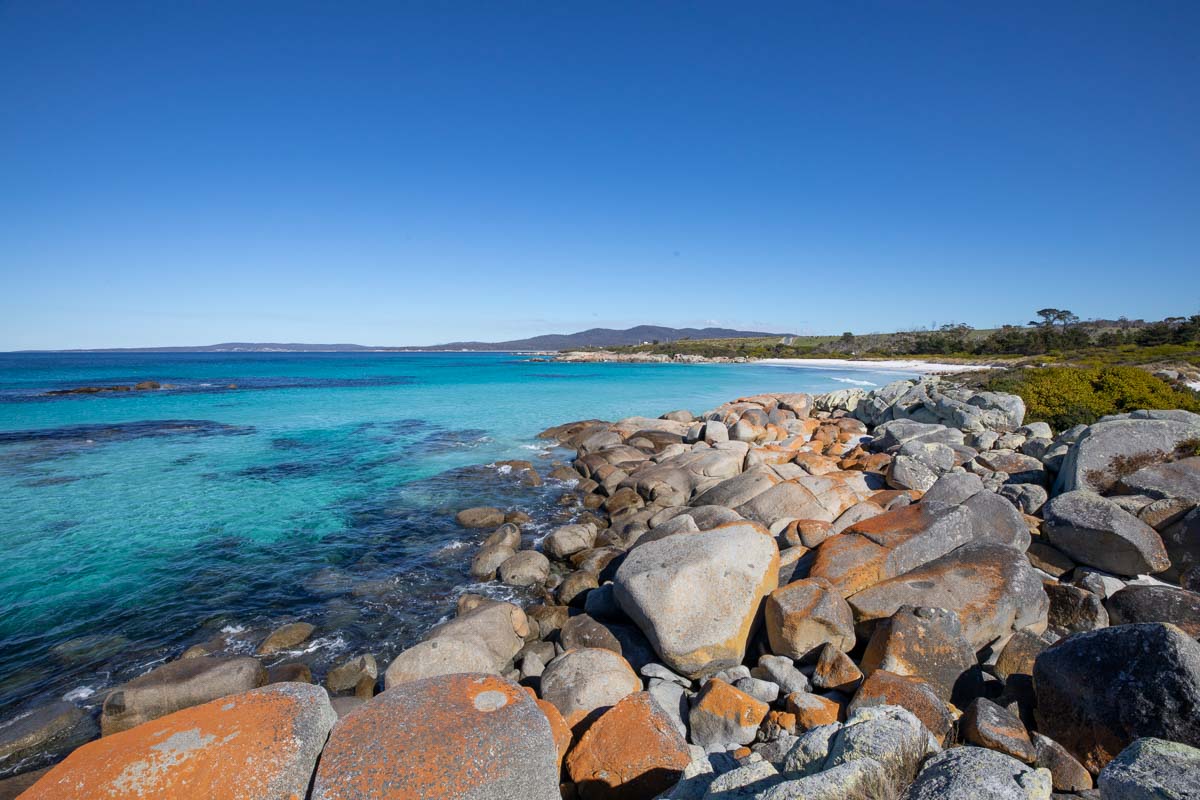 Bay of Fires. Photo credit: Tourism Australia
Explore more of Tasmania by going on the six-day Circle Tasmania route, which starts and ends in Hobart. Freycinet National Park and the Bay of Fires are just a few of the exciting natural attractions along the way!
8) Trek rugged cliffs along the Three Capes Track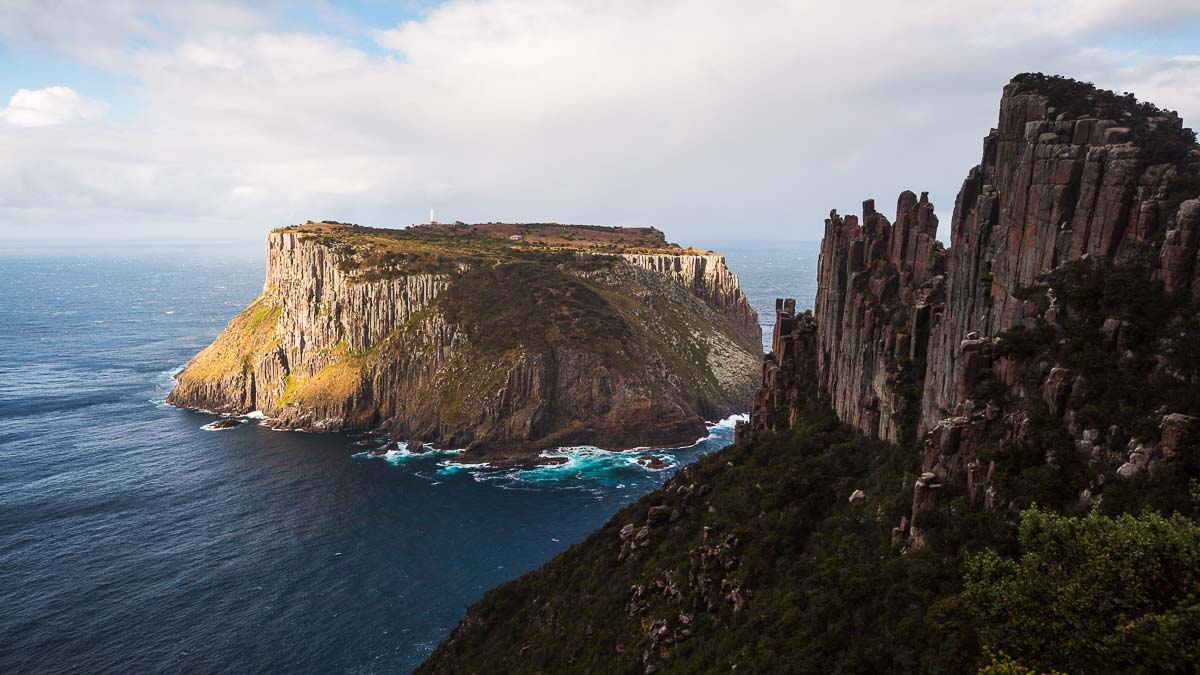 Photo credit: Tourism Australia
This isn't your regular walking tour. Throw in epic cliffs, a remote lodge, plus wildlife sightings, and you've got an adventure of a lifetime!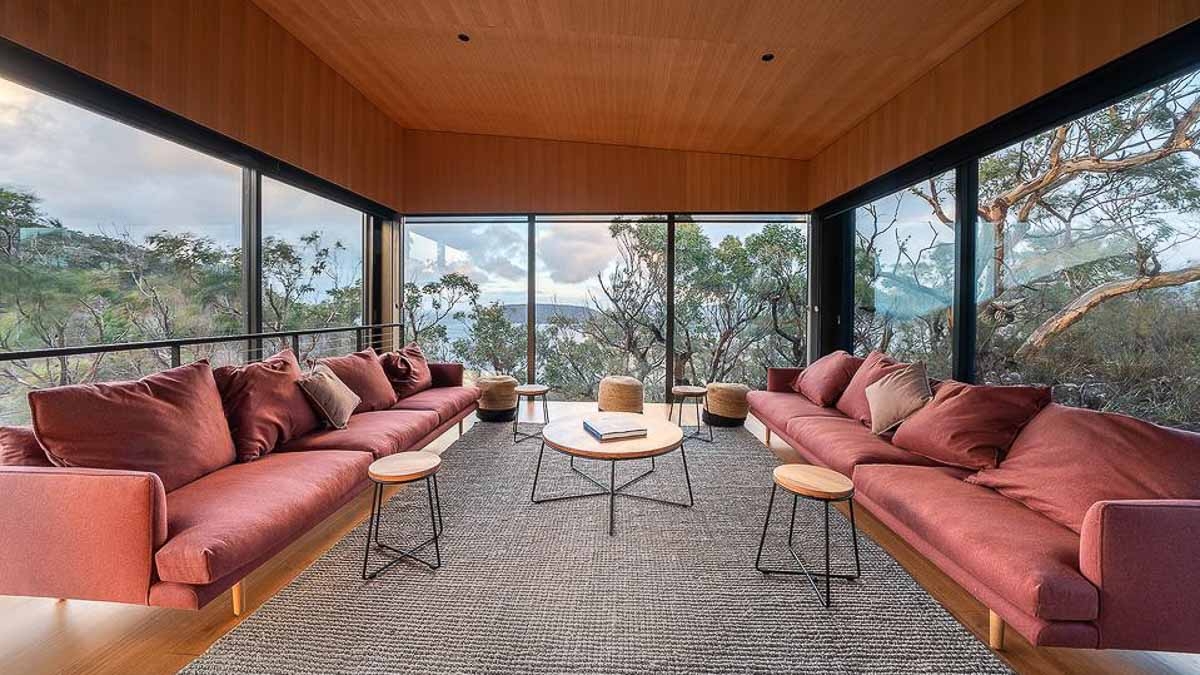 Crescent Lodge. Photo credit: Tasmanian Walking Company
The four-day Three Capes Track explores the rugged Tasmanian coastline. Start with a boat ride to Denman's Cove, then summit Arthurs Peak, and visit The Blade — the list goes on!
After a full day, unwind at the park's only private lodging, which blends seamlessly with the surrounding landscape.
Other things to do near Three Capes Track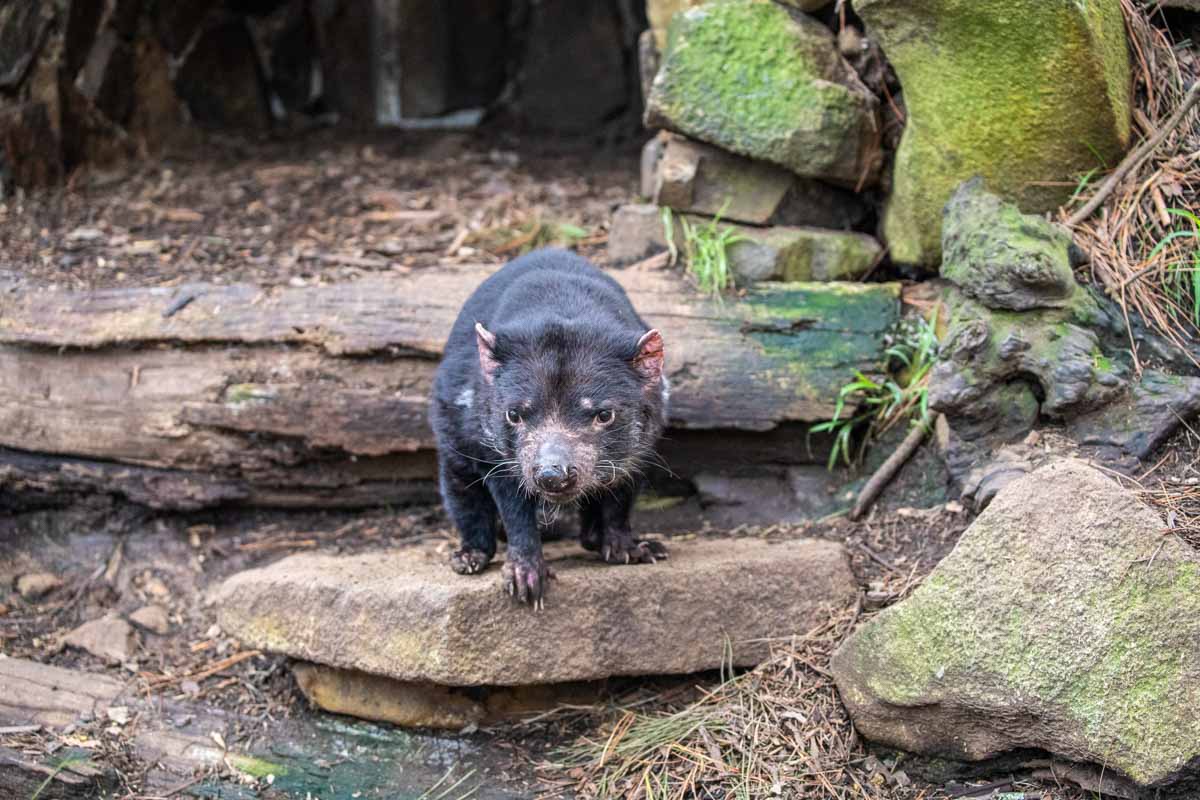 Photo credit: Tourism Australia
Only a 90-minute drive from the capital city of Hobart, the Tasman Peninsula is just bursting with fun activities. Head to the Tasmanian Devil Unzoo — where cages are removed — to see endangered Tasmanian devils.
Alternatively, soak in the Tasmanian coast with a wilderness cruise. If you're lucky, you might spot pods of bottlenose dolphins, migrating humpback whales, and fur seals!
Victoria Itinerary
9) An epic cycling adventure in the High Country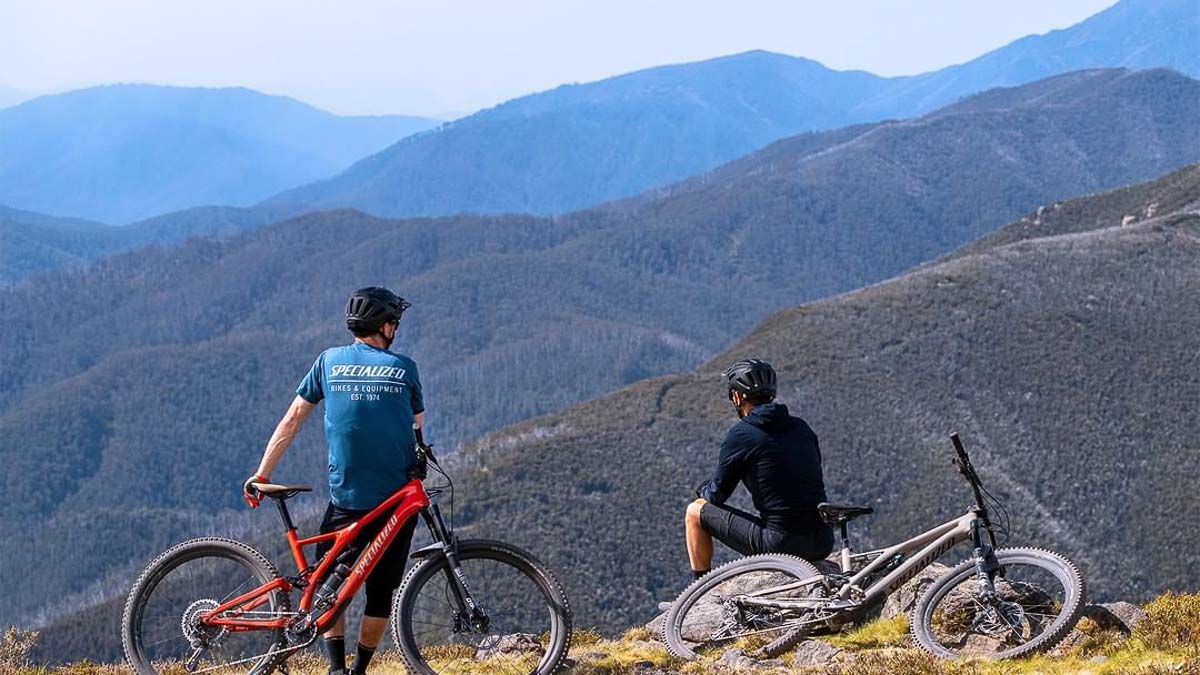 Photo credit: @matt_rousu_photography via Instagram
The cycling trails in Victoria's High Country are among the best in Australia. Hardcore cyclists will relish the Seven Peaks Challenge, which promises sweeping alpine views of Mt Baw Baw, Lake Mountain, and more.
If you're looking for a slower pace, cycle along the off-road Rail Trail network, the longest in the Southern Hemisphere. The beginner-friendly Murray to Mountains Rail Trail showcases natural bushland and rustic farmlands.
Other things to do near High Country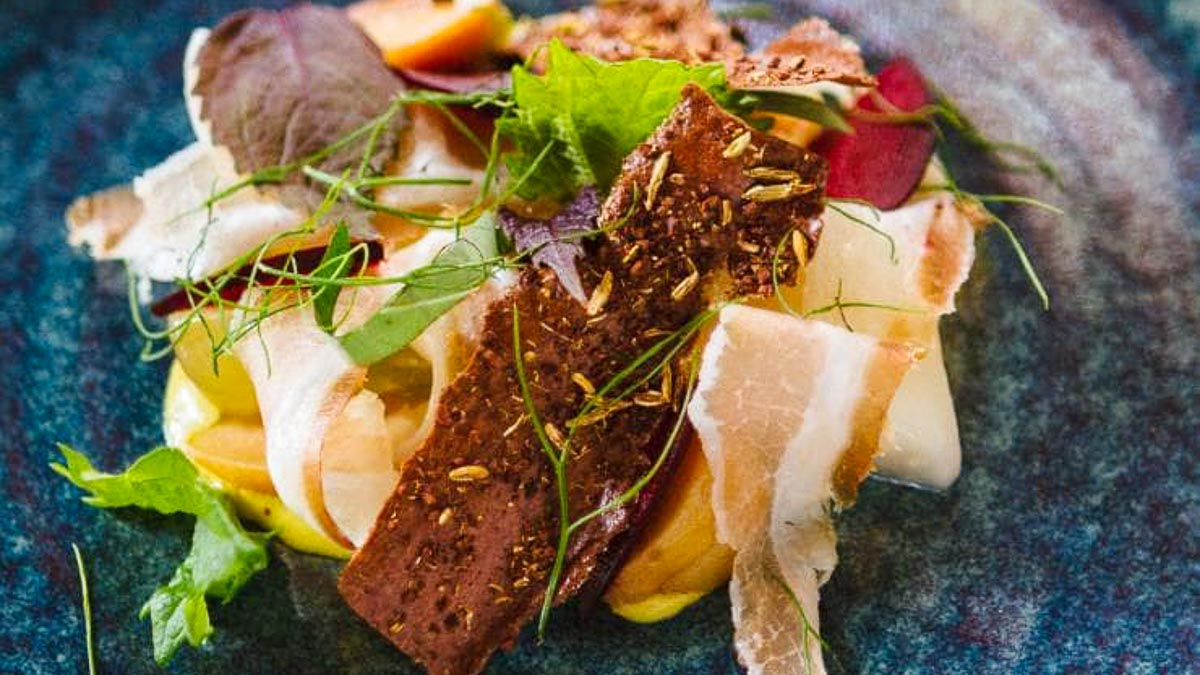 Photo credit: Roberto Seba
Calling all foodies! Victoria's High Country is a culinary heaven, with world-class wineries and delicious local produce. Dine at the acclaimed Provenance Restaurant (Ranked 36th in Gourmet Traveller's Top 50 Australian Restaurants in 2020!), and visit the Feathertop Winery for a fun tasting session.
Besides gourmet cuisine and top cycling trails, the High Country is also known for hiking trails, relaxing waterways, and stunning hot air balloon rides.
10) Dog sled down snowy slopes at Mt Buller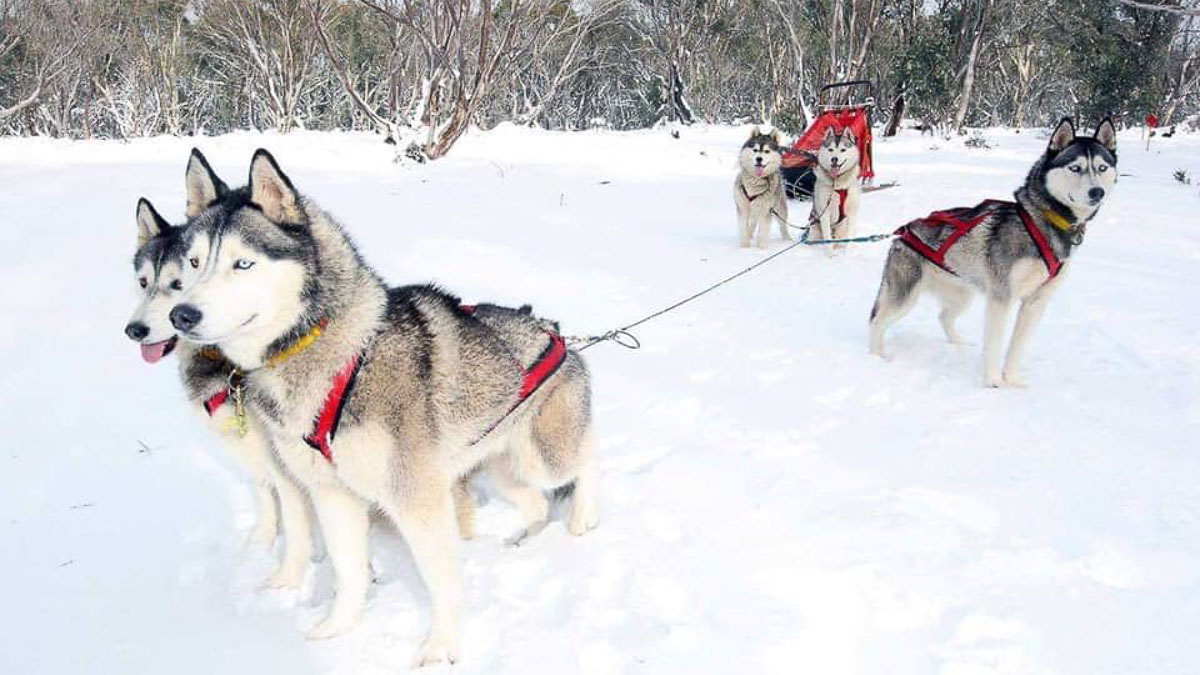 Photo credit: Australian Sled Dog Tours
Australia is a great place to visit all year round, and you mustn't miss out on its exciting winter experiences. Come during Winter (June to August) and enjoy the spellbinding scenery of Mt Buller on a fun husky sled ride!
Other things to do near Mt Buller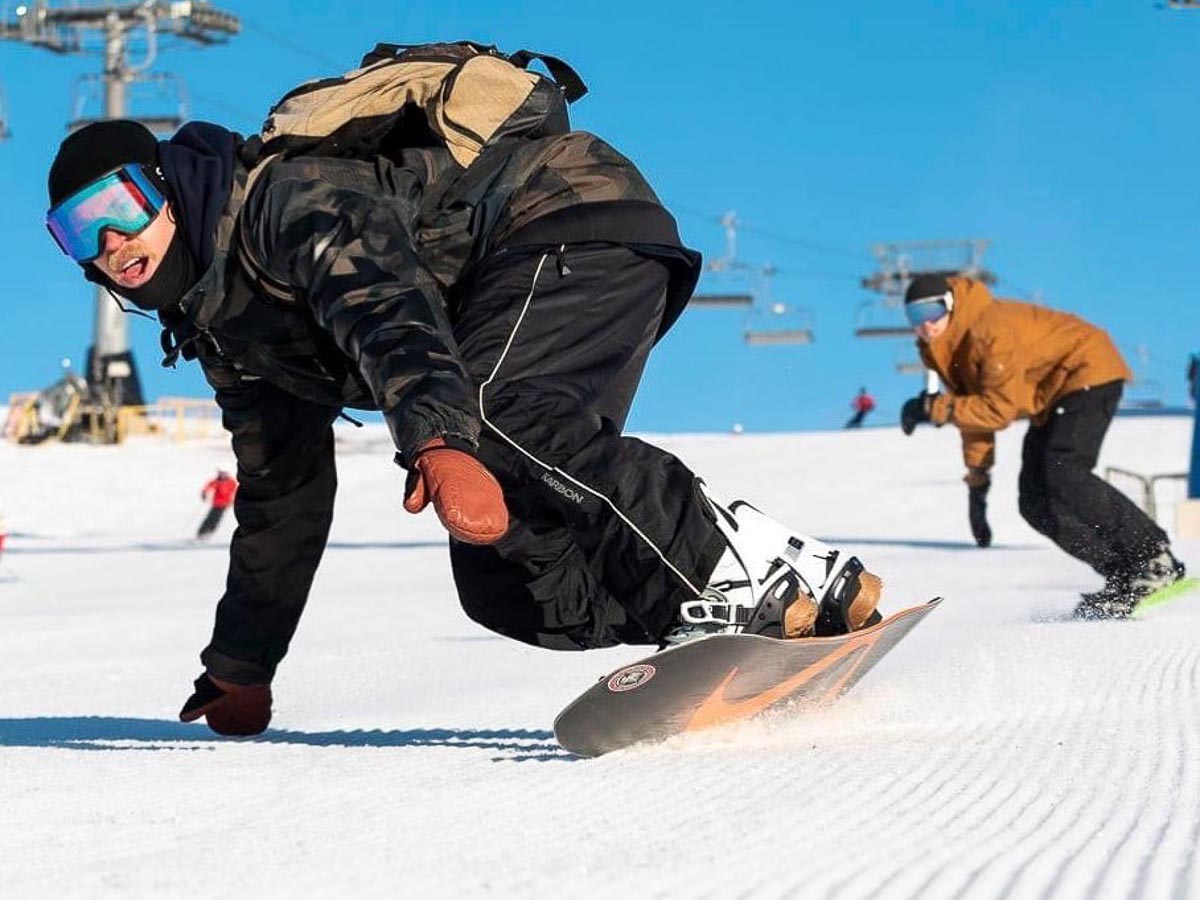 Photo credit: @mt_buller via Instagram
Alpine Victoria is an awesome place for a family holiday. Sign up for beginner skiing lessons with your loved ones, or head straight for the intermediate slopes if you're more experienced.
South Australia Itinerary
11) Meet a Great White Shark in Port Lincoln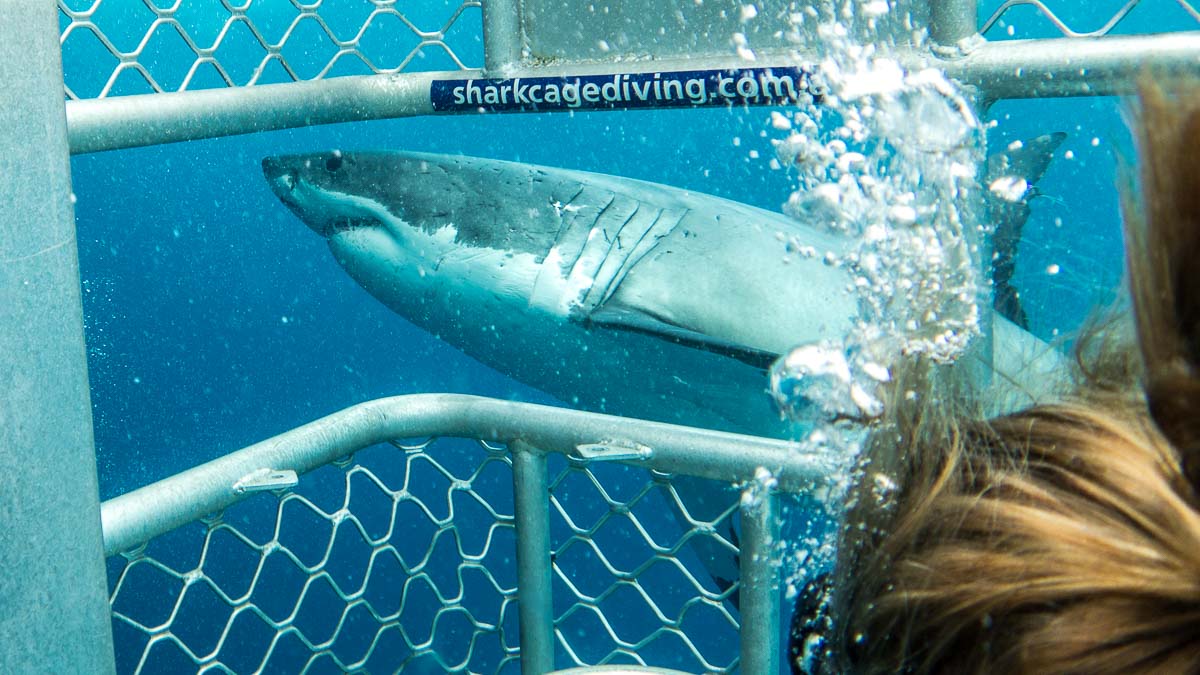 Photo credit: Tourism Australia
Here's a thrilling adventure for the books — cage diving with magnificent Great White Sharks! The nutrient-rich waters of Port Lincoln are hunting grounds for the sharks, making it the perfect place for this crazy experience.
While cage diving is the highlight, you'll be able to spot other marine life like friendly dolphins! The best part is you don't need to have prior diving experience.
Other things to do near Port Lincoln
Photo credit: @heyitsjessvalentine via Instagram
While you're in town, tour the rest of South Australia's Eyre Peninsula. This area is known for quality seafood (more than 65% of Australia's seafood comes from here!), wildlife adventures, and gorgeous scenery.
Seafood fanatics need to visit Coffin Bay, one of Australia's top places for oysters. Nothing beats freshly-shucked oysters, pulled from the ocean with your own hands. Gawler Ranges is another must-see — rust-red hills stand in contrast to white salt lakes.
12) Stay in a private wildlife conservancy in the Flinders Ranges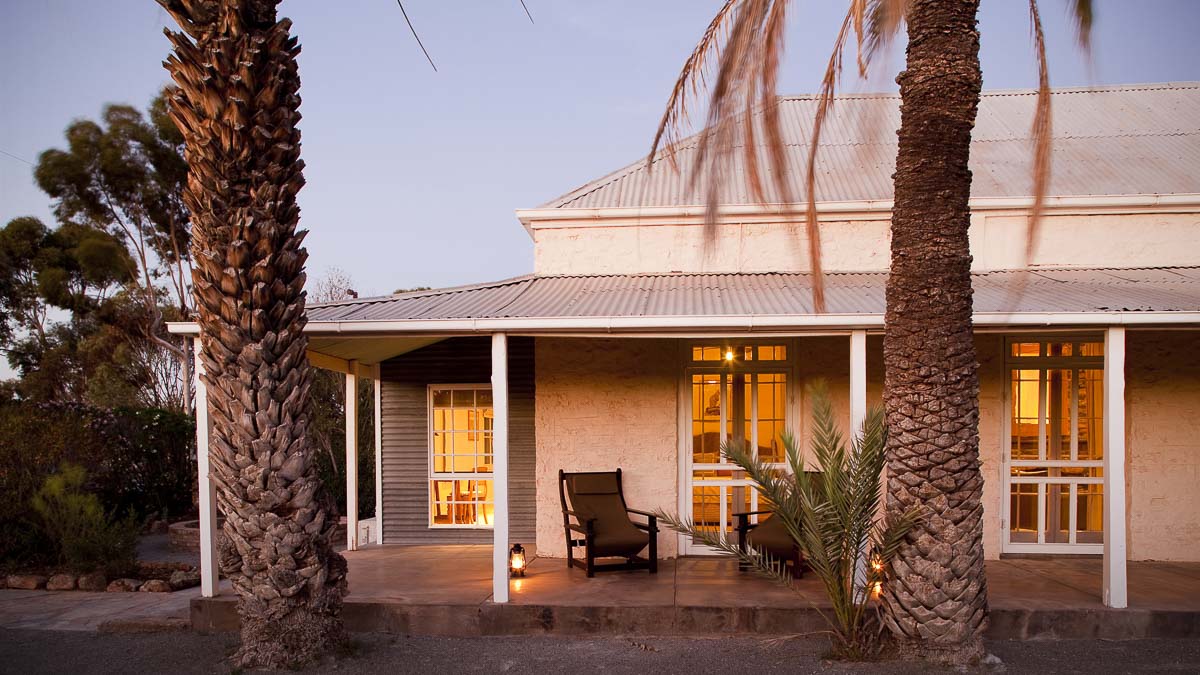 Photo credit: Arkaba Conservancy
Wild bush stay, anyone? I don't mean roughing it — just the opposite. Arkaba Conservancy is a luxury property in the Flinders Ranges, home to some of Australia's most rugged and dramatic landscapes.
Just 10 guests share 60,000 acres of private property. Basically, you'll have your very own piece of the range!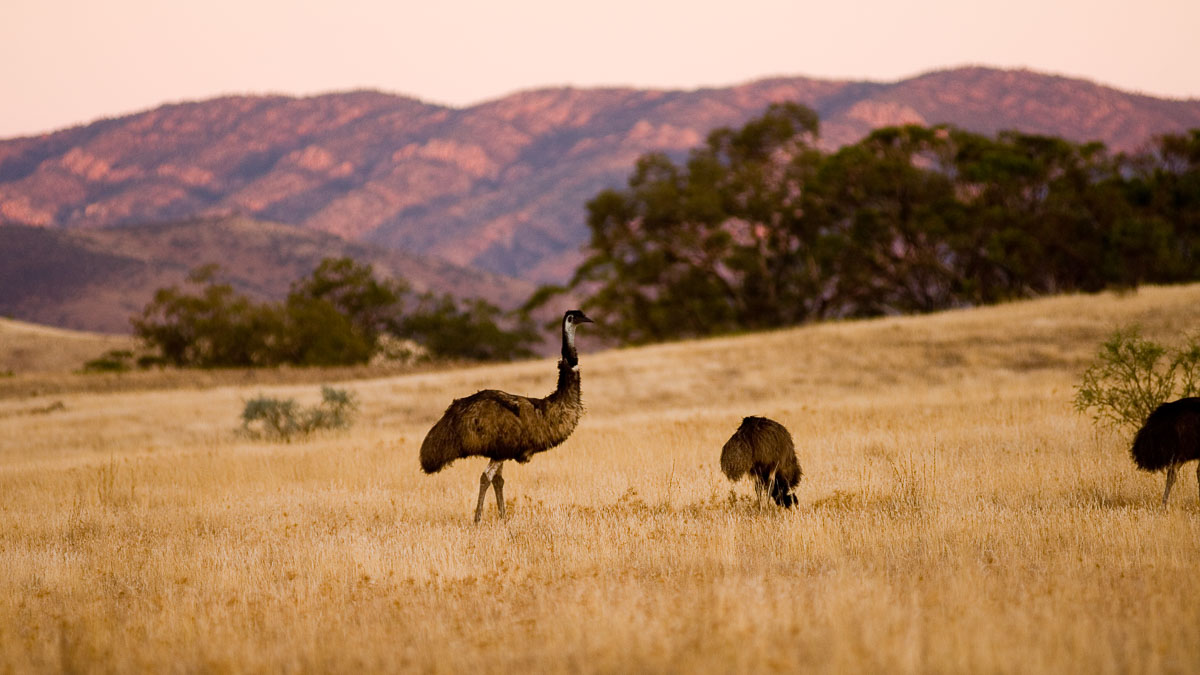 Photo credit: Arkaba Conservancy
Don't expect WiFi or televisions though. Arkaba Conservancy is all about disconnecting and immersing yourself with nature. With kangaroos, emus and other wildlife at your doorstep, who needs TV?
Other things to do near the Flinders Ranges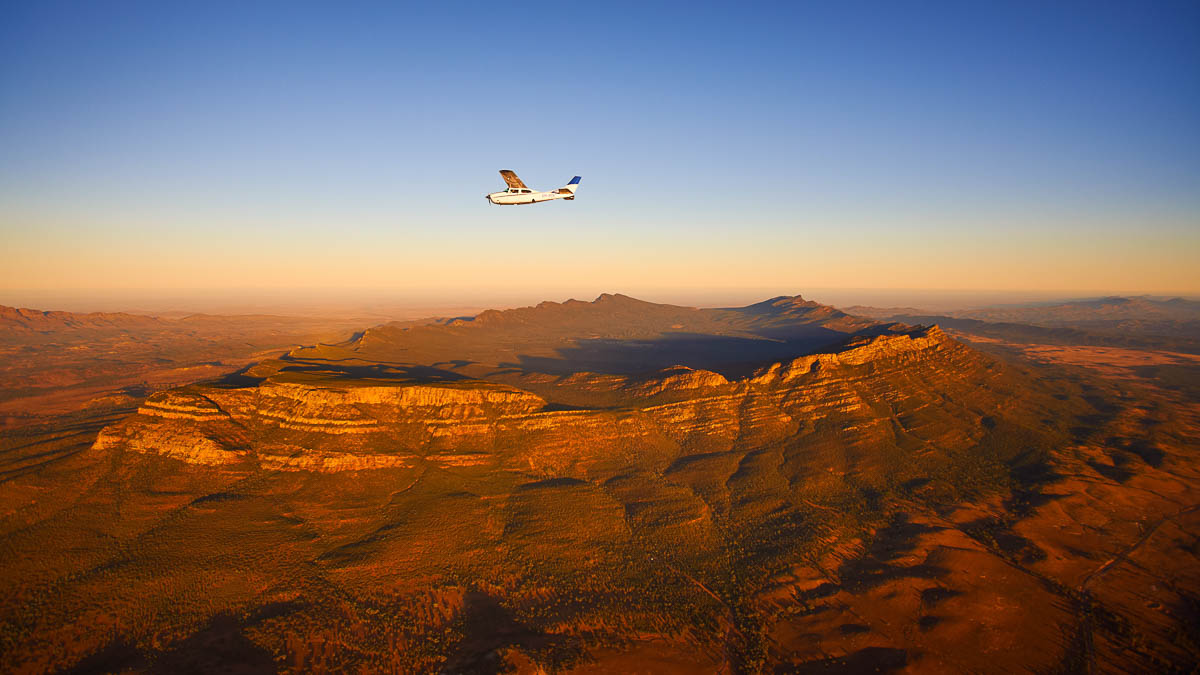 Photo credit: Wilpena Pound Resort
You'll need at least a week to experience the South Australian outback. And Explorers Way is the best way to explore it!
Wilpena Pound is a 17km-long, 8km-wide natural amphitheatre that looks like it was created by a huge meteor. Enjoy a scenic flight over this marvel to appreciate its scale! Then, drop by the famous Prairie Hotel for a feral mixed grill, where you'll taste kangaroo, camel and emu.
Australian Capital Territory Itinerary
13) Spot unique wildlife at Tidbinbilla Nature Reserve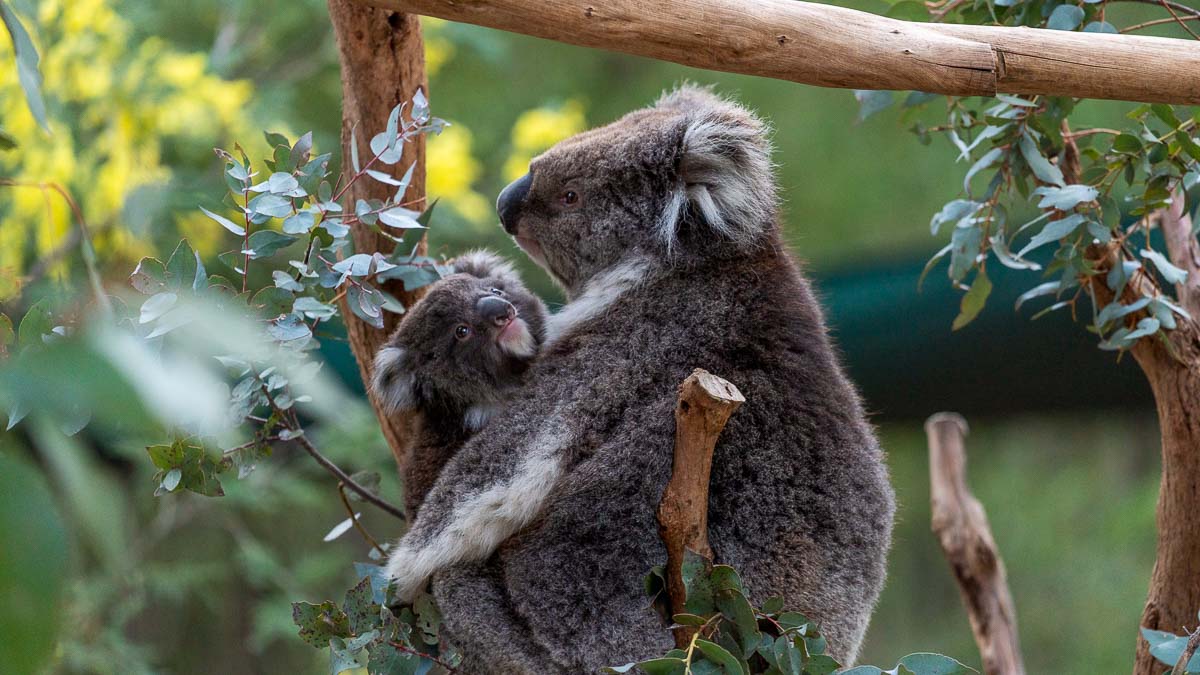 Photo credit: Tourism Australia
Home to Australia's capital city Canberra, the Australian Capital Territory offers more than just museums. Tidbinbilla Nature Reserve is a playground for outdoor enthusiasts, with 21 walking trails and countless opportunities for wildlife encounters.
Wildlife protection is a top priority at this reserve — it dedicated 100 hectares just for animals. See cuddly koalas, wallabies, and emus roam freely!
Other things to do near Tidbinbilla Nature Reserve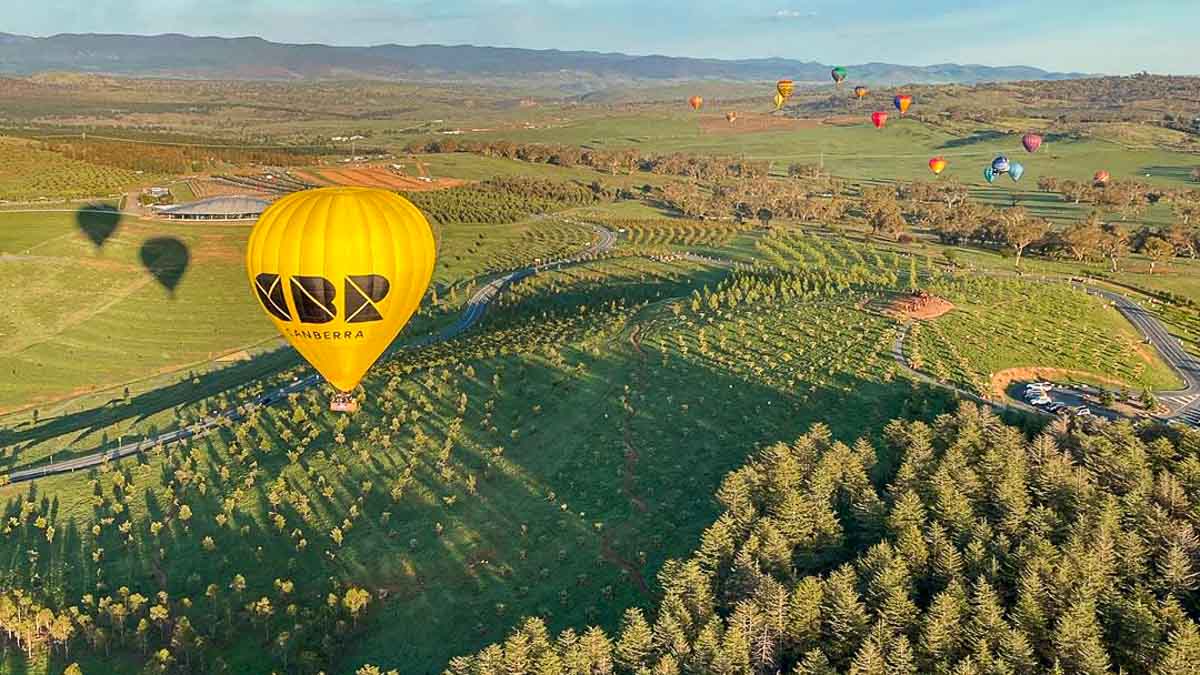 Photo credit: @balloonaloftcanberra via Instagram
Here's a guaranteed highlight of your Australian Capital Territory adventure — a hot air balloon ride over Canberra. Soar over iconic landmarks as you sip on champagne.
Another must-visit is Namadgi National Park, which makes up half of the territory! Here, you'll find Aboriginal campsites and other cool artefacts. If bushwalking doesn't sound exciting enough, try abseiling, fishing or mountain biking.
Note: Parts of the park are closed to allow for bushfire recovery work.
14) Truffle hunting with trained dogs in Canberra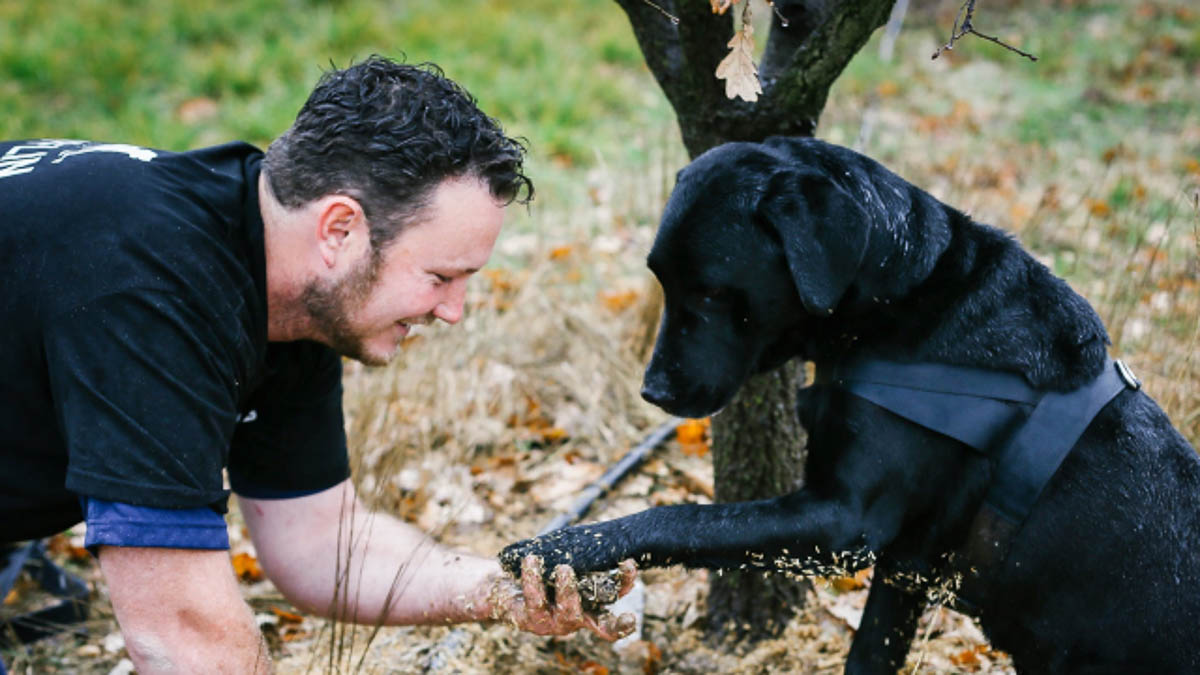 Photo credit: The Truffle Farm
This one's for my fellow truffle addicts! In just 20 years, Australia has become the world's fourth-largest producer of black truffle, and Canberra is the nation's premier destination for truffle hunting.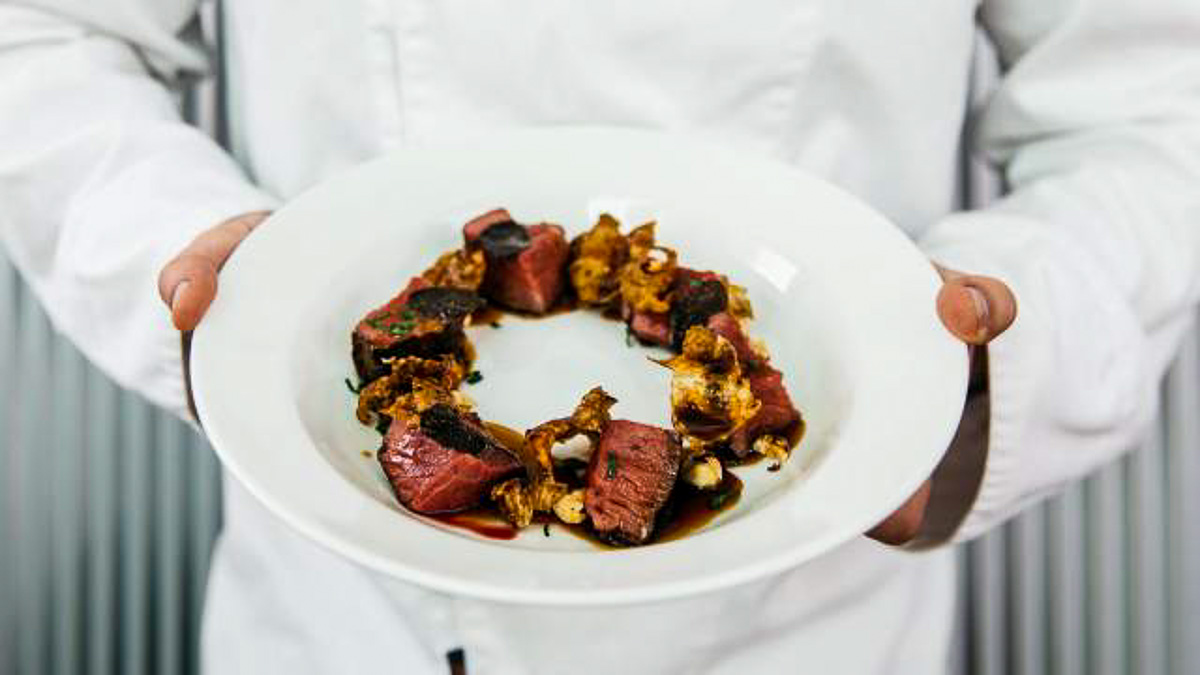 Photo credit: The Truffle Farm
Truffle hunting is actually a very fun and educational process. Join a team of highly trained (and highly adorable) truffle dogs as they sniff out truffles, then watch a professional chef prepare a decadent lunch.
Truffle tours run during Winter (early June to August).
Other things to do near Canberra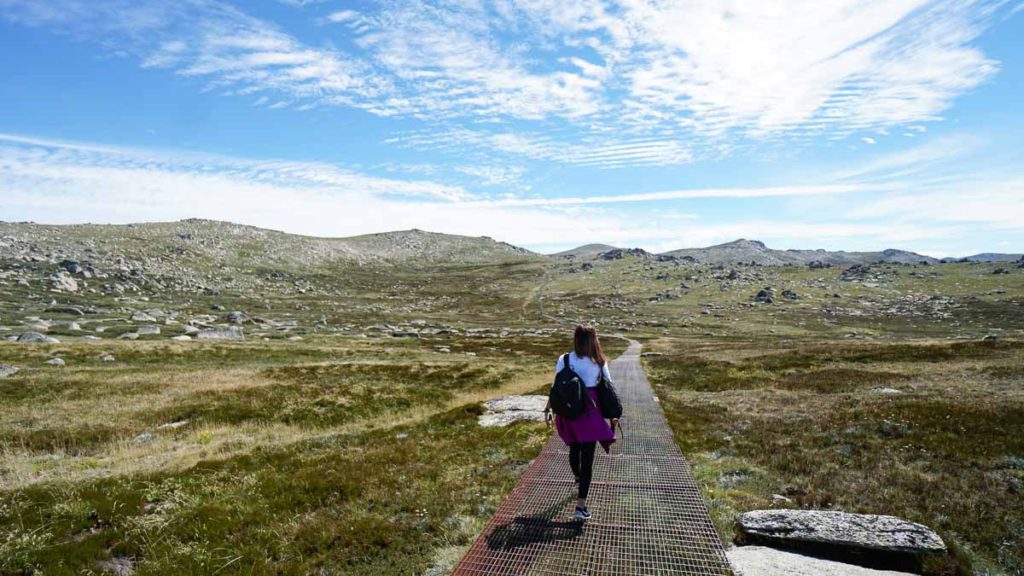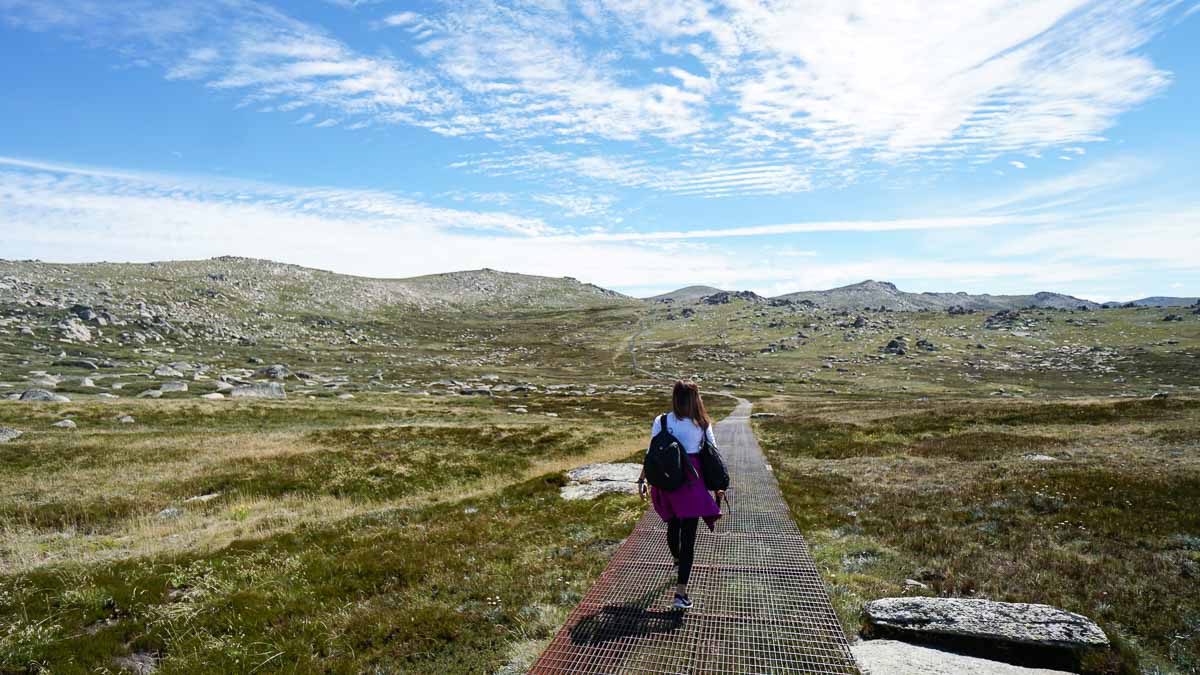 Hiking up Mount Kosciuszko!
When you've finished feasting on truffles, head to the Snowy Mountains, which stretches from Canberra to Victoria. Here, you can conquer Mount Kosciuszko (Australia's highest peak!). Or, go snowboarding in Thredbo, the nation's go-to winter wonderland.
Northern Territory
15) Get up close and personal with wild crocodiles in Darwin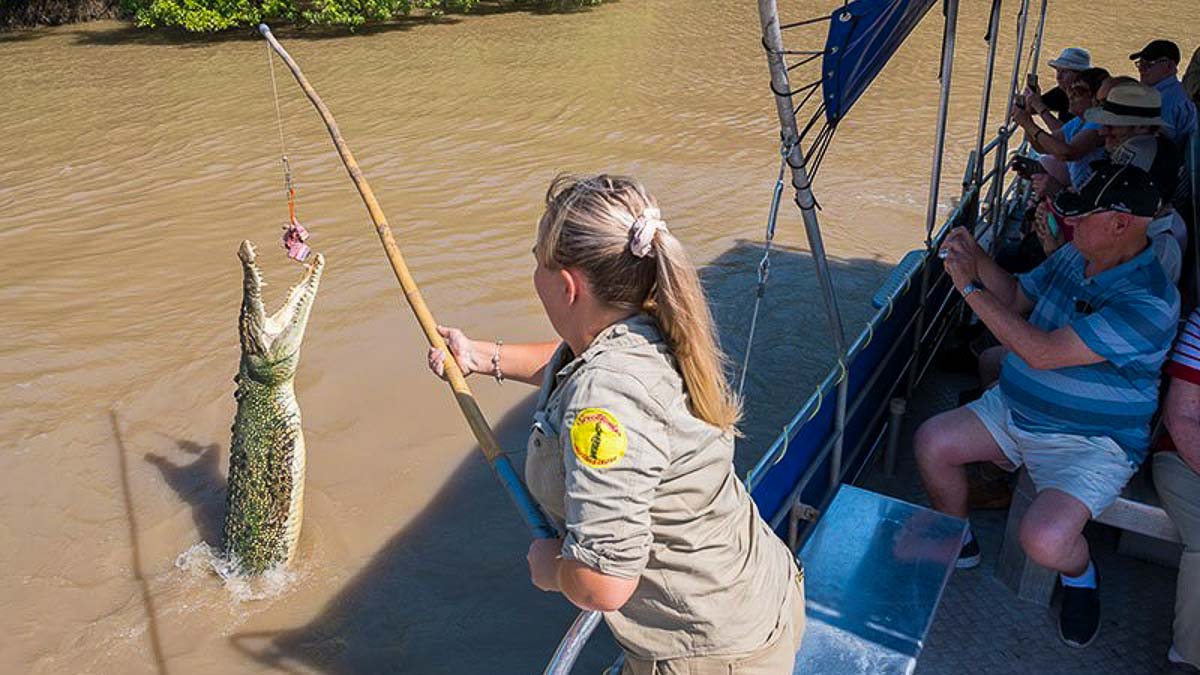 Photo credit: Spectacular Jumping Crocodile Cruise
This tour is nothing but thrilling. Cruise along the Adelaide River and get up close with the river's prehistoric residents — the Australian Saltwater Crocodile.
Witness these powerful beasts leap from murky waters for their meal. To make this already epic experience even more memorable, throw in a return helicopter transfer to Darwin! Talk about leaving in style.
Other things to do near Darwin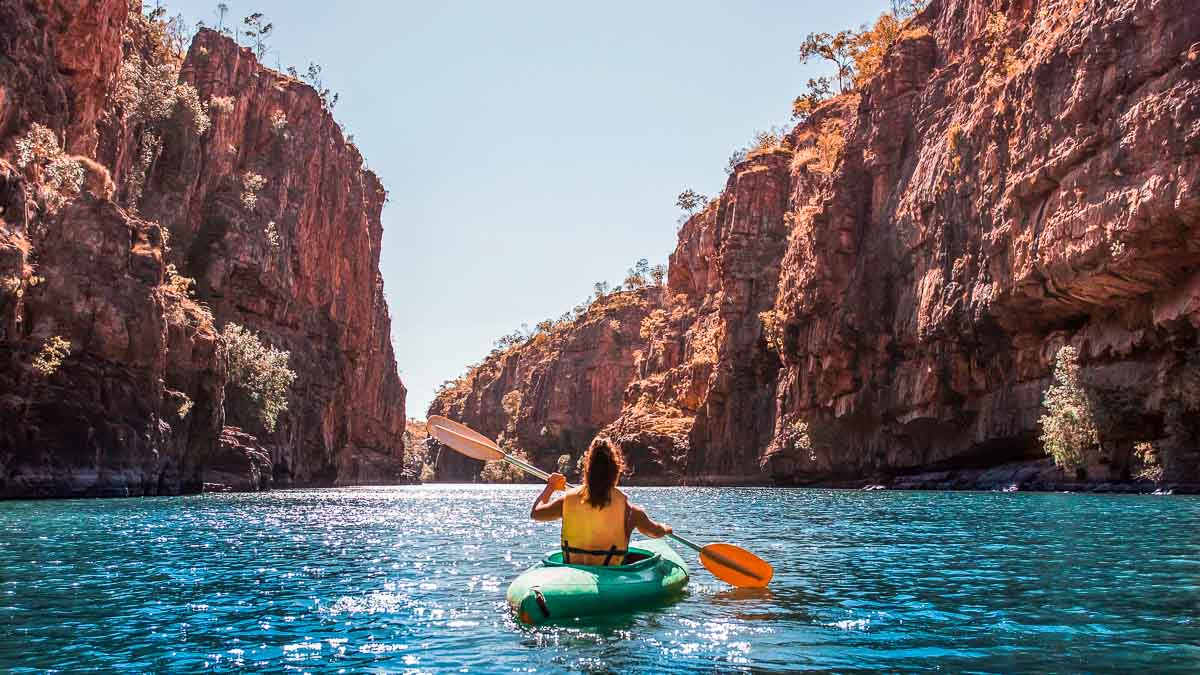 Katherine Gorge, Nitmiluk National Park. Photo credit: Tourism Australia
The Northern Territory is a mix of beautiful landscapes, Aboriginal culture, and friendly locals. There are several road trip routes, but outdoor enthusiasts will love the seven-day Nature's Way Drive from Darwin to Nitmiluk National Park.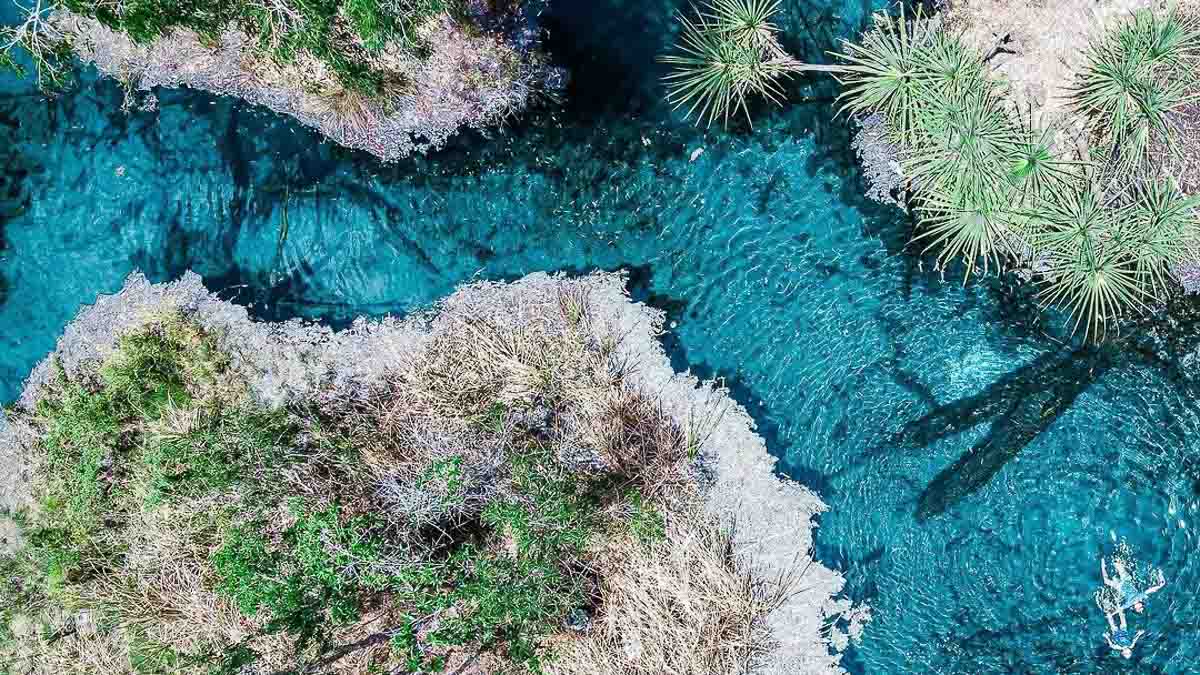 Bitter Springs in Elsey National Park. Photo credit: @we_fre3_venturers_ via Instagram
The fairytale-like Elsey National Park cannot be missed. With natural hot springs, swaying palm trees and turquoise waters, you'll have a hard time believing this place is real.
Don't miss Nitmiluk National Park too. It's a sandstone empire with 13 dramatic gorges. Pick from several cool modes of transport: Mountain bike, canoe or helicopter!
16) Outback glamping in the Top End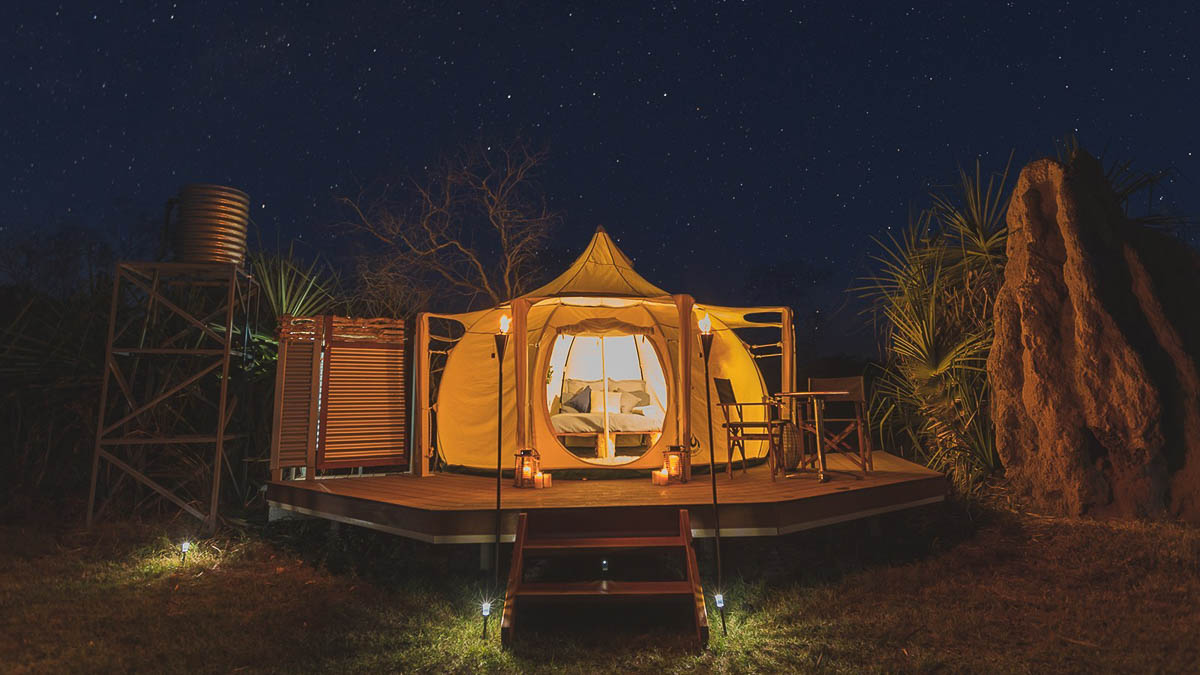 Photo credit: Top End Safari Camp
This camping experience isn't like the ones back in school. For starters, it's in Australia's spectacular Top End region. Enjoy a gourmet BBQ dinner under the stars and sleep in a cosy lotus belle tent.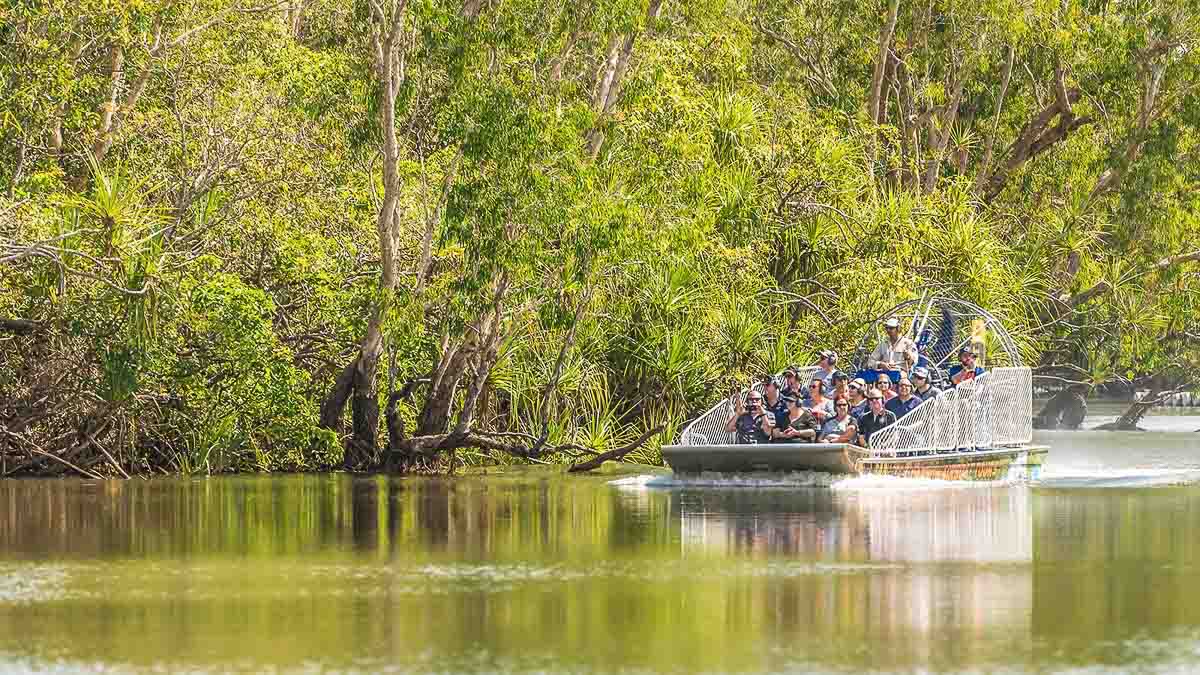 Photo credit: Top End Safari Camp
Don't worry about getting bored — a crocodile-feeding cruise and a breathtaking helicopter ride are part of the itinerary!
Other things to do near the Top End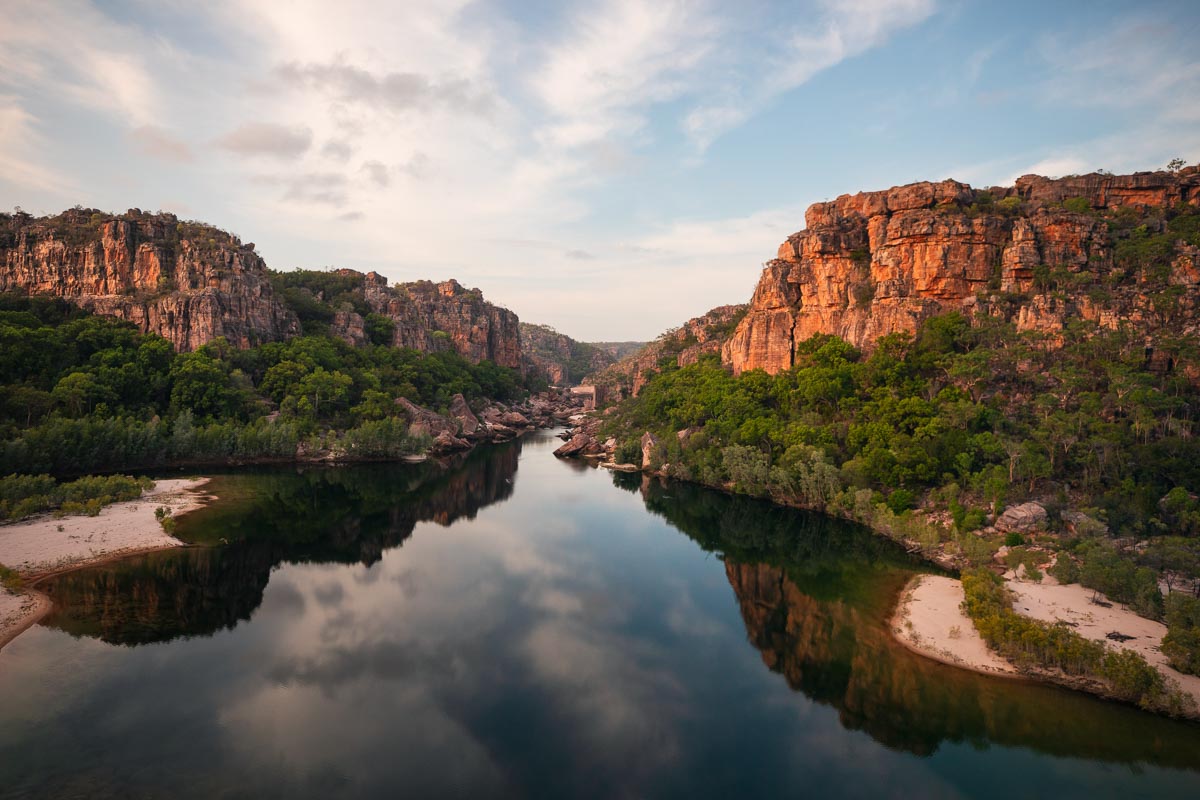 Photo credit: Tourism Australia
The Top End has loads of insane landscapes and bucket list-worthy adventures. Take Australia's largest national park, for example. Kakadu National Park promises raging waterfalls and a whole platter of bushwalks to satisfy your appetite for nature.
Make your next Australia itinerary an epic one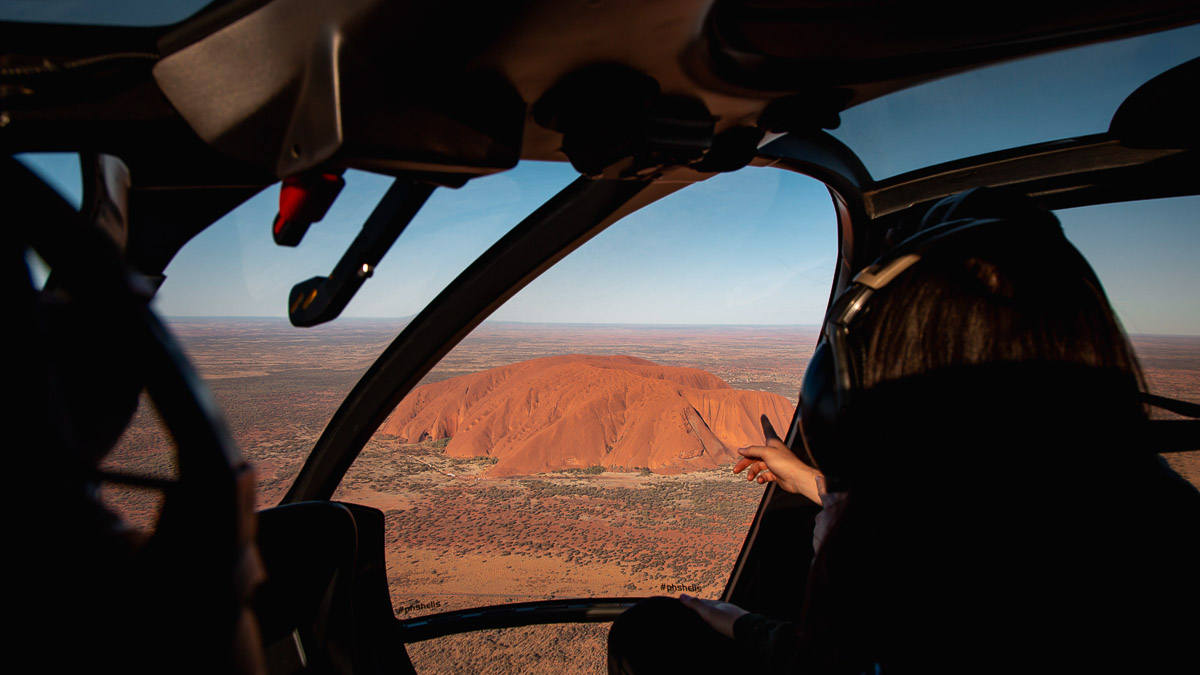 Photo credit: Tourism Australia
I was nine, on a week-long holiday with my family the last time I visited Australia. After writing this piece, I realised there's so much more we missed out!
When the air travel bubble opens up, you bet I'll be planning my next adventure of a lifetime. Keep your wanderlust alive too by planning your Australia itinerary with these detailed guides.
Hoping for more adventures in 2021!
Featured image credit: Tourism Australia
Which experiences would you include in your Australia itinerary? Let us know in the comments!
---
This post is brought to you by Tourism Australia.