Written by: Joanne Chim
Feed your adrenaline, chill out in artsy cafes, go rum-tasting and learn a new skill. We promise none of these things to do in Phuket will involve checking out a beach.
As beautiful as Phuket's beaches may be, there's only so much fun you can have rolling around on one. There's simply so much more to the island! To help maximise your search for unknown adventures, we've scoured the place to come up with a list of activities that give just as much (or even more) fun in the sun.
From bungy jumping to rum-tasting, these activities may be underrated and overlooked sometimes due to the crowds and the hype around beaches, but we promise they make better adventures than chilling at the beach.
That's not to say that you skip the beaches altogether either. In fact, you can read all about it in our Phuket Island Hopping Guide 😉
1) Take A Leap Of Faith With Phuket's Bungy Jump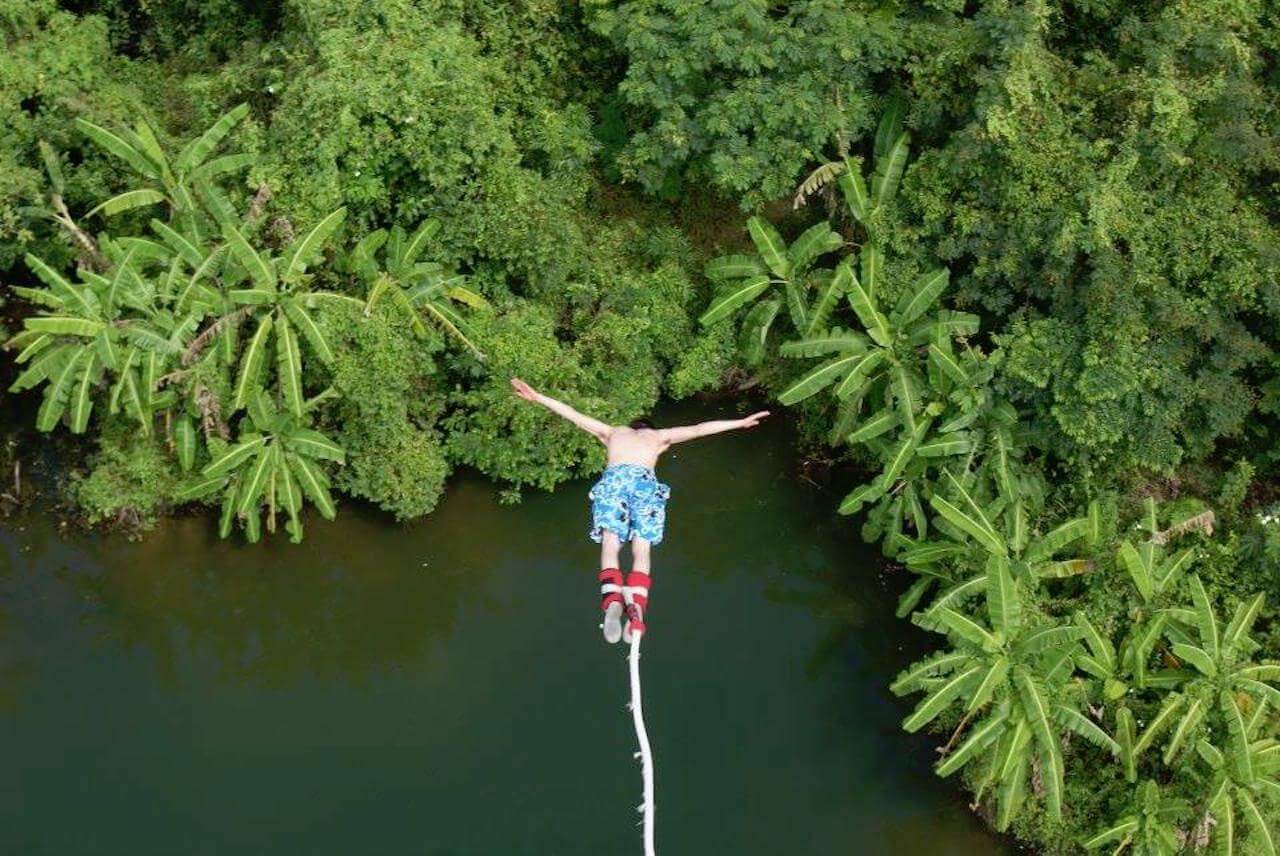 There is nothing more exhilarating than the feeling of free-falling through mid-air and if you're looking for that thrill, bungy jumping in Phuket is not to be missed.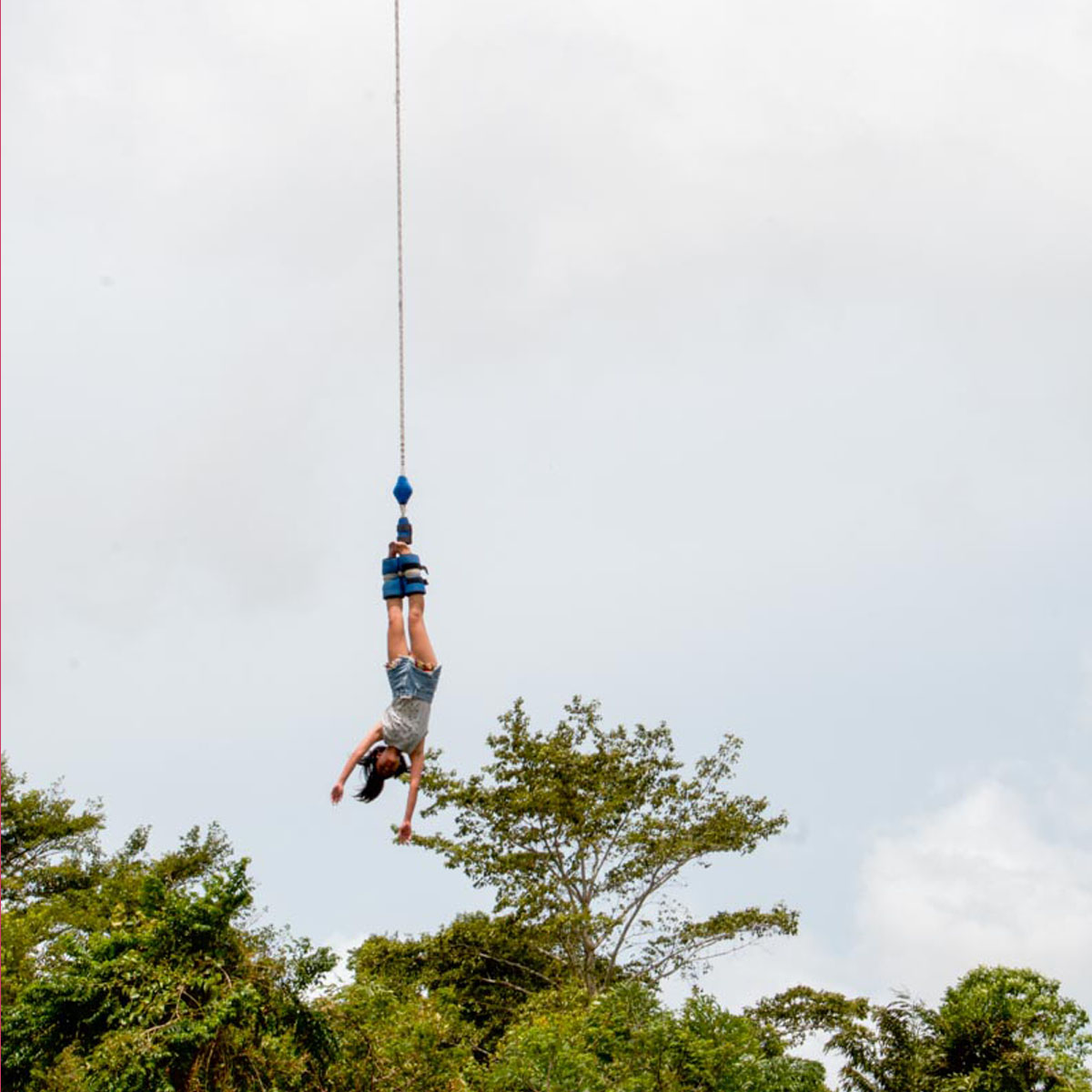 Perched 50 metres above ground, experience breathtaking views over the Kathu woodlands before jumping off towards a lagoon at the base.
Cost: From ~S$88.09  
Opening Hours: 9AM – 5PM
Address: 61/3 Wichitsongkram, Kathu, Phuket 83120

*Pro-tip: If you wanna film yourself, save ฿200 by bringing your own GoPro, because the top-up fee will only be ฿500. Otherwise, you'll have to loan their GoPro Hero4 for ฿700.
2) Drive an ATV Through Mountain Forests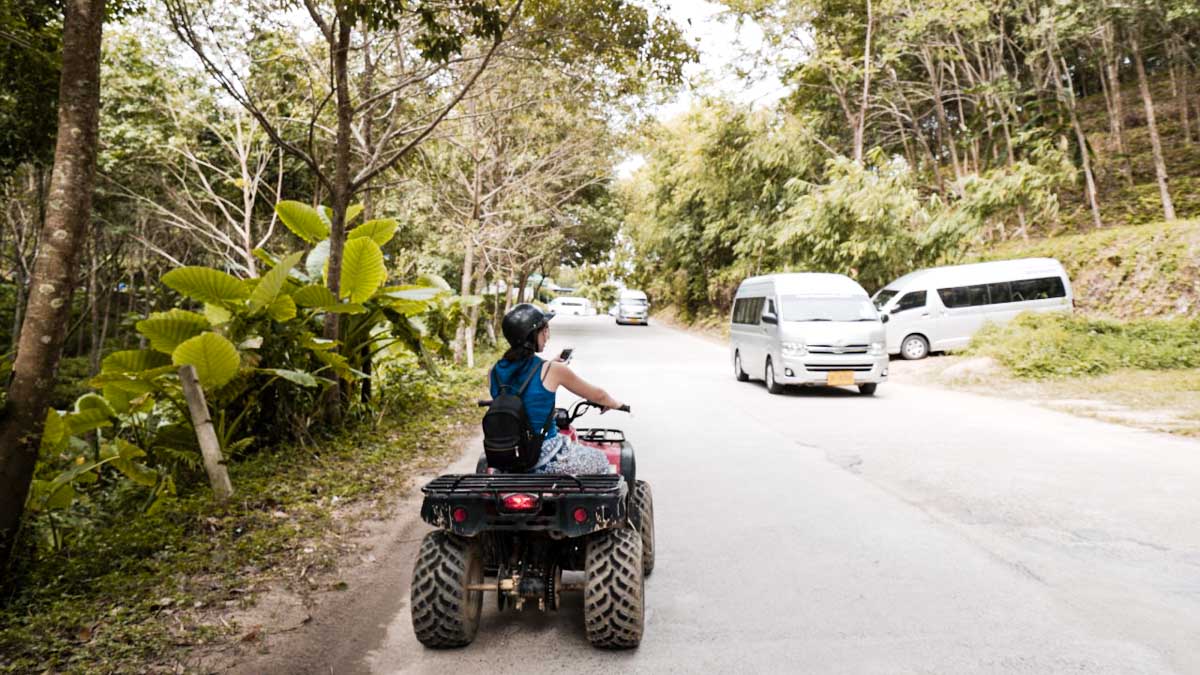 For something more down-to-earth, pun totally intended, you'll love this exclusive ATV safari adventure.
You can expect the route to be filled with mud bumps, mini stones and the occasional companionship of tamed elephants — don't be alarmed if you encounter these friendly mammals along the way. You'll wind up at the Big Buddha, which offers panoramic views of Phuket Island.
If you're looking for something that's both exciting and memorable, we'd definitely recommend this ride.
Cost: From ~S$42
Opening hours: 8AM – 5PM  
Address: 54/2 Moo.7 Chalong Muang Phuket Thailand
*Pro-tip: Bring insect repellent and shoes that are ready to get muddy!
Read also: 4D3N Action-Packed Phuket Itinerary
3) Cafe Hop Around Old Phuket Town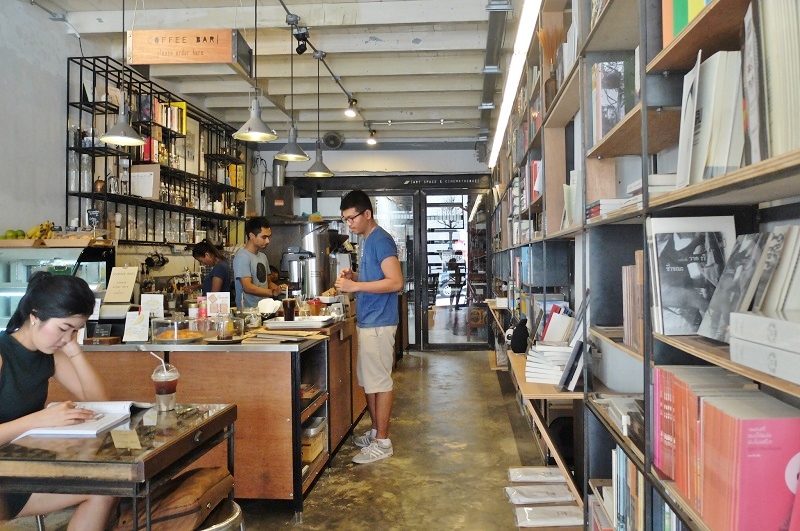 For those of you who prefer something more retro, try cafe hopping around the whimsical district of Old Phuket Town. The place is home to all things related to Phuket's heritage. You'll find museums, temples, and even some artsy cafes too. The road that we paid most attention to was Thalang Road. That street was strewn with a series of cafes with themes ranging from bohemian to vintage. One cafe we'd highly recommend is Bookhemian Cafe.
Filled with vintage books and bohemian art, this pocket of space is the perfect location for hipsters and introverts alike to gather and take some Instagram-worthy photos.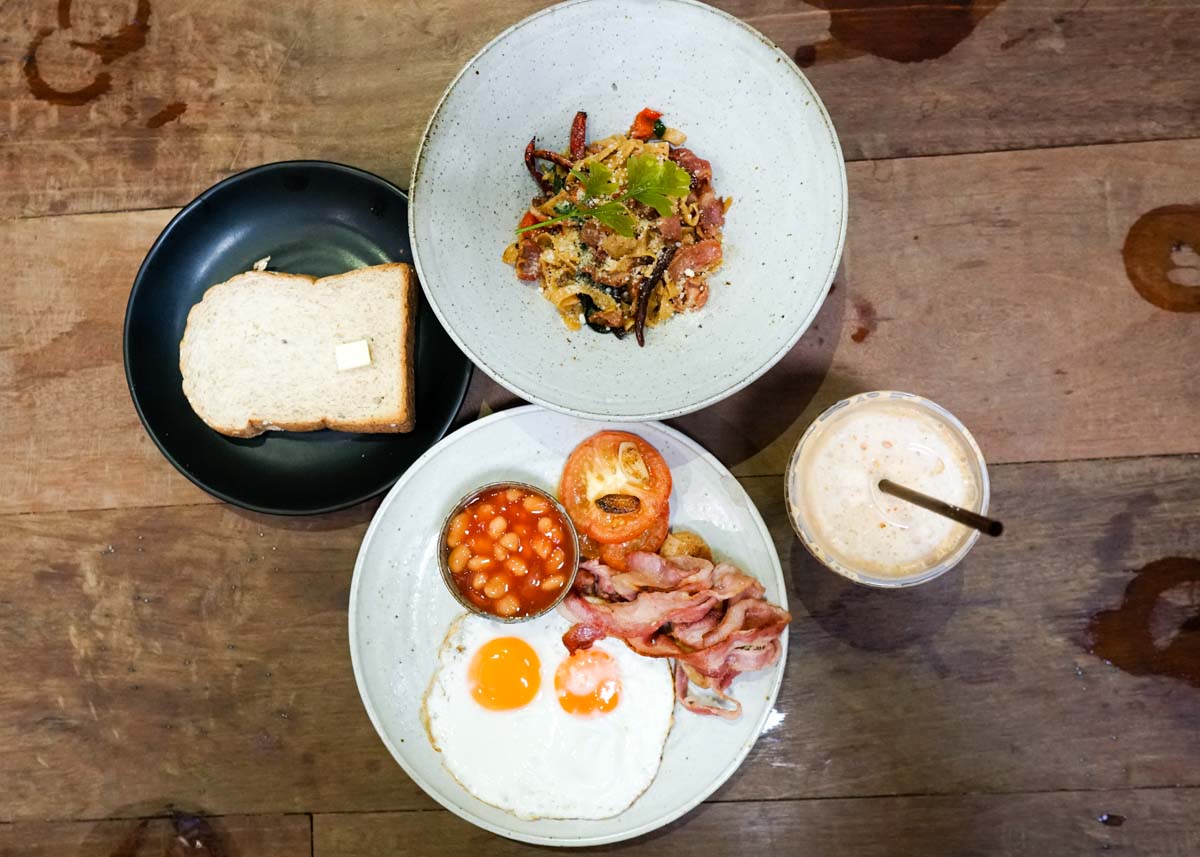 Food and drinks wise, we tried their Thai blended ice tea (฿55) and loved the rich flavours. Other must-try items on their menu includes their all-day breakfast (฿155) and their Garlic and Bacon Chili pasta (฿150).
Cost: ฿105 – ฿165 for mains; ฿60 – ฿85 for drinks and desserts
Opening hours: 9AM – 7PM
Address: 61 Thalang Rd, Taladyai Phuket 83000

4) Explore the Inverted World of the Upside Down House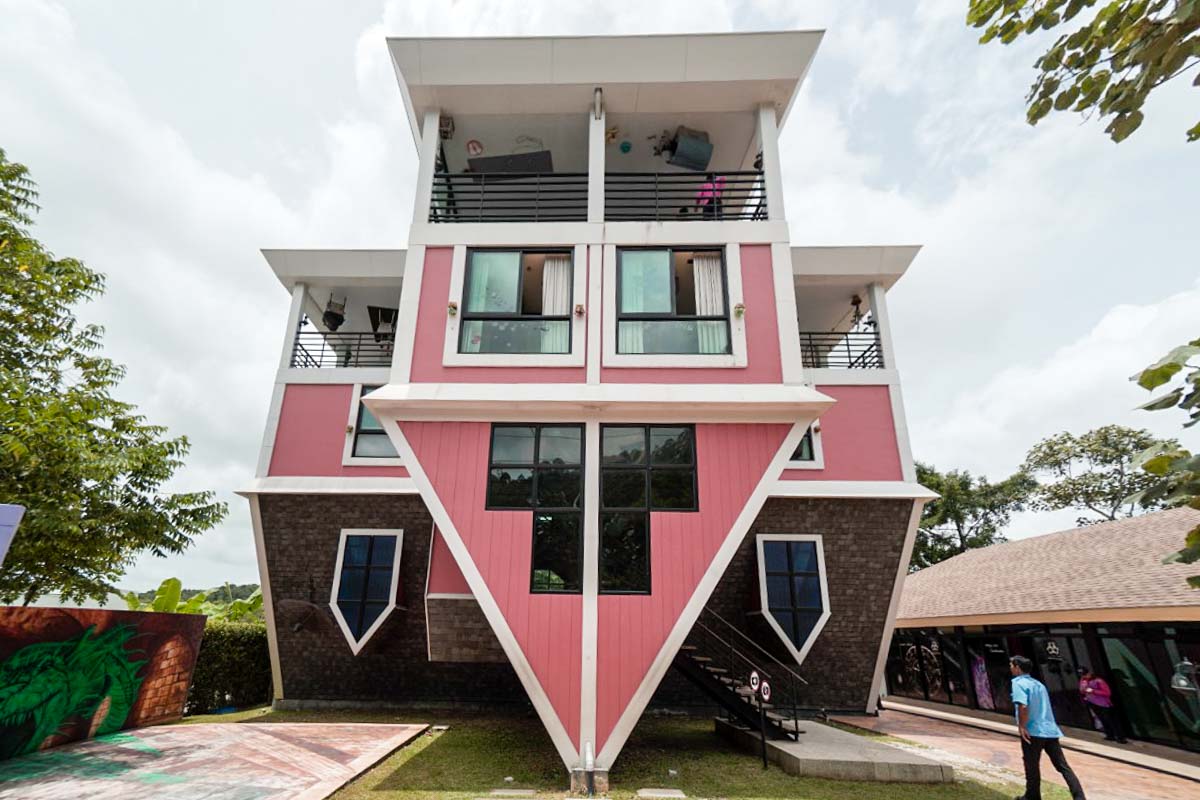 If there's one thing I've learned from staying in Phuket, it's to never underestimate their ability to turn your world upside down, literally. Baan Teelanka, also known as the Upside Down House, is the first and only of its architectural kind in the whole of Thailand.
Another part of this unmistakable structure is the "A-Maze-in-Phuket" labyrinth. It was designed by the world's most acclaimed maze designer, Adrian Fisher.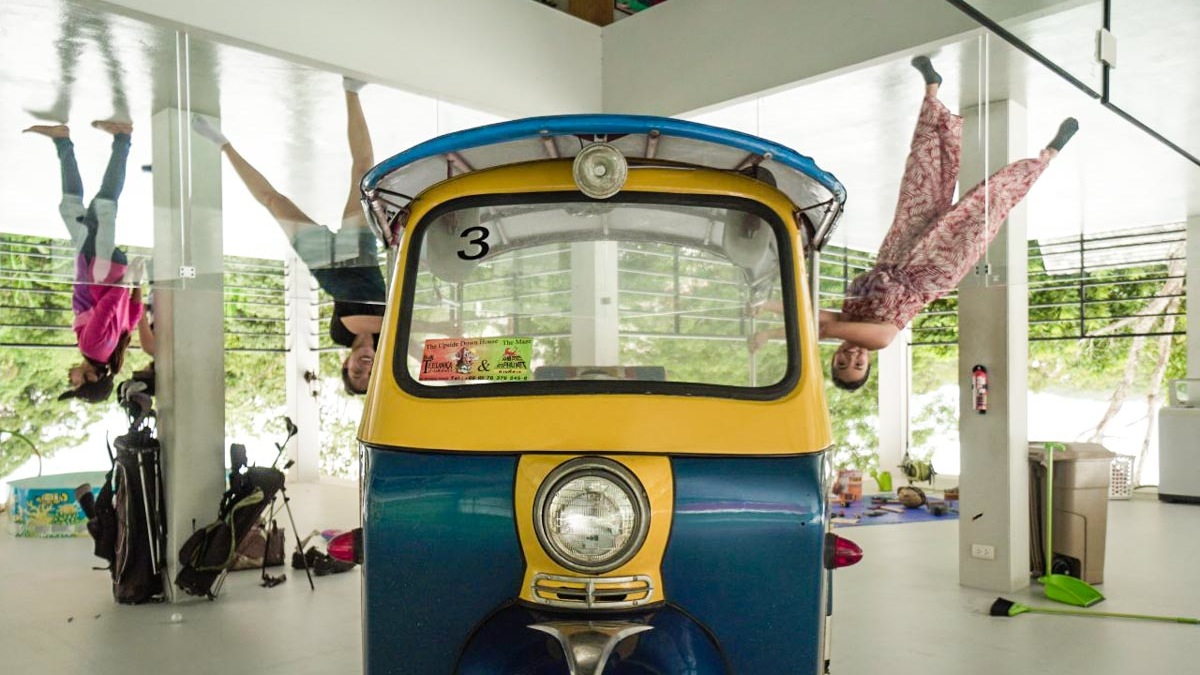 Within the upside down house itself, there are other exhibits presenting unique 3D illusionary perspectives — which means photo time! It was surreal experiencing everything in reverse. We'd recommend visiting the upside down house and maze together as each of them present very unique experiences, plus you get tickets at a discounted rate if you book them via Klook.
Cost: From ~S$6.50
Opening Hours: 9:30AM – 6:30PM
Address: 51/11 Moo 5, Chalermprakiet Ratchakan Thi 9 Road, Ratsada, Phuket Town, Phuket 83000, Thailand
5) Uncover The Mysterious Side Of Phuket's Heritage With Siam Niramit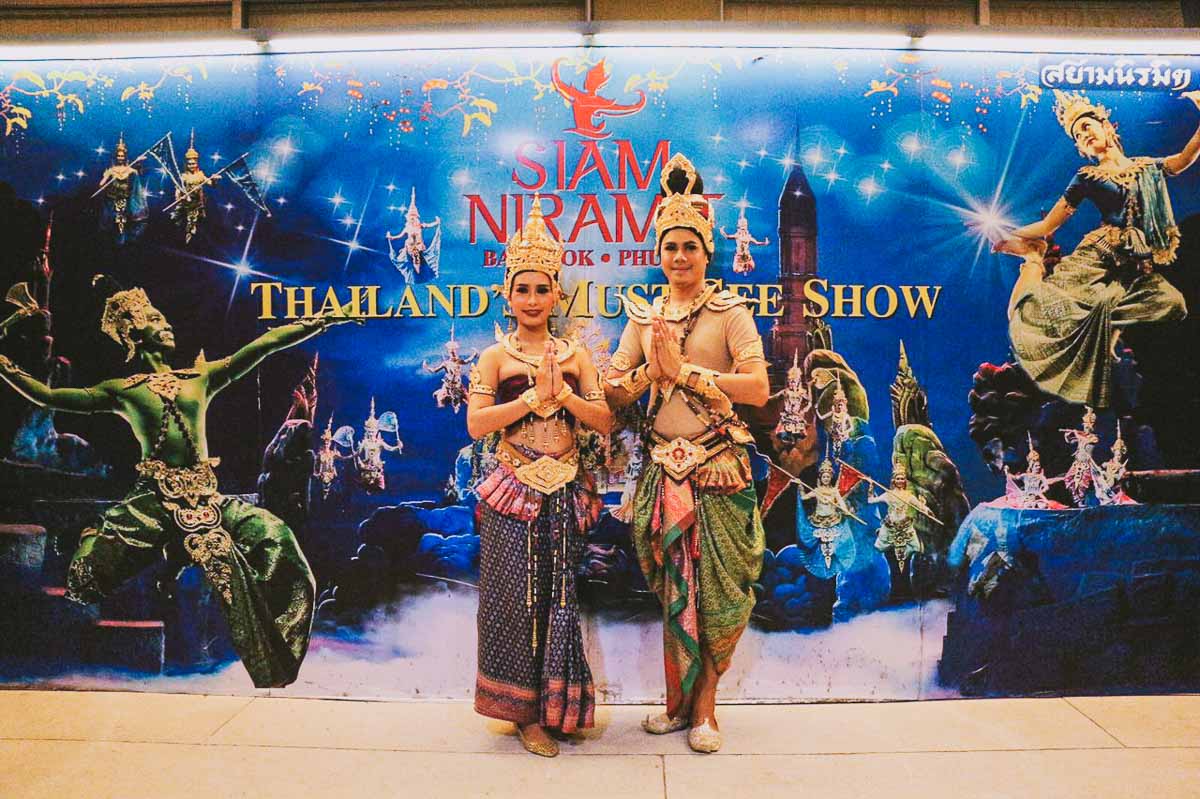 Phuket's beaches may have been widely acclaimed by day, but by night, their cultural shows take over the limelight. Siam Niramit is an elaborate 80-minute theatrical play that showcases the heritage, religious beliefs and festivals celebrated in Thailand across different time periods.
There's a Thai buffet served up before the play and many pre-show activities too. So the next time you're looking for an epic night out in Phuket, check out this play.
Cost: From ~S$49.49 (buffet dinner and transport options available)
Showtime: 8:30PM (No shows on Tuesdays). Buffet Hall opens 5:30PM, Pre-show Activities begin 7:20PM.
Address: Ratsada, Mueang Phuket District, Phuket 83000, Thailand
Read also: Phuket Nightlife Guide: Top 11 Places to Check Out for an Epic Night
6) Taste The World's Best Rums At Chalong Bay Rum Distillery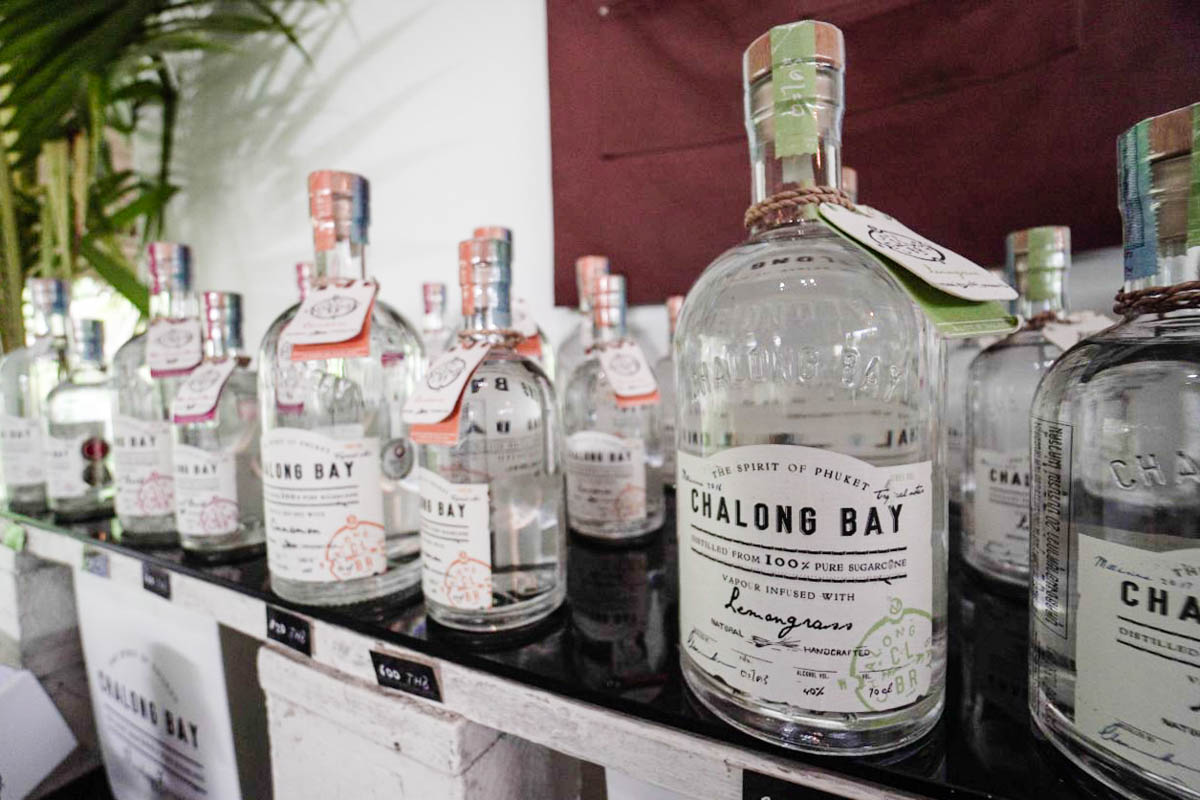 Bet you didn't know that the rum from Chalong Bay Distillery was ranked the world's best rum in 2017. Made 100% out of sugarcanes rather than molasses, Chalong Bay's rum is one of the purest globally.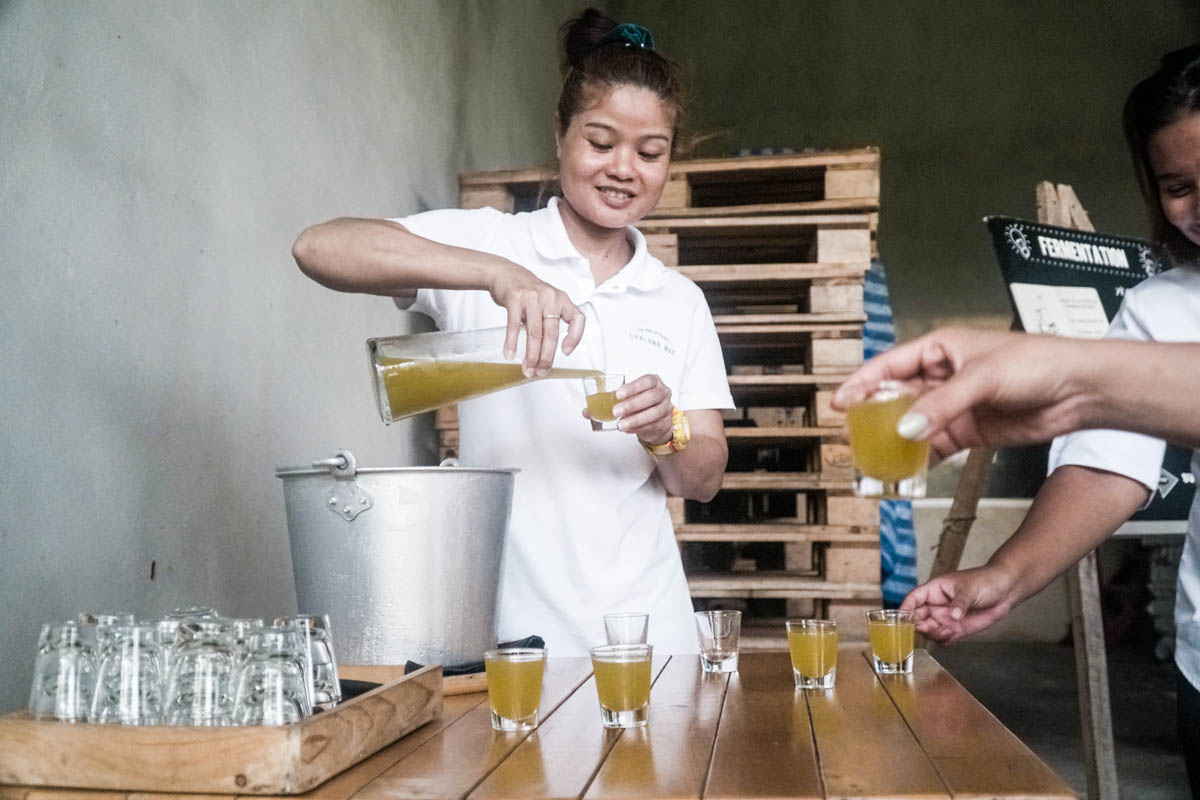 If you love drinks as much as we do, check out their half-hourly tours (฿450) run by the distillery. During each tour, you'll get to sample a Chalong Bay Mojito. On top of that, there are also workshops (฿1700) where have the chance to taste and make your own cocktails!
The best times to visit are between January and March as that's when you get to see the rums live in production! Plus, those months are when they harvest the special bamboos used to make the rums, which you can get a glimpse of.
For the best of both worlds, book tickets that combine both the tour and cocktail-making workshop at discounted rates.
Entrance Fee: ฿450
Opening hours: 11AM – 10PM
Cocktail Workshop: 2PM & 4PM (Mon & Thu only)
Distillery Tours: 2PM – 6PM (Every half hour)
Address: 14/2 Moo 2 Soi Palai 2 T. Chalong A. Muang, Phuket 83130
7) Pack A Punch To Your Trip With Kingka Muay Thai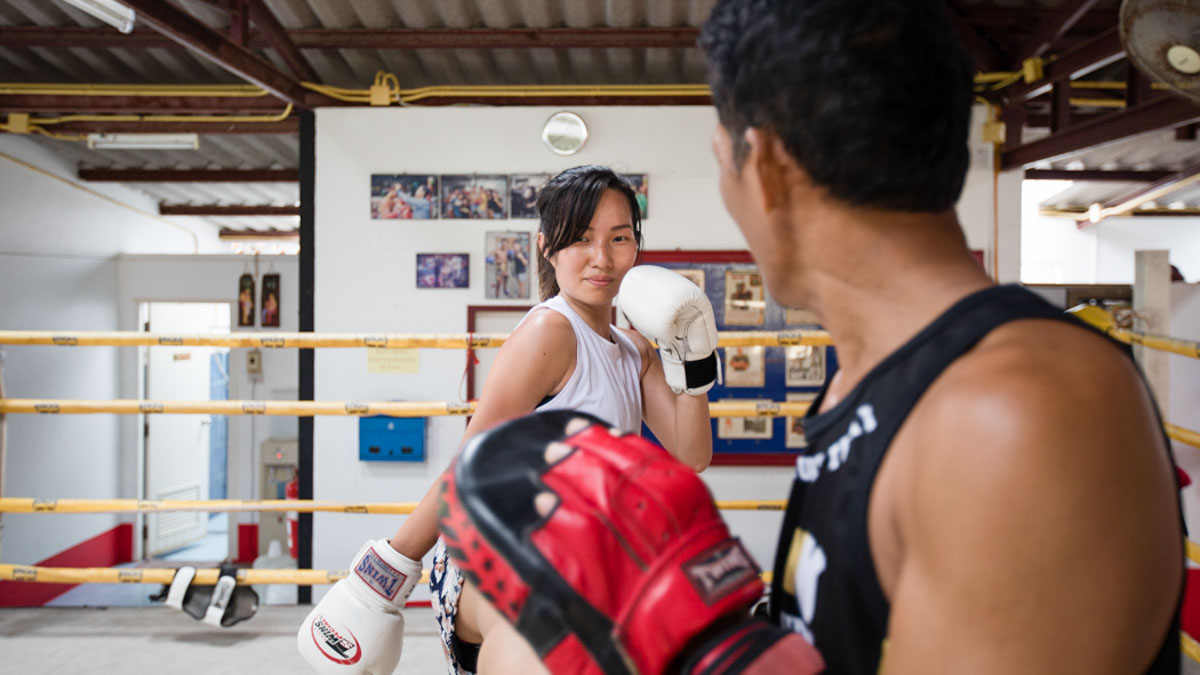 If you're looking to kick some ass and shed a few pounds at the same time, check out Kingka Muay Thai. One session of Kingka Muay Thai is equivalent to a months' worth of cardio, in my opinion.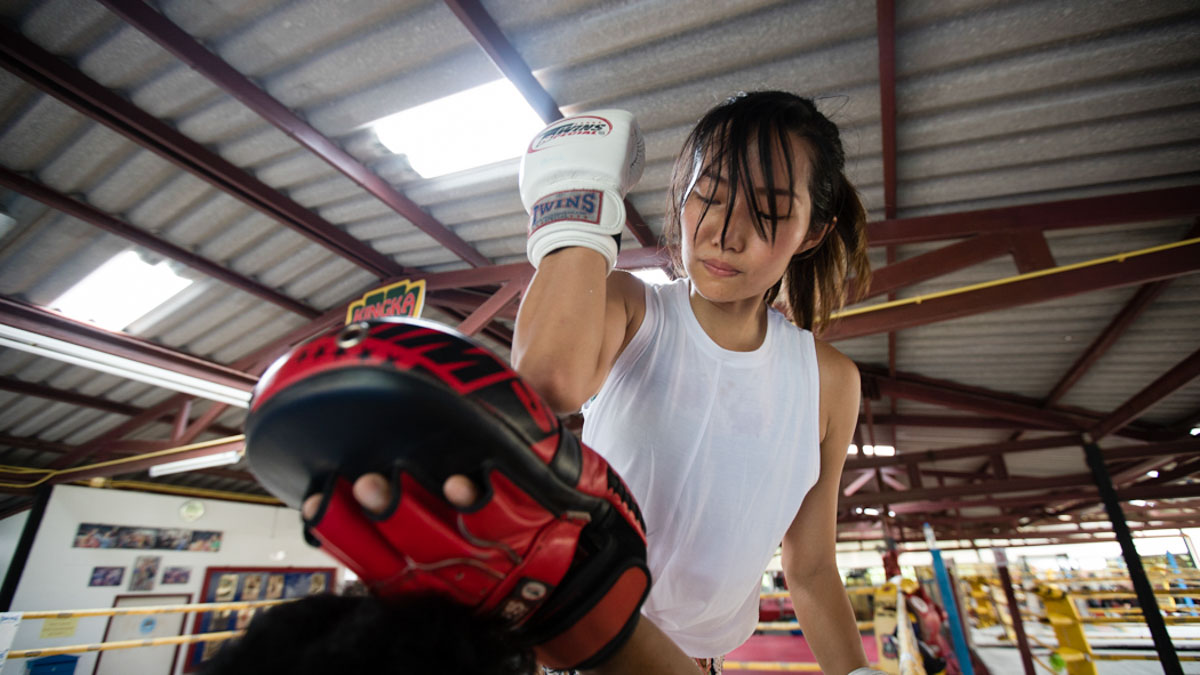 The Muay Thai gym offers both one-to-one sessions and group classes, but we'd highly recommend the personal sessions as you get the coach's full attention.
The gym also offers up some really good deals for first-timers such as having a 50% discount for any of the training when you register your contact details.
Cost: From ~S$24.66 (prices for group packages are also available).
Opening Hours: 7AM – 7PM. 9AM – 6PM on Sundays.
Contact No.: +66 762 264 95
Address: 43/42 Moo 7, Viset Rd, Rawai, Amphoe Muang, next to Nai Ham Beach.
As J.R.R Tolkien said, not all who wander are lost. I hope that as you wander through these hidden gems in Phuket, you'll be lost in wonder while venturing through these hidden routes.
If you're looking to complete your itinerary, check out our Ultimate Phuket Guide!
---
For more travel inspiration, follow us on Facebook, Instagram, and YouTube! 
View this post on Instagram