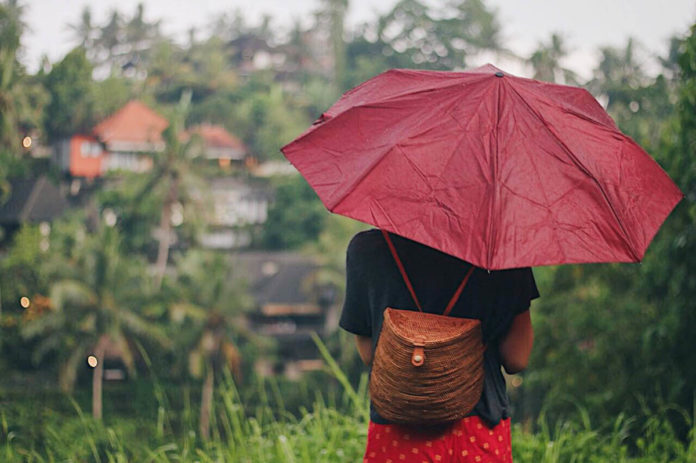 Plane tickets, check. Accommodation, check. Itinerary, check!
You're on your way to Ubud — the cultural center of Bali and just an hour north of the Ngurah Rai Airport (Bali Airport). Ubud awaits with a never-ending list of outdoor adventures, things to see and good eats!
You've got everything sorted out from the moment you've arrived at airport to how you're spending your last night in Ubud. Everything goes according to plan until you find yourself stranded in a local café waiting for the rain to stop.
If you find yourself freaking out, do not worry! It's normal that rain can halt your activities for an hour or so. Hence, along with all the things you must do in Ubud, I've written down some suggestions you can check out in each of these activities if bad weather emerges!
Things To Do in Ubud
Ubud will spoil you with options for adventure! Non-stop thrilling experiences with rewarding views are definitely a thing to check out.
In the case of light rain, activities 1 – 3 can still be carried out as you will get wet eventually. Each activity also has their adventure level ranked. Low, being easy to handle, and high, letting you know if certain skills are needed to complete the experience.
1) Tukad Cepung Waterfall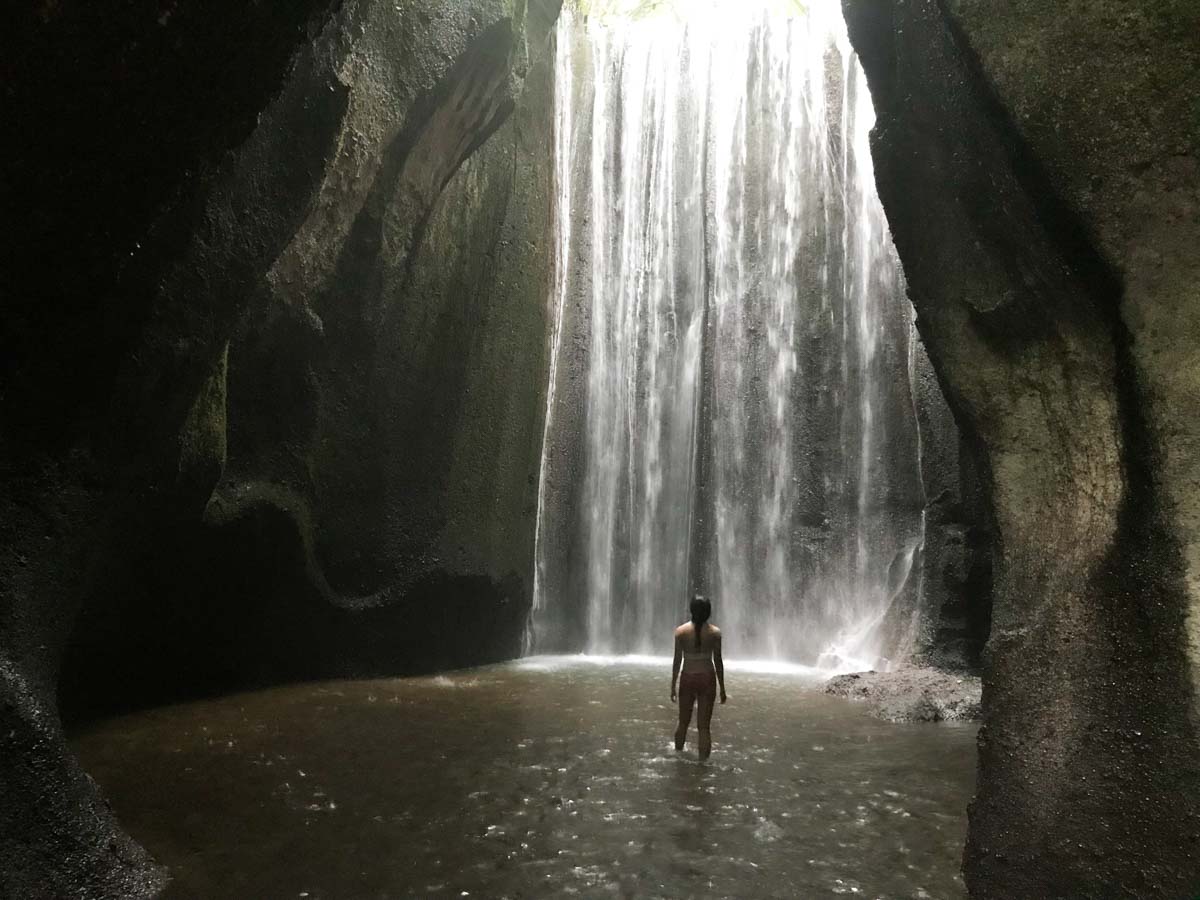 Adventure Level: Low
Considered slightly further than the two other recommended areas below, the Tukad Cepung Waterfall is worth the journey. The breath-taking view of this hidden waterfall in a cave will leave you speechless. Step into the cave and feel your skin warm as the sunshine emerges from the opening, where the waterfall begins. Come in slippers or booties as the pebbles on the ground leading to the waterfall can be jarring.
Cost: Rp10,000 (~S$1)
Opening Hours: 6am – 6pm daily
Address: Jl. Tembuku, Dusun Penida Kelod, Tembuku, Bangli, Tembuku, Kabupaten Bangli, Bali 80671, Indonesia
*Pro-Tip: It's best to explore during the afternoon when the sun is the brightest. Try to avoid arriving after 4pm as it might get too dark inside the cave.
2) Hidden Canyon Beji Guwang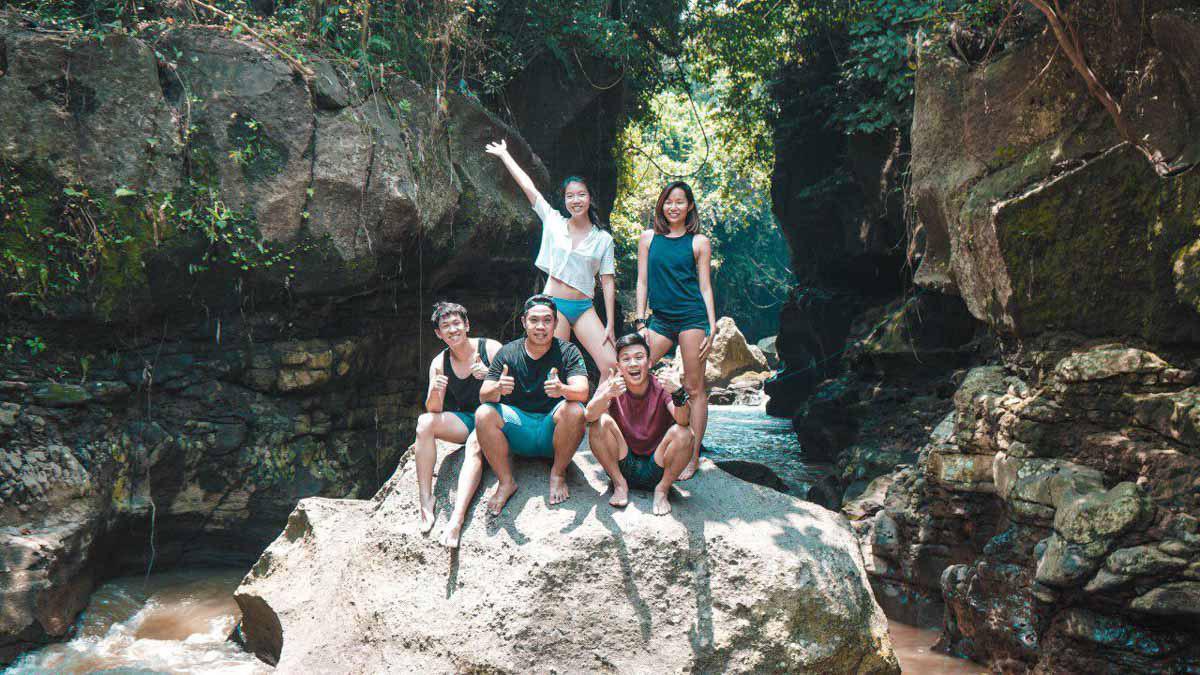 Adventure Level: Moderate, non-swimmers at risk. Life vests not provided.
How amazing that this little secret amongst locals is just an hour's drive from Ngurah Rai? Rock climb, swim against currents and get amazed by the beauty nature has to offer.
Hiring a tour guide is mandatory (1 guide to 4 pax) and you'll soon understand why when you've experienced it yourself. These guides know the canyon inside out and are able to bring you across safely, at your own pace. Do not worry about holding other adventurers up because not many know about this place — one the best parts of this hidden canyon.
Wear sports gear or swim wear and definitely bring a spare change of clothes when you're visiting Hidden Canyon Beji Guwang! The water can reach up to chest level at certain points. You may handover your small personal items such as phones, wallets and footwear to the tour guides who will carry in across for you in a water-proof bag.
Cost: Rp15,000 (SGD$1.50), Tour Guide for 4 — Rp100,000 (SGD$9.60)
Opening Hours: 8am – 5.30 pm daily
Address: Jalan Sahadewa, Banjar Wangbung, Guwang, Sukawati, Guwang, Sukawati, Kabupaten Gianyar, Bali 80582
Also read: 8 Alternative Adventurous Activities in Bali
3) White Water Rafting at Ayung River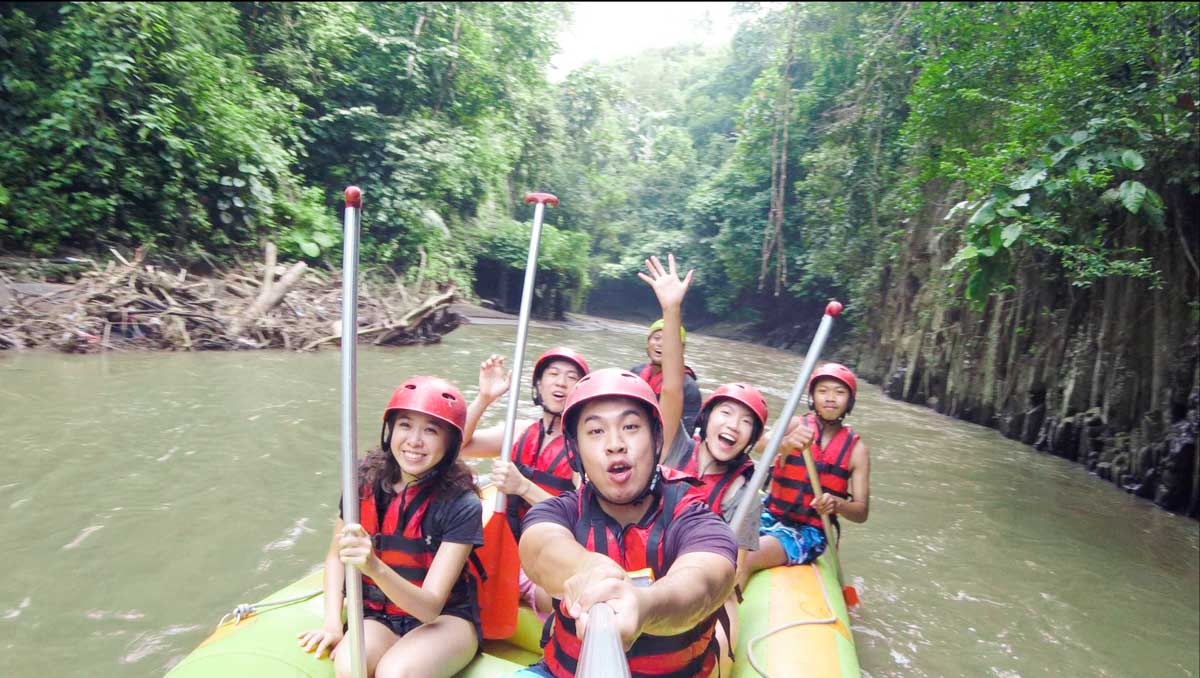 Adventure Level: Moderate, safe for non-swimmers. Life vests provided.
Expect to get soaked at the Ayung river and share hearty laughs with your guide as he teases you to be wary about the "crocodiles in the water". Be awed by the beautiful waterfalls and carvings on the hills and rocks inspired by the Ramayana, one of the world's largest ancient epic. The ancient Indian epic poem consists of 24,000 verses about a prince who wishes to save his wife, with the help of an army.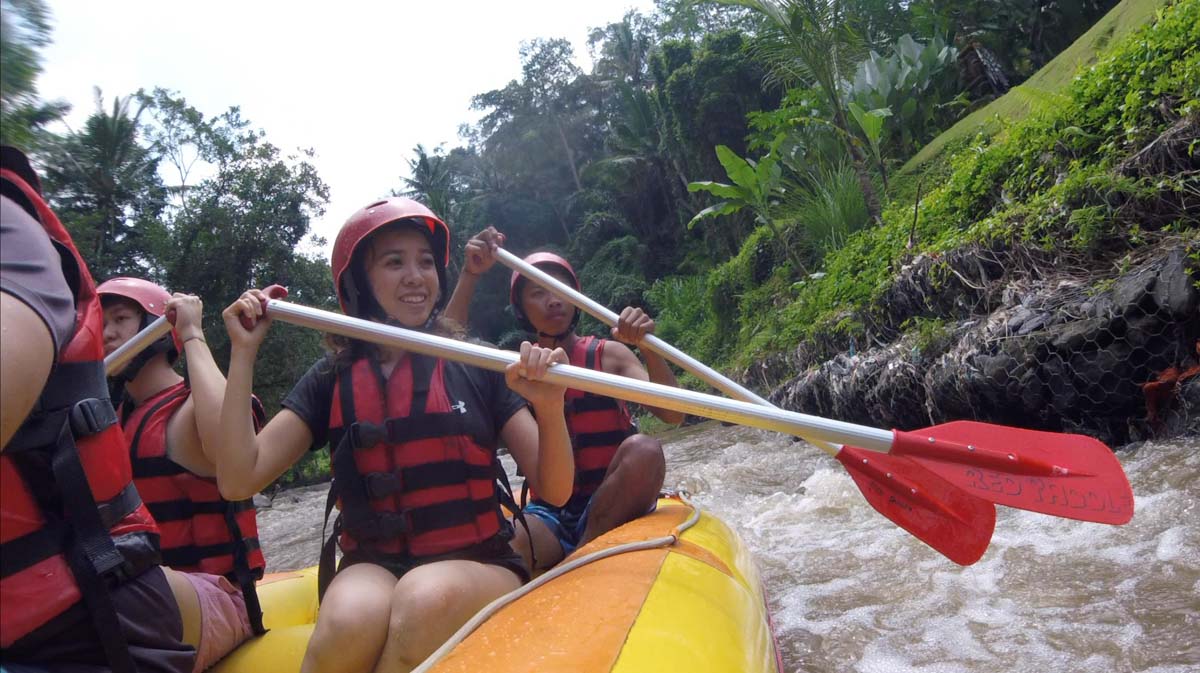 After 2 hours of rafting, a buffet is much needed, and well-catered for with most activity providers. We booked ours with Red Paddle and they served up a feast of nasi goreng (fried rice), maggie goreng (fried noodles), vegetables, chicken curry and rice. (Not pictured below: Pumpkin soup, salad and watermelon.) Drinks cost extra.
Hence, in case of bad weather and you happen to be stuck there, purchasing a meal to pass the time there is not a bad idea. The delicious chicken curry is something that you should look out for!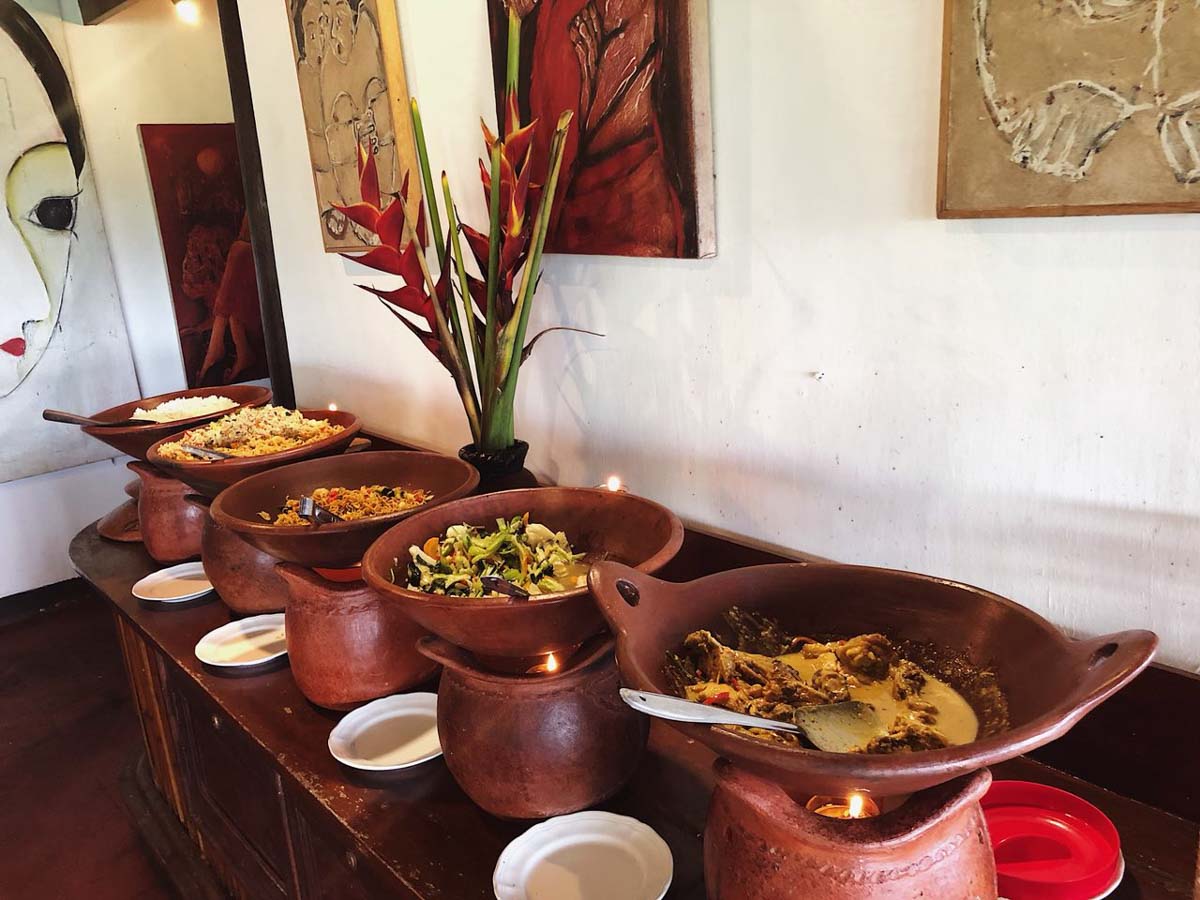 Cost: ~S$34.50 via Klook
Opening Hours: 8am – 2pm daily
Address: Jl. Raya Kedewatan No.31, Kedewatan, Ubud, Kabupaten Gianyar, Bali 80571
Note: Personal accident insurance and a pick-up from your accommodation can be arranged.
4) Ubud Traditional Art Market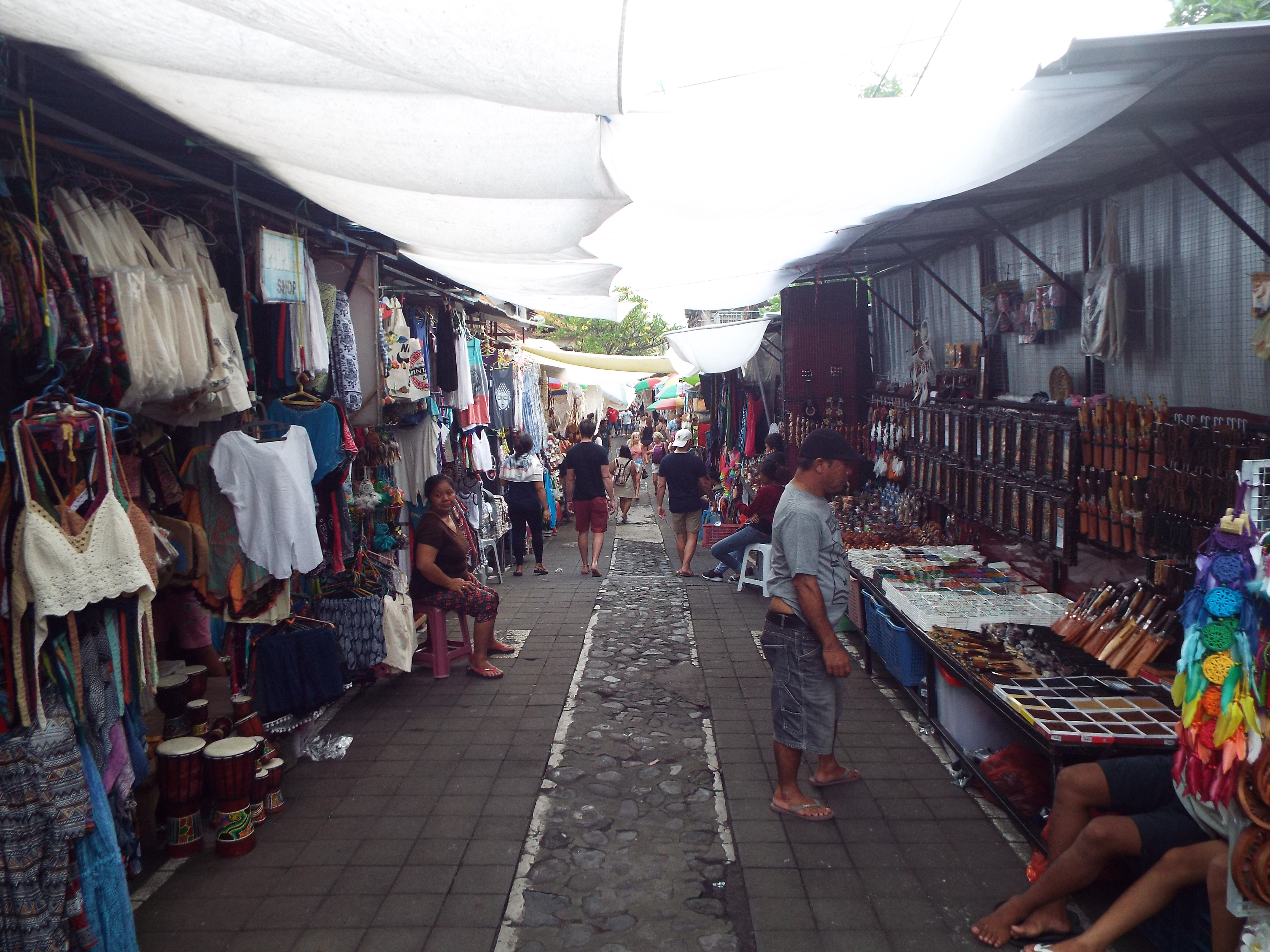 For the shopaholics, we have you covered too! Head on down to this traditional art market! Beautiful batiks and colourful sarongs hang from each store. You can even purchase those trendy straw bags in different shapes, sizes and colours too!
Don't be afraid to bargain and bring that Singaporean auntie out of you! The vendors know that haggling is a process and will hike up the prices with their first offer.
Bring an umbrella and you'll be good to continue shopping throughout the rainy weather should it rain.
Opening Hours:  6am – 6pm daily
Address: Jalan Raya Ubud No.35, Ubud, Kabupaten Gianyar, Bali 80571, Indonesia
*Pro-Tip: The best time to head down would be right when they've opened or are planning to close. Vendors are particular about making their first sale in the morning as it is considered as good luck. They will give you a "morning price". Similarly, just to end the day, they will try their best to make their last transaction end on a good note.
Things To See In Ubud
Spirituality plays an important role in Bali. Get a glimpse of their lifestyle by exploring the temples and walking through rice fields.
1) Purta Tirta Empul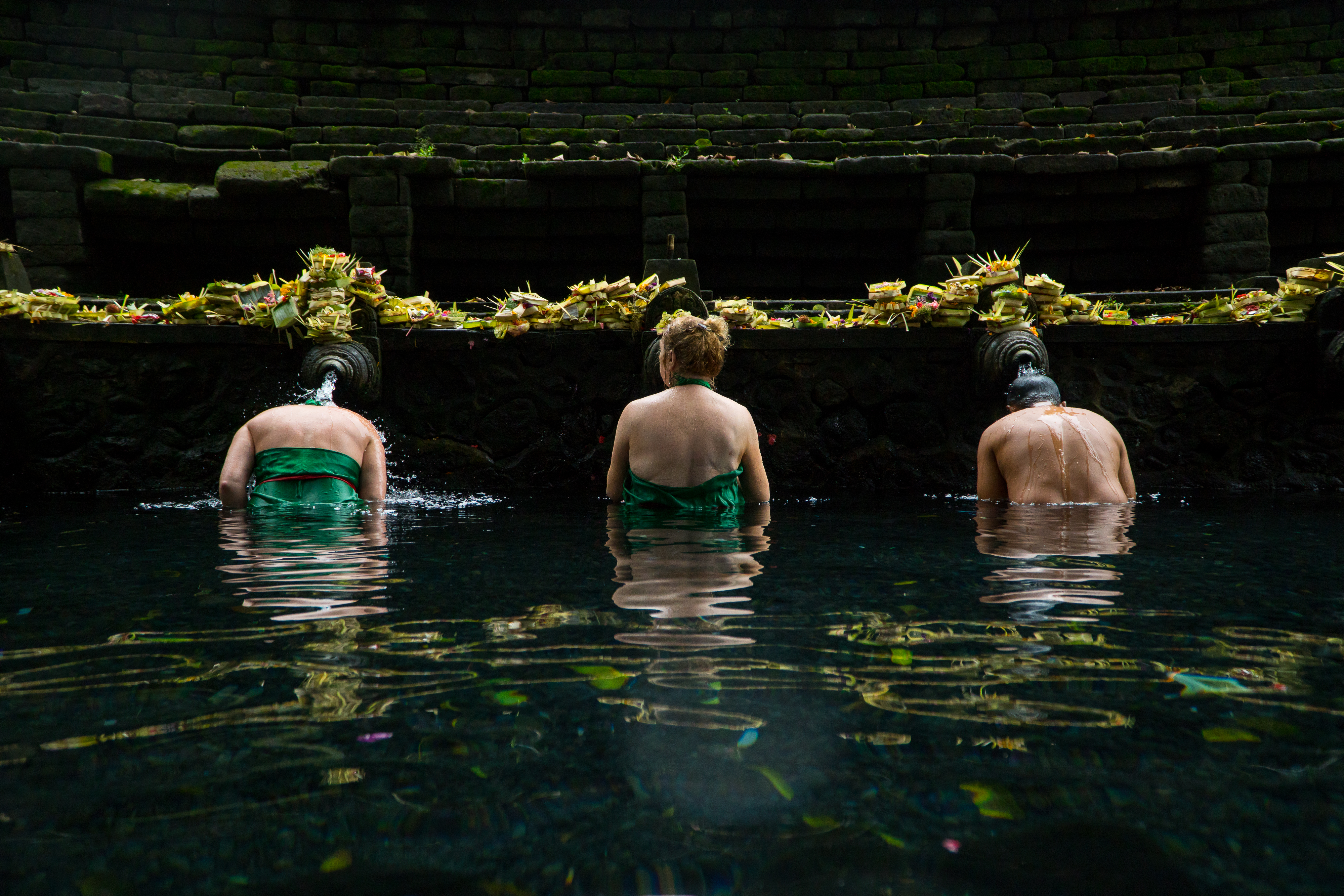 Purta Tirta Empul is a water temple and considered one of the most sacred or holy temples in Ubud. Spring water fills the pools for people to use to wash and cleanse themselves. Prayers and rituals still continue despite rain.
Note that women who are menstruating are not allowed to enter as a sign of respect. Sarongs are not provided for rental but special dresses to cover up are available for rental at a price of 10,000 IDR (SGD$0.95)
Cost: Rp15,000 (~S$1.50)
Opening Hours: 7am – 6pm daily
Address: Jalan Tirta, Manukaya, Tampaksiring, Manukaya, Tampaksiring, Kabupaten Gianyar, Bali 80552, Indonesia
2) Pura Kehen Temple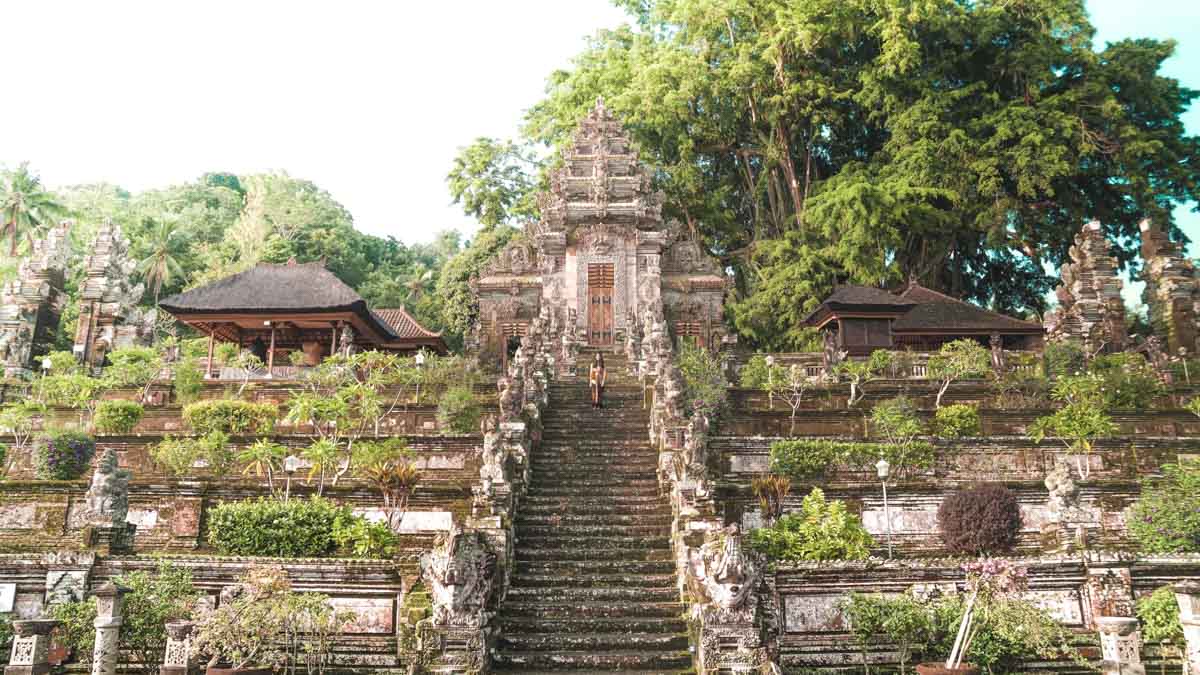 Visit East Bali's biggest temple and explore The Pura Kehen Temple that has been around since the 12th century. The temple is well maintained, solely for the purpose of the ritual of Ngusabha — roasted pigs are given as offerings to reflect harmony amongst the villagers, which happens every three years.. Apart from being well-maintained, it also has a rather impressive histroic architecture, that on a surface level, also looks good in photos.
Read Also: 15 Stunning Photo Spots in Bali For That Perfect IG Shot
Similar to Purta Tirta Empul, women that are menstruating are not allowed to enter. Sarongs are provided at the entrance and it is free.
Cost: Rp30, 000 (~S$3)
Opening Hours: 7am – 6 pm daily
Address: Jalen Tirta, Manukaya, Tampaksiring, Manukaya, Tampaksiring, Kabupaten Gianyar, Bali 80552, Indonesia
3) Ubud Monkey Forest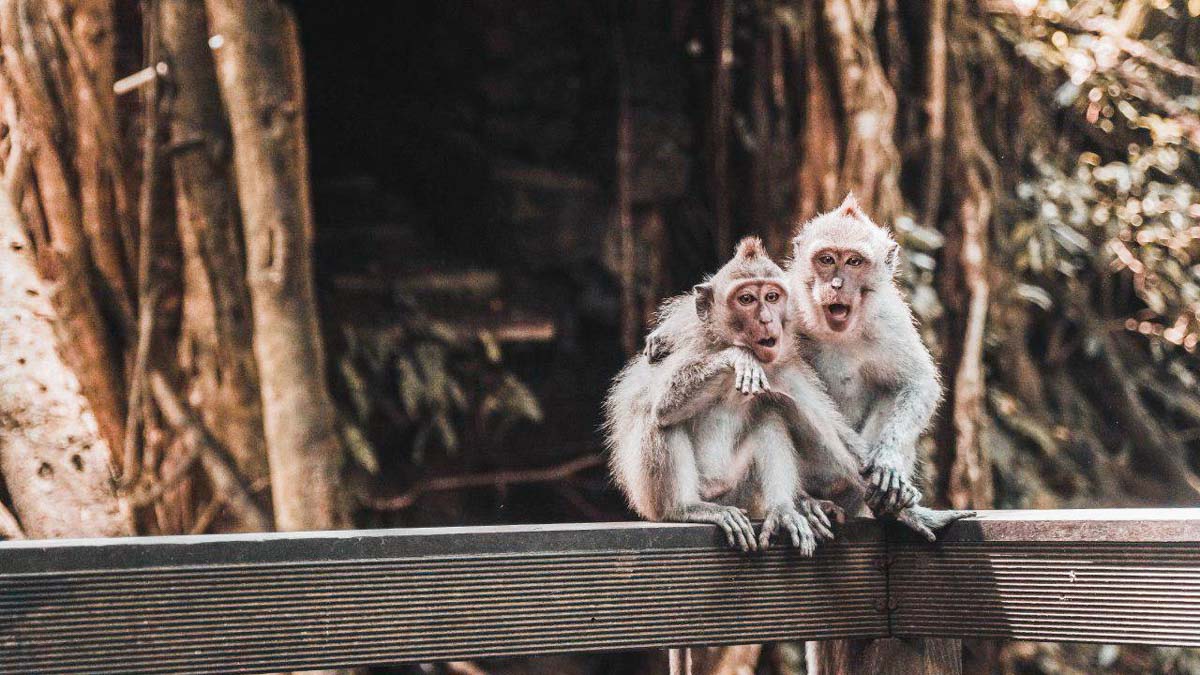 These mischievous animals at the Ubud Monkey Forest will definitely keep you on your toes with their attempts to steal your glasses or pull on your shirt. Look out for how they play with each other and stare at you with curiosity!
Do not worry about getting attacked by the monkeys, they are pretty docile.
Cost: Rp50,000 (~S$5)
Opening Hours: 8.30am – 6pm daily
Address: Jalan Monkey Forest, Padangtegal Ubud
*Pro-Tip: Try to avoid wearing yellow and holding onto loose items like spectacles and phones unless you're trying to lure the monkeys!
4) Tegallalang Rice Terrace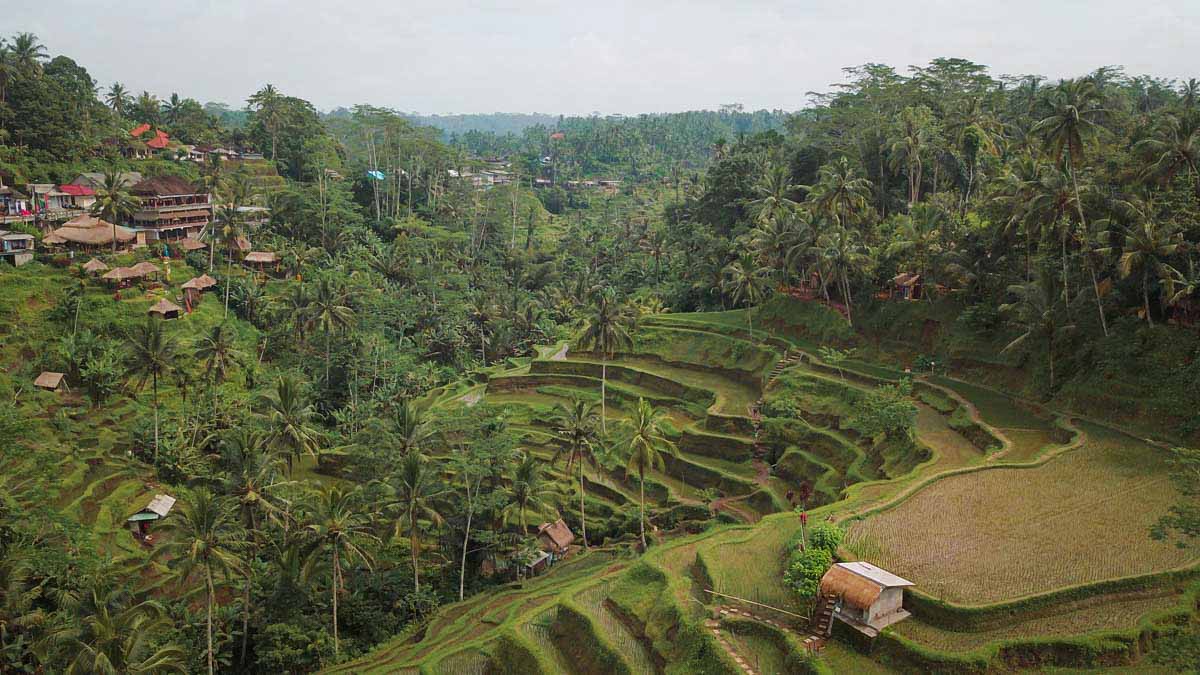 If you're in Bali, you have to visit witness the green steps of nature at Tegallalang. The UNESCO World Heritage site has both a paid and free zone, both laced with layers of rice terraces.
The paid zone asks only for token donations in exchange for the up-keeping of the impressive rice fields.
What many people come here for though, is also the signature Instagram shot of swinging high out above the rice terraces. The free to roam area has two swings and the paid area has one.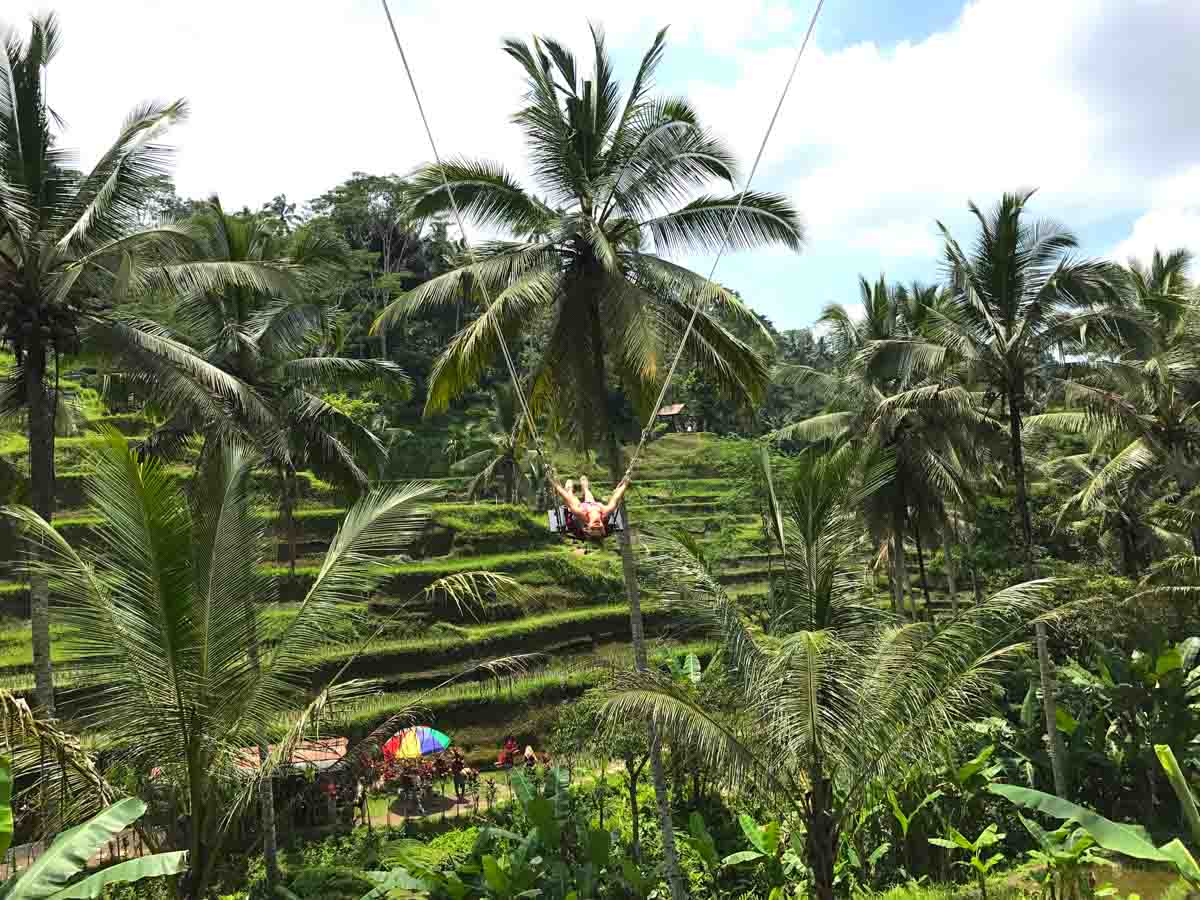 If you're looking to get a shot of you flying up into the terraces, check out the one on the paid area — at 100,000 IDR. It is slightly costly, but worth the experience and for the gram. Depending on which swing you've chosen, you can get your instagrammable shot for a fee of 10,000-25,000IDR.
On the other hand, you can enjoy a free cup of coffee while waiting for the rain to stop at this venue. There are many local cafes facing the terraces with free coffee/tea tasting.
Cost: A compulsory donation fee is to be given. Free with coffee tasting available on certain days.
Address: Jalan Tegallalang, Tegallalang, Kabupaten Gianyar, Bali 80561, Indonesia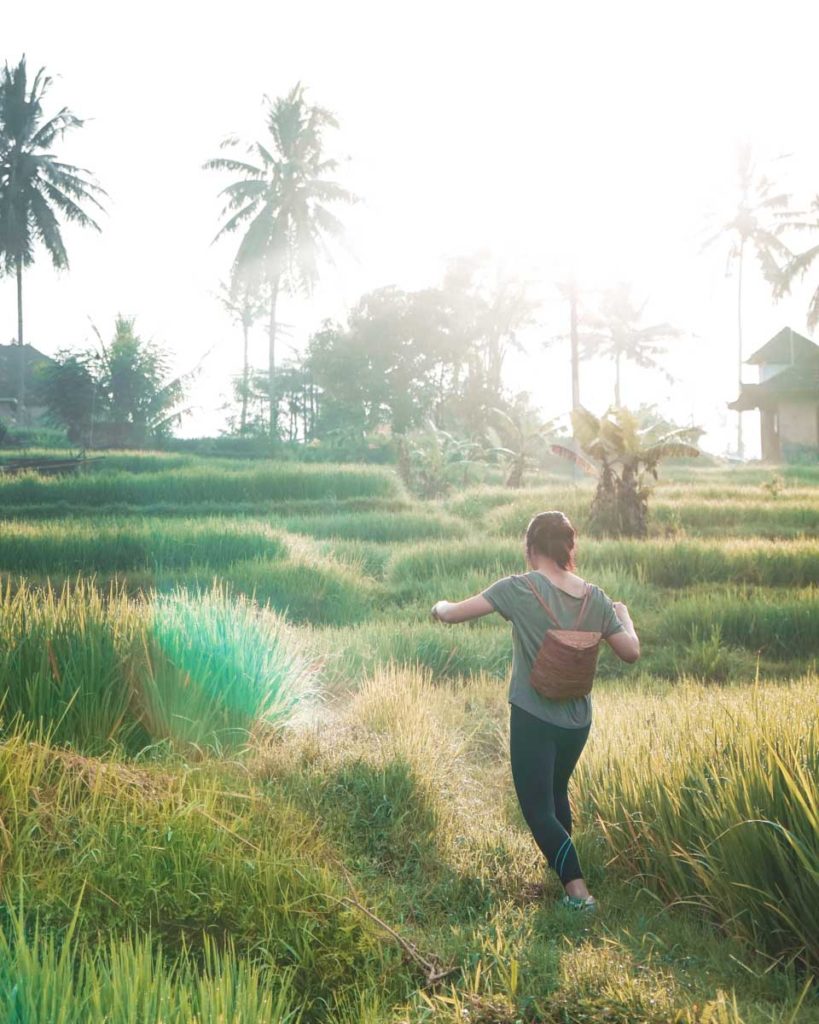 Alternatively, should it rain and you are unable to specifically visit the Tegallalang Rice Terrace, there are rice terraces throughout Ubud you can stumble on to.
Another option would be to settle at a local food joint that overviews rice paddies. These places would provide you with shelter and a beautiful landscape to look at.
Sari Organik – Address: Jl. Subak Sok Wayah, Tjampuhan, Ubud, Gianyar, Kabupaten Gianyar, Bali 80571, Indonesia
Things to Eat In Ubud
One can never get sick of Balinese food. Good eating joints in Ubud are countless and here are three places we think you should check out.
1) Urbana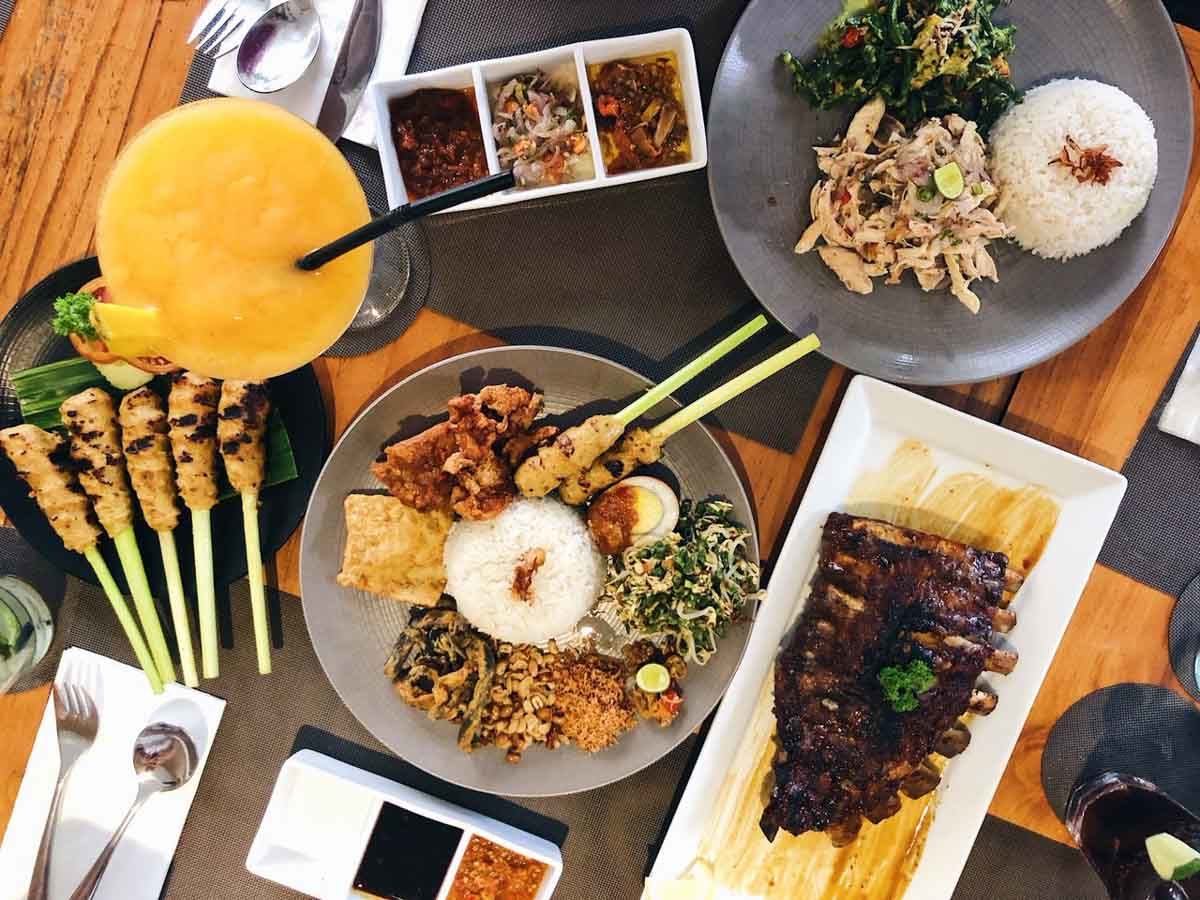 Though slightly on the pricier side, Urbana's warm staff serves good Balinese food along with service that is sure to leave you smiling and wanting to come back for more. The menu boasts of Balinese and Western food and their one for one happy hour is available all day! A daiquiri or mojito would cost you 115,000 IDR.
Opening Hours: 10am – 10pm daily
Address: Jl. Made Lebah No.1, MAS, Ubud, Kabupaten Gianyar, Bali 80571
2) Naughty Nuri's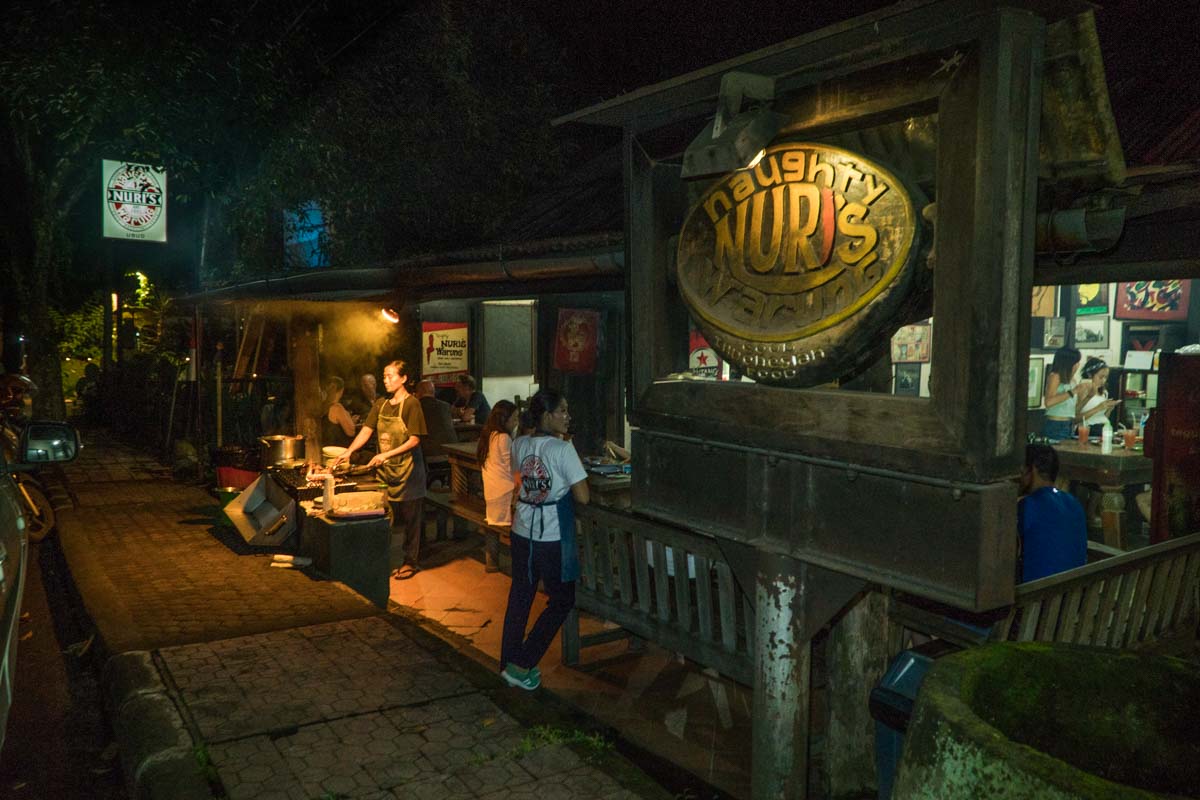 "Sharing is caring" will not exist in your vocabulary after you've had a bite of Naughty Nuri's amazing pork ribs. Currently a popular chain with various outlets around Bali and outside Indonesia, the Naughty Nuri's in Ubud happens to be OG of all! Prices here are slightly less than the outlet in Seminyak but so are the portions.
You'll definitely want to have one for yourself!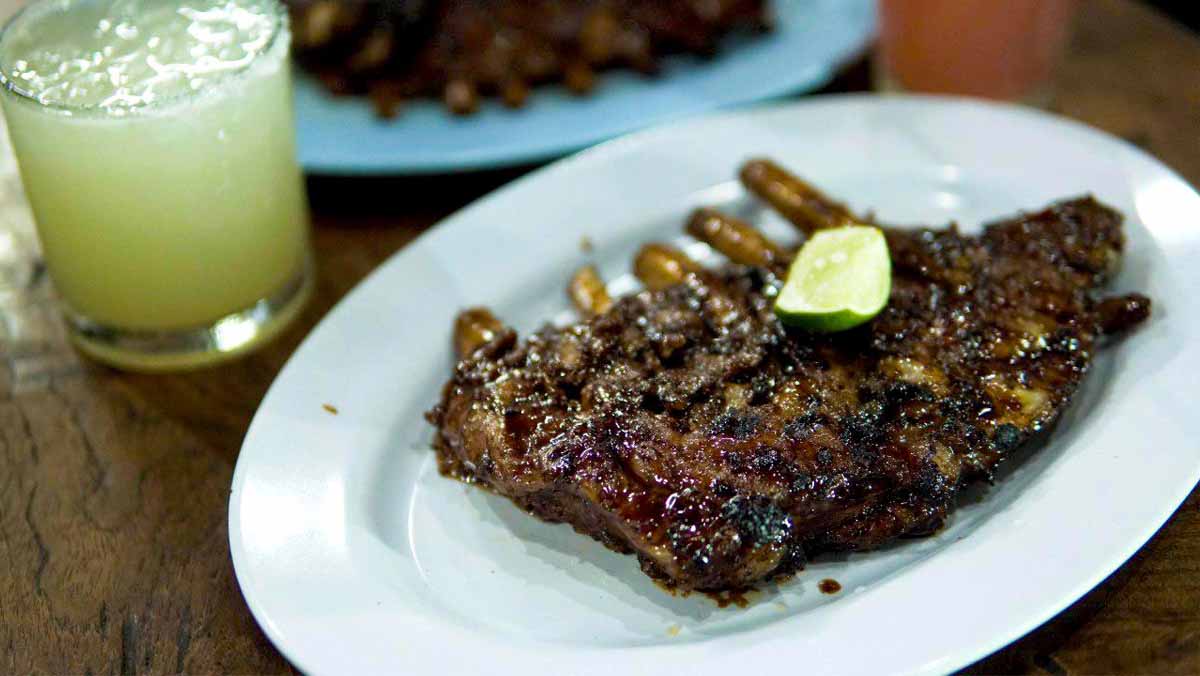 Not to forget their generous cocktails that are sure to pack a punch!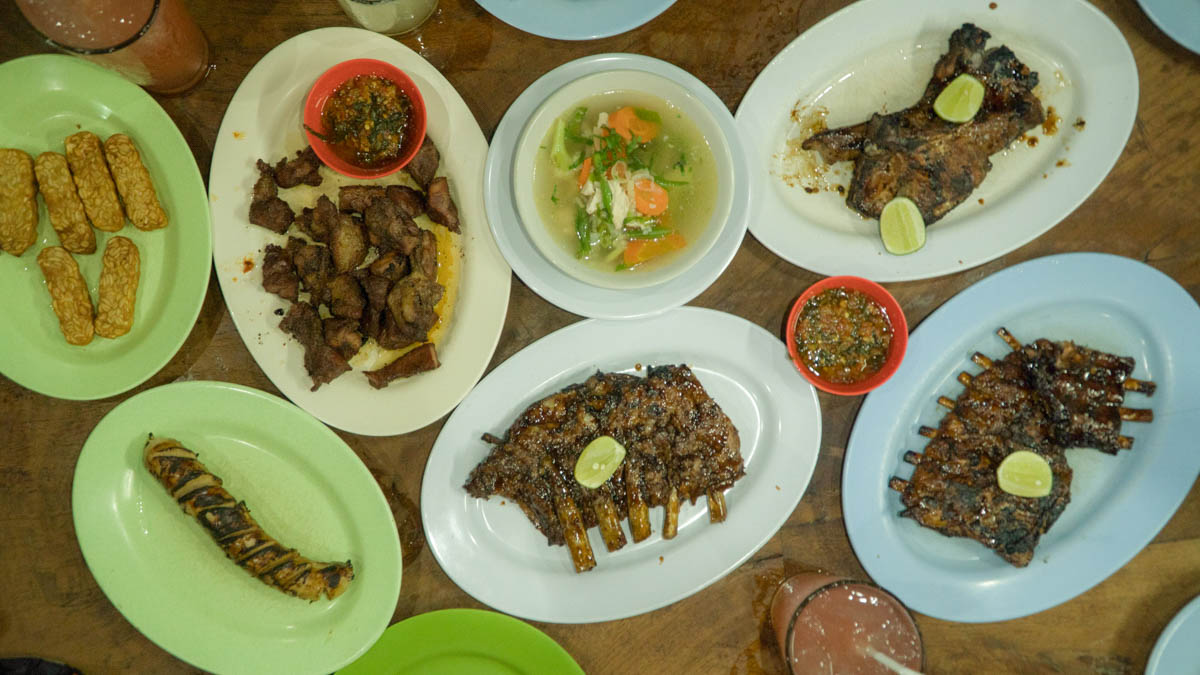 Opening Hours: 10am – 10pm daily
Address: Jalan Raya Sanggingan No.88X, Kedewatan, Ubud, Kabupaten Gianyar, Bali 80571, Indonesia
*Note A phoney Naughty Nuri's lies a block ahead. Look out for the barbeque stand outside to authentic shop.
3) Kedai D'Sawah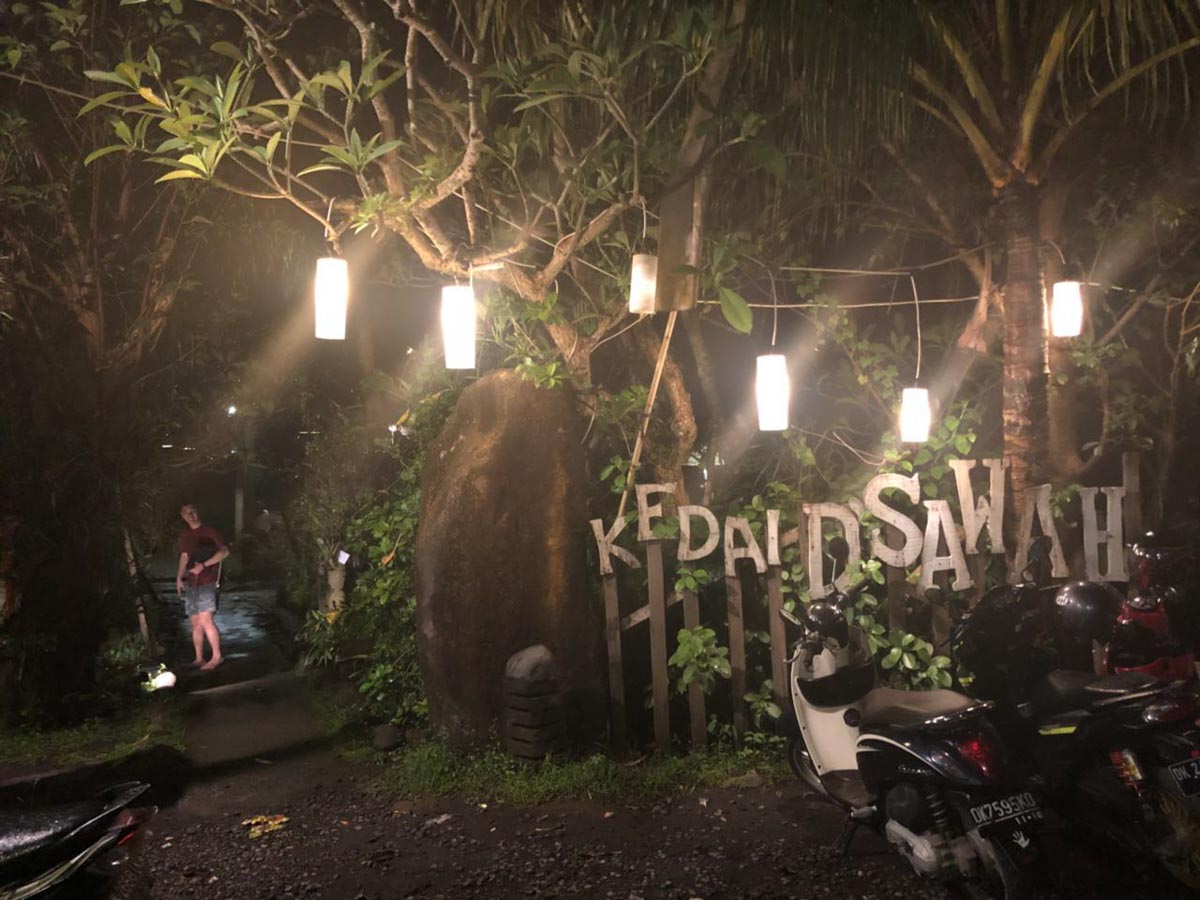 If you need a place to wind down after a day of shopping and adventure, Kedai D'Sawah is the ideal place. It is one of the best places to watch the sunset against the rice paddies as you savour your dinner. This relaxing eating spot offers a wide spread of options from Indonesian to Western cuisine, take your pick!
Opening Hours: 11am – 10pm daily
Address: Jl. Raya Goa Gajah no. 93, Ubud, Indonesia
*Pro-Tip: Bring mosquito repellant to avoid getting bitten as the entire restaurant is open spaced!
Also read: 21 Must Eat Places In Bali Sorted By Popular Areas – From Authentic to Fusion
Getting Around in Ubud
Getting around Bali can be difficult. The lack of trains and buses would not help you with your itinerary. In addition, Go-jek, Uber and Grab are not allowed in the area of Ubud. Most people would hire scooters to get from one place to another in Ubud as it is fast and quick.
However, if you're travelling in groups, or unsure about riding one, using a private car rental with a driver would be the most convenient and cost efficient. This would be the most useful especially if it rains and you are stuck with no means of transport out of said destination. The car is for 10 hours and you can visit the 5 main areas of Bali — Tabanan, Badung, Denpasar, Gianyar, Bangli (Ubud is within the Gianyar area) or explore further with a top up of Rp25,000 (~S$25).
Hope you found this guide useful. Check these articles out if you're looking for other itineraries in the other areas of Ubud, such as Nusa Dua and Uluwatu or an extensive guide to Bali too!
---
Like what you're seeing? Follow us on Facebook, Instagram, and YouTube!