Indulge in mouthwatering vegetarian food in South Bali — with so many plant-based options and the best views, even carnivores will want to come along!
After being a flexitarian (mostly vegetarian, sometimes pescatarian) for almost six years now, I gotta say, looking for food whilst overseas is still a game of Russian Roulette. So, it was a refreshing change of pace to find vegetarian food quite easily while I was travelling in Bali!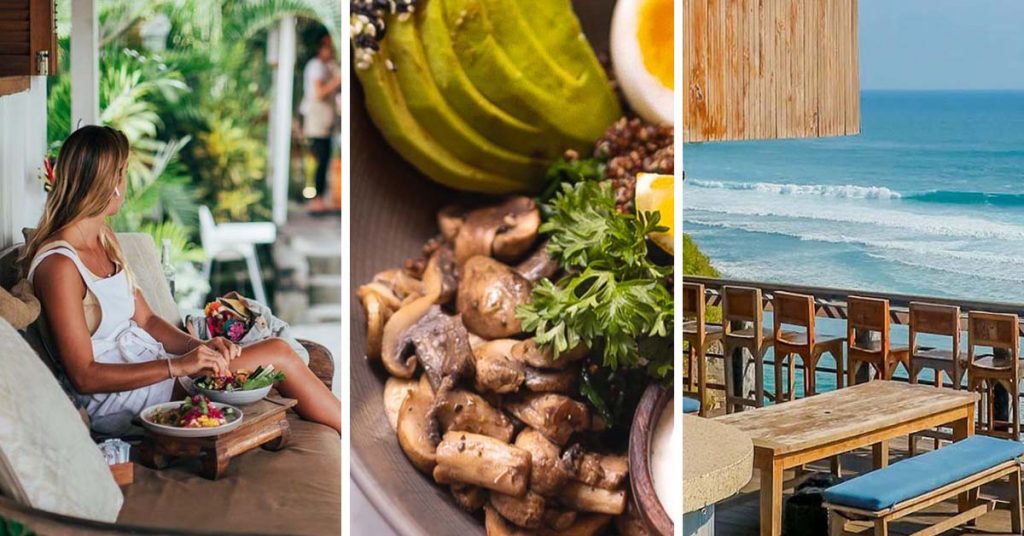 Photo credit: The Shady Shack, @theloftbali via Instagram, @singlefinbali via Instagram
Most travellers will make a stop at Uluwatu, Canggu, and Seminyak, as they are rather near Bali's main airport in Denpasar. And you probably will too! Hence, we'll be uncovering some hidden gems in South Bali.
But vegetarians aren't used to this many options so we've narrowed it down to the best restaurants, in terms of aesthetics. With beautiful surroundings and good vibes all around, they're perfect for bringing along your non-vegetarian friends too.
Jump to your favourite spot in South Bali: Uluwatu | Canggu | Seminyak
Vegetarian Food in Uluwatu, Bali
Ulu Cliffhouse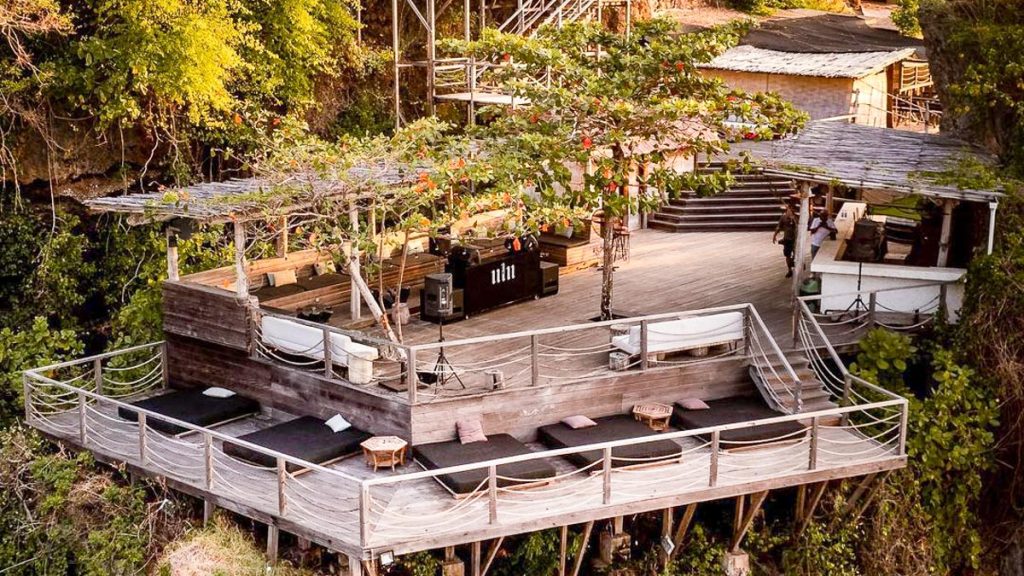 Photo credit: @ulucliffhouse via Instagram
Cliffside beach bars are plenty in Uluwatu but Ulu Cliffhouse is a go-to if you're looking for a place to raise the roof. As the name suggests, the cafe is perched on a cliff and often hosts live bands and parties. Energy never dies here and it's a hit with tourists and locals alike — so reservations are the best way to go!
*Pro-tip: Ask for a seat on the furthermost edge of the cliffside veranda for an unobstructed view of the ocean.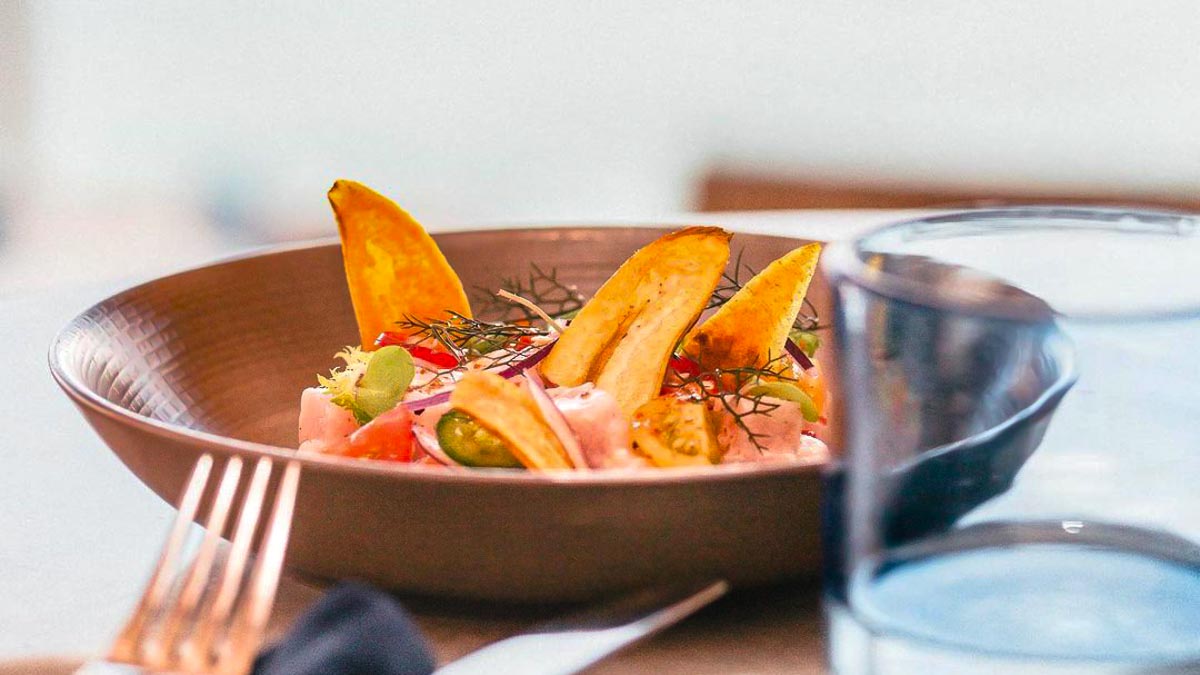 Photo credit: @ulucliffhouse via Instagram
Partying clean couldn't be easier with bar snacks like Beetroot Crisps (Rp55,000) or Scorched Edamame that's sprinkled with Nusa Penida's special seaweed salt (Rp60,000).
But if you're looking for a quiet breakfast or lunch, get a house salad or try one of their unique vegetarian options like the Basil and Kemangi Pesto (Rp110,000). On top of vegetarian-friendly options, they also serve delectable servings of meat-based dishes like the Soy Honey Glazed Baby Pork Ribs (Rp185,000).
Opening hours: 12PM – 10PM (Mon – Thu), 12PM – 12AM (Fri – Sun)
Address: Uluwatu, Jl. Labuansait No.315, Kabupaten Badung, Bali 80361, Indonesia
Single Fin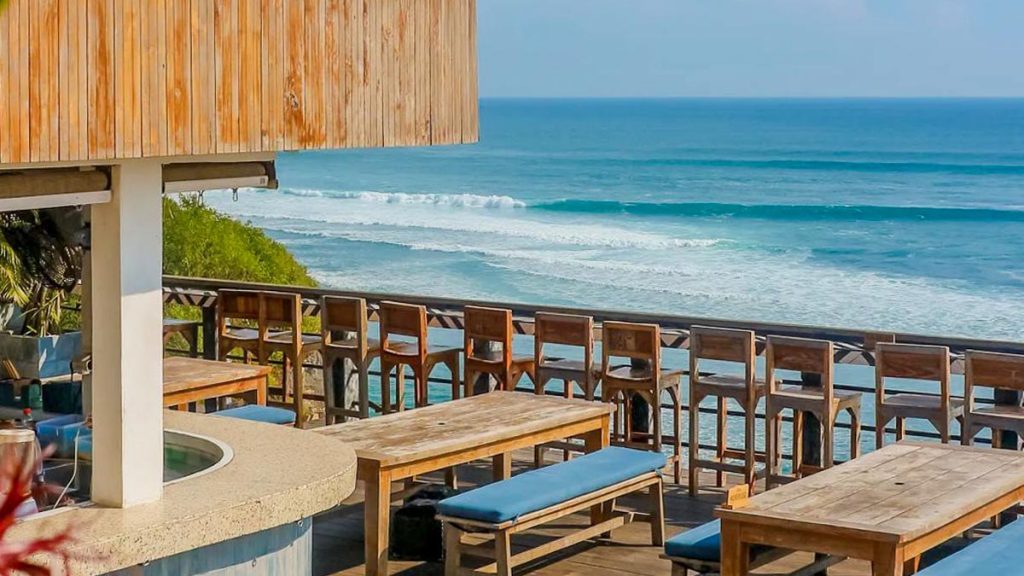 Photo credit: @singlefinbali via Instagram
Single Fin is a cliffside beach bar that overlooks the famous surfer's paradise — Uluwatu Surf Break.
Most people come here to chill on the high stools facing the sea and watch surfers do their thing! There's usually a live DJ on Sundays which makes watching sunsets here all the more eventful too.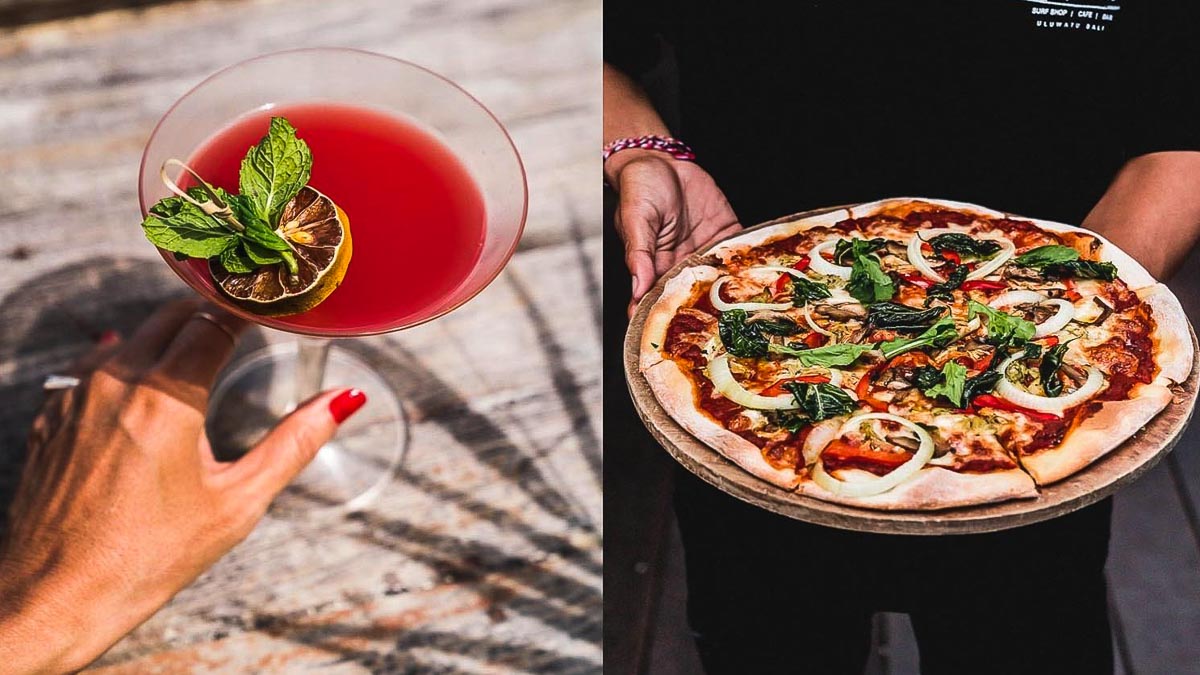 Photo credit: Single Fin
It's mostly tacos, pizzas, and salads here but there's a vegetarian option for each of these main course meals. Go green with the veggie tacos or quesadillas (Rp75,000) or the Green Bowl pizza (Rp105,000) that's topped with roasted pumpkin and mozzarella.
For supper, nachos (Rp75,000) will hit the spot. And hey, beer's (almost) always vegetarian.
Opening hours: 8AM – 10PM, closes at 12AM on Wed and 1AM on Sun
Address: Pantai Suluban, Jl. Labuan Sait, Pecatu Uluwatu, Kuta Selatan, Pecatu, Kuta Sel., Kabupaten Badung, Bali 80361, Indonesia
The Loft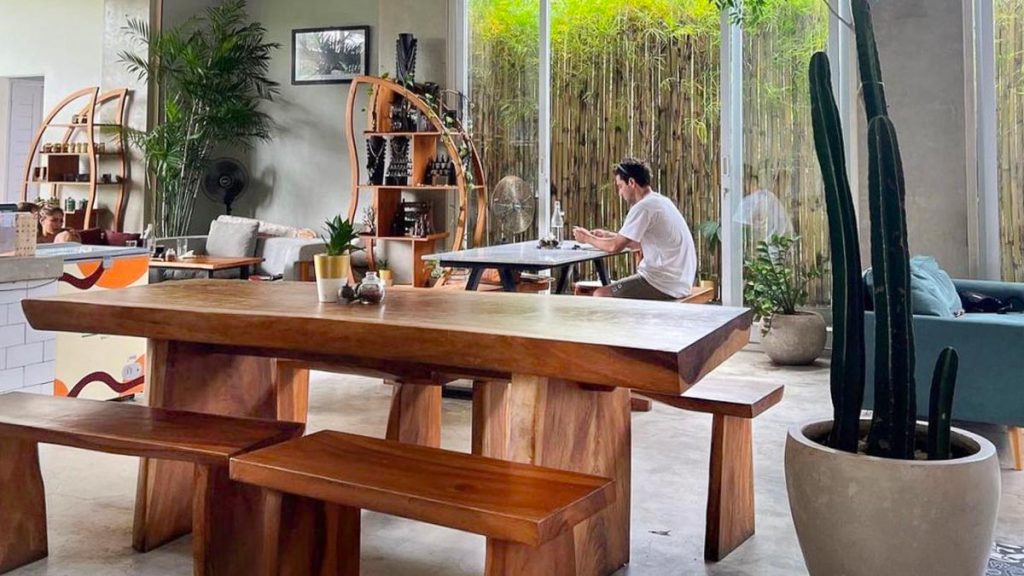 Photo credit: @balischoolofparadise via Instagram
The Loft Bali boasts a clean Scandinavian aesthetic that's infused with accents of green. There are plenty of comfy seats to have a meal or sip a cuppa while catching up on emails. And, the lush bamboo wall is a perfect backdrop for that "Out of Office" ootd shot (yay to natural lighting)!
This cafe offers an extensive all-day breakfast and lunch menu — from vegan burgers to wraps. Or create your own meal by selecting your choice of protein, carbs, and sauces.
Feeling fancy for dinner? Pair their Four Cheese Gnocchi Homemade Pasta (Rp150,000) with a glass of wine.
Photo credit: @theloftbali via Instagram
If your friends aren't meat-free, there's a range of options for pescatarians and meat lovers too like the Salmon Rosti (Rp95, 000), Lamb Shank (Rp320,000), and Pork Ribs (Rp180,000).
Opening hours: 8AM – 10PM
Address: Jalan Labuansait 52, Pecatu, Kuta Selatan, Badung, Bali 80361, Indonesia
Vegetarian Food in Canggu, Bali
The Shady Shack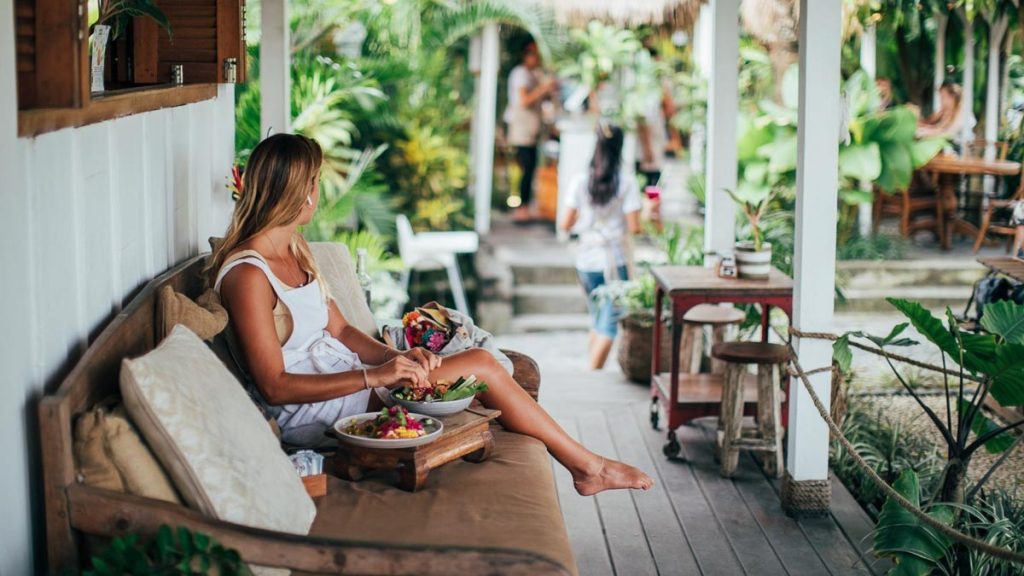 Photo credit: The Shady Shack
If you love nature, this vegan restaurant's for you. Shady Shack overlooks a lush green paddy field and is also just a 10-minute walk away from Pererenan Beach. (Pst! Canggu may be popular for its black volcanic-sand beaches from end-to-end but this particular one is a quiet hidden gem not many tourists frequent.)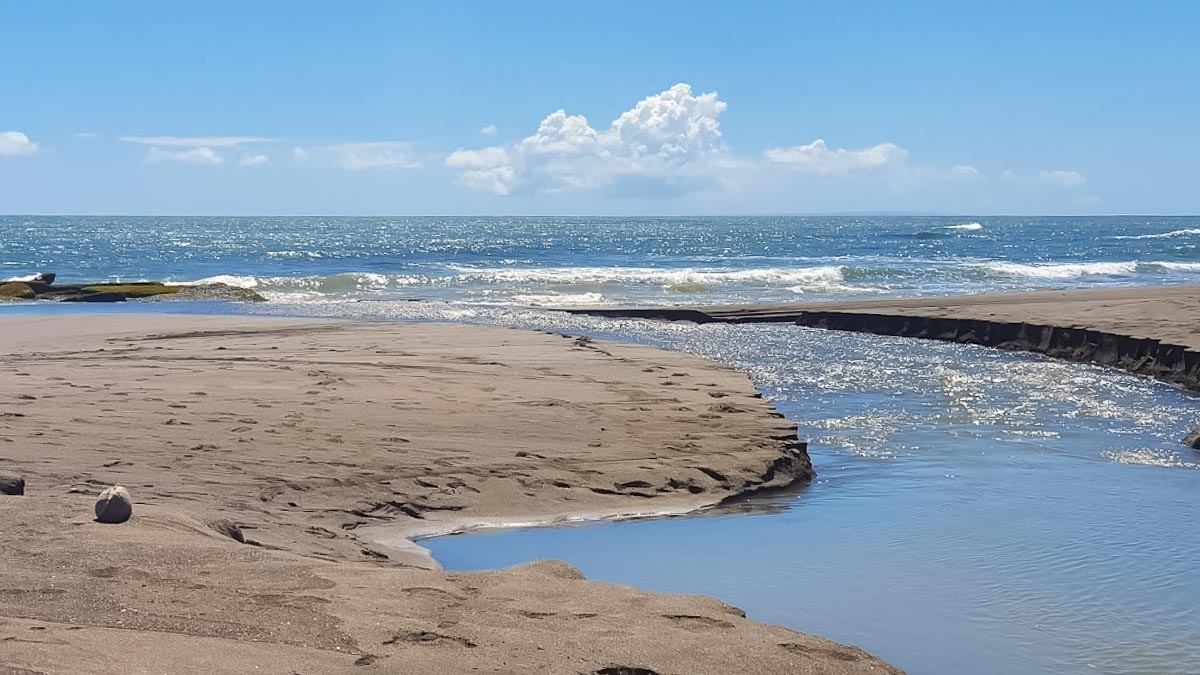 Photo credit: Mn Iz via Google Reviews
Shady Shack's menu is extensive — there are healthy smoothies and juices, an array of delectable main courses like burgers and burritos, and indulgent vegan desserts. There's even all-day breakfast! Imagine having brekkie bowls and avocado toast while sitting on a veranda that overlooks a lush green paddy field? Slay.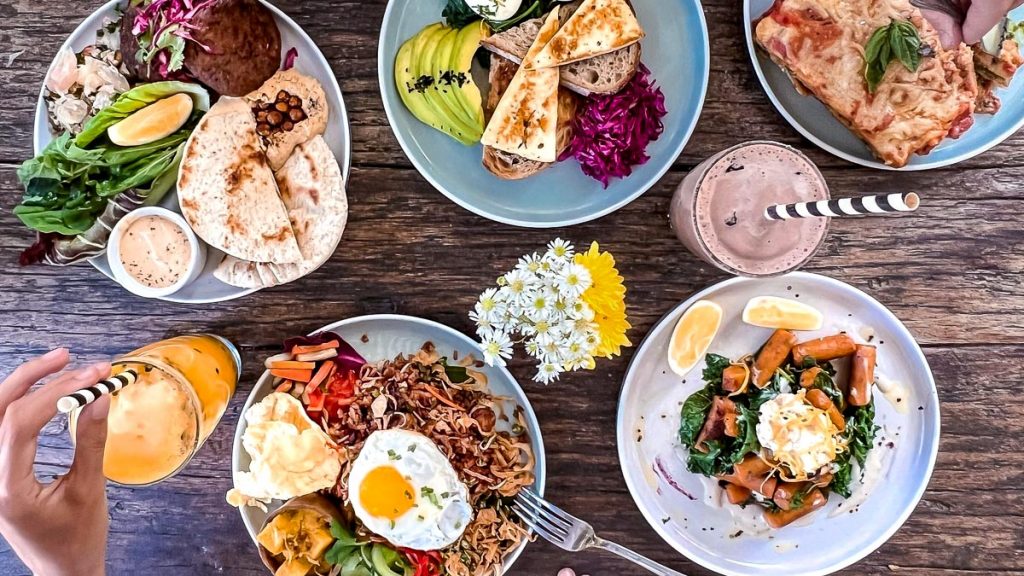 Photo credit: The Shady Shack
But if your tastebuds are craving something a little more Asian, the Tempe Burger (Rp75,000) might do the trick. Tempe, or fermented soybean, is commonly used in Asian dishes and makes for a surprisingly good patty substitute.
Opening hours: 8AM – 10PM
Address: Jl. Tanah Barak No.57, Canggu, Kec. Kuta Utara, Kabupaten Badung, Bali 80351
Clear Café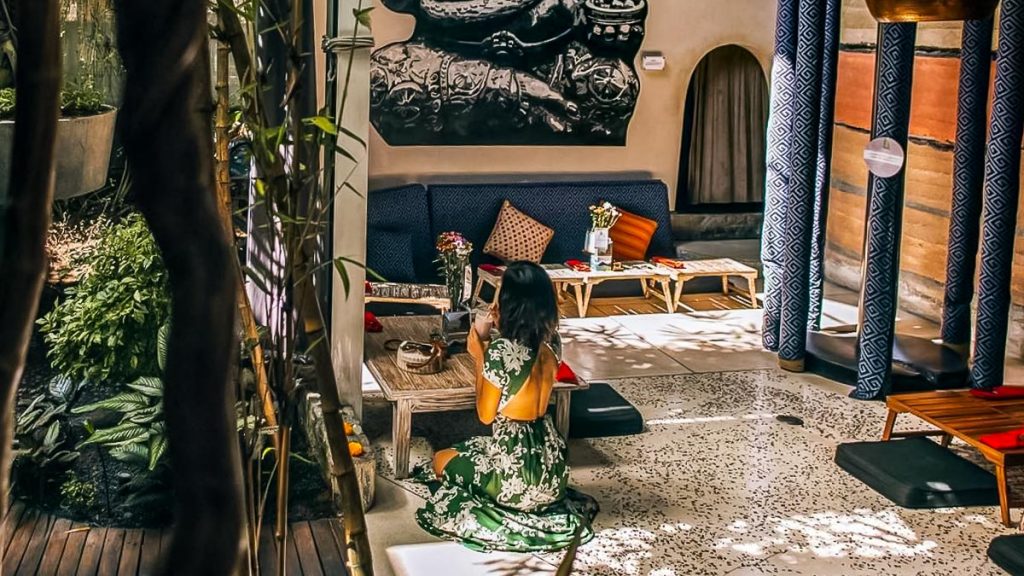 Photo credit: @ksole_ via Instagram
The bohemian-inspired interior design of Clear Cafe is a harmonious blend of wooden furniture, local-inspired artwork, and vibrant splashes of colour. This zen enclave surrounded by nature makes for a restful mealtime.
Local dishes which are usually meat-based are given a vegan twist here — try the vegan Nasi Campur (Rp55,000) for a taste of this Indonesian classic mixed rice.
Or experience true Balinese culture and get a Jamu (Rp30,000) — a medicinal Ayurvedic drink that promotes health through herbal ingredients. These drinks are designed to aid digestion, detoxify the body, boost immunity, and improve energy levels!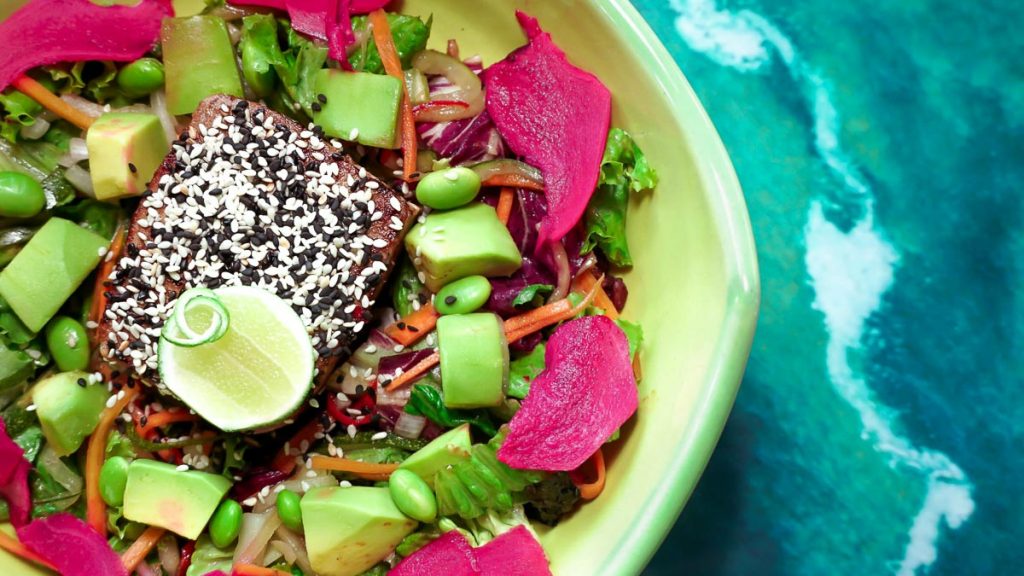 Sunshine Tuna — a serving of seared pepper tuna steak and a side of mixed greens. Photo credit: The Clear Cafe
While the menu is mainly for vegans and vegetarians, there are some pescatarian options too like Fish Tom Yum Goong (Rp60,000), Tiger Shrimp Quesadillas (Rp70,000) and Sunshine Tuna (Rp80,000).
Opening hours: 8AM – 10PM
Address: Jl. Pantai Batu Mejan No.34, Canggu, Kec. Kuta Utara, Kabupaten Badung, Bali 80351, Indonesia
Penny Lane Bali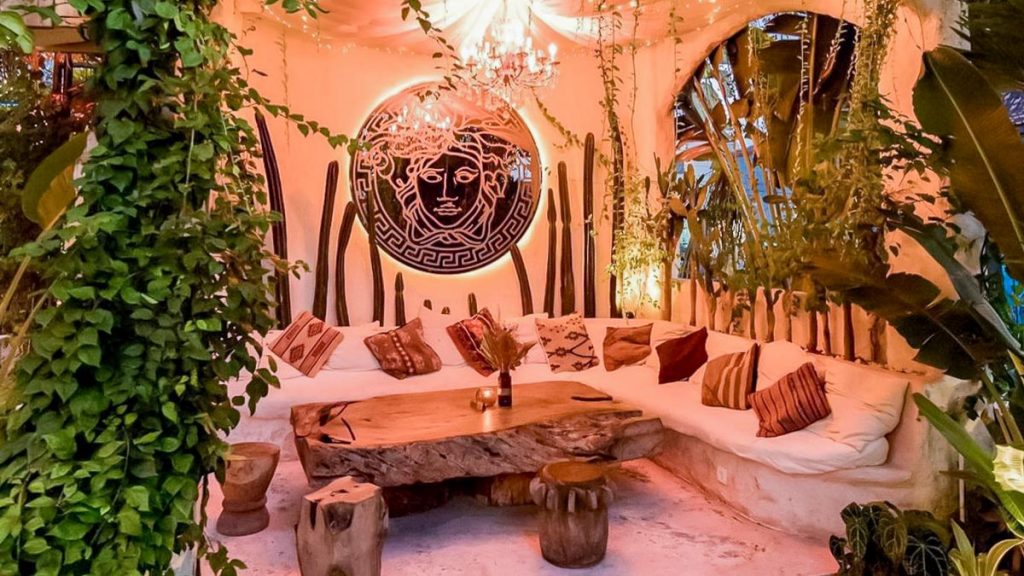 Photo credit: @pennylanebali via Instagram
Penny Lane's aesthetic is modern yet rustic with a touch of mystic. Think fairy lights, neutral tones and touches of greenery.
*Pro-tip: Come in the evening just before sunset and watch magical purple and orange hues on the horizon from the outdoor seating area.
It isn't exclusively a vegetarian restaurant, but they do serve salad and brekkie bowls plus a range of detoxifying juices and smoothies.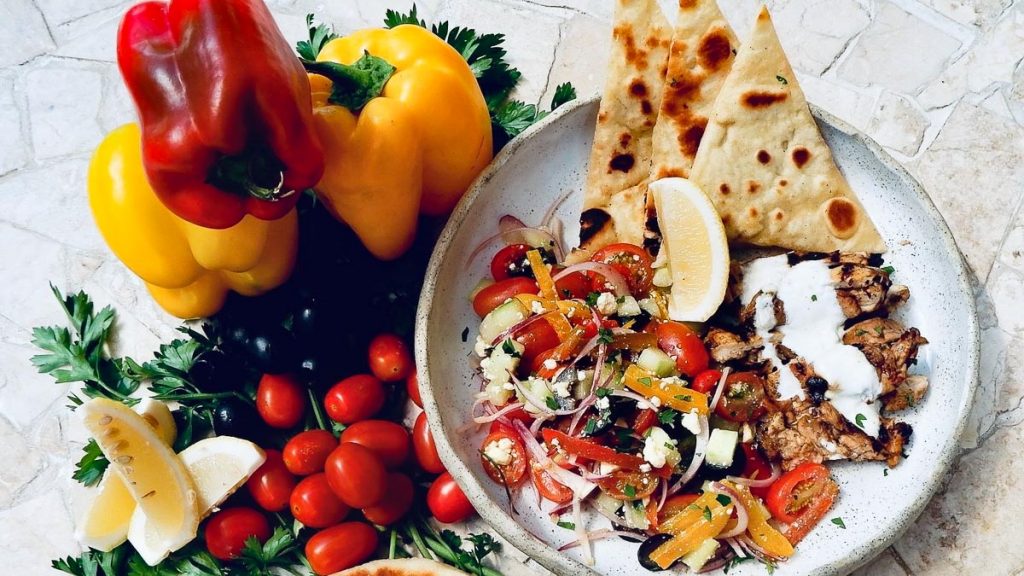 Photo credit: Penny Lane Bali
You could also get some Burrata Cheese and Hummus or Mediterranean Tuna Tartar for the table (both at Rp85,000). And let your carnivore friends discover for themselves that vegetarian food doesn't have to be bland!
Prices are a tad steep here with vegetarian Nasi Goreng at Rp70,000 but most reviews say it's still worth a visit due to the large food portions and unbeatable atmosphere.
Opening hours: 8AM – 11:30PM (reservation is required for groups bigger than 3pax)
Address: Jl. Munduk Catu, Canggu, Kec. Kuta Utara Badung Indonesia
Vegetarian Food in Seminyak, Bali
Kynd Community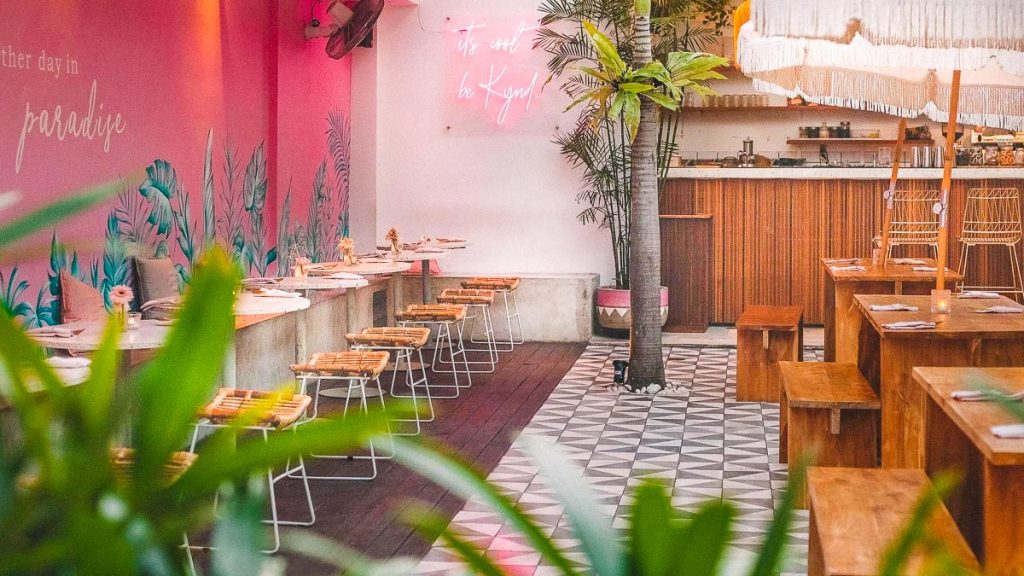 Photo credit: Kynd Community
Famous for its Barbie-pink decor and gorgeous presentation of vegan food, Kynd Community is a 100% plant-based restaurant in Seminyak.
Fun fact: A plant-based or vegan diet means enjoying delicious meals without any animal products or by-products. This excludes dairy, eggs, and even honey!
Everything here is vegan and vegetarian-friendly — from burgers with veggie patties to cocktails like Mimosa, so eat and drink to your heart's content. Coming on a Tuesday or Thursday? Great. It's two pizzas for Rp120,000 (S$12)!
*Pro-tip: Scan the QR code on this menu — there are photos of every dish to help you pick your meal.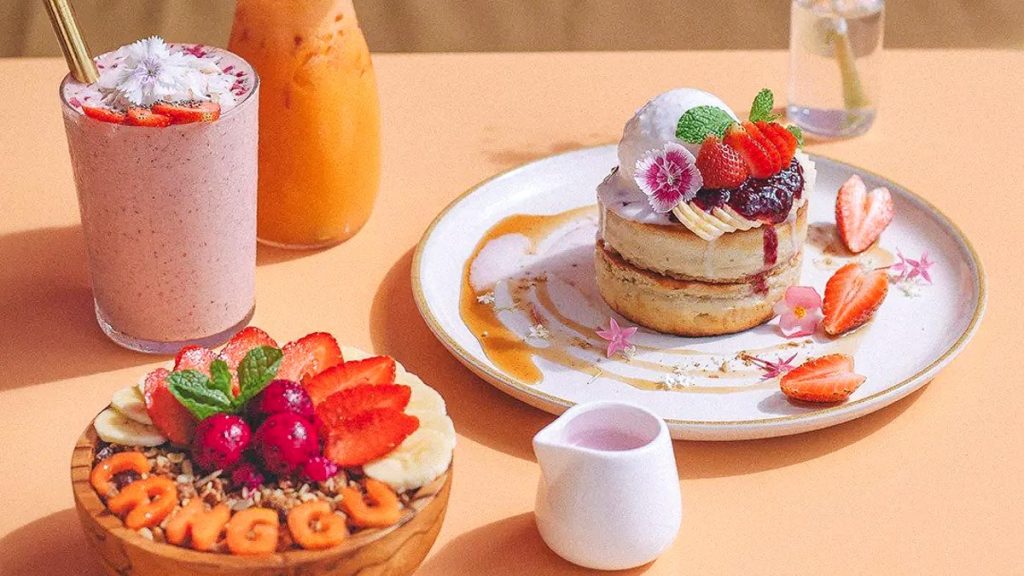 Photo credit: Kynd Community
What's even more impressive is that Kynd isn't just a restaurant, it's a movement. They strive to foster a worldwide vegan-friendly community through their online-based platform — School of Kyndness where anyone can sign up for plant-based online cooking classes! (Oh, and they also have cookbooks and sustainable merchandise that can be shipped globally.)
Opening hours: 7:30AM – 10PM
Address: Jalan Petitenget No.12 Kerobokan Kelod, Seminyak, Kuta Utara, Badung Regency, Bali 80361, Indonesia
Kilo Bali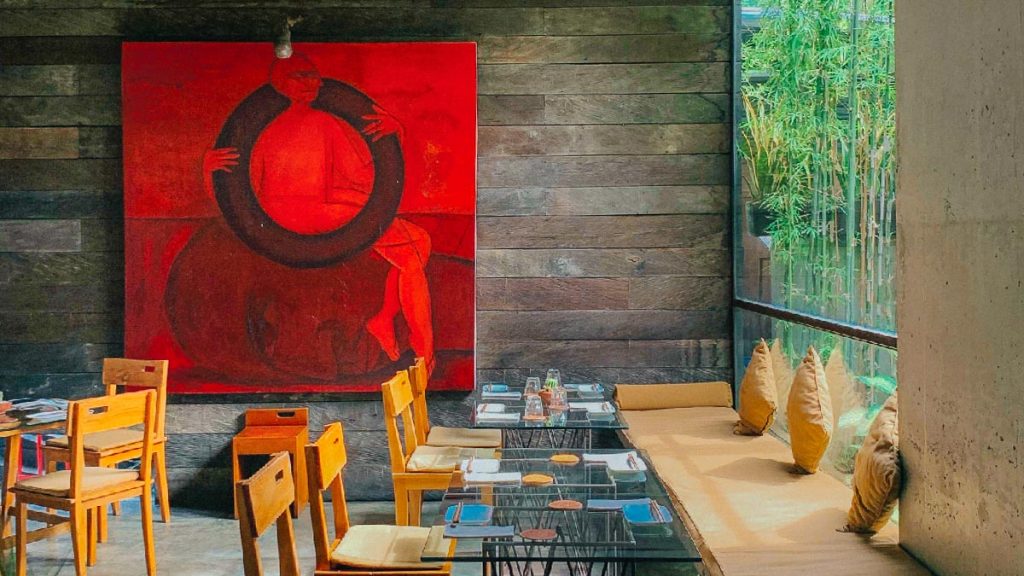 Photo credit: @kilobali via Instagram
Kilo Bali is known for its Japanese-inspired zen set-up with floor-to-ceiling glass panels and lush vegetation in every corner.
This place is a little on the pricier side and has mostly meat-based options on the menu. But they have several vegetarian options too like the Curry Tofu and Veggies Rice Bowl (Rp130,000).
The sake pairing menu is an interesting concept as I wouldn't expect to experience Japanese-style dining in Bali. Ask the staff to request a sake pairing with their Homemade Ricotta Gnocchi (Rp160,000) that's served with grilled mushroom and miso sauce.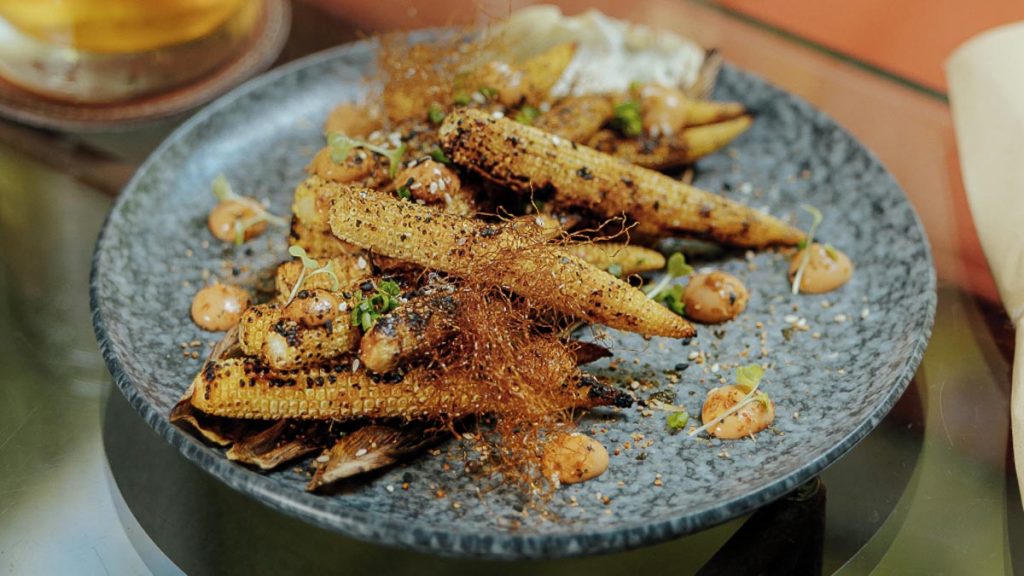 Photo credit: @kilobali via Instagram
Complete the meal with their special Sticky Black Rice (Rp95,000) — it's a serving of traditional sticky rice served with homemade basil ice cream, rum-poached banana, coffee custard, and roasted walnuts.
Opening hours: 7AM – 11PM
Address: Jl. Drupadi No.22, Seminyak, Kec. Kuta, Kabupaten Badung, Bali 80361, Indonesia
Nook Bali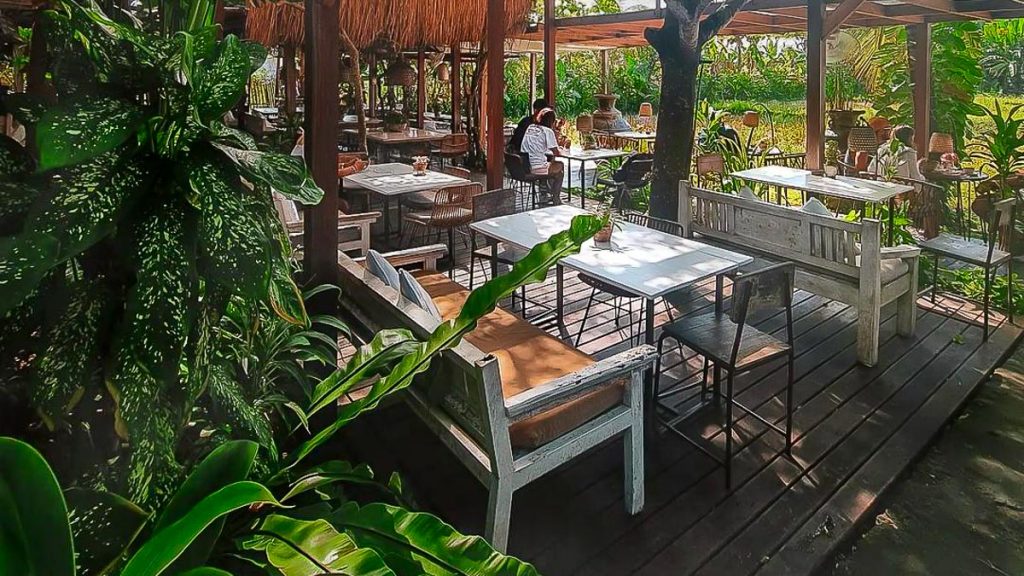 Photo credit: @nook_bali via Instagram
Nook Bali is a quiet corner nestled in the bustling town of Seminyak. With 360° views of lush, green paddy fields, the vibes here are just *immaculate*. On top of the paddy field views, reviews also boast about the reasonable prices, pretty food presentation, and large menu with many vegan options.
If you've never had a meat-free burger, now's as good a time as any cause their Sweet & Smokey Beetroot Burger (Rp55,000) sounds hella dope. Ingenious parry substitutes always leave me in awe — so i'm kinda bummed I didn't come across Nook the last time I was in Seminyak!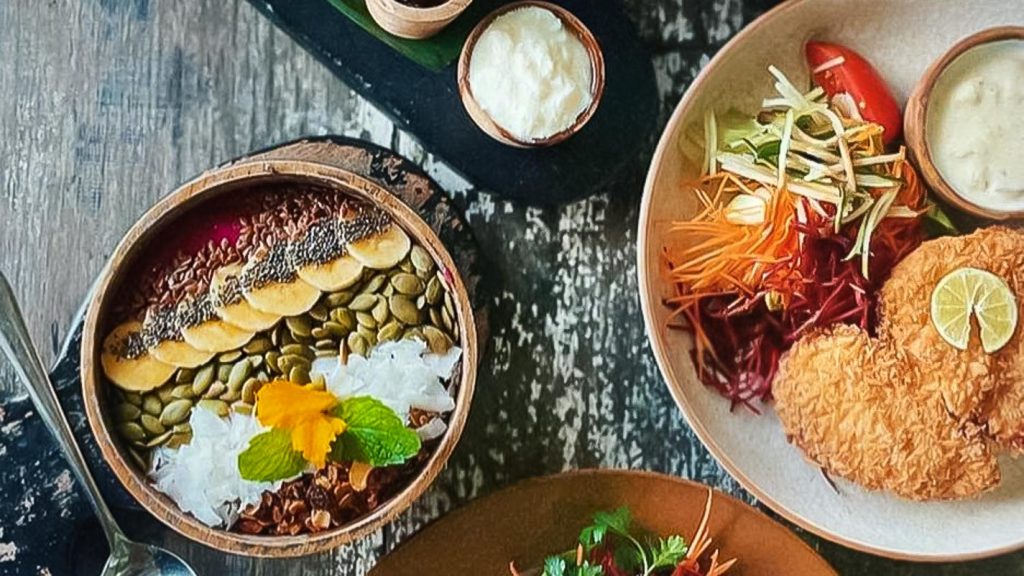 Photo credit: @nook_bali via Instagram
But if that paddy field view has got you craving something more local, get a plate of Gado-Gado (Rp38,000) — it's a mix of veggies, tofu, tempeh (fermented soybean), egg, and peanut sauce.
Opening hours: 8AM – 11PM
Address: Jl. Umalas 1 No.3, Kerobokan Kelod, Kec. Kuta Utara, Kabupaten Badung, Bali 80361, Indonesia
Searching for the Best Vegetarian Food in South Bali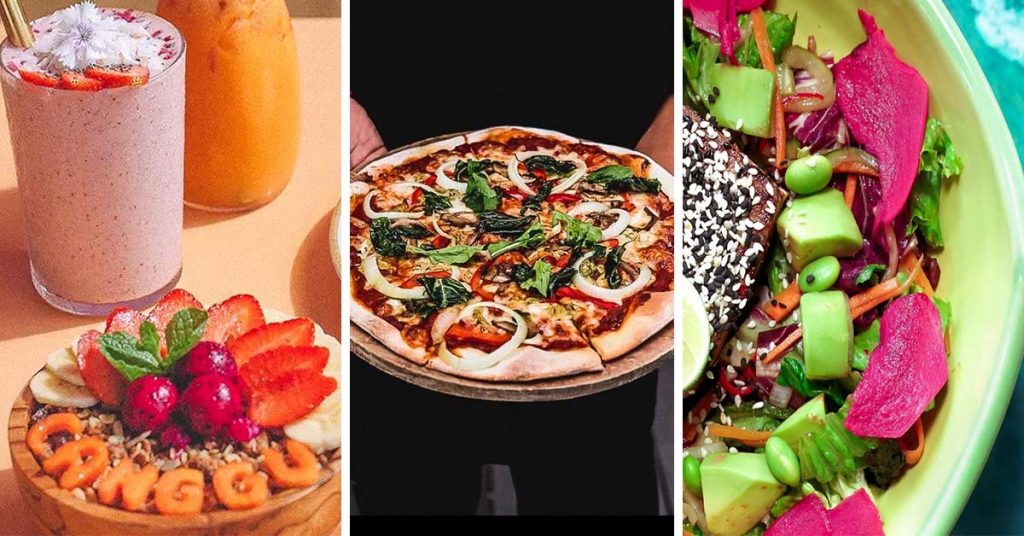 Photo credit: Kynd Community, Single Fin, The Clear Cafe
As you can see, there are plenty of vegetarian restaurants in South Bali. So I've compiled over 10 locations for you to use as a base map and plan your vegetarian foodie adventure, plus add on to it along the way!
Some places might be quite far apart though so Gojek is your best friend for travelling around. Here's another tip: use HappyCow to search for vegan and vegetarian restaurants in your area too!
Heading to Bali soon? Check out some of our other itineraries and guides:
– 13 Best Things To Do in Bali in 2022 — Hidden Gems, Must-visits and New Experiences
– 5D Bali Itinerary: The Best of Bali For The Adventurous — Ubud, Seminyak, Nusa Dua
Know of any vegetarian cafes in South Bali not mentioned in this article? Share them with us in the comments below!
---