If deer feeding, go-karting, and wakeboarding sound like fun things to do, this guide will make you see Batam in a different light!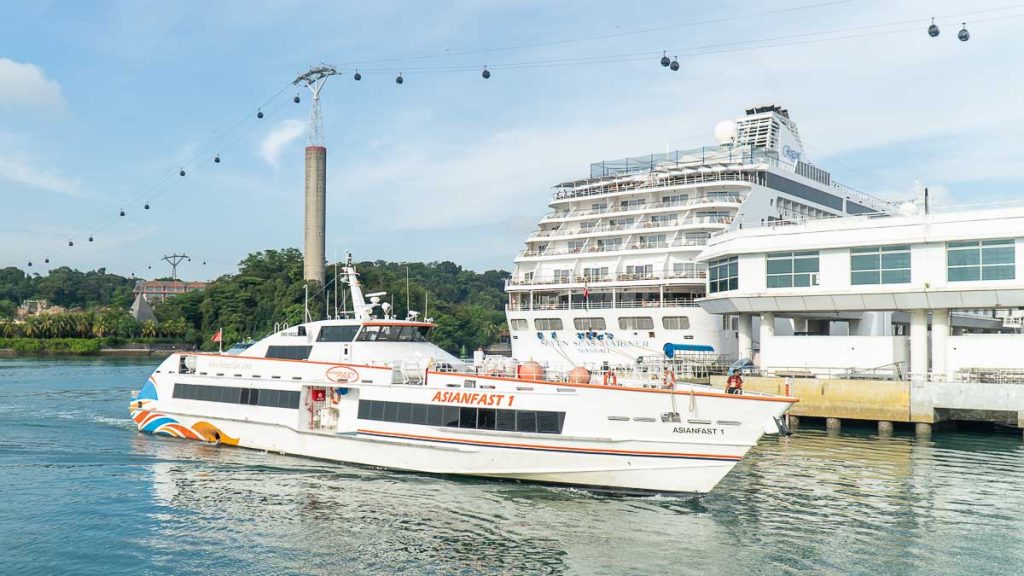 I've always had the impression that Singaporeans visit Batam to eat and shop (based on my relatives and friends). But beyond that, I'm completely clueless about what to do there.
Since I've never been there, I thought: Why not check out the island with a bunch of friends?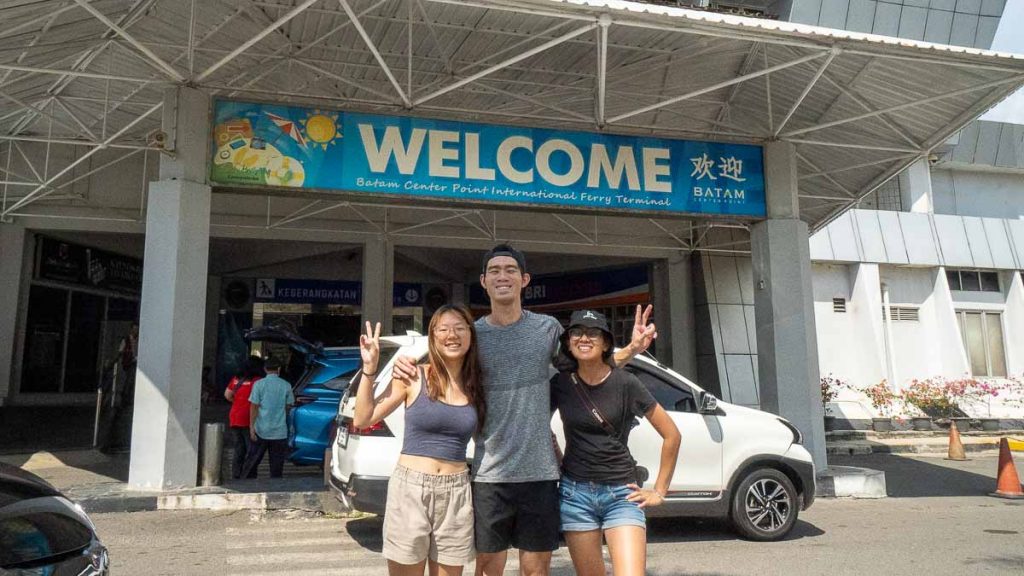 To my surprise, there are so many fun things to do in Batam that don't involve eating or shopping — such as hiking, go-karting, and exploring an abandoned theme park!
So whether it's your first or nth time, here are nine things you can do to make your next getaway to Batam a little different 👇
1) Race Your Friends at Golden City Go-Kart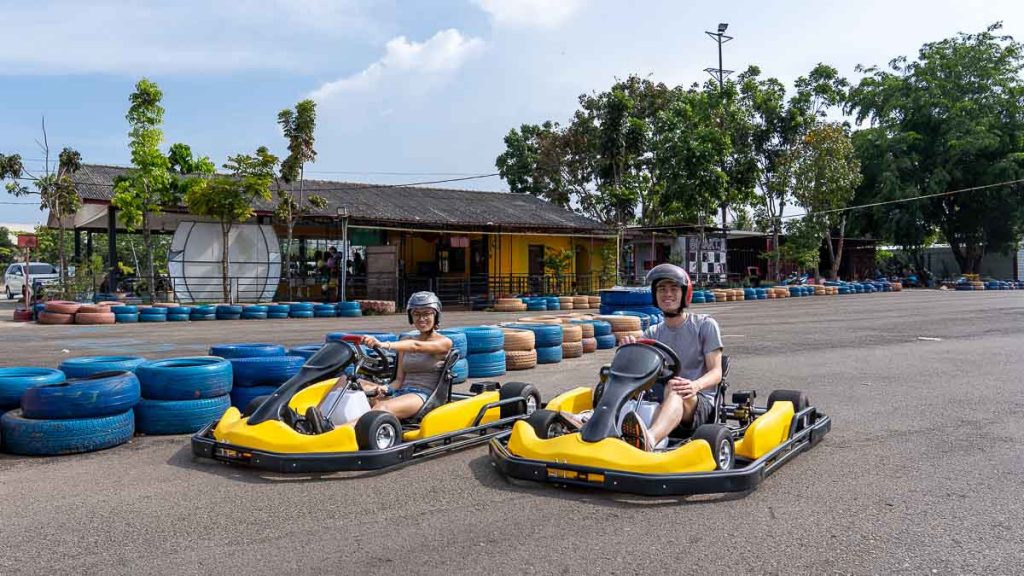 Calling all aspiring racers, showcase your driving skills and challenge your friends to a thrilling race at Golden City Go-Kart!
My first go-karting experience was an exhilarating one — I was surprised by how fast the cars could go (up to 80km/h). Even so, I felt safe as there were lots of space for manoeuvring along the circuit.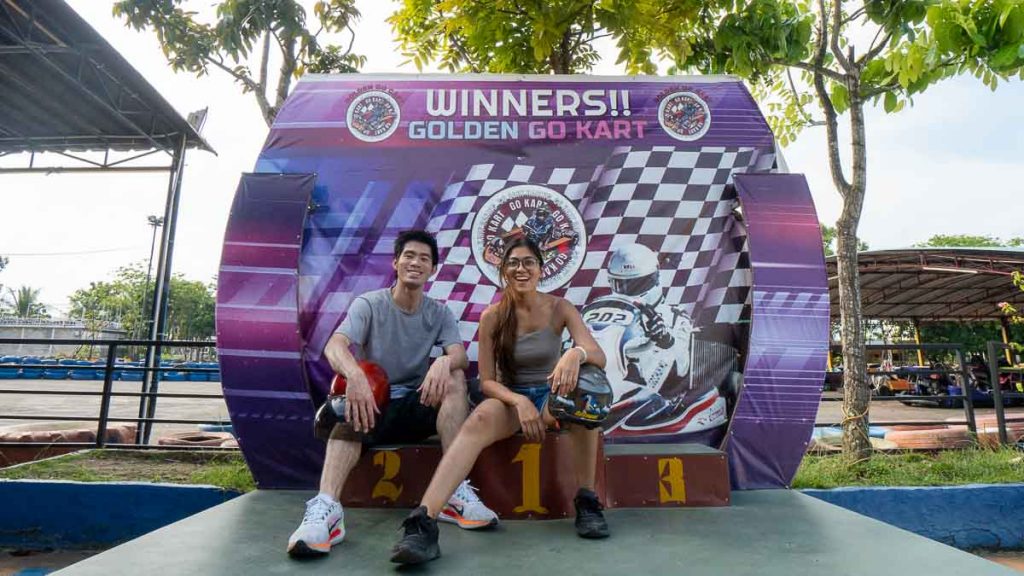 We went for the Gokart Super Car (Rp200,000/pax) but for those who prefer tandem racing, you can opt for a Gokart Double (Rp250,000/car) instead.
*Pro-tip: Visit on weekdays to avoid the crowd and have the full circuit to yourself!
Cost: Rp200,000/pax (~S$18.20), Rp250,000/car (~S$22.70)
Opening hours: 10 AM – 10 PM (Mon – Fri), 8AM – 9PM (Sat – Sun)
Address: 526R+W44, Jl. Bengkong Laut, Tj. Buntung, Kec. Bengkong, Kota Batam, Kepulauan Riau 29444, Indonesia
2) Explore the 'Abandoned' Mega Wisata Ocarina Batam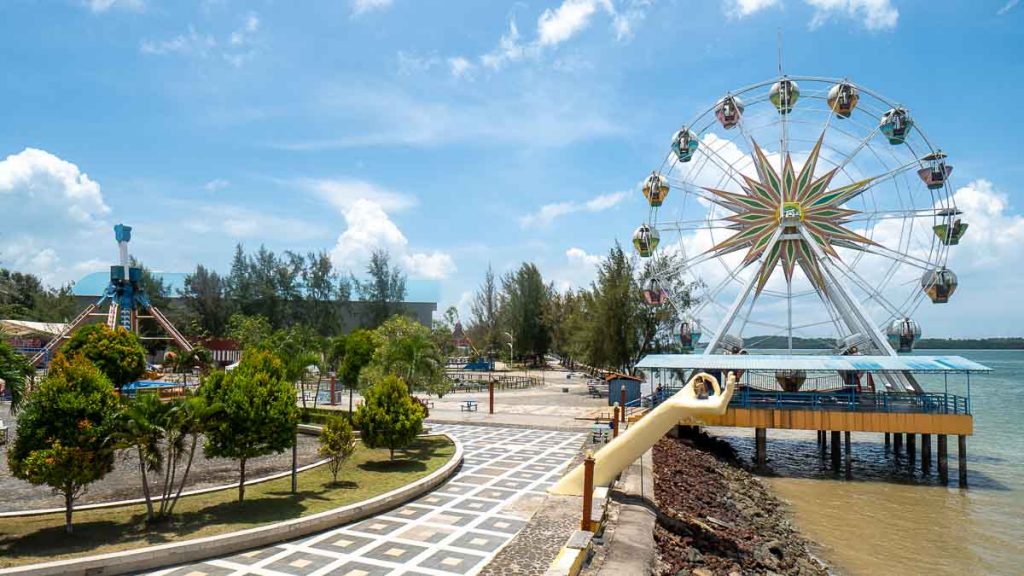 At Mega Wisata Ocarina Batam, they seem to take the meaning of an amusement park literally. I mean, I was very amused (pun totally intended) to find an 'abandoned' amusement park when we arrived!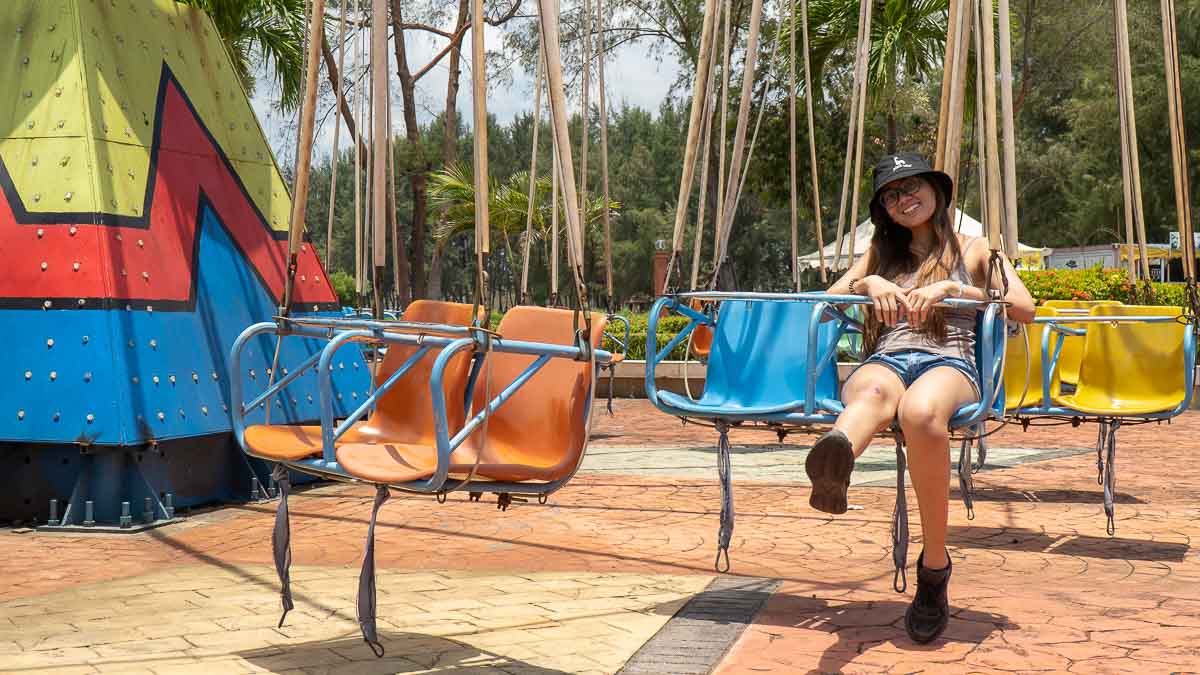 Of course, this isn't a real abandoned theme park — we just happened to drop by on a day when rides weren't operating. But things not going to plan is part and parcel of our travels at The Travel Intern — so, we made the most of having the entire amusement park to ourselves!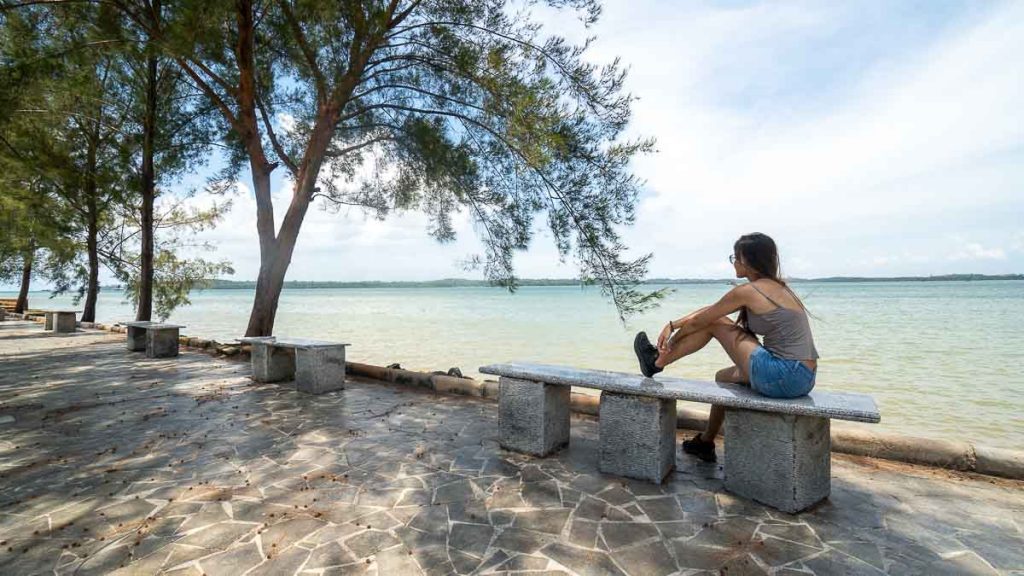 Sit on unmanned rides, take Instagrammable photos and chill by the coastline — you name it all. All you gotta do is pay an entrance fee of Rp25,000/pax (yes, even if rides aren't working :'D).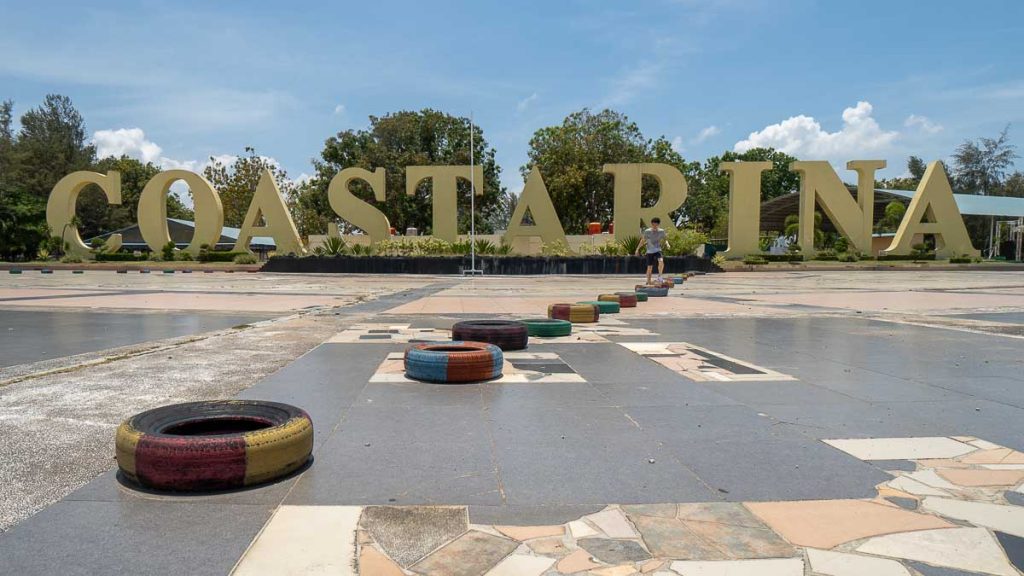 But if you're there for the rides, we heard from a local that it only operates on some weekends and on special holidays in Batam. So do check the official Instagram page for updates!
Entrance fee: Rp25,000/adult (~S$2.30)
Opening hours: 8AM – 10PM (Mon – Fri), 8AM – 11PM (Sat), 6AM – 10PM (Sun)
How to get there: Drive 12mins from Batam Centre Point International Ferry Terminal
3) Grab a Drink at Altitude Rooftop Bar & Lounge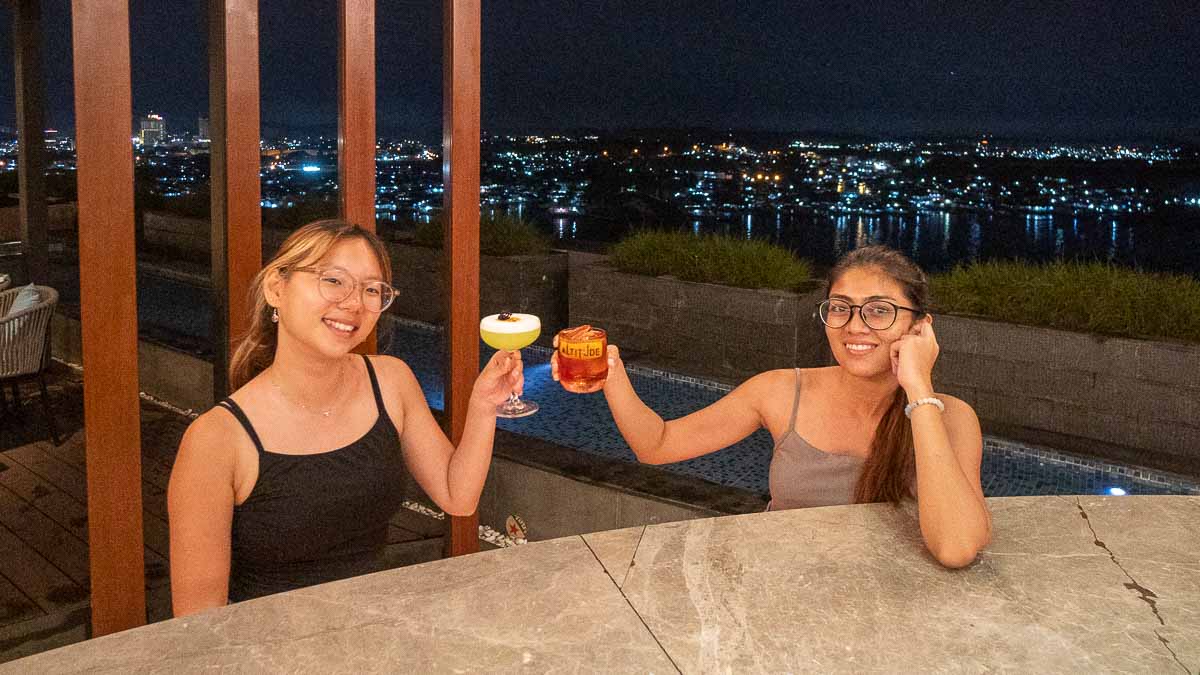 Located on the highest floor of Batam Marriot Hotel Harbour Bay, Altitude is an open-air, cosy rooftop bar — the ideal place to spend the evening with friends over some drinks.
For those who like some music, there's a DJ near the sheltered Bartender's corner. But if you prefer a quieter spot like us, we found a secluded open-air seating area on the other end of the bar.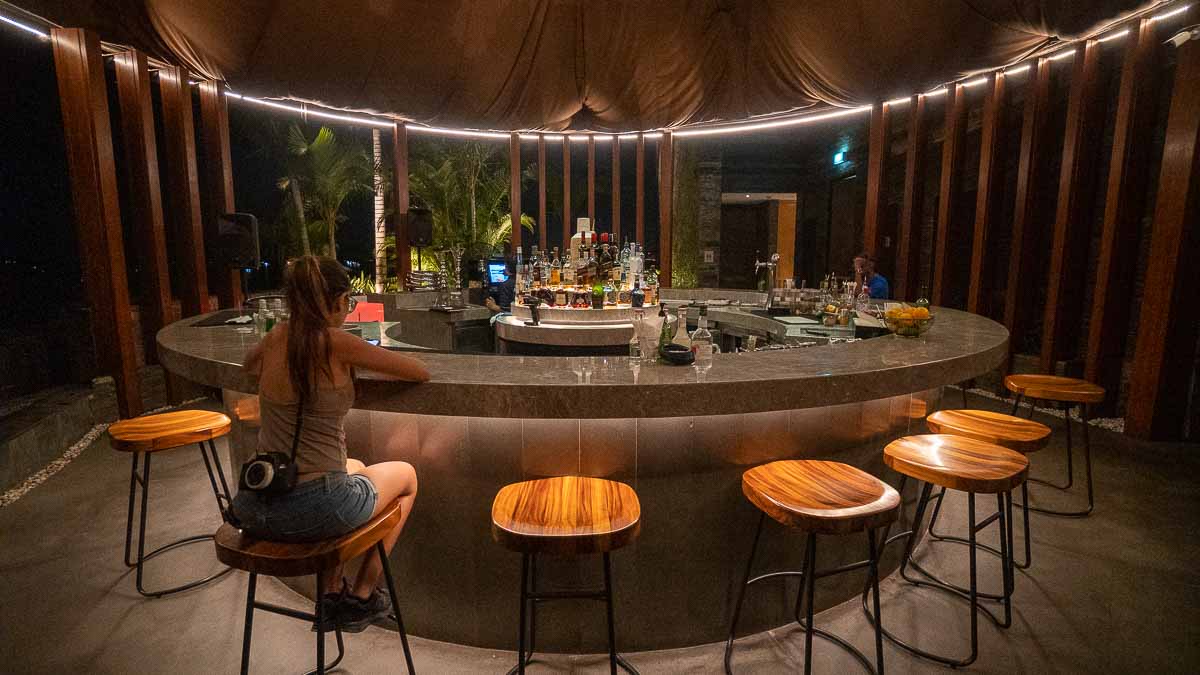 We recommend getting the Bartender's Signature (Rp138,000/drink) — ours was an Apple Cider Cocktail and a Rum Cocktail. Both were really refreshing but what impressed us the most was the aesthetic presentation ✨.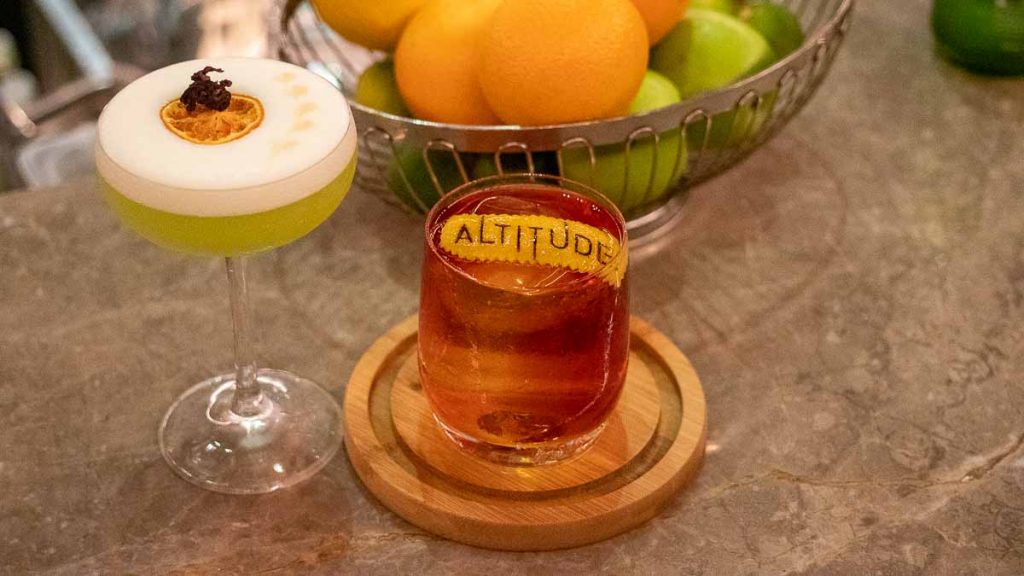 Opening hours: 5PM – 3AM (Tue – Sat), 4PM – 12AM (Sun), closed on Mon
Address: The Promenade, Jl. Duyung Blok 8F, Jodoh River, Batu Ampar, Batam City, Riau Islands 29453, Indonesia
4) Play Your Hearts Out at Belalang Adventure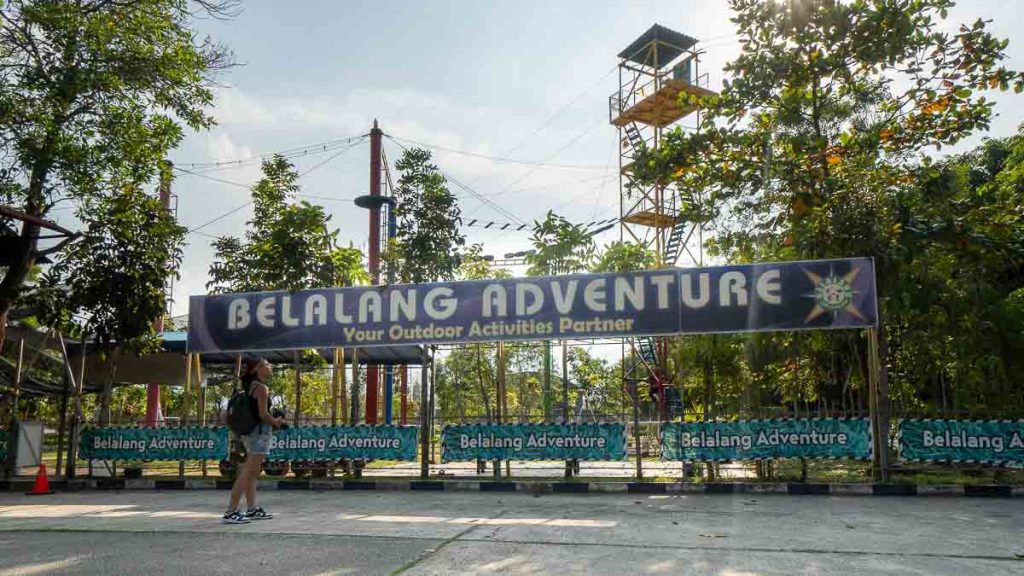 Belalang Adventure offers some of the most exciting things to do in Batam, including flying fox, ATV ride, paintball wargames, archery and more!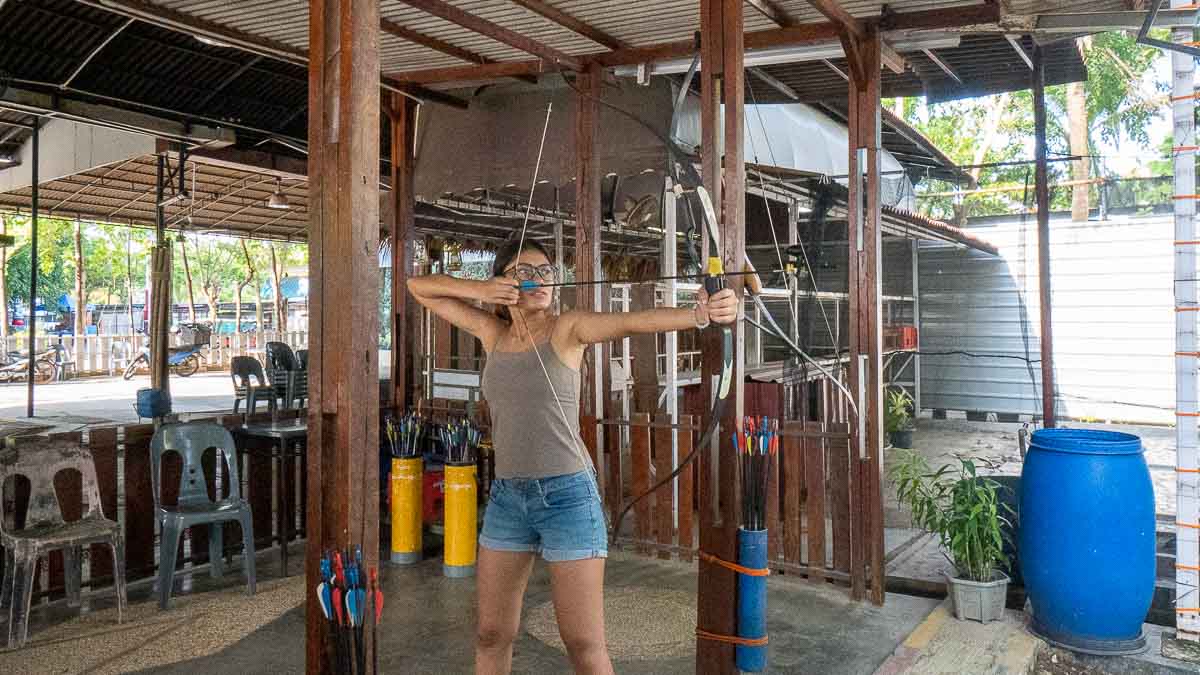 We wanted to try the flying fox (Rp60,000/pax) but it was closed for routine maintenance. So, we challenged each other to a game of archery (Rp60,000/pax for 15 arrows) and paintball shooting (Rp100,000/pax for 30 bullets) instead.
*Pro-tip: Bring earplugs if you're going for paintball shooting. The sounds produced by the gun could be pretty loud for some.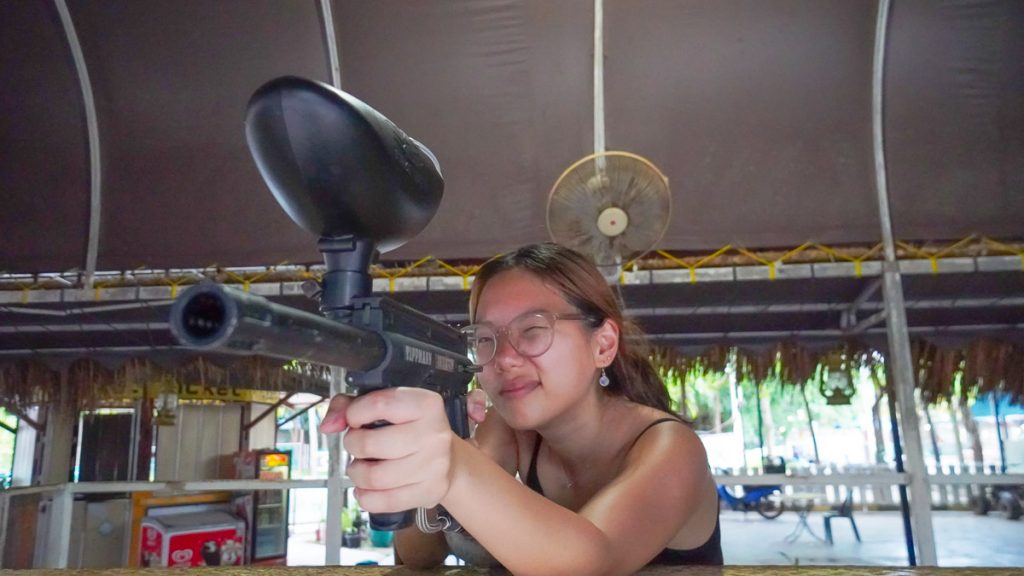 FYI, kid-friendly arrows are also available, making archery a great option for families with young kids. For friend groups of up to six, go for the three vs. three paintball war game (~S$22.50/pax for 60 bullets) — but be warned, it's the perfect recipe to make or break friendships!
*Pro-tip: Contact Belalang Adventure via WhatsApp at +62 812-7022-8879 before heading down — to avoid missing out on activities as we did.
Cost: From Rp60,000 (~S$5.50)
Opening hours: 9AM – 5PM
Address: Golden city, Bengkong Laut, Kec. Bengkong, Kota Batam, Kepulauan Riau 29444, Indonesia
5) Unwind at Absolute Spa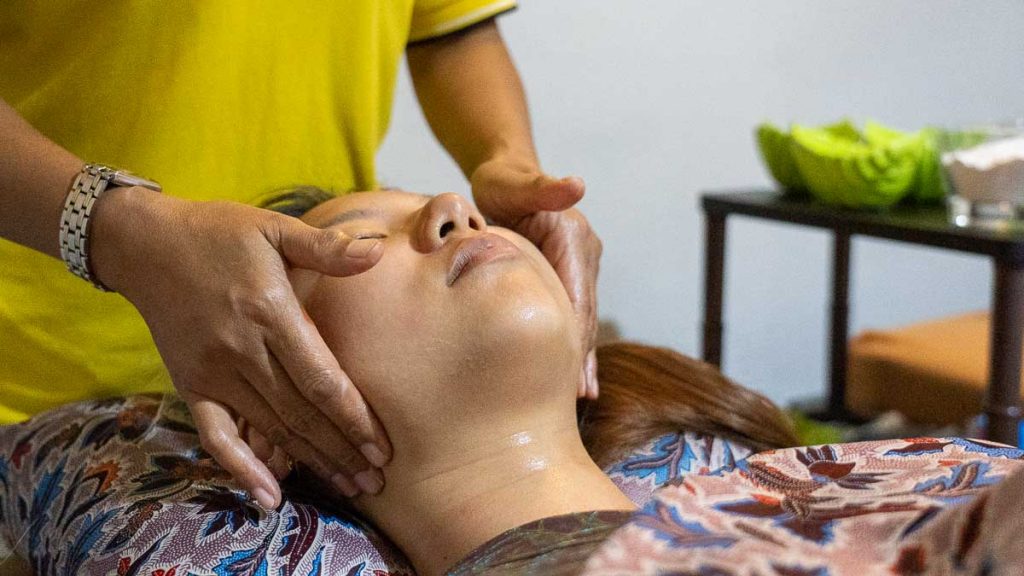 Break away from the stresses of daily life and pamper yourself with a trip to Absolute Spa. It's only a 4-minute drive from Grand Batam Mall and has various massage options ranging from aromatherapy to traditional, foot, and more.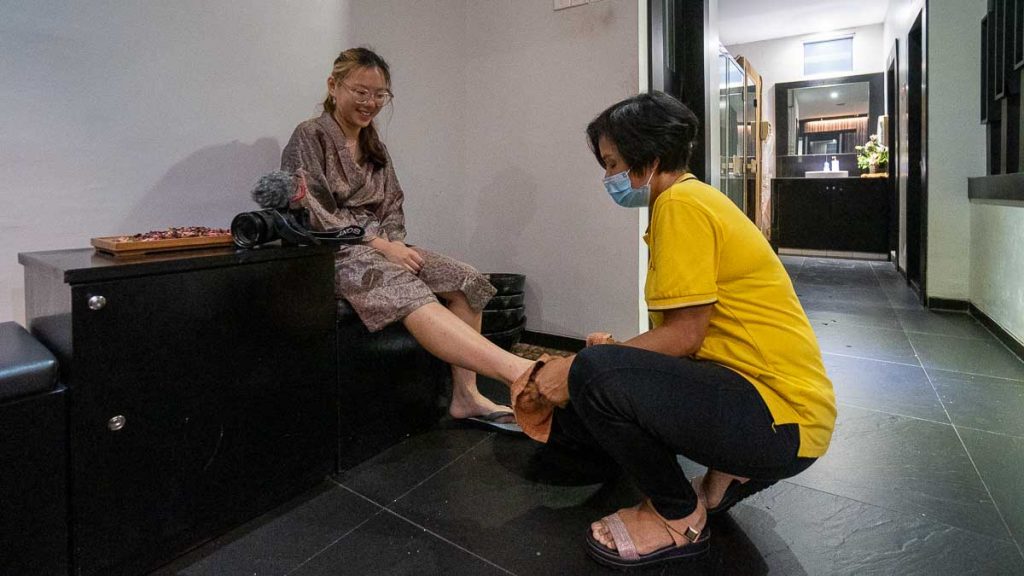 Disclaimer: It was my first time getting a spa (shocking I know), so I wasn't sure what to expect. But go big or go home right?
So I went straight for the comprehensive Full Glow Spa Package — a luxurious 2-hour experience which includes sauna access, a milk bath, a foot bath, a body scrub, and a body mask!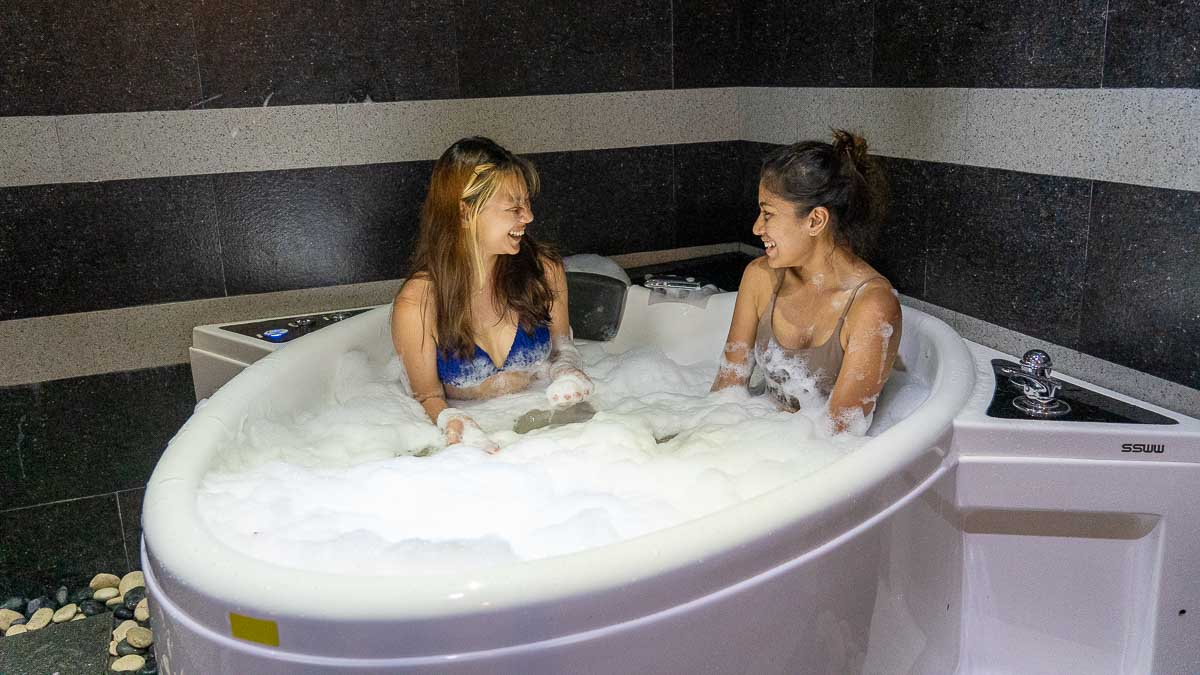 As a specialty treatment, we could also choose between ear candling, shoulder and back massage, or totok wajah (face massage) — my muscles were feeling tight so I picked the shoulder and massage to unwind.
Besides the soothing spa experience and exceptional massage, the hospitality of the lady boss and staff also truly made me feel like royalty 👑.
Cost: ~S$35.50/Full Glow Spa Package
Opening hours: 10 AM – 9:30PM (Mon – Fri), 10AM – 10PM (Sat – Sun)
Address: Ruko Penuin Blok OA No.12 – 12A, Batu Selicin, Kec. Lubuk Baja, Kota Batam, Kepulauan Riau 29444, Indonesia
6) Swim and Suntan at Sense Coffee and Pool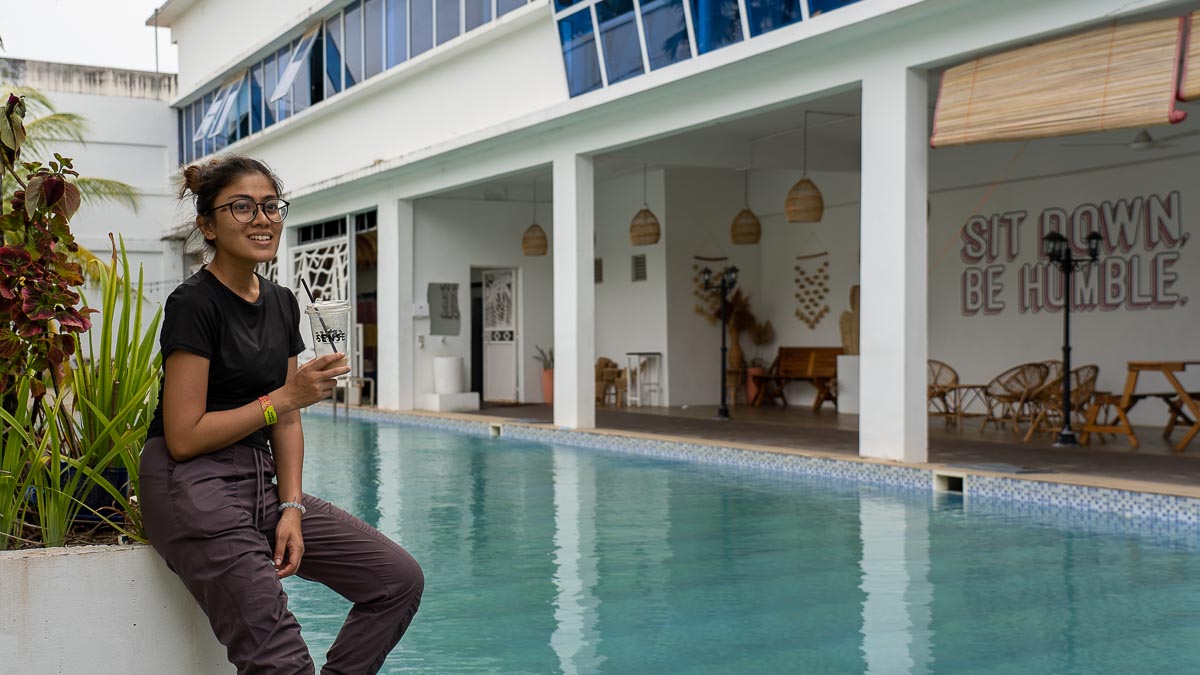 At Sense Coffee and Pool, you can have a cup of coffee, suntan and swim all under a roof! While we didn't have time to go for a dip in the pool, you can use it for an additional Rp50,000.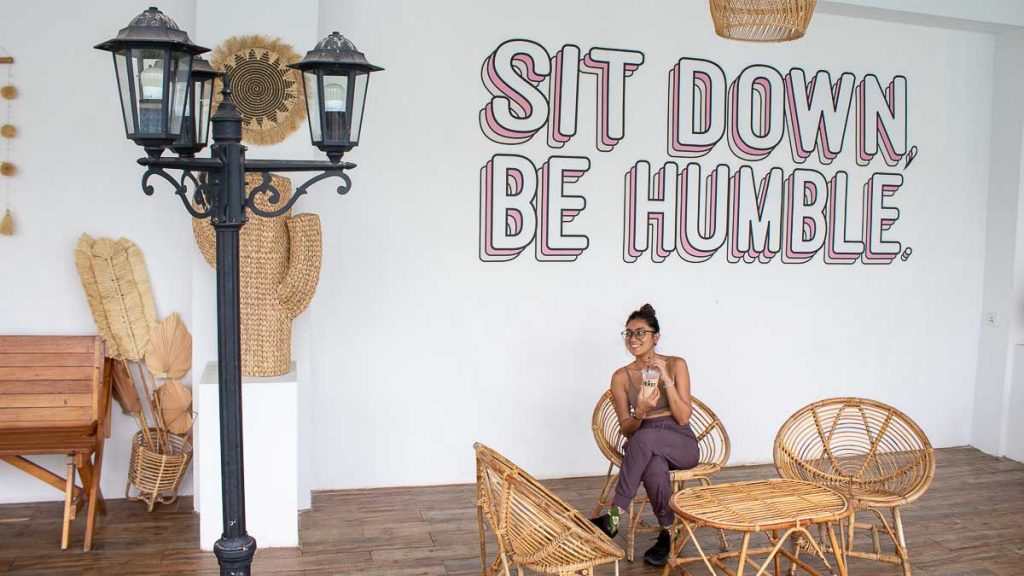 That said though, we did make use of the free beach chairs along the pool for a short sun tan and even got some work done in the cafe (there are charging points all around)! Plus, the coffee here is really affordable. I got a cup of iced Americano for only Rp22,000 — it tasted strong but wasn't bitter.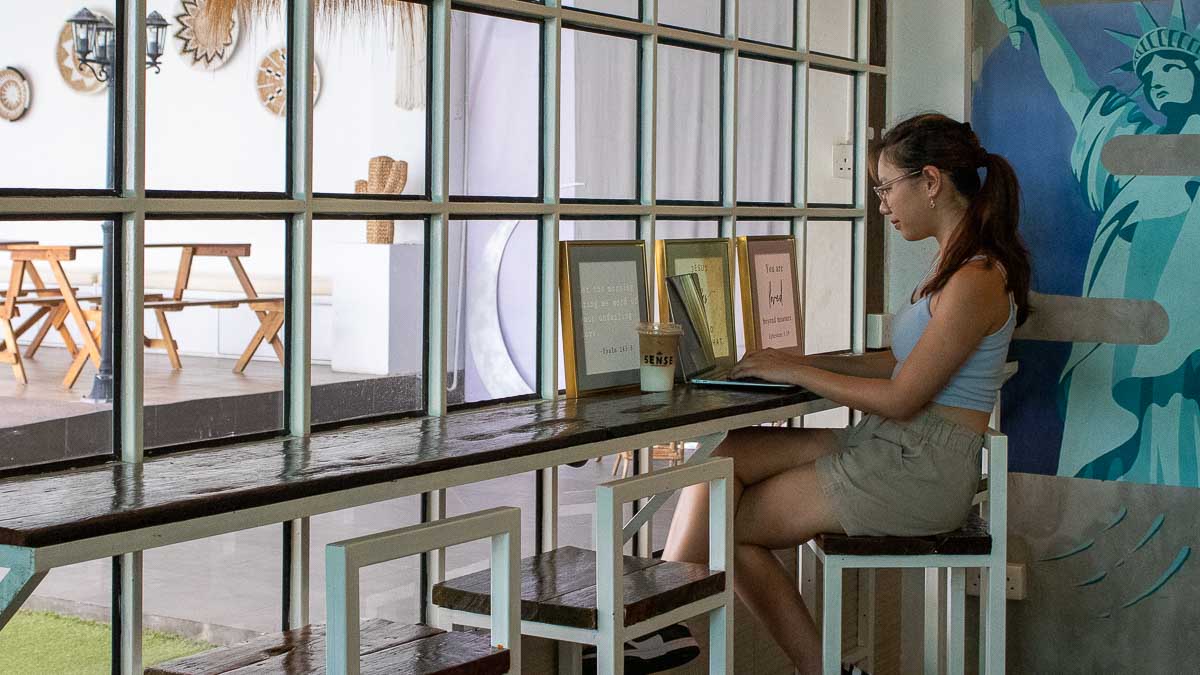 Needless to say, we liked this place so much that we ultimately spent 2 hours here suntanning, getting our daily dose of caffeine and taking lots of photos!
Cost: From Rp22,000/cup of coffee (~S$1.90)
Opening hours: 10AM – 8PM (Mon – Sat), 9AM – 8PM (Sun)
Address: Komp. Centre Park No. 3, Taman Baloi, Batam Kota, Batam City, Riau Islands 29432, Indonesia
7) Get Your Dose of Water Sports at Batam Wakepark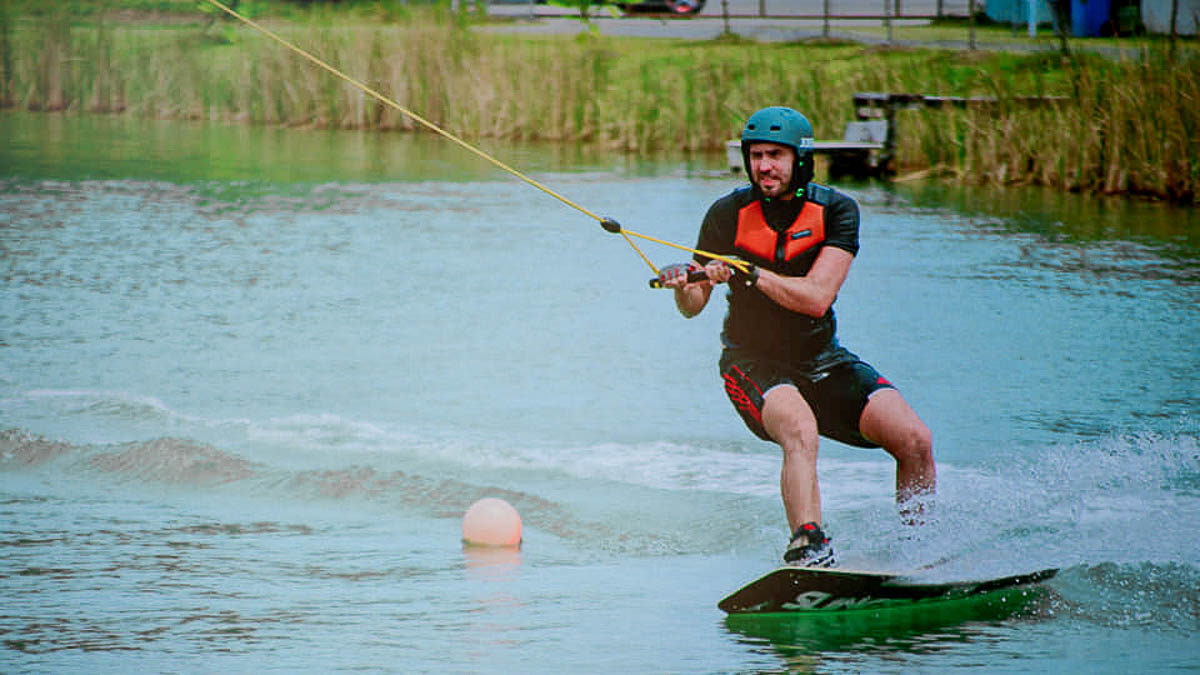 Photo credit: Batam Wakepark via Facebook
Forget dipping in pools, if you're looking for a thrilling water activity, head to Batam Wakepark at Golden City. Both beginner and expert obstacle courses are available, so get ready for a splashing good time regardless of your experience level!
This beginner-friendly park even has a two-tower cable system, where riders are pulled along by two parallel ropes, making it easier for beginners to learn the sport. (this section is currently closed)
Cost: Rp100,000 (~S$9) for a 3hr experience
Opening hours: 9AM – 6PM, closed on Wed
How to get there: 13mins Grab ride from Batam Centre Point International Ferry Terminal
8) Catch the Sunset at Cheryl Signature Cafe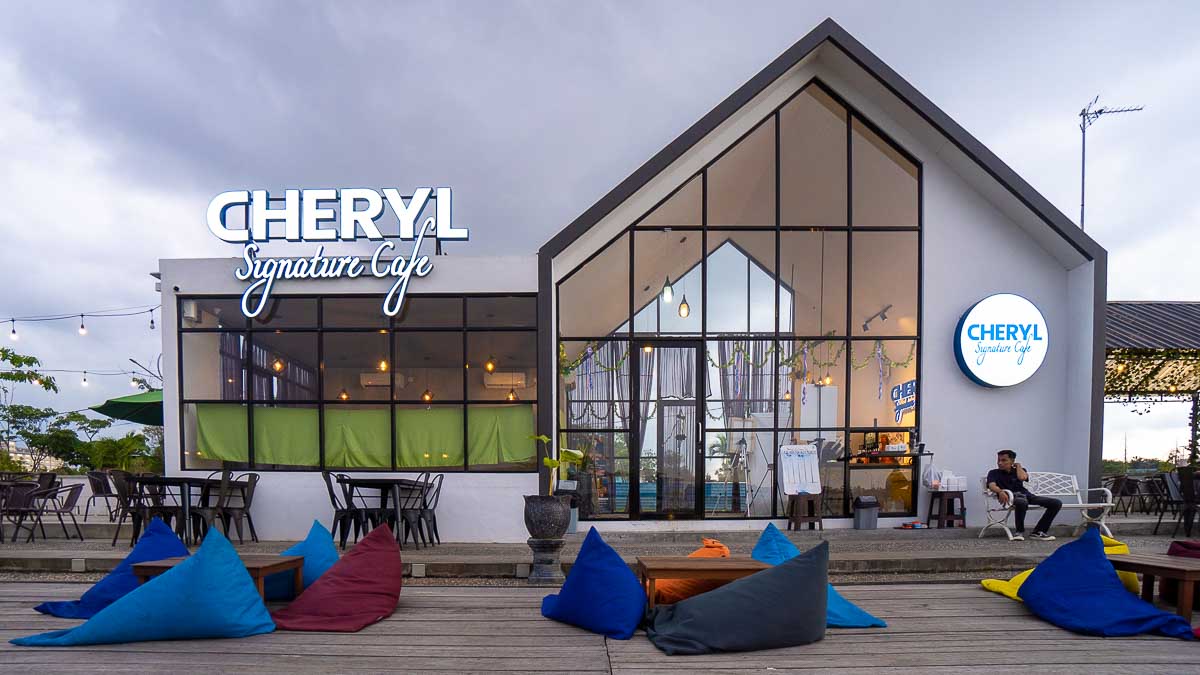 End your day by sitting back, relaxing and catching the sunset at Cheryl Signature Cafe — a standalone seaside cafe at Golden City.
We loved the overall relaxing vibe at the cafe, where we lounged on colourful bean bags along the coastline and listened to the waves crashing on the shore. While we were only here for drinks, pasta and rice bowls are also served at the cafe.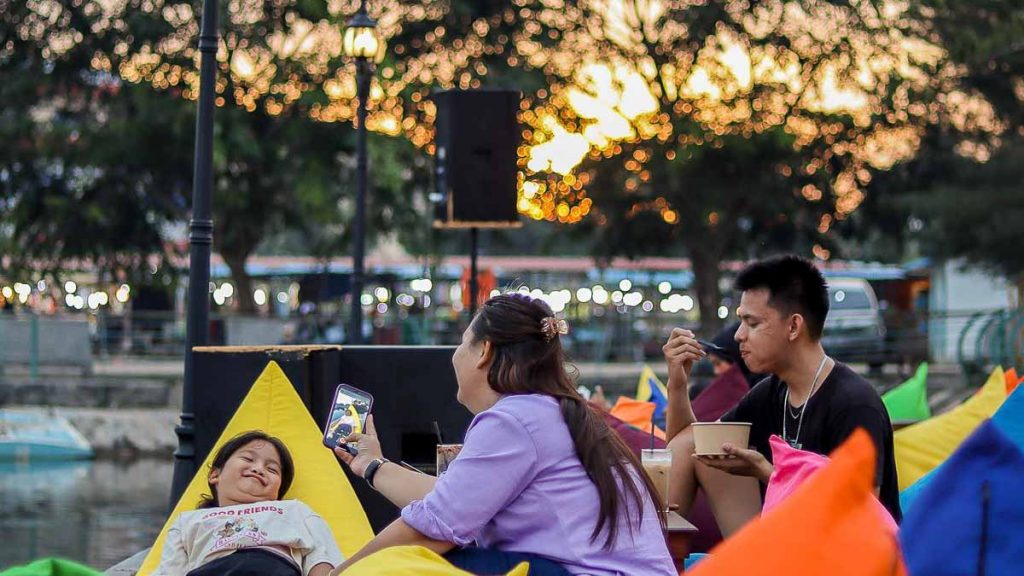 Photo credit: Cheryl Signature Cafe via Facebook
*Pro-tip: Remember to check the weather forecast beforehand to catch the sunset — it was gloomy when we were there :'(
Cost: From Rp25,000/drink (~S$2.30)
Opening hours: 7AM – 10PM
Address: Cheryl Signature Cafe, Bengkong Laut, Batam City, Riau Islands, Indonesia
9) Hike and Feed Deers at Panbil Nature Reserve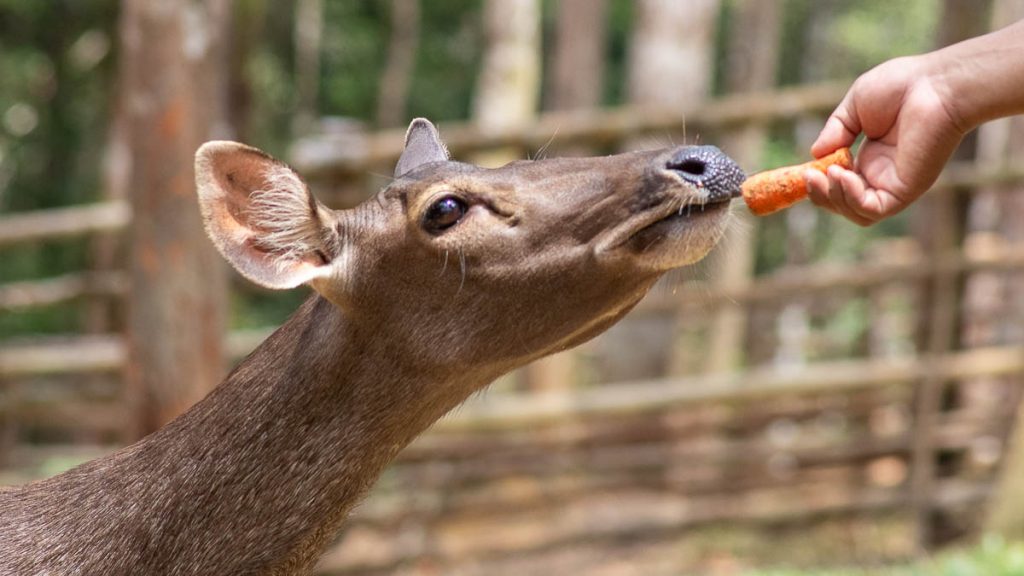 Perhaps the most unexpected thing to do in Batam was this — hiking at Panbil Nature Reserve — trek through a rustic forest, feed sambal deers, and even try crystal hunting in the wild!
Panbil offers five hiking packages, but we chose the easy Semar Hiking Trail (Rp250,000/pax) which was suitable for everyone and even included interactions with sambal deers. Plus, the package also comes with a free meal voucher!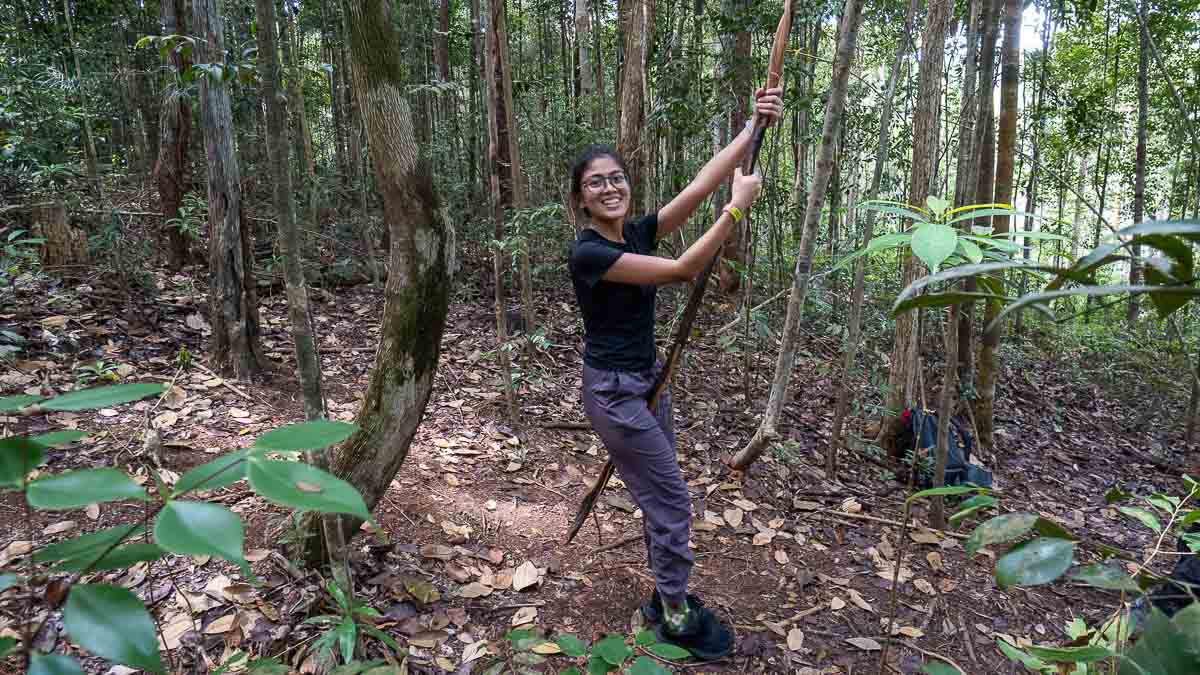 Our favourite parts on the trail were the surprises. One moment it was swinging like Tarzan on a vine. The next, competing in a game of throwing branches through a hoop.
But the biggest surprise was seeing our guide pull crystals out of the ground. He had a bag full of them but refused to offer us any tips for finding one… so we ended up purchasing one from him for Rp50,000 :')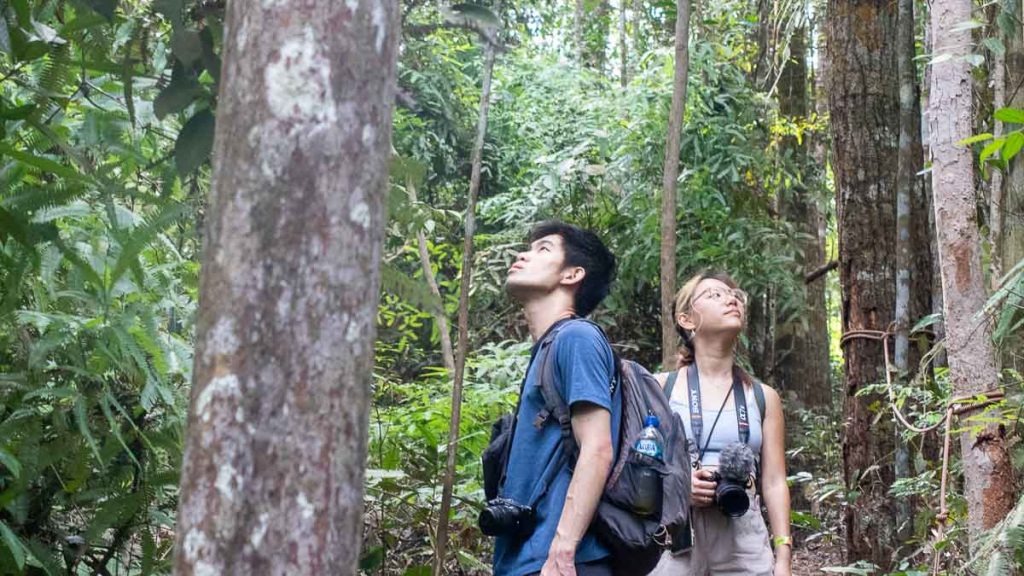 If you're up for a challenge, go for the Pandan (Rp300,000/pax) or Palawan (Rp350,000/pax) Hiking Trail — these trails have some uphill climbs along the way and you'll still get to interact with sambal deers at the end! For those with no interest in feeding the sambal deers, choose the Rotan Trail (Rp150,000/pax).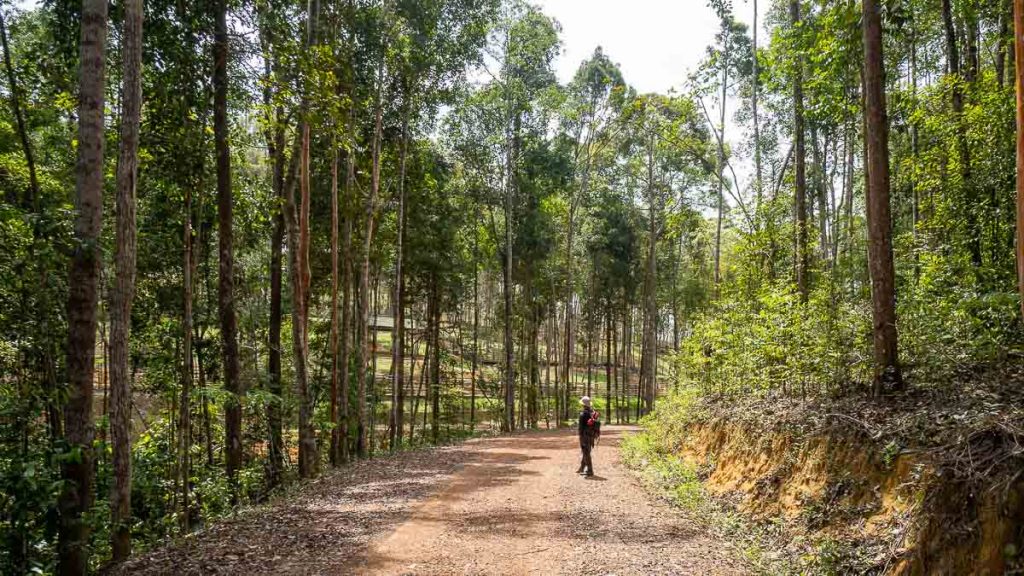 *Note: Contact Panbil through WhatsApp at +62 821-7368-1661 to book a hiking tour. For more information, check out their Instagram page.
*Pro-tip: Wear covered pants and a long-sleeve top, and purchase a local mosquito repellent before hiking at Panbil Nature Reserve. Repellents from Singapore don't work against the mosquitoes here — we learnt it the hard way, unfortunately.
Cost: Rp250,000/pax (~S$22.30) for a 3hr experience
Opening hours: 10 AM – 10 PM (Mon – Fri), 9AM – 10PM (Sat – Sun)
Address: Jalan Kantong Semar, Panbil, Batam City, Indonesia
Tips for Planning Your Weekend Getaway to Batam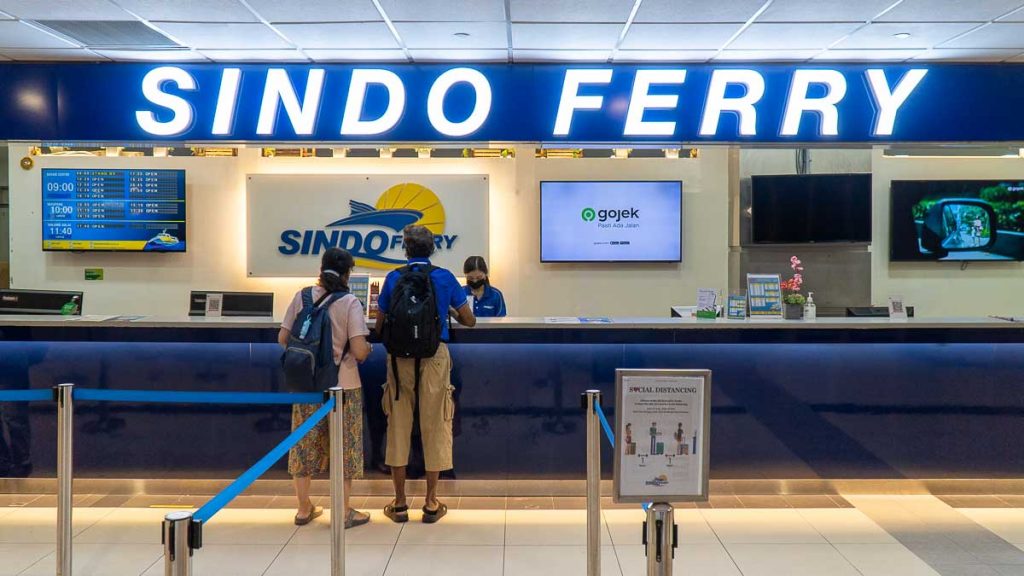 From adventurous hikes to having drinks at an open-air rooftop bar and getting pampered at a spa — we sure had lots of fun on our Batam getaway! While some things didn't go according to plan (ahem empty amusement park), we adapted and made the most of the situation.
Nevertheless, it's still good to be prepared. So here are some tips for planning your weekend getaway to Batam:
1) Remember to book your pre-trip essentials — including the Sindo Ferry Round Trip Ferry Tickets between Singapore and Batam, and 4G e-SIM.
2) Download the Gojek app on your phone — it's the most convenient and affordable mode of transport in Batam. For instance, a 15-minute journey to a nearby location costs just Rp30,000 (~S$2.70) on average.
3) Exchange sufficient cash for your trip — most activity providers such as Panbil Nature Reserve, Golden City Go-Kart and Belalang Adventures only accept cash. Money changers are available at Harbourfront Centre where you'll catch your ferry to Batam.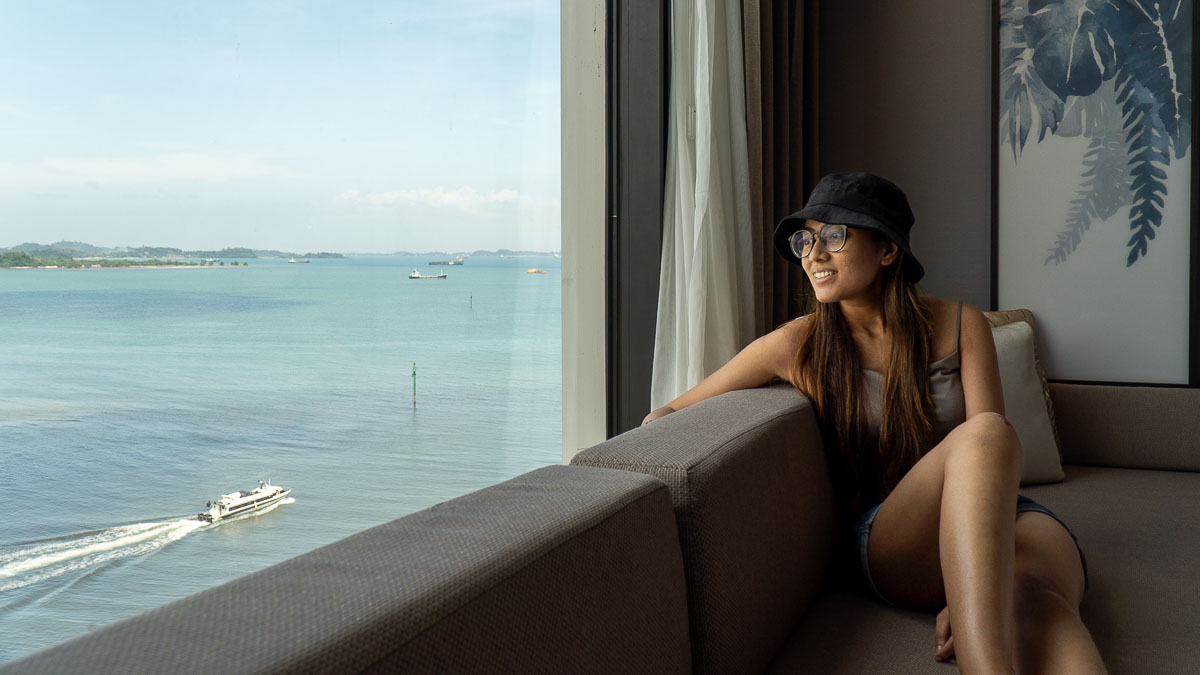 4) Check the weather forecast — especially if you plan to go for outdoor activities or catch the sunset.
5) Contact the activity provider in advance — to check if the activities are available during your visit. If not, make the most of the situation like what we did at Mega Wisata Ocarina Batam amusement park 😉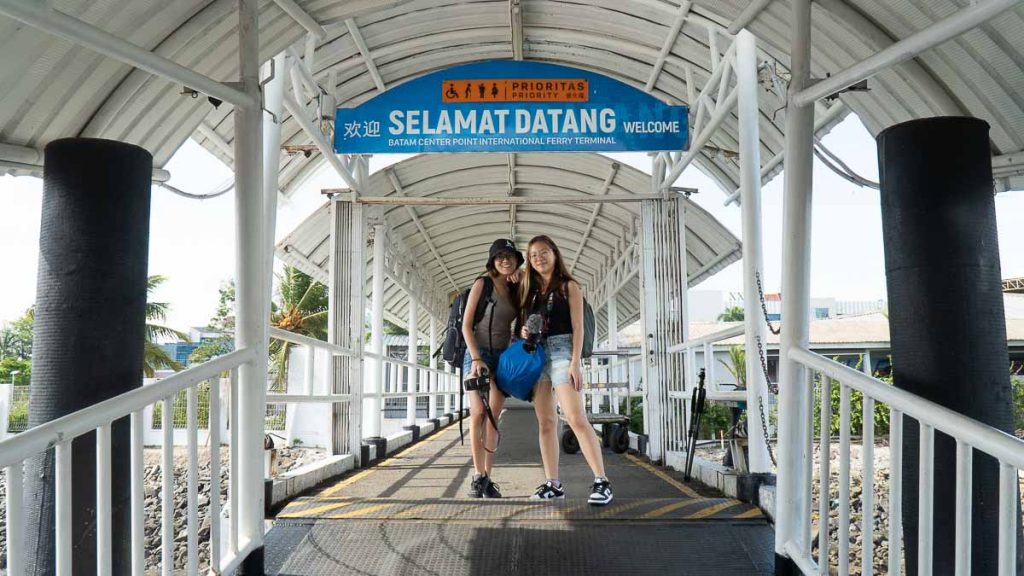 The next time someone says Batam is boring or tells you that there's nothing to do in Batam other than eating and shopping, share this article with them and change their mind!
Looking for other short weekend getaways? Check out our other guides and itineraries:
– 11 Adventurous Weekend Getaways in Southeast Asia — Less Than 4 Hours from Singapore
– 5 Exciting Things to Do in Desaru Coast When the New Desaru Link Ferry Service From Singapore Begins on 7 July 2022
– JB Day Trip Itinerary — Where to Eat, Play and Shop Under S$65
– 3D2N Bintan Itinerary — The Perfect Fuss-Free Weekend Getaway
What other exciting things to do in Batam would you add to this list? Let us know in the comments!
---