If bungy jumping, indoor skydiving and ghost-hunting sounds like your kind of adventure, there's no shortage of things to do in Singapore.
For those who are into heart-racing, cold sweat inducing, nail-biting thrills, there's no shortage of things to do in Singapore that will get your heart rate soaring. Strap yourself in for a day of thrilling rides at Universal Studios Singapore, bungy jump in Sentosa or go hantu-hunting at a local cemetery.
Kids and big kids, summon up your courage and cross the causeway for the best things to do in Singapore (not for the faint-hearted)!
1)Take a leap of faith at the AJ Hackett Bungy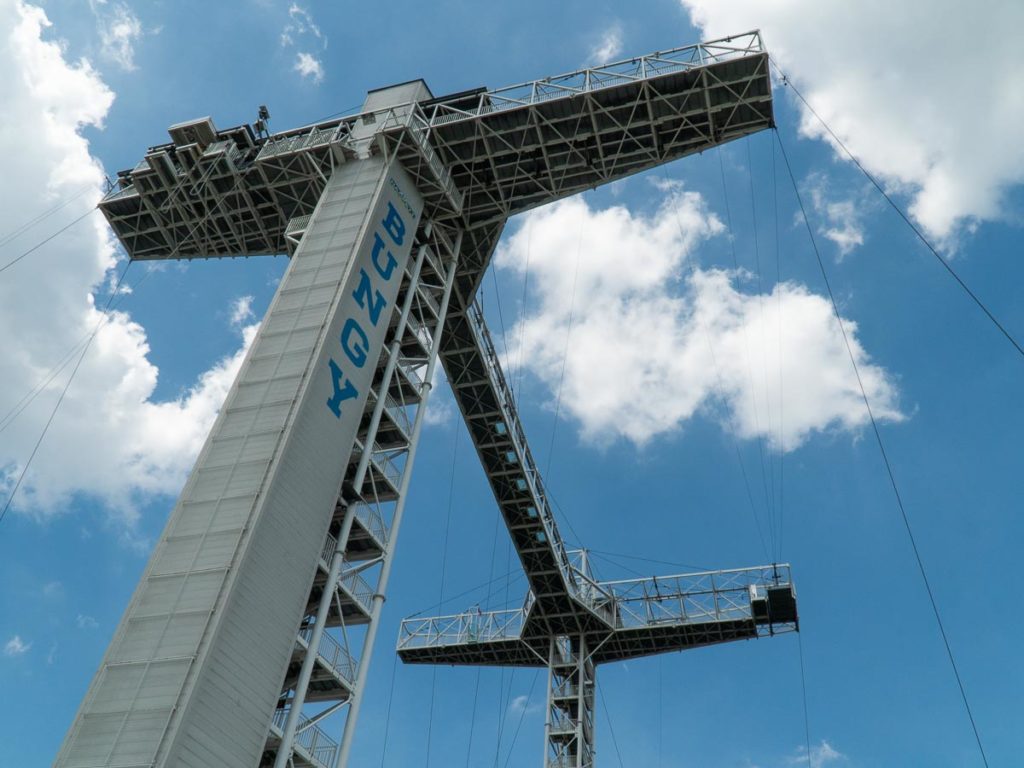 If you ask us, bungy jumping should be on everyone's bucket list! Global operator AJ Hackett runs a 50m bungy tower at Sentosa's Siloso Beach, so you know you're in good hands. You may feel like a bundle of nerves while waiting to throw yourself off the platform, but we guarantee you'll love it while soaring your way down.
Singapore's version ends with a refreshing plunge into a 3.5m pool, and you can even decide how much of your body you want submerged — staff will adjust the length of your bungy cord accordingly.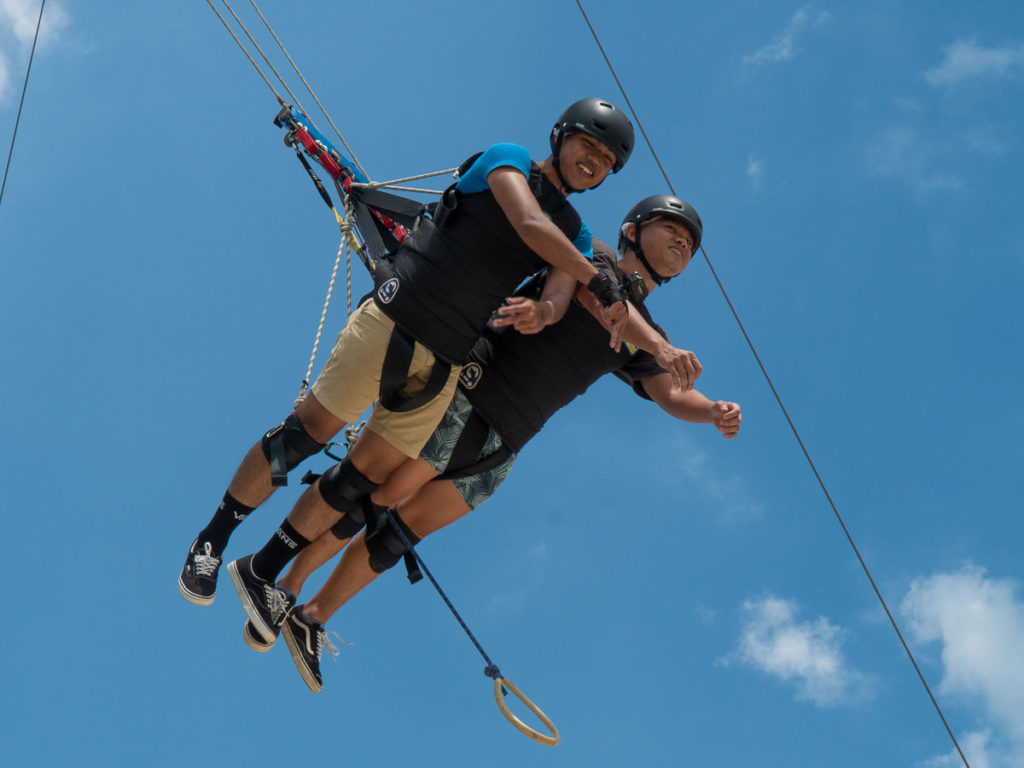 For those who can't get enough, there's also a giant swing and skybridge with glass-bottomed sections, both at about 40m above the ground.
Cost: ~S$147/~RM474 for bungy jump and S$64/~RM206 for the giant swing (both come with access to the skybridge)
Opening Hours: 11:30AM – 7PM (Sun – Thurs), 11:30 – 9PM (Fri, Sat and PH)
How to get there: From Harbourfront MRT station (purple line), take the Sentosa Express to Beach station and take a free shuttle bus to Siloso beach
2) Walk on Singapore's Dark Side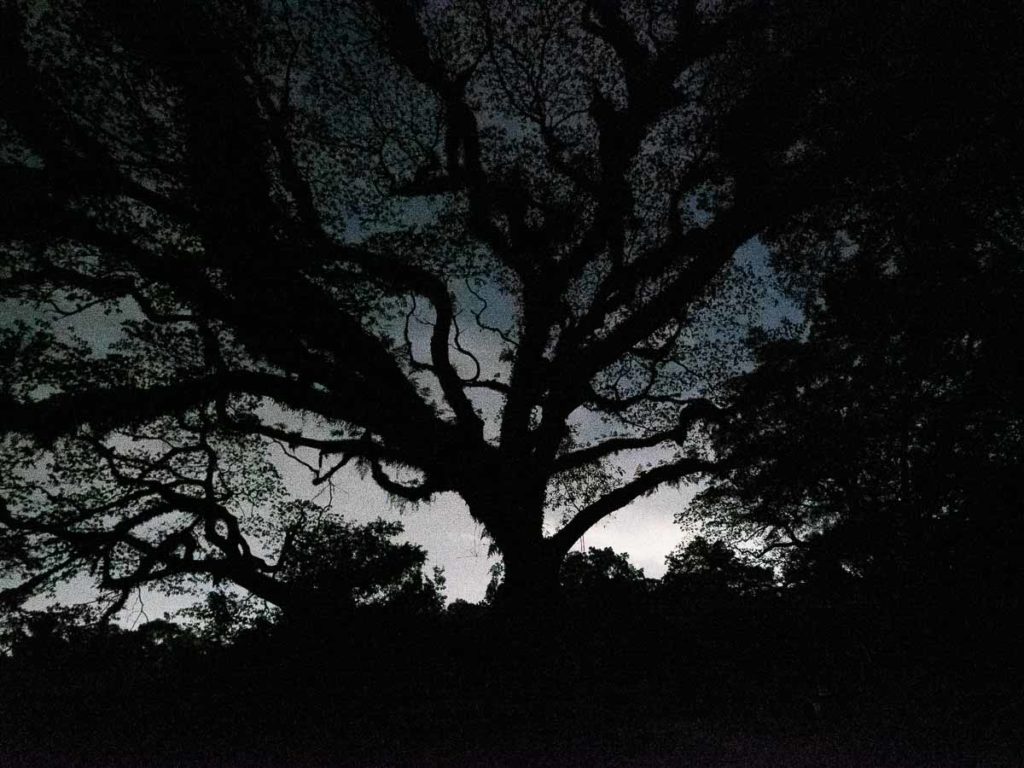 The Creepy Tales walking tour is like being in a horror movie. The tour brings you through historical landmarks where World War II battles and massacres took place, as well as the iconic Bukit Brown cemetery.
You'll each be given electromagnetic field readers and dowsing rods which pick up the presence of the supernatural. Don't be surprised when the equipment goes out of whack :/ Whether you're a skeptic or a believer, it's an interesting way to learn about how the history of Singapore during the Japanese occupation.
Cost: S$118/~RM352 per pax
Time: 7PM – 10PM (Tues, Fri & Sun)
How to get there: Tours start from Exit A of Haw Par Villa MRT station (orange line)
3) Scale New Heights at Clip N Climb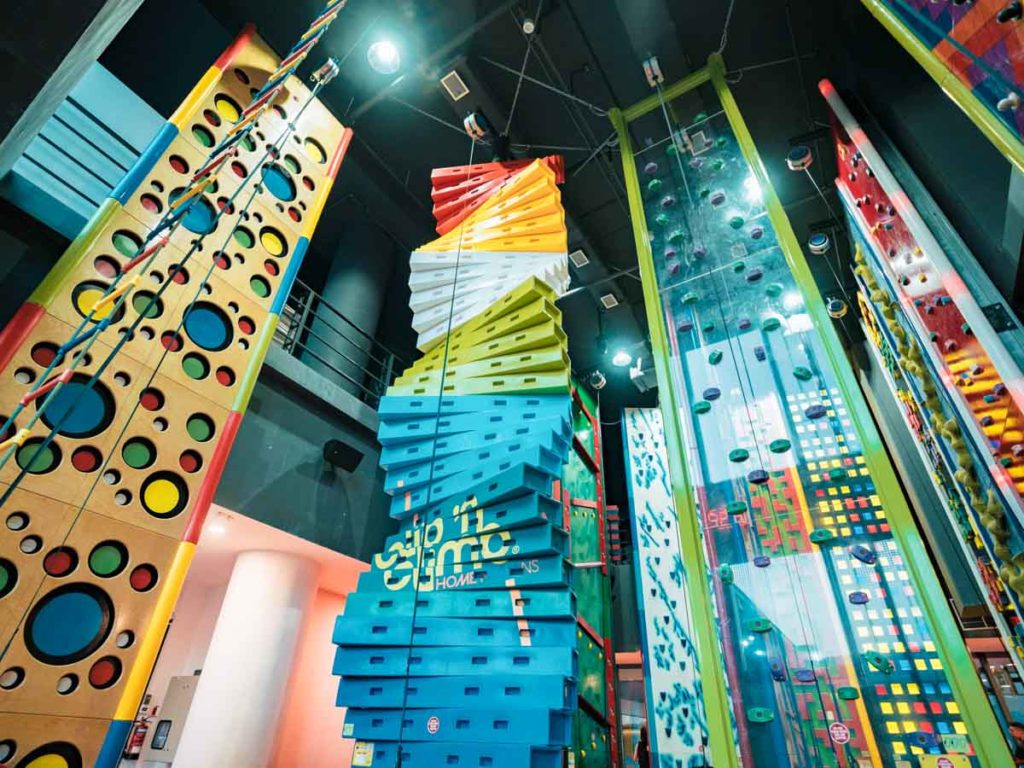 Don't be fooled by the bright colours and family-friendly environment — we're sure you'll work up a sweat here at Clip 'n Climb! This vertical playground has 19 different climbing routes with a variety of obstacles and difficulty levels.
There are walls designed like tetris blocks, with ropes as handles and an "ice-wall" that you climb with ice picks. There's even a route that two people can climb at the same time, so ultra-competitive pals can race each other to the top.
Cost: S$25/~RM75 for a 90mins session
Opening Hours: 10AM – 11PM (Mon – Sat), 10AM – 9PM (Sun)
How to get there: From Tampines MRT station (blue or green lines), take Exit F and walk 5mins to Clip n Climb, located within Our Tampines Hub
4) Unleash Your Inner Child at SuperPark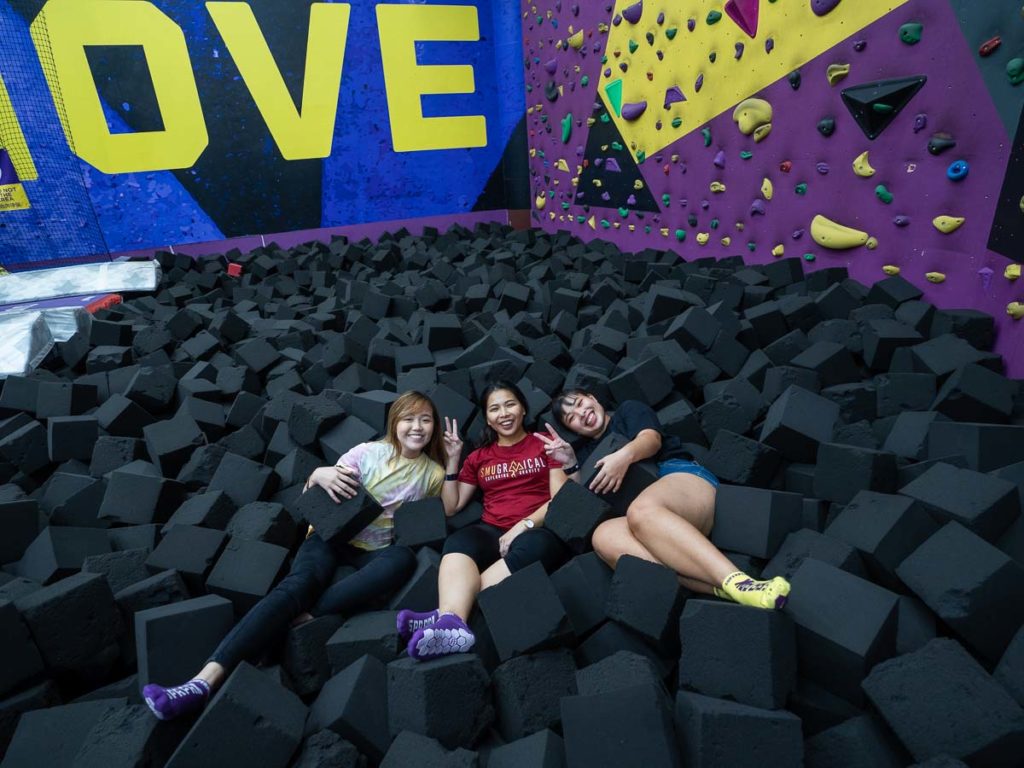 Another indoor playground is SuperPark — balance on a Ninja Warrior track, hit baseballs at an indoor batting cage or challenge your friends to a game of basketball or a life-sized game of pinball.
Even solo travellers need not feel left out, with fun activities such as trampolining with digital sensors that project your motion on screen, like a real-life video game.
Cost: S$31.50/~RM96 for the full day
Opening Hours: 10AM – 9PM from Mon – Fri, 9AM – 9PM on Sat, Sun, PH & school holidays
How to get there: From City Hall MRT station (green line), walk 10mins through Citylink mall to Suntec City (north wing) where SuperPark is located
5) Scream your lungs out on the GX-5 Extreme Swing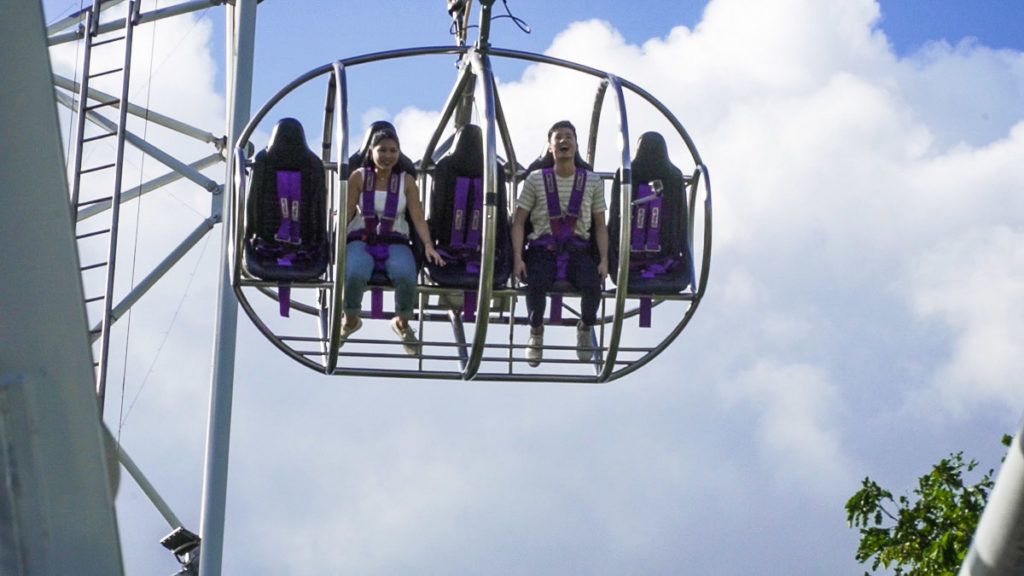 Does free-falling from 50m while strapped into a metal ball sound like your idea of fun? If so, the GX-5 Extreme Swing is a must-do while you're in Singapore. You'll hit a stomach-churning speed of over 120km/h — to put things into context, the twin rollercoasters Battlestar Galactica at Universal Studios Singapore only hit a top speed of 90km/h!
Cost: S$41/~RM123
Opening Hours: 430PM – 11PM
How to get there: From Clark Quay MRT/ station (purple line), take exit E and cross the river — you won't miss it
6) Cable Ski at Singapore Wake Park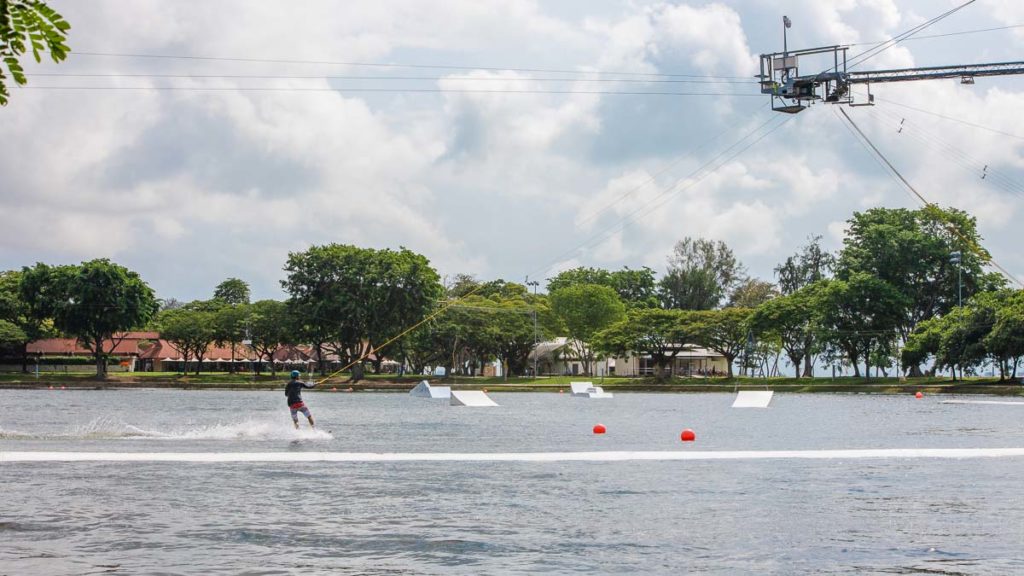 Whether you're an experienced wakeboarder or looking to pick up a new sport, there's something for everyone at the Singapore Wake Park located at laid-back East Coast Park.
Instructors are on hand to help newbies find their footing or pick up directions and turns on two shorter cable systems. Meanwhile, the pros will enjoy a full-sized cable system and a series of obstacles to catch some hang time!
Cost: Rates start at S$40/RM~119 per hour from Mon – Fri and S$50/~RM149 per hour on Sat, Sun & PH
Opening Hours: 10AM – 9PM from Mon – Fri, 9AM – 9pm on Sat, Sun & PH
How to get there: From Bedok MRT station (green line), take bus no. 31 from exit A and alight opposite Eastern Lagoon II
*Pro-tip: Showers and lockers are available, but bring your own lock as it costs S$5/~RM15 to purchase one there.
7) Channel Superhero Thor at Axe Factor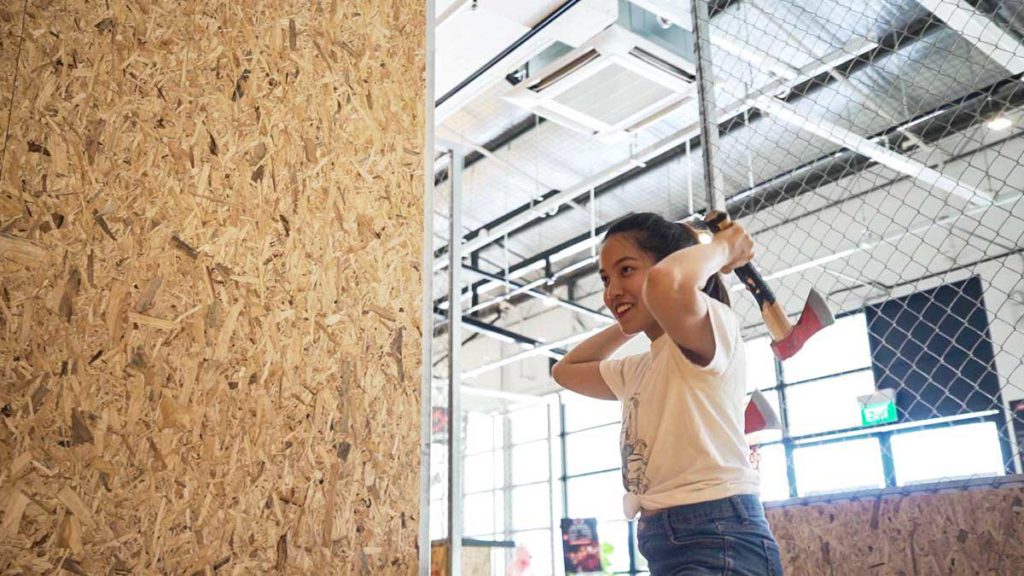 If you're stressed out at work or dreaming of hurling an axe at your boss, this could be the alternative that won't land you in trouble. At Axe Factor, instead of darts, you'll be throwing axes at a target board to score points depending on where they stick.
It's not all brute force either — getting the axes to stick takes some technique, and "axe-perts" are on hand to show you the ropes. Those in a group can play tournament-style to determine who is truly worthy of the hammer.
Cost: S$27/~RM82 per hour
Opening hours: 8AM – 10PM (Mon – Thurs), 8AM – 1AM (Fri and Sat), 10AM – 10PM (Sun)
How to get there: From Sixth Avenue MRT station (blue line), take exit B and walk about 12mins along Turf Club Road towards The Grandstand, where Axe Factor is located
8) Whizz Down the Skyline Luge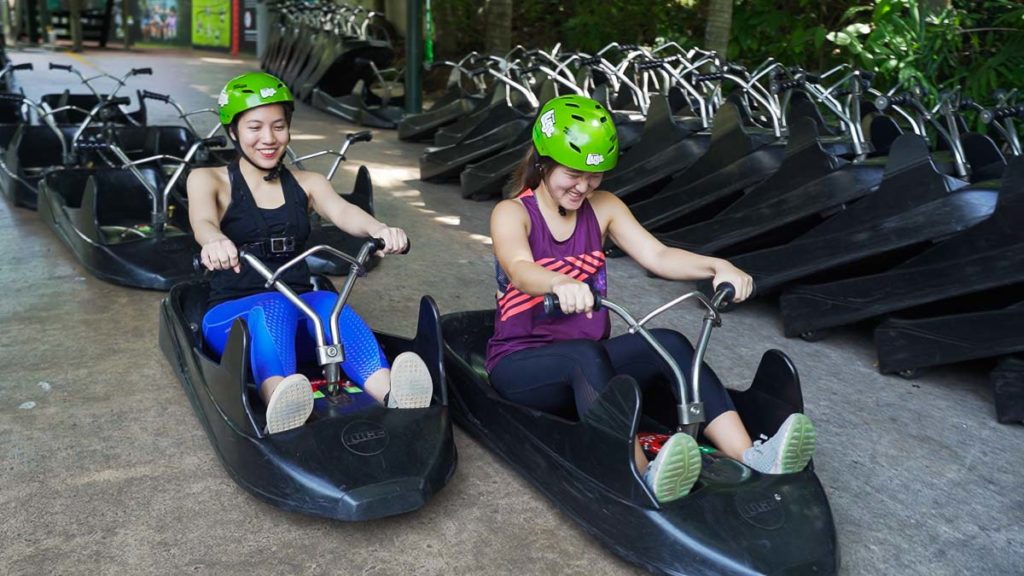 With the Skyline Luge, going up is just as much fun as coming down. First, enjoy grand panoramic views of the Sentosa coastline on the chair-lift. Then, hop on a cart and whiz all the way down!
The carts are easy to control, and you can go as fast or slowly as you want by pulling on the handlebar. Choose from four winding tracks — through the forest, illuminated by multicoloured lights at night for a different view.
Cost: From S$19/~RM57
Opening hours: 10AM – 9:30PM (Last ride 9:15PM)
How to get there: From Harbourfront MRT station (purple line), take the Sentosa Express from VivoCity Mall. Alight at Imbiah station and walk about 10mins to the Skyline Luge
9) Skydive Indoors at iFly Singapore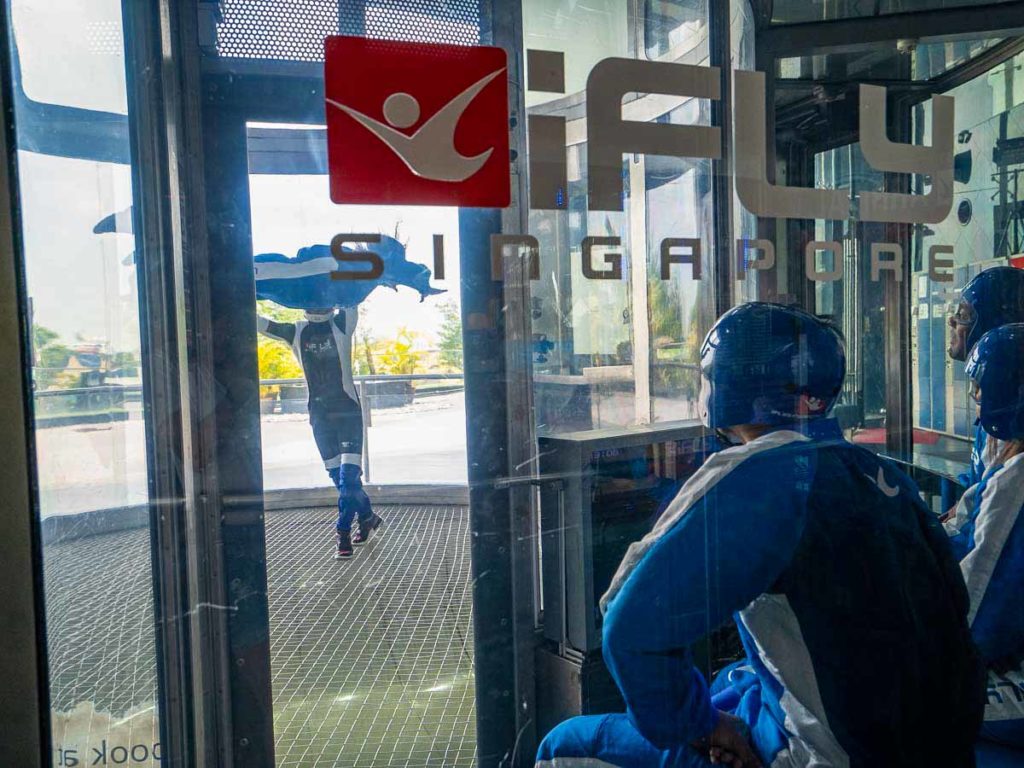 You might not be able to jump out of a plane in Singapore, but iFly Singapore offers a pretty good alternative — soar, tumble and somersault in a five-storey wind tunnel. It mimics the feeling of flying, with none of the risks involved in actual skydiving.
Each flight only lasts about a minute, so don't be surprised if you're tempted to return for more! If you book a flight at night, you might even catch a glimpse of fireworks from the Wings of Time shows at 7:40 and 8:40PM.
Cost: from S$89/~RM266 for one flight
Opening hours: 10AM – 9:30PM (Every day except Wed), 12PM – 9:30PM (Wed)
How to get there: From Harbourfront MRT station (purple line), take the Sentosa Express from VivoCity Mall. Alight at Imbiah station and walk about 10mins to iFly, which is located next to the Skyline Luge
10) Conquer your fear of heights at Mega Adventure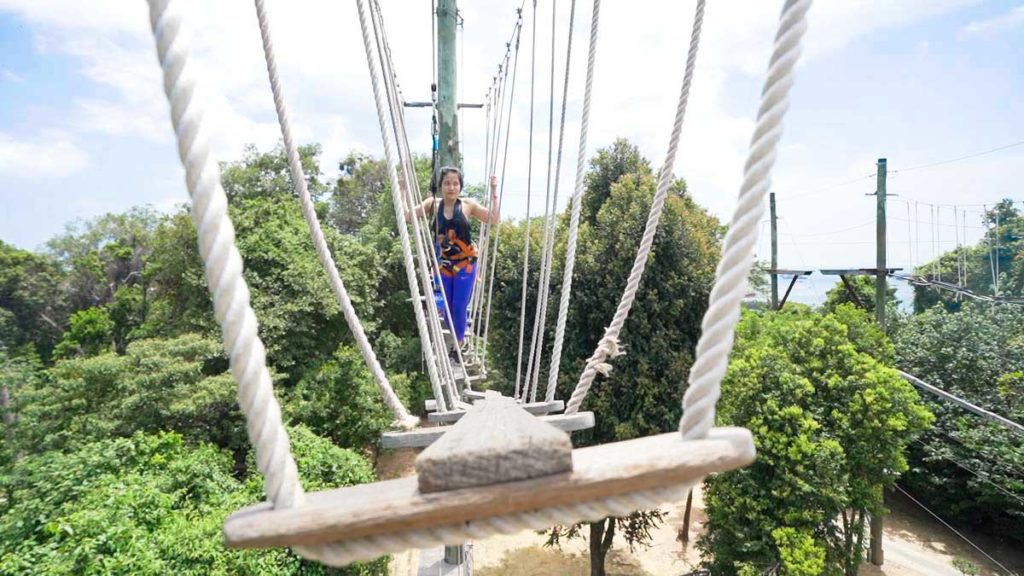 With zip lines, adventure rope courses, a bungy assisted trampoline and a free-fall experience, Mega Adventure is like a playground in the sky.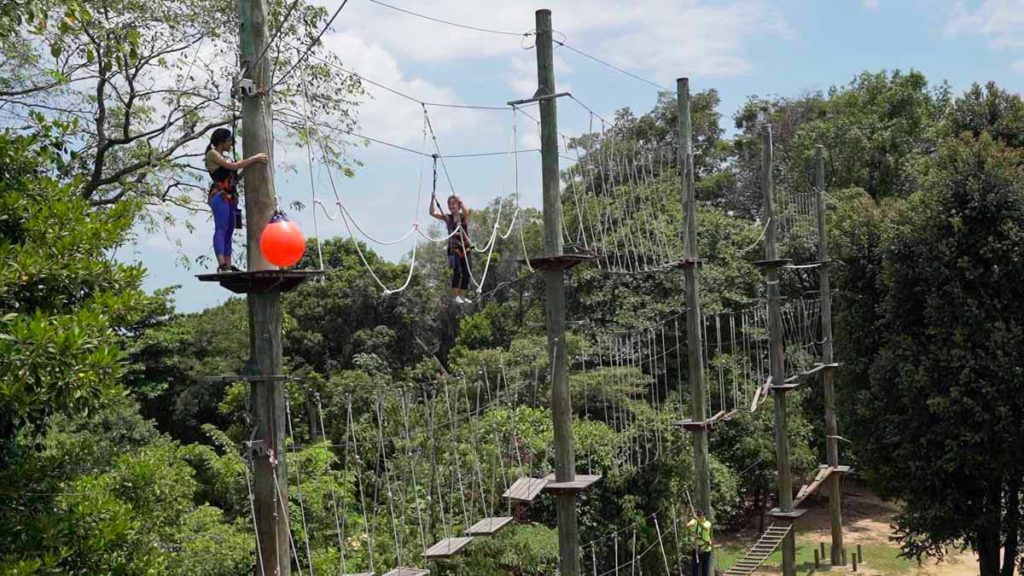 Test your agility with MegaClimb, an adventure ropes course where you'll balance your way across 36 obstacles built among the treetops. Still looking for thrills? Take on MegaJump and leap off a 15m-high platform to experience the sensation of free-falling — it's scarier than it sounds! Somersault on the kid-friendly MegaBounce and top it all off with the MegaZip, gliding alongside your friends down to Siloso Beach.
Cost: S$53/~RM159 for a package that includes the MegaClimb, MegaZip and MegaJump
Opening hours: 11AM – 7PM
How to get there: From Harbourfront MRT station (purple line), take the Sentosa Express from VivoCity Mall to Beach station. Take a free tram to Siloso Beach and alight at the third stop
11) Get Outdoors at ORTO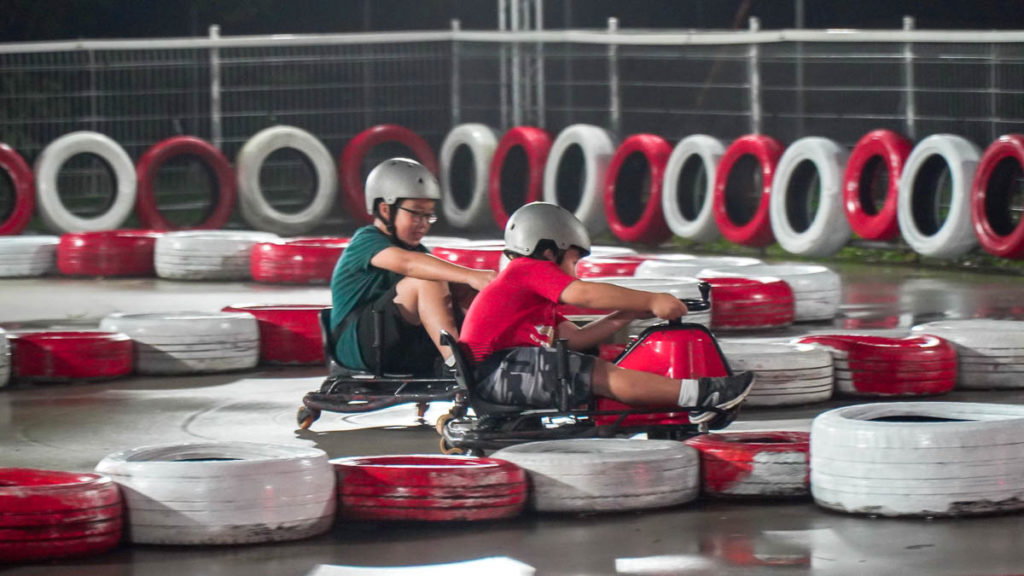 Spend the day at ORTO, a park in Yishun, for a host of fun things to do in Singapore's heartlands.
Satisfy your need for speed at Maximum Drift Karting Arena, a go-kart track with karts specially built for drifting round corners. Gather your tribe for a game of paintball at Red Dynasty Paintball Park or bounce off the walls at Katapult Trampoline Park. You can even try out freshwater sport fishing at the huge lake in the park.
If that's worked up an appetite, chow down at one of ORTO's many eateries. Taste Garden, an outdoor food court, serves Halal-certified Italian, Thai and Malay fare. Sedap!
Cost: Varies
Opening hours: Varies
How to get there: From the bus stop opposite Khatib MRT station (red line), take one of several buses including no. 39, 854 and 855. Alight two stops later and walk about 10mins to ORTO
Singapore is a prime example that you don't need a lot of land to have a lot of fun. The next time you're planning a trip out of Malaysia, head down south to try some of these adrenaline pumping activities, or hit up all the insider spots we've compiled for repeat visitors to the island!
---
This post was brought to you by Facebook, Infocomm Media Development Authority (IMDA), and Klook.