Epic mountains to hike, endless sand dunes to ride and an array of ways to catch a bird's eye view, New South Wales (NSW) is truly a thrill-seeker's paradise.
After ticking off these 10 bucket list experiences off our last NSW road trip — exploring the south coast of Sydney — we returned this time to explore the northern regions of NSW. From revisiting the famous Blue Mountains to discovering the gems of Port Stephens up north, here are our new top 10 must-dos in NSW.
Read Also: 9-Day NSW Road Trip Itinerary and 7-Day Sydney South Coast Road Trip for full road trip itineraries around NSW.
1) Ride the World's Steepest Railway At Scenic World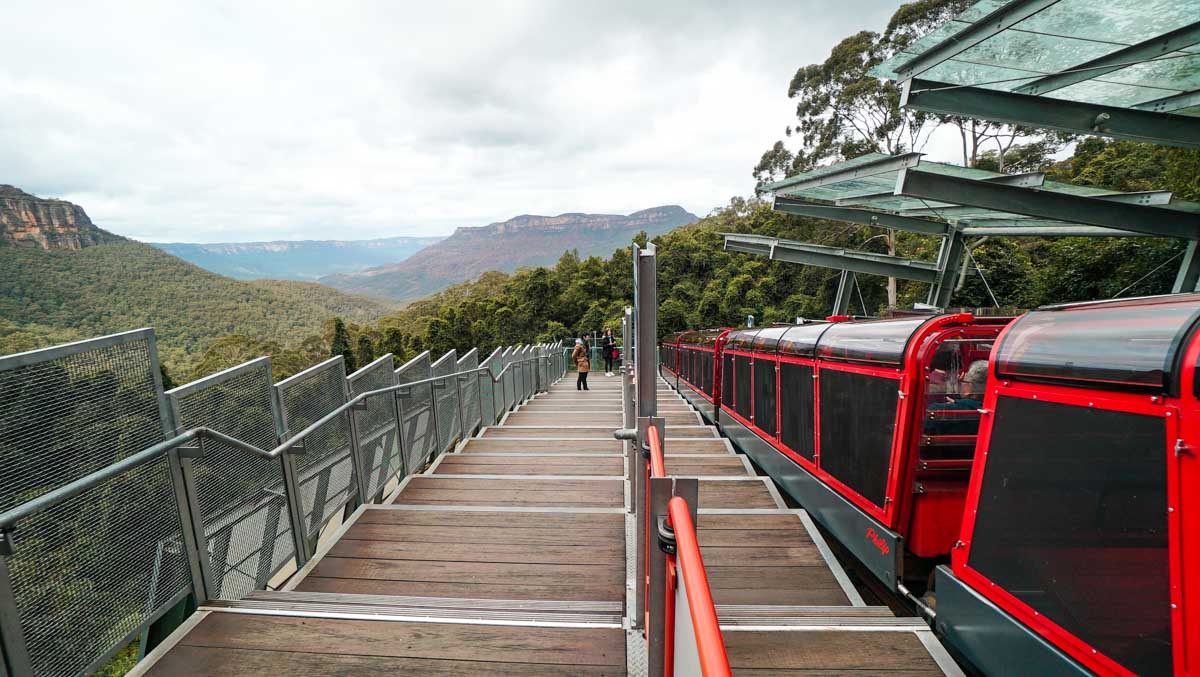 With a lush rainforest, deep scenic valleys and dramatic rock formations, there's no better way to explore the Blue Mountains National Park than through the rides at Scenic World (a cableway, skyway and railway). Angled at 52°, the Scenic Railway is the steepest in the world as you descend to the bottom of Jamison Valley.
*Pro-tip: Preorder your Blue Mountains Unlimited Discovery Pass for unlimited rides on the Scenic World transport system.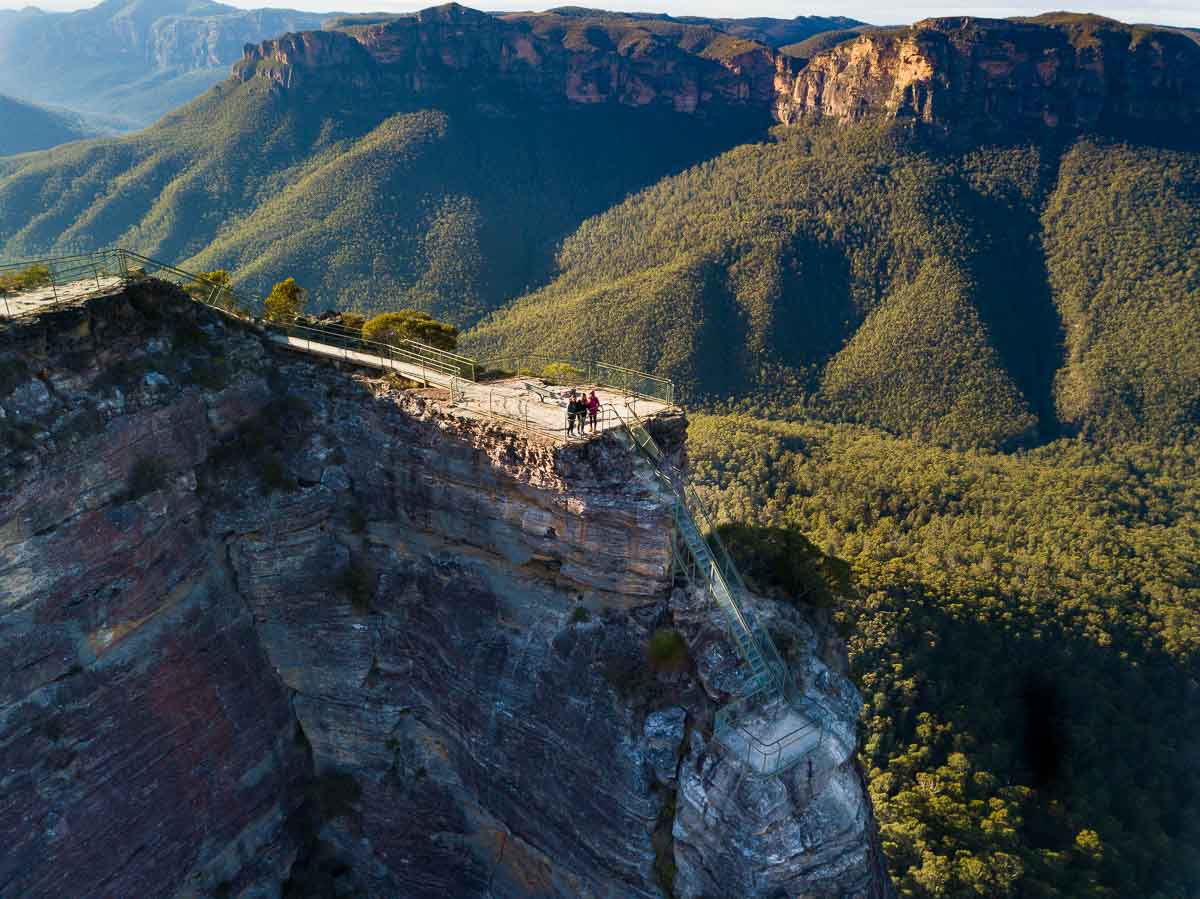 In the Blue Mountains area, there are also more than 10 bushwalking trails with scenic lookouts from the top down or ground up. We personally recommend the Grand Canyon Walk (2–3 hours) or Pulpit Rock Lookout (15 minutes) for some of the most epic views.
Cost: Weekdays AU$39/ Weekends AU$43 (S$35 via Klook regardless of day!)
Opening Hours: 9AM – 5PM (last rides leave at 4:50PM)
Address: Violet St & Cliff Drive, Katoomba NSW 2780, Australia
2) Explore the Mystical World at Jenolan Caves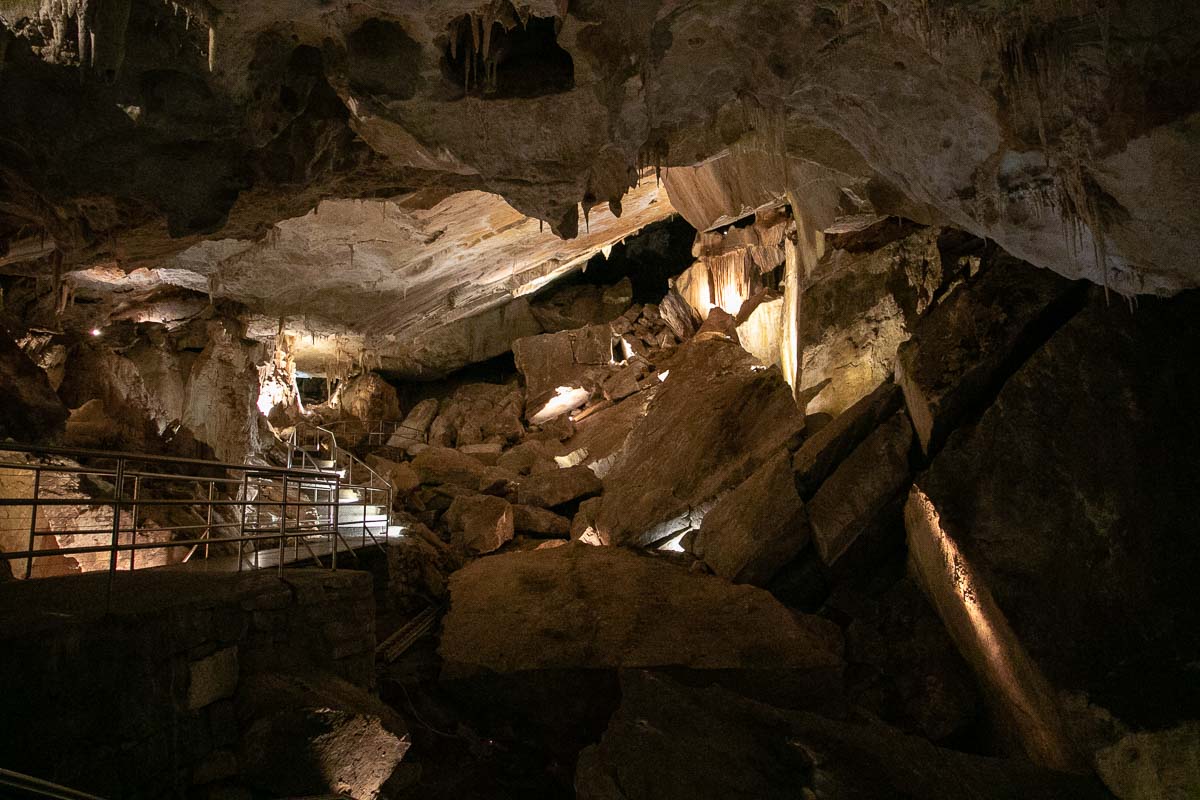 About an hour's drive from Katoomba (Blue Mountains), you'll uncover some of the oldest and most epic limestone structures hidden within the dark compounds of Jenolan Caves. These 430 million-year-old structures span across 17 different cave tours with varying levels of adventure and difficulty. Stroll along the well-paved grounds or sign up for an adventure-caving tour while you squeeze through gaps and manoeuvre your way around dark spaces. Be sure to check out the cave tour timetable and book your tours in advance!
Tour cost: From AU$42 – 250
Opening Hours: 9AM – 8PM (Last tour leaves at 5PM)
Address: 4655 Jenolan Caves Rd, Jenolan NSW 2790, Australia
3) Skydive Along the Coast of Newcastle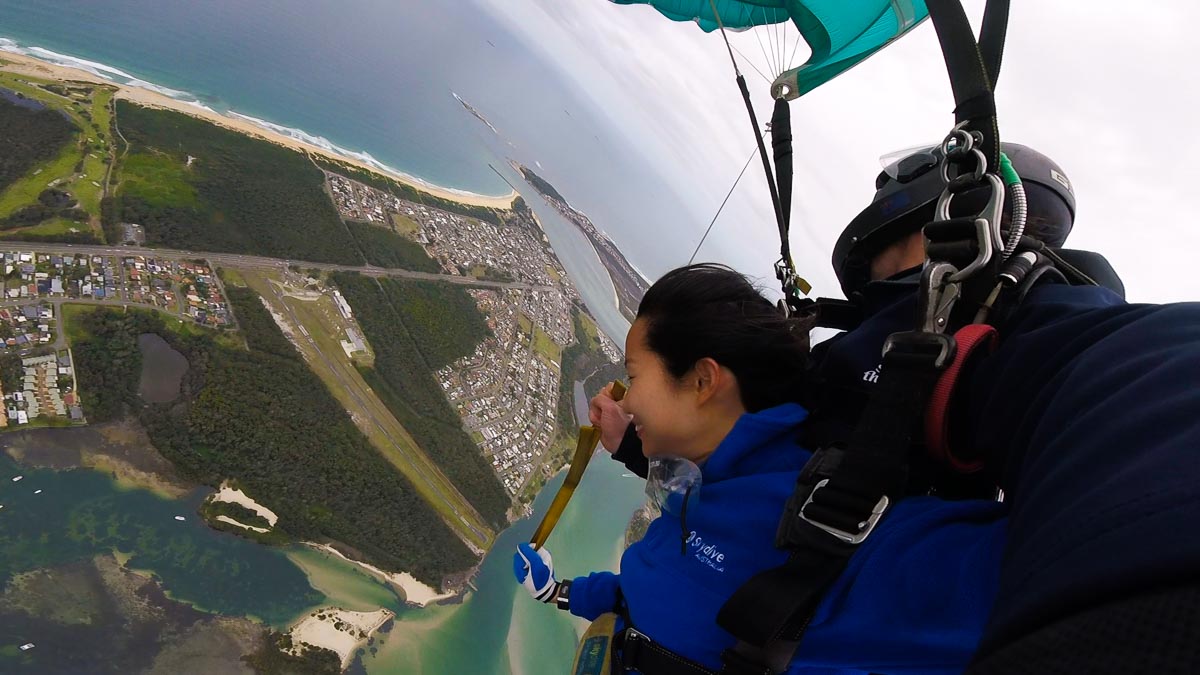 Nothing beats the adrenaline rush of free-falling from 15,000ft through clouds before catching a breathtaking bird's eye view of NSW's gorgeous coastal scenery. There are 17 different drop zones around Australia; each view a little more epic than the next. I've personally tried the one in Byron Bay and Wollongong but the latest jump during our 9-day NSW road trip possibly took the cake. We did our jump at Skydive Newcastle which arguably has one of the best views — you get to see the beach, sea, lakes and even neat residential clusters.
Cost: S$384/pax (Weekdays), S$434/pax (Weekends)
Address: Lake Macquarie Airport, 864 Pacific Highway, Marks Point, NSW
Opening Hours: 7AM – 9PM
4) Catch the Sunrise from a Hot Air Balloon in the Hunter Valley Region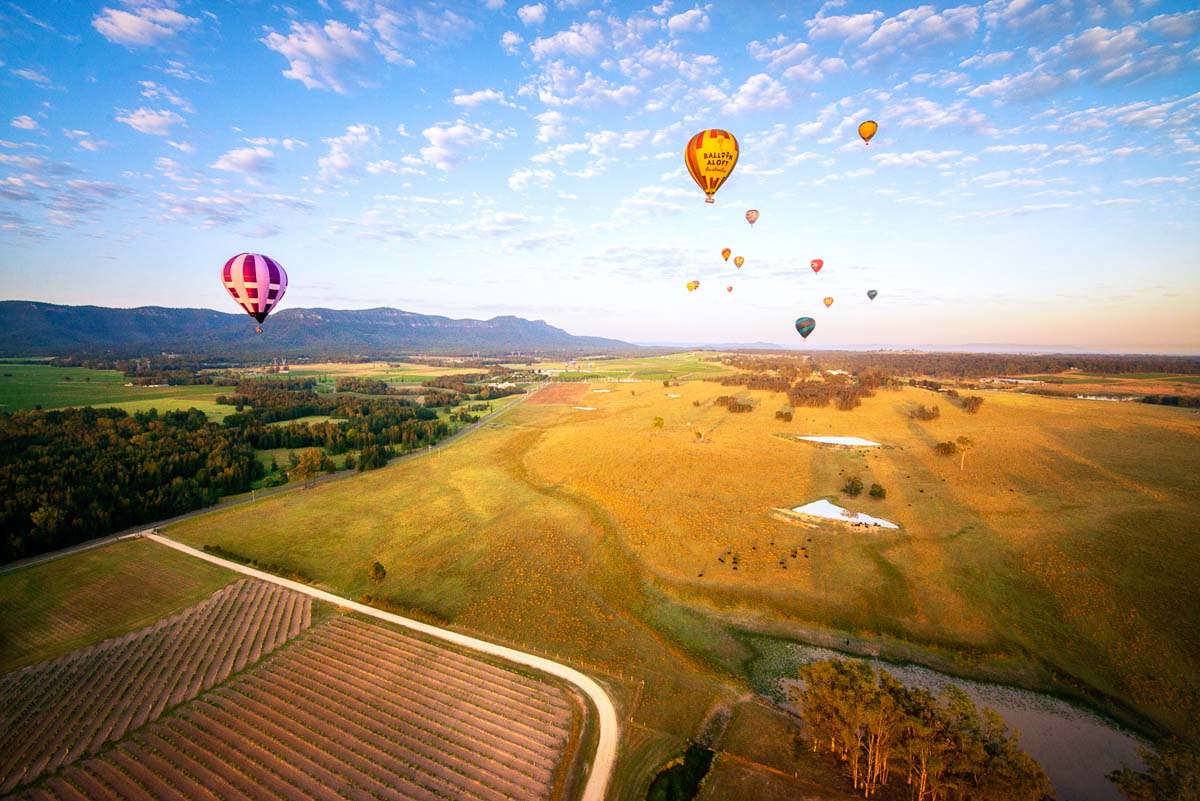 Lined with vineyards and cellar door wine tasting opportunities, Hunter Valley may be a wine lover's paradise but it doesn't take a wine aficionado to appreciate the bird's eye view from above. We signed up for the sunrise flight with Balloon Aloft and couldn't stop our "oohs" and "ahhs" as we rose into the skies, gawking at the vast land below us.
Post-flight and back on ground, we got to enjoy a glass of champagne and hearty plate of breakfast of sweet and savoury choices from a menu.
Cost: AU$249/pax (includes breakfast)
Meeting Point: Peterson House — Broke Rd & Wine Country Drive, Pokolbin NSW 2320, Australia
5) Explore Hunter Valley's Vineyards on a Segway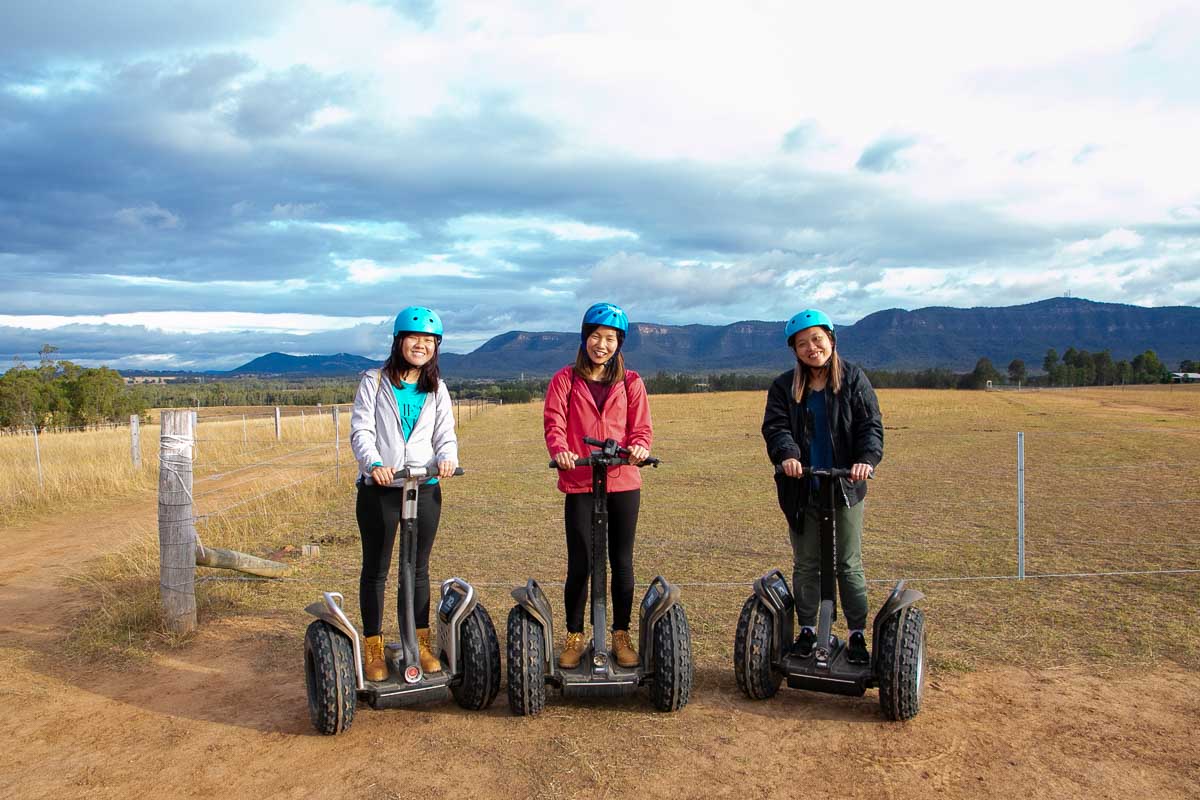 For a more grounded adventure, hop on a Segway tour (available within the Hunter Valley Resort) to explore the expansive lands of Hunter Valley. Before you pass off judgements for this being a tame family-friendly activity, riding on uneven off-road grounds can really be a challenge on everything you once believed about balance. But fret not, the Segway rarely topples over and is super fun once you get the hang of it!
Ride through vineyards, spot wild kangaroos or even sign up for the wetland tour which goes through a 45-hectare native bird Sanctuary. You can book directly at the Hunter Valley resort or drop them an email ([email protected]) to book.
Cost: AU$50 (30mins) / AU$75 (1hr)
6) Catch the Whale Migration From Port Stephens
Every year between May and November, tens of thousands of whales migrate along the NSW coast which makes Port Stephens the perfect vantage point for spotting humpback whales and dolphins. If you don't mind a bit of speed, hop on the Whale Watch Express. That tour with Imagine Cruises had us on speed boats so we could cut our tour time by half (1.5 hours), with the same opportunities to spot marine life.
There are also regular cruise tours that take 3–3.5 hours if you prefer something more slow and steady. Sightings of whales are guaranteed, or you'll get a full refund on your ride.
Cost: AU$68
Tour timings: 11AM, 1:30PM & 3:30PM daily
Meeting Point: Teramby Rd, Nelson Bay NSW 2315, Australia
Other popular places to spot whales in Port Stephens include the Boat Harbour (Noamunga Street) and the summit of Mount Tomaree (a 30-minute hike up) both are free to access.
7) Quad biking on Stockton Sand Dunes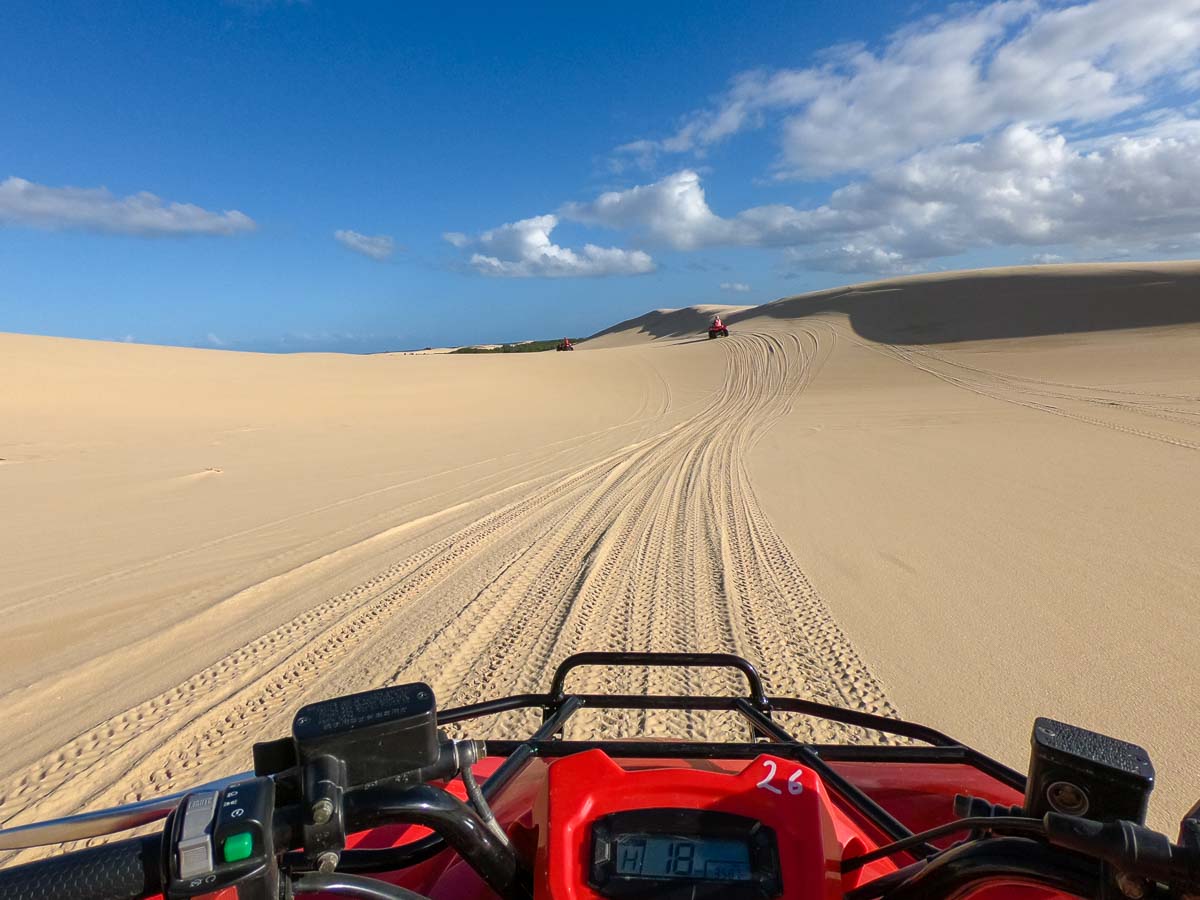 Spanning 4,200 hectares, the infamous Stockton Sand Dunes is where you'll find the largest moving sand dunes in the Southern Hemisphere. And when there are sand dunes, there's bound to be opportunities for a good dose of adrenaline. Our favourite of all was exploring the dunes on quad bikes. The hour-long tour starts from smaller slopes and gradually preps you for the highest one in the area. It's almost like a leap of faith as you won't see how steep the slope is until you've gone over the edge.
Cost: AU$110
Address: 2163 Nelson Bay Road, Williamtown NSW Australia 2318
8) Watch over 200 Majestic Horses Running through Glenworth Valley
Every evening from 4:30PM – 5:30PM, the horses at Glenworth Valley are released to roam freely for the night. When this happens, you'll want to be by the fences as they'll run excitedly for the forest.
While this happens daily, Saturdays are when all 200 of the horses are gathered and released together — there's about 50 on other days but still worth checking out if you're in the area!
Cost: Free
Address: Cooks Rd, Glenworth Valley NSW 2250
9) Level up on Your Horse Riding Skills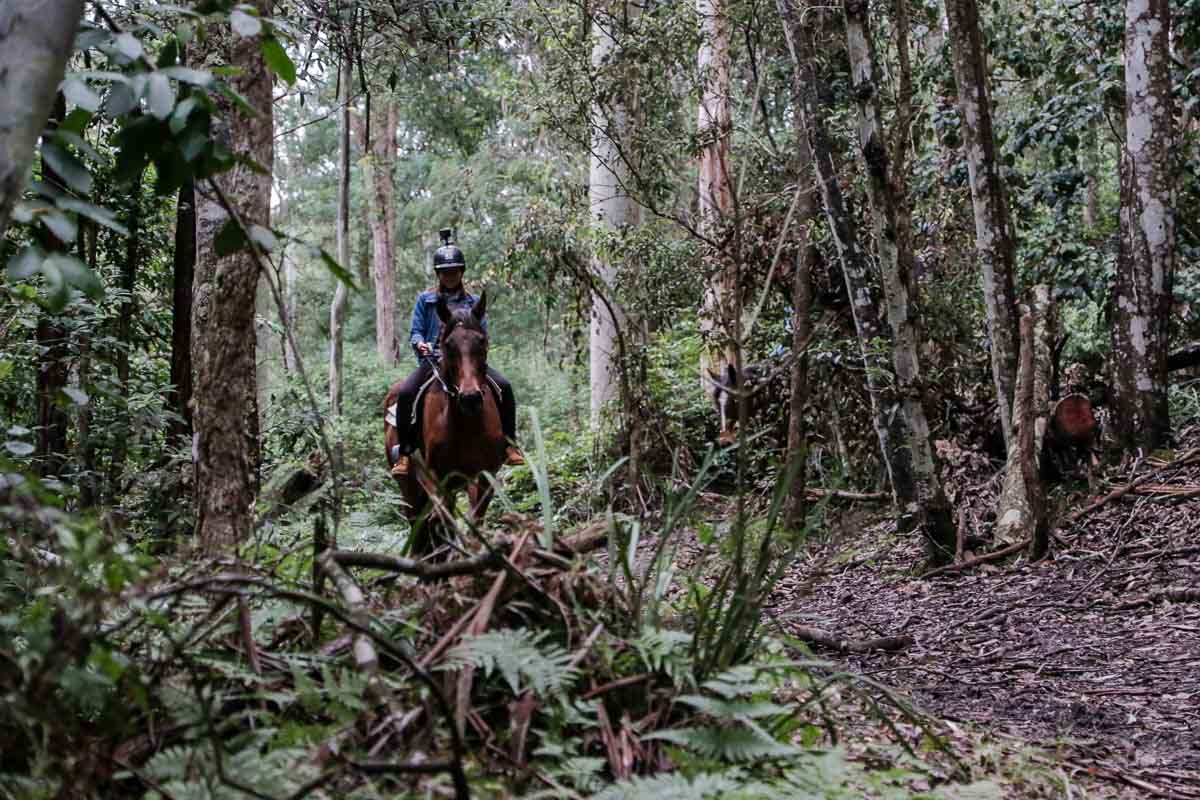 Guided horse riding tours are abundant around Australia but while you're at Glenworth Valley, take up the opportunity pick up the 101s of handling a horse on your own! Those who are comfortable and show proficiency in handling horses are even allowed to go for free-range horse rides at AU$95 for 2 hours.
Cost: AU$55/class for 1 hour (group of 6) or AU$495 for 10 classes
Opening Hours: 8:30AM – 5:30PM
Address: 69 Cooks Road, Glenworth Valley, NSW 2250
10) Take the World's Longest Zipline in the Central Coast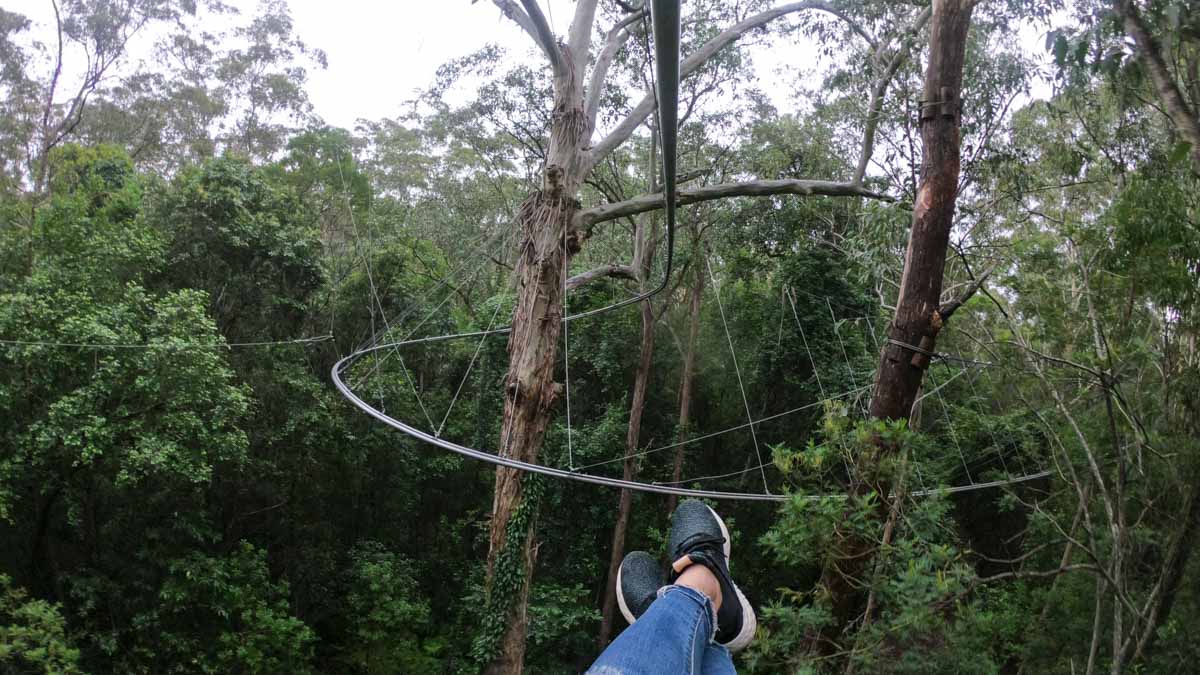 Over in the Central Coast, head over to TreeTop Crazy Rider for its crazy zip-lines in "Pioneer" and "Xtreme" levels — trust that they'll be unlike any zip-line you've experienced.
The Xtreme is also the world's longest zip-line measuring at 1km. Don't expect the ride to be smooth-sailing as you go through loops, drops and swings that take you just inches from hitting the trees and branches along the way. Don't worry, we all got off the ride unscathed 😉
The Pioneer ride may be shorter at 330m but equally fun with its own carefully-designed surprises that show up when you least expect it.
Cost: AU$39 (Pioneer), AU$79 (Xtreme), AU$99 (Both)
Opening Hours: 10AM – 4PM (Weekdays), 9AM – 4:30PM (Weekends)
Address: Ourimbah State Forest, 1 Red Hill Rd (cnr Yarramalong Rd), Wyong Creek NSW 2259 Australia
Visiting NSW? Hop over to our 9-day NSW road trip itinerary to plan for your next trip out in this land of majestic adventures.
---
This post was brought to you by Destination New South Wales.