Give KL and JB a break! This Kuantan guide dishes out the best of Malaysia's underrated east coast city for thrill- and chill-seekers. 😎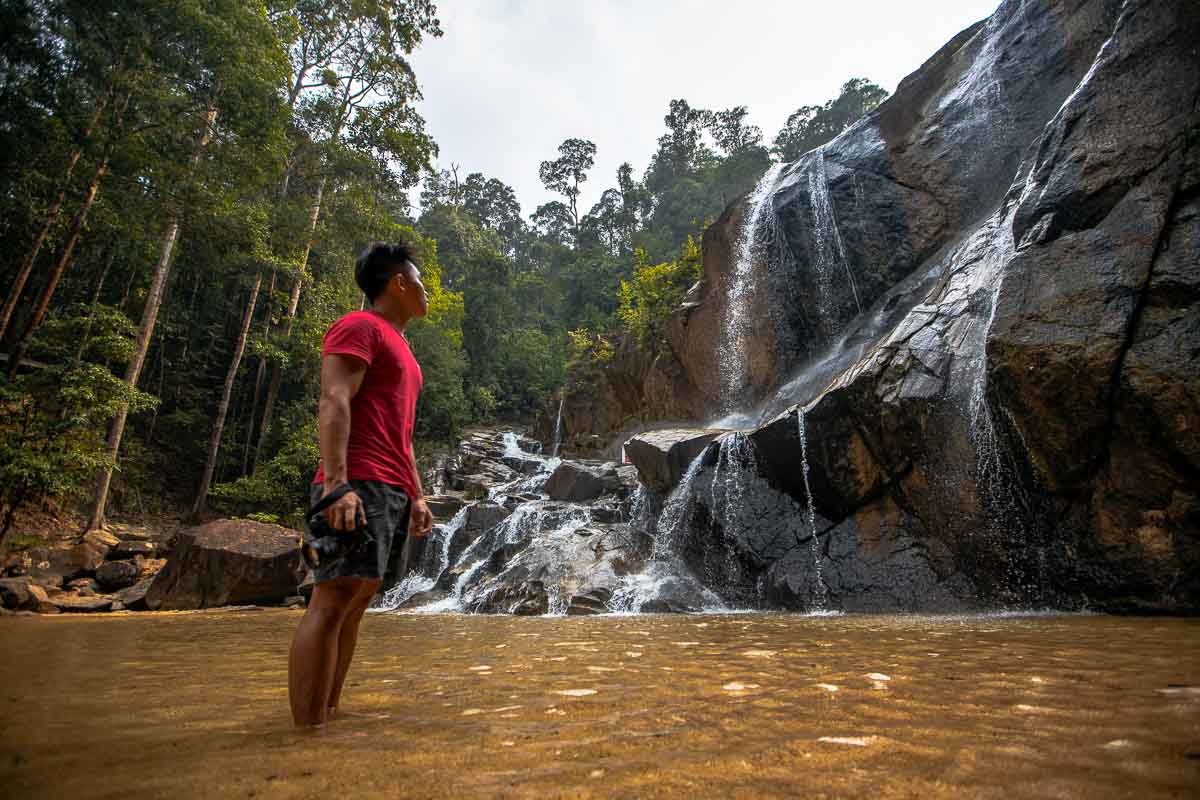 Whenever a long weekend rolls around in Singapore, I find myself daydreaming about escaping the packed city for a quick break somewhere close by. Bangkok? Nah, too many people. KL? No, too busy and citylike. Bali? Eh — been there, done that. What's new?
But when we visited Kuantan, a quaint city located along Malaysia's east coast, I was pleasantly surprised in many ways. The first being it's just an hour from Singapore via airplane — that's fast!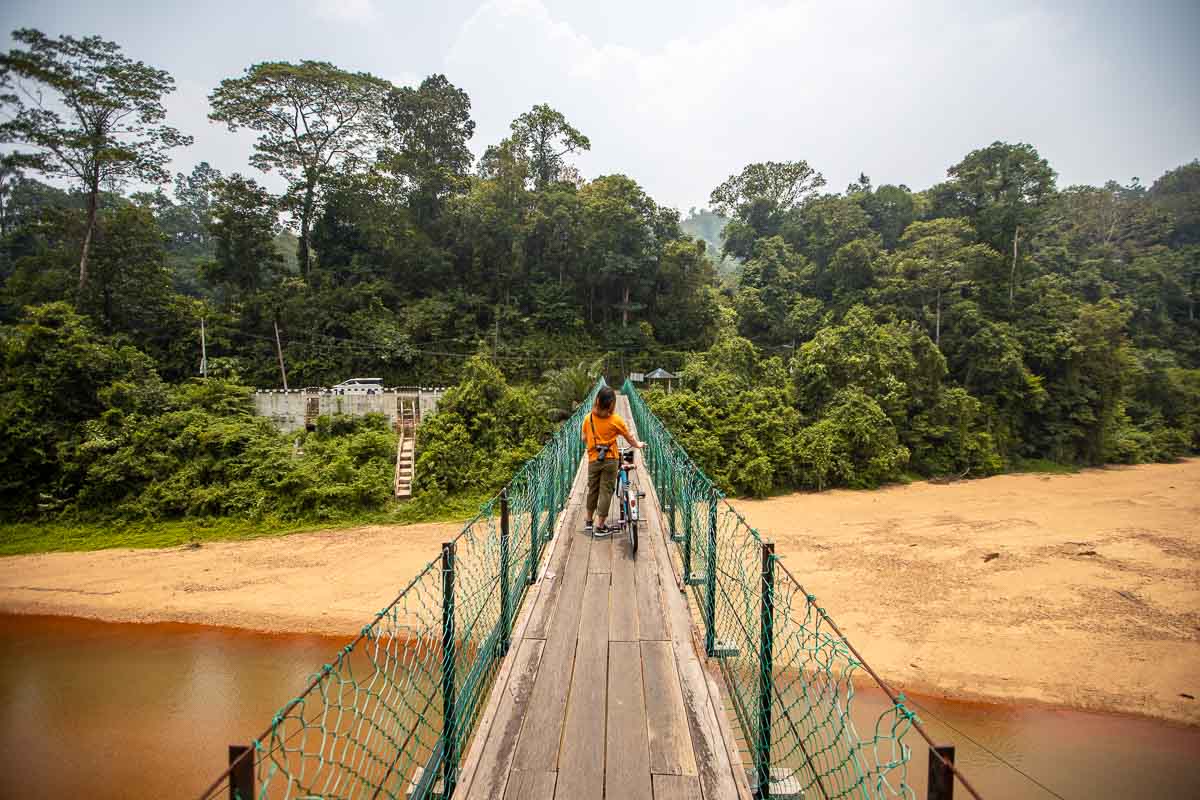 The second is Kuantan's laidback and charming rustic vibes. Locals were friendly, there weren't as many shiny, modernised buildings, and it overall reminded us of the nostalgic kampung spirit.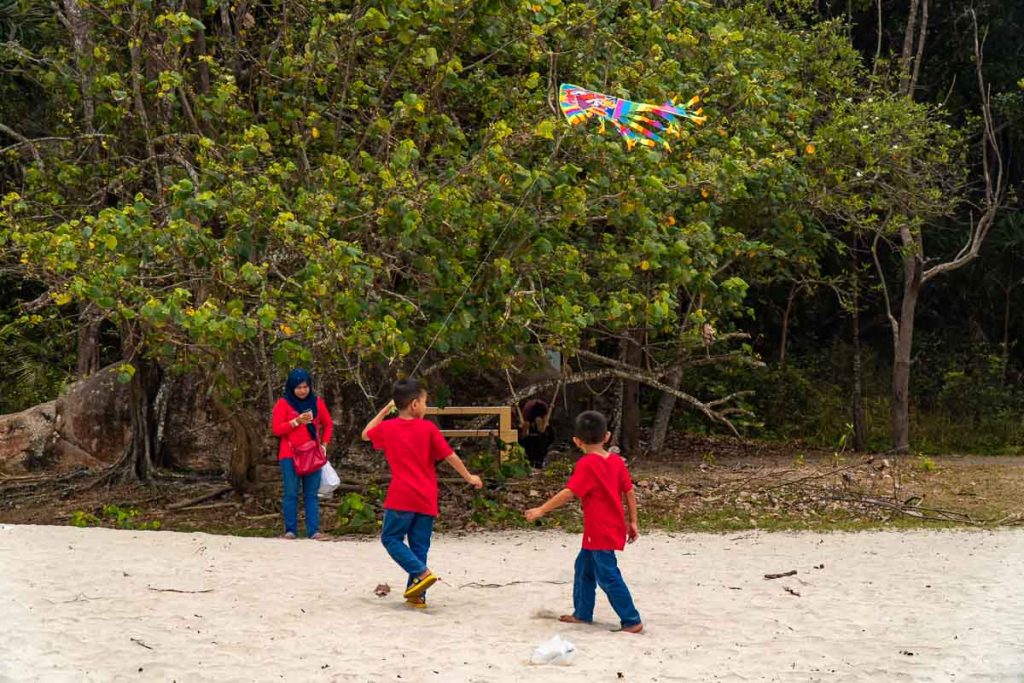 The third is how the city offers many things to do, ranging from super chill to adventurous. It's not all that different from what you can do back home, but sometimes a change of environment is all you need for a good break. right? 🌴 With that said, here's our guide to the underrated Kuantan!
Start planning your Kuantan Getaway from only S$66!
Kuantan Travel Essentials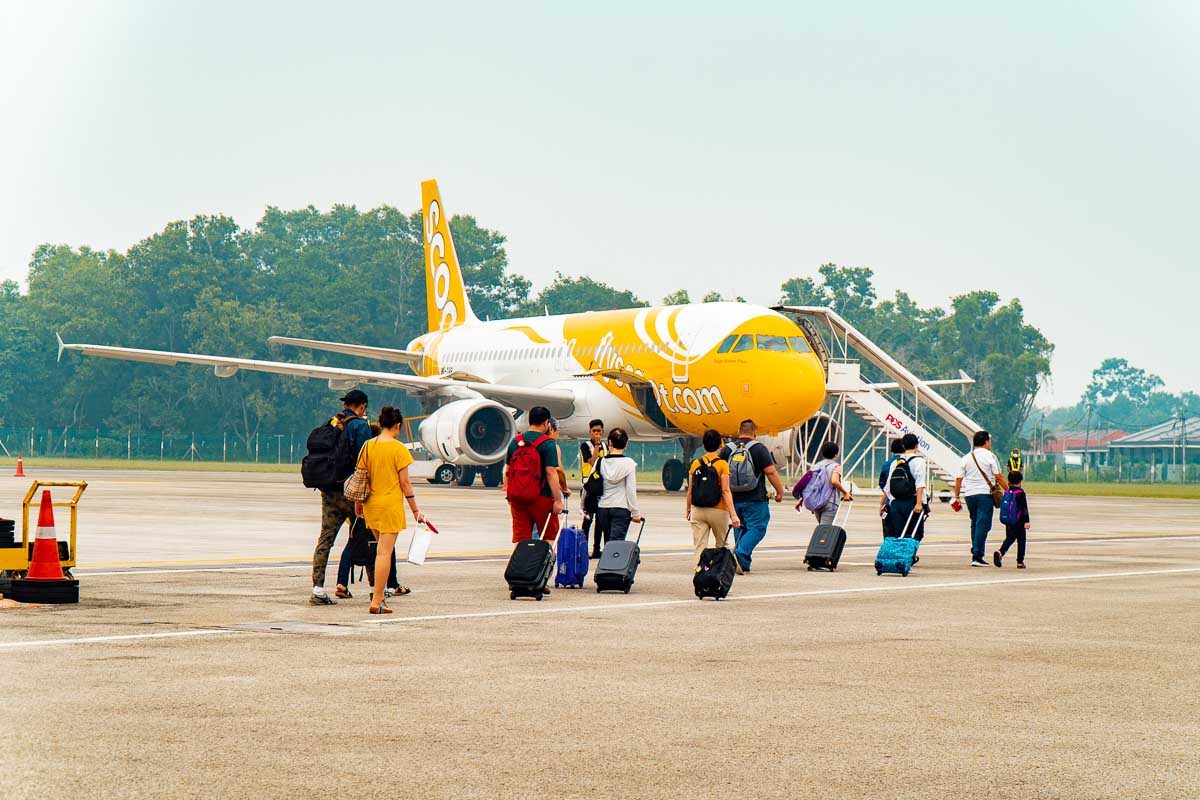 How to get to Kuantan: Scoot flies directly from Singapore to Kuantan three times a week. It's only one hour from Singapore — enough for a solid catch-up with your travel partner(s), or a refreshing power nap. 😴
Connectivity: We got SIM cards from the only provision shop at Kuantan's Sultan Ahmad Shah Airport. A 7GB SIM card with unlimited calls costs RM25, and lasts for a week.
Getting around Kuantan: There are two ways to get around the city centre. The easiest way is to hire a Grab. Depending on the distance, fares usually cost from RM5 – RM20.
You can also rent a car from the airport. While costlier, it's the most convenient way to explore Kuantan's city centre and Sungai Lembing, located 42km away.
Within Sungai Lembing, you can either walk or rent a bicycle for RM5 an hour to explore the small town. However, it's difficult to get a Grab in the Sungai Lembing area. Hence having your own car would save you a big hassle if you're planning to visit attractions outside.
Adventurous Things to Do in Kuantan
Pack your sports gear! Kuantan has some great hikes, beaches, and hills that are guaranteed to make your chilled-out getaway a thrilling one.
1) Make a splash at Sungai Pandan Waterfalls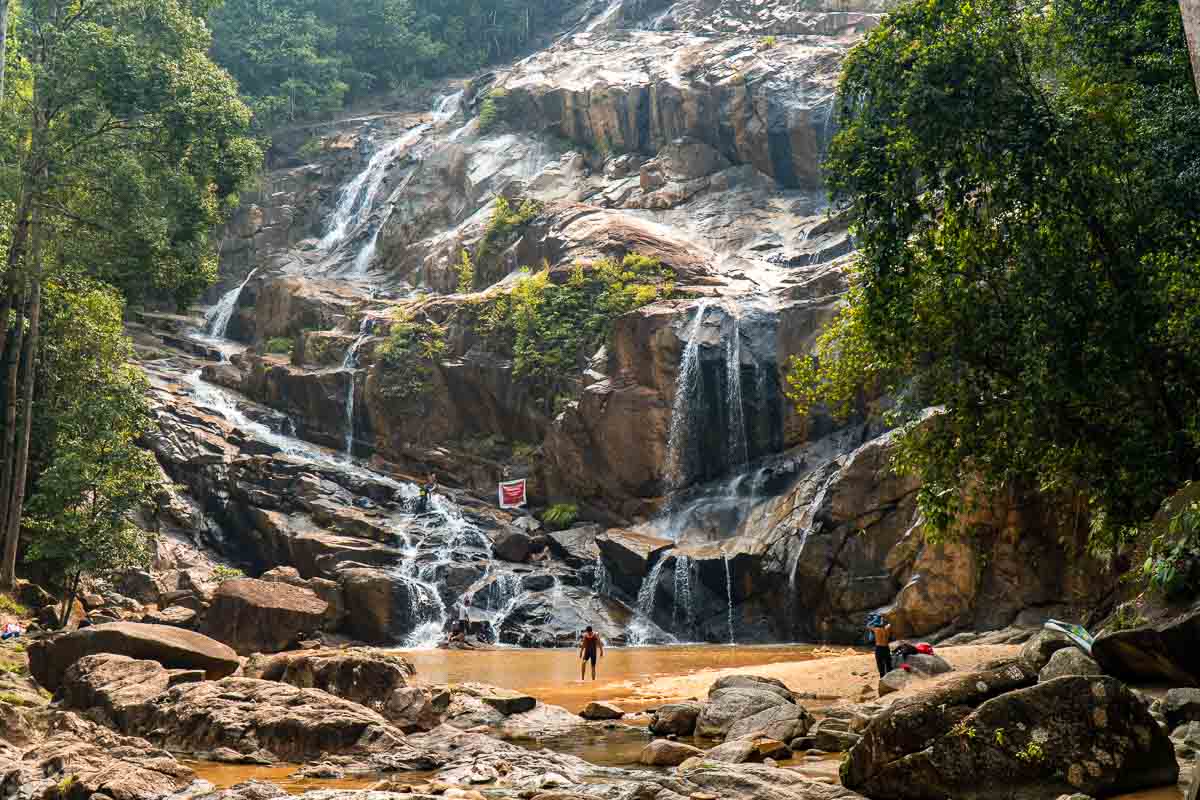 While most visitors flock to the ever-famous Rainbow Falls, this Kuantan guide recommends the Sungai Pandan Waterfalls instead. Located in Sungai Lembing, the Sungai Pandan Waterfalls is a popular favourite among Kuantan locals, perfect for picnics and dips in cool, flowing waters!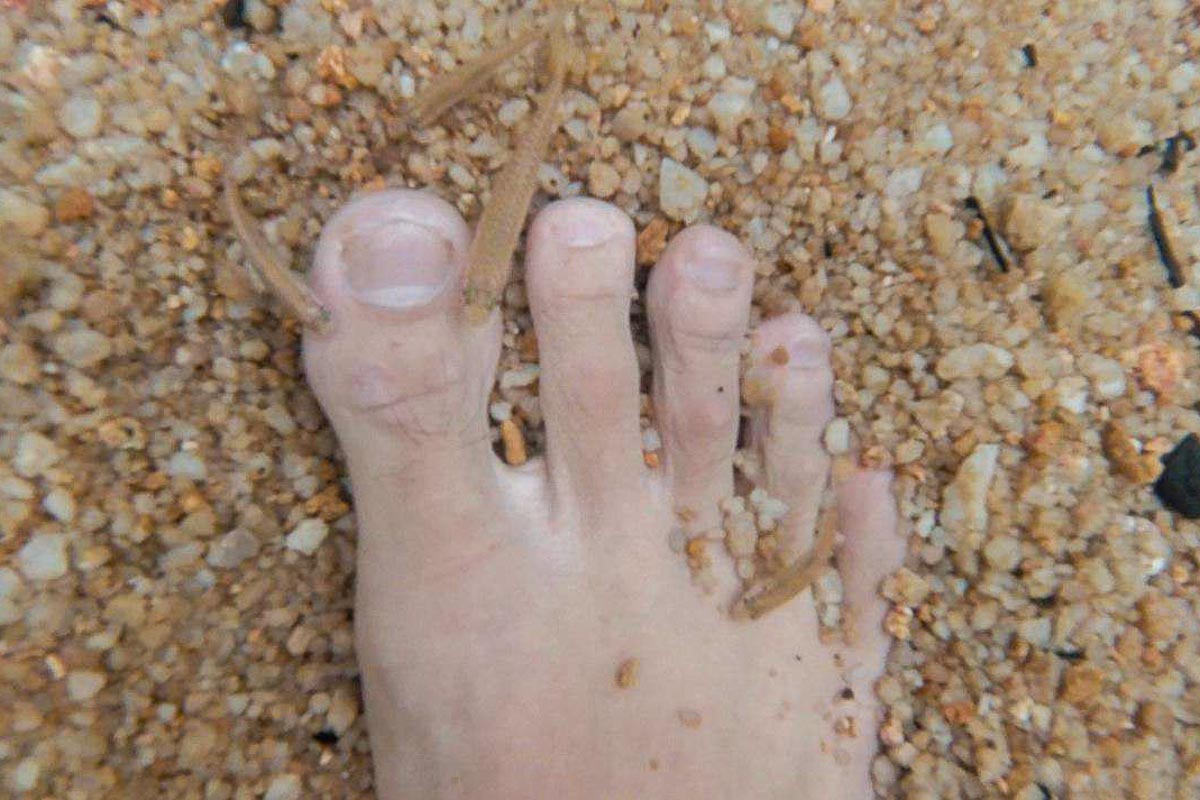 Don't panic if you feel something tickling your skin in the pool! Sit or stand still long enough, and tiny fish will swim by to nibble at your dead skin. Free fish spa, anyone?
Entrance Fee: RM5, RM3 for parking
Opening Hours: 9AM – 5PM, closes 6PM on weekends, closed on Fridays
Address: Air Terjun, Sungai Pandan, 26400 Kuantan, Pahang, Malaysia
2) Hike up Bukit Panorama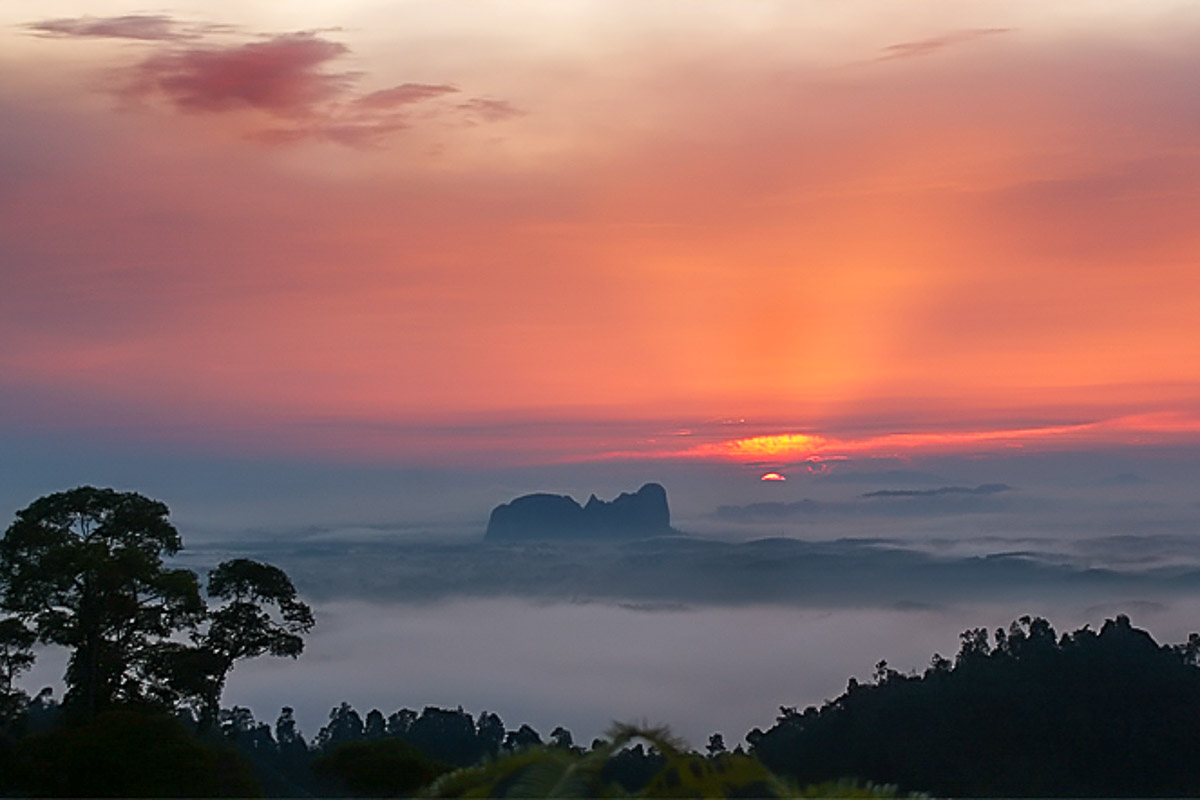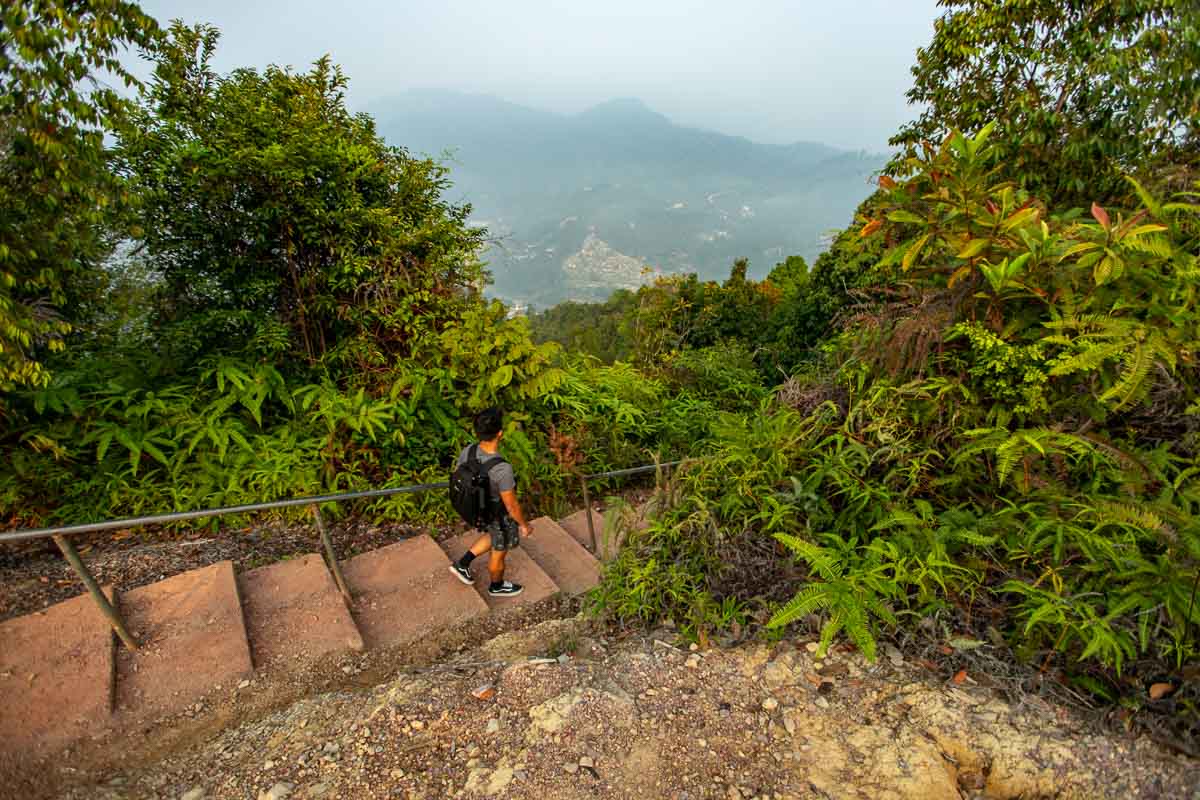 Turn your quick getaway to a #fitspo one! Also located in Sungai Lembing, Bukit Panorama aptly lives up to its name as a scenic spot to catch an amazing sunrise above a sea of fog. What you see at the top is dependent on the weather, but the views are still magnificent regardless.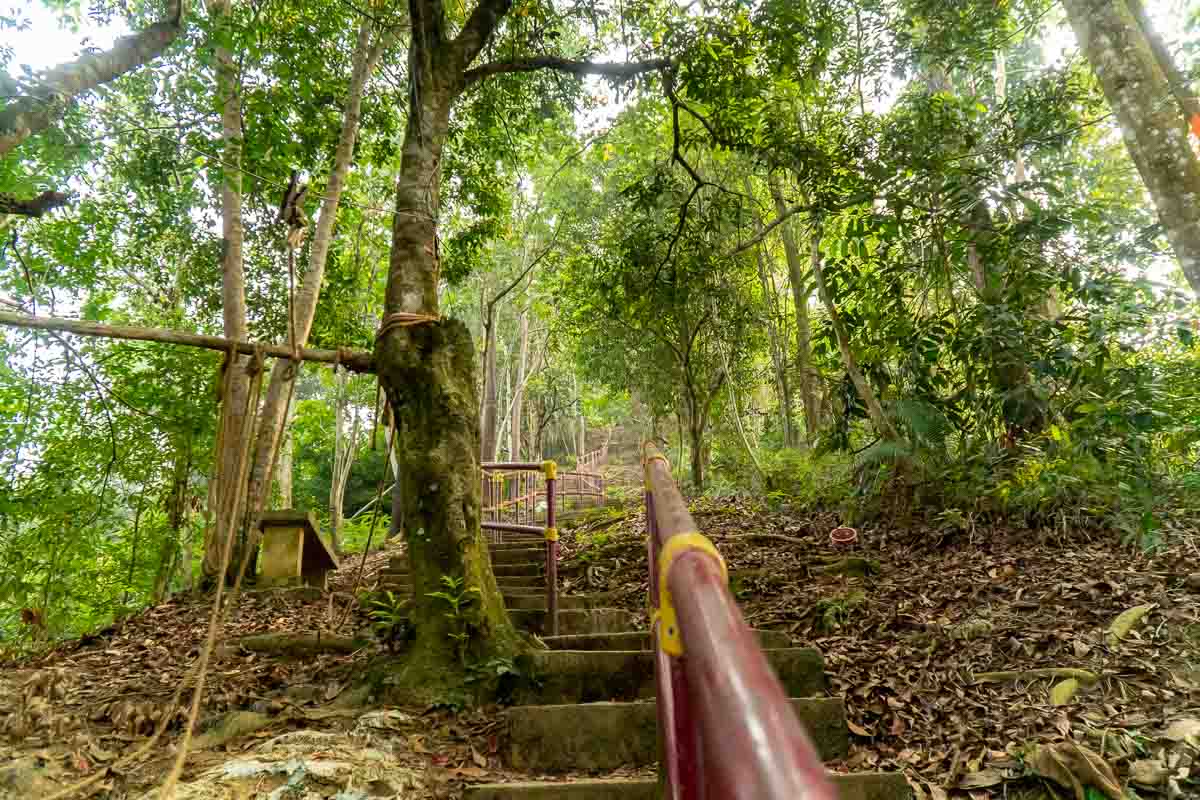 The 320m hike up consists of steep stairs, and takes about 30 – 45 minutes. Many blogs have stated 6AM is a good time to start climbing, but our Kuantan guide advises going earlier around 5:30AM. This is so you have ample time to rest before catching the sunrise.
How to get there: From Muzium Sungai Lembing, walk 10 minutes to the Bukit Panorama trailhead. The stairs to the summit are behind the shelter.
*Pro-tip: Bring insect repellant and a torchlight, otherwise you'll be hiking in pitch blackness.
3) Explore Teluk Chempedak
What's a coastal city without a visit to the beach? Teluk Chempedak is Kuantan's beautiful modest-sized beach. It's a great place for weekend hangouts, where you can swim, play beach football, fly kites, or just relax by the sea! There's an abundance of pop-up food stalls and fast food eateries (like A&W!) nearby so you won't go hungry.
You might even come across your friendly neighbourhood superhero!
Across the boardwalk is Teluk Tongkang, a smaller and quieter stretch of beach where locals can pitch tents for camping or have BBQs. There are also a few boulders you can climb on for photo opportunities.
Address: Jalan T.A. Bakar, 25050 Kuantan, Pahang, Malaysia
4) Surf some gnarly waves at Cherating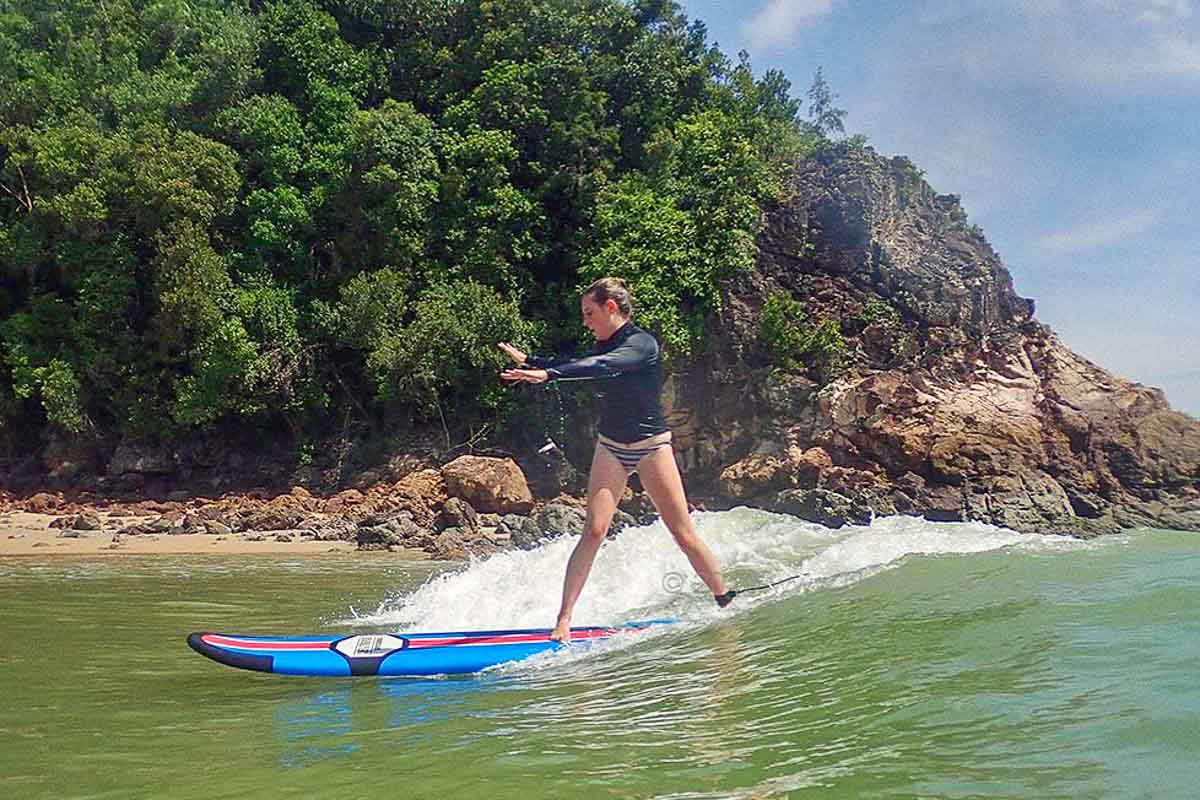 Photo credit: @Cheratingpoint via Instagram
Cherating is a small fishing town about 30km north of Kuantan's city centre. It's well-known for having Asia's first Club Med (a famous vacation resort). What's often overlooked, though, is that Cherating is one of Malaysia's best surfing spots.
Beginners can sign up for surfing lessons with Cheratingpoint or Kam's Surf Shack. There, dedicated instructors will walk you through the basics of catching and riding waves. Surf's up! 🤙
Surfing season: Oct – Mar (also monsoon season)
If you love anything water-related, then you'll definitely love the Perhentian Islands! Check out our Kota Bharu guide to a lesser-known Malaysia!
Historical Things to Do in Kuantan
Did you know Kuantan holds one of the world's largest tin mines? Explore more of the city's history for yourself by seeing them with your own eyes!
5) Venture into the Sungai Lembing Mines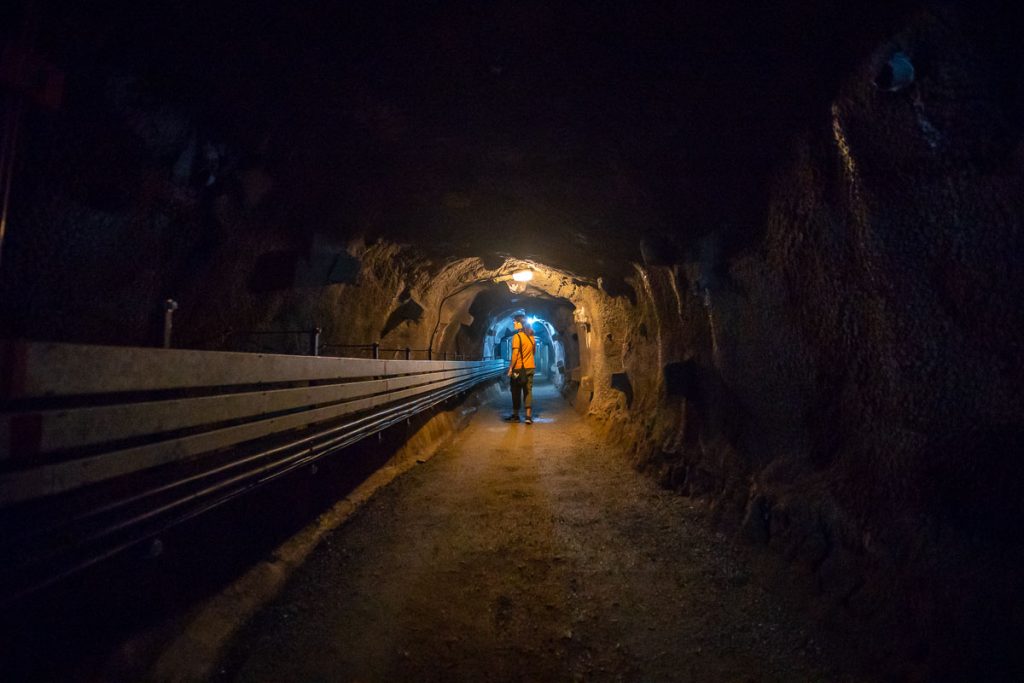 This Kuantan guide isn't just about beaches — it's about history too! Back in its heyday, Sungai Lembing was a flourishing tin mining town. To put things in perspective, the town earned the nickname the "El Dorado of the East".
Visitors can explore the Sungai Lembing Mines, one of the world's largest, and learn more about its history, the tin mining business, and the olden-day equipment used. The fun part about this attraction is that it includes a short mining train ride into the caves.
Once you've explored the mines, head outside to try operating the rustic, functional railway handcar. You'd be amazed at the amount of coordination and cooperation required for this!
Entrance Fee: RM30 (~S$9.90)
Opening Hours: 9AM – 5PM, closes 12:15PM – 2:45PM for break, closes 5:15PM on weekends
How to get there: From Muzium Sungai Lembing, walk for ~10 minutes up the hill towards the mines.
6) Educate yourself at Muzium Sungai Lembing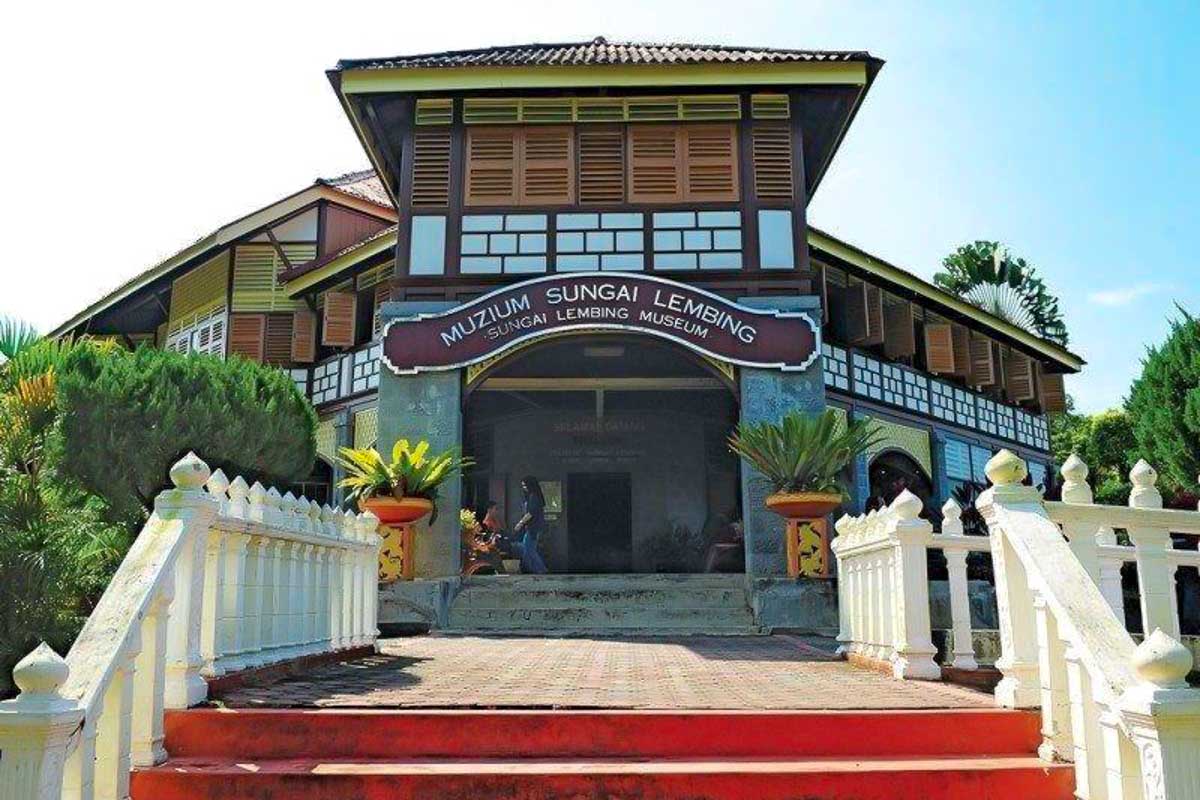 Photo credit: Adventoro.com
Perched on a hill, the Sungai Lembing Museum displays artefacts detailing the town's rich history, as well as a deeper insight into how tin mining was done back then. The building was the former residence of a British mining manager and his family — hence the colonial architecture!
There are many informational exhibits in the museum, including tin mining tools, old photos of mineworkers, and different types of minerals present in the mines.
Entrance Fee: RM5
Opening Hours: 9AM – 5PM, closes 12:15PM – 2:45PM for break on Fridays
How to get there: From Sungai Lembing town centre, walk up the hill for ~10 minutes towards the museum.
Cultural Things to Do in Kuantan
Kuantan isn't just for eating and shopping (and KTV)! Get to know the local's way of life through batik painting and visiting the state mosque. You might just learn something new about our country's neighbour.
7) Create a batik painting masterpiece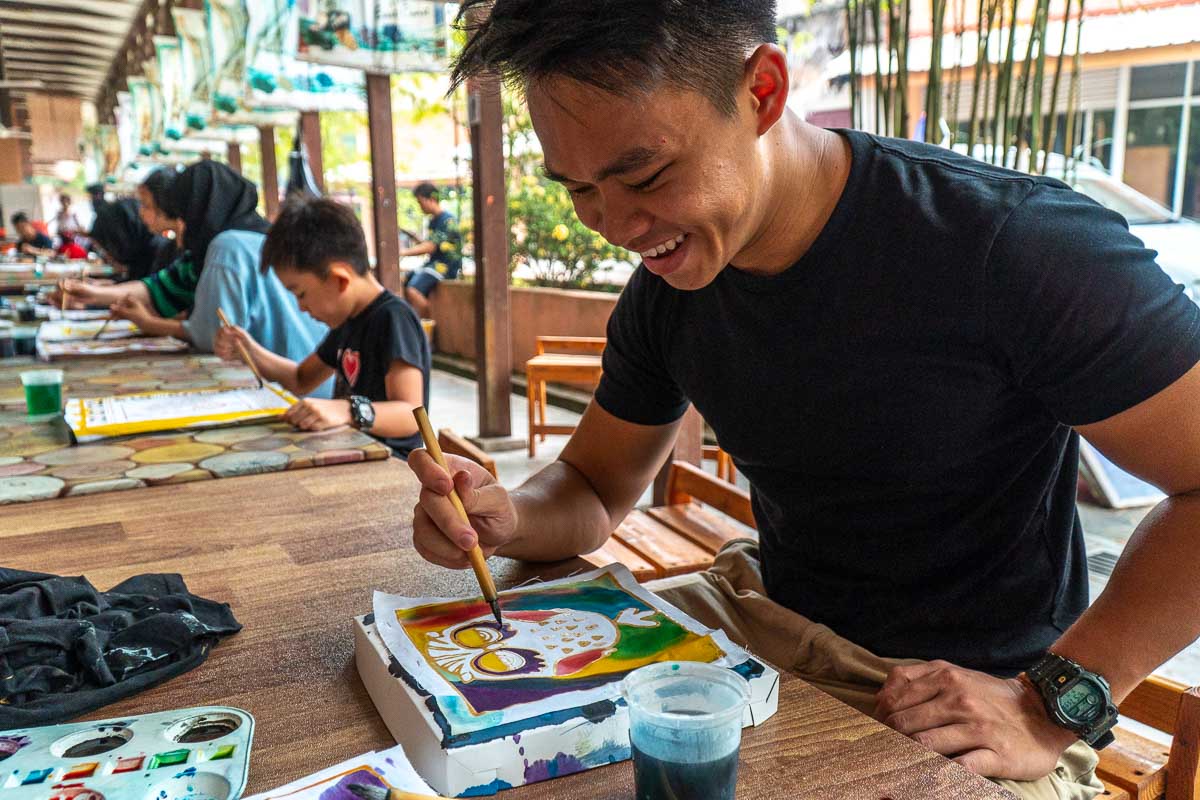 Just 20 minutes from Kuantan's city centre, the Natural Batik Village houses a batik factory, an art studio, and a retail shop selling colourful batik clothes and souvenirs. The main highlight, though, is that anyone can walk in anytime to enjoy a DIY batik painting session.
All you need to do is select a template to paint on, and the staff will prepare the materials for you to unleash your creative talents. Once finished, you can pay a small fee to turn your masterpiece into a T-shirt or a handkerchief.
Cost: From RM10
Opening Hours: 10AM – 7PM
How to get there: From Kuantan city centre, take a Grab to the Village. The fare costs about ~RM22.
8) Roam around Masjid Sultan Ahmad Shah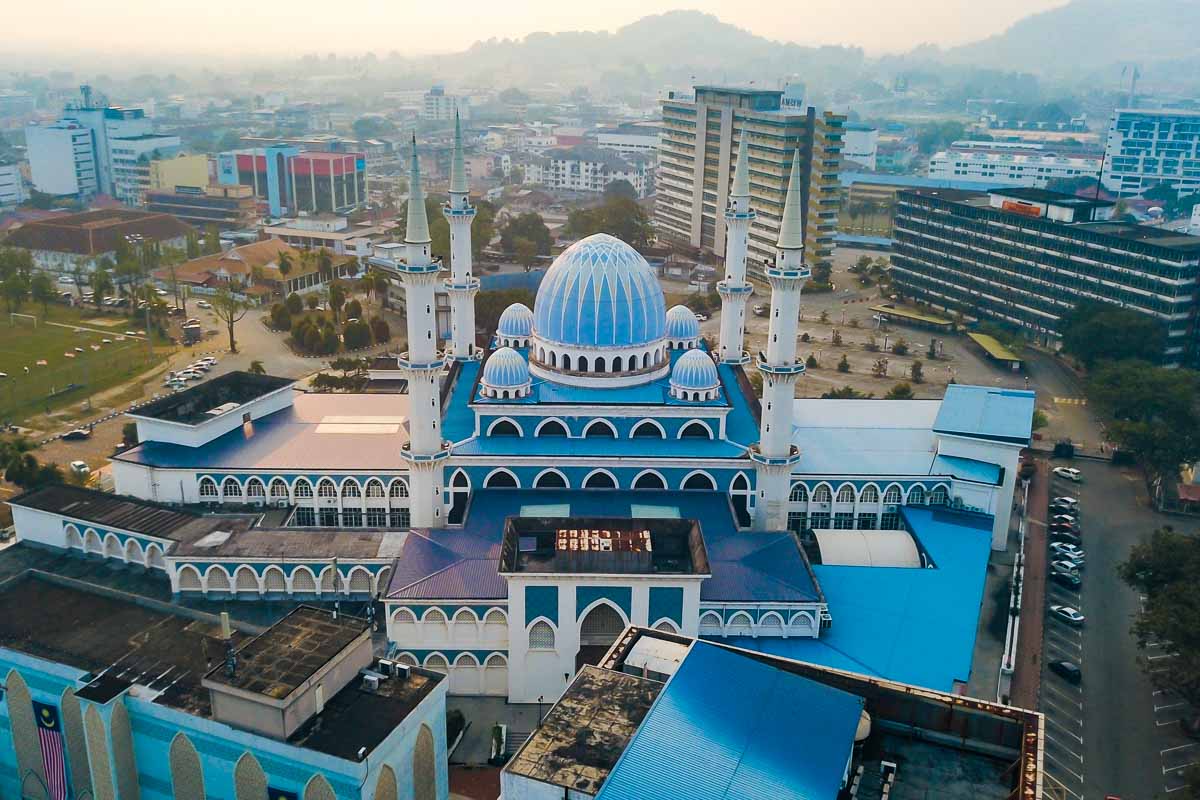 The Sultan Ahmad Shah State Mosque is the most impressive mosque in the city of Kuantan — just look at it! The exterior is painted in white and a beautiful, calming shade of light blue.
Non-Muslim visitors can enter the mosque, but must be appropriately dressed (covered from shoulders to ankles). Inside, they can roam around and soak in the peaceful spiritual atmosphere. Do note that shorts and miniskirts are not allowed. Female visitors are also advised to wear a headdress.
Entrance Fee: Free
Visiting Hours: 10AM – 12PM, 3PM – 4PM, and 5:30PM – 6PM, except Fridays
How to get there: From Kuantan city centre, walk ~10 minutes to the mosque. It's opposite a huge football field and Pahang Art Museum.
9) Experience the chill nightlife in Kuantan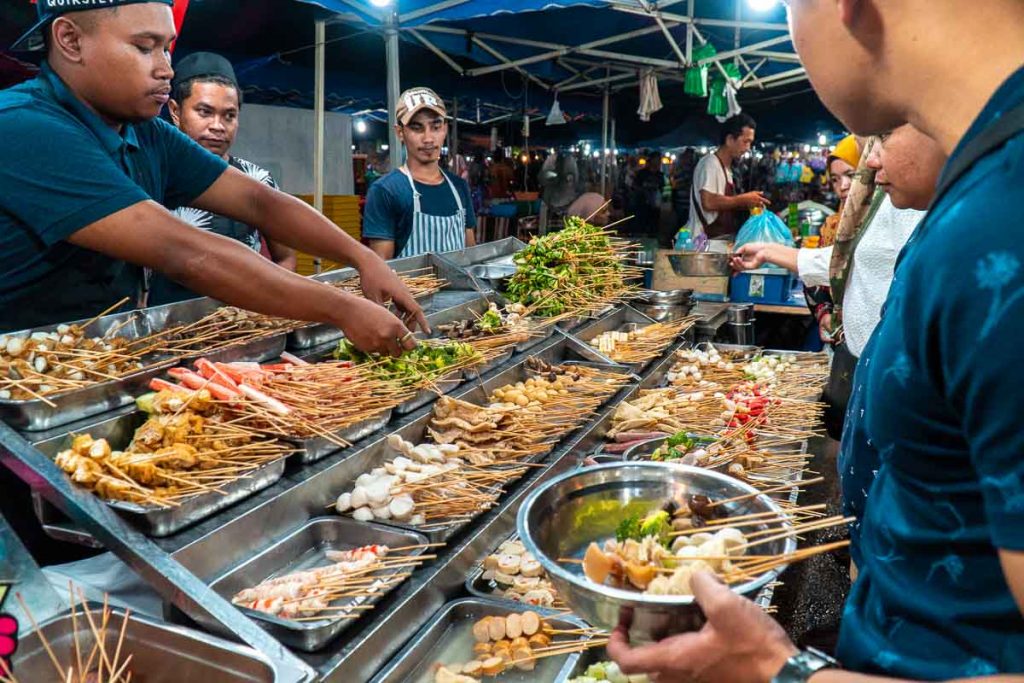 You don't need to retire to bed after 5PM! Our Kuantan guide explores its relatively small nightlife that's pretty alive and kicking.
For us, we explored Pasar Malam Taman Gelora, a pop-up night market that appears by the riverside on Sunday nights. What we got: cheap lok-lok and char kway teow for dinner, before enjoying a live music performance.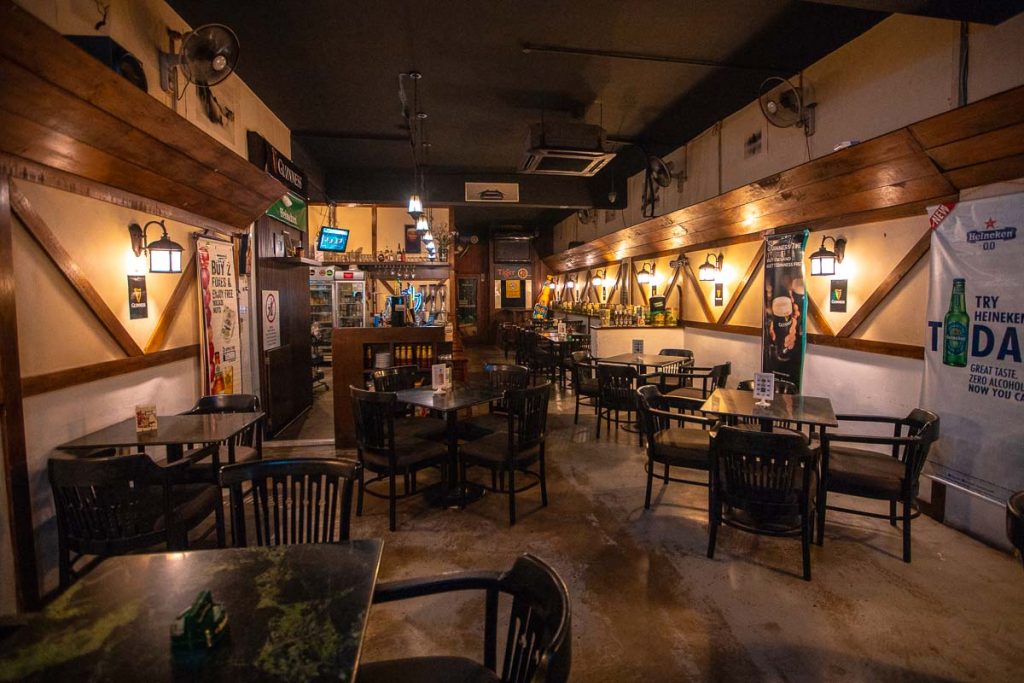 If you desire a drink, head to the Black Pearl. The dimly-lit bar had dark and rustic decor that reminded us of a pirate ship! The eatery serves Western food like fish and chips, as well as tasty alcoholic cocktails (~RM20, ~S$6.60).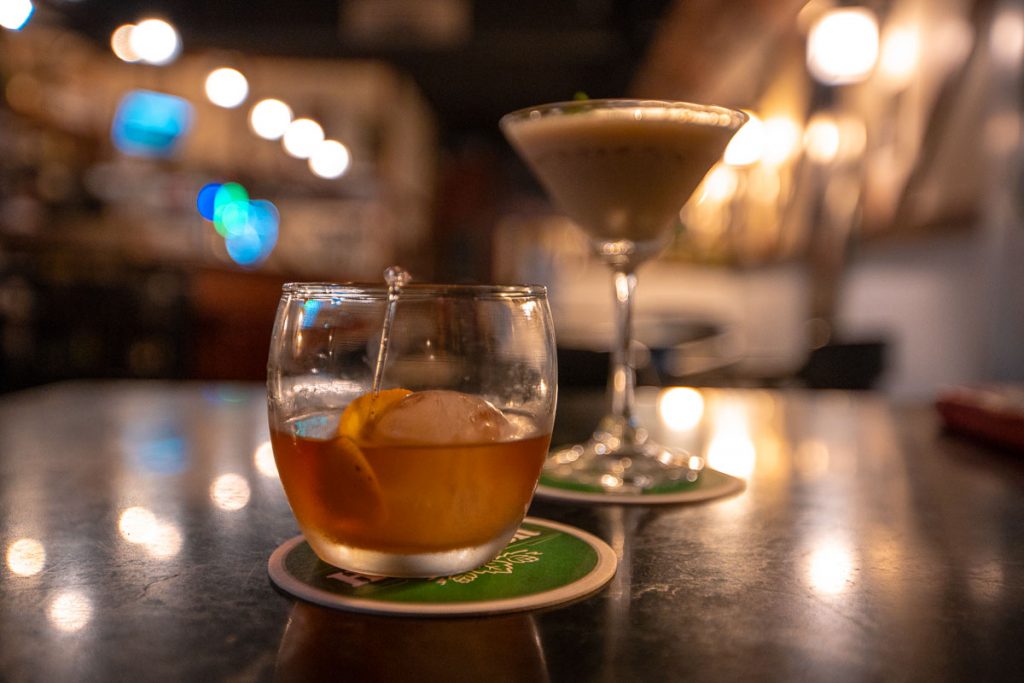 And that's not all! All around the city are numerous cosy KTV joints like K VOICE Family Karaoke where you and your fam can belt out to your favourite tunes. Some of them open until 3AM, so you may want to save your voice till then! 🤐
Read also: Langkawi Guide — Exciting Things to Do in Langkawi Besides the Beach
Places to Eat in Kuantan
10) Ana Ikan Bakar Petai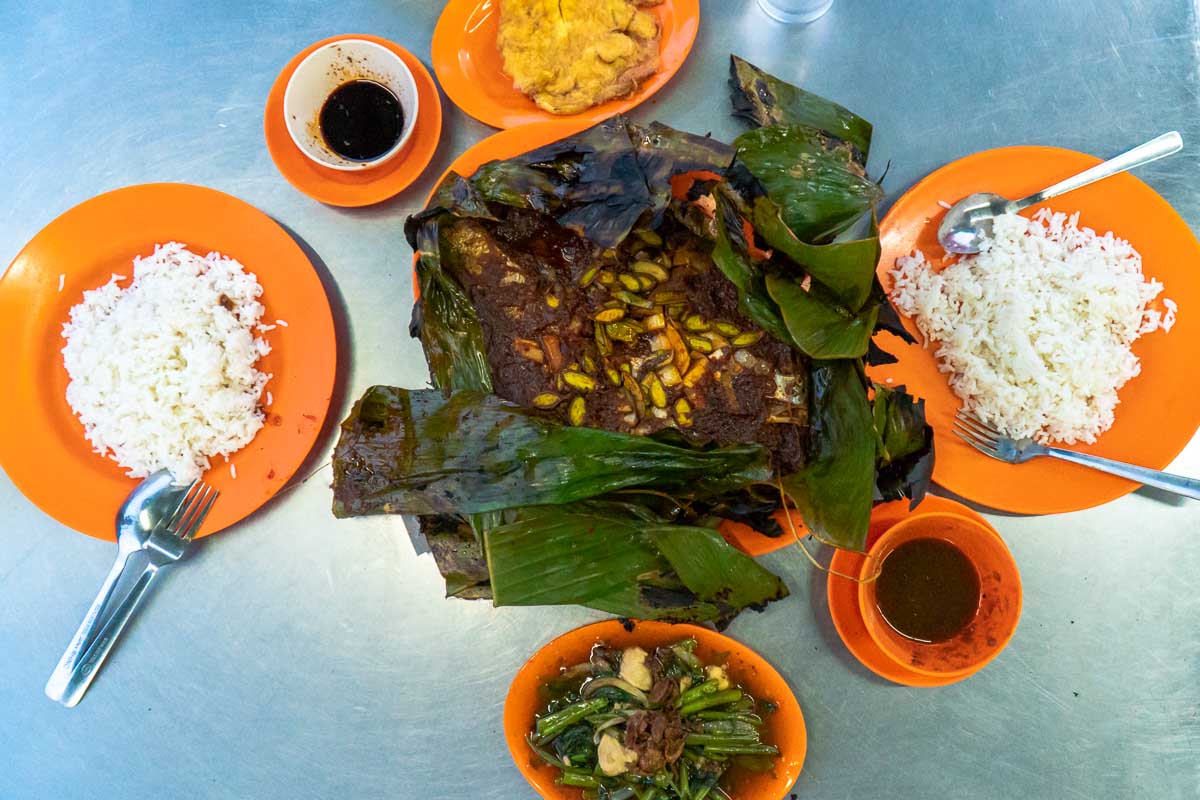 What's a Kuantan guide without good food? Ana Ikan Bakar Petai is Kuantan's most famous place to eat — so famous, even Malaysia's ex-Prime Minister Najib Razak ate there! It's a no-frills eatery that specialises in seafood. Its bestseller is ikan bakar, Malay-styled grilled fish.
To enjoy ikan bakar, you'll need to select your fish from the seafood corner. Afterwards, the staff will marinate it with herbs and a blended chilli paste. The fish is then wrapped in banana leaves before being grilled to perfection. The result? Extremely flavourful and tender fish — sedap!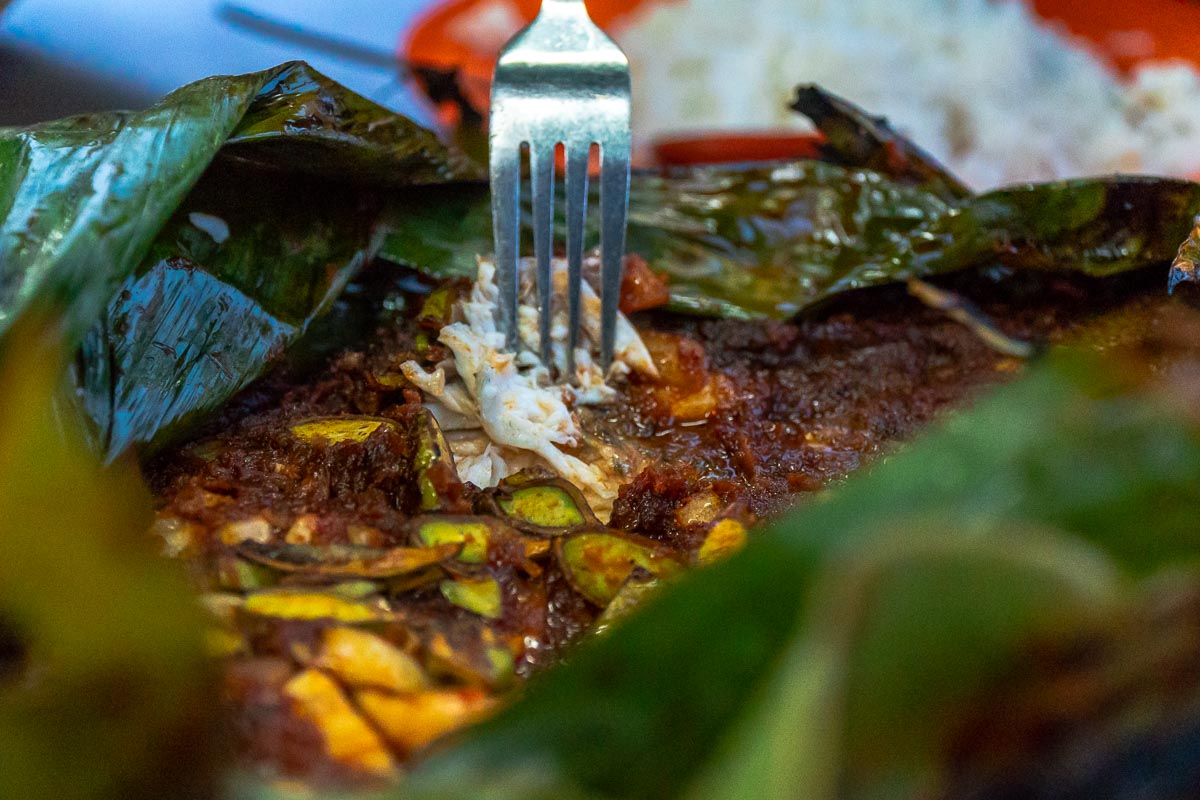 Cost: RM23.55/pax (~S$7.80)
Opening Hours: 5PM – 12AM, closed Fridays and Mondays
Address: Perkampungan Tanjung Lumpur, 26060 Kuantan, Pahang, Malaysia (and two other branches)
11) Akob Patin House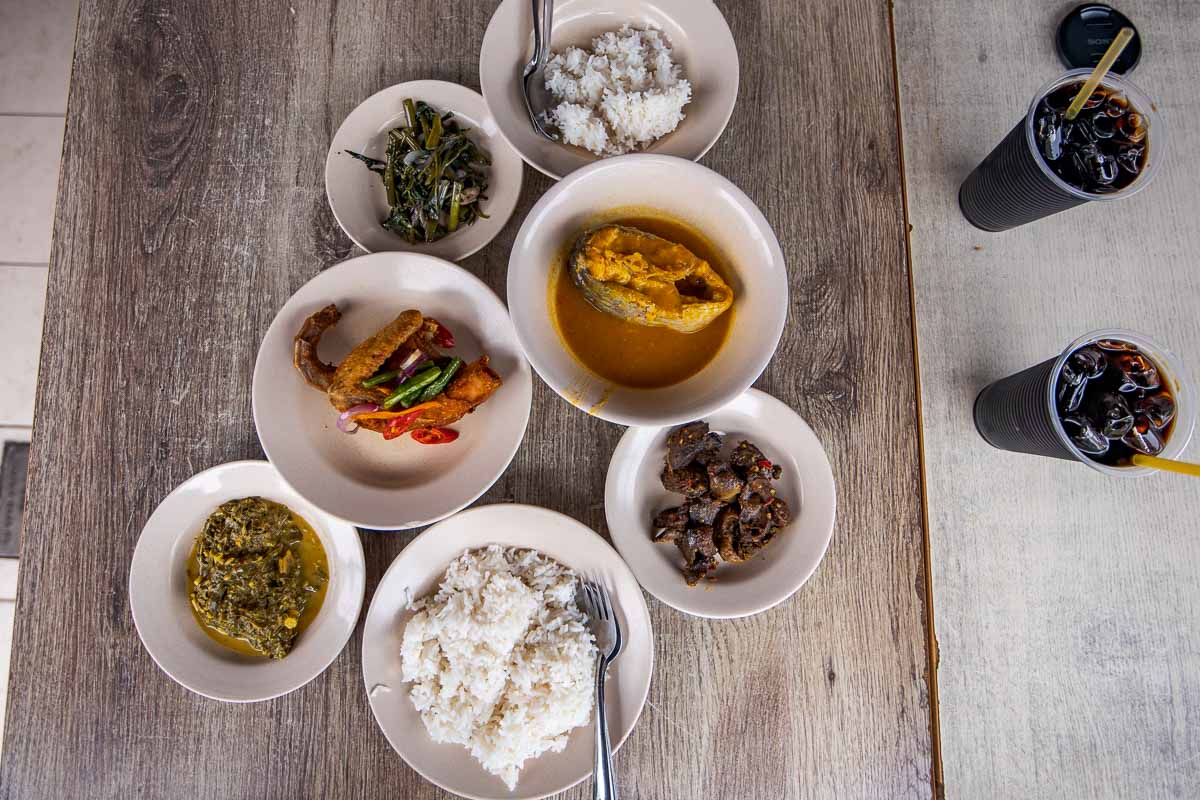 Located by the coast, you can expect loads of fresh seafood in Kuantan! Sink your teeth into ikan patin (silver catfish), which is native to the state. In traditional Malay cooking, it's typically cooked in tempoyak, a fermented durian paste.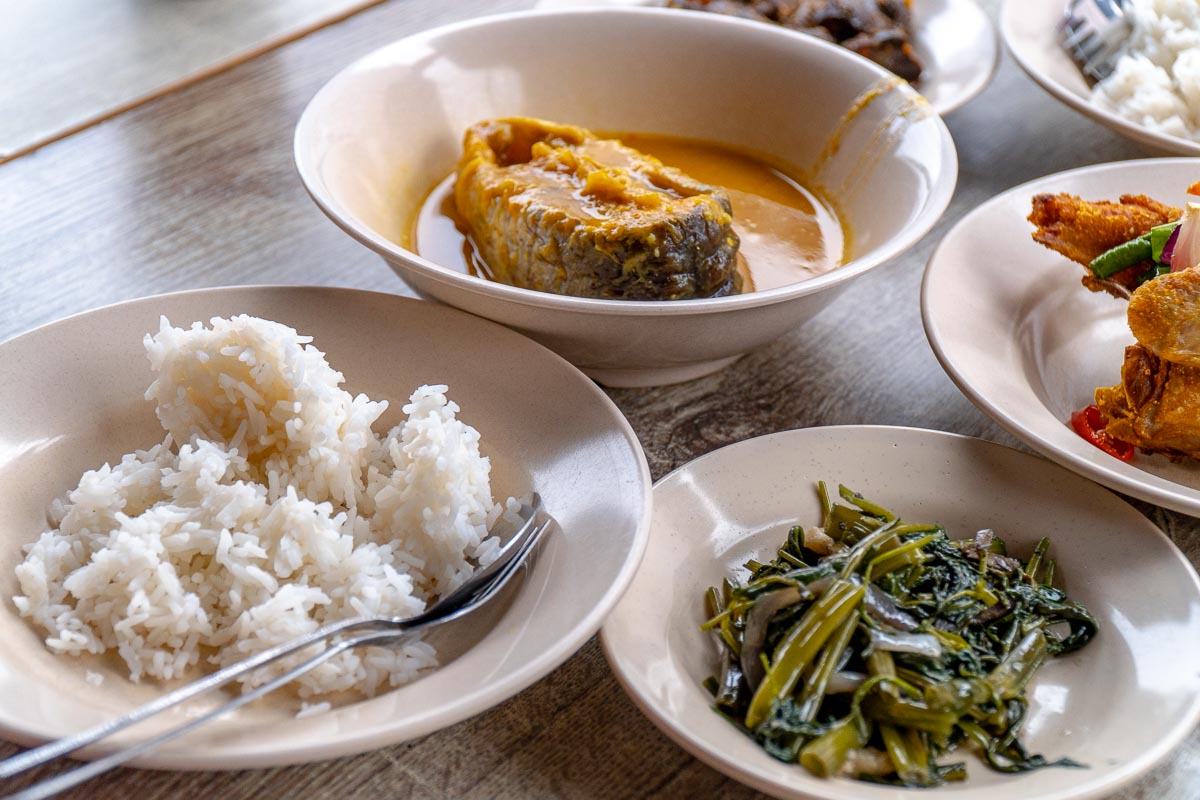 The dish is said to "smell like hell but taste like heaven". Well, we agree! The fish was tender and juicy, and the creamy tempoyak complemented it with its sweet and spicy taste once you get past the smell.
Akob Patin House is one of the best places in Kuantan to eat ikan patin (~RM15). Other places to check out include MABIQ Restaurant and Ras Aman Cafe.
Cost: RM31.50/pax (~S$10.40)
Opening Hours: 8:30PM – 6PM, closed on Sundays
Address: A2 Lorong Haji Abdul Rahman 1, Kuantan (and two other branches)
12) Kula Cakes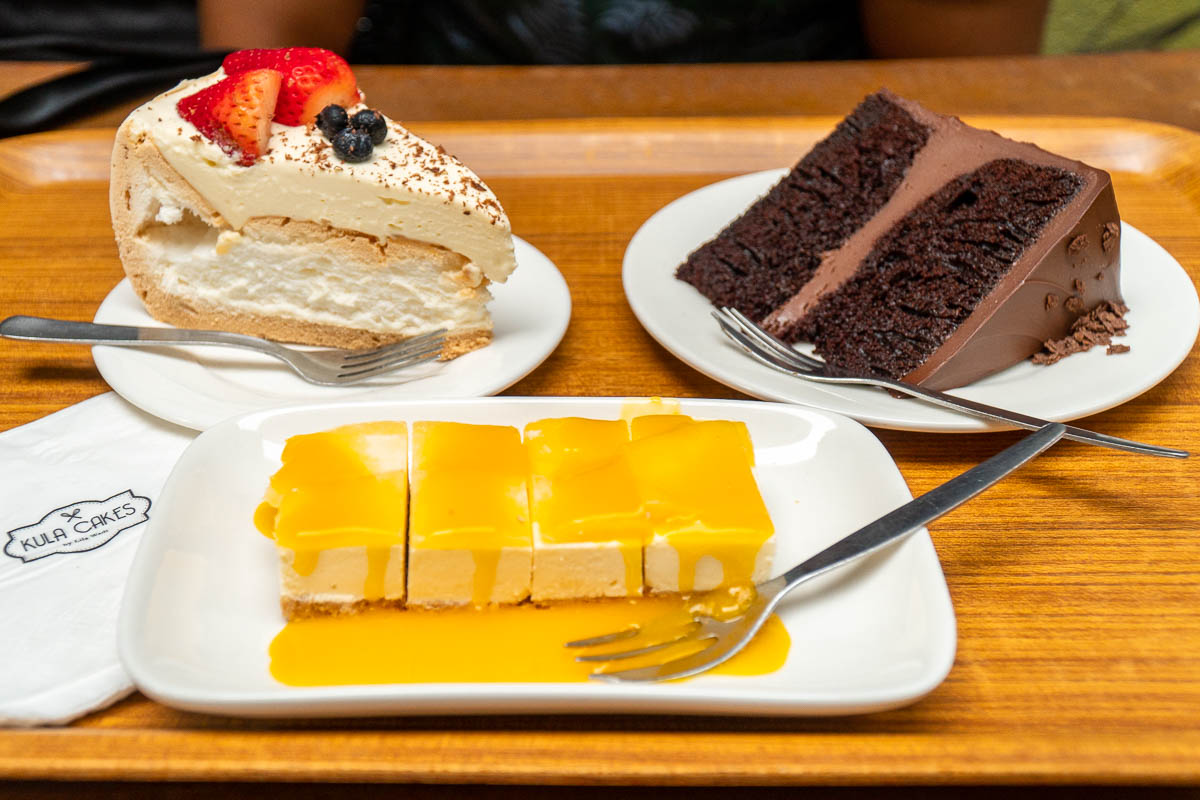 Our Kuantan guide isn't all about the savoury eats! Kula Cakes is the city's famous bakery and cafe, selling a range of cakes, snacks, and beverages. There always seems to be a long queue outside the store, so you know you just have to join.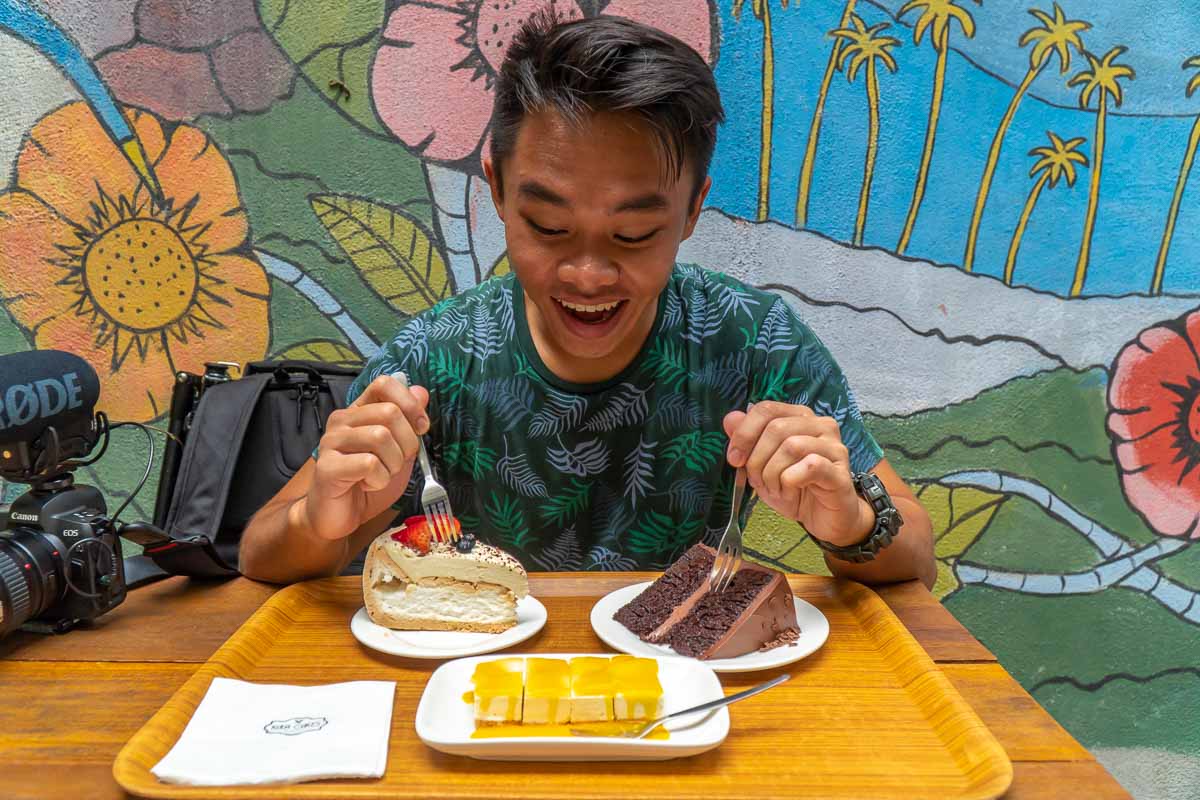 We recommend their bestselling mango cheesecake (RM8.90, ~S$2.90). The frozen treat is delightfully light, and melts in your mouth with a subtle cheesy aftertaste. Sweet-tooths shouldn't miss the moist chocolate cake (RM9.90). The cake itself was a bit dry but was well-balanced with the rich chocolate ganache.
Opening Hours: 11AM – 6:30PM (or until sold out), closes 7:30PM on weekends, closed on Mondays
Address: 96 Jalan Besar, 25000 Kuantan, Pahang, Malaysia
13) Restoran Hoi Yin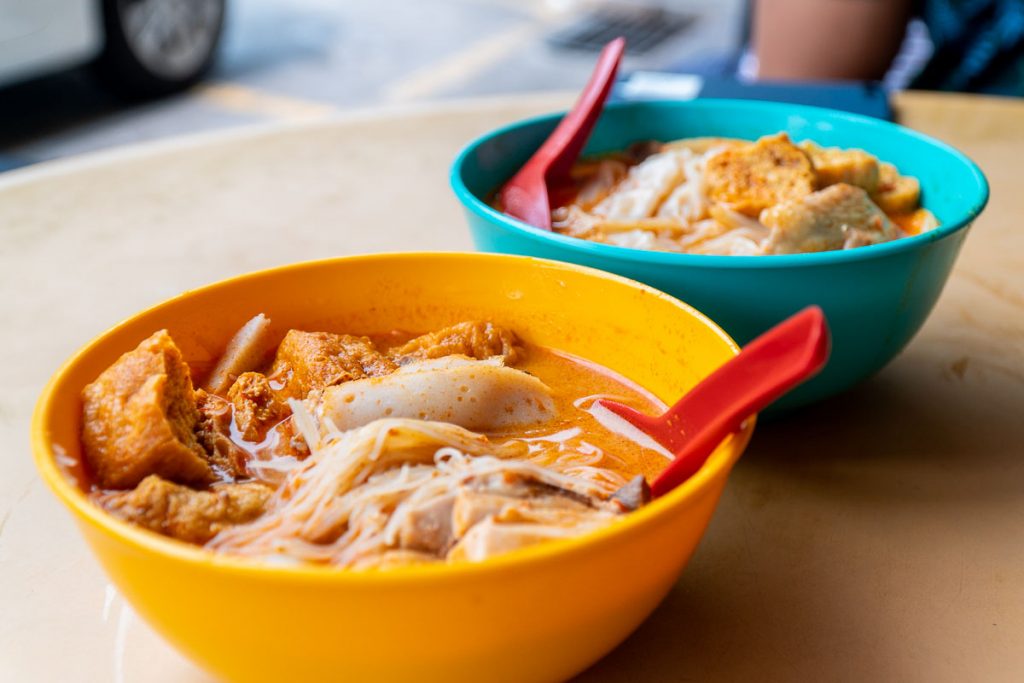 Fancy a good bowl of curry noodles for breakfast? Restoran Hoi Yin is well-known for its halal curry mee. The curry here leans towards a thin soup, mildly spicy with a strong coconut milk flavour. We liked how each bowl was also served with a hearty portion of noodles, chicken pieces, and cockles.
The eatery is only open in the daytime. It can get pretty crowded, so come early!
Cost: RM5.50 – RM7.20
Opening Hours: 7AM – 2:30PM, closed on alternate Mondays
Address: No. 31, Jalan Telok Cempedak, 25050 Kuantan, Pahang, Malaysia
14) Ah Fong's Mountain Water Tofu (凤姐山水醸豆腐 Yong Tau Fu)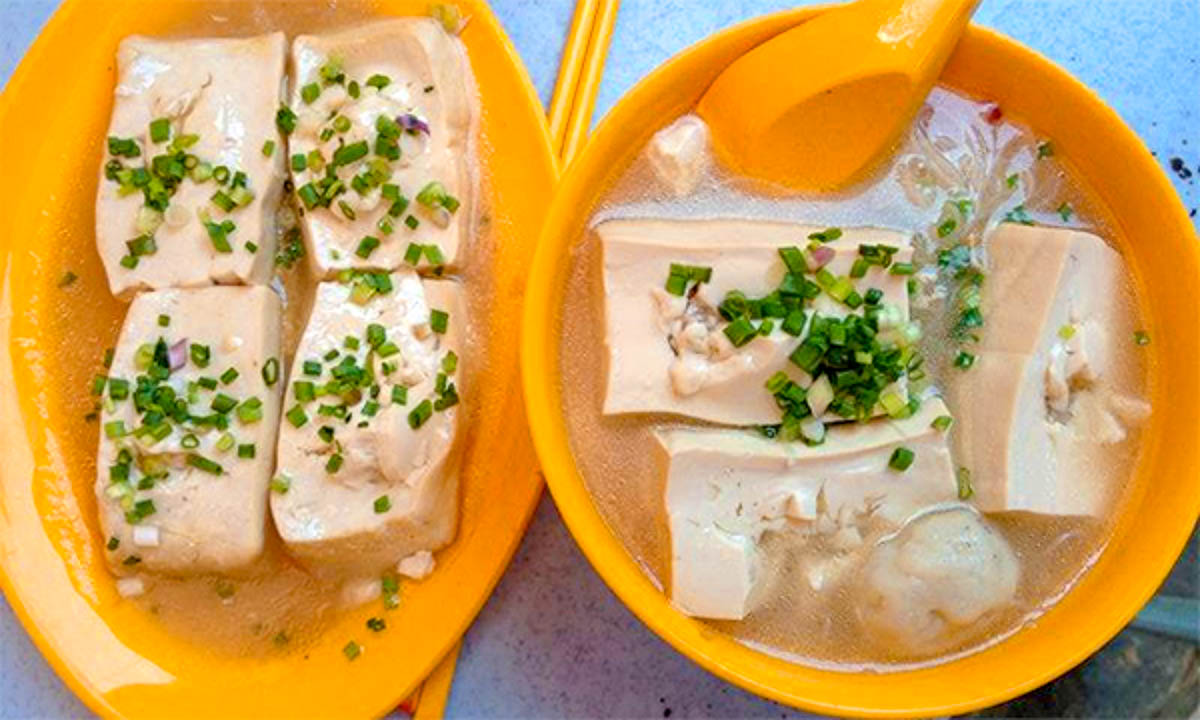 Photo credit: Beatplayshare.blogspot.com
Sungai Lembing may be a sleepy town, but that's where some of Kuantan's best foods are hidden! In the town's small hawker centre (Pasar Sungai Lembing), Ah Fong's stall sells the famed tofu made with "mountain water" from the Sungai Lembing hills.
The fresh, jiggly tofu bricks are fried with minced pork. There's a soft and silky texture, with a slight sweetness to it. Most people usually pair it with springy Sungai Lembing noodles, also made from mountain water!
Cost: RM5/pax
Opening Hours: 5:30AM – 12:30PM, closed Mondays to Wednesdays
Address: 231, Sungai Lembing, 26200 Sungai Lembing, Pahang, Malaysia
Where to Stay in Kuantan
Stay in a foresty capsule hotel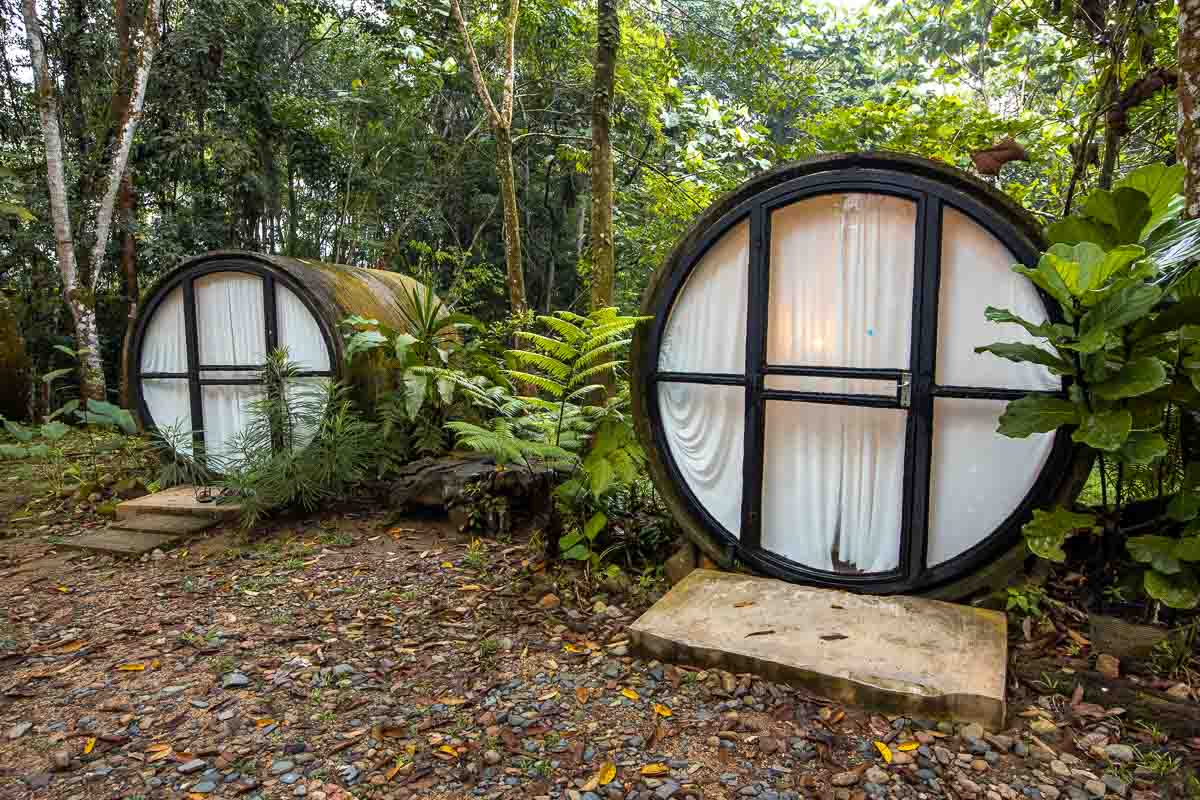 We've read a lot about the Time Capsule Retreat in Sungai Lembing, and just had to give it a shot! This family-run hotel features concrete capsules as a unique place to stay for Kuantan visitors. We liked that our capsule had a lot of quiet and privacy, as well as a super comfy bed.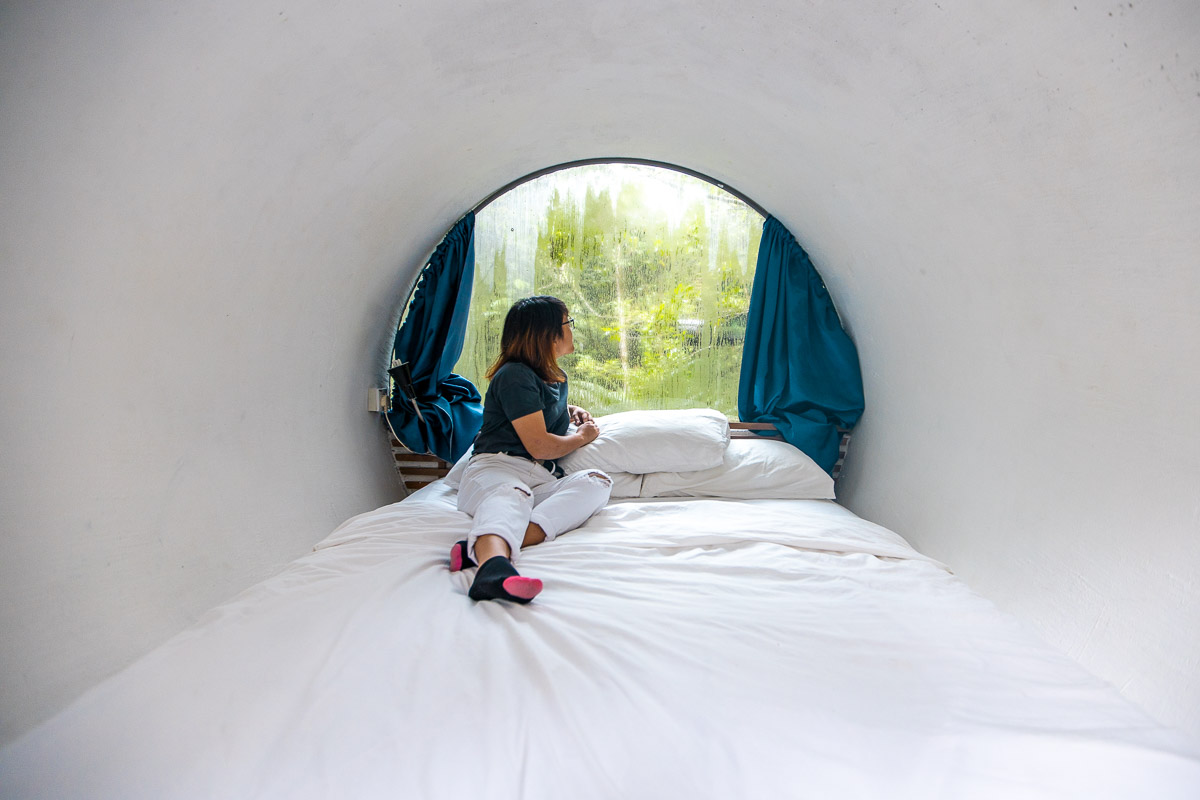 Unfortunately, the capsule is rather small, so packing light is essential. There were also a lot of mosquitoes (it is a jungle, after all). Hence, insect repellant is a must if you're following this Kuantan guide!
The capsules tend to be sold out during weekends and public holidays. Book early to avoid disappointment!
Cost: From ~S$50 per night
How to get there: From Sungai Lembing Mines, walk straight for 3 minutes. The entrance to the Retreat is a sharp turn to the left.
Experience a Hassle-Free Getaway to Kuantan from $66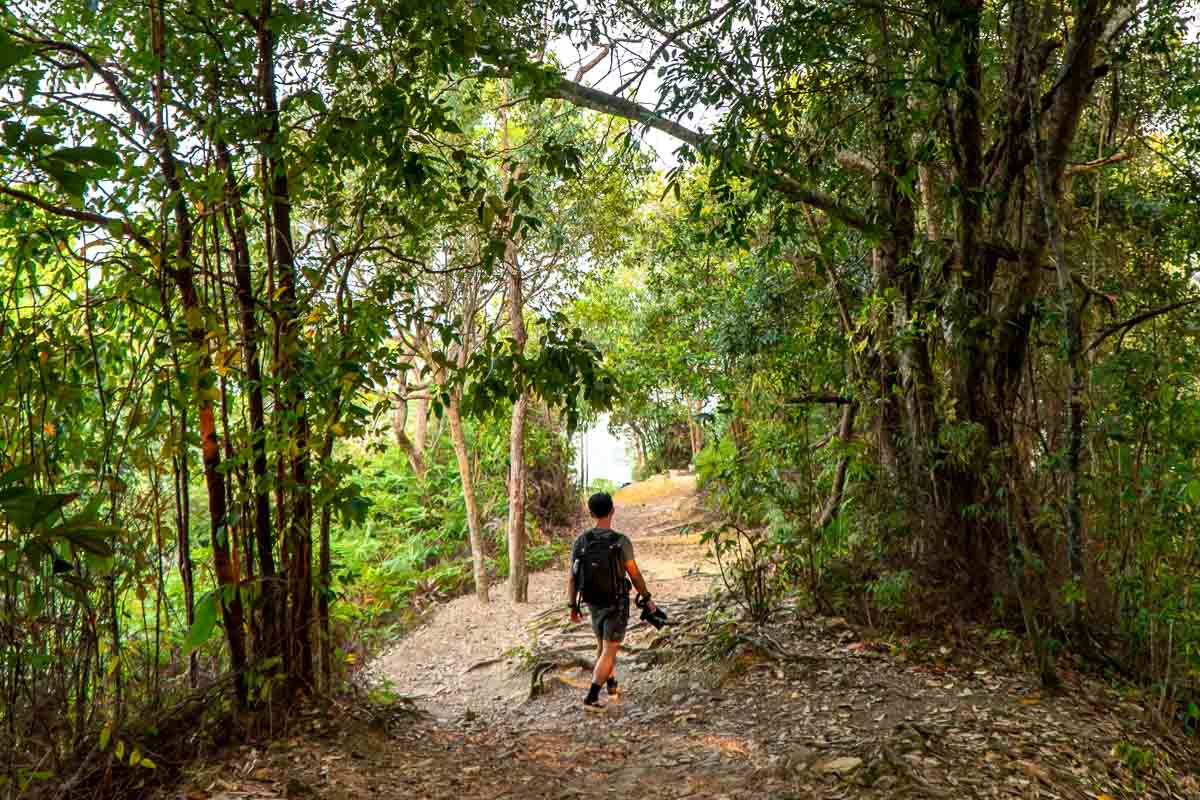 From waterfalls to scenic mountaintops and deep mines, our Kuantan guide dives into the city and Sungai Lembing to unpack its stunning nature spots, as well as intriguing heritage and culture. Whatever you choose to do, Kuantan's laidback vibes will really give you the chance to slow down and enjoy the free time on your hands.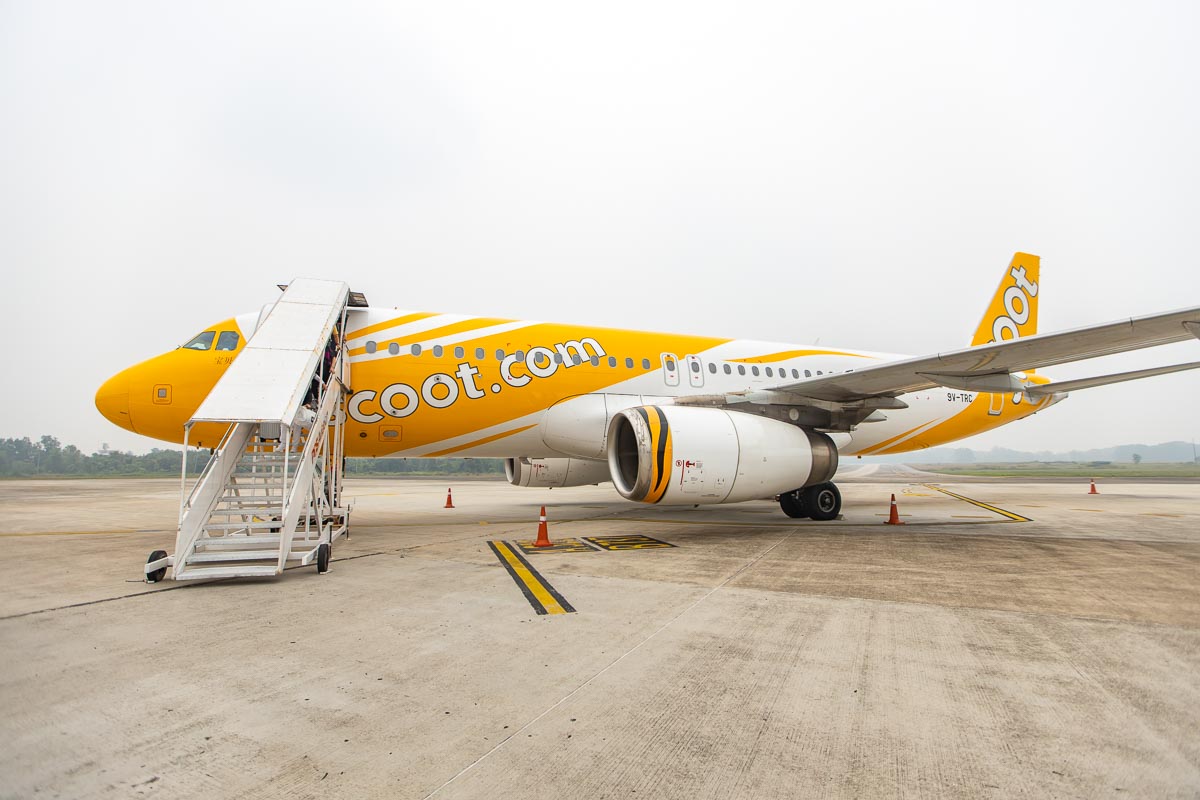 Scoot operates direct flights from Singapore to Kuantan three times a week, with one-way flights starting from S$66. If that's not enough, Scoot also removed all payment processing fees (globally!) for bookings made directly on their site. This means that travellers now get to enjoy even greater value when booking Scoot flights. 💰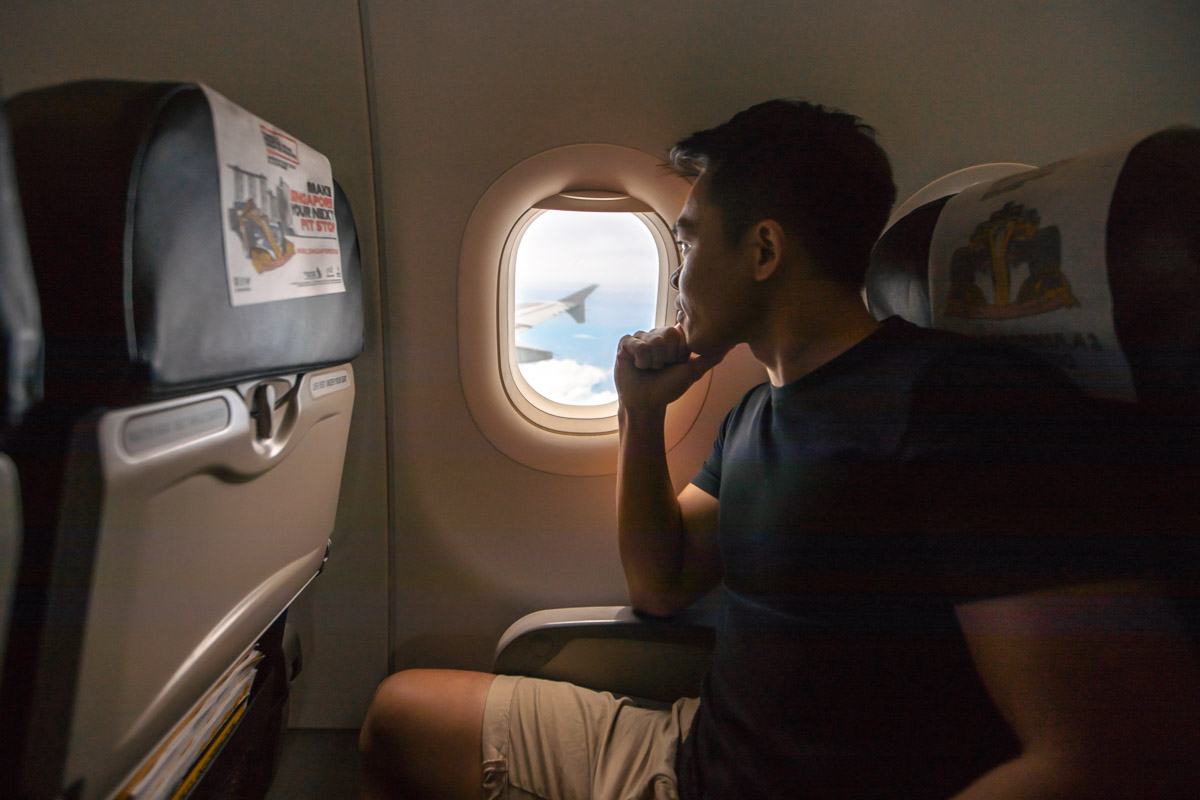 On top of the short travelling time, we also liked how we had ample leg space in the cabin. Trust me, even if the journey is short, having a comfortable one is a welcomed relief. It's one of the things that we enjoyed about Scoot, which recently won an award for being the best low-cost carrier in Asia-Pacific. No need to shell out loads of money to have great service up in the air!
Although Kuantan isn't as well-known as KL, JB, or Malacca, we thoroughly enjoyed exploring its attractions, eating good food, mingling with locals, and taking our time for everything without feeling a need to rush. It's also super close to Singapore, like these four other lesser-explored destinations in Malaysia!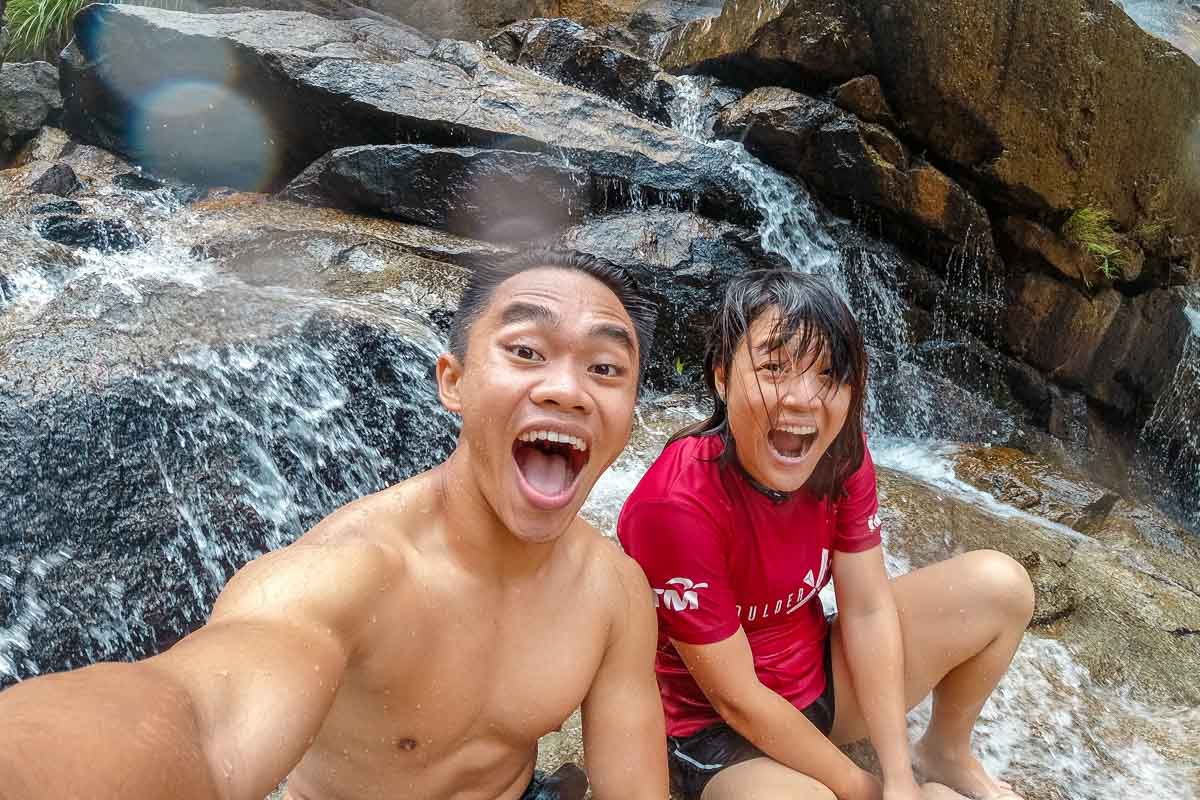 We arrived back home feeling refreshed and (99%) ready to tackle the new work week. But if we ever feel the need to make a quick escape again — well, it's nice knowing Kuantan's just under an hour away! 😂
Start planning your Kuantan Getaway from only S$66!
Looking for more off-the-beaten-path places in Malaysia? Check out our Langkawi and Kota Bharu guides!
Read also: 5 Hidden Gems in Malaysia Less than 2.5 Hours from Singapore
Did we miss out on anything in our Kuantan guide? Tell us what you like about the place in the comments below!
---
This post was brought to you by Scoot and Malaysia Tourism Promotion Board.
Like what you see? Follow us on Facebook, Instagram, and YouTube for more travel updates!